Flight : SQ857
Date : 27septmebr 2005
Route : HKG(Hong Kong)-SIN(Singapore Changi)
Equipment : 777-200 (9V-SQF) Seat 2A
Departure Time : 10:30 Arrival Time : 14:10
Took the Airport Express train to Hong Kong International Airport. Its a quick 20 minutes from the Central District to HKIA. Cost was a reasonable HK$100.
Typhoon Damrey has just passed Hong Kong by. However, the effects were still being felt, with strong rainfall and gusty winds.
Arriving at the HKIA Airport Express train stop, it is then a very short walk to the check-in counters.
In my option, this ranks as one of the best airports....even better than Singapore Changi airport.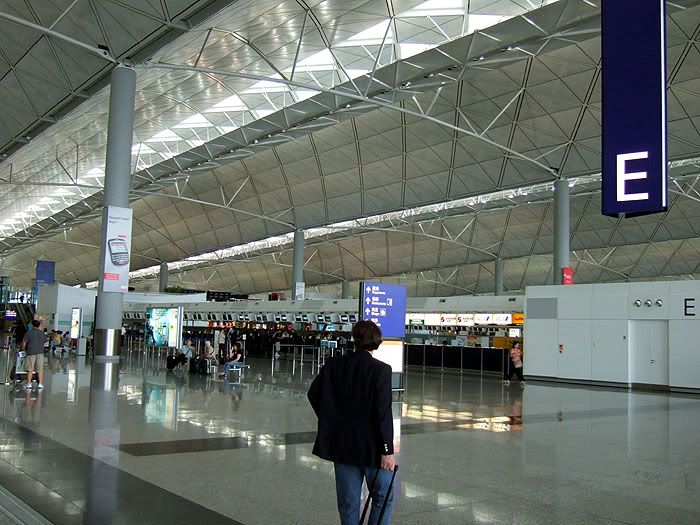 Check-in and immigration was a breeze . I had a browse around the shops. Then straight to the Singapore First-class lounge. Not the best of lounge spaces in HKIA. A windowless room, with dated decoration. One of the major critisims I have about Singapore airlines is that their world-wide lounges need up-dating!
Both hot and cold food were provided.... with the ususl CNN televisual entertainment and computer banks.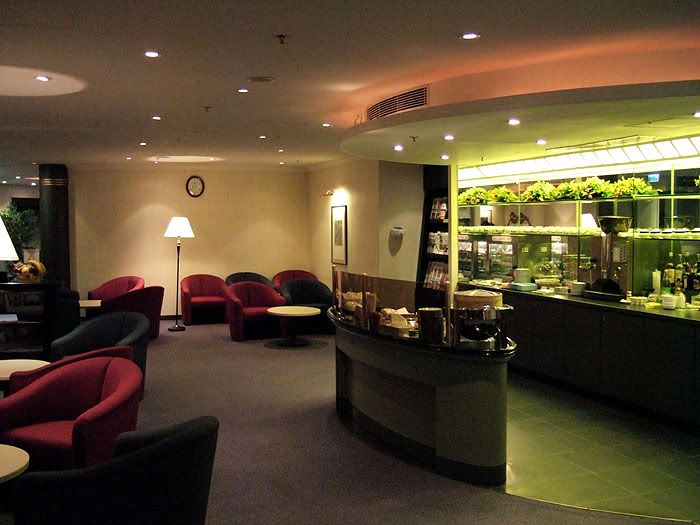 After having a snack of Dim Sum, chinese dumplings. I went over to the gate area.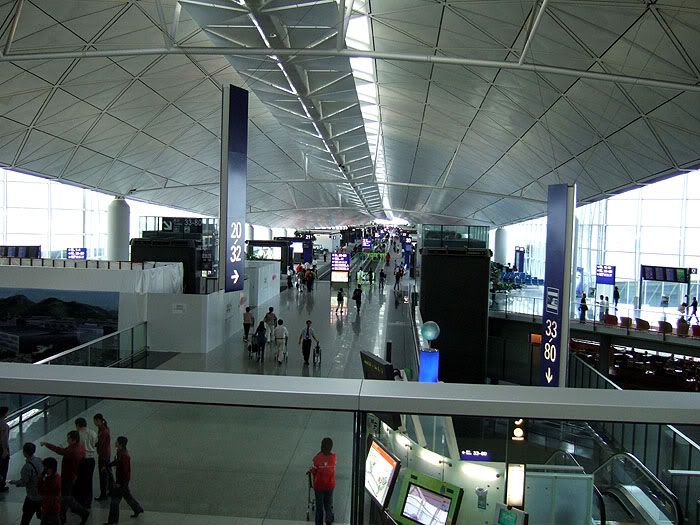 Notice the Orbis DC-10 in the background.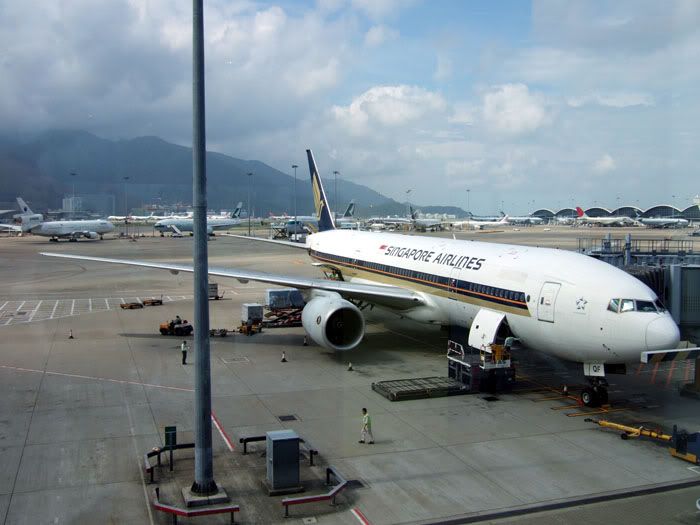 The flight was called and First/Raffles passengers were given immediate priority to board thru the dedicated pier.
This plane is an older 772. with 12 seats while, the 773 has 18 seats.
I was shown to my seat ,2A.
The FAs were extremely friendly and chatty.(sorry about the blurred pics) The Captain was Australian.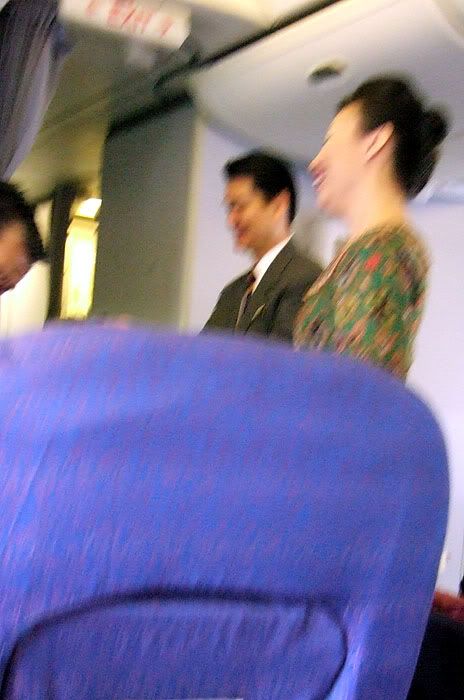 The plane had a very light load today; with 3 in First Class and as far as I can see Raffles/Business calss looked almost empty.
The plane pushed back 5 mintues ahead of schedule took-off, northeasterly, very quickly and very steeply using only about 1/3 of the runway.
Had a fantastic over-view of the HKG airport terminal; unfortunately, I did not have my camera handy.
Due to Tyhoon Damrey the initial climb out was very bumpy.
As this is an older 777-200, with the older regional first calss seats. The IFE screens are small and the films were not on- demand .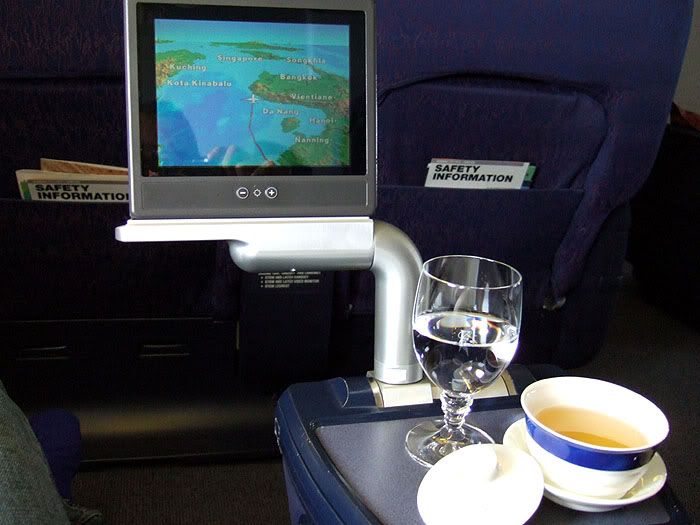 The cabin view from my seat.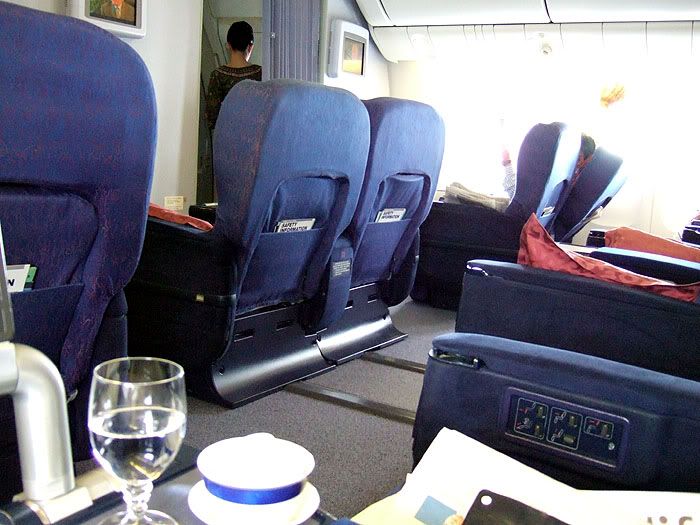 My seat.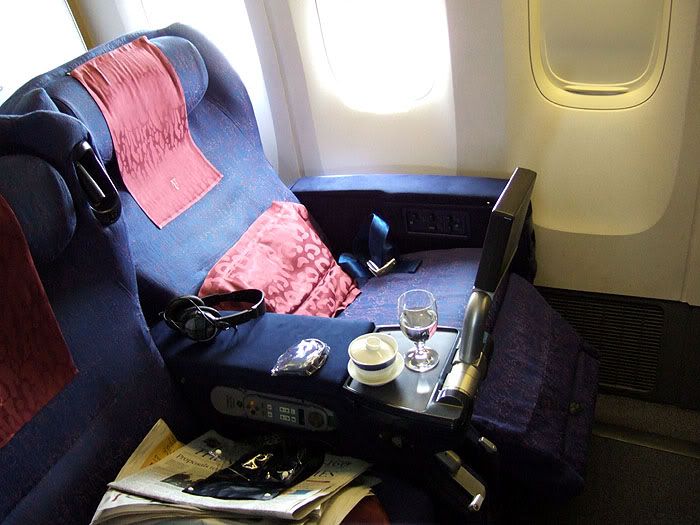 Drinks and then the Lunch performance started.
Had a good (Tie Guan Yin.) chinese tea.
My choice was, and I quote:-the Shi Quan Shi Mei( a complete and perfect chinese culinary experince). Only available on the SIN-China routes.
Cold small starter dishes consists of: Roaset duck with Pomelo salad. Sliced pork knuckle with rice. Cuttlefish with ginger and spring onion. Abalone with kong choy salad. Chinese styled Steamed bread.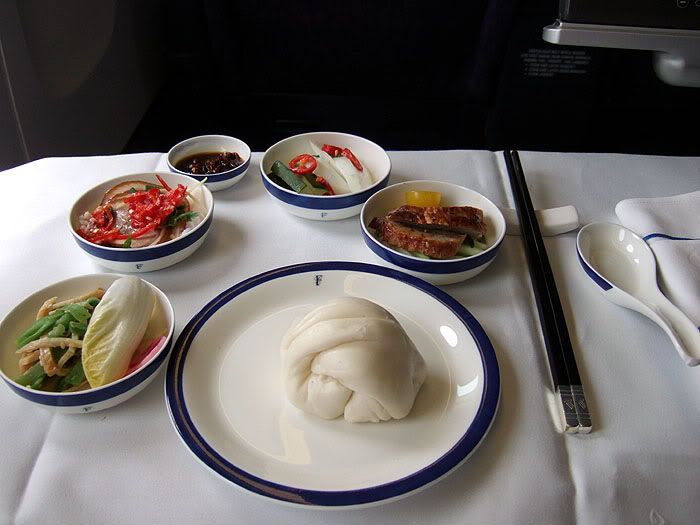 Hot dishes consists of : Seafood in XO sauce.Seabass with pickled vegetables in sweet and sour sauce. Stir fried beef with garlic and chili. Braised mushroom, gingko nuts and chinese greens. Streamed Rice.
Soup of Pork and dried duck.
Sweet: Sea coconut, fungus, red dates and lotus seed soup.
Enjoyd the taste and the novelty of this meal greatly.
Arrived a good 20 mintutes ahead of schedule.
It took me less than 10 minutes to walk from plane ,thru the SARs control point, thru immigration, to the baggage collection hall; where my bags were already out and ready for collection! Truely amazing!! Fast or what!!
As we arrived early; I was in a cab already halfway towards downtown Singapore...at the original scheduled plane arrival time.
Flight : SQ320
Date : 28 September 2005
Route : Sin (Singapore Changi)- LHR( London HeathrowT3)
Equipment : 747-400 (9V-SPQ)
Departure Time : 12:40
Arrival Time : 19 : 10
Off in a taxi towards Singapore Airport for my 12.40pm flight to London.
On entering the airport complex, I noted the fab new terminal being constructed. It is about time that Singapore Airport has this new terminal if it wants to compete with the likes of Hong Kong Airport.
I was met curb-side by a First Class representative, my bags taken and I was escorted to a private ante-room, which is the First Class check-in Lounge area. The actual check in was done by this same SIA representative.
I just needed to lounge about for a while. My boarding pass /passport were given to me and I was then escorted thru immigration and shown the escalator access to the SIA lounge complex.
This lounge was nothing that special. (The best lounge ever, in my option, is the CX lounge in HKIA.)
Had a few drinks and snacks. Got a bit bored so went for a shop exploration by my gate area.
A pic of an AB380 SIA model in the depature area.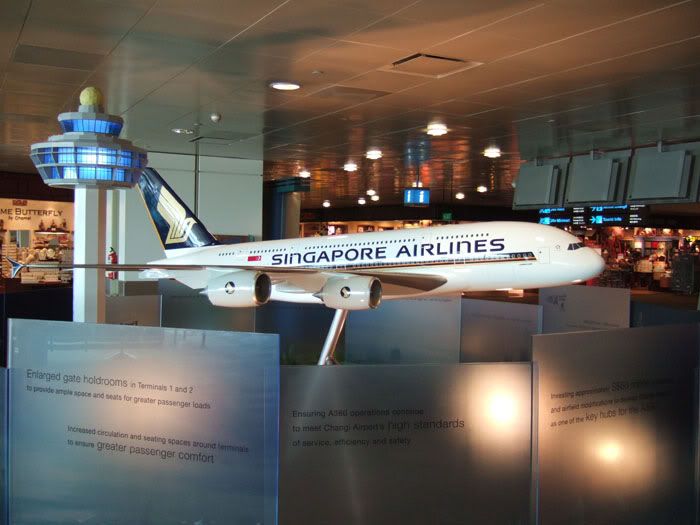 My plane bound for London.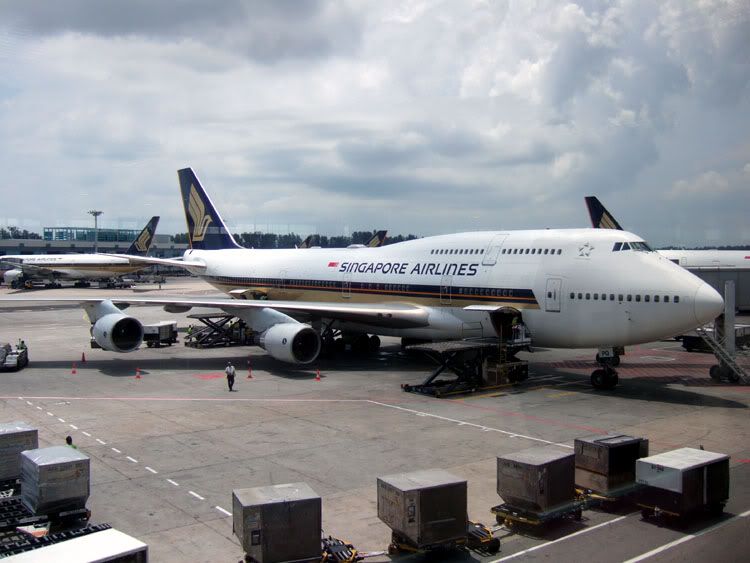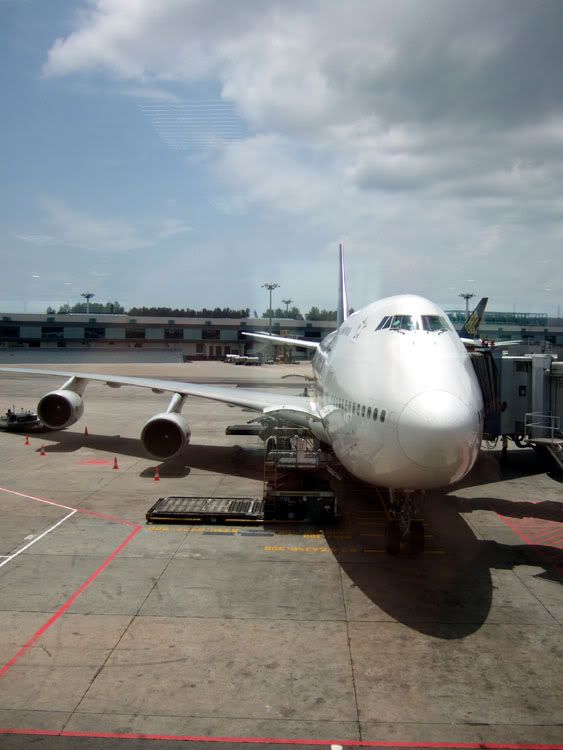 The flight was called and again First and Raffles were given immediate priority to board via a dedicated pier.
I was shown to my seat ,2A.
View ahead from my seat.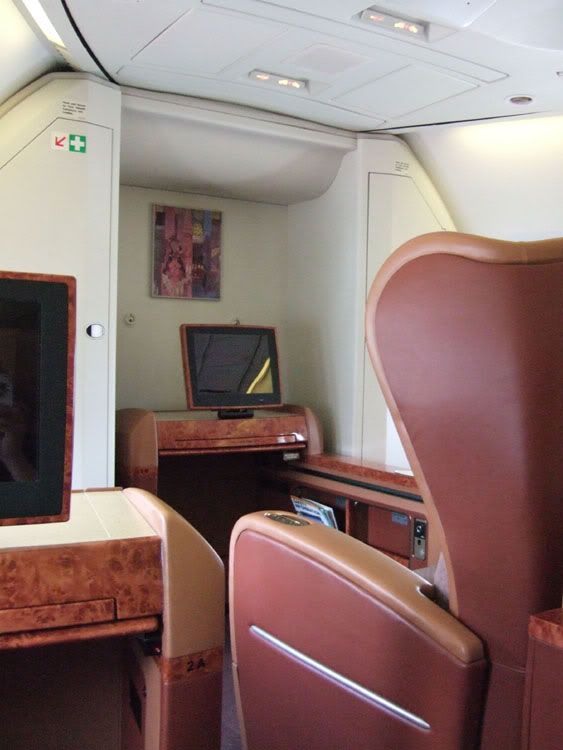 View of the Cabin and the FAs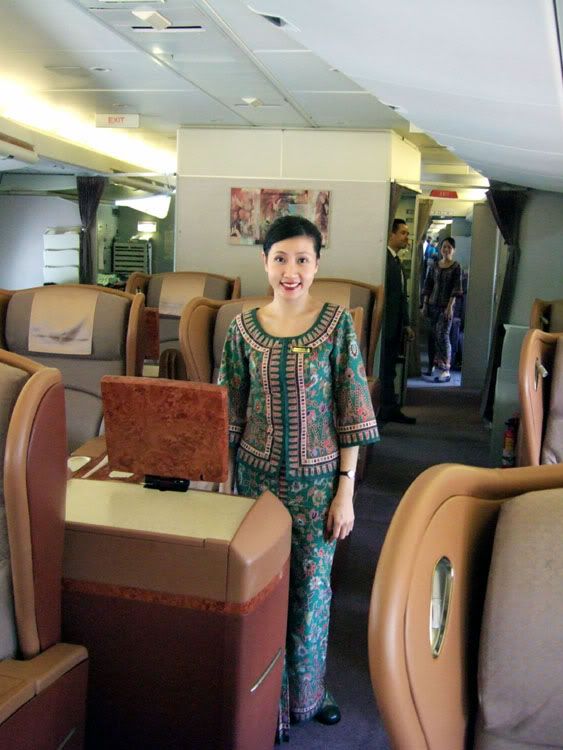 The FA came around for a drink order and all the usual goodies, including a Bulgari Toiletry bag.....Good size for CD storage!
Givenchy Sleeper suit...... Comes in 3 sizes L,M,S. and two colours; light grey or dark grey.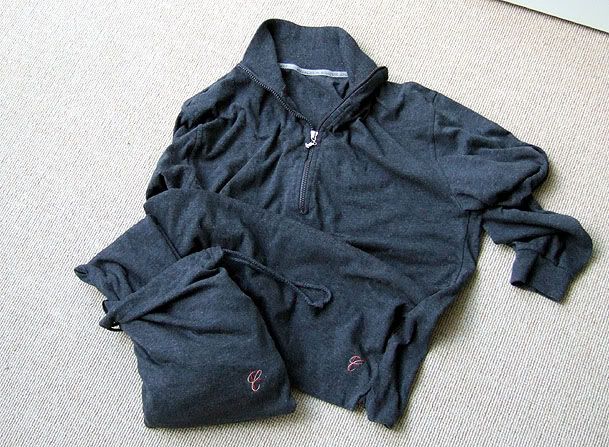 ...socks , eyeshades and the burgandy-leather covered menu.
A tip; I have booked this daylight flight out of Singapore for a reason. This plane leaves Singapore at around noon, arriving into London in the evening. The load of this flight is usually very light. Hence there is always more room and hence a more relaxed service. You also get to know the FA and your follow passengers more. It also gives you two major meal services, Lunch and Dinner. As opposed to the usual Meal and breakfast.
As predicted, the 12 seater First Class cabin had only 4 passengers. An English couple returning from their honeymoon and a Chinese businessman.
Post take-off drink, Krug.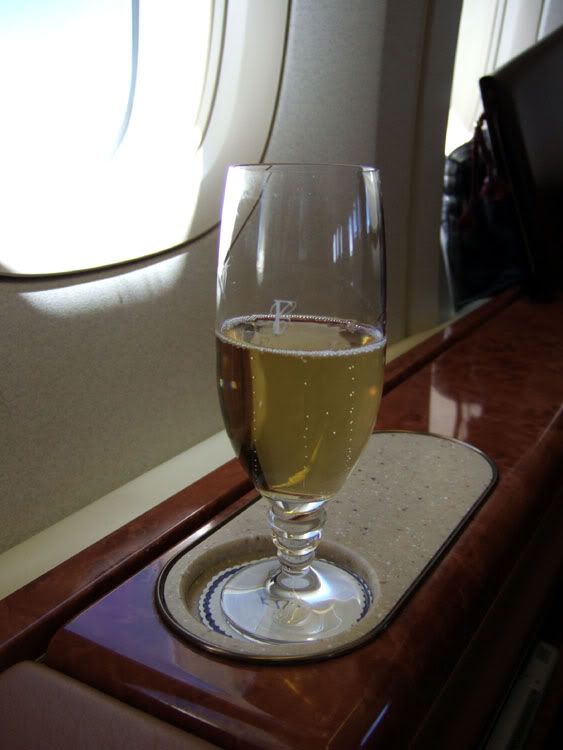 Then the Lunch service.
My choice was :
Tian of Crabmeat with corn kernels and sundried tomato.
Clear Oriental broth of bamboo fungus, black mushrooms and tofu.
Fine field Greens.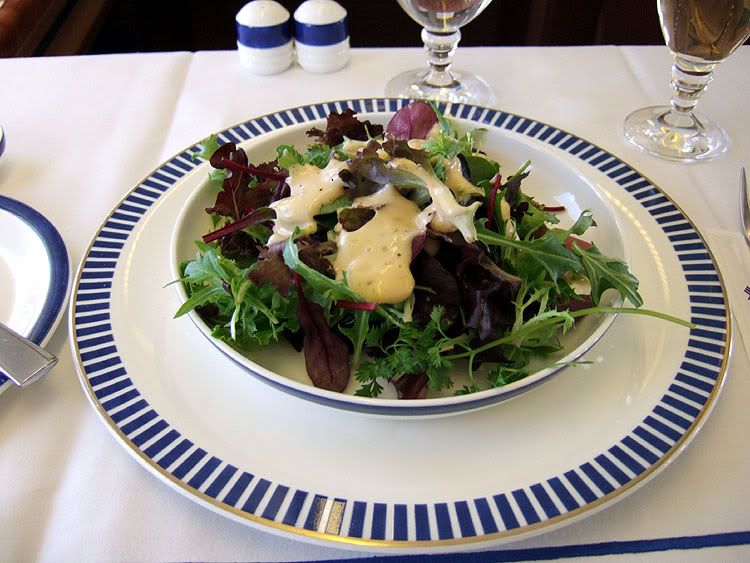 Seared 8oz ribeye steak in Szechuan pepper jus with roasted vegetables and olive oil-mashed potatos(cooked to order)
A glass of 1997 Chateau reynella cabernet merlot( Australian)
Cheeses with garnishes
Warm lemon tart with mango ice cream and citrus salad.
The meal was great. The presentation was great. However with the non-stop re-filling of my champagne glass; I became really full very quickly!
Time to settle down with a feshly brewed cappuccino.
I tried the wire-less internet service. Worked fine. The first 30 minutes was free of charge.
Window shades down. sleep time.
As there were only 4 passengers in the cabin. The FA had a great idea and decided to make up my bed in an empty seat near me, Seat 1A., right in the nose. Great, I now had my own seat and if I wanted to sleep I could just go across the aisle to my own separte personal bed.
I watched a few of the 60 films offered, on-demand and mostly very current.
About 2 hours out of London another major meal performance starts, Dinner:-
Satay
Then my Choice of:-
Chilled Petrossian Caviar: a HUGE portion was given to me.I guess it does help if you travel in an almost empty cabin.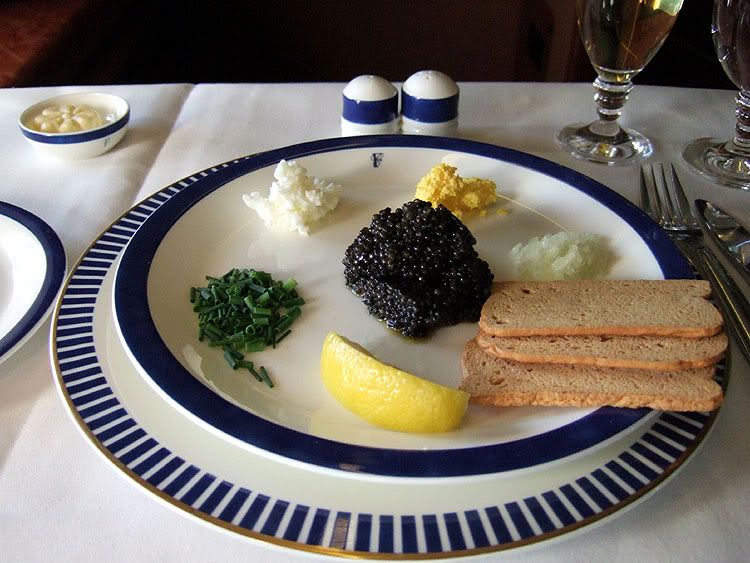 Oriental wintermelon broth with assorted meats.
Caesar salad
For the main course, I could not make up my mind .
I had 4 mains to choose from:-
Wok fried Lobster in XO suace.
Braised veal osso bucco with tiger beer, roasted vegetables and linguini.
Thai style duck curry with spiced vegetables, omlette and steamed rice. Panfried U.S. Kurobuta pork loin in sage jus, braised savoy cabbage with bacon and potatoes.
It was between the duck or the lobster,(which I had on the way down to SIN, and was wonderful)
The FA gave me both! With the plate piled high!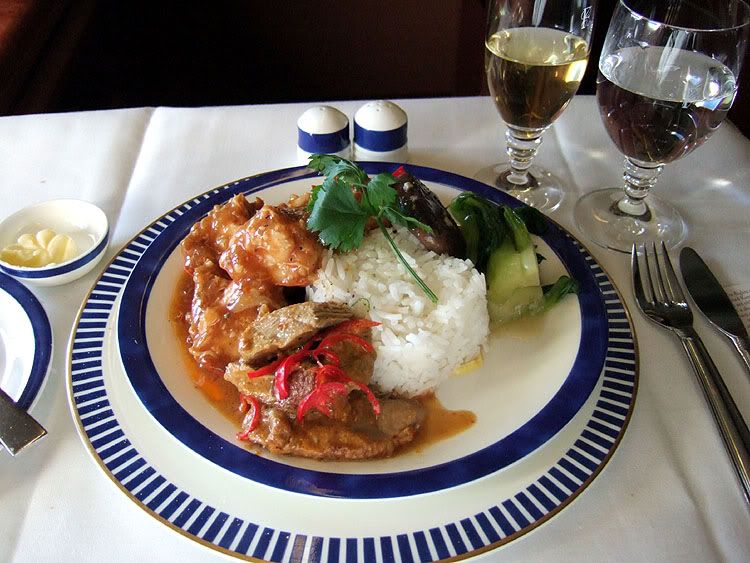 Full to bursting point, I gave the cheese and fruit course a miss.
Mixed berries in wine jelly with raspberry coulis.
Coffee.
Time to prephare for landing in LHR.
Evening view over the Thames with the Dome in the centre.
Me!
There was apparently an emergency with a plane in landing in front of us.
Therefore, we made our landing on the active take-off runway. Taxiing to our stand ,I noticed a Pakistani 747-300 moving around with loads of fire engines tailing it. I guess this was the plane involved with the incident. I noticed that this plane had only the port side, (wing-root) taxi lights working; maybe that has something to do with the emgergency.
Anyway, back to the sambles that is Heathrow T3 ,where the queues for the EEC passport checks tailed back to the gate area. The bags took another half an hour to appear, even after waiting for half an hour at the passport control!