Alright here I go again. Another trip from DTW-RSW-DTW this time with a few pics I'll keep working up the amount of pics hehe...
anyhow
DTW-RSW 10-14-05
Flight #-1108
equipment-B757-200 N533US delivered 9/30/88
seat- 02-A first class
departed 9:07pm arrived at 11:50pm
I didn't get any pics of the aircraft or anything on this part of the trip because of the time and I was tired and all but it was a pretty routine flight very friendly service. No meal served in first class at this time at night just unlimited amount of snacks. Melanie, the head F/A was very generous with the snacks...i had some bananas, peanuts, cookies, and other stuff I don't seem to remember right now. All in all I was a basic good flight. Below is a pic that I did NOT take but its of the a/c I was on
View Large
View Medium


Photo © Christopher Liao - Spot This!
The return home
RSW-DTW 10-18-05
Flight#- 1107
equipment- 757-200 reg. N501US delivered in 1985. The first 757 to be del. to NW
Seat 03-A First Class
Departed at 335pm arrived at 600pm
here are a few pics I took of the a/c not the best but they will suffice.
Maybe I will buff up my photo-taking skills
anyhow this flight was better than the other. Better service and a meal! Sherrie, the lead f/a was extremely friendly but would be considered a "granny" f/a but still really pleasant.
The meal was one of the best I've had. It consisted of grilled chicken with sweet n' sour sauce on it, Waldorf salad, a roll, a fruit bowl that had grapes, oranges, and pineapple, and for dessert a mint chocolate brownie that was delicious! I was trying to take a pic of the food but my camera wasn't cooperating and I felt really weird hovering over my food with a camera so just said forget it. Sherrie offered me wine with my lunch and I told her I'd love some but I'm not old enough....she thought I was over 21...nope just 20. She wouldn't of second guessed it if I told her yes...*writes note to self* next time I'll just say yes I'd like some wine with my meal and see if I get it.
The flight was nice and smooth nothing out of the ordinary...but Sherrie and another F/A that came up to the F/C cabin often, Al, received my compliments via nwa.com positive feedback.
we arrived around 25-30 min early so that was a plus
below are some pics I got while on the plane so not the best of quality.
the one below is the gate at RSW. Brand new terminal and its very nice and user friendly.
IMG]http://i23.photobucket.com/albums/b381/NWA757boy/10-19-2005-15.jpg[/IMG]
There is a big viewing window in the terminal BEFORE security so that means you can come in and watch the planes even if you are not flying. There are also some shops and restaurants before security to eat with friends or family that are not traveling with you that day.
As we came into DTW I tried to get some clips of the line up at the Gateway terminal here is ne with a few NW heavies and a BA 777 and a AF 330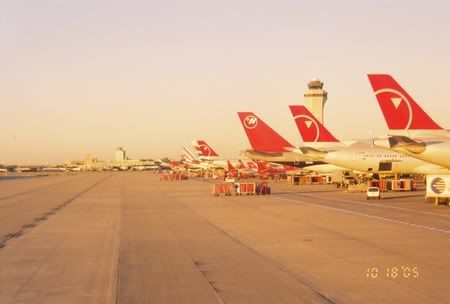 as we pulled to the gate we parked next to my absolute favorite the 757-300....such a long beauty I had to take a pic of her. Never been on one but it is on my list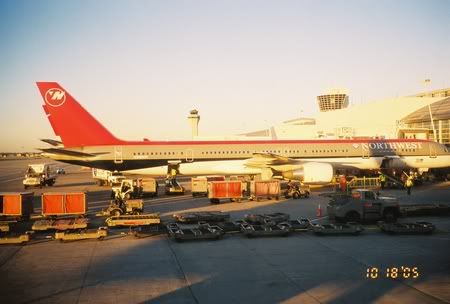 so that was my lovely trip with NW in first class from DTW-RSW-DTW
if you are interested the next following trip reports will be:
DTW-CVG-ATL-LAX-ATL-CVG-DTW with how'd you guess DL
and then another DTW-RSW-DTW with NW... I have family there so travel there often
And I'm in the plans of a final good bye trip on a NW DC-10 either from MSP or MEM to AMS
Best
Zach