On my journey through the Northwest of Poland, I also came to the City of Szczecin (Stettin) – quite interesting place. This gave me the opportunity to try out Poland's national carrier LOT for the first time on a domestic day-trip to Warsaw. LOT offers very reasonable fares on their domestic flights even on same-day return flights. I booked online on
www.lot.com
and paid EUR 65.00 + taxes EUR 29.43 = EUR 94.43 all in all for an electronic ticket. By the way: a paper ticker delivered to Germany would have cost an additional service charge of EUR 40.00 (!), so they obviously don't want anybody to travel on paper tickets. I got 1.000 miles (return) for my Miles-and-More account – not bad for a discounted domestic flight. A very good feature when booking online on LOT is the free seat selection: after the booking process, you can see a seat map of each of your flights and you can choose your favourite seat among the ones still available. I chose 7A for the outbound flight on the Emb 145 and 13A for the return flight on the ATR 72.
Sunday, 25 September 2005
Szczecin / Stettin (SZZ) – Warsaw (WAW)
Airline: LOT Polish Airlines
Flight number: LO 3932
Scheduled departure time: 09:25
Scheduled arrival time: 10:30
Type of aircraft: Embraer RJ145MP
Registration: SP-LGN
This aircraft was built and delivered to LOT in 2001.
The Airport Szczecin-Goleniow is located 30 kilometres Northeast of the city centre – quite far away for such a small airport. A taxi from city centre to the airport would cost around PLN 120.00 (about 30.00 EUR). Because of that, LOT offers a free bus service to the airport for all their passengers. You can book this service together with a flight out of SZZ without an additional charge. Of course I took this opportunity. The bus departs in front of LOT's city office in the centre of Szczecin always 1:20 prior to departure of every LOT flight, so the departure of my bus was at 8:05. The bus service carries an own flight number which was LO 3522 in my case. I arrived at the designated place shortly before 8:00. Some other people were already waiting. One thing I found quite funny was the fact that many people arrived at the bus stop by taxi. A taxi to city centre is usually much cheaper than a taxi to the airport, of course.
The bus arrived at 8:00. It is painted in the LOT livery: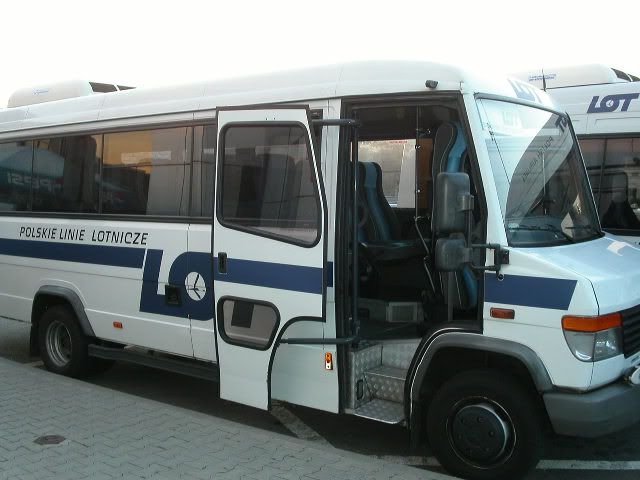 The driver who was wearing a LOT uniform welcomed the passengers and stowed the luggage in the back of the bus. There was no check of tickets or any other proof of identification – you just entered the bus and it left on time. If you miss it, you have to find an other way to get to the airport. The bus has a capacity of 22 passengers. There were 12 people on board on this Sunday morning, so the bus service seems to be quite popular. The ride to the airport takes about 40 minutes, most of the way through dense forests. We arrived at the airport at 8:40, 40 minutes before the departure of the flight.
I proceeded to check-in immediately. There were three counters open for the LOT flight to WAW: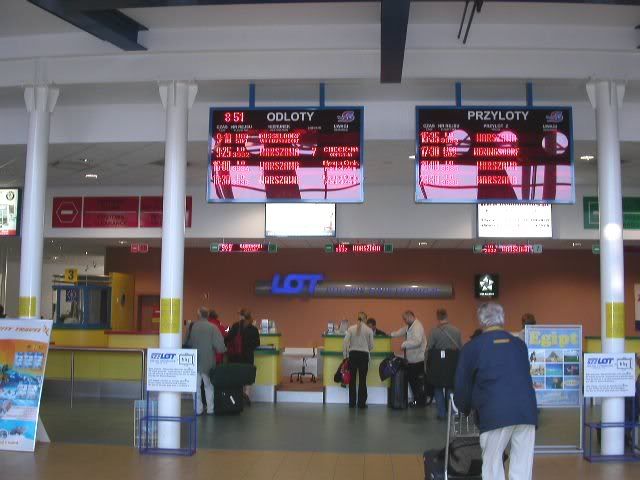 There was no wait at all and a friendly agent checked me in. She asked me if I also wanted to check in for my return flight in the afternoon. I said yes and got two boarding passes for my reserved seats.
I still had a few minutes left to have a look at the small terminal, a modern and really nice building. They don't have any low-cost flights at SZZ yet, but at least they do have a low-cost shop: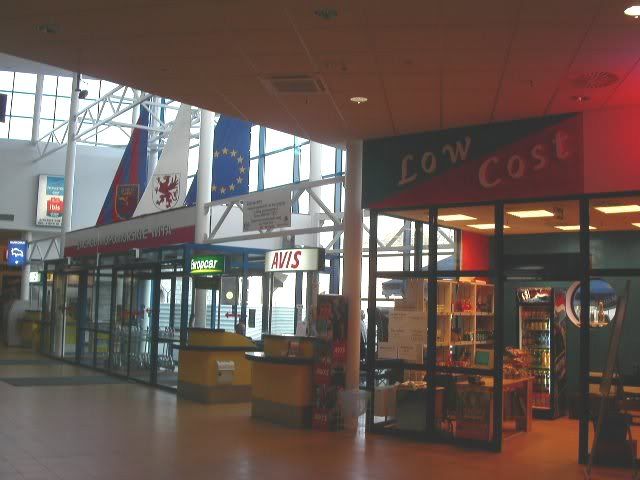 The airport also has got a small viewing deck which unfortunately was still closed (it opened at 9:00). Regular traffic at SZZ is quite limited; there are 4 daily flights of LOT to Warsaw, operated by Embraer Jet or euroLOT's ATR-fleet. Apart from that, there is a weekly service of White Eagle Aviation ATR 42 to MGL via HDF and a few charter flights. In the end of October, Ryanair will start a daily service from SZZ to STN. So people at SZZ can be very happy that the airport is located so far away from the city centre: because of that, it became interesting to Ryanair, as they never operate to airports that are close to a city…
But back to my flight: I passed security control which included a passport check even for domestic passengers and proceeded to the waiting lounge where free Polish newspapers were available. As there is no early morning flight to WAW on Sundays (unlike the rest of the week), our aircraft was already present on the apron. It had arrived the evening before and spent the night at SZZ. It was the Embraer 145-jet SP-LGN. Apart from that, there were no other operating aircraft. There was only an Aerogryf Aviation An-2 in "Milka"-colours and some private planes.
Boarding started shortly after 9:00 and we walked the short distance to the aircraft where a middle-aged female flight attendant was awaiting the passengers. She was the only member of cabin staff on that flight. I took my seat 7A, one of the single seats on the left side. The flight was nearly full; only 3 or 4 free seats. It was an all-Economy-Class flight.
An airside view of the terminal, taken from the aircraft: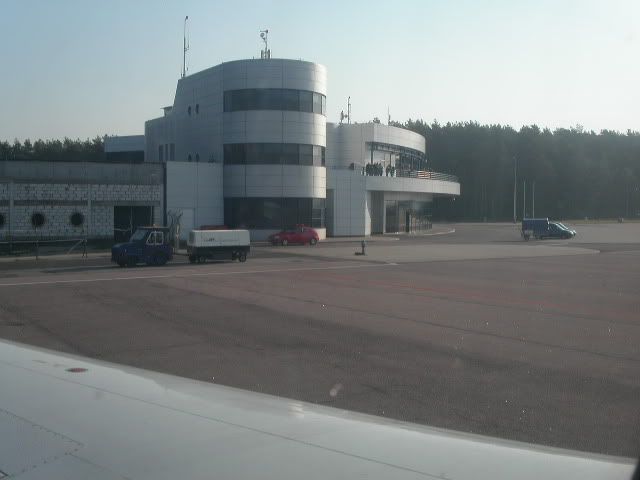 We were off-block soon and taxied to the runway. It was a bright, sunny day: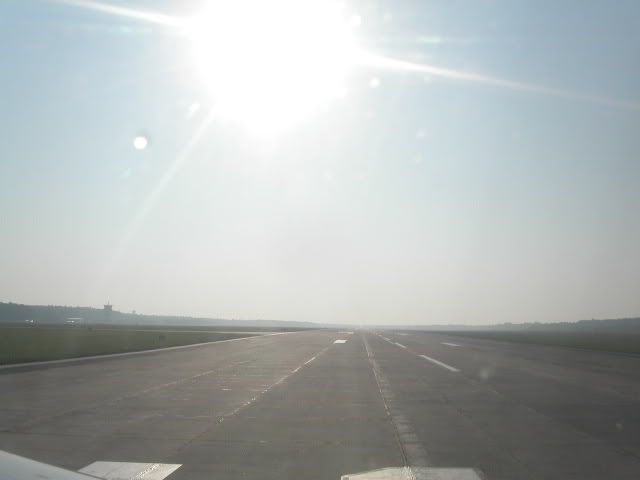 We took off on runway 13 in Eastern direction. The airport is surrounded by forests: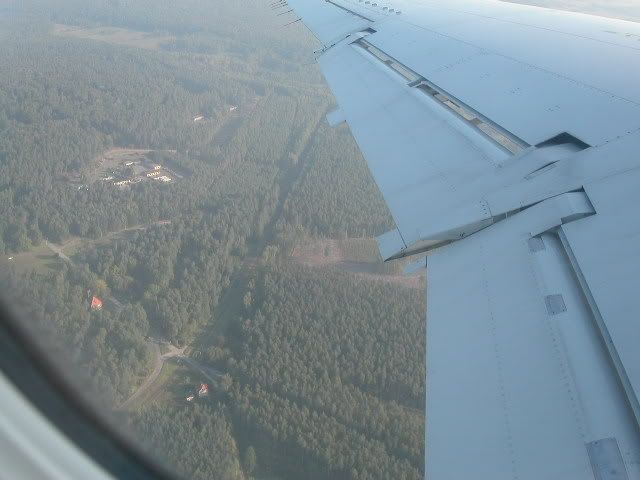 The rural landscape of Northwest Poland: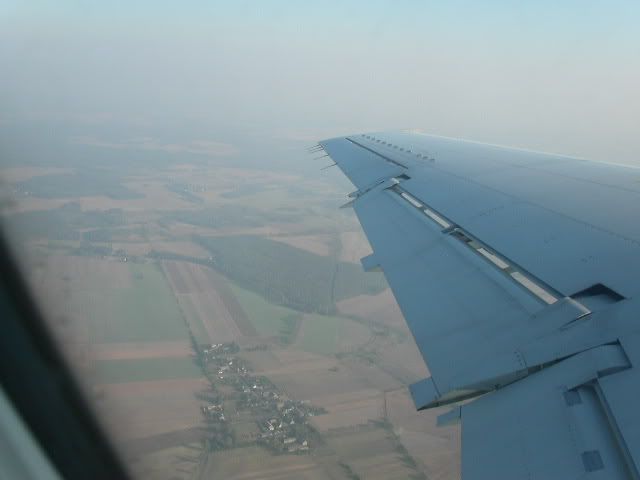 The captain informed us about the flight route and flight level which was 8.000 metres. Then the flight attendant started drinks service which was limited to coffee, tea or water: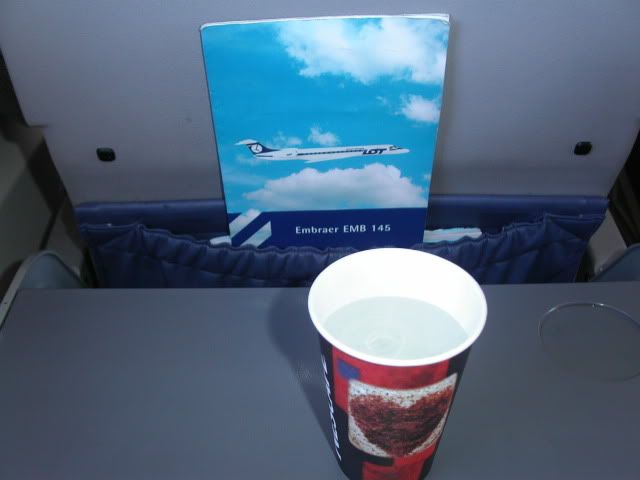 While I don't expect a full bar service on a short domestic flight, at least a Coke or an orange juice could be available in my opinion. Nevertheless, with the fare I paid I won't complain. The flight attendant was not particularly unfriendly, but you could also feel that she didn't really enjoy working on that Sunday morning. She finished her service as quickly as possible and disappeared in the galley for the rest of the flight.
Outside it was quite hazy most of the time:
Shortly before landing, small sweets were distributed and a tape with information for connecting passengers was played. Then we started our approach into WAW: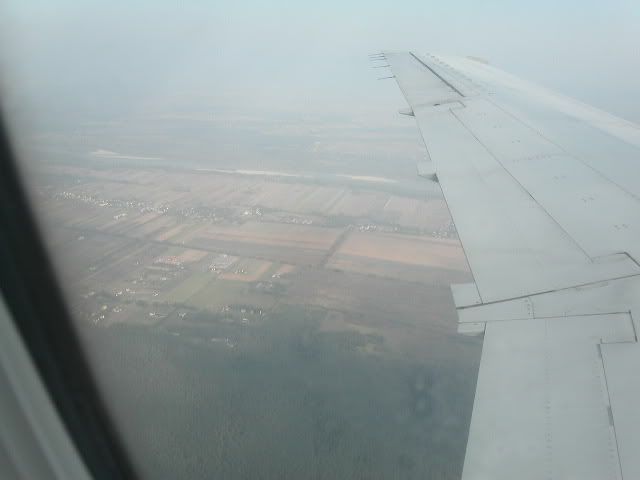 A suburb of Warsaw: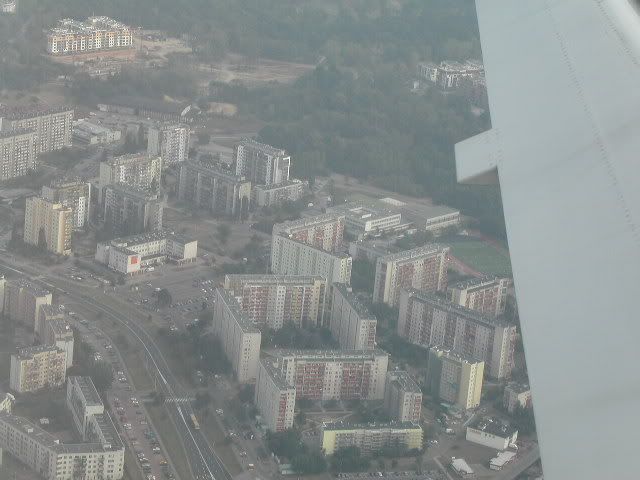 The futuristic skyline of downtown Warsaw: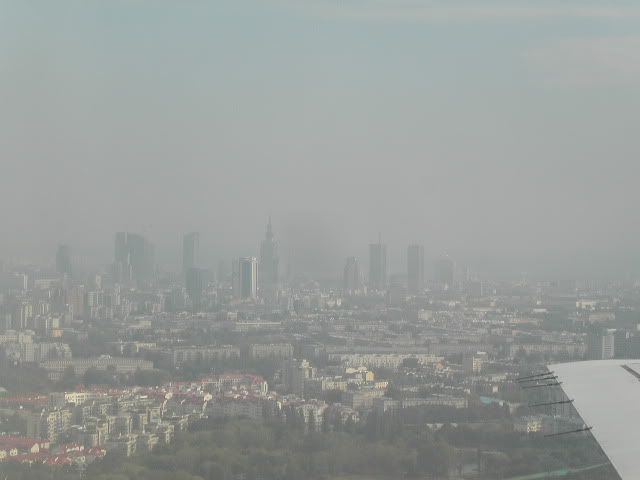 Shortly before landing: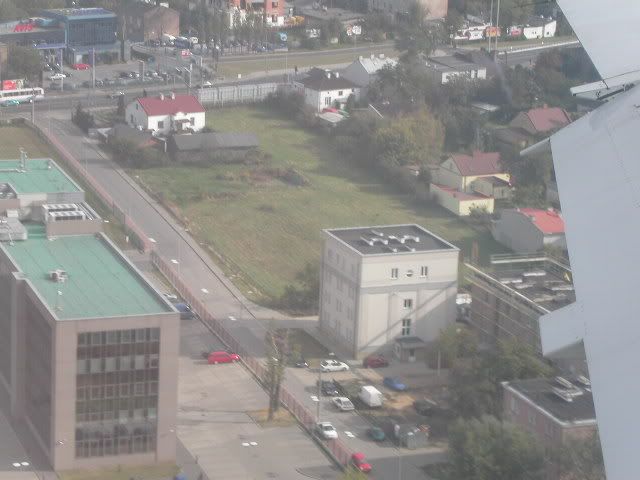 We touched down on one of the two runways of WAW.
Terminal extension: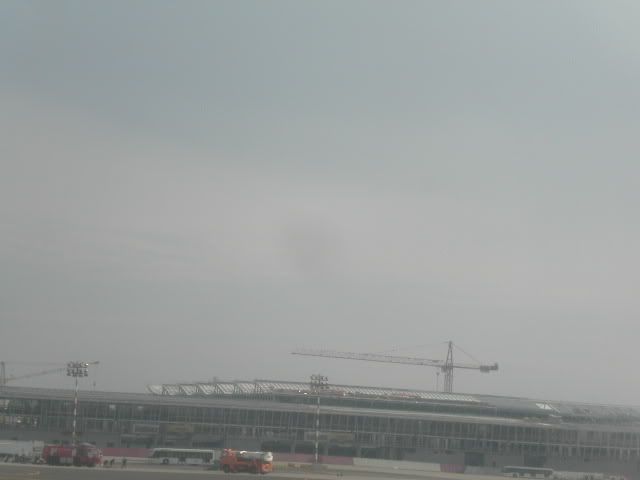 The main terminal; in the foreground an Aeroflot Tu 154: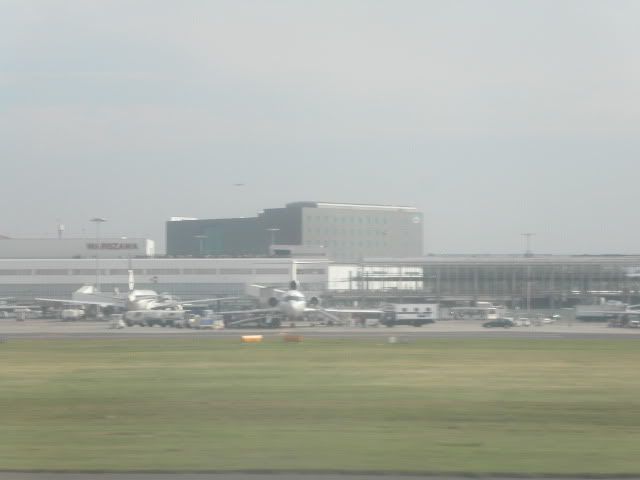 The tower:
We taxied to a parking position on the apron. On leaving the aircraft, I took a cabin picture of the Emb 145: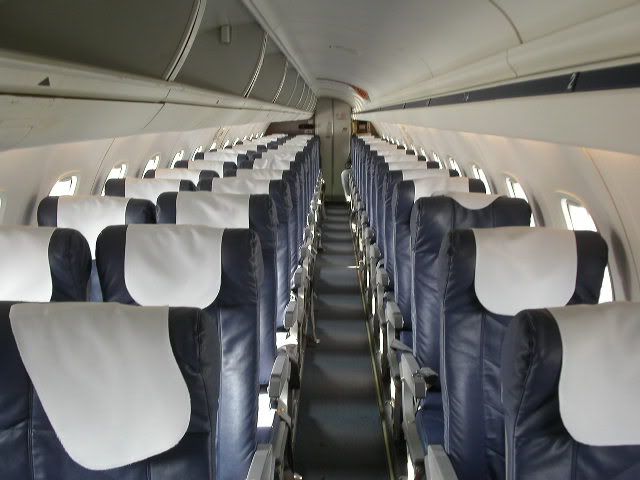 An outside picture of our aircraft: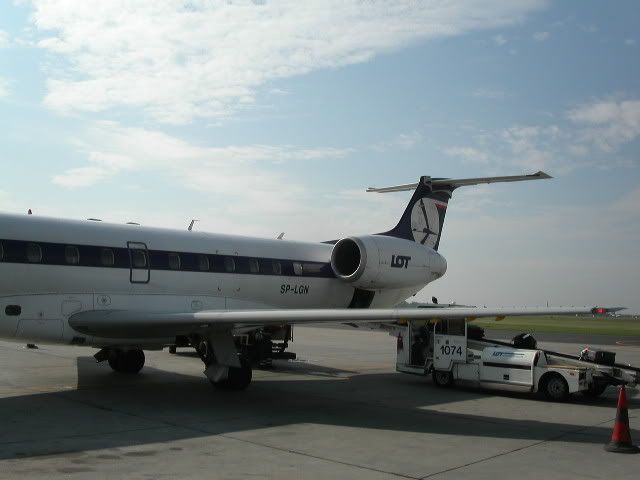 A bus took all passengers to the arrivals area of the domestic terminal. I had about 6 hours at WAW which I spent with spotting and exploring the airport.
About Warsaw Airport WAW:
The main airport terminal is quite modern: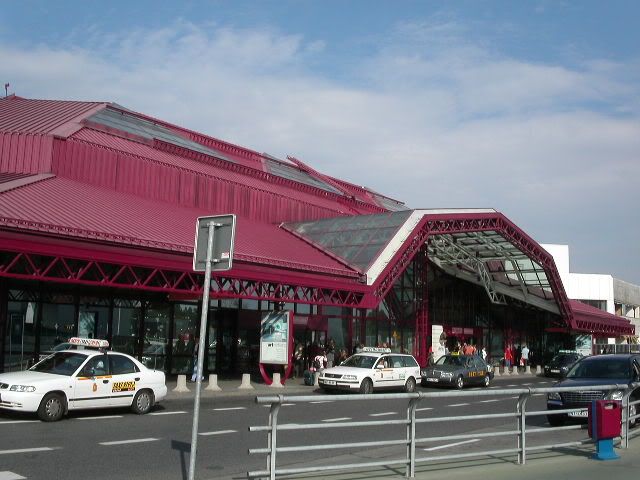 The inside terminal layout reminds me a bit of DUB with a gallery with offices and a restaurant above the main check-in hall: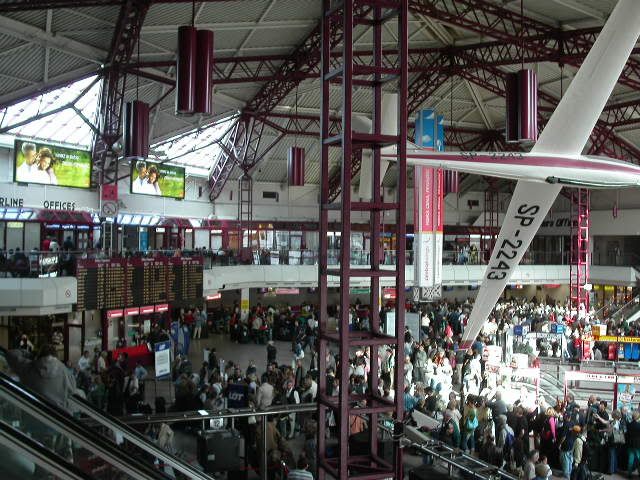 The whole place was extremely crowded; today's capacities seem to be much too small for the increasing traffic, so the terminal extension which is already in progress is urgently needed.
Domestic flights are handled in the "Domestic Airport" which is in fact just a side entrance of the main terminal. By the way: the left entrance in this picture is the way to the viewing deck: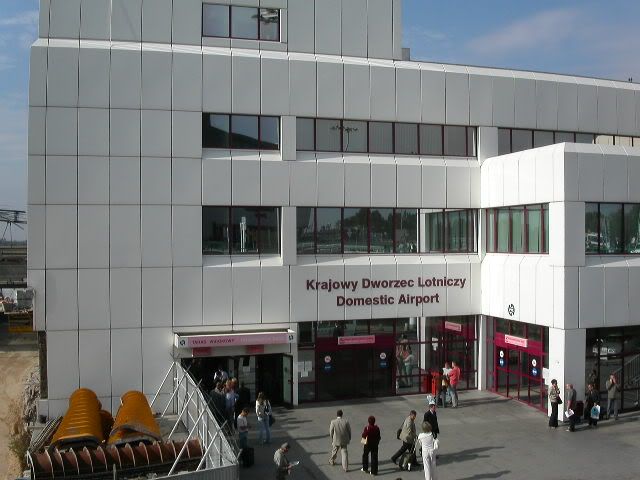 Besides these buildings, there is an additional small terminal a few hundred metres away from the main terminal called "Etiuda" where all low-cost traffic like Centralwings, SkyEurope, Easyjet or Germanwings is handled.
I made my way to the viewing deck and after paying PLN 3.00 (about EUR 0.75) and passing security check, I climbed up the stairs to the gallery.
The observation deck offers a nice overview of the apron: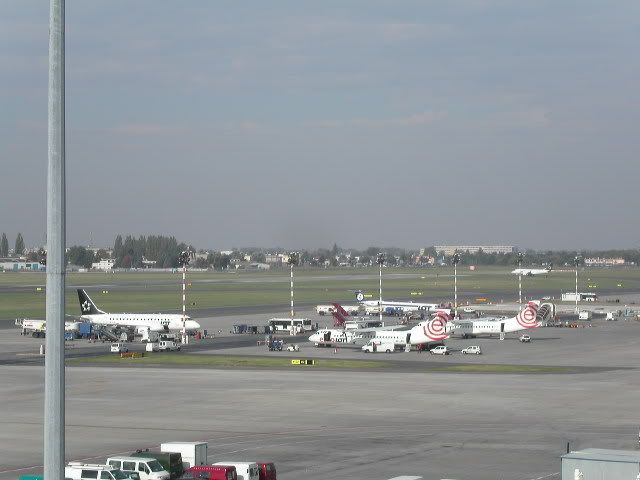 Airside terminal extension: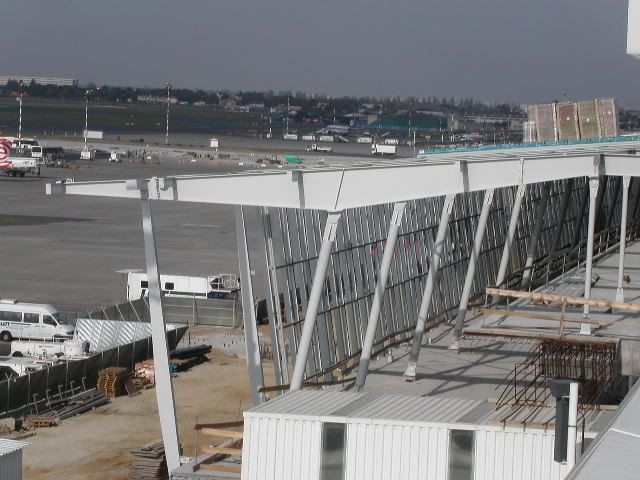 The airport has only 4 jet-bridges and due to the extension works, only 2 of them were in use, so they were reserved for LOT's long-haul 767-fleet: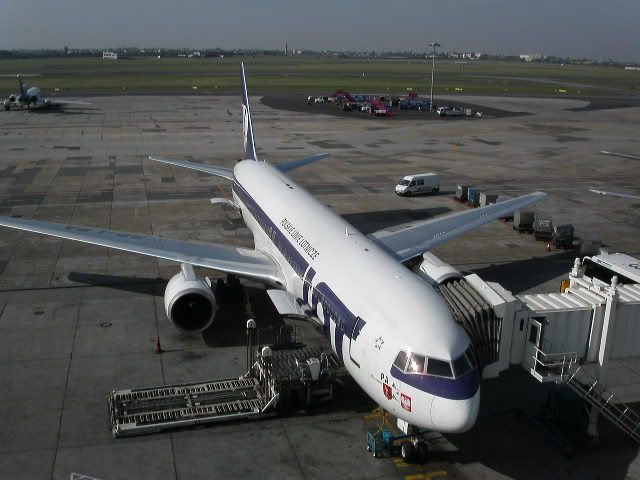 All other aircraft up to the A 320 / B 737 stop at parking positions on the apron. The only long-haul aircraft at WAW are LOT's B 767-fleet. Apart from that, the LOT European fleet together with all other main European airlines can be seen, including some low-cost carriers, but the number of low-cost flights was much smaller than I had expected. LOT is still by far the dominating player at WAW.
Sunday, 25 September 2005
Warsaw (WAW) – Szczecin / Stettin (SZZ)
Airline: LOT Polish Airlines, operated by euroLOT
Flight number: LO 3935
Scheduled departure time: 16:40
Scheduled arrival time: 18:00
Type of aircraft: ATR 72-200
Registration: SP-LFF
This aircraft was built and delivered to LOT in 1994. In the end of 2000, the whole ATR 72-fleet including SP-LFF was transferred to LOT's subsidiary euroLOT.
After some hours of spotting, I walked down the stairs and entered the domestic terminal. As it is very small and space is rather limited, there is a ticket and passport check in front of the check-in area and only ticketed passengers are allowed to the check-in counters. As I had already got my boarding pass for the return flight in the morning, I proceeded directly through security check to the waiting lounge. There were 3 gates for all domestic flight, but only 2 of them were I use. The whole area was extremely crowded; the domestic terminal is much too small for today's amount of passengers. At "my" gate number 2, there were two flights within a very short time: Katowice at 16:30 and my flight to Szczecin (SZZ) at 16:40. Boarding for Katowice started on time, but there were still two passengers missing, so the bus was waiting in front of the gate. They obviously didn't want to start a second flight at the same time to avoid confusion, so boarding for SZZ was delayed because of a shortage of gates. Finally the two missing passengers for Katowice arrived and that flight was closed. Shortly after, boarding for SZZ started at about 16:40.
A bus took all passengers to the ATR 72 where two very friendly young ladies in their red euroLOT uniforms (LOT's mainline uniforms are blue) welcomed us and offered newspapers. Load factor was only about 50%, so all passengers found their seats quickly. I took my seat 13A in the middle of the aircraft while the seat next to me remained empty. The cabin was clean and tidy but showed its age a bit. There were cloth seats (non-reclining) in two different colours which were very hard; I can't remember any other aircraft seat like that, even on turbo-props. But for the short domestic hops where the ATR 72's are normally used, it is still acceptable.
A picture of a sister ship next to us: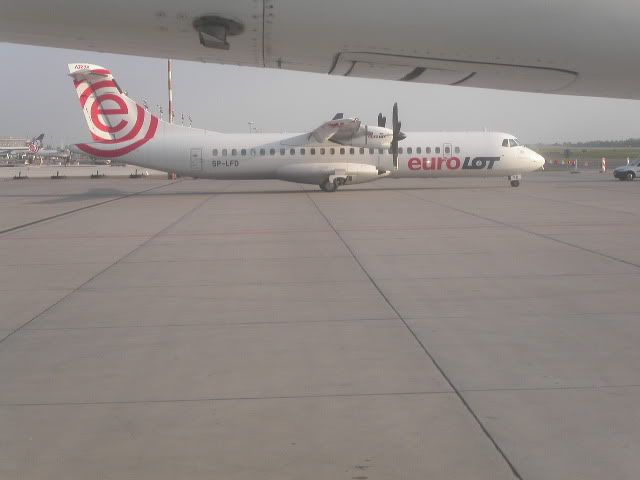 We were off-block soon and taxied to the runway. The new part of the terminal, still under construction: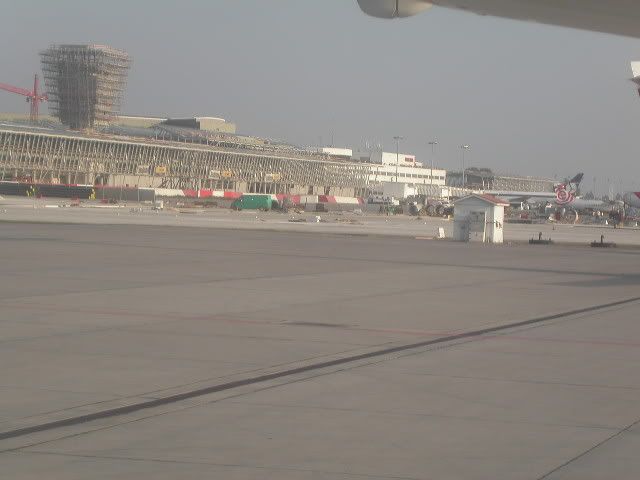 After a LOT B767 bound for ORD had left, it was our turn for take-off: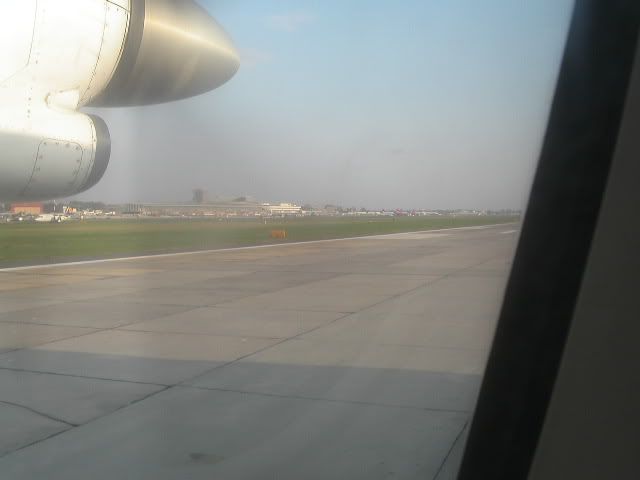 Taking off: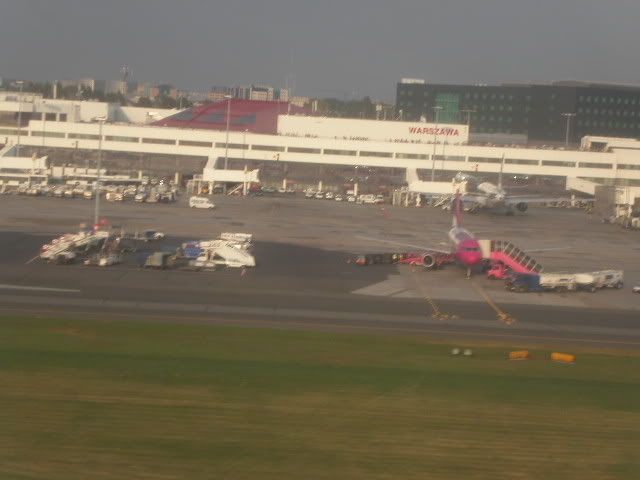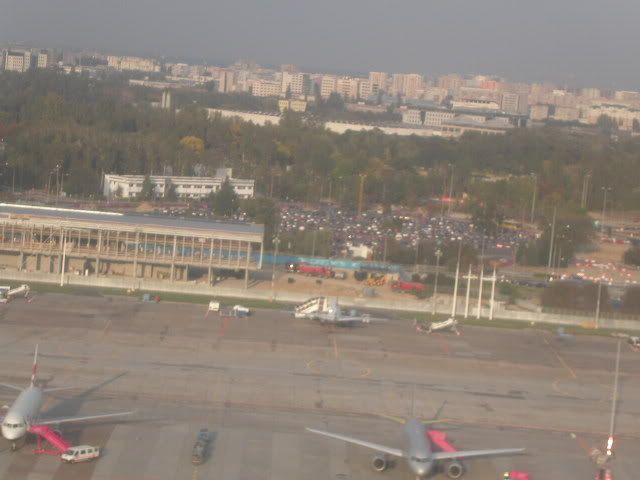 DHL logistic centre: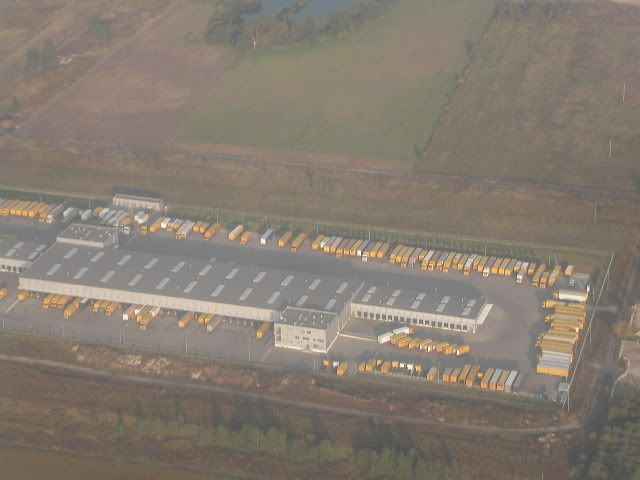 Suburbs of Warsaw: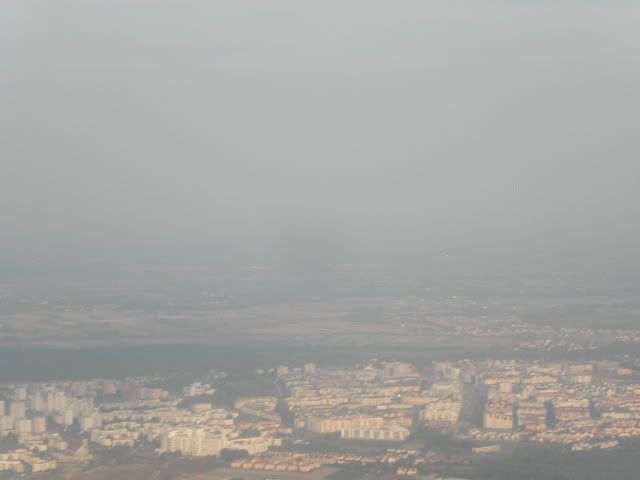 Flight time on the turbo-prop was a bit longer than on the outbound flight with the Embraer-Jet. Service was the same as in the morning (coffee, tea or water, followed by small sweets) but cabin staff was much friendlier and more attentive. The captain told us that flight level was 6.500 metres. It was quite hazy outside, so there was not much to see. I had a look at the in-flight magazine instead. The remaining flight was uneventful.
We started our descent into SZZ: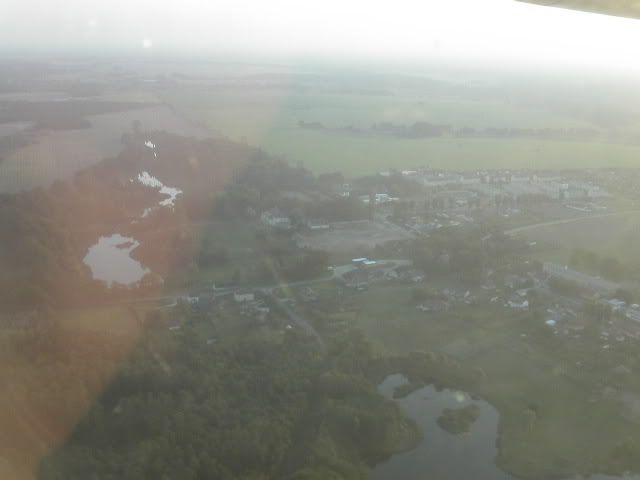 Then we touched down on the only runway of SZZ and came to stand on the apron. I took a picture of the cabin again: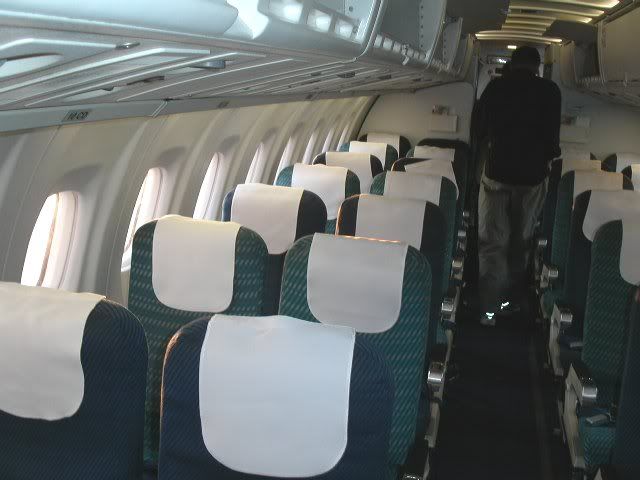 I thanked the cabin crew and walked the short distance to the terminal.
A picture of our ATR: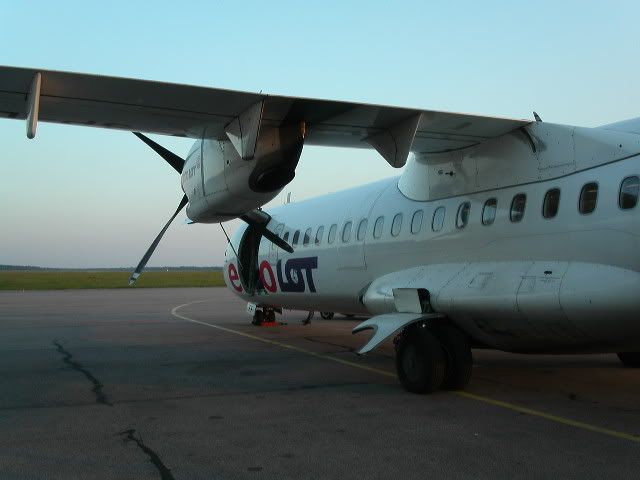 The sun is already going down: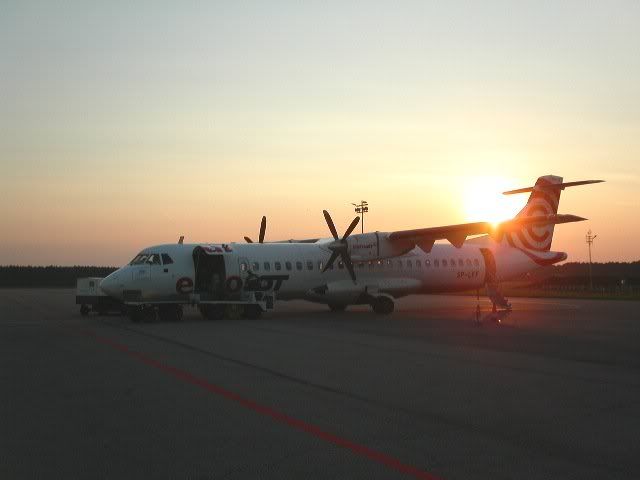 The LOT bus was waiting in front of the terminal. When all passengers had arrived, it left for downtown Szczecin where it arrived 40 minutes later.
Conclusion:
This was my first flight on LOT and it is impossible to judge the airline's service from two domestic flights. What I can say is that they offer a dense domestic network with very reasonable fares even for same-day return flights. Flights were on time (well, with a 15-minutes-delay on the return flight which is still acceptable) and that is what counts on short-haul. Cabin service is very limited but comparable to domestic flights in other European countries. A very good feature of LOT is the free seat reservation on booking, even for short-haul flights. The free bus service to the airport at SZZ is a great advantage for passengers that sets LOT apart from any low-cost carrier. So all in all I can say that I liked the flights and I would try out LOT again if there is an opportunity.
Thanks for reading my report – questions and comments are always welcome.
Regards
Christoph