Comments and feedback greatly appreciated and most welcome!
Friday 7 October 2005
Route:
BKK-SIN
Airline/Flight:
FD5014
Aircraft:
B737-301 (HS-AAN)
Departure:
16:45 Scheduled, 16:58 Actual
Arrival:
20:05 Scheduled, 20:12 Actual
View Large
View Medium


Photo © K.L.Yim
Ten rainy days in Bangkok had passed and my preparations for settling in the city next month were nearly complete. An apartment had been let, furniture purchased, and a visa application prepared. Before heading back to the States to wrap up my affairs there, my partner and I decided to take a weekend trip to the Lion City to visit friends, eat some good food, and – most importantly – to take a flight on Air Asia and see whether it really is "The Southwest of Southeast Asia."
In researching tickets for this trip, I had compared fares on Singapore Airlines, Thai Aiways, Tiger Air, Jetstar Asia, and Air Asia. Thai was the most expensive at about 20,600 Baht for two return fares. Singapore was a close second at 18,500 and Tiger Air and Jetstar were each about 10,000 Baht. Air Asia had the best price, at only 7,500 Baht for two people.
Additionally, their website was extraordinarily easy to use and the online booking, despite my credit card mailing address being in a different country than my point of departure, was problem-free.
Friday morning was quite rushed, as we were to receive delivery of a new dining room table, chairs, and two bedside stands. The furniture company kept telling us they were right around the corner, and by 13:00 informed us their truck had been involved in an accident and they would be further delayed. As I understand it, there were no serious injuries, thankfully.
Threatening weather in Bangkok as sun gives way to rain
The sunny and warm morning gave way to stiff winds, increasing overcast, and eventually some very threatening clouds. By the time we pulled from our apartment car park, the rain was falling although it stopped before we reached Don Muang International Airport, north of the city.
Air Asia operates from Terminal 1 and so we opted to just park in the short-term car park, which is only 250 Baht a day. It is quite convenient and other than the terrible air pollution, is a pretty good deal for a major international airport.
We proceeded to counter 5 and as I was planning to carry on my 22" TravelPro trolley bag I didn't send it through the x-ray machine that sits outside the check-in area. This is where the bags receive the tamper-resistant security stickers. There were two Air Asia flights operating in the next few hours, one to Macao in addition to the Singapore flight. The counter area had a good number of people swarming around it and at first there were no distinct lines. Very quickly, though, two Air Asia ground staff came up and asked for our destination and guided us to the correct line. In fact, this proved very convenient because they herded a large group that was traveling together into another line, which advanced our position considerably.
At check-in the agent weighed my trolley bag and deemed it too heavy to be a carry-on. I was about to ask if this meant I needed to take my bag back to the x-ray machine, when both the agent and I noticed that the bag had picked up one of the security stickers (must have rubbed past another bag?) and it was attached only by a corner of the sticker. He was able to stretch it so it covered the zipper and that seemed satisfactory. So, in short, my checked-in bag did not undergo the screening that other bags did.
Check-in line at the Air Asia counter, Terminal 1
We were numbers 18 and 19 to check-in but unlike Southwest Airlines, on which Air Asia is modeled; this did not give us any advantage with seating. It is strictly open seating, based on when you get onto the plane. The boarding passes are printer receipts just like on jetBlue.
JetBlue-style boarding pass
We went to the automated machines and paid our 500 Baht departure tax. Hopefully when the new airport opens (maybe in June) they will start collecting this tax at the time of ticketing rather than at the time of departure. For non-Thais or people not living in Thailand, you may not have 500 Baht left by the time you reach the airport and only cash is accepted.
It took a few minutes to proceed through immigration. Thailand has implemented a USA-style camera system where your picture is taken when you arrive. The Thais have done the Americans one better and also take your picture when you depart. The camera is an orb on a stick and as it moves to focus on your face it seems strangely alive.
My partner spent the next hour shopping in duty free without actually buying anything. I wandered around taking pictures. The UV-resistant glaze on the windows minimizes the picture quality, but there are some really great planes to see.
Colorful Bangkok Air A320-232 "Krabi" (HS-PGV)
Colorful fruit smoothies – notice the local ordinance prohibiting alcohol sales from 2 – 5 pm, a rather odd effort to discourage underage drinking.
Indian Airlines A320-231
About 45 minutes before departure we headed to gate six, which is one of the bus boarding areas for service to the remote stands. Located downstairs, this gate area is even less appealing than the rest of Don Muang. Boarding time, 16:15 arrived and there didn't seem to be much activity going on by the Air Asia staff. They were standing behind the counter, chatting. A few customers were standing around the boarding door and as the minutes passed, more people joined them.
Boarding area for busses to the remote aircraft stands.
Finally, at about 16:25 an announcement was made that boarding would shortly commence. Just like at Southwest (but worse, as there are no boarding groups) everyone stood up and rushed forward. The agent did pre-boarding for a father with a young son who was traveling in a stroller. Then a group of eight adults who were traveling with a 5- or 6-year old pushed forward to be boarded. Several additional people tried to squeeze in with that group but were denied.
There was a large group traveling from the People's Republic of China and, illustrative of cultural differences, they were pushing forward and squeezing through the remainder of the crowd, which was standing still as general boarding had not commenced. Mind you, this was the queue just for the bus.
Finally, as general boarding started, there was the predictable rush for the door. Kudos to the Air Asia staff, who kept the boarding area very narrow to force some order to the chaos. About five minutes after boarding the busses, the doors closed and we took off to the remote stands, which were located at the opposite end of the airport. The service road we took weaved around each pier so we'd go all the way around each of the International piers. Made for a great view, including of one airline (Biman Bangladesh Airways) which I had never seen before.
Biman Bangladesh A310
View Large
View Medium


Photo © Andre Wadman
As we arrived at the remote stand, boarding was through both the rear and front door. I sent my partner ahead to secure seats and I lagged a bit to snap photos. One of the ground staff finally indicated that I needed to get off the tarmac and go up the stairs, but I took as many shots as I could. Once on board, people were already settling in. It was only one busload of passengers so far, so seating was still pretty open. As I passed the first few rows, I was mowed down by three of the PRC passengers who had boarded through the rear door and then proceeded to push their way upstream to sit close to the front of the plane. Call me crazy, but if you want to sit at the front of the plane, why not enter through the front door?
Three shots of our Thai Air Asia B737-3T0 - the bull logo on the side is from a popular Thai band.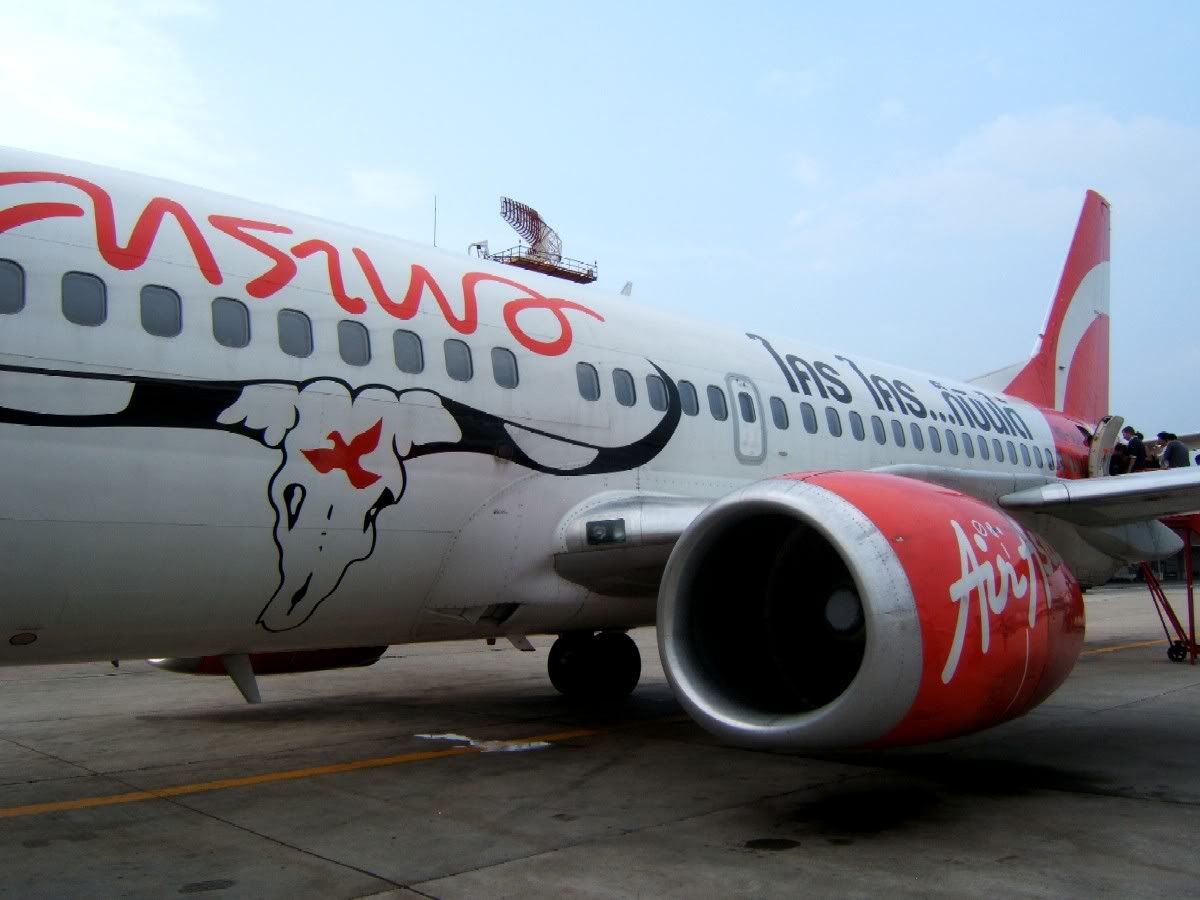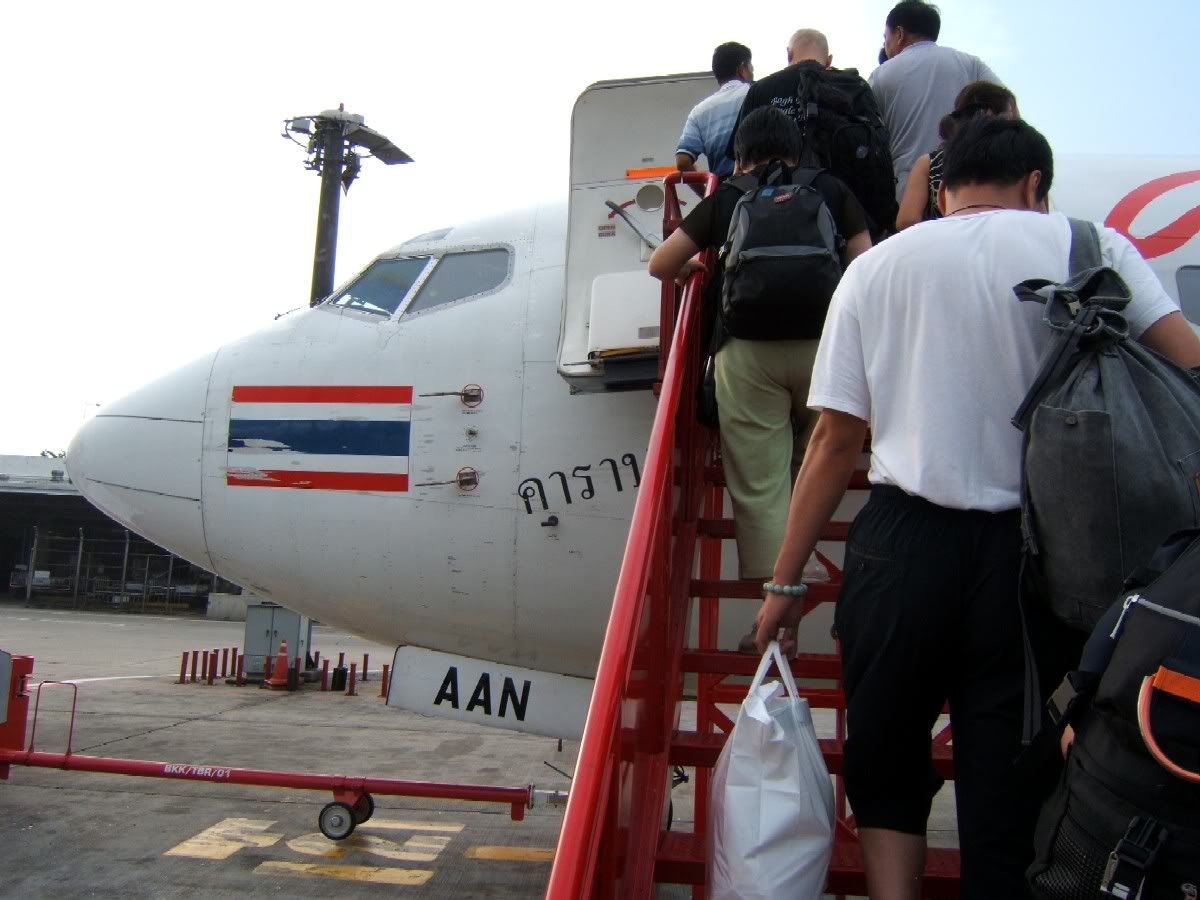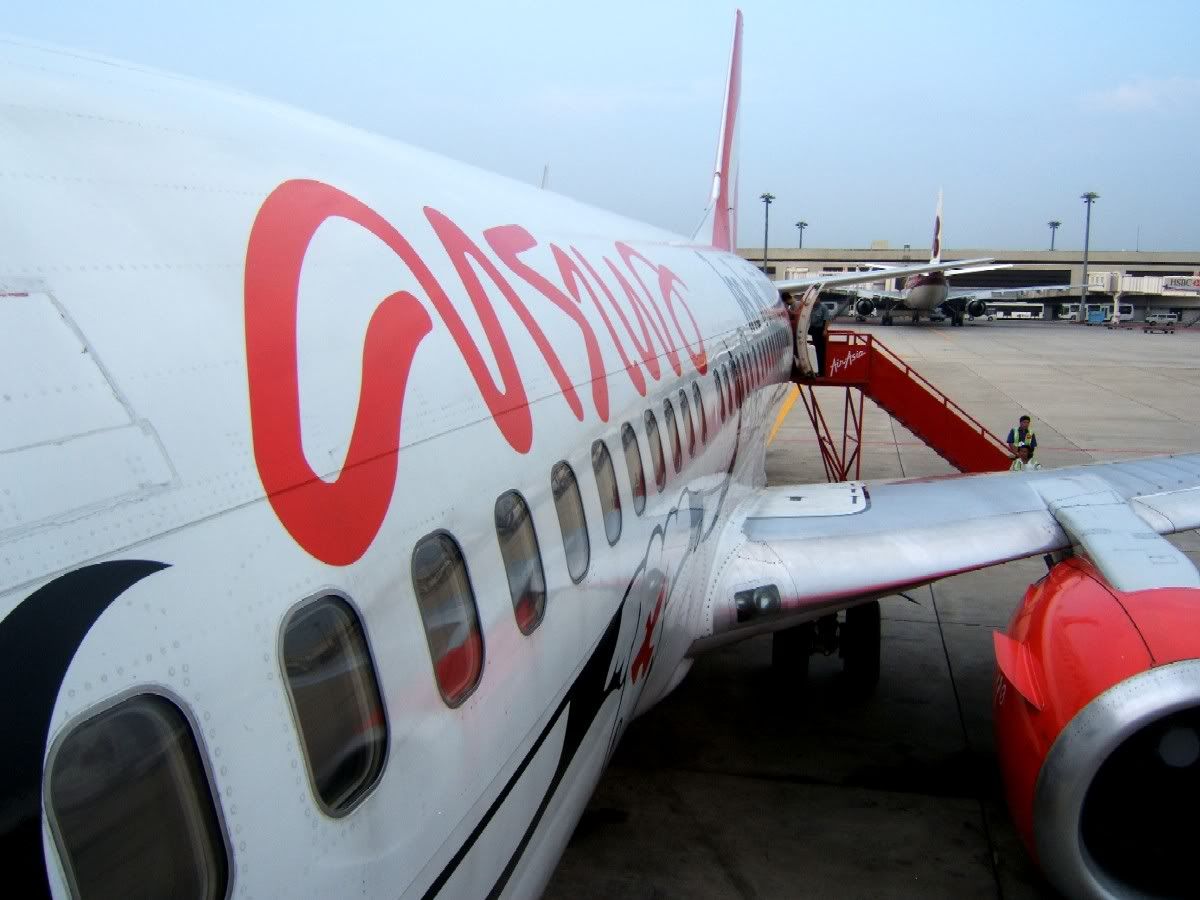 Thai Airways B737-4D7 (HS-TDD)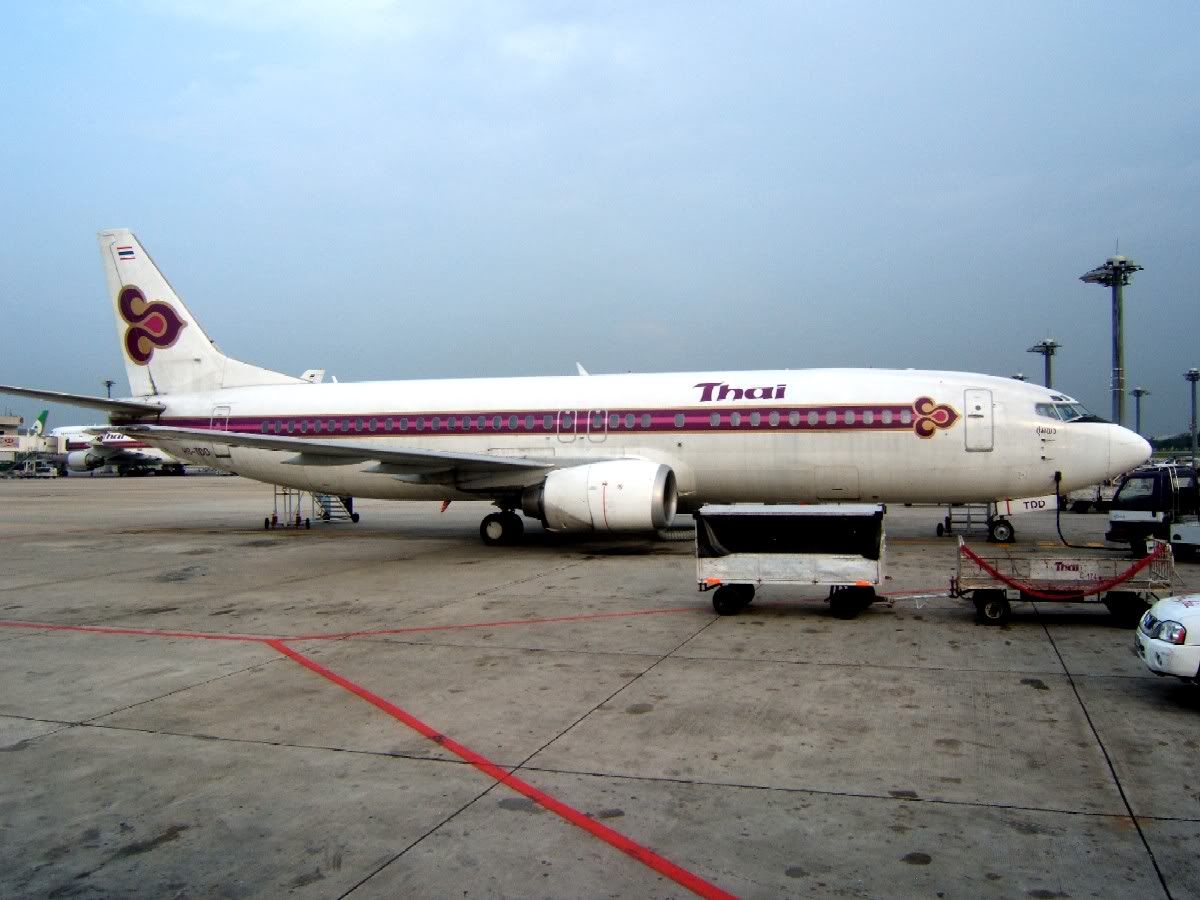 Quite inexplicably, the three other farang (Westerners) on the flight had all selected exit row seats as had my partner (not a farang, but a former UA employee). So I settled into 14A, which had no seat in front of it. The second bus arrived. After boarding was complete about 30% of the seats were still empty. We pushed back rather quickly – not everyone had his or her seatbelts fastened yet – at 14:58.
The safety announcement was conducted in Thai and English, as this flight is operated by Thai Air Asia. At the conclusion of the announcement, a special admonition was added: "It is a very serious offence to remove life jackets from the aircraft." Apparently, they make for a popular souvenir.
The international language of safety
We did a very rapid taxi out to runway 20R, bouncing along the taxiway. There was nobody ahead of us and so we were cleared directly for takeoff. A quick takeoff was followed by a steep climb out of Bangkok. We turned to the southeast and headed toward the new airport before turning south again.
Some condensation over the wing during take-off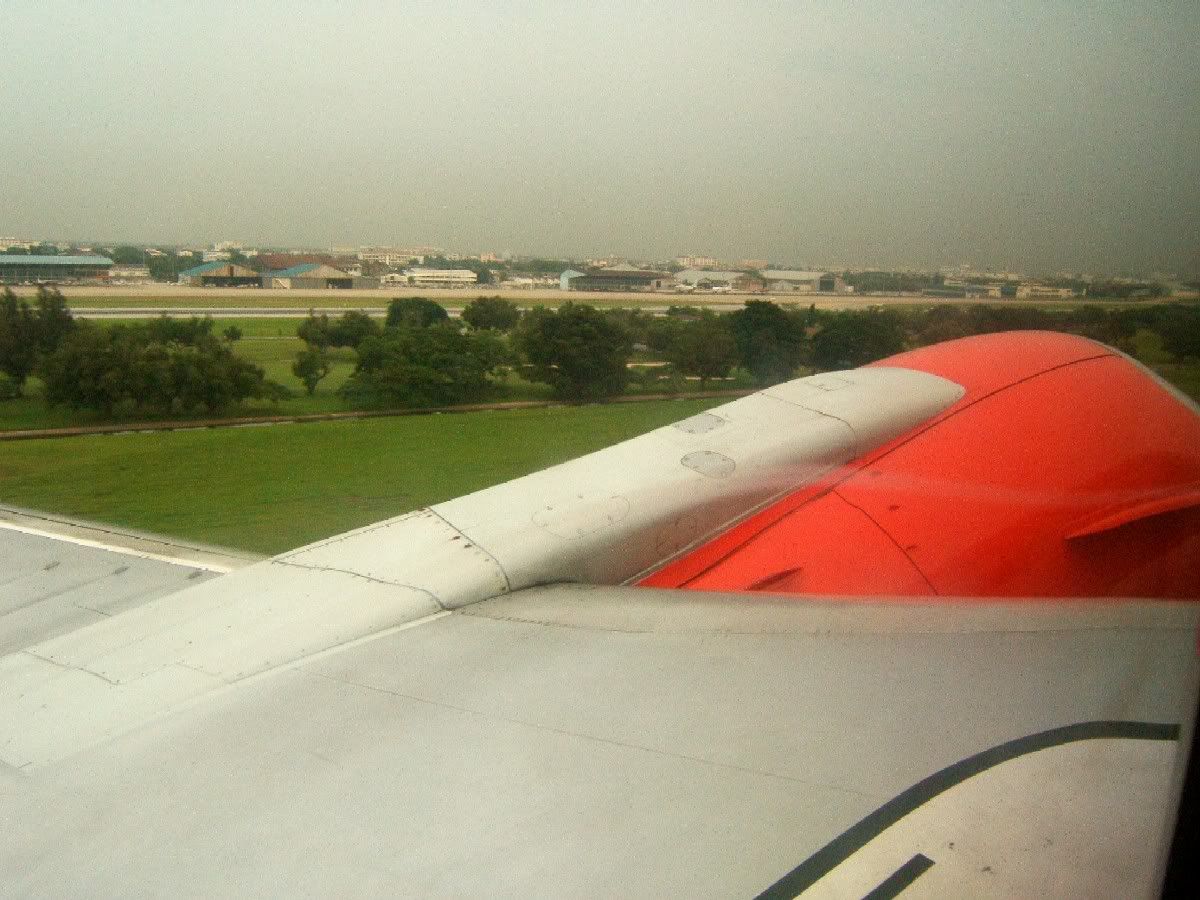 Taking some time to look around, I noticed that the cabin was pretty clean and neat – the seats are black leather and the carpet is red. Other than some wear and tear on the cabin walls around the exit row, the plane was in good condition. The staff was dressed in bright red blazers and skirts in a very modern-professional look.
Interior of the cabin – nice leather seats
Bilingual exit signage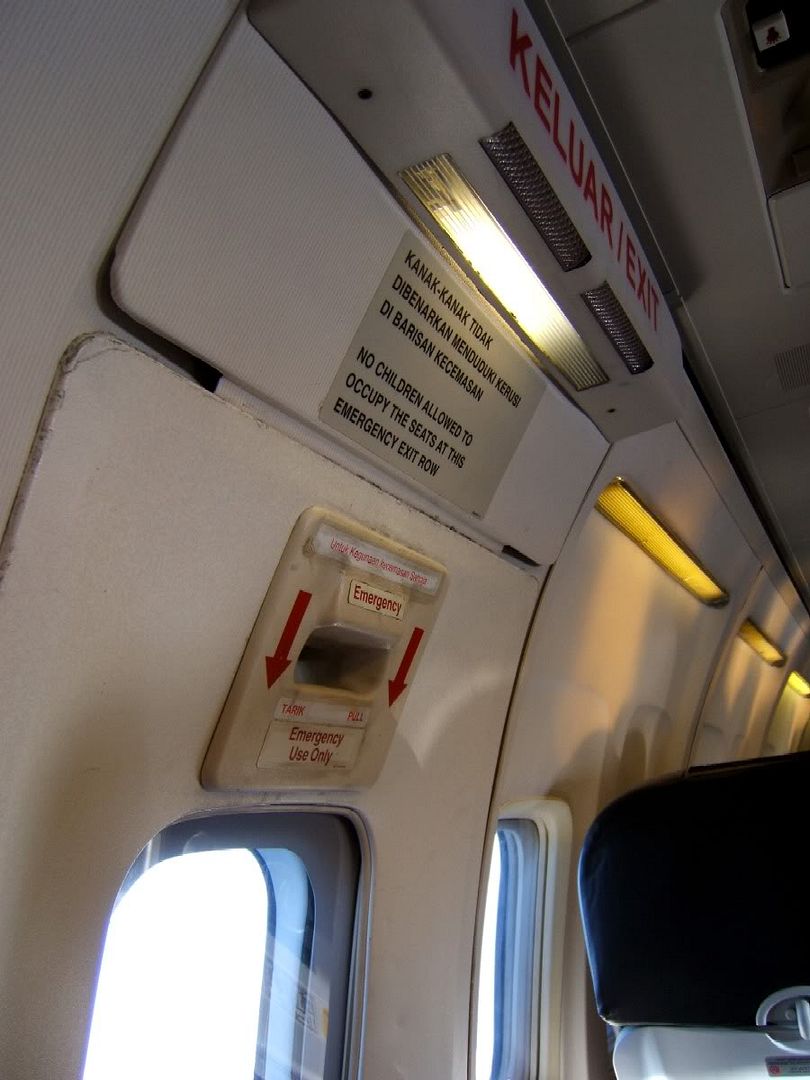 In-flight service began about twenty minutes after takeoff. Nothing is free on Air Asia and a laminated menu is in your seatback pocket. The range of selections is quite good and the prices are reasonable. Here's a complete list – prices are in Thai Baht, but Singapore and Hong Kong Dollars are accepted along with Malaysian Ringit and China's RMB.
Tuna Sandwich or Mushroom Puff Pastry – 70 Baht

Cup Noodles – Tom Yum Koong or Seafood flavor – 60 Baht

Knorr Porridge (Jok) Chicken flavor – 60 Baht

Kit Kat Bar or Cashew Nuts – 50 Baht

Pringles Chips, Nautilus Cracker and Spread (Tuna or Salmon) – 60 Baht

Orange or Apple Juice, Milo Cool, A-Ha Ice Coffee (Mint or Chocolate), Pepsi, 7-up, or Lipton Ice Tea – 40 Baht

Oishi Green Tea (Original or Honey) – 50 Baht

Drinking Water (Bottled, still), Hot Lipton Tea, Chinese Oolong Tea, Nescafé Classic, Nescafé 3-in-1, or Hot Milo – 30 Baht
The menu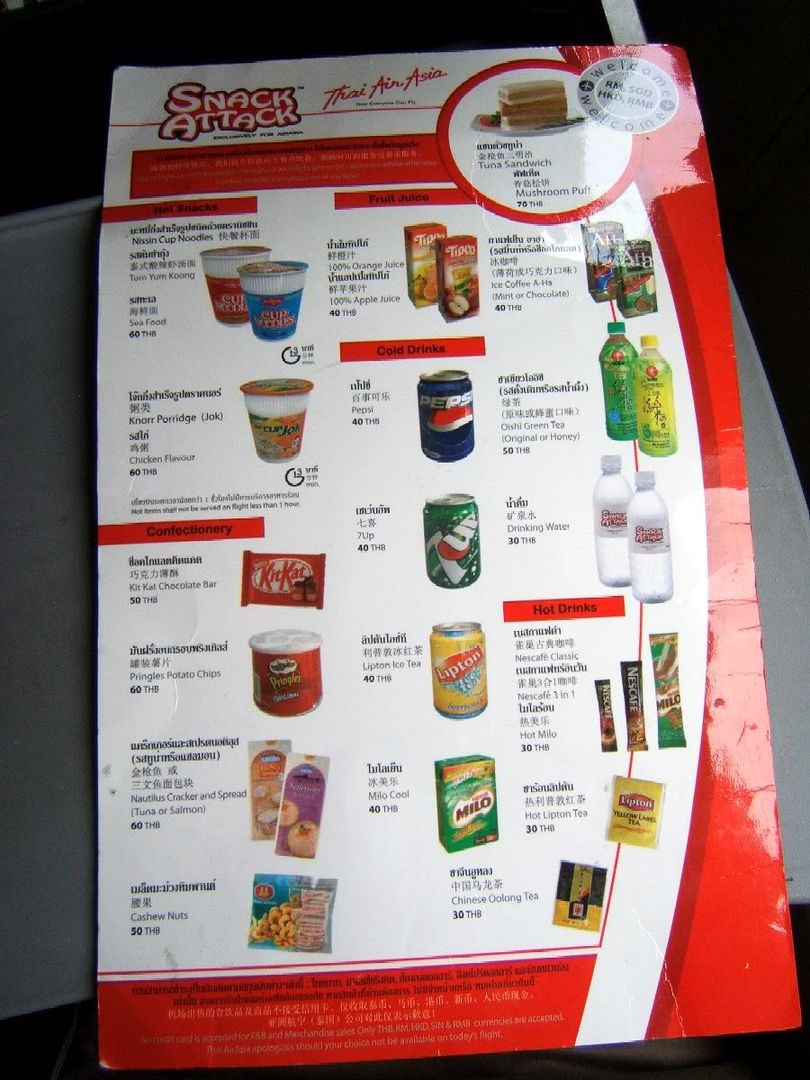 Let's see… what to buy for a snack?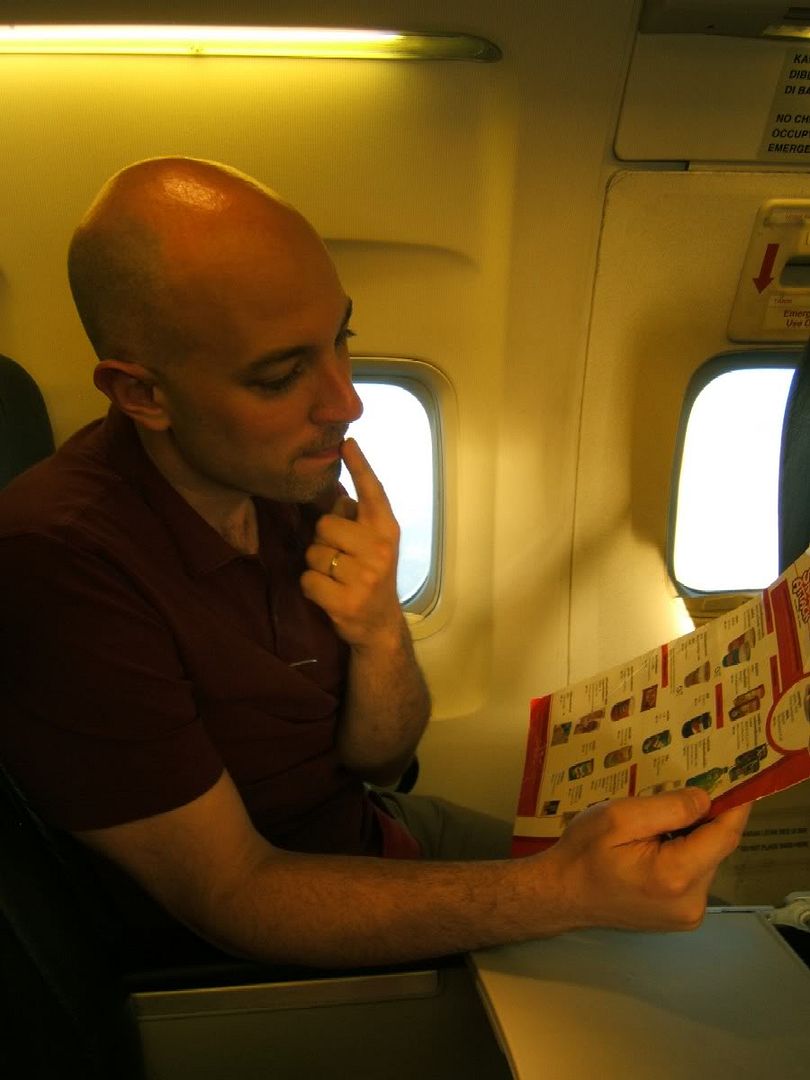 All in all, I found the selection to be quite good. For dinner I tried the mushroom pastry, the instant jok, and a bottle of green tea (honey flavor). The pastry was tasty but cold. The jok was satisfying and tasted like Cream of Rice breakfast cereal but with little bits of reconstituted chicken in it. The greet tea was, as always, fantastic.
I realize that the selection of snacks reflects the tastes and preferences of the local cultures, but I'm somewhat inclined to believe that if airlines in the US offered more interesting snacks, the flying public would perceive that positively even if they had to pay. Nothing wrong with paying for sodas, and if I'm going to pay for snacks make sure to offer me something good. Notice that only one item on the list is candy.
All this, and change to boot!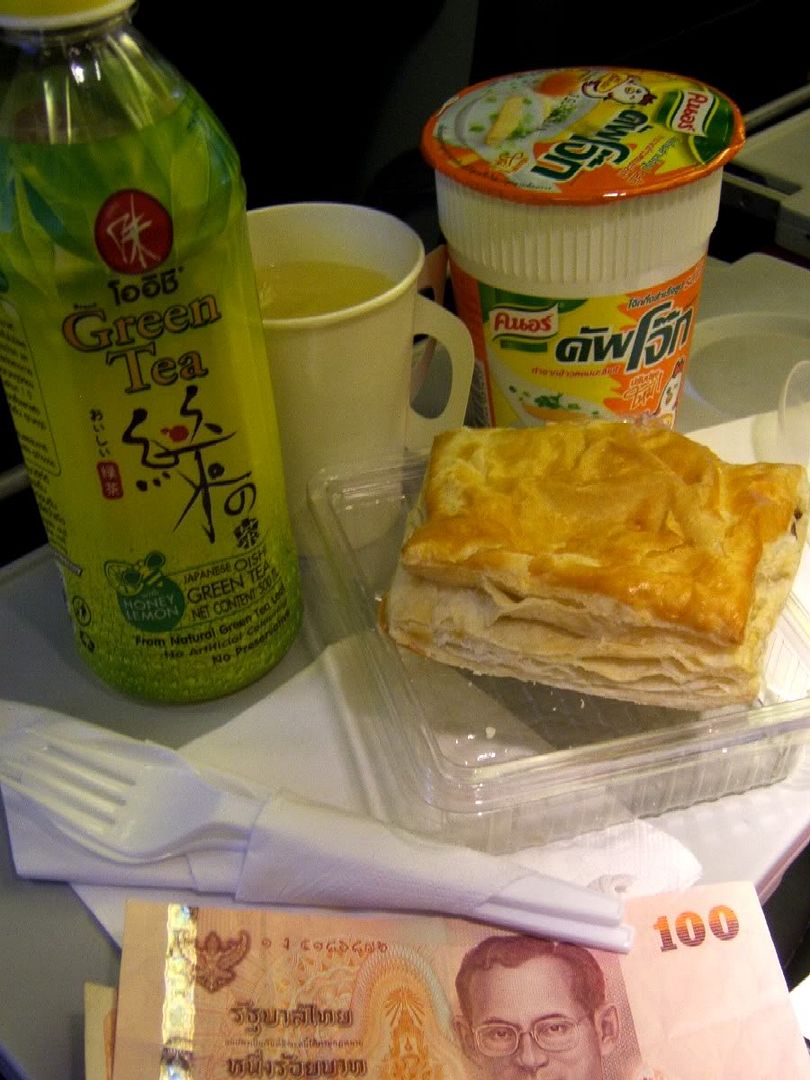 Air Asia also does a brisk business in souvenirs. The merchandise is listed on the reverse side from the snacks menu and includes:
T-shirts in five styles for 250 Baht including one with the slogan, "Right Time, Right Place, Right Airline… Air Asia."

Red, black, or white polo shirts for 350 Baht

Caps for 200-240 Baht

Thermos mug – 240 Baht

Leather key ring – 120 Baht

Metal aircraft model – 550 Baht

Pens, pins, bag and beanie airplane – ranging from 70-320 Baht

Finally, the pièce dé la résistance, a pilot teddy bear with goggles and Air Asia scarf for 430 Baht.
Not sure how much money they actually make, but when you figure that you could almost spend as much on merchandise and food as you paid for your ticket, it isn't too bad a strategy. Consider also that the LCCs in Southeast Asia are introducing a whole segment of the population to flying who never flew before. As their tagline says, "Now everybody can fly."
Sunset over Malaysia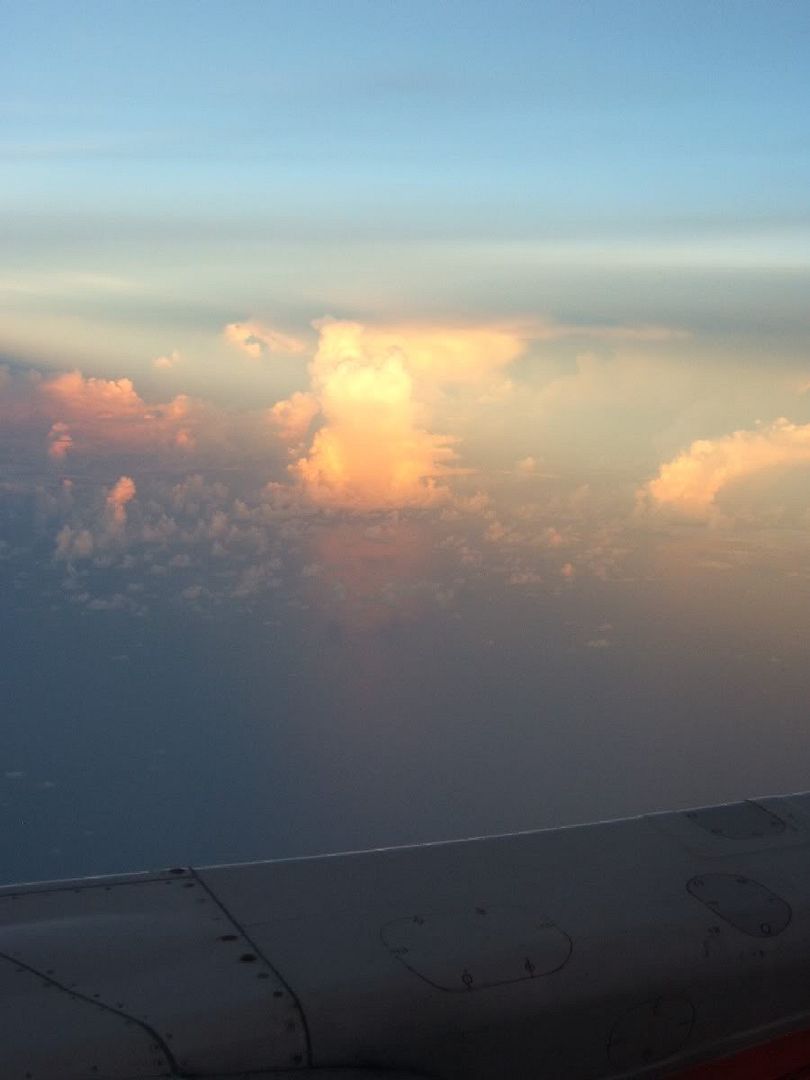 The flight was smooth and just about two hours later we started our descent into Singapore. We landed hard and fast on runway 02C – one of the few airports I've flown into with a center runway. In true low cost carrier fashion we taxied at high speed to the gate, traveling quite a distance.
Landing at Changi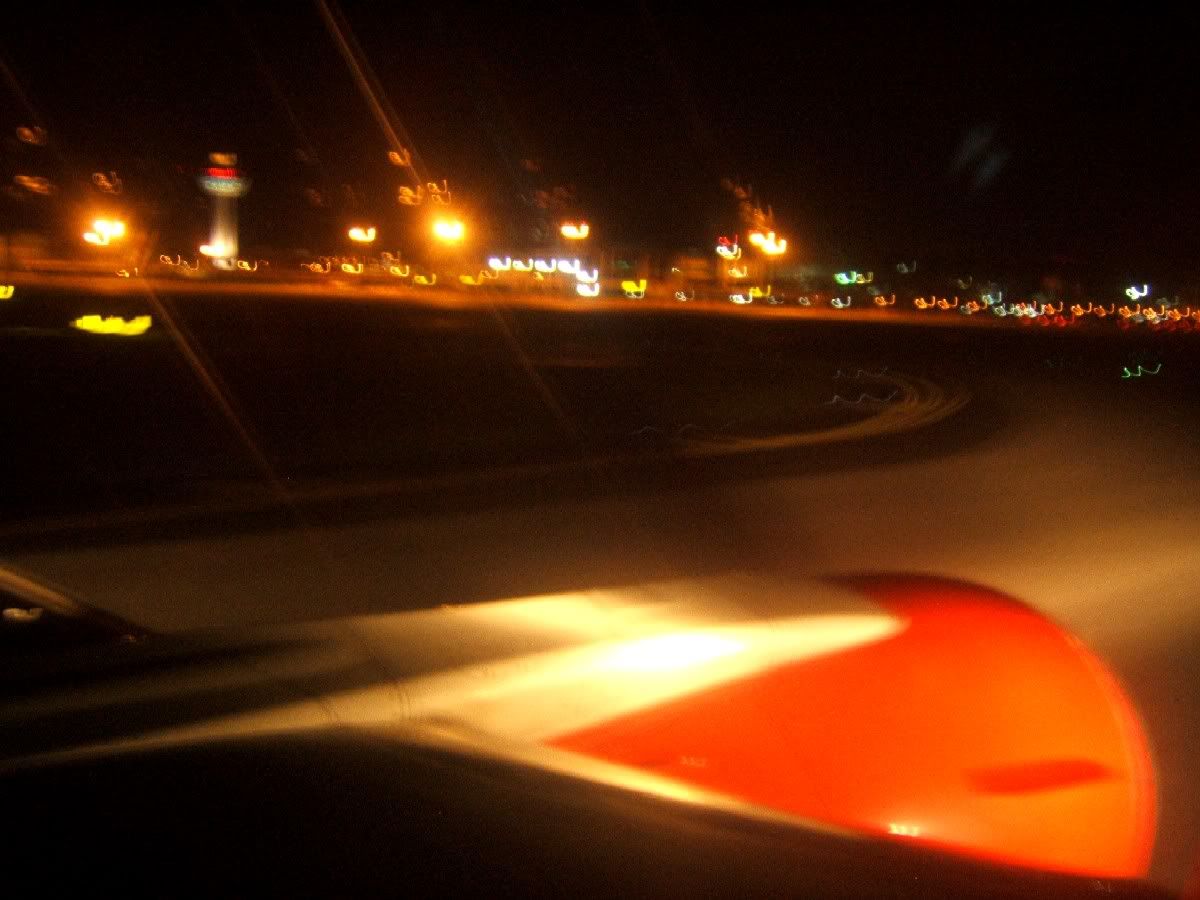 It had been nine years since my last visit to Changi International Airport. In 1996 I found it to be a fantastic, modern, well laid-out facility. In 2005 I find it to be even more so. Because security screening is handled at the entrance to each individual gate (or in some cases clusters of gates) most of the airport is an open transit area. Arriving, departing, and connecting passengers intermingle from the moment they enter the terminal. There are many great shops and good food to eat and I only wish I had more time to explore.
Passing through immigration was a breeze – only about a six or seven-minute wait and in front of each officer there was a small glass dish of candy. The officer who helped me, a middle-aged gentleman of South Asian descent dressed in a sharp civil servant's uniform, welcomed me to Singapore and then offered me a candy. Quite nice.
By the time we passed through immigration our bag was already on the belt. Customs was a breeze, too, and a minute later we were passing through the sliding glass doors and searching for our friends.
Sunday 9 October 2005
Route:
SIN-BKK
Airline/Flight:
FD5013
Aircraft:
B737-3T0 (HS-AAS)
Departure:
15:35 Scheduled, 15:50 Actual
Arrival:
17:10 Scheduled, 17:20 Actual
View Large
View Medium


Photo © TK
The weekend in Singapore was great fun. Any trip to Singapore is, foremost in my mind, about food. Sure enough, we had Hainan Baked Rice, Hokkien Chicken Rice, Malaysian Roti, and both White Pepper Crab and Chili Crab. Oh, man, what great food.
Tawn, Otto, and Han in front of the financial district in Singapore – just before a crab dinner!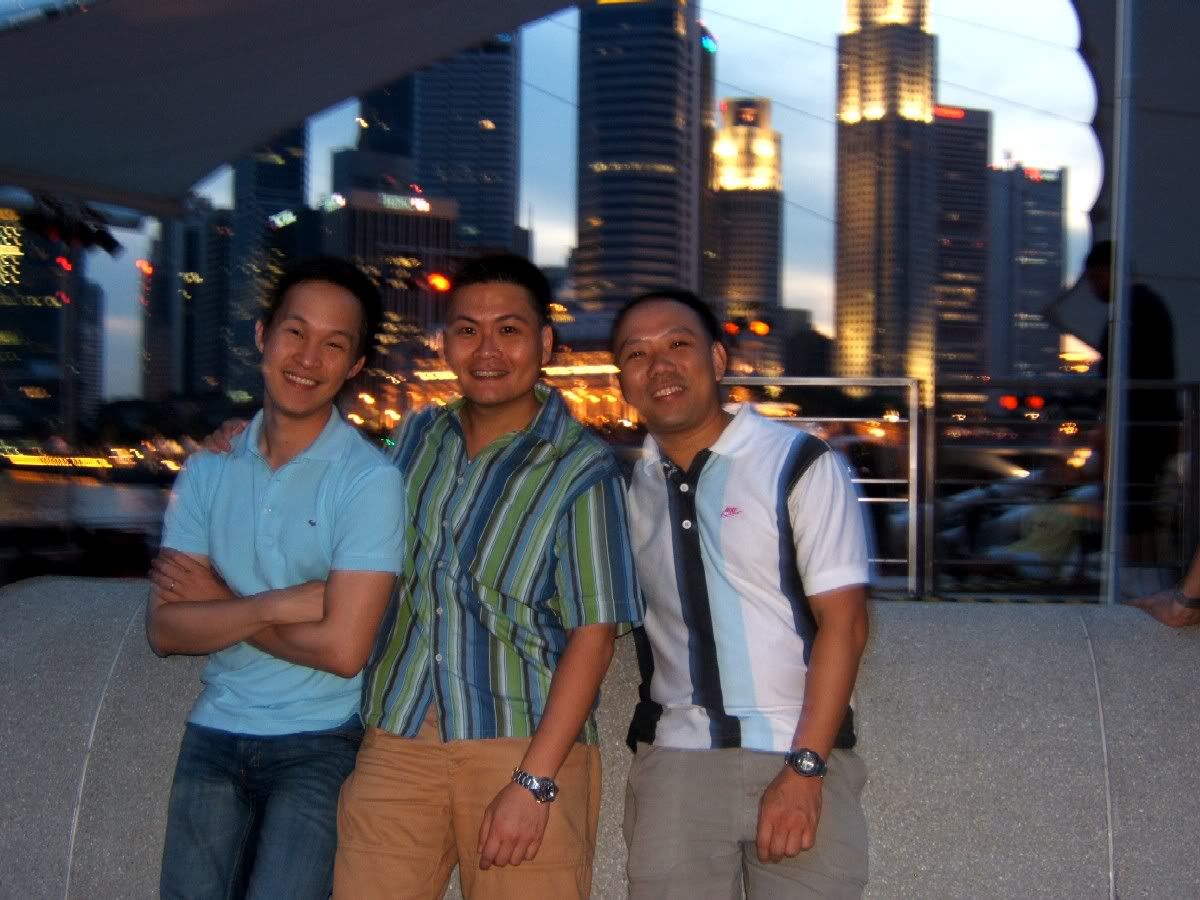 Sunday afternoon we were running a bit late shopping and managed to arrive at the check-in counter about 50 minutes before departure time. There was only one other person checking in at that time and our boarding passes indicated we were the 69th and 70th people to check in. The process of checking in was much quicker than at Bangkok as there was no screening of the checked baggage before arriving at the counter.
Terminal 1 at Changi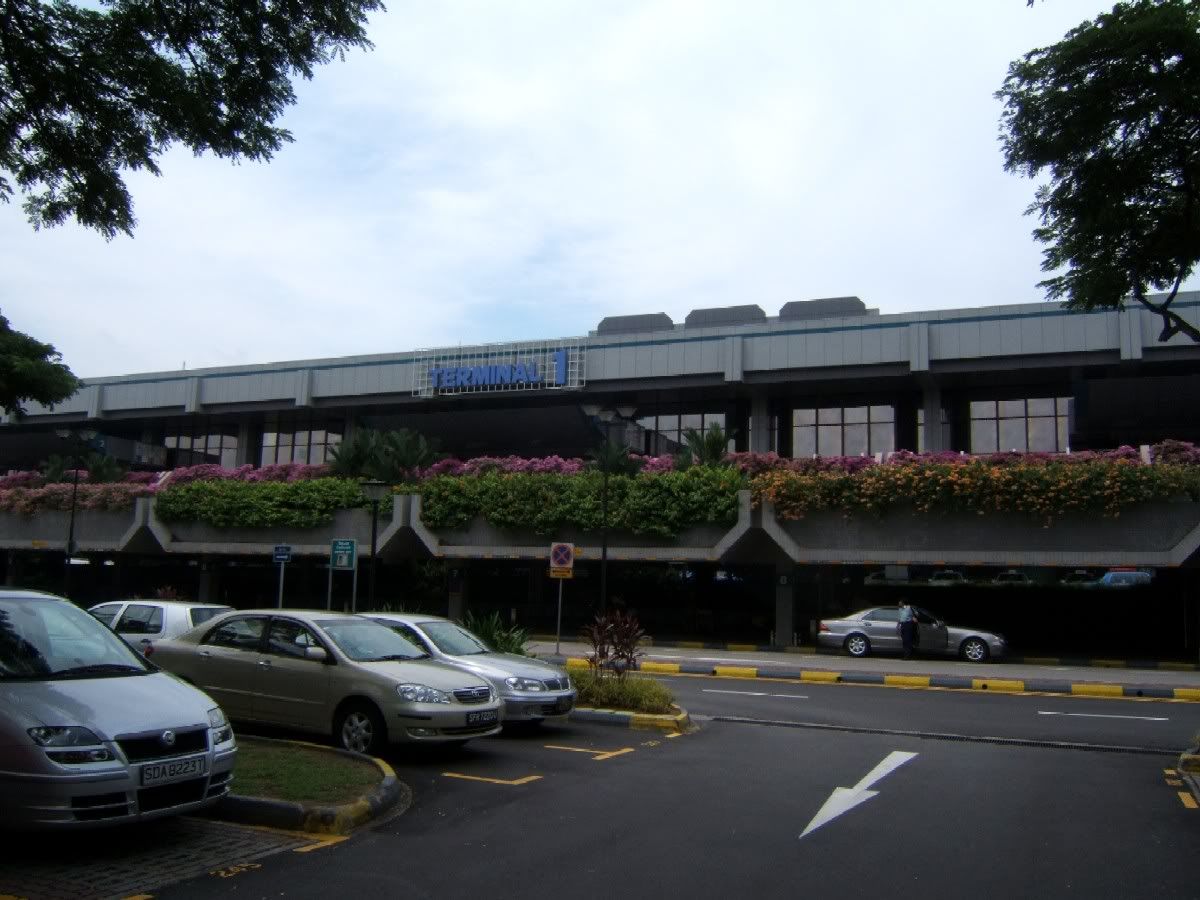 Terminal 1 at Changi Airport is the older of the two, but has been maintained in fantastic condition. There are plants, water features, and lots of natural light throughout the building. The landside of the terminal has these terraced planters that create a lush tropical hanging garden effect. The interior layout is very useful, too: the walk from the check-in counter to the immigration area was only about ten seconds. Our friends left us at the glass partition and we speeded through immigration. Once again, there were glass bowls of candy at each desk.
We made a stop at duty free: I purchased a liter of Taylor Fladgate 10-year old Port. Tawn purchased some lipstick for his mother. You know the saying: you can't go to Singapore without buying something for mom. Aware that boarding time had already arrived and with the departure monitors indicating an on-time departure, we made a quick stop at a Pacific Coffee outlet to purchase some chicken pies, a slice of apple strudel, and two bottles of mineral water. No Air Asia mushroom puff pastry this time – once was enough. I was struck by how reasonably priced the airport food was. I think for the whole thing we spent only about S$15 – about US$9.
Valueair A320-232 (9V-VLB)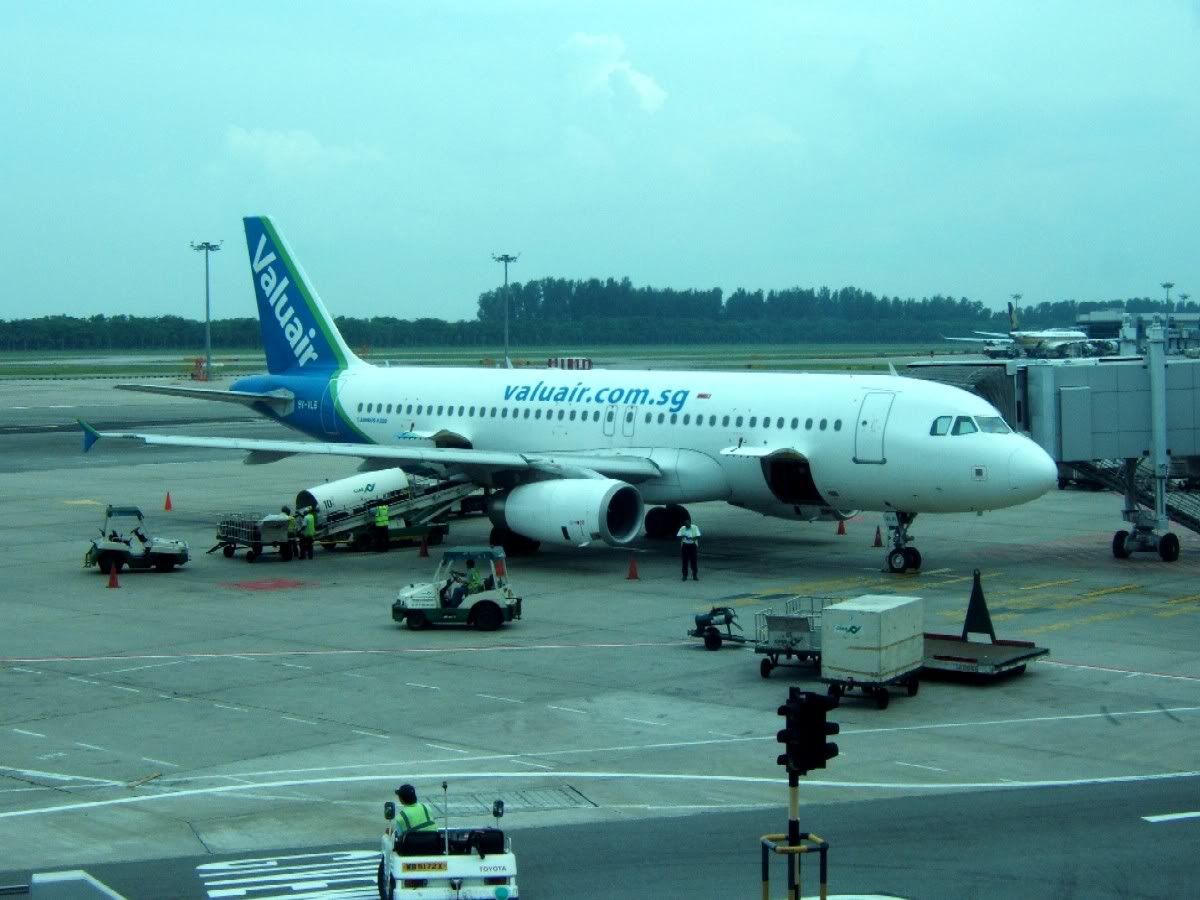 Our gate was all the way at the end of the pier and the further we went along the travelators (what "moving sidewalks" are called at Changi) the terminal became increasingly deserted. Finally, as we neared the gate it was apparent that an on-time departure was unlikely: our aircraft hadn't even arrived.
A quiet corner of the airport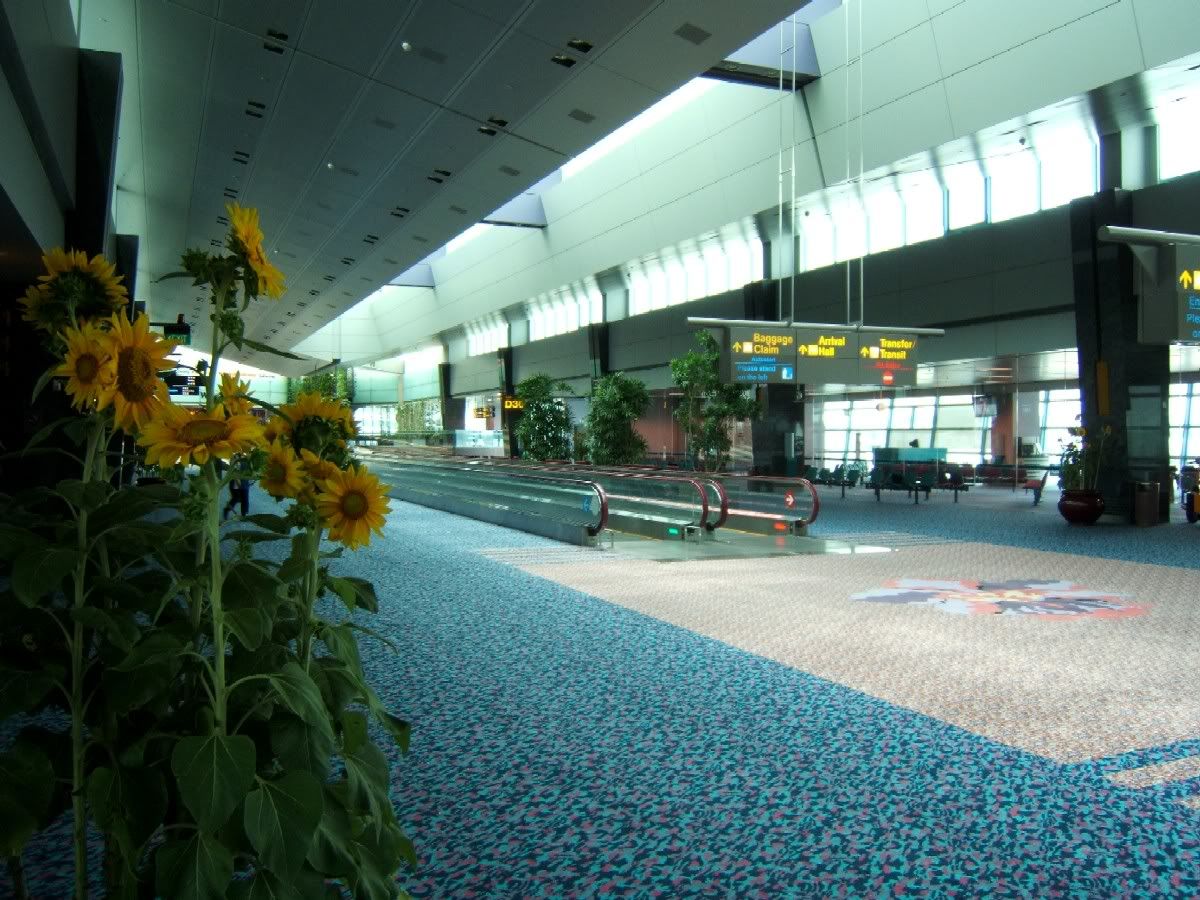 I used the opportunity to snap a few more pictures and once we saw our plane arriving, we proceeded through security. One drawback to the design of having security at the entrance to each gate area is that, like at MCI, if you need to use the toilet you have to exit security and then re-clear it after finishing your business.
Garuda Indonesia A340-313X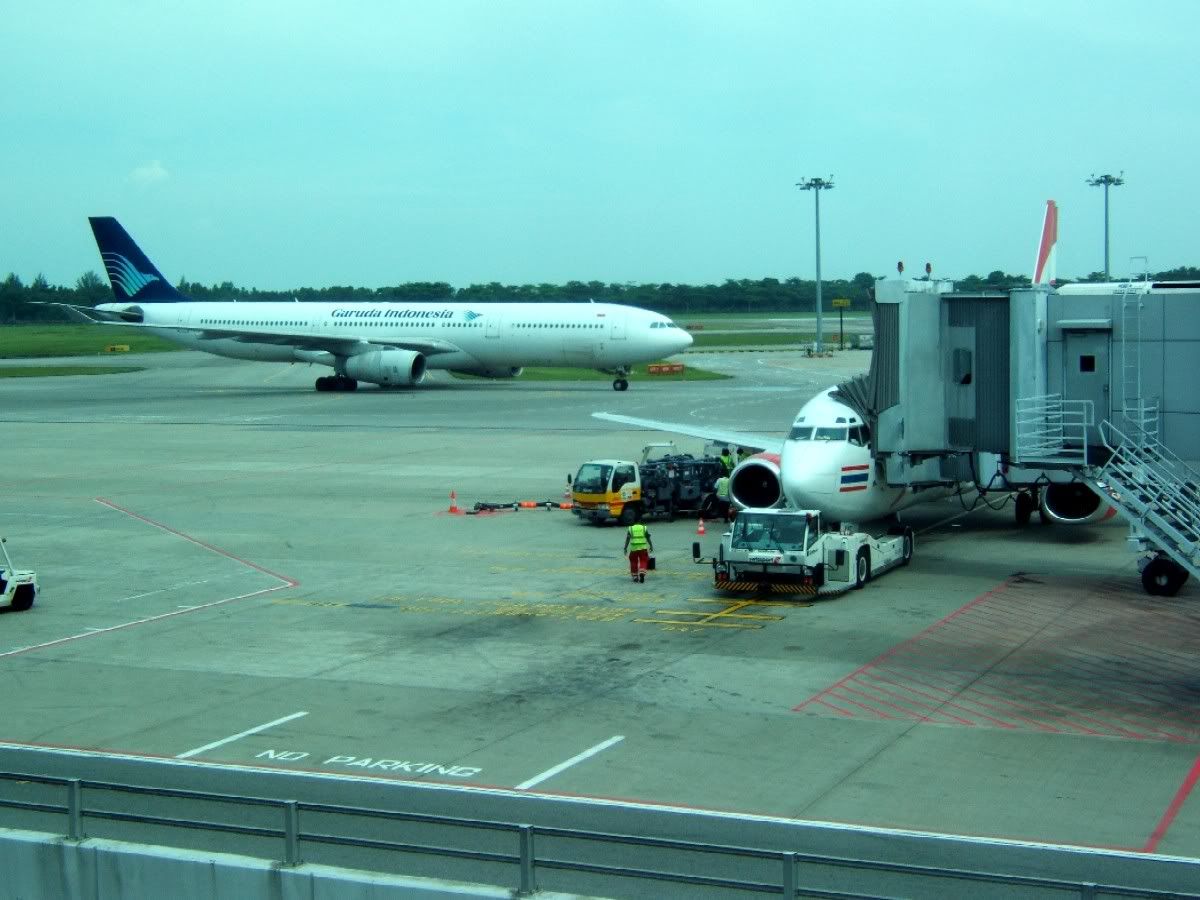 The ground staff turned around the flight very quickly: we were ready for boarding fifteen minutes after the plane arrived. While the seating is open, the gate staff only boarded about 30 people at a time so as to minimize congestion on the jet bridge. This worked pretty well: there was only a line of four or five people when we reached the aircraft door.
Minor backup at the aircraft door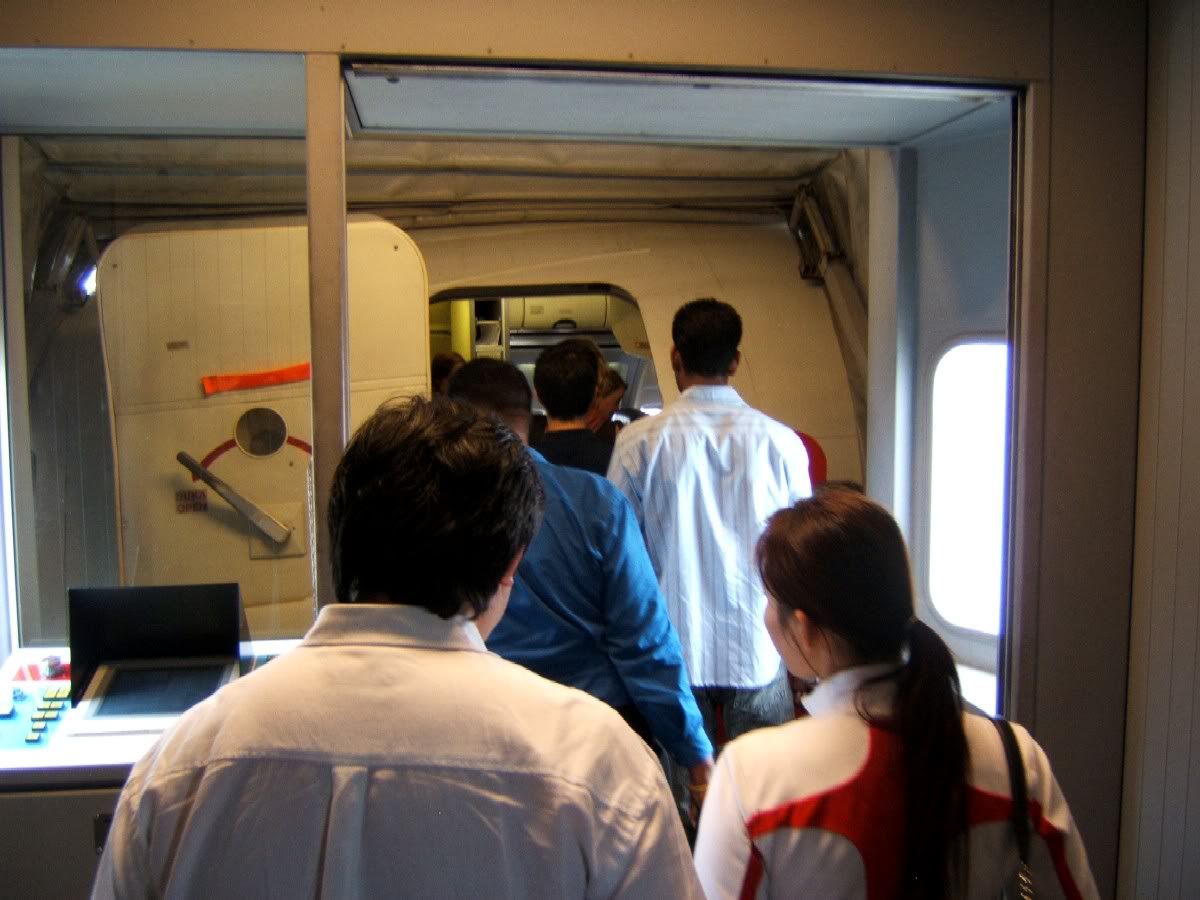 Cathay B777-367 at the gate next to us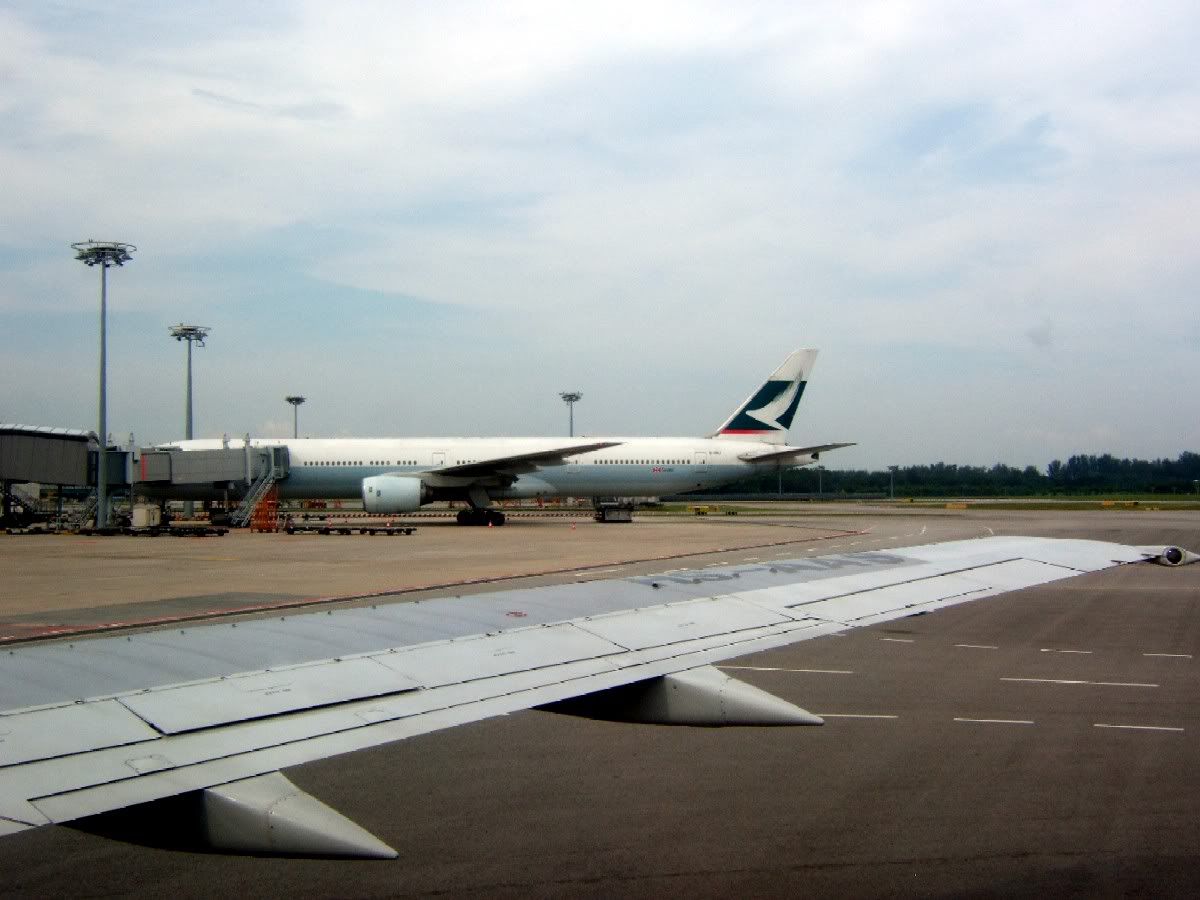 We pushed back about fifteen minutes after our scheduled departure and were number two for takeoff behind an SQ B777-200. A Silk Air A319 was right behind us. As we took off on runway 20C the view of the airport was a bit limited as most of the terminal area was behind us. There looks to be a lot of construction underway at the airport. A new terminal and some remote parking areas that may be for cargo, it looks like.
Singapore Airlines ahead of us, Silk Air behind us
An SQ MegaTop being towed as we depart from SIN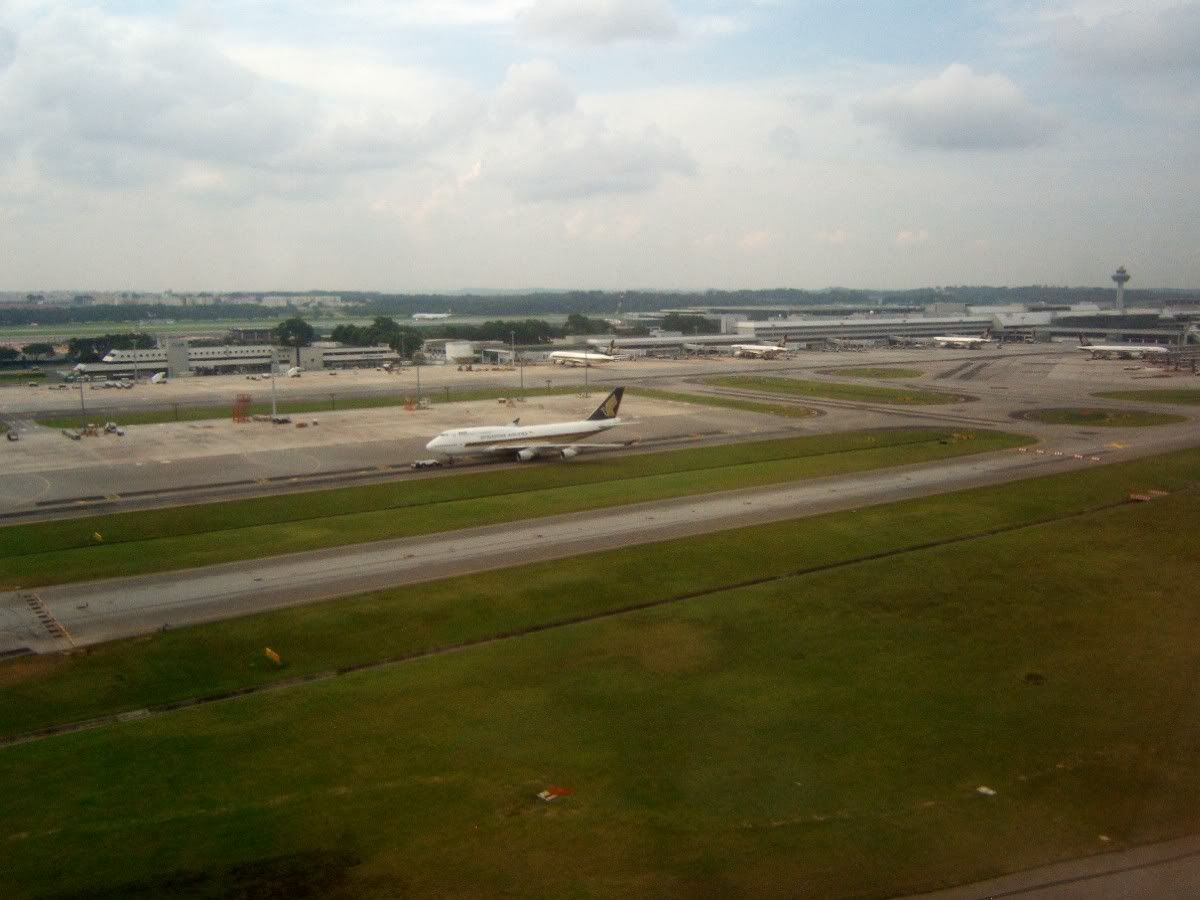 As we crossed the coastline we began a wide left turn, bringing us around the east end of the island. We crossed the Malacca Strait and as we approached Malaysia there was a fun view of an SQ 777 on approach to the airport, traveling slow and low – perhaps 15,000 below us? Even with the zoom it was difficult to get a good shot, but it was cool to watch this graceful bird heading in the opposite direction below us.
The flight into Bangkok had some light chop and many stormy clouds for which we made several deviations in our flight path. The service was pleasant and friendly, as on the first flight. We purchased a green tea (for me) and a hot tea (for Tawn) to accompany our brought-on-board meal. Even at room temperature, the chicken pies – which at about 5" in diameter were quite a satisfying serving for one person – were a vast improvement over the mushroom puff. The apple strudel was amazingly good, with plump raisins strewn throughout.
Friendly (if blurry) in-flight service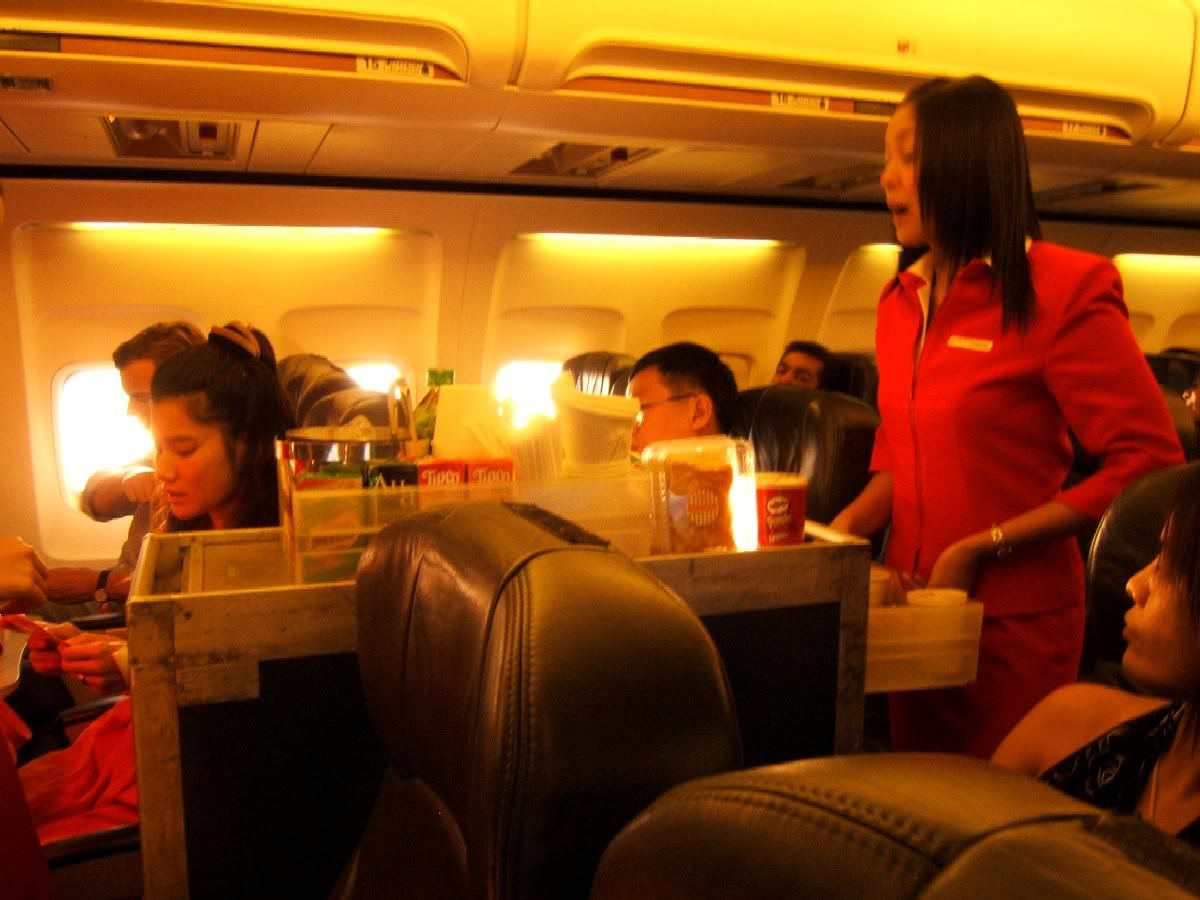 Sadly, in-flight merchandise sales did not happen on this flight. My opportunity to purchase a souvenir Air Asia leather key chain passed me by. Or, more accurately, it didn't happen at all! This is either a clever ploy to get my business again ("Must take another Air Asia flight so I can buy a key chain.") or an unfortunate incentive for people to take the life vests as souvenirs instead. Either way, it was a disappointment.
Brilliant blue skies and ocean as we fly up the Gulf of Thailand
Approach from the north into Don Muang Airport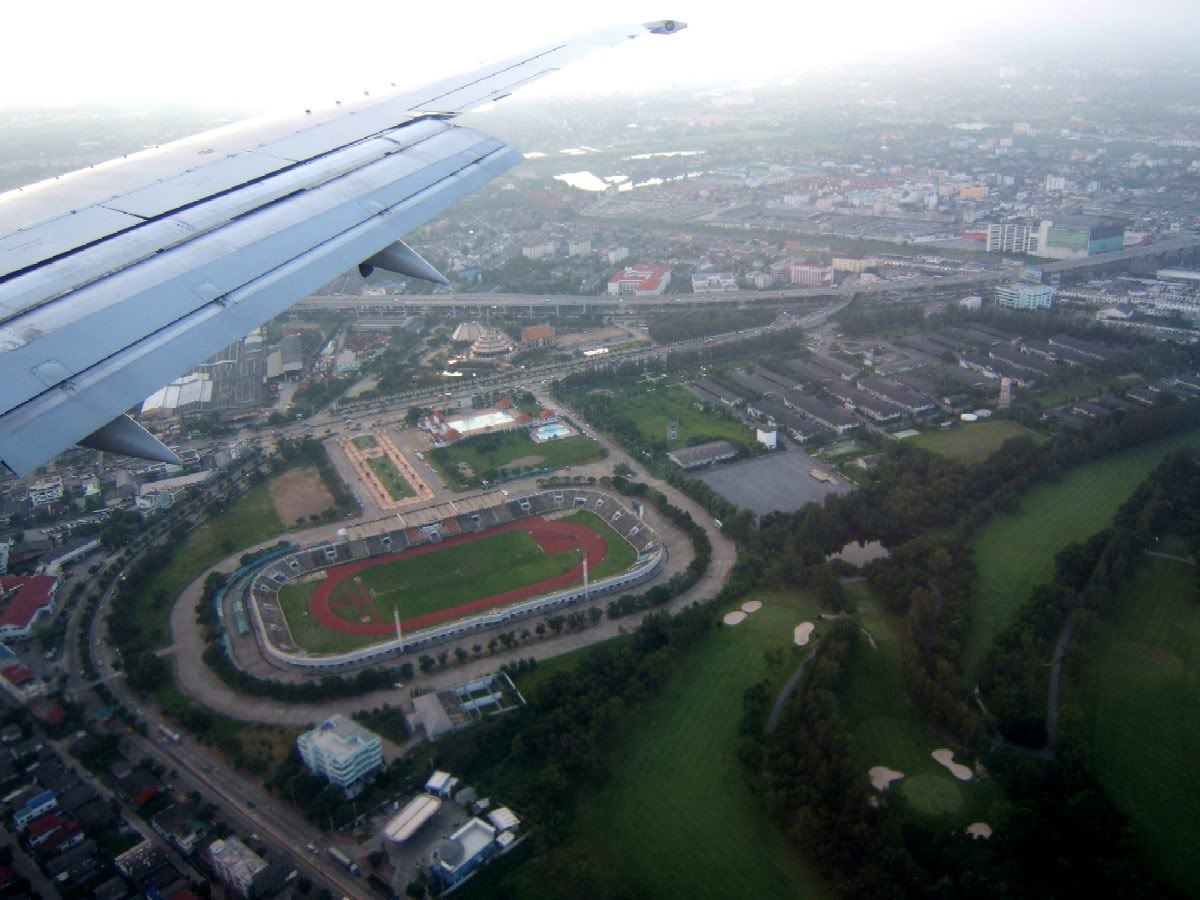 We decelerate along runway 20L with the golf course beside us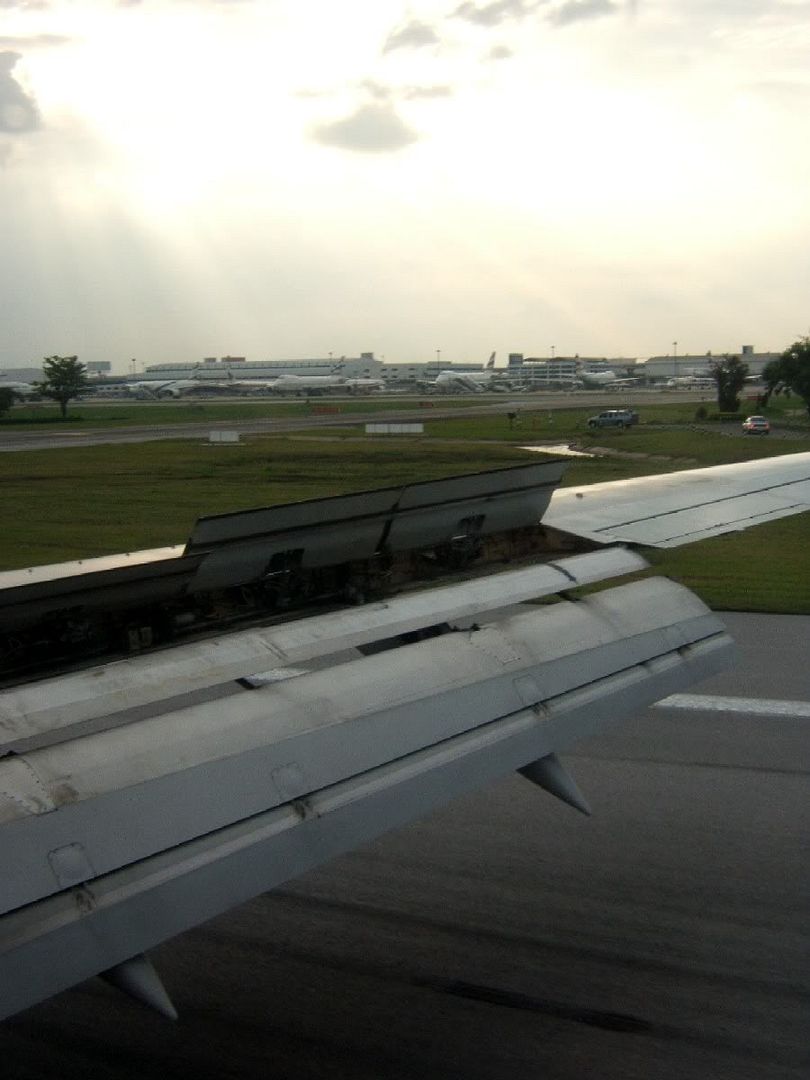 Our approach into Bangkok was from the northeast. We made our base leg turn about 15 miles north of the airport and came in for a smooth landing about 17:15 local time. Our taxi to the remote stand was pretty quick and the wheels were chocked by 17:20. I was the last person out of the plane and the ground staff didn't seem very patient as I took a few pictures from the top of the air stairs. So I curtailed any more photography and got into the bus.
Thai Airways A340-642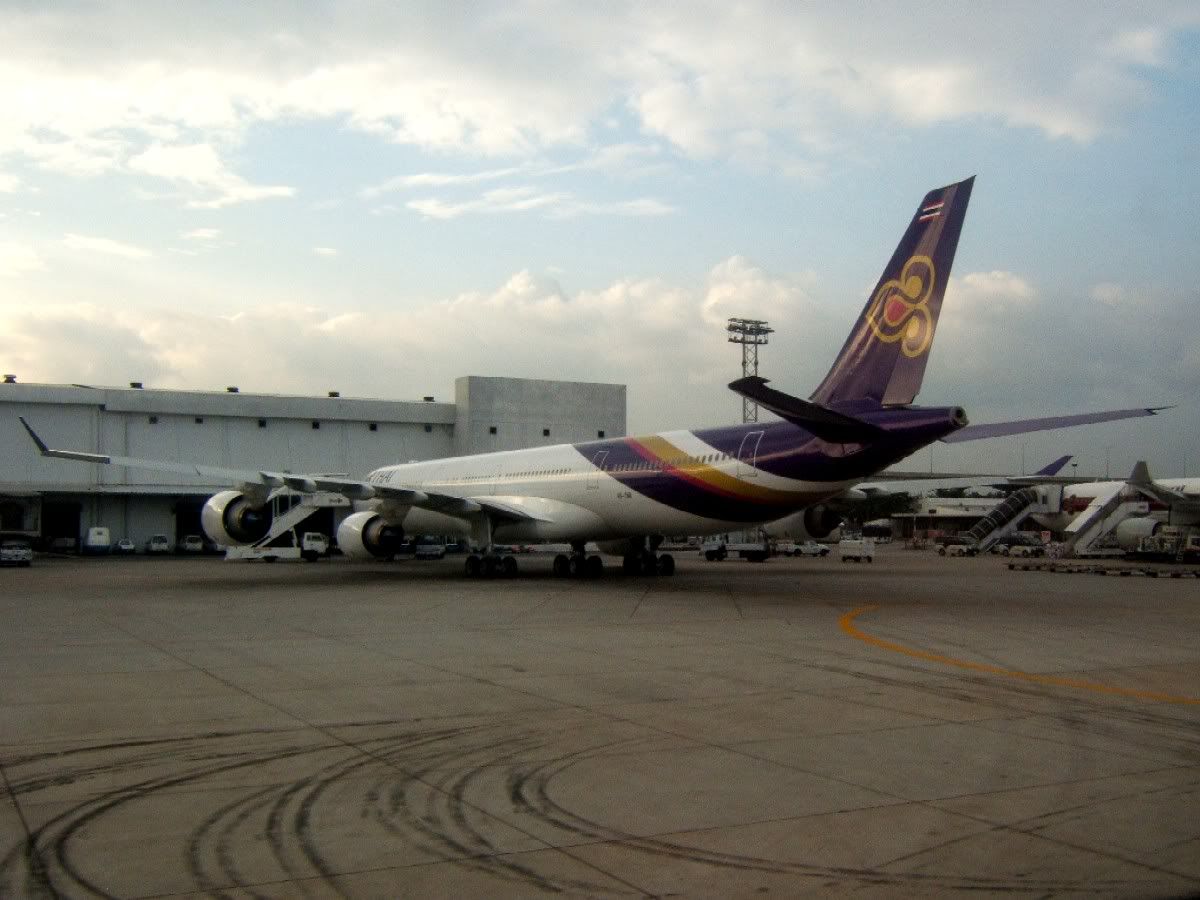 Busy afternoon out at the remote stands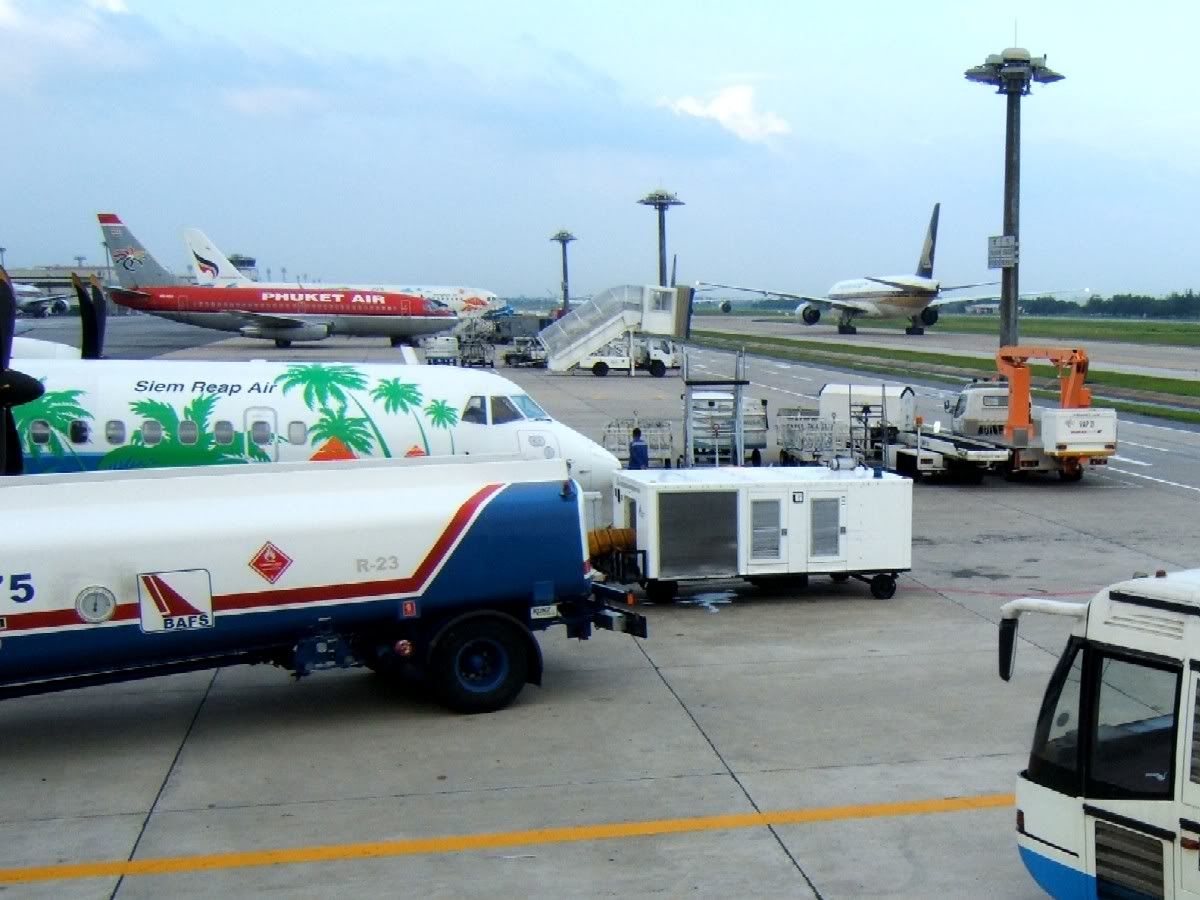 Bangkok Air A320-232 "Samui"
Thai Airways B777-300 (HS-TKD)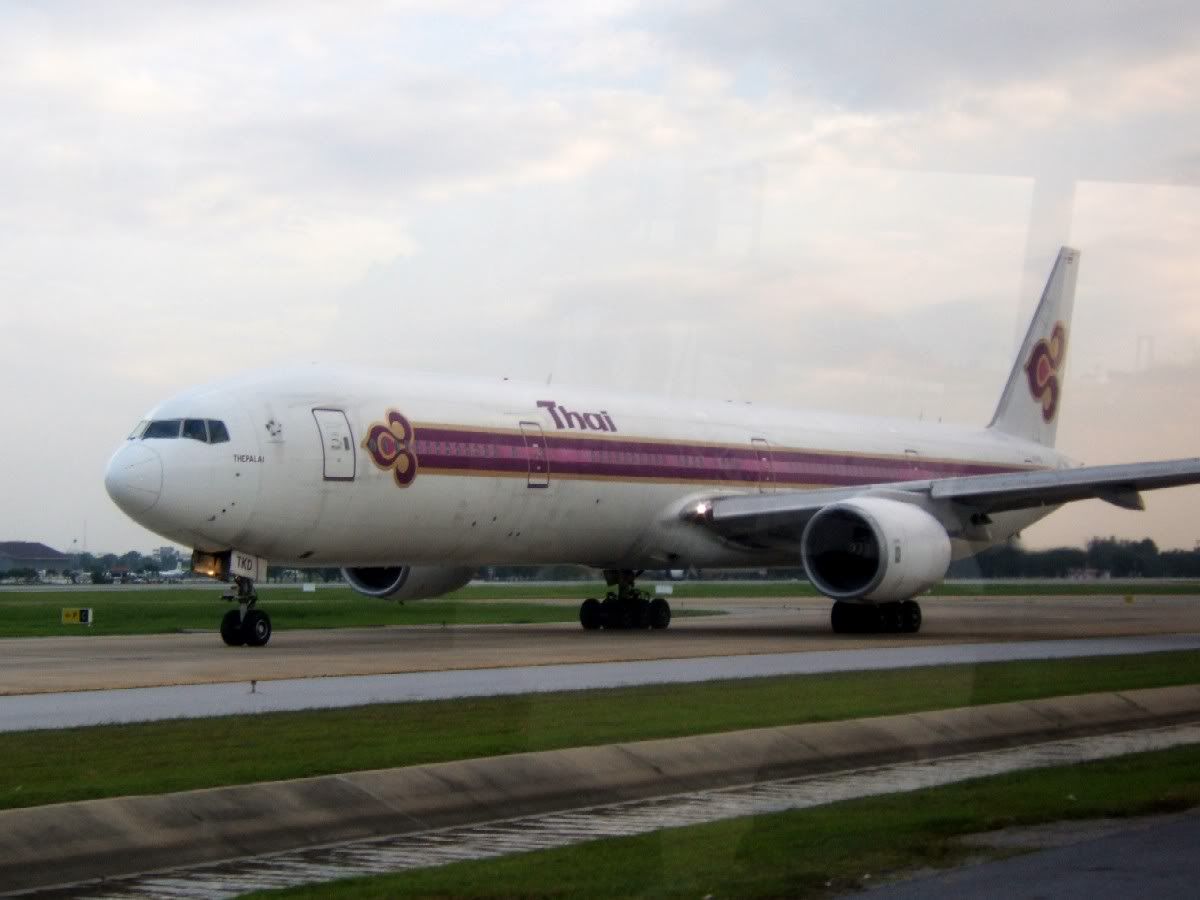 Siem Reap Air B717-231 (HS-PGR)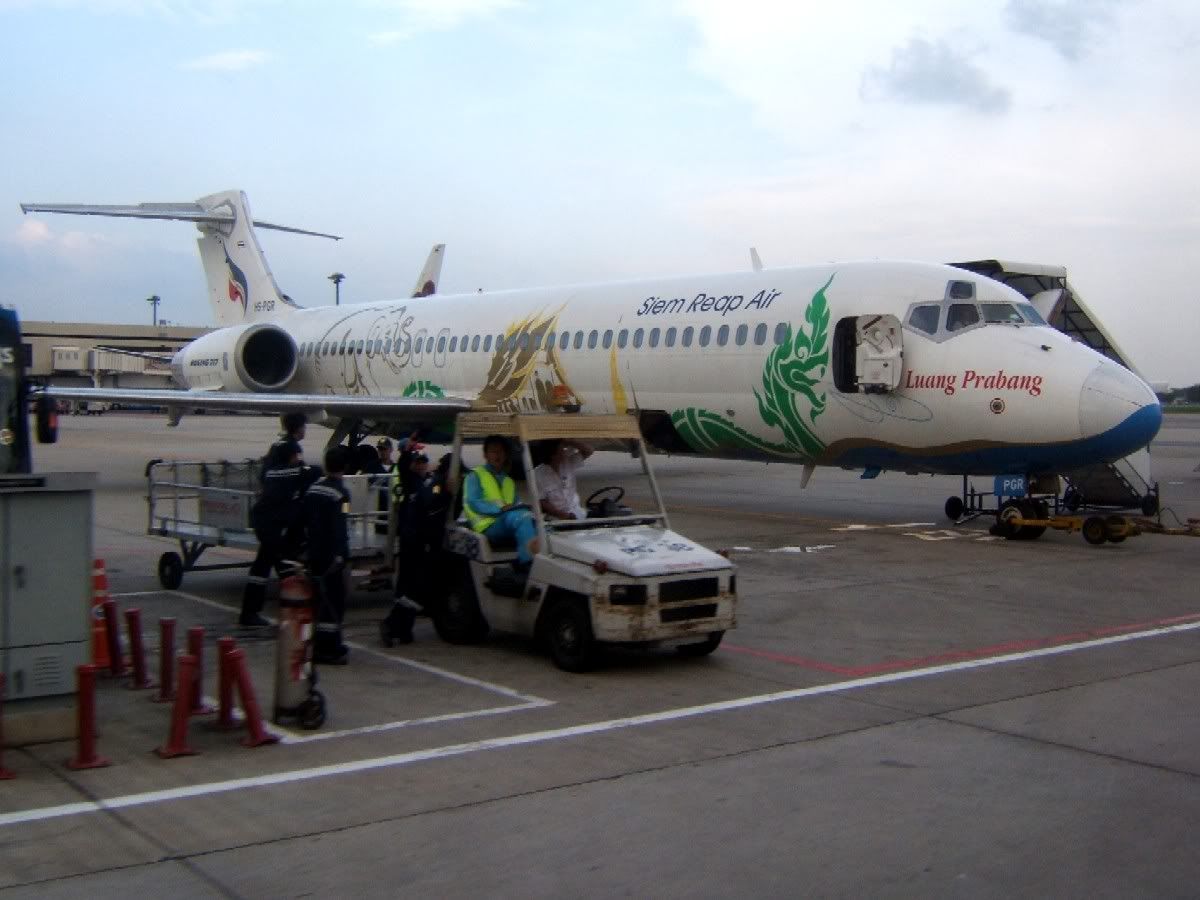 Thai B737-4D7 in the new color scheme, already looking dirty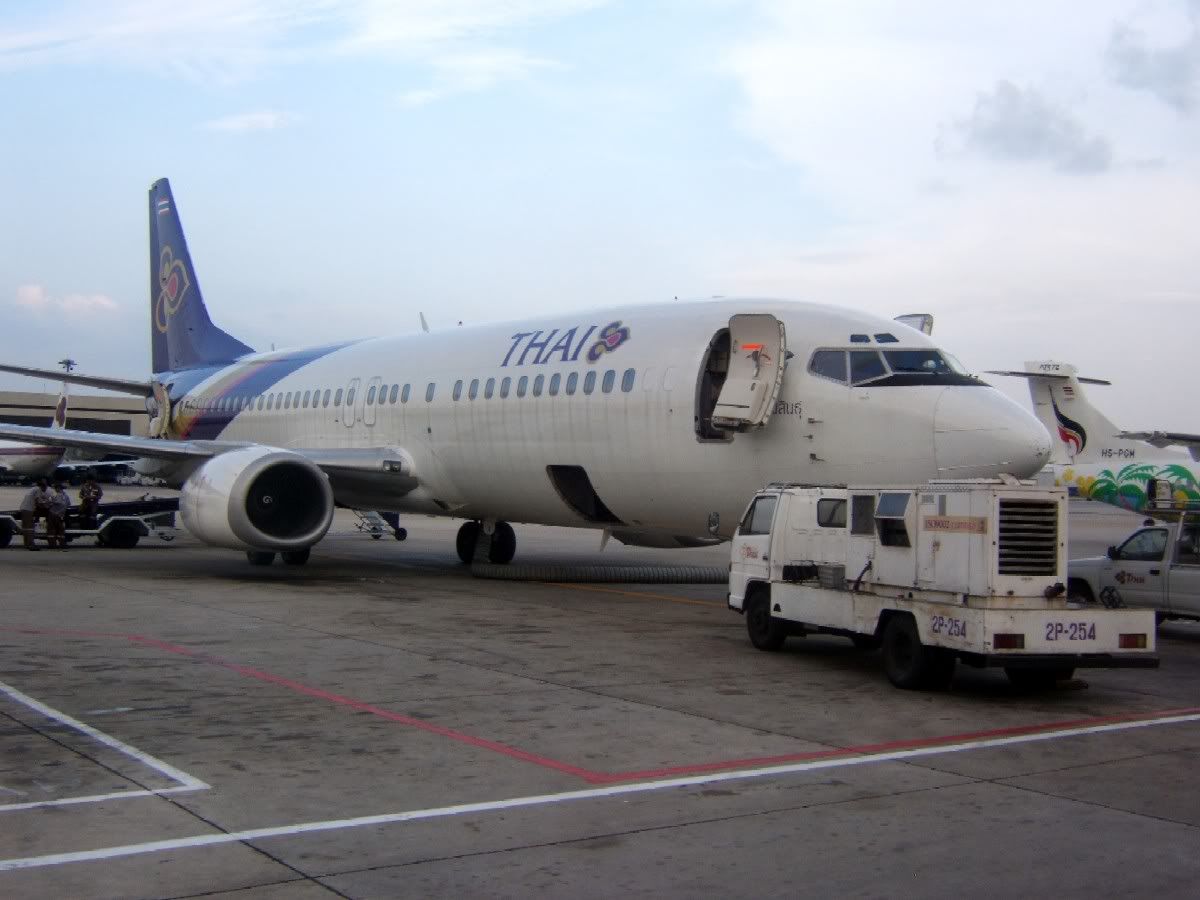 Two Thai Airbus A300-B4 (HS-TAL in front), one in the new and one in the old color scheme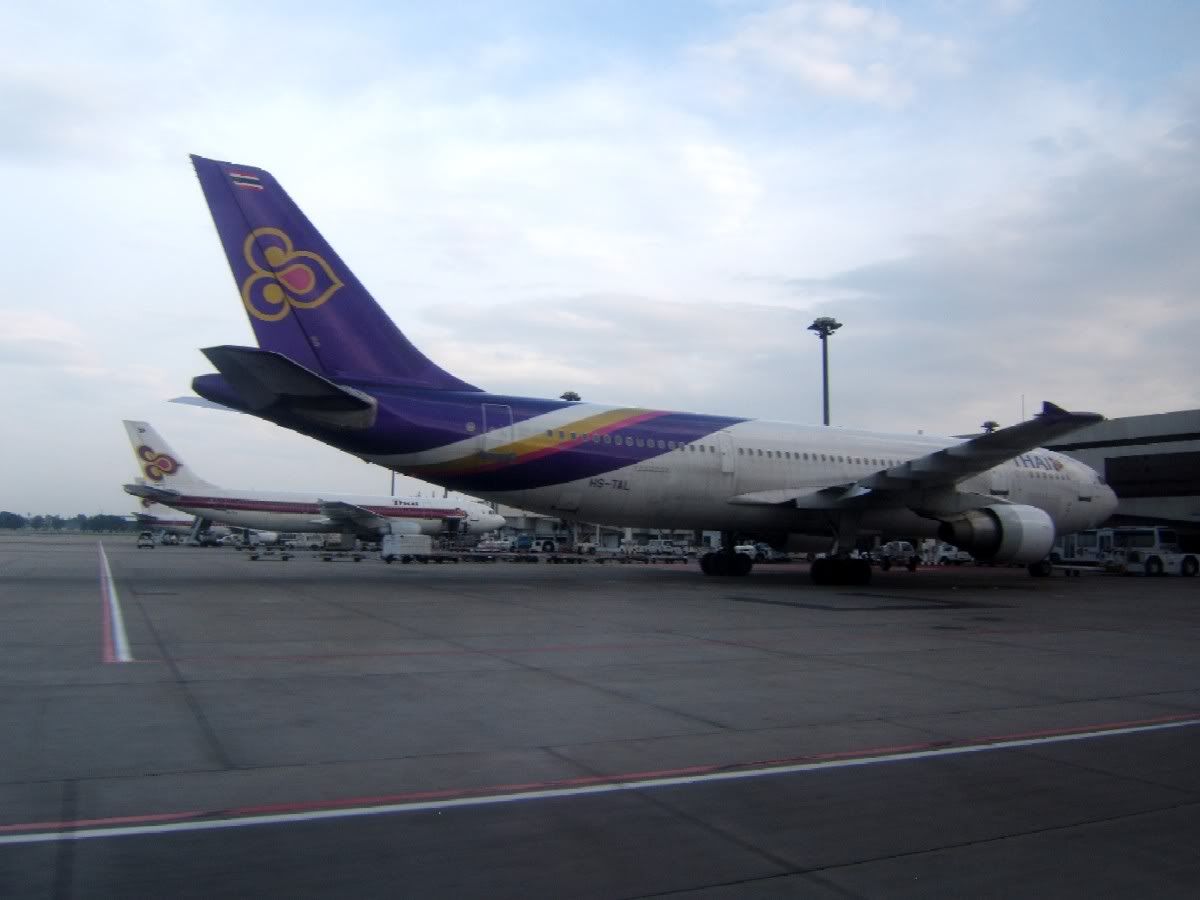 Austrian B767-3Z9ER (OE-LAE)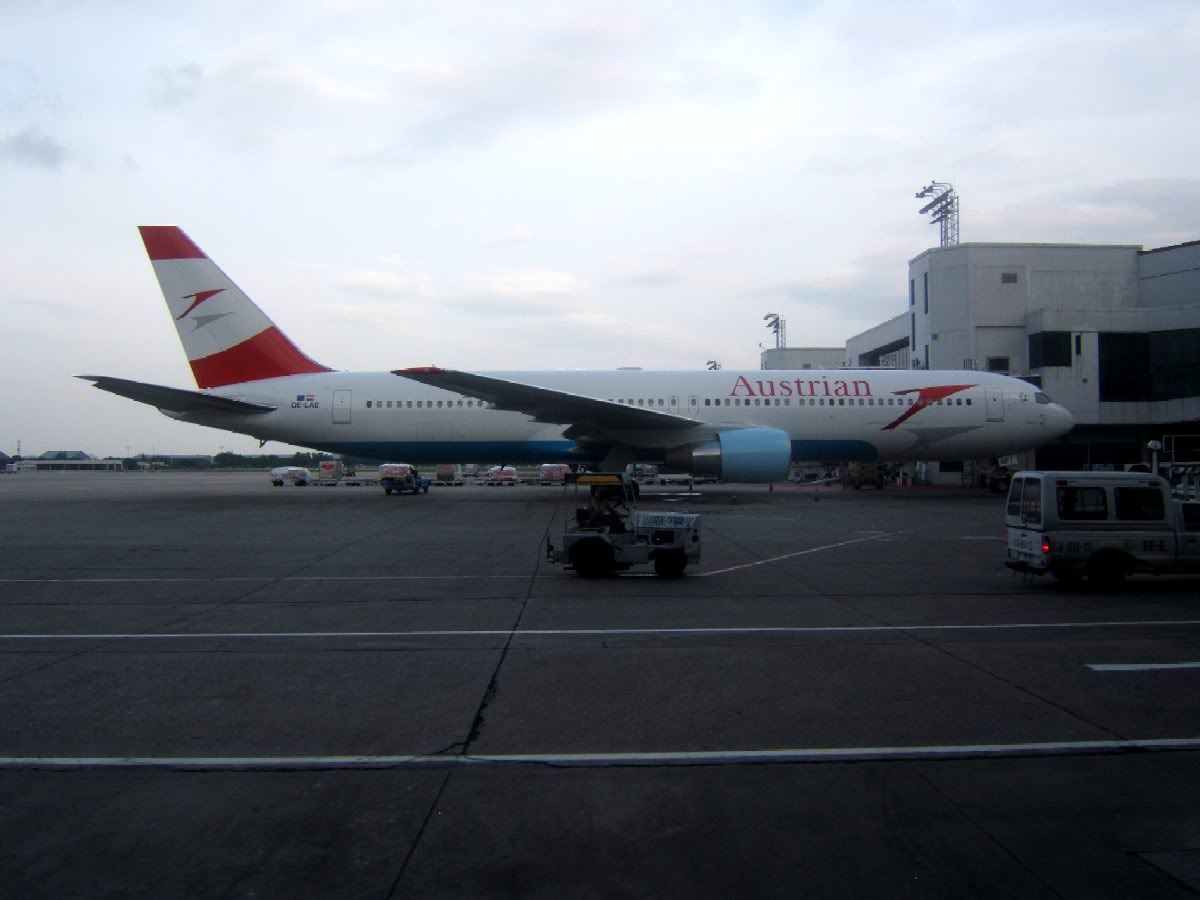 Others were taking pictures in the bus, too – the view of the taxiway next to us was fantastic. A TG 777 was about to pull up alongside us, but then the bus took a turn toward the terminal. Augh! Sadly, the bus windows we both tinted and dirty, making the chances of capturing a good picture unlikely. We were deposited at Terminal 1 and proceeded through immigration, where there were no candy dishes.
All in all, a fun trip. Tawn and I discussed whether we'd fly FD again. For the price, the service was well worth it, especially for a flight that was basically two hours. While we missed having access to a Star Alliance lounge and having reserved seats, the experience was a good one. We'll definitely consider FD for future travel if they continue to offer a significant price advantage on a given route.