This is a continuation of my SXM trip report.
1st Trip To SXM (PICS!)
(by
Phxplanes
Oct 24 2005 in Trip Reports)
again comments are welcome.
Coming from sxm we went to charlotte. Then we went to orlando drove to and from daytona beach then back to charlotte. Next flew to Columbus then home to Phoenix in 3 days so it was busy.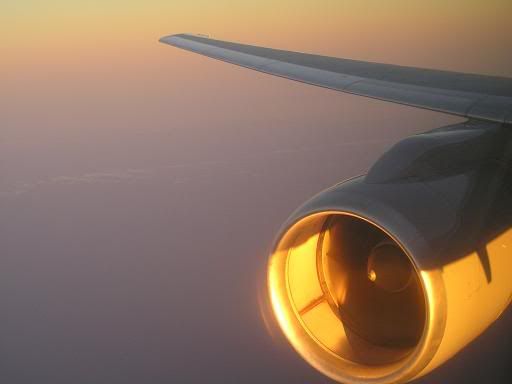 We arrived from SXM early and went down to customs and retrieved our bags. Then we went to gate B11 were I had just flown out a few days earlier. The flight was going to be delayed because the plane was coming from Boston were the weather had been bad. Finally our plane arrived and we boarded.
US Airways flight 1181
CLT-MCO
10/13/05
Dep time: 9:40 actual: 10:39
Arr time: 11:11 actual: 11:59
Aircraft: B757 N628AU
We pushed back an hour late which meant that we would get in even later, oh ya. We got in at midnight and took the shuttle from the terminal to the baggage claim and then waited another 30 minutes for our hotel shuttle to get there. In the morning we rented a car and drove to Daytona Beach to visit Embry-Riddle Aeronautical University where I am considering going to school.
Then we drove back and that evening we visited downtown disney. The next morning we woke up at 5 to get to our early morning flight. Orlando is the dumbest airport I have been to. You have to return the rental car at terminal A. Then walk down terminal A, Across this big middle part then all the way down to the US ticket counter. Then you have to walk down again into the middle part to security which took forever. Then you have to wait for a train to take you out to the terminal. It takes forever just to get to the gate.
This was the start of a long day. I had three flights ahead of me.
US Airways flight 624
MCO-CLT
10/15/05
Dep time: 7:00 actual: 7:03
Arr time: 8:32 actual: 8:42
Aircarft: B757 N608AU
We pushed back on time and taxied to the runway where we waited for an American to take off. We took off and didn't make a any turn for a long time because it is pretty much a straight shot from mco-clt. The pilot announced that there was heavy traffic at clt and that they were going to have to fly extremely slow. This caused us to arrive 10 minutes late. We got off the plane and connected with our next flight to Columbus
US Airways flight 350
CLT-CMH
10/15/05
Dep time: 9:20 actual: 9:24
Arr time: 10:39 actual 10:38
Aircraft: B737-400 N438US
Next to our plane was the plane I had flown from phx-clt in N123UW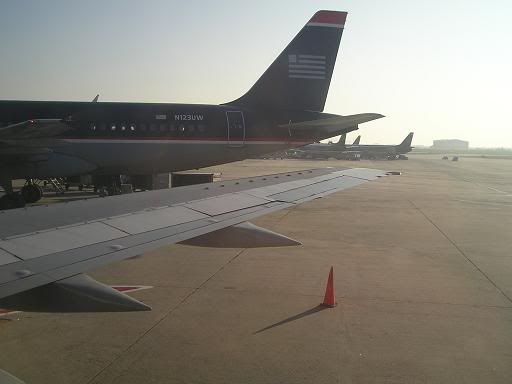 MyAviation.net photo:


Photo © Brian B.A. Anderson
The weather was perfect and it was extrememly clear. We landed and taxiied to the gate and parked by a erj.
This flight had the funniest thing I had ever seen. While I was waiting in line to get on the plane a man was called up and the lady said his seat was broken. When I got on this is what I saw.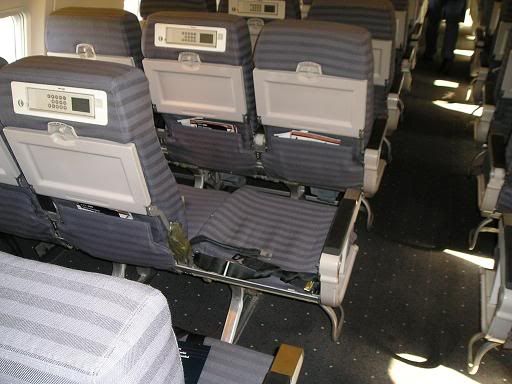 We spent about 4 hours with my aunt and it was time to go home. Checked in went through security.
we saw The Michigan State team who was already there from there game that was only 2 hours before.
America West flight 587
CMH-PHX
10/15/05
Dep time: 5:20 actual: 5:20
Arr time: unknown actual:6:36
Aircraft: A319 N806AW
This was one of the friendliest pilots ever. He kept updating us on flight progress and gave us college football scores. We landed about 30 minutes early so we had to wait about 20 minutes for a gate to open up.
Short little report but my first 7 legs ever on U.S. Airways were great. Some of the best ever. HP of course was very nice also.
Please leave any questions comments or concerns.