Living in southern Palm Beach County, our entire area was hit with the eye of Wilma as well as 130 mph winds. This meant no power at my home as well as at the university. The university which I attend would be closed indefinitely and sustained damages as well as many downed trees. Most students just left to go home until further notice.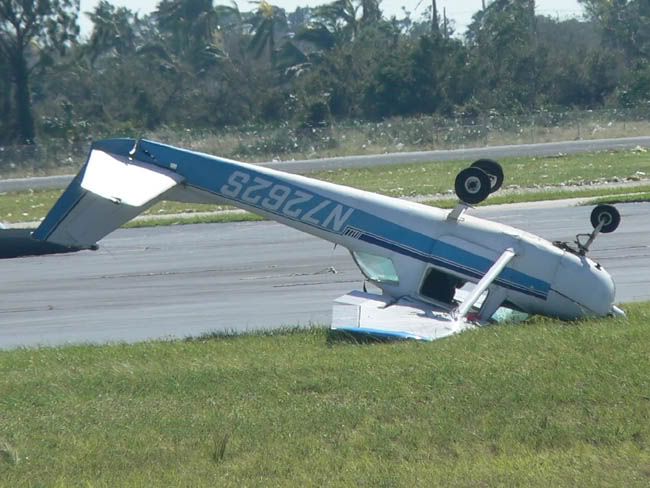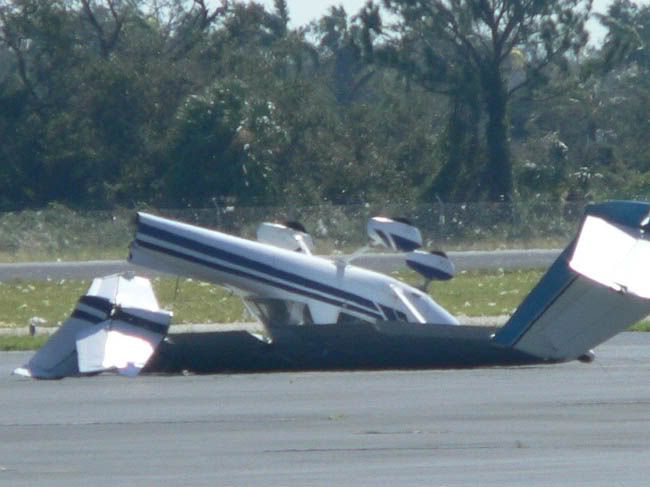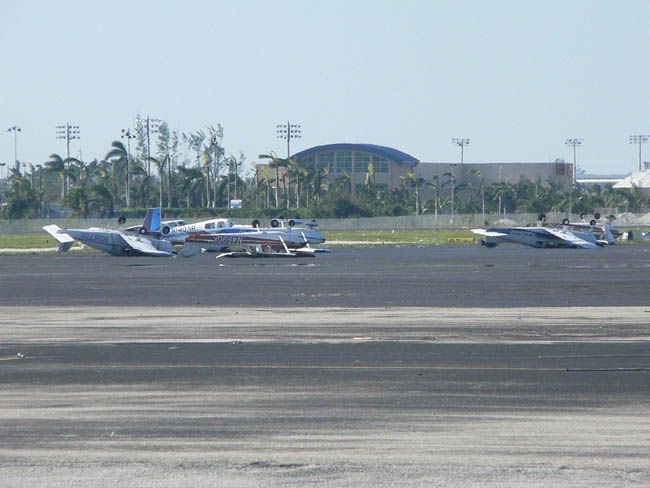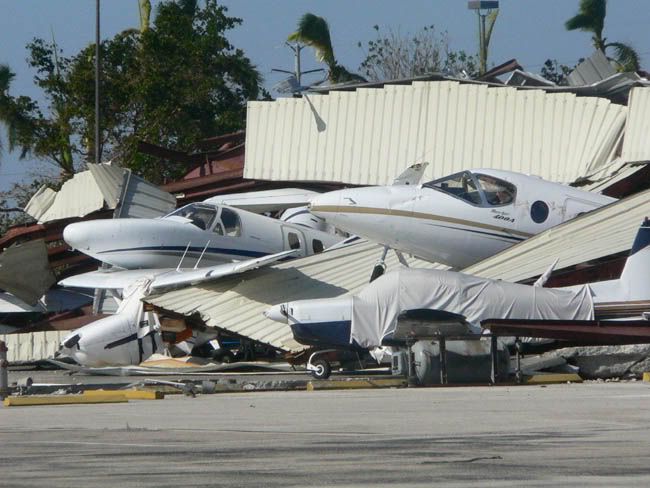 It was with this that I decided to make the drive to Palm Beach International Airport with the little gas I had (gas station waits were topping 2 hours) and "shop" around for tickets (no Internet) to New York. I needed to leave within the next 3 to 4 days and see who had the best fare. I found $147 one-way tickets on Delta and Jetblue but leaving on Monday. That was a bit of a wait. In the end, I decided to go with Independence Air as they were offering one-way tickets for $192 leaving on Saturday; two days after I booked the tickets.
Date: October 29, 2005
Leaving: West Palm Beach – PBI
Arriving: Washington – IAD
Airline: Independence Air
Flight Number: 251
Scheduled Departure: 11:50
Actual Departure: 11:52 takeoff at 12:00
Scheduled Arrival: 14:08
Actual Arrival: 14:05 landing at 13:58
Departure Gate: C8
Arrival Gate: B45
Departure Runway: 9L
Arrival Runway: 1L
Cruising Altitude: FL370
Seat: 1F
Aircraft: Airbus A319-132
Registration: N807BR
View Large
View Medium


Photo © Manas Barooah
I arrived at the Park and Ride lot at 10:15 after a smooth drive up I-95. The bus took quite some time to arrive, contrary to the norm. This as well as the long wait at one of the bus stops due to the high number of suitcases contributed to the half-hour it took me to get to the terminal. I went straight to the electronic check-in machines and swiped my card. One thing about the machine is that it didn't ask me for the number of my bags. I was carrying my bag on board, so it didn't matter. However, I would check with an agent if you are checking one in. I had been assigned an aisle seat on both flights to IAD and JFK. Luckily, neither flight was heavily booked. To my surprise, I found three seats together in row 1. I immediately chose seat 1F. On the other leg, I also was able to get a window seat in the first row, this time 1A.
My boarding passes were printed out and I went over to the security area for concourse C. Of the many times I have flown out of PBI, I have not once flown out of concourse B. The whole area looked different. In fact, they are remodeling that entire section. The security line now looks more organized and there are more checkpoints. As usual, I needed to take my laptop out of its case and remove my sneakers. In fact, if you wear any sort of "thick-soled shoe" you must take it off. As they shifted the entire area to the left I almost got disoriented. Now it takes you right by gate C2.
Parked at their respective gates was a pair of Song 757s and a Delta MD-88 I'd seen land earlier standing in the parking lot. One of them was N695DL, the plane that operated the first of my many Song flights. I went over to gate C8 where there was a shiny A319 registration N807BR parked but no gate agents were present. This was a bit weird. In any case, I fired up the laptop as I still had a good half hour before boarding. I was able to connect to a wireless network and surf the internet. It felt good checking up on the weather, news, and of course a.net after going nearly a week without Internet, television, and newspapers.
An interesting note: I chose seat 1F as it was obviously a bulkhead. Being online, I checked seatguru and the entire first row was in yellow! For those that know, yellow means you must watch out. They said the legroom was actually restricted due to the bulkhead and here I was thinking I would be getting even more legroom! Further, the armrests were not movable. On the side, they also mentioned these A319s were very comfortable with 33 inch pitch and 18 inch seat width. I was under the impression they also had personal TV's ala Jetblue and Frontier but after seeing cabin photos on a.net, that was not the case.
Boarding commenced at 11:30. As I was seated in row 1, I would board in the last group. Somehow, the agent stopped calling after rows 15 and up. After a few minutes of no more rows being called, I joined the line. An elderly couple confirmed my thoughts that they were now boarding everyone. I was right. The gate agent was very friendly chatting and wishing everyone a nice flight. I just wish they would continue calling out rows to avoid confusion.
I boarded the nine month-old A319 and was greeted by a rotund middle-aged man and a younger lady. I asked if my bag could fit in the overhead bins and they were saying how bigger bags have fit in the past. It fit perfectly. Overall, they were very helpful. The interior was clean as well as very attractive with the deep blue leather seats. The seats were definitely comfortable. The middle seat was unoccupied but someone took the aisle seat at check in. It is not like I could have lied down with the armrests fixed into place.
Before pushback, the captain came to the cabin introducing himself and making a few remarks about the flight and how everything was going to be on time. He even asked first-time flyers to identify themselves! Also, he mentioned how the weather would be nice in Washington Dulles and there was actually power in the area. This was definitely a nice touch.
Pushback was at 11:52 and we started the taxi to 9L. This was strange since I'd seen planes land and take off from 27R when I was in the parking lot. The winds weren't too strong so I could see how there could have been a runway shift. We were number one for takeoff. After a short takeoff roll, we were airborne at 12:00. The climb was quick. I read the in flight magazine and noticed two things I liked about company policy. First, if you arrive at the airport early, you can take an earlier flight at no extra charge. And second, they don't overbook. They seem to design their product around business travelers as well as leisure passengers.
After 10,000 feet, one of the flight attendants handed me back my computer case as he had to stow it in the overhead bin before push back. I was going to get it myself later, but this surprised me in a good way that he actually remembered. Drinks were offered about 30 minutes into the flight. I took the bottled water. As I had my headphones on, I did not catch the message about what food they were offering. I did see the man in 1D take out a tasty-looking sub sandwich but I do not know whether he brought it with him or he purchased it on board. In either case, I just got some bottle water.
There is no entertainment on either the A319 or the CRJ, the two aircraft in Independence's fleet. As I fired up the laptop, I noticed there was one wireless network showing with five bars – at 37,000 feet. It managed to connect but I still couldn't access the Internet. I disconnected it immediately for fear of it interfering with the flight systems. Does anyone know why there is a wireless network on the plane? The seats are very comfortable and even in the bulkhead, the space is ample. The seat pitch of 33 inches is comparable to what Song, Jetblue, and Frontier offer and is better than any of the mainline carriers. It is the Low Cost Carriers in this country that offer far better seats than what the mainline ones do. Load factor was around 65 percent.
The captain came on the PA every so often to update us on our position. For a non-aviation enthusiast it might have been a little excessive. For me, it was fine. The descent was very smooth. As the captain had told us at the beginning of the flights that the winds were coming out of the NNW (a fact I'd checked earlier when I went online at the airport), I knew we would land on one of the 1's.The scenery south of the airport is really nice, so that made for some good views. Landing was at 13:58 on 1L. Just before touchdown, I really wished I had a good camera with me. The clean windows coupled with a Korean Air 747-400 waiting for departure would have made for a killer photo since we were right above it. In the distance, my mouth practically dropped at the sighting of a KLM A330-200.
The touchdown was smooth. During the taxi, I spotted an Ethiopian 767-300, definitely an exotic bird. We parked at gate B45 right next to an Air France 772 F-GSPQ. Even with about a minute delay in opening the doors, I was out very fast. My connection time was going to be about 50 minutes which was enough time to get me to the gate but enough to sit down and eat. All in all, I was off the plane two minutes after arrival. There is something to be said for sitting at the very front. I noticed the flight crew was doing an excellent job in assisting the seven or so handicapped passengers on board in deboarding.
Dulles Airport
As I left the plane at around 14:08, I immediately tried to snap a photo of the Air France 777. Trouble was, the rent-a-cop standing at the exit wouldn't let me. I entered the terminal and the first thing I see is a Samuel Adams brewhouse. At this point I was really longing for a longer stopover just so I could relax and have a beer there. It was 14:10, so I had a good half hour to get to the gate. I was eager to catch the KLM A332 I had just seen earlier and catch its registration. Turns out, it was their newer one, PH-AOB. Little did I know what was in store for me later. Concourse B is very nice and modern. The gate area seems spacious enough though there really is a lack of tables to eat and the little flat table-like surfaces in the departure lounges are really too low to eat comfortably, as I would later discover.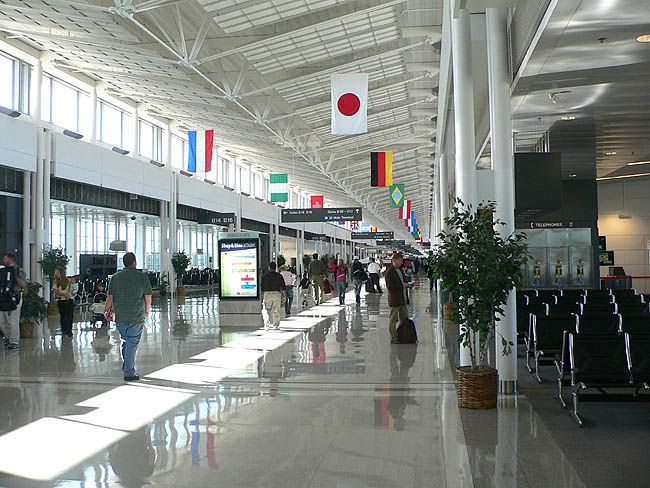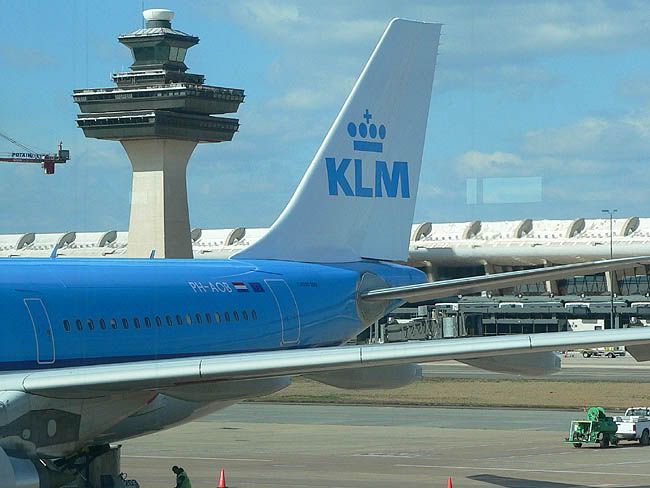 For now, I headed over to Concourse A to see how long of a walk it was. It wasn't as long as I had anticipated it to be. There is an up escalator leading to some sort of viewing area (though reflections make photography impossible). I photographed a bunch of Independence CRJ's. The most visible one was registered N659BR. I was amazed at how many of these CRJs were there.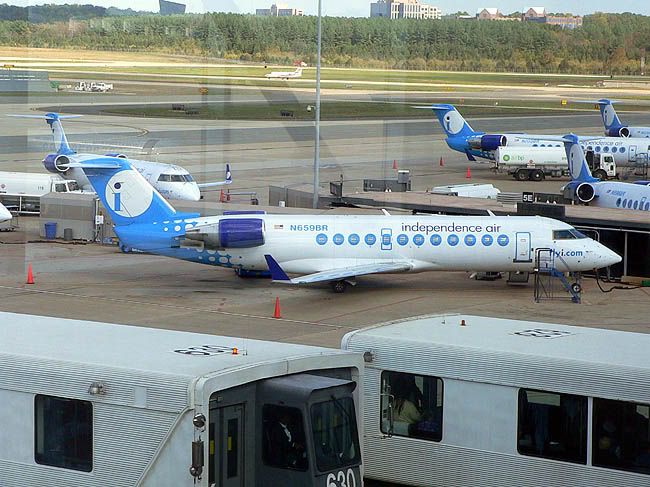 There is this little area then an escalator going down. They are building something underneath this elevated area. I wonder if that is some sort of train like at ATL to connect all the concourses. Seeing that A was quite ugly and it was only 14:20, I went back over to B to get some ice cream. This is where I saw that all of the limited number of tables were taken and eating in the departure area was an uncomfortable proposition (the eating surface was too low). As it was 14:30, I headed over to gate A5. Earlier, I had heard the announcement that flight 1180 to JFK had been moved to that gate from A4.
I passed the huge departure/arrival screens in the PTV boarding area. It really amazes me that these "mobile lounges" are still being used. I could not help but think to my early days flying out of Mirabel. They take you to each of the concourses. At gate A5, I noticed there were two flights already boarding. One of them was mine. So I went straight for the little boarding "finger" where there were several CRJ's parked. At the "E" section, was the one for New York JFK.
Date: October 29, 2005
Leaving: Washington – IAD
Arriving: New York – JFK
Airline: Independence Air
Flight Number: 1180
Scheduled Departure: 15:00
Actual Departure: 14:57 takeoff at 16:15
Scheduled Arrival: 16:16
Actual Arrival: 16:08 landing at 16:05
Departure Gate: A5 E
Arrival Gate: 23A
Departure Runway: 1R
Arrival Runway: 31R
Seat: 1A
Aircraft: Canadair CRJ-200ER
Registration: N659BR
Turns out, this was the same aircraft I photographed earlier. At the tarmac, there was a baggage drop-off known as the "valet". Here is where all the carry-on suitcases go. Any smaller items can go on board. This ex-Atlantic Coast CRJ was almost already full by the time I was on board. I took seat 1A and immediately noticed how cramped the CRJ is even though it was my fourth time flying on the type. I almost forgot how far down I needed to bend in order to see out the window. That being said, I found the seats to be quite comfortable; slightly less so than the ones on the A319. The seats were that same deep blue color and were also in leather. This time, the seat pitch was 31 inches, pretty much the standard for the CRJ. I believe all CRJ-100/200s have this pitch.
Before pushback, I noticed the sole flight attendant for the flight, a young male with a slightly um…effeminate personality chatting with the passenger in 1C since she was scared of flying and convincing her the flight was going to go smoothly and even gave her a few tips. She did seem more relaxed afterwards so that was a good thing. There was a board displaying the flight number (1180), countdown to departure (never seen this before), destination city (JFK), and the tail number (T659). The flight attendant said how we would be leaving exactly on time and the weather was going to be pretty nice in the New York area and we'd be landing slightly ahead of schedule. One of the pilots on this flight was African American, so it was nice to see more of a "mix" in the flight deck.
Pushback was at the T-minus 2 minute 50 second mark, making the actual departure 14:57. I noticed exactly how small the tugs are. The ramp workers seemed to have different responsibilities so the person who guides the aircraft in also pushes it back. I could be wrong, though. Another CRJ was also pushing back.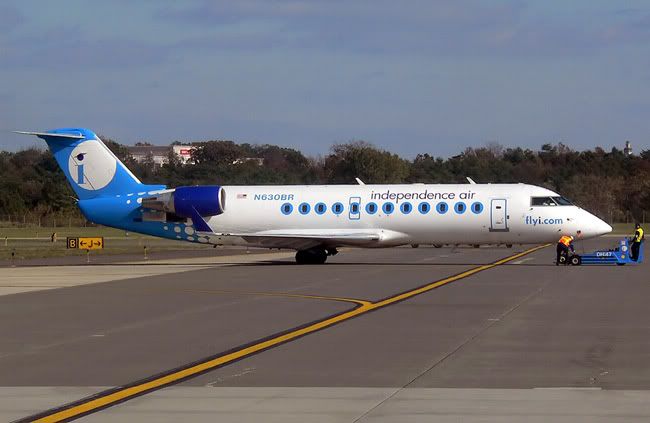 We began the taxi to runway 1R. You feel every single movement in this regional jet. At around 15:07, we arrived at the runway in front of an Independence A319 and in back of another Independence A319. These birds seem to be becoming a staple at IAD. We needed to wait at the runway for some reason. At 15:15, we lined up with the runway and began the takeoff roll. At that point, I got some overview photos but the scratched glass ruined all of them.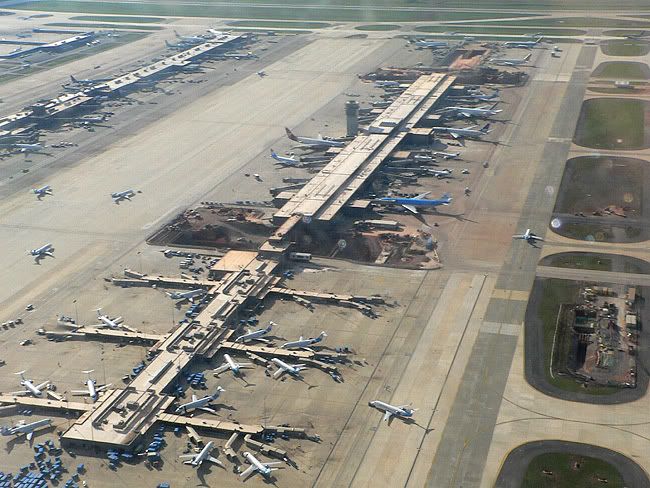 Flying time was supposed to be somewhere around 45 to 50 minutes and the service was to be beverage only. On the longer A319 routes and possibly the CRJ ones, a snack is served. The flight attendant started taking orders almost right after 10,000 feet. He started with the passenger in 1D, who remarked "Green tea, please". I was thinking it was great they were offering something other than soda. Apparently, the passenger in 1C agreed with that, and also ordered the green tea. The passenger in 1B followed suit. Eager to give it a try, I also ordered it. I was wondering if most the plane was going to order the same thing. The flight load was around 80 percent.
As this was a short flight, all I could do was take in the scenery while listening to my trance music. I noticed a major city in the background, which I thought was D.C. but then noticed an airport much bigger than DCA below it, so the city was actually Baltimore and the airport was BWI. The flight attendant emerged with a tray full of plastic cups. Sure enough, I noticed almost all of the cups had green tea in them! It tasted quite good. The rest of the flight was quite uneventful. I actually wouldn't mind sitting in these seats for a 2-hour flight. They are about as comfortable as you can get on a CRJ. The descent was started not much longer after the climb had stopped. Soon enough, I noticed the northern coast of New Jersey, Long Island, and Manhattan in the distance. Also in the distance was a Delta CRJ performing a parallel approach about a mile west of us. This meant that they were landing 31L and we were landing on 31R. I was a bit bummed it wasn't a wide-body doing that landing.
The landing was smooth but the captain slowed the plane down very fast. In fact, I saw a taxiway just a short distance from the touchdown point and was wondering if we were going to use that one. Sure enough, we did. The captain came on the PA saying that since JFK was a bigger airport, the taxi times would be a little longer. I spotted a United 777, the old TWA terminal, the EK A345, and best of all, a Biman Bangladesh DC-10. The great spotting hadn't even started! It is because of moments like this that I like flying into JFK rather than boring LGA. However, LGA is closer to where I am, so I usually fly into and out of there.
The flight attendant was discussing with some passengers about how Independence was going to start flights to LGA very shortly and they were pulling out of JFK all together. It was interesting to see how they initially chose JFK since there were no slots available at LGA. However, since they acquired slots later on from Delta and another airline, they were able to start operations from there. JFK was getting too expensive costing them thousands of dollars a day to fly into. As this was decided only last month, passengers who booked further ahead to fly out of JFK afterwards were automatically placed on flights from LGA. As it turns out, service to JFK ceased the very next day on October 30th! On the 31st, they were already operating out of LGA. So I flew them on their second-last day of JFK operations. I spotted the usual SWISS A330s parked at gates B27 and B29, this time HB-IQC and HB-IQH.
We parked at the tarmac near the two SWISS Airbuses at gate 23A at the familiar Terminal 4. These are the RJ gates located on the ground floor. On my way out of the aircraft, I spotted the other KLM A332, this time PH-AOA. So I saw both KL 332's on the same day, neither one of them in AMS, on my first time seeing either of them! In my last trip report, I mentioned how I wondered how passengers on domestic flights could bypass all the customs/immigration the international flights use. Well, here was an answer, probably the answer. After disembarking and entering the small gate area, there is an escalator leading up to the departure area. From there, you exit near the security area and into the mall area. There was an LTU A330 about to depart for DUS as well as an airline called EOS Airlines that flies to STN using a single 757. Very interesting. Apparently, their first revenue flight was 10 days ago. A young airline indeed.
Once in the mall, there were indications for the domestic baggage claim located downstairs. The claim area is very small with only two belts. It took about 15 minutes for the bags to appear and mine came by rather quickly. I left the beautiful Terminal 4 to get on the 16:40 New York Airport Service bus to Grand Central. Turns out that T4 is the first stop. We spent a good 30 minutes circling around to the different terminals, which meant more spotting. The highlight of it all was probably the most gorgeous aircraft/livery in existence: an Air Tahiti Nui A340.
Some of the Independence Air reports I have seen on this site mention problems with delays. My flights were not only on time but they arrived early at their destinations. I found them to be a great quality airline with a great attitude. They seem to offer a good product to both business and leisure travelers and they handle every situation professionally. Overall, they are definitely on par with Jetblue in that respect. I really wish they would offer entertainment on their flights. Live TV would be a logical addition to the fleet since they seem to follow a model similar to that of B6 and F9. Also as they fly longer routes – namely IAD to SAN, SFO, SJC, and SEA, this would help make a more fun flight. They already have a good seat pitch on their A319s, so why not follow and then benchmark their counterparts? Also a food-for-purchase idea such as the one on Song would not be a bad idea if they haven't already done so. As my first time flying Independence, I was definitely impressed. A side note: in a recent survey, Independence was rated second in the country of all U.S. airlines in customer satisfaction right behind Jetblue.
Any comments as usual are welcome!
N864DA