Departure Airport: Damascus – International, Syria (DAM/OSDI)
Arrival Airport:
Airline: Royal Jordanian Airlines
Flight number: RJ 436
Aircraft type: Airbus A320-212
Registration: JY-AYB (c/n 088)
Date: 17th October 2005
STD: 0600
Class: Y (Economy)
Scheduled Flight time: 45 minutes
Having spent three nights in Damascus, Syria as part of a work trip, it was time to head to my next port of call - Amman, in neighbouring Jordan. Before the trip, I did not realise that the two cities were as close to eachother as they in fact are.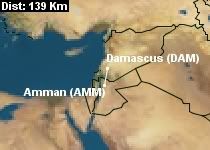 Whilst searching for a flight, I established that there is only one flight per day between these two cities, and was initially disappointed to see that it was operated by Royal Jordanian - not because I have any kind of dislike for RJ, but more because I was hoping for something like a Syrianair 727. Still, I got my last minute RB 727 trip a few days earlier:
Syrianair B727-200, AUH-DAM [+ Pics]
(by
UK_Dispatcher
Oct 26 2005 in Trip Reports)
A slight blow was the fact that this daily flight leaves DAM at 0600 - it was rather painful getting up at 0345, but somehow I managed it, knowing it would mean a 3 hour trip by road otherwise. After I checked out of my hotel in downtown Damascus, I took a taxi to Damascus International Airport. The taxi driver asked me the same question I had just recieved from the porter - "Do you have your passport and tickets?". I always check this several times before any journey, but I suppose it is nice to be reminded. I was not taking too much notice, but I think it took approximately 25 minutes to reach the airport.
Once at the airport, I made my way through security, where it was easy to find the Royal Jordanian check-in area. The check-in was being performed by Syrianair - not necessarily because they codeshare on this flight, but because Syrianair are the only company providing handling services at DAM. Although there were only 3 or 4 people in front of me, it took a good fifteen minutes to process them, after which I was able to check-in. I have found recently that most check-in agents no longer offer a choice of seat, so I have started asking for a window before they prin t the boarding pass, and today was no exception. I was given my boarding pass, on Syrianair paper, for seat number 21F.
Once I had checked-in, I proceeded through the immigration channel, where my passport recieved what seemed like its billionth stamp this year, and headed to the gate entrance. There was a security point with two metal detectors serving both my gate and the adjacent gate, which was allocated to the early morning Air France departure to CDG. Some AF passengers were already queueing , although the gate was not yet open to them.
I entered the waiting area, which turned out to be a bussing gate, as there was no RJ aircraft in sight - only a Syrianair 747SP and two A320s sitting adjacent to the gate, being served by airbridges from the gates above. A bus was just leaving the gate as I entered, so I took a seat and waited with several other passengers for the next bus to arrive. After approximately ten minutes, a bus arrived, and I boarded. I tried to take some photos of the Syrianair 747SP, but was unable to take a decent shot from inside the bus.
There were several aircraft parked on remote stands, in various areas of the large apron. After disembarking the bus, I was able to photograph the gate area from which we had been driven, where the RB 747SP and A320s were still parked.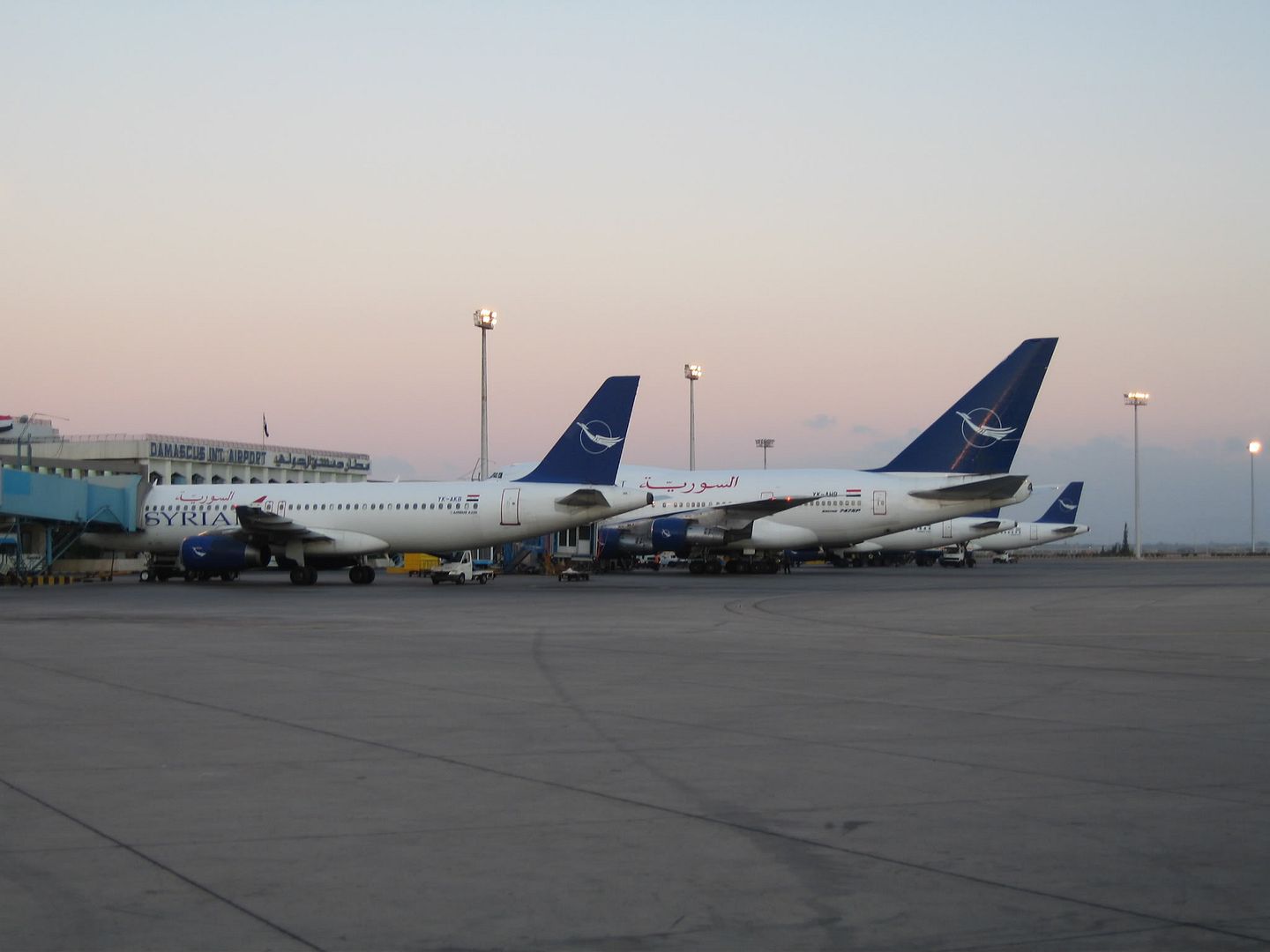 Also visible across the apron were two other A320s - one each from BMed and Air France, as well as A Syrianair 727-200.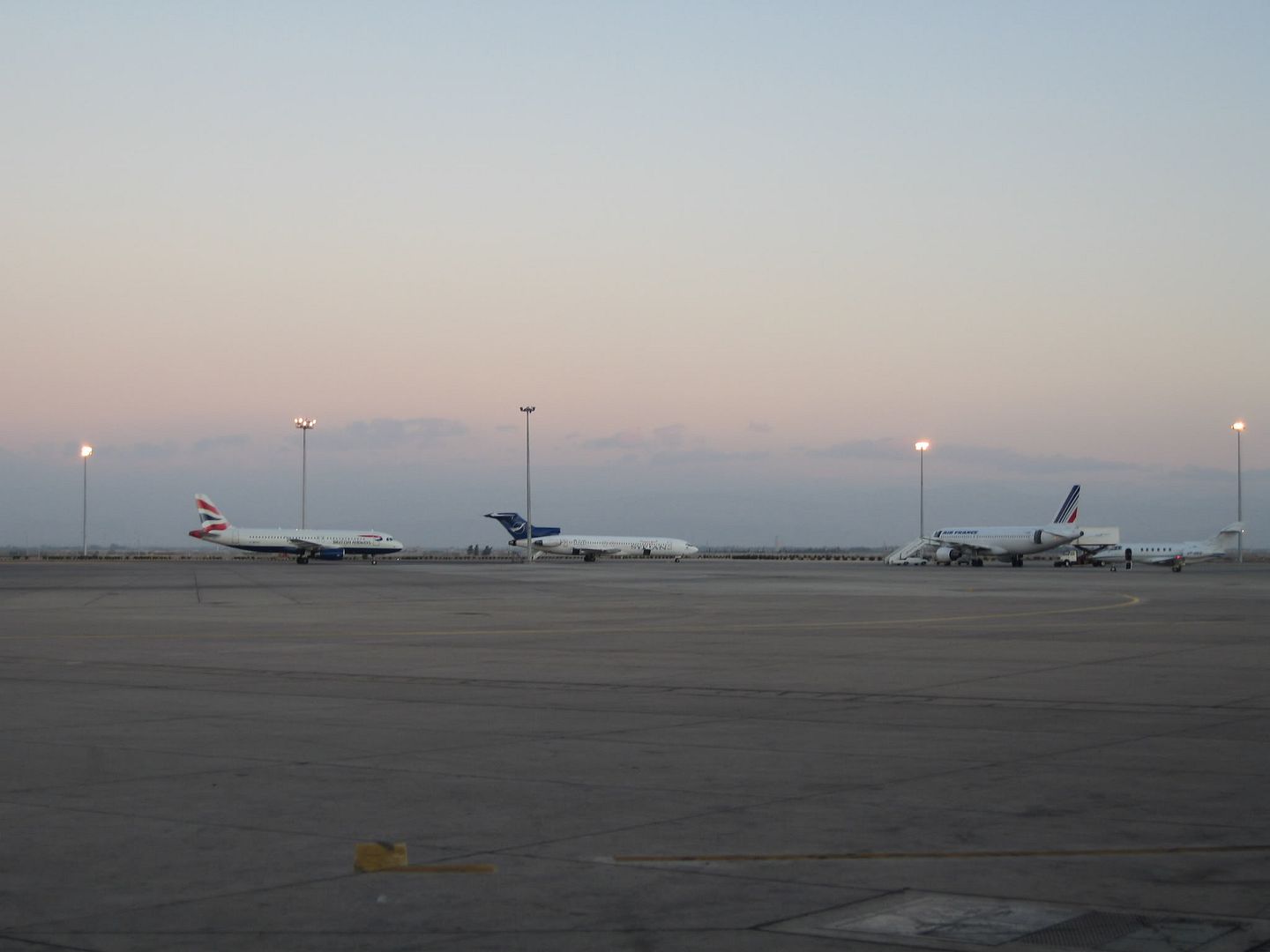 I was half expecting someone to tell me not to take photographs on the apron, but there were several staff around and I was able to take photographs quite freely. All of the checked-in baggage was scattered around the aircraft side, and each piece had to be identified its respective owner before being accepted for the flight. After identifying my bag, I managed to take a couple of close-up shots of the aircraft before boarding.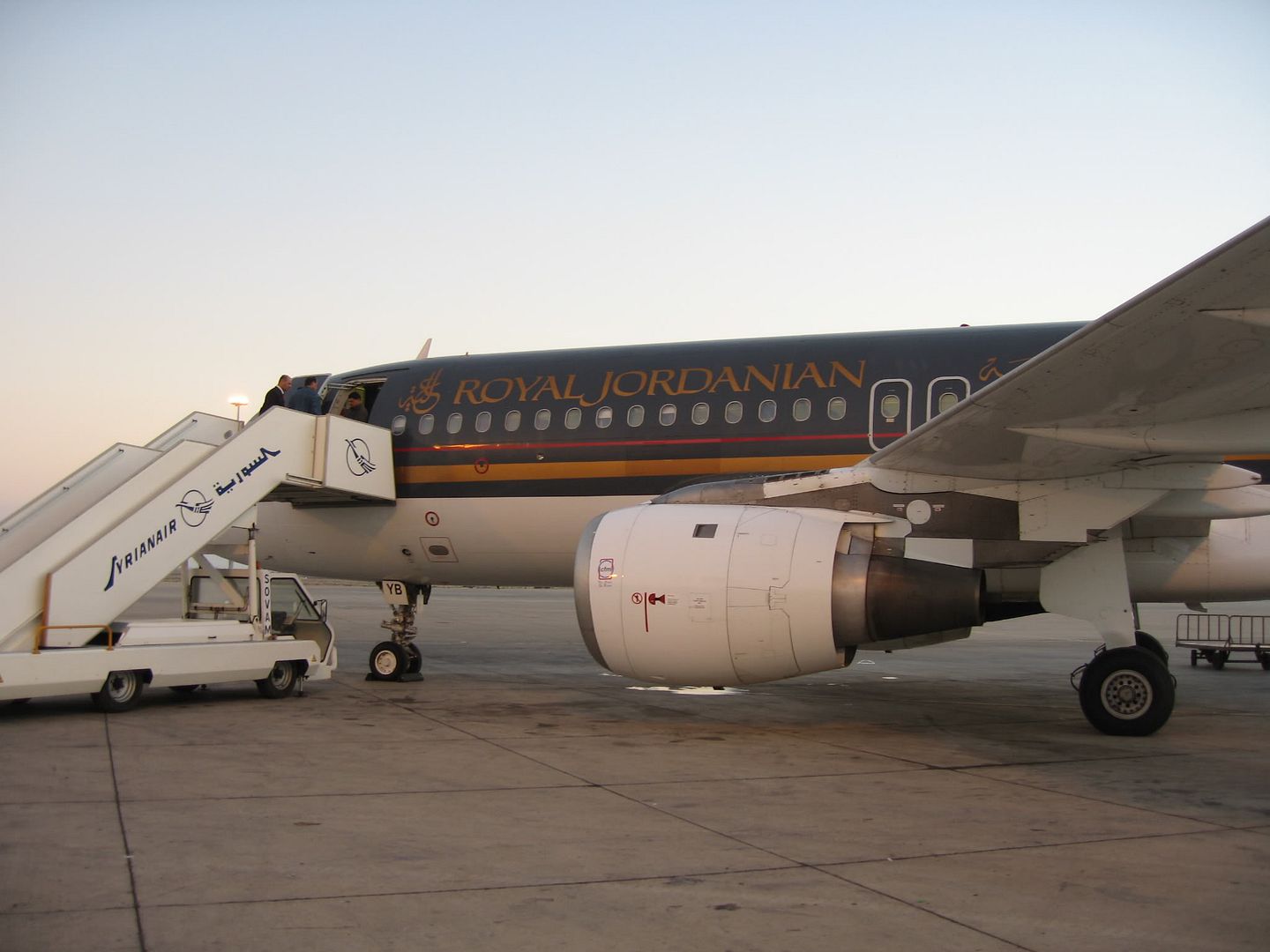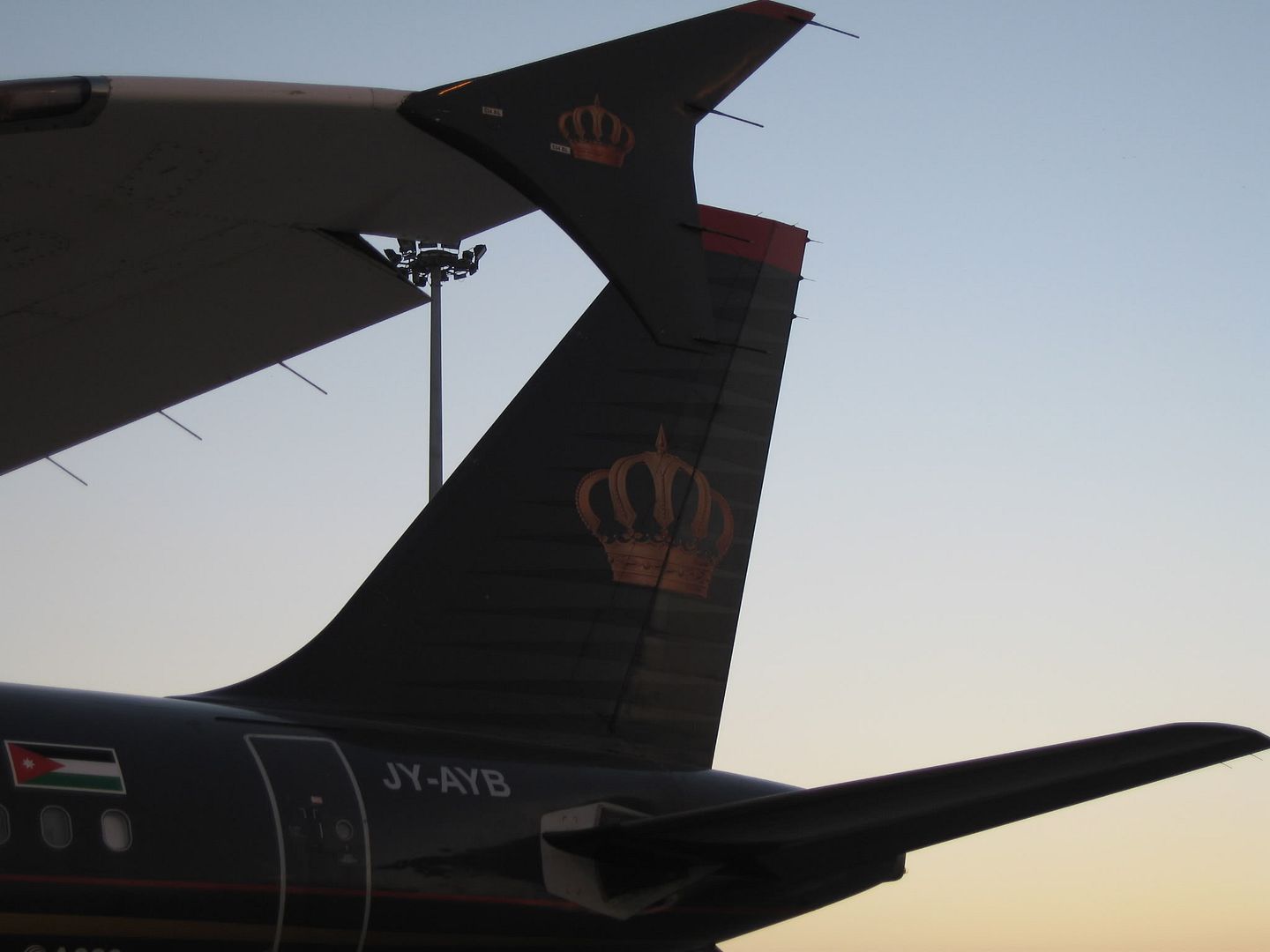 As I headed up the steps at door L1, I turned to take a photograph of Syrianair 727-200, YK-AGA, which was parked nearby. This was Syrianair's original 727, one of the initial three delivered to the airline back in 1976.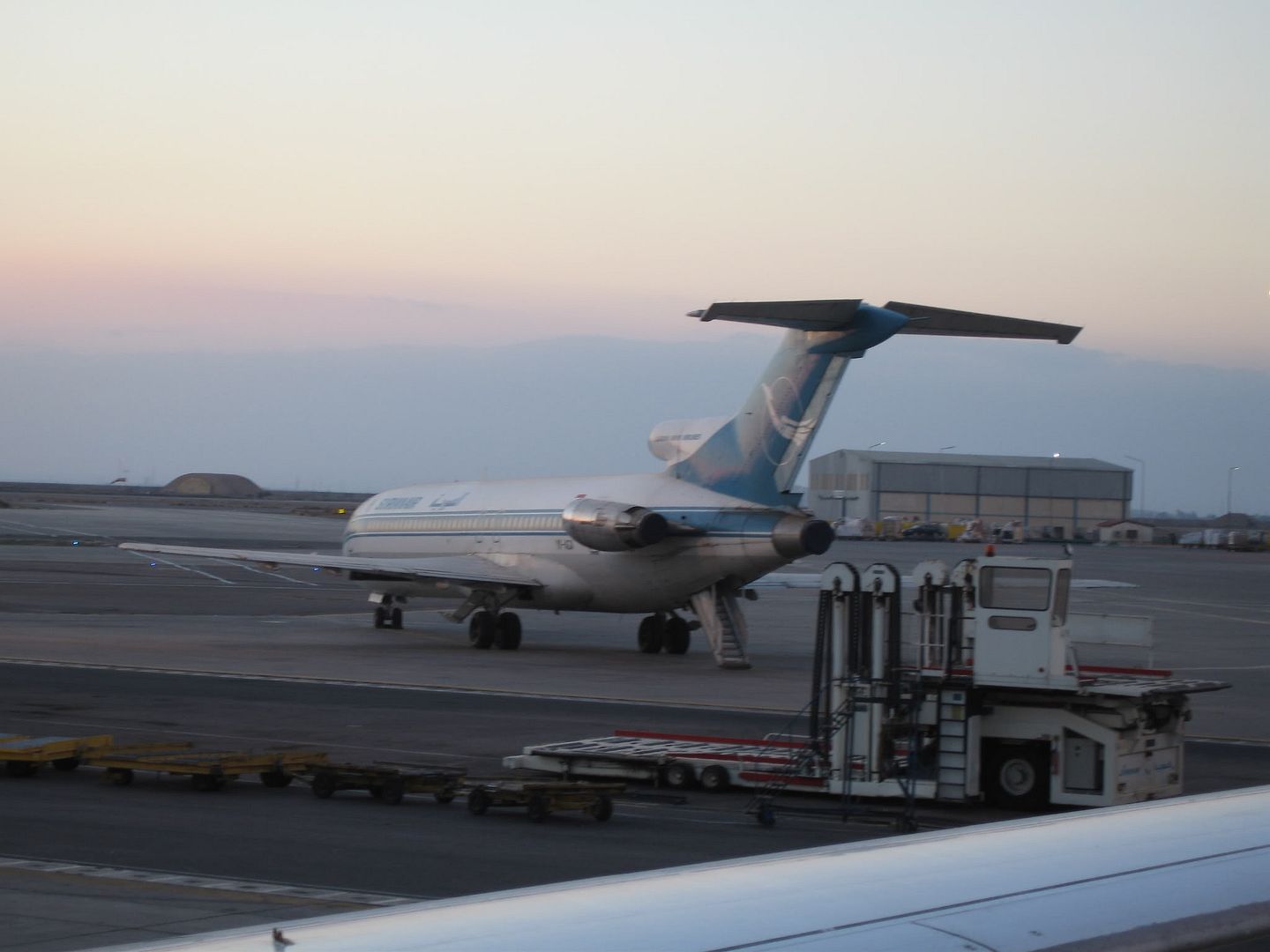 On entering the cabin, I was impressed by the presentation of the both the cabin crew and the cabin itself. The Crown Class section was in a 2-2 arrangement, and the seats were pleasantly presented in a dark red design.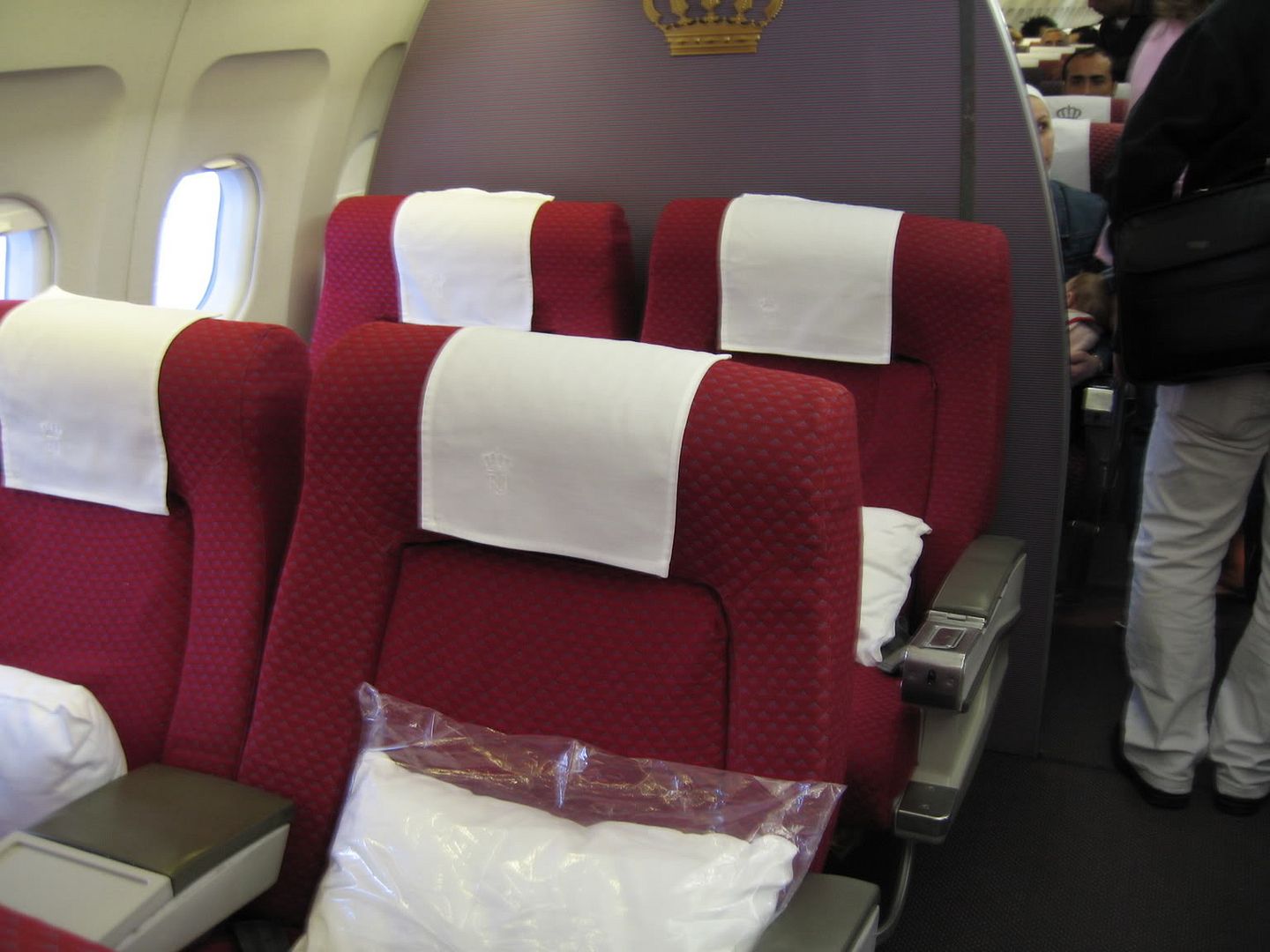 The economy section was already very busy, and I was unable to take any photographs of the cabin. The seats were black in some rows and red in others, and I was again impressed with the way the cabin was presented.
As I got towards my allocated seat, I noticed that someone was already sitting there. I find it very ignorant of people who do this, so did what I usually do, which is find a window seat in a seat group where none of the seats are occupied, and wait to see if anyone looks at me in the same way I looked at the man in my seat. The difference is that I would have moved. From my seat, I could see some of the baggage being loaded in the aft cargo compartment. All the bags seemed to be transferring in AMM - mostly on onward RJ flights to JFK and DTW. I was surprised to find out that RJ flew AMM-DTW in the summer.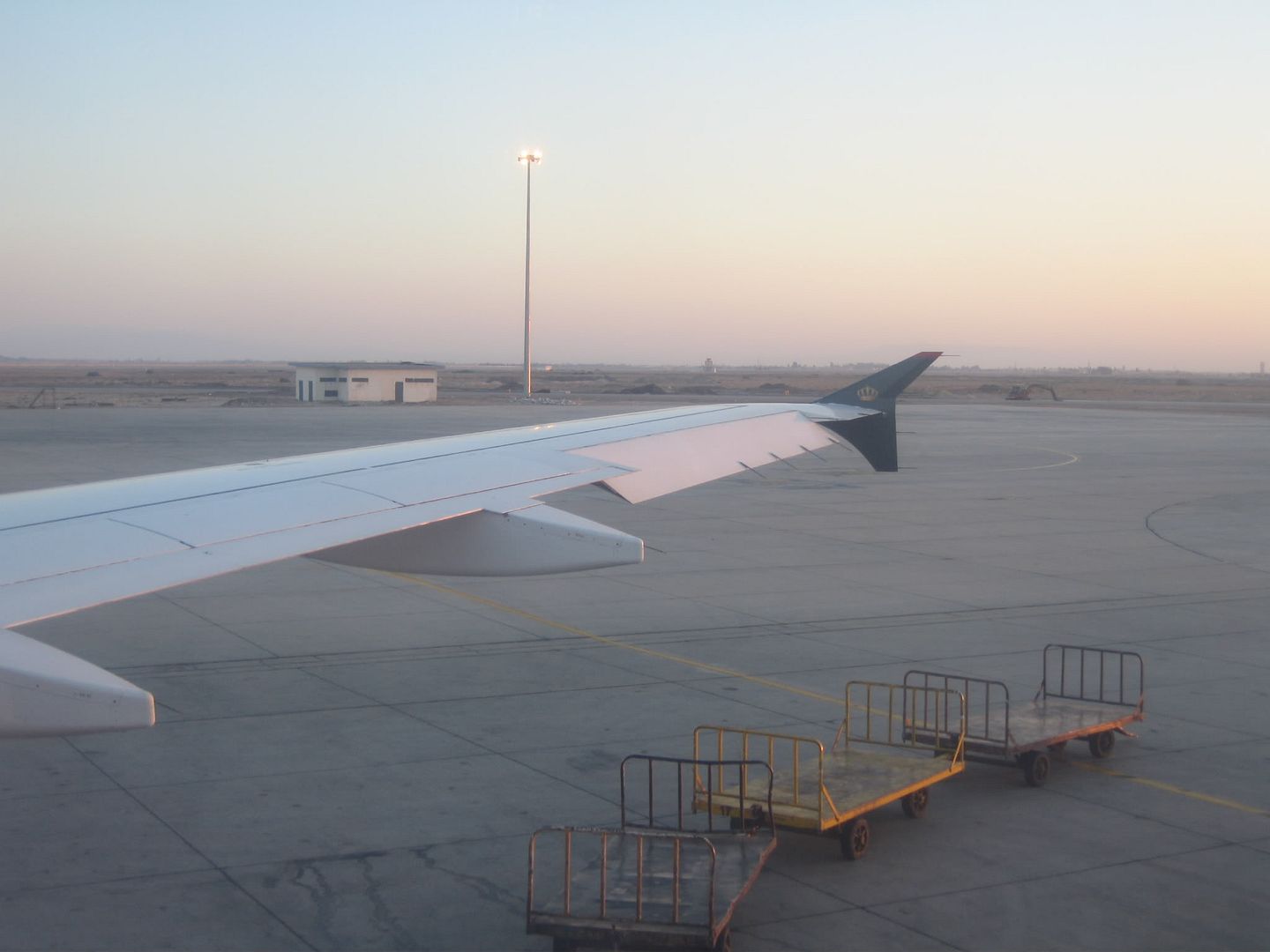 The flight departed approximately ten minutes behind schedule, as there were a number of passengers connecting from a late running RB flight from Alleppo (ALP). As no pushback was required from here, the engines were started on the parking stand, as the safety briefing was played on the drop-down screens.
As the aircraft turned from the parking stand, I was able to take another photograph of YK-AGA, which was parked alongside one of Syrianair's more modern A320s.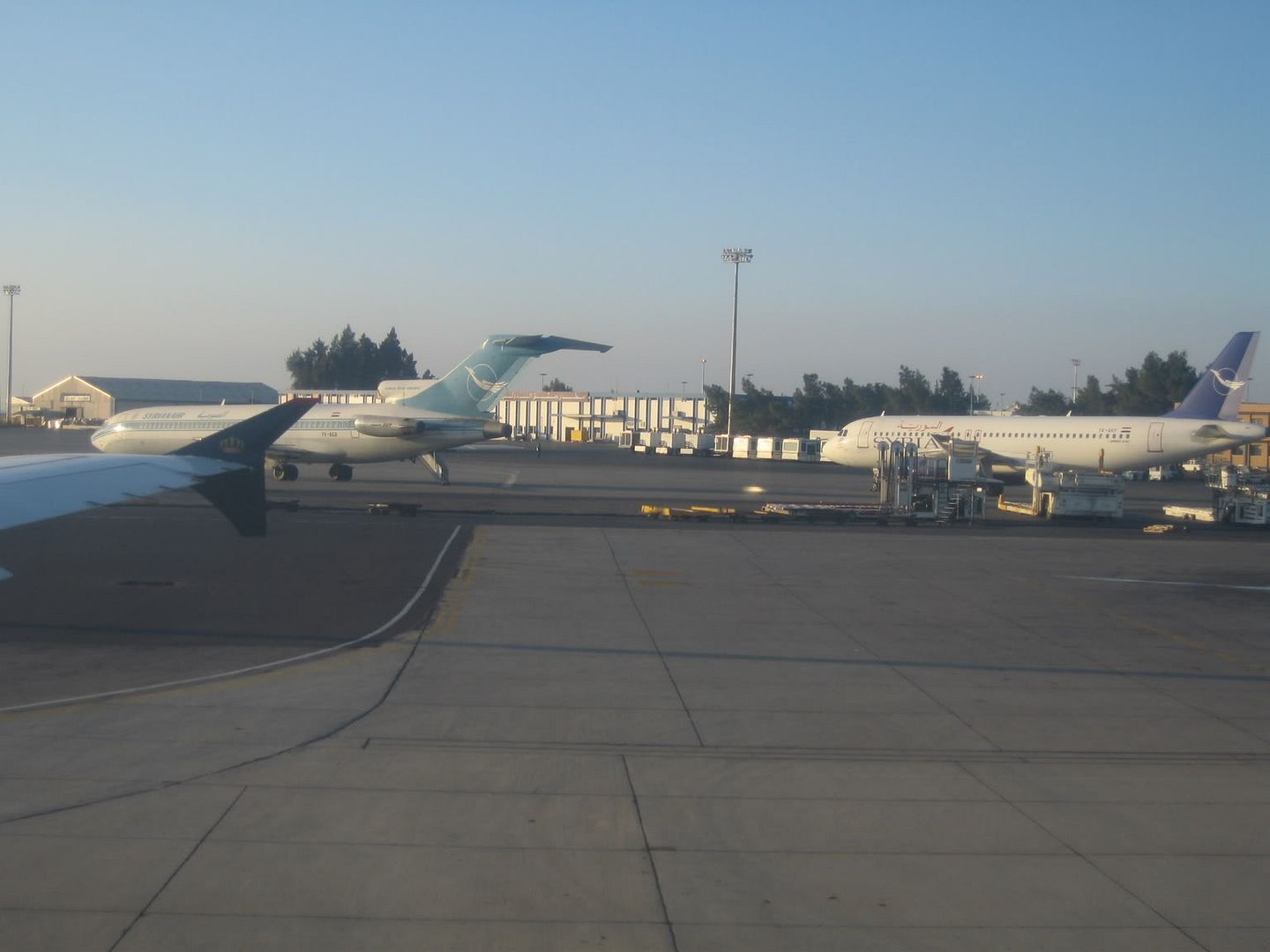 Also parked in this area were two Syrianair YAK-40s, which I assume are in storage. The one in the foreground is YK-AGE, and if anyone knows the reg of the other one, it would be most appreciated.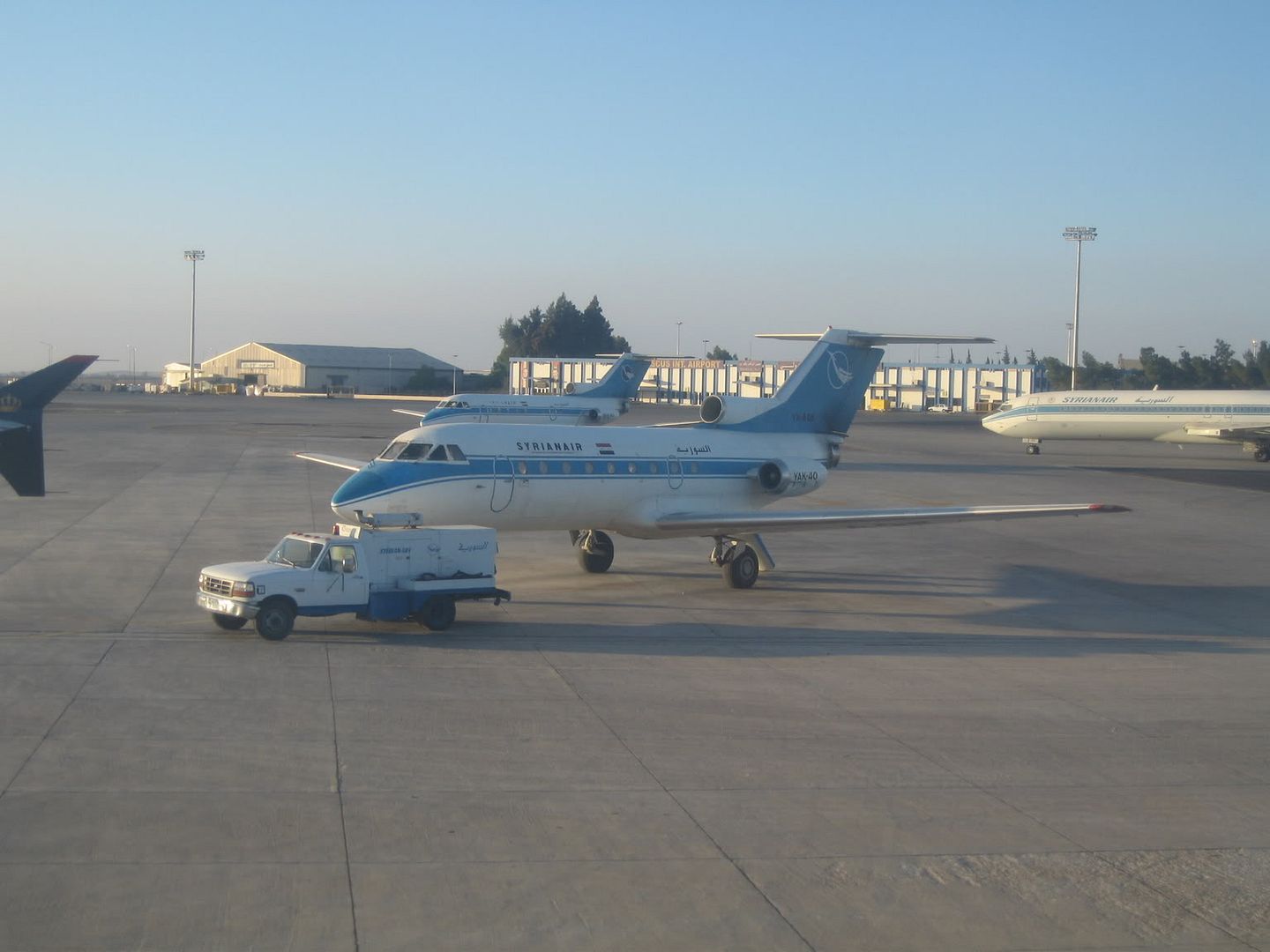 Within a few minutes, we were airborne - passing over the remote storage area where many redundant Syrianair aircraft are parked. Among these aircraft I noticed IL-76s, TU-134s, YAK-40s and several Antonovs - presumably AN-24s and/or AN-26s.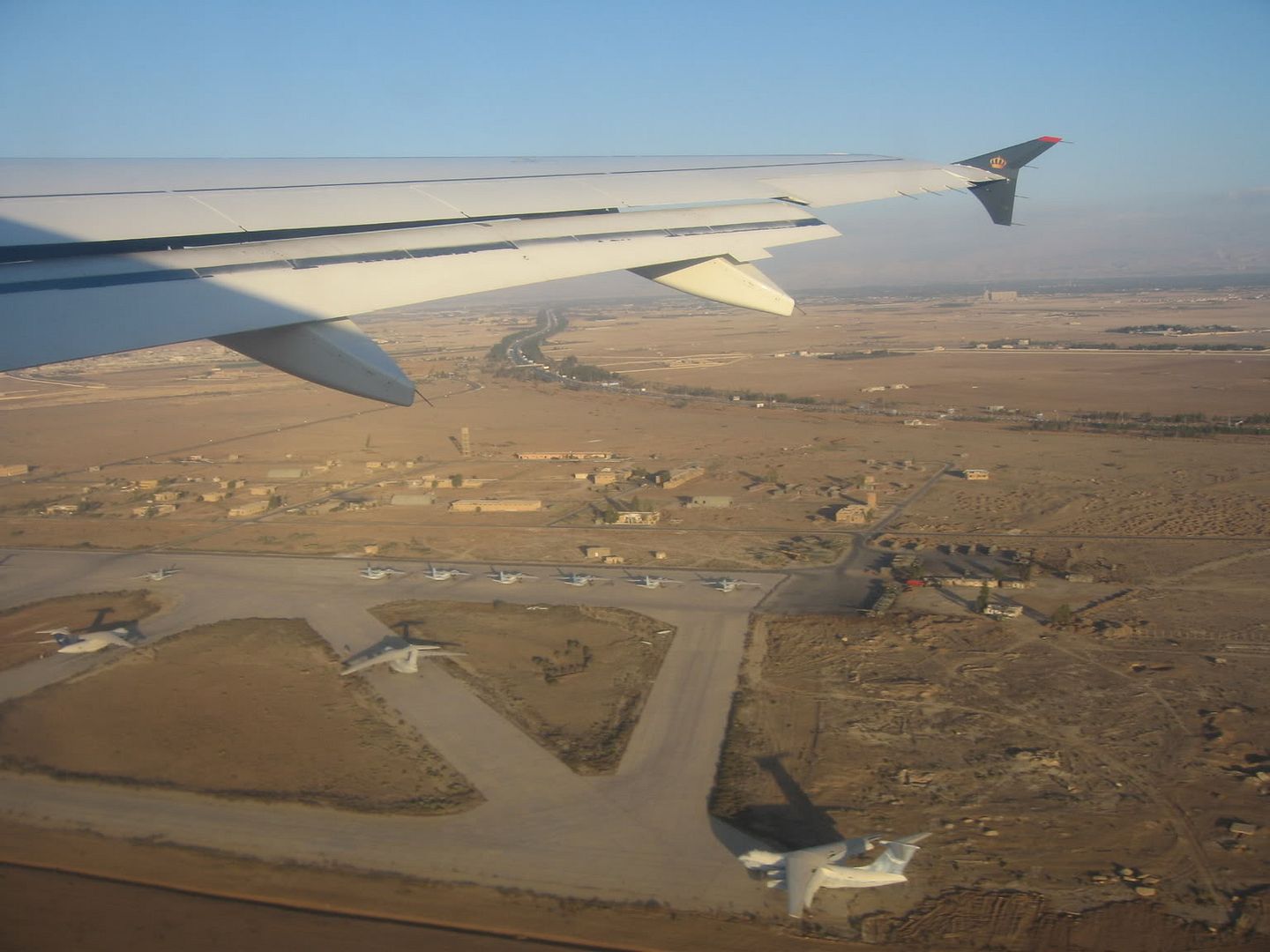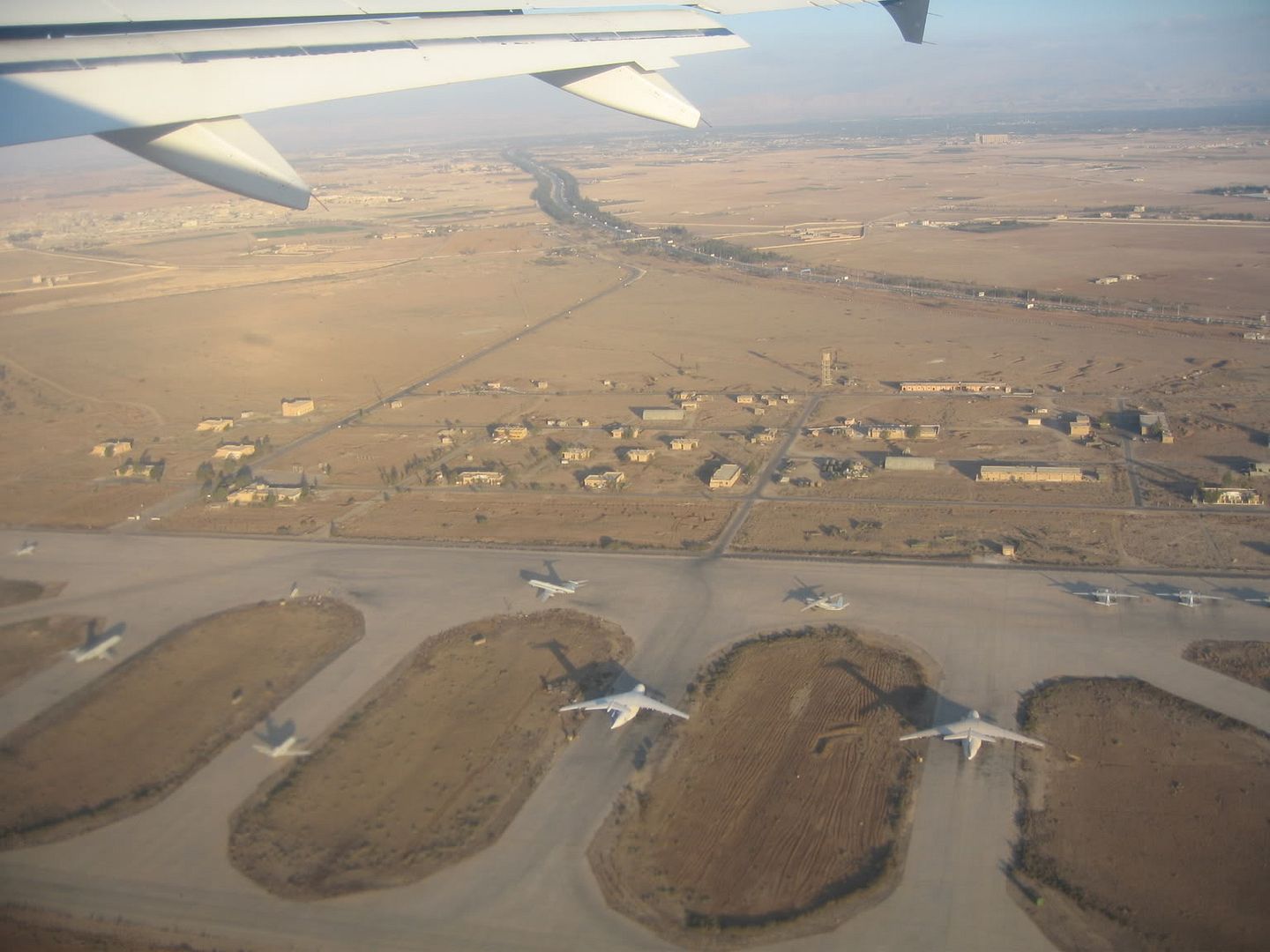 This was due to be a very short flight, and the cabin crew began the service during the climb, as soon as the seatbelt signs were swtiched off.
Each passenger was offered a breakfast snack which consisited of two pieces of cake, along with a drink. Not being Marjorie Dawes, I'm not really used to cake for breakfast, but knowing I was not going to get much else to eat today, I ate both pieces.
Shortly after we completed the climb to 17000ft, we were already descending towards AMM. The cabin crew quickly collected the remains of the meal service, and took their positions for landing. The approach to AMM was much as I had expected it to be - a very sparse desert landscape.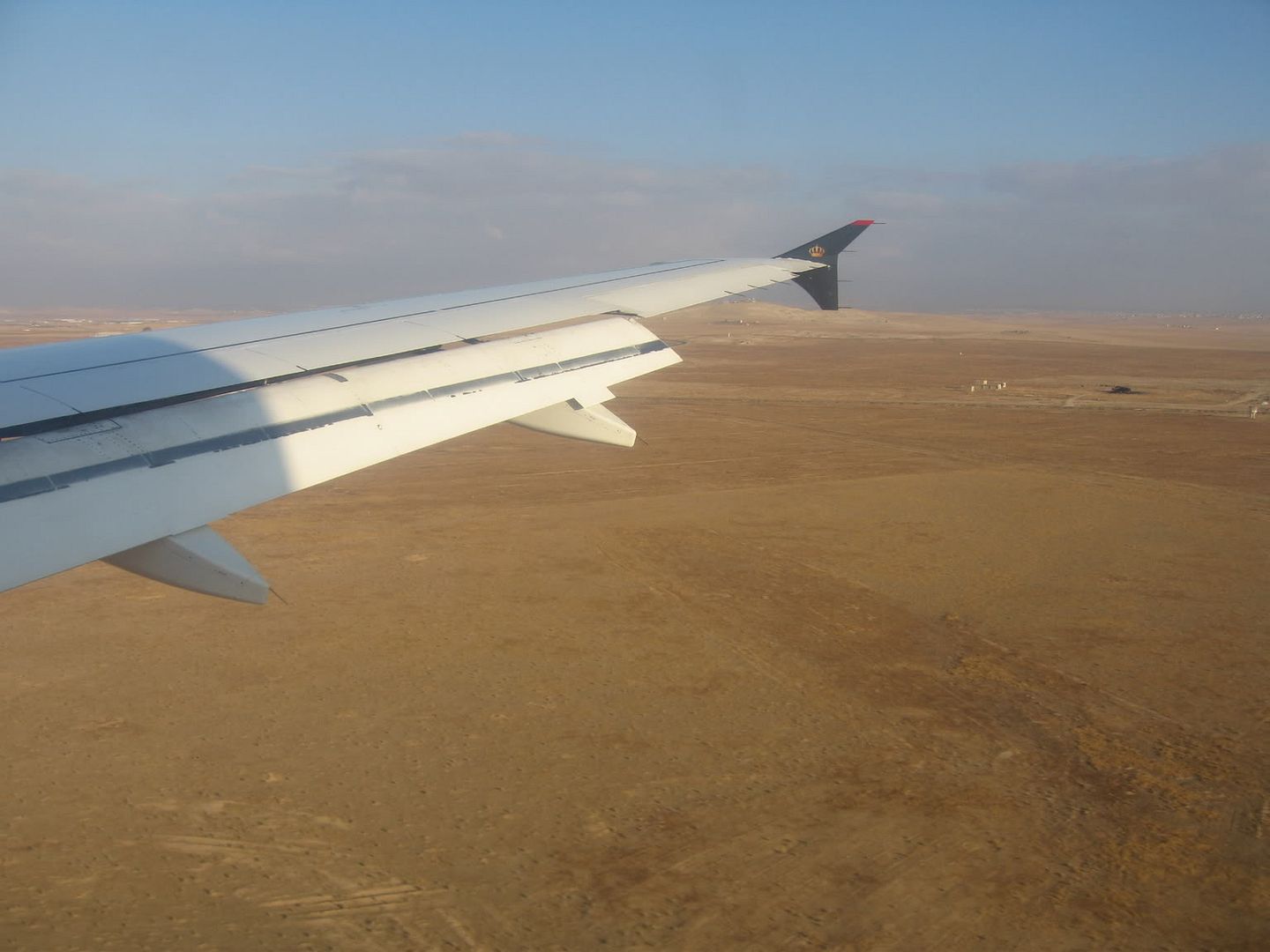 It seemed no time before we were landing in AMM, passing an interestingly occupied maintenance area. Among the aircraft parked outside the hangars were several TriStars - one of which was still wearing the full Rich International colours and titles, another of which was still wearing remnants of the Delta scheme. Also present were several 727s, including an Iraqi Airways aircraft which looked as if it was one of those stored at AMM since the first gulf war. Two A310s were also present, from Libyan Arab Airlines and Air India.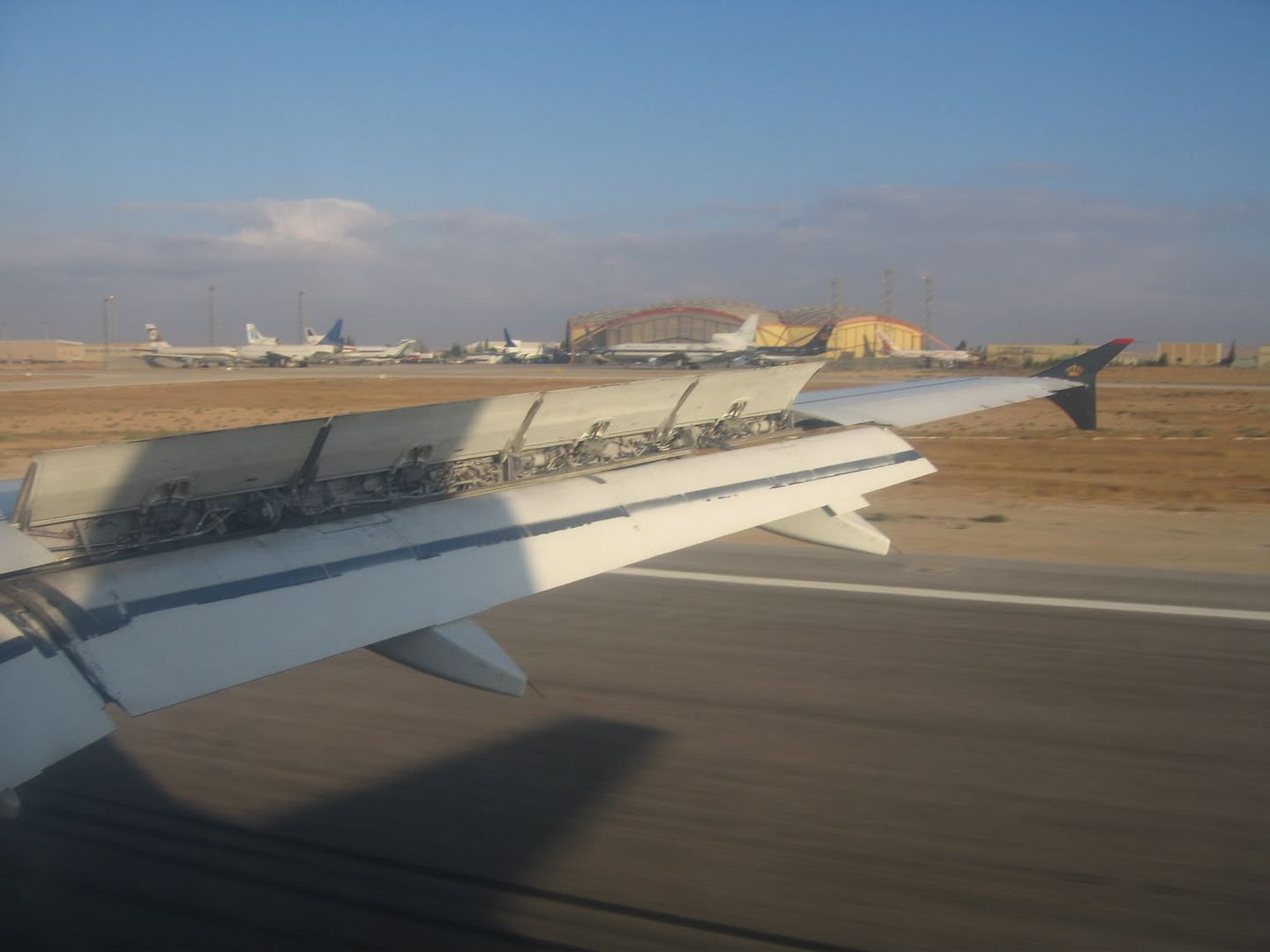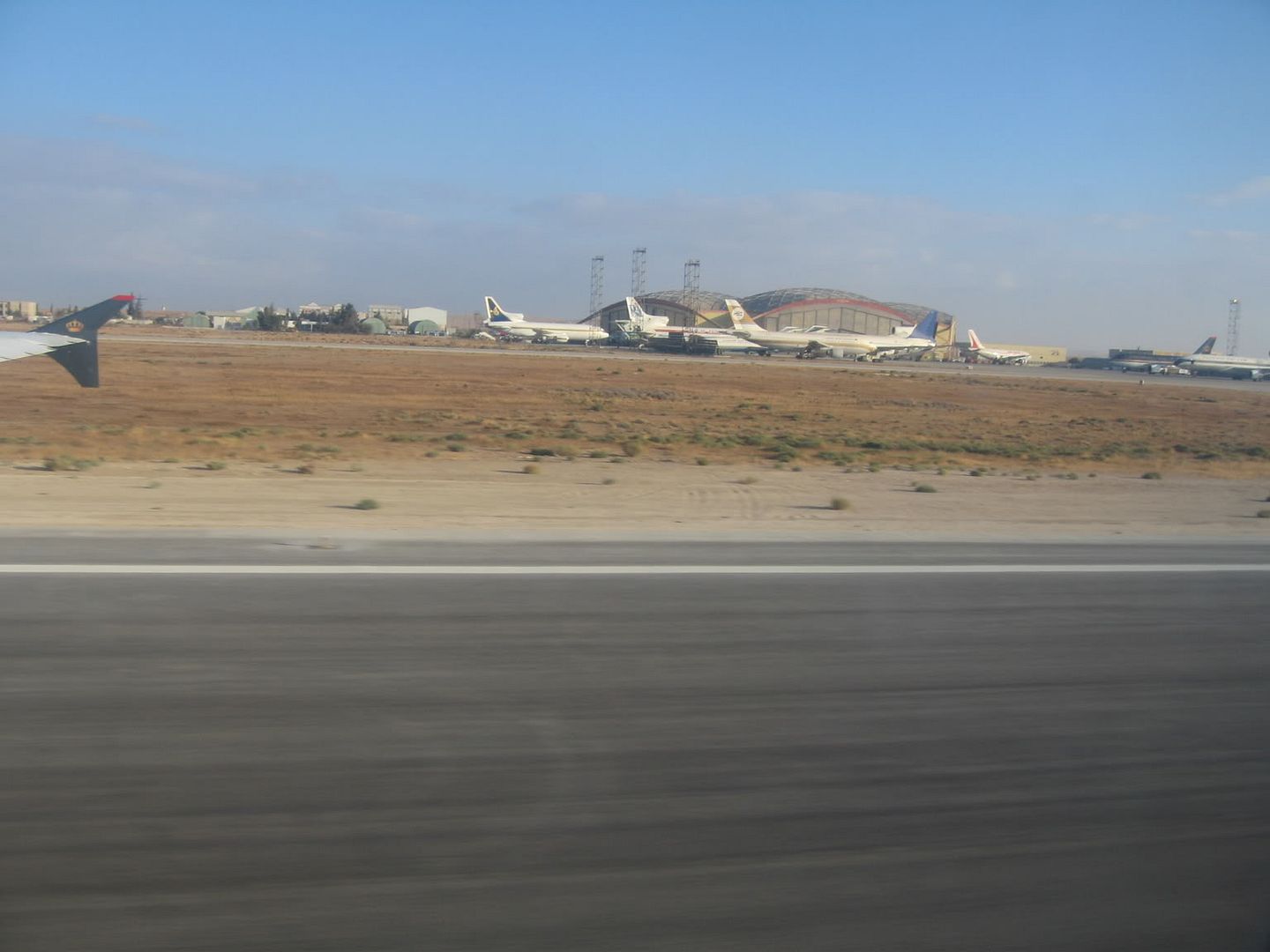 As 'YB taxied to its allocated parking stand, two Fokker F28 4000s were visible to the right, which are being leased by Royal Jordanian from AirQuarius Aviation of South Africa, for flights into Iraq.
ZS-DRF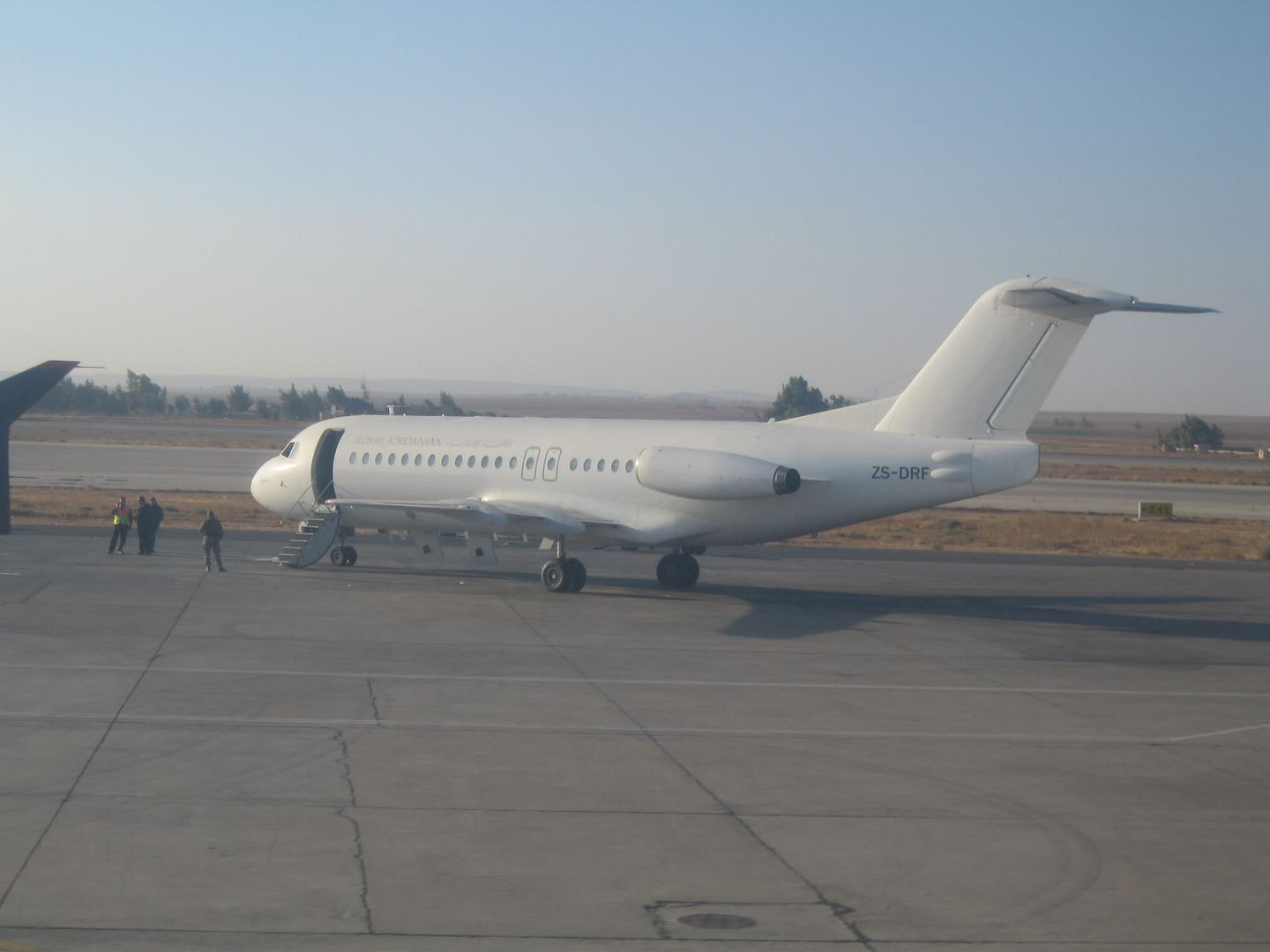 ZS-XGW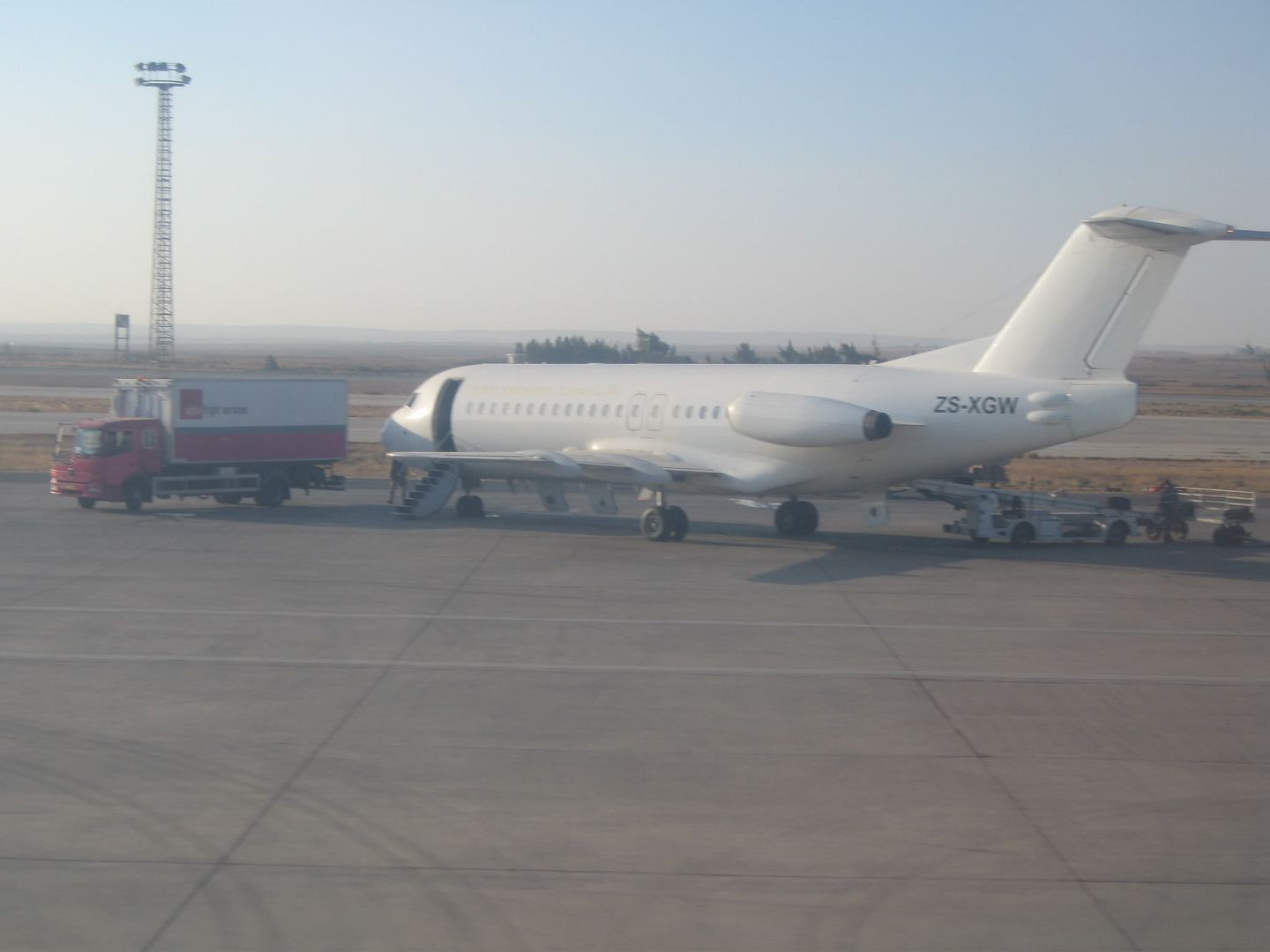 As the aircraft reached the gate, sister ship JY-AYA was about to push back from an adjacent stand.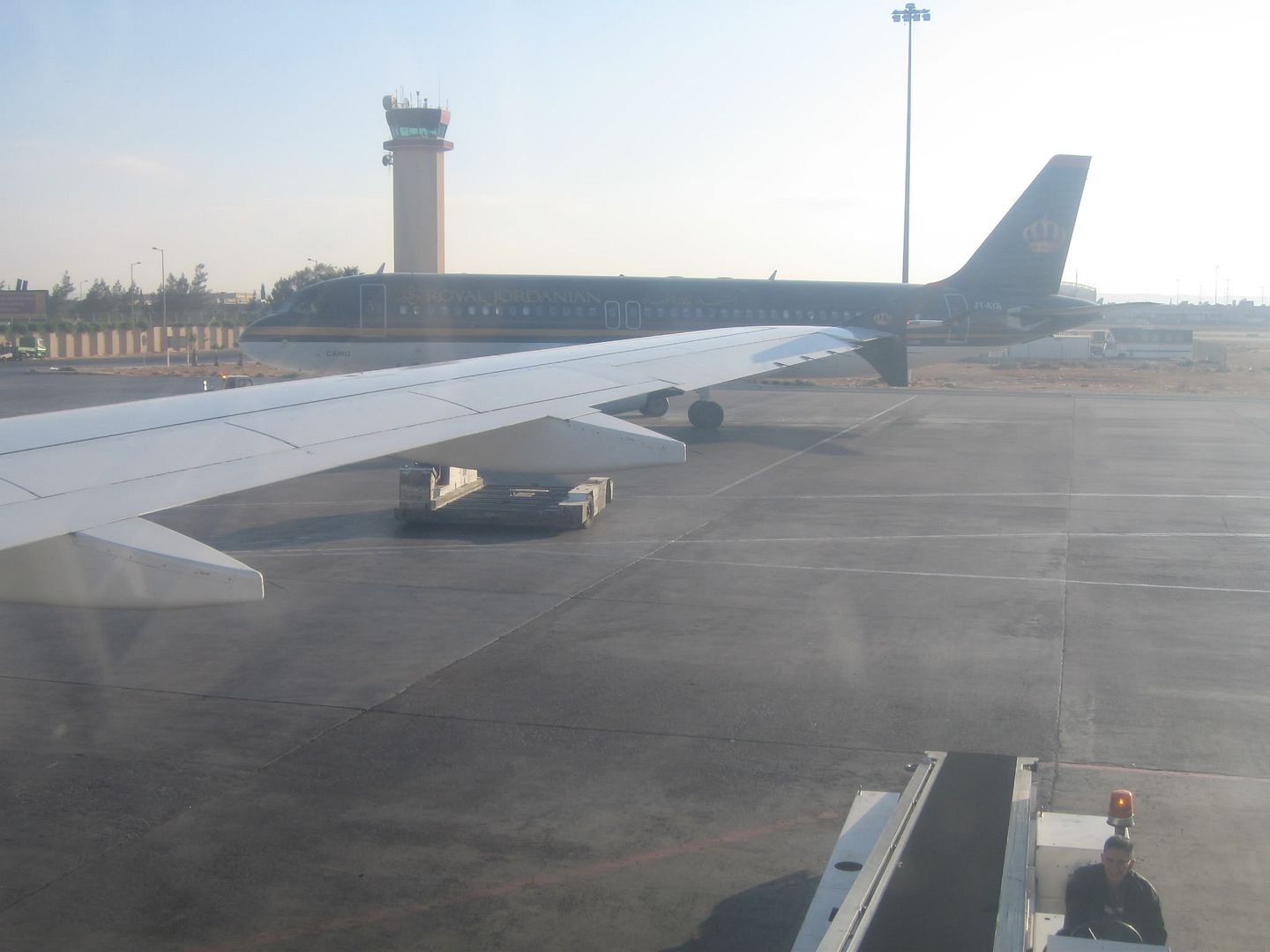 We disembarked via the airbridge, and I walked straight through immigration with no queueing, as the rest of the passengers had headed to the transfer desk in order to connect to their onward flights. At the baggage carousel, I had to wait for approximately thirty minutes for my bag, presumably as it needed to be seperated from all the transferring bags. The only other person waiting for baggage was a young Danish lady, who appeared to be the only other European on the flight. She told me she had flown into DAM the previous evening with her family, only to be denied entry as there was an Isreali stamp in her passport from a holiday a couple of years previously. She had spent the night in the transit hotel at DAM, and took the RJ flight to AMM because Jordan allows passengers into the country who have visited Isreal. As she had virtually no money with her, I let her stay in my hotel room for the day while I was at the airport training, during which time she was able to visit the Danish Embassy to arrange a money transfer from her parents.
With regard to the flight, I very much enjoyed my first experience with Royal Jordanian, and would certainly be prepared to fly with them again in the future.
***
My usual check into the history of the aircraft I had flown aboard revealed that it was delivered new to RJ in April 1990, which actually makes it quite an early example of the type.
***
I hope you enjoyed this brief report on Royal Jordanian - as always I would like as much feedback as possible - please leave your comments.
Ian