I booked this trip in August, to use miles and had originally wanted to get on a Song flight, but that didn¡¦t work out. So I went with the 764 and LAX. jetBlue was going to fly out to LAX with me, but things happened and he told me he wasn¡¦t going to be able to, so then NWA757boy decided he would and so now I had somebody to go with!
Enjoy!
Delta Connection 5137
South Bend (SBN) ¡V Cincinnati (CVG)
October 29, 2005
CRJ-200
Scheduled Depart/ Actual: 5:45a/ 5:42a
Scheduled Arrival/ Actual: 7:43a/ 7:49a
Zone: 3
Seat: 3A
I got to South Bend around 3:30am, which was a huge mistake. The airport doesn¡¦t open until 4:00! Had I known that I never would have shown up so early. But I stayed up all night and my sister was early to pick me up so we just went. Once the doors were finally opened at 4:00, we were inside but none of the airlines opened until 4:30, so I had to wait again with a few people in line and I was the very first person to check in that day.
Boarding Cards: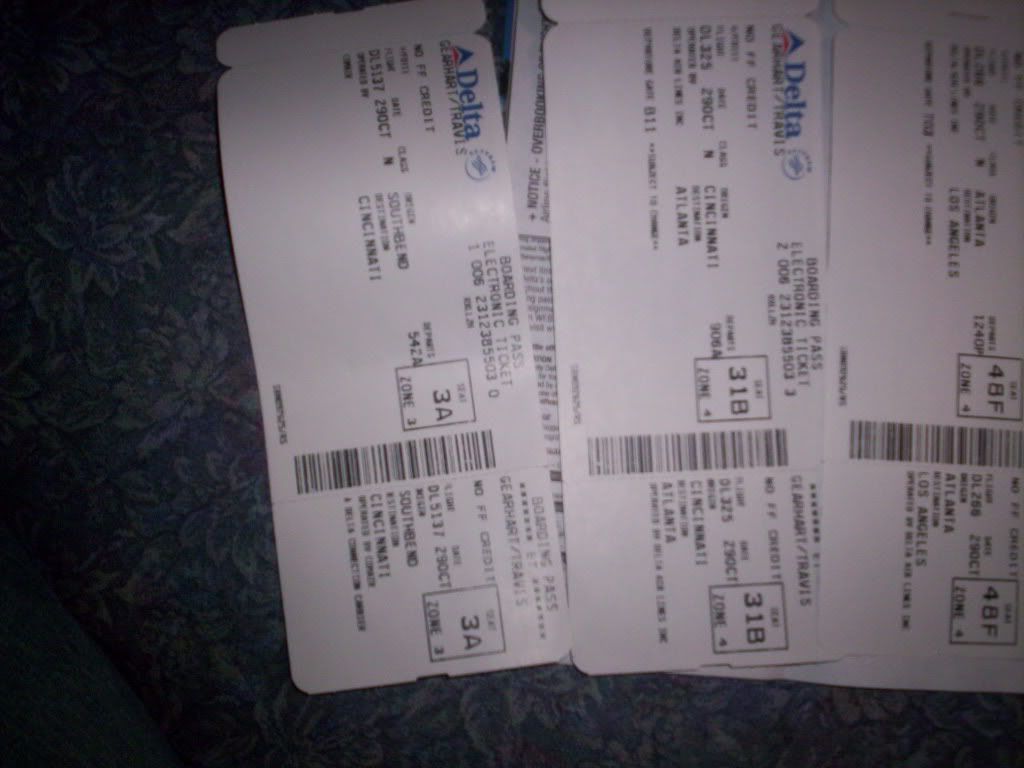 It turns out security wasn¡¦t even open until after 5am, so I waited in SBNs observation deck. Once security was opened, I went through and it took me about 2 minutes, maybe. Boarding started about 5:30, and we all filed out and got on our CRJ this morning. We were all ready to go shortly before 5:40 and we sat at the gate for a few, then we got de-iced since it was a brisk 27F out this morning! The Pilot came on and announced our 35 minute flying time, with the flight plan going to Goshen ¡V Fort Wayne- Dayton ¡V Cincinnati.
We made a very fast taxi to 27L, but due to a ground stop in CVG, we waited until about 6:05a, and we were off.
Cabin service consisted of Snack Basket, with bottled water (Delta has improved the flights now, we get snacks again!). Brittany, our FA was in a horrible mood this morning. She wouldn¡¦t talk to people, if she had to repeat herself she would snap. Boarding, she stood in the flight deck yawning, and rolling her eyes. Horrible job. She talked fast on the PA, couldn¡¦t hear her.. all in all just didn¡¦t give a shit.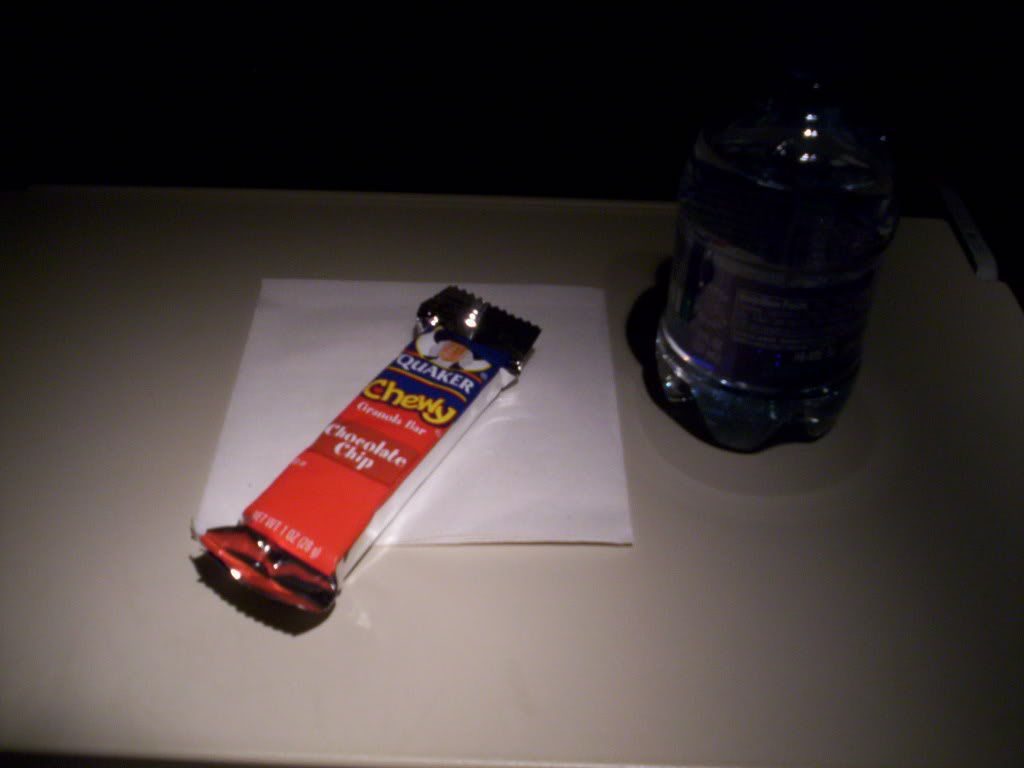 Our approach started shortly after and here is a view of sunrise and CRJ winglet!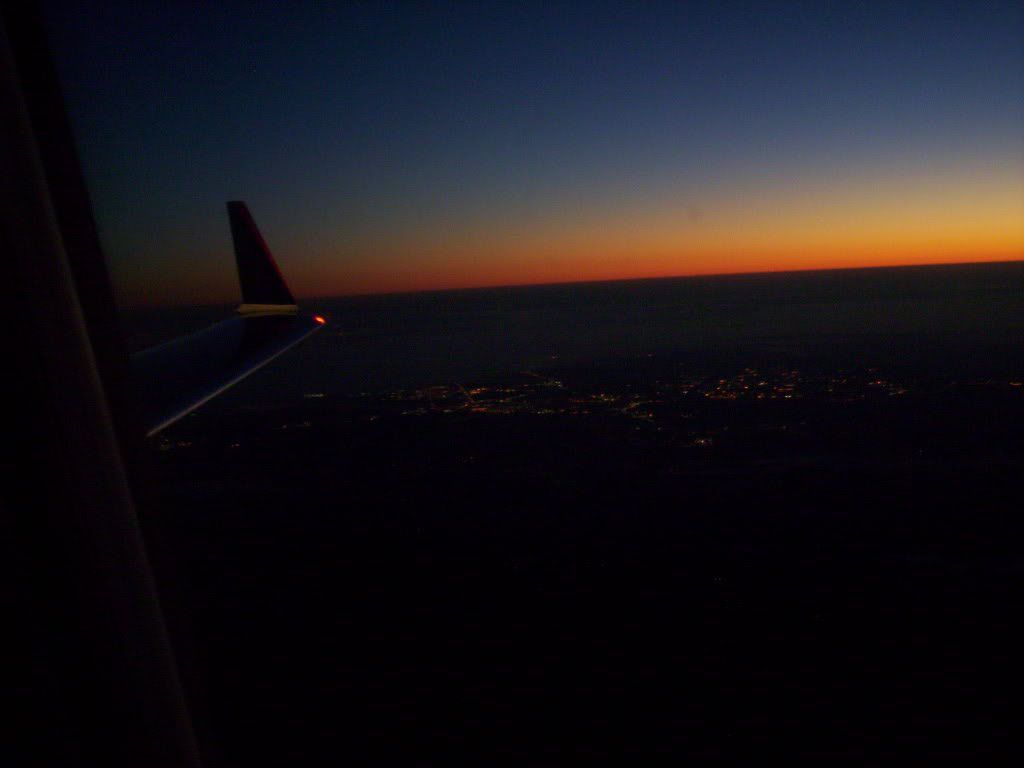 Made a quick landing on 36R and were off the plane just a few minutes behind our scheduled arrival time.
Delta Air Lines 325
Cincinnati (CVG) ¡V Atlanta (ATL)
October 29, 2005
MD-88
Scheduled Depart/ Actual: 9:06a/ 8:58a
Scheduled Arrival/ Actual: 10:40a/ 11:06a
Zone: 4
Seat: 31B
Here is where I met Zach, and we went to our gate to continue our trip. Pleasant surprise to see the new interior MD-88 this morning! I love how they look. Made our way to the back, and were ready to go a few minutes early. Problem, CVG was a bit fogged in this morning!
We were told to take off on 36R, then we were given 27, once we got to 27 we were told to go back to 36R and wait. So here is an airport view of CVG, here is the taxi route we took to get to our holding position since departures were now held at this point:
http://204.108.4.16/d-tpp/0510/00655AD.PDF
We went from Concourse B, to taxiway S. When we were told to do 27 we turned onto M, then waited. After we were told to go back to 36R we went all the way to E, up to J, all the way back to S, turned right took S all the way down to about S4, stopped, engines off. Since I was next to the FA jump seat I decided to start talking to her. She has got to be one of the best flight attendants Delta has! Our crew was all BOS based, she was truly amazing, and fun to talk to.
She said expect the uniforms to be out in the Spring! After we had been waiting for a few minutes she asked Zach and I if we would like water, but I had one so she got up and went to the galley and brought back some. We finally started back up and were on our way to 36R, took off and wow what do we see? 38 Planes waiting in line behind us to take off, that is a first for CVG. I¡¦ve never seen so many planes waiting in a line up! It was really neat, we had a pretty quick rocket departure and we made our way to Louisville ¡V Boling Green ¡V and then down to Atlanta.
Leg room seems a bit more cramped in row 31: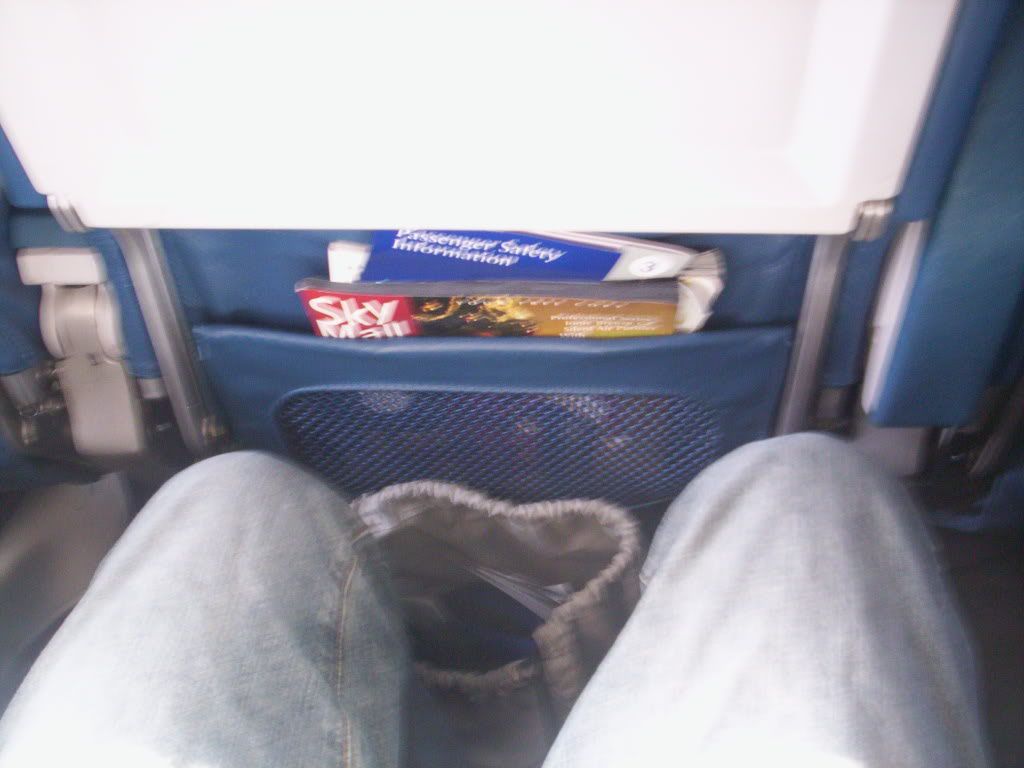 After take off: Sorry about the pic, if it¡¦s a problem for you, turn your screen sideways.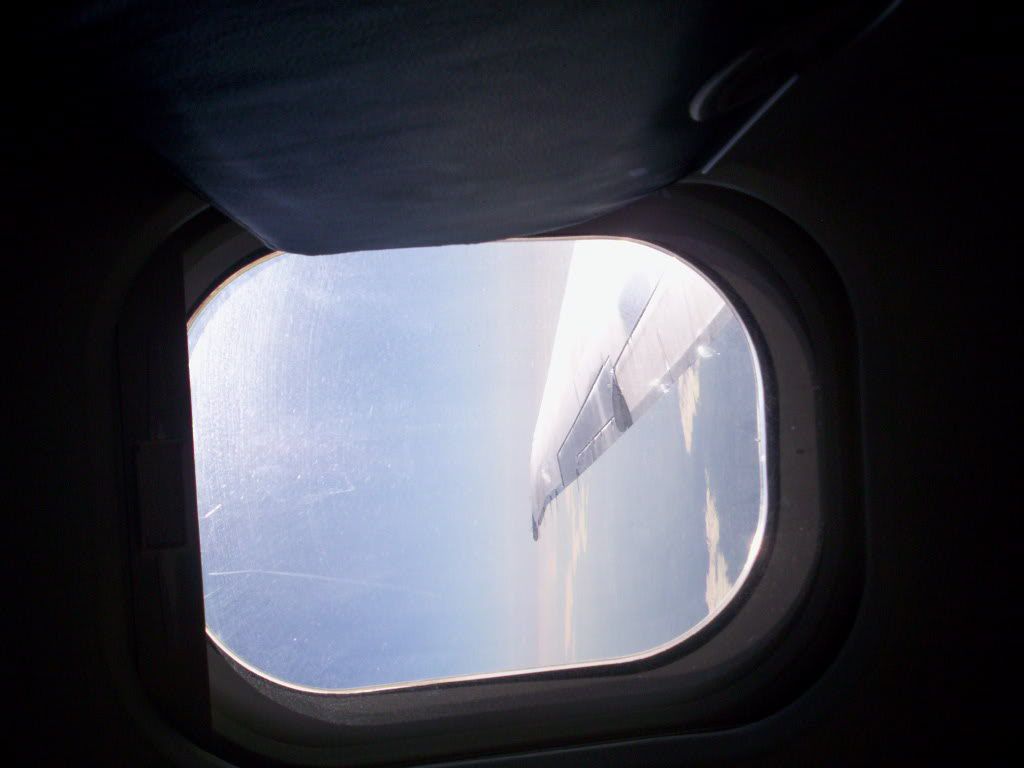 After we made cruise altitude they started service (interior shot):
We got Peanuts, and Mimi gave us the full can of pop: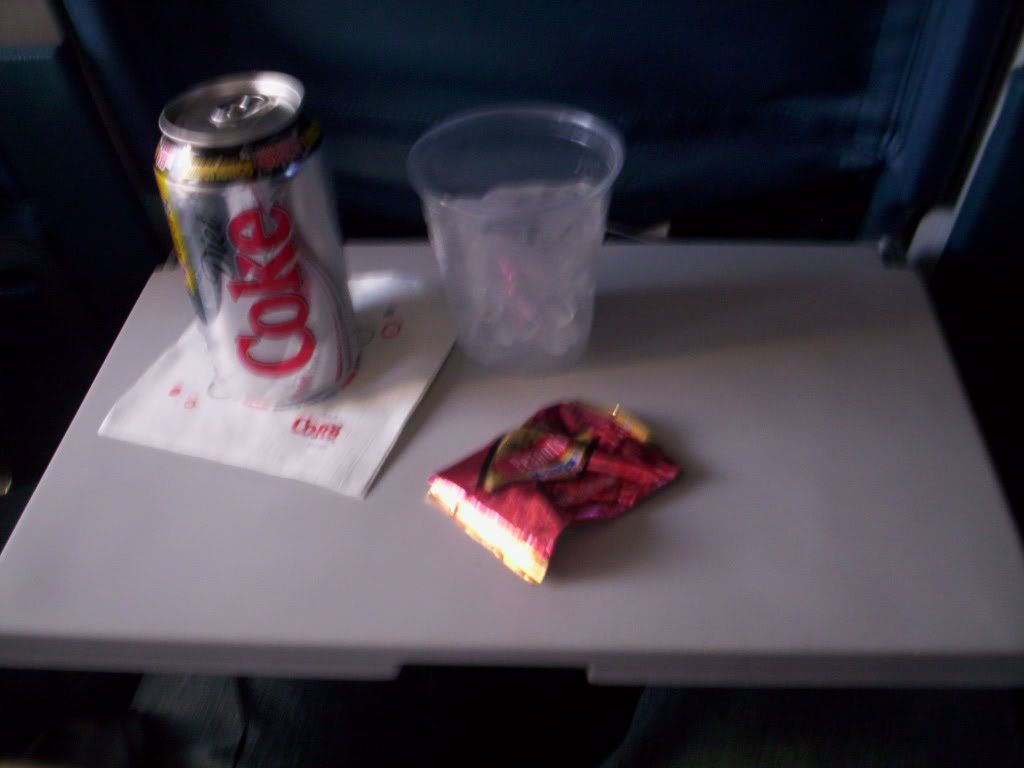 Our descent started not long after they got to our row, and we made a quick approach into ATL: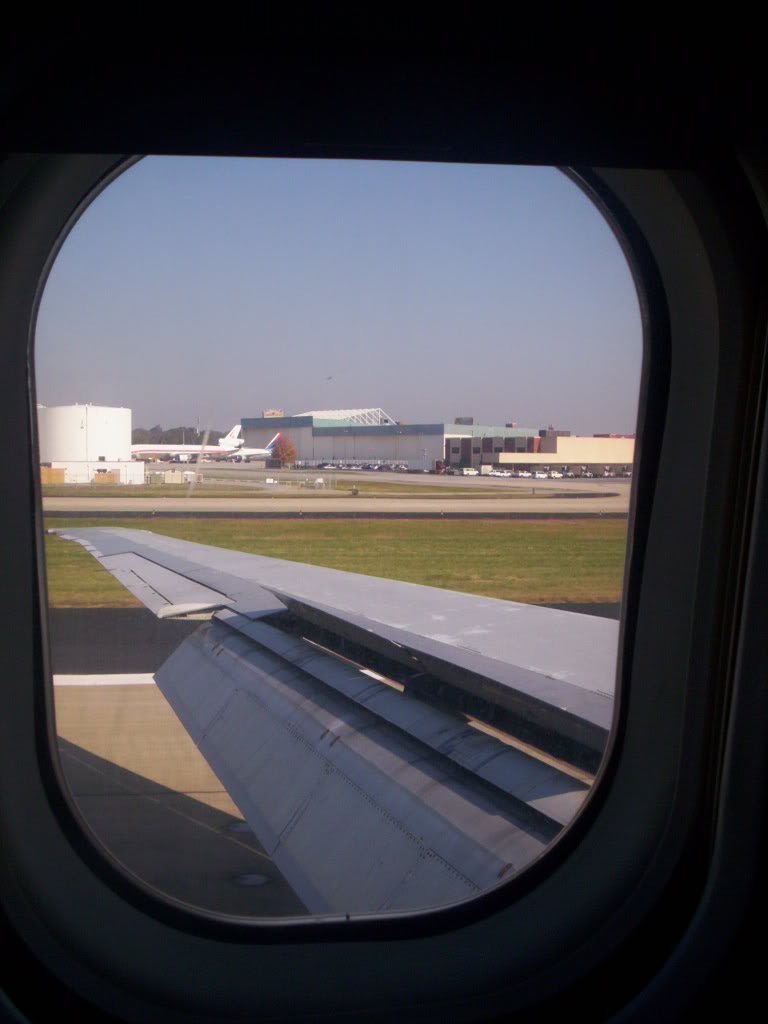 A little late but that was fine, since I had no rush of going anywhere. Welcome to ATL! This truly is one of the most amazing airports in the world, I love it!
Delta Air Lines 266
Atlanta (ATL) ¡V Los Angeles (LAX)
October 29, 2005
767-400ER
Scheduled Depart/ Actual: 12:40p/ 1:05p
Scheduled Arrival/ Actual: 2:22p/ 2:28p
Zone: 6
Seat: 39F
N832MH < anyone know why DL names their 764s MH?
Once we got to ATL, and deplaned jetBlue was there to meet me! It shocked the crap out of me! What a great surprise to see him, glad he made it! ļ. Except at this point I had been up over 24 hours and was dead tired, so I was kind of drained when I saw him, I was shaking and everything it was just a weird feeling.
Once we were ready for boarding, they scanned mine and Zach¡¦s tickets and they came up as ¡¥already boarded¡¦ the gate agent got the weirdest look on her face, scanned them again, and said okay get on. We get on and a few minutes later a couple comes and stands by us and points to our seats and well the seats were double assigned. So after people around us start asking questions and getting into it we get a FA and she takes us to the rear galley and looks at us and says okay hang on, she turns to the couple and, they don¡¦t speak English, she says.. one minute, uno moment? Heck I don¡¦t know what to say and gets the gate agent. We kept the seats, and the couple was reassigned.
We were ready to go early, except the pilot decided we didn¡¦t have enough fuel to get to LAX, so we waited to get more on and then we were off. After a quick taxi and extremely long take off roll, we were off. In-flight our LAX based crew did an amazing job at keeping the cabin in shape and always made sure people were alright, we got the snack basket 2 times, and then we were given the Refreshment boxes: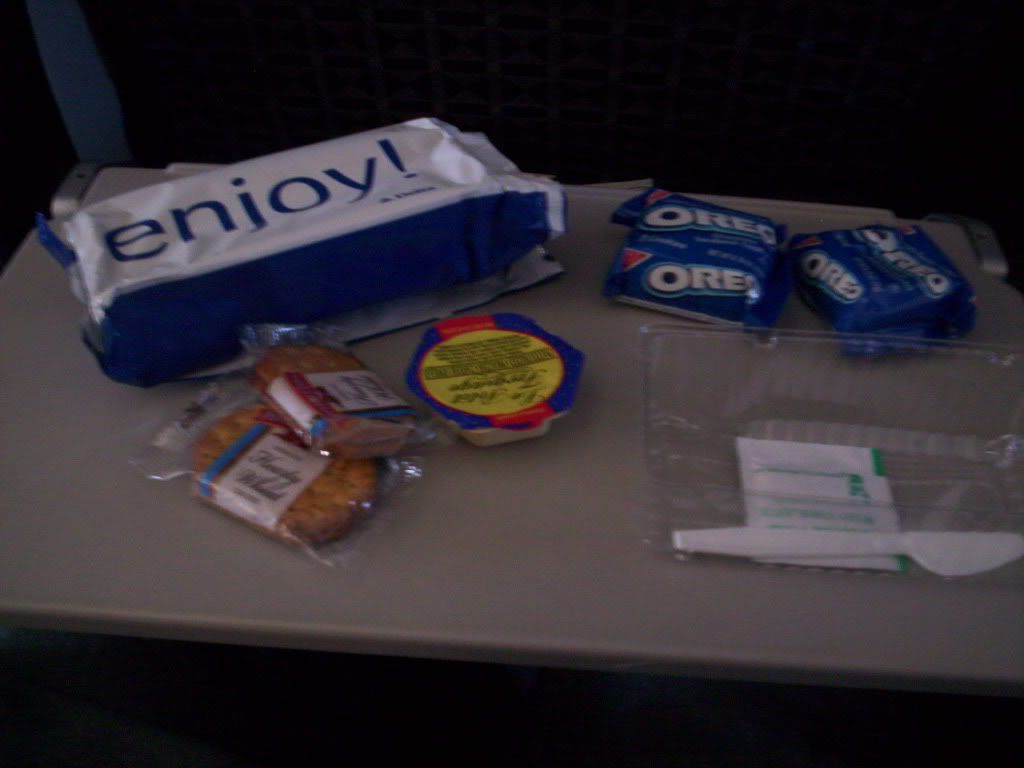 Then I fell asleep, when I woke up we had started our descent and were on the ground a few minutes later:
Me in-flight on the 764: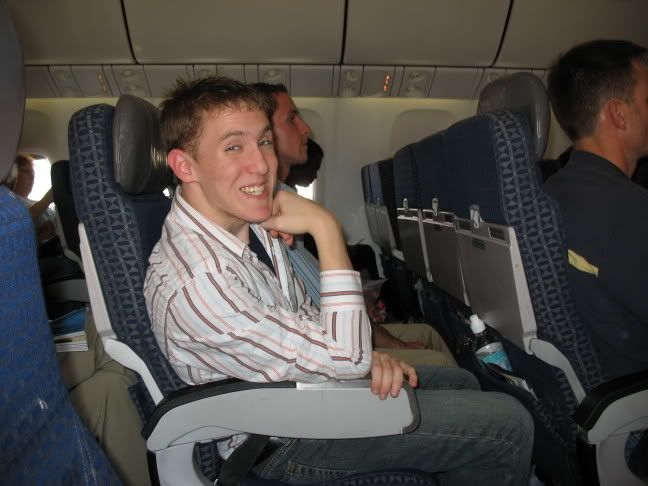 The FAs doing their rounds of picking up ¡¥disposable items¡¦, not trash.: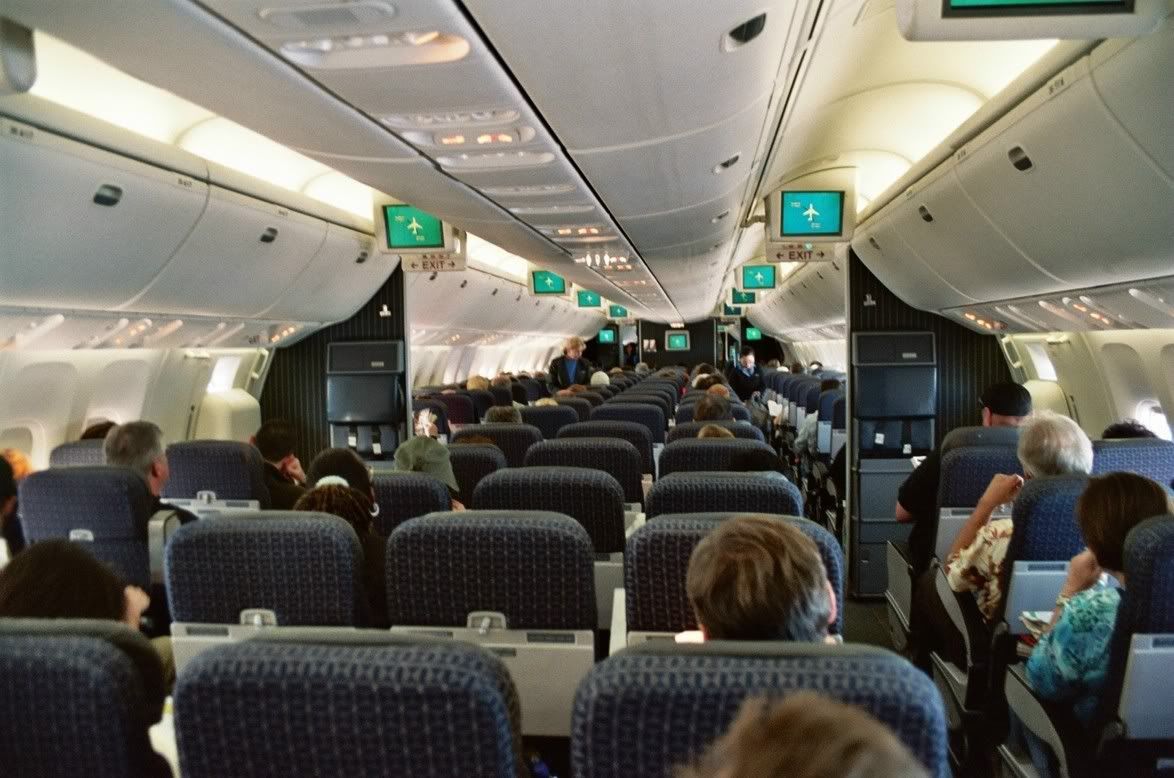 I think it was great to see that DLs FA¡¦s have pink ribbons to support breast cancer awareness month! After we deplaned in LAX, my first impression of the terminal was that it¡¦s very similar to MCO I think.
--------------------------------------- Return -----------------------------------------------
Delta Air Lines 196
Los Angeles (LAX) ¡V Atlanta (ATL)
October 29/30, 2005
767-400ER
Scheduled Depart/ Actual: 11:30p/ 11:23p
Scheduled Arrival/ Actual: 5:36a/ 5:25a
Zone: 4
Seat: 41F
I had the best time at LAX! What an amazing place! We went to the In N¡¦ Out and then to the beach and watched the heavies climb out of LAX. After the beach, we went and ate at the Encounter. That was one of the best parts, but the beach was the best part.
The Encounter is an amazing restaurant, having a view of LAX is stunning at night like that. I loved every second of it.
Me with a BA744 landing over my head at LAX: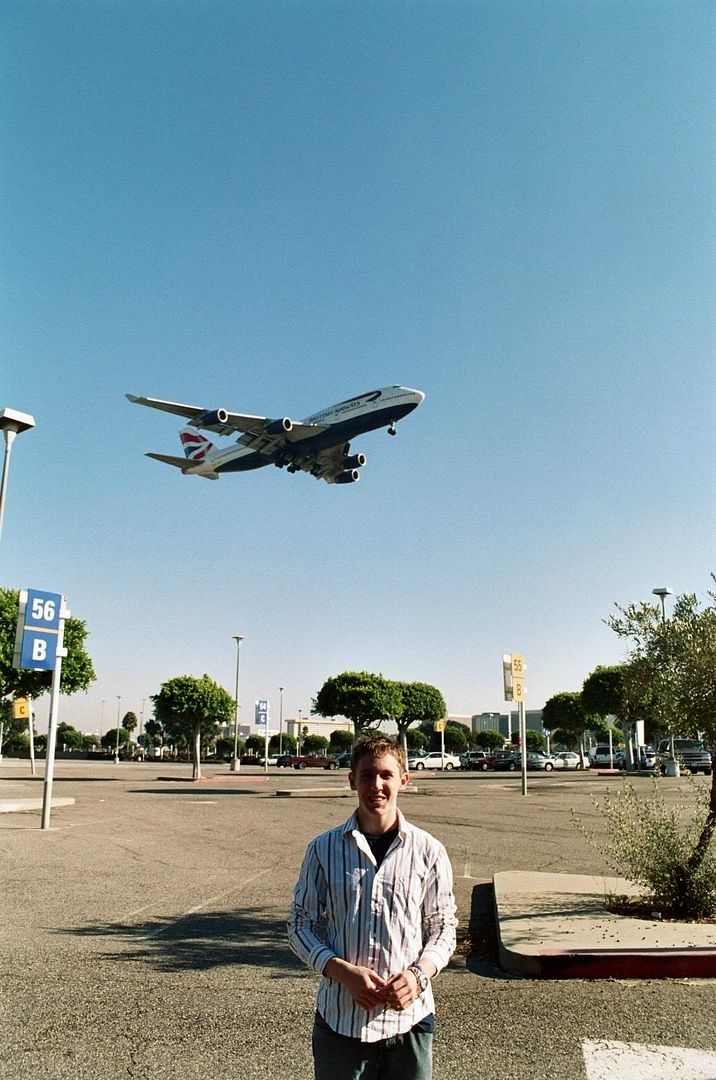 We also went through the Tom Bradley International Terminal, and to the WN terminal to try and find Yolanda, but she wasn¡¦t there.
This flight was pretty uneventful. After take off I fell asleep, and remained that way until descent. When I woke up though I saw that there was an ¡¥enjoy!¡¦ box sitting on my tray table waiting for me. Nice touch!
Delta Air Lines 305
Atlanta (ATL) ¡V Cincinnati (CVG)
October 30, 2005
MD-88
Scheduled Depart/ Actual: 6:55a/ 7:04a
Scheduled Arrival/ Actual: 8:17a/ 8:19a
Zone: 4
Seat: 17D
Another pleasant surprise to see a new interior MD-88 waiting us after we all on. The plane was about half full, and the FAs were in a great mood this morning! Very bright and cheery. We were delayed at the gate due to maintenance but once it was fixed we were off. After we took off I moved to the row across because the 3 seats were empty. Beautiful sunrise this morning. In flight we got Granola bars and regular full beverage service.
After the FA¡¦s were done we started our descent and here you can see CVG: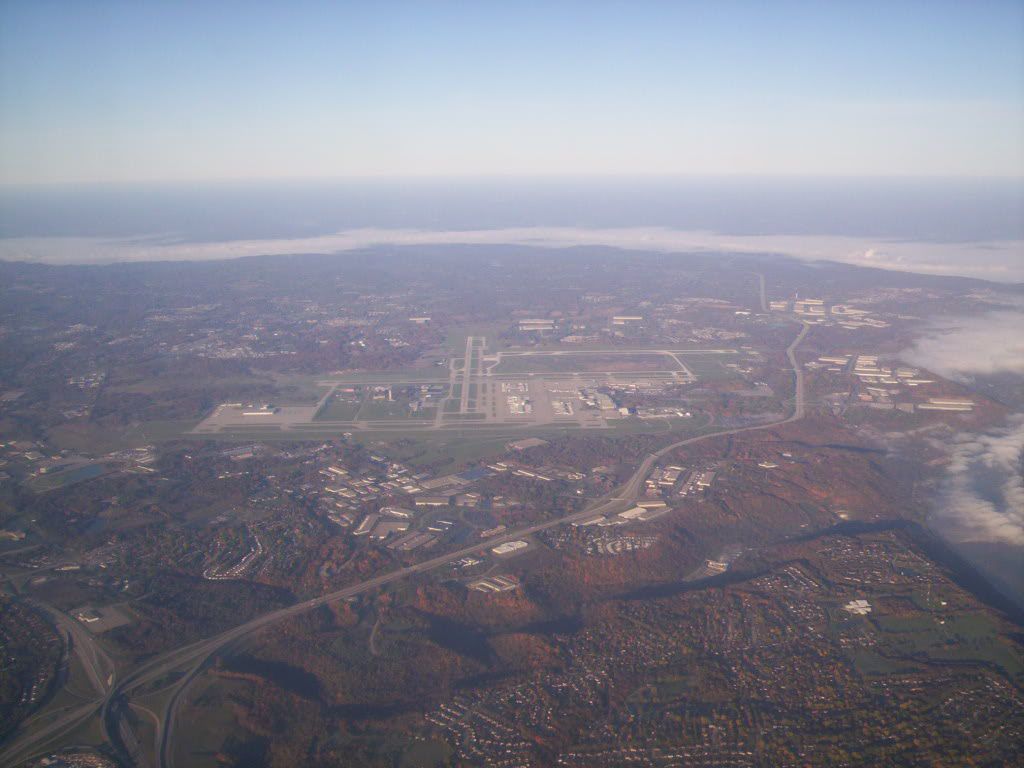 Turning final to 36L: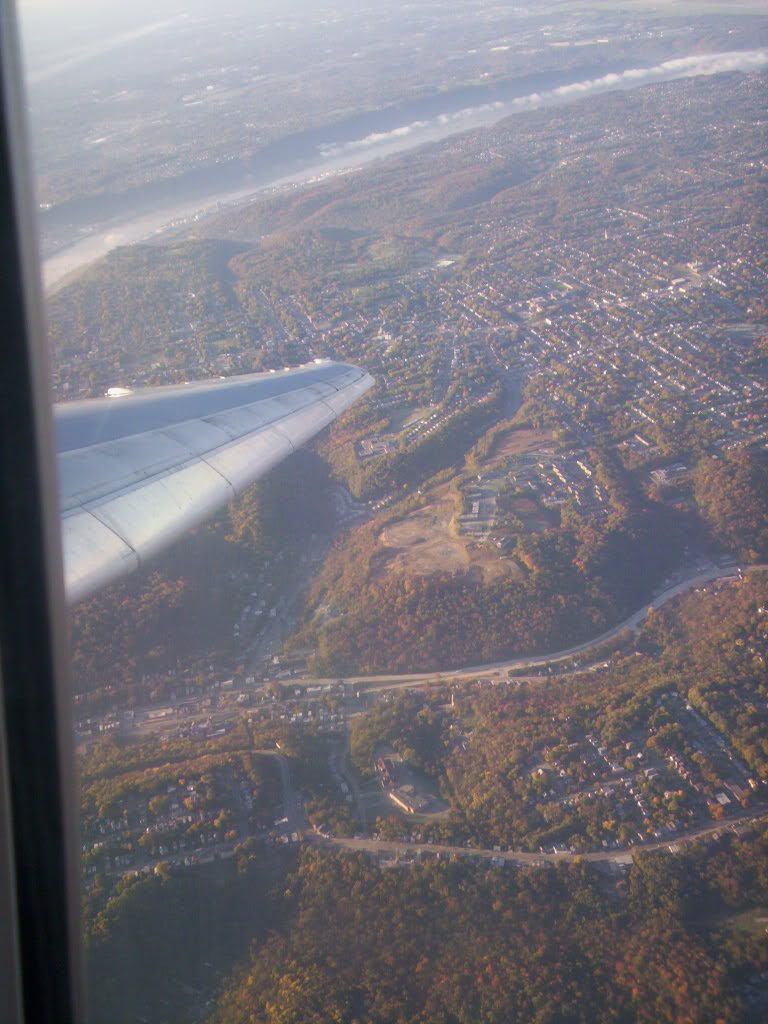 Foggy Ohio River just before touchdown: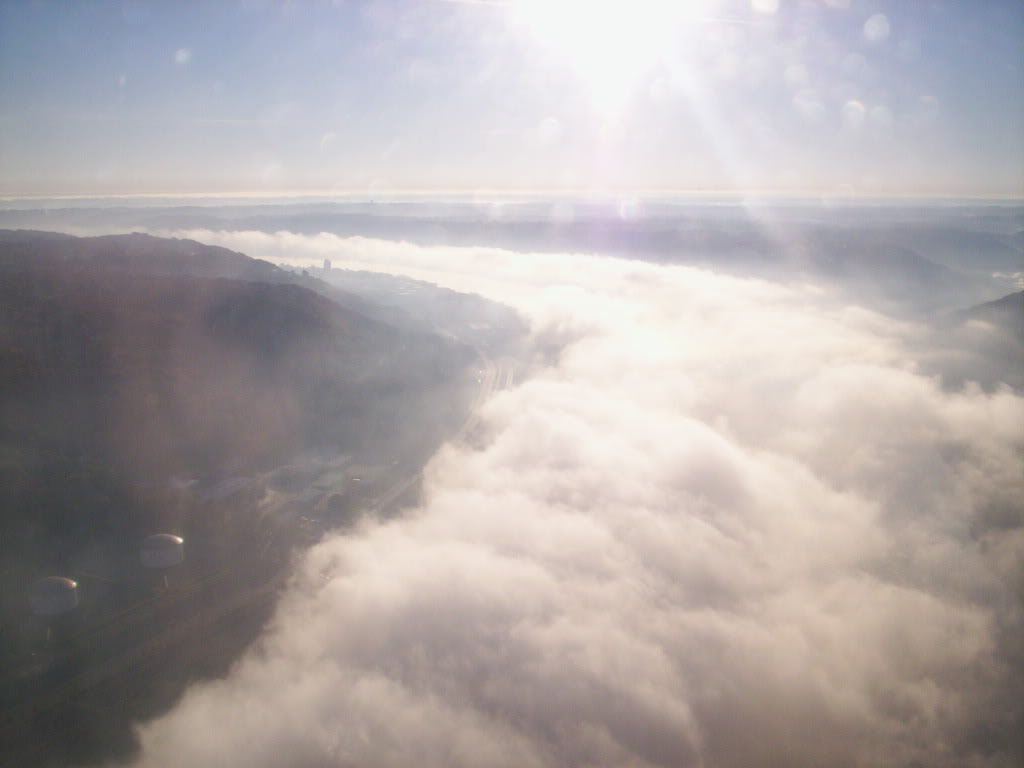 Made it to the gate pretty much on time, and I had a short connection for my final leg.
Delta Connection/ ASA 4792
Cincinnati (CVG) ¡V South Bend (SBN)
October 30, 2005
CRJ-200
Scheduled Depart/ Actual: 8:50a/ 8:46a
Scheduled Arrival/ Actual: 9:48a/ 9:33a
Zone: 2
Seat: 1D
My camera died on me at this point so no more pics! Sry. This flight was really great for as short as it was. Our FA did an amazing job! There were only about 8 people on this flight this morning. After we took off she went to through the cabin and gave us options from the snack basket, I had cheese crackers and Diet Coke. She gave out full cans, and when she gave me my food she took up 1C¡¦s tray table since it was empty and set my things there, then on landing, she folded it down for me. She really did an awesome job.
We made a quick landing at SBN on 27L and were off about 20 minutes early!
Thanks to Rigo and Zach for the greatest trip! Delta has once again done a wonderful job, and I look forward to flying them again hopefully soon!
Thanks for reading!
-Travis