Departure Airport: Amman - Queen Alia, Jordan (AMM / OJAI)
Arrival Airport: Abu Dhabi - International, U.A.E. (AUH/OMAA)
Airline: Etihad Airways
Flight number: EY 122
Aircraft type: Airbus A330-203
Registration: A6-EYW (c/n 339)
Date: 18th October 2005
STD: 1545
Class: W (Coral Plus)
Scheduled Flight time: 3hrs 5mins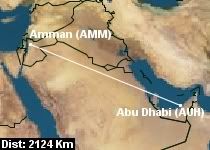 After a very enjoyable work trip to Syria and Jordan, it was time to head back to the United Arab Emirates. In a straight line, Abu Dhabi is 2124km from Amman, the majority of the route overflying the Kingdom of Saudi Arabia, before passing Bahrain and northern Qatar, before the short trip over the gulf to the UAE.
I was checked-in by Royal Jordanian, who provide all the ground handling services at AMM, and proceeded upstairs to the departures area. The airport is split into two terminals, which both face eachother and are pretty much identical. Etihad Airways are one of the carriers which operate from Terminal 2. I would have preferred a departure from Terminal 1, as there are two Iraqi Airways Boeing 707s parked within photographing distance from T1, which I was sitting on the wrong side of the aircraft to photograph on arrival. These two aircraft were flown to Jordan at the beginning of the first gulf war. Still, the Iraqi Airways presence on the T2 side is most vibrant. There appeared to be four B727-200s which have been stored there since the first gulf war, as well as the current IA operation, which includes a B767-200, Boeing B727-200s and B737-200s. Despite a number of these aircraft being present when I had arrived at the airport earlier in the day, only a B737-200 was in evidence from the new fleet.
As I had checked-in rather late, I grabbed a quick bite to eat from a fast food outlet, and headed through a security checkpoint into Gate 9. From the gate, I could see three of the stored IA B727-200s, but due to a separate glass-partitioned corridor skirting the outside of the gate, I knew it would not be possible to take a decent photograph of these aircraft at this point. I am also aware that photography is frowned upon at most airports in this part of the world, so am always careful not to just whip my camera out unless I know it is safe to photograph aircraft without too many eyes watching me.
Within a few minutes of being in the gate, boarding commenced. There was no boarding announcement - the gate agent merely opened a barrier, and said to the first couple of guests that boarding was ready. This was seen by everyone else, and the usual surge ensued, despite the fact that this was a flight with a premium carrier and allocated seating. I had a boarding pass for seat 3K, in the 'Coral Plus' section of the aircraft. Etihad Airways offer the same three guest zones on most of their current aircraft:
F: Diamond Zone
C: Pearl Zone
Y: Coral Zone
That is except for two particular aircraft - A6-EYV and A6-EYW, two leased A330-200s which were previously with the now-defunct Italian carrier, Volare Airlines. These aircraft retain their Volare two-class configuration, and as the premium section does not reflect the standard of luxury with which Etihad wants to associate Pearl Zone, this has been designated as Coral Plus - a premium economy product which is only offered on these two aircraft. These aircraft are regularly used on the AUH-DAM-AMM flights, so I was expecting this to be my first experience on one of these aircraft. A quick glance out of the window whilst boarding revealed that I would be flying on 'YW.
As I headed down the airbridge, I noticed that the airbridge access door was open as staff were tagging someone's cabin baggage in order to take it to the hold. I asked discreetly if I could take a couple of photos of the Iraqi Airways aircraft from the door, and was not refused. I was now able to photograph three of the B727-200s which have been stored for many years, and by stretching as far away as I could from the EY aircraft, I was able to take a mediocre photograph of a Boeing 737-200 of the current IA fleet, 9L-LEG.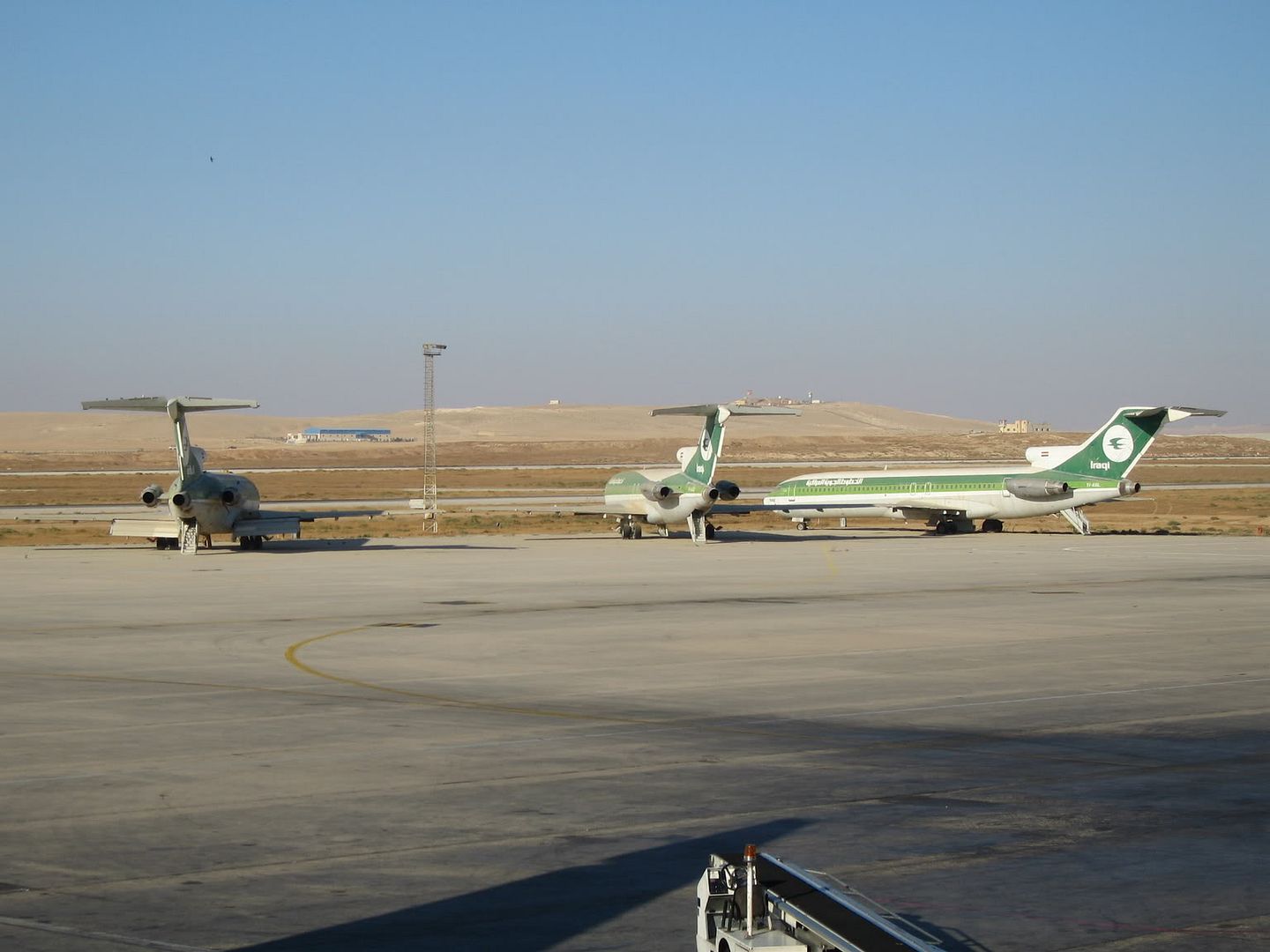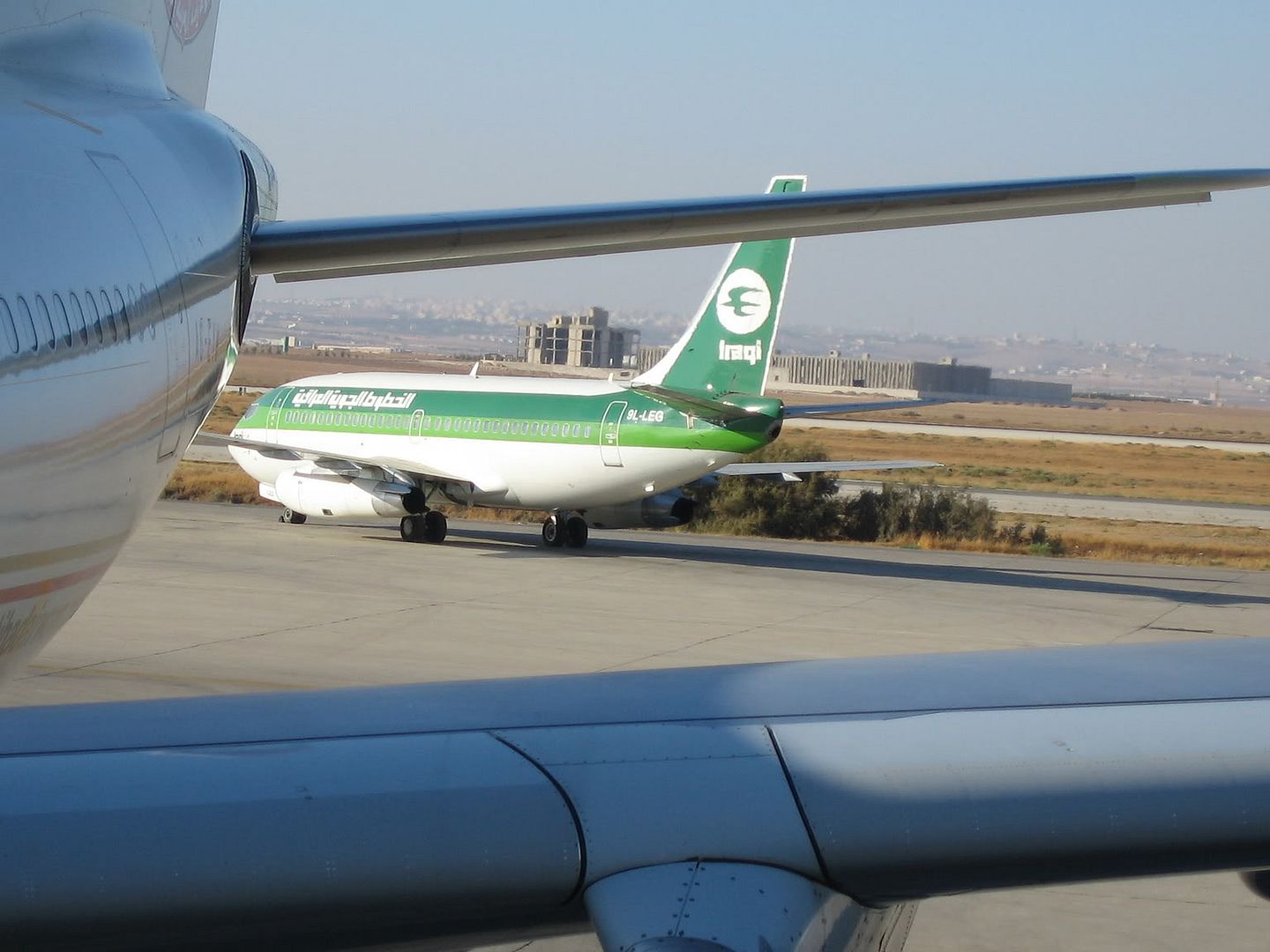 I took a newspaper as I boarded the aircraft, and made my way to seat 3K. The flight today was quieter than I gather it usually is, with only myself and one other guest in the Coral Plus section. Coral Zone looked to be pretty busy as I glanced back before taking my seat. The Coral Plus section is in a 2-3-2 configuration, with 31 seats in the forward section, but the middle seats of the centre three are never sold, and are never used at all. The official configuration of these aircraft is in fact W26Y267. Anyone who ever flew in Volare's premium section may recognise these seats: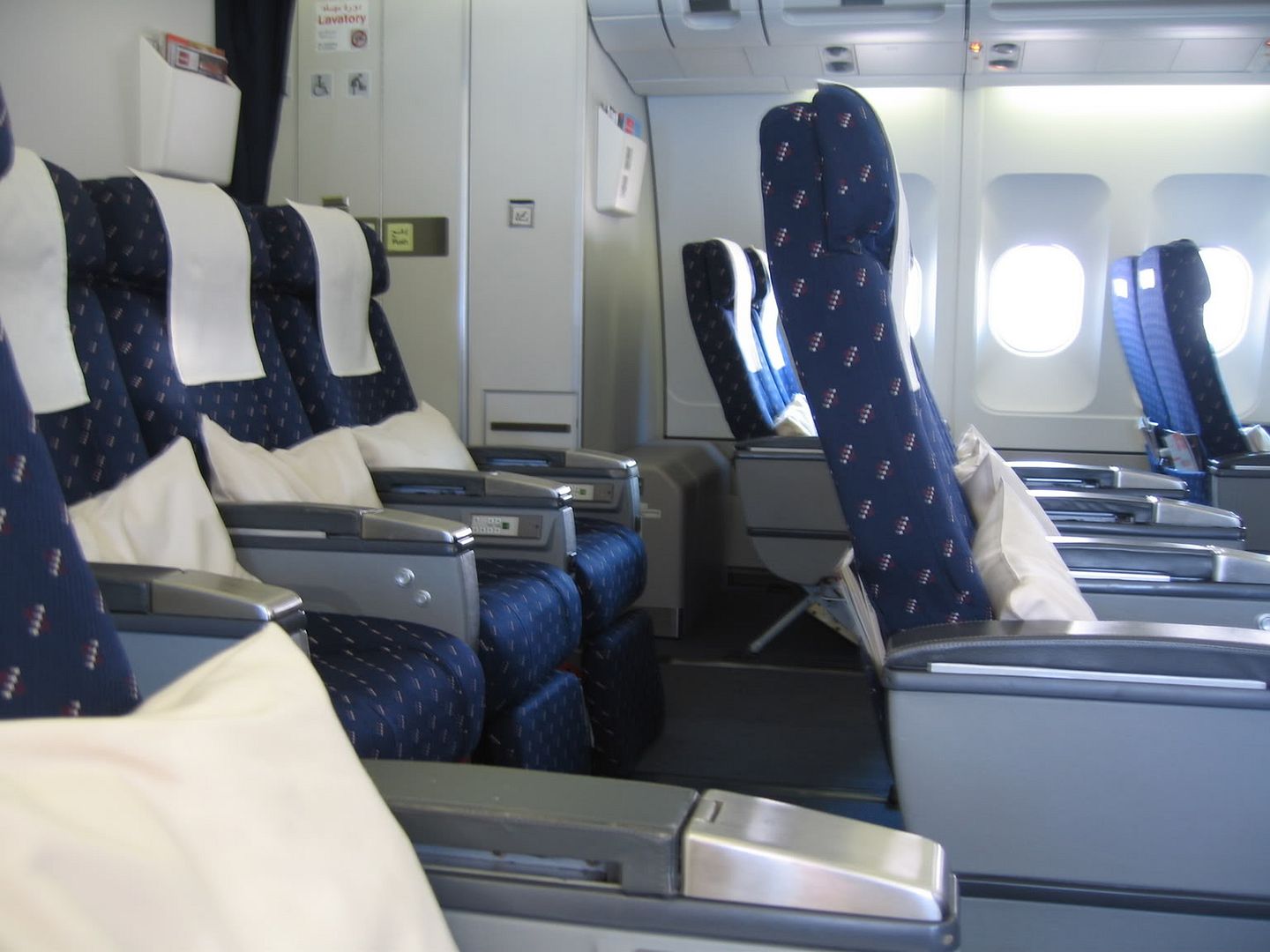 As I sat in my seat and looked out to the right, I could see a fourth Iraqi B727-200 stored nearby, but could not see the registration.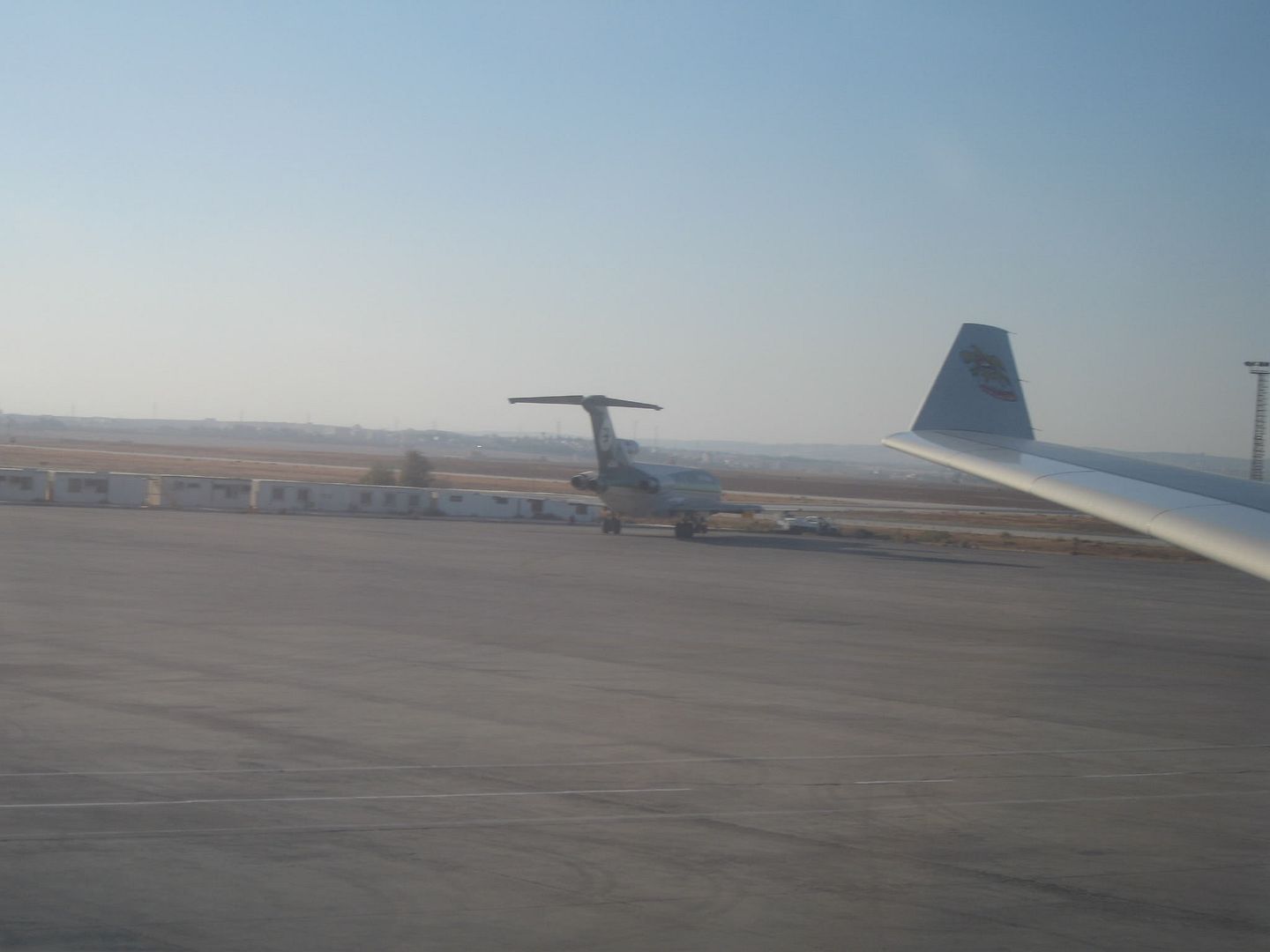 By This time, I had seen no less than five IA B727-200s in storage - three of the others parked to the other side of where we were parked, and another near the hangars, which I had noticed on arrival a couple of days earlier.
Before departure I was offered a drink, and opted for an orange juice. Shortly afterwards, pushback commenced, and I was able to see the two stored Iraqi Airways B707s at the other side of the airfield, before taxying past Emirates A330-200, A6-EKX, which was being prepared for a flight to DXB.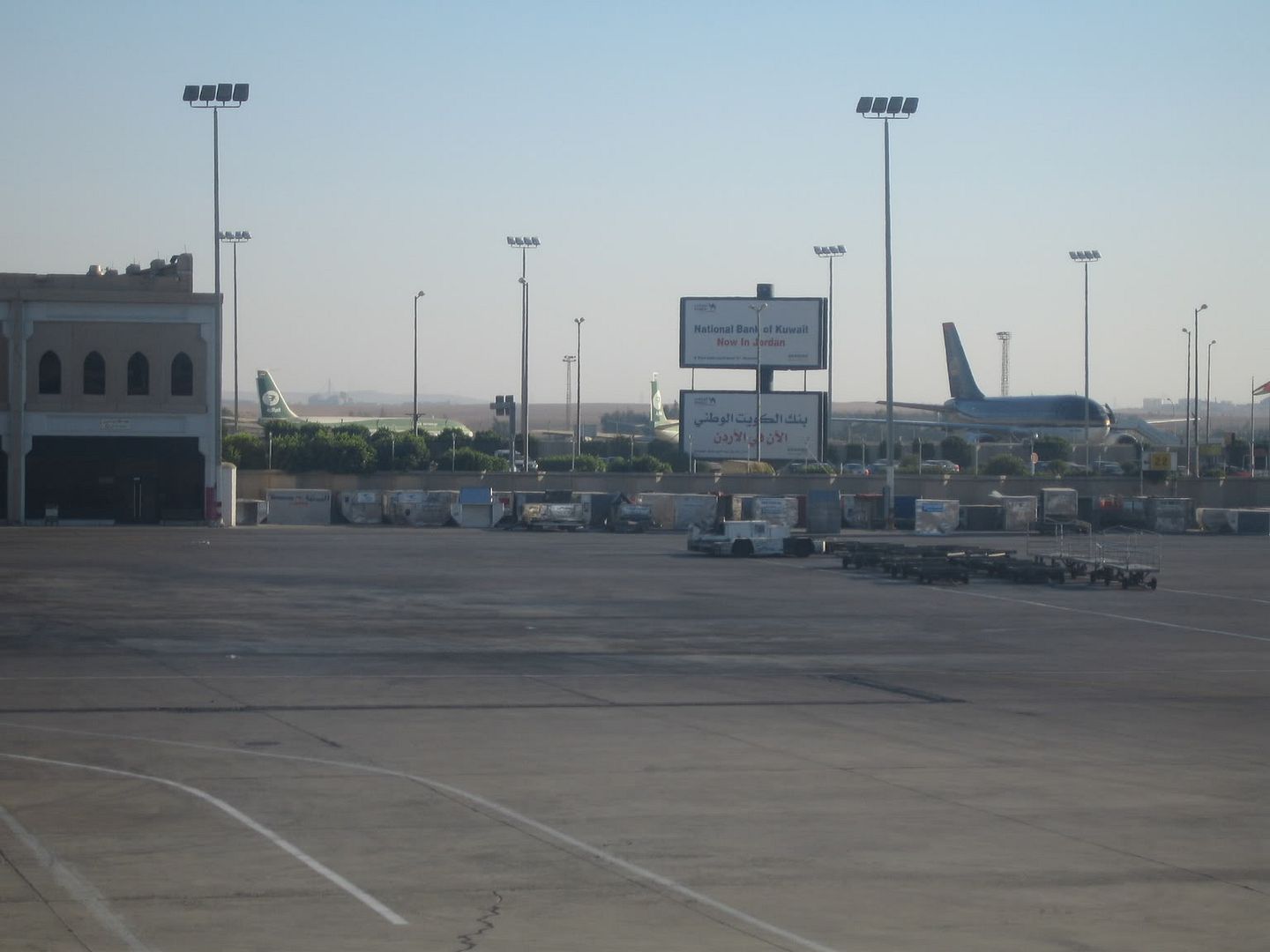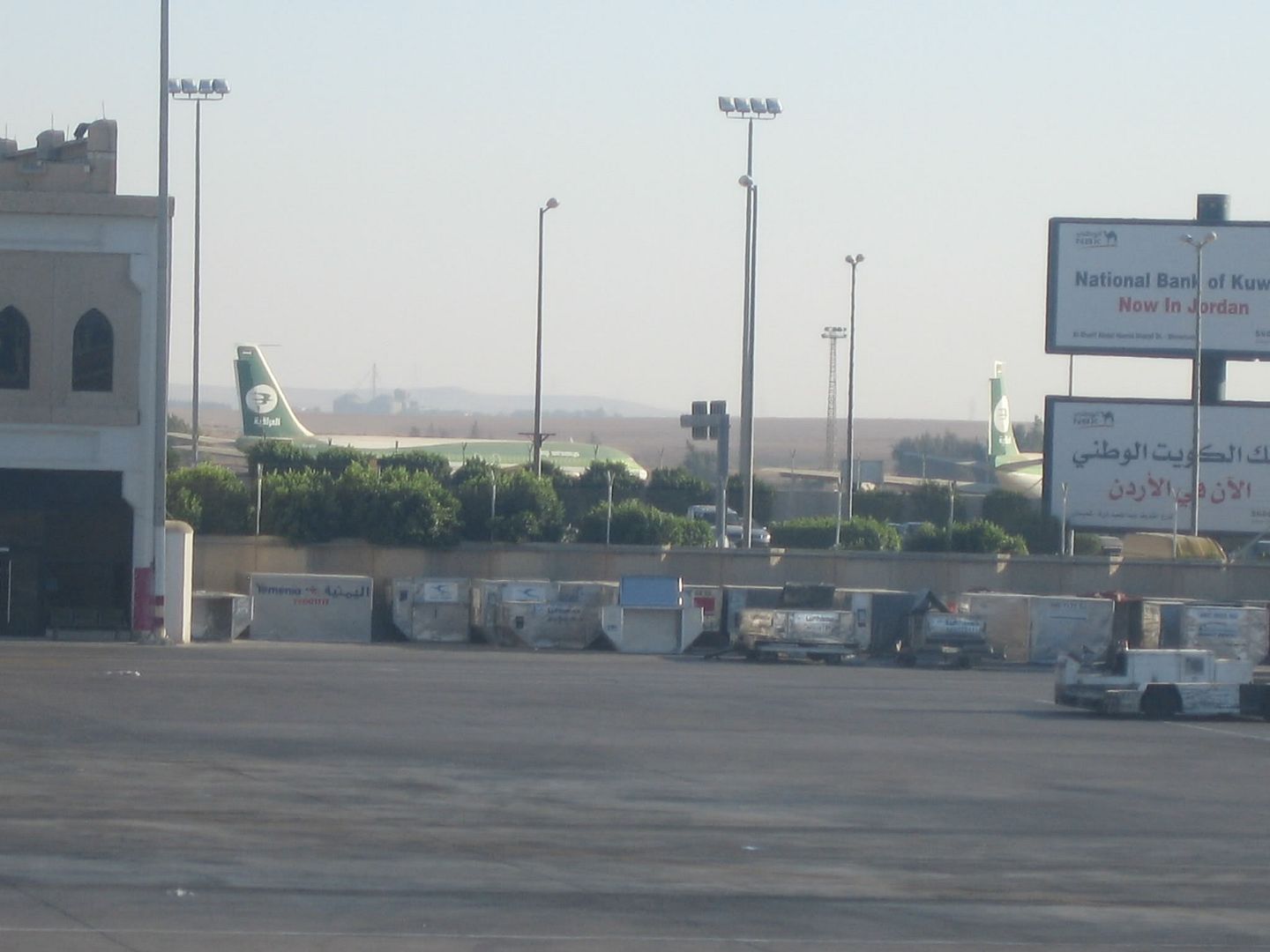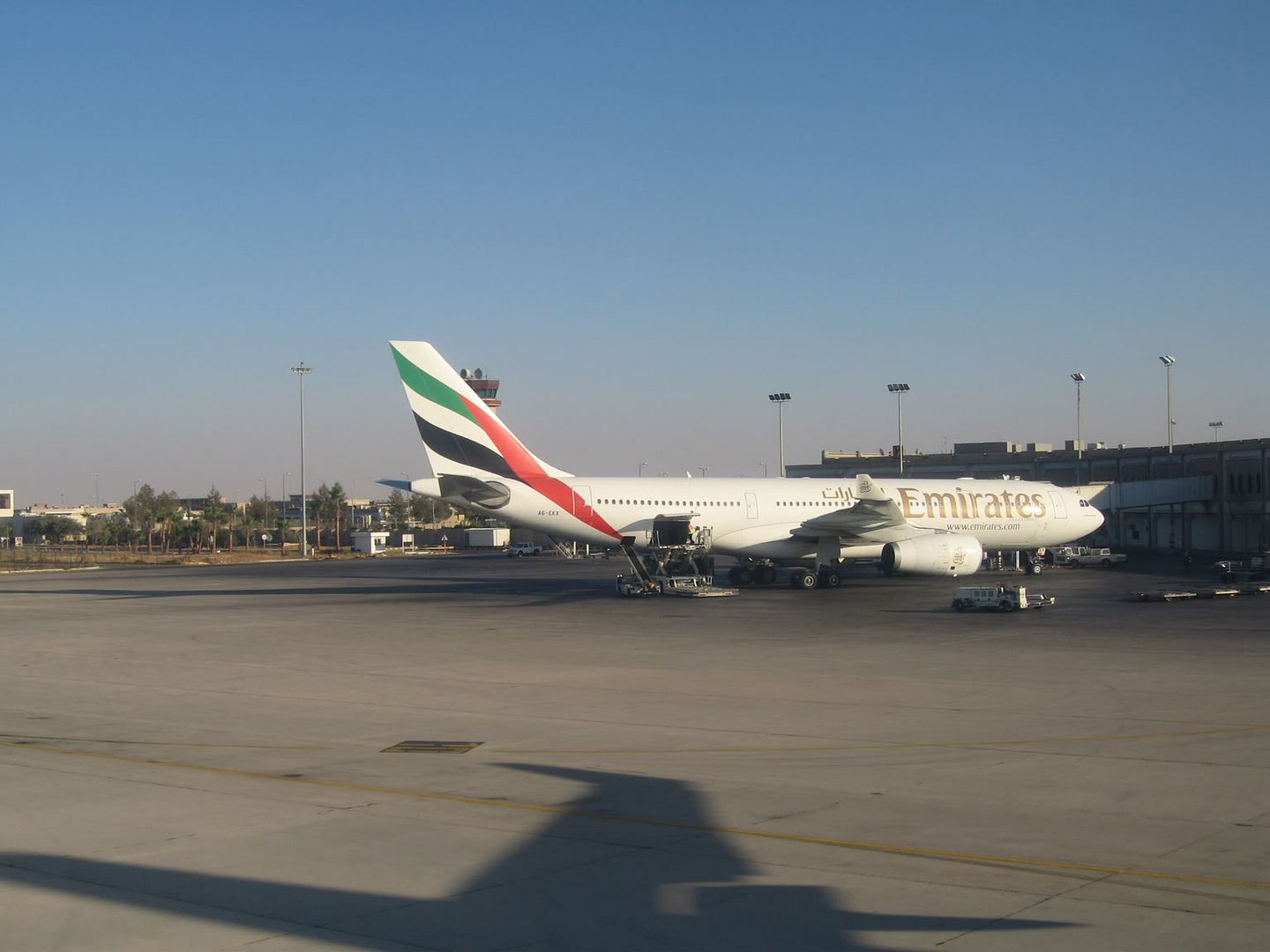 As we taxied past the EK aircraft and turned to the left, I realised that my earlier efforts to photograph the three IA B727s which were stored together were pointless, as we taxied straight past them, enabling me to photograph the aircraft both together and individually.
YI-AGK, YI-AGO & YI-AGL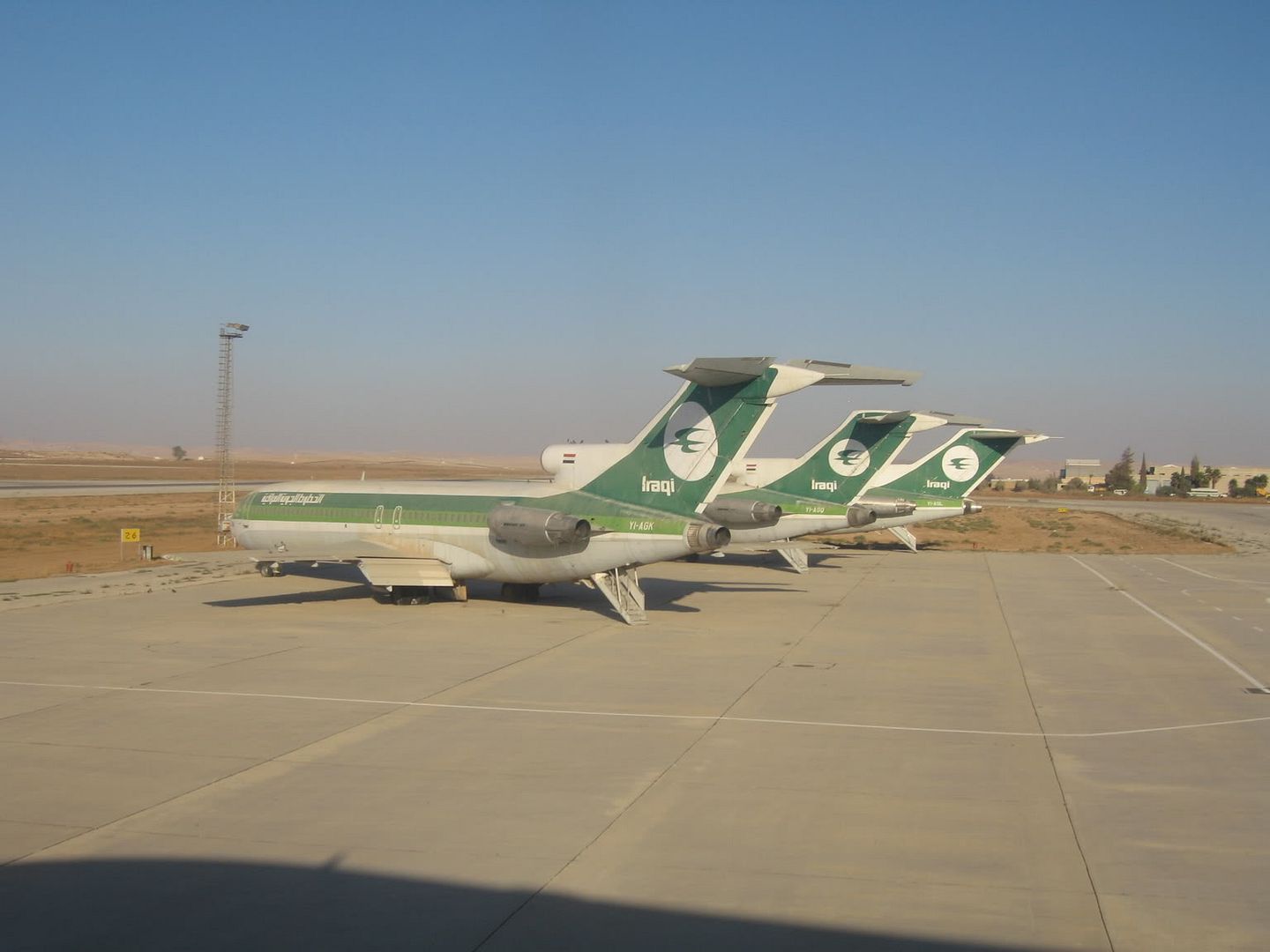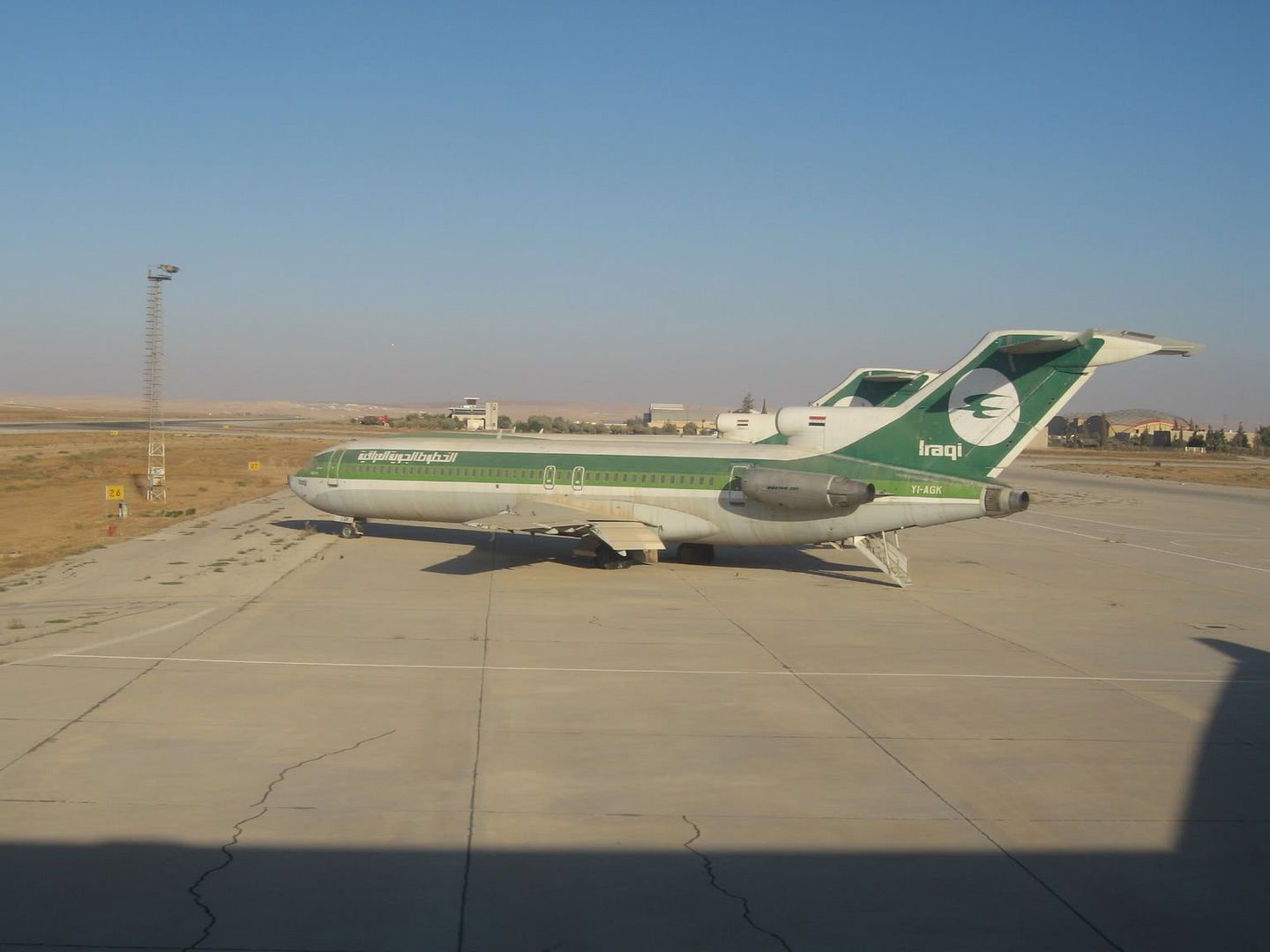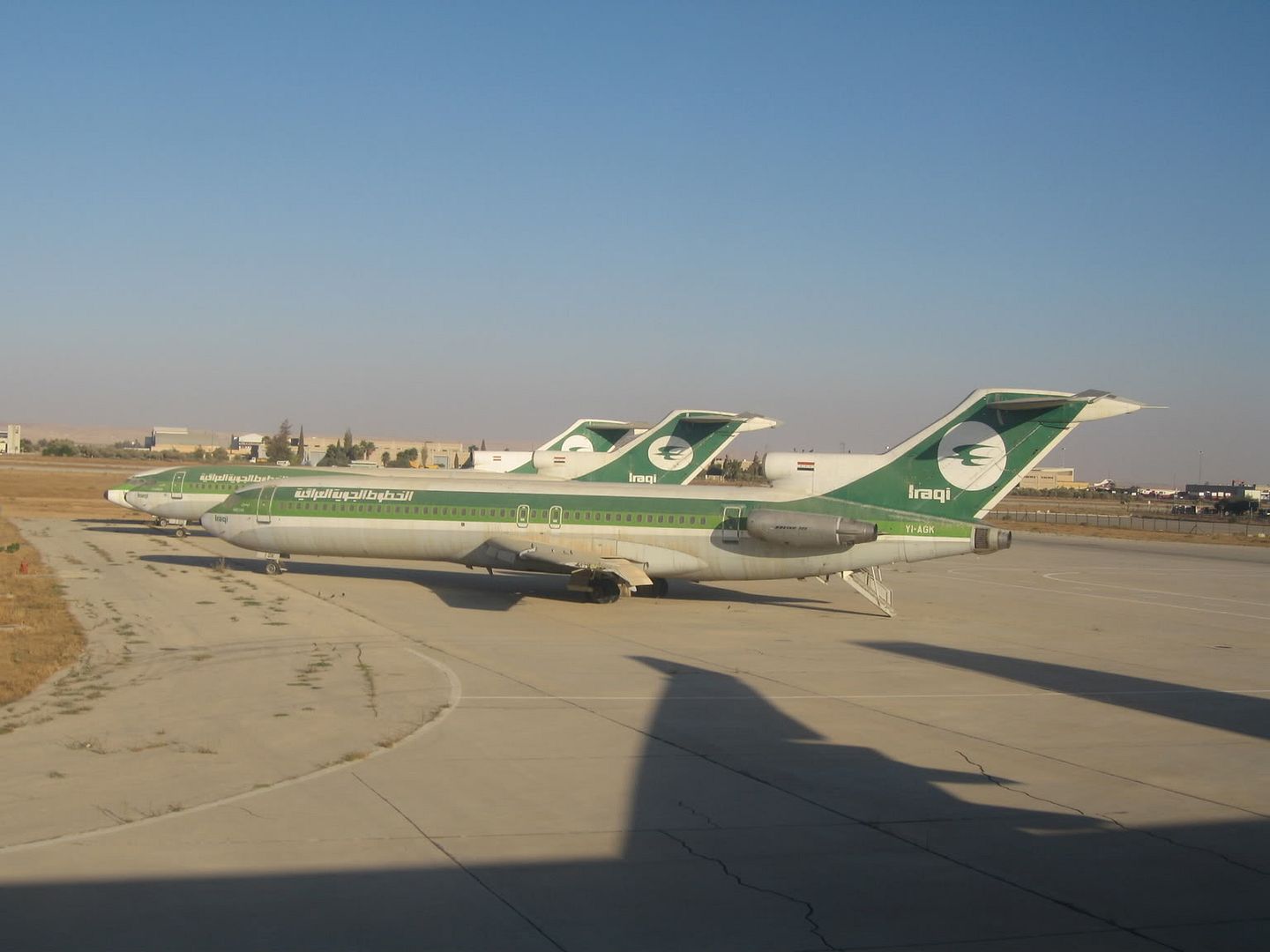 YI-AGK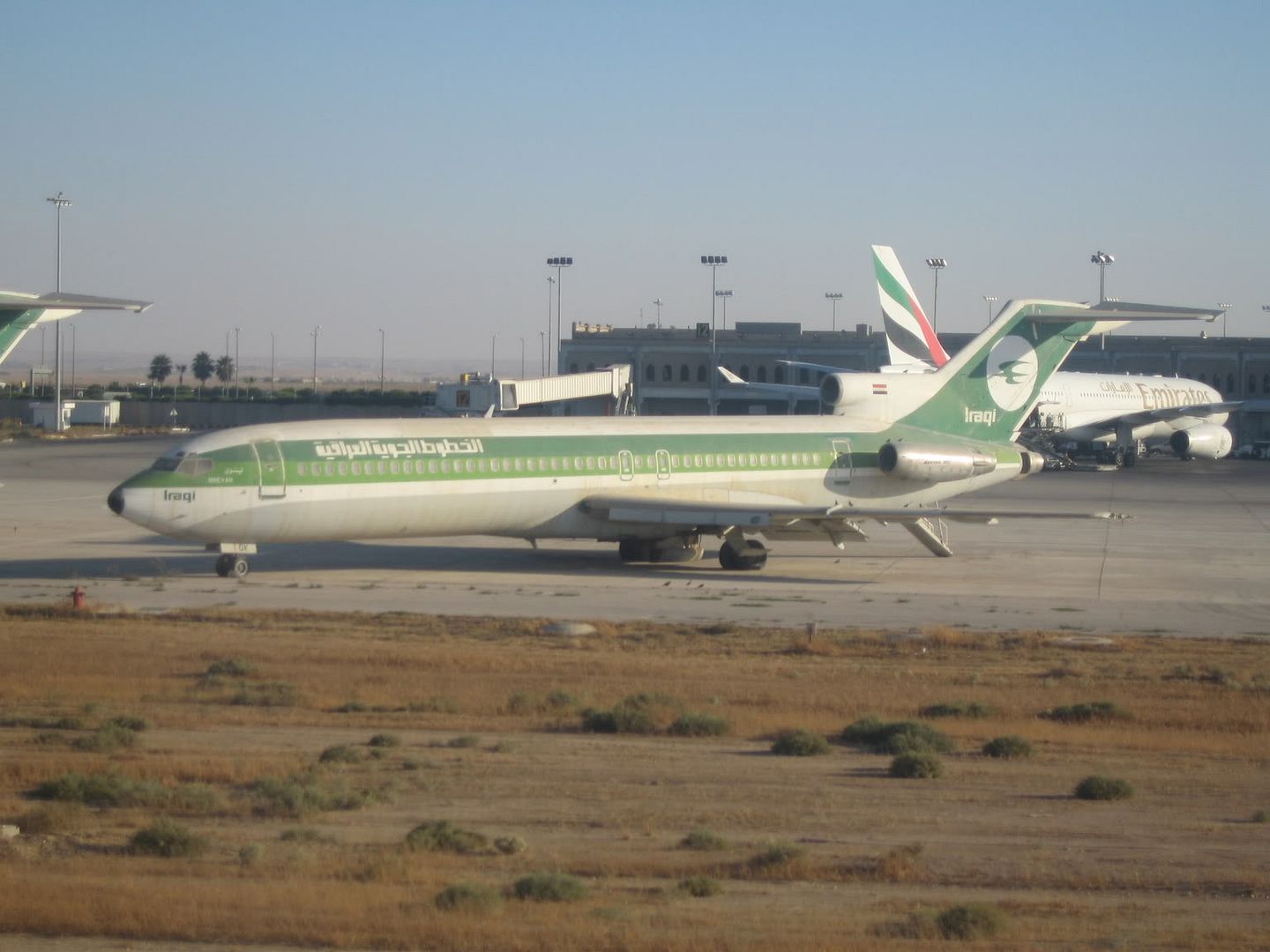 YI-AGO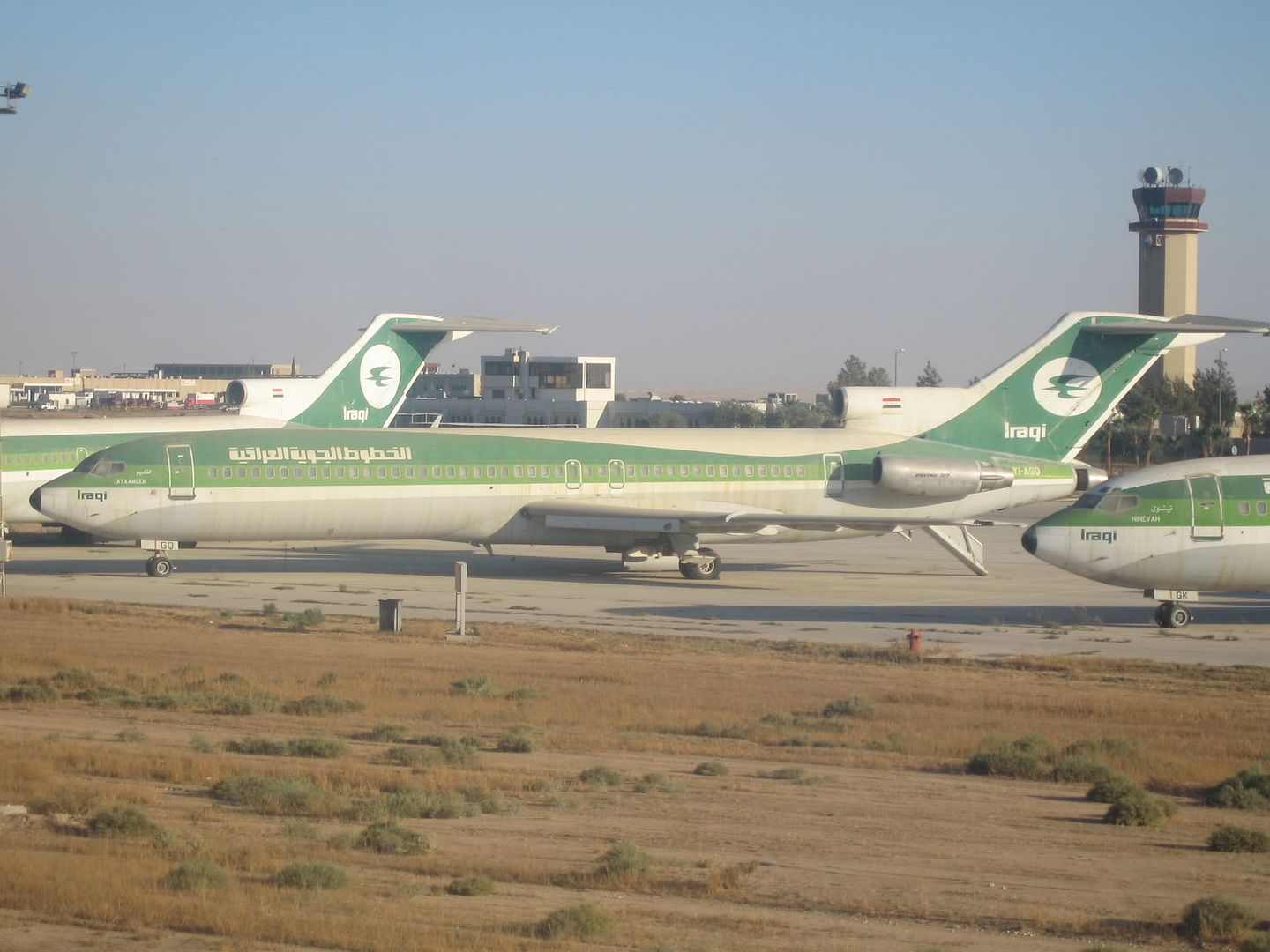 YI-AGL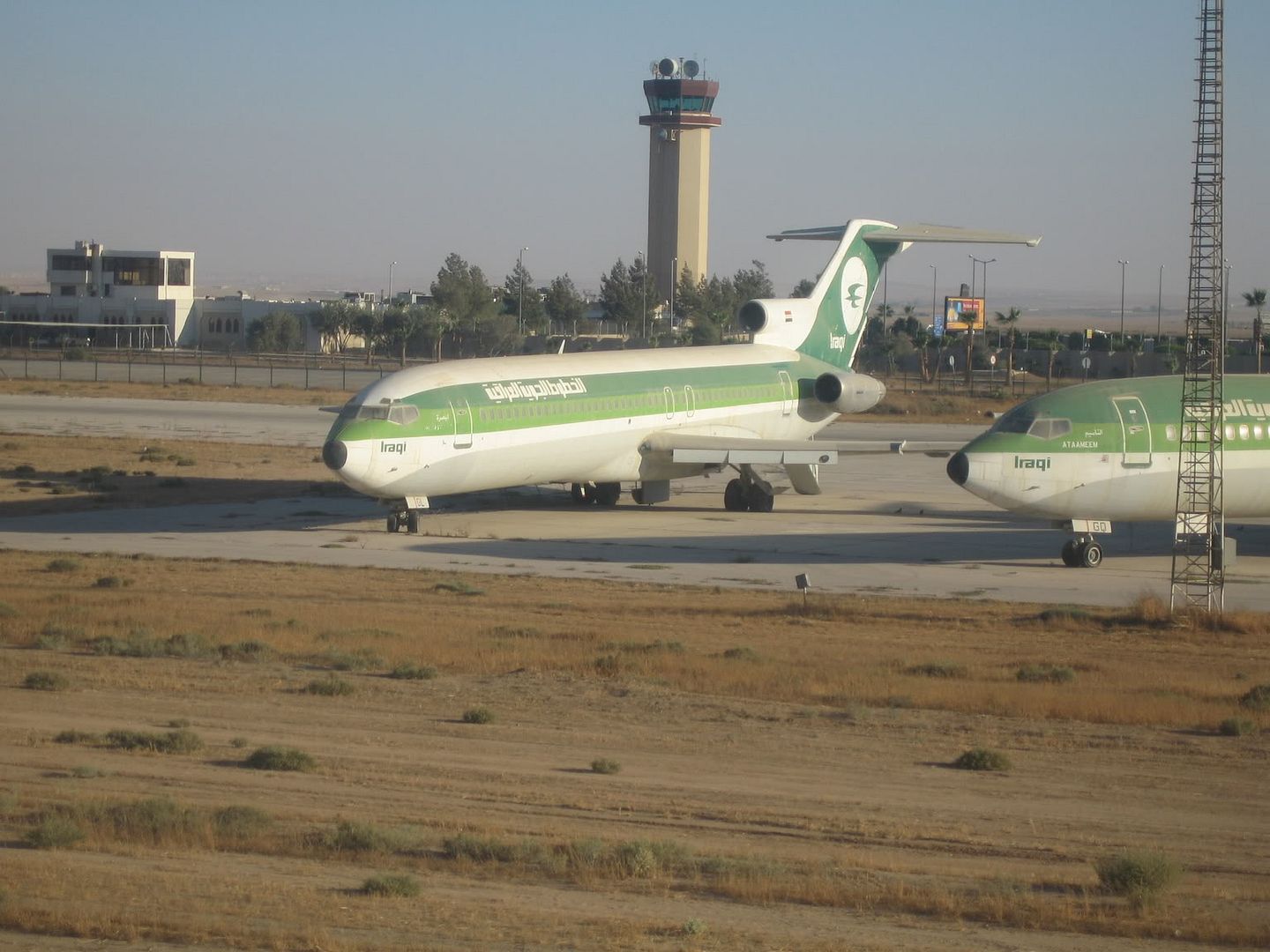 Another of the long-term stored IA B727-200s was also visible shortly afterwards as we continued to taxi, nestled among the TriStars and A310s in the maintenance area. Note the TriStar still wearing the full Rich International livery.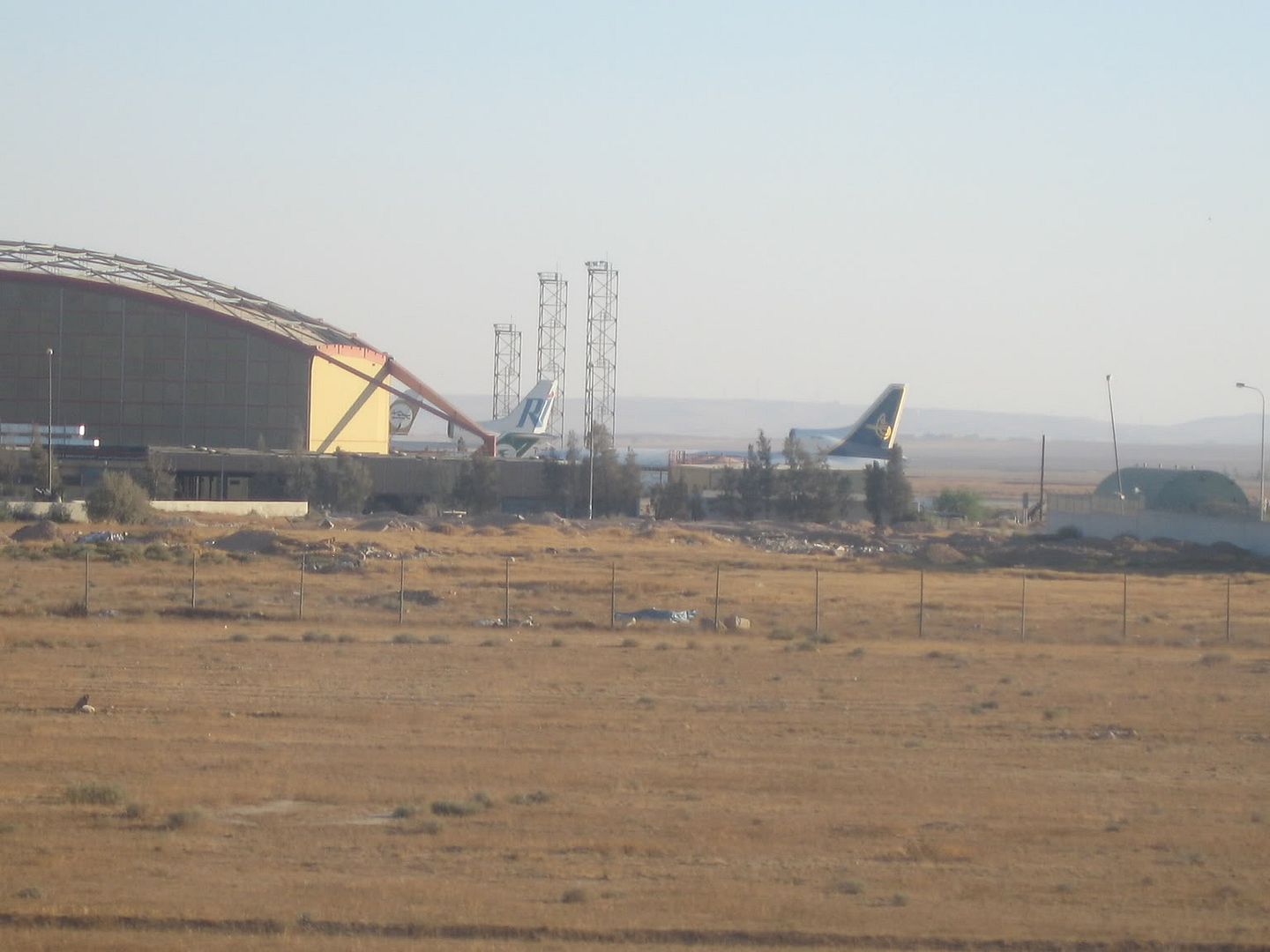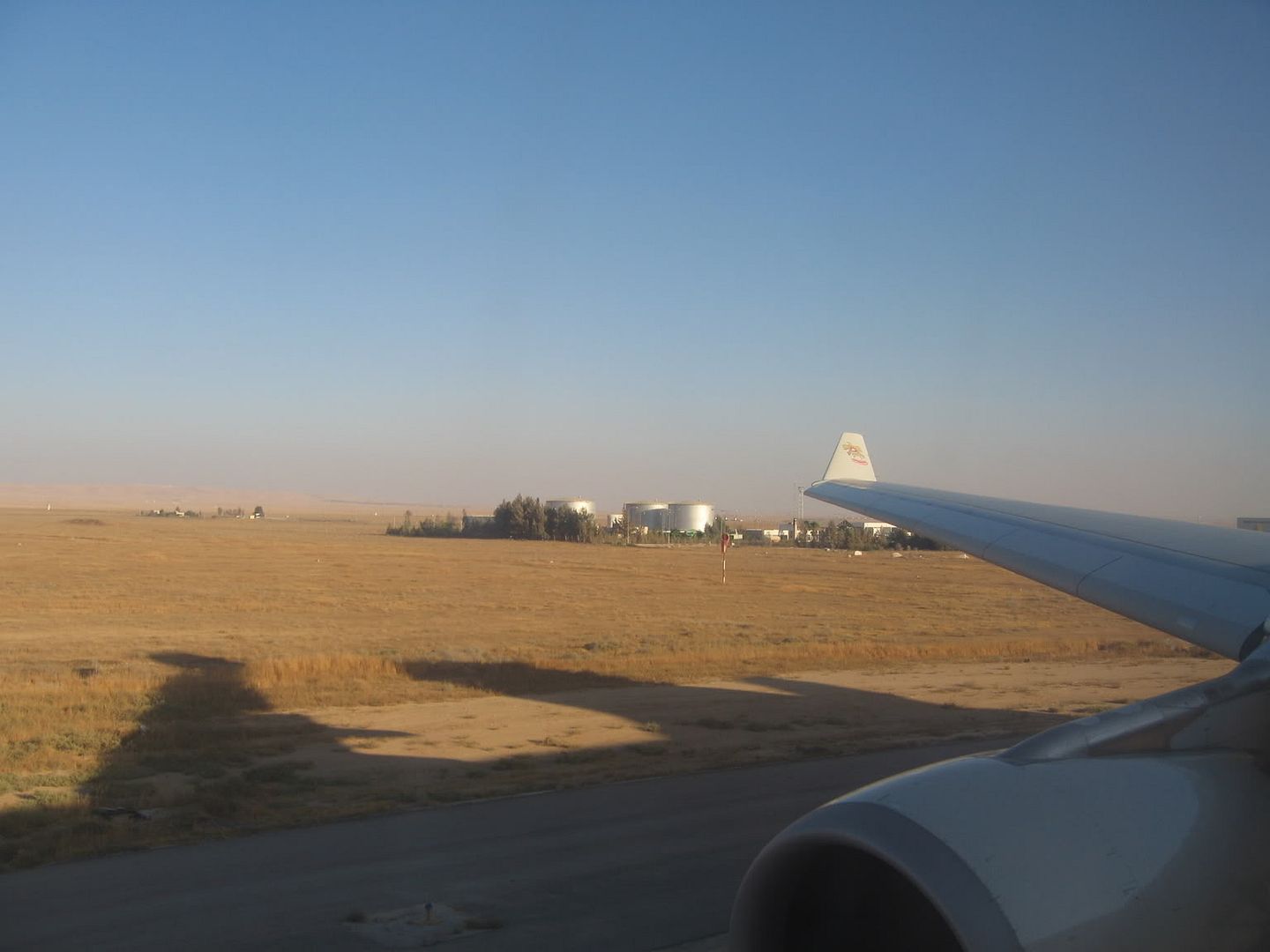 A few minutes later, 'YW turned onto the departure runway, and was soon airborne for AUH, offering some very clear views across the desert landscape.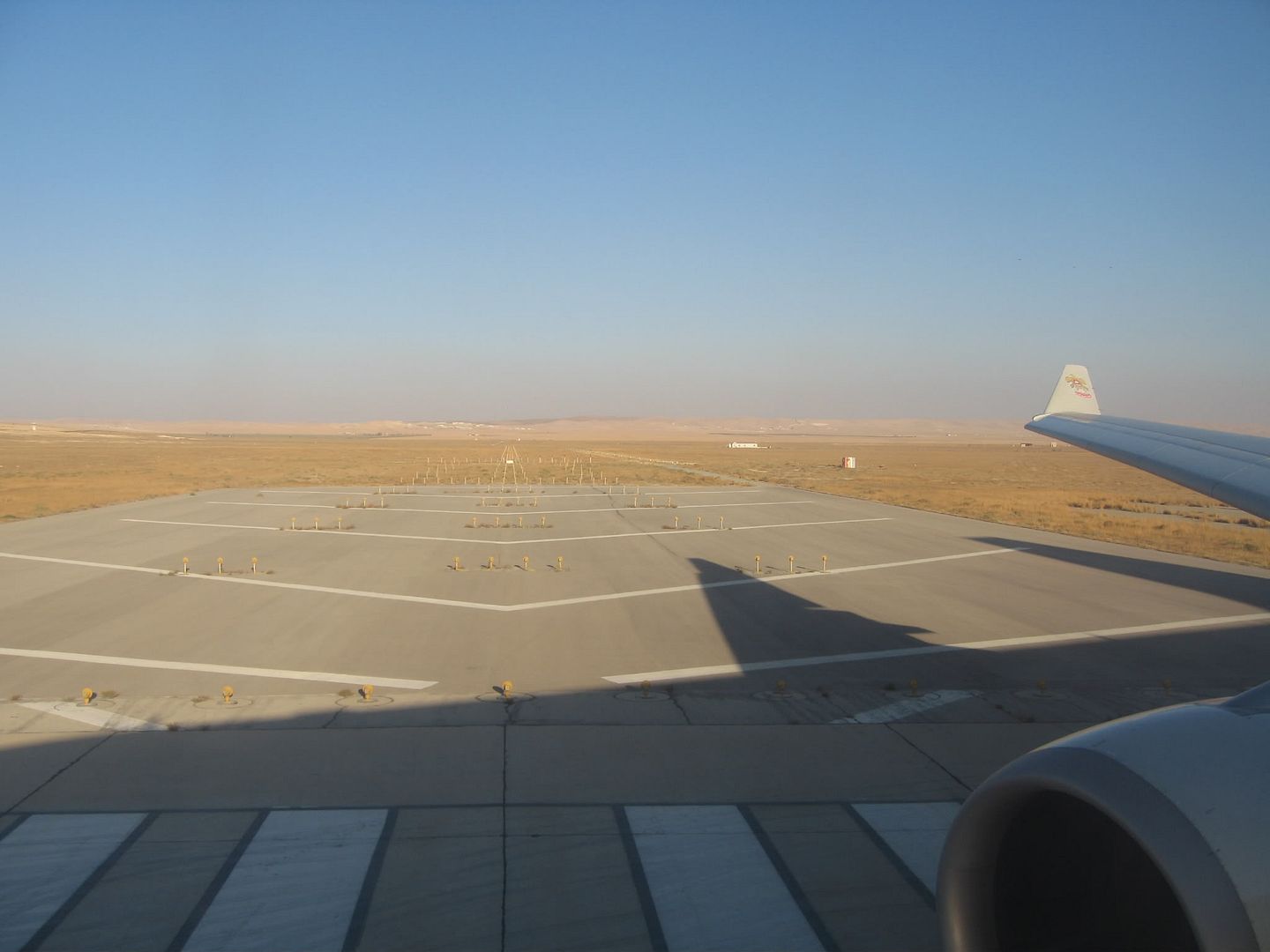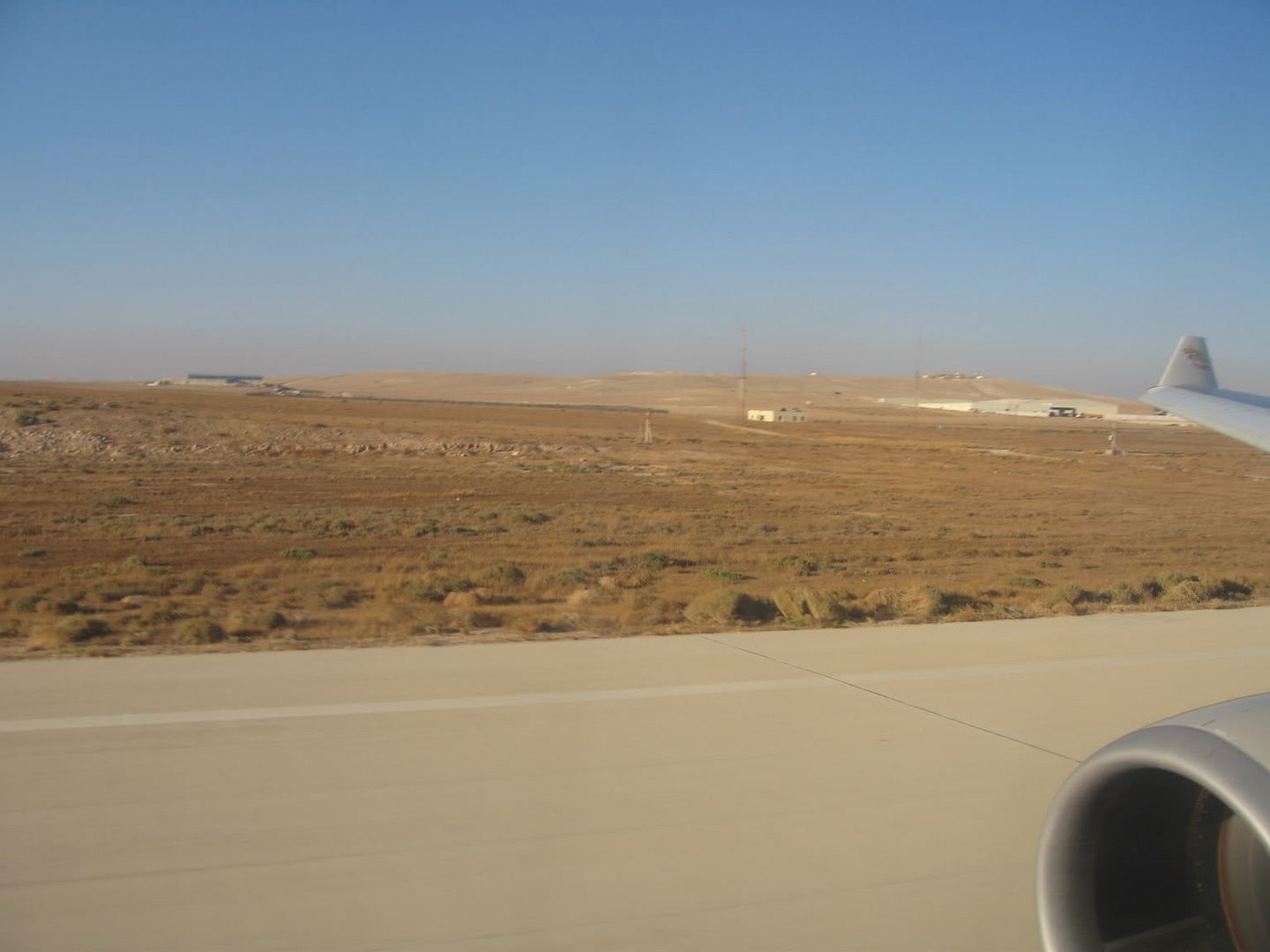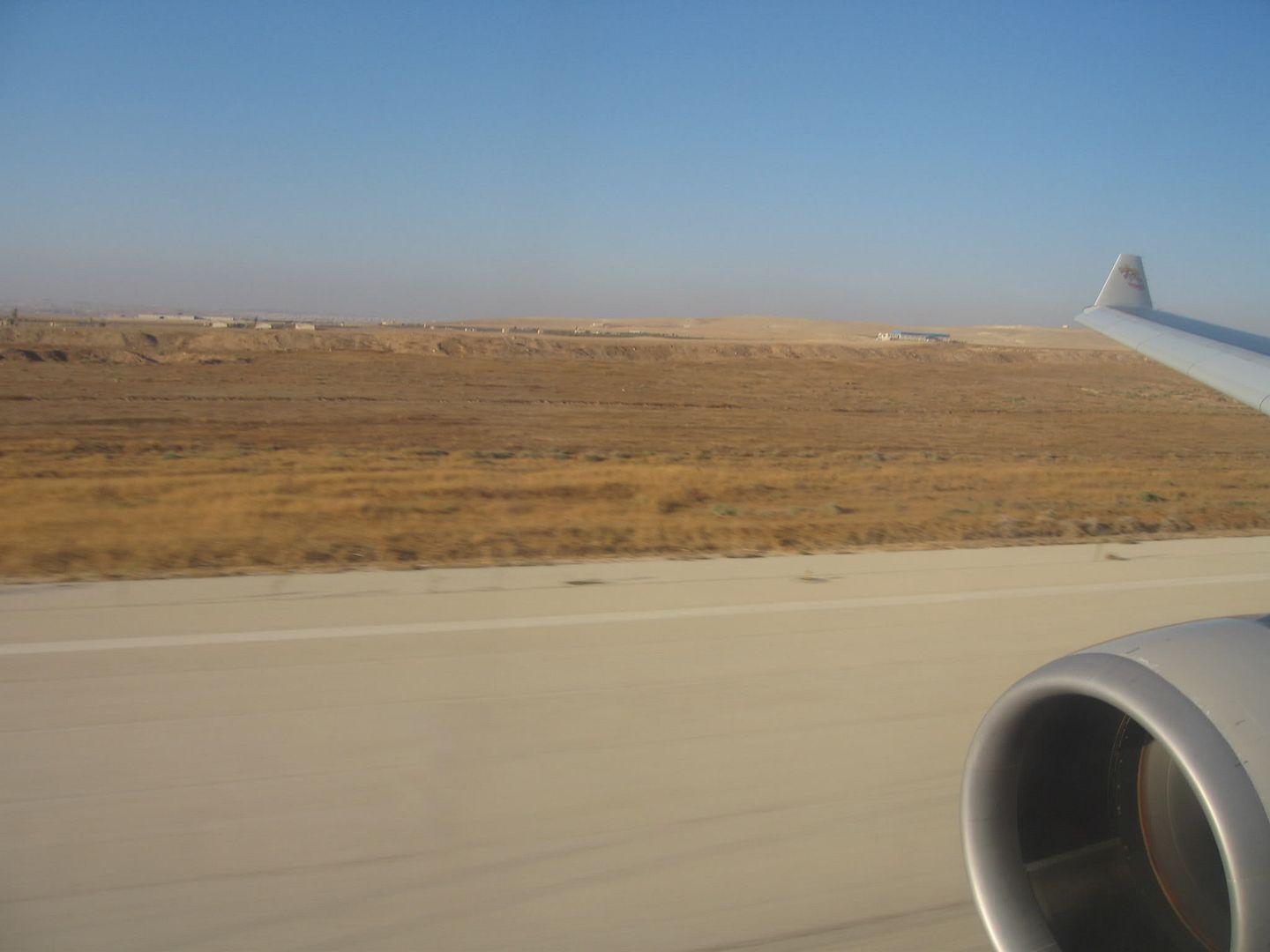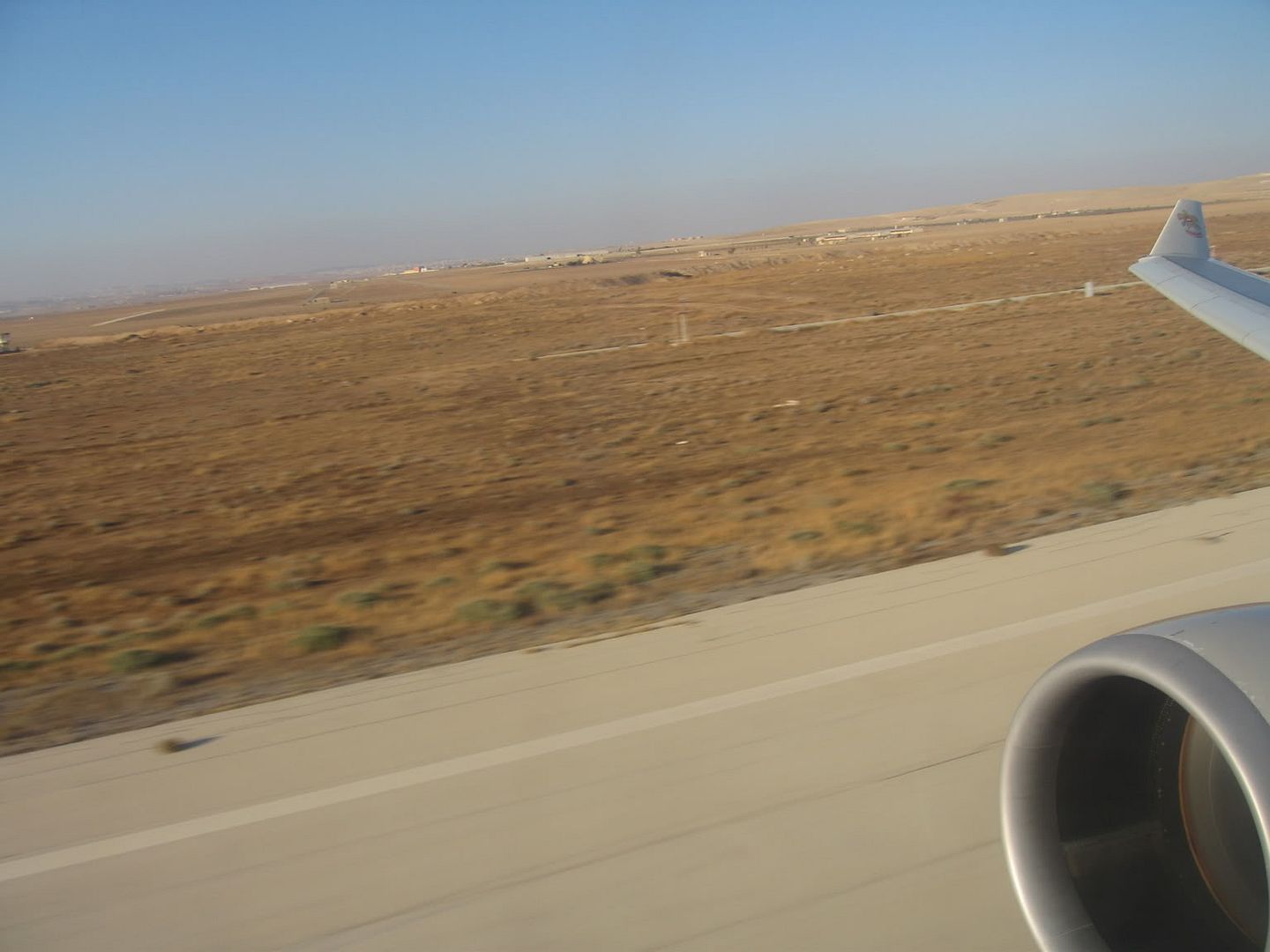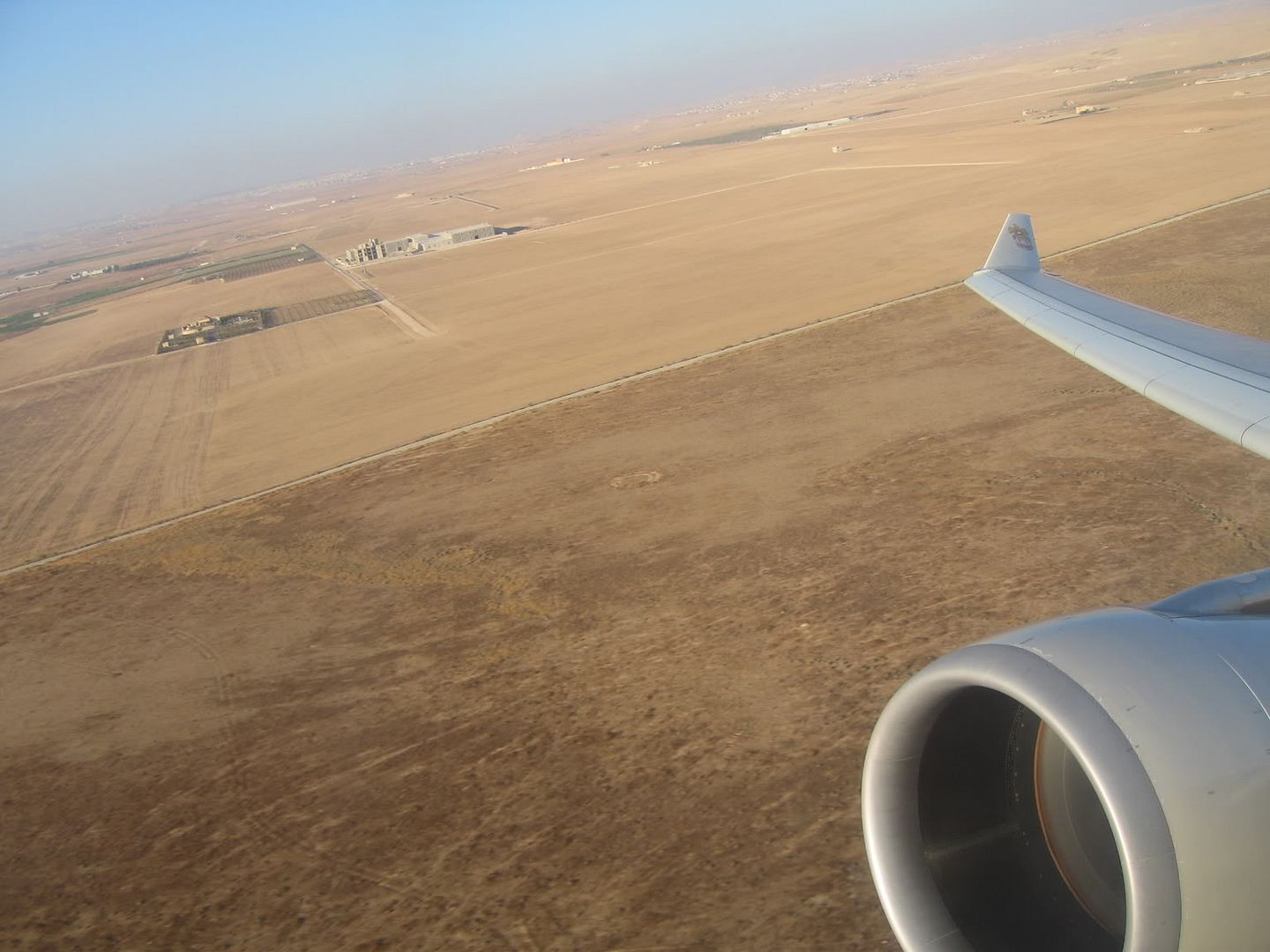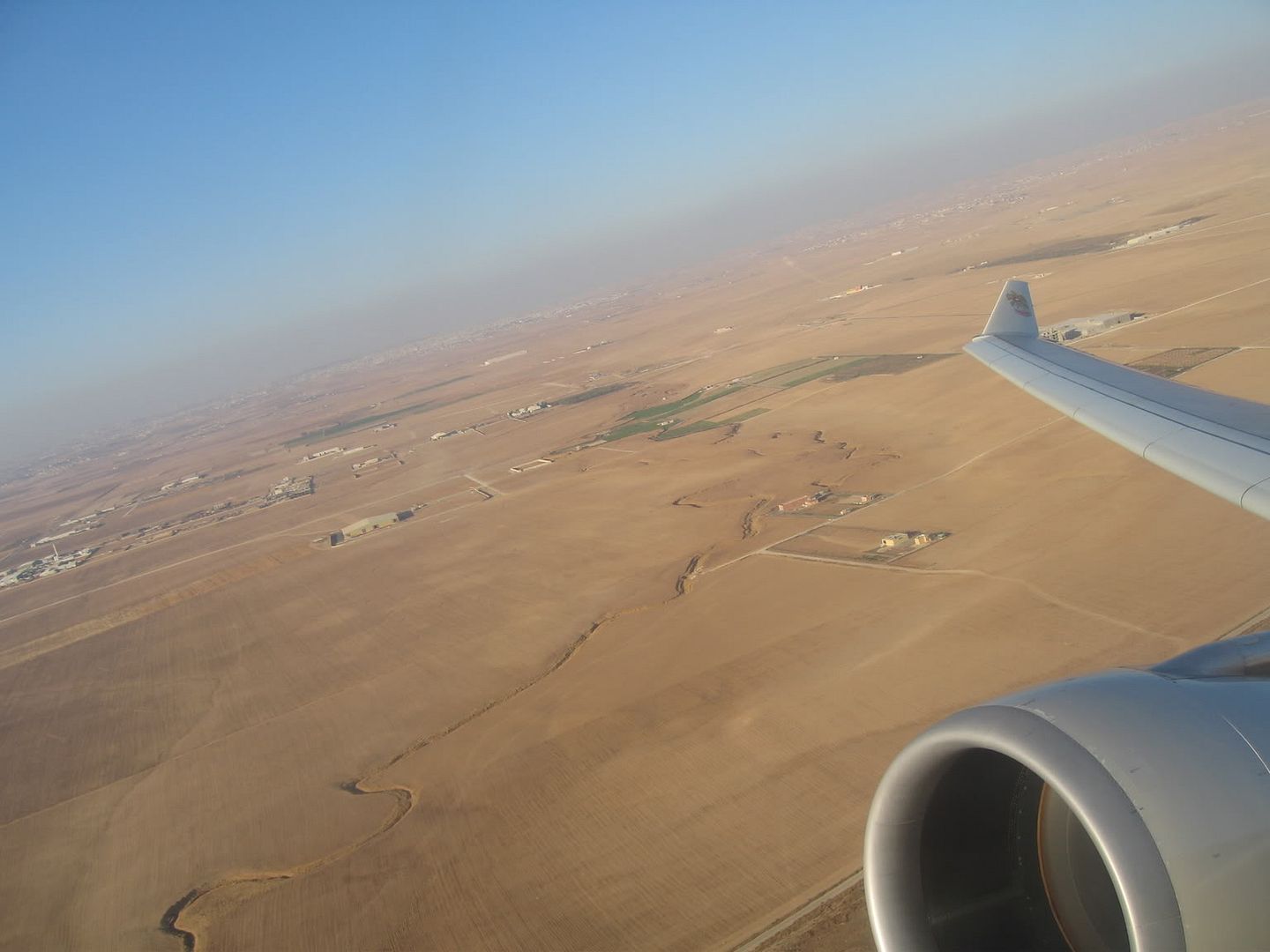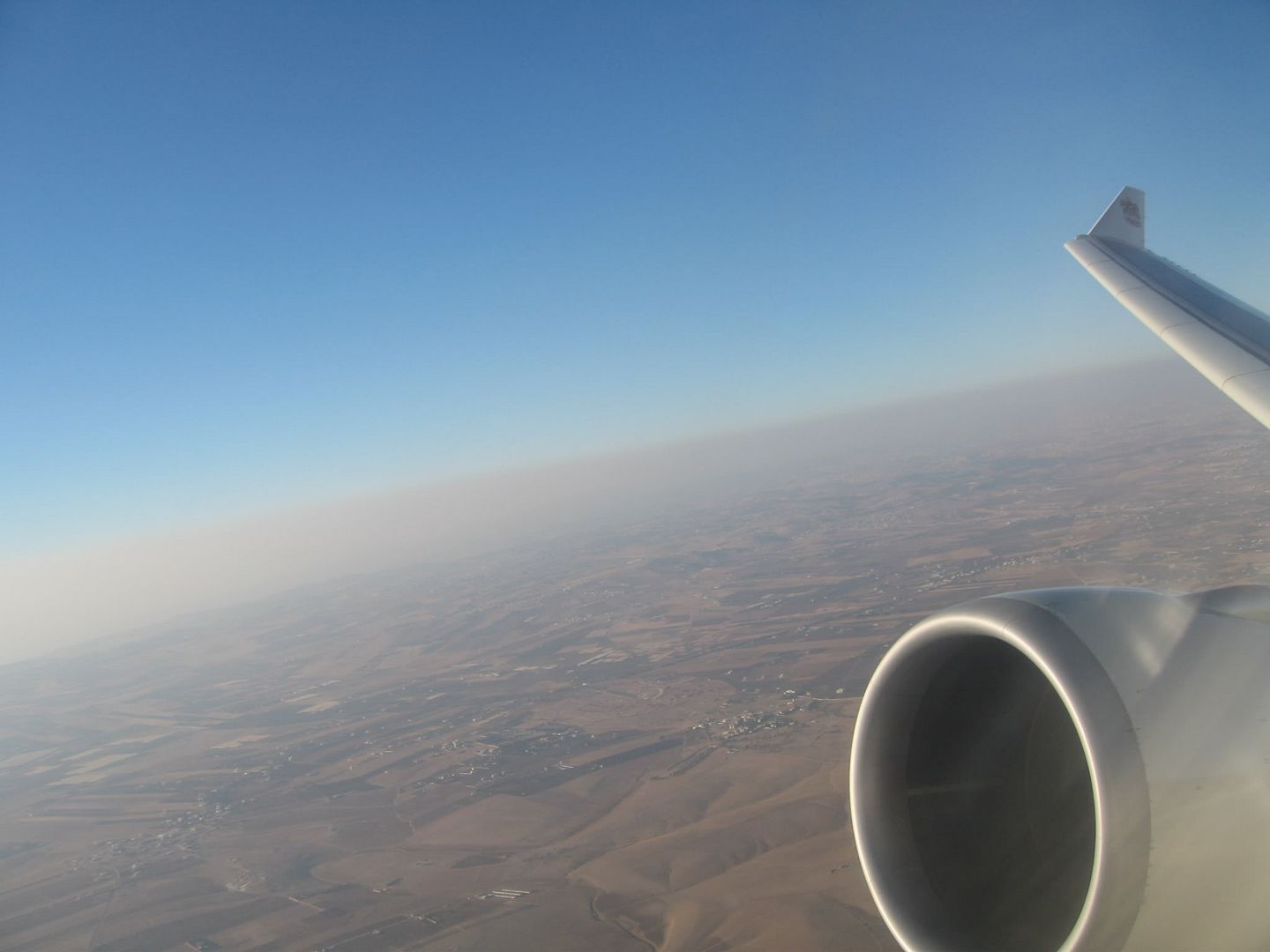 Whilst the cabin crew were still seated, I managed to take another quick shot of the cabin. I do not like the crew to see me taking photos inside the aircraft, as they might think I'm a bit of an enthusiast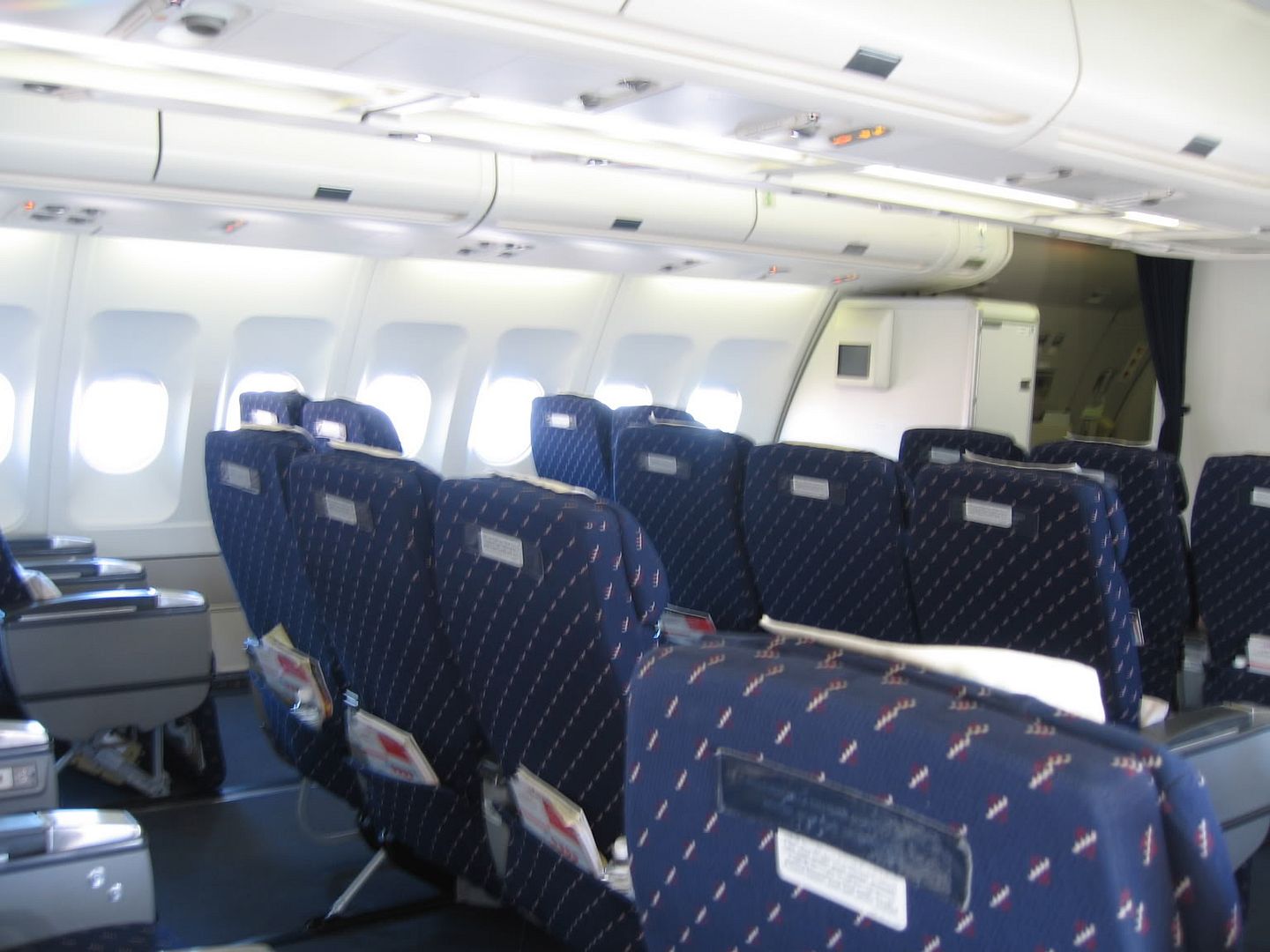 After the initial part of the climb, the seatbelt signs were turned off and the cabin crew left their jumpseats. I was brought a Pearl Zone menu, and was asked if I would like a DVD player to watch a movie, as there are no PTVs on the two ex-Volare aircraft. I said yes to the DVD player, and was brought this little machine, along with a list of DVD movies which were available.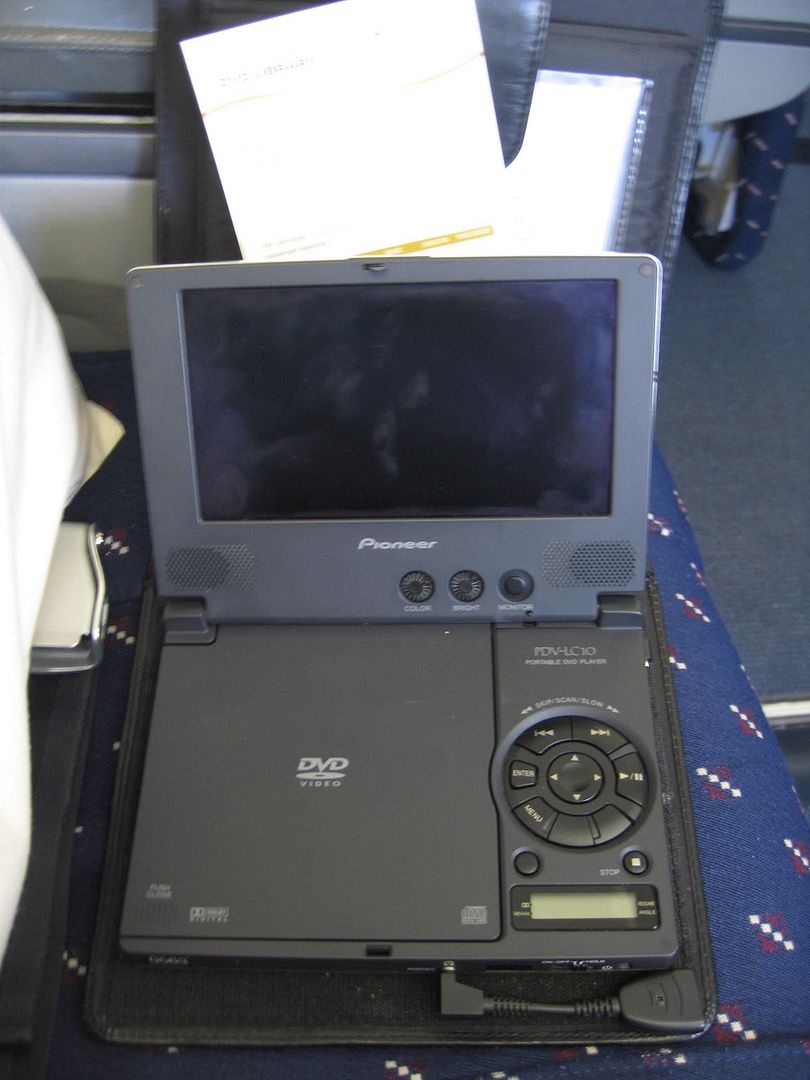 I then changed my mind, not because of the portable DVD player, but because I had decided I was not really in the mood for a movie. I was also given a Pearl Zone menu, which I perused briefly before deciding on a Chicken dish with egg parmesan, on a bed of noodles with a tomato sauce. I had tried a similar dish to this whilst travelling in Diamond Zone on the CAI-AUH route a few weeks earlier, so knew it should be pretty good. As Coral Plus is only a temporary offering whilst these two particular aircraft are in the EY fleet until the end of this winter, guests recieve a Pearl Zone meal service.
The FA appeared shortly afterwards with a table cloth, and placed it over the tray table which had been stowed in the armrest of the seat. A few minutes later, she appeared with my meal service, which contained the starter of duck with an apple sauce - this was extremely pleasant. I was also offered some bread from a selection in a basket.
There was a glass of water already on the tray, and I was asked what else I would like to drink. Again, I opted for orange juice. Shortly after I had finished my starter, the FA took this away and asked if I would like my main course straight away or not. As I was planning to get some rest afterwards, I said straight away would be fine. She returned a few moments later with my main dish, and also offered me more bread.
The main dish was very pleasant, as was the chocolate dessert.
After the meal service was complete, I watched the sun set, conscious of the fact that the whole of the Islamic world was monitoring the very same thing during Ramadan. I was able to take these photos of the sun gradually disappearing below the horizon.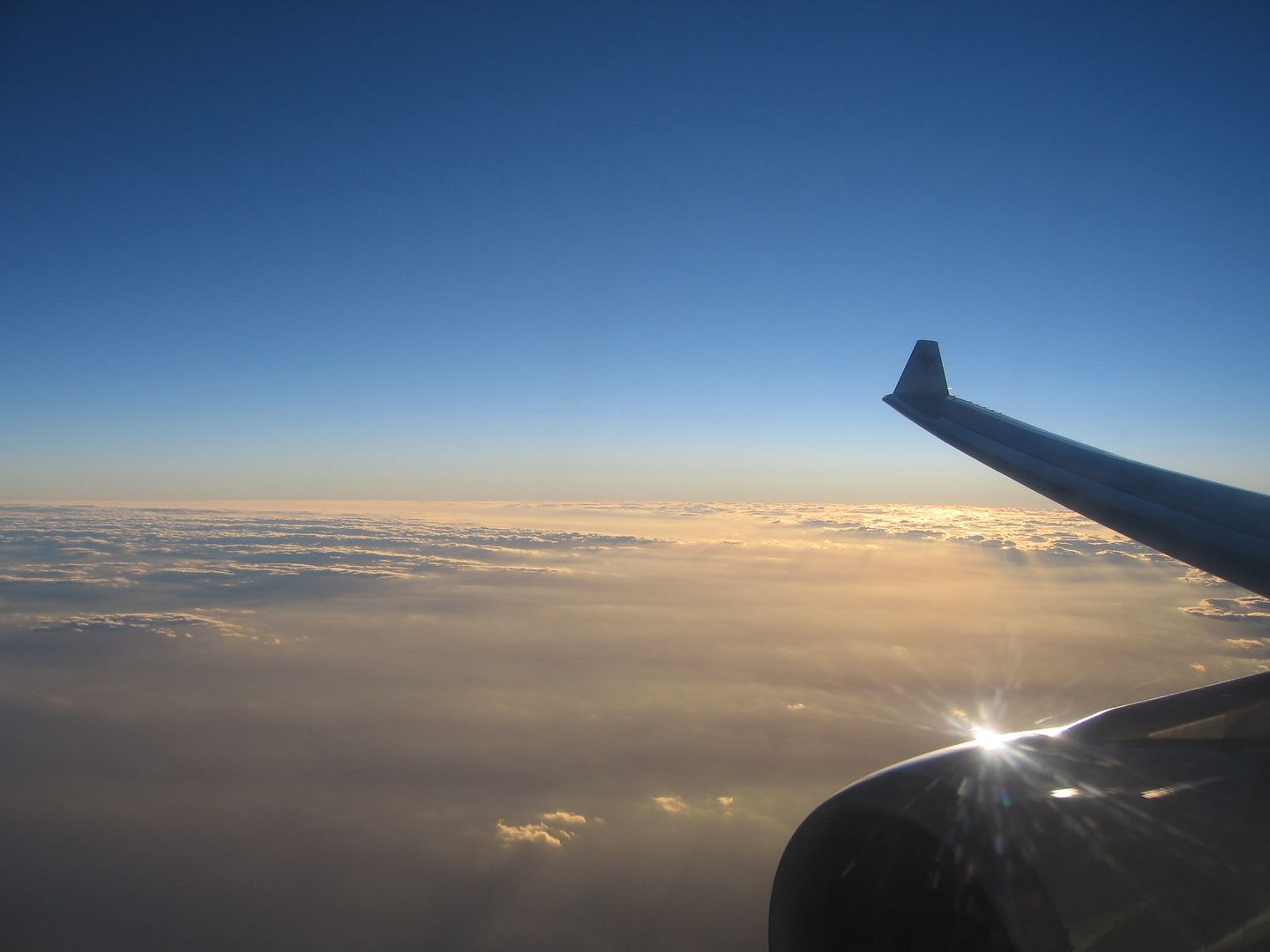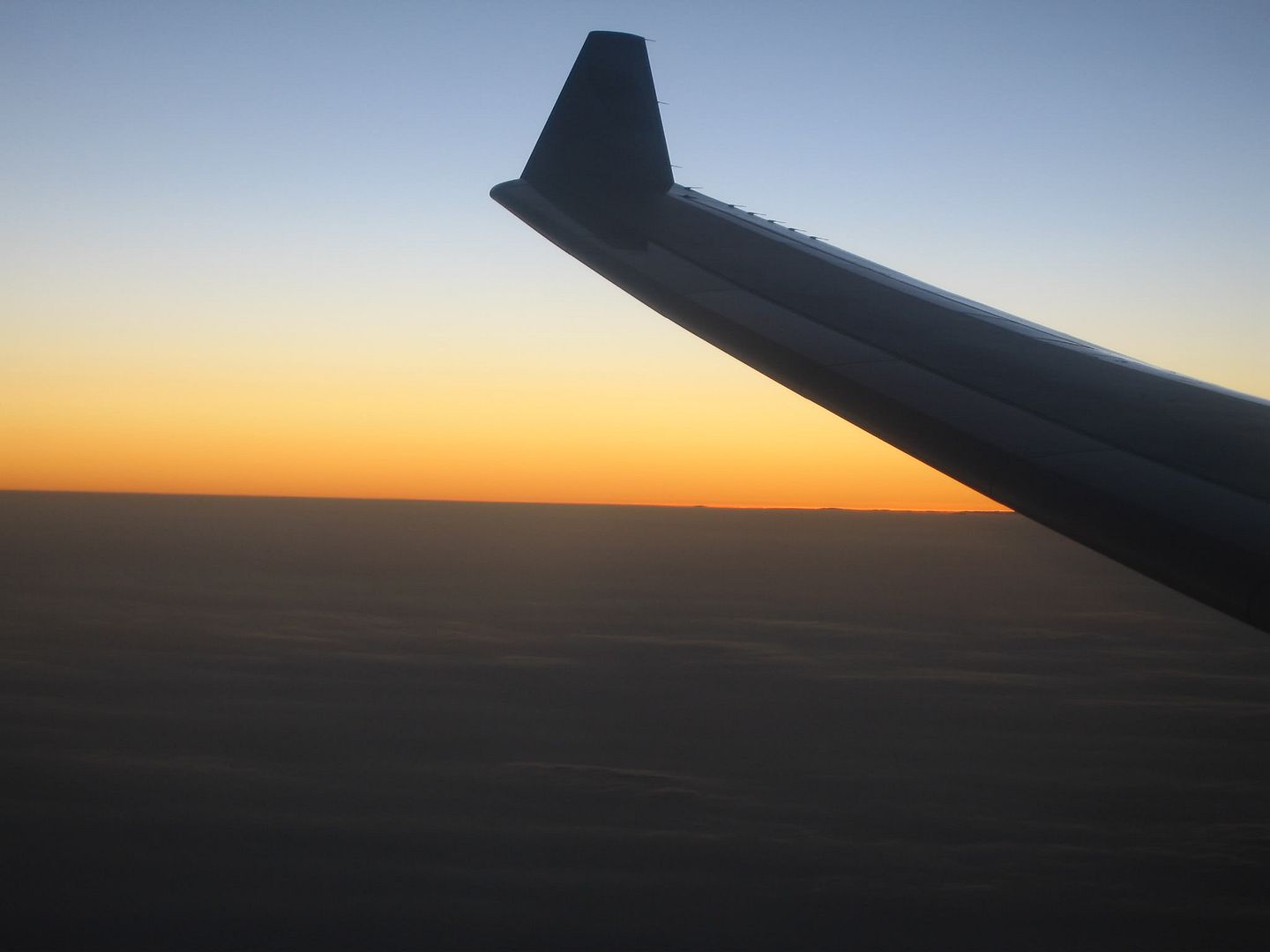 After the sun had set, the other guest travelling in Coral Plus - an Arabic gentleman - was offered his meal service, as the crew had announced that the sun had 'officially' set, and the fast could be broken.
Despite deciding not to watch a movie on the dvd player I had been offered, I decided that some light entertainment would be quite a good idea. I remembered that I had left a DVD in my laptop of the early 90's BBC comedy 'Bottom', starring Rik Mayall and Adrian Edmonson as Richard Richard and Edward Elizabeth Hitler. For those outside of the UK who may not be familiar with Bottom, it is extremely slapstick, lavatorial humour, but is always guaranteed to lighten my mood and make me laugh, even after all the years since it was originally shown.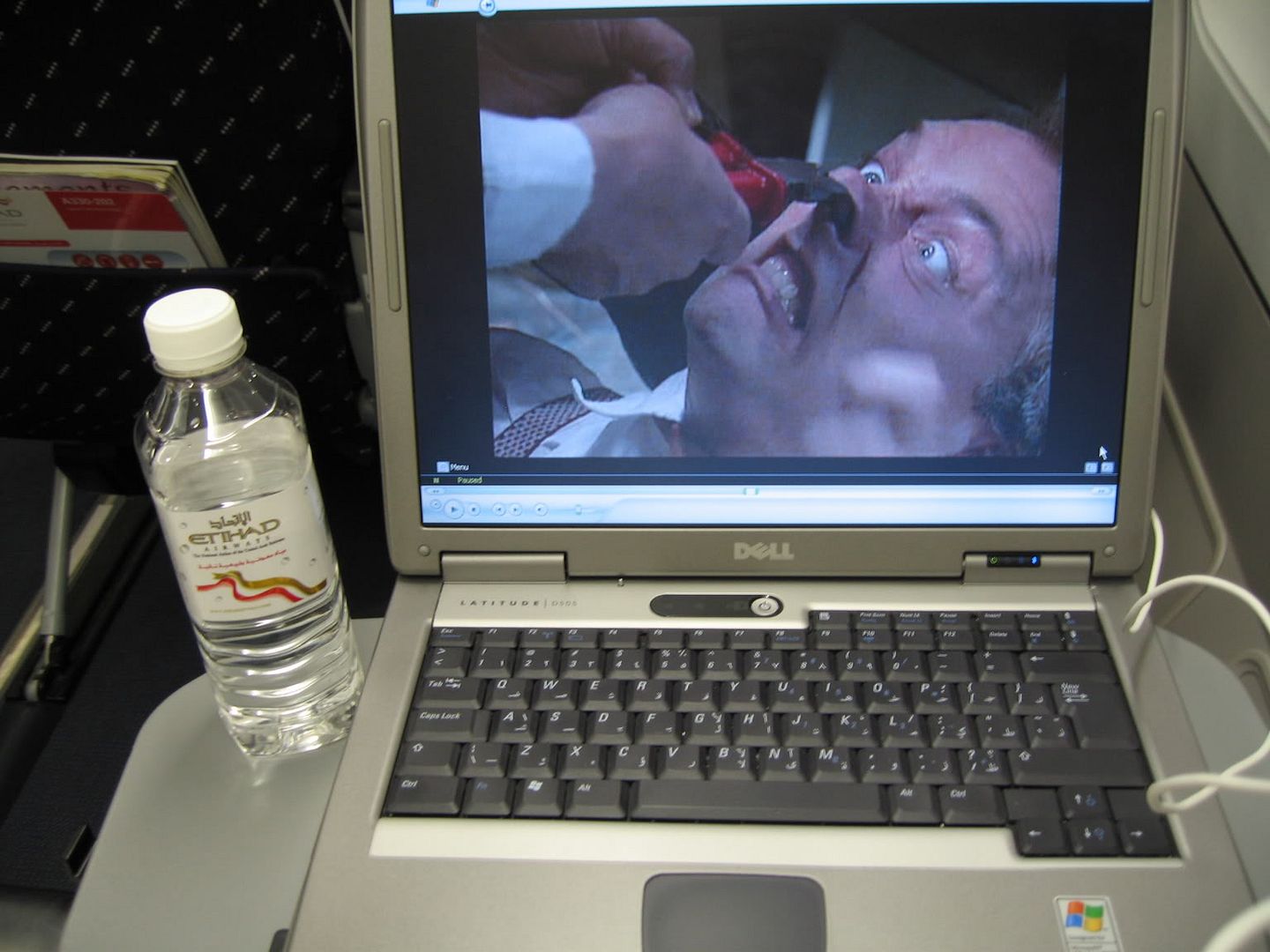 After a couple of episodes of Bottom, I had some rest, and eventually landed in darkness at Abu Dhabi International Airport, where I would be for less than a week before my next trip - to Brussels, after a brief bit of merriment in Manchester.
The service on this flight was very good, despite being on one of Etihad's Volare-configured aircraft. I actually found it a very comfortable flight, and enjoyed the experience. A6-EYV and A6-EYW are due to be the first leased aircraft to leave the Etihad fleet, by the end of the forthcoming winter season.
***
A quick look into the history of the aircraft I had flown on revealed that Volare was not the first airline to operate this aircraft. The aircraft was originally delivered to Canada 3000 as C-GGWD, before going on to operate with Volare as I-VLEF, some time after Canada 3000's demise in 2001.
View Large
View Medium


Photo © Mark Tang - HKAEC
***
I hope you enjoyed reading this short report on Etihad Airways - as always, please write your comments - don't just read it and leave it!
Ian.