Okay heres my return trip. After spending a good 2 weeks driving around Alaska and makign if from Fairbanks to Calgary by way of Alaska Highway and avoiding a near death experiance that included a heard of buffalos and a road and a car... my girlfriend and I are dropped off at Calgary Airport at about 8AM as my dad gets on the road to Boulder Colorado (to which he made it at about 3AM that night), our flight was not until 12:34 and the tiny DL checkin at YYC opens at 10:30 or something around those lines. We wandered around the pre-security area at YYC, went to have breakfast at some restaurant from which you could see a bunch of WestJet departures to the USA. One to LAX, SFO each.
Delta (Skywest) #3973
Calgary YYC
Salt Lake City SLC
Depart 12:34PM
Arrive 2:33PM
August 20 2005 Canadair CRJ
Seats 6A 6B
Went through checkin- first in line, had to move straight on to duty free and US border patrol and then security. All of which went rather fast. I was wondering at US border stations at Canadian airports are the officers US citizens on duty? or are they just local Canadians working for the US government? Anyways i love the contraption in YYC where theres a glass wall down the whole pier seperating US flights from other palces. A lot of US flights between 10AM and 1PM. CO to IAH, CO to EWR, WestJet to LAX, SFO, MCO, Air Canada to a lot of places, Deltas miniscule CRJ to SLC. Alaska to SEA and LAX, etc... anyways, i wandered around as my girlfriend read, attempting to spend my last CDN dollars. ended up buying a magazine and some gum. I like YYC airport, a little cramped but seems to get the job done. Down by where the CO gates were it seemed rather dark though. Our plane landed at about 12:30PM - so i knew we'd be late, not like it matters we had a 2 1/2 hour connection. 12:55 we were already boarding via Jetbridge. Saw the Alaska tinkerbell disneyland 737, it was awesome, my girlfriend got really excited. Having flown Delta earlier that summer, not expecting much, and didn't get much so i guess that worked out. bag of 'plane crackers' and some coke. and a 2 hour long CRJ flight. See pics for this flight:
NW A319 to MSP and MyTravel A330 from LGW(i think)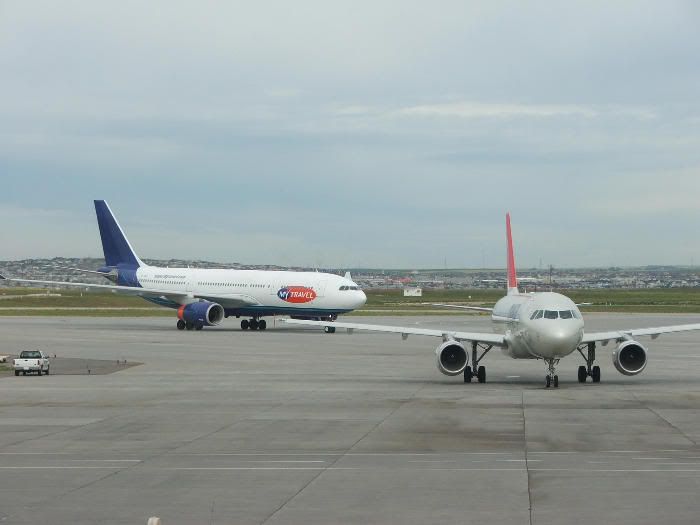 My Travel A330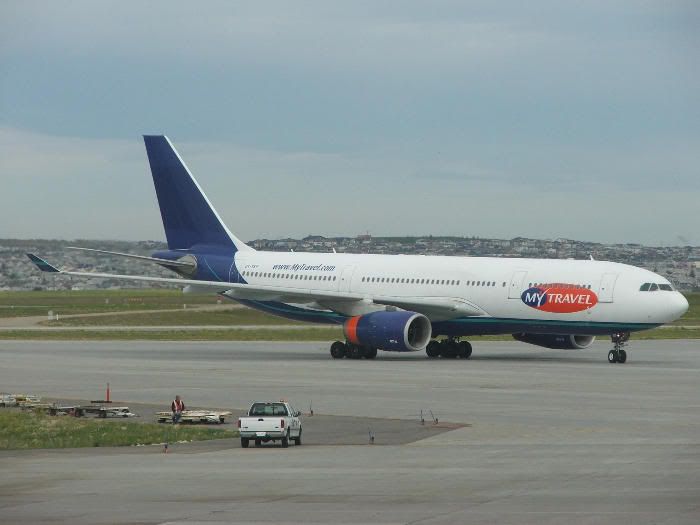 Alaska 738 tinkerbell
Our SkyWest CRJ
Boarding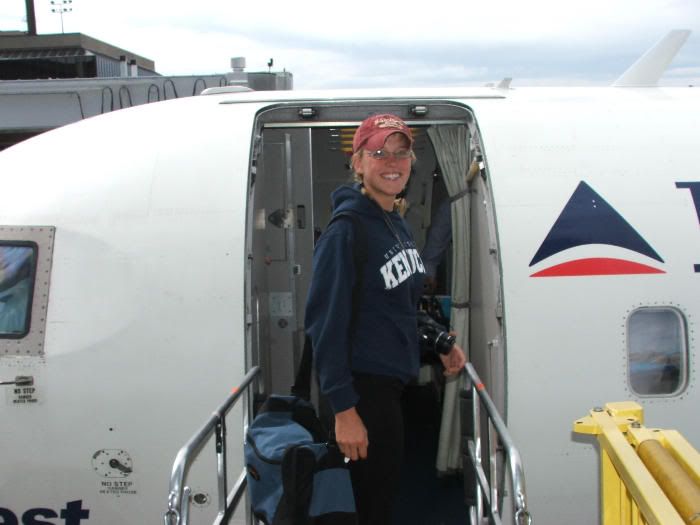 Still Boarding
Green Jazz DHC-8 lands with Calgray skyline in the background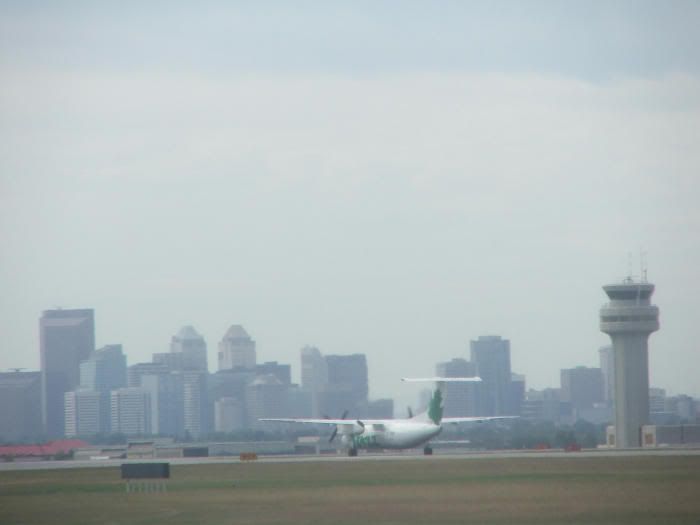 Zoom lands with windsock
USAirways junkyard at YYC?
Calgary suburbia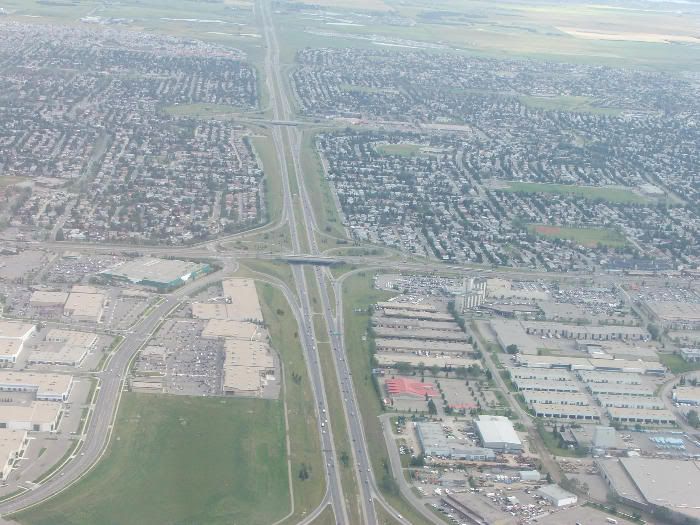 Butte, Montana and BTE airport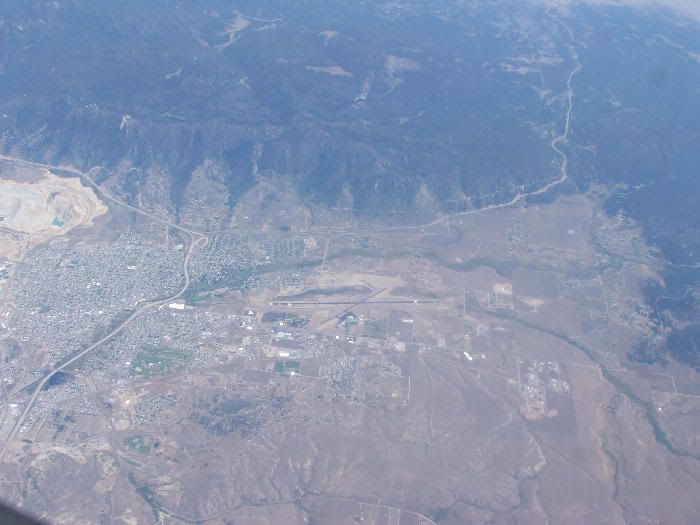 Great Tetons from the less-famous less-photogenic side
Wasatch Range on descent near Orem, Utah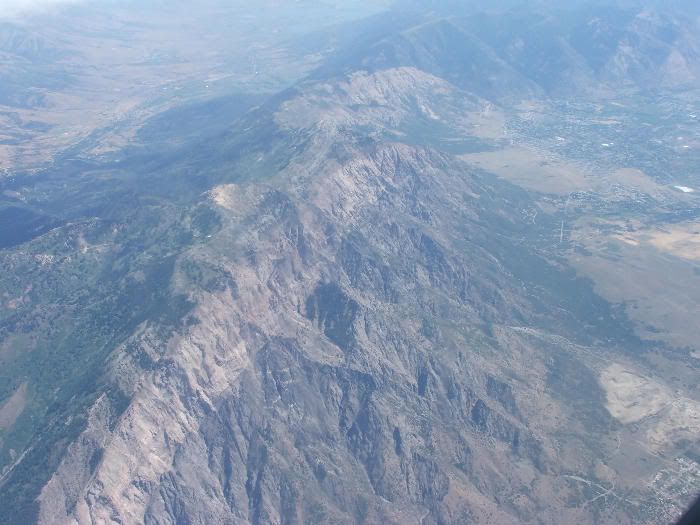 Passing SLC terminal in order to land to the north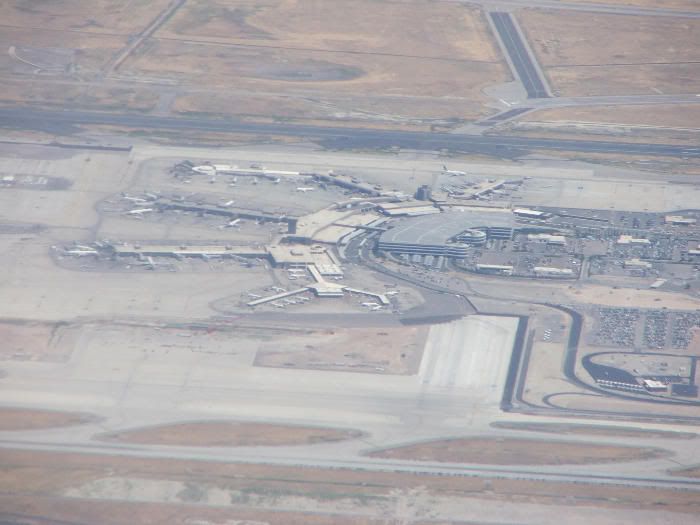 The ever-shrinking great salt lake and tooele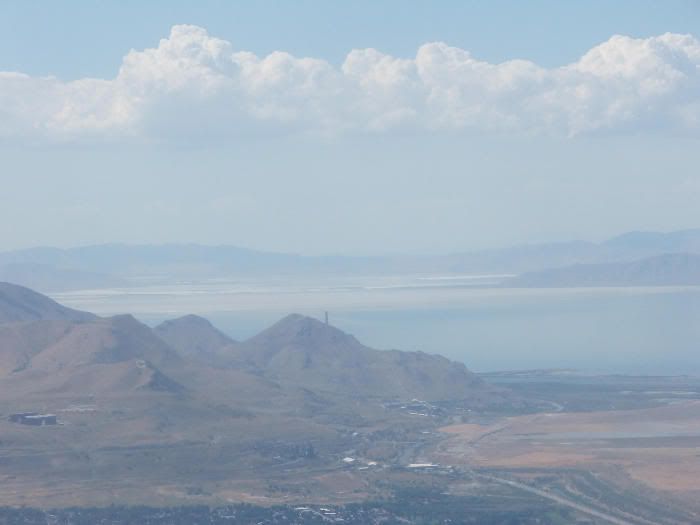 Getting off at SLC - "its a dry heat" (100 degrees)
Our flight to ORD - just kidding this ones goign to Jackson Hole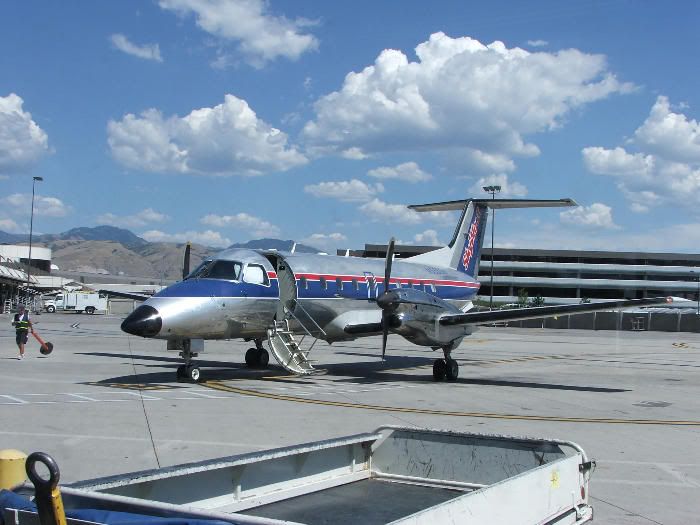 Delta #715
Salt Lake City SLC
Chicago ORD
depart 5:00PM
arrive 9:04PM
McDonnell Douglas MD-90
Seats 26B 26C (i think)
Salt Lake airport as usual, nice and clean, sort of crowded on this August day,but oh well, everythign seemed to be functioning. Ate i dont remember where, some restaurant between the concourses, other than that sat at the gate until we figured out flight was overbooked. Volunteered our seats, they offered us 8AM the next day, free hotel, plus $400 each. But in the end 100% full flight, they fit everybody including us on. The flight itself was uneventful. we got the stupid exit row that doesnt recline, however the only 2-set of seats on the 3-side. Not too bad it stopped bothering me after 5 minutes or so. New interior MD-90 and clean and quiet as ever. Hope they stay around for awhile. Anyways same snack as on SkyWest, cookies or something and a coke, no movie, but watched the view go by outside my window. It was dark by the time we landed at O'Hare. Followed a northerly route to avoid storms, flew over Evanston, Casper, Rapid City, Pierre, then back south to Chicago. But it didnt increase our flight time. See pics below. Thanks for reading, sorry couldnt remember too much detail
'902 mark
Deltaland!
My Girlfriend buying something at the airport
The Missouri River near Pierre, South Dakota
Sun slowly setting as we make our way east
Row of TV's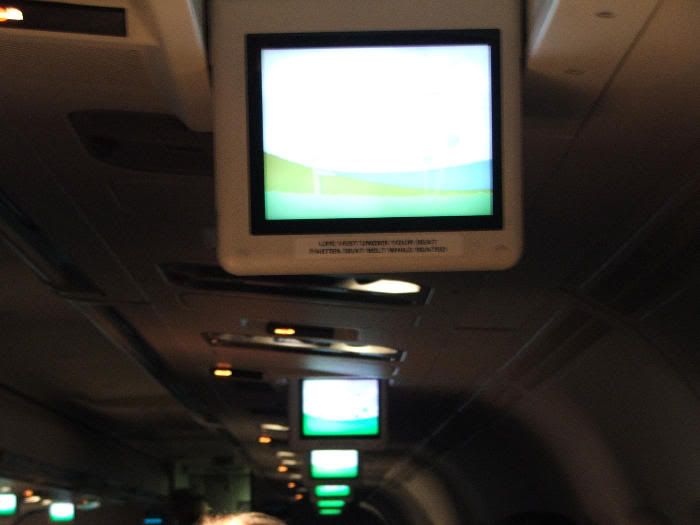 Hope you enjoyed it - any comments or questions are obviously very welcome. Also suggestions for future trip reports. and maybe ill dig up some old photos and try to write about those.
Thanks for reading. mark.