Okay so I finally have time to do part two of my day trip with Travis and Rigo to LAX.
Okay so once we arrived at LAX we decided to rent a car and drive around and go to the beach. We went to this real shady place because they were cheap and would rent a car to a 20 year old.
We went to the famous In n' out burger place and I ate a hamburger for the first time in 10 years! it was good
so was the view...
a Swiss 340 landing
We then headed to the beach....it was a beautiful beach with views of some take-offs over the ocean
I don't have any real good pics of take-offs but I do have some of the sun setting...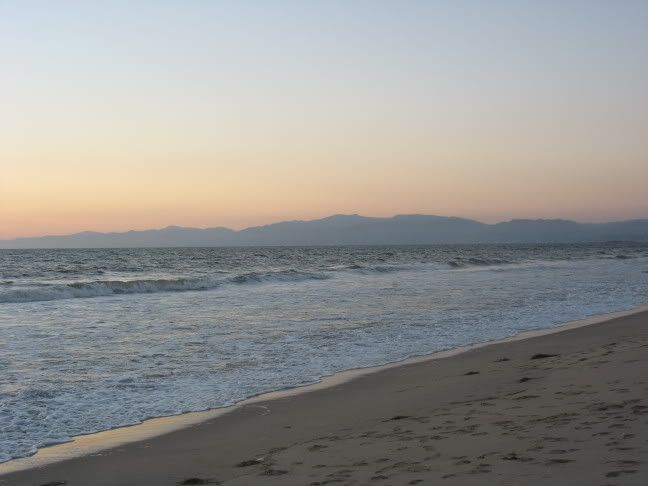 After a bit we went an ate at the other famous restaurant at LAX the Encounter. It was fabulous and delicious!
After dinner we went to the WN terminal to see if Yolanda was working. She wasn't
As the evening progressed it was time for Travis and I to take our flight to ATL and Rigo was heading back to DFW
10-29-05 Flight
Flt 196 on DL
Equipment 764
Departed at 130pm
I slept through almost the whole flight. The only picture I snapped was of a Song 757 it was the pink one. It was parked at the gate for the night.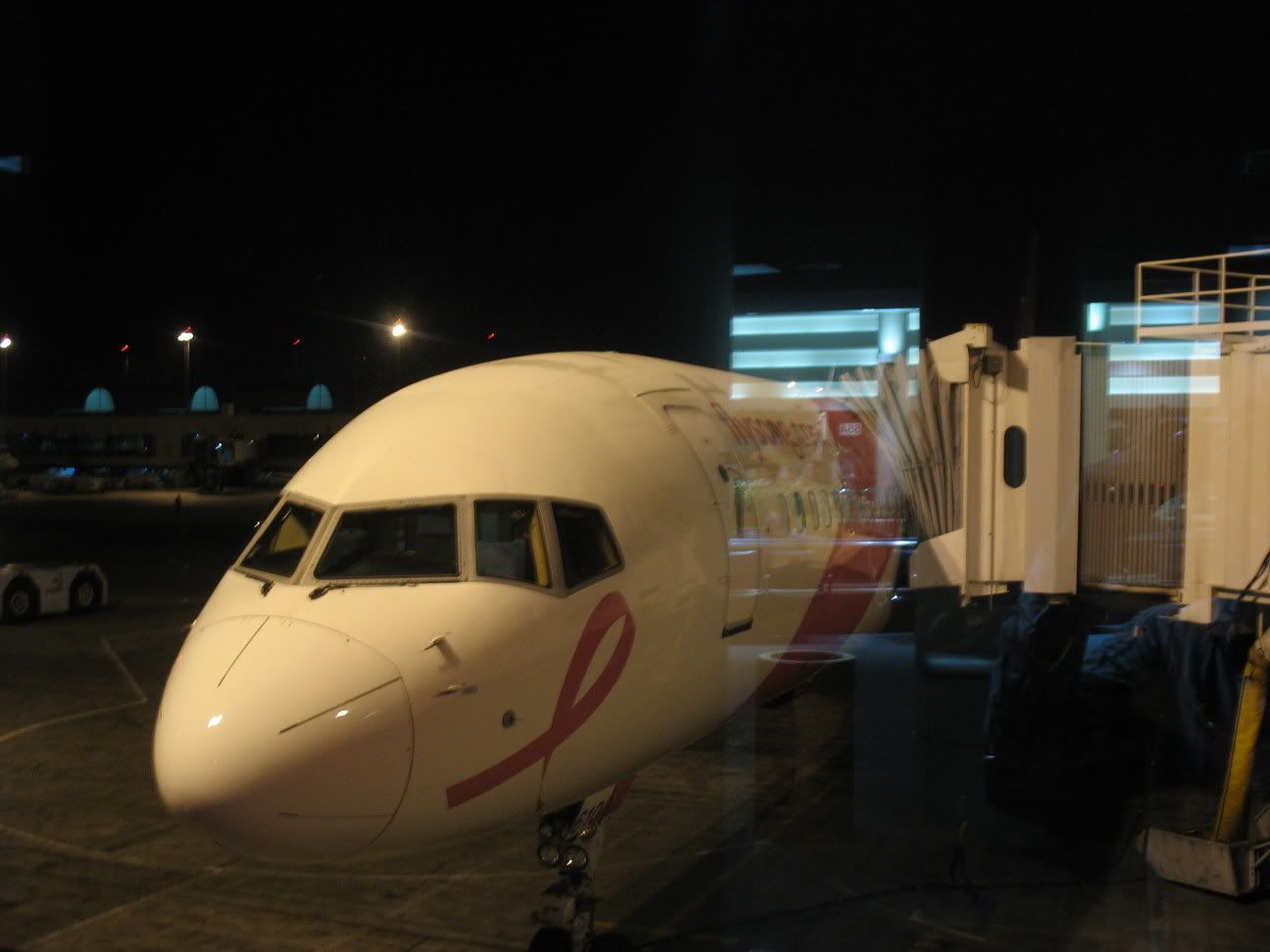 We arrived in ATL I think on time and caught our next flight to CVG
ATL-CVG 10-30-05
Flight 305 on DL
equipment MD88
Seat 17E
departed at 655am
Taking off
The flight was probably around half full or half empty whichever way you look at it. The crew was very friendly
A healthy breakfast aboard the flight
Some views coming into CVG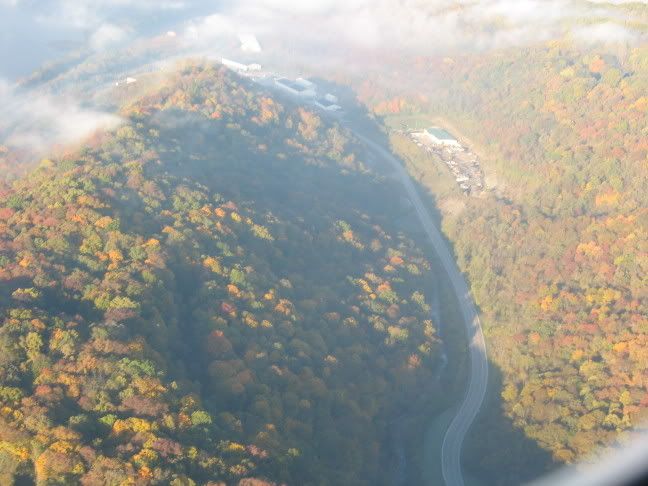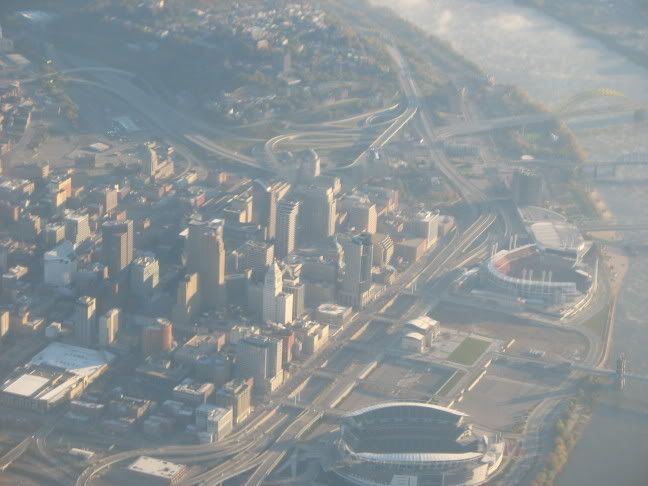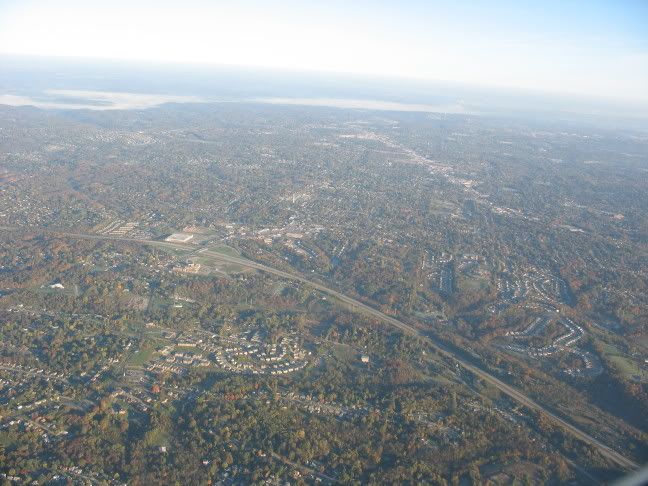 Once arriving in at CVG it was time for Travis and I to go our separate ways. His flight was already boarding when we go to the gate so we said our good byes and he was on his way back to SBN. I then walked around for a bit and got a sandwich from Quiznos mmm good. Then it was time to board my fight back to DTW.
CVG-DTW
Flight 6449 operated by Shuttle America
equipment E-170
seat 3A
departed at 1015am
This was my first time on an E170 and what a beautiful aircraft. It had a new smell to it very beautiful interior and absolutely the best crew! There were however only 14 people on board and two f/a's so we got pampered. The f/a even came back to fill up my soda and she was calling everyone hun. oooh she took pride in her job she was fabulous!
my meal...i already ate the granola bar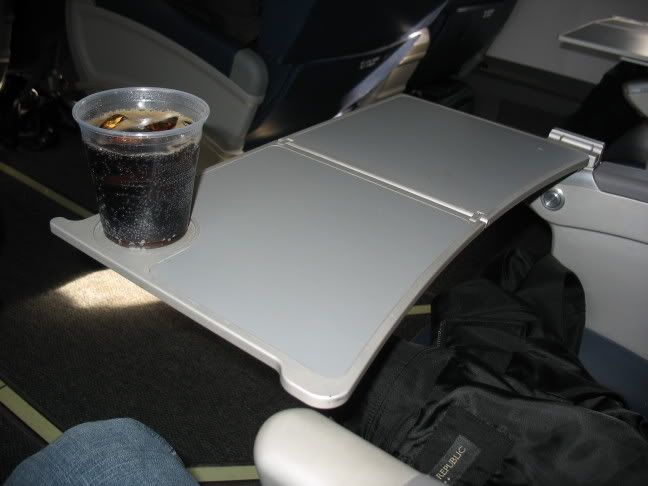 The cabin after everyone de-planed with the friendly f/a bending over to get something....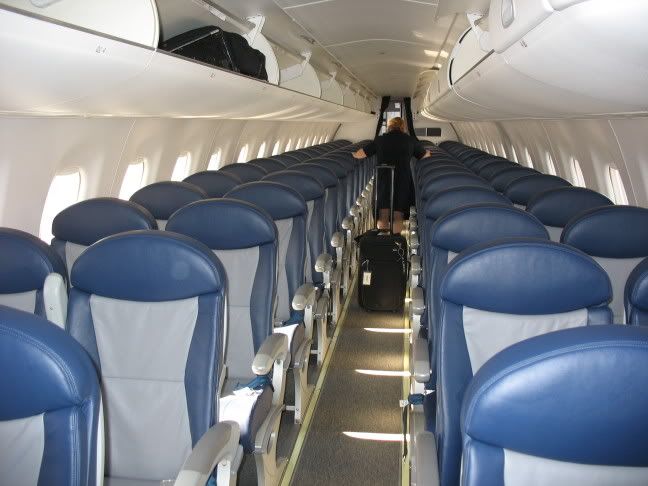 the other f/a offered to take my pic in my seat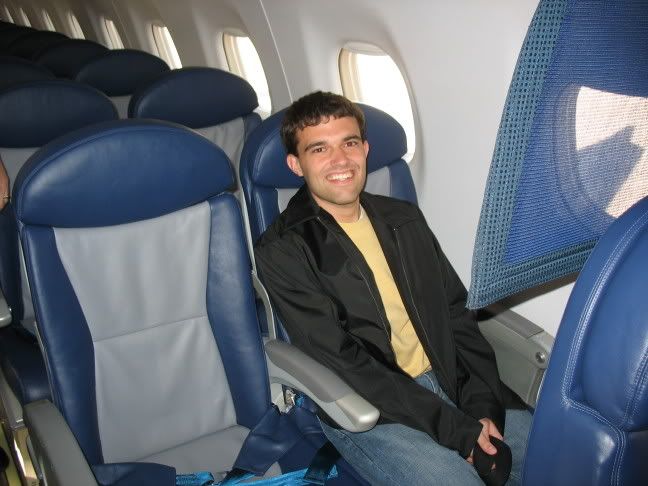 Here is a pic of the aircraft landing in at CVG not the best pic
and another pic from the terminal at DTW....notice the black dots on window..they are on every window and the McNamarma terminal not good for pics at all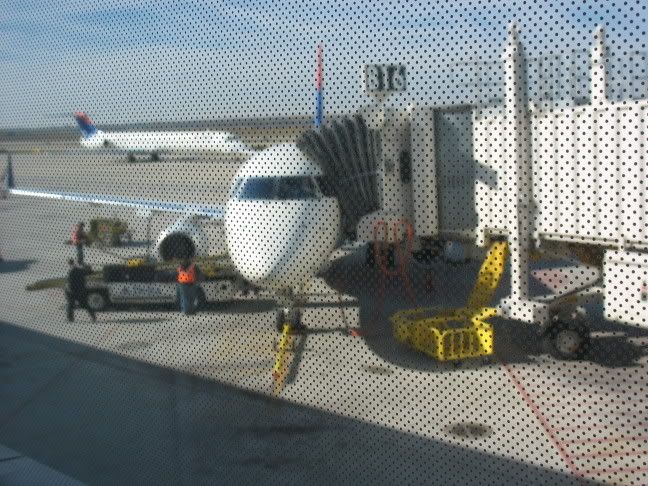 this is the area of the expressway and entrance to DTW where a NW MD-82 (acquired from the merger with Republic I do believe, correct me if I'm wrong) crashed when taking off in 1987. Flight 255. The slats were never set for departure...they crew didn't go over the pre-flight check list..154 out of 155 people died a four year old girl was the sole survivor.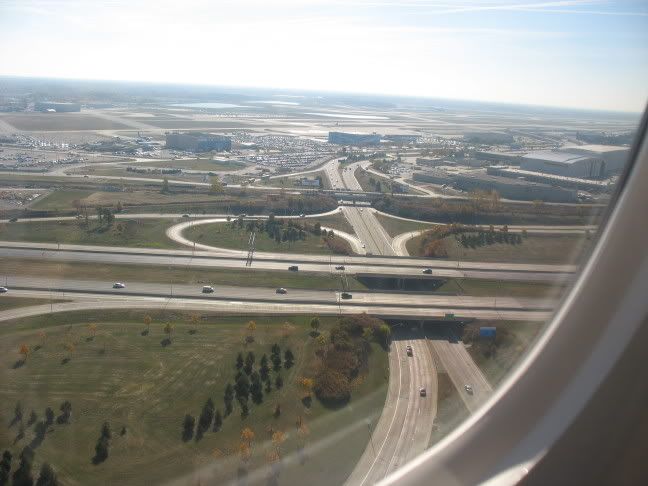 a pic of concourse B of the McNamarma terminal. Its where NW airlink and DL and CO flights arrive and depart from.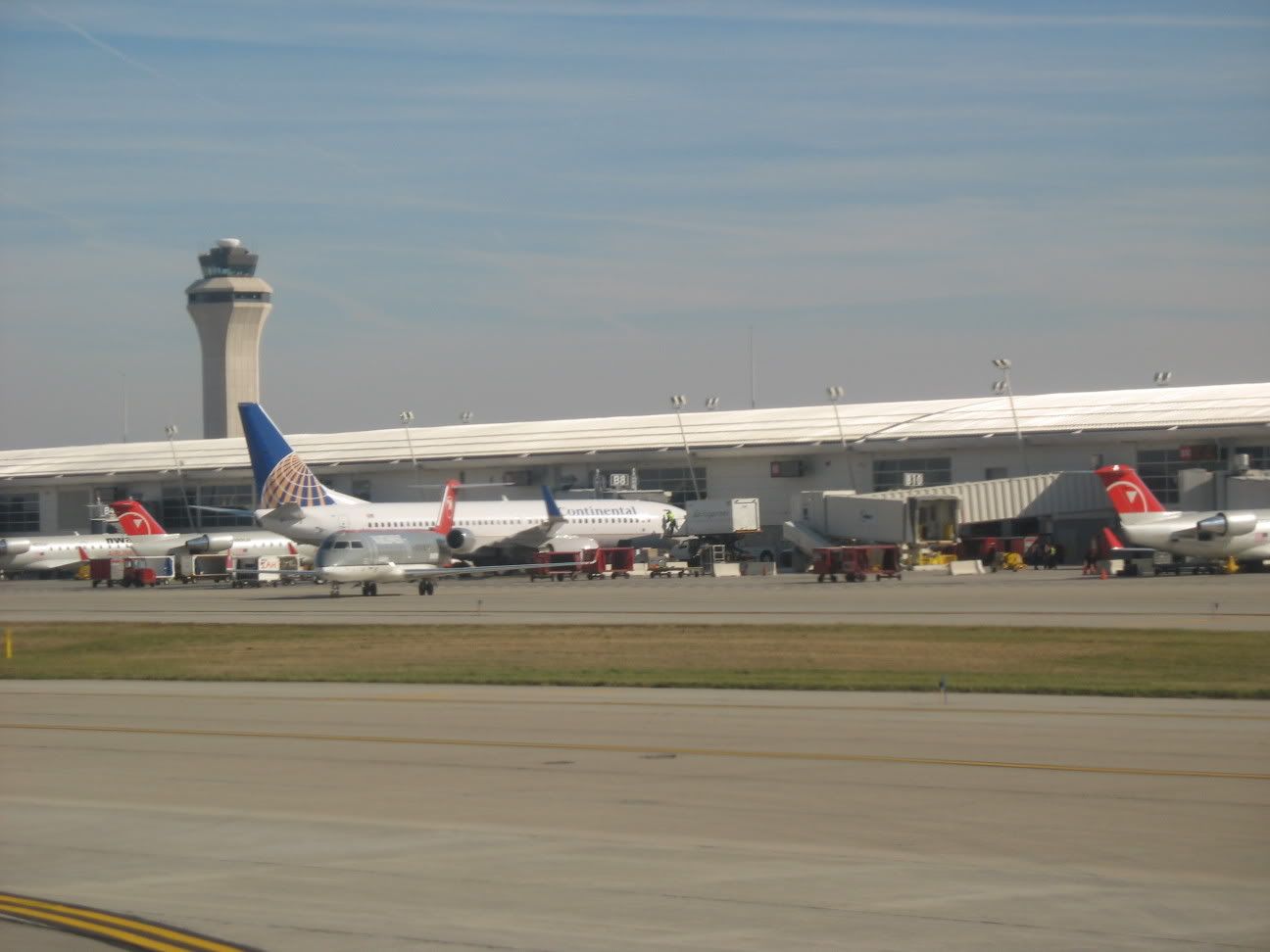 well it was a fabulous trip sorry this trip report isn't the best. I hope you enjoy
next flights
DTW-RSW-DTW on Nov 11-Nov13
and DTW-MEM-AMS-MEM-DTW Feb 25-Mar1
and I'm sure I will have another DTW-RSW-DTW in between now and when I go to Amsterdam
-Zach