Hey guys,
Here is my latest trip report, once again to good old Tenerife in the Canary Islands. There are a lot of photos so please be patient whilst they load, I know you love them really! Enjoy…
Airline: Monarch Scheduled
Flight: ZB558 Manchester – Tenerife South
Date: 11 November 2005
Aircraft: Airbus A321 G-OZBI
Scheduled Departure Time: 1445
Scheduled Arrival Time: 1910
It was my sixth time that I'd be flying into Tenerife since my first visit to the Island in 1995. A large amount of my family had flown out to the Tenerife the previous week and I decided to tag along for a few days to join them. As I couldn't stay a whole week, my choice of airline was limited to those which had daily flights to the island from Manchester, those being Monarch Scheduled and now also GB Airways. Anyway I found myself booked with Monarch and it would be my first time flying with them for over 5 years and also my first flight where I'd be flying all on my own.
Anyway I arrived at Manchester Airport around midday for the 2:45pm flight, after a relatively painless journey via bus and train from my house. I headed over to the Monarch check in desks in terminal one which were relatively quiet. Luckily Monarch Scheduled flights have separate check in desks from the Monarch Charter flights, as a Goa flight was also departing this afternoon. I handed my passport and booking reference to a nice brunette girl and she asked 'are you travelling alone?'…yes I replied to which she said, 'oh have you pre-booked your seat?' I hadn't, although my mate and fellow a.netter Mark aka Jetset7E7 had sorted out a decent window seat for me already thanks to one of his check in mates at Swissport.
After once again asking if I was travelling alone, the girl at check in handed me my boarding card and told me that I had to take my case to the separate baggage inspection point so that it wouldn't get damaged by the baggage belt. So off I headed to the baggage inspection point.

With my bag now on its way through T1 I headed through to the landside lounge at T1, and sat down looking out onto the airfield for a while. Travelling alone seems to add to the time spent waiting around, I felt like I was in work rather than going on holiday at this point!
I then headed through to airside departures, passed through security quickly and had a look round some of the shops. Again, more waiting around followed, on my own with not much to do so I was just waiting for a gate to be assigned for my flight. Eventually 'Go to Gate 27' appeared next to my flight and off I headed. I was the first person to arrive at the gate and A321 G-OZBI was just pulling onto stand, Monarch's newest A321 in the fleet, delivered to the airline on 4 June 2004.
View Large
View Medium


Photo © Filipe Clairouin
The flight and cabin crew for my flight were waiting by the gate and looked a happy bunch, as Monarch crews generally seem to be from what I'd seen of them.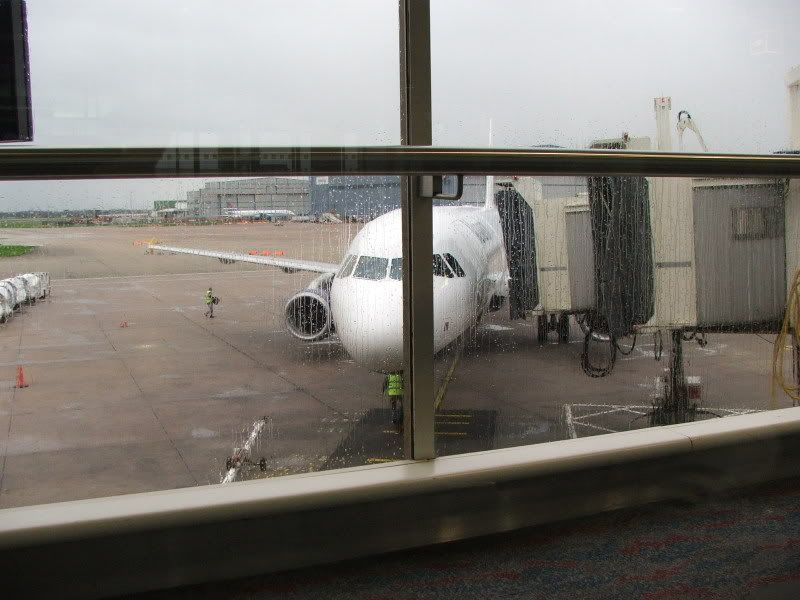 I had a good look at my A321 getting the full Swissport treatment out on the ramp, airbridge on, cargo doors open, chocks in place. Baggage for my flight arrived and was parked next to the aircraft. It was at this point that the weather took a turn for the worse and rain lashed down so hard for about half an hour. I looked at the baggage trucks full of luggage thinking I hope my case isn't on the top!
The gate soon filled up with passengers and it was looking like a pretty full flight, with me all on my own, a 21 year old amongst everyone else on the flight who must of have had an average age of 65! Shortly after the crew had gone onboard, boarding commenced. As I was sat in seat 08F, I was one of the last to board as they boarded those seating at the back of the plane first.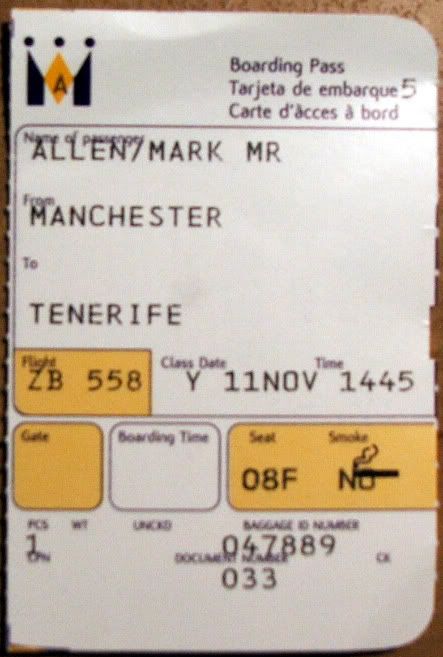 Once onboard, I made my way thru the rows of blue rinse hair styles and squeezed into my seat. The interior of this A321 was rather nice, with the blue checked seating as I expected.
View Large
View Medium


Photo © M-A Veillard
Swissport finished loading up our aircraft ready for its flight to Tenerife, in the lovely Manchester weather! A MyTravel A330 was parked nearby and was heading to Toronto.
The pilot welcomed us onboard and really went to town on stressing the importance of the safety demonstration. Besides that, he informed us of our cruising altitude of 35,000ft and route taking us down over the Welsh/English border, over Exeter then onwards over France to the Iberian peninsular then over the Atlantic to the Canaries.
A few minutes late we then pushed back off stand 27, quite a long way back until we were near the MyTravel hangar, I got a really good look at the pushback crew walking alongside the aircraft as the engines were started. Once pushed back, our pushback crew headed over towards their truck, gave us a wave and we were on our way to runway 24L.
We taxied onto the runway, held for a few moments before the take off power was selected, the engines on the A321 made a great whine as we powered down the runway and I was pushed back in my seat. We powered into the air through the bumpy clouds and quite a bit of wind and engine power was decreased as we made our turn southwards.
After our initial climb, crew were released and began the in flight service. Firstly the crew came round with inflight menu's showing what food was available for purchase onboard the flight.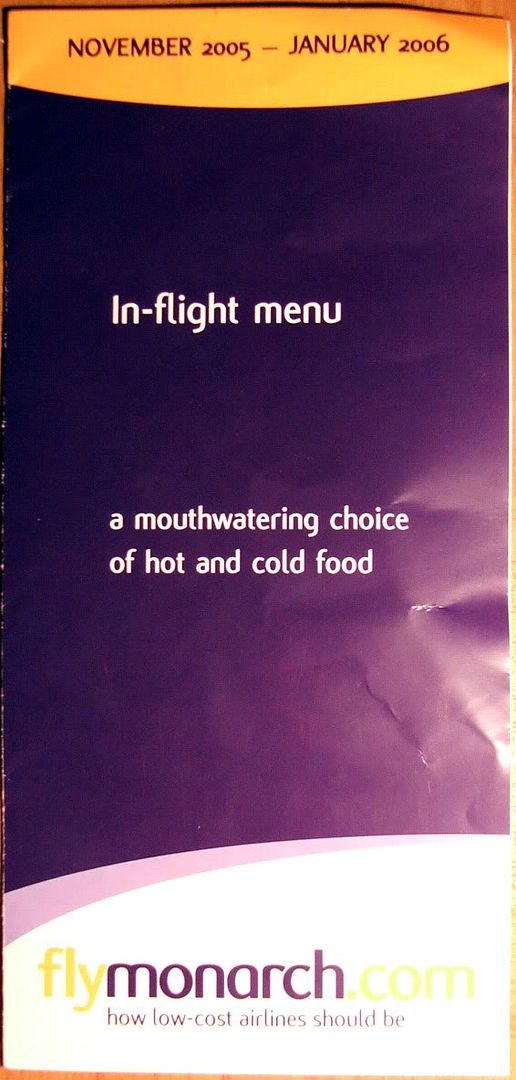 After this the crew then gave out complimentary headsets for everyone to use with the in flight entertainment. This made a change from the usual experience of having to pay £3 for some headphones and an adapter. The film on the flight was Charlie and the Chocolate Factory, staring Johnny Depp. Seemed ok, so I settled down to watch it as I had 4 hours on my own to kill.
The bar came round next, sadly not complementary, but I managed to find £2.50 from somewhere to buy a can of Fosters.
The meal service then began. Whilst Monarch used to offer free meals on all scheduled flights they now charge for them, but do not need to be pre-booked and can be just bought in flight. The choice of food on this flight was is shown here:
I was quite hungry so I had the main meal which was really nice and had plenty of tea or coffee offered with it also. After this with the film finished and not much else to do, I put on my iPod and had a look out of the window catching the odd aircraft fly past, very cool to see.
The sun was starting to set as it was now early evening and the flight crew informed us of our final stages of flight with 170 miles still to run, our descent taking us 100 miles to complete and an estimated landing time of 19:08, the genius of onboard computers! I could track the flight thanks to the moving map that Monarch showed during the climb and descent phases of the flight.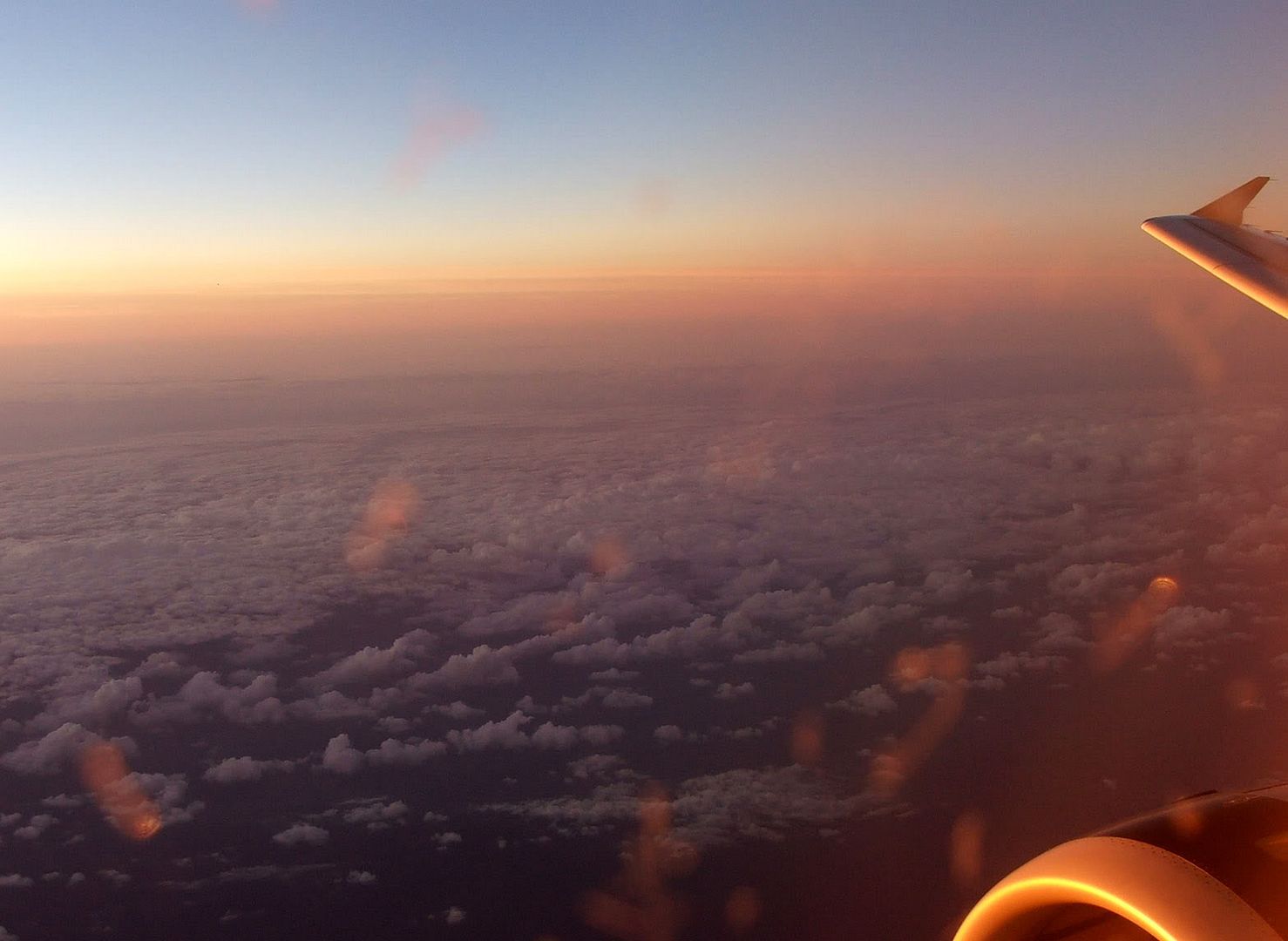 During descent, headsets were collected and we flew through quite a lot of cloud on our approach to runway 08 at TFS, and by this time it was completely dark. A few turns here and there and we were lined up on final approach. Touch down was smooth and we then braked sharply with plenty of good old reverse thrust and a quick exit off the runway.
Tenerife South airport was really busy this evening and we taxied onto a remote parking stand, next to A321 sister ship, and one of my personal favourites of the Monarch fleet, G-OZBE. Of particular interest was my first sight of Jet2's 757-200 parked at the terminal after its flight from Leeds Bradford.
Anyways I walked down the steps and onto the waiting bus, I switched on my phone again, with a text from mum saying that they were waiting for me in arrivals. I waited for my bag in arrivals, and when it eventually arrived it was absolutely soaking wet with lovely Manchester rain! It had managed to get inside too, ah well.
Airline: Monarch Scheduled
Flight: ZB559 Tenerife South - Manchester
Date: 14 November 2005
Aircraft: Airbus A320 G-MONX
Scheduled Departure Time: 2010
Scheduled Arrival Time: 0020*
After a really short trip to Tenerife it was time to fly home. Jetset7E7, ground crew back at MAN had texted me earlier in the day to tell me that my flight home was to be operated by A320 G-MONX. He later texted me to tell me that he had just done the handling for the flight and pushed and headsetted it. So that was cool to know he'd helped my plane head off to bring me home and that everything was on time.
Here's Tenerife Reina Sofia airport from the motorway before I was dropped off for my evening flight back to Manchester.
It was nice and calm in the check in hall. I headed to the Monarch desks where I didn't have to wait long before being invited to check in at the Vantage club desk. I asked for a window seat, which I was gladly given and said good bye to my family before heading through to departures.

Security was a bit slow but luckily as I arrived in the queue another xray point opened up and I didn't have to wait long. I was soon through to the airside departure lounge and got a look at the ramp which was pretty quiet, with a Monarch 757-200 just arrived from Luton and a few Spanair aircraft aswell as LTE A320 in the Myair.com livery. I got some food courtesy of Burger King then chilled out in the ever so busy departure lounge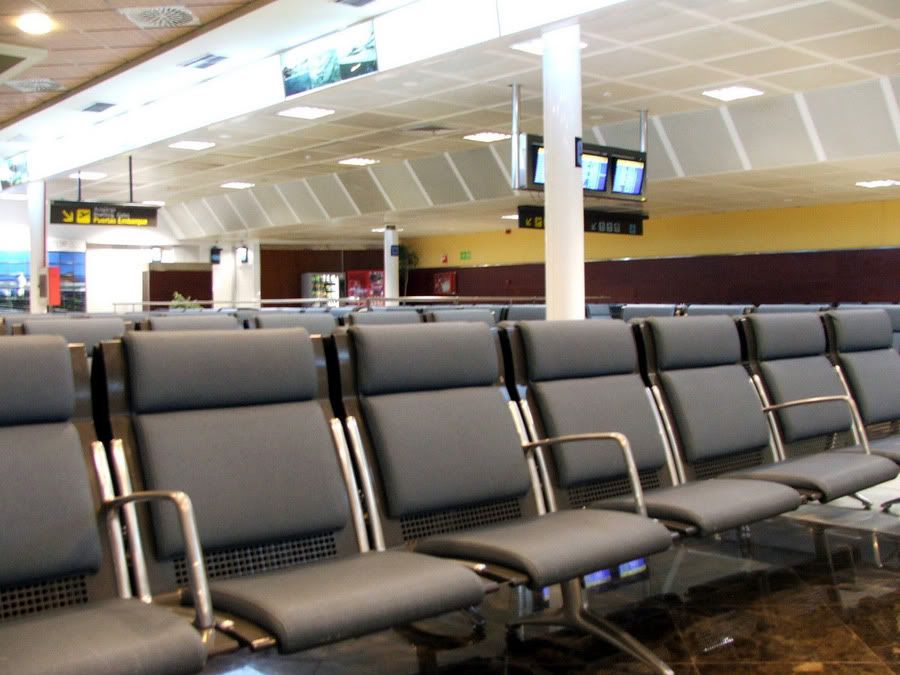 I saw my ride home land in Tenerife right on time, Monarch's G-MONX, the oldest A320 in their fleet, delivered in 1993.
View Large
View Medium


Photo © Danny Hill - WorldAirlineImages
I then headed over to Gate 5 to see it being unloaded and where I would be boarding from.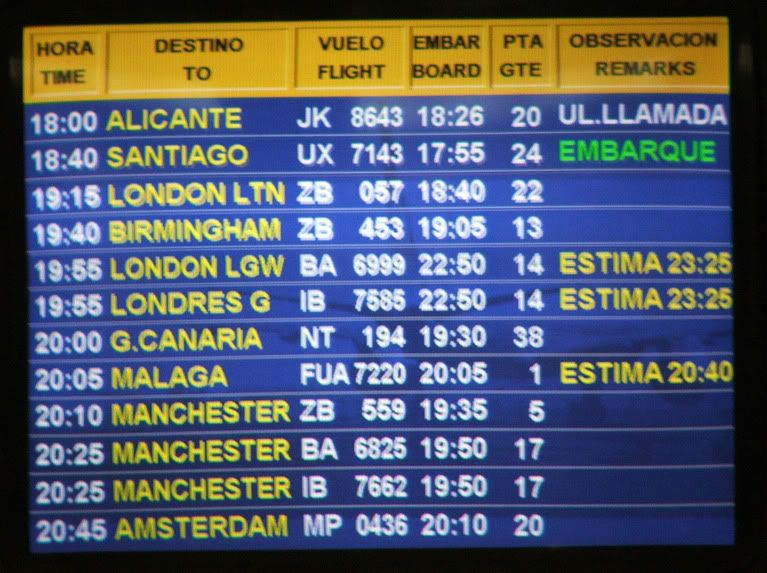 Boarding for my flight started at 7:30pm and I headed towards the gate. I was seated in seat 10F for this flight, again a nice window seat over the wing this time.
One thing which surprised me on boarding this aircraft was the different interior. Yes, lovely deep purple Ricaro leather seating, looked superb, really comfy and just the kind of update Monarch's cabin needed.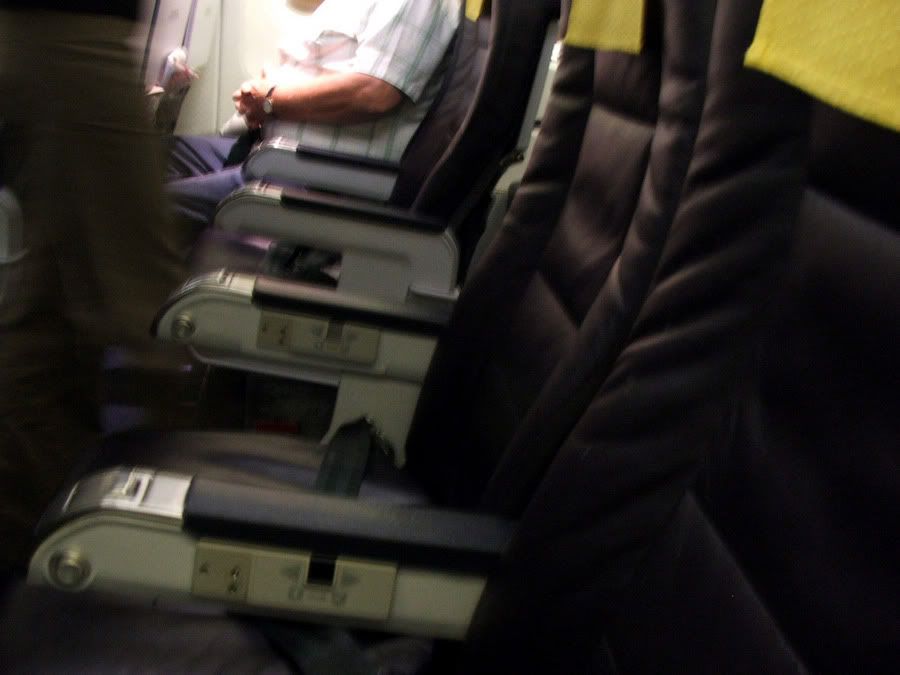 The flight filled up, and ended up pretty full. I looked out to see GB Airways A320 G-TTOC also being prepared for her flight back to Manchester.
On my seat row I had a couple with a very young baby travelling with them. The crew said they would try and seat them somewhere else so they could have a row to themselves. However once everyone was boarded a member of crew came up to me saying they needed someone to sit by the overwing emergency exit in the row behind, which I gladly agreed to do. So after the couple said thanks, whilst joking that they hoped I wouldn't end up having to use the exit, I moved over to seat 11F by the emergency exit, with extra legroom and a middle seat free also, great!
We pushed back slightly later than planned, as we were ready to go 15 minutes early but apparently Iberia had been slow to remove the airbridge. We taxied to runway 08 and began our powerful roll and climbed out on our 4hr 15min flight back to Manchester. It was quite a bumpy climb up to 36,000ft and being sat by the exit I noticed it started making a strange whistling noise, but thankfully this stopped once we reached our cruise altitude. The crew onboard were great on this flight and soon came round with the complimentary headsets again, although the film was Batman Begins which I couldn't be arsed watching.
Next the bar, I had a Gin and Tonic for a change, not cheap mind, but what the hell!
I didn't feel hungry so I decided not to buy a meal on this flight, however here is what was on offer:
After this came the duty free shopping service and I had to buy a Monarch model as I hadn't seen any in new colours yet. Unfortunately despite the in flight magazine saying they stocked all their fleet including the 767-300 I had to settle for the A320 model.
The flight crew informed us of our progress and we had a landing time of 12:30am in Manchester. The cabin crew did one more bar service and collected questionnaires that they had given out earlier in the flight. Descent began around midnight and we flew through some heavy cloud meaning there was hardly anything to see until we were well on finals for runway 24R at MAN with gear down. A very nice landing followed which was also quiet without any reverse thrust due to night time noise regulations at MAN.
Our A320 then taxied over to stand 15 at the end of Pier B, and after a short delay caused by lack of a marsheller to guide the plane right onto stand, engines shut down and my Monarch experience was at an end. Whilst waiting to get off the plane the couple who I had moved seats for again thanked me, not a problem I said. There's no airbridge at this gate, so down the steps I went, whilst GB Airways G-TTOC which I had seen in Tenerife earlier, taxied past on its way to Terminal 3.
That's the end of my report, hope you liked all the photos and detail. Have to say I was impressed with Monarch, certainly didn't feel low cost at all and the crew were extremely friendly and helpful, especially on the inbound flight. Love the new interior too, not sure how long they've had those leather seats, but they really improve the look of their cabin.
Would fly with them again without doubt.
Thanks
Mark