Sorry about the problems with the original post of this topic. The pictures got all messed up but I have them fixed now. I hope you all enjoy it.
I have spent the last five weeks flying from my home in Atlanta to a project for my company in Orlando. Unlike some of my previous trip reports where I didn't have my camera handy I made sure I got lots of pics this time. All my flights were on Delta and luckily I was able to get upgraded on all of them. Hope you all enjoy the report. Let's go to it shall we...
WEEK 1 FLIGHTS
DL 707
10/16/2005
Lv ATL 2029 (actual 2041)
Ar MCO 2150 (actual 2201)
Seat: 7F
Plane: 767-432ER
Registration: N837MH
Tail Number: 820
Our 767-400 at the gate in Orlando after arrival
This was going to be the start of 5 straight weeks back and forth to Orlando for business and I was off to a bad start. I wanted to leave the house around 1730 just so I could relax at the Crown Room for a bit but ended up not leaving until almost 1900. I made it to the airport in just over 30 minutes which isn't bad from my house on the NW side of the city. I checked in via the kiosks, stowed my watch, phones, etc. in my backpack and made my way to secuity. I lucked out here as for some strange reason the lines were empty. I cleared security quickly, reassembled my phones and such and made my way down the escalator to the train out to the A concourse.
My coworker called me as I was on the escalator wondering where I was as they had already started to load the plane. I just missed the train and started to hobble down (time to get the surgery on my toe that I broke in India) the central corridor through the artwork and sculptures from Zimbabwe. No idea how much we paid for that stuff but it is kind of interesting. I ran up the escalator once I got to the A concourse and dashed to the plane in my own sad little version of the old OJ Simpson commercial. I made my way down the jetway and found my way to seat 7F. Luckily there was space in the overhead for my rollerboard.
I had checked out
www.seatguru.com
since it had been a couple of years since I was last on a DL767-400. I chose 7F since it is one of the crew rest seat for the Hawaii flights and I was not disappointed. It had just a shade less pitch than the BizFirst seats on CO. Now if Delta will just get their act together and make the seating 5 across in First. The stewardess came by and took my drink order and I settled in for the 1 hour flight.
Plenty of legroom in Seat 7F for my size 14 shoes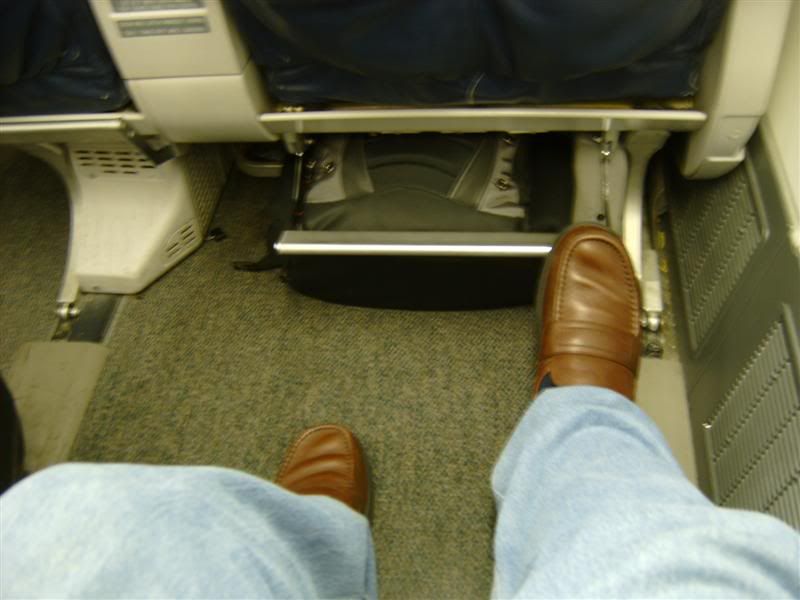 Looking towards the front of the cabin
We pushed away just a few minutes late and took off relatively quickly with little delay on the taxiway. I've noticed that since Delta went away from the banks of flights and spread things throughout the day I don't have as many delays. I could be wrong or just lucky. Who knows? The flight was uneventful with good weather. I got another drink (as my coworker was driving once we got there so I didn't care for my BAC.) We flew just to the east of Gainesville but it took me a minute to realize what city it was since they didn't have the stadium lights on at Florida Field.
We flew past the field and turned around over Lake Toho for the final approach into runway 35L. Landing was nice and we taxied to the gate quickly. Once in the concourse I waited for my coworker and we made our way to baggage claim for his stuff and then on to the rental car.
All in all a good flight but nothing special. Par for the course for Delta these days.
DL 977
10/21/2005
Lv MCO 1040
Ar ATL 1207 (actual 1203)
Seat: 3F
Plane: 767-332
Registration: N134DL
Tail Number: 134
Earlier in the week we came out of the hotel to find this crazy thing in the hotel parking lot. I know it isn't aviation related but you just don't see these everyday.
Kissmobile!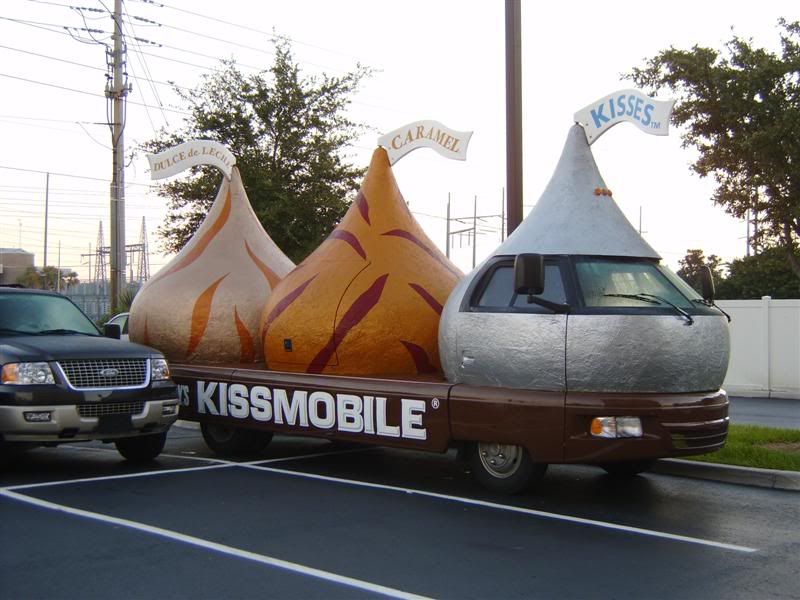 Friday came around and it was time to head back home for the weekend. We made our way to the airport and got there quite early as the traffic just wasn't that bad in Orlando that morning. Checkin was a breeze and I used the Medallion desk as Delta has moved the kiosks down past the lines for coach and I just didn't feel like poking my way through the crowd.
We did some quick shopping at the Disney Earport (get it?) and then wandered over to the security line. I thought MCO had gotten rid of the premium/Medallion line but once we go to the front and had our tickets checked against our IDs we were directed down a lane that took us straight to the front of the line. We cleared security and made our way to the tram out to the airside concourse.
Inside the newer section of MCO with the Hyatt hotel.
Train to the Delta airside concourse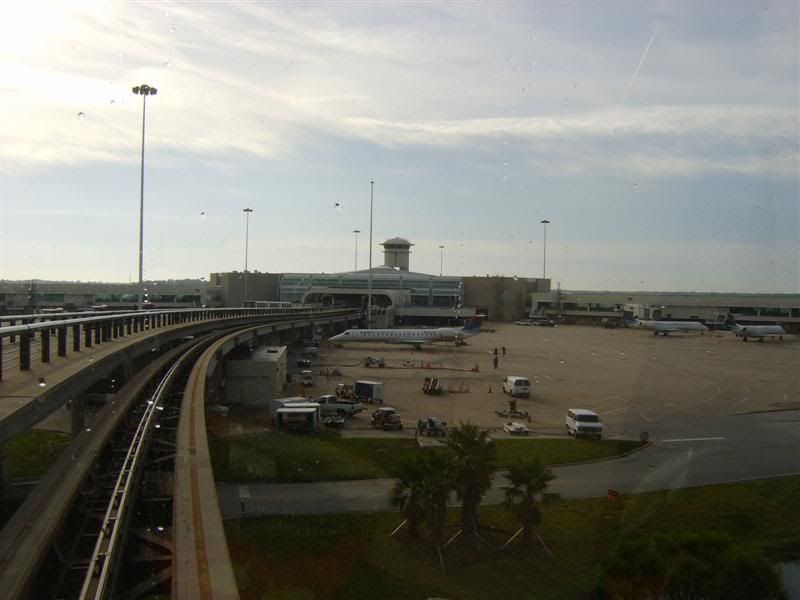 Once airside we took a quick left and went to the Crown Room. Of all the CRCs I have been to this is by far my favorite one. Not only is it huge but it looks like no other with its "Victorian" architecture that is so out of place in MCO. Unlike the rest of the CRCs this one has fresh squeezed orange juice. As a native Floridian I appreciate that little touch so much.
Fresh Squeezed OJ
We settled in on a couch where the TV was on the local news but quickly turned into Live with Regis and Kelly. I was too lazy at that point to get up and turn the channel so I destroyed a few brain cells sitting there while it droned on in the background. Not with alcohol, but with just listening to that horrid show. Over in the corner is a putting green that you can practice on while waiting.
Putting green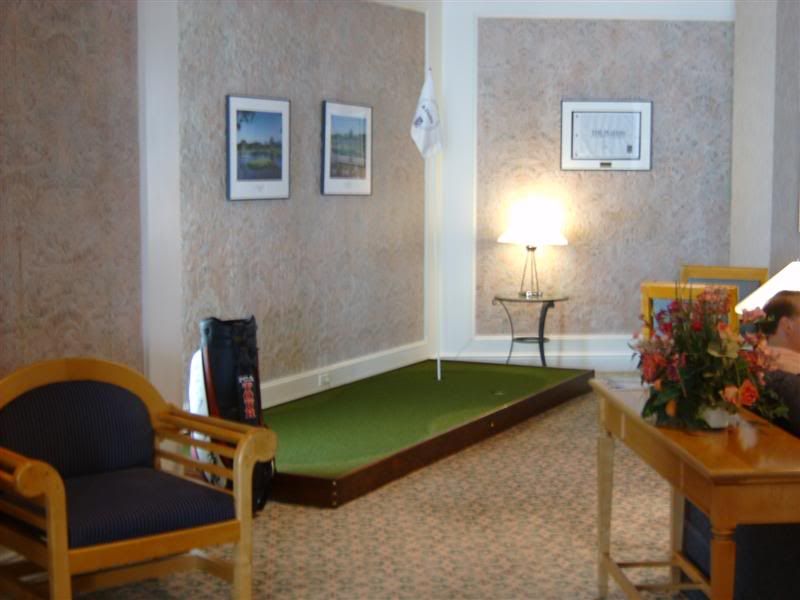 Another nice touch the CRC has here is a kids area with "stadium seating" set up with big fluffy pillows for the kids to rest on and watch TV or Disney movies on the VCR (might be updated to a DVD player now but I didn't look.) On more than one occaision I have grabbed a couple of those pillows and caught a quick nap right there waiting for a flight.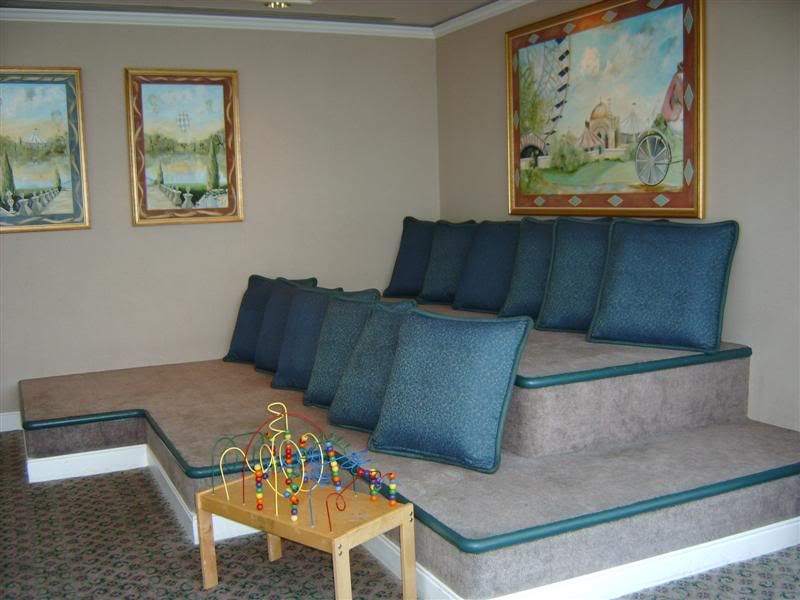 We left the CRC about 35 minutes before the flight and made our way to gate 75. Boarding started right as we walked up. We got on board and made our way to our seats. The stewardesses took our drink orders and were back quickly with them. The flight was full but we left pretty much right on time. The flight was uneventful and ontime back home. The weather was starting to get cloudy as the feeder bands of Hurricane Wilma were making their way through Orlando. Hopefully we'll be able to get back on Sunday night.
Our plane home today
First Class Cabin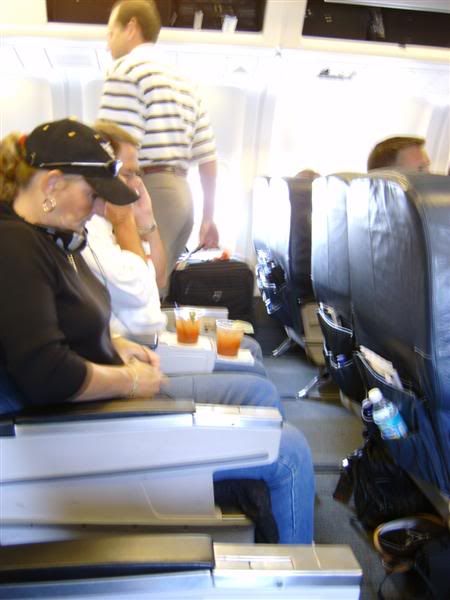 MCO somewhat hidden under the clouds coming in from Hurricane Wilma.
Downtown Orlando at I-4 and the East-West Expressway. Find the Citrus Bowl and Tinker Field.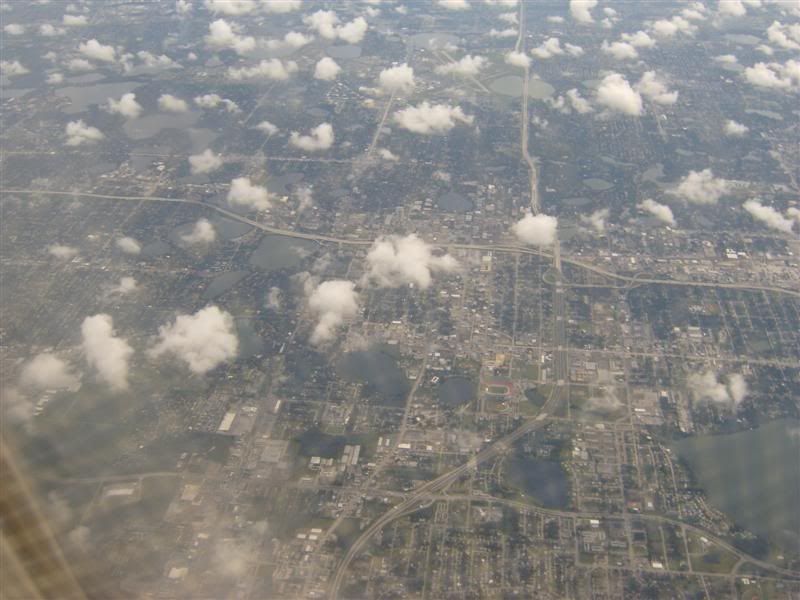 The stewardesses made their way through the cabin after takeoff with snacks and more drinks. In the short hour I managed to drink a couple of bourbons and then realized I had to drive home so I better stop right then (never mind the fact it was 11 in the morning...but 5PM somewhere.) Believe it or not we were early getting to ATL by a few minutes. We lined up on the final for the southern runways and landed. Taxi added just a couple of minutes and very soon we were pulling up to the gate in the A concourse.
From the time we got off the plane to me getting out of the garage and on the Interstate home was right at 30 minutes. Not too bad for an airport the size of ATL. Service on these legs was just fine. Nothing to write home about but not bad either.
WEEK 2 FLIGHTS
DL 707
10/23/2005
Lv ATL 2029 (actual 2036)
Ar MCO 2150 (actual 2210)
Seat: 7F (original) 7B (final)
Plane: 767-432ER
Registration: N843MH
Tail Number: 1819
I didn't leave my house nearly as late this time and got to the airport with plenty of time to spare. I had printed my boarding pass at home so I skipped the lines and kiosks and made my way straight to security. Unlike last week the place was packed tonight with folks. I got into the Medallion security line with a fair amount of other people and waited. The lady checking tickets started hollering at someone about how they didn't belong in the line as they were flying coach. True, but rude the way she acted. Needless to say she carried on a little bit more with some folks in the line that didn't heed her warnings. I'm thinking by the time she got to me I was going to suffer the wrath as well even with a seat in First. Luckily she started talking to her coworker who had just gotten back from break and ignored me other than looking at the ticket and ID.
I made my way down the escalators for yet another flight. For those who fly in and out of ATL have you ever noticed how crappy the neon "artwork" is as you go down into the transportation hall? For a world class airport you think we could make something a little nicer for folks to look at. Anyways, I called my coworker who it turned out was just a couple of seconds behind me in a different line. He had skipped the Medallion line as the regular lines were moving quicker at that time (at least until the one lady started reading folks the riot act.) He caught up with me at the bottom of the escalator and we walked towards A10 (same gate as last week.)
We made our way to the Crown Room close to A18 to get some drinks and check on the weather. Hurricane Wilma was finally making her way towards Florida and we were wondering what would happen to us. In the end they didn't cancel the flight so we made our way to the gate. The plane ended up being full because of folks rebooked due to Wilma causing cancellations to South Florida. One lady kept asking about what the weather was like in Miami. It took everything in me to keep from being a smartass and saying "It's wet you dingbat!" The pilot made the mistake of wandering through the cabin and she stared to pester him about the weather. He finally told her as politely as possibly that he had no idea what the weather in MIA was since he was concerned about the weather in Orlando as that was our destination.
Wilma fixing to come ashore soon after our arrival.
Boarding was easy and once on the plane I was approached by a gentleman who asked if I would mind trading seats with him so his wife could sit with him. I guess I was in a good mood as I agreed to give up all that extra legroom in 7F. I pointed out the legroom to him which amazed him and he thanked me even more. No big deal I told him as it was only an hour flight.
We backed away pretty much on time again and took off not too long after that. The flight wasn't rough at all until we got to north Florida and that is when we got the first band of the hurricane. It wasn't the worst flight I had been on by a long shot but it still got a little white knuckled for a few minutes. Once south of Ocala the air was fine and we landed at MCO just fine. For some reason we landed on 36R which is on the far side of the field from the DL concourse. That added a few minutes of taxi time onto the flight but nothing bad. I grabbed my bags and made my way out to the rental cars with my coworker. Luckily the feeder band has passed through before we landed so there wasn't any rain right then. The next day was a different story as we had to stay at the hotel since the office was closed. Luckily we didn't get really bad weather where we were. I talked to my family 40 miles away on the Space Coast and they were getting hammered pretty bad but they made it through ok.
DL 977
10/21/2005
Lv MCO 1040
Ar ATL 1207
Seat: 3A
Plane: 767-332
Registration: N134DL
Tail Number: 134
The weather today was wonderful for flying. Not a cloud in the sky for miles and the hurricane had brought cool weather behind it. As with the previous week we checked in (this time via the kiosks) and made our way to the Crown Room for fresh OJ.
Comair and Chatauqua had a few micro-mini jets sitting around ready to fly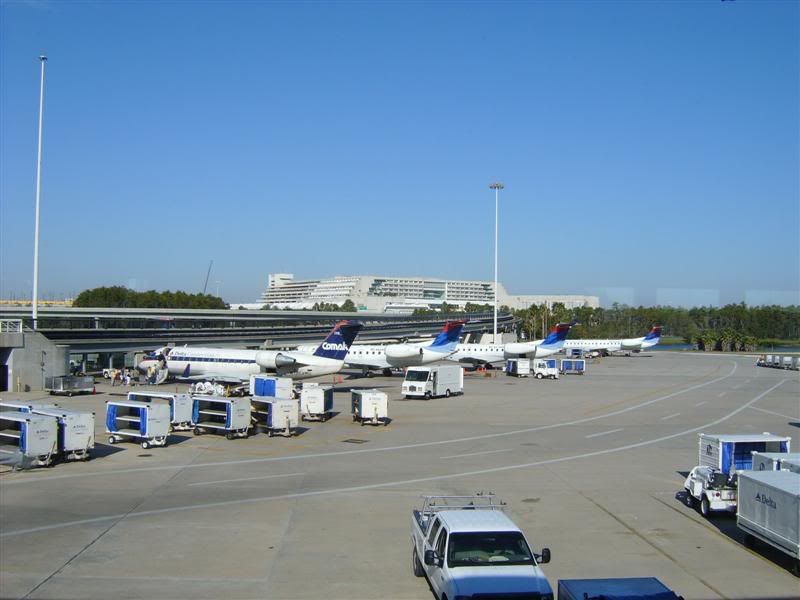 I looked out the window and saw that we were on the same plane as the week before. I'm sure I've been on the same plane multiple times but not sure if it was the same plane for the same flight. We made our way to gate 75 again and boarded the plane.
The same plane as last week.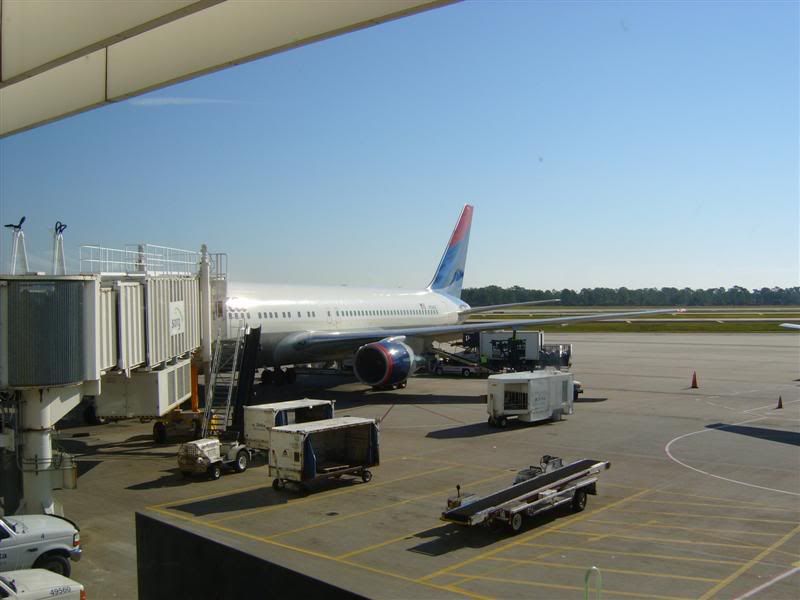 I was in seat 3A and I think from now on I'll take row 2 if I can get it. Row 3 has a window a little bit in front of it so your shoulder is rubbing up against the supports in the wall. If you don't have freakishly wide shoulders like me it won't be a big deal but I found my shoulder cramped by the end of the hour long flight. I suppose if you lean back it would be ok but I have this aversion to leaning back unless it is to sleep. I know, strange but I just prefer to sit upright.
The stewardesses came through the cabin and took drink orders. This week I just went for the Diet Coke instead of alcohol. I had a drink before takeoff and 2 more in the air. Just like the week before we made it to Atlanta a few minutes early and taxied quickly to the gate. I think I'm liking this new fangled Delta schedule where they spread the flights out through the day. Since they have made this change I have had very little in the way of delays which is a change from the normal way it worked here. As usual the service on board was quick and efficient. Nothing great, but also nothing bad.
AirTran going somewhere...maybe ATL?
Delta's Airside (Frontier and Virgin in here as well)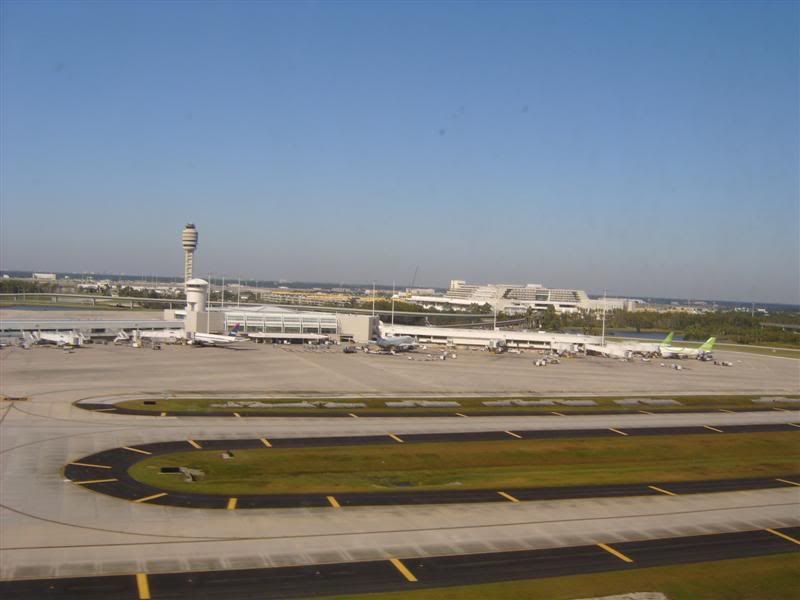 Southwest and JetBlue's Airside
Orlando, The City Beautiful
Herndon Field (ORL) aka Orlando Executive Airport
One of the weird things (among too many to really count) in Florida is the failed Cross-Florida Barge Canal. Check out the history at
http://en.wikipedia.org/wiki/Cross_Florida_Barge_Canal
otherwise take a good look here at part of it around Palatka.
Cross Florida Barge Canal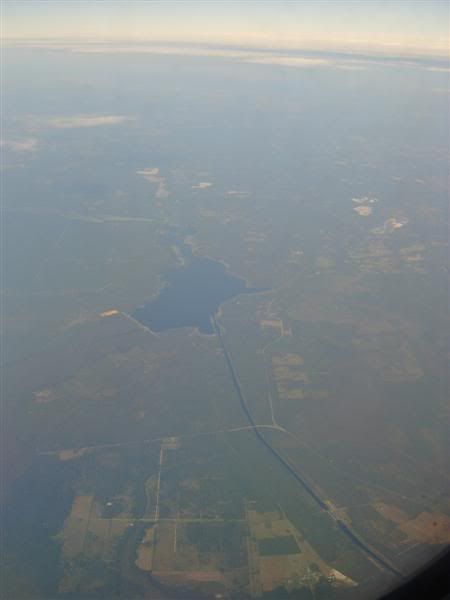 Keystone Heights airport (42J)
I got a couple of pics while on final and then on the ground. Here are some of them.
Morris Army Air Field at Fort Gillem
The 5th runway project continuing on towards completion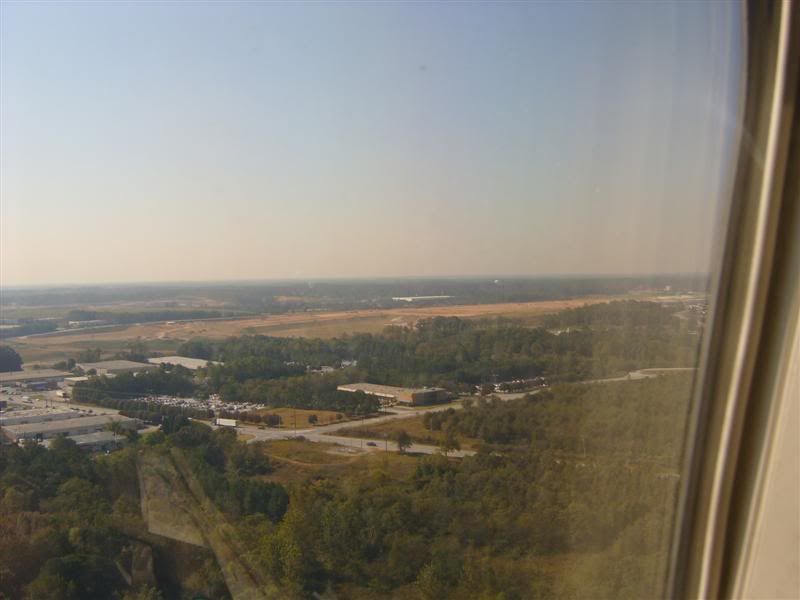 The old NWA (originally Republic) maintenance hanger on the southeast part of the field.
The southern half of the T Concourse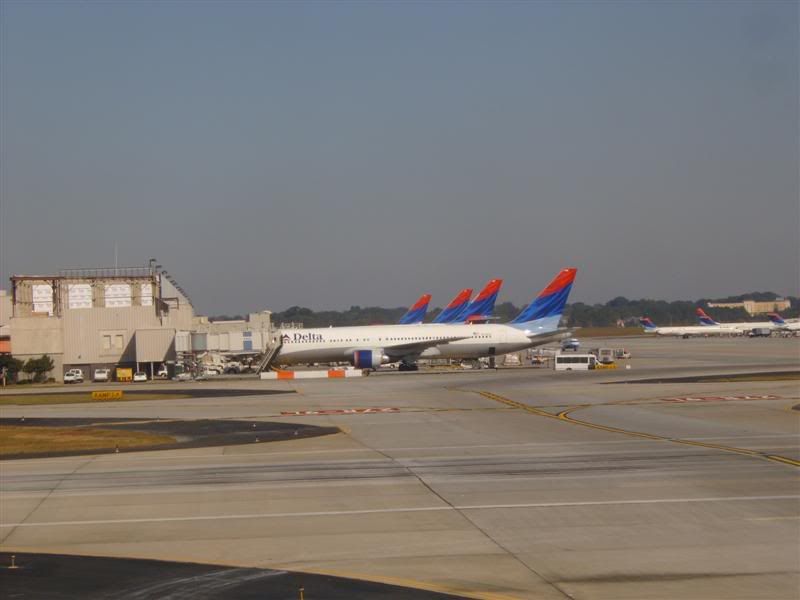 More wavy gravy at the A Concourse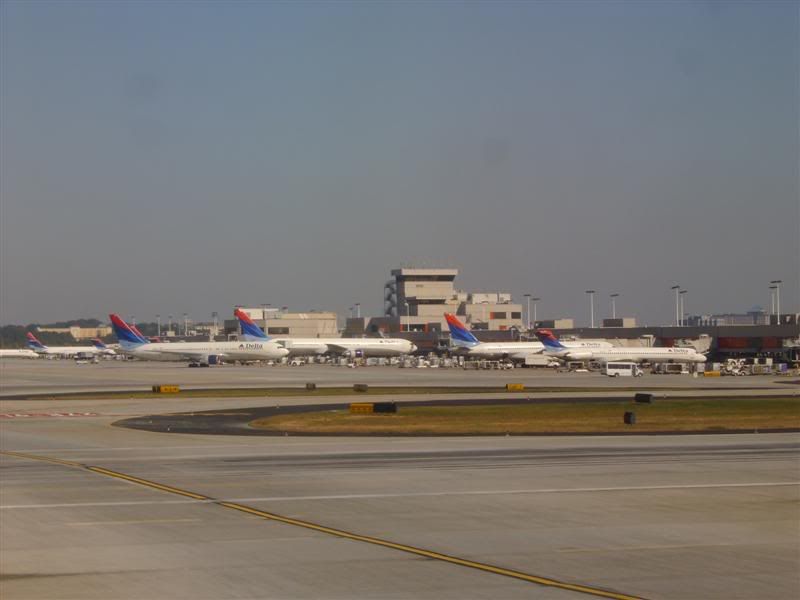 One of the 767-432ERs in the fleet
One of the many MadDogs in the fleet. Anyone know what the work being done to the T Concourse is here?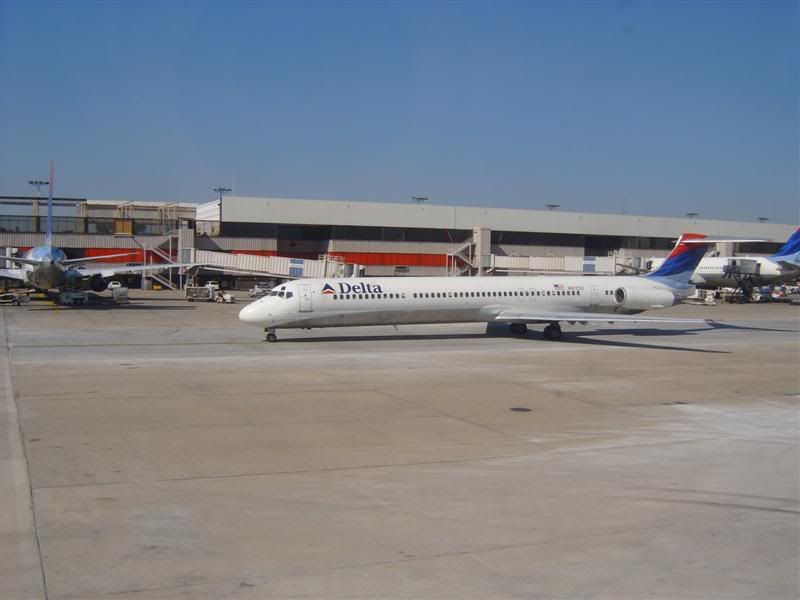 Once off the plane we made our way to my car (no checked bags for my coworker this week!) and were on our way in under 30 minutes again. Not bad since I had to take him home this week way up in the northern suburbs about an hour away.
WEEK 3 FLIGHTS
DL 707
10/23/2005
Lv ATL 2029
Ar MCO 2150
Seat: 7A
Plane: 767-432ER
Registration: N826MH
Tail Number: 1802
Well what would you know. If it's Sunday I must be scheduled for flight 707 to Orlando. I left for the airport around 1815 and was through security by 1930 and on my way to the Crown Room in the A concourse. Again the flight was leaving out of A10 so I hit the CRC at A18 and had a Diet Coke as I just wasn't in the mood to drink this evening. Getting to the gate I saw on the computer screens that the flight wasn't going to be full which was a first in a long time. I got onboard and made my way to 7A (those great seats in 7E & 7F were taken this week) where I was greeted by one of the stewardesses who took my drink order. I got settled in and pulled out my book to read.
Since we didn't have a full flight we pushed away from the gate right on time and taxied quite quickly for takeoff. We were airborne with 15 minutes of our departure time and on our way south to Florida. The flight was easy with no turbulence and on time into Orlando. Unlike last week they showed the start of the Delta Horizons airshow. I suppose there was some tie-in with the movie that I missed but they showed an old episode of Bewitched with Elizabeth Montgomery. I skipped it, cranked up my iPod, and dug into my book for the flight.
Nothing special with this flight but decent service and cold drinks. One thing I did notice was that the stewardesses in First made it a point to go through the cabin constantly asking if anyone needed refills. Although the flight was only an hour long they didn't go hide in the galley after the first round of drinks like some do.
We landed in Orlando and I made my way to the garage to pick up the rental car. Gate to exit here was right around 30 minutes just like home in Atlanta so not bad. I remember when MCO was in the old terminal right on the B-Line Expressway. It amazes me how much this airport has grown since then. I'll try to get some pics of the old terminal and the B-52 they have parked close by as a tribute to the old McCoy Air Force Base the airport was built on.
DL 158
11/04/2005
Lv ATL 1420
Ar MCO 1550
Seat: 11A
Plane: 777-232ER
Registration: N865DA
Tail Number: 7006
This week was pretty productive for work but I also took some time to enjoy opening night for the Orlando Magic. It had been a while since I had been to a Magic game let alone an NBA game. Needless to say I had a good time. Even tough the "thug factor" was high due to Ron Artest being there for the Pacers it was still a good game.
Season Tipoff!
I am reading a series of novels by Tim Dorsey that are set in Florida and they are very good. Check him out at
http://www.timdorsey.com.
All I will tell you is that the hero of the series is a serial killer who also happens to be a history buff and that you will laugh your butt off. The book I am reading right now points out the train station in Orlando and makes you think about all the people who have walked through these doors. It just so happens that my client site is right down the street from it. Just a little bit of history buried away on a side street. I haven't taken too many trains on long trips but once I would like to take a cross country trip in one.
The train station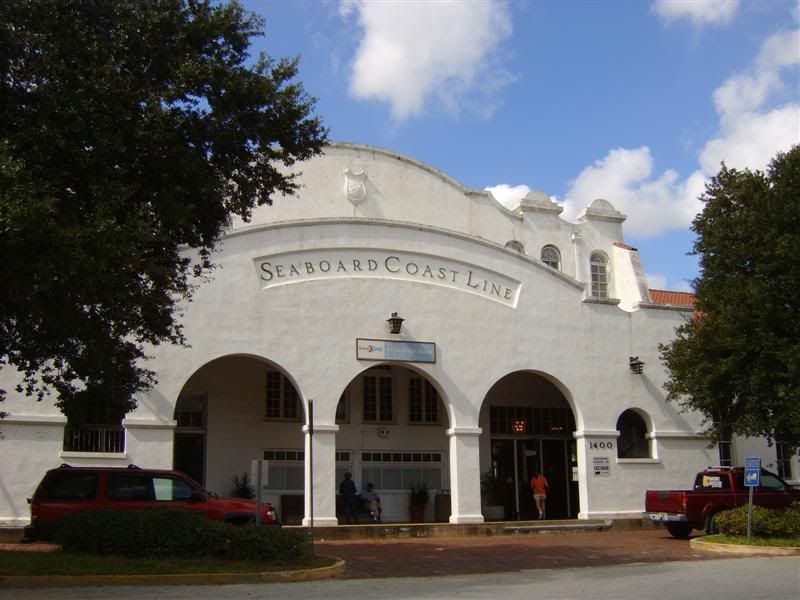 After a couple of hours in the office on Friday morning I left and drove to the airport. From downtown Orlando there just isn't a really good direct way there but I made it there pretty quickly nonetheless.
Airport entry signs
Modern art at the airport. I remember people making fun of these when first installed back in the 80s. The plane! The plane!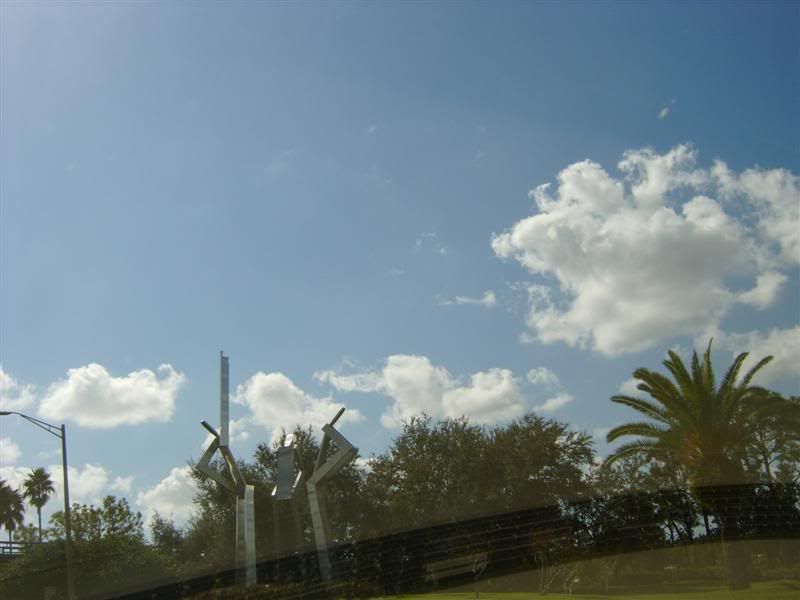 I had printed my boarding pass off at the office so once I turned in the rental car I wandered around the terminal looking around. In Orlando you can remember what level of the parking deck you are on by the animals that are in the elevator lobby. Avis Rental Car is on the Frog level. They also have an Armadillo (possum on the half shell) level and other local critters.
Big ass frogs!
The Disney Earport
Universal Studios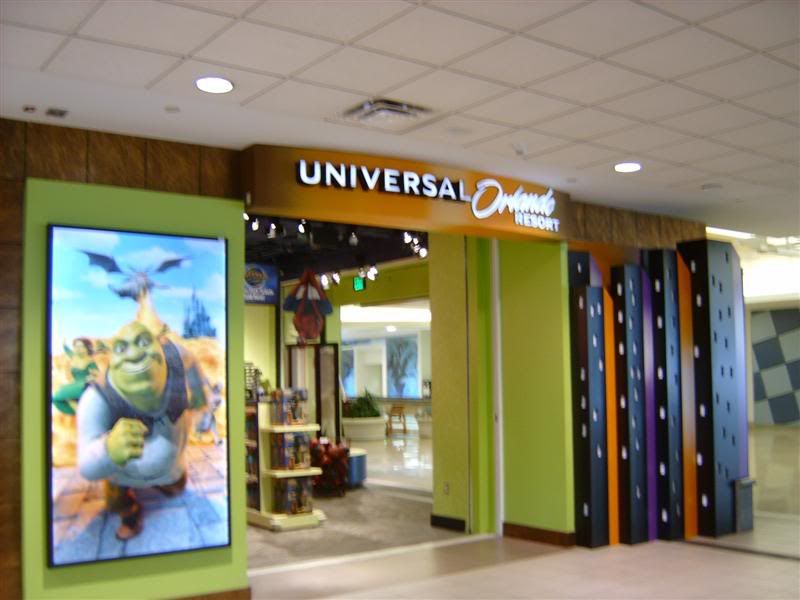 Ron Jon Surf Shop (God they keep growing!)
My old stomping grounds...the Space Coast!
Moving sidewalks connecting the older and newer sections of the terminal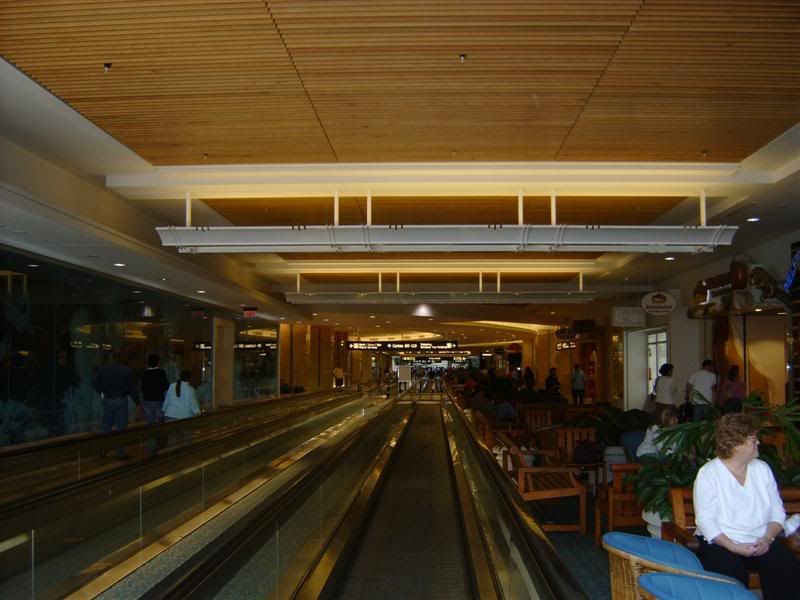 Etched glass alongside the moving sidewalk
A portion of the older terminal section. I remember when the Friday's restaurant was a bakery that would validate your parking if you bought a loaf of bread. We would buy a loaf every time we picked my dad up from his trips.
The older section of the terminal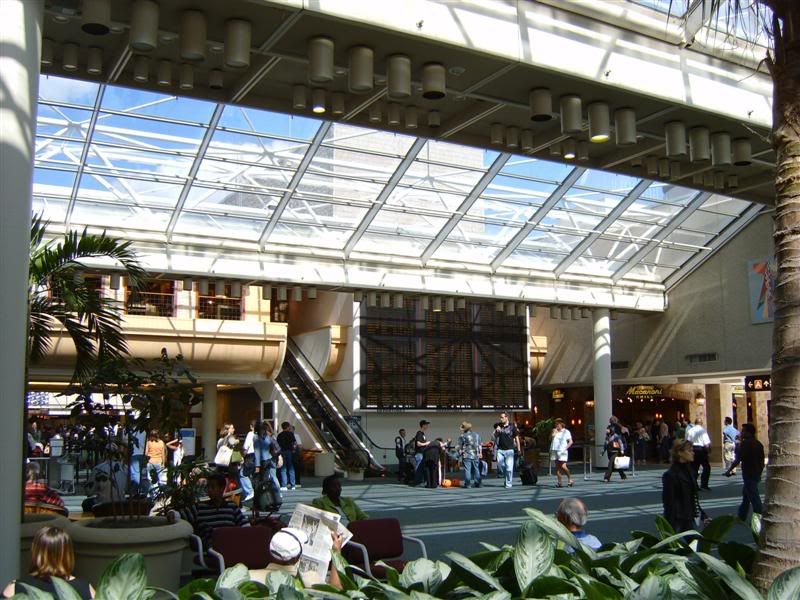 After wandering through the terminal I went through security and took the train out to the Southwest and JetBlue airside. As I walked into the airside and walked over to a window overlooking the field the 777 I would be on was taxing right in front of us. I grabbed my camera and grabbed a couple of pics.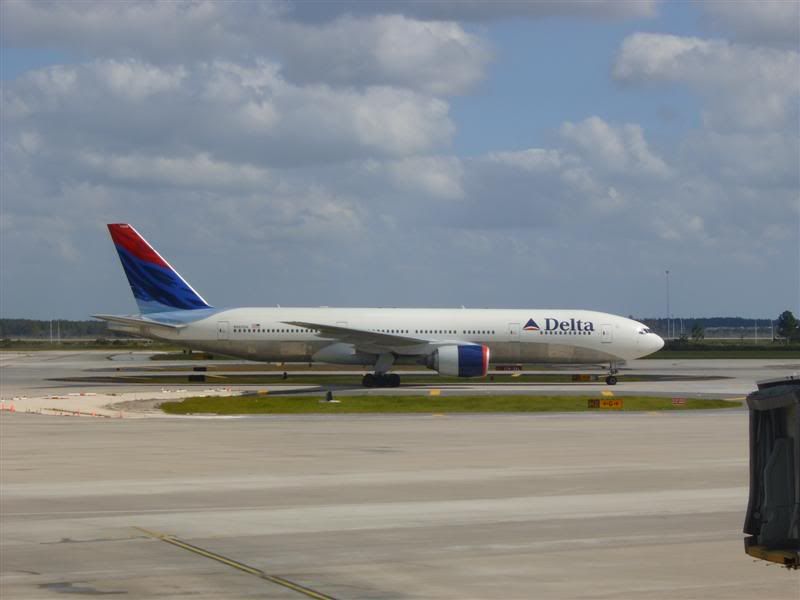 Airtran N991AT taxing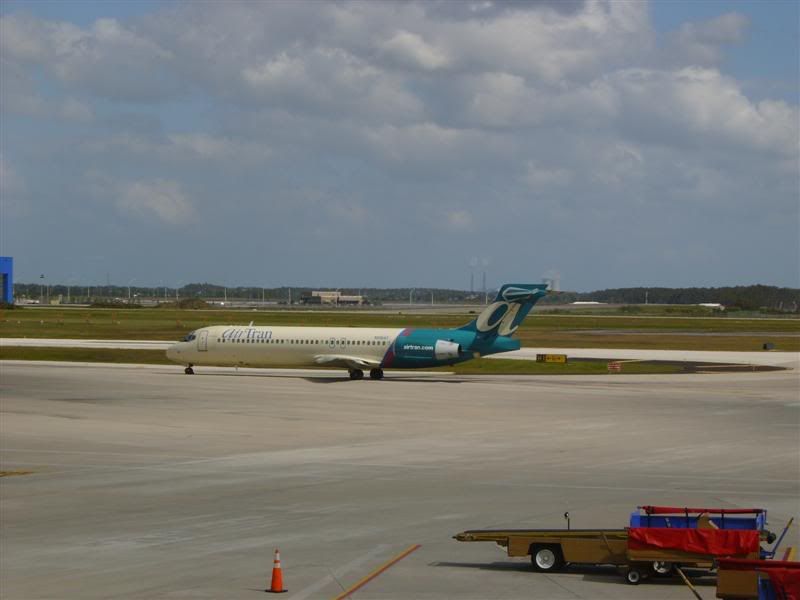 Southwest N217JC backing out of gate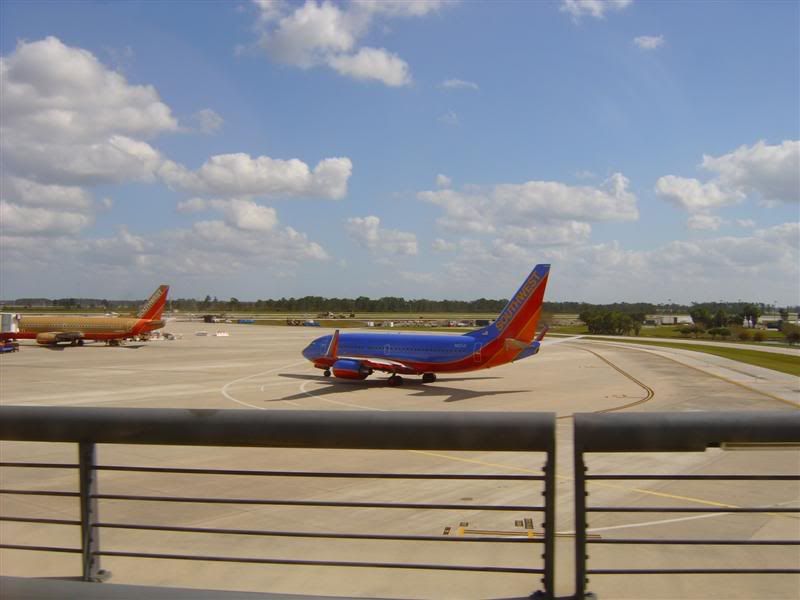 I had noticed on the train out to the airside that the "Spirit of Delta" was over at the Delta airside. I snapped a couple of more pics and just missed a JetBlue pulling away and then went back to the train. Back in the terminal I changed over to the other train and got out to the Delta airside. I went straight down the one pier but N102DA was already gone. I was a little disappointed but wandered back towards the Crown Room and snapped a pic of a Song 757 and the 777 that I would be on in a little while. As I was taking pics of the 757 N102DA went thundering by so I tried to get a pic.
Song 757
My 777 at the gate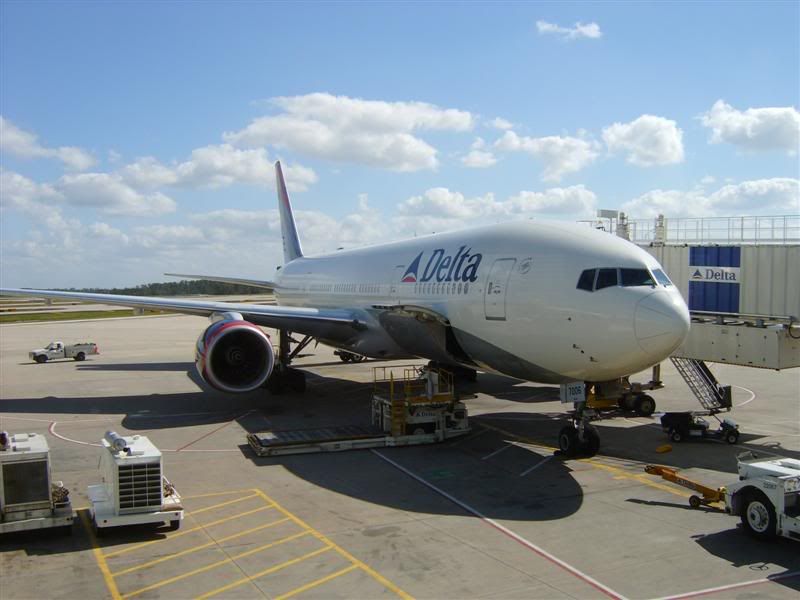 Delta Connection taxing into the airside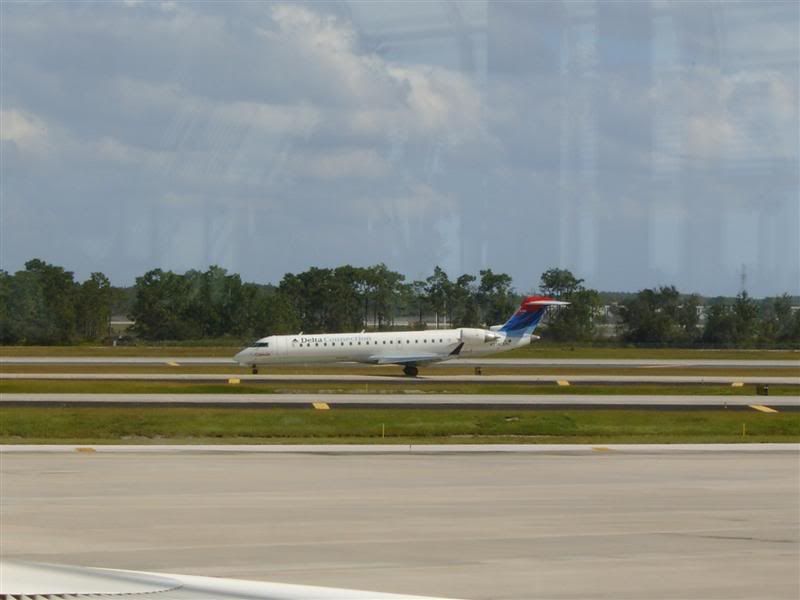 Sun Country off to not so sunny MSP
I spent about 30 minutes in the Crown Room checking email and downloading pics from my camera for this report. Like I said earlier I have always found this to be the best CRC in the company (of course there are many I haven't been to yet.) I had a big comfy chair in the sunroom area and a glass of fresh squeezed OJ. Fresca had set up a little sample display for their new flavors so I grabbed a can of that as I left for the plane.
The fountain in the Crown Room with a nautical theme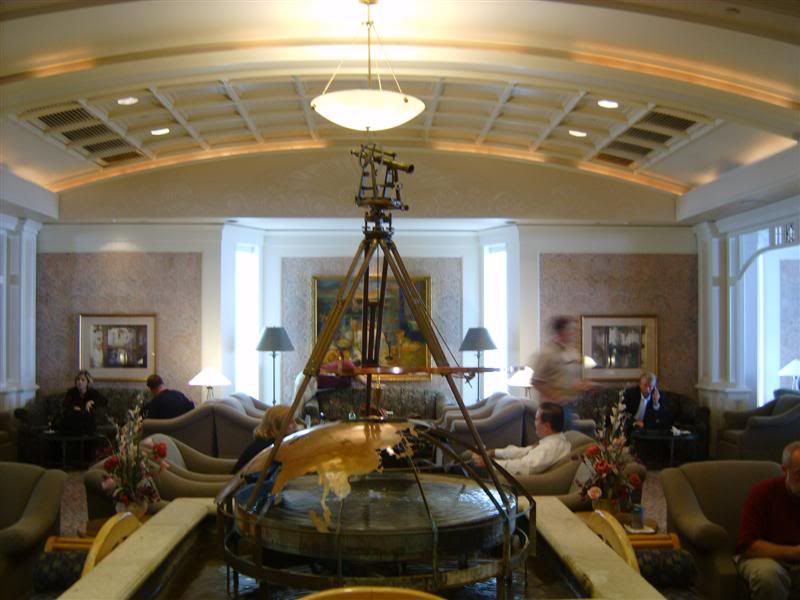 Boarding was easy and painless. It was kind of funny to see the upgrade list was quite long even with all the seats in BizElite. The front of the plane ended up being full for this flight though with all the room it wasn't a problem. I think the back was pretty full as well. I was in the second cabin which I think might get a little more engine noise during the flight as well as noise from steerage. For this quick hour flight though who cares!
BizElite cabin looking back into Steerage
BizElite second mini-cabin
Lots of legroom
My legroom with still more room for the size 14 shoes
Good recline
I had a bourbon while waiting for the doors to close. I got my camera ready and listened to music on my iPod. For some reason boarding took a little bit longer than normal and we backed away from the gate about 10 minutes after our scheduled time. One plane that wasn't at the terminal when I left was the Virgin 747 from Gatwick. Luckily I caught a picture of "Jersey Girl" taxing into the concourse as we were taxing to the runway. I love flying Virgin and can't wait until my next trip to the UK.
Jersey Girl coming in from Gatwick
I decided today to turn on the camcorder function of my camera for the takeoff and landing. The 777 has great power on takeoff and since we didn't need to carry a ton of fuel I'm guessing it felt even more powerful than normal. I remember my flight to NRT a few months back and it took a little bit of time to get thundering down the runway. Today I swear that plane popped a wheelie as we started the takeoff roll. I haven't been able to find a place to upload the video. I would store it on my server but it is too big and you all would complain about my slow upload speeds at home I apologize since I don't have pics for the takeoffs and landings for this week or next since I made the video instead.
Lake County (not the nickname but the actual name)
After takeoff the beverage service began. The stewardess who had brought me my original drink asked me if I wanted another bourbon which was a nice touch and good memory. I told her no as I had to drive home when we got to Atlanta so I went for Diet Coke instead. Some of the other stewardesses made their way through the cabin with the basket of goodies. I picked a pack of cheese crackers and a bag of animal crackers.
Snack service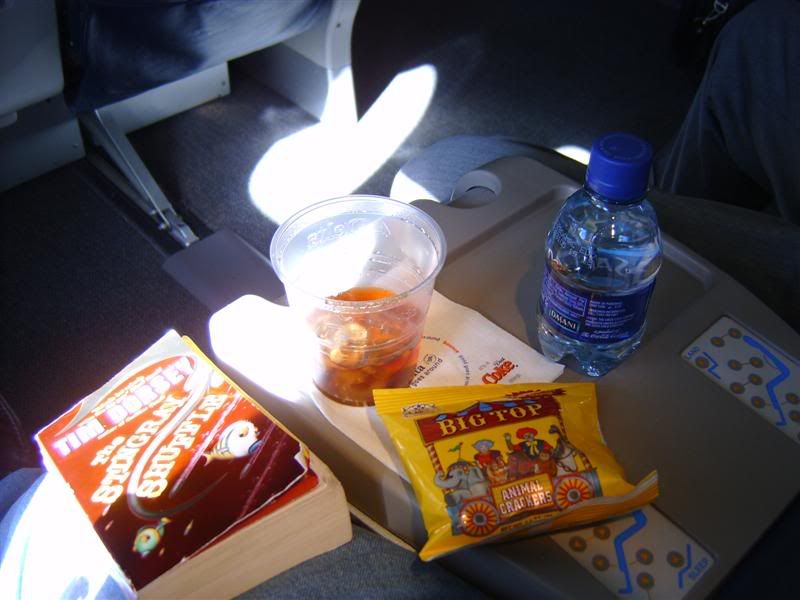 Today was a hazy southern day since the temps were still pretty warm even though it was November so I didn't get a lot of good shots outside those big beautiful 777 windows. I kicked back in the seat, extended the foot rest all the way, and reclined a little bit and watched "King of the Hill" on the IFE. I had to pull out my own video unit to activate the channels so I could get the video's audio track. Once I had the sound I stored my screen and watched it on the screen on the bulkhead wall.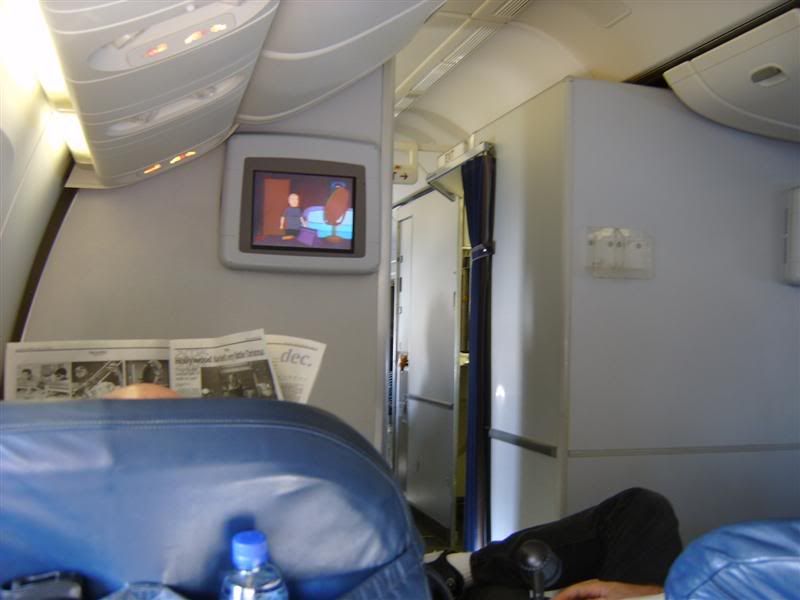 With a couple of minutes left in the video it was time to button everything up for landing. I pulled out my camera and set up to film the landing. We came in from the South (obviously!) and were assigned Runway 27L. See the pics from last week since it was pretty much the same approach as previously.
Since we were in a 777 that could be going overseas that night (I forgot to look at the board when I got off the plane DOH!) we ended up at the international E concourse. While taxing in I could see that a KLM and Lufthansa plane were parked at the concourse. Since I was just two rows back from the exit door I was able to get off the plane pretty quickly. In walking to go get pics of the LH and KLM planes I passed by the gate where the daily British Airways plane parks but it wasn't there yet. It seems I just missed the daily Air France flight as it should have arrived not too long after I left the airport.
767-332 in the middle colors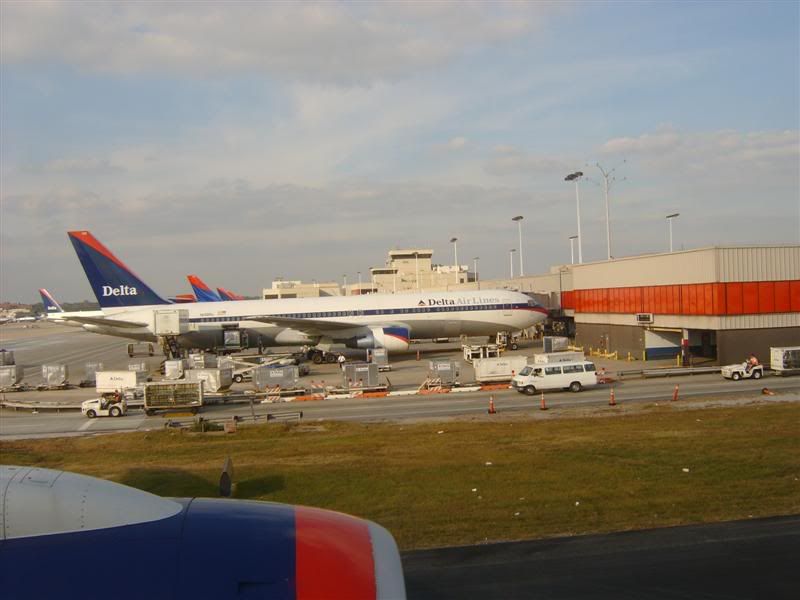 C Concourse
New Control Tower
Delta Technical Operations hangers and the "Fly Delta Jets" sign
The international concourse has lots of artwork in it. Some of it good, a lot of it crap (IMHO), but one that I wish I could buy for myself and hang it in my house is this one (the wife has already said no though.) May I present to you...The Corncorde!
I snapped a couple of pics of the LH and KLM plane and also got a shot of another Delta 777 that was being serviced away from the concourse.
Lufthansa A340-300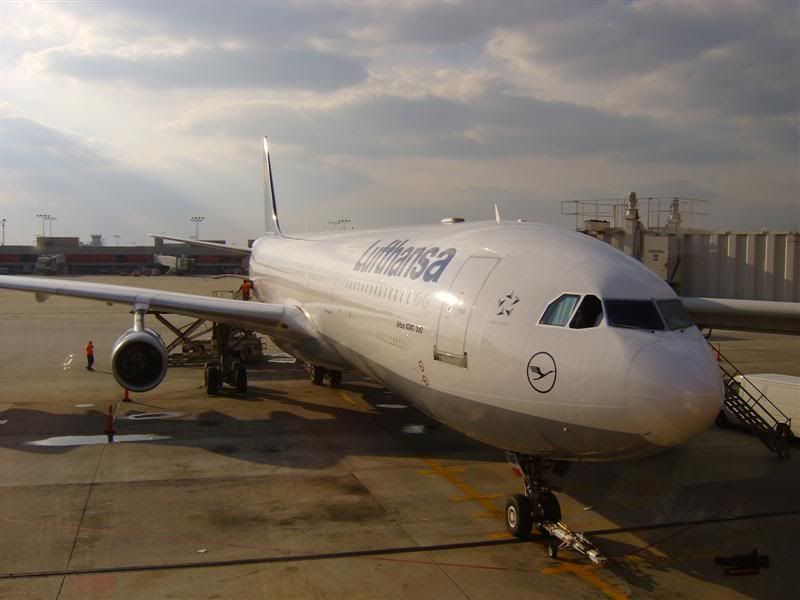 KLM 767-300 "Rialto Bridge"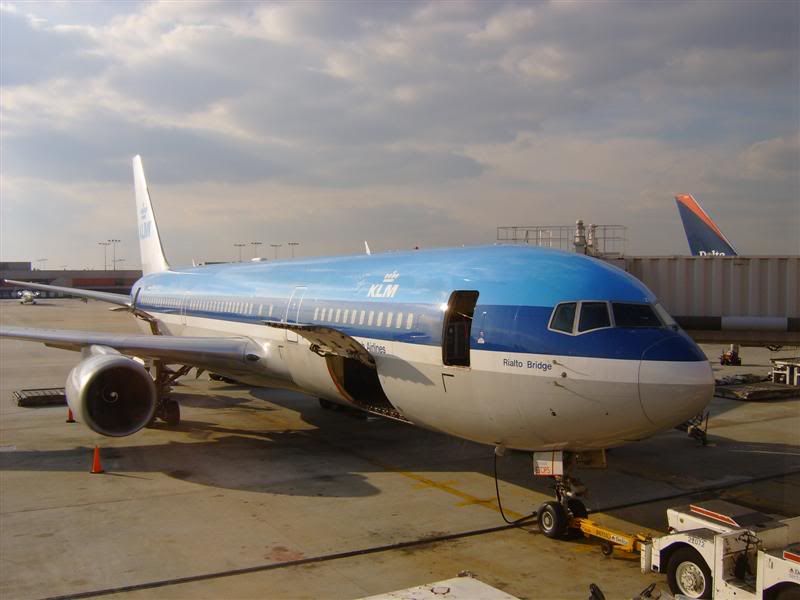 Another Delta 777
After getting my pics I walked back to the central part of the concourse and took the escalator down to the trains for the long ride to the main terminal. I was in my car within a few minutes and on my way home in what should have been about 30 minutes (more like 50 with my picture taking) so not too bad getting out of the world's busiest airport.
Looking back into the E Concourse towards the Martin Luther King, Jr. exhibit
One last thing for a laugh. On my way to my car in the parking deck I always pass these Segways that are owned by the Police. Funny how I never see them being used. I have never seen that red bike move either.
WEEK 4 FLIGHTS
DL707
11/06/2005
Lv ATL 2029
Ar MCO 2150
Seat: 7F
Plane: 767-432ER
Registration: N828MH
Tail Number: 1804
Well, if it's Sunday it must be time to make my way to gate A10 and DL707. My wife ended up having to take me this week since my brake lights decided to stop working. (Someone had honked at me and asked me if I knew my brake lights were out. I said no, thanked them, and joked I thought they had just been tailgating me.) I was looking forward to this trip as the first leg would push me over the threshold for Gold Medallion for the year. Unless I get assigned an international project the two weeks after Thanksgiving I stand no chance of making Platinum Medallion this year but that's fine.
We left on time and got to the airport in about 30 minutes which is about normal from our house. I had printed my boarding pass at home and remembered it this week but now realized I would need a receipt for my expense report. I know I could print off the email once I got home but I was just being lazy plus I wasn't in a huge hurry.
I wandered slowly over to the Medallion security line and was about 15 people back so no big wait here. As I was standing in line a couple of guys came up from behind me, looked around, and then asked me and the guy next to me (who I didn't know) if they could cut in line. I looked back behind me at the 20 or so people who had also gotten into line and then turned around and said, "No, the line starts back there." One of the guys got ticked off and started swearing about how f*%@ed up this airport was and how it was set up like a maze. Funny, I've never had a problem. Just read the signs and follow the arrows and you get where you need to go pretty quickly.
I took the train out to the A concourse and bought a magazine and batteries from the gift shop at the middle of the concourse. Next to the shop is a new vending machine where you can buy iPods, cameras, headphones, etc. for your trip. I forgot to check the prices but I have heard they are pretty much what you would find on the street.
Fancy schmancy vending machine
I went to the Crown Room by A18 for a little but and got a Diet Coke and watched the late NFL game on the TV over the bar. The lounge was packed with not much open seating so I didn't stay too long.
Crown Room at Gate A18
I made the quick walk to the gate and stood by waiting for the plane to load. We were going to be a full flight tonight as there were only two seats available in First and two in Steerage. The upgrade list was spilling over into the 20s so I'm sure a few folks were disappointed. I was amazed at the way folks crowd the gates in Asia but I realized we might just be as bad here. 75% of the plane must have been Medallion members since the boarding area was a zoo of folks just trying to get on. I wish Delta would get a little better about controlling the gate area but I understand everyone is jockeying for position so they can store their stuff in the overheads. I'm guilty of this fact myself.
I got on board and made my way to 7F with all that extra legroom that comes in so handy for the hour flight! I dropped my backpack off on the floor, left my book in the seat, and took my camera and made my way to the head at the front of the cabin. No, I wasn't going to take perverted shots of me in the head but I needed to use the facilities. After my pitstop I poked my head in the cockpit and asked the captain and first officer if they would mind if I snapped a couple of pics. They were very friendly and said no problem. The captain then told me switch seats with him and he would take my picture holding the yoke and throttle.
Me in the pilot's seat
[IMG]http://i34.photobucket.com/albums/d129/DeltaGator/2005MCOweek4/N828MHCockpit2.jpg [/IMG]
My crappy camera making the pilot transparent
I'm really starting to get annoyed with my camera and am now looking for another one. I had to buy it when I was in London last year and perhaps I just don't know how to use all of its features but I can't seem to get good pics unless it is sunny and bright outside. We sat and chatted a little while about the 767-400 and what had they heard about it flying to Europe. They said they had heard some rumors about taking it to Rome, London, and Shannon but that they of course would be the last to know. The FO was from Pensacola so we chatted a little bit about Hurricane Ivan since I had to leave for India a day early last year because of it and my in-laws also live there. He said he had a flight the next day to Honolulu and then Maui. Must be nice! I should have pushed my luck and asked if there was any way to ride the jumpseat that night but knowing the answer would have been no I didn't do it. I wrote down their names but promptly lost the sheet of paper by the time I got to the hotel. Wherever they are today...thanks for the visit. The FO also gave me some "trading cards" to give to my kids (I don't have any yet but our friends do so they'll get these instead. What I really would have liked was a pair of those old plastic wings. Do they still give those to kids?
Delta trading cards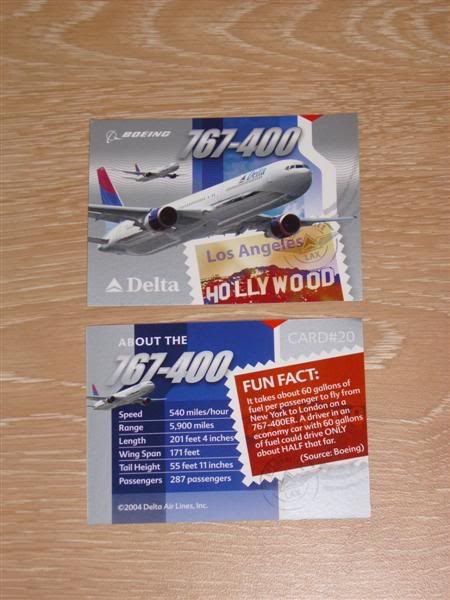 I made my way back to my seat as the door was closing so hopefully it wasn't me who made the flight late by 15 minutes. I settled in my seat, put on my noise reduction headphones, and started reading my book. We made our way out to runway 27R pretty quickly and took off to the west and then made the turn to the south. The flight was uneventful and the standard drink service started not long after we reached 10000 feet. I grabbed a pack of cheese crackers and a granola bar to go with my Diet Coke. I was engrossed in my book and looked up to see up passing Ocala. Once on this darn trip I'm going to watch us fly past Gainesville and think back to my old college days.
We flew west of the airport and just to the east of Universal Studios where I could see all the twinkling lights and amusement rides. We continued south and you could tell where the Mouse House was but there was no fireworks or laser shows going on right then. I think that would be neat to see from the air. We turned to the east, continued descending, and then turned north onto final and landed on runway 35R which is the lastest runway at MCO. We taxied quickly to the gate and went right past what I think is a hanger for JetBlue. There was a A320 sitting outside and one inside. There was also a EMB-190 sitting outside. Delta decided to mix things up a bit for me tonight so we pulled into gate 71 instead of the regular 75 which is just a few steps closer to the trains into the terminal.
I took the train into the main terminal, took the elevator down to the tunnel and then back up two levels in the parking garage to pick up my rental car. I tossed my bags in the ttrunk and I was off to the hotel within 20 minutes of getting off of the plane.
DL 158
11/11/2005
Lv ATL 1420
Ar MCO 1550
Seat: 4J
Plane: 777-232ER
Registration: N860DA
Tail Number: 7001
This week was a little bit crazy at work so the only fun thing I got to do was go to the Volusia County Fair. I have a high school and college friend who is a 4-H Agent in Volusia County so she gave me the good tour with all the livestock pens and such. Other than that I worked like a dog this week and even had to change my flight so I could leave later in the day. I paid the difference and got on the same flight as last week with the wonderful 777.
Some of you probably know that Orlando International used to be McCoy Air Force Base and that B-52s flew out of here. They put a B-52 on static display many years ago and today I had a few minutes to spare so I visited the park around the plane and got some pics.
Looking at the Buff head-on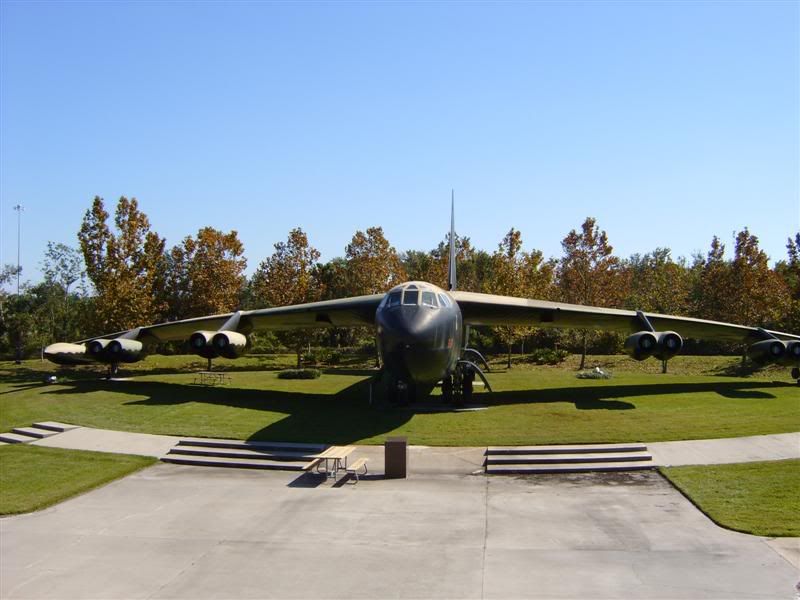 That sho' is a big ass plane!
I turned in my rental car and then got checked in at the counter since I didn't print off my boarding pass before I left and there was a bunch of tourists blocking the kiosks.
Delta ticket counter kind of busy
I didn't go to the Southwest/JetBlue airside this week but instead snapped a couple of pics while I nibbled on my lunch in the food court of the Delta airside. Unfortunately the only one that was even remotely useful was this one of a Southwest 737 (what else would it be?)
Southwest N495WN taxing
I wandered down the concourse and snapped a pic of the 777 I would be on today and the Song 757 sitting at the next gate. Nothing spectacular but a couple of different registrations.
My ride home today (N860DA)
Song 757 (N647DL)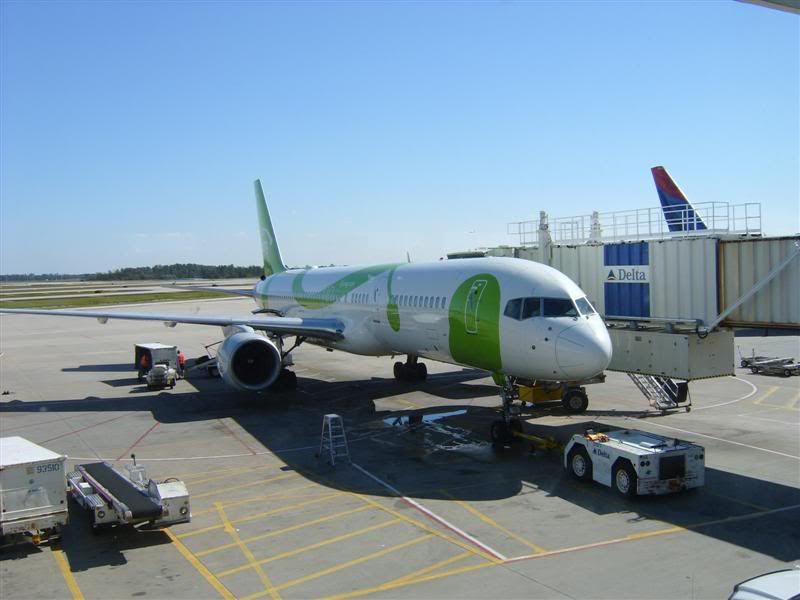 In Orlando they have a program called FlyClear that allows folks to submit to a background check, get their retina scanned and fingerprints taken and for the low fee of just $79 (some sarcasm there) get to take the short line through security. Had I been flying down here every week for some time I would have done this to free up some time.
FlyClear enrollment area
I spent some time up in the Crown Room checking email one last time since the project I was working on would be brought online over the weekend. Luckily no big fires to put out and I could read for a while as I sucked down some more of that great fresh squeezed OJ they have here. As I have said previously this CRC has a Victorian feel to it or at least some sort of late 1800s Americana type of fell. Different I suppose but I just can't put my finger on it. In the section where I was sitting today they have two large wheel bicycles in glass cases on display. For some weird reason I see old guys wearing top hats riding these things and talking about Jules Verne. Perhaps that is what they were going for but who knows?
Another view of the Crown Room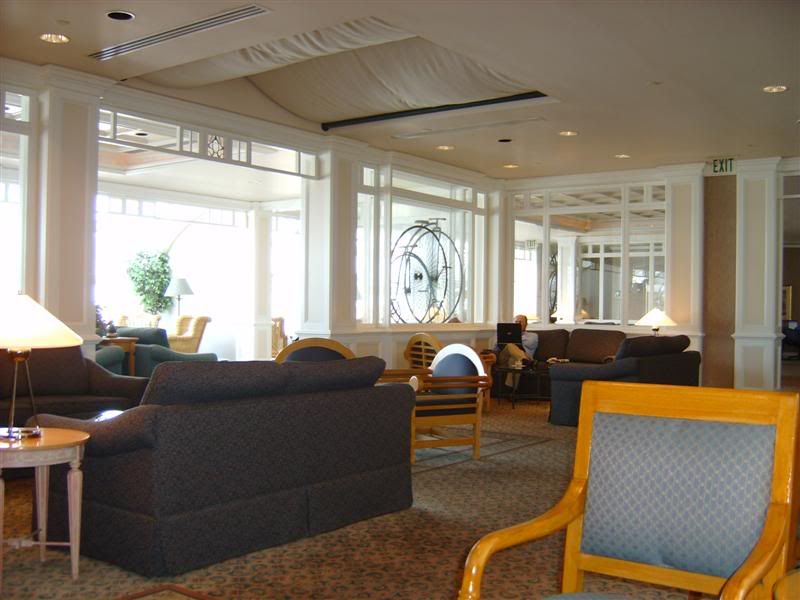 A few minutes before boarding I made my way down to the gate since it is just a short walk. As usual the flight today was oversold and full of tourists dragging more bags than they should to the gate. Even with 50 seats in BizElite there was at least 25 folks on the upgrade list. Luckily my ticket got me upgraded when I bought it because I don't believe even my Gold Medallion status would have done me any good today. They were turning Platinums away which is a rariety to my eyes. While waiting to board I saw a Westjet 737 pass by so I snapped a quick picture. Sorry I couldn't make out the registration though.
WestJet taxing for takeoff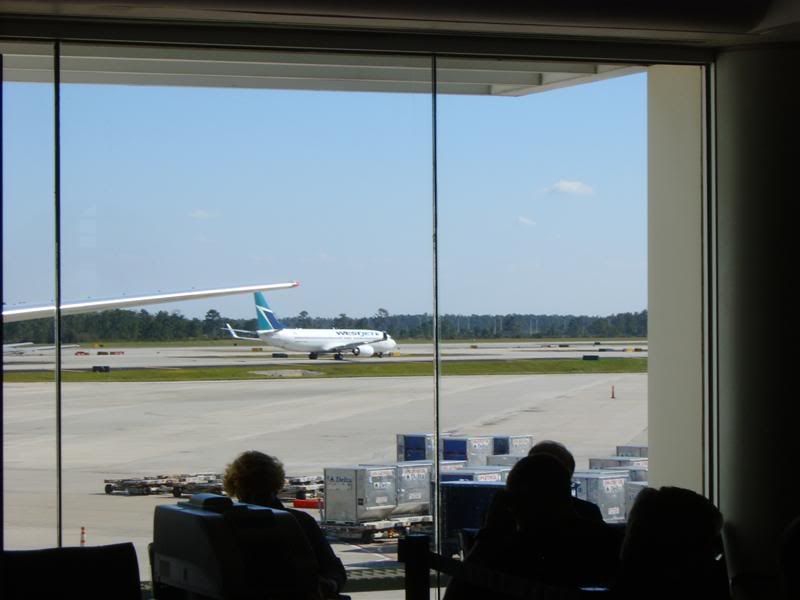 When I got onboard I tossed my backpack and book into my seat and then made another visit to the head and then to the front cabin (anyone see a pattern here?) to get some pics. The pilot and First Officer were very friendly and invited right into the cabin. I asked them about the rumor I had heard about the 777 no longer flying the ATL-MCO route and they confirmed it. They said it was being retasked to the ATL-TLV route and that the domestic leg would now originate in LAX and then continue on through Atlanta to Tel Aviv. They said the plan is to still keep a 777 domestic in case of Mx problems but now it will just be this ATL-LAX route. As big as the 77 is the cockpit doesn't seem overly large but still quite nice. I wish I could have gotten my picture in the captain's seat holding the yoke and tiller but maybe next week.
777 flightdeck of ship 7001
"If you can't delight in the misery of others then you don't deserve to be a college football fan."