I'm not sure what has happened with the last portion of my TR but it was all working when I first posted it. Here are the last two weeks that weren't completely showing up in the first one.
Here's the link to the first one in case you are intrerested.
5 Weeks Straight ATL-MCO On DL (Lots Of Pics)
(by
DeltaGator
Nov 19 2005 in Trip Reports)
WEEK 4 FLIGHTS
DL707
11/06/2005
Lv ATL 2029
Ar MCO 2150
Seat: 7F
Plane: 767-432ER
Registration: N828MH
Tail Number: 1804
Well, if it's Sunday it must be time to make my way to gate A10 and DL707. My wife ended up having to take me this week since my brake lights decided to stop working. (Someone had honked at me and asked me if I knew my brake lights were out. I said no, thanked them, and joked I thought they had just been tailgating me.) I was looking forward to this trip as the first leg would push me over the threshold for Gold Medallion for the year. Unless I get assigned an international project the two weeks after Thanksgiving I stand no chance of making Platinum Medallion this year but that's fine.
We left on time and got to the airport in about 30 minutes which is about normal from our house. I had printed my boarding pass at home and remembered it this week but now realized I would need a receipt for my expense report. I know I could print off the email once I got home but I was just being lazy plus I wasn't in a huge hurry.
I wandered slowly over to the Medallion security line and was about 15 people back so no big wait here. As I was standing in line a couple of guys came up from behind me, looked around, and then asked me and the guy next to me (who I didn't know) if they could cut in line. I looked back behind me at the 20 or so people who had also gotten into line and then turned around and said, "No, the line starts back there." One of the guys got ticked off and started swearing about how f*%@ed up this airport was and how it was set up like a maze. Funny, I've never had a problem. Just read the signs and follow the arrows and you get where you need to go pretty quickly.
I took the train out to the A concourse and bought a magazine and batteries from the gift shop at the middle of the concourse. Next to the shop is a new vending machine where you can buy iPods, cameras, headphones, etc. for your trip. I forgot to check the prices but I have heard they are pretty much what you would find on the street.
Fancy schmancy vending machine
I went to the Crown Room by A18 for a little but and got a Diet Coke and watched the late NFL game on the TV over the bar. The lounge was packed with not much open seating so I didn't stay too long.
Crown Room at Gate A18
I made the quick walk to the gate and stood by waiting for the plane to load. We were going to be a full flight tonight as there were only two seats available in First and two in Steerage. The upgrade list was spilling over into the 20s so I'm sure a few folks were disappointed. I was amazed at the way folks crowd the gates in Asia but I realized we might just be as bad here. 75% of the plane must have been Medallion members since the boarding area was a zoo of folks just trying to get on. I wish Delta would get a little better about controlling the gate area but I understand everyone is jockeying for position so they can store their stuff in the overheads. I'm guilty of this fact myself.
I got on board and made my way to 7F with all that extra legroom that comes in so handy for the hour flight! I dropped my backpack off on the floor, left my book in the seat, and took my camera and made my way to the head at the front of the cabin. No, I wasn't going to take perverted shots of me in the head but I needed to use the facilities. After my pitstop I poked my head in the cockpit and asked the captain and first officer if they would mind if I snapped a couple of pics. They were very friendly and said no problem. The captain then told me switch seats with him and he would take my picture holding the yoke and throttle.
Me in the pilot's seat
[IMG]http://i34.photobucket.com/albums/d129/DeltaGator/2005MCOweek4/N828MHCockpit2.jpg [/IMG]
My crappy camera making the pilot transparent
I'm really starting to get annoyed with my camera and am now looking for another one. I had to buy it when I was in London last year and perhaps I just don't know how to use all of its features but I can't seem to get good pics unless it is sunny and bright outside. We sat and chatted a little while about the 767-400 and what had they heard about it flying to Europe. They said they had heard some rumors about taking it to Rome, London, and Shannon but that they of course would be the last to know. The FO was from Pensacola so we chatted a little bit about Hurricane Ivan since I had to leave for India a day early last year because of it and my in-laws also live there. He said he had a flight the next day to Honolulu and then Maui. Must be nice! I should have pushed my luck and asked if there was any way to ride the jumpseat that night but knowing the answer would have been no I didn't do it. I wrote down their names but promptly lost the sheet of paper by the time I got to the hotel. Wherever they are today...thanks for the visit. The FO also gave me some "trading cards" to give to my kids (I don't have any yet but our friends do so they'll get these instead. What I really would have liked was a pair of those old plastic wings. Do they still give those to kids?
Delta trading cards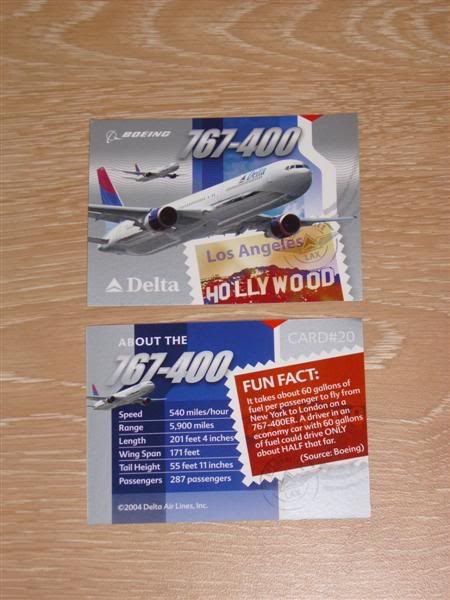 I made my way back to my seat as the door was closing so hopefully it wasn't me who made the flight late by 15 minutes. I settled in my seat, put on my noise reduction headphones, and started reading my book. We made our way out to runway 27R pretty quickly and took off to the west and then made the turn to the south. The flight was uneventful and the standard drink service started not long after we reached 10000 feet. I grabbed a pack of cheese crackers and a granola bar to go with my Diet Coke. I was engrossed in my book and looked up to see up passing Ocala. Once on this darn trip I'm going to watch us fly past Gainesville and think back to my old college days.
We flew west of the airport and just to the east of Universal Studios where I could see all the twinkling lights and amusement rides. We continued south and you could tell where the Mouse House was but there was no fireworks or laser shows going on right then. I think that would be neat to see from the air. We turned to the east, continued descending, and then turned north onto final and landed on runway 35R which is the lastest runway at MCO. We taxied quickly to the gate and went right past what I think is a hanger for JetBlue. There was a A320 sitting outside and one inside. There was also a EMB-190 sitting outside. Delta decided to mix things up a bit for me tonight so we pulled into gate 71 instead of the regular 75 which is just a few steps closer to the trains into the terminal.
I took the train into the main terminal, took the elevator down to the tunnel and then back up two levels in the parking garage to pick up my rental car. I tossed my bags in the ttrunk and I was off to the hotel within 20 minutes of getting off of the plane.
DL 158
11/11/2005
Lv ATL 1420
Ar MCO 1550
Seat: 4J
Plane: 777-232ER
Registration: N860DA
Tail Number: 7001
This week was a little bit crazy at work so the only fun thing I got to do was go to the Volusia County Fair. I have a high school and college friend who is a 4-H Agent in Volusia County so she gave me the good tour with all the livestock pens and such. Other than that I worked like a dog this week and even had to change my flight so I could leave later in the day. I paid the difference and got on the same flight as last week with the wonderful 777.
Some of you probably know that Orlando International used to be McCoy Air Force Base and that B-52s flew out of here. They put a B-52 on static display many years ago and today I had a few minutes to spare so I visited the park around the plane and got some pics.
Looking at the Buff head-on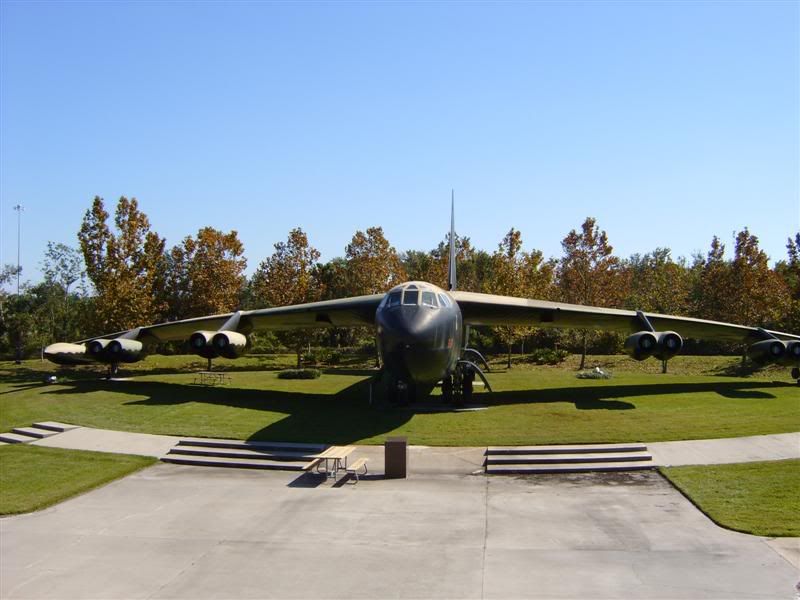 That sho' is a big ass plane!
I turned in my rental car and then got checked in at the counter since I didn't print off my boarding pass before I left and there was a bunch of tourists blocking the kiosks.
Delta ticket counter kind of busy
I didn't go to the Southwest/JetBlue airside this week but instead snapped a couple of pics while I nibbled on my lunch in the food court of the Delta airside. Unfortunately the only one that was even remotely useful was this one of a Southwest 737 (what else would it be?)
Southwest N495WN taxing
I wandered down the concourse and snapped a pic of the 777 I would be on today and the Song 757 sitting at the next gate. Nothing spectacular but a couple of different registrations.
My ride home today (N860DA)
Song 757 (N647DL)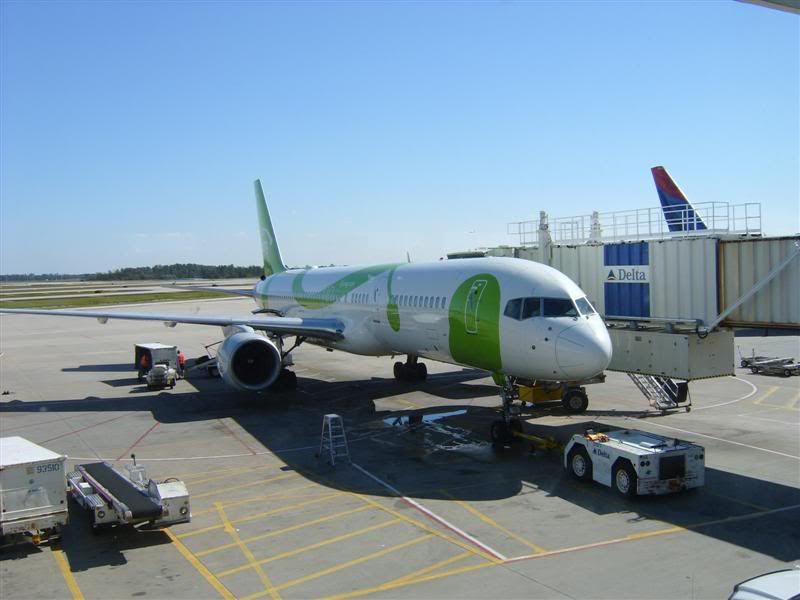 In Orlando they have a program called FlyClear that allows folks to submit to a background check, get their retina scanned and fingerprints taken and for the low fee of just $79 (some sarcasm there) get to take the short line through security. Had I been flying down here every week for some time I would have done this to free up some time.
FlyClear enrollment area
I spent some time up in the Crown Room checking email one last time since the project I was working on would be brought online over the weekend. Luckily no big fires to put out and I could read for a while as I sucked down some more of that great fresh squeezed OJ they have here. As I have said previously this CRC has a Victorian feel to it or at least some sort of late 1800s Americana type of fell. Different I suppose but I just can't put my finger on it. In the section where I was sitting today they have two large wheel bicycles in glass cases on display. For some weird reason I see old guys wearing top hats riding these things and talking about Jules Verne. Perhaps that is what they were going for but who knows?
Another view of the Crown Room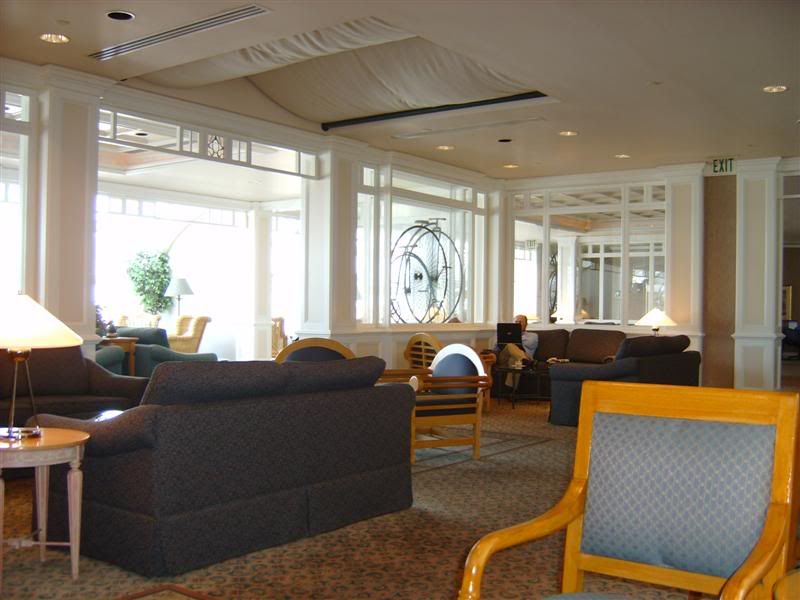 A few minutes before boarding I made my way down to the gate since it is just a short walk. As usual the flight today was oversold and full of tourists dragging more bags than they should to the gate. Even with 50 seats in BizElite there was at least 25 folks on the upgrade list. Luckily my ticket got me upgraded when I bought it because I don't believe even my Gold Medallion status would have done me any good today. They were turning Platinums away which is a rariety to my eyes. While waiting to board I saw a Westjet 737 pass by so I snapped a quick picture. Sorry I couldn't make out the registration though.
WestJet taxing for takeoff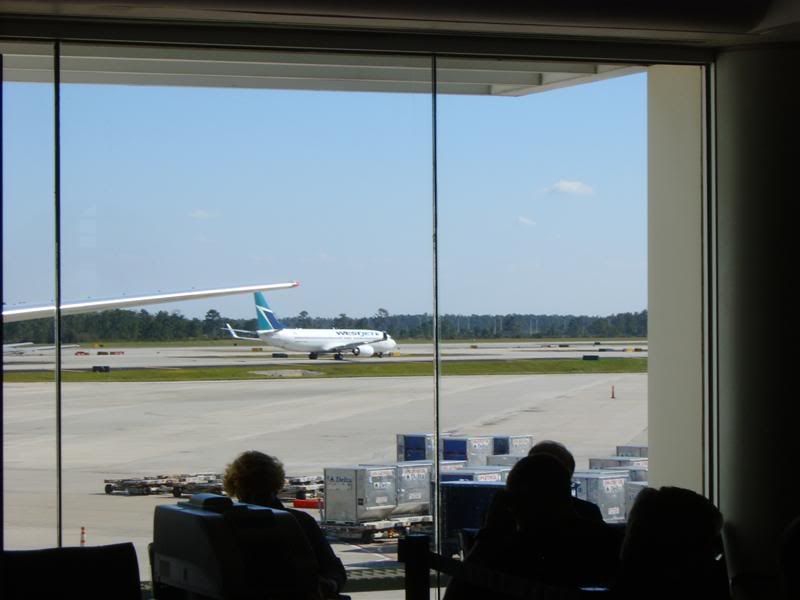 When I got onboard I tossed my backpack and book into my seat and then made another visit to the head and then to the front cabin (anyone see a pattern here?) to get some pics. The pilot and First Officer were very friendly and invited right into the cabin. I asked them about the rumor I had heard about the 777 no longer flying the ATL-MCO route and they confirmed it. They said it was being retasked to the ATL-TLV route and that the domestic leg would now originate in LAX and then continue on through Atlanta to Tel Aviv. They said the plan is to still keep a 777 domestic in case of Mx problems but now it will just be this ATL-LAX route. As big as the 77 is the cockpit doesn't seem overly large but still quite nice. I wish I could have gotten my picture in the captain's seat holding the yoke and tiller but maybe next week.
777 flightdeck of ship 7001
I went back to my seat in the front cabin of BizElite and got comfy in the seat. The stewardess came by and took my drink order and I asked for a Jack Daniels straight up. She asked if I was sure I didn't want it on the rocks or with a splash of water to which I assured her I did not. She took drink orders from the other guys around me and one of them stated that he would take the Diet Coke I had passed up in my drink for his. We laughed about it but I told I wasn't driving wen I got home so I wanted a couple of stiff drinks.
While waiting for us to push back I noticed a couple of planes pass behind us. There was a JetBlue ER-190 followed by one of their A320s. Unfortunately I couldn't get their registrations but here are their pics.
JetBlue E190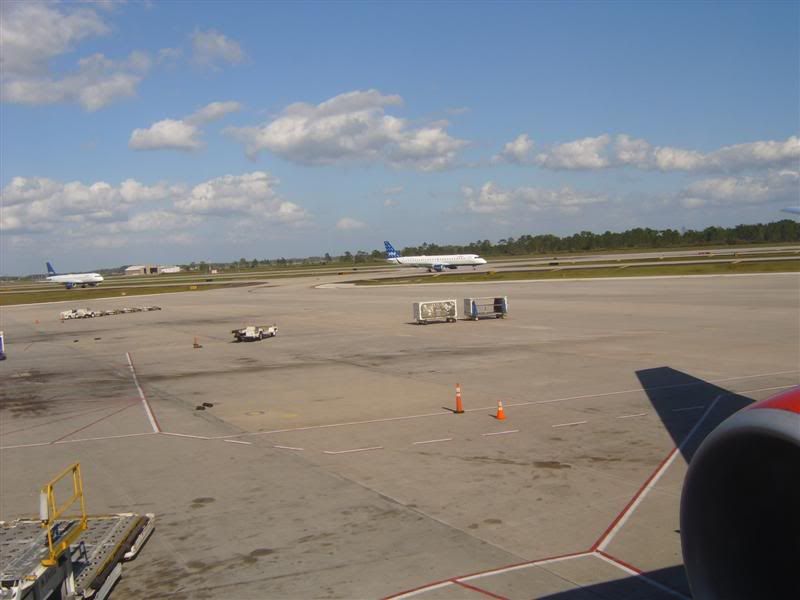 JetBlue A320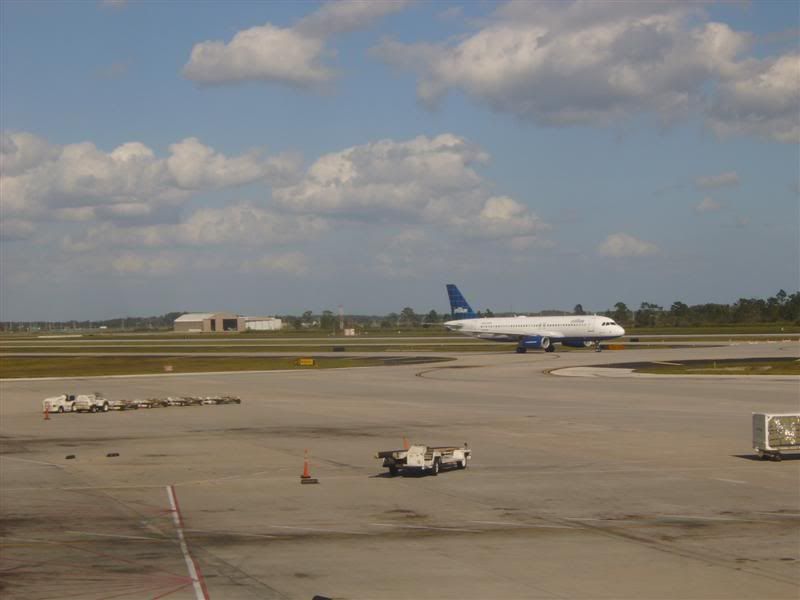 A 767-432 pulled up beside us while we were waiting to push back. I believe it came from Atlanta but I'm not sure.
N832MH pulling into the gate
An AirTran 737 taxing for takeoff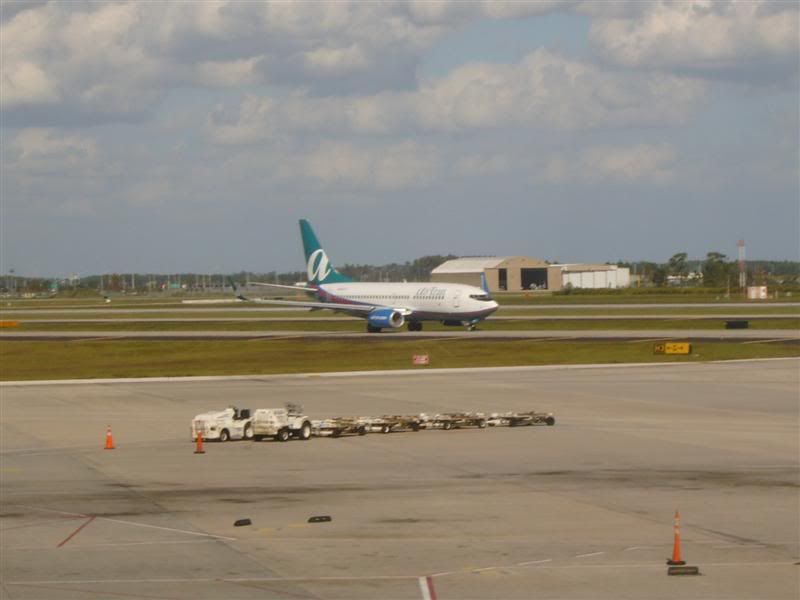 Right on cue the daily Virgin flight from Gatwick showed up and I was able to snap a shot of it. Luckily Virgin paints their registrations on in big letters so I could make it out as G-VROY which has the name "Pretty Woman." Get it? ROY in the registration and the name Pretty Woman after the Roy Orbison song. I could be offbase here but it wouldn't surprise me if I was correct. I'm still waiting to see G-VDDD and the name "Busty Lady." These are jokes people. Laugh for crying out loud!
Pretty Woman taxing to the gate
Pretty Woman at the gate
Well, we finally backed out of the gate and started to taxi to runway 35L for our quick flight home to ATL. While taxing I got another shot of Pretty Woman along with a Chatauqua micromini jet taxing into the gates.
N569RP and G-VROY together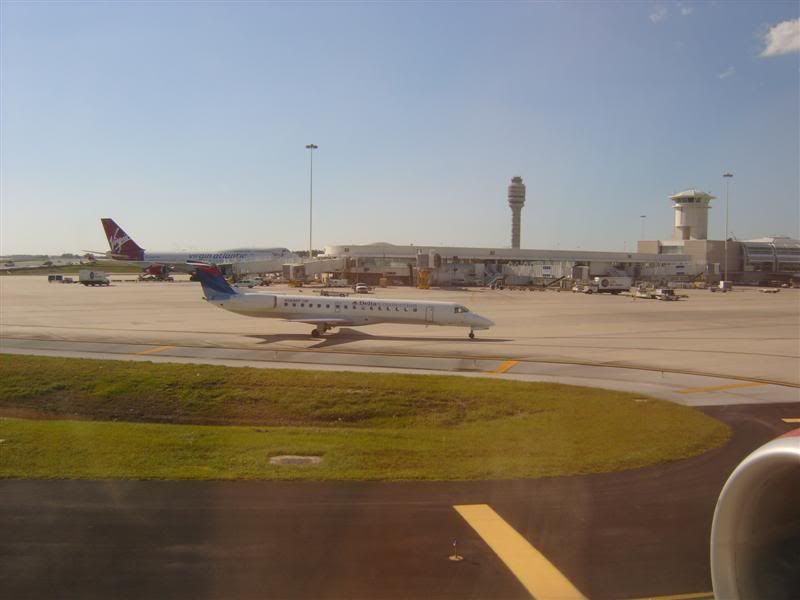 JetBlue hanger at MCO? I don't know but perhaps.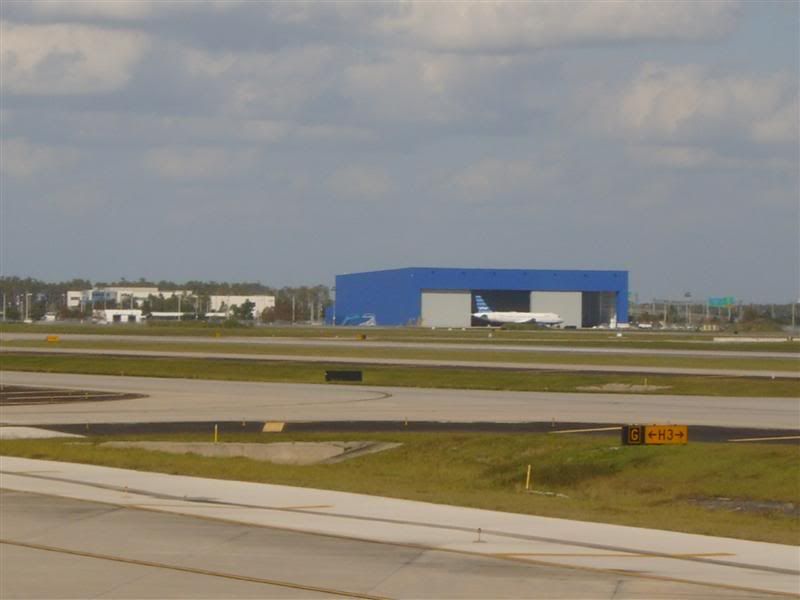 Takeoff was quick and easy as one would expect with a light load and tons of thrust. Very quickly we were up in the air and on our way. There were a few clouds out today and we were passing through them in the first few minutes. On our way north we passed over the airport in Sanford and could see some larger planes on the ground at KSFB.
KSFB
A few minutes after passing over SFB we came across the Deland (or as us native Florida Crackers like to call it DeadLand) airport.
KDED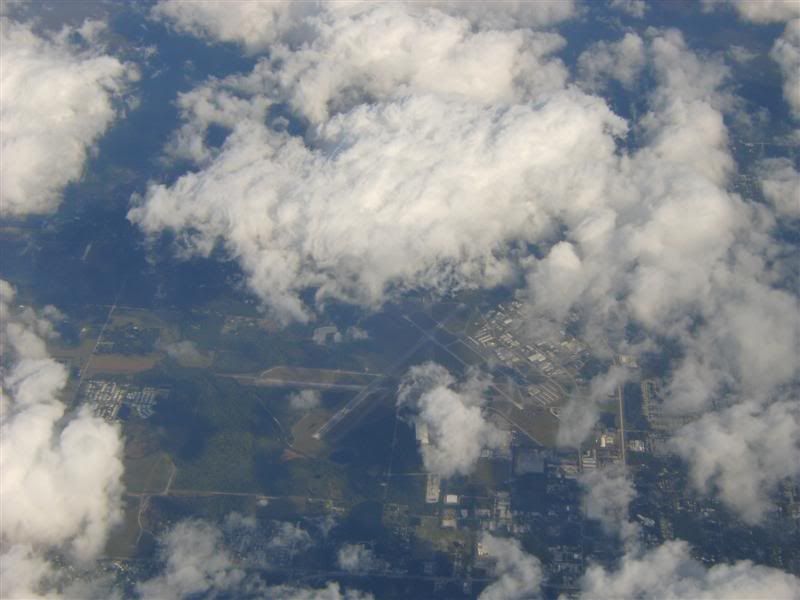 The cloud cover got a little bit thicker but you could see how the onshore breezes were forcing them inland and defining the coast line. Just a little while later though the clouds began to break up and gave me a decent view of the Jacksonville area. We were flying to the west of the St. John's River and could see all the way to the coast and into the Atlantic Ocean.
One of the first things I could make out was the Shands Bridge over the river at Green Cove Springs. This bridge has a little ot of sentimental value for me as it is named after my namesake Senator William Shands from Gainesville. My name is Shan (pronounced like Shannon but without the non on the end) and it comes from the Shands Teaching Hospital at the University of Florida (now you also understand the Gator in my screenname) as well as the other things associated with him. Ok, enough history about me so here is the picture. Close to the bridge you can also see the Reynolds Airpark which used to be 41J but is now designated FL60.
Reynolds Airpark (FL60 formerly 41J)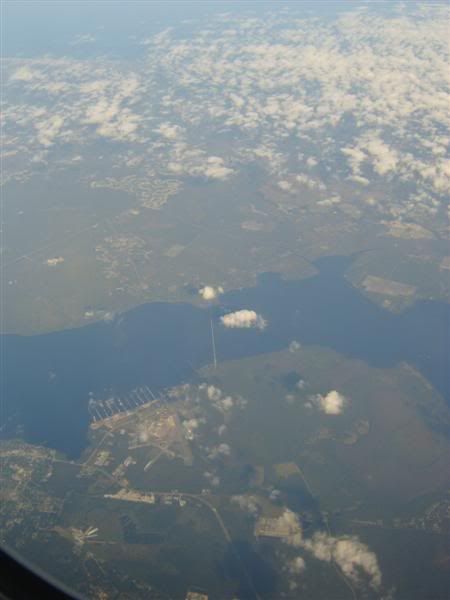 Not too long after passing the Shands Bridge we came to the Buckman Bridge (also named after a former Senator) which is how I-295 makes it way over the river and around the city. Just to the north of the bridge is Naval Air Station-Jacksonville.
The Buckman Bridge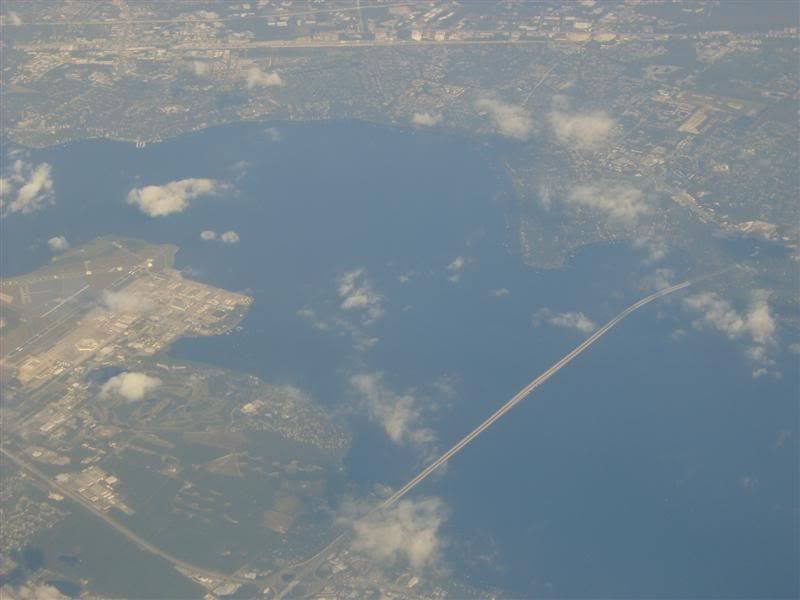 NAS-Jacksonville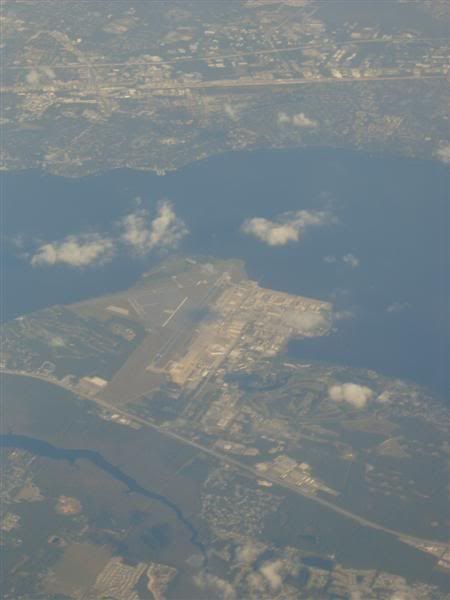 At this point we could also see downtown Jacksonville quite well. From top to bottom you have the Fuller Warren Bridge (I-95), the Acosta Bridge, the Main Street Bridge, the Hart Bridge, the Matthews Bridge, and then way to the east you can make out the suspension span of the Dames Point Bridge. Beyond the Dames Point Bridge is the Mayport Naval Station but I couldn't make out if any of the aircraft carriers were in port today.
Downtown Jacksonville
A view towards the Atlantic Ocean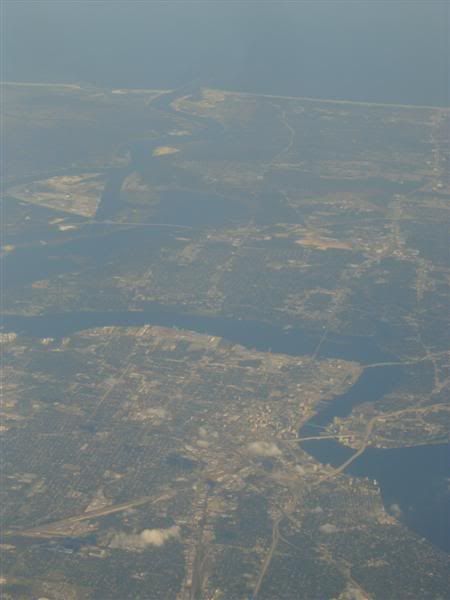 We also just passed west of the Jacksonville International Airport (JAX) where I had been a few weeks earlier for the first week of this project. You can read that little report here if you so choose.
JAX-ATL One Way In Delta First W/ Pics
(by
DeltaGator
Oct 15 2005 in Trip Reports)a
KJAX
We flew to the west of St. Mary's, GA and I could make out the "hangers" for the nuclear subs based there. See the above TR for a better pic of them and the airport there as well. We started to make our turn to the northwest and into the entry traffic for ATL. I snapped a couple of pics from my seat looking back at the engine and wing just for the heck of it.
Over Florida
Still over Florida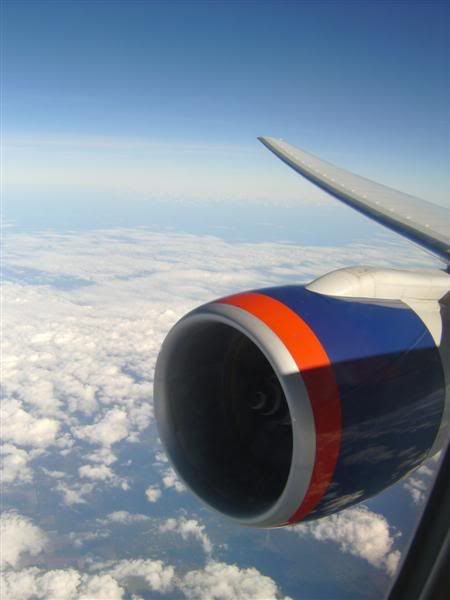 We continued along and passed over a whole lot of nothing in southern Georgia until we started our descent. We flew just to the south of Dublin, GA which is east of Macon along I-16.
KDUB
Southeast of Atlanta we passed close to Lake Jackson which looks nice from up here. Luckily the rains over the past couple of years have ended the drought and filled all the lakes back up.
Lake Jackson
Not too long after this pic we were coming into Atlanta and flew just south of the field to turn onto final from the west and land on 9R. While passing the airport I got a couple of good pics of the field and the work being done on the 5th runway. The bridge being built over I-285 for the runway amazes me. It is quite interesting to think of the large planes that will be landing right on top of this interstate highway when it is all done.
Flying just south of ATL getting into the pattern with downtown Atlanta in the background
Once we landed we taxied pretty quickly to the E gates since this 777 would travel across the pond tonight to Europe. We pulled into the gate right next to the 777 I had been on the previous week.
Technical Operations hangars
N865DA which I was on last week
Being at the back of the front cabin I gathered my bags quickly and made my way to the galley and 2nd door to get off the plane. Once in the concourse I wandered over to where the KLM and Lufthansa planes would be for their evening flights. I was disappointed because the Lufthansa plane was the same one as last week. The KLM flight was using a different 767-300 though which was nice.
Lufthansa sent DAIMF again. Boo...send us something else.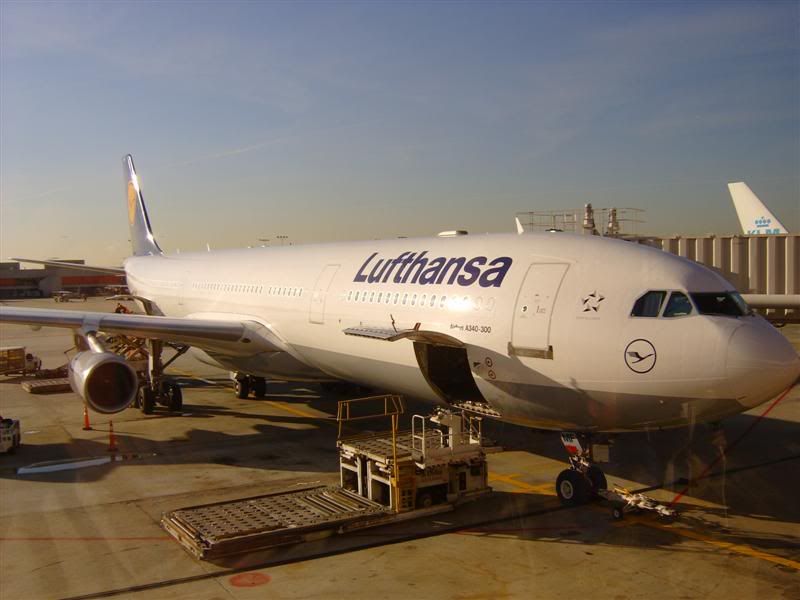 KLM 767-300 PH-BZG aka "Erasmus Bridge"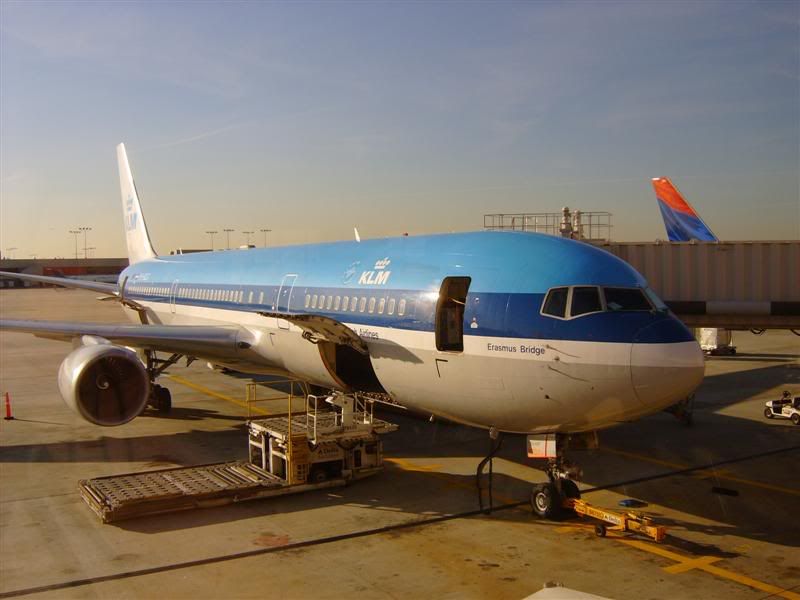 AirTran hangar on the northwest corner of the field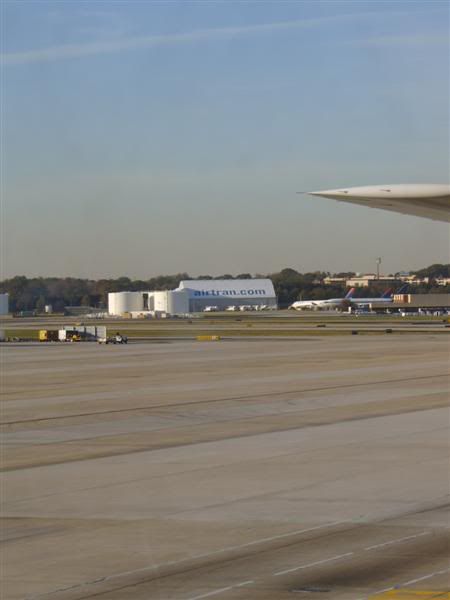 Delta Headquarters on the north side of the field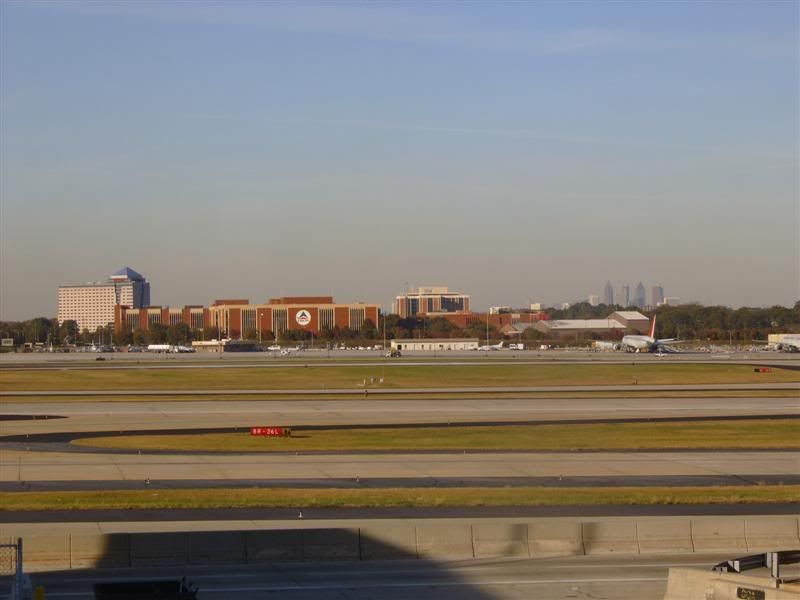 I wandered down to the end of the concourse to see if any other Delta 777s were around but no luck other than the one going to Orlando but I couldn't get a good picture of it. While wandering back I wondered if the daily Speedbird had arrived from Gatwick yet so I walked over to that gate. To my surprise the 777 was just pulling into the gate so I snapped a couple of pics for the record. I also grabbed a pic of the new control tower with a Delta bird sitting underneath it.
Speedbird G-VIIF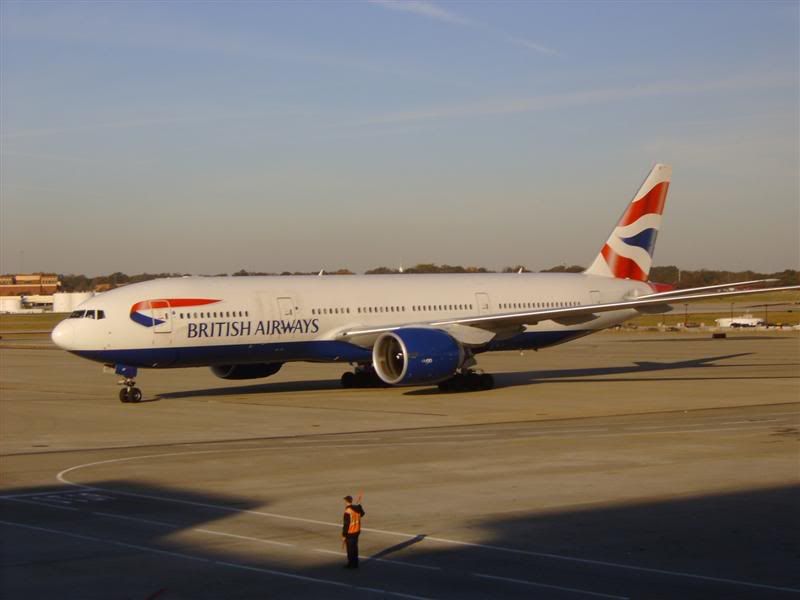 New control tower
Lots of Delta heavies crossing the pond tonight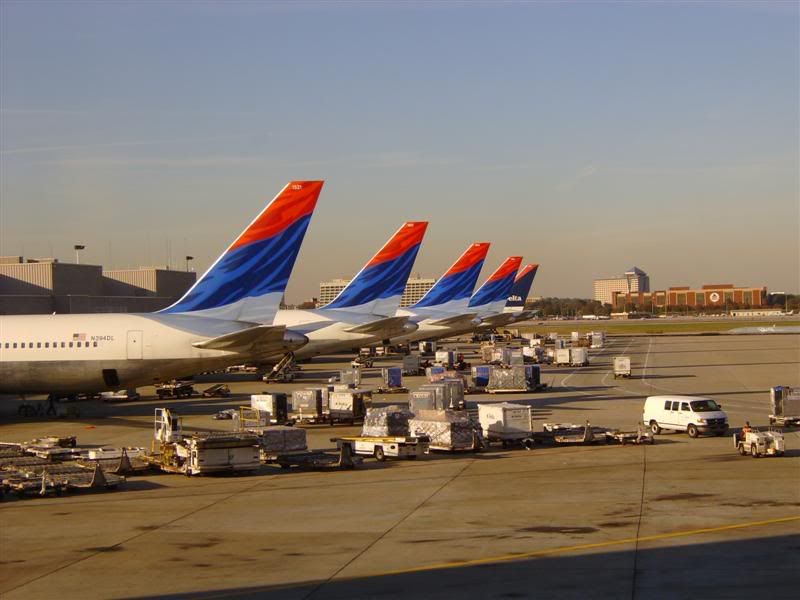 After these pics it was time to get home. My wife couldn't pick me up today so I had arranged a car service to take me home. I took the train underground all the way to baggage claim and then walked out into the cool afternoon sunshine to the limo area (even though I was just in a standard sedan) and was home in about 60 minutes since he went through downtown instead of 285 around the city. All in all this was a good trip this week and I was pleased to enjoy another trip on the 777.
WEEK 5 FLIGHTS
DL 707
11/13/2005
Lv ATL 2029
Ar MCO 2150
Seat: 7F
Plane: 767-432ER
Registration: N835MH
Tail Number: 1811
Well, here we go again. Sunday night and flight 707 but this week will be the last time as the project is coming to an end. My wife dropped me off and I was at the airport early with time to kill. I checked in at the kiosks and went to security. There was no one in line at the Medallion checkpoint. I was then in a line with 5 people in front of me for the metal detectors. I had bought some new shoes over the weekend from Florsheim that were "airport friendly" and sure enough I made it right through with no problems. Well worth the cost to not have to worry about taking off shoes along with everything else. I did have to have my backpack rescanned twice because Mr. Magoo was running the x-ray machine. You could have fried ants to the sidewalk on a hot sunny day with his glasses! Anyways, it wasn't my laptop, iPod, or any of the multitude of various electronic devices that find their way into my bag causing the issue but a pack of AA batteries for my camera.
I took the escalator downstairs to the trains but took a picture of the neon "artwork" on the way down. Sorry for the quality but the lighting isn't great. As you can see it is quite sad for such a world class airport. I wish they would fix it up.
What we call "Art" here in Atlanta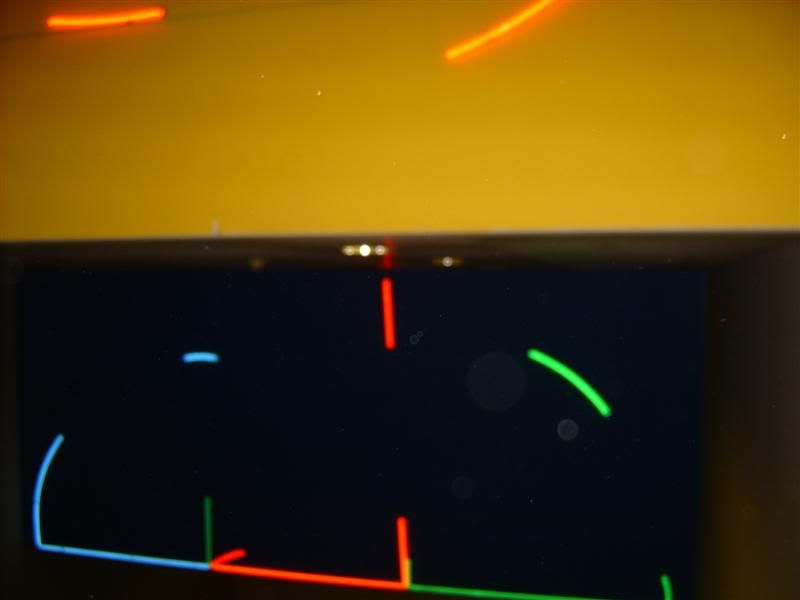 Since my flight was leaving out if gate A10 (as usual) and I had some spare time I walked instead of taking the train. In the hallway between the terminal/T Conccourse and the A Concourse they have an art display from Zimbabwe. All of the art uses stone and is carved by various artists from Zimbabwe. I have a weird sense of what art is but these things are actually pretty good. Again, sorry for the pics and lighting (I'm going to get a new camera for Christmas I think) but here are some samples.
Art display information
Stone statue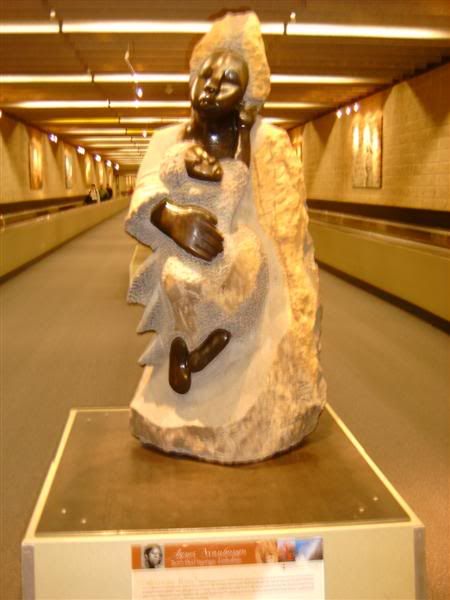 Big feet!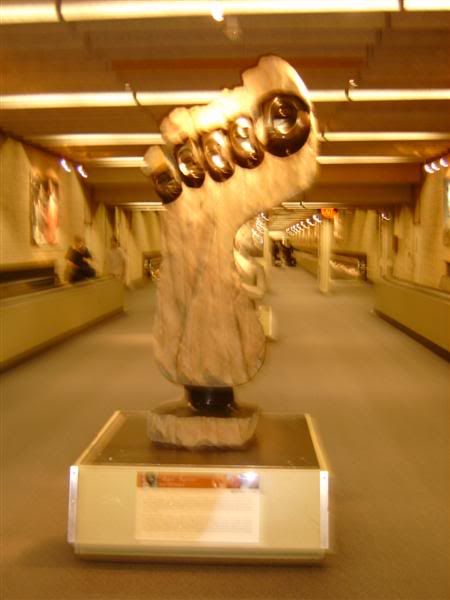 I wandered slowly down the hallway until I came to the escalators for the A concourse and went up them and then on to the Crown Room at A18. Delta's cutbacks have closed the CRC in the center of the A concourse on the weekends. Not sure why as I'm sure it is bigger than the one at A18. That was the first CRC I remember visiting when traveling with my family years ago. I found a seat in the club and watched the Falcons lose to the Packers on the TV. Anytime the Falcons can lose is good in my book and after having my Gators and Dolphins lose that weekend I needed something to cheer me up.
My coworker called me and I got him upstairs for a little while before we made our short trip to the gate. He had gotten the upgrade that night and we asked the gentleman sitting next to me if he would mind switching seats so the two of us could work on the quick flight to Orlando. When we looked up the guy had been asked one more time to switch seats so another group of coworkers could sit together. Poor guy, all he wanted to do was fly to Orlando.
I slipped up front to use the head and got another picture of the flight deck. I didn't get to sit in the pilot's seat this time but no big deal. I assure you the instruments were on but my flash drowned them out. You can make out the gate parking system through the cockpit windows and see the red and green lights.
N835MH flight deck
Since my co-worker and I were chatting we didn't notice that we departed late from the gate. I finally realized it when I saw we were landing in Orlando about 10 minutes late. Drink service started not too long after takeoff and I switched over to Diet Coke since I was tasked with driving this week. The stewardesses weren't stingy with the snack packs either. They kept stopping by and since I hadn't had dinner I grabbed something each time. I had a pack of crackers, animal crackers, and finally peanuts. I finally was able to get a glimpse of Gainesville as we flew past it to the east. They had the lights on at Florida Field but I'm not sure why. Perhaps after the loss to South Carolina the players were running the stadium steps. We landed on 18L so we had to taxi across to the Delta airside. Not a huge ordeal but it was late and we still had to drive to the hotel. The flight was fine otherwise and we were set for our last week in Orlando.
DL 622
11/18/2005
Lv ATL 0930
Ar MCO 1054
Seat: 2A
Plane: 767-332
Registration: N132DN
Tail Number: 132
Well the day has arrived and the project is over. I'm glad because it is always nice to end a project on a good note and move on to the next one but I will miss being in my old hometown area. I only wish it had been summer with more daylight hours so I could have gotten out into the old Florida I know and love. Ok, enough nostalgia and on to the report. I had gassed up the car the night before so we drove straight to the airport. We left about 0730 and got to the airport in 30 minutes. Unfortunately in Orlando there is no quick way to get to the airport from downtown. We turned in the rental car and went through security. I was originally scheduled for the afternoon flight with the 777 but I had to change my flight so we could get to a couple of meetings with clients that afternoon in Atlanta.
As usual in Orlando there is a huge crowd at the checkpoints and no premium line. The key is to pick the one on the far right and when they check your ID and ticket they send you up line 14 which is the short premium line. It took about 10 minutes total to get through the line. We didn't visit the Crown Room this morning but instead got breakfast from one of the food court offerings. Not bad but I wished I had gotten up earlier and eaten at the hotel.
I had noticed on the tram ride out to the concourse that one of the Chautauqua micromini jets parked there had a special livery so I dropped my food off with my coworker and went to get a picture of it. It turned out to be the 800th ERJ-145 that was built hence the 800th in the paintjob.
N568RP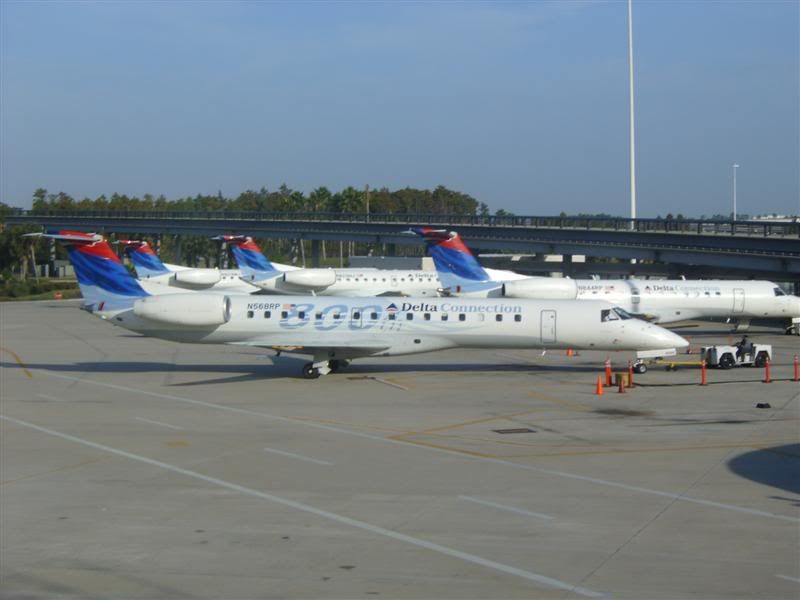 On the other side of the concourse was a Frontier jet that was getting ready to leave. I snapped a quick pic but couldn't get a good shot of the bird picture on the tail.
N908FR
We finished up breakfast and sent some emails from the free wireless connection and made our way over to the gate to get on the plane. They had started loading and were on Zone 3 so we both hopped in line. I got the upgrade so I was in Zone 1 while my coworker didn't get the upgrade but was in Zone 3 as a Gold Medallion member. We got to the bottom of the jetway and went our separate ways for the flight.
I settled into my seat at 2A and as I suspected from my previous comment about the 767-332 (see way up above in week 1 or 2) I had more shoulder room since it could now poke into a window instead of the support beam of the fuselage. Since it was only 0900 I went for the Diet Coke instead of alcohol today. We backed away from the gate on time and taxied out to runway 35L for takeoff. We were third in line but by the time we got to the end we turned right onto the runway for takeoff.
I got a few pics on the climb out so here they are...
WN, AT, and B6 airside concourse with a sampling of all three companies
A view across the field to the original airsides that opened up back in the 1980s.
A view of the original terminal building here. It is now used by UPS and some other companies for cargo. You can also see the B-52 park below the terminal by the exit ramps into the airport.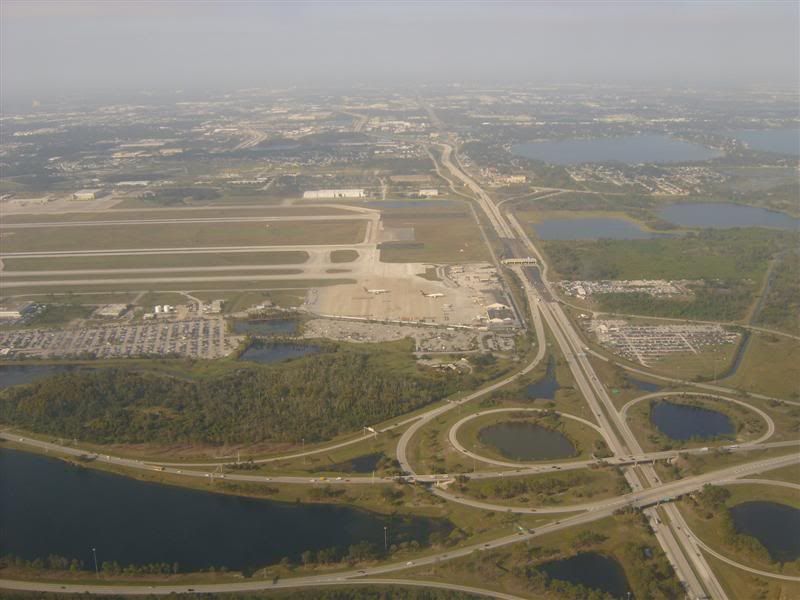 Lake Conway
We passed right over Orlando Executive airport and got this closer shot of downtown Orlando.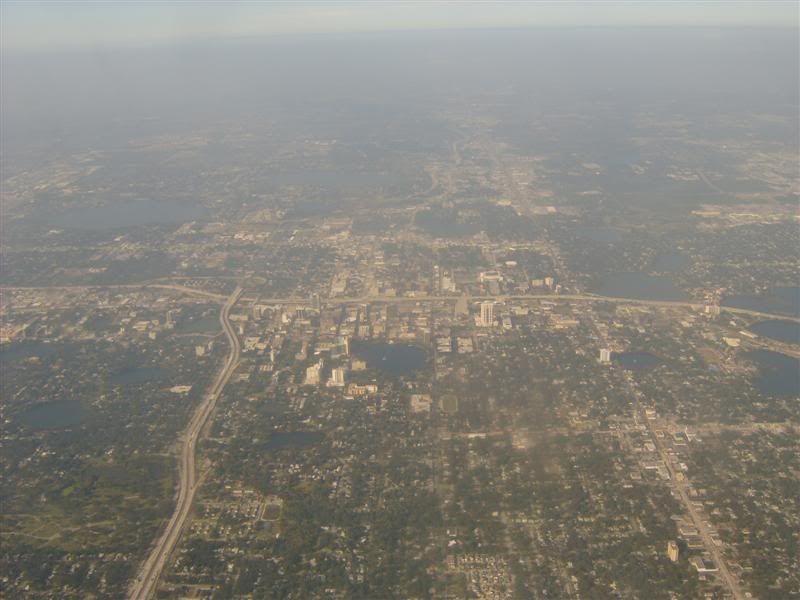 From here we continued north-northwest until we passed over Palatka. off in the distance you can make out Gainesville Regional (GNV) airport. The picture didn't turn out as great as what I could see with my eyes but it is just to the right of the clouds in the picture.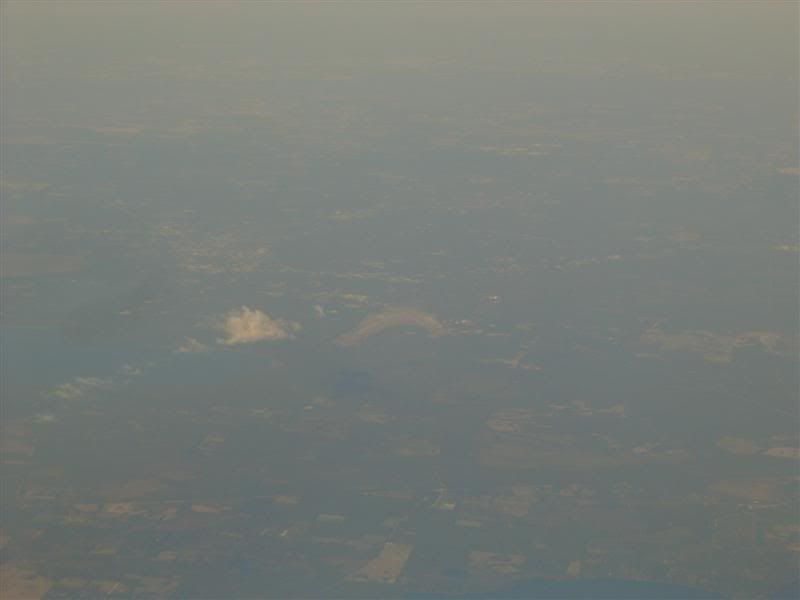 We also passed just east of Camp Blanding in Northeast Florida. Nothing aviation related but I like the way they built the camp roads around the curve of the old sinkhole that is now a lake.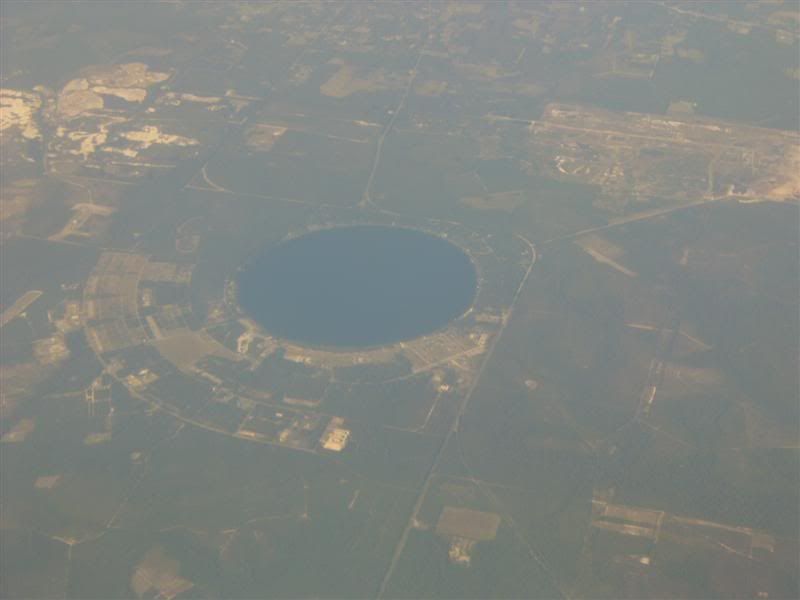 The next thing we passed over was the Okefenokee (pronounced Oh-Key-Fee-No-Kee) Swamp and National Wildlife Refuge. I took a picture but since it is all swamp you really can't see anything so I didn't include it. If you ever get the chance I recommend you take an airboat (think flat bottomed boat with an aircraft engine and prop on the back!) ride through it to see some interesting wildlife.
Just after the swamp we passed to the south of Homerville and I got a shot of the small field there.
Homerville (KHOE)
We didn't pass much of interest until we got south of Macon, GA. We flew just east of Robbins Air Force Base in Warner-Robbins. Just to the north of Robbins AFB is the Macon Regional Airport. I got pictures of each one but also a picture showing how close they are to each other.
Robbins Air Force Base (KWRB)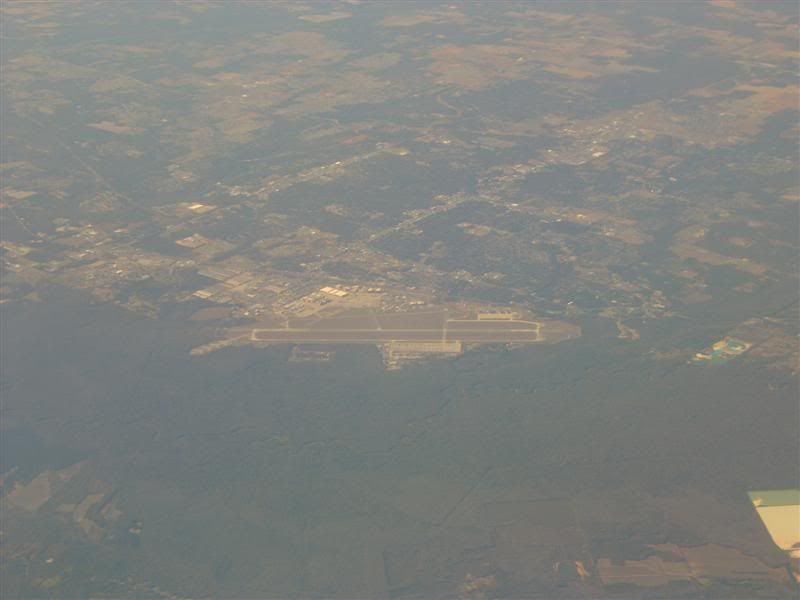 Macon Regional Airport (KMCN)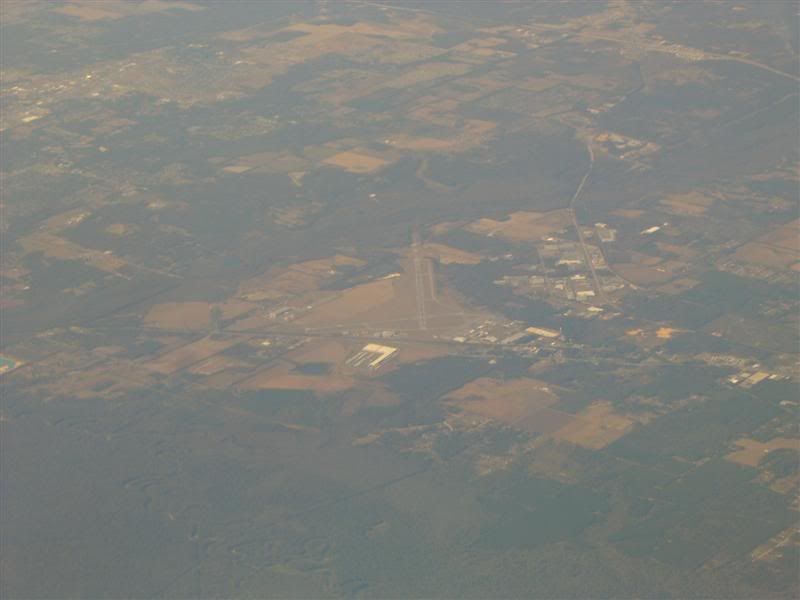 Both airports close to each other
The city of Macon came into view very quickly and I could get shots of the city and the old downtown airport. Over the past few decades Macon has had many minor league sports teams and quite a few of them have gone by the name of the "Macon Whoopie" which makes me laugh. Good old religious rural Georgia having something named after slang for sex. Their logo usually included a fig leaf as well from the story of Adam and Eve. Not aviation related but just kind of humorous to me.
Over the city of Macon, GA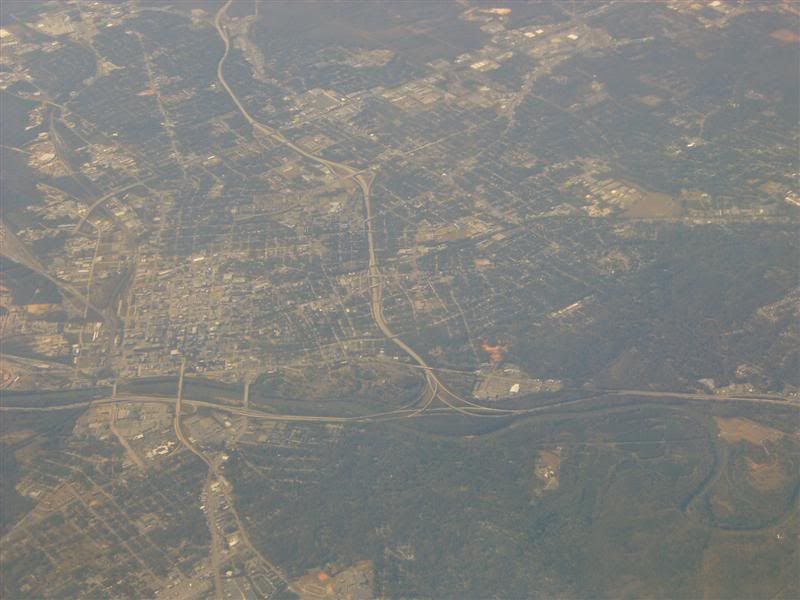 Downtown Macon Airport (KMAC)
North of Macon close to Juliette, GA is a huge Georgia Power plant that is called Plant Scherer. Even though it has the standard looking nuclear power plant cooling towers it is only a fossil fuel plant. It is also one of the most powerful plants in the United States.
Plant Scherer in Juliette, GA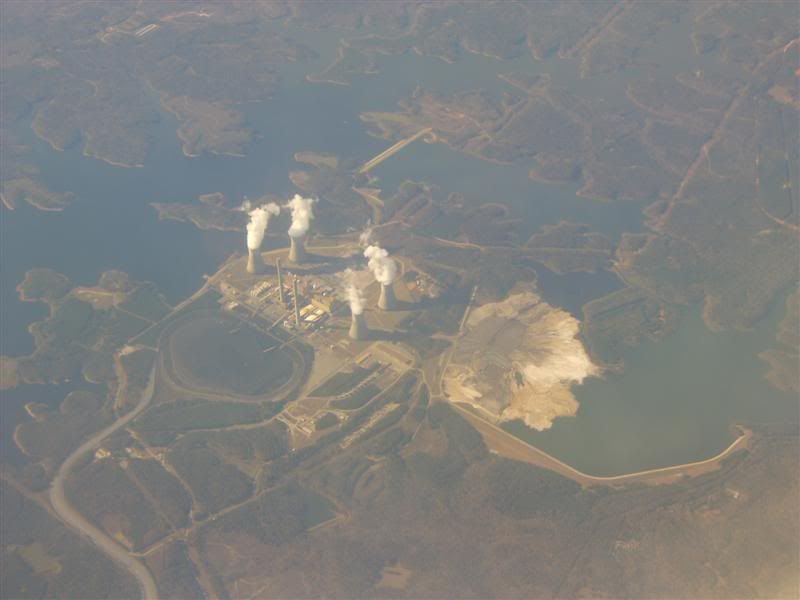 We had already started our descent before we ever got to Macon so at this point we are much lower in altitude. We crossed over I-75 so I knew then that we would be landing from the west which also meant longer time in the air since we had to get that much farther west to get into the pattern. Oh well, I'm in no hurry. South of Atlanta in the suburb of McDonough is a private airport where you can park your plane right in your backyard. Sounds kind of fun.
Zips Airport (63GA) in McDonough
A little ways to the west in Hampton, GA is the Atlanta Motor Speedway. Right next to the racetrack is Tara Field which is just a quiet little field except twice a year when NASCAR races are in town. All the private jets for sponsors, drivers, and rich fans are quite interesting.
Tara Field (4A7) and the Atlanta Motor Speedway
We flew to the west and I got a good view of the urban sprawl on the southern side of ATlanta while folks on the right side got a view of the field, downtown, and the northern suburbs. Had it not been so hazy today they also would have had a great view of the north Georgia mountains. We made the 180 degree turn and lined up on final approach where I could get a couple of pictures.
Atlanta Skyline in the distance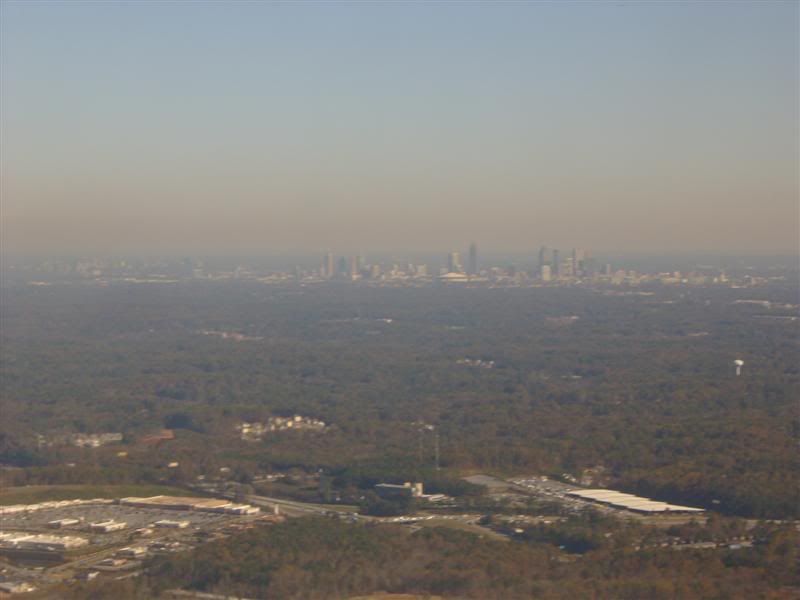 Our shadow on the ground below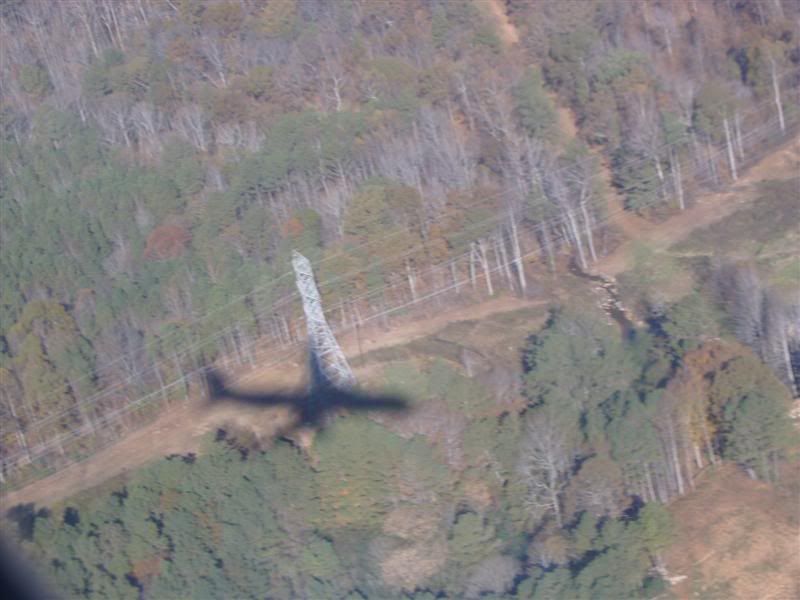 The main terminal building with Stone Mountain (Redneck Rushmore) in the background 20 or so miles away to the east.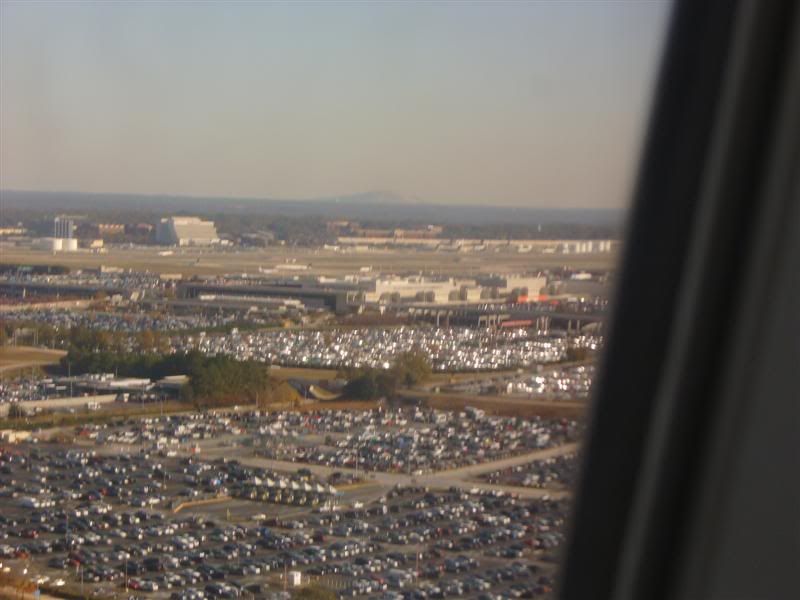 Somewhat of a backup waiting for takeoff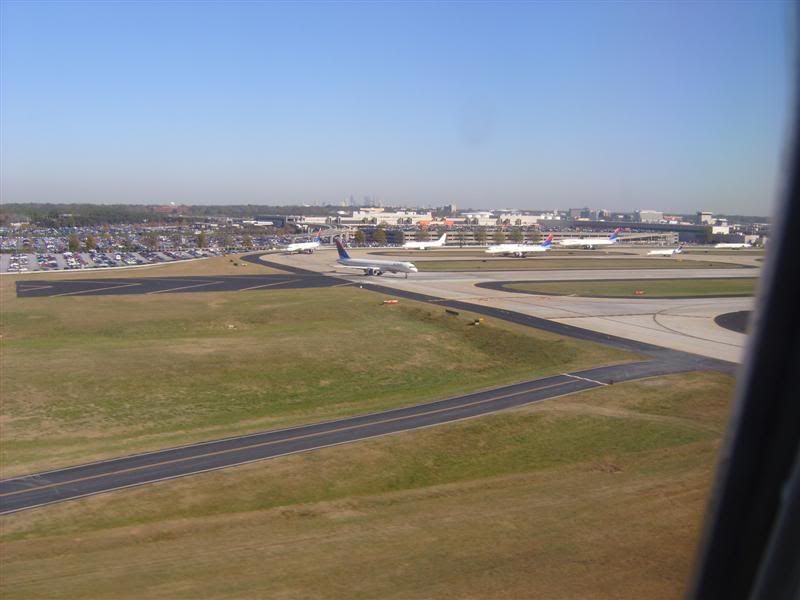 A South African A340 waiting to leave for JNB. (Anybody know which plane it was as we passed to fast to get the registration?)
The international Concourse in the morning with World Airlines and Korean Airlines in attendance.
While taxing to Gate A1 (crappy gate at the end of the concourse!) I got a picture of a JAL 747 at a cargo or maintenance hangar on the south side of the field. I also got a shot of a Hooters Air 737 in line for takeoff
JAL 747 (anybody know why it was in ATL?)
Hooters Air 737 (We love to fly and our boobs show...that should be the slogan!)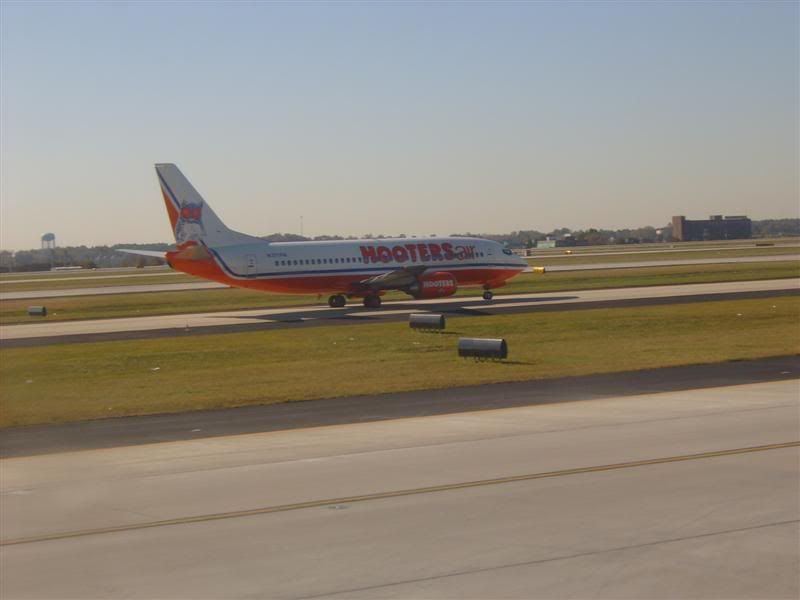 All in all this was a good flight. The steward and stewardesses were attentive and friendly. The kept the drinks coming and the snack basket was being passed all around. We got off the plane and walked down to the centerpoint of the concourse to catch the train to baggage claim. As always I carried on my bag but my coworker always seems to pack way too much and has to check his bag. While he went to get his bag I snapped a couple more pics inside the terminal.
In the middle of the terminal is "The Atrium" where they have some food vendors, currency exchange and seats for waiting. Up on the higher floors are the business offices for the airport and a conference center that I did some network consulting for many a moon ago.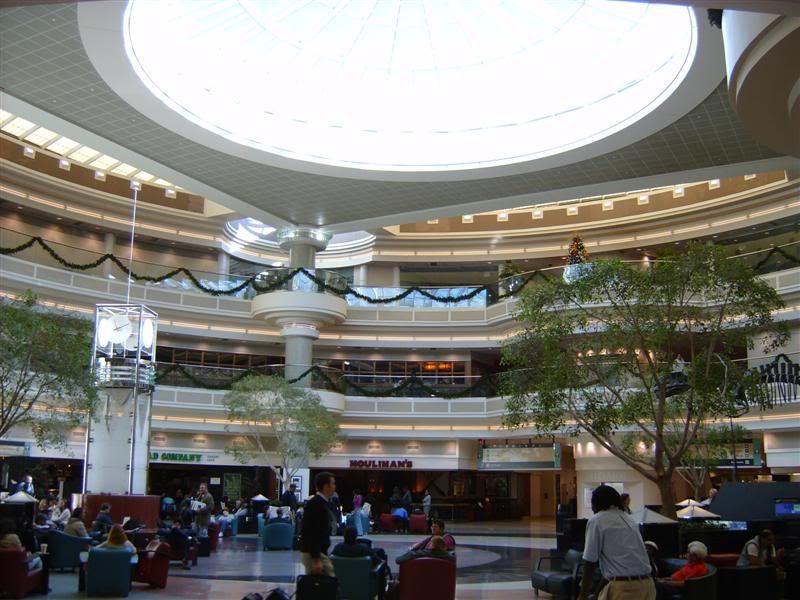 There are two big items in the Atrium that I have told my mother-in-law to meet up by a few times but for some reason she doesn't seem to get it. I'll let you decide if she is blind or not. The first object I told her to meet us by is the dinosaur fossil. Well here it is. Do you think you would miss this one? She did!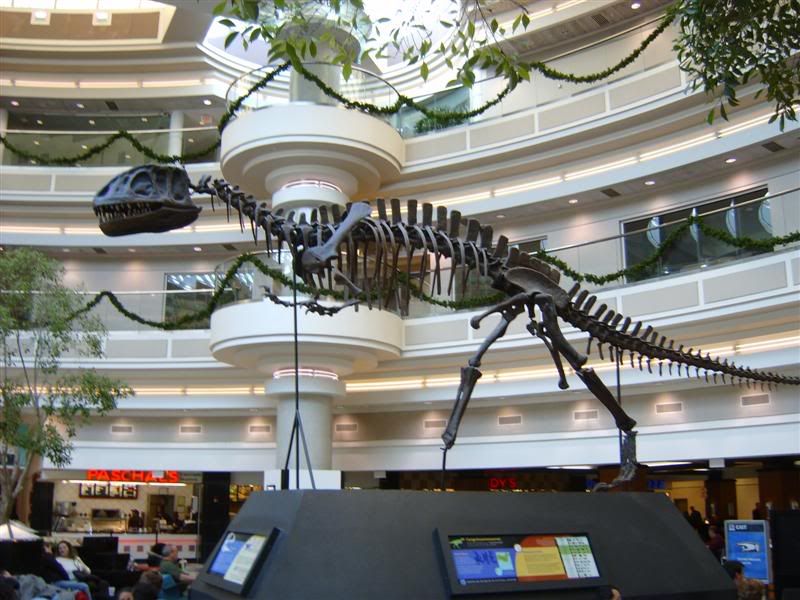 The other item is the clock tower. Again, would you miss it? She did!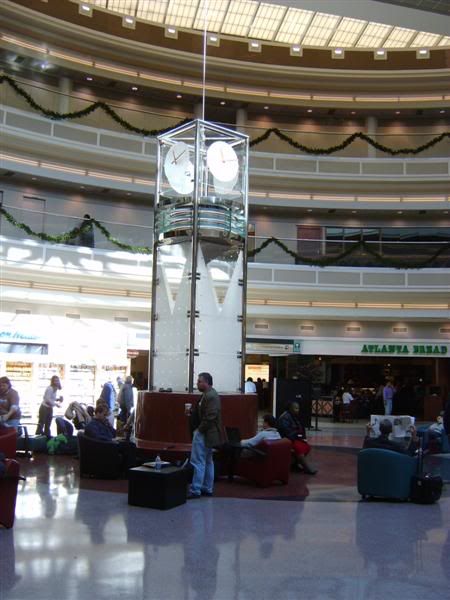 In baggage claim they have some modern art on the ceiling of huge ants walking along one of the roof beams. Watch out or they'll steal your bags when you aren't looking.
The big board with baggage carousels listed. It isn't that busy in the airport right now as evidenced by the board. During heavy periods that board will be completely full of Delta flights.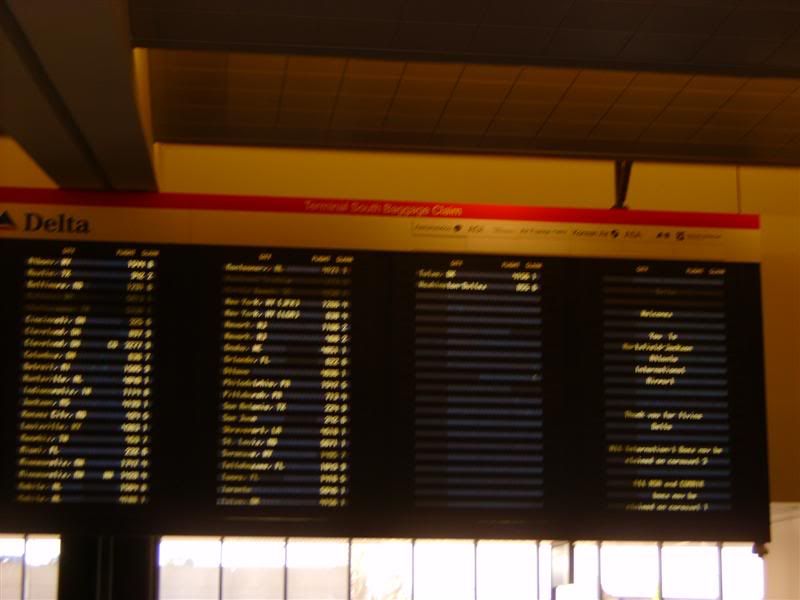 The last one I have is of the outside of the main terminal while waiting for our boss to pick us up and whisk us off to our client meetings. This shot is looking to the east towards the T Concourse that is attached to the main terminal. One thing I have never understood is why ATL has ticketing and baggage claim on the same level. It gets crowded up on that top deck of traffic.
All in all the past five weeks have been uneventful and easy with no major delays or trouble. Delta service has obviously declined as they try to reinvent themselves and compete with the LCCs. That said, I will continue to fly Delta because of the non-stop options they provide out of ATL and they do take care of me pretty well as a Gold Medallion member. I wish them luck in getting out of bankruptcy and I look forward to my flight to Boston in a couple of weeks.