Alex (A.net-member Ndebele) and me had thought it was time for an other spotting weekend at LHR in the famous Renaissance Hotel. So we searched the web and found an interesting deal on BA for EUR 129.33 return incl. taxes per person.
Saturday, 26 November 2005
Stuttgart (STR) – London Heathrow (LHR)
Airline: British Airways
Flight number: BA 917
Scheduled departure time: 07:25
Scheduled arrival time: 08:15 (local time; time difference – 1 hour, so flight time was 1:50)
Type of aircraft: Airbus A 320-200
Registration: G-EUUD
This aircraft was built and delivered to British Airways in 2002.
BA offers a late-night check-in at STR which we kindly used as our flight time would be quite early in the morning. We got boarding passes for seats 18A and 18C while 18B would remain empty as loads on this early Saturday morning flight were expected to be low.
The next morning we me at Stuttgart airport at 06:45, both of us arriving by train from different directions. We made our way through the "normal" security check (very quickly) and the "special" security check for all British and American airlines where hand luggage was screened once again and every passenger got a body search. Passport control followed and then we could enter the gate for our flight in Terminal 1.
Most of you might have heard of the catering problems at LHR: About three months ago, there was a dispute between the Gate Gourmet staff and the management, leading to a strike that lasted several days. But even after the strike had been over, things didn't come back to normal and the catering problems last until today. As Gate Gourmet is BA's supplier at LHR, they are mainly affected by this. I had checked the BA web page the day before and had read that catering was back to normal on all flights to and from LHR that lasted more than two hours, plus on the domestic network. As our flight was international and less than two hours, it would still be affected.
A gate agent appeared and told the waiting passengers about the catering problems and about the solution here at STR: There were snack bags available in the gate area, as well as cans of Coke and water, and every passenger could take one: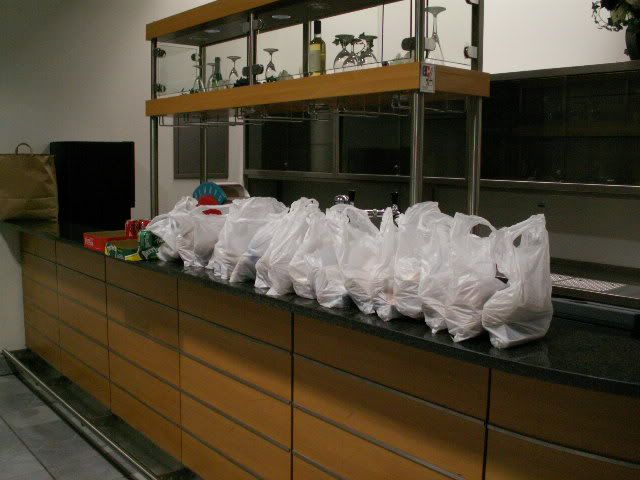 Newspapers were also available. Boarding started shortly after, and as our aircraft was parked directly in front of the terminal, we just had to walk down the air-bridge and were welcomed by a very friendly crew consisting of four female flight attendants. The first section of the plane (about 1/3) was Business Class with 5 seats per row (BA's Airbus fleet features the convertible seats that can be changed flexibly from 6 to 5 seats per row) while we went to the back section of the aircraft to take our seats in Economy. But even there, seats were quite comfortable, with a movable head-rest and decent leg-space. The seats were even equipped with an audio system, but this didn't seem to be in use on that flight (at least they didn't give out any headphones).
As I had already mentioned, load factor on this flight was quite low. There were about 45 pax in Economy Class and 2 in Business. So after boarding had been completed, Alex went to a window seat on the right side while I stayed in my reserved seat 18A, so each of us had a row for himself.
The captain made a welcome announcement before take-off, followed by the safety demo of the cabin crew which was done manually, although the aircraft was equipped with video screens. A tape in German language was played as well.
We were off-block at 07:20 and taxied the long way to the Eastern end of the runway.
An Air Berlin B 737-800, waiting for its flight to PMI: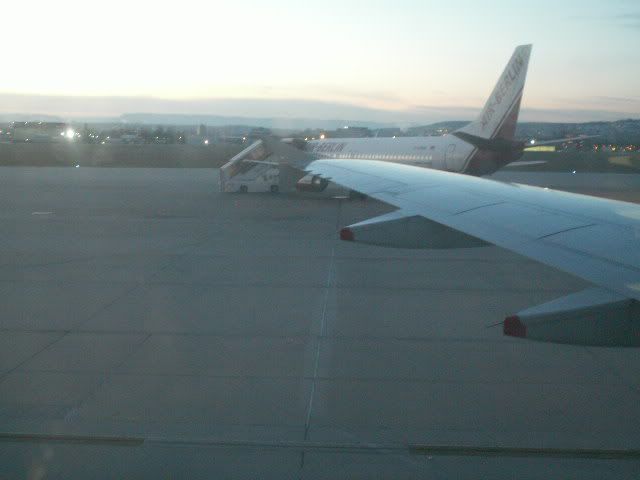 Terminals 1 (left), 2 (middle section) and 3 (right) of Stuttgart Airport: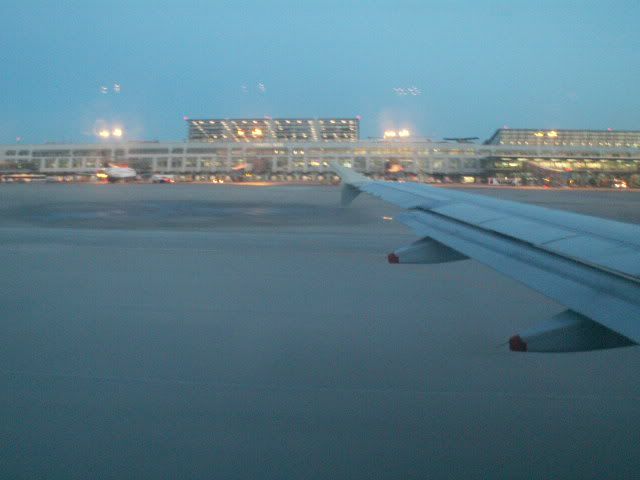 We entered the runway without waiting time and took off in Western direction: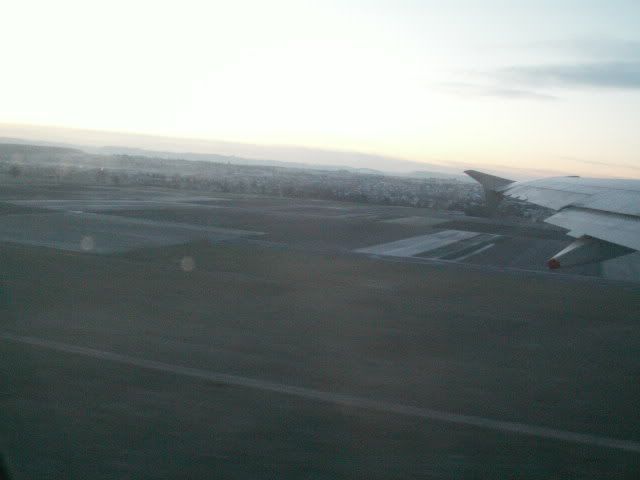 Southern Germany is covered with snow and ice: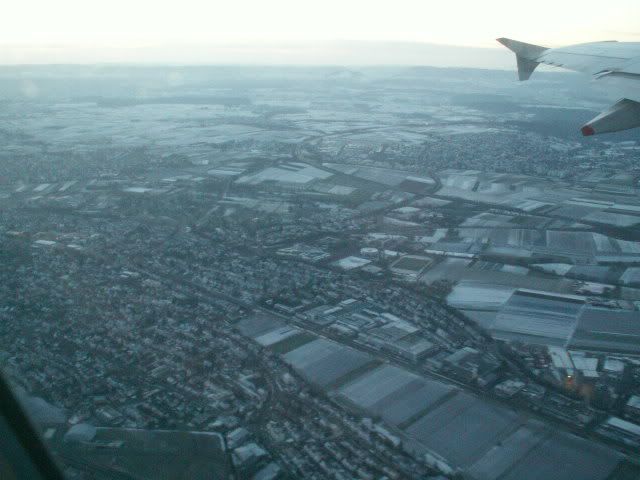 The town of Boeblingen: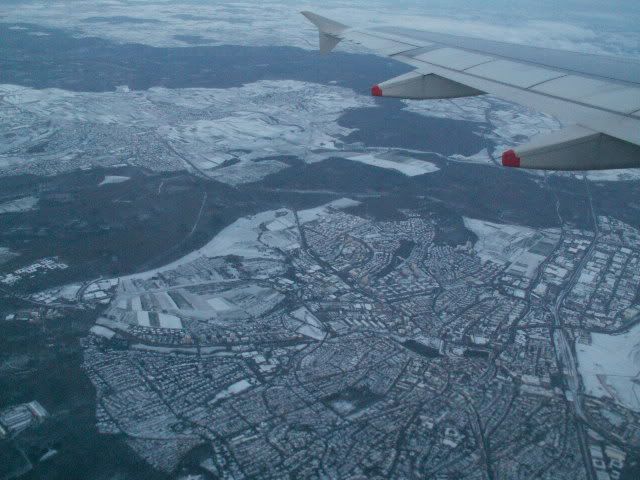 The DaimlerChrysler car factory at Sindelfingen: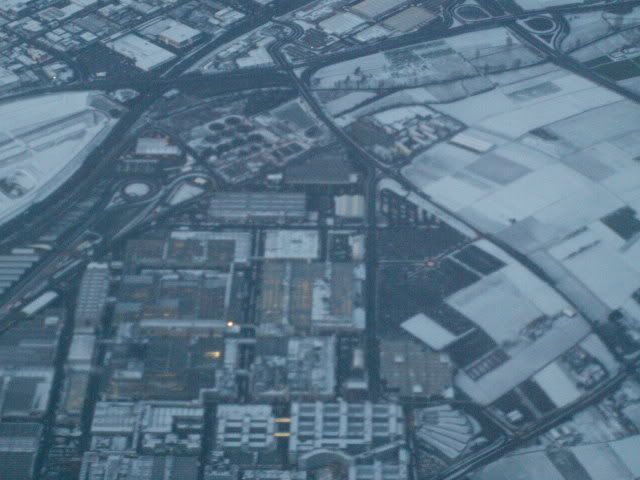 Shortly after, we disappeared in the clouds, and there was not much to see outside for the remaining flight. Luckily, the video screens were put down and they were showing the air show for the whole flight: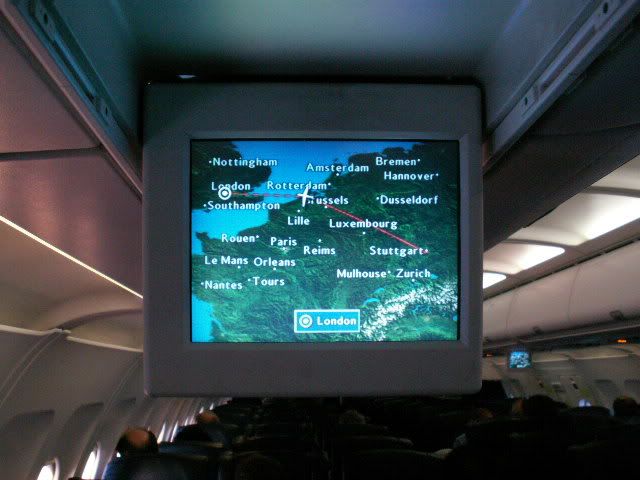 At least no stupid candid camera scenes or other silly stuff like on many other airlines! So, as you can see, our flight route was STR – North of LUX – BRU – crossing the Channel to LHR.
Cabin crew distributed coffee, tea, water and Scottish shortbread biscuits, the only on-board catering that was available. They explained the current situation and apologized for any inconvenience. I had a look into my snack bag and found two different kinds of sandwich (turkey and cheese), a muffin, a yoghurt and an orange juice: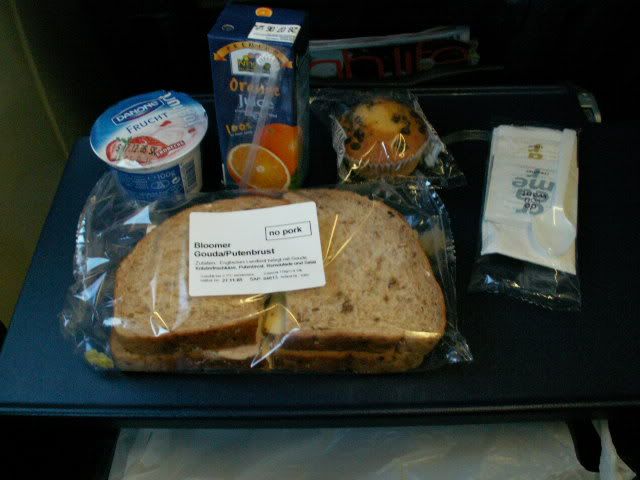 The items are similar to what you get on these flights when catering is normal, so there is absolutely no disadvantage for the passenger. However, I wonder why we had to collect the snack bags in the gate area and why they didn't take them on the plane and distribute them during flight. Not that it would have bothered me – I just found it a bit strange.
An in-flight cabin shot: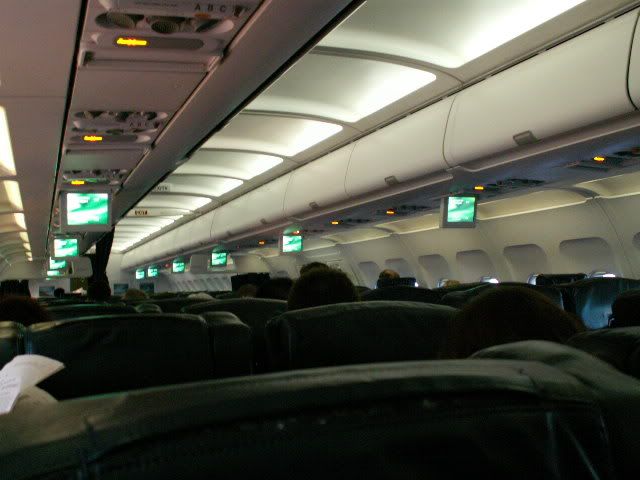 The British Channel coastline: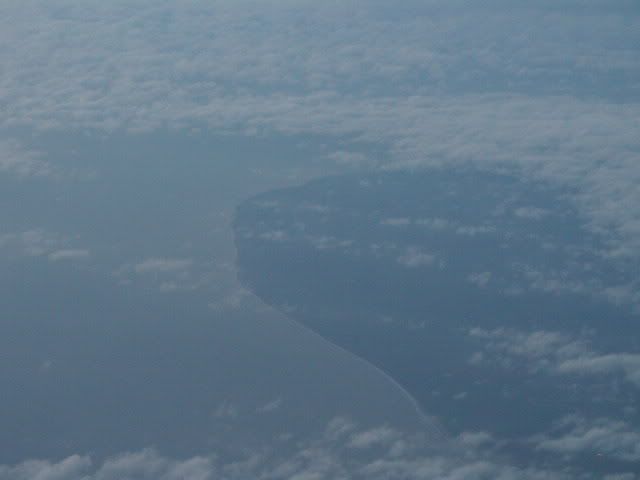 We started our descent into LHR. Some town in the Southeast of London: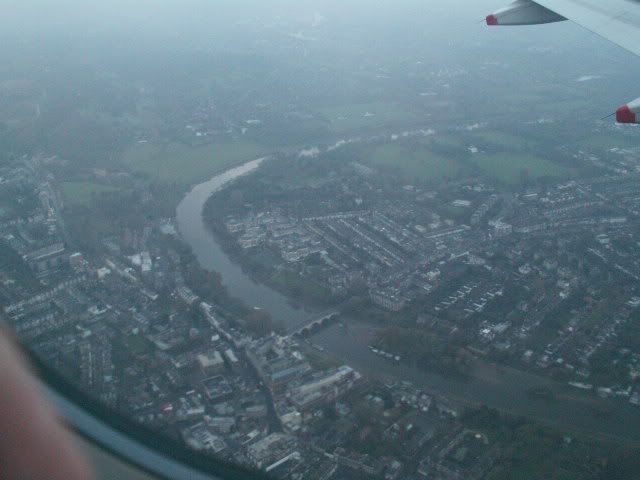 A stadium: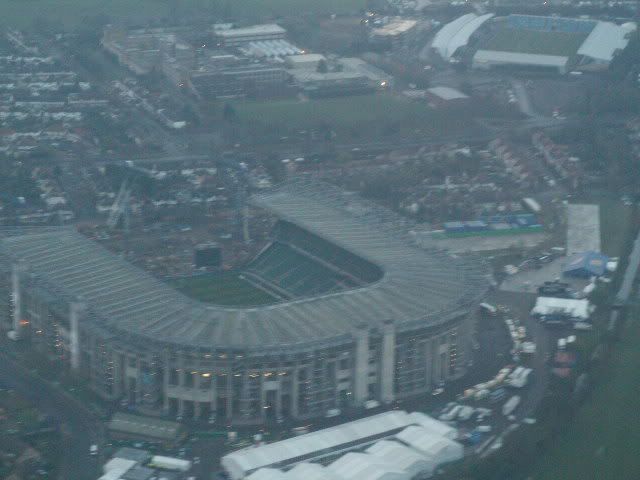 Some suburbs of London: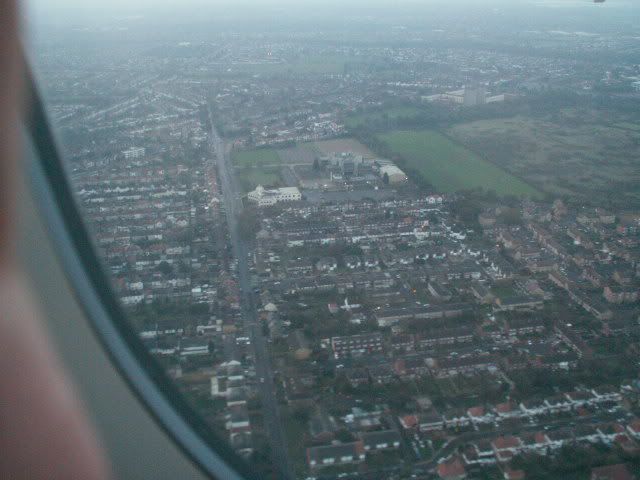 We touched down on runway 27L of LHR. On the way to our gate at Terminal 1, we passed Terminal 2 where an LH CRJ was parked that had arrived from STR as well: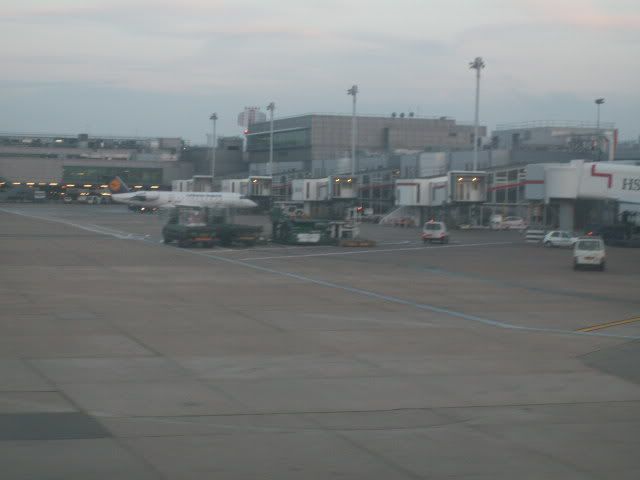 Then we came to stand on a parking position in the old part of Terminal 1. We were the last passengers to leave the aircraft, and I took a picture of the Economy Class section: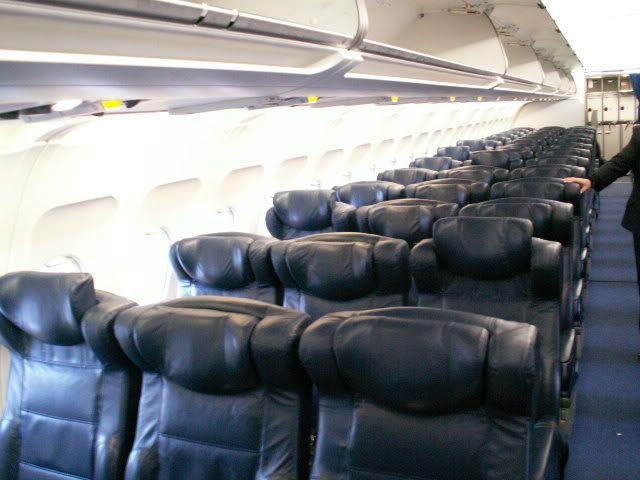 We thanked the crew and went through immigration (quickly) to the arrivals area. Then we took a Hotel Hoppa bus to our hotel, the famous Heathrow Renaissance Hotel. We had got a very good rate: GBP 64.63 (about EUR 95.00) for a room per night (breakfast not included). Not too bad for London, and especially for this view (note: the BA 320 is the aircraft from our flight):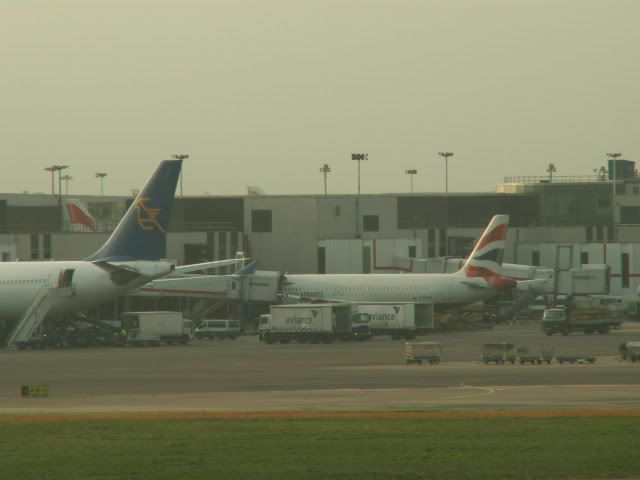 Some more pics taken from our hotel room: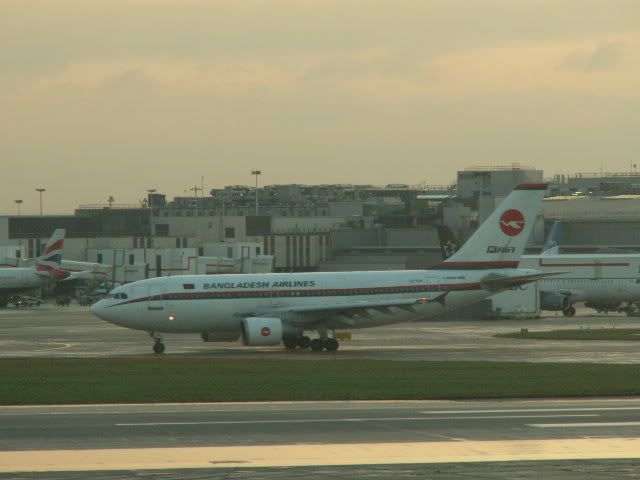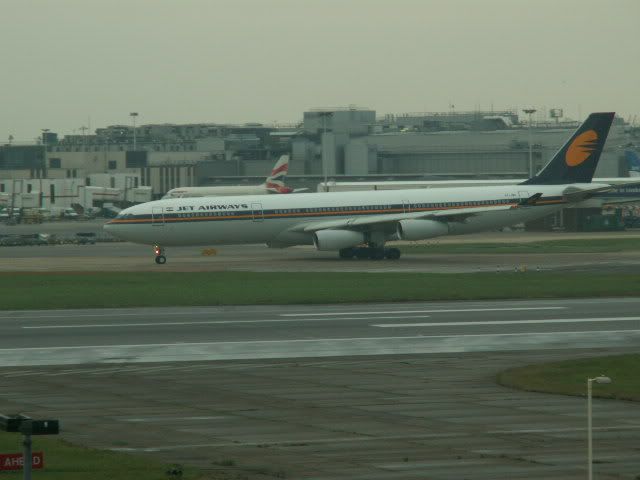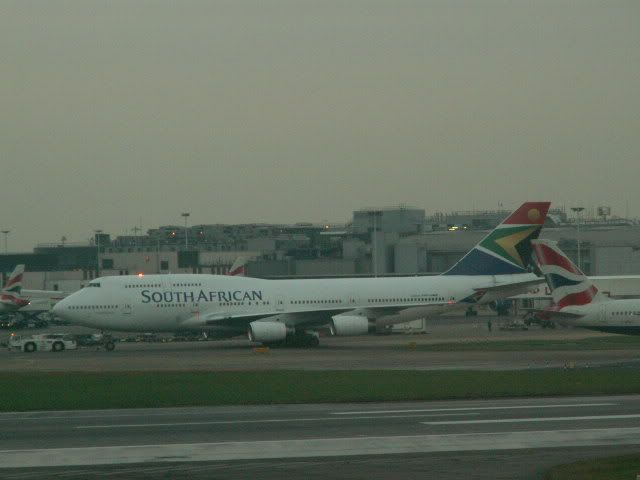 The Tower of London: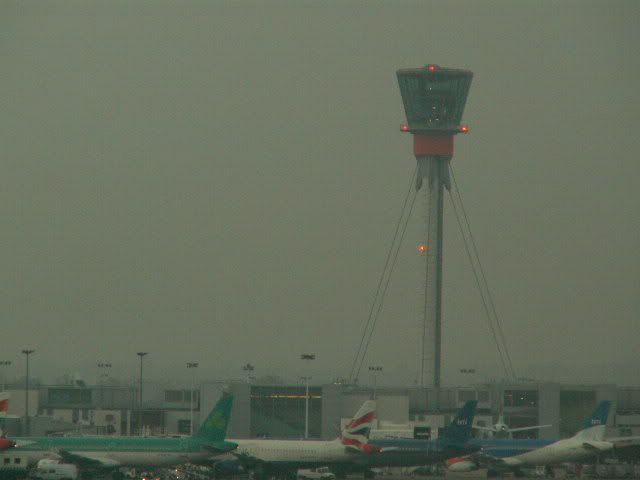 Later that day, we walked to the end of the runway to watch some movements. Suddenly, our way was blocked and we had to wait until a BA 777 on its way to maintenance had crossed the road: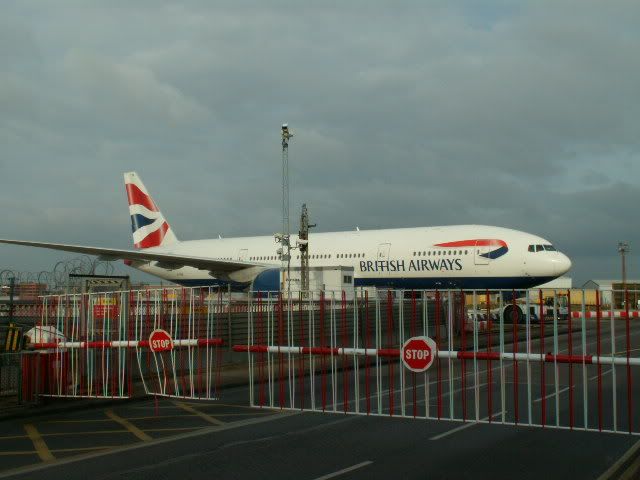 On the next morning, at about 10:00, we took a bus back to the airport.
Sunday, 27 November 2005
London Heathrow (LHR) – Stuttgart (STR)
Airline: British Airways
Flight number: BA 920
Scheduled departure time: 14:15
Scheduled arrival time: 16:50 (local time; time difference + 1 hour, so flight time was 1:35)
Type of aircraft: Airbus A 319-100
Registration: G-EUPW
This aircraft was built and delivered to British Airways in 2001.
Terminal 1 was not too busy on that Sunday morning: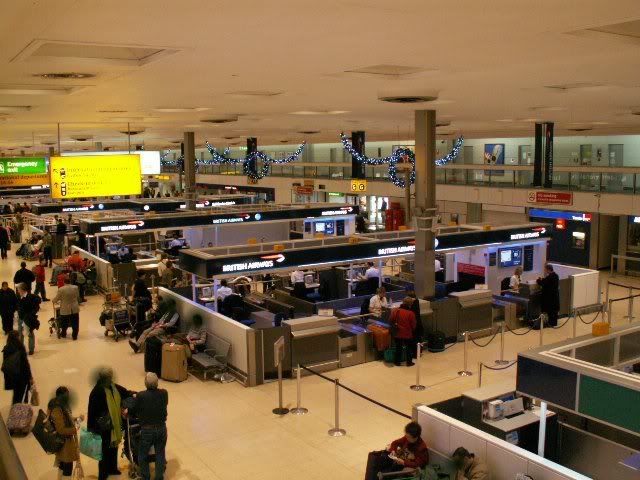 We found a check-in counter where only one passenger was in front of us. There were more than four hours left until departure, so we didn't expect any problems with getting a window seat. However, the agent gave us some B and C seats at first. We asked if there weren't any window seats left and she said no. The only option she could offer us was the exit row, but she told us that we had to expect in fact a door there, and not a window … Well, we kindly accepted that detail and got seats number 9A and 9B, sequence numbers 59 and 60. The reason for this packed flight is supposed to be BA's schedule on the LHR-STR route: There are 3 BA-flights every day, the first one leaves LHR at 07:10 which is too early for most of the inbound long-haul connection flights. So everybody arriving with BA at LHR in the morning (later than about 06:15) and continuing to STR has to wait for the second flight at 14:15 which is usually quite full then. The third flight leaves LHR at 18:20.
We saw some sings of BA in the terminal saying that passengers on flights without catering could get some food vouchers. As we hadn't got any information at check-in, we asked a lady at the ticket counter. She wasn't sure about the situation on flights to Germany herself, so she sent us over to a special customer service counter where the food vouchers were distributed. We showed our boarding passes and each of us got a food voucher of GBP 5.00, redeemable in practically all food outlets in Terminal 1.
Then we passed security check and did some airside spotting in the gate area of Terminal 1. We saw our aircraft from the day before again: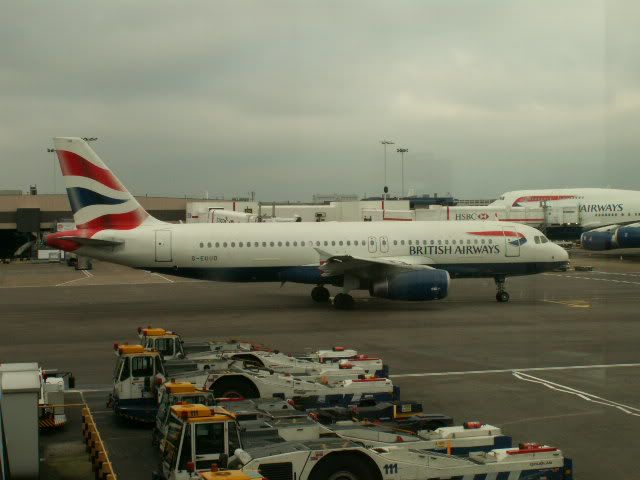 Later we went to a snack bar and bought some food: While I had the "classic" airline meal (a sandwich, a cake and a Coke), Alex had some take-away sushi. The amount of GBP 5.00 seems to be rightly chosen; you can get the same food which is usually served on board for that sum.
The gate for our flight was announced about 30 minutes before departure. Our A 319 was already waiting: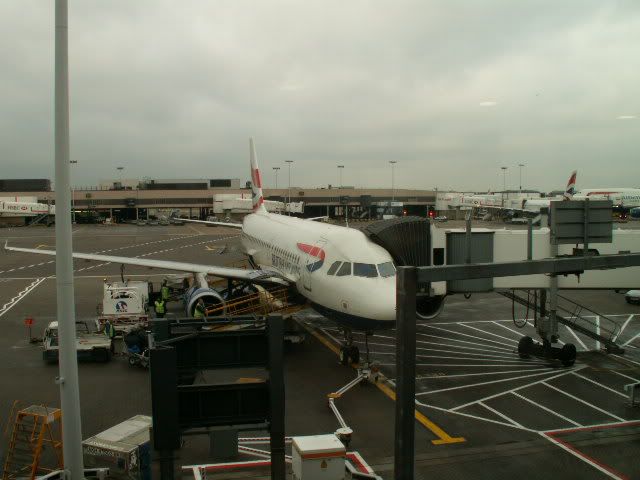 Boarding started shortly after. We were welcomed by our cabin crew (two female, one male). This time there were only 3 rows of Business Class. Economy Class was fully booked, no free seat available, and even Business Class seemed to be nearly full. We took our seats in the exit row.
Alex is enjoying the huge leg-space: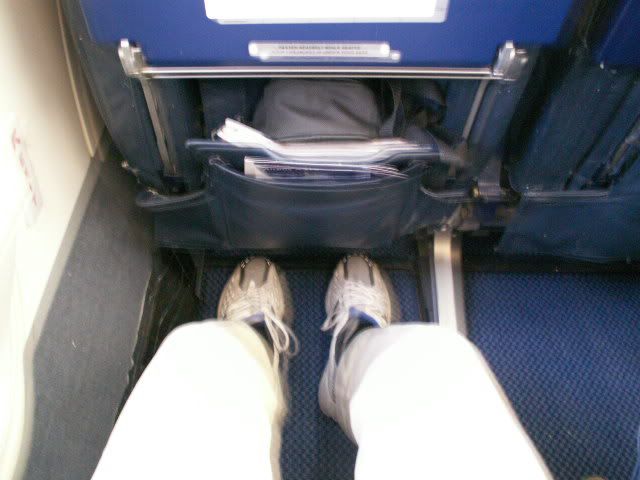 We were off-block on time and taxied to runway 27R. Entering the runway: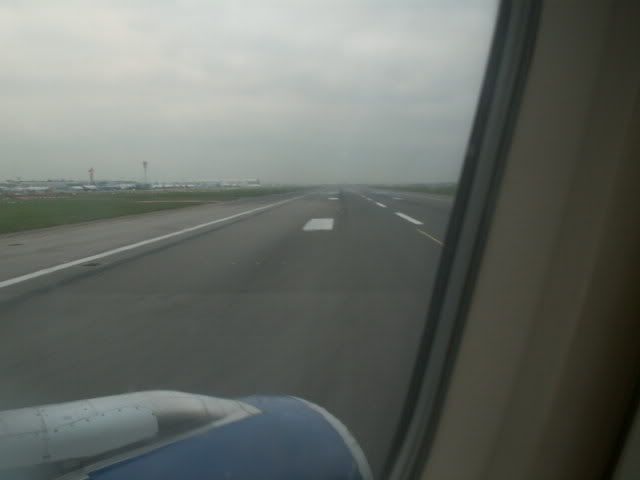 Taking off (unfortunately, the window was quite dirty from the outside):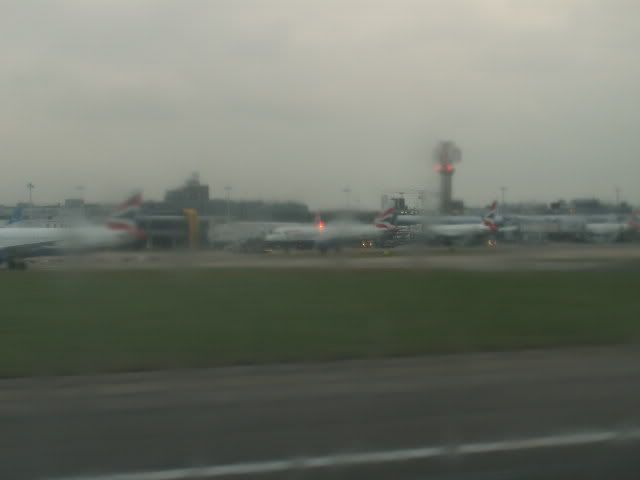 Here you can see parts of the new Terminal 5 (still under construction) between the wing and the window: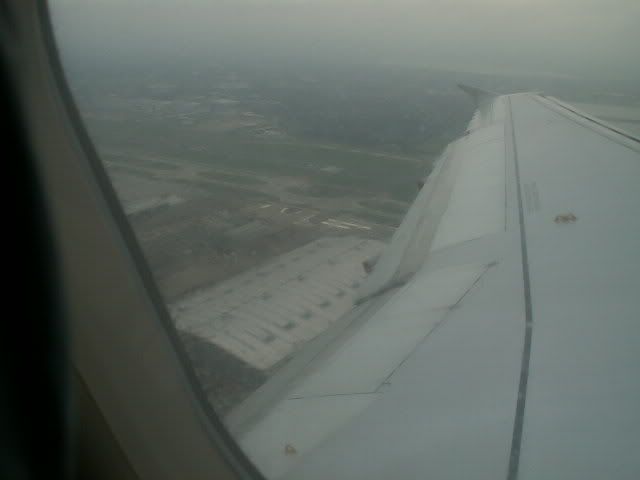 The lake behind the runway:
Then we were above the clouds for the remaining flight, so there was nothing to see outside. At least we had the air-show again. By the way: other than on our A 320 on the first flight, the A 319 wasn't equipped with an audio system.
Service was like on our flight the day before with coffee, tea, water and biscuits.
After about 1:20 flight we started our descent into STR and landed on the single runway on time. After taxiing to the same parking position in front of the Terminal where we had left the day before, we left the aircraft.
Clearing customs took quite a while as the flight had been full and they don't have too many custom staff members at STR as most flights here are Schengen-flights anyway.
We said good-bye to each other and left STR by train into different directions again.
Conclusion:
From my point of view, BA is still among the top airlines when travelling within Europe. Staff is friendly and professional, and catering is above average, even now during these catering problems. While I really wonder why it takes that long to solve the problem (after all, the strike is about 3 months ago now), they offer alternatives to the passengers on all flights affected. The only small disadvantage was that we had to ask actively for the food vouchers at LHR, so if we hadn't asked because we hadn't known about the problem, we probably wouldn't have got any food for that flight.
Flights were on time and prices on BA are usually quite competitive: a Germanwings flight to STN would have been only about EUR 10.00 cheaper on the dates of our travel, and I will always pay EUR 10.00 more for a good service and a flight into LHR rather than ending up at STN. So BA is still highly recommendable.
Thanks for reading my report – questions and comments are always welcome.
Regards
Christoph