Hello people,
After version 1.0 of this trip report didn't make it because of bloody picture hosts, here we go again.
This is a sort of new version of trip reports. Gastón (MD11junkie) and myself decided to write about two flights we took last weekend, and to post the result here. What you will see, is two different points of view of the very same things. We hope you will enjoy your reading.
Marambio
Let's start saying how we got to fly to Montevideo on this weekend getaway, because Aristotle once said, "thou shall begin with the beginning", or something like that.
It was a hot Saturday night, one of those typical of Buenos Aires this time of the year. Some friends and yours truly were talking about everything and nothing, when suddenly Charly said, "You guys know United is charging 70 dollars to Montevideo return, don't you?" Seventy dollars, now that's cheap. Especially when Aerolíneas Argentinas and Pluna, the two airlines that operate the so-called "Puente aéreo" (Air Bridge) across the Río de la Plata hardly ever have offers on this route. "I'll check that tomorrow", I replied.
And so I did. United.com was not opening for some reason, which made go to United.com.ar, i.e. the airline's local Argentine web page. I found there a very big banner with just two words and a number: "Montevideo 50 dólares". I clicked on it, and put the flight's dates so as to match with the next weekend. Total price per passenger, taxes included: 181,90 pesos. That's about 62 dollars. Hey, nice surprise!
I logged into MSN and talked to some friends about the crazy idea of going to Montevideo for a weekend, and they all seemed to agree. All, including Gastón (also known as MD11junkie on these forums), who answered by saying "What? 60 dollars? Who shall I kill to get that fare?"
On Monday, we all four (Gastón, Román, Nicolás and me) booked ourselves on United.com.ar going to Montevideo on December 10th and back to Buenos Aires on the following day. Timing was also quite nice with United: we'd be leaving at noon, arriving in Montevideo at 13:50 because of the time difference with Uruguay. Returning, we'd leave at 20:30 and arrive at 20:20 – something that caused some laughs, because hardly ever you land before taking off.
After a very long, four-day wait, Saturday was here. This was somewhat of a low-cost trip, so we refused to get a taxi to Ezeiza, Buenos Aires' international airport, distant some 35 kilometers from downtown. Instead, we jumped into bus number 86 for the price of 1,35 peso (0,45 dollar). After about 1:40, we were in front of Ezeiza's Terminal B, used by Aerolíneas Argentinas and occasionally by other airlines, from which we walked the 200 meters that divide it from Terminal A.
9:30 am. Nice timing, we thought – we still had about 2:30 to check-in, go through security and passport control, and board the plane. So we headed towards counters 68 and 69, used by United Airlines for its daily flight to Montevideo. We found out there that we had to go through a pre-check-in security check, apparently something compulsory when flying US airlines.
Once we reached this checkpoint, we split up and went one by one. Being a sort of Indiana Jones of the Pampas, I went first. "Buenos días", I said to the girl waiting there for me. "Hey, may I see your ticket please?" "It's an e-ticket" "Oh, alright then. May I see your passport?"
I have to tell you something guys. We Argentines when traveling to any other Mercosur country do not need a passport. We can just show our ID and it's all right. However, the girl apparently was not aware of that. "I don't have my passport. Just my ID", I said smiling. "You don't have your passport?" the girl replied with the same voice than if I had insulted her whole family. "No, I do not have my passport". By this time the situation was starting to get on my nerves. "You don't…" "No, I do not because I am traveling to Uruguay and I do not need a passport to do so." "Oh, right, you're flying to Montevideo! It's true! I'm sorry!" – she laughed, I sighed.
Anyway, she asked me some dull questions about my baggage. If I packed it myself, if I wasn't carrying any stuff packed by anybody else than me, etc. She also reminded me I could not bring lighters onboard. Afterwards she told me to go the counter, which I did.
I showed the agent, a man on his 50s, my ID and my Lufthansa Senator card. "Are you traveling alone?", he asked me. "Nope, I'm flying with these three guys over there. So if you could arrange our seats to be next one another, that would be cool", I said. "Sure –he replied–, and since you're a Star Alliance Gold, I'll put you in Economy Plus". Another nice surprise. You pay 60 bucks, you get Economy Plus. Thanks United!
After the rest had finished checking in, we paid our airport tax at a separate counter. It was 8 dollars – remember this price, you'll later see why. We then went to have a cup of coffee at Fenoglio, a café located upstairs before security.
We made a stop at the Customs Authority counter, where we declared our cameras. Otherwise they would think we bought them in Uruguay, and would charge us the local tax. And fighting against our national bureaucracy is like yelling to a wall – you will get no response whatsoever.
Security took no time, while passport control (well, ID control in this case) was also done in a breeze. We had a walk by the overpriced duty-free shop, where they are taking advantage of Argentina being home to the world's best meat. Only at Ezeiza you will find a store where you can buy beef just like in a supermarket. Maybe that's why it was chosen the best airport in South America? Who knows.
We then made our way towards gate 8, from where flight UA 847 to Montevideo was due to start boarding in some minutes. We spotted a Copa Airlines 73G arriving from Panama City, and watched a Lufthansa 744 taking off for Frankfurt via Sao Paulo.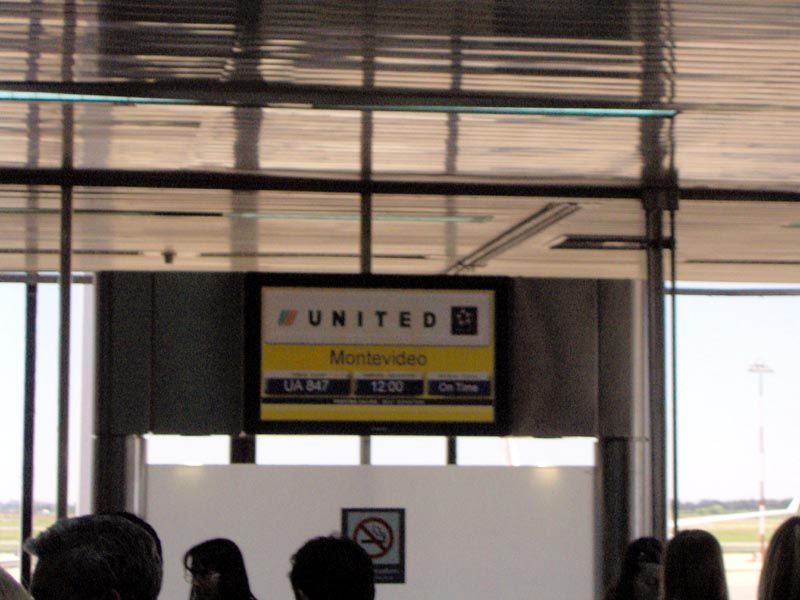 "Ladies and gentlemen, good morning. This is boarding for United flight 847's last leg to Montevideo." And boarding begun… I was selected for a special screening, which made me think I was at the wrong gate – this reminded me more to an El Al flight to Tel-Aviv, than to a short hop to Uruguay. The special screening was a joke: the guy opened my bag, paid a short look at it, closed it, and handed it back to me. That was it.
I walked through the jetway and entered the aircraft, a Boeing 767-322ER registered N652UA, where I was greeted with a "G'd mornin'" (you gotta love Texan accent) and made my way towards seat 19A.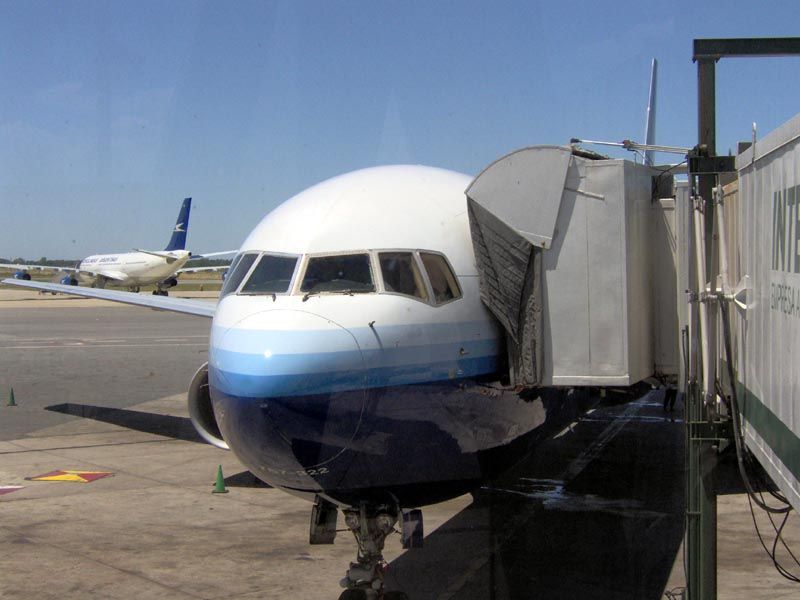 "Now this is legroom! Learn from your best friend, Lufthansa!" was my very first thought after having seated. A couple of moments later, a male flight attendant gave us a box of kosher peanuts and pretzels and a small glass of orange juice.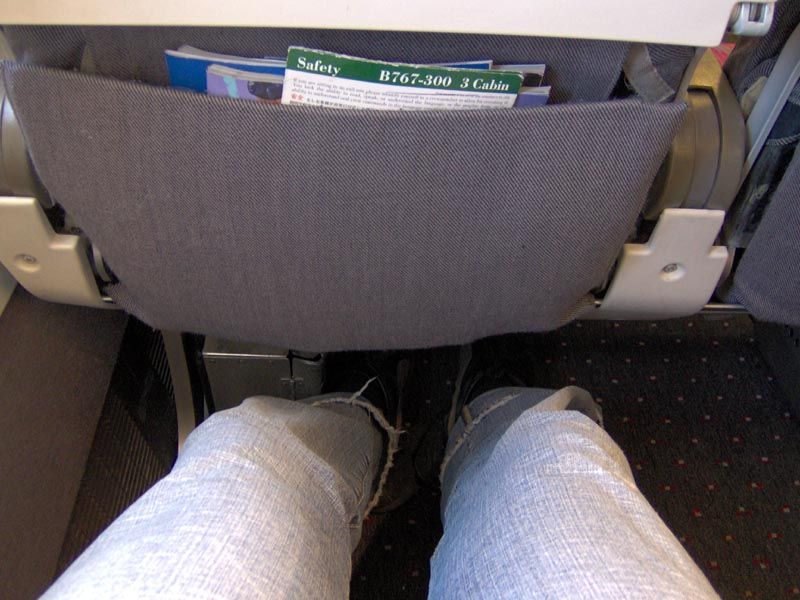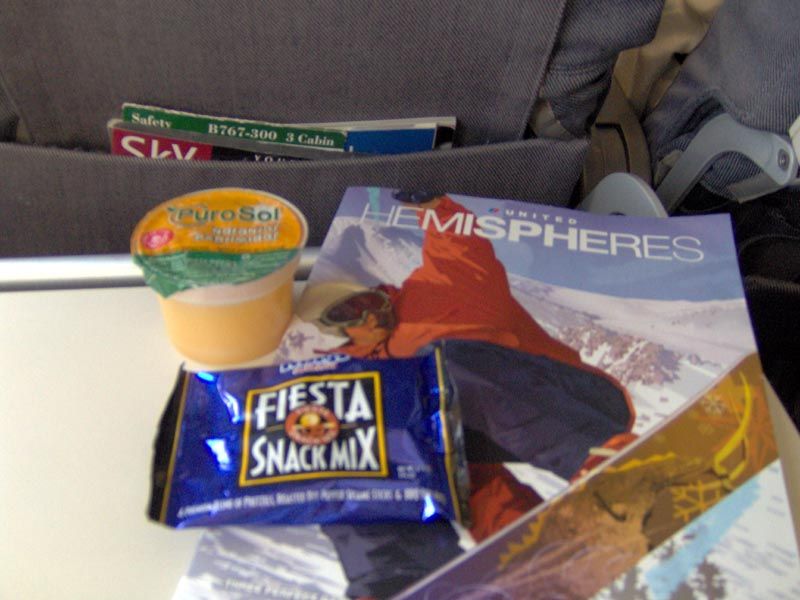 Push-back was done on time, and we taxied to the runway, where we had to wait for some minutes, so that a Lan Chile A320 could land. Meanwhile, security instructions were manually done in English. A small Spanish message told people to contact any crew member if they hadn't understood something.
Take off was very powerful and very fast. The 763 was lightly loaded, so we skyrocketed towards the skies, until reaching a cruising altitude of 18.000 feet.
Captain made an announcement telling us about our flight's route and some other stuff. We flew over southern Buenos Aires, La Plata, and then we crossed the Río de la Plata. We entered Uruguay somewhere near Colonia, and we followed the coast until Montevideo.
We spent the rest of the flight talking, occasionally checking the air map, which was available even though the rest of the IFE wasn't.
After only 20 minutes, we started our descent towards Carrasco airport. Landing was quite hard, but the captain (who looked very much like Will Smith) still managed not to break the aircraft into more than one piece.
We taxied to our final parking position and got off through stairs, because Montevideo's only jetway is not installed yet. I jumped into the bus, and started taking pictures of our aircraft and an American Airlines 767 parked next to it. Besides, a nice surprise was seeing Chávez's presidential aircraft, an Airbus A319 ACJ, which came to Carrasco because of the Mercosur summit.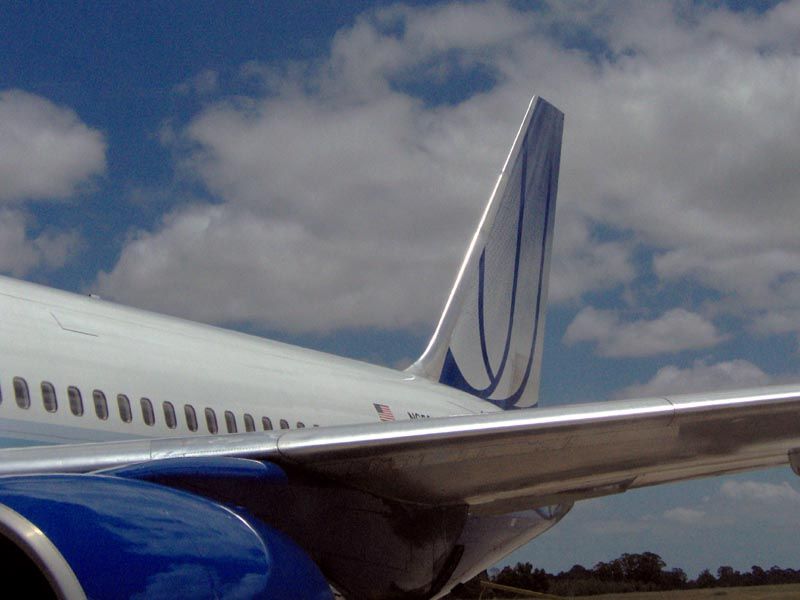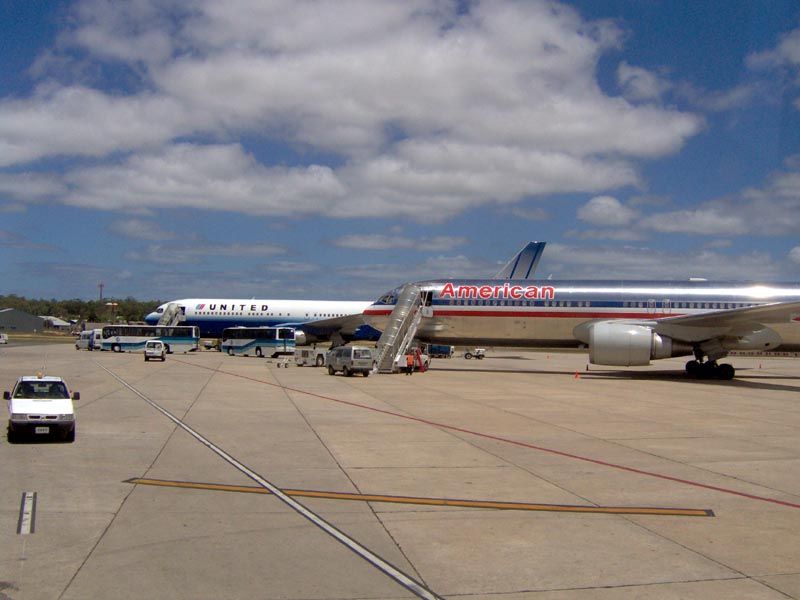 Passport control was done quickly, and Gastón's bag appeared sooner than expected, so in a couple of minutes we took bus number 701 to downtown Montevideo.
Now, the return. Pablo, a Uruguayan friend, drove us to Carrasco on his car, which was very much appreciated. We got there at 6:30, which meant we had 2 hours before flying back home.
After the usual questions about our luggage, we check-in at United's counter. The lady was not really cheerful, but she got her job done, and gave us four boarding passes – three blues, one (mine) gold. She also told us to go and pay our airport tax, because Carrasco is managed by the same company than Ezeiza, and they use the same modus operandi.
Do you guys remember the 8-dollar tax we paid in Buenos Aires? Well, in Montevideo we had to pay 26 dollars. Yes, 26 dollars for a half-an-hour flight. When you think our ticket's base price was 50 dollars, you get to realize this tax represented a 50% rise on it. 26 dollars was almost twice what cost our very cool, Lonely-Planet-recommended hostel for a night. 26 dollars is simply absurd for an airport fee, especially on such a short flight. I am already preparing an e-mail to Puerta del Sur (the airport managers) telling them how angry I am because of this.
Anyway, we went to a nice café called Porto Vanila. It was a very nice café with a great view of the runway. We had something to drink, and talked about everything and about nothing, while watching a Lan Chile 763 off to Santiago and an Air France Cargo 742 going to Buenos Aires.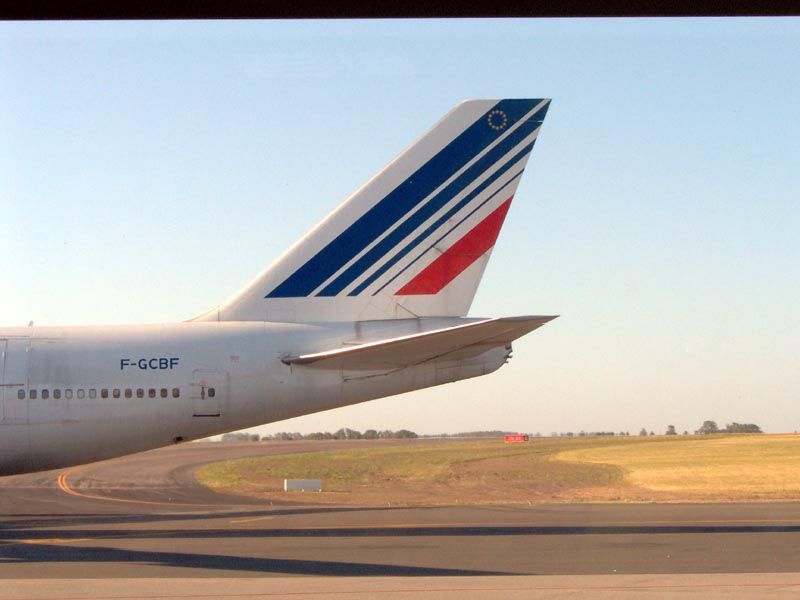 Later, we said goodbye to Pablo and went through security and passport control, which were done in no time. Once on the airside, I went to the duty-free shop and bought some cognac bottles for my dad and a carton of Nevada cigarettes for myself.
At the gate, we had to go through another security check, with X-Ray machines. Afterwards a bus was waiting to get us to the aircraft, another Boeing 767-322ER, this time registered N647UA. From the bus we could see Pluna's only 763 taxiing to runway 06, from where it would take off to Madrid via Rio de Janeiro.
We found our seats promptly, and what I first noticed was the very big difference between Economy and Economy Plus. Legroom in Economy was simply horrible, and I guess I'd have ended up hating it if I were to continue all the way to Washington.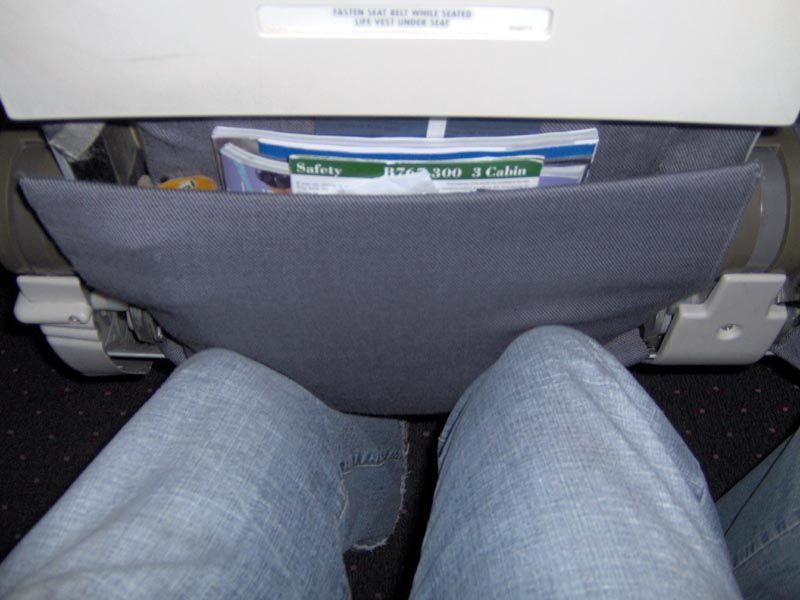 Just like on our previous flight, security announcements were done in English by our chief purser, Mr. Robbie Williams, with another flight attendant telling passengers in Spanish to contact anybody if they didn't get the meaning. The message was cut twice because of an APU error, which made all lights and the air conditioning stop working for some seconds. Before take off we were also handed the same snack and the same orange juice. We tried to listen to Channel 9 with Gastón's discman earpieces, but the captain didn't turn it on. Bad luck, I guess.
We left Uruguayan soil through runway 06, and flew about the same route than on Saturday.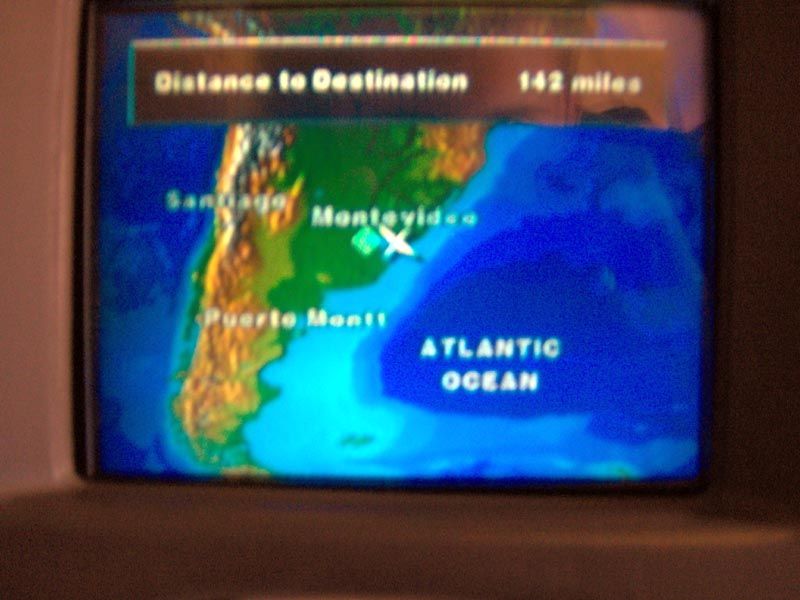 We got to get some breathtaking views of Montevideo, and then started our quick crossing of the Río de la Plata. In no time we started our descent over the city of Quilmes, in southern Greater Buenos Aires, to land at Ezeiza ten minutes in advance. Landing was all right.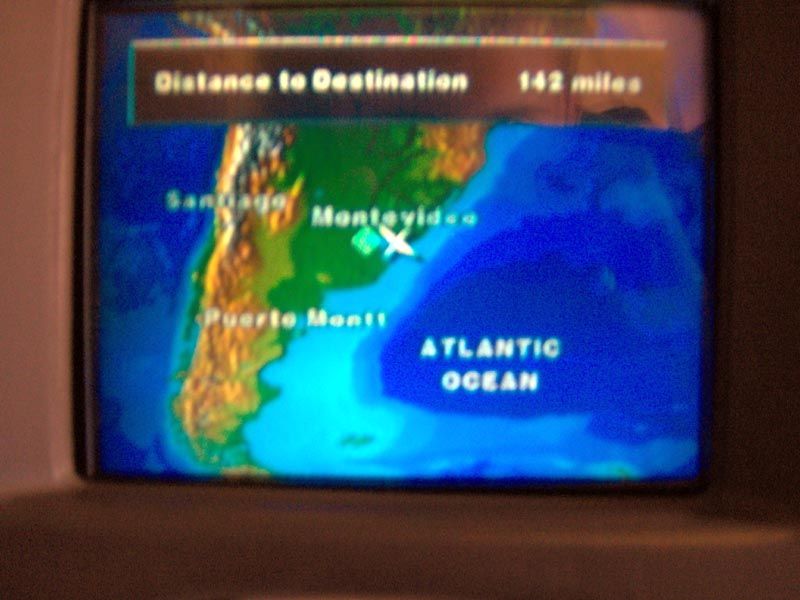 We taxied to gate 8, and got downstairs. Passport control was also done on a breeze, and we were home again. Gastón's bag came quickly, and we didn't go through customs because the agents were busy coping with the hundreds of passengers who arrived on Malaysia Airlines.
We took Manuel Tienda León's special bus to downtown Buenos Aires, which costs 25 pesos. And there, after two days of almost not sleeping, we all passed out, making this the end of our Uruguayan weekend getaway adventure.
Concluding, I pretty much liked United. It was my first flight in more than five years with them, and I still consider them to be a great airline. The fare we paid was unbeatable, and the service was also good. The only problem was legroom in Economy, but I suppose one must get used to travel like cattle these days.
MD11junkie
The trip began around sometime last week, when on a normal Saturday night a friend of mine brought to our attention United's fare of USD 60 to Montevideo, Uruguay. Let's keep it fair and square – I didn't believe it. After some Googling activity, we went off to plan the trip. That is, 4 people. Marambio, MD11junkie, and two other friends of us. The fare was booked via United's website in Argentina:
http://www.united.com.ar
The idea was to depart Buenos Aires for my birthday, Saturday 10th and arrive Sunday 11th. We were all in for the idea. It was going to be around 150 bucks spending, with the flights included for a two day holiday trip we were taking.
Everything was smooth and on the line. Booking and reservation from United's website was surprisingly easy, and they even offered installments (with a financial surcharge) for the final pay down of the flight.
Saturday, December, 10th.
I got up at about 6.00am [GMT -3]. I prepared myself for departure. Considering that we had to be at the airport by 10.30am at most, we needed to gather at the intersection of Rivadavia and Acoyte to board bus line n°86 to the airport (for those of you who say there's no public transportation to the airport), at 7.40am. It was supposed to be a 2 hour ride, but it got to be shorter. We boarded at around 8.30am because we missed two waiting for a friend. We got to the Airport by 9.40am and walked ourselves and our bag packs to Terminal A – formerly known as 'Espigón Internacional'. We saw the check-in counters were a mess. Due to Lufthansa's flight departing at 11.30am towards FRA, with a stopover at GRU. United's counters were not full, but there was a normal amount of people.
Check in
Security was not what I expected to be. Asking dumb questions about my luggage and my personal belongings – and what did I intend to do in Uruguay, are not the type of things I would expect from a Security officer. Yet, this is required by every American airline, and I respect that. I decided to make the agent's life easier – and provided her with my Passport instead of my ID [Documento Nacional de Indentidad]. I was cleared to the next level of security, were a woman, very kind and funny [not funny looking] went through my bag. I did not oppose myself, even though the search was very thorough, she didn't hesitate to ask questions about my personal life, or why was I going to MVD. To make my tension ease, I believe – a very good tactic. Authorized to make it to the Check in counter, where I met with my 3 friends. This was the funniest part of the process. The Check in agent, a woman in her late 40s, I would say – was very extroverted, fun and made the check in go really fast. We actually stayed over a little bit longer because she was very fun to talk with and very informative. She told us legislation for minors traveling abroad on their own will change in March, making them need for a NEW travel permit from their parents every time they fly. After we ended our conversation, she reminded us to pay the USD 8 Airport Fee.
The check in process took no longer than 10 minutes itself, that's not counting security.
We went and dribbled around the airport, had some coffee – just to 'kill time' as we say here in Argentina. We decided to go pass the bureaucratic crap – registered our cameras with the AFIP [Argentine IRS], passed the metal screening, migration line and ended up in the Duty Free Shop – taking a look at the prices for different stuff. Something that caught our sight, were the refrigerators with Argentine meat inside. It was "Cabaña Las Lilas" premium selection – with absurd prices. A tip: DO NOT BUY THESE. You can get them at a supermarket for a third of the price.
The Duty Free Shop saloon, lead us to a CROWDED Gate 8. Keep in mind that in this room there were 3 flight's passengers waiting for their turn to board. These were UA's, MX's, and CM's flights. Taking pictures to everything on the tarmac was the way to go:
Lufthana's 747-400 [D-ABVA] taxiing to runway 11 for departure:
Copa Airline's 737-700 with Winglets [HP-1524CMY] taxiing to the gate:
Mexicana de Aviación 767-300/ER at Gate 7 with Iberia's A340-600 behind:
Our own Boeing 767-322/ER [N652UA] parked at the gate, with Aerolineas' A340-200 [LV-ZPX] resting behind:
Boarding
The boarding process was not chaotic at all. They announced boarding for First Class, Business and Star Alliance Gold Members first. Good bye Marambio, I'll meet you on board! Then, the crew proceeded to board by Sections. All in order.
The problem, again, was security. It was the bottle neck, again. It was not thorough, but it took a long time though – and it was completely random! I skipped the search, but my Marambio and our two friends didn't get that lucky.
Flight: UA847
Routing: IAD-EZE-MVD
Leg: 2 – EZE-MVD
Aircraft: Boeing 767-322/ER
Reg.: N652UA
The crew welcomed us on board. They were EXTREMELY kind. They all knew what they were doing and everyone enjoyed doing it. They served the passengers efficiently handing out the snacks before take off.
Hydraulics off – resting at the gate, hi Copa!:
All the procedures were done on time. The only remark I need to make to the flight crew, was that they were a pleasure to fly with and that they did an excellent job. Level of disposition for any matter whatsoever was amazing, even so – being the crew that landed from IAD – just a few hours ago. Everyone was smiling, and that was amazing and very comfortable.
The flight went on without any occurrences – everything was smooth and I was surprised with the 767s powerful takeoff, but of course – it was empty. None of my other experiences showed him this way. We cruised at FL150.
Landing was a bit rough. Captain Hens and F/O 'Will Smith' made the plane smash to the ground. Nevertheless they managed to stop it (yes, they were coming in too fast) and not break it apart.
Arrival to the terminal at Carrasco International Airport was nothing but normal.
But we got this surprise visit, Mr. Chavez's ACJ!:
Carrasco remained the same – but painted and with new signs. The operator of the airport – didn't do much other than the renewal of the first floor as well as putting toll booths for the parking lots.
The stay in Montevideo was great, we walked a lot, about 4-6hrs per day. We did get fun with a local friend of mine. And visited places like the Port, Ciudad Vieja, Parque Rodó, Torre ANTEL and the Port's Market. Do not pass out on the Frankfurters and the Chivito Canadiense!
Some Pics:
Torre ANTEL:
Plaza Independencia with 18 de Julio Avenue behind:
This is the twin of Palacio Barolo in Buenos Aires:
The Port Authority:
The Rambla with Edificio Mercosur on the background:
The Old City Arc (Puerta de la Ciudad Vieja):
Sunday, December 11th.
After having a great day around Montevideo, walking and drinking – we got to the airport, with my friend Pablo.
Check In:
Normal security process. Much quicker than in Buenos Aires. The Check-In crew was less joyful than in Buenos Aires, but they got their Job Done. We got no upgrade to Economy Plus.
Airport Fee:
Now, this is a pretty touchy subject to me. The airport fee was an atrocious USD 26 dollar tax. I tried to pay with Argentine pesos, which I thought they would accept, because the owner of Puertas del Sur, is an Argentine company. But no, they didn't. Making life hell, I had to change Argentine Pesos and Uruguayan Pesos to Dollars. Considering it's a regional flight, the tax should be lower. I'm actually considering to complain to the Uruguayan Government for this.
Waiting Room:
We had something to drink while we waited for our boarding call. There is a bar on Carrasco's first floor, called Porto Vanila – and of course, we took some pictures:
AF's 747-200(F):
LAN's 767-300/ER [CC-CRI]:
Venezuelan Air Force 707-300:
We got our boarding call, so we left.
Boarding
After spending USD 76 in the Duty Free Shop, on Cointreau, a Nevada Cigarettes pack and a Cordless Phone – we proceeded on to boarding. Security again, the bottle neck. We rode on a bus to the plane – just like how we deplaned, the day before.
N647UA, ready to be boarded:
Flight: UA847
Routing: MVD-EZE-IAD
Leg: 1 – MVD-EZE
Aircraft: Boeing 767-322/ER
Reg.: N647UA
Again, everything went smooth. UA's crew did a superb job. Despite the little APU incident that we had during the safety demonstration [it turned off a couple of times] – everything went well. Departure was on time, arrival was on time. Landing was a major class of how to struggle against crosswinds, and soft.
Here's the food – spot the typo!:
Well, then, we got off the plane – and used the Manuel Tienda León service. 25 pesos for a bus ride to the city. Everyone pitched in to fatigue. 2 days of almost no sleeping and exhausting physical activity, beat us. Thank you Uruguay for such a wonderful weekend. The getaway was the best thing we could have done.
Saludos and Cheers,
Marambio & MD11junkie