Departure Airport: Bahrain (Manama) – International (Muharraq) (BAH/OBBI)
Arrival Airport: Athens - Eleftherios Venizelos (Spata), Greece (ATH / LGAV)
Airline: Gulf Air
Flight number: GF 41
Aircraft type: Airbus A340-313X
Registration: VT-JWC (c/n 651)
Date: 9th September 2005
STD: 0925
Class: Y (Economy)
Scheduled Flight time: 4hrs 35mins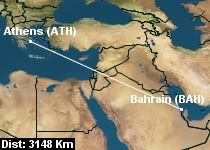 Having spent a week working in Riyadh, Dammam and Bahrain, it was now time to switch off from work for a couple of days, and travel to my friends' wedding on the Greek island of Rhodes. I had known for several weeks that I was going to be in Bahrain the day before the wedding, and had started looking at the flights some weeks ago, to see how I could make it to RHO from BAH. I found out that Gulf Air operated a daily flight BAH-ATH using an A320, and that Aegean Airlines and Olympic Airlines operated several daily flights on the ATH-RHO route.
Not knowing whether or not I was going to travel until just a few days before, I found myself in a travel agency in Dharan, Saudi Arabia, purchasing tickets for the ATH-RHO-ATH sectors, having purchased my BAH-ATH-BAH tickets in Abu Dhabi a few days earlier. By this time, there was no availability showing on any of the RHO-ATH flights. I was waitlisted for the early morning Aegean Airlines flight, which was the only flight showing any availability the previous week, and luckily the reservation came back confirmed.
I awoke early, at approximately 0630, and took a courtesy bus from the Bahrain Hilton, to Bahrain International Airport. Having proceeded through the security checks to the main check-in area on the departures level, I noticed that most of the check-in counters were very quiet. I carried my bags across to one of the Gulf Air counters, and was checked in by a very pleasant lady. It was a relief to get rid of my two large bags, which were mainly filled with training material and dirty washing from the previous week, but as I was not returning back to my apartment in Abu Dhabi until after this trip to Greece, I had no choice but lug them around with me.
After being handed my boarding pass, I decided to go airside straight away, as there is nothing to remain landside for at BAH. Before I went airside, I had to go and pay my 3 Dinars departure tax, at the counter adjacent to the departure channel. As I had a wallet full of Saudi and UAE currency, I decided to pay using 30 UAE Dirhams. Once I recieved my reciept, I walked through to the Immigration counters, where my passport recieved a departure stamp. Once I got into the gate area, I could see that it was rather busy, but luckily, I had recieved an invitation from Bahrain Airport Services to use their new business louge, to which I proceeded straight away. I was greeted at the lounge entrance by a very courteous lady staff member, and shown into the lounge. The lounge is very pleasantly presented, using mainly black, brown and beige colours, and offers a very good variety of reading material, snacks and beverages. Within a couple of minutes, I was drinking tea and munching coco pops, making up for the fact that I did not have time for breakfast in the hotel. The lounge offers a reasonable view of part of the apron area, and I could see that further along the pier there were two A340-300s, one Gulf Air and one Jet Airways. As I ate my breakfast, a DAS Air Cargo DC-10F arrived and taxied onto the cargo apron, and an Egyptair Boeing 737-500, SU-GBJ, landed and taxied onto stand very close to where I was sitting. It was nice to see this, as the only MS aircraft I usually see back in AUH are a mixture of wide-body Airbuses, and Boeing 777-200s. Also parked nearby was Gulf Air Boeing 767-300, A40-GJ, in the rather attractive, blue 50th anniversary markings.
After relaxing in the lounge for a while, I decided to head downstairs to the departure gate. My flight was assigned gate 14, which was just over a five minute walk away. Naturally, when I got to the gate, the first thing I had to do was subtly take a photograph of the aircraft that was to take me to Athens. The aircraft operating this flight was to be VT-JWC, an A340-300 of Jet Airways.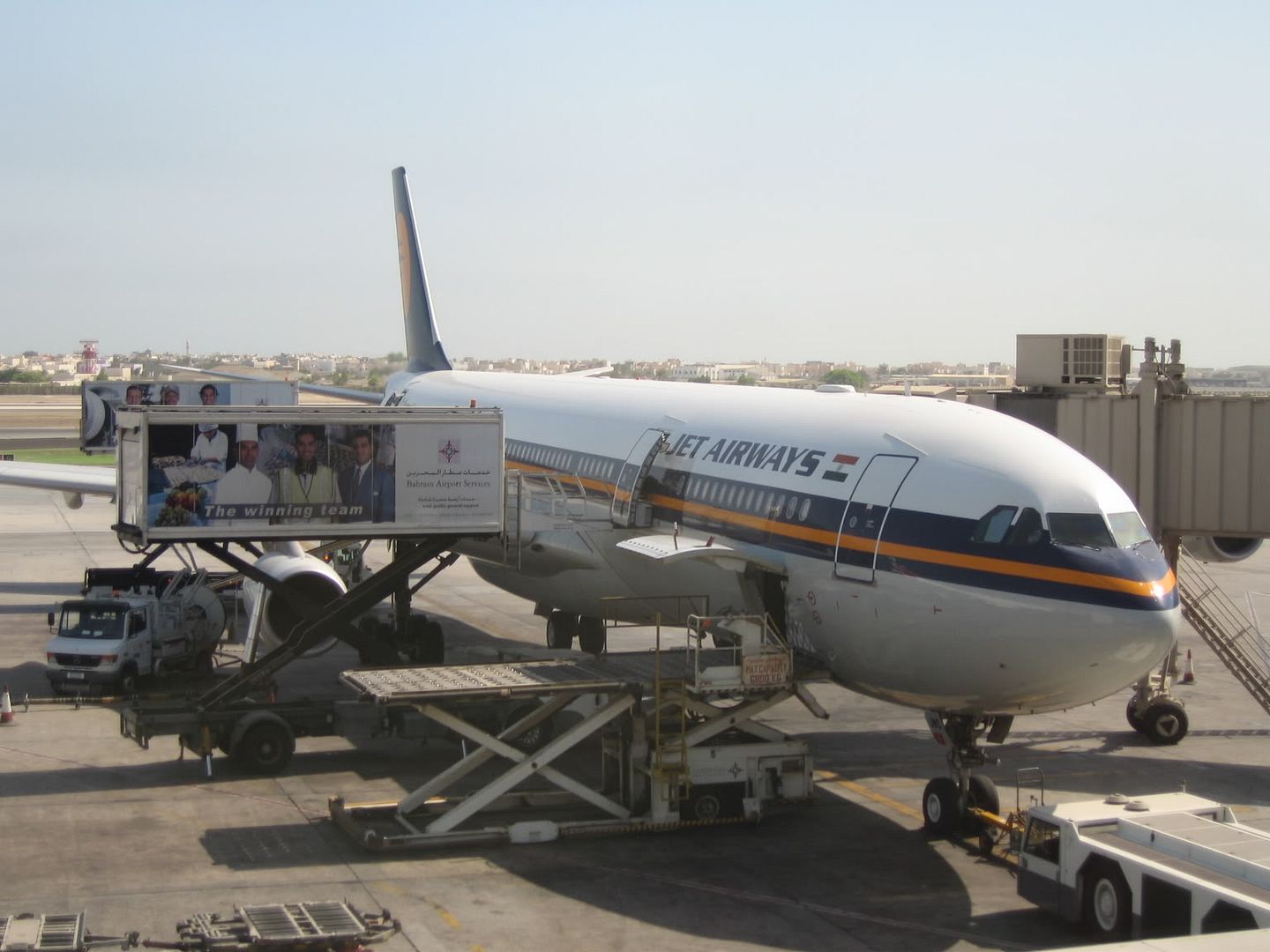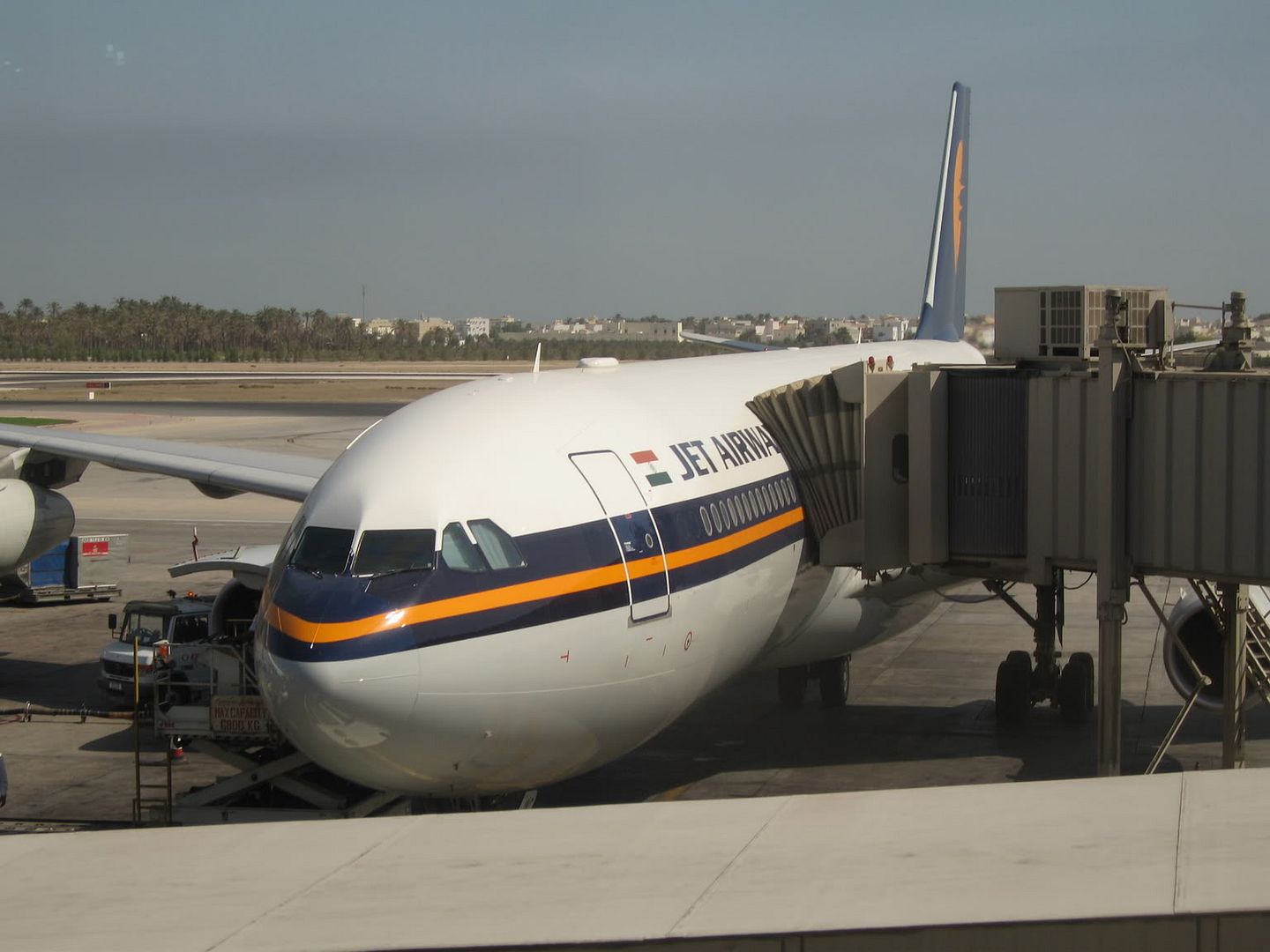 Within a few minutes of arriving at the gate, the first boarding call was made, and the usual rush ensued. This always makes me wonder what goes through peoples' minds at this stage, especially on full-service flights with allocated seating. Naturally, I waited until the rush was over, and was one of the last to make my way along the airbridge. I had been allocated an aisle seat at check-in, and asked at the gate if there were any window seats available. I was then kindly changed to seat 70K. A few years ago, when I used to be a check-in agent, I always used to offer people a choice of window or aisle, but I have noticed recently that most check-in agents do not do this. I made my way for boarding through door L2, noticing a sticker applied to the right of the door, which explained that this aircraft was operated by Jet Airways, on lease to Gulf Air. I made my way through the business class section, and was impressed by the modern and presentable seating.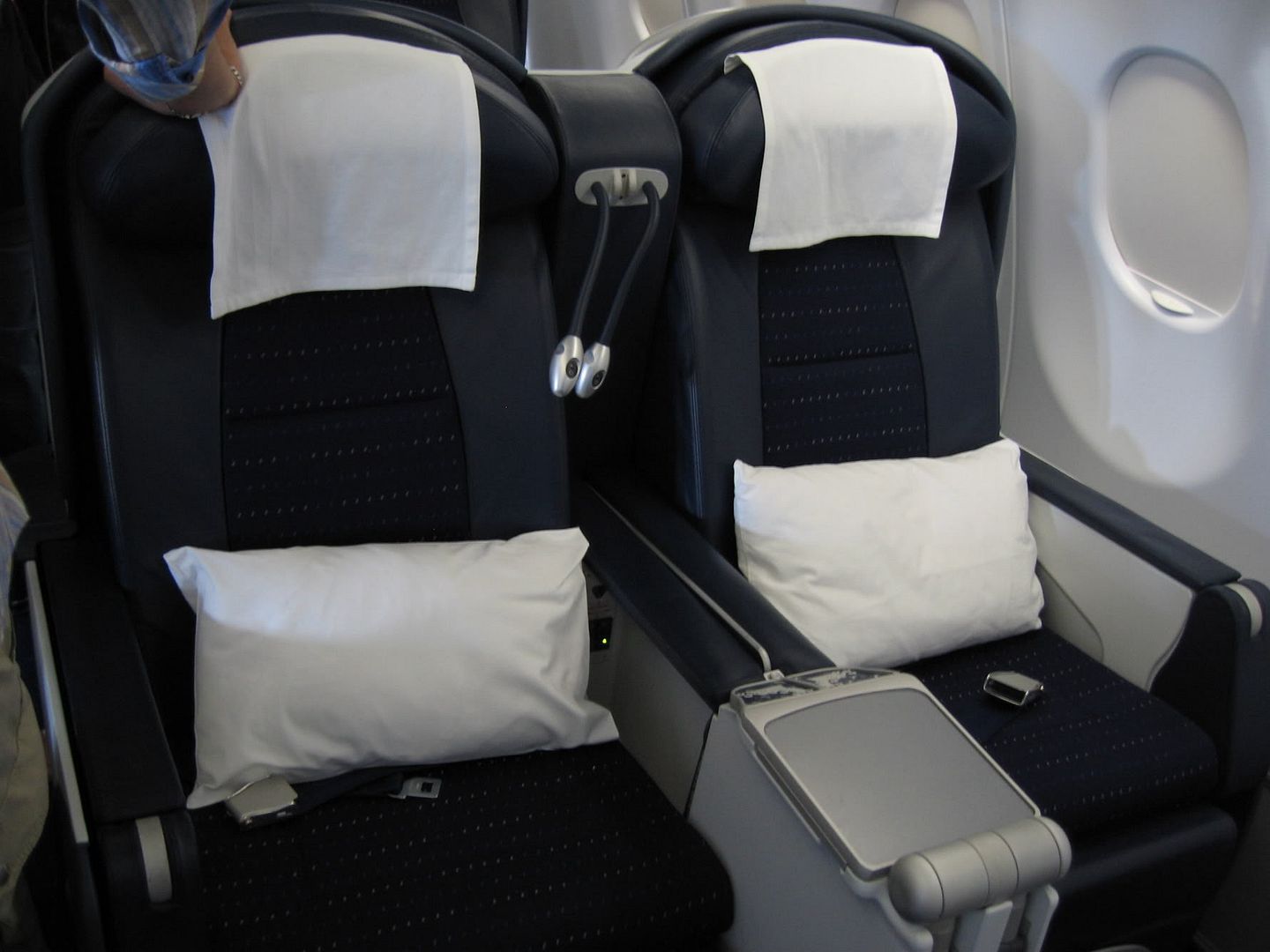 Sadly, it was economy class for me today, but I had my window seat, and was very much looking forward to the flight. I made my way to the rear of the economy section, placed my cabin baggage in the overhead bin above rows 70/71, and took my seat by the window. The economy section was very presentable, and my initial impression of Jet Airways' aircraft was very good.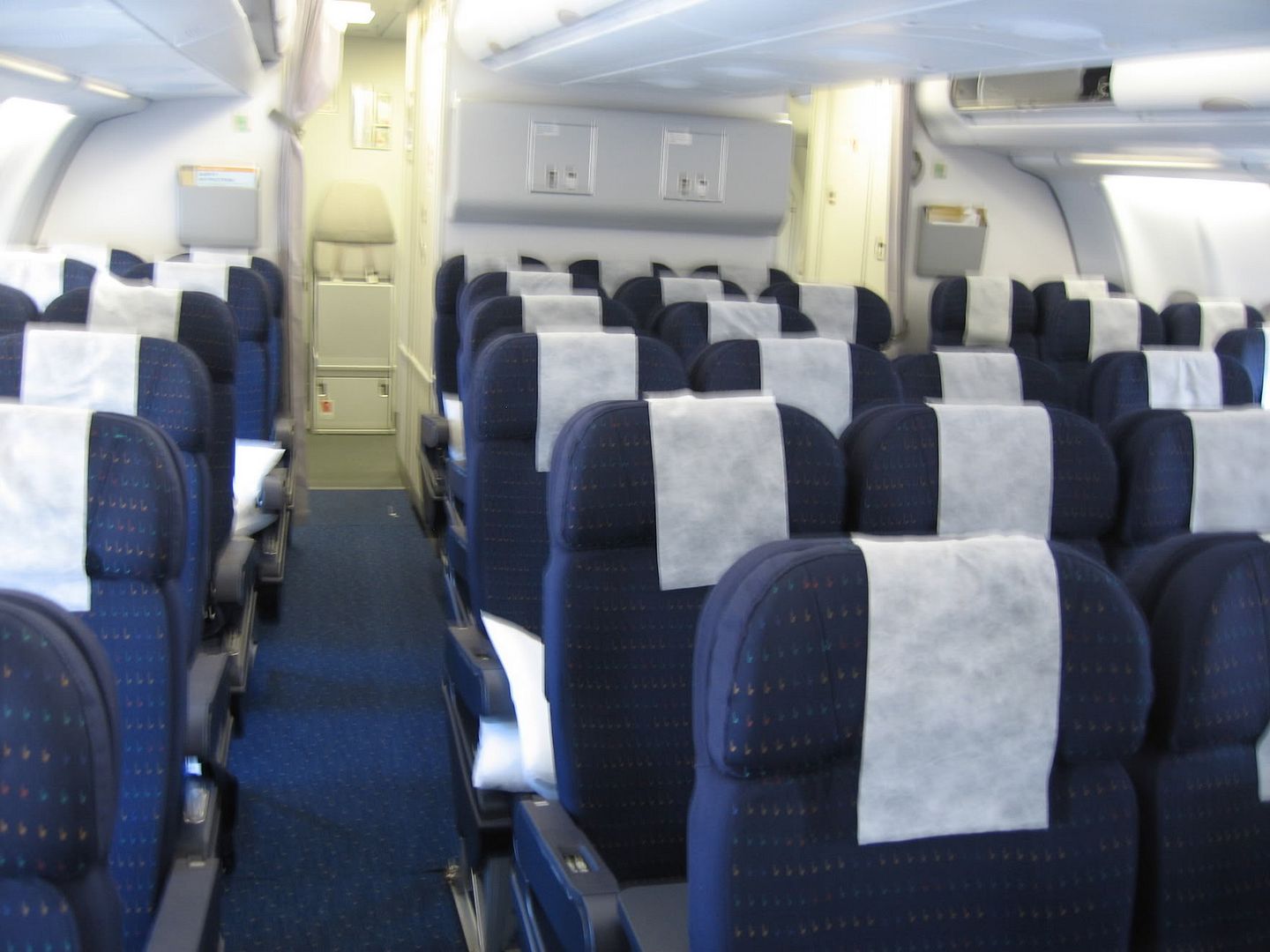 As I took a look out of my window, I coold see a Qatar Airways A300-600 arriving on a nearby stand, as well as an Emirates A330-200, A6-EKV, on the adjacent stand, being prepared for a flight to Dubai.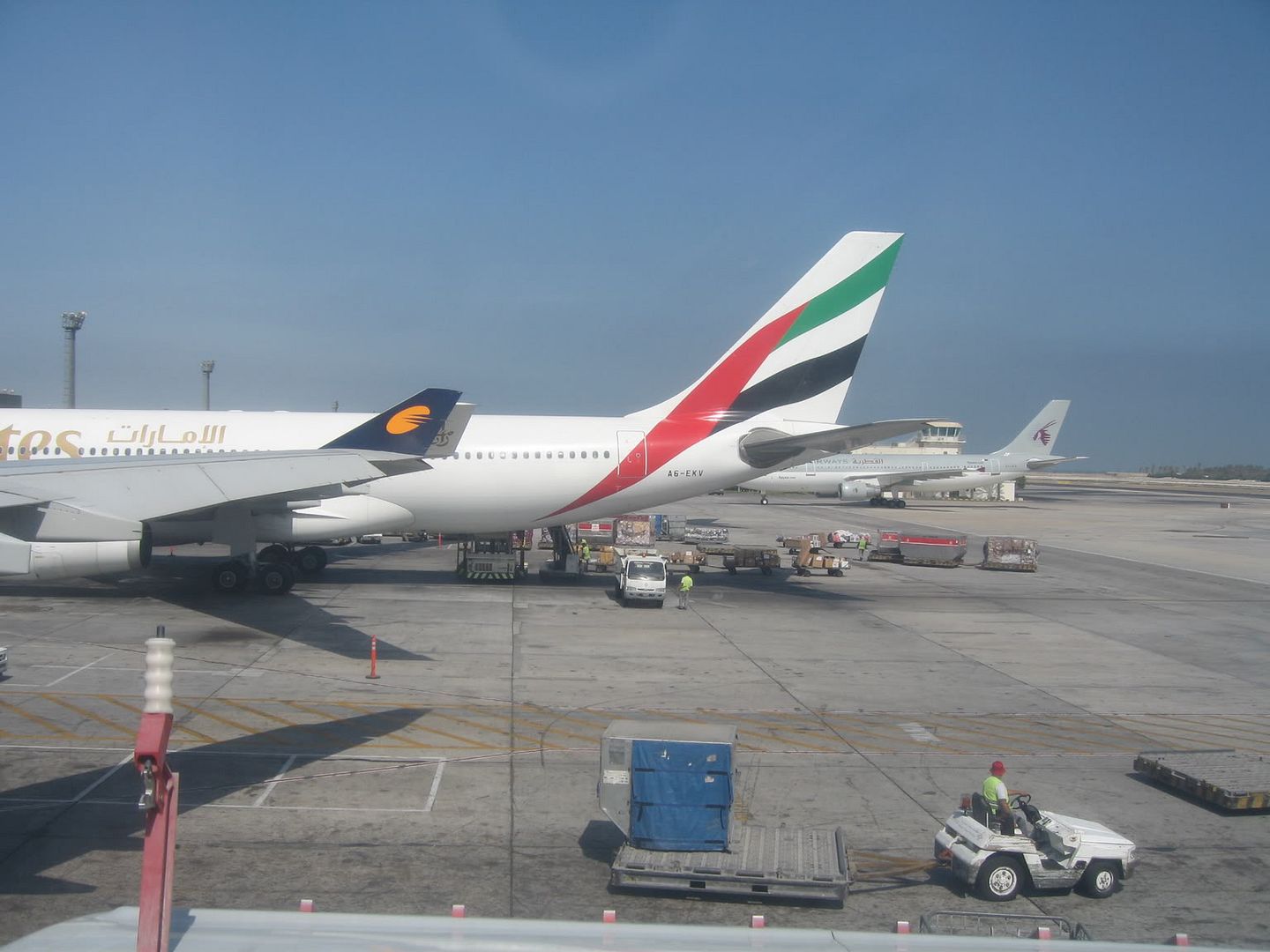 A few minutes later, we were pushing back, and a Gulf Air A330-200, A40-LH, could also be seen, as well as the DAS Air Cargo DC-10F I had seen arriving earlier, on the cargo apron in the distance.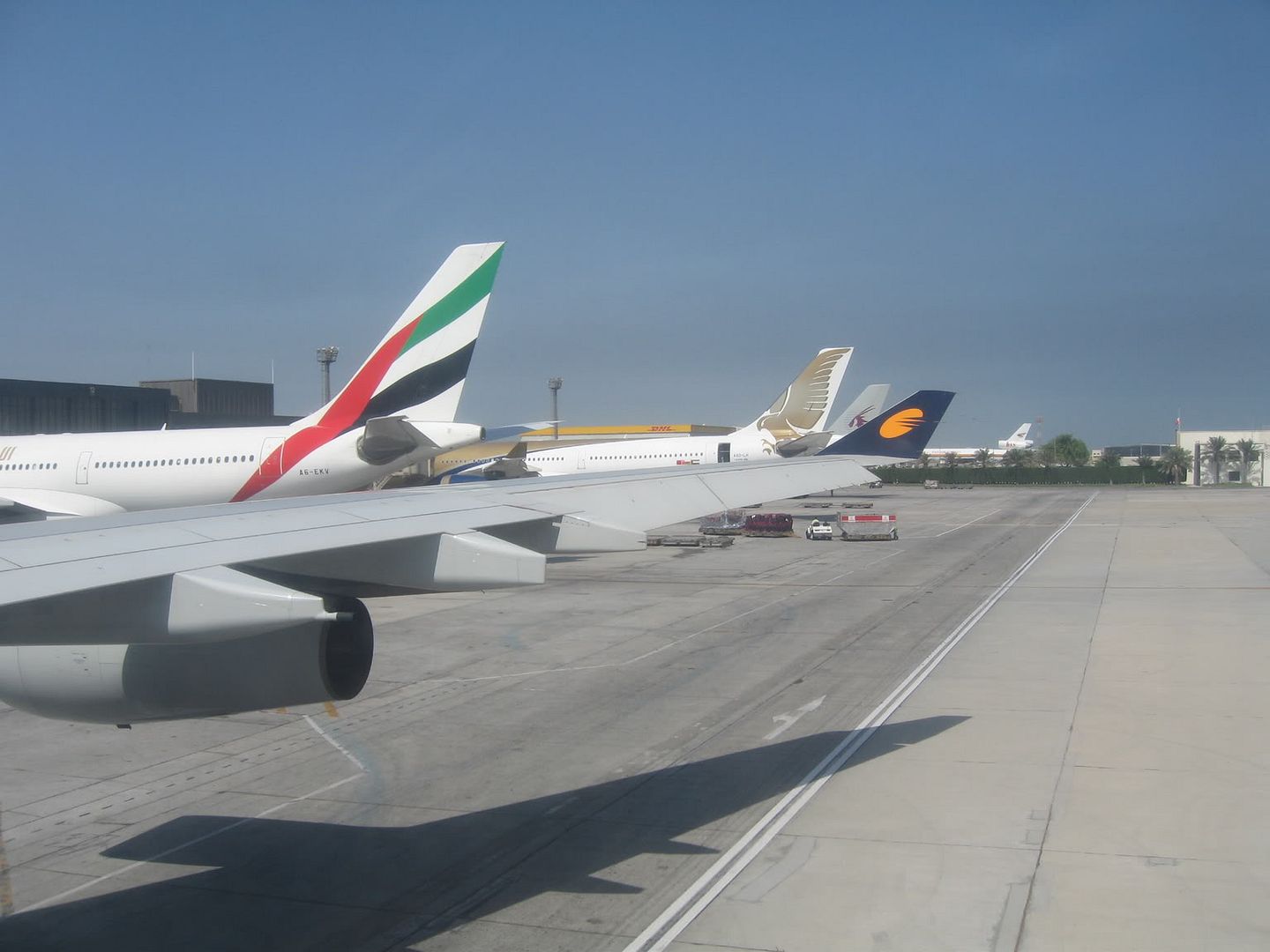 As we taxied out to the take-off runway, we passed Gulf Air Boeing 767-300, A40-GJ, in the special markings that I commented on earlier, as well as an A320-200 in the standard GF colours, before taxying past BAH's new, stylishly designed control tower. This was still under construction when I last flew here in June.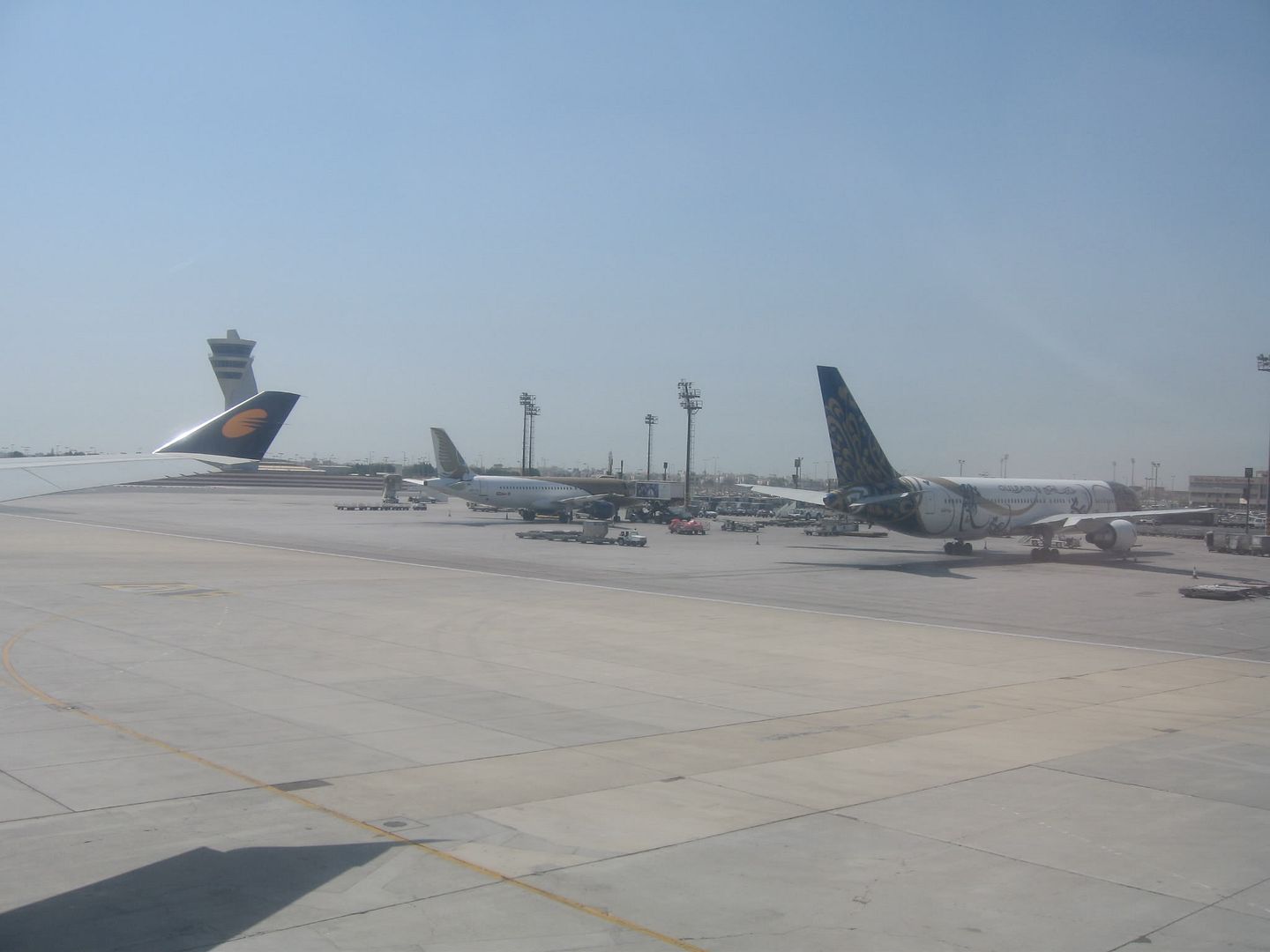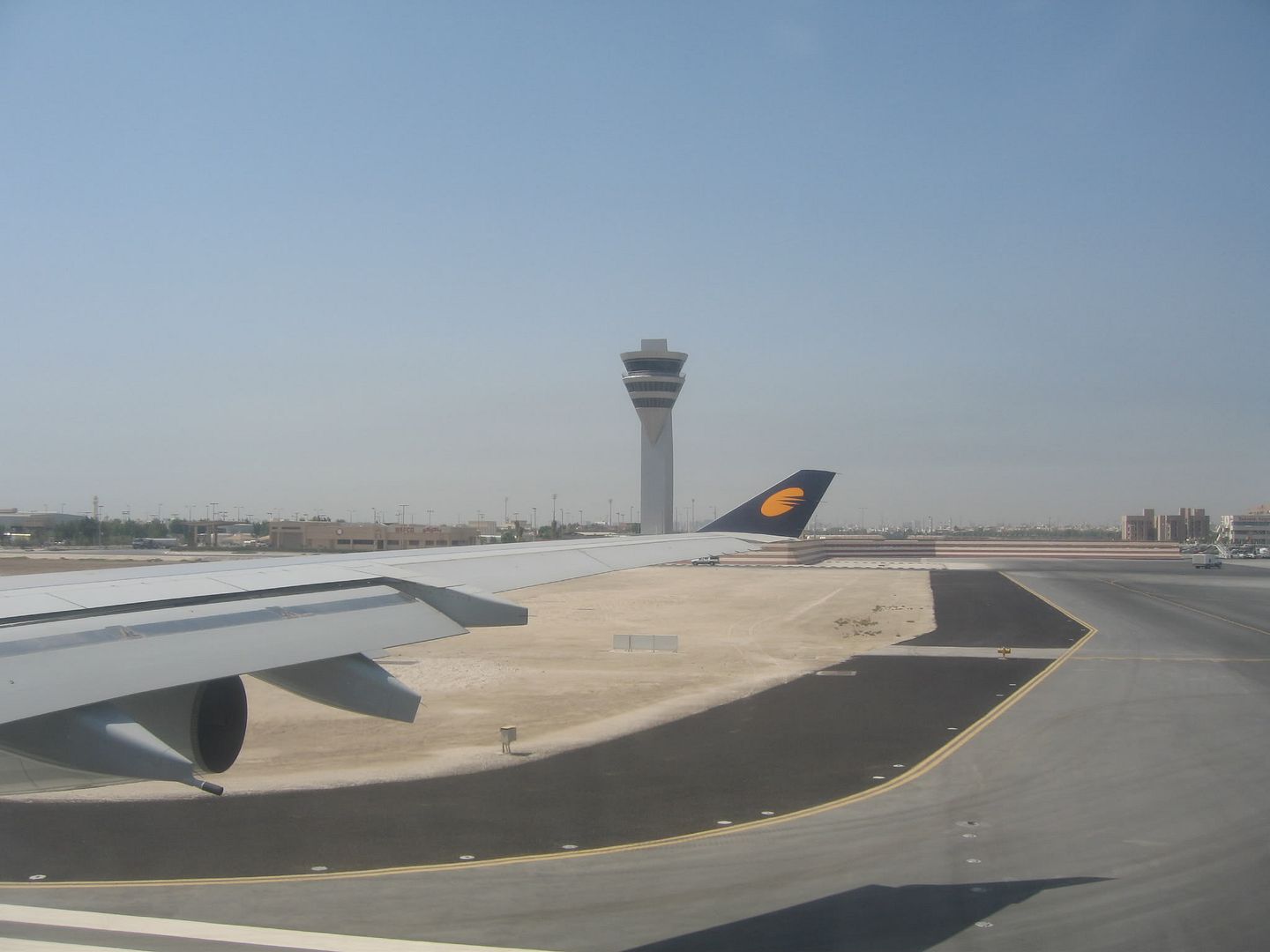 A couple of minutes later, 'WC was turning onto the runway, and was soon airborne for ATH.
Take-off from BAH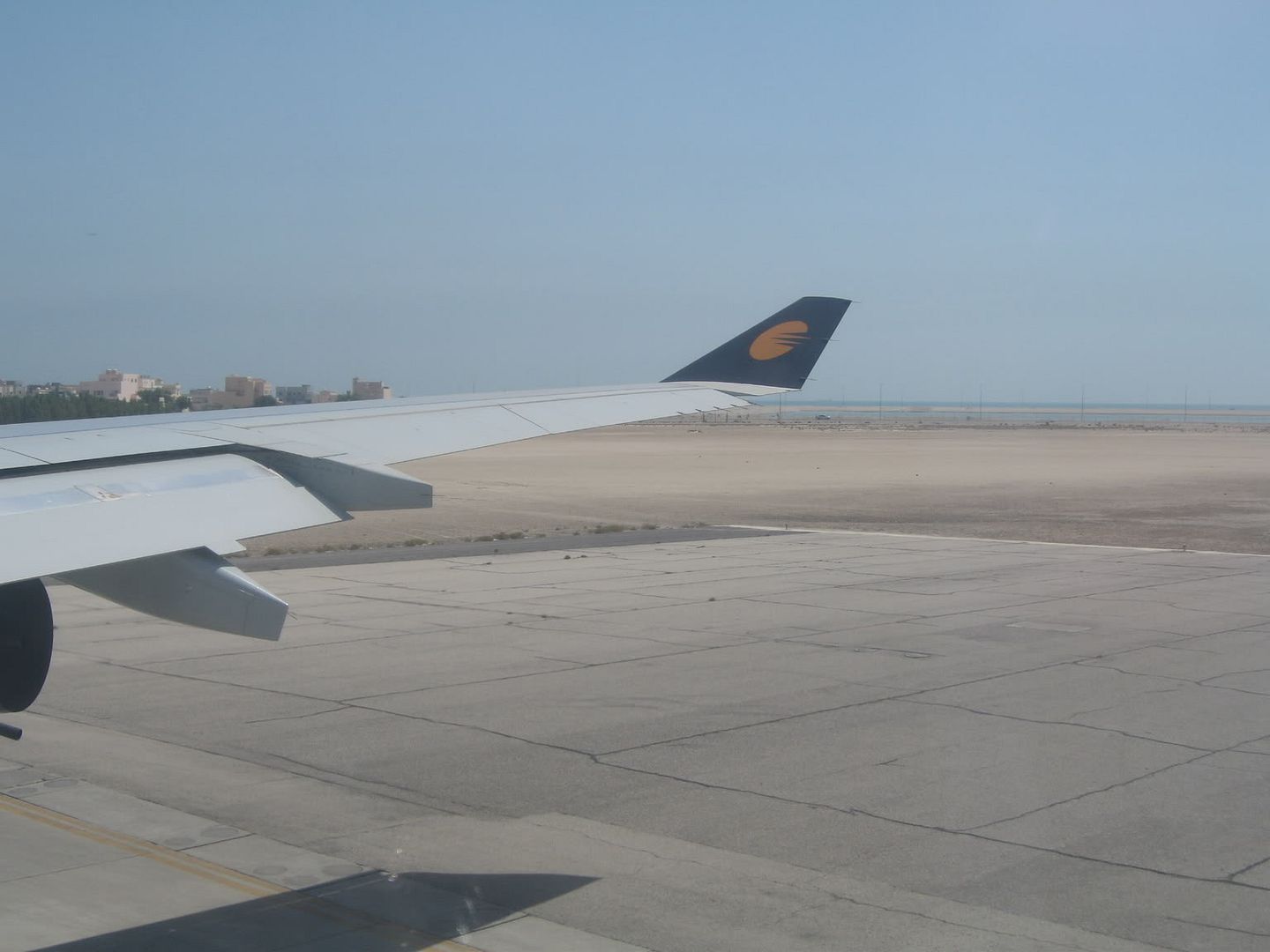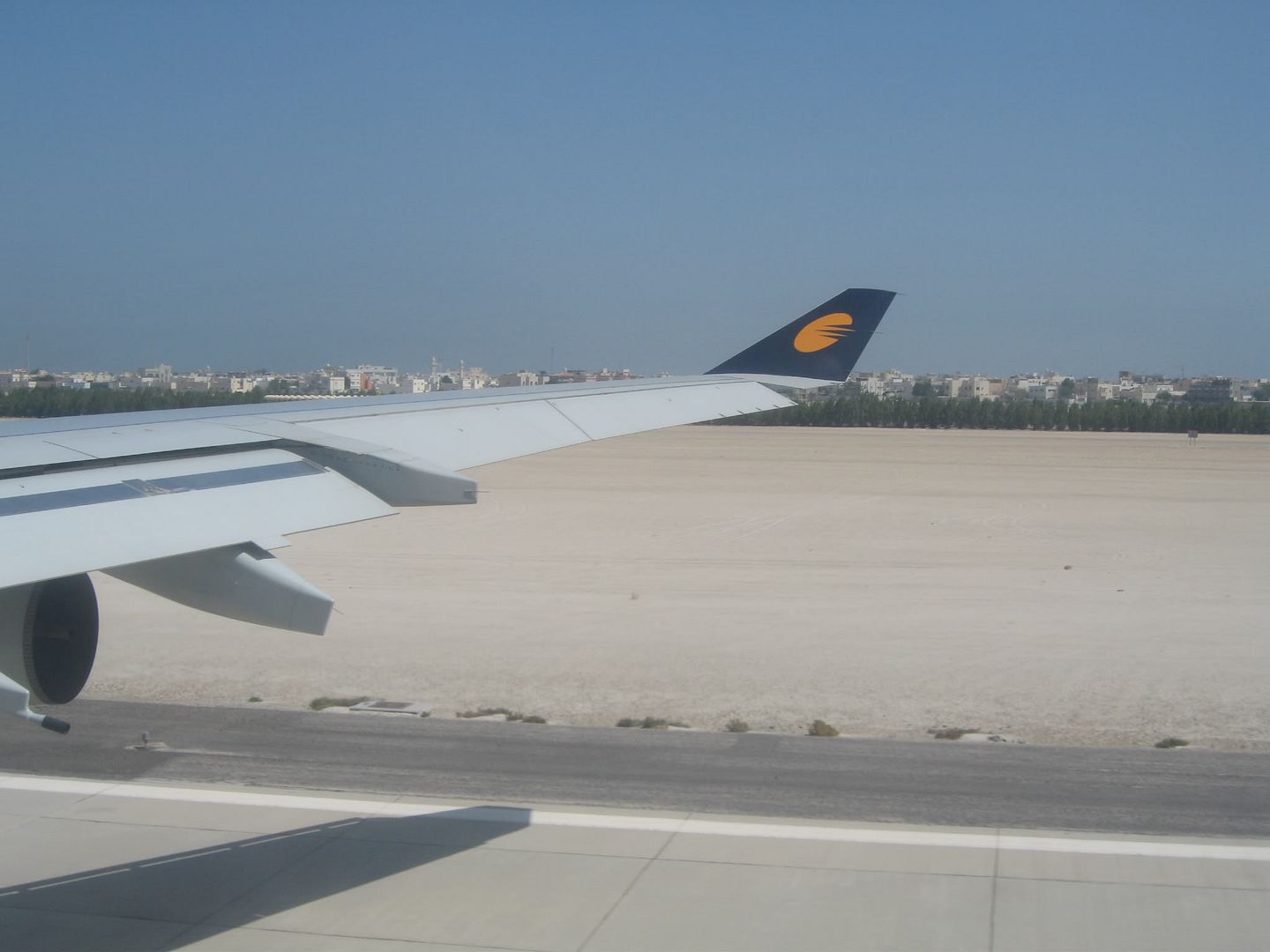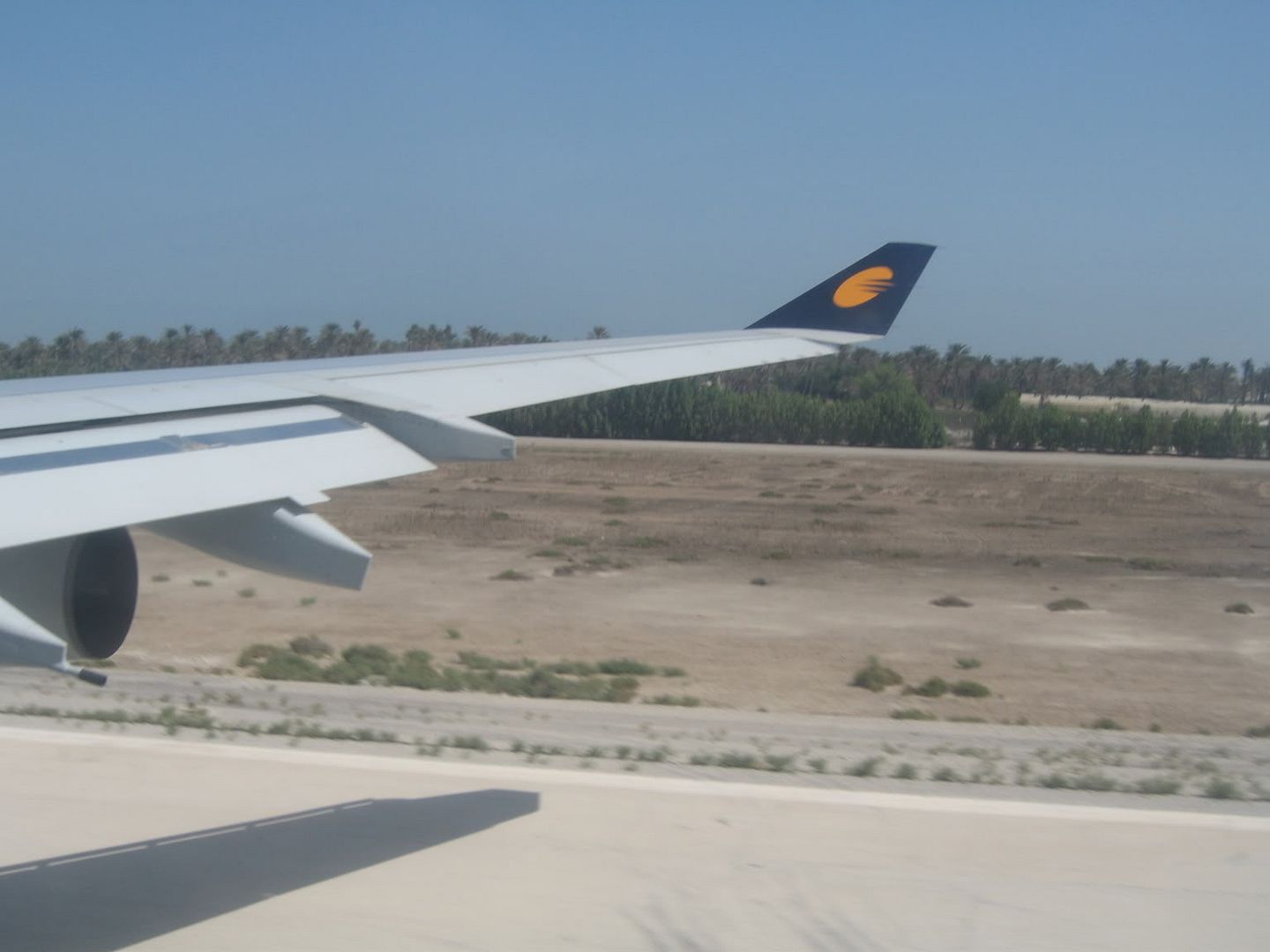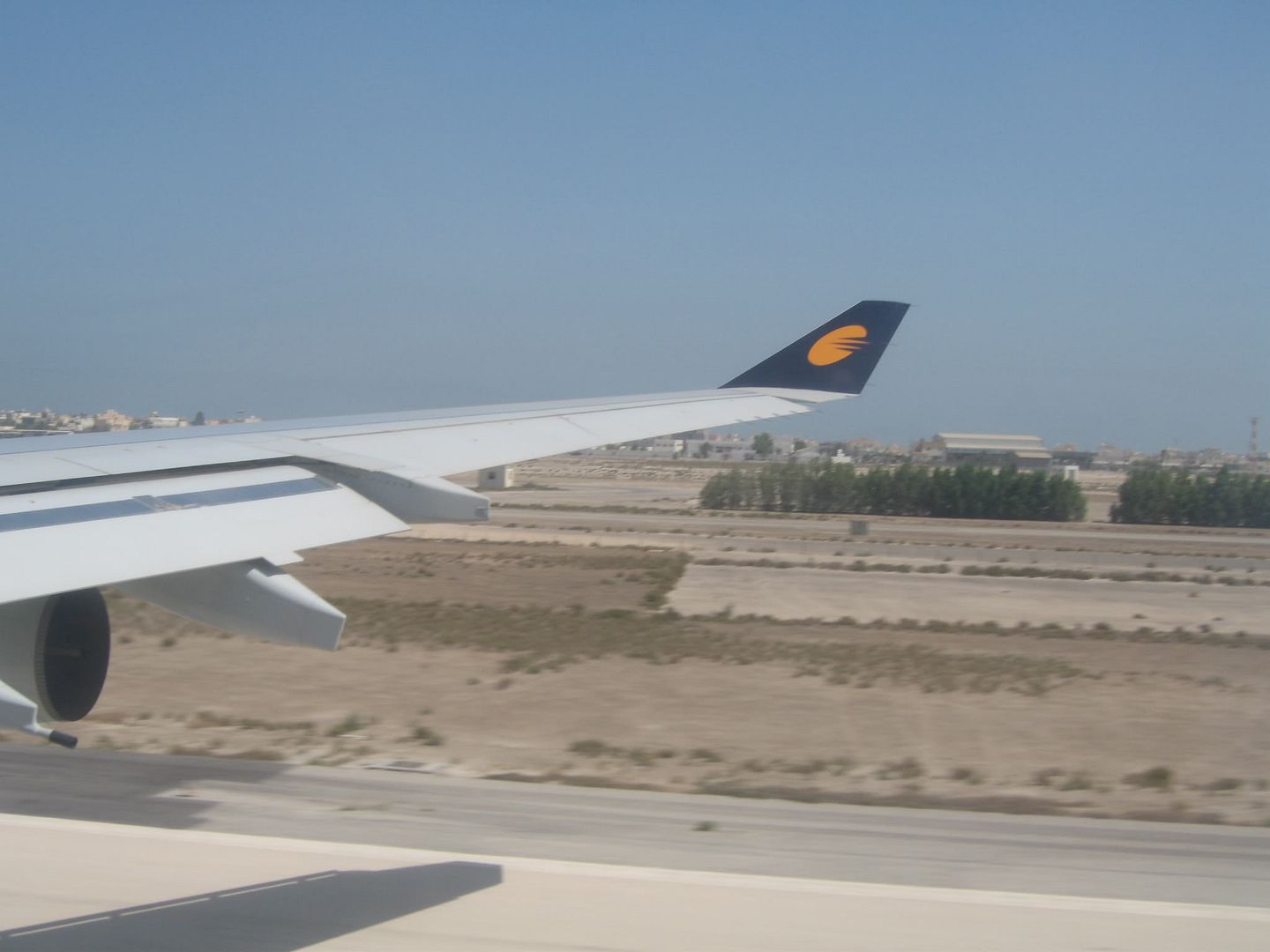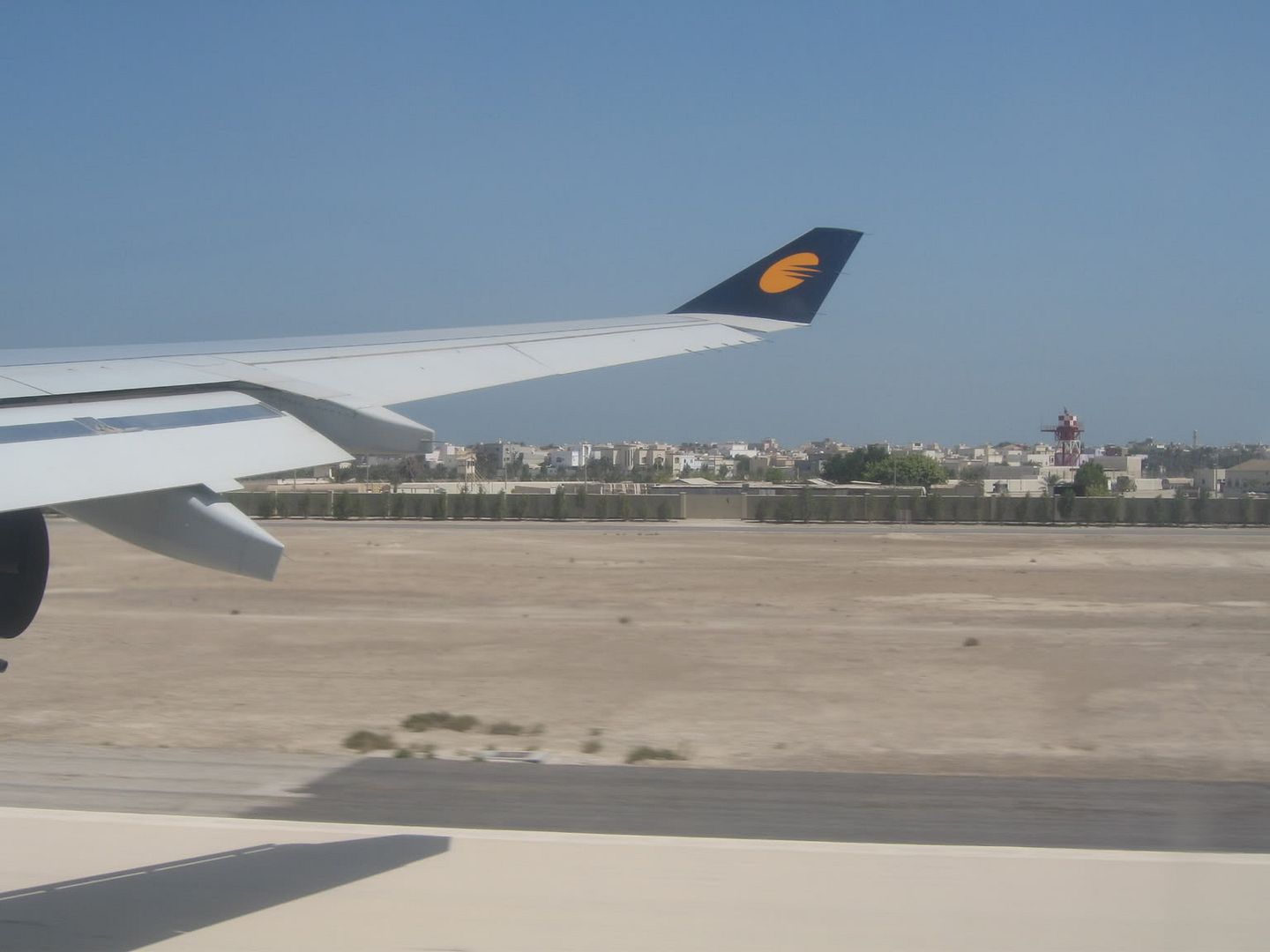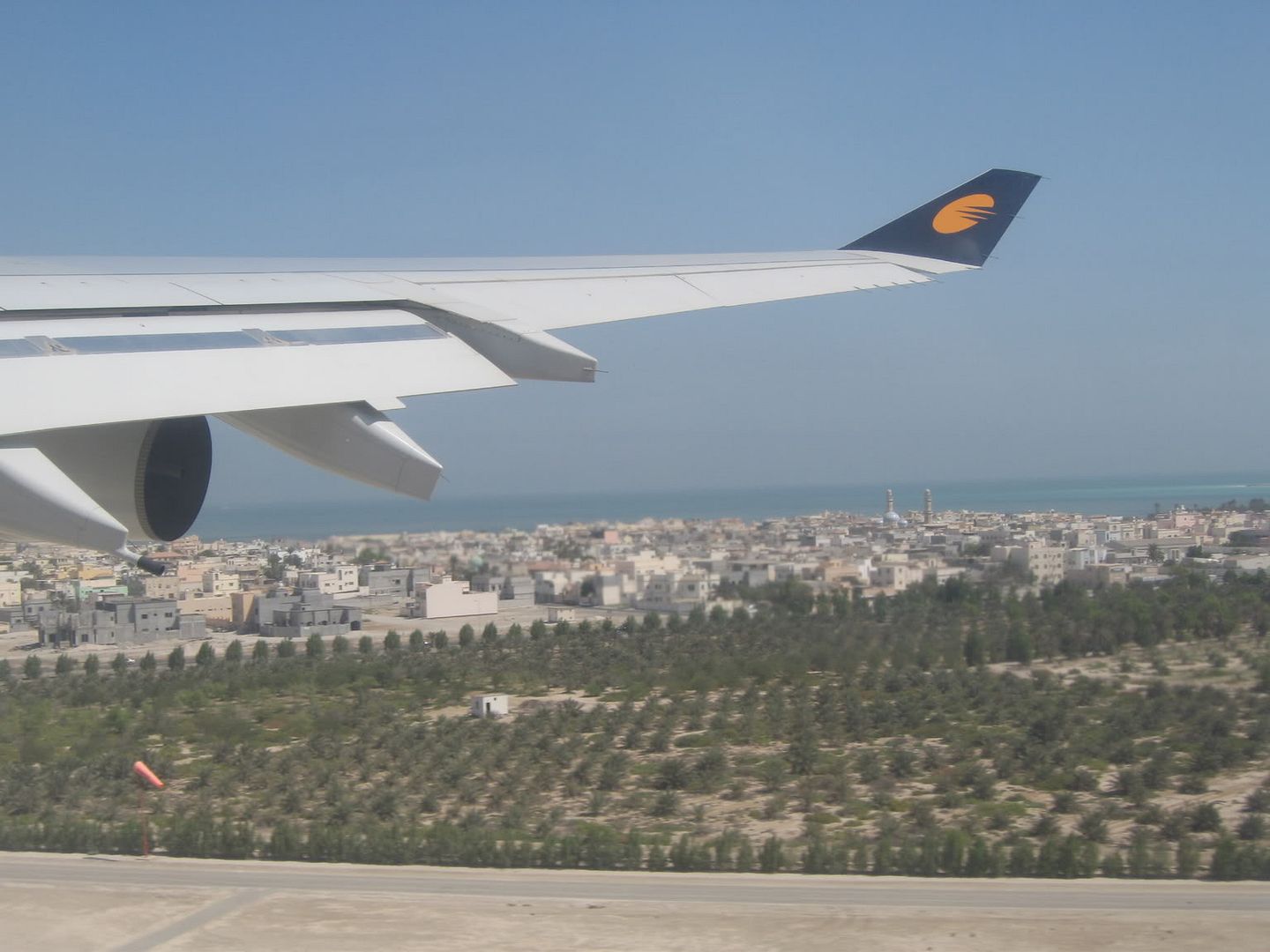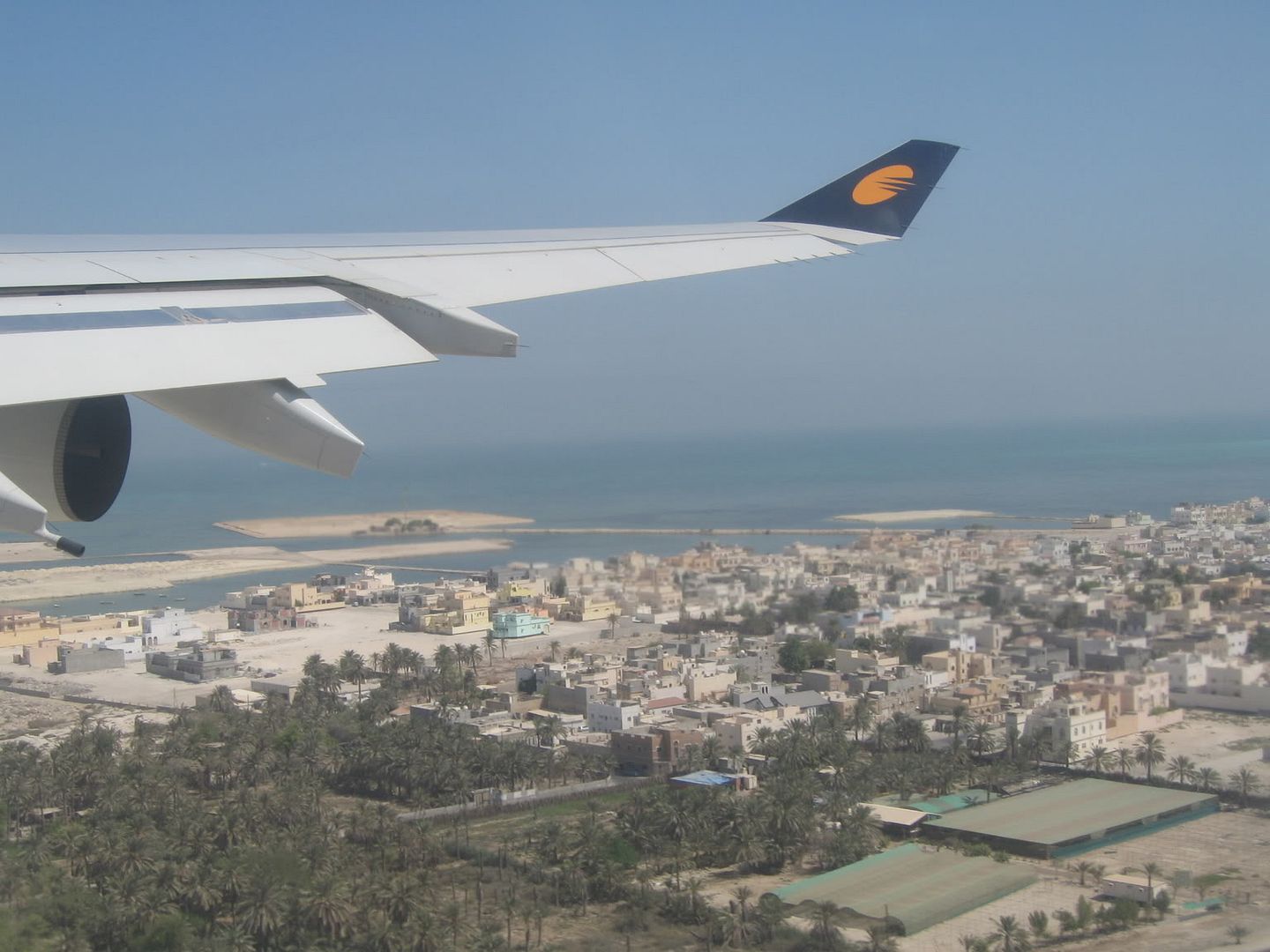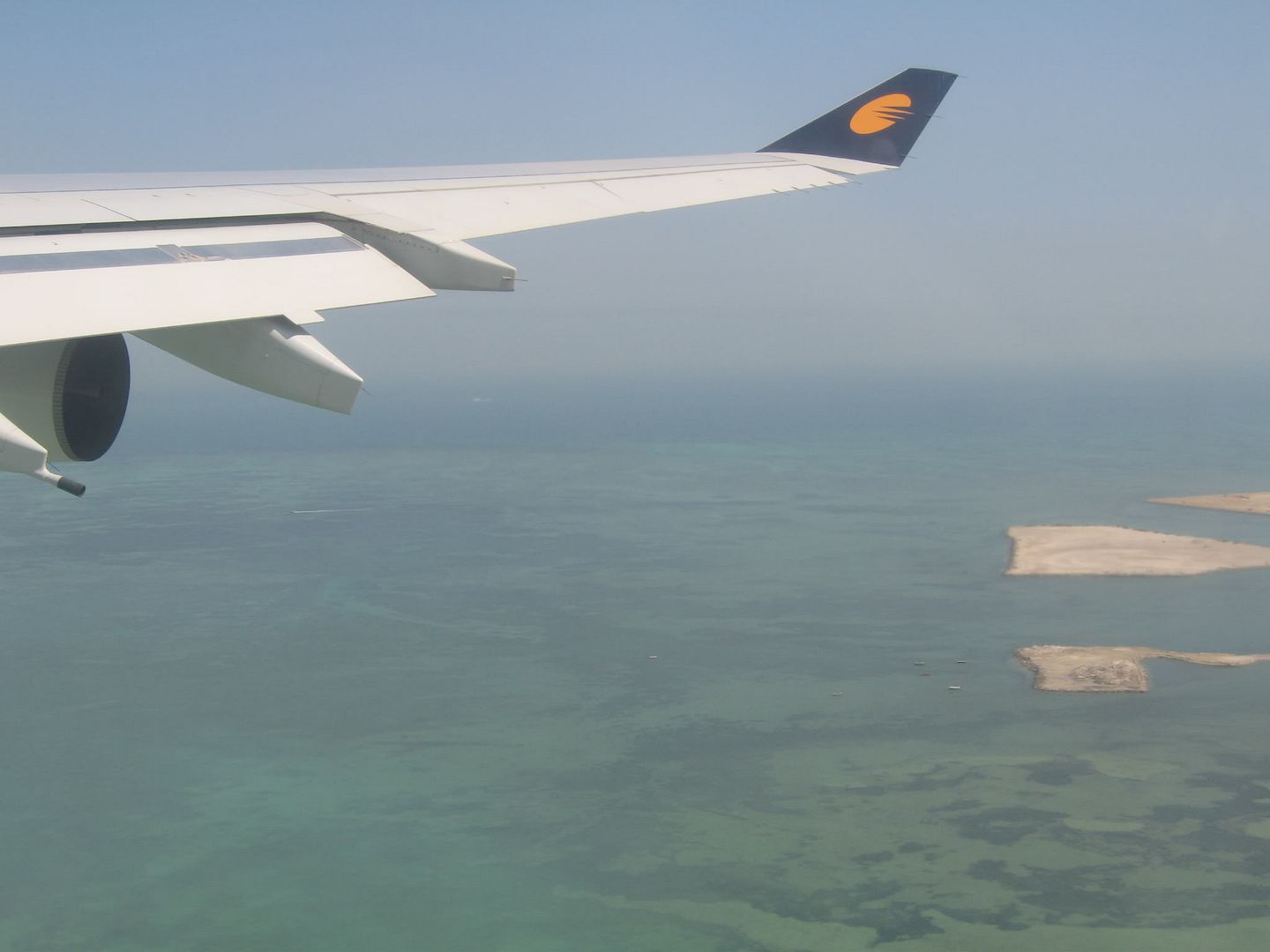 It always seems noticeable how slow the climb rate is on the A340-300. I believe the A340-500 has far superior take-off performance compared to the earlier -300 series, so it will be interesting to compare when I take my first trip on board the -500 series.
As the aircraft slowly climbed away from Bahrain, there were some nice views of the clear, blue gulf below. It would be interesting to find out what the dark blue line is in the first picture, and whether the ship in the second picture is a wreck, or whether it is intentionally positioned in this area of what appears to very shallow water, as this was by now quite a way off the coast.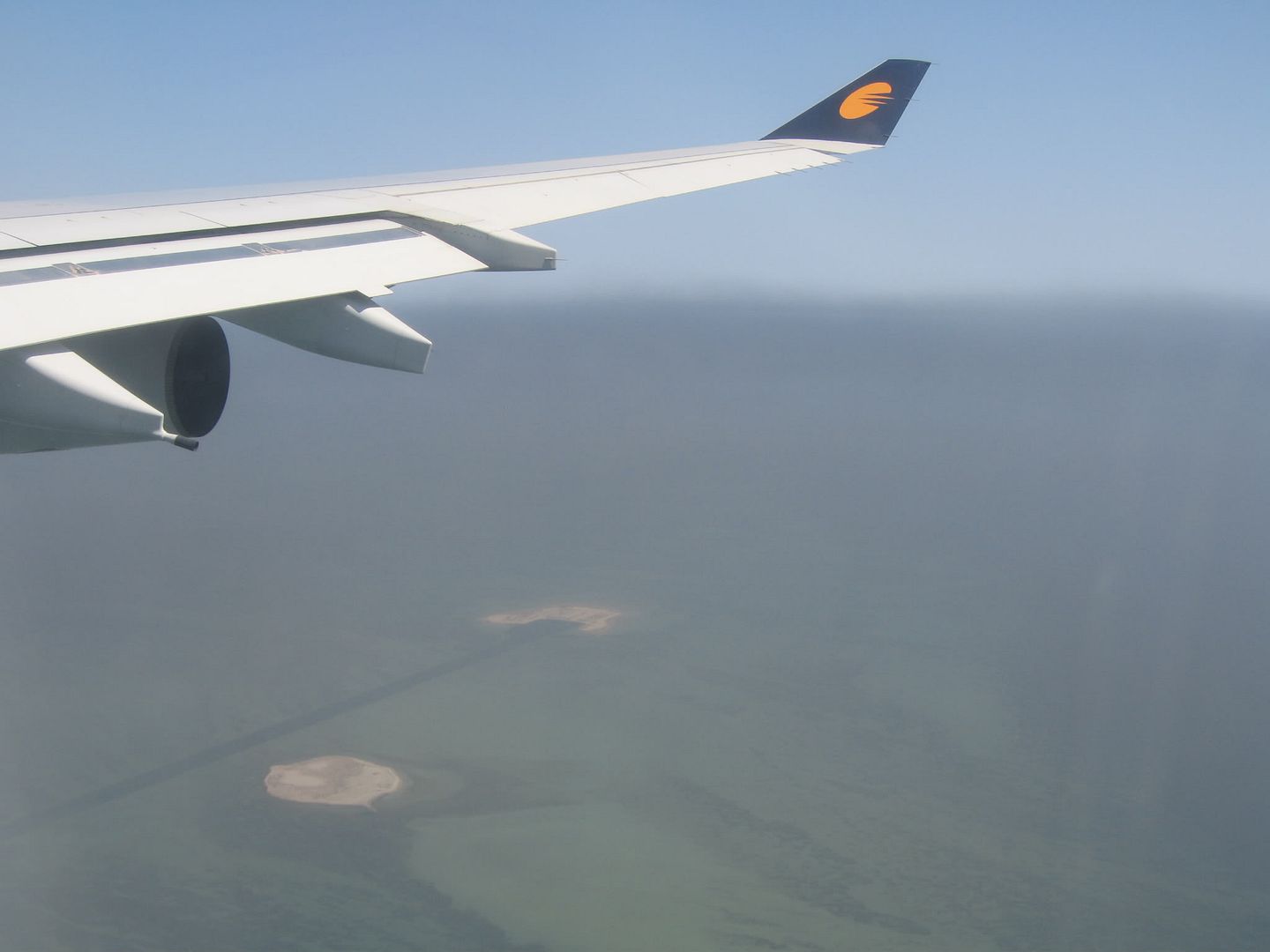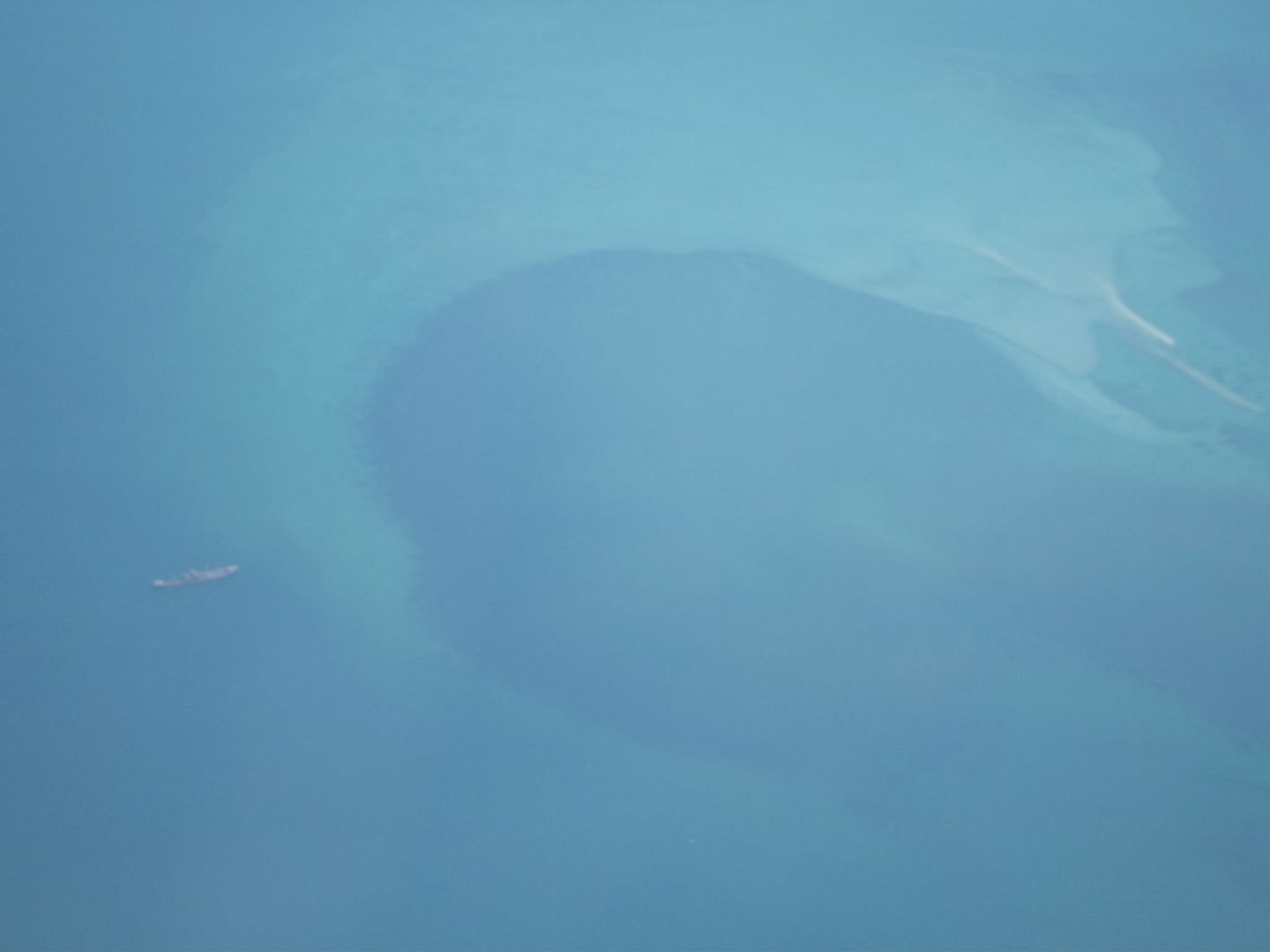 The first land we passed over, apart from the occasional tiny island, was part of the eastern coast of Saudi Arabia.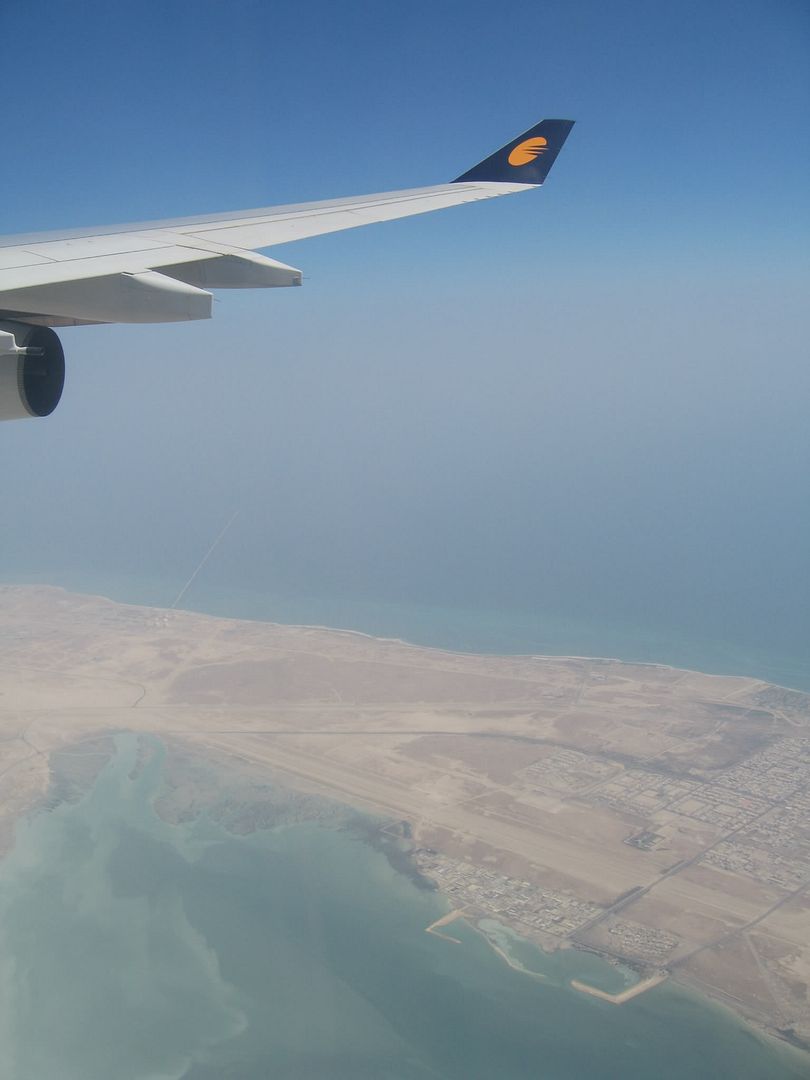 After a while, I had a play around with the IFE system, and took a look at a short video about Jet Airways, which was quite interesting. It didn't really talk about long haul services, and only featured the carrier's B737-400 aircraft, so must have been at least a few months old. It did, however, create a very good impression of the company - the kind of impression I have always had of Jet Airways. The IFE system was pretty good, offering a selection of TV programmes and movies on demand, as well as music on demand from quite a number of albums available. I spent some time listening to music, but didn't really feel like a movie.
It was soon time for the meal service to begin, and there was a choice of two or three dishes. I chose the mixed grill, which consisted of chicken, lamb, kofta and shrimp. This was actually on par with some of the food I have recieved in business class with some carriers, and the gentleman seated next to me also commented on how good it was. I also had a Sprite, followed by a cup of tea.
I overheard one of the cabin crew telling one of the passengers that she was from Jet Airways, and that they were operating this aircraft for a total of three months, before they start their new BOM-BHX service. This was news to me, as I did not realise 9W were to fly to Birmingham. I know that there was also at least one Gulf Air crew member on board, as I had chatted briefly with her shortly after boarding. She took an interest in where I was going today, as I was probably the only British passenger on board, and it turned out she was from Liverpool. Naturally, I knew that before she told me, due to her slight scouse accent. I suspect she may have been a Cabin Manager from GF, probably travelling as the GF representative among the 9W crew.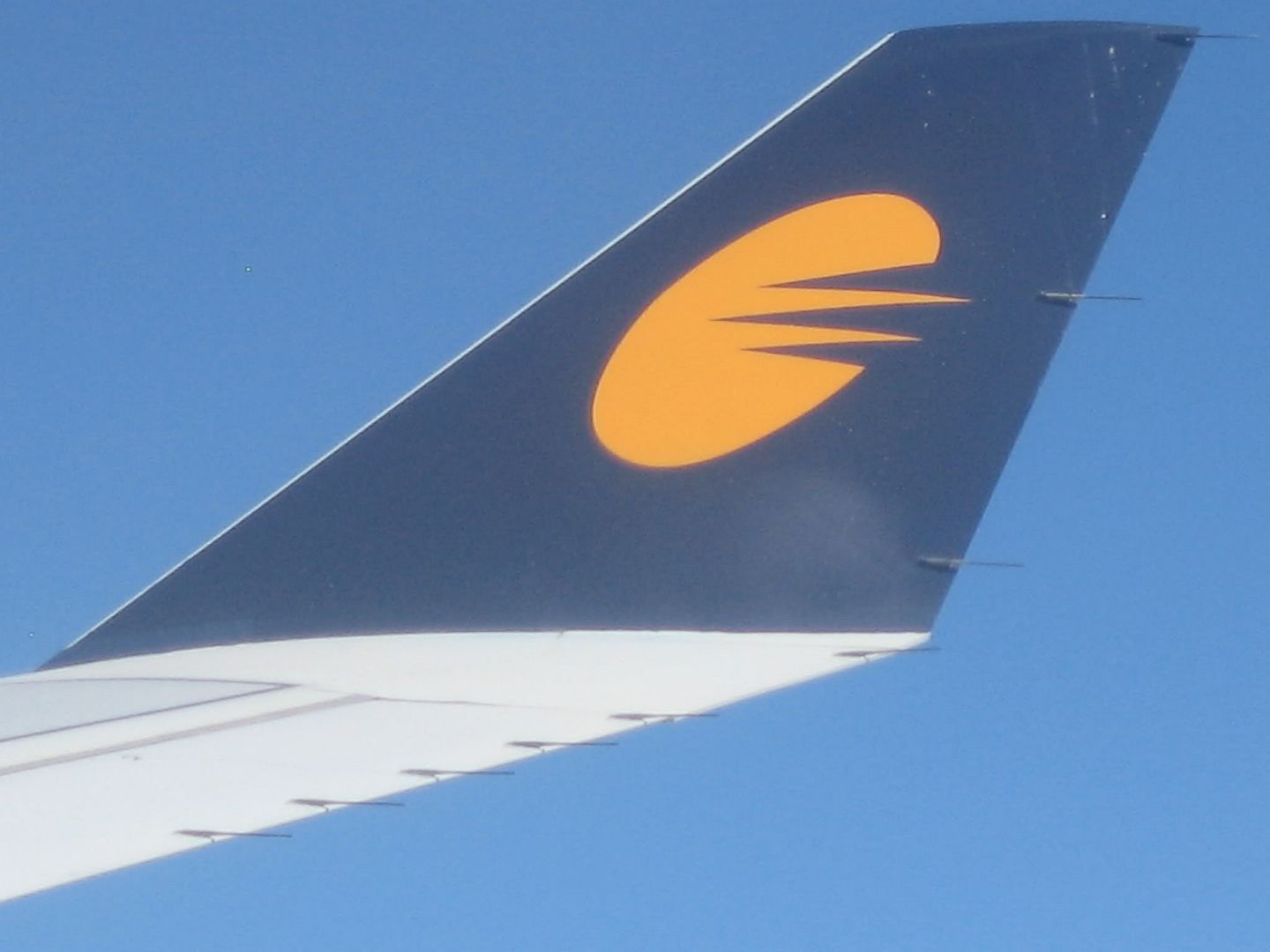 After a couple of hours, we were getting closer to the Mediteranean, passing over Syria, and then to the lusher coastal area that is Lebanon.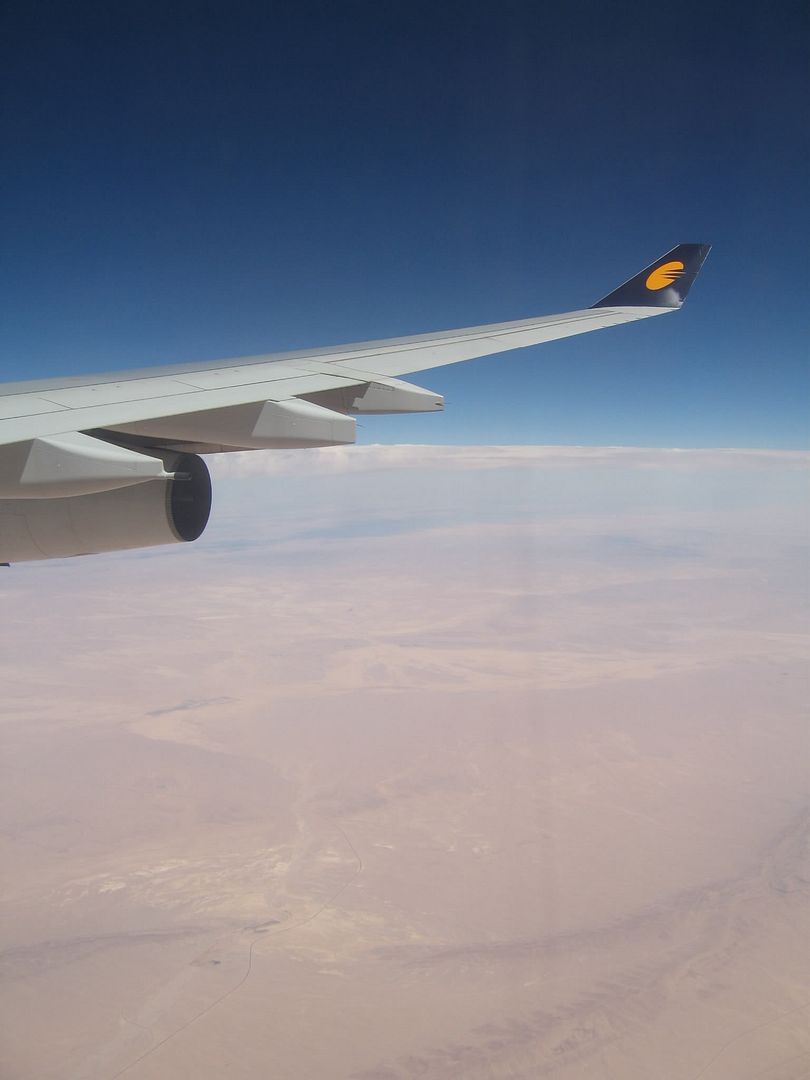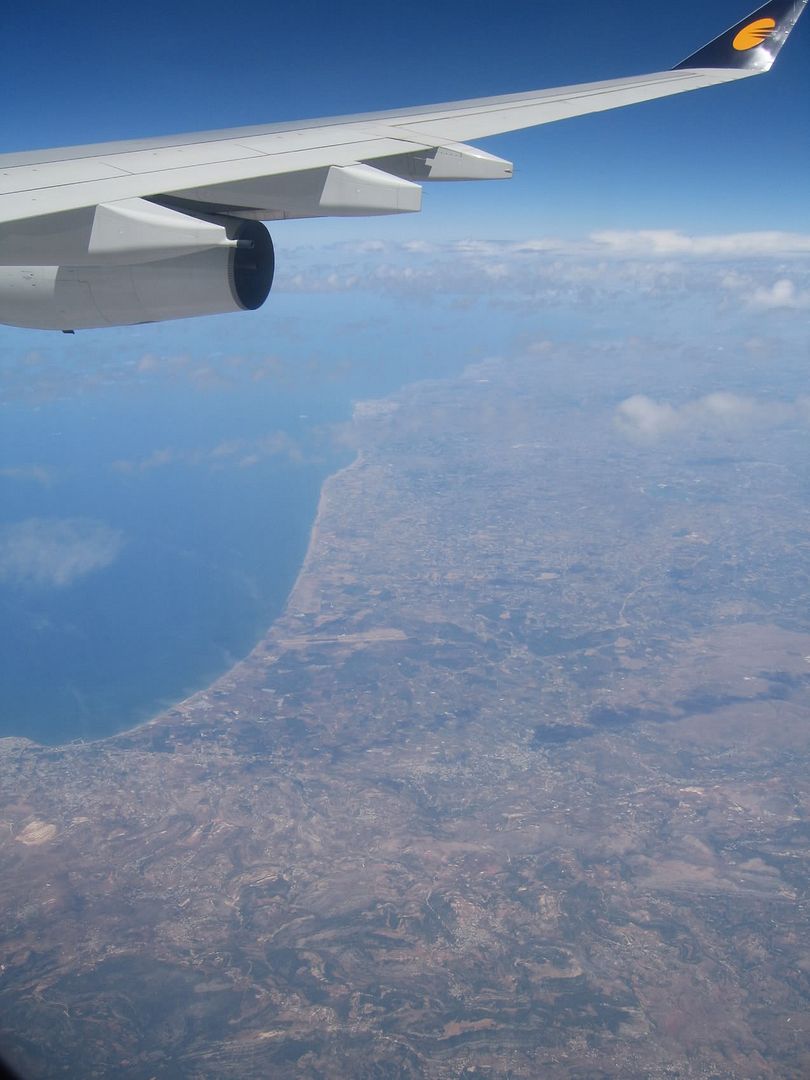 We passed to the north of Beirut, and an airfield was visible by the coast. Any information on this airfield would be most appreciated.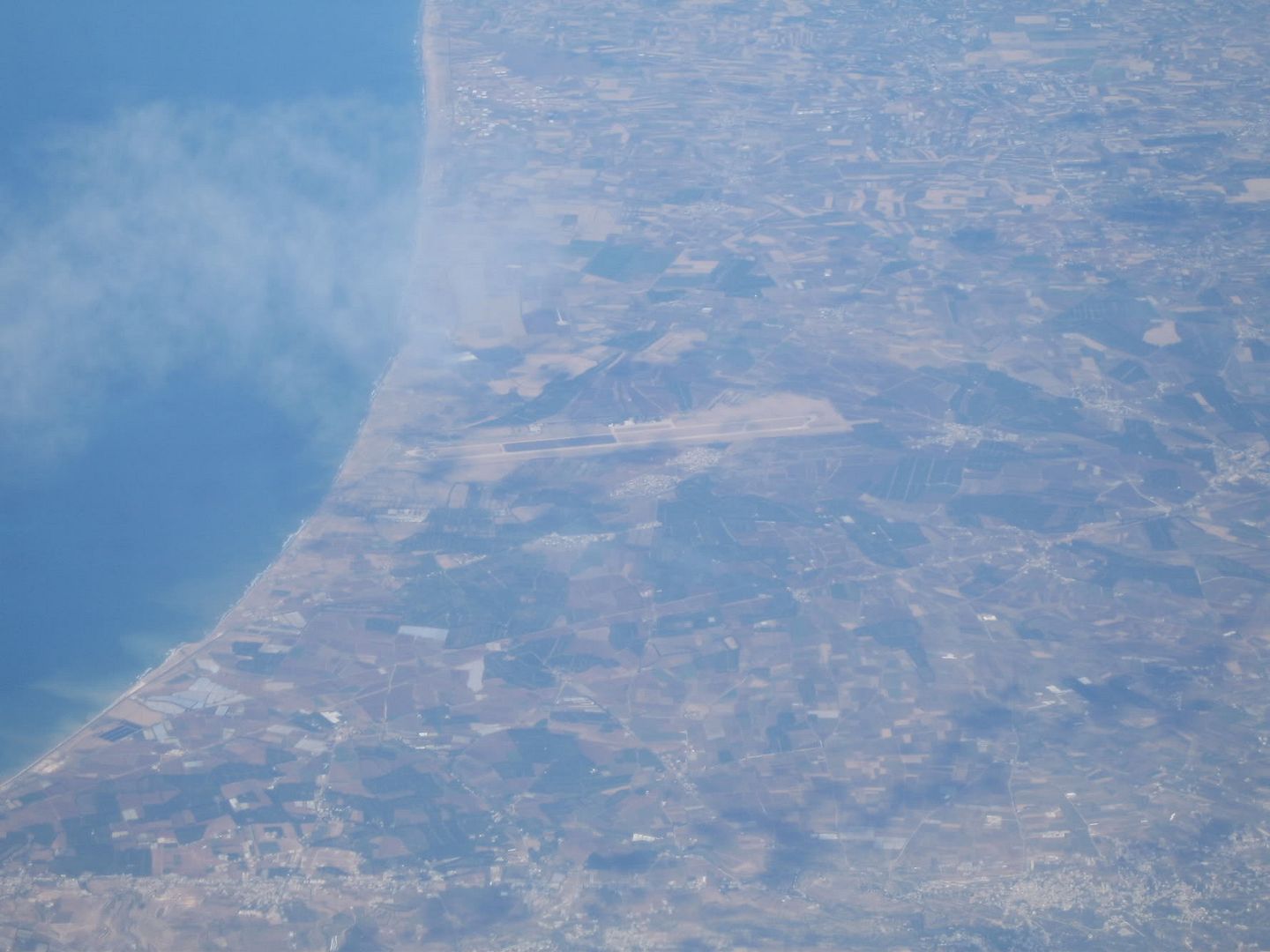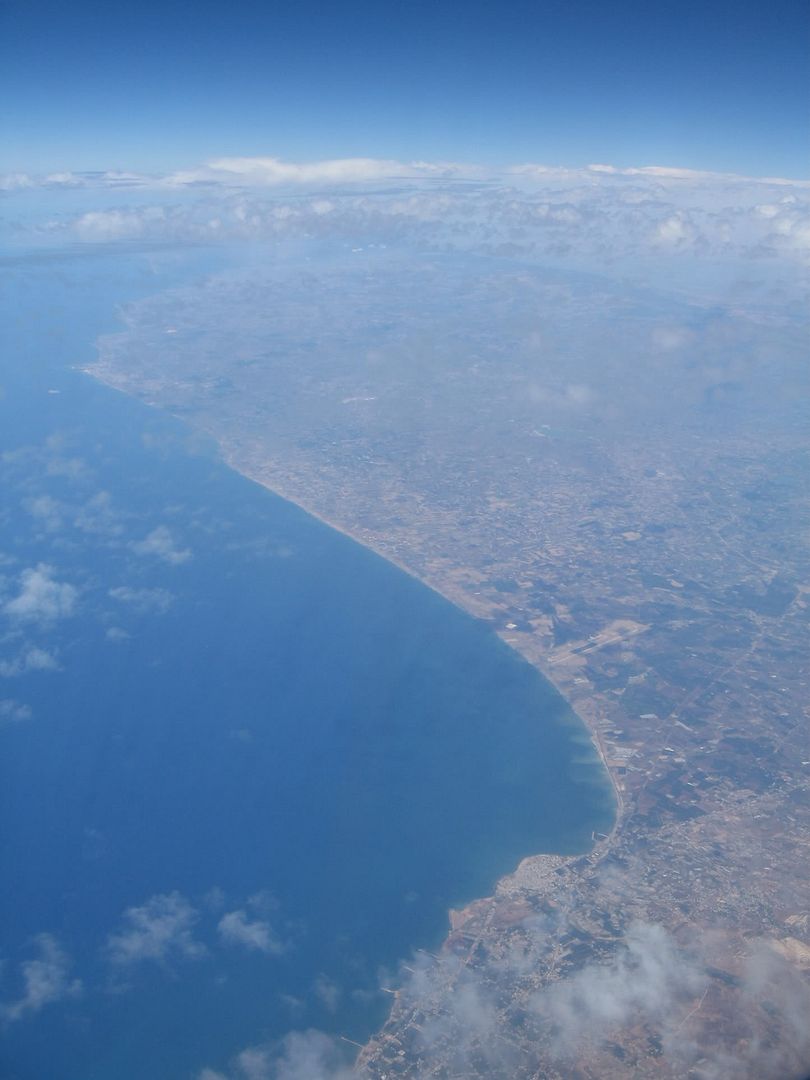 It was nice to see the blue Mediteranean Sea below, as this was my first trip out of the middle east for over three months. After leaving the coast of Lebanon behind, We were soon passing over the eastern end of the island of Cyprus, and the island's unique shape made it easily distinguishable.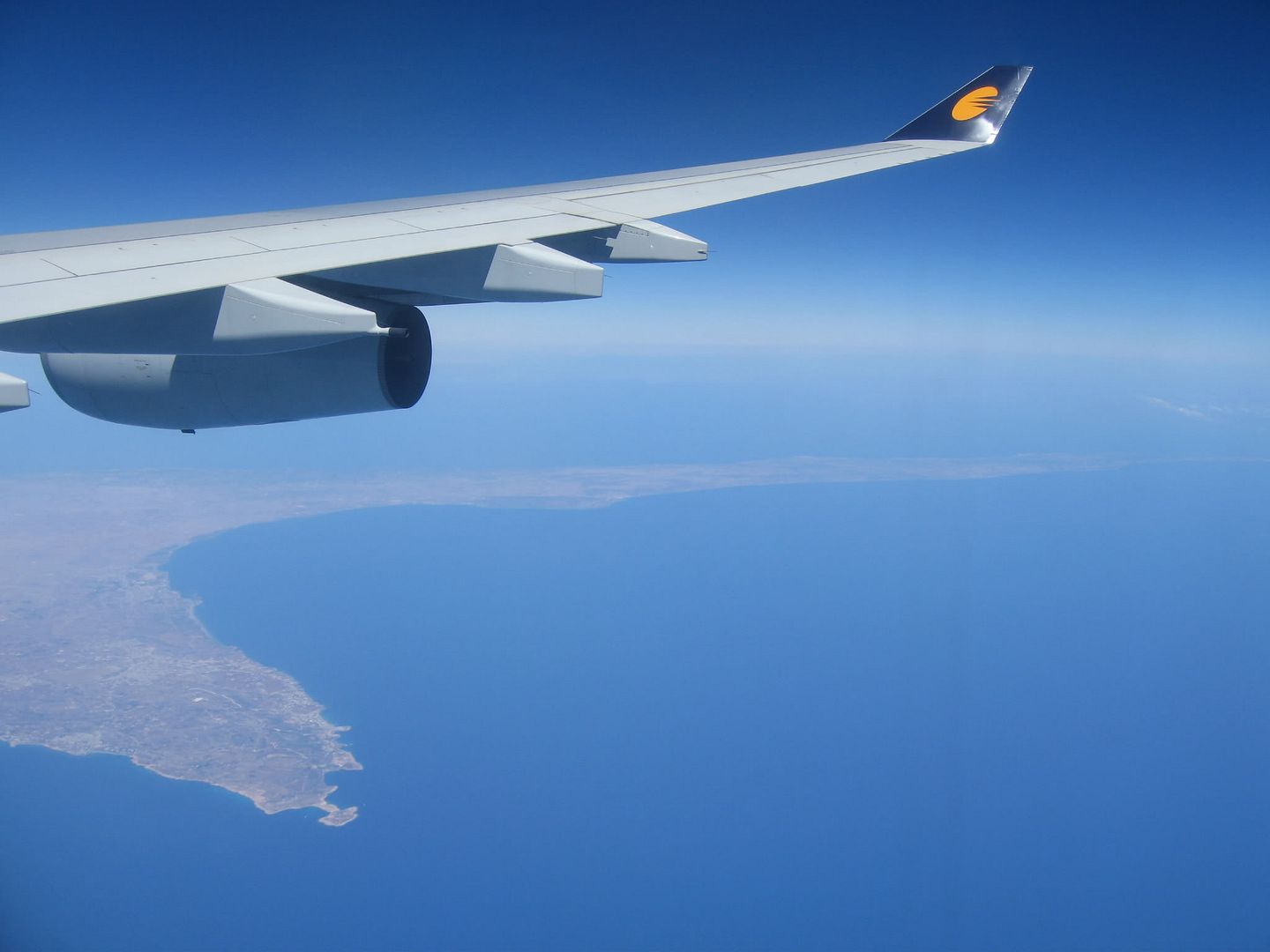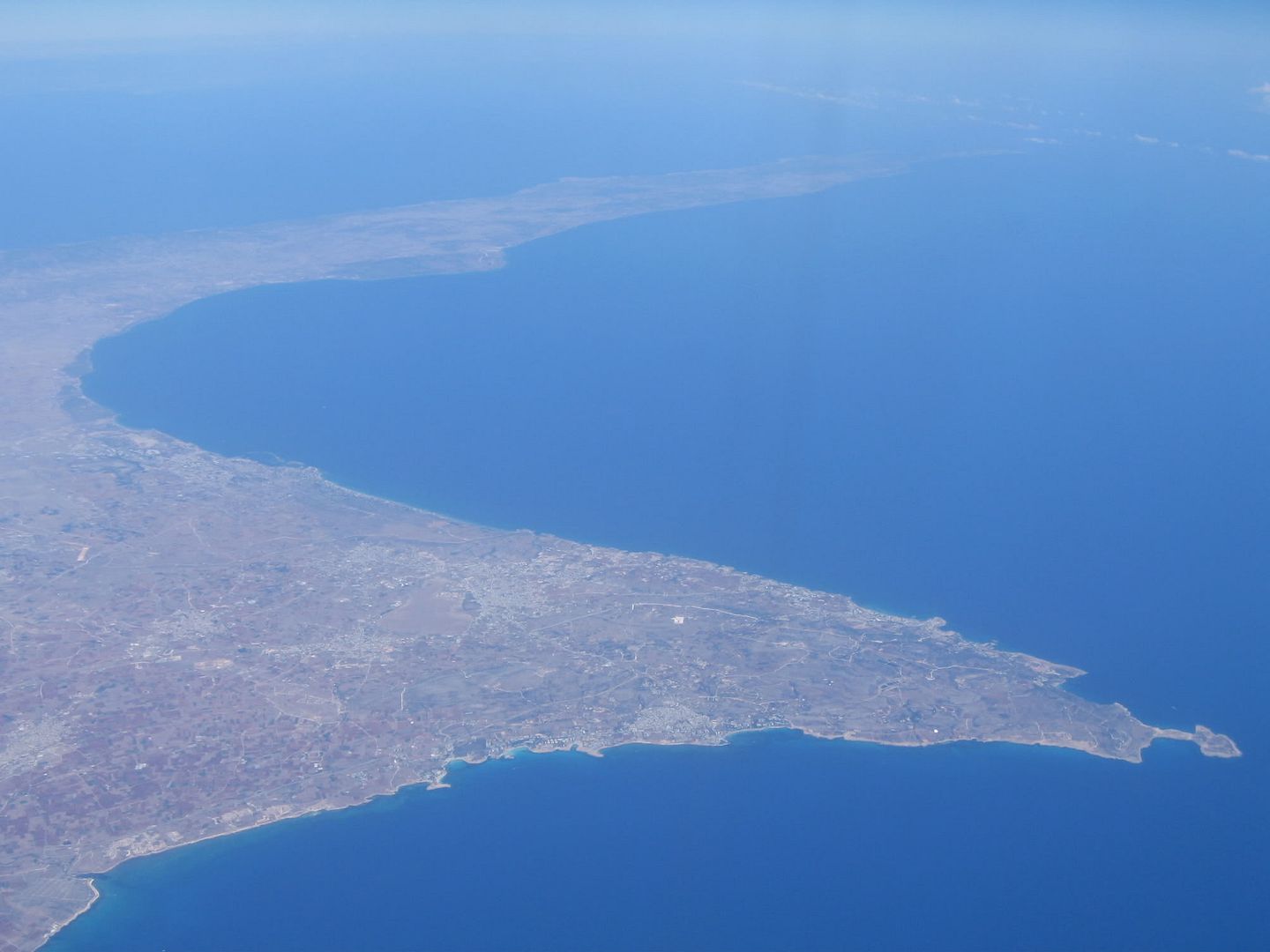 I would have liked to have been able to see the southern coast of Cyprus, particularly Paphos, as I had been there on family holidays in both 1993 and 1994, but we appeared to be flying just to the north of the southern coast, which meant a lot of what I could see was the Turkish occupied northern part of Cyprus. It surprised me just how many airfields there are on this relatively small island, especially in the area around the capital city of Nicosia. A couple of Turkish emblems could also be seen on the mountainside as we continued west.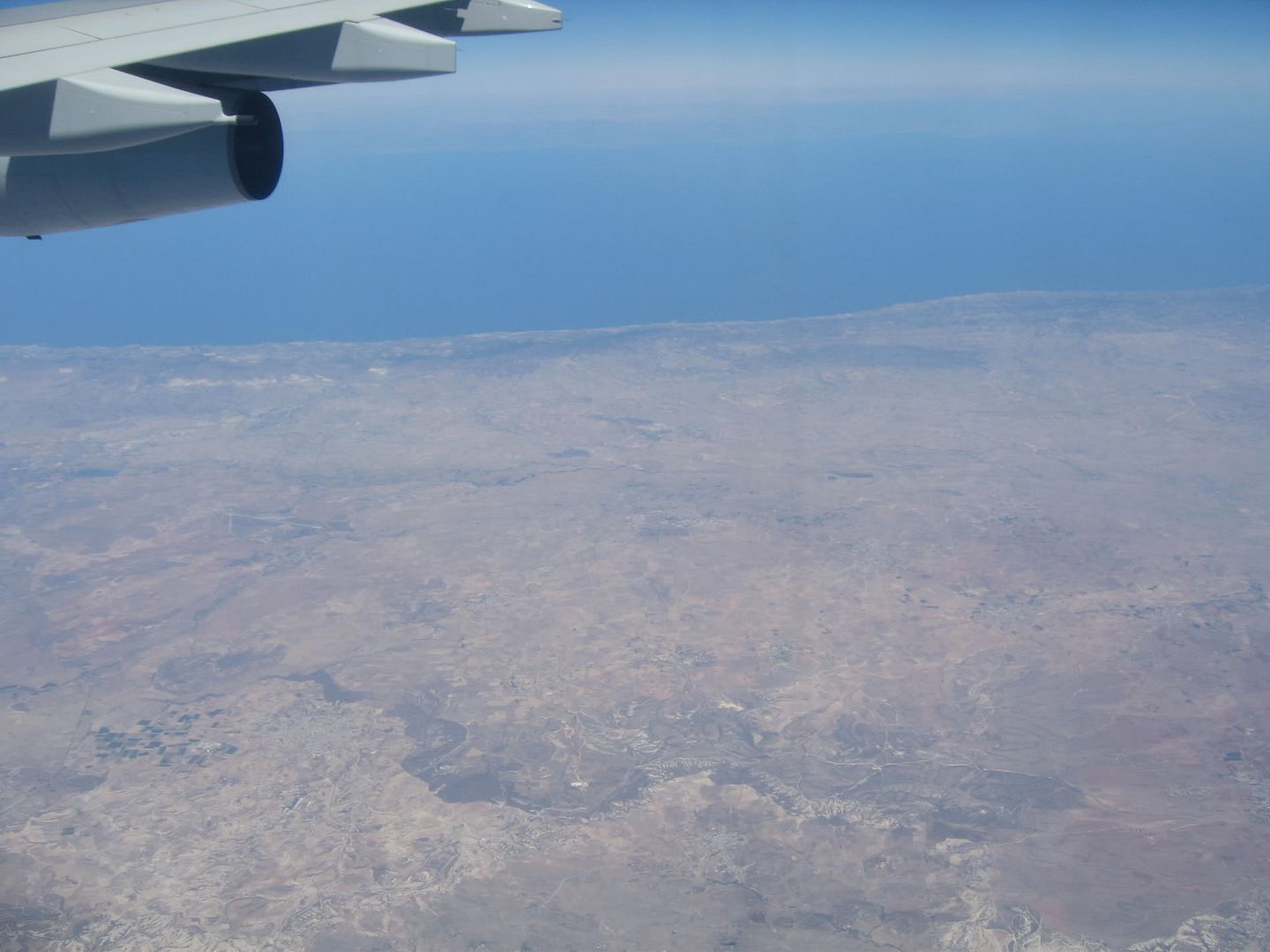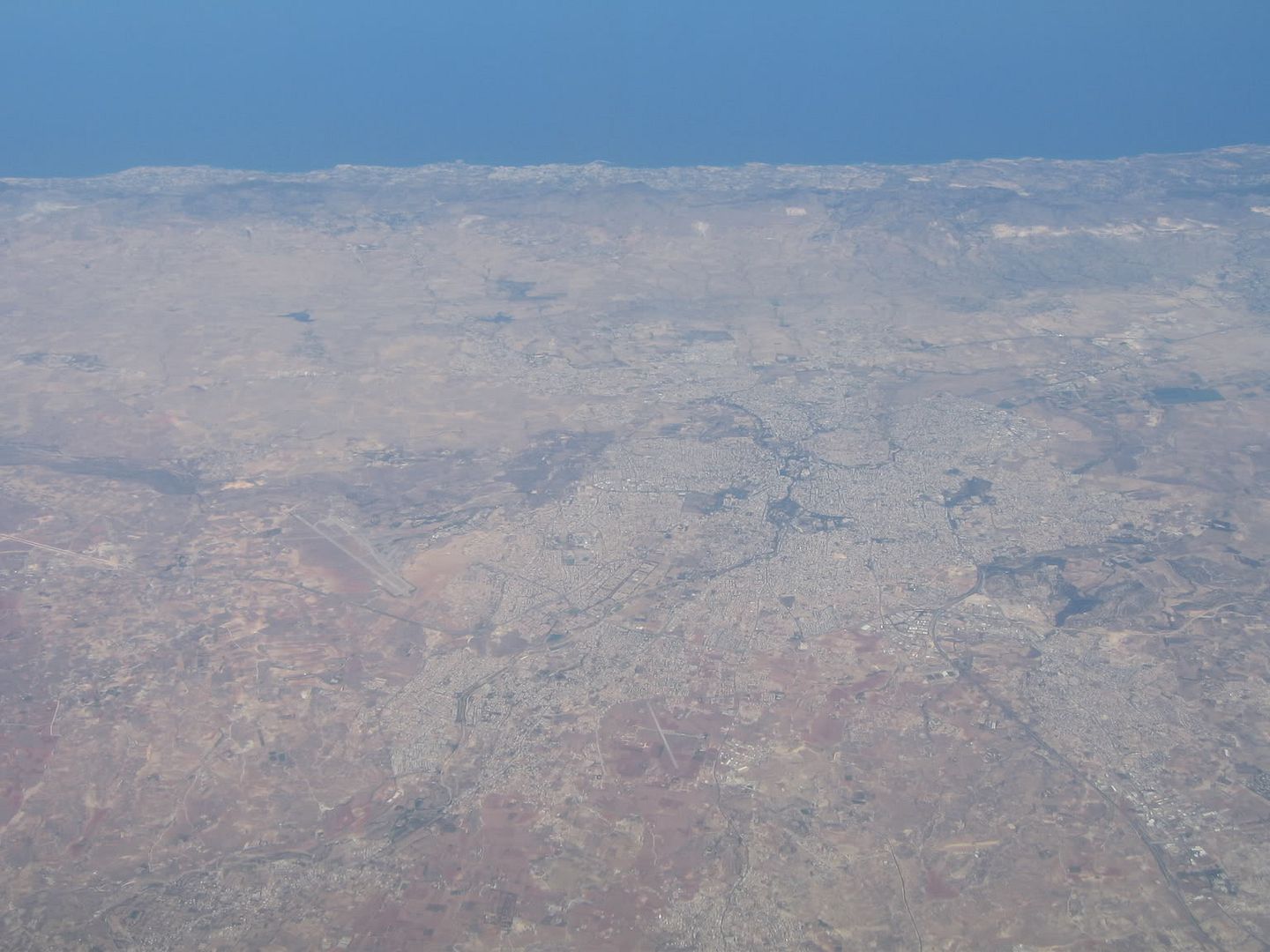 We then passed over the northwesternmost tip of Cyprus, and I immediately thought of the towns of Polis and Latchi, and the Akamas mountains, which I had visited with my family in the past. I am not sure, however, whether they are visible in this picture, as I believe the coastline that can be seen in the picture below may actually curve westwards again, before curving south for a second time, and those places may actually be southwest of what can be seen in this picture. If anyone familiar with Cyprus can confirm this, I would be most grateful.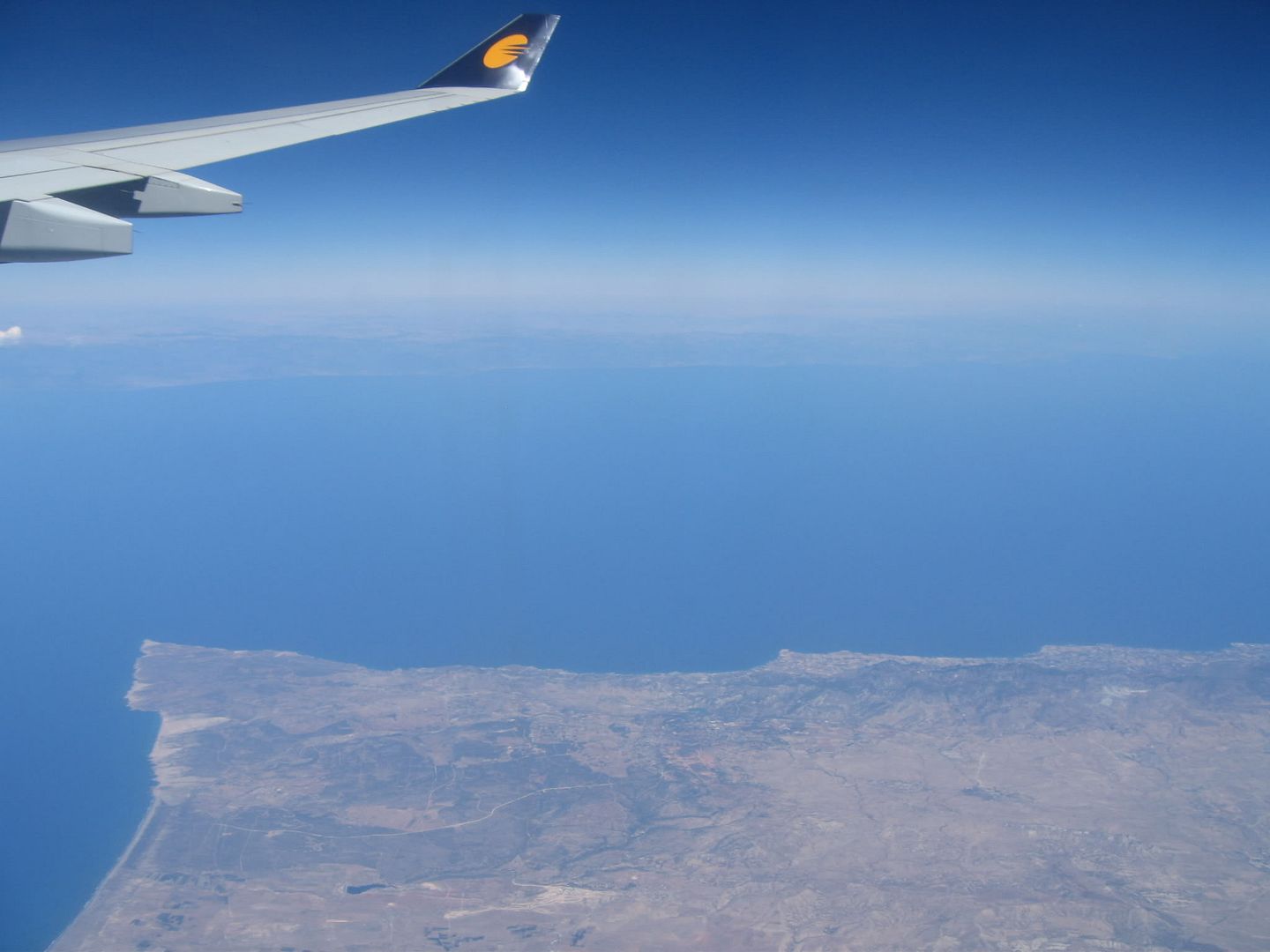 (part 2 below....)