Gatwick to Accra on Ghana International Airlines on the 18th of December 2005
A/C type: Boeing 757-200LR Reg: N930RD On lease from Ryan International Airlines
3 Month before I was suppose to fly I was browsing on the internet for flights to Accra, Ghana. The cheapest option was with GIA for £512 while the alternatives were
BA £1120 Economy
AZ £1540 economy
KL £1870 economy
LH £1901 economy while their business class was £1800.
I obviously went for Ghana International Airlines because it was
1- Cheap
2- Airline I never flown with
3- Offer flights on the dates I required
4- Advantage of 40 kilos compared to the other 23kilos (Now KLM introduced the pieces system to/from Accra)
I also booked a night at the Felbridge Hotel at Gatwick Airport as I had to be at the airport quite early.
My journey started in Derby where I dropped my friend at East midlands Airport to catch coach to Heathrow for a flight to Beirut with CY via Larnaca.
When I got home my cousin came to visit me and insisted I should go with them on a day trip to the peak district. I decided to join.
After the daytrip which took us to Matlock and other cities I got home at 6pm.
I then logged on GIA website and a notice saying due to the holiday season (loads of baggage) each passenger are allowed only 2 pieces to check in. Any pieces more than the 2 will be sent as accompanied baggage.
Sadly I had 6 pieces but within my 40 kilos (Mainly all small boxes). I grabbed a big box from the attic and placed them all in there till I had 1 big box, 1 suitcase and 1 large tube. Bloody Christmas shopping!!
I headed off to Gatwick Airport at 11pm. Got to the hotel at 2:30am. Checked in and headed straight to the room for some sleep.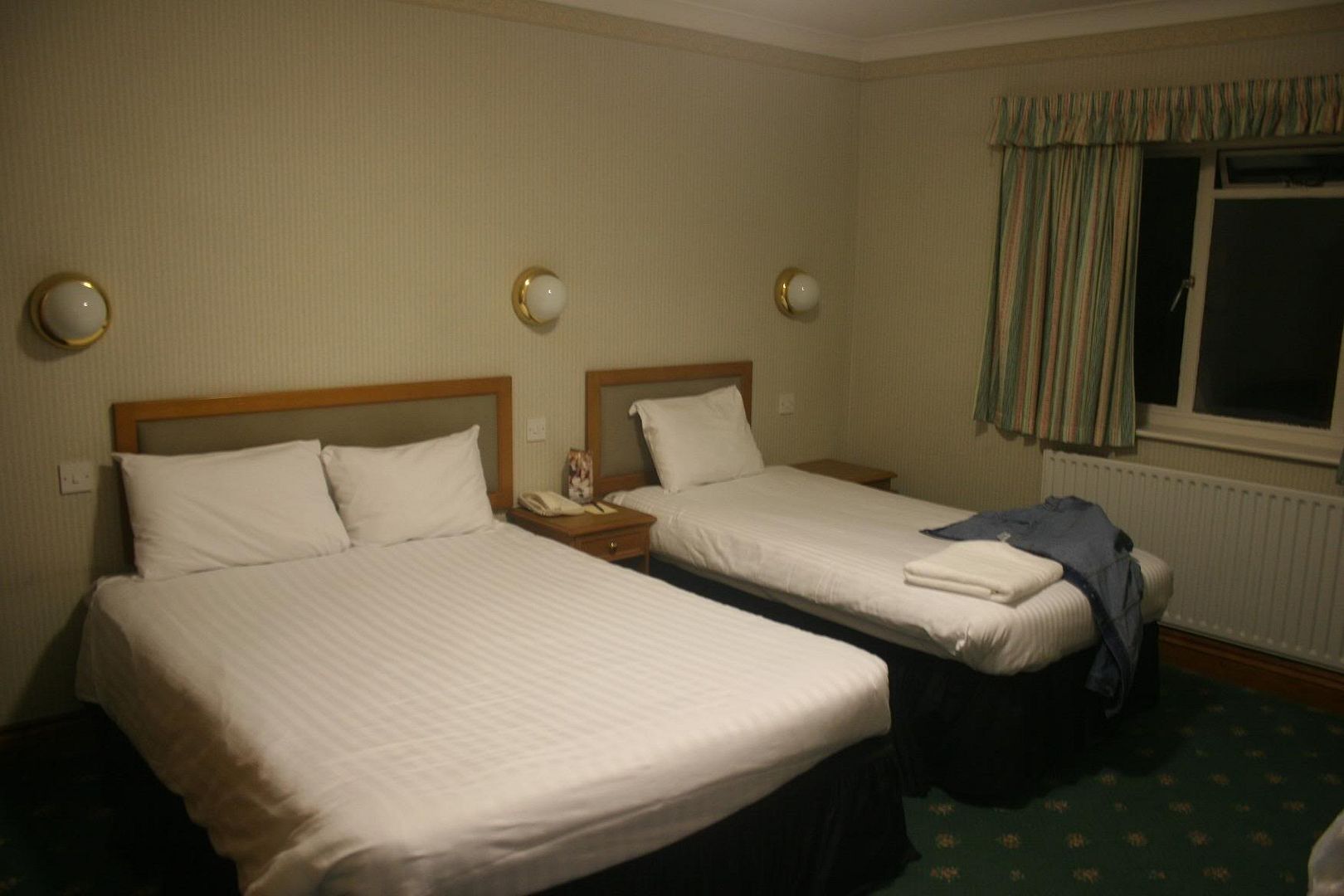 I had the BBC teletext on to check the status of the flight in case there is any delay. I woke up at 5:55 to catch the 6:15am bus to the airport. We arrived to Gatwick Airport at 6:55am after hotel hopping and I headed straight to zone J to stand in short queue (about 5 people in front of me).
Ghana International Airlines check in desk are 36, 36A 36B 36C As the Aviance staff are logging onto their computers, a man (what seemed to be the station manager) approached me and asking me if I knew what the weigh limit was as I full trolley. I replied all within the limit. Check in opened and within minutes I was checking in. I asked for a window seat as front as possible (don't know why I always request it, guess it's a habit) I was given seat 5F.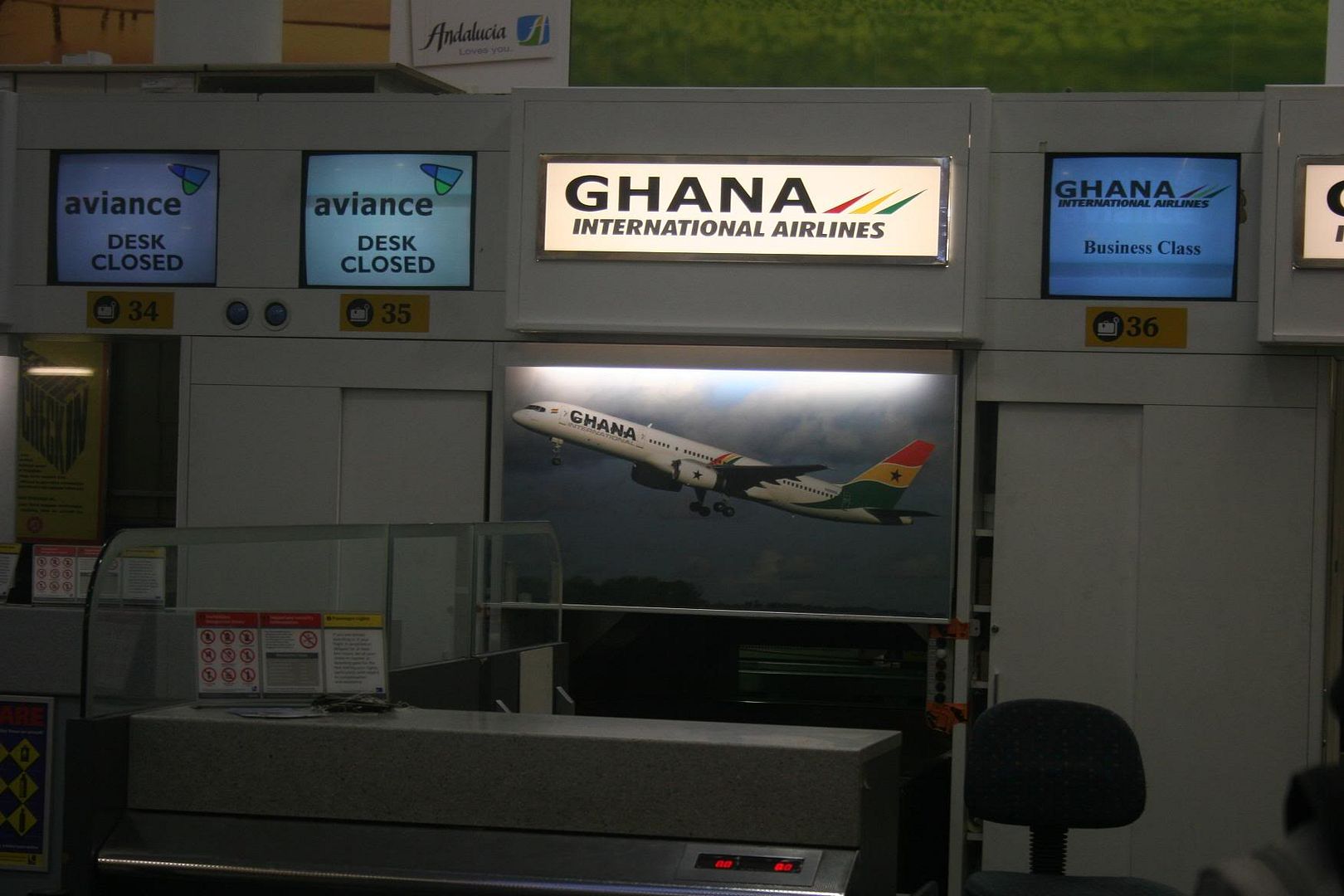 I mentioned that I had 3 pieces of baggage, she said we are only allowed 2 pieces of baggage so one have to go as unaccompanied baggage I said no problem.(its just a huge world map). She checked the weigh of my bags (41.3) and then said I will let the tube go with you as it's small. I also had to weigh my hand luggage (4kilos). I had to take the box and the tube to another check in desk for abnormal load.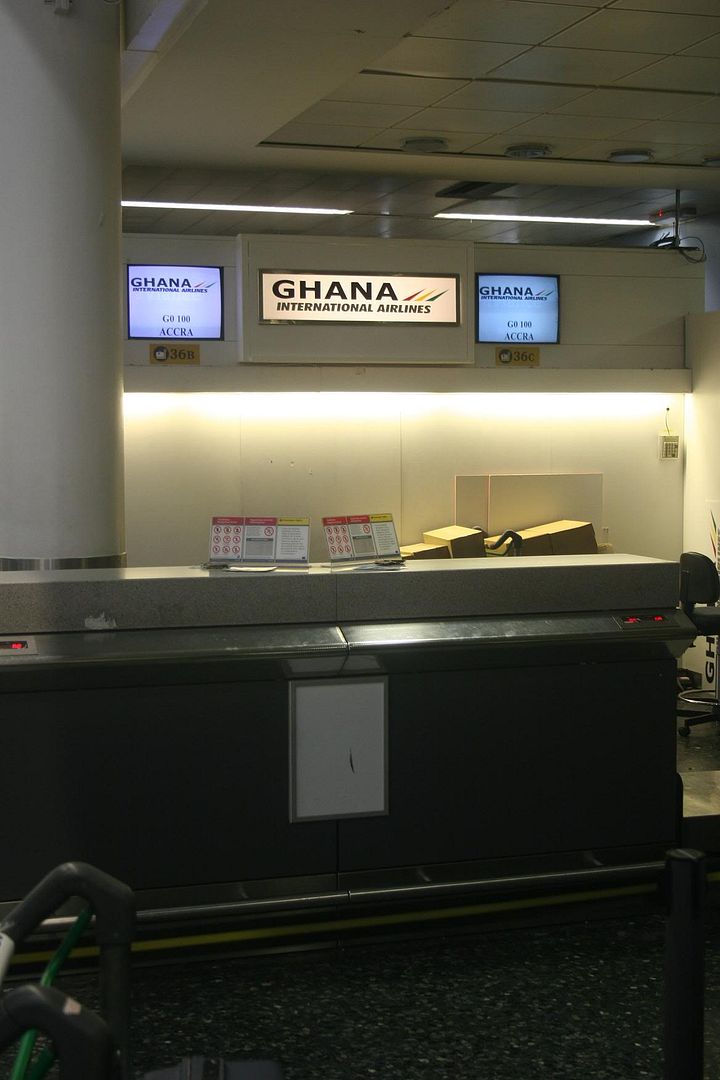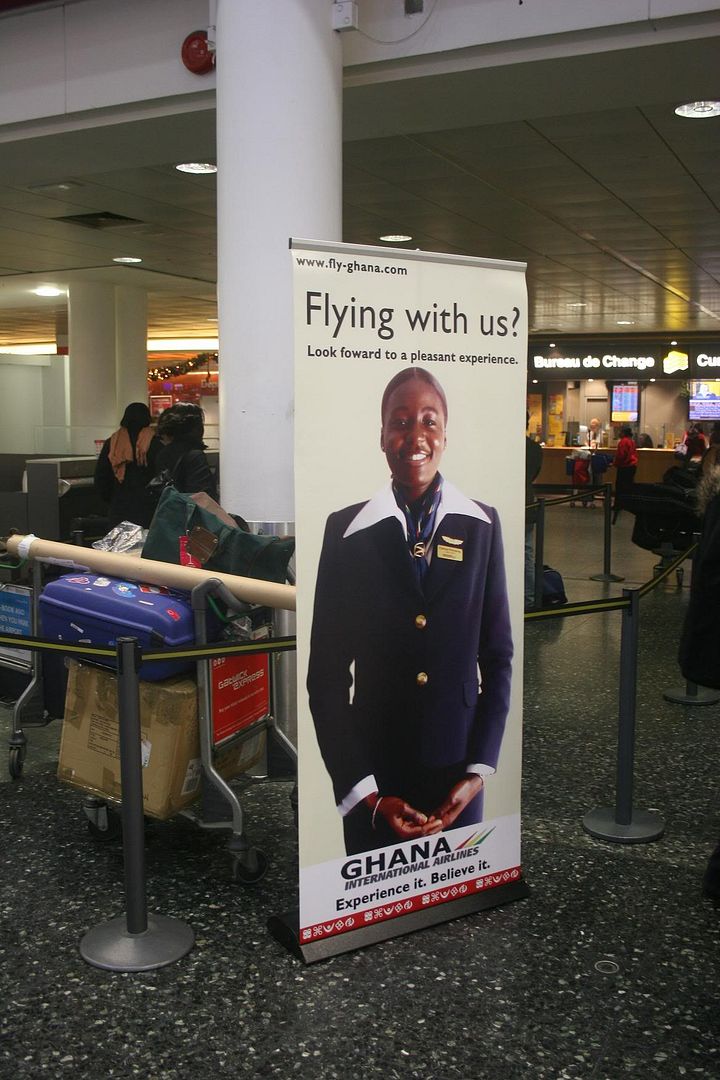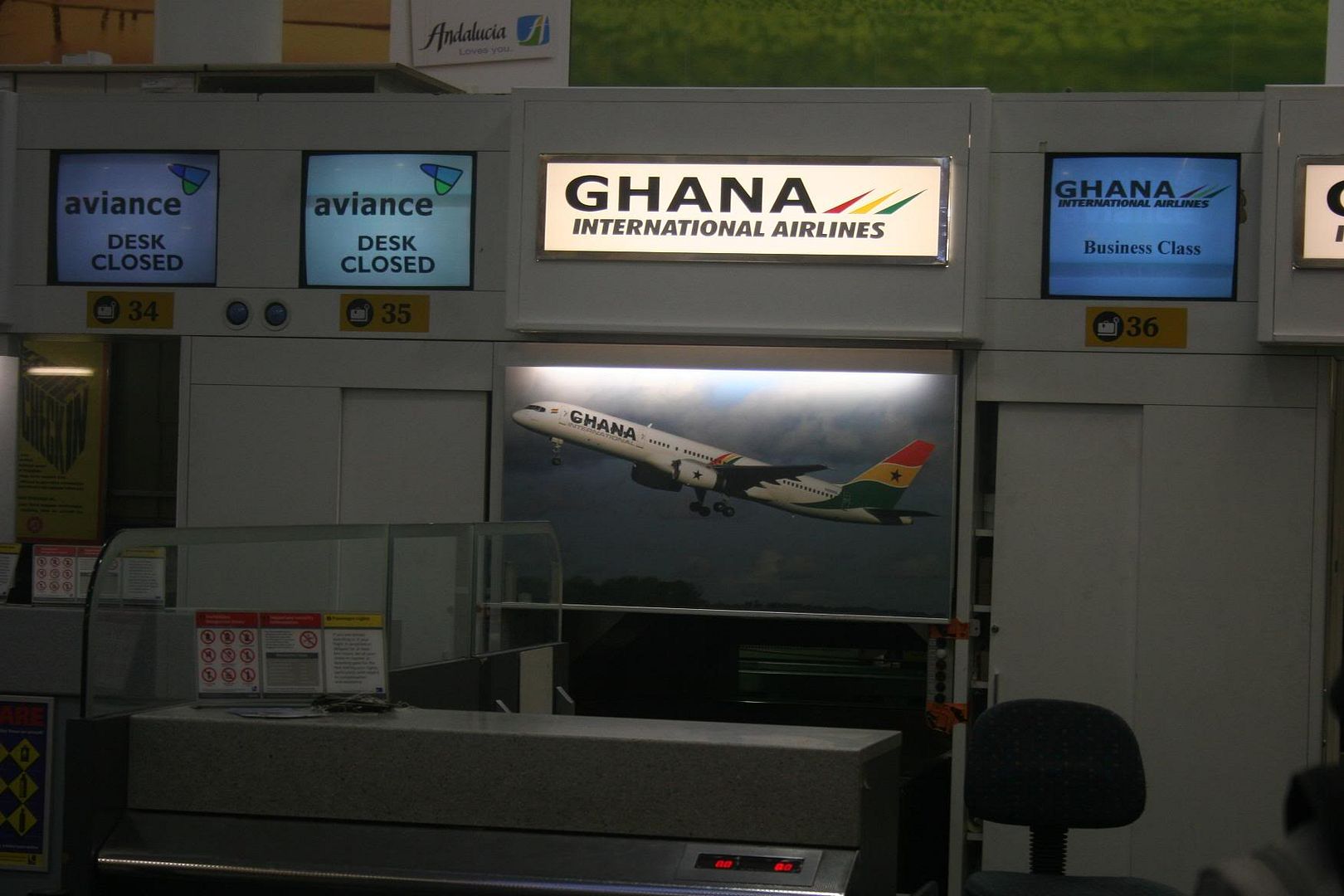 As I was leaving the Ghana International airlines desk, I noticed Afriqyah 8U check in desk (next to GIA) where West African nationals where checking in for their flights to western Africa via Tripoli which was delayed for 4 hours.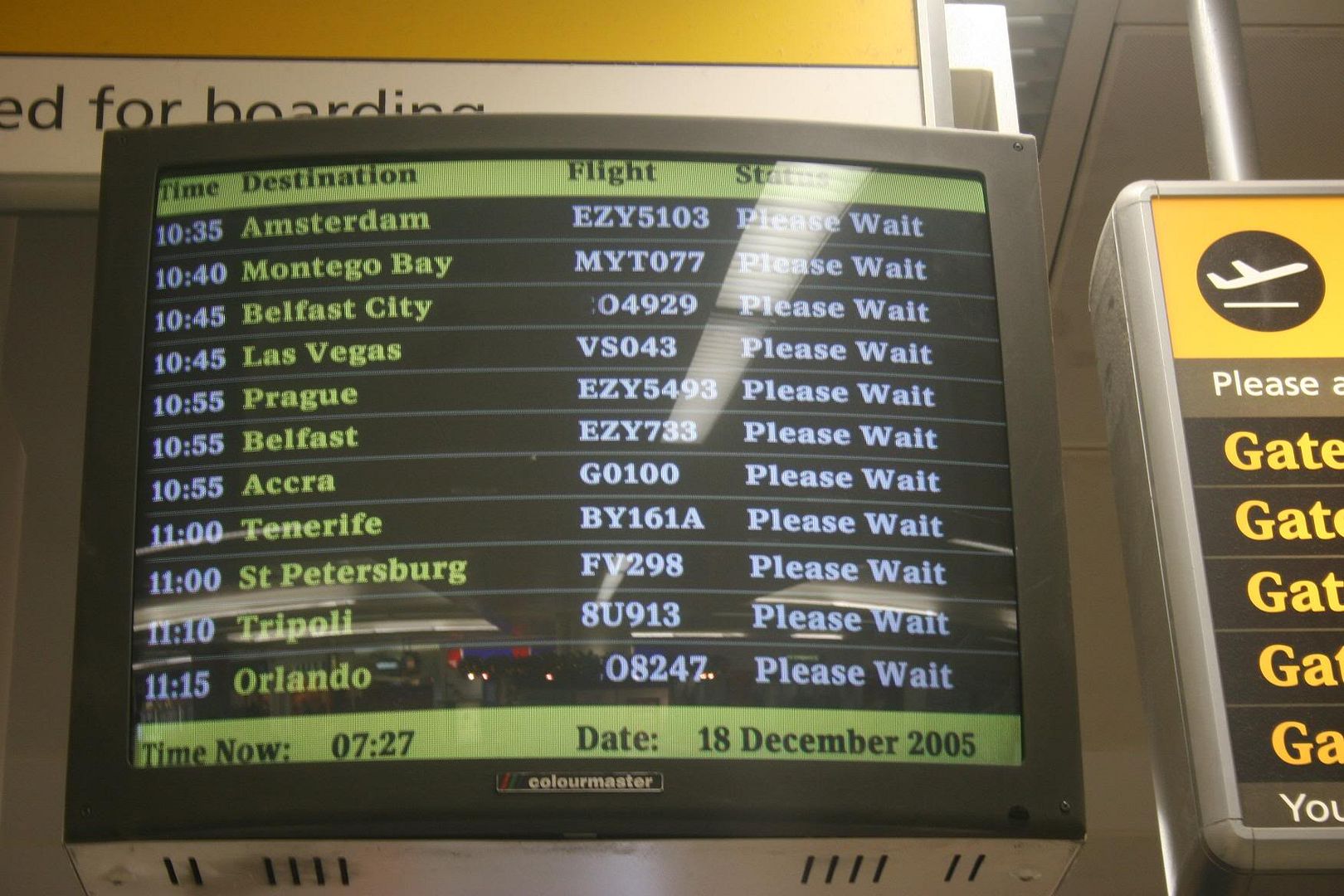 I passed thru security and went straight to the duty free where I found myself Christmas shopping again and ended up with about 8 duty free bags.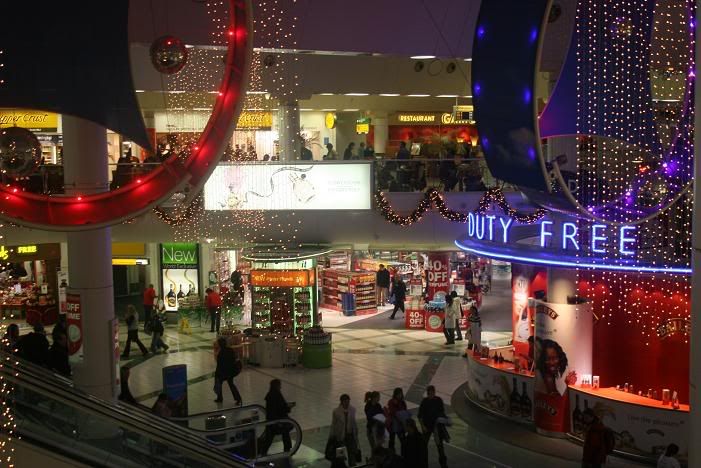 Some spotting pictures from the terminal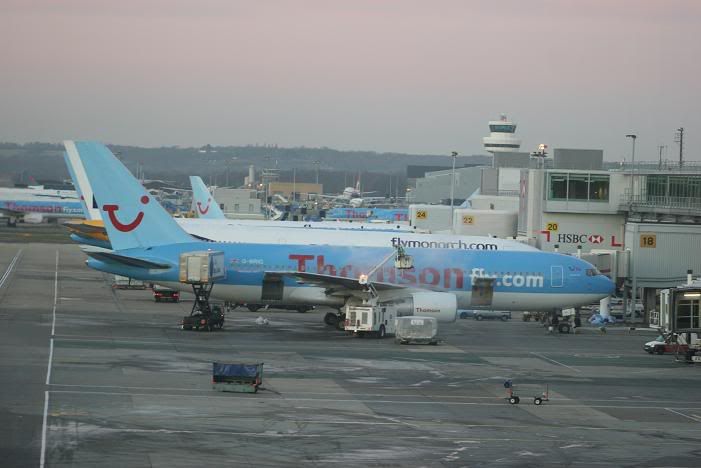 Virgin Atlantic mini base
At 10:30 no gate number appeared on the screen so I went to the Aviance desk to ask what gate number. She mentioned there is no gate given yet but most likely to be gate 91. I walked my way to gate 91, possibly the closest gate to the terminal. We then started boarding at 10:55 (Flight ETA was actually 10:55). Our boarding pass were checked then immigration officers checking everyone passport for visas in the UK (probably for people over-staying in the UK)
We were bussed to stand 43W where we boarded the aircraft.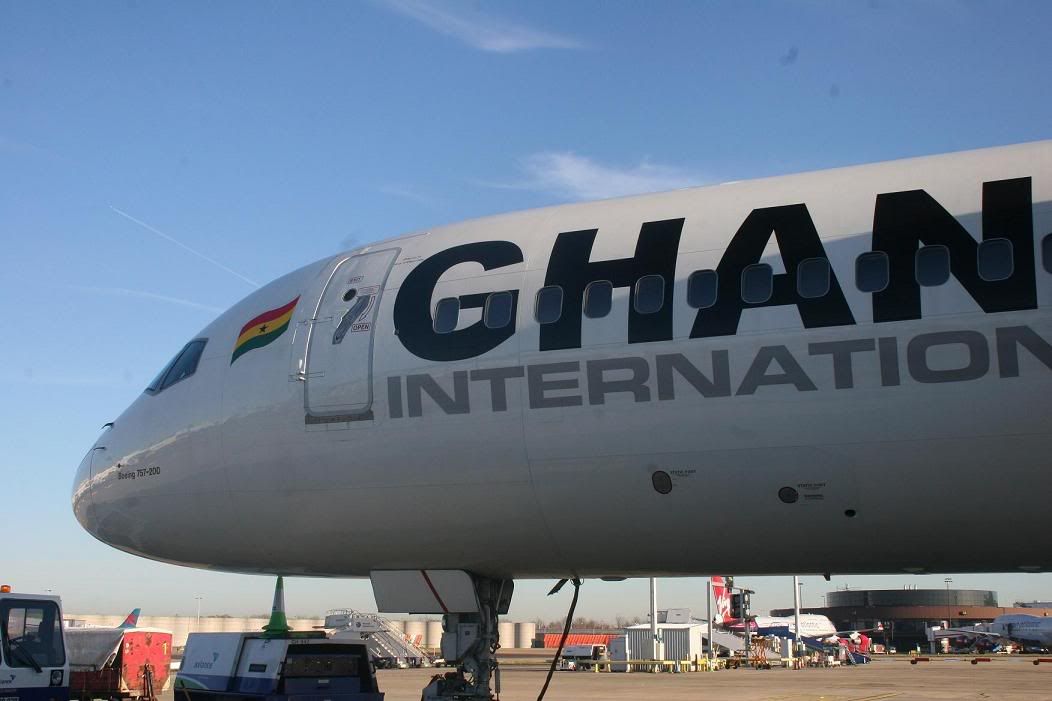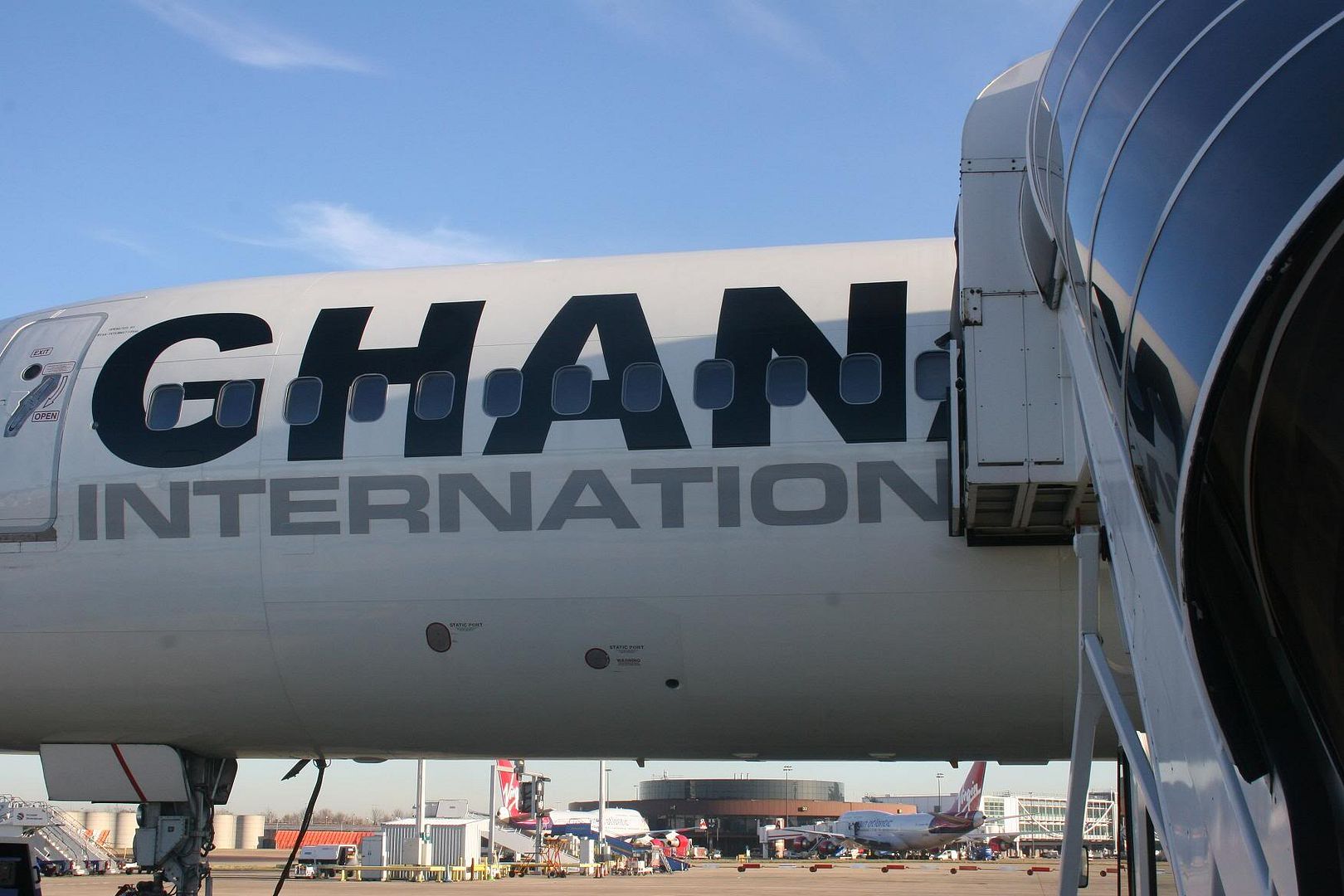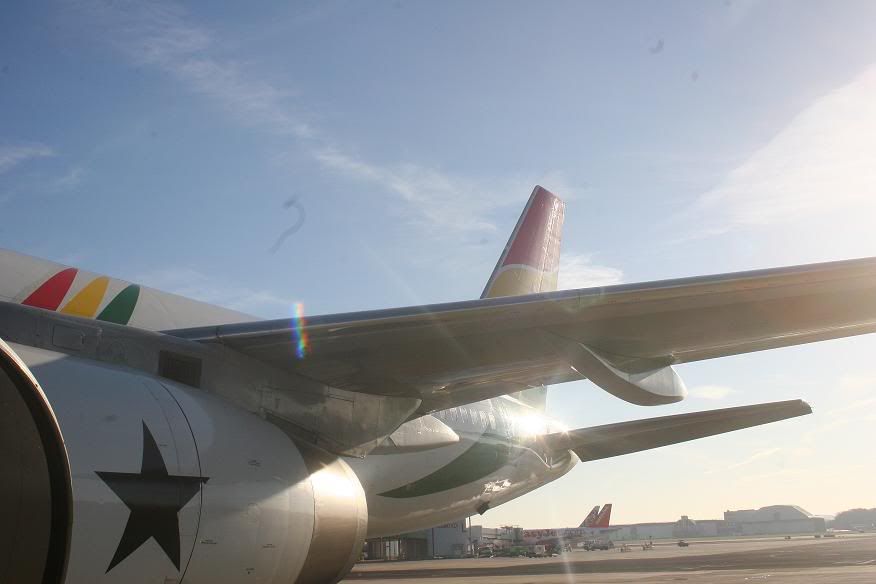 Upon reaching the top of the stairs we were greeted by a smiling GIA staff and showed where my seat is located:1st row in the economy section and at the emergency exit. The seats were quite comfortable and q lot wider than my last 757 ride (Flyjet Gatwick-Palma-Accra-Las Palmas-Gatwick). GIA has reconfigured its leased 757 to have 16 business class seats (56" pitch) and 144 Economy Class (34" pitch).
The colour of the seats were oldies style but very comfortable
Map of our aircraft:

As I was seated near the door, it was freezing (roughly about 2C) while we were waiting for the rest of the passengers.
View from my seat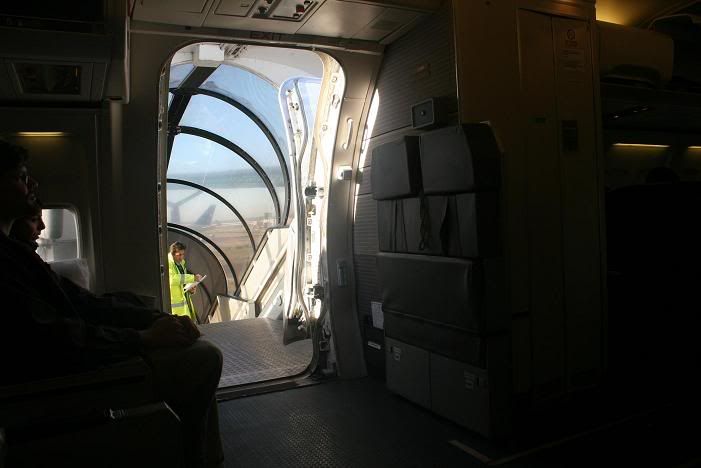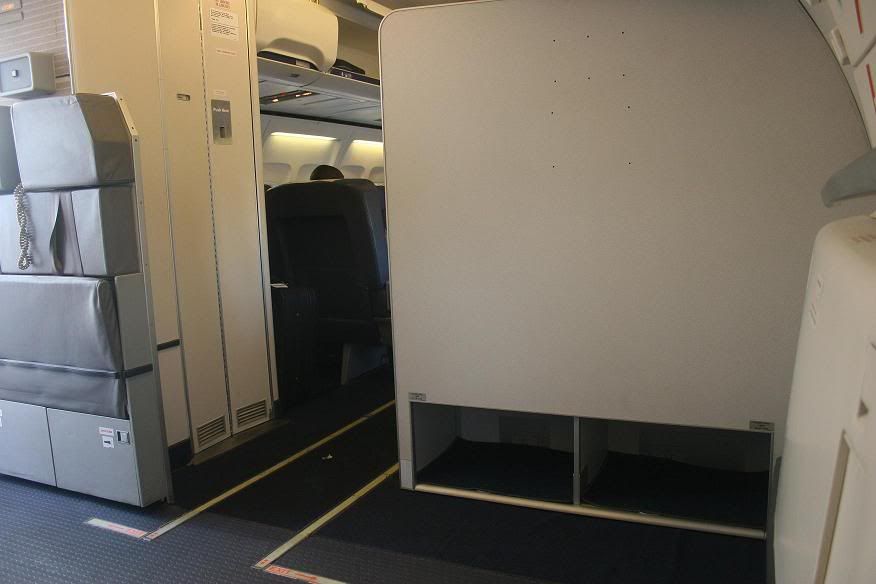 Picture of US airways new scheme I also believe it's a 767 not sure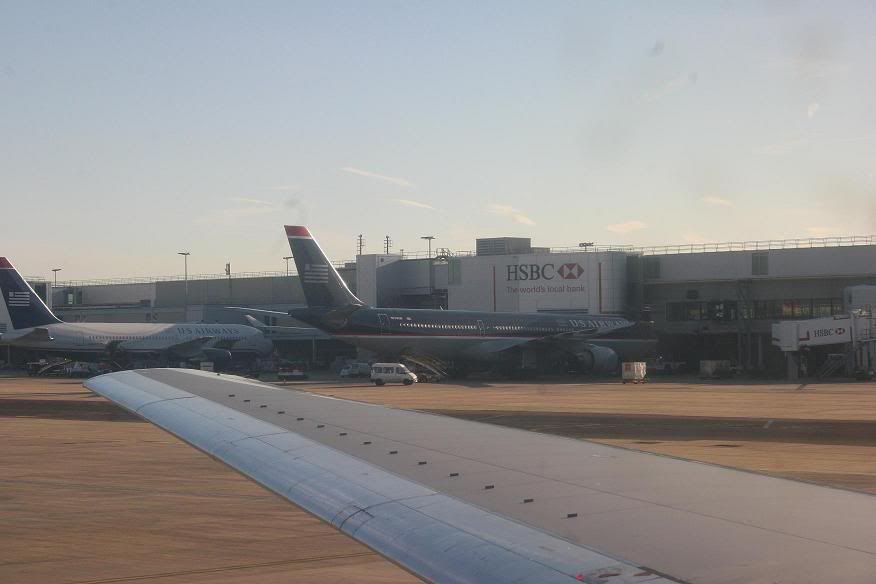 On of the cabin crew who was at the door went to the toilet to wear her coat. Cabin crew were helping passengers loading their bags in the overhead bins. Some bags were placed in the business class overhead bins due to lack of space in the Y class. Although baggage was restricted to eight kilos, people seemed to have stuffed their bags after the check in. Deck crew were from USA (Midwest accent I think) while cabin crew were a mixture of Ghanaian and 1 oriental (with US accent), possibly a Filipino or Chinese. However she was wearing Ryan International Airlines uniform. After boarding was complete, the doors were closed and we were approached by a cabin crew and asked: In case of an emergency, would you like to assist me with the procedures? We said yes. She then asked if we had any questions we replied No. she then went to the other side of the row (Seats A,B and C) and asked them the same question.
A good number of passengers were connecting from the USA with Continental airlines.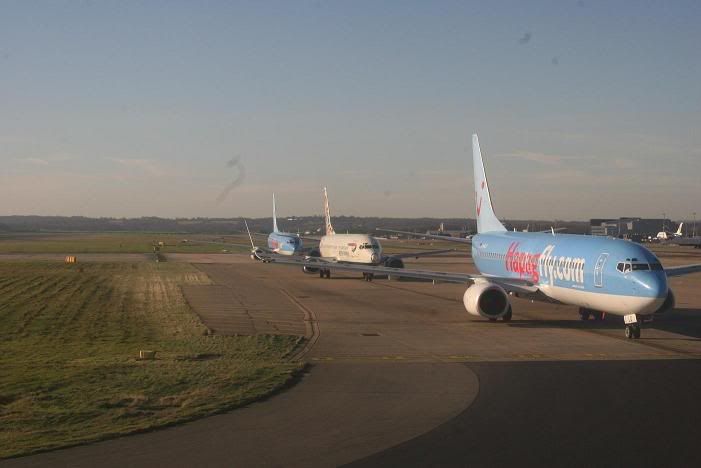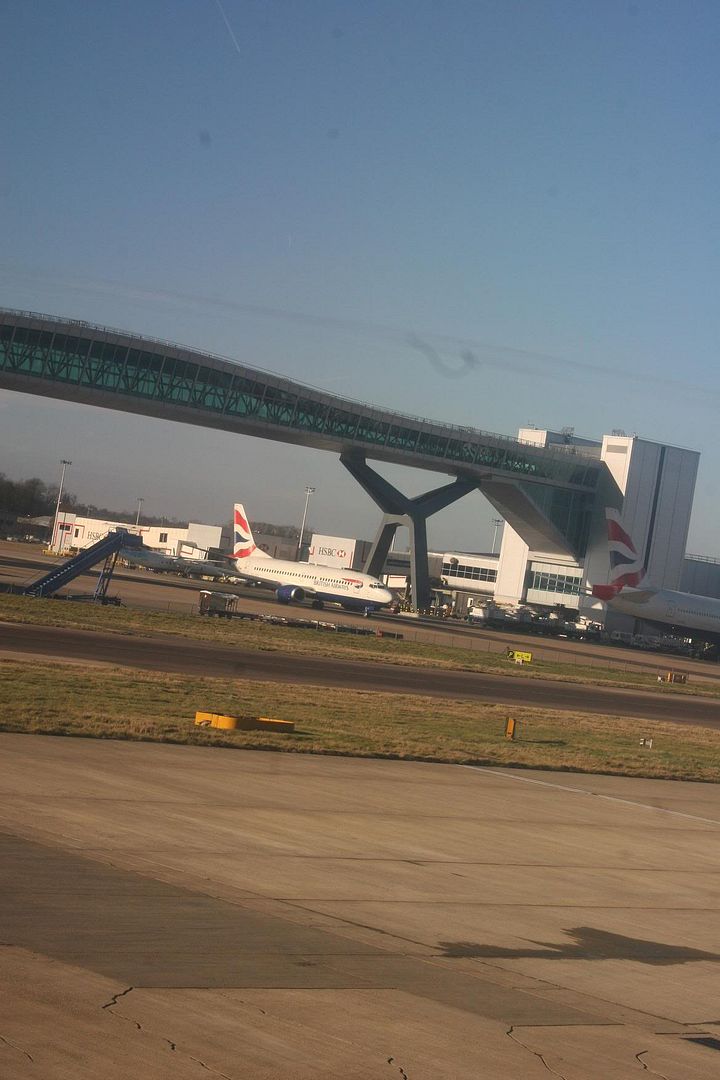 Captain Jackson then welcomed us and mentioned that the flight time will be 6 hours and 5 minutes and we will hit some light turbulence in 2 areas, upon landing at Accra as there is a thunderstorm system and over the Sahara desert. After the safety demonstration, cabin crew passed around the cabin to check if we all buckled up for the flight.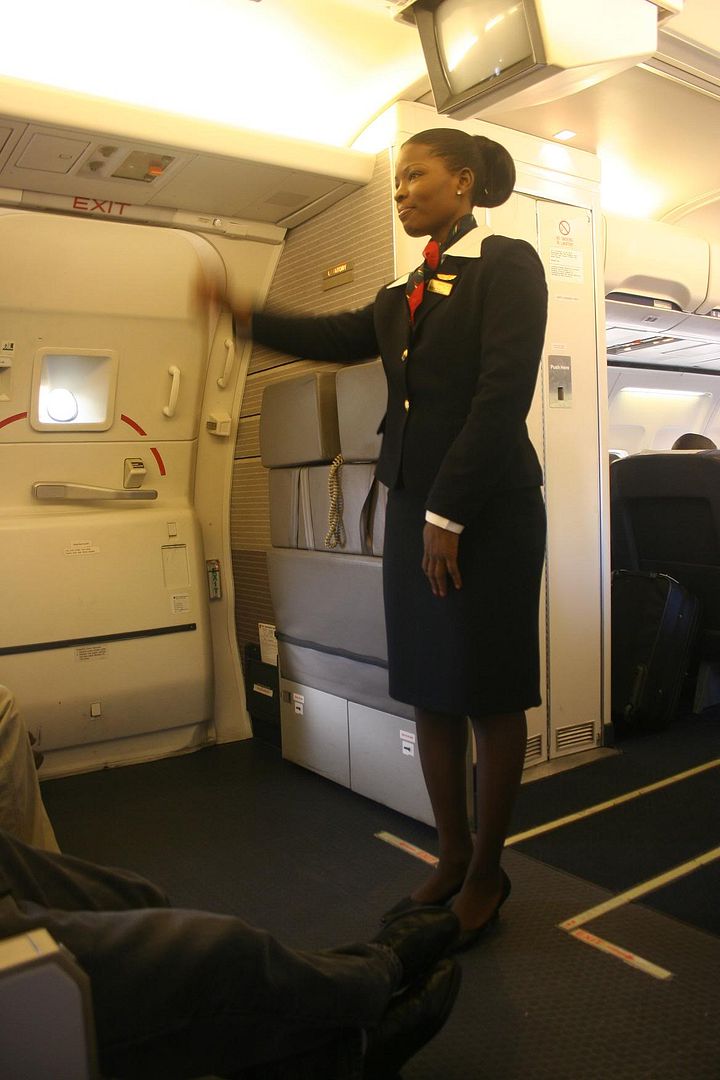 We then lined along TAP, HapagFly.com, British Airways and other aircraft. After 10min the captain announced that we were second in line. As we were lined 2 BA 737, 1 EasyJet landed while a CO 757 and BA 737 departed.
We left about 1 hour 5minutes late on runaway 26.
Shadow of our plane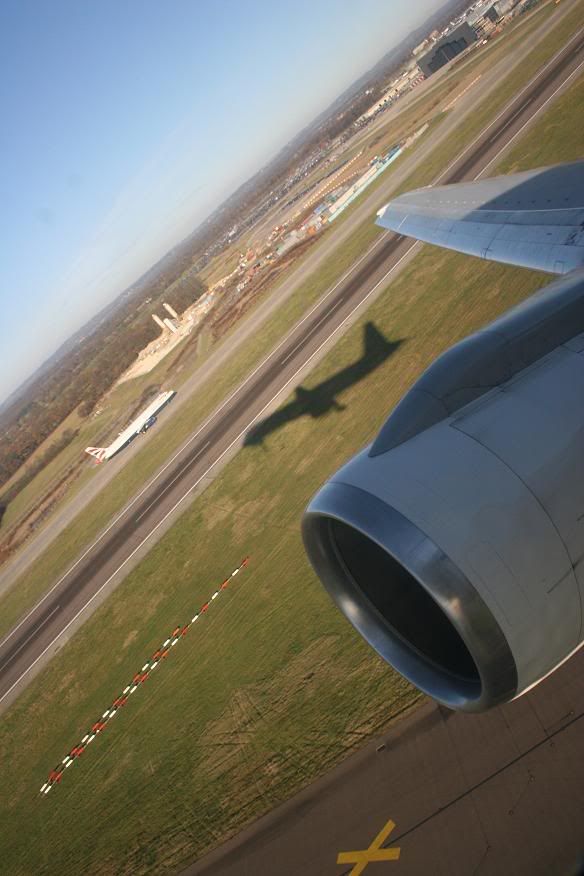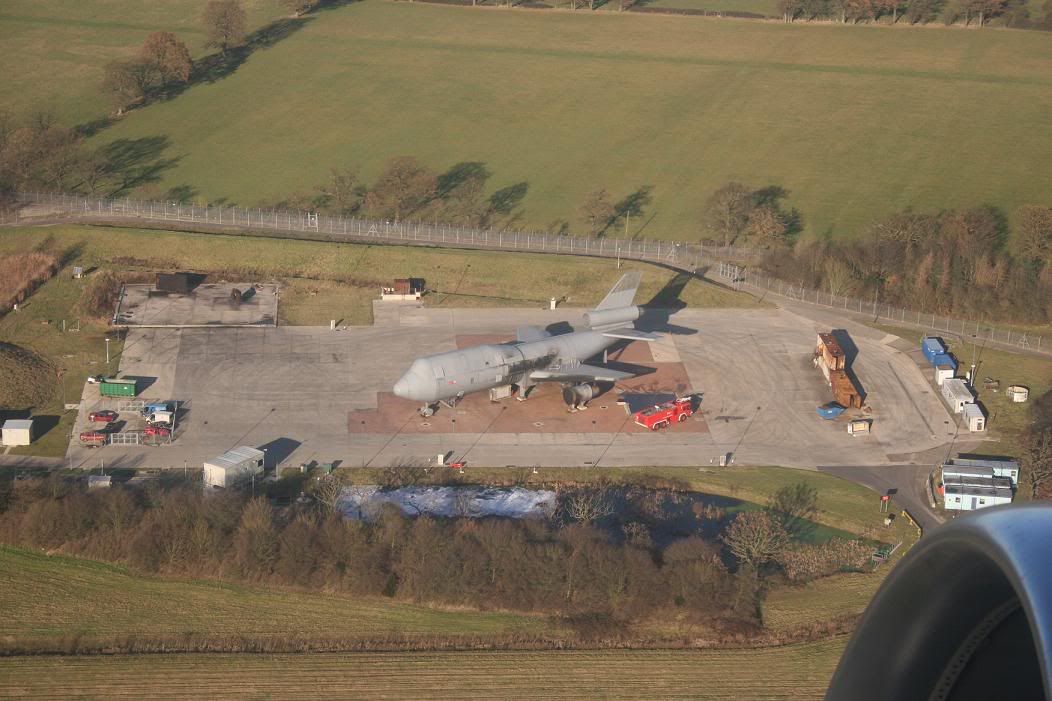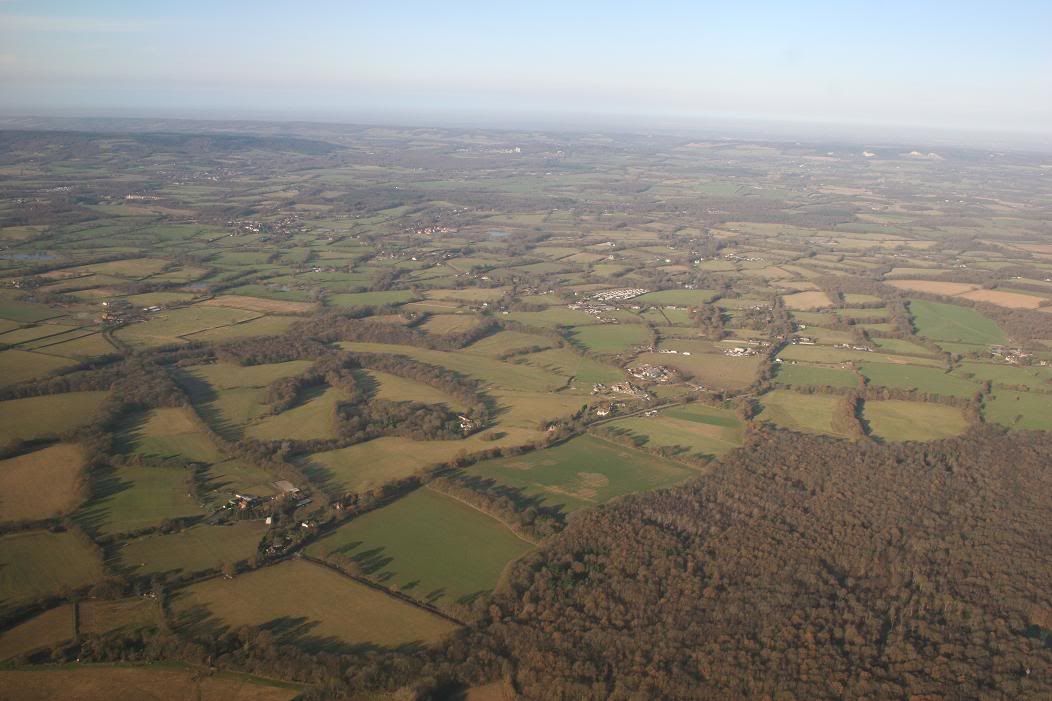 Can anyone identify this airfield? This was few minutes after departure/
I believe this island is the Isle of Wight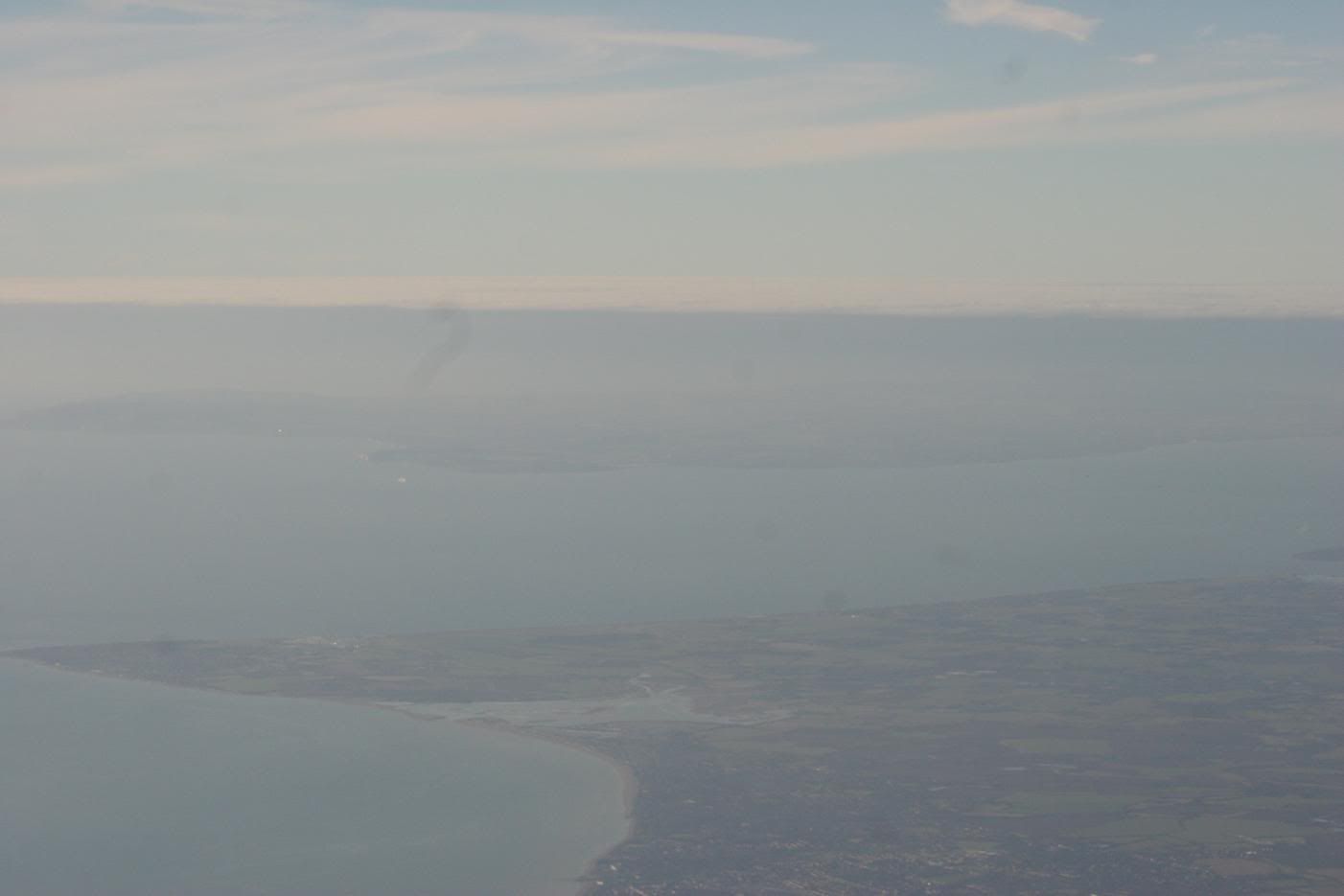 Headphones were distributed and announcement that the 2 movies shown today are: Fantastic Four and Fever Pitch.
Bonjour La France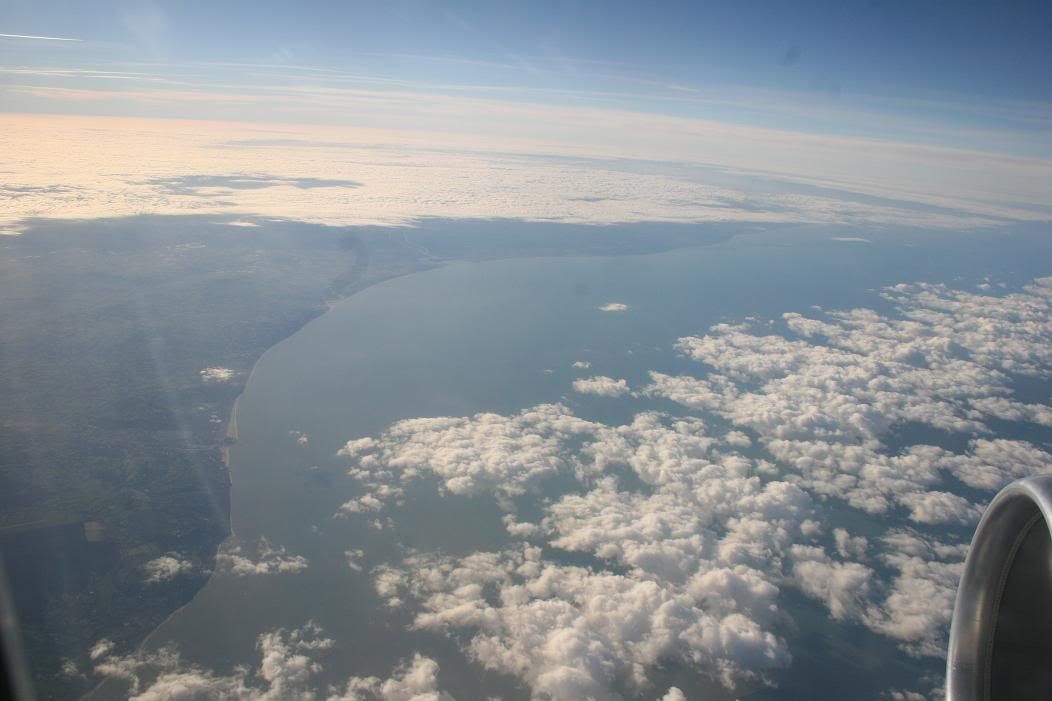 1hour and a half into the flight warm towels were distributed followed by lunch; we had a choice of Chicken and Beef. I went for the Chicken. The meal consisted of
Starters: Salad
Main Meal: Chicken with vegetables and croquette potatoes
Dessert: Chocolate mousse cake.
Drinks were also served including Alcohol.
The meal was very tasty and it's been a while since I enjoyed a tasty meal in a plane.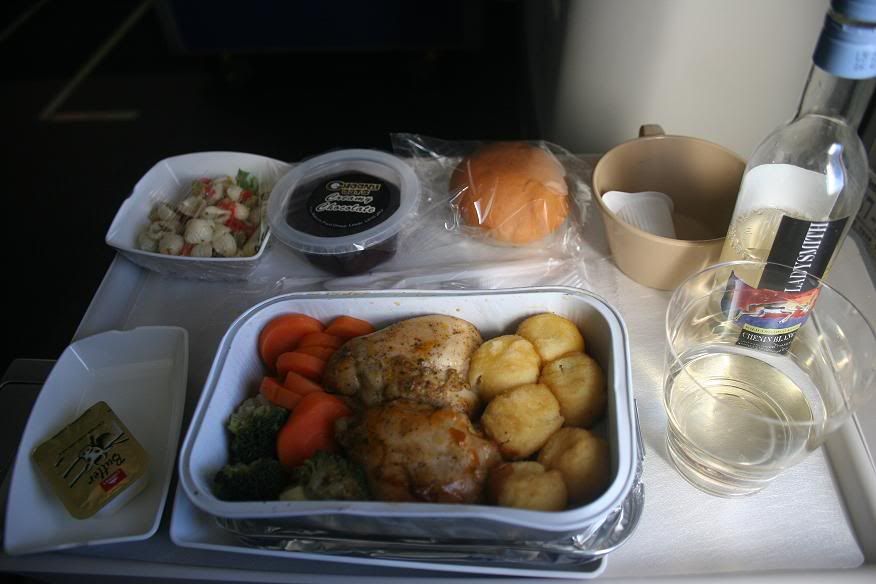 After lunch I had an hour nap to catch on some sleep.
Staff made sure everyone had plenty of water, soft drinks and tea/coffee.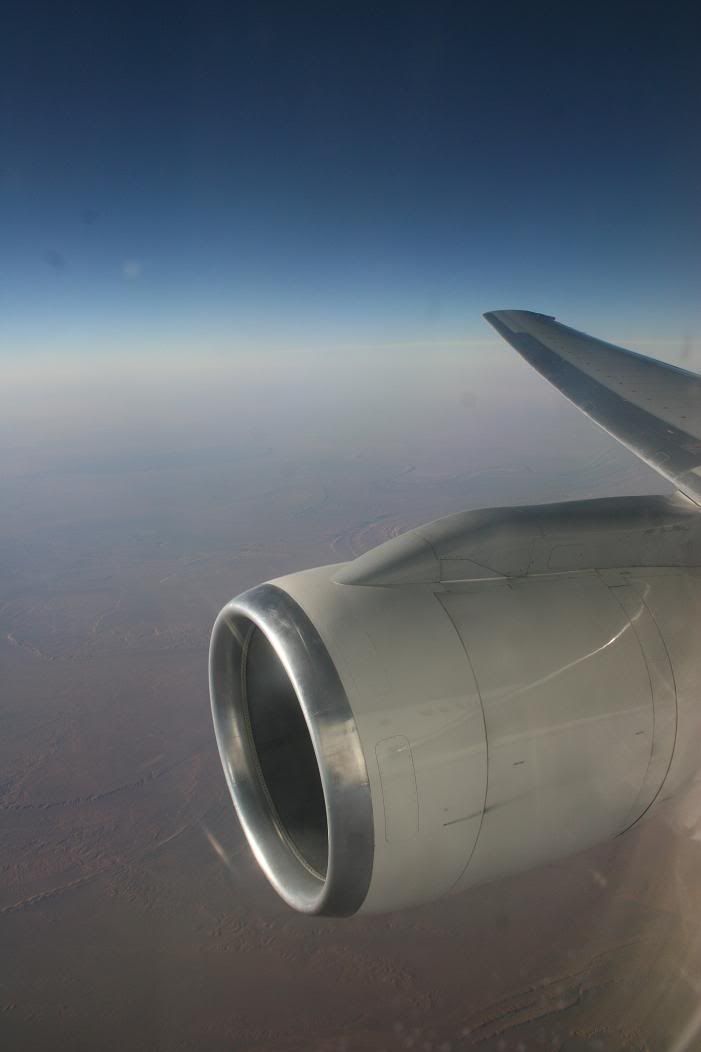 We hit some light turbulence over the Sahara (Not sure were as no map), some passengers kept going to the toilet during turbulence even when the captain and cabin crew said to fasten their seat belt.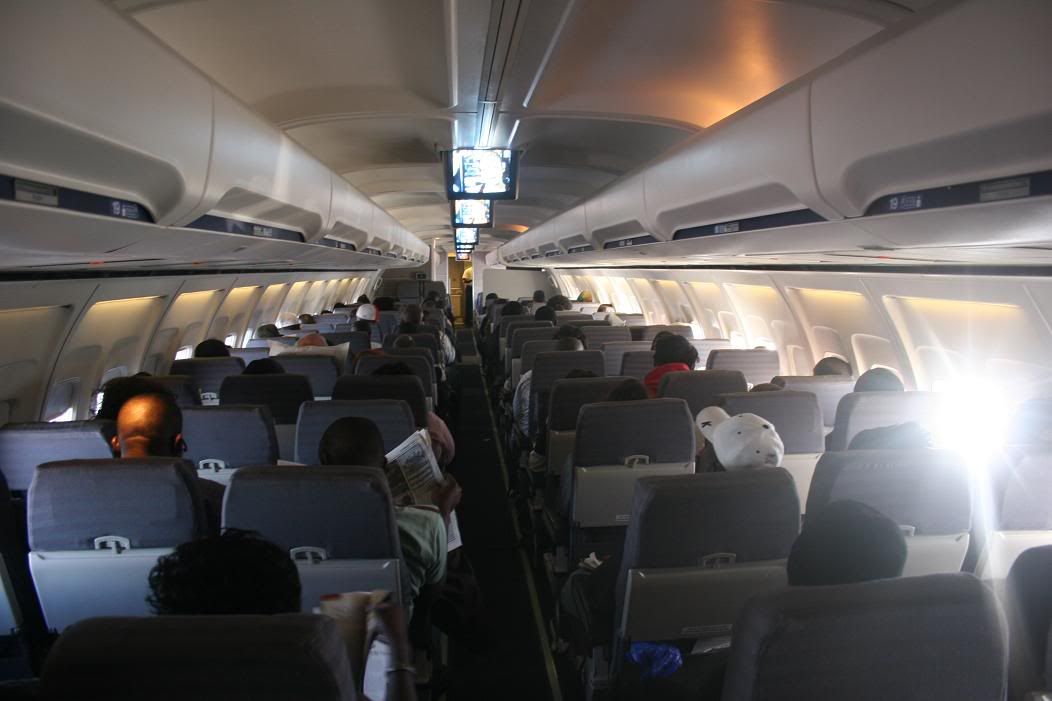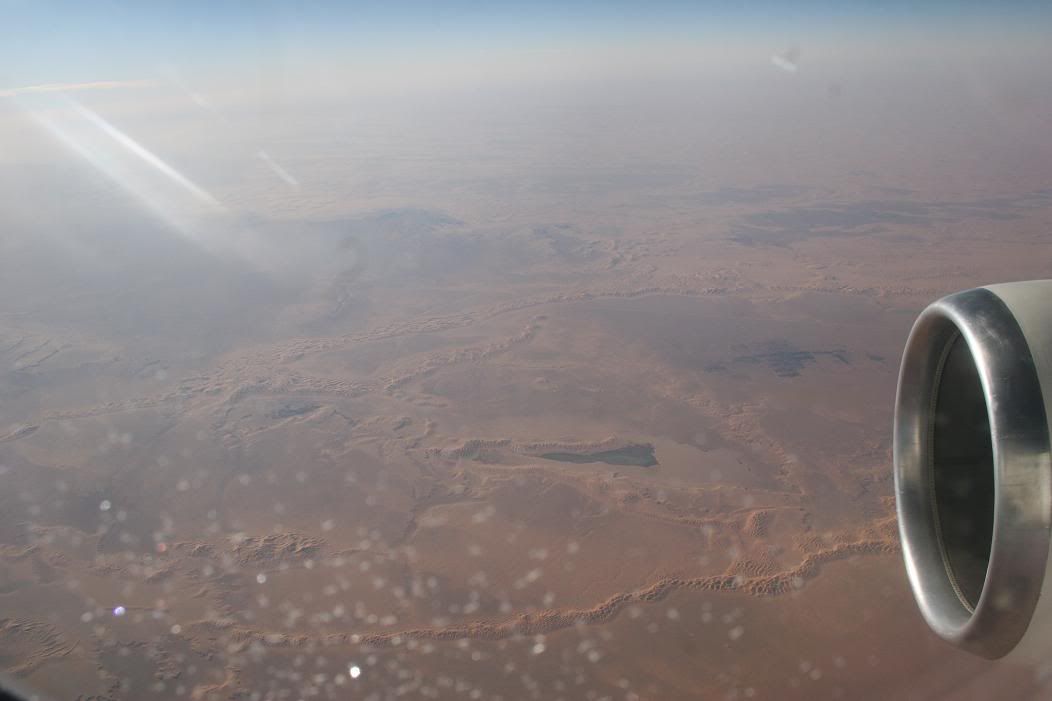 90minutes prior to land at Accra we were distributed landing cards and a snack of Turkey and cheese ciabatta.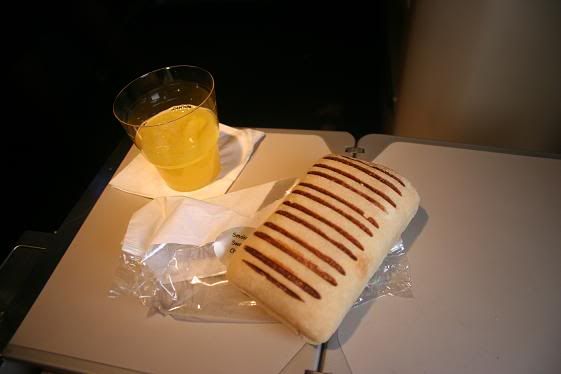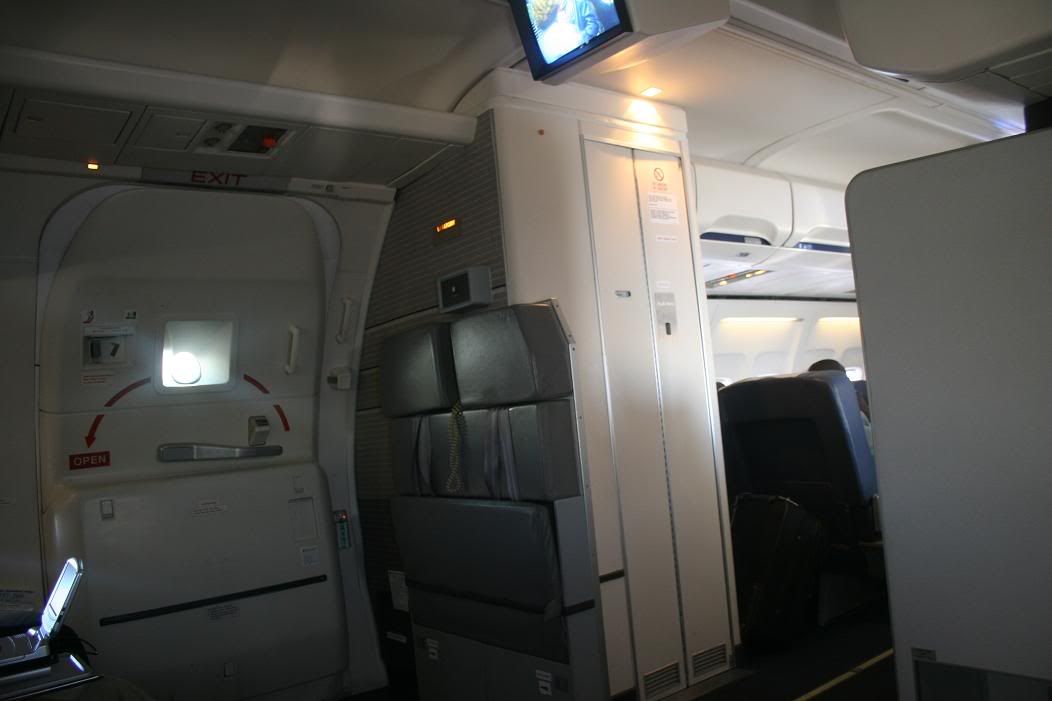 What a sunset!!!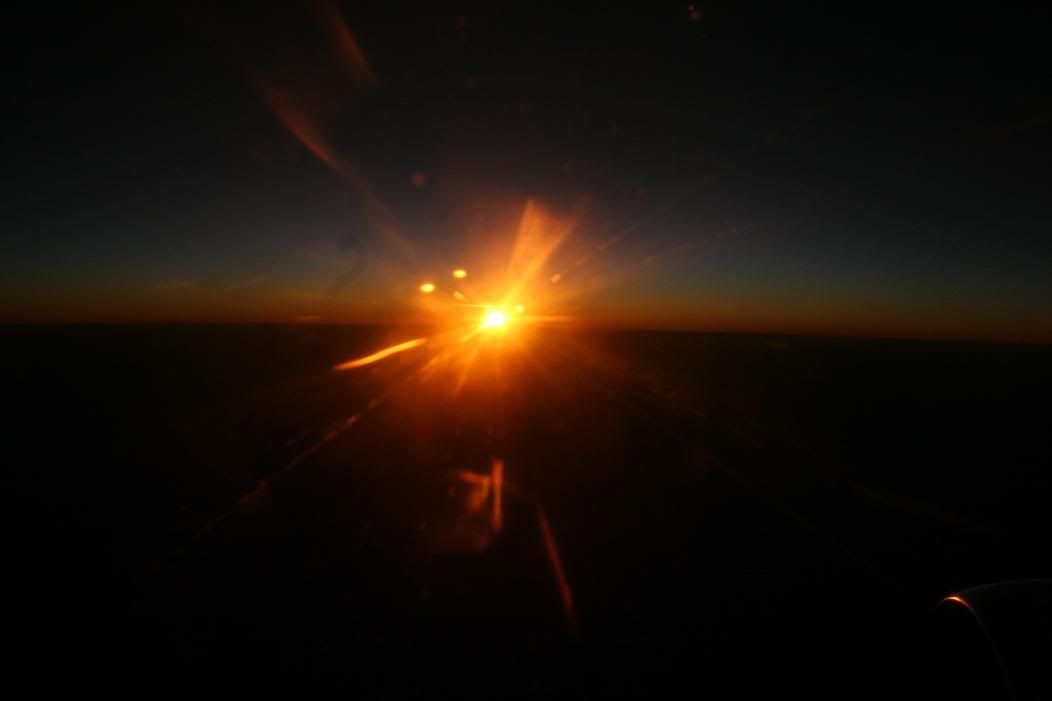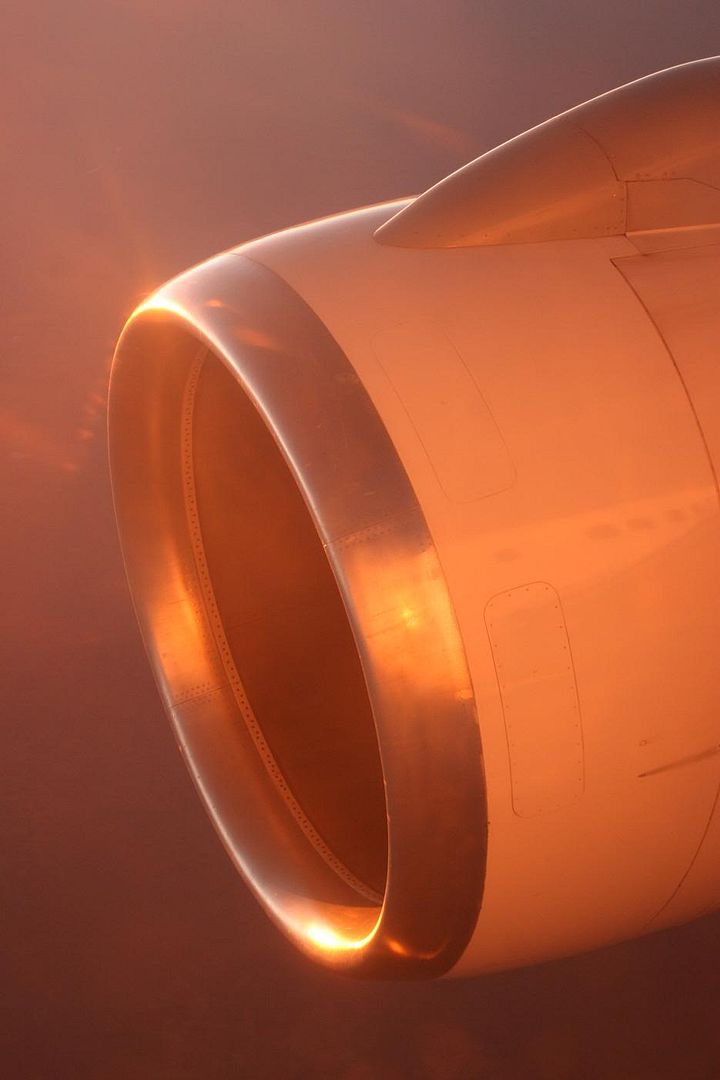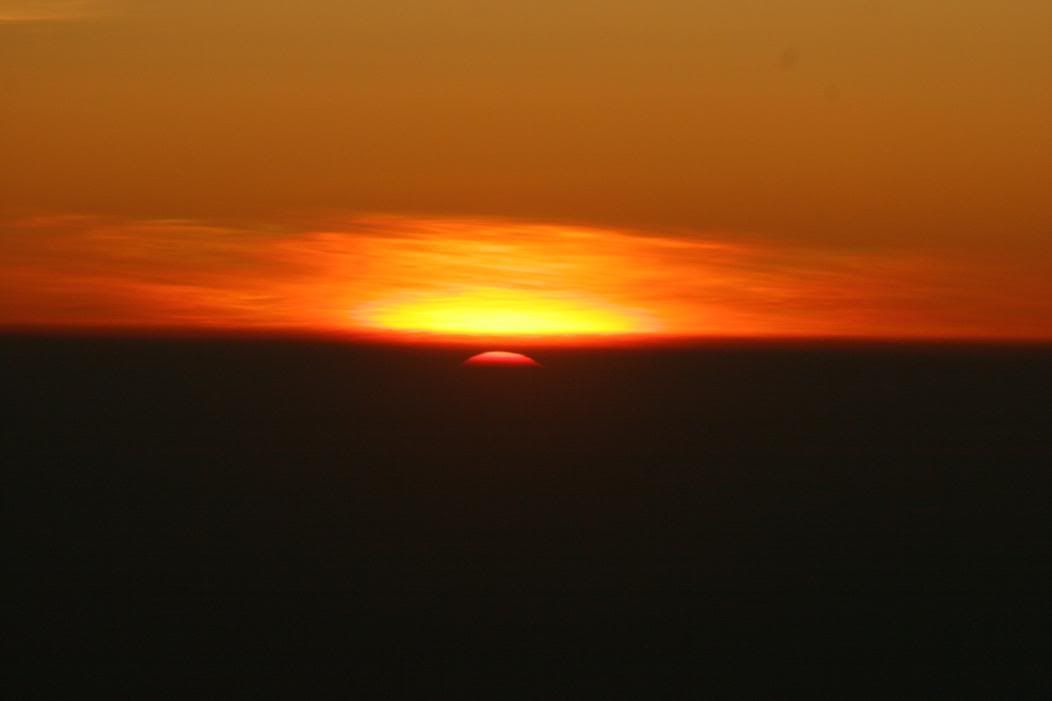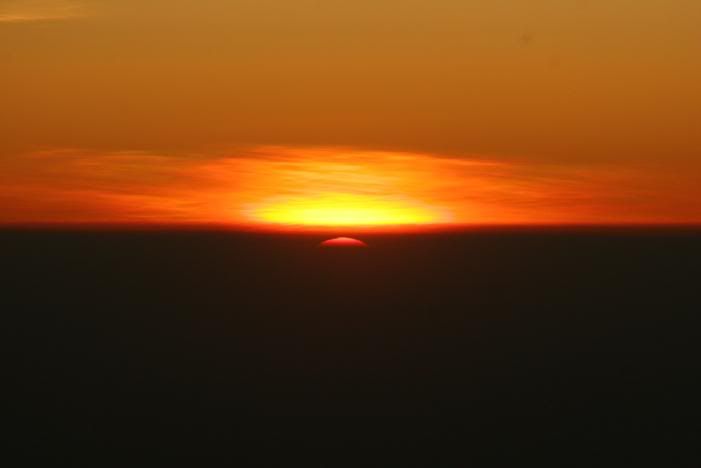 20minutes prior to land, from a distance I could see some dark clouds with some thunder. (The one the captain mentioned in Gatwick), however we avoided the system.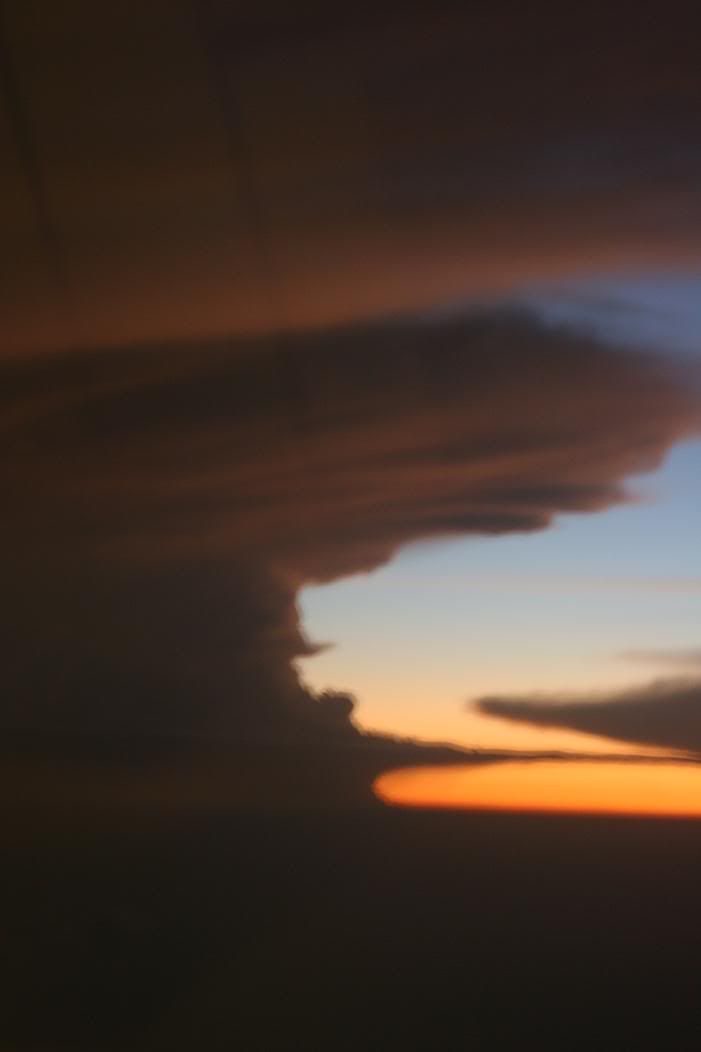 As we landed smoothly in Accra on runaway 21 some passengers started clapping. We passed thru the shadow of a rotten Ghana Airways DC10/DC9
We parked near a Lufthansa A340 getting ready for Frankfurt via Lagos. Upon arriving at our stand everyone just stood up while the seat belt sign was still on, the cabin crew requested for everyone to be seated as the aircraft is still in motion.
When the aircraft of the door opens, I recognise a face from a trip report. I could only guess it was Sean Mendis. An announcement was made for a Mr Soubhi Wolley (myself) to identify himself to the cabin crew, I simply waved to him. He introduced himself and while walking down the stairs I noticed the driver of the bus (a friend of mine) I greeted him and got on the bus with Sean, he asked me how was the service and any area of improvement. I also meet my brother waiting for me in the terminal we went to carousel 2 to wait for my bags. Sean later came and talked more about GIA service/operation. He had to go to see a passenger complaining that he wants a wheelchair. The wheelchair was offered to him at the bottom of the stairs (of the aircraft) and he said he didn't need it. Some people complain just for the sake of complaining.
I head home (2 miles from the airport) to find a HUGE chocolate cake. Yummy… my niece wanted to have a look what is in my bags for her and attached a baggage tag on her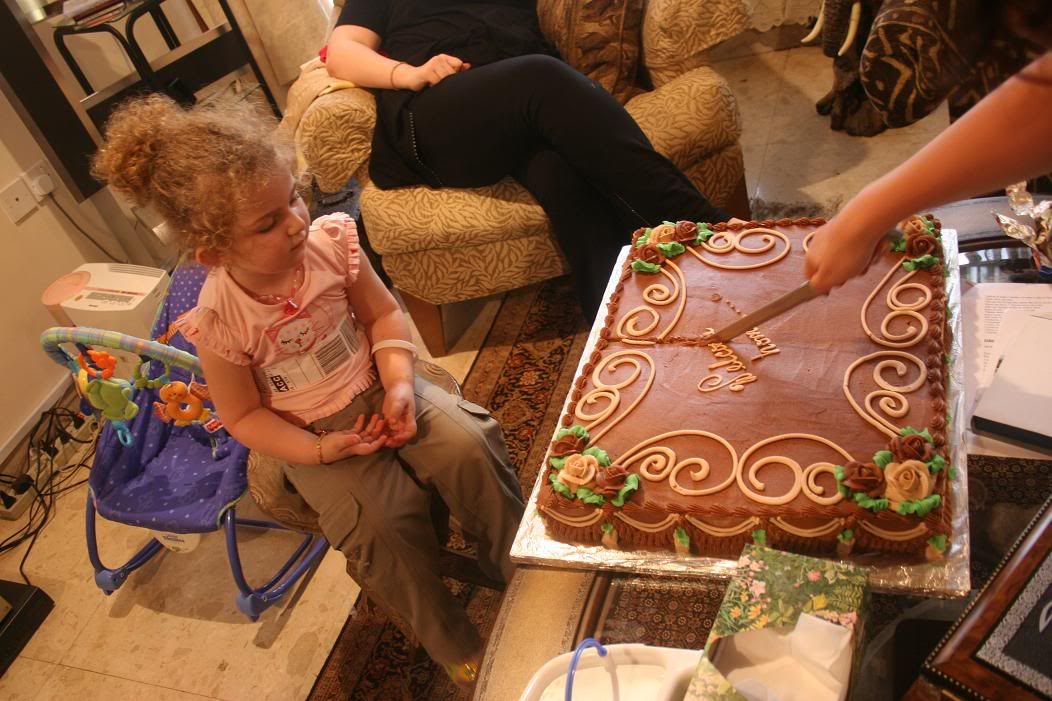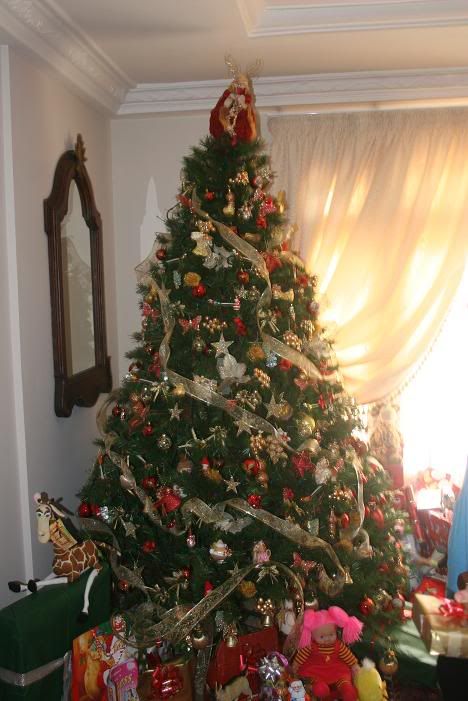 I would definitely fly Ghana International Airlines again in the future; their service is easy comparable with Major airlines (in Y class) like British Airways, KLM and Air France however their in-flight entertainment lacks PTVs. I believe if GIA continues to offer good quality service and improve their in flight entertainment service they can be one of the best airlines in Africa.
Any comments welcomed
Next trip reports
Accra-Gatwick: 2january 2006- GIA
Gatwick- Accra 5 January 2006- GIA
Accra Gatwick 10 january 2006- GIA
Birmingham- Zurich 20 january –LX
Zurich- Birmingham 22January –LX
Gatwick- Varadero 1 feb My travel
Havana- Guantanamo 4 feb Cubana
Guantanamo-havana-Coya Coco 5 feb Cubana/AeroCaribbean
Coya Coco –havana 7 feb AeroCaribbean
Varadero-Manchester- Gatwick 8 feb My travel
Again in march 2006 to Accra to watch the sun eclipse (possibly with GIA)
More pictures:
MyAviation.net photo:


Photo © Sean Mendis
MyAviation.net photo:


Photo © Sean Mendis