So it's Christmas time, and once again it was time to head home for the holidays. In case you didn't know, I am currently on exchange in Pasadena, but live in Germany, so I still consider Germany my home. I arrived in Pasadena in September (see trip report with Swiss:
LX DUS-ZRH-LAX In C; Detailed, Many Pics; Working!
(by
LHSebi
Sep 11 2005 in Trip Reports)). Now, I was using my return from the ticket, which was a slightly different routing. I was going to fly Lufthansa from LAX-FRA-DUS in C. I decided to write this report as my trip progresses, so there will be lines where I break, and whenever I have time, and there is something new to report, I will let you know, enjoy!
I booked my SuperShuttle to take me to the airport last Thursday, and it arrived perfectly on time, just as I was coming out of my dorm room. I lugged my bags down to the mini-van, said good-bye to my friend, and I was off to the airport. For those of you who have been in LA know the trouble with traffic. However, I was pleasantly surprised, that it only took 30 mins in total from Pasadena to LAX! There was a lot of traffic going the other way, but my stretch was quite clear! As we pulled up to Tom Bradley International Terminal, the only thing I saw was a huge line of people extending to the street outside the terminal. I didn't like what I was seeing! Fortunately, I soon found out that this was actually the line for one of the Aero California flights leaving this afternoon as well. As I entered TBIT, it was completely full. I have never flown out of LA before, so this was all new to me. However, since I was quite early for my flight, the checkin line was quite short on the economy side, and completely empty for business and first. I was waved over to the First checkin counter, where a very kind lady greeted me.
The checkin was very smooth, and I was handed my 2 boarding passes with my baggage checked right through to Duesseldorf. Now I had never flown out of the US since all the new TSA security measures have been implemented, so I didn't realize what was awating. The checkin lady told me to step over to one of the 2 (yes, two) open baggage scanners. I looked over, and seeing as there were about 3 or 4 flights heading off very shortly to Mexico and Chile, the lines were incredibly long. Here is my first complaint that there are no priority lines for premium passengers. I had to wait in line for over an hour just for my stupid bags to be checked. I realize that these are probably necessary security measures, but when there are two scanners, and like 6 long haul flights for which the passengers are already there leaving soon, then something has to be done. The whole time while standing there, this guy standing behind me kept getting closer and closer. Now I am not a guy that needs a lot of space, but when some stranger stands so close to me that I can smell his bad breath next to my head, that goes a bit too far. What was annoying on top of that, was that the agents kept pushing other people ahead of the line because their flight was leaving soon. I know this is valid, but again, it shouldn't happen at an airport like LAX.
Baggage screening was ok, and they didn't complain, which was nice. It was now about 12:30 with my flight leaving at 2:40, which gave me plenty of time to go to the lounge. I asked again to make sure where to find it, and I was told to go past security and up to the 5th floor. At security, I again was disappointed that there were no priority lines. It must be a European thing, but in every airport that I can remember they have separate lines for premium passengers, which is very handy when it's a busy day. The security screening was the usual thing. When you constantly travel around with a laptop, wires, and camera equipment in your backpack, then you get used to your bag being put through the x-ray machine a few times. Today, it was twice. After being checked, I walked off to the lounge on the upper floor. To my surprise, the lounge is tiny. There is one larger room with a bar with drinks, and small snacks like peanuts and cookies. There is an additional small room for TV watching, where you can close the door to not bother the other people. On one side, there are 4 small booths with telephones. I am currently sitting here in the lounge, and it's slowly but surely filling up (one hour before boarding). I will continue to write once in the plane again.
Flight number: LH 457
Seat: 2K
Gate: 104
Boarding: 14:10
Sched. Departure: 14:45
Sched. Arrival: 10:20+1
I left the lounge about 15 minutes before the supposed boarding time. I just wanted to spend some time to look around, and take a good look at our aircraft. I was very excited for 2 reasons: 1) I was pretty sure I was going to get the new Business class for the first time, and 2) I was going to be able to use the wireless internet on board. I had looked on Lufthansa's website before I left, and everything pointed to the fact that I was going to get one of the newly retrofitted 747s. As I walked to the plane at gate 104, I passed by several other widebodies heading out mainly to Asia. As I got to my plane, I began looking out for the tell-tale hump on the back, to show that this aircraft did indeed have the internet on board. However, I was disappointed to not find anything. I still had my hopes that it would still have it, but perhaps the antenna was attached somewhere else. These hopes decreased when I noticed the China Airlines 747 parked next to our D-ABVC (Baden-Württemberg) had the hump at the spot I had thought it should be. Oh well…I guess no internet this time!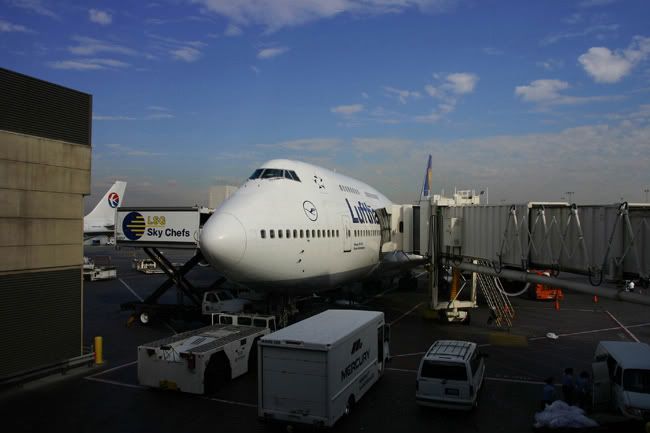 As the gate area began filling up with the premium passengers coming from the lounges, I went to get in the priority boarding line. This was the first time I noticed that a proper line had formed for priority boarding. I was not too bothered about it, since I was 3rd or 4th in line. Finally, the boarding announcement was made for people requiring extra time, and people with small children. A few people went in, and then it was our turn. I passed the passport check, then went on to the next lady, and handed her my boarding pass. I walked down the finger, and saw the usual small line at the actual entrance to the aircraft. As I got closer, I realized that this aircraft had the old C seats! I was very sad, seeing that I was looking forward to all the little gadgets and goodies that come along with the new C class (AVOD, flat seats, etc). Obviously, since this aircraft had not been retrofitted, it didn't have the internet either. Oh well, there are worst things. After all, I have flown the old C before, and I know the seats are comfortable, and the service has always been great.
I walked up to the nose, and settled into my seat 2K on the right window. The small cabin at the nose of the aircraft is nice, since there are only 5 rows in a 2-2 configuration. The first thing I did, was have a look what movies were playing. Since the old seats don't have AVOD, I wanted to know which movies to watch and when. As far as I could tell, the movies they were showing were Sleepless in Seattle, The Island, and The Lion King. Only later did they realize that there were a whole lot more. Oh well… Just before we left the gate, a flight attendant made an announcement over the PA, that they had found someone's jacket with teeth in it. My seatmate and I looked at each other, and laughed. After she repeated it, it became clear that those were in fact keys, and not teeth in the sweater
. Gotta love the german accent
. In the meantime, we were served pre-departure drinks, which was a choice between orange juice, water, and champagne. If you read the last report, you know what I chose!
The captain then informed us that there was some delay in loading the cargo, but he had already ordered some more fuel, so we can make it to Frankfurt faster, and that we would still arrive on time.
As promised, soon enough we pushed back from the terminal, and were tugged a little ways to be clear of the other aircraft parked at the gates. Now it's been a while since I last flew in the nose area of a 747, so I had completely forgotten how quiet it actually is up here! Quite impressive, I must admit. I barely even noticed the engines being started as we stood there.
View of the gate where we were standing.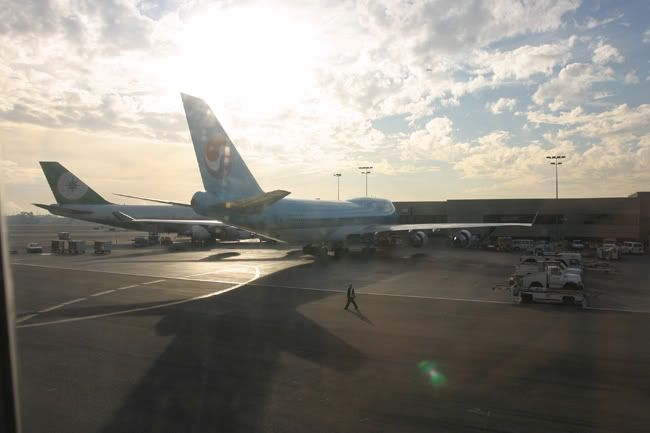 Being towed clear of the terminal, past a Korean and EVA 744.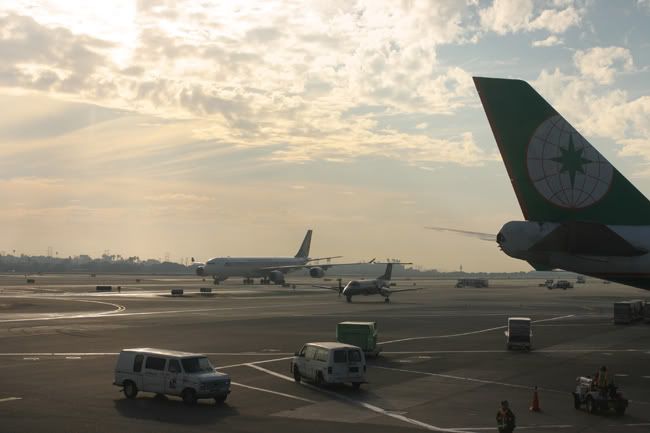 The SQ flight from Singapore had just landed!
Soon enough, we began our taxi to the active. Since we were number 2 for takeoff, there was barely any wait, and we were off.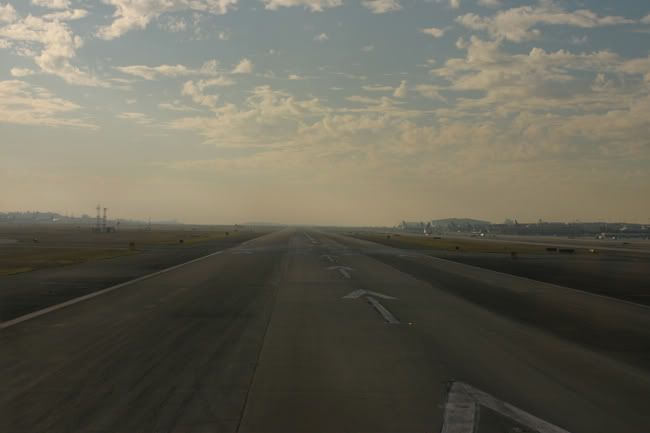 Our runway while lining up. The advantage of sitting further forward than the captain himself!
After a long takeoff roll, and a very powerful 747 takeoff, and we were on our way on our 10h10 flight.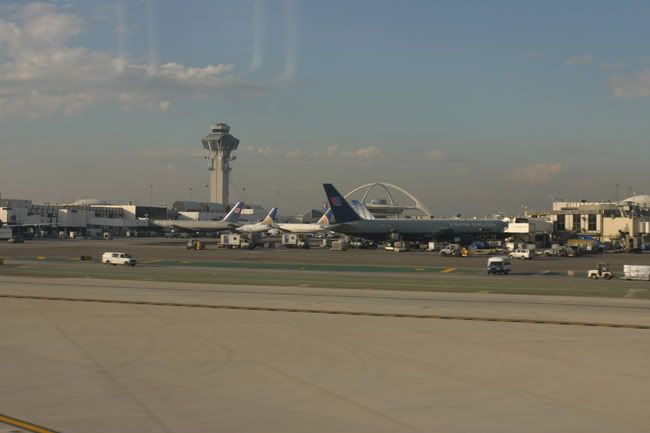 On takeoff roll…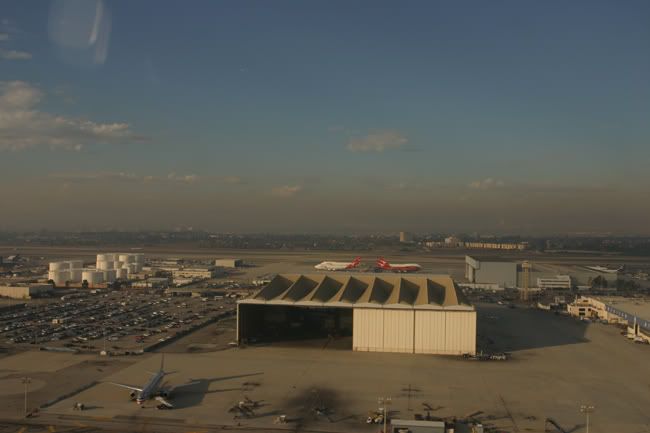 Just after liftoff, the usual group of QF 747s standing there, including Wunala Dreaming!
The climb was very nice. We took off in a westerly direction, and continued this way until we hit the coast. Then, we began a series of left turns to take us almost over Catalina island, and then east towards home.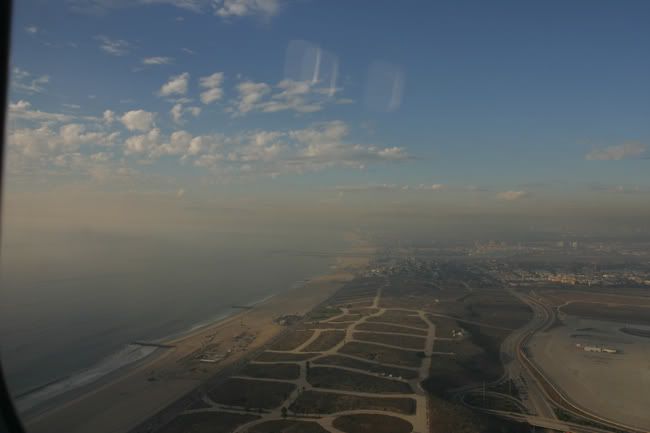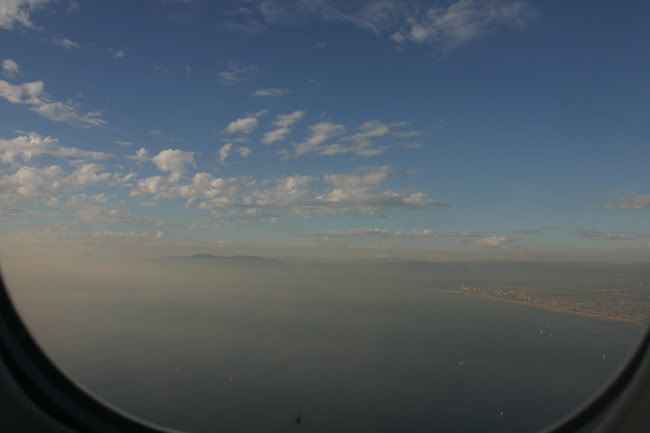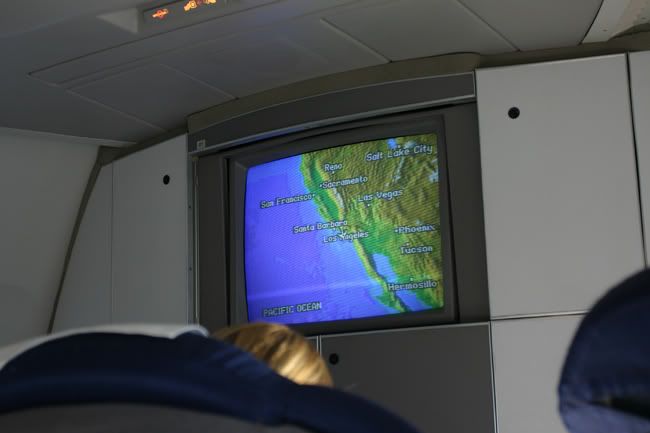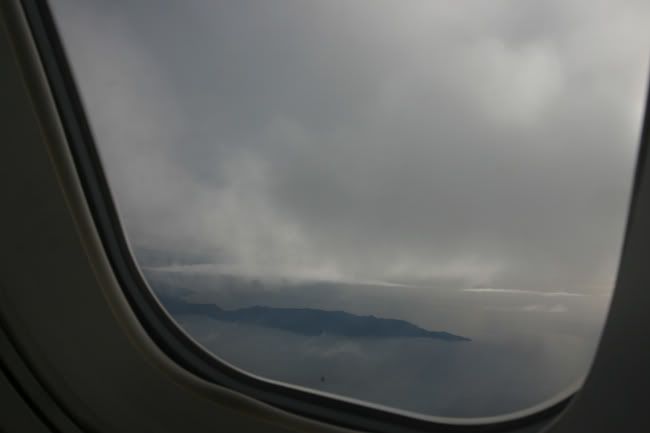 Catalina Island just visible as we break through the clouds
The seatbelt signs didn't come off until well over 10k feet, which I don't know why, since there was no turbulence or anything. While climbing, I snapped photos of the happenings in and outside of the aircraft: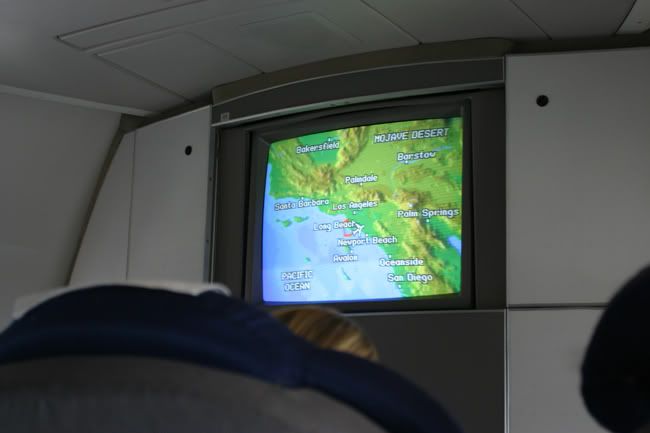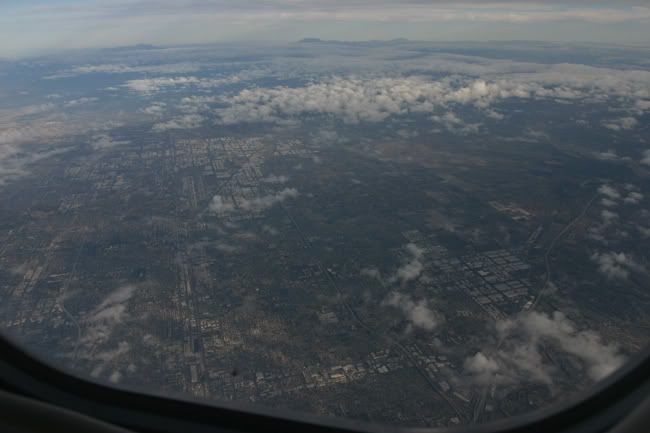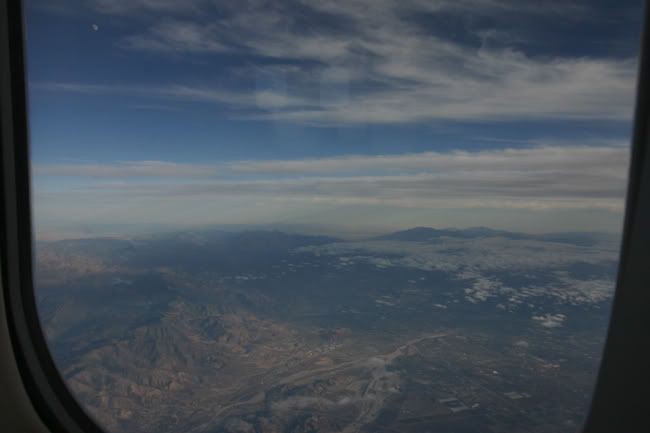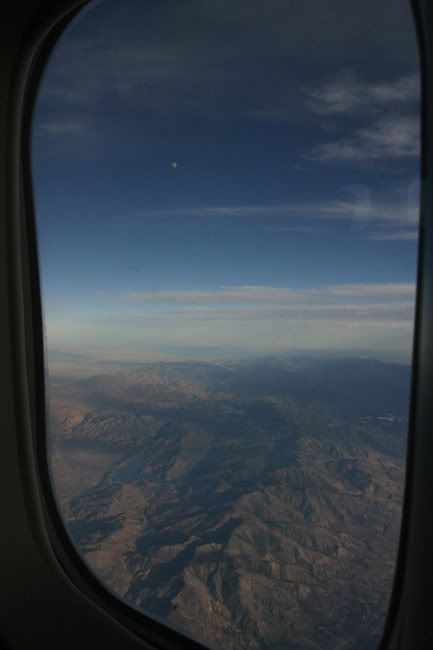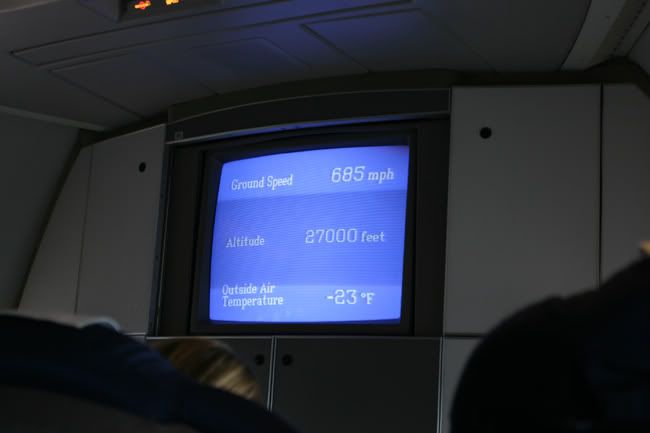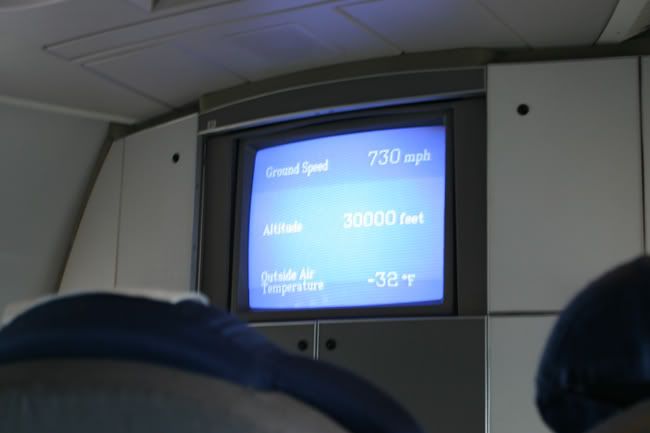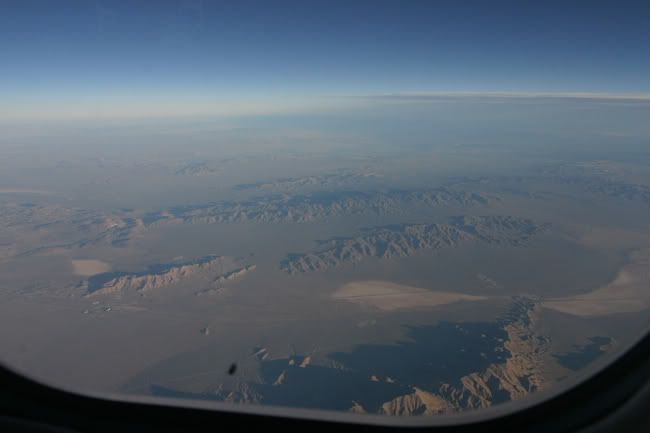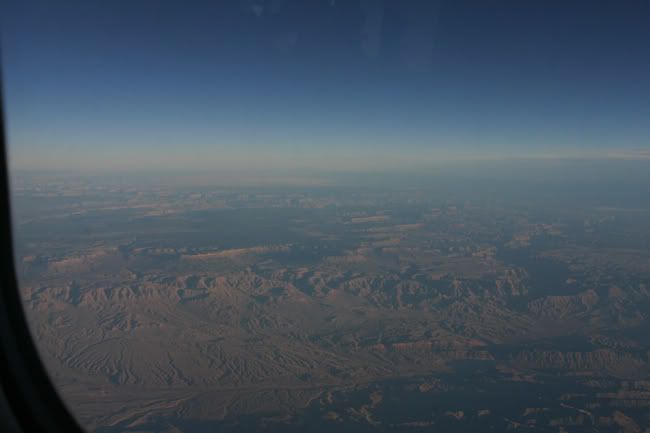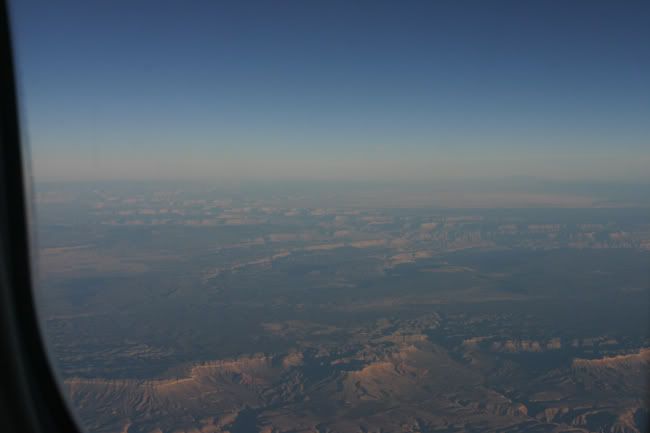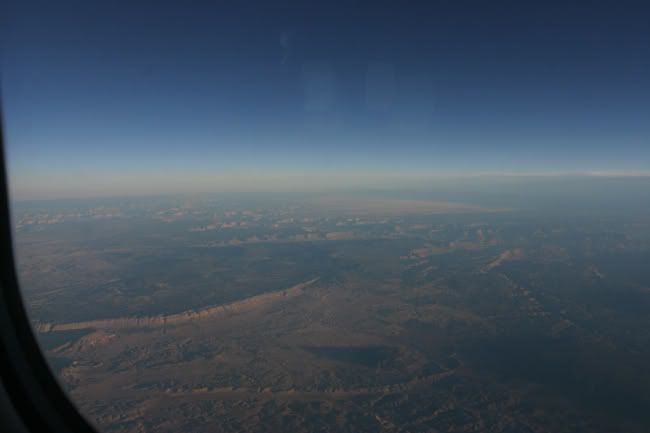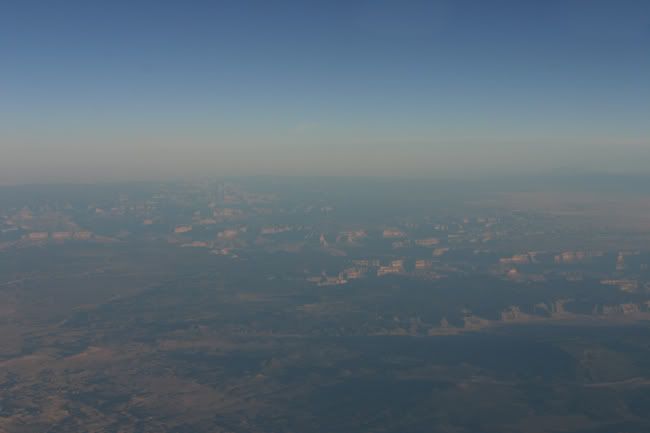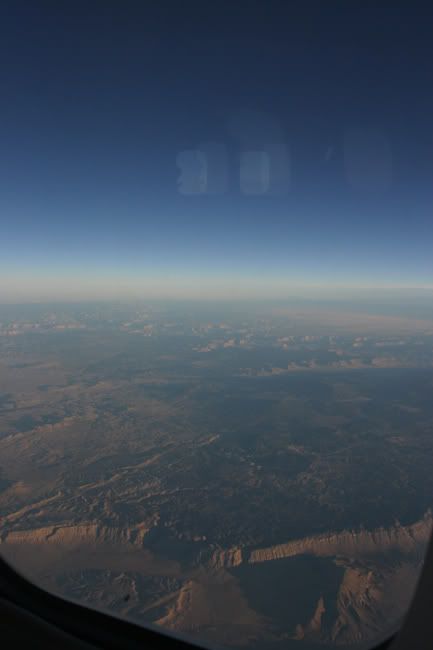 As soon as they came off though, we were served more drinks (so more champagne for me
&nbsp
, and salted cashews, and given the menus to choose our meal for dinner. At the same time, the news were being shown on the video screens: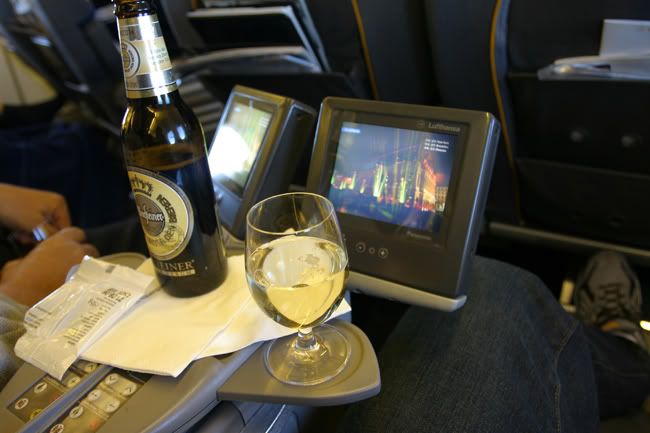 While the news was playing, the captain interrupted, to tell us that we were flying right over the Grand Canyon for the next few minutes! Since I was there just a few weeks before, I decided to take some pictures from above: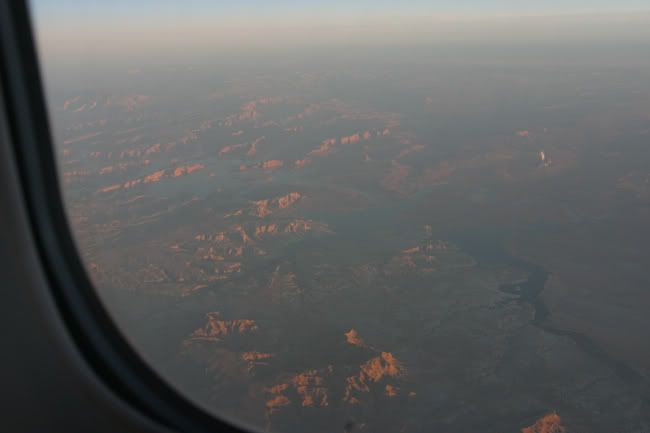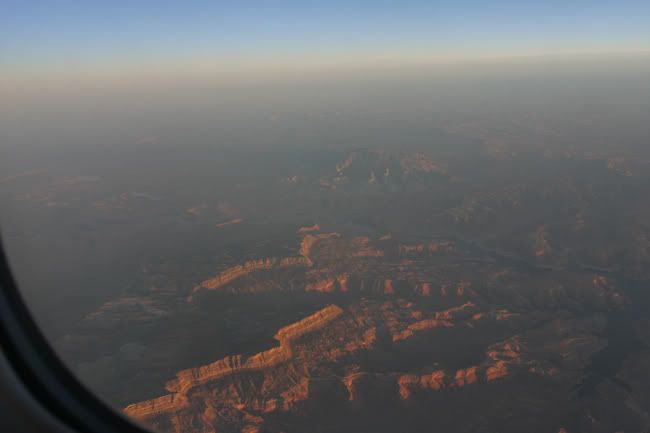 Soon, we began to fly over the rockies, so more pictures were in order: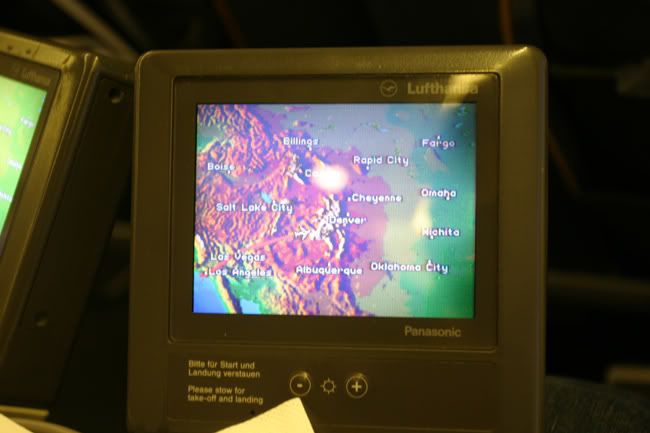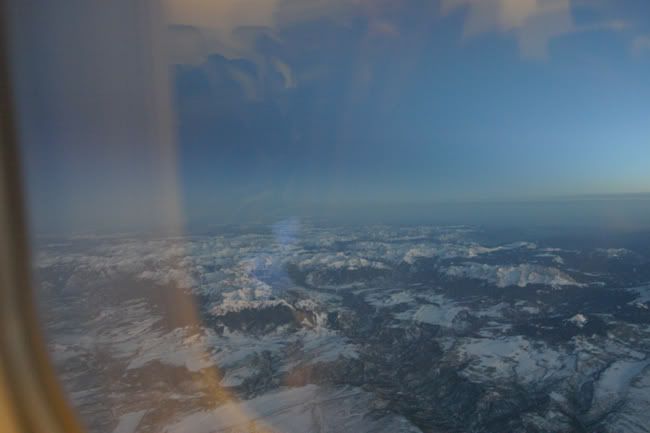 Below is a copy of the menu this evening: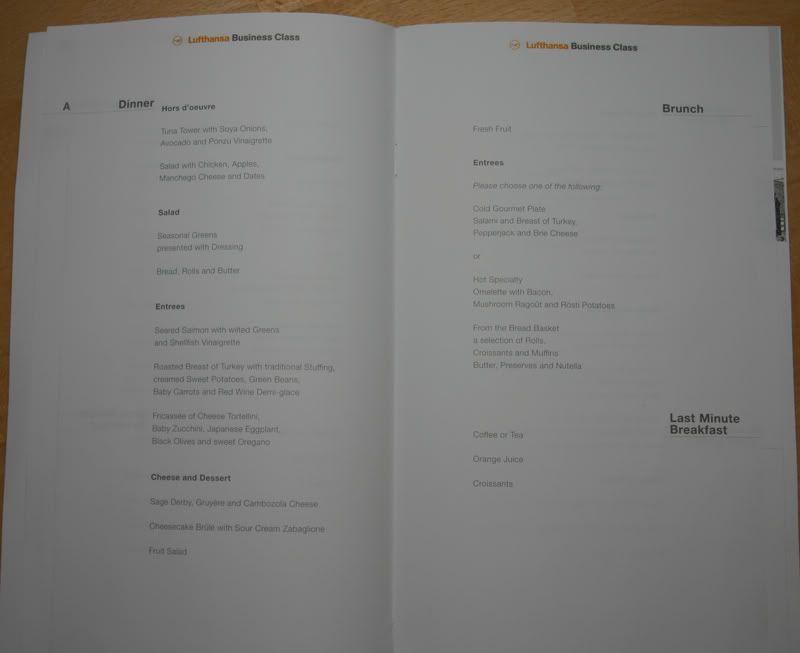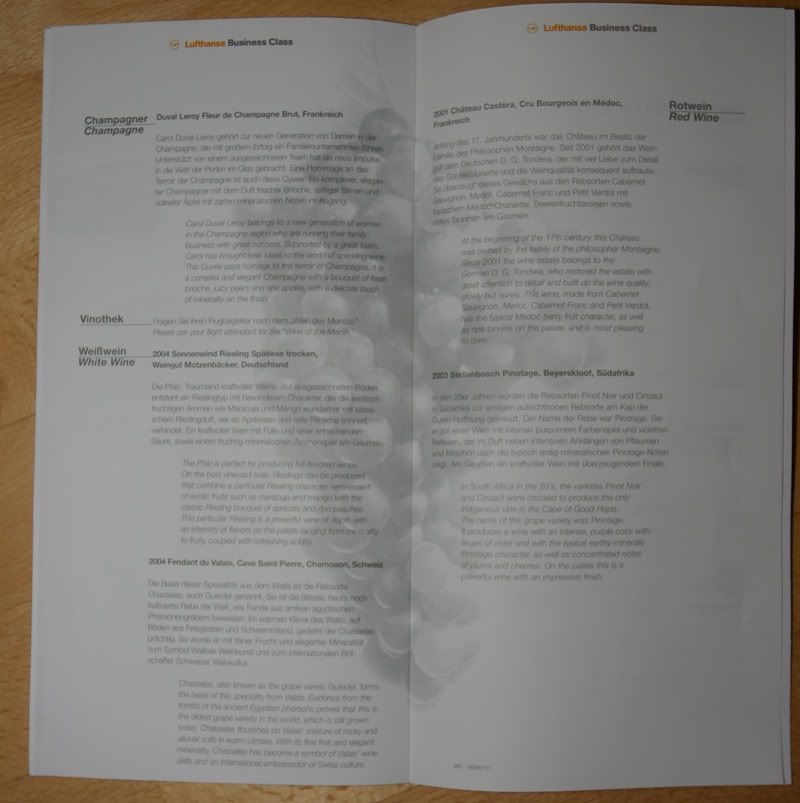 I decided to go for the tuna for appetizer, then I went with the turkey, and finally for desert I chose some of the cake. My champagne glass was never left empty
.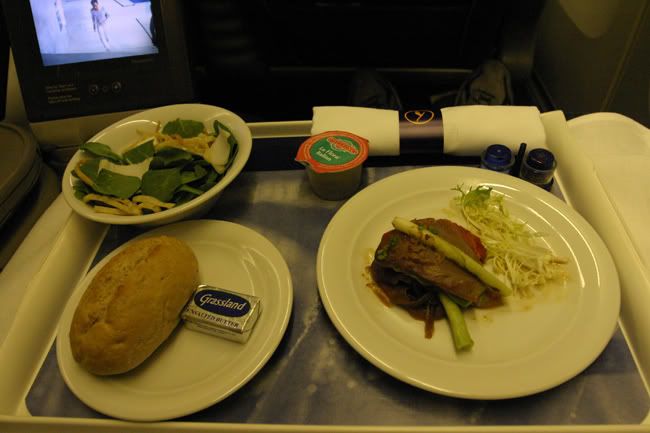 The tuna tower with a fresh roll and salad.
The turkey, mmmmmm!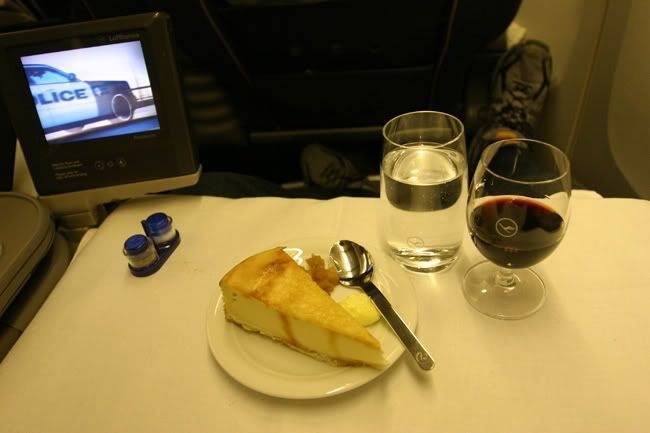 The delicious cake.
They did come around a second time for deserts, which is when they gave me some of the fruit salad, and some praline chocolates.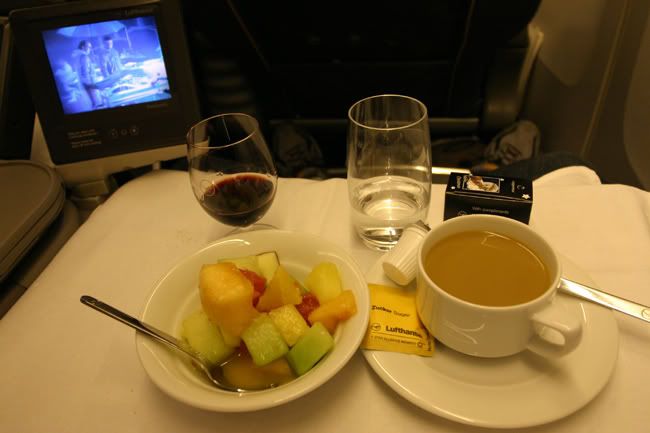 Fruit salad, with pralines, coffee, and port.
Between the first and second servings, we flew right over Chicago, which was quite a sight!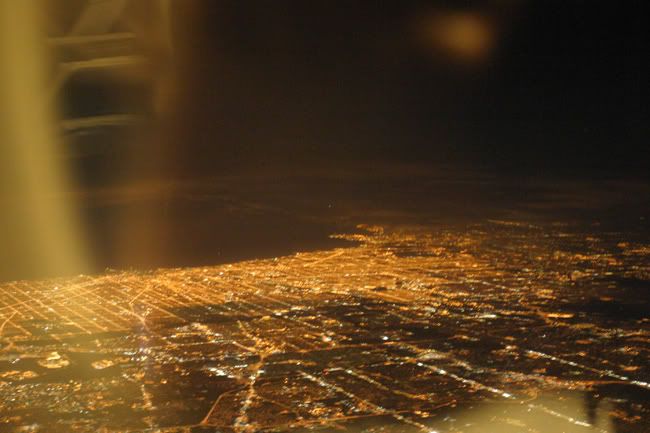 Sorry about the reflections!
I was amazed how it seemed like we were so low, because the sky was so clear! All in all, the meal was very good, and the portions did fill me enough.
After dinner, I decided to take a walk to the back of the aircraft to stretch my legs. I always find it refreshing to go for a little walk to get some movement. 10+ hours in a plane can be very cramped unless you stand up every once in a while.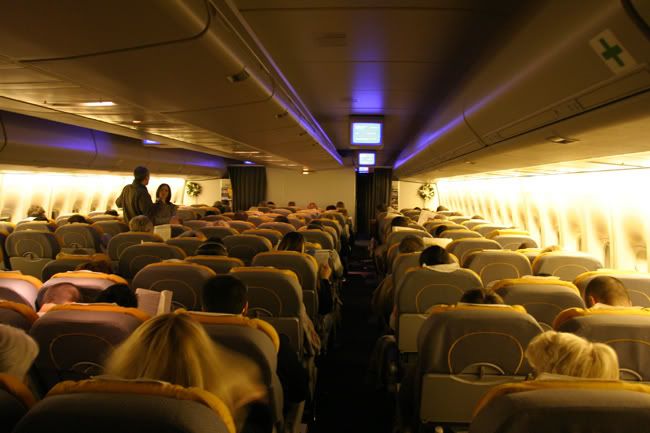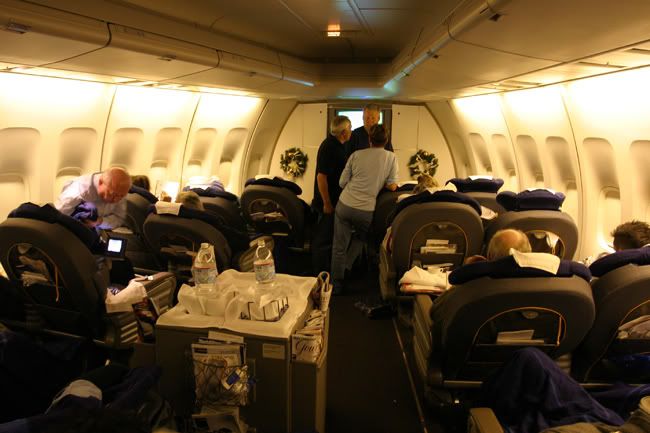 My seat is in the second row, at the window on the right.
The next few hours I spent between trying to get some sleep, listening to my ipod, and watching movies. As mentioned before, I was completely unaware of the quite large movie selection that was actually available, so I ended up watching 2 movies: The Island (which I had seen before, but thoroughly enjoyed), and Mr. and Mrs. Smith. I had also seen that one before, but again, it was entertaining to have running in the background and having a glance every once in a while. I kept looking out the window in hopes of catching a glimpse of the northern lights, but all I got was a shooting star. It was nice to see, but I was a little disappointed I didn't get to see the northern lights. Throughout the whole night, and the entire flight actually, there was quite a bit of turbulence! I was surprised that it was not announced. Apart from the occasional switching the fasten seat belt sign on and off, there were no announcements from the cockpit in this regard. Throughout the whole night, the little table in the cabin (as seen in the picture above) was kept full of orange juice and water we could help ourselves to. The FAs did come around a few times with the tray which I thought was nice, since I didn't like to bother my seat neighbor too much to get out for a drink.
Soon enough, a beautiful sunrise began. I always love the peaceful feeling of being so high up, and then a great sunrise to look at. I tried my best at some pictures, but below is all I could get: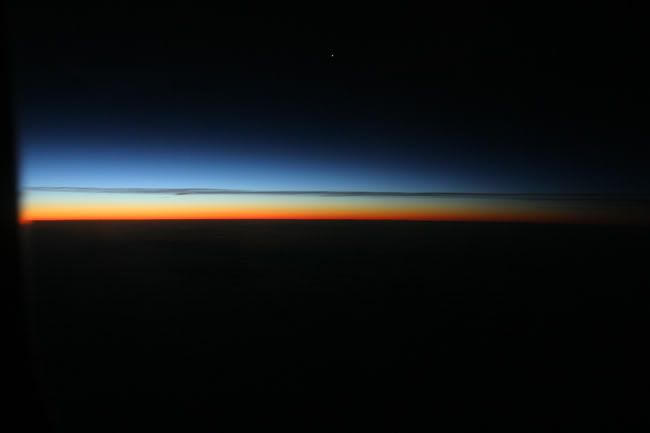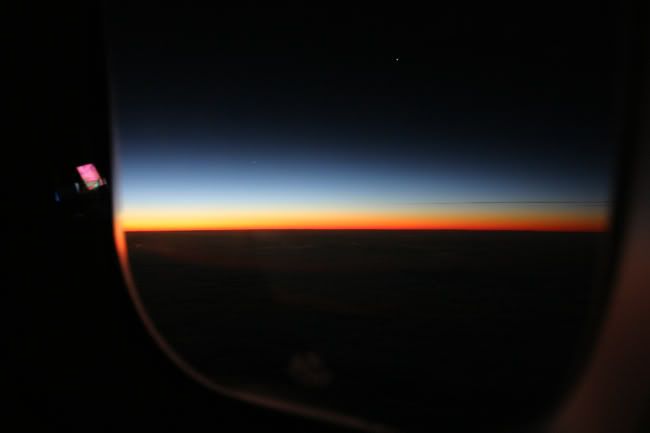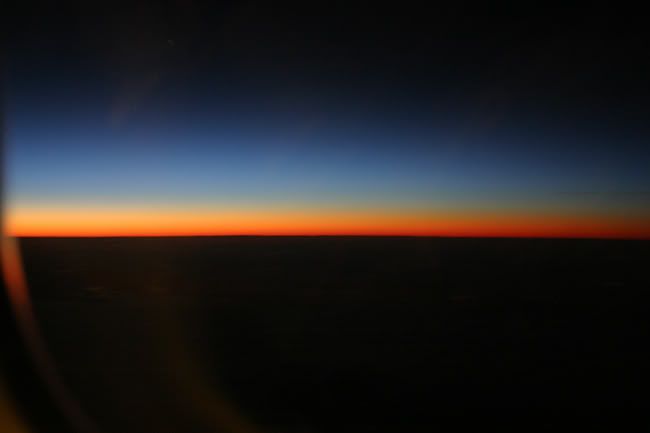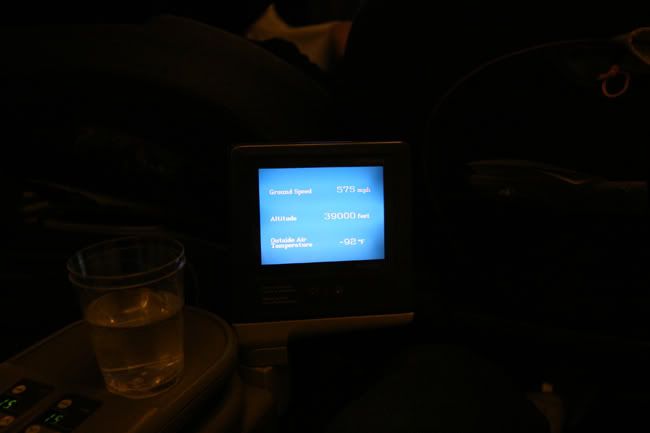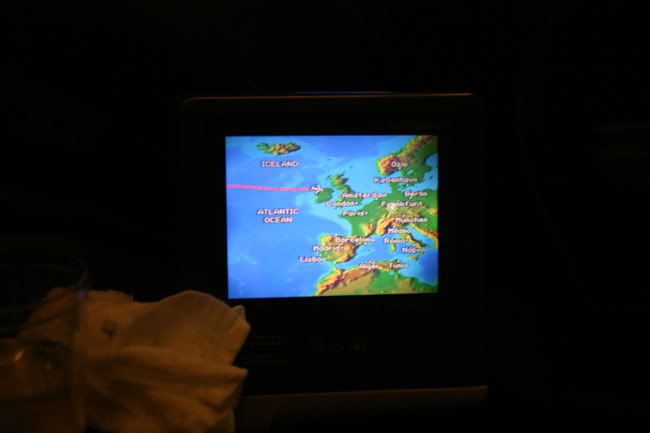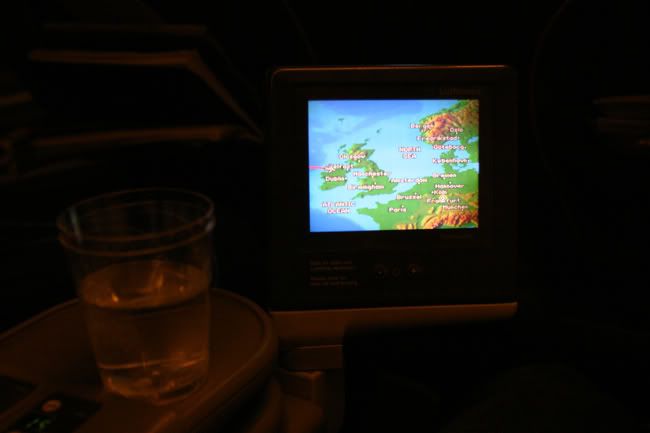 As you can see, this happened as we were beginning our flight over Ireland and the UK. A few minutes later, the cabin lights were turned up again, and we were brought around nice, refreshing hot towels to help us wake up! For breakfast I opted for the omelet, and it was very tasty, and a nice start to the "day". We were offered fresh bread (rolls and/or croissants), which were nice and warm, along with our choice of jam or nutella. I chose both :P.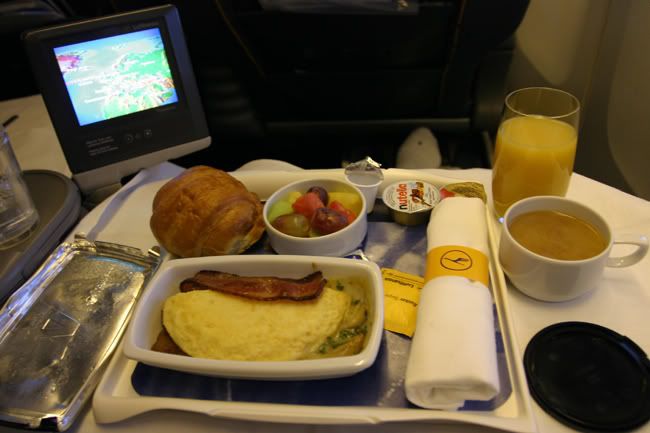 In case you were wondering, the big black circular thing is my lens cover! I must have forgotten to move it, apologies!
The fresh orange juice and coffee would have been a lot more enjoyable had I not dumped it all over myself thanks to the heavy turbulence that we encountered again! I ended up with my OJ in one hand, and my coffee in the other (or rather, what was left of it), with my food getting cold in front of me! I decided to just drink the rest of both, to have time to eat my food. As always, once I drank them, the turbulence stopped…crap.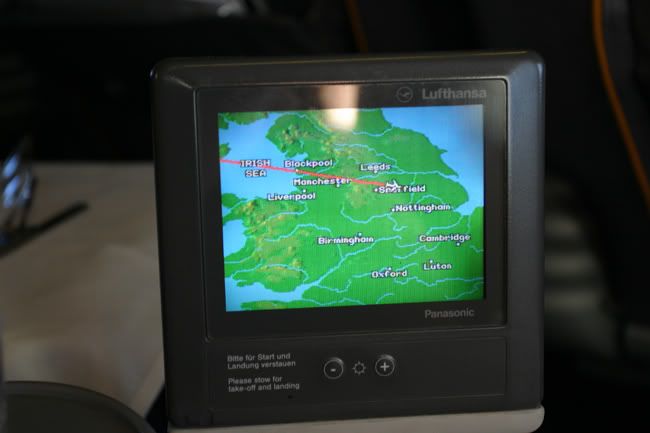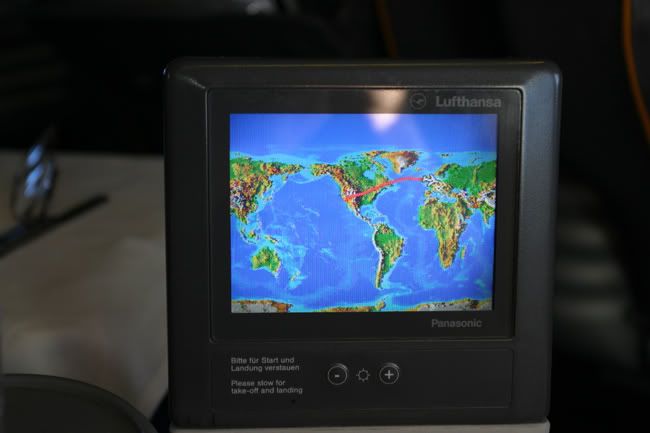 The very odd southerly routing is visible here.
Just level with Essen, we began our descent from our cruise level of 39k feet towards Frankfurt, with 26 mins left, according to the airshow.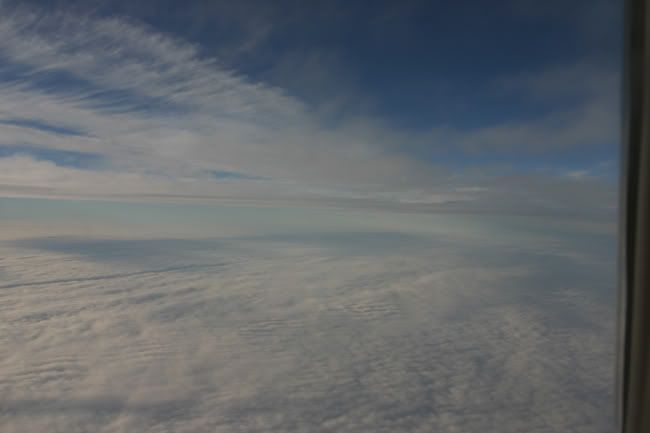 We were told by the captain that the weather would be the usual German thing…cold rain, and foggy. You immediately know you are getting close to Germany, when you look out the window, and see this: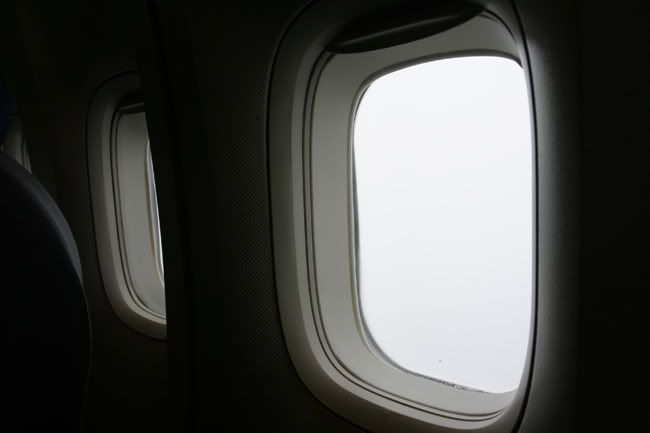 Absolutely nothing!
As promised, we broke out of the cloud cover quite late, and landed with an absolute greaser of a landing! I was very impressed! Please don't ask me what runway we landed on, but I'm sure some FRA natives can help based on the pictures!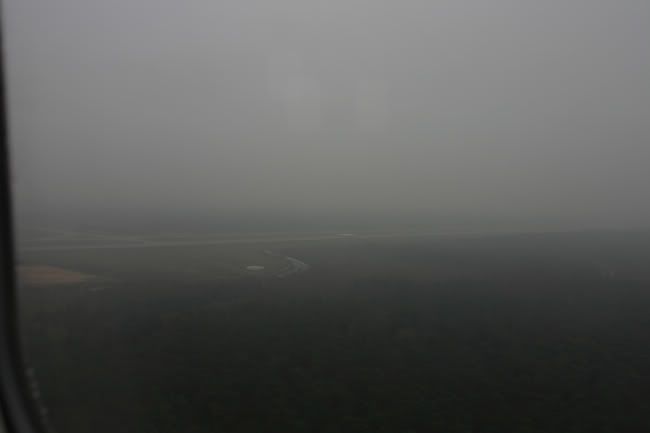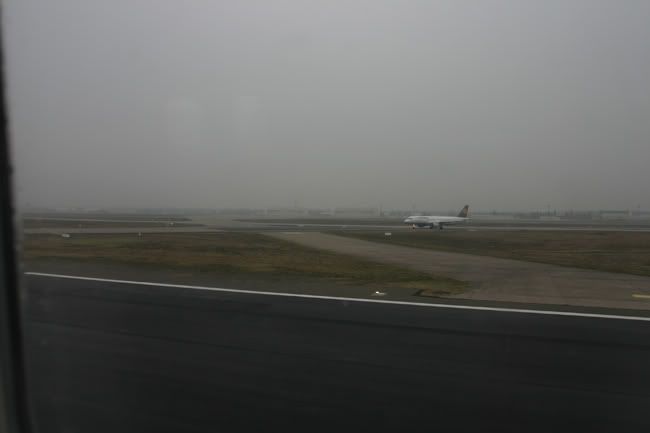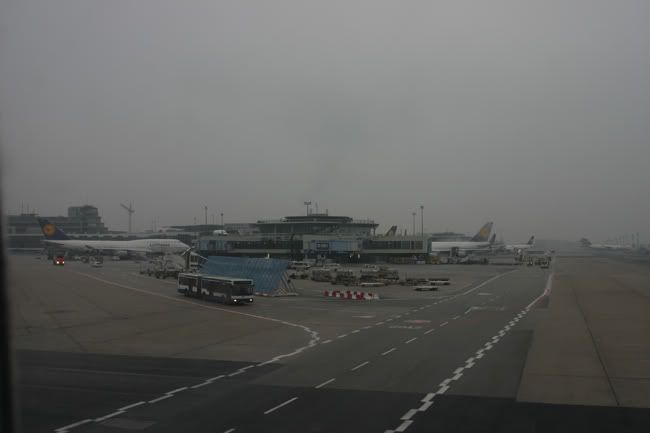 I am not sure what gate we parked at, but I had a funny view out my window as we slowed to a stop, since we parked into a little 'dent' in the terminal. I'm photographing out of the 5th window from the front (not counting the white one
).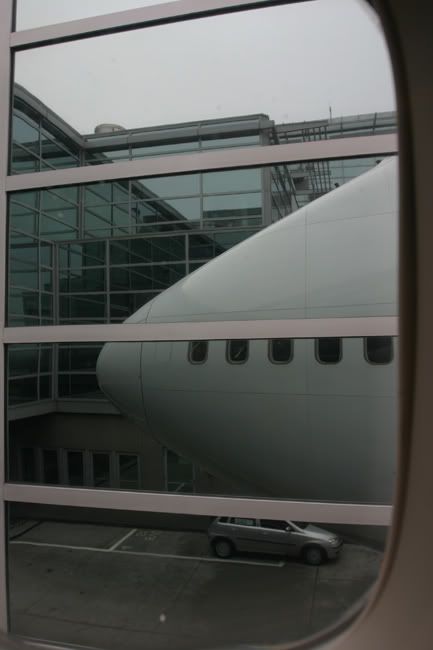 As soon as we stopped, and engines were shut down, everyone did the usual getting up to be the first to grab their stuff out of the overhead bins. Business and First passengers were given priority to disembark, which I thought was nice. Since I had about 3 hours to kill before my flight to DUS, I wanted to go straight to the lounge. I only realized this when I took a seat in the lounge, but all I basically did when I got out of the aircraft was climb stairs to passport check, then down to security, and into the lounge, since I saw this out of the lounge window: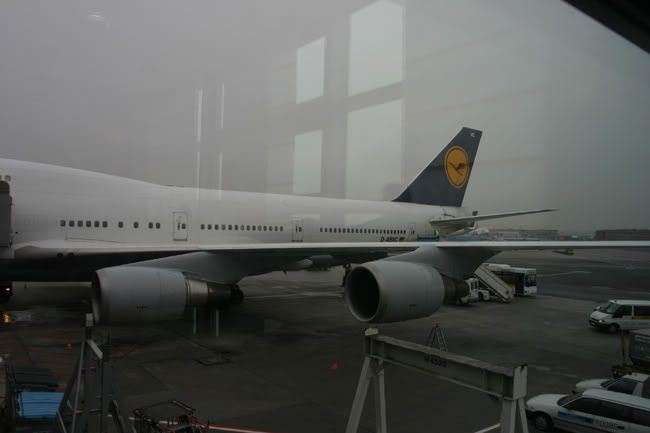 It obviously didn't take me too long to deplane, since as you can see the rear door is not even open yet! The lounge was decent. It was quite full, but I found a nice seating corner with an empty seat next to me. I grabbed a few snacks and a cappuccino from the bar, and sat down to try the wireless. To my surprise, you had to pay for it! I thought that LH would be kind enough to offer it for free, seeing that they have free internet at the workstations, but nope! Oh well, I was not too bothered. Soon after I sat down, this very nice couple sat down in front of me that had just arrived in from Oregon, and were waiting for their connecting flight to Athens for a 4 day vacation! It was very nice to have a chat with them.
Not so long after they left because they realized they were in the wrong terminal for their connecting flight, I left to find my own gate. It was an outside position, so no priority boarding this time. The bus filled up, and we headed out to our 735 D-ABJH. We had to wait a few minutes in the bus before we were waved in, but no problems…at least it was nice and warm!
Boarding was completed fast enough, and we began our long taxi out to the runway. We crossed both runways, then taxied on a taxiway on the opposite side to the terminal, parallel to the runways to the other end, and did a quick rolling takeoff.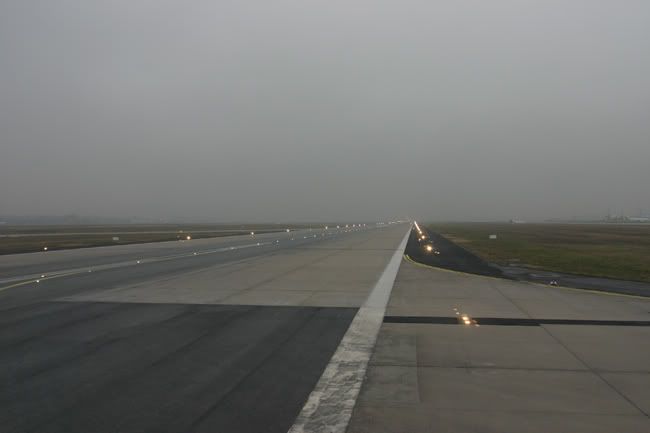 The very humid air made for some nice condensation forming on the wings.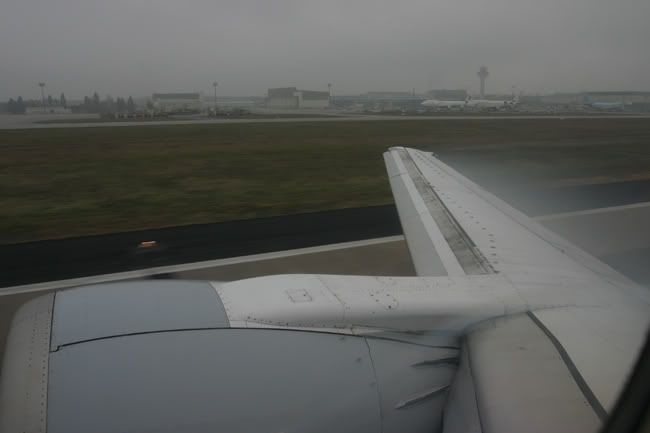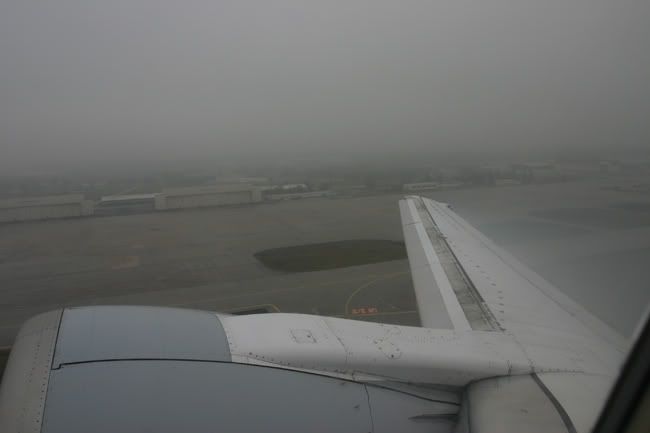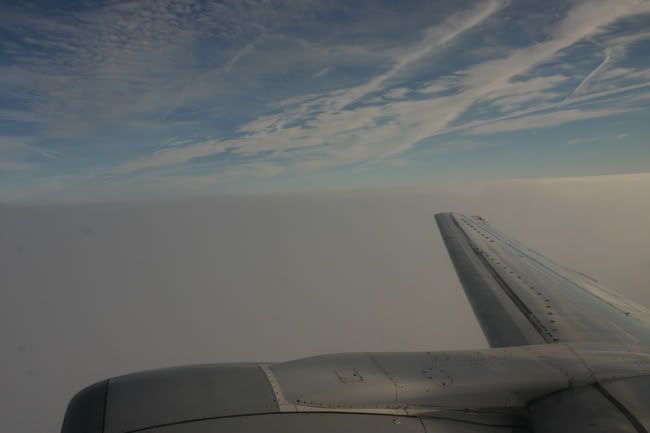 Soon after breaking through the clouds, the FAs began their marathon run of trying to service the 8 or so rows of C class in this short 35 minute flight! They were literally running back and forth, serving us drinks, and giving us the 'lunch' you can see below. It was not much of a meal, but a nice thought
. It consisted of a cold sandwich, a toblerone bar, and a carrot cake (or something to that extent).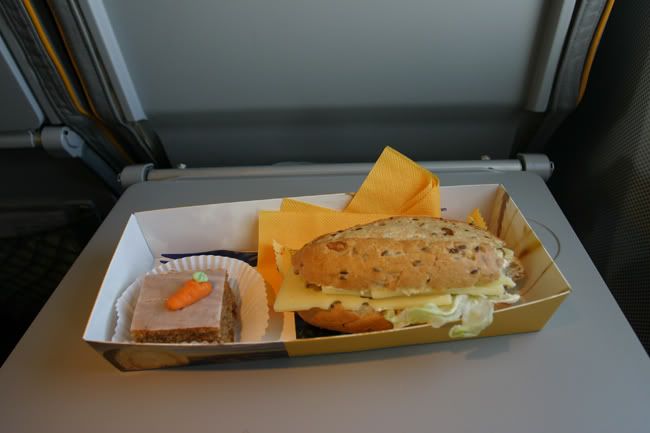 I had a few bites of the sandwich, and some of the toblerone, but I was not very hungry anyhow. After this was picked up again, the FA came around with some extra chocolates, that I took home to my younger sister.
The pilot had informed us that we would have some delay in landing in DUS due to bad weather with only one runway in use, which led to some traffic. Indeed, we flew circles for about 10-15 mins before we landed safely in even worse weather than in Frankfurt.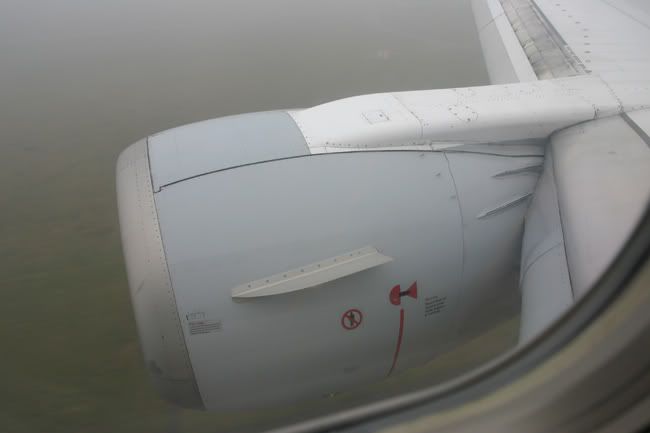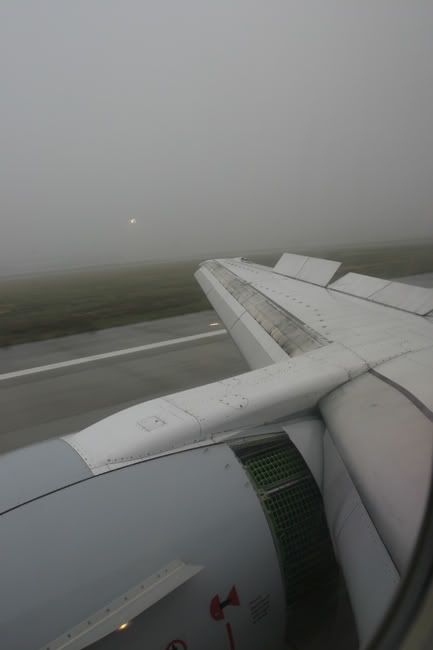 Oh well, I was looking forward to this, believe it or not! Soon enough, we reached our parking position, and deplaned. I walked down to the baggage claim area, in hopes that my bags would already be waiting for me, but obviously, that was not the case
. What I did find a little strange, was that my bags marked priority came out after the other priority marked bags, as well as a bunch of "normal" bags. I didn't have to wait long, but I still think that something like priority tags should definitely work properly. Oh well, My trip of 24 or so hours finally came to an end, and I was happy to be home!
I commend you if you have made it this far, and thanks for reading! Comments, critique, and questions as always welcome and wanted! Stay tuned for my report of my upcoming trip back to LA!
Sebastian