Hey All,
A while back I decided to treat myself to a first class trip all around after my final exams at college and before the holiday so I booked a flight out to SFO in first class with NW and booked a Grand Deluxe Room in the Westin St. Francis in SFO. My journey began Dec 22nd 2005.
Dec 22 2005
DTW-MSP
NW flight 763
Depart-0854 EST schedule/actual 0919
Arrive-0952 CST Scheduled/actual 0956
equipment- DC-9-40 Reg- N760NW delivered in 1968
Seat 03-D First Class
This was my first time on a NW DC-9 in over 12 years! The last time I was on a DC-9 was with NK about 6 years ago. It was an alright flight. By far the poorest in-flight service I've had. The cabin crew was rude. I even was nice to them smiled tried small talk but they just brushed me off. The captain only made one announcement the entire time and that was f/a prepare for departure. However, the interior of the 9 was very modern. I guess its almost like the B-717. I was the first passenger down the jetway and apparently there wasn't enough crew on board yet and there was a f/a walking up the jetway and stopped me. First asking if I was jumpseating I said no even though I would of loved to have. So the f/a told me not to move until she talked to the gate agent. After coming back down the jetway the f/a told me I could board.
Also a little perk no one was sitting next to me. Sort of rare in first class since FF get upgraded when there is room.
All in all it was basic no frills flight from DTW-MSP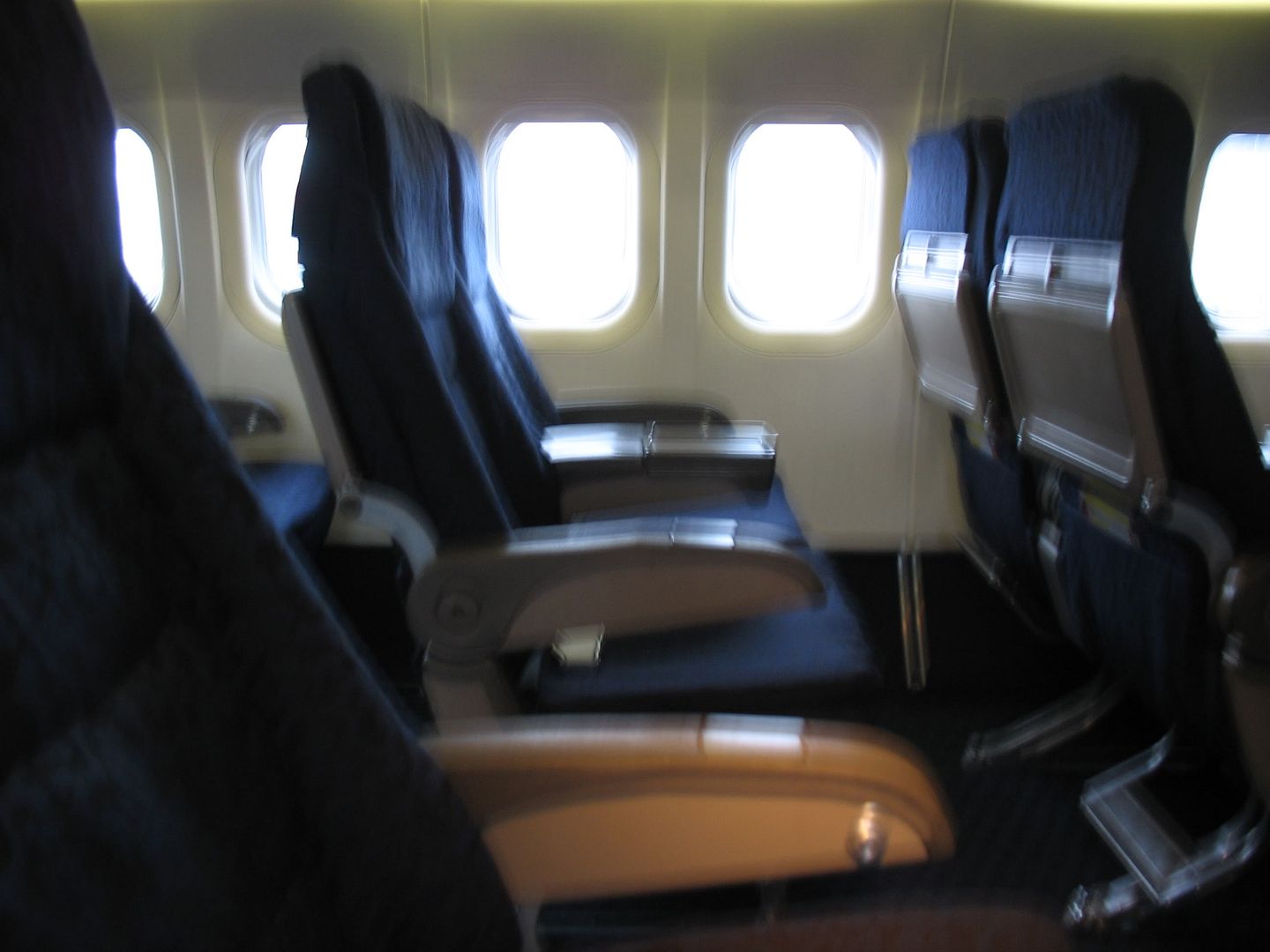 A poor out of focus picture of the seats across from mine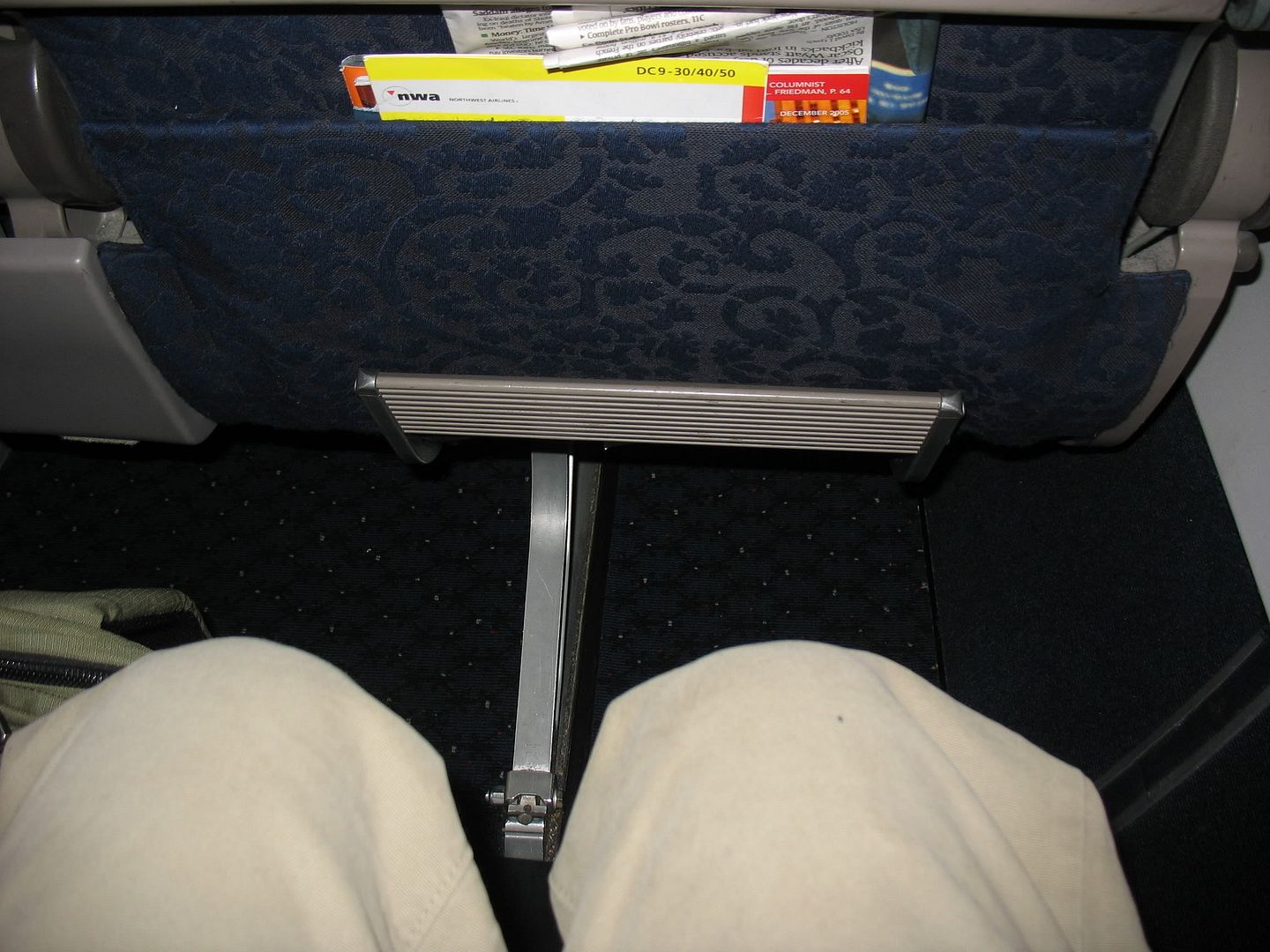 Leg room
Beverage service- Orange juice and a frozen granola bar
Boarding passes for DTW-MSP and MSP-SFO
Dec 22 2005
MSP-SFO
NW flight 361
Depart- 1143CST Schedule/Actual 1318
Arrive- 1349PST Scheduled/ Actual 1456PST
Equipment Boeing 757-300 Reg N587NW delivered in 2002
Seat 03-D First Class
First off, the flight was delayed 25min due to weather in SFO. After everyone boarded for the very full flight we lost our departure slot time out of MSP. So the captain announces we will have to sit at the gate for 60min until we can get a slot to depart. It was the first time I heard the f/a announce "Flight Attendants prepare for departure and cross check" followed shortly by "Flight Attendants prepare for arrival and cross check." without ever leaving the gate. So as we sat at the gate I just continued to read a book I had bought at a shop in DTW. about 50min later the Captain announces we will be pushing back from the gate in 5min. After that we were off. It was a nice flight after we finally got off. A little bumpy over the Rockies but that can be expected. The meal service was delicious! I had a pesto sandwich with some cheese and tomato on it, some fruit/veggie mix that I took one bite of and nearly choked and an asthma attack because of some kind of seasoning in it...needless to say I didn't eat anymore of it. Some potato chips and an oatmeal cookie. Notice NW still uses all real silverware including knives and real glasses for all first class meal/beverage services.
Upon arrival at MSP I thanked the crew for a nice flight and one of the male flight attendants got a little fresh with me and was commenting on the sweater I was wearing and how soft it was asking if it was Silk Cashmere in which it was. I didn't mind getting felt up by the guy he was cute
but had a partner alas.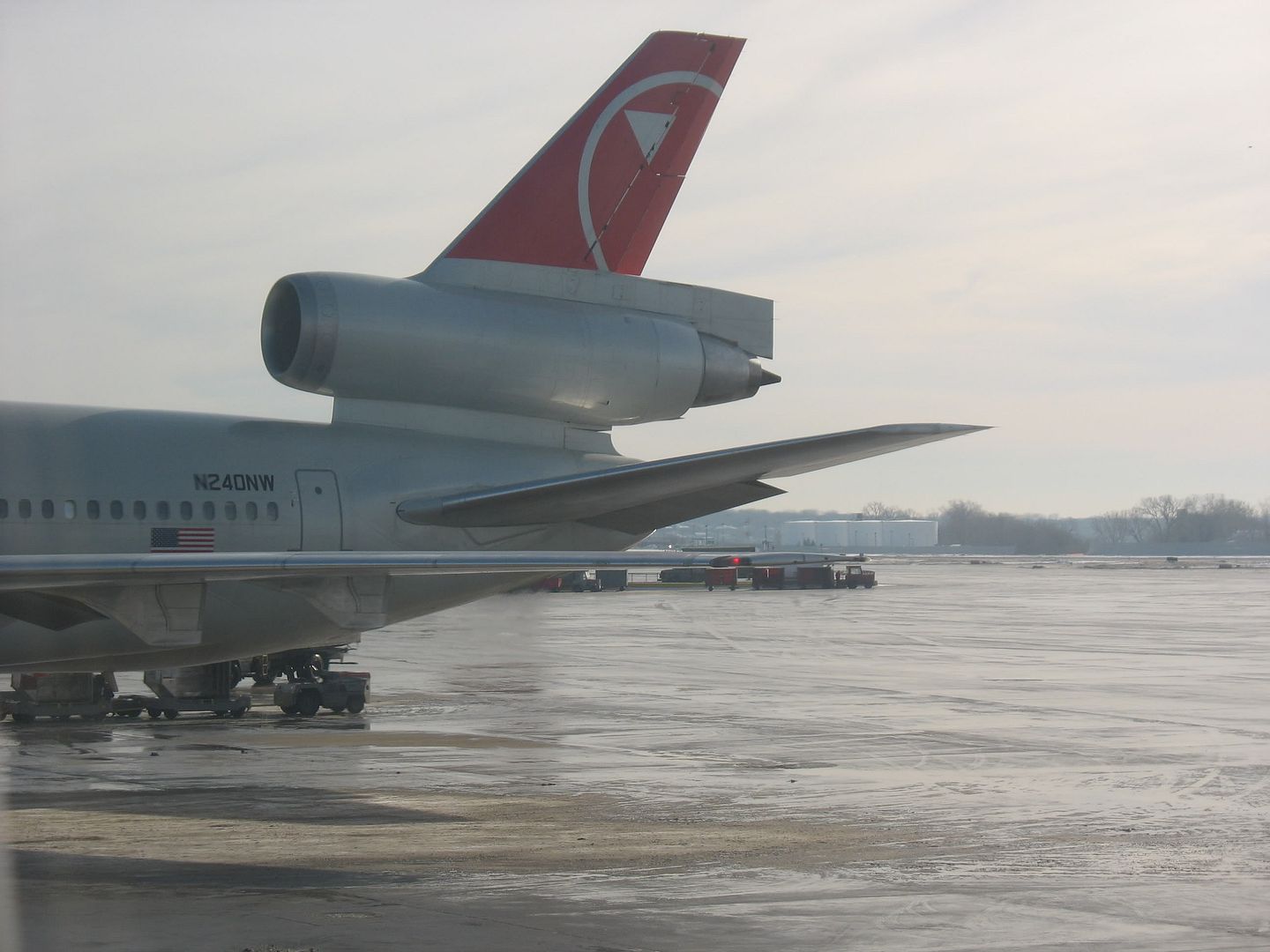 Also caught a glimpse of this beauty at the gate. She was on her way to HNL. Saw a couple of them while I was connecting at MSP. It's something you dont see at DTW anymore since all the DC-10 service into and out of DTW is now operated by the A330.
Hotel Report
I stayed in the luxurious Westin St. Francis. On of the nicest hotels I've ever stayed at. I was in a Grand Deluxe room on the 23rd floor with a great view of the city. Though only one picture I got from my window is worth posting, I just couldn't get a good shot.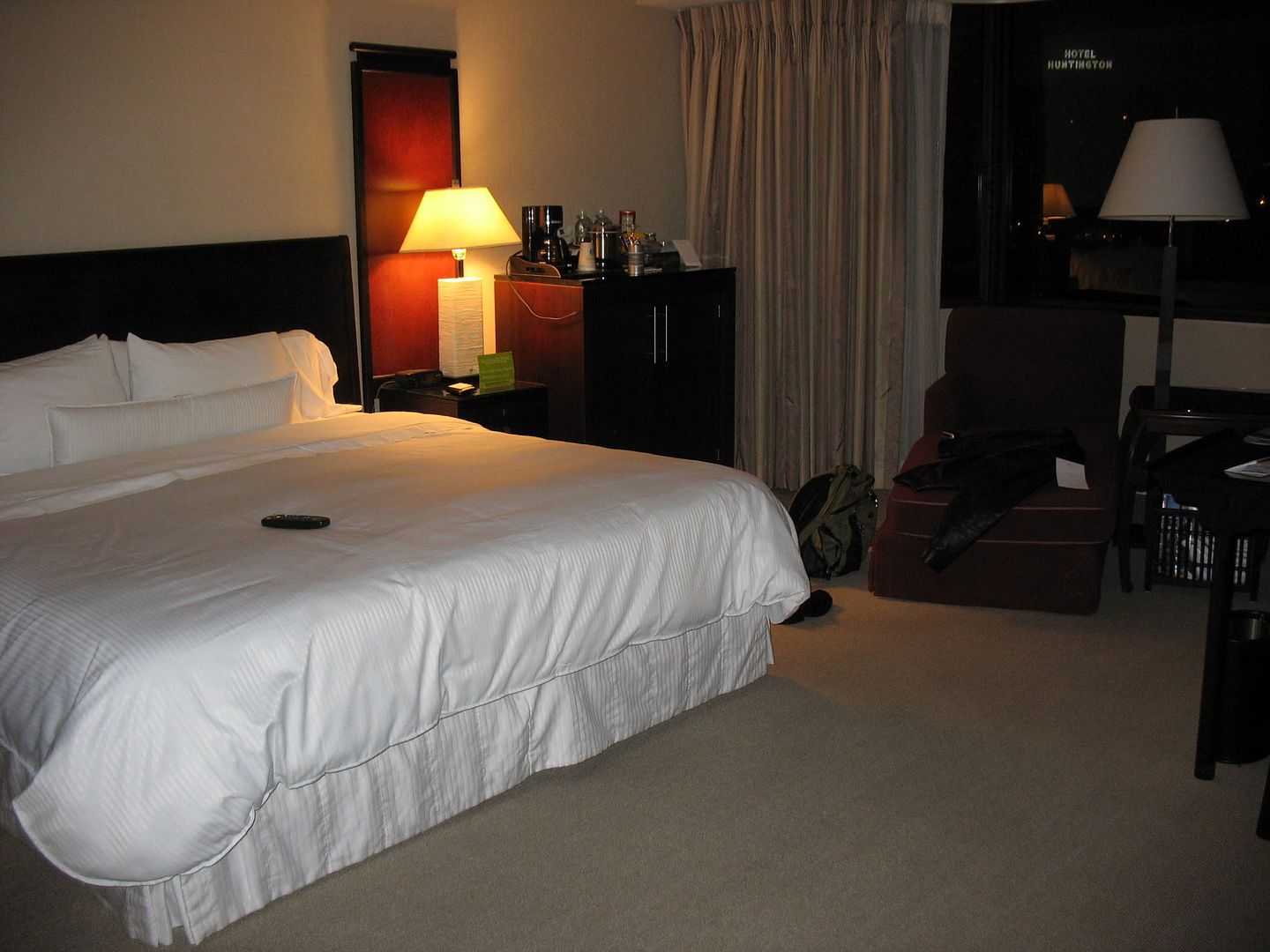 Pics of my room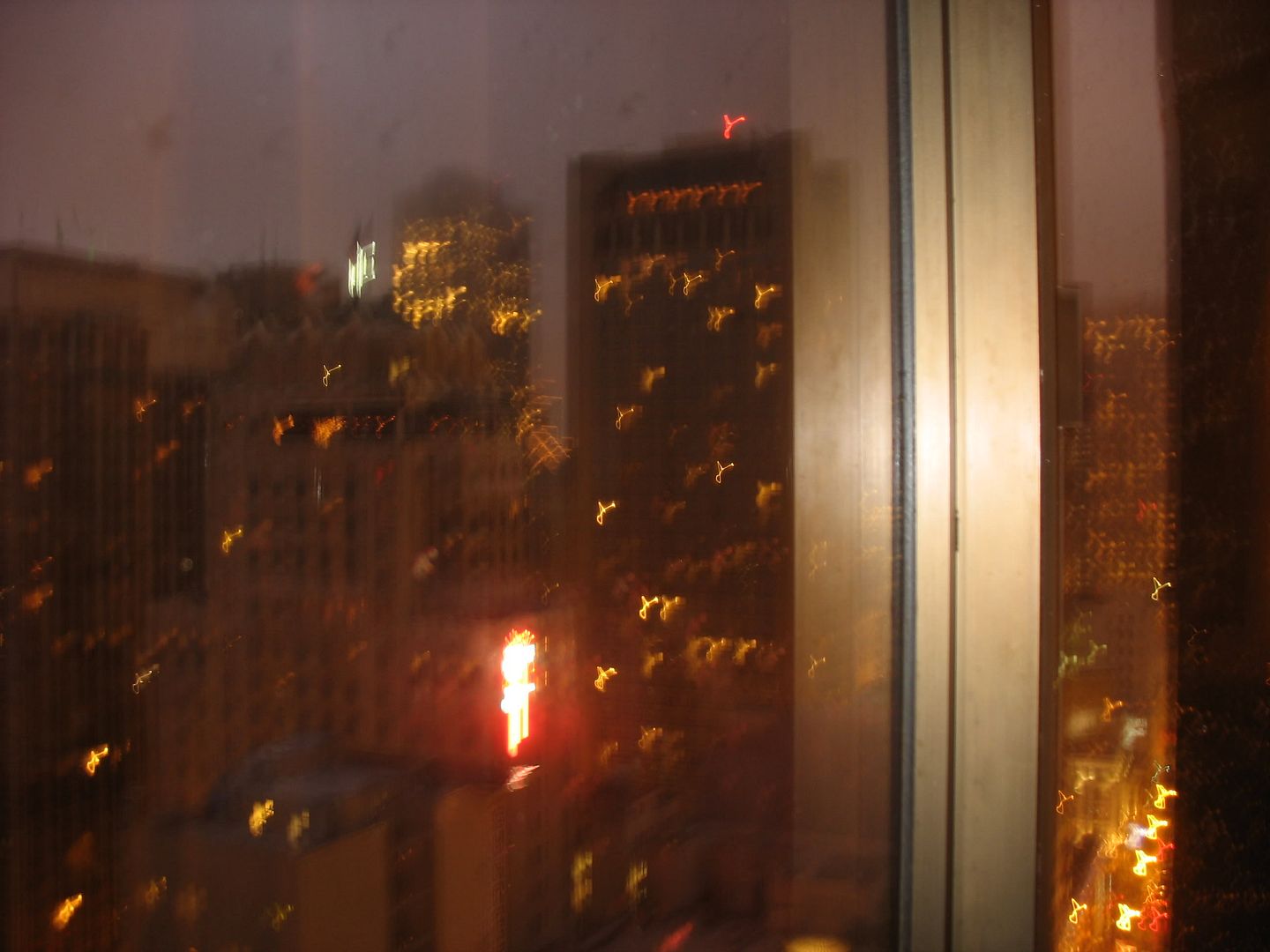 View from my room
After settling down from my flight I was a bit hungry and opted to order roomservice. I wanted something light so I just got a salad with mandarin oranges in it with some delicious dressing. I even took a pic of it like it was on the plane
My stay at the hotel was fabulous!!
Return Trip
Dec 23 2005
SFO-MSP
NW flight 364
Depart- 0851PST Schedule/ Actual 1009PST
Arrive- 1510 CST Actual
Equipment Boeing 757-300 Reg N592NW Delivered in 2003
Seat 01-D First Class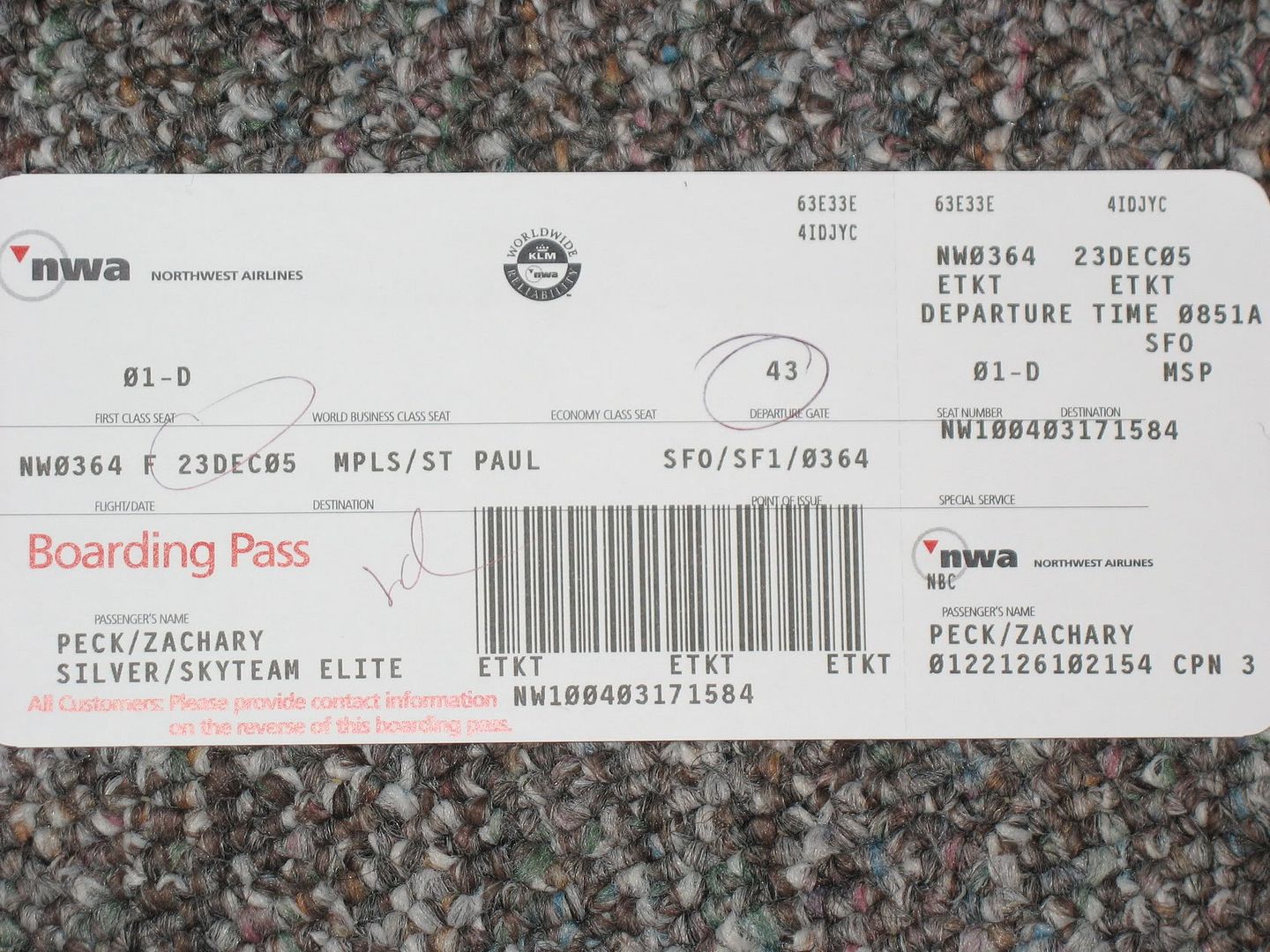 When I checked the status of my flight the night before Departure I saw that it was already delayed one hour due to required crew rest. That allowed me extra time to sleep in
. When I arrived at the airport to check-in the ticket agent told me that the flight was delayed and that I would miss my connecting flight. I had already figured that out when I saw that the flight was delayed. I was automatically re-booked for the next flight from MSP-DTW in first class. I was impressed with that because I thought I would have to talk to a gate agent in MSP to catch another flight to DTW and make sure it was in first class. But thanks to NW they did that all for me
While going through security I encountered some rude TSA agents. But whats new? My first walk through the detector I set it off. I had some coins in my pocket so I figured thats what did it since I didn't have anything else on me that would of set off the detector. The TSA agent at the scanner was like "this is a metal detector why would you go through with coins in your pocket?" I thought, bitch please. I said in a very rude manner, " I've gone through security before with coins in my pocket and never had a problem before!" he just stared at me. I was like that's right bastard.
After making it through the detector I went to collect all my scanned items including my black dress shoes. A TSA agent asked if she could do an extra scan on them. Sure why the hell not. She wiped with them with something then ran off with them and I didn't look to see where because I was putting my belt back on and putting my laptop back into my bag. She came back with them and of course nothing was wrong with my shoes. So what is the extra procedure with the shoes?
After boarding the aircraft I asked the f/a if it was okay to take a peek into the cockpit. She looked at me as if no one ever does that. I was like, bitch please. She then asked the f/o if it was okay and he was more than happy to allow me in. He was the friendliest f/o I've ever met. Though I have not met many. He shook my hand introduced me and showed me around the cockpit. He said that he was upset because he was going to be trained on the Arbii next month and was not happy about that at all. He loves the 753, his favorite aircraft just like me. He also said that NW will make it through BK and cited the important trans-Pacific routes as one of the reasons. He also said that moral is horrible and just about everything else is not going well at NW. He also mentioned that the 753 is very easy stall. Why is that? Or is it true for pretty much any aircraft to stall? We got on the subject because we were talking about the Airbii and he said the computers on board the Airbii wont allow it to stall. When the captain came in to the cockpit he introduced himself to me and asked if I was flying jumpseat. Well shit two offers on this trip to jumpseat! I said no, but would absolutely love to. After a bit more small talk I had to leave because they had to do pre-flight checks.
This flight was overall very pleasant and the cabin crew were great! Everyone was very apologetic re: the delay.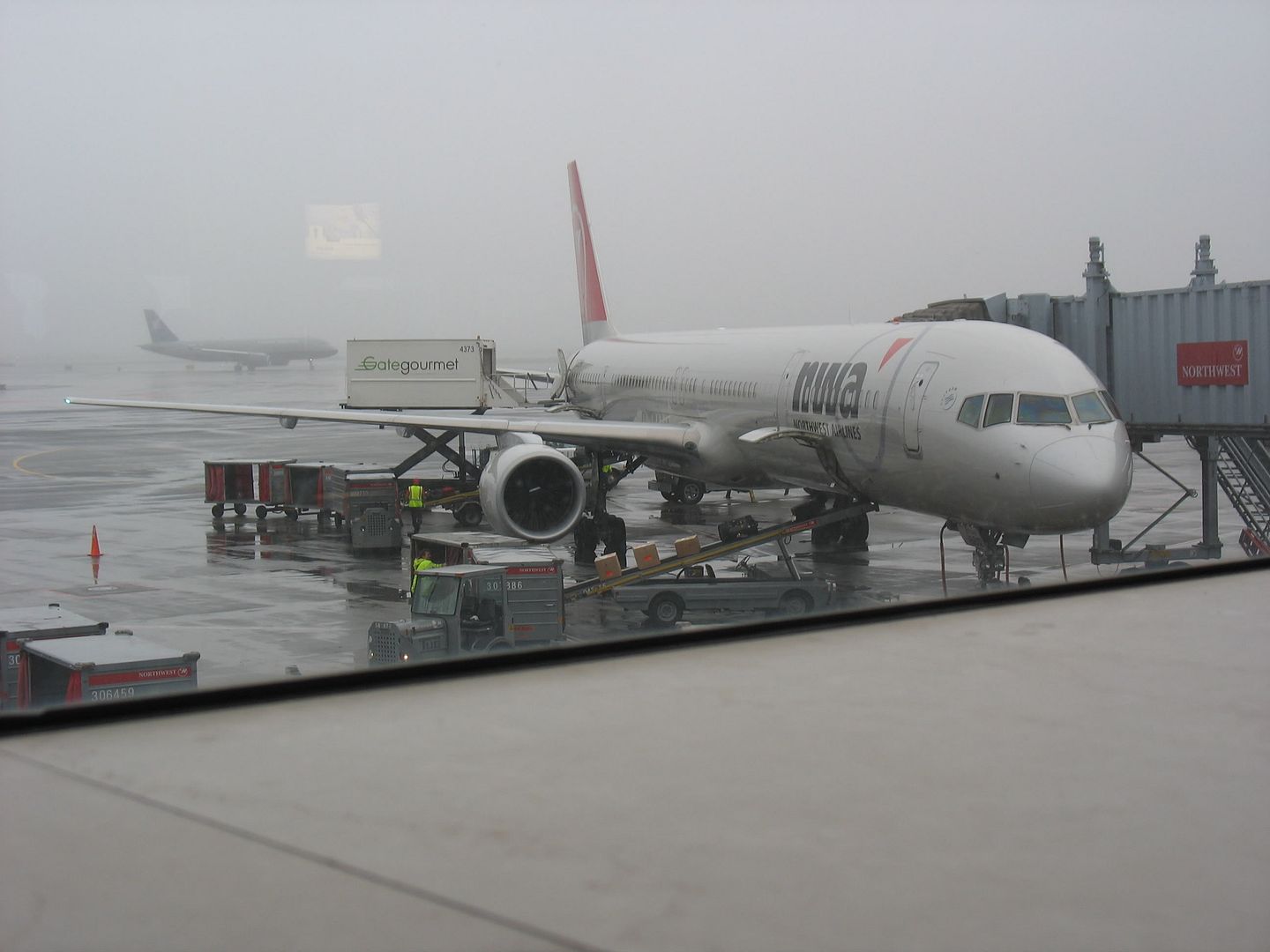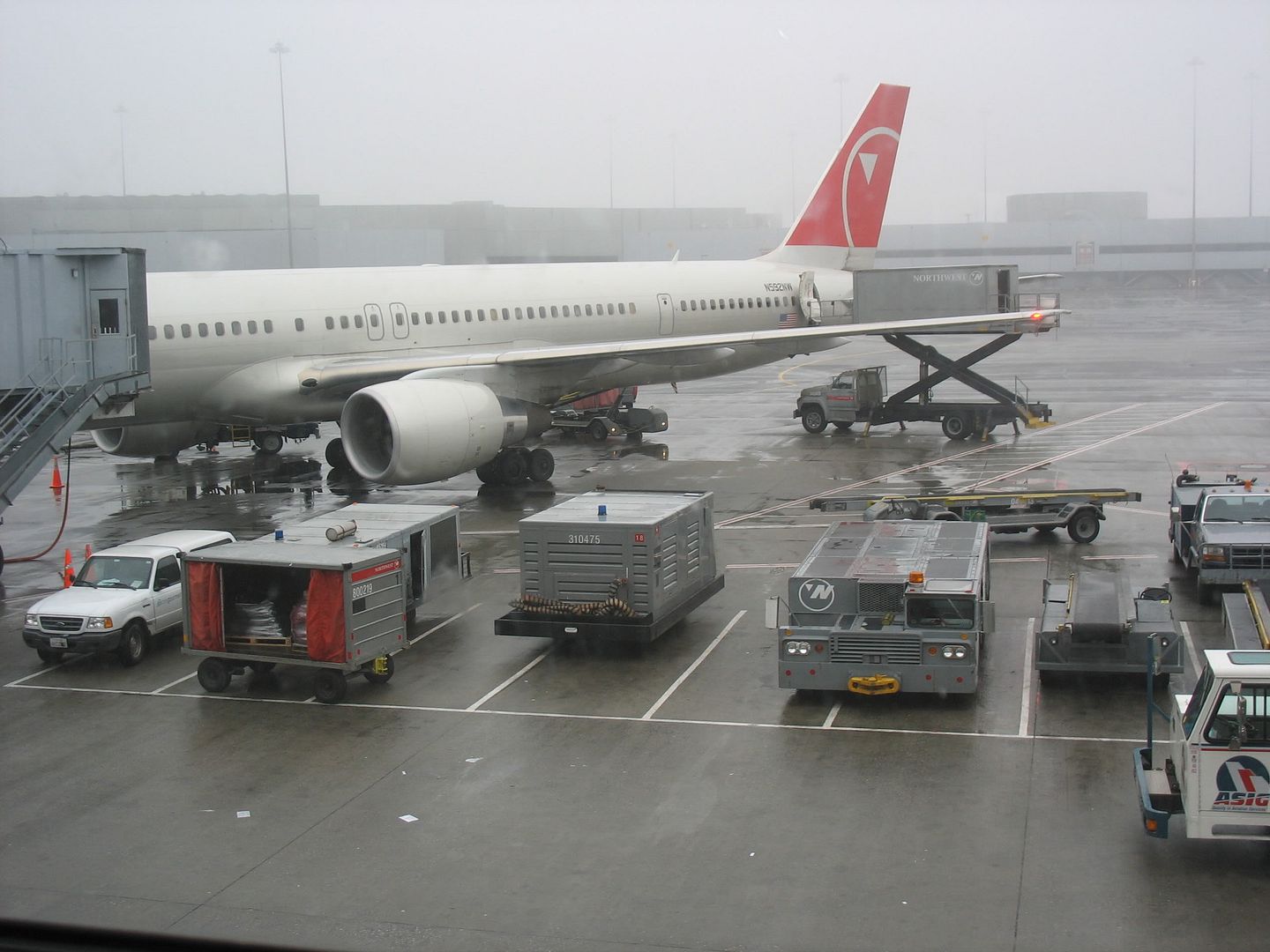 Some pics of the aircraft I was on from SFO-MSP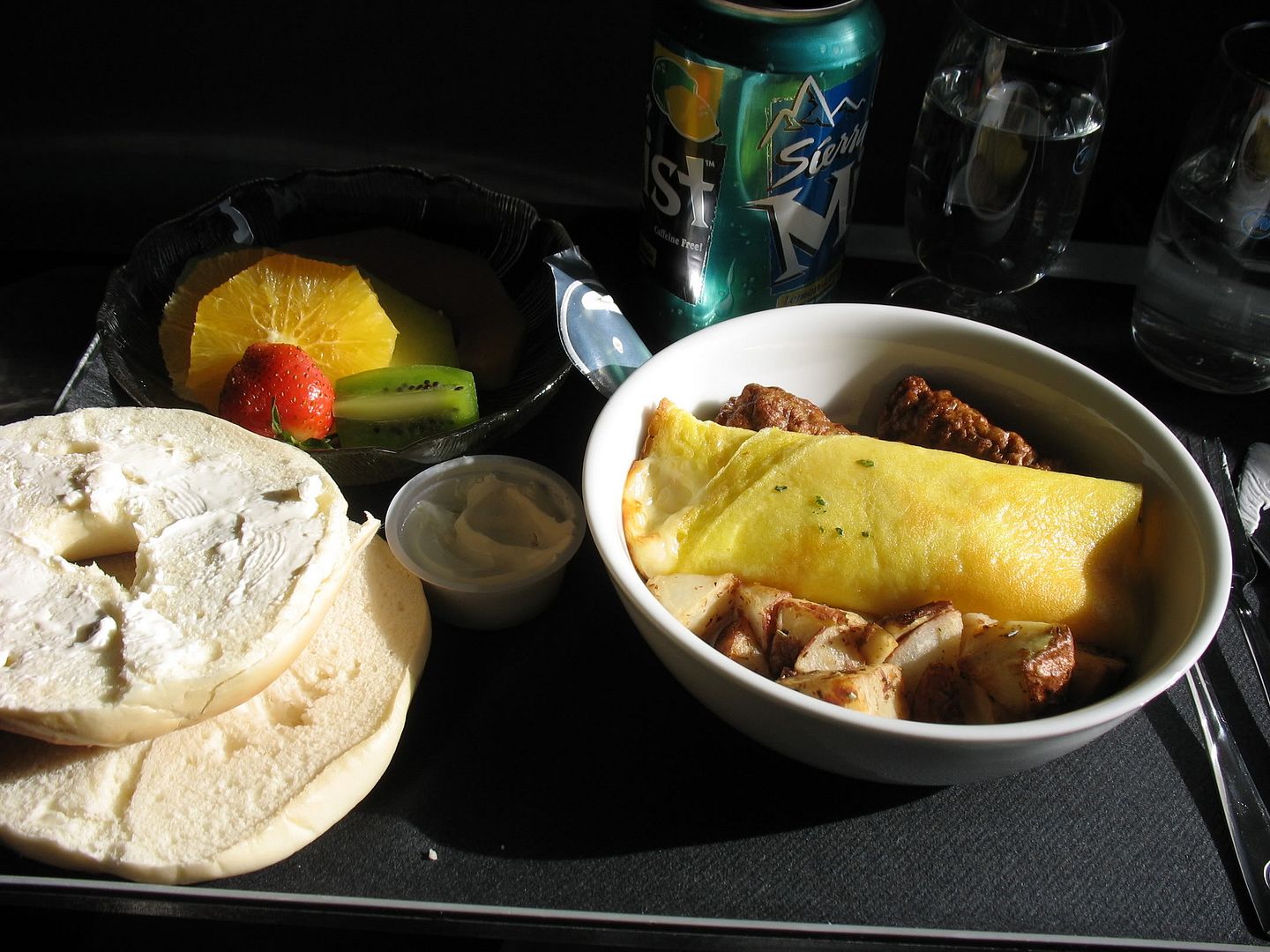 Breakfast- Cheese omelet, hashbrown potatoes, fresh fruit, sausage(didn't eat) and a bagel. Very delicious!
Overall, best flight on the journey!
Dec 23 2005
MSP-DTW
NW Flight 746
Depart- 1709CST Schedule/ Actual 1744
Arrive- 1952 EST
Equipment 757-200
Seat 05A
I don't have too much to say about this flight. Pretty routine nothing sticks out of my mind too much. The cabin crew was of course very friendly and all with pleasant smiles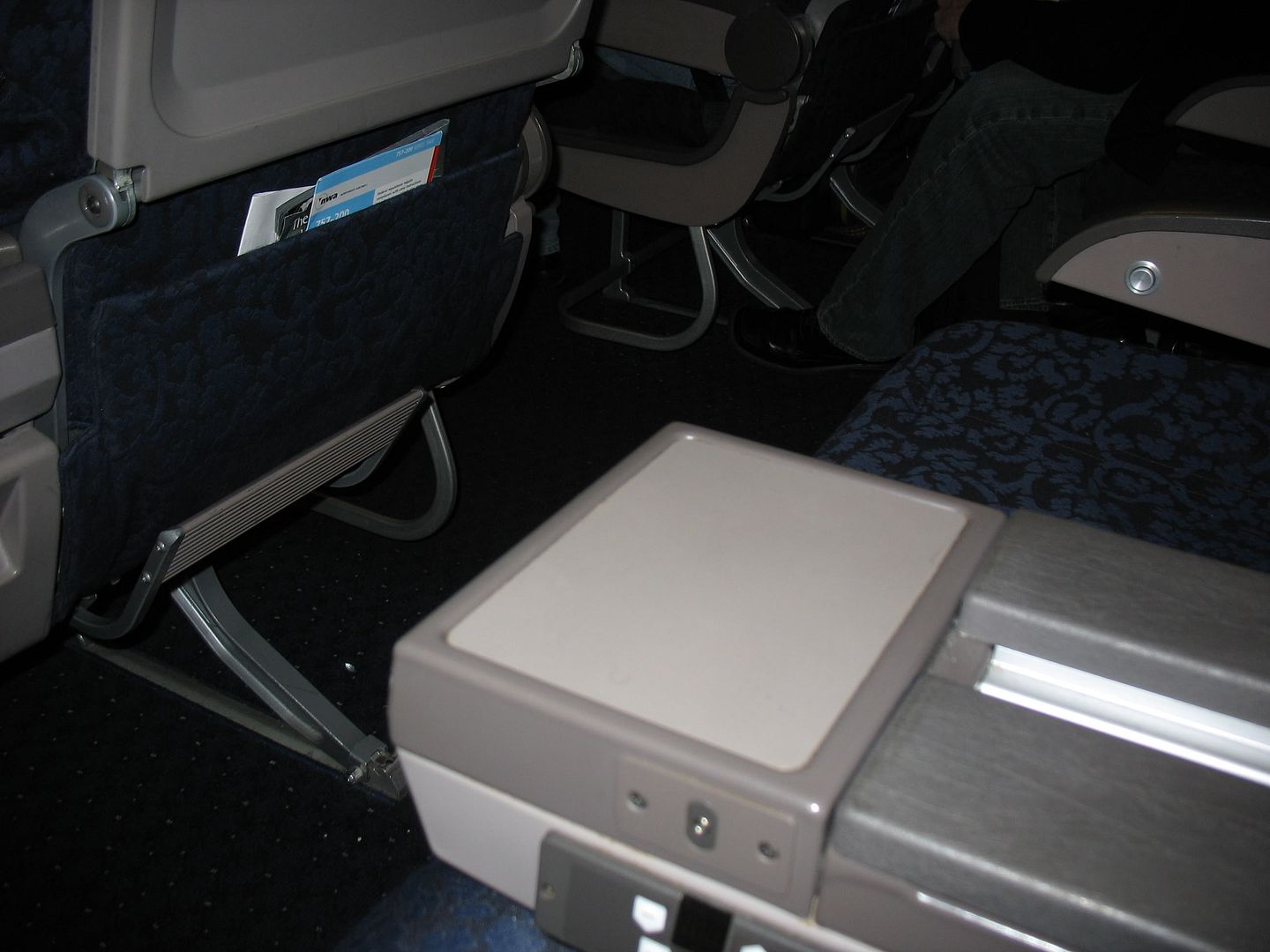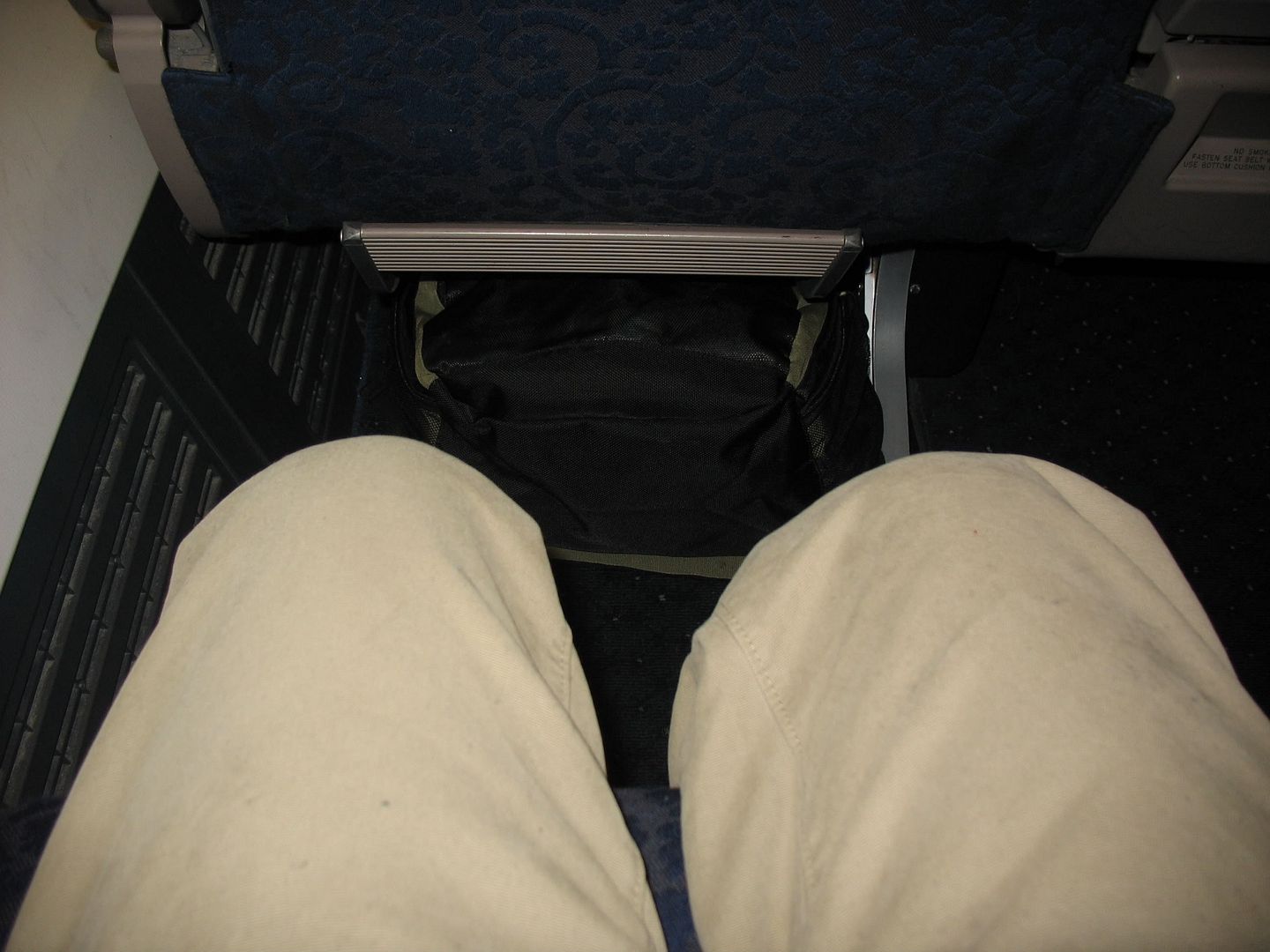 Just some Pics showing the leg room
I hope you enjoyed. Any questions or comments please ask
My next flight is in 3 hours- DTW-RSW on NW first class I need to get ready!!
-Zach