On the heels of my trip to Germany (read about it
here
) I planned a second trip, this time to Madrid. I went to Madrid once, in high school, where it the first stop on a long bus tour of major European capitals. I was eager to see the city again on my own terms, rather than as part of a planned tour. I was also looking to boost my AAdvantage account balance before the end of the year, in the hope of requalifying for Platinum status.
I spent a few days poking around on AA.com for deals – the nonstop Chicago-Madrid flight on Iberia was far too expensive and American only flies nonstop to MAD from Miami. However, as long as I was willing to connect somewhere in Europe en route, the fare was much more reasonable (about $450). After waffling between a stop at Heathrow and a stop in Brussels, I finally booked a Chicago-Paris-Madrid-Heathrow-Chicago itinerary, with the longhauls on American and the Madrid flights on their oneworld partner Iberia.
I'd heard mixed reviews about Iberia, but I was willing to give them a shot. The first frustration came right after booking my flights – AA.com wouldn't allow me to choose my seats for the two Iberia segments. I'm extremely picky about where I sit, and I don't like having to wait until the last minute to get a seat assignment. But Iberia have their rules, and I was forced to play by them.
**********************************************************
Friday, December 9, 2005
Chicago O'Hare International Airport
I'd spent a lot of time at O'Hare in the last few weeks, for my trip to Germany and two business trips to Knoxville (which I don't even bother writing reports for anymore!) In fact, I had just arrived from Knoxville the night before, in the middle of a very bad snowstorm that had delayed our landing by more than two hours. So it felt like
déjà vu
all over again as I boarded the ATS train from the long-term lot and began the very familiar ride to Terminal 3.
I joined the line for international check-in… even though I planned to carry my suitcase on, you can't use the check-in kiosks for international flights. Does anyone know if there are plans to remedy this? At the counter I asked about an assigned seat for the CDG-MAD leg on Iberia, but the agent said there was nothing she could do – I'd have to get a seat assignment when I landed in Paris.
After clearing security I headed for the Admirals Club, where I'd spent a very pleasant hour before my Frankfurt flight the week prior. Once inside, I got my drink voucher, ordered a beer, then headed over to the concierge desk to see if
they
could help me get an assigned seat on Iberia. Again the answer was the same – not until I got to Paris.
Boarding for our flight was called in the Admirals Club at 5:30, and I headed down to gate K10.
**********************************************************
American Airlines Flight 42
Chicago O'Hare (ORD) – Paris Charles de Gaulle (CDG)
Departs ORD 6:05pm, arrives CDG 9:20am
Boeing 767-300, seat 34A
Flying time: 8 hours, 5 minutes
It was dark for the first six hours of this flight, so no pictures – sorry!
When I passed through the cabin door and into the aircraft, I was pleasantly surprised to see we'd be flying on one of American's newer 767-300s, which are equipped with the more modern 777-style. The sweptback overhead bins help make the cabin feel much more open than the older-model 767s (which I had flown to Frankfurt.)
The load on this evening's flight was
very
light – probably only about 35-40 percent full in the main cabin. The aisle seat next to me – as well as the seats across the aisle – was vacant. Winter flights to Europe tend to be a little emptier, but I was surprised to see a Friday evening flight go out this light.
It was about 10 degrees outside, and the captain came overhead to see he'd seen some frost on the wings during his walkaround and had requested a de-icing truck. The crew only de-iced the wings, so the whole process just took 15 minutes or so. We pushed back on schedule, with the safety video playing first in English, then in French.
After engine startup, the captain announced we'd be departing from runway 14L, which is the furthest runway from the ORD terminal area. We began the long taxi around to the north side of the airport – rather than use the taxiway bridges over Interstate 190, which would have meant a 15 minute ride, we went all the way around the terminal area. It gave me a nice view of airside operations at O'Hare – lots of United and American domestic flights taxiing around. We took Taxiway Scenic north and east across the field, taking us right by the United and American maintenance bases. Eventually we got to the threshold of 14L, where an Air France A340 (also bound for Paris, obviously) was just beginning its takeoff roll.
To my surprise, however, the captain pulled off to the side and shut down the engines. Air Traffic Control had decided to switch arrival runways, and our departure would be delayed 20 minutes while they rearranged traffic. The seatbelt sign was switched off, and many passengers got up to get stuff out of the overhead bins. I was a little worried about my connection at CDG, but the captain seemed confident we'd make up the delay once we got airborne.
Eventually the engines were restarted and we turned onto 14L for takeoff. Departures from 14L make a sharp left turn almost immediately after leaving the ground, to get them away from runways 22L and 27L. Once on an easterly heading, we began climbing out, following Interstate 90 to Touhy Avenue and taking that right to the Lake Michgan shoreline.
Despite the heavy snowfall the night before, it was a fairly clear night, and I could see the lights of Chicago and Milwaukee receding into the distance as we headed up to cruising altitude. Our route took us across the Michigan Lower Peninsula, passing over Grand Rapids and just north of Detroit, then across southern Ontario, where we followed the St. Lawrence River out to the north Atlantic.
Dinner was served about two hours after takeoff – the usual chicken-or-beef choice, just as I'd had on my flight to Germany. I ordered a second beer (now that I'm out of college, I'm a total lightweight, and I figured two beers would help me sleep) and opted for the beef.
As soon as dinner was cleared away, I stretched out to try and sleep. With two seats, I was able to sort of lean back against the window, stretch out my feet and actually get somewhat comfortable. I got four hours of sleep, which is a personal record for me on an overnight flight. Usually I just toss and turn for a few uncomfortable hours.
When I awoke, the inflight entertainment had ended and the overhead screens had switched back to the Airshow feature (American's new 767s have the same route map and flight info features as the 777s.) We were about a hundred miles off the coast of Ireland, and the sun was just starting to peek over the wing:
The crew came out with the "light breakfast" as we crossed the Irish shoreline – a warm croissant, yogurt, raisins and orange juice. I was pleased to see clear skies below… on almost every transatlantic flight I've made, Ireland is always covered by clouds or early-morning fog when I'd flown over. Today I could see everything in nice sharp detail. We passed over Connemara, then went straight across the island to just north of Dublin. About twenty minutes later we'd crossed the Irish Sea and I could see Liverpool and the Mersey estuary out the window.
From there we made a slow turn to the southeast, crossing the breadth of England. I could see a very British-looking panorama of asymmetrical fields criss-crossed by motorways, with small towns and bright white warehouses dotting the landscape.
To my surprise, we passed over London, where I got a very nice shot of Heathrow Airport. The place looked very busy with transatlantic arrivals – look at all the aircraft! I'd be passing through LHR just a few days later: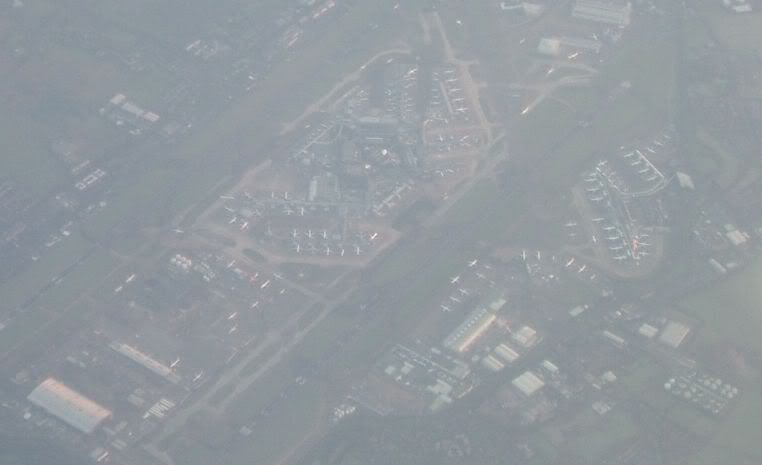 Further off in the distance was London proper, although due to the sun glare my picture didn't come out very well: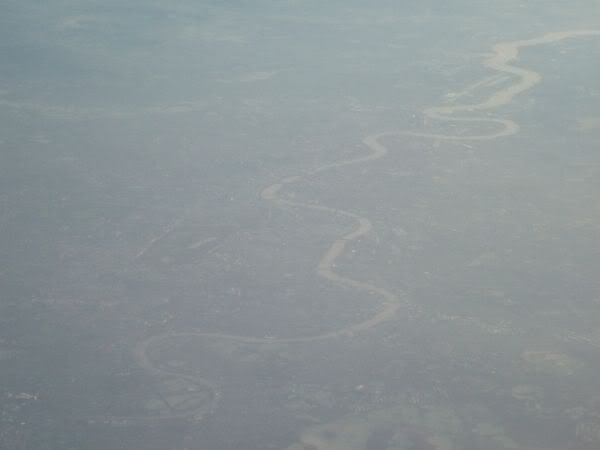 Just a few minutes later we flew directly above Gatwick Airport as well, but we were positioned at such an angle that my picture didn't come out very well. Aircraft inbound to Gatwick were stacked up far off into the distance, all the way back to Tumbridge Wells!
Our descent began right after we left England behind, out over the English Channel. Before long the French coastline appeared up ahead: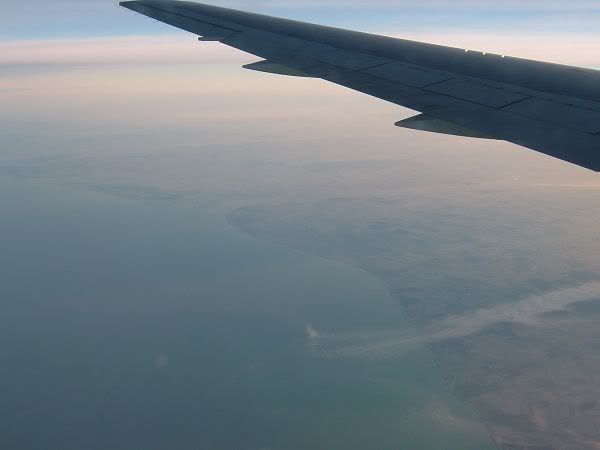 Shortly after we made landfall (the map showed us passing right above the town of Dieppe, north of Le Havre), the captain came overhead, saying we had been put into a holding pattern for about ten minutes prior to our final descent into Paris. We made two full circuits over the north French countryside, just to the north of Rouen. Here we are passing the coastline again – going the wrong way!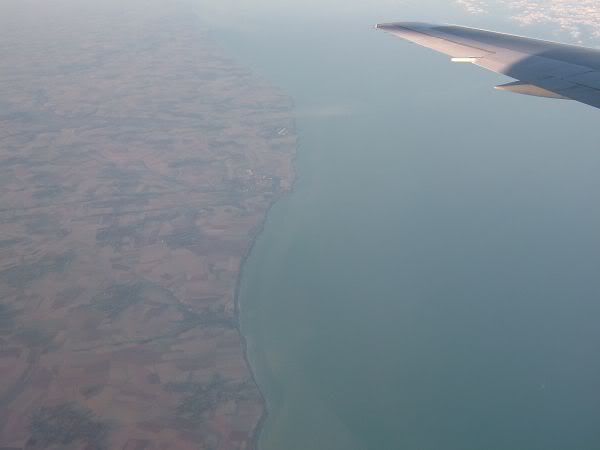 Eventually we got back on track and made a steady descent over the French countryside. Our approach into Paris was very nice; it was a gorgeous morning outside – clear and very cold looking, with a little bit of fog clinging to some of the hills. The spoilers came up: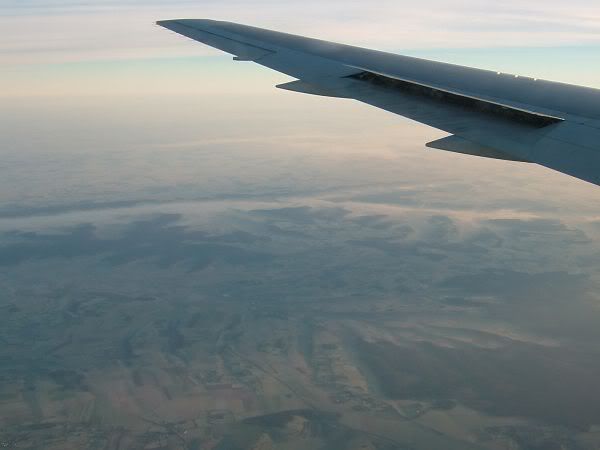 We flew right past the Cormeilles airfield outside of Pontoise: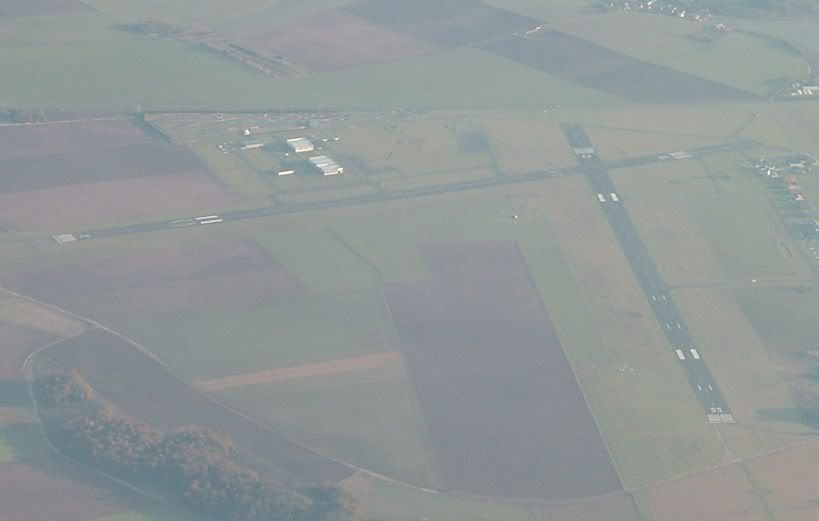 … and then the city of Pontoise itself: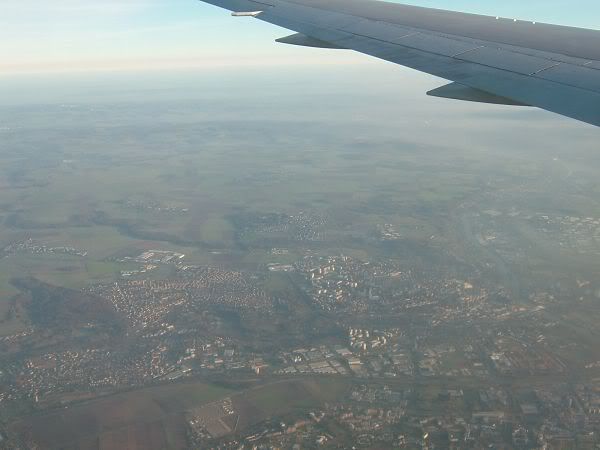 The urbanization below grew denser and denser and soon we were flying over the northern
banlieues
of Paris. Here we are making a gentle left turn to line up with the runway on final approach. That's the River Seine down below: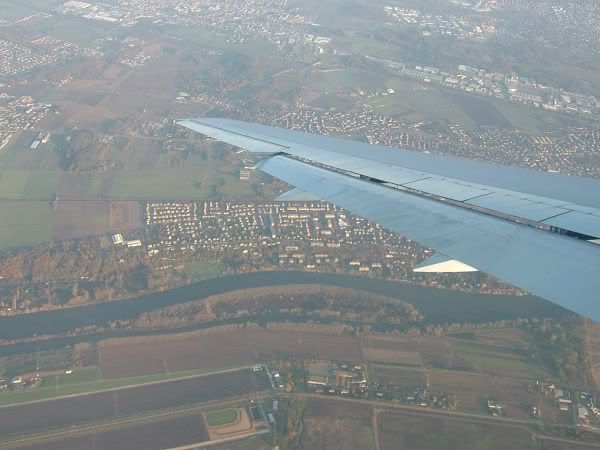 We passed over Franconville (with its bright blue IKEA store) and the A115 autoroute: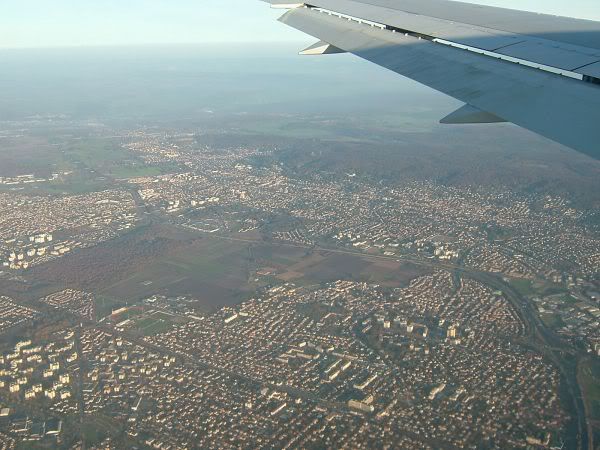 On about a five-mile final over Eaubonne, with the Montmorency hills under the wingtip: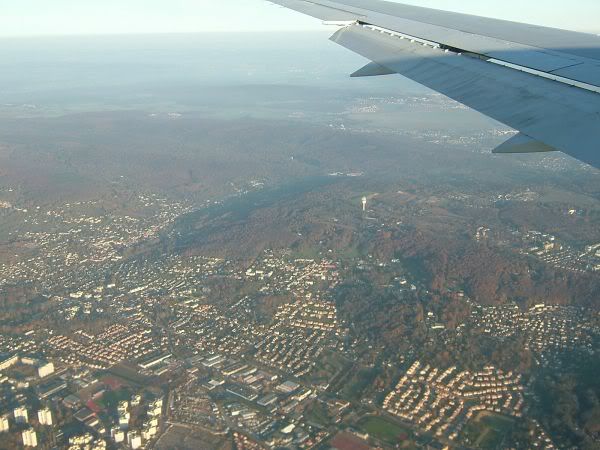 VIDEO: Landing at Paris Charles de Gaulle
http://www.flightlevel350.com/viewer.php?id=5009
The video picks up over the northern portion of the town of Sarcelles, then over Gonesse and the French countryside. Just before landing we pass over the A1 autoroute and the air cargo area on the south side of CDG Airport. Landing is on runway 8R.
Turning off the runway, with the south-side control tower and reopened CDG-2E complex in the distance. The collapsed section of CDG-2E was blocked from view by a large wall. A lone Delta aircraft was parked amidst the Air France birds at the gates: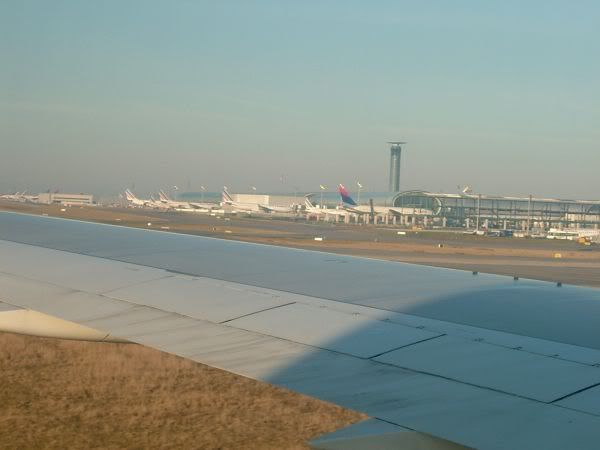 As we taxied back toward the terminals I could see the lights of at least four other aircraft stacked up to land behind us; an AeroMexico 767-200 from Mexico City touched down just after us. We turned onto the apron in between CDG 2A and 2C, passing a Delta 777 on the remote stands: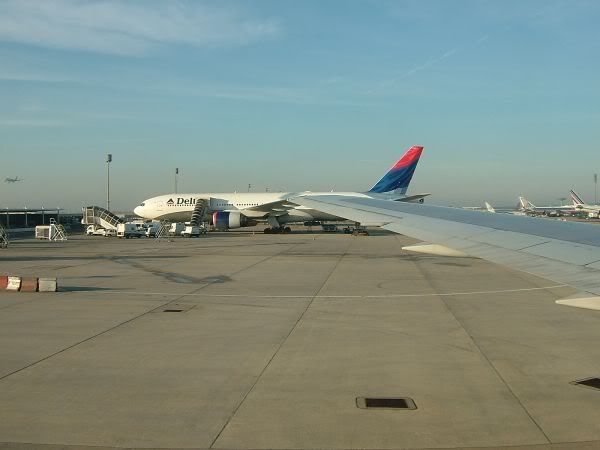 More widebodies – an Air Tahiti Nui A340 freshly arrived from Los Angeles/Papeete and another Delta jet, this time a 767: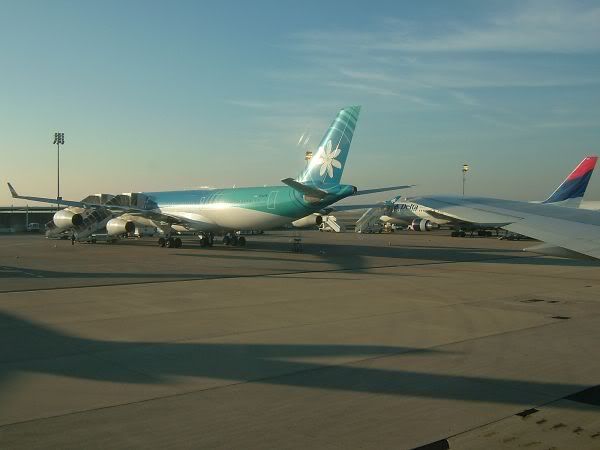 Pulling into our gate alongside a company 767: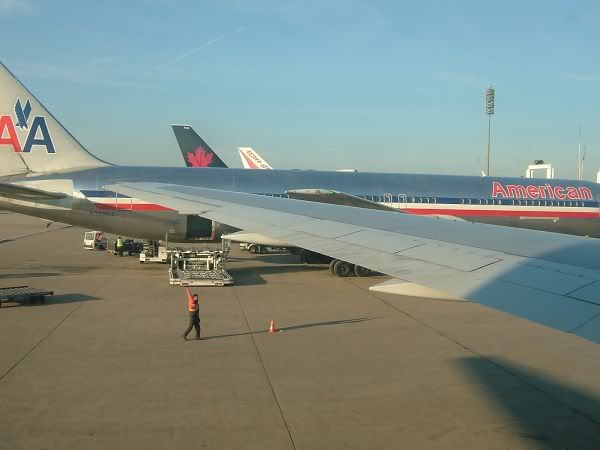 **********************************************************
Paris Charles de Gaulle Airport
Layover
I deplaned into a very empty-feeling CDG 2A ; our flight was the only one lined up at the immigration counters. CDG takes a lot of flak on this site for being dirty and confusing, but on both my trips to Paris I've found it to be a fairly straightforward place, especially compared to the nightmare that is connecting at Heathrow.
Oneworld carriers don't offer secure transfer between terminals at CDG, so I joined the queue for immigration (I wanted another stamp in my passport, anyhow.
) The line moved fairly slow; the same three agents were handling both the EU and the non-EU lines. I got stamped by a French woman of African descent who barely glanced at my passport before waving me through to the arrivals hall.
If the airside at CDG 2A was deserted, it's because everyone was still checking in landside – the terminal was PACKED with people. Ordinarily I would have taken a stroll through the terminals to collect timetables and explore the airport, but by now I only had about 45 minutes until my flight to Madrid was slated to depart, so I didn't have any time to stop and take pictures. I elbowed my way through the crowds until I found the escalator leading to the low-ceilinged passageway connecting CDG 2A, B, C and D.
Surfacing again in CDG 2D, I booked it to the Iberia check-in desk, only to find a sizeable line. Iberia's check-in staff didn't seem to be in any hurry, even though departure time was now only about 40 minutes off. I chatted with the Canadian couple next to me – they were from Winnipeg and had just arrived on an Air Canada flight from Toronto. They were connecting to Madrid and then to Johannesburg on Iberia. I love to fly, but four segments like that would probably kill me!
While waiting in line I noticed that Aeroports de Paris have replaced the futuristic-sounding chime that used to play before all of the announcements in the terminals. The new chime isn't nearly as good.
Finally I made it to the check-in desk, where I had to switch to Spanish to communicate with the ground staff. I was able to secure a window seat toward the front of the plane. They also said my bag, which I'd carried on to the AA flight with no problem, would need to be checked. After getting my boarding pass, I went thorugh another security check and followed the signs to the lower-level departure lounge. It looked like we'd be departing from a remote stand…
**********************************************************
Iberia Flight 3435
Paris Charles de Gaulle (CDG) – Madrid Barajas (MAD)
Departs CDG 11:45am, arrives MAD 1:50pm
Airbus A320, seat 5A
Flying time: 2 hours, 10 minutes
When I got down to the departure lounge, passengers were just beginning to line up at the door, where the bus to the aircraft was waiting. We were allowed onto the bus at about 11:25. While waiting for the bus to fill up with passengers I got a shot of a Finnair A320 parked at the gate in front of us: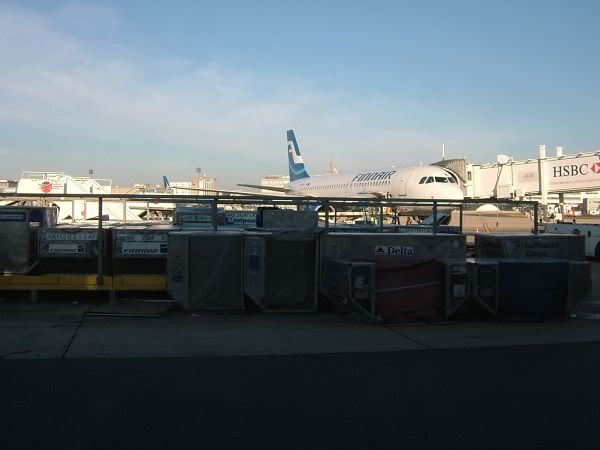 Finally we pulled away and drove across the apron, heading for the remote stands near the Roissypôle area. We shuddered to a halt in front of our A320 – although there were airstairs at the both the forward and aft doors, only the former was open for boarding: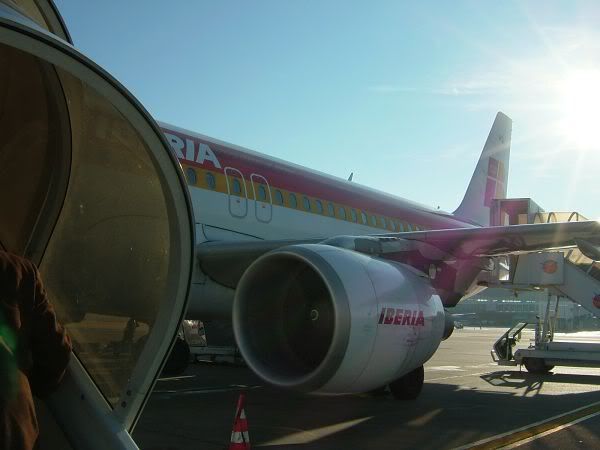 This was my first time on an Iberia aircraft, and after getting settled into my seat I took a look around. I've noticed that European airlines prefer a different seat design than North American carriers – their seats have larger headrests and "wings" that just out around the sides of your body. I've seen these seats on bmi and British Airways and find them to be much more comfortable than what we have here in the US. I'm not sure why our airlines don't have them – Americans tend to be larger, so maybe the "wings" don't fit their bodies. I'm not sure. The A320 sits much higher off the ground than the 737 – that's probably my favorite thing about the aircraft.
Legroom was very generous… even more than American's now-discontinued More Room Throughout Coach. I was seated right in front of the movable divider separating coach from business class (rather than two dedicated cabins, Iberia has a sliding curtain that allows a flexible number of seats in each cabin. The seats are the same, but in business class the middle seats aren't sold.)
Waiting to push back, with an Azerbaijan Airlines 757 parked two stands away: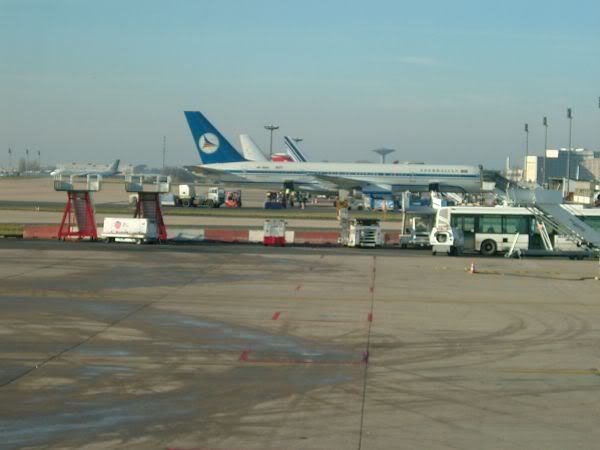 My first-ever A318 sighting – an Air France model pulling in next door: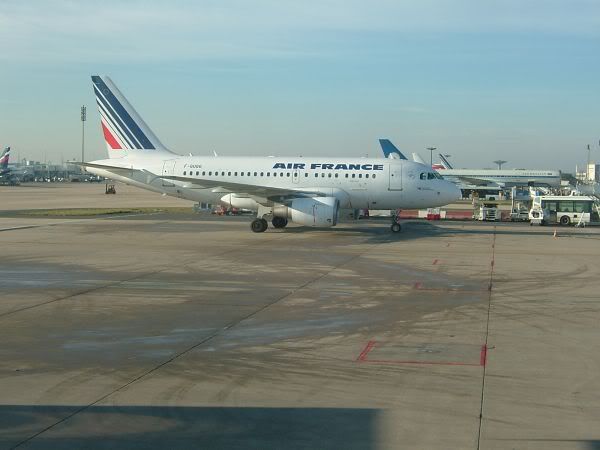 About five minutes after our scheduled departure time, the airstairs were wheeled away and we pushed back. The cabin attendants – there were four of them – came down the aisles offering Spanish-language newspapers. The LCD monitors dropped down from the ceiling and the safety demo played – first in Spanish, then in British-accented English. Once the monitors were retracted, a much shorter announcement was made in French, basically telling everyone to fasten their seatbelts and stay seated until after takeoff.
As we taxied off the CDG 2B/2D apron, we passed an Aeroflot A319 performing engine startup: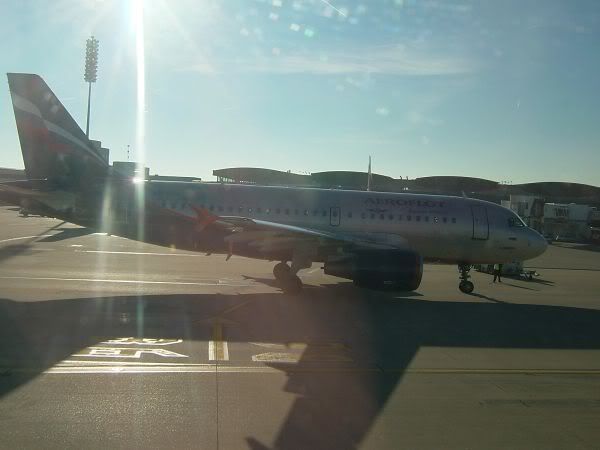 Our A320 crossed over the terminal access roadway and skirted the Air France Régional apron, where a Fokker 100 was resting between domestic flights: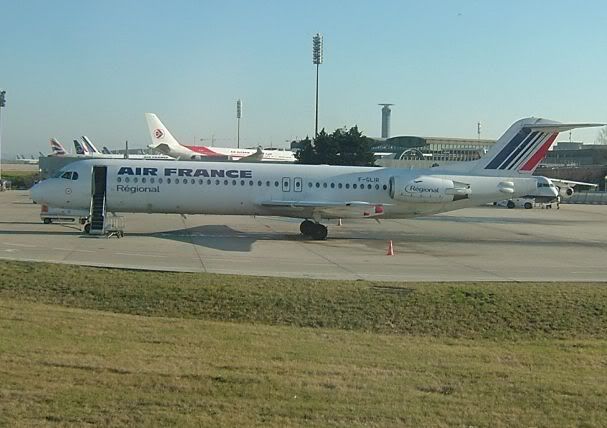 The CDG 2A/2C apron, filled with international tails. My 767 from Chicago is in the foreground; in the background is another American 767, a Cathay Pacific 747, Delta 767, Continental 777 and lots and lots of Air France aircraft: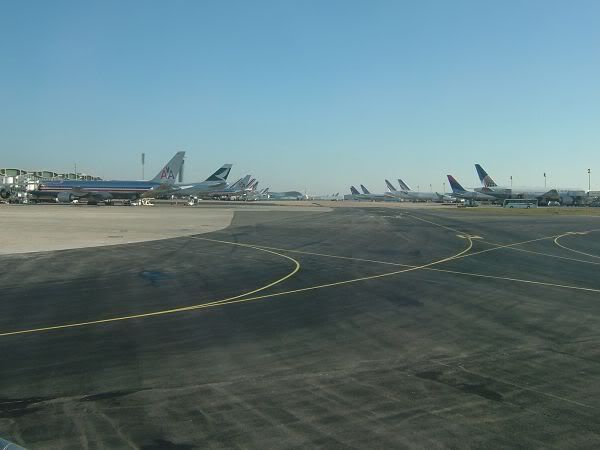 The queue for departure on runway 8L was about ten aircraft long… we took our place behind three A320s, two from Air France and one from Croatia Airlines. An Air-India 747-400, Gulf Air A330 and two Air France A340s departed ahead of us. In the distance I saw TAM's daily A330 arriving from Sao Paulo, complete with "Proud to be Brazilian" titles: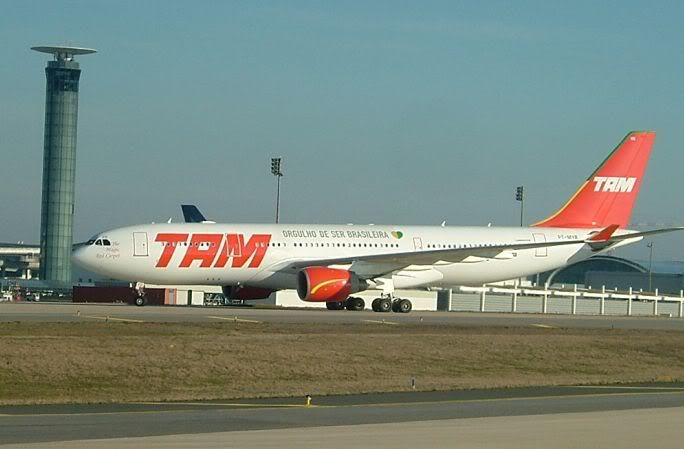 Interestingly, I could see dozens of rabbits hopping around on the grass in between the taxiways – right next to an active runway at one of the world's busiest airports! Finally we turned onto the runway: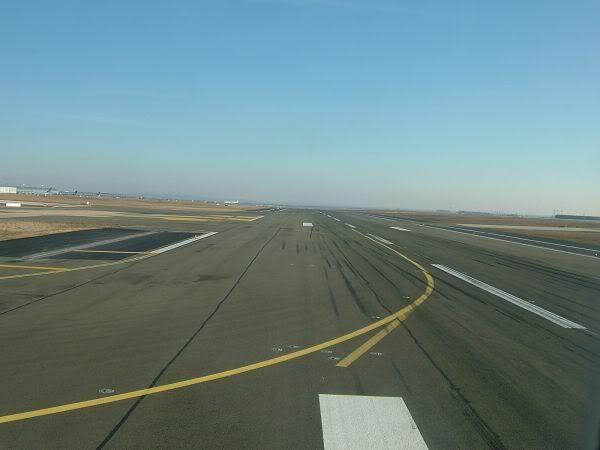 To save room on my camera's memory card for landing, I didn't film the departure. Takeoff was to the east, passing CDG 2E. Here you can also see the satellite terminal Air France is building for its new Airbus A380 aircraft: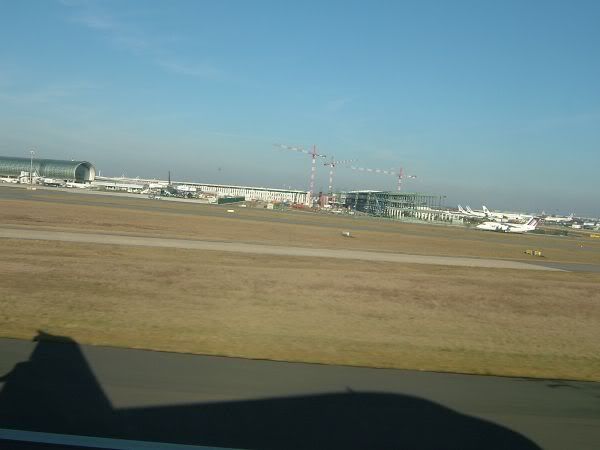 Climbing out past CDG's large eastern apron, with lots of longhaul jets on the stands: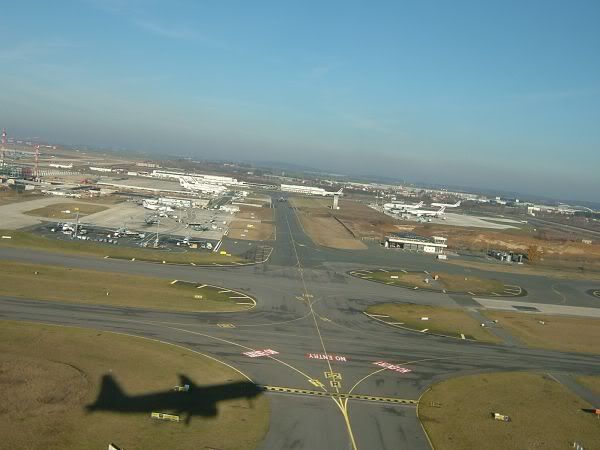 Our initial climb was over the sparsely-populated countryside to the east of the airport: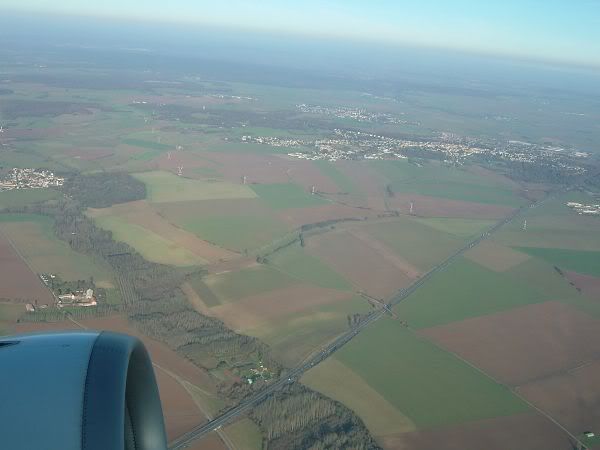 After takeoff we made a turn back to the south, then southwest over the Paris suburbs. There was a quite a bit of glare, and the cabin became pretty warm from all the direct sunlight. Once we got up to cruising altitude the LCD monitors dropped down again, this time to show IFE – which seemed to be a bunch of short pieces about Spanish culture. I didn't see any headphones, and since mine were in my checked luggage I wasn't able to watch anything.
Below us was a patchwork of green fields making up the central portion of France. I could see lots of other aircraft flying around with us, although I was only able to get a good photo of one of them. It's definitely KLM, but I can't tell if it's a 777, 767 or A330. Does anybody know which one it is, and where it might have been headed?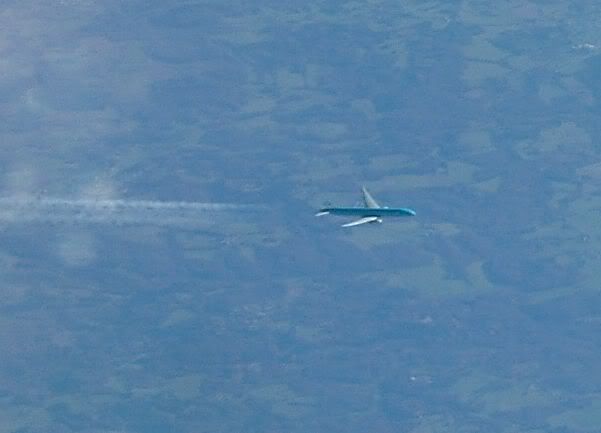 The lead purser announced that Iberia would be offering its
Tu Menú
buy-on-board service on this flight. I'm ordinarily not a big fan of buy-on-board services, but since it was my first time flying Iberia I thought I'd give it a try. The cabin attendants handed out menus to everyone who was interested, then came back a few minutes later to take orders and collect payment.
The offerings didn't seem too imaginative – a lot of club-style and ciabatta sandwiches at somewhat high prices – but I chose a
jamón iberico
(Iberian ham) sandwich. I was pretty disappointed with what I got – a single piece of thin-sliced cured ham (mostly fat) in between two enormous pieces of hard bread. My purchase also entitled me to a Milky Way bar and a beverage: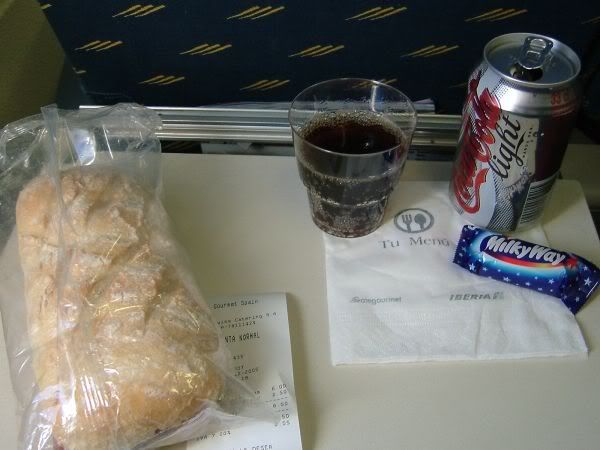 About an hour into the flight we crossed the Pyrenees mountains, which looked stunning covered in snow:
Almost immediately after we cleared the Pyrenees, the terrain changed from green fields to the extremely dry, rocky and barren Spanish landscape: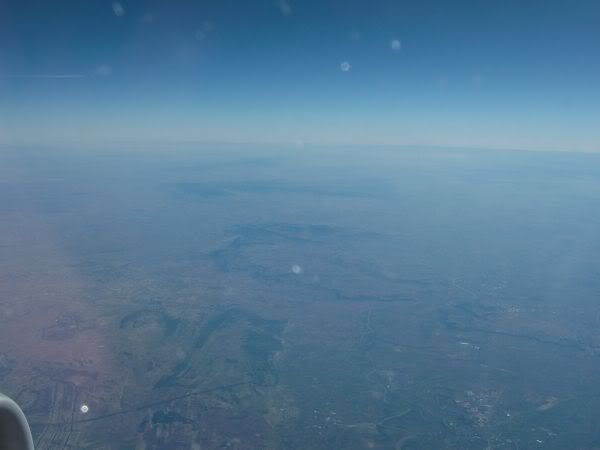 Our route took us down across the Navarra region of Spain, which didn't seem to be very populated – I could only see a few isolated towns below. It was a sharp contrast from France, which has lots of villages connected by roads and larger highways. The mountainous terrain reminded me a lot of the western United States: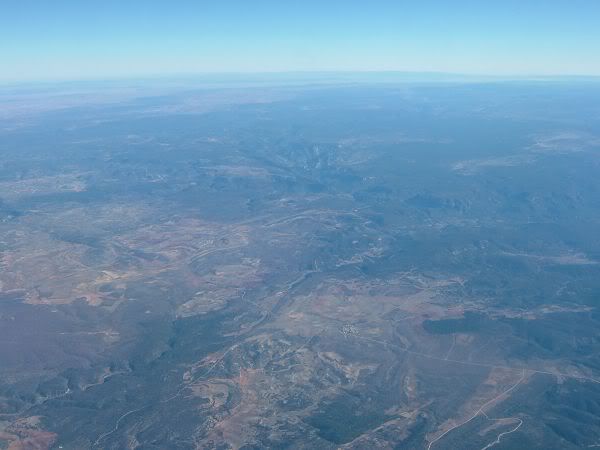 The ride got bumpy as we got closer to Madrid – I had heard that approaches into Barajas Airport can be turbulent owing to the warmer air and proximity to the mountains. The engines eased back and we started the initial stage of our descent. I was surprised to hear the purser read a list of connecting gate information (this is common practice in the US, but I'd never heard it on any of my flights in Europe.) Most of the flights were to domestic and African destinations – places like Sevilla, Valencia, Bilbao, Lagos and Dakar.
Prevailing winds in Madrid are from the north-northwest, so I figured we'd be landing on runway 33. I had been hoping we'd fly our downwind leg to the west of the airport, then circle around to the east so I could have a clear view of the city of Madrid, but instead we made our approach from the east, passing the Buendía reservoir on our downwind.
Most of our final approach roughly paralleled the A3 autopista, which runs into Madrid from the southeast region of Spain. Here we are rolling out of the turn onto final, with the autopista and village of Fuentidueña de Tajo visible: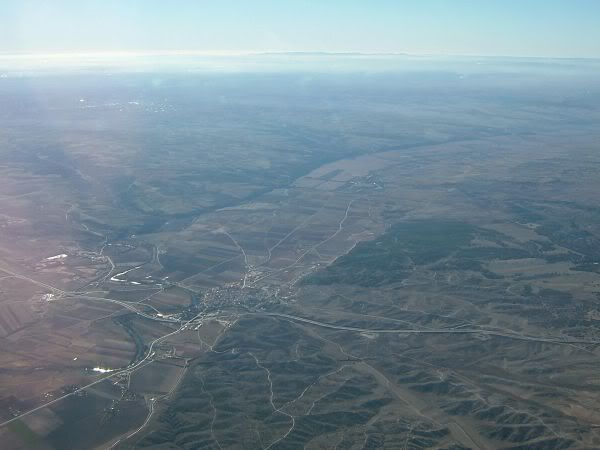 A few miles down the approach, the town of Villarejo de Salvanés: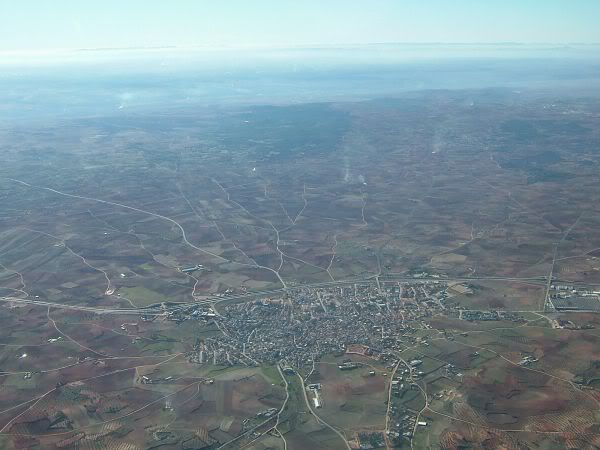 As we descended lower the turbulence subsided and the outer reaches of Madrid began to pass by. Here we are over the new R3 toll autopista, with the suburb of Arganda del Rey in the distance: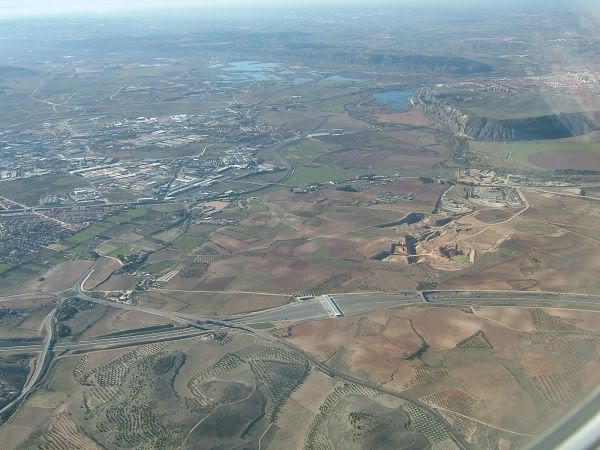 VIDEO: Landing at Madrid Barajas
http://www.flightlevel350.com/viewer.php?id=5006
The video begins just past Mejorada del Campo and shows final approach over the M-50 and M-45 highways, then short final over the city of San Fernando de Henares. The airport's new control tower and soon-to-be-opened terminal building can be seen after we turn off the runway.
Landing was on runway 33, as I had predicted, and from there it was a short taxi back to Terminal 2, which handles domestic and Schengen-country flights. On the way we passed three A320s, from Iberia and Spanair, sunning themselves at remote stands: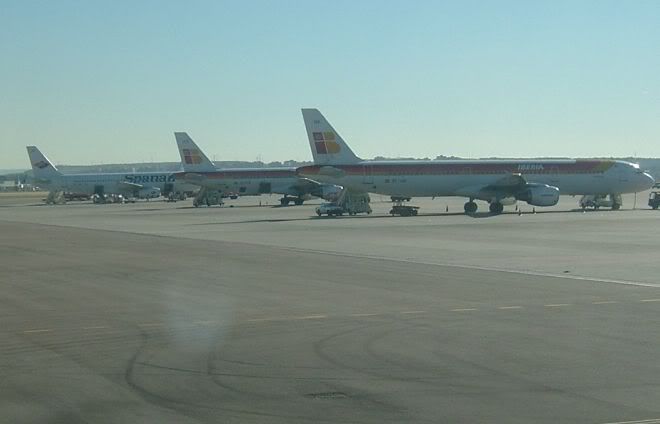 Turning into the gate with Terminal 2 – the original terminal from the late 1950s – visible in the background, along with an Air Europa 737, Spanair 717 in Star Alliance colors and an unmarked 757 (anybody know who owns it?):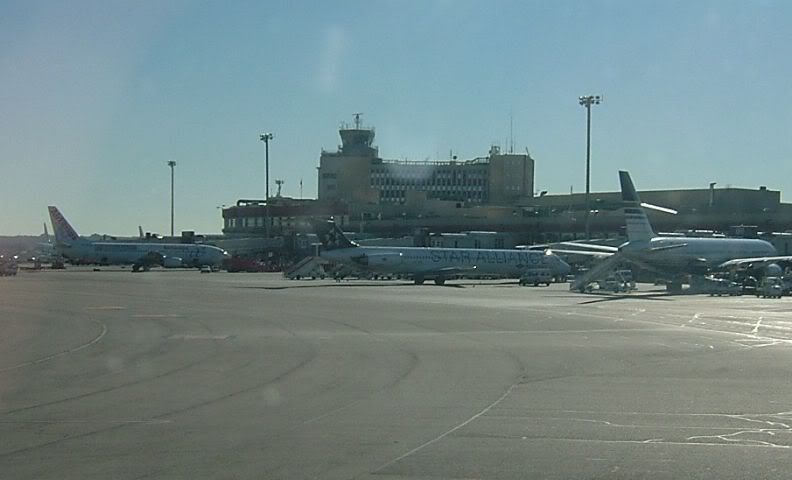 Pulling into our gate with a few other company aircraft nearby: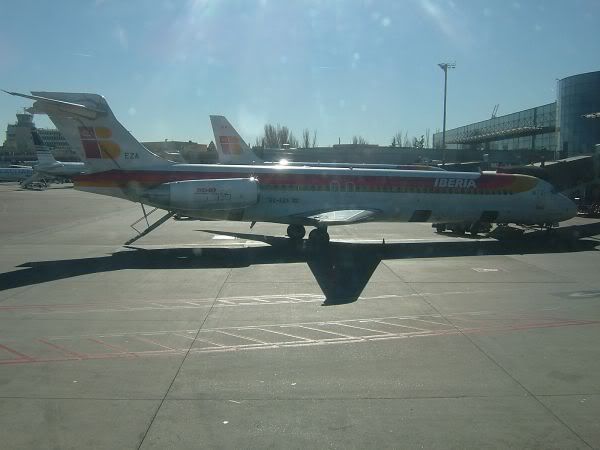 We deplaned via jetbridge and I found myself in one of the newer wings of the Madrid terminal – the pier handling domestic, Schengen, and Iberia's Puente Aereo traffic to and from Barcelona. The terminal was deserted – traffic at Barajas must die down after lunchtime. Before heading to baggage claim, I snapped a parting shot of our A320 at the gate: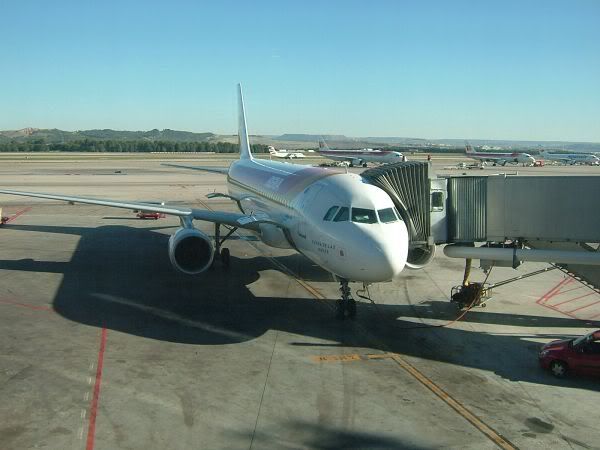 *********************************************************
Despite the bad reviews it gets on Airliners.net, I was pleased with my maiden voyage on Iberia. The buy-on-board food product leaves a lot to be desired, but the aircraft was very comfortable and I found the service to be friendly (even if you have to pay for it!) I just wish they'd let you choose your seat prior to departure time... it seems like that should be a requirement for all carriers in a global alliance like oneworld.
I originally planned to post my entire trip in a single report, but I've already posted so many photos that I think I'll cover the return trip separately. Barajas doesn't have an observation deck, but the mezzanine-level food court in Terminal 2 is just as good – I shot dozens of pictures which I'll post in the second half of the report (Madrid – London Heathrow – Chicago). Stay tuned until then!