Trip Report: FLL-EWR-ZRH on CO
Having just finished up my first two terms of the intensive MBA program, I was ready for a long break. I was hoping to get a trip using SWISS miles roundtrip from MIA but there were no options for return flights to use them up as the flights were booked. So, I checked out different airlines and prices. Delta and Continental were about the same; however I am not a big fan of the uncomfortable 767-300ERs DL uses on the ATL-ZRH leg. CO uses a new generation of 762s on their EWR-ZRH flight. Also, on flights from FLL/PBI to EWR, there were three possibilities for aircraft I had never flown: the B73G, the B739, and the B753. From FLL, I would be taking a B73G and the return flight to FLL was just upgraded in the schedule to a B739. The B753 would have to come at a later date.
The day of departure, the 16th, was one with delays and a little surprise at the end…
Date: December 16, 2005
Leaving: Fort Lauderdale – FLL
Arriving: Newark – EWR
Airline: Continental
Flight Number: 1600
Scheduled Departure: 12:35
Actual Departure: 13:41 takeoff at 14:28
Scheduled Arrival: 15:50
Actual Arrival: 17:05 landing at16:57
Departure Gate: C1
Arrival Gate: A23
Departure Runway: 9L
Arrival Runway: 22L
Seat: 18F
Aircraft: Boeing 737-724
Registration: N33714
View Large
View Medium


Photo © Sam Chui
I arrived at FLL airport at 11:10 to find the check-in area quite busy. However, as there are the e-ticket machines, the line progresses quickly. I arrived at the counter and had to swipe my passport (this is convenient as I don't have to enter all the information manually like I had to do in March flying on UA). I checked in one bag and carried one on board with me. The check-in agent was super friendly in assisting me to check in my bags. I was hoping this level of service would continue on into the flights. I received my boarding passes for Newark and Zurich. As I made my way down to the security area, which was quite crowded, I was thinking how I wanted to get a winglet 737-700 for this flight. My return EWR-FLL leg was rescheduled to a B737-900 (from a B737-800), much to my surprise. This would be my first time flying the -700 and -900 variants. However, none of the -900 series has winglets unlike the substantial number on the -800 fleet. The security agents were off to their usual "I'm better than you" rude business. I have seen some quite professional and friendly TSA crews (such as the ones in FNT) but the ones here seemed to be from the rock bottom. One of them got really angry at this guy from the Bahamas right in front of me for something in his bag saying "oh, you're coming with ME!" At least the guy waving me through was OK and I didn't set off anything. So, off I went to check out the action.
As I arrived, I noticed gate C1 was empty but there were two CO 737s taxiing. One was departing, a B735 to CLE, the other arriving, a B73G from EWR. That would be my plane. Much to my dismay, there were no winglets on ship 714. FLL, like PBI, has free wireless access, so I fired up the laptop to surf the net. However, the Internet wasn't working. I managed to connect eventually. When I did manage to connect, I find out that CO1600 is delayed. The aircraft is at the gate but is experiencing ATC delays. Our new departure time is around 13:50 (scheduled departure was 12:35). So, I stay there a little while longer and at around 12:45, get something to eat before boarding.
Terminal 1 at FLL is very nice and is one of the better smaller terminals (9 gates total in concourse C) I've seen both in terms of architecture and services. There is a Chili's Too/Too Go, TJ Cinnamon's, a coffee shop, and an Italian deli. I wanted to buy something to bring on board. Cinnamon rolls are delicious but not so healthy. The salads from the Italian place didn't look to appetizing. However, Chili's has a Too Go service, where you go to the counter and order your food there. They also have a small refrigerator with sandwiches and salads. I chose a Chicken Caesar Wrap which looked good. It was expensive – total $7.37 (I'm not making this up) for a smallish sandwich. I couldn't help but laugh at the amount and how appropriate it was to the aircraft I was flying. By the time I reached gate, F class had already started boarding. This flight was not going to be too full – about a 60% load factor. Boarding was very quick and efficient.
The B737 was in excellent shape on the inside as well as out. I took seat 18F, which is located near the edge of the wing. Beside us was a CO 738 ship 292 with winglets about to depart for CLE. It must be one of the newest ones. Spotting was pretty good as I could see the action of aircraft taking off. ATC switched from 27R to 9L in the midst of things. It was a nice day for spotting. At about 13:20 the captain informs us our flight will be delayed until 14:58. This had many in the cabin furious and people were actually wondering if he had said 14:58 or 13:58. The purser then informs us that anybody with connections can exit the plane with their boarding passes and go the gate stand to make alternate arrangements. I started heading over there to see what the deal was. Midway through the jet-bridge, an officer tells us to go back onto the plane and that it was false information. Apparently, they had confused us with another flight. We were due to leave at around 13:30 still. At this point, I was hoping I was going to make my connection.
At 13:40, we finally push back. We are brought to an area right in front of T3 where aircraft can park. The captain says we will be delayed and that our new takeoff time is 14:38. That would be one full hour! I could see a large queue of aircraft lining up for 9L. He shut down the engines and allowed us to use our electronic devices. I photographed some departures and arrivals including my first ever sighting of a CO 757 with winglets; N12118.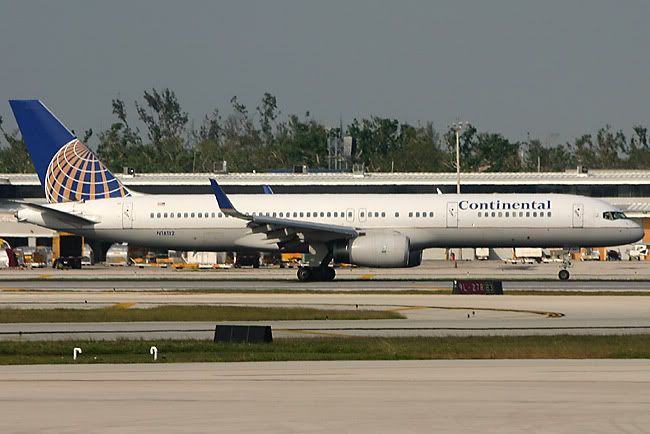 I took out my laptop hoping to get a wireless signal. To my luck, I was able to connect to FLL's free network. I sent a quick e-mail to my parents about the delay and called Continental Reservations to see if I could make any changes on the spot. Much to my disappointment, I find Continental has gone the way of so many other airlines in outsourcing their call centers. The accent on the other line was clearly Indian. They informed me the connection was going to be delayed also but they didn't specify how much. This would end up being partially true. However, the agent on the phone mentioned weather delays. Neither the crew in FLL nor on the plane mentioned this. Turns out, the next FLL-EWR was also delayed by about 1:30. When I arrived in Newark, the weather would turn out to be clear, just as it was in FLL. Whether or not it was raining at EWR before is not known.
My seatmate was traveling on the flight to GVA and it turns out that flight was going to be delayed also. It was going to be a good chance I'd make my flight but she was quite uncertain (in fact, CO's website showed the flight to ZRH being on time). I was really confused. The reason for the delays, which the captain did not mention, was the weather in Newark. I'd checked weather.com earlier at the airport and the weather seemed fine apart from a few AM showers. I would only find out who was right when I arrived in Newark. To add to this problem, when I checked the status for our flight, it showed us arriving at Terminal A. I was sure hoping for there to be a bus to take us directly to C – the main CO terminal where most of the domestic and all of the international flights depart from – and avoid taking the train and exiting security.
Finally, on time, as I am finishing up the call, the flight attendants mention that we are about to depart and everything must be turned off. We start the taxi to the runway, this time without a major queue. Finally, at 14:35, three minutes ahead of allotted departure, the engines spool up. I got some overview photos of FLL.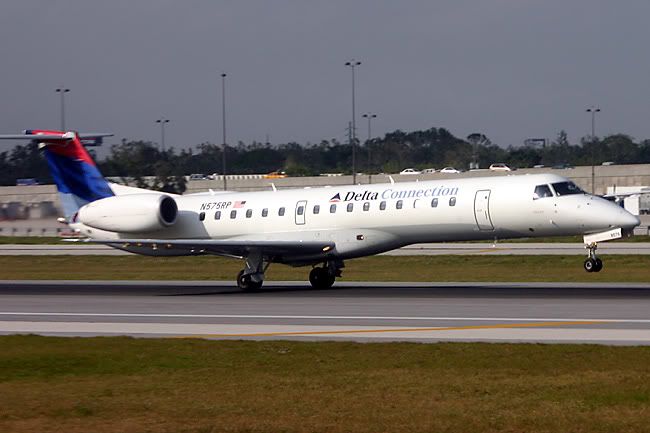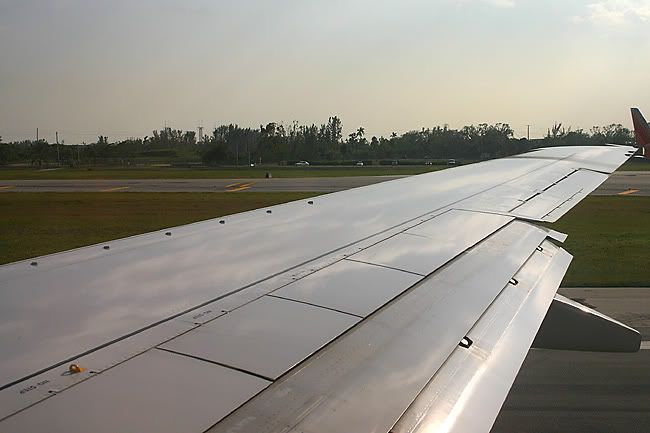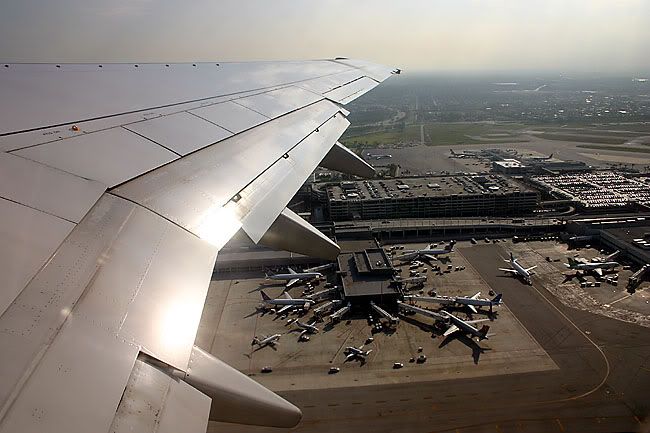 The climb was very smooth. The area around the wing is noisier than I expected however I find all the 737NG series to be exceptionally smooth despite their small size. I fell asleep only to wake up when the snacks were being served. The flight attendant asked me if I wanted a turkey sandwich. I replied in the negative as I already had a sandwich of my own! However, I did want to sample it. Just the fact CO is serving a sandwich for free on a less-than 3-hour flight already makes them better service-wise than the other carriers. By then, the IFE had switched on. Various sitcoms were being shown on the LCD screens. By the time my table was cleared, I began writing this report.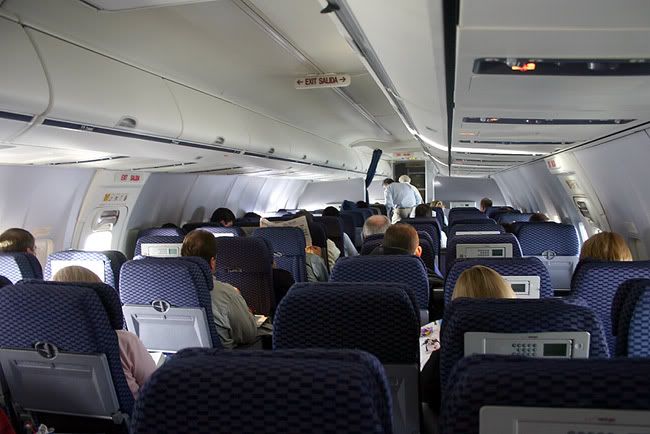 The flight was quite smooth and uneventful. I just wish this whole delay was handled better. We should have been informed about the primary (and correct!) reason for our 2 hour late takeoff. Flight 1600 has a slight advantage of a long published flight time; it is scheduled to depart at 12:35 and arrive at 15:50, making the total time 3:15. The wheels-up to wheels- down time for any FLL-EWR (or NYC) flight is usually 2:20. This flight would be a little bit shorter but, in effect, we would not lose so much time from connecting. We were due into EWR just before 17:00, giving one full hour to make it to the connecting flight. The flight attendants, aside from the delay, were professional though a tad less friendly than those I have encountered on the LCC's.
The descent took us over Maryland, Philadelphia, Princeton, and onto the complicated STAR procedure for landing on the 22's. In the process, I got some not-so-good overview photos of PHL. There was a nice sunset going on, as it was around 16:35. The whole wing was illuminated.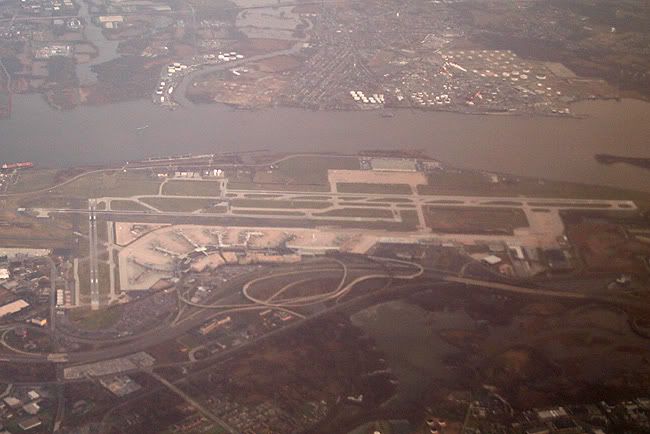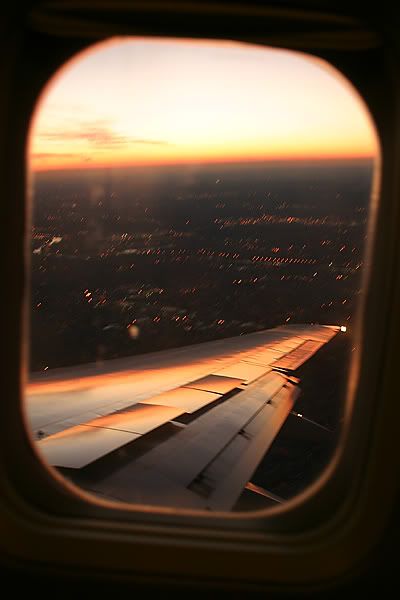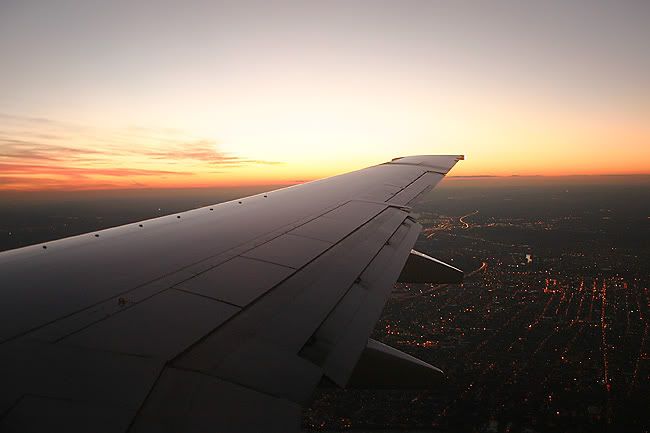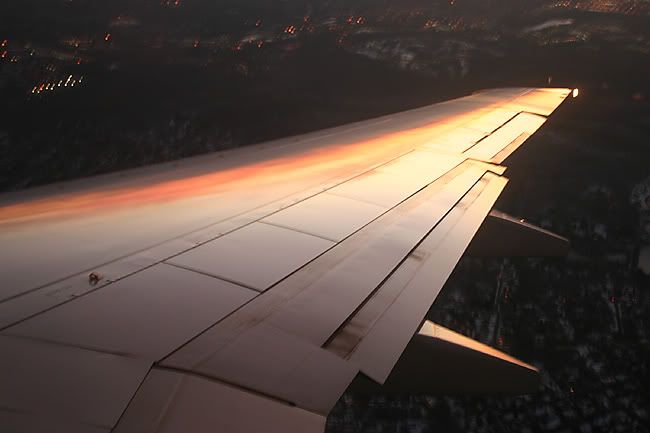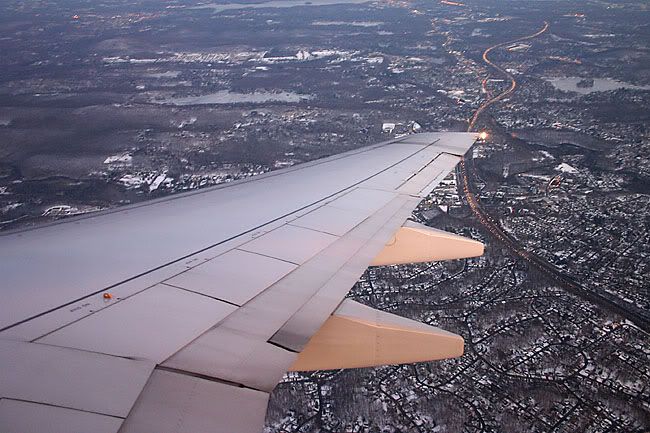 The arrival procedures takes many turns but I found out I was on the wrong side of the action. The other side had a great view of Manhattan; we had a great view of downtown Newark. The turns were mostly shallower ones (unlike LGA). Turns out, the winds were strong so the approach was bumpy.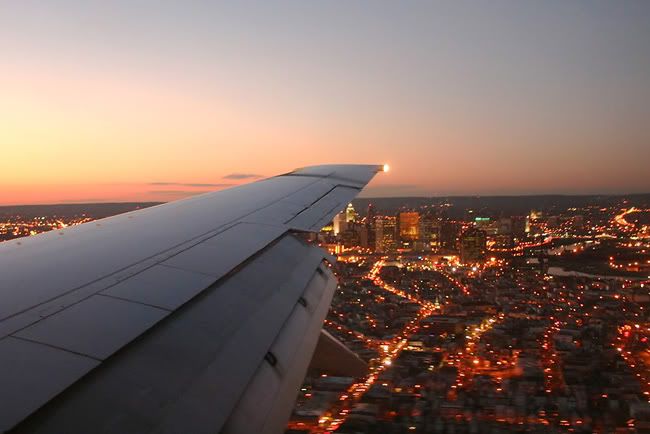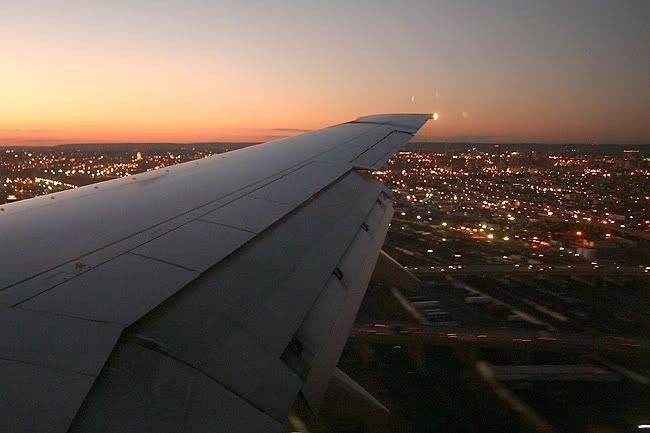 At 16:54, we touched down on 22L. I could tell there must have been some sort of crosswind component involved but it was a harsh one. The taxi was very short to gate A23. Apparently, this is the concourse for flights to BOS, ORD, and DCA among other places. Our 73G was to turn around to DCA as flight 1115.
Newark Airport:
I exited the aircraft around 17:05 into the dreary (but convenient) A-gates. I asked a CO representative for the best way to get to Concourse C and he said to take the train. Why doesn't CO just have a bus service that brings you directly to C? Major delays (arrival delay for us was 1:15) plus arriving into a distant terminal and needing to re-clear security plus an international connection is not a good combination. It is a very short walk to the AirTrain monorail that runs to the various parking lots, rental car lots, and the different terminals. I think it is an excellent way of getting around the airport, trouble is, all of this is outside security. The trains run every 3 minutes. The view you get of the tarmac is very good. I spotted quite a few AA planes, a BA 777, and my third KLM A330 sighting. Sadly, it was not AOC but AOB, the first A330 I was able to catch two months earlier at IAD. Finally, five minutes later, we were at the C terminal. Overall time from deplaning to arriving at security was around 9 minutes, which is not too shabby. First, I went to the check-in counters to see about the status of CO78 to ZRH, scheduled departure 18:00 and it was just after 17:15. The agent said it was leaving on time and I could make it only if I hurried. The security line was long. I figured about a 30 to 40 minute wait.
It was now 17:20. I am thinking that I won't make the flight; only for the reason we were dropped off at the other terminal. DL at LGA only uses dedicated planes for DCA and BOS at its Marine Terminal; it is not our fault they decide to turn the FLL flight around to an airport served only from another terminal. A lady in front of me walked up to one of the security officers controlling the beginning of the line and told him her inbound was late coming into A (she was probably on my flight from FLL) and she was going to miss her connection. He allowed her to bypass the security line and go straight to the front. I asked him the same right afterwards, showed him my boarding pass and said I was coming in from FLL. He also let me go to the front of the line. I was so happy and relieved. Security was pretty much the same, tedious procedure it was at FLL - shoes out and laptops out, too. The TSA guys were a little nicer, though.
A quick scan of the monitors after security at 17:26 revealed my flight was due out of C128 though wasn't yet boarding. This area of the terminal is actually quite nice with different bars and restaurants. It was also clean and modern. At this point, I found out I'd left my Sigma 70-300 APO lens on the plane. As I couldn't go back, I found a free CO agent who was handling the PDX flight right near my gate. I told him I'd arrived at gate A23 and gave him the tail number of the aircraft, 714. He told me the flight had just departed for DCA but he was able to send a message to the agent at DCA to search the plane, send the lens back to EWR, and onto the next flight to ZRH the next day. He was very nice and handled it very professionally and competently. Overall, CO has among the best ground staff I have seen. The other agents seemed to be doing a good job in assisting passengers. Other agents might have told me I was out of luck, but this one made sure that I had the best chance of getting my lens back. He gave me a printout to show as soon as I arrived in ZRH to fill out a lost-baggage form. I thanked him and went to check out which B762 was operating my flight to ZRH. This is what I saw…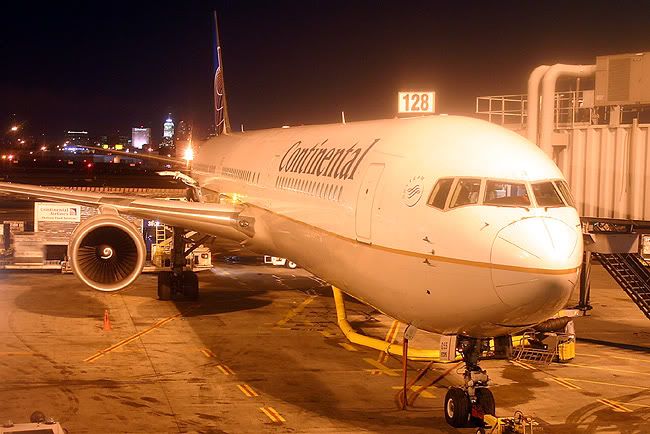 The gate for that flight, C128, was right near the PDX gate. I looked outside and saw a 767, expecting it to be a -200. Well, I saw there were several full-size exit doors, indicating a B767-400 but the gate was clearly C128, still the one for the ZRH flight. Indeed, CO had upgraded the ZRH flight to a 767-400 this time around. The registration of the aircraft was N76055 and, judging from the a.net database, this one made the first 764 appearance in ZRH. When I am in ZRH, I usually check for rare aircraft on ZRH's excellent website. Once, on August 15, 2004, a CO 764 happened to drop by ZRH and I went specifically to the airport that day to photograph it. A 764 in ZRH happens very rarely. I was glad this was one of those times.
Date: December 16, 2005
Leaving: Newark – EWR
Arriving: Zurich – ZRH
Airline: Continental
Flight Number: 78
Scheduled Departure: 16:00
Actual Departure: 16:24 takeoff at 16:40
Scheduled Arrival: 07:40
Actual Arrival: 07:53 landing at 07:46
Departure Gate: C128
Arrival Gate: E23
Departure Runway: 22R
Arrival Runway: 34
Seat: 24A
Cruising Altitude: FL370
Aircraft: Boeing 767-424ER
Registration: N76055
There was already a substantial queue for boarding. I didn't know what rows they were for, but I just sat down for a bit until the line got shorter. At that point, the line was moving quickly so I joined it and, within a minute, had my boarding pass scanned. I walked down the jet-bridge and made my way on board through door 2L. BizFirst occupies the entire front section; economy the middle and the rear section. Delta's 767-400s have a few rows of Y in the back of the front section. The cabin itself is leaps and bounds better than DL's as far as aesthetics go, it appears to be roomier, and, of course, every seat has a PTV screen. It is very spacious and attractive. It dawned on me then that the 764 is probably the best type for transatlantic flights as it is modern yet has the 2-3-2 seating in Y as well as its unsurpassable ride. More on that bit later. I was thinking I wouldn't have much of a chance to fly the 764 anymore as DL no longer flies them to FLL and PBI. If either DL or CO starts flying them to ZRH regularly, I will be happy.
I took seat 24A where there was a set of headphones of the two-pronged variety along with a blanket and pillow. The blanket seemed a bit heavier than some of the others I used which is good if the flight is cold. The windows on the 764 are very big – far bigger than the A330/A340 and I think slightly larger than those on the 777. Their size rivals that of the DC-10/MD-11. When I tried closing the window shade, I noticed already a huge difference in build quality. Unlike most narrow-bodies I flew on (including the 73G from earlier) and the A330/A340, these shades shut in a smooth, firm, and consistent manner. The windows were scratch-free. This idea of quality would persist throughout the flight. Also, the lighting had a reddish hue to it and was dimmer than what I'd find on some other aircraft. Apparently, CO leaves the lights on for a substantial portion of the flight and the dimness allows passengers to sleep. It is a neat idea so passengers need not worry about tripping over anything when going to the bathroom while most passengers are asleep. I re-opened the shades. Parked next to us was a B777 ship 010.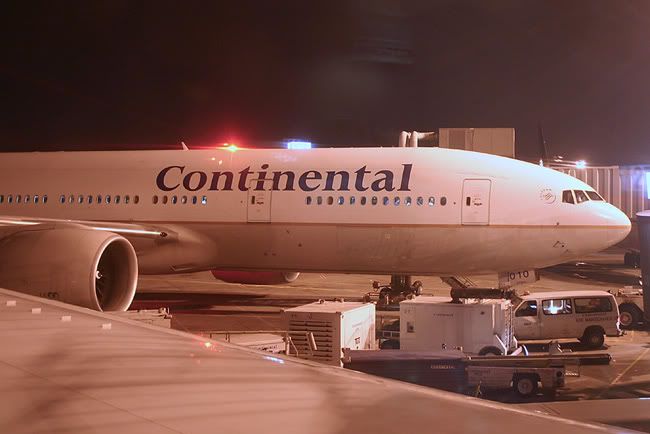 A few minutes later, the captain comes on the PA system telling us there is a delay in the departure (just what I needed to hear) due to passengers on a late inbound. He also told us the aircraft type we were on was different from usual. Instead of the B762 we were on a B764 and that there were going to be some empty seats however we were not to redistribute until cruising altitude. Those passengers finally arrived at around 18:20 and the gates promptly closed. They took the middle row of seats in my row. I was hoping those seats would remain empty. Oh well. Pushback came at 18:24 and we began the rather short taxi to runway 22R.
There was not much of a lineup, so we were quickly lining up for takeoff. The takeoff roll was very solid despite the strong winds. It took around 40 seconds to be airborne as the aircraft was heavily loaded. I noticed vortices forming on the wings. The initial climb was gorgeous due to the unlimited visibility and clear skies. We made a 180-degree turn to the right to follow the departure procedure. Then, we flew NNE then onto NE right over Manhattan. I snagged a few photos of the Hudson River, the George Washington Bridge. Westchester County was also in clear view.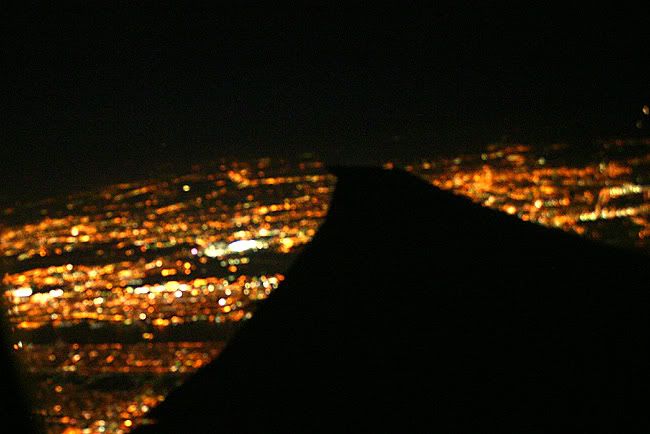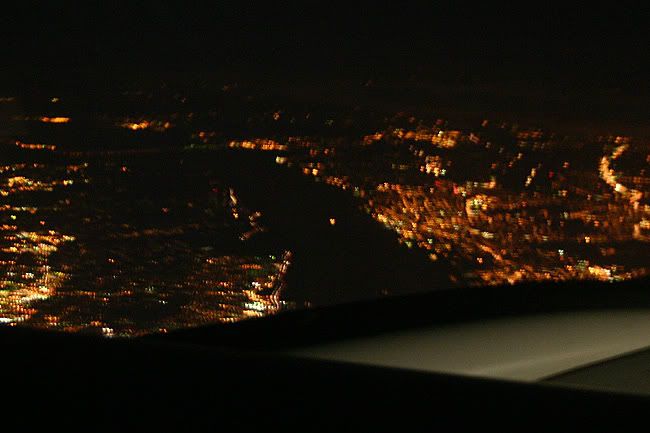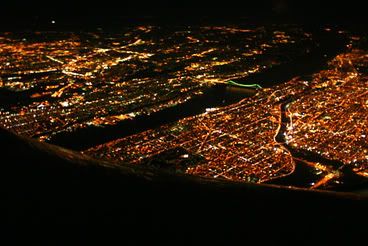 The actual climb was virtually undetectable – it almost seemed like we were level. The aircraft was surprisingly quiet even at maximum power and it was as stable as I've ever experienced as a passenger on any aircraft. One thing that struck me when I flew on DL's 767-400s was how nice the ride was. In my opinion, it is the best ride on any aircraft. It was now that I realized how that good of a ride would end up being a factor on a 7-hour flight. As soon as the seatbelt sign went off, I headed over for the rear cabin to take some photos. However, people were getting up and clogging the cabin, something which makes cabin photos virtually impossible. Another thing that is difficult (especially when it's dark outside) is hand-holding when the shutter speeds are slow. I would try again in the morning even though the entire flight would be in darkness.
By that time, the snack service had just commenced. Back at my seat, I found my seatmate already had his snack. It was a bag of Doritos chips. Dinner would be served shortly, so it didn't really matter. I checked out the IFE system. However, I wasn't intending on watching any movies as I knew I would get too caught up in one and not sleep. I was out the previous night until 3:30 am dancing at some nightclubs so I really needed that sleep. There were about 10 video channels. Unlike the IFE on LX, all those channels are for different movies/shows. You can choose the language before you select the channel, so Channel 1; for example, can be shown in English and Spanish. However, once you are at a channel, you can't change it. You must go back to the menu and change it from there. You control this via the arrow keys. Also, when you tune into a movie, it shows you how much time is left until the next showing of that movie and how many minutes into the movie it is. As far as I know, the only US carrier to offer AVOD in Y class is NW on their A333s. It really is a nice feature as you don't have to wait to see the movie you want. There are also 10 audio channels of different genres as well as a News feature. Lastly, there is the Flight Info feature, in which the air-show is. The screens are slightly larger than those on UA/AA, about on par with LX (the A330s) and smaller than those on the NW A333s and LX A340s. Overall, the IFE is good enough but would be even better with AVOD and jukebox audio. I would rate it a 7.5/10, or on par with LX and the A330s but better than other US carriers with the exception of NW's AVOD-equipped A330.
Dinner was served about 45 minutes later, which is early enough for me. As I have mentioned in previous reports, serving a meal too late on a transatlantic flight can have an effect on the time available to sleep. CO did a good job in serving the meal early enough. The choices were "chicken with pasta" or "beef and mash potatoes". I really liked how the flight attendants mentioned what else was in the meal. Other airlines would have merely asked "chicken or beef?" I chose the beef option. Along with the beef was some mash potatoes and carrots. There was some salad and some banana bread. The beef was quite good and tender as were the mash potatoes; the carrots were a bit too crunchy. The banana bread was very tasty though I didn't eat the salad. Overall, the meal wasn't great but it was satisfying enough. It would get a 7/10 – better than UA, NW, or DL; slightly worse than the Europeans. The best meals I've had recently in Y so far were on AF.
With the IFE switched to Air Show, I fell asleep. The seats recline far enough back, among the most I have seen in Y class, and have winged headrests. The 767-400 is very silent at cruise no matter where in the cabin you are. I was situated over the wing and it was plenty quiet. The A340 may be quieter in spots (namely the front premium cabins) but overall I found the B764 to be quieter. Seat pitch is 32" but in full recline, the seats are very comfortable. They are firm enough to be supportive yet not too firm to be rock hard. The only downside is the PTV box which occupies about 1/3rd of the space in front of you. There is still enough room for the legs.
The silence in the cabin extended my sleep to a bit longer than what I would get on most other airliners. I woke up, checked on the flight status, and went back to sleep, waking up for good just south of Ireland. Our flight path had taken us to 51N, slightly further south and usual. I went to snap some photos first in the rear cabin then in the middle cabin. There was nobody up and about in the aisles and the flight was no turbulence. It was still dark outside, however the lights were on, which gave me just enough light to work with. Here is one of the photos.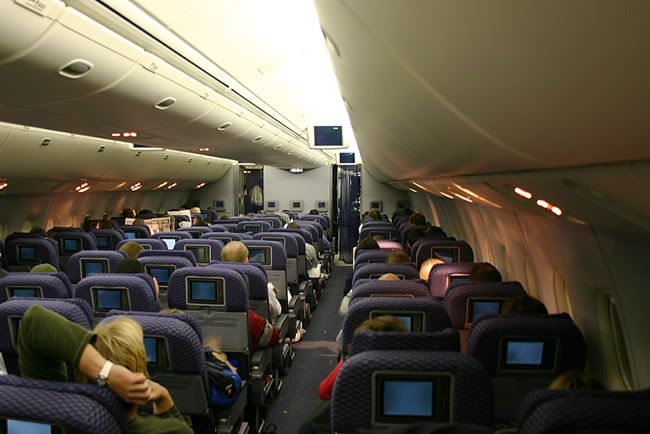 About 1:15 before landing, breakfast was served. It consisted of a hot croissant, a tiny fruit salad, and a choice of drinks. The croissant tasted excellent - it had a rich flavor to it and actually tasted French. Overall, I would give breakfast a 9/10. The flight attendants on this flight were very professional but could be even friendlier, like the ones on SWISS though they did smile and laugh at times with other passengers. The descent started right after. At that point, the sun started to come up and I took some nice photos of it.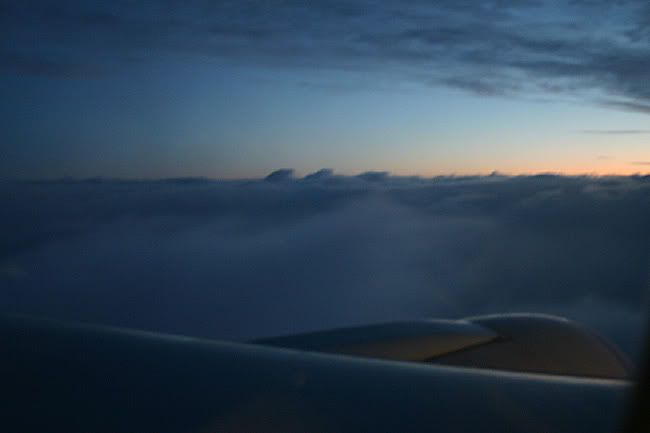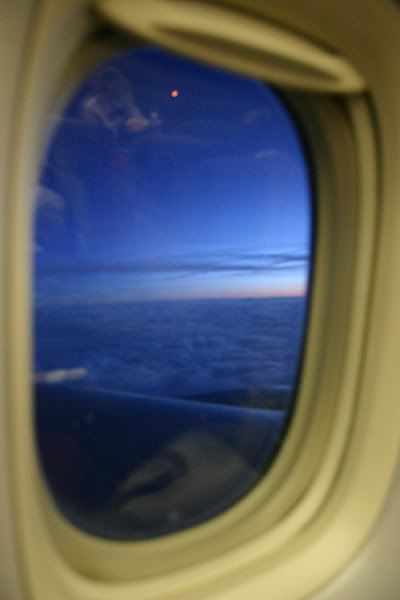 The descent itself was silky-smooth despite the heavy cloud cover and strong winds. I noticed from the Flight Info on the main LCD screens (the PTVs had already been shut down) that we were going south of ZRH and making a 180-degree left turn over Lake Zurich for the runway 34 approach procedure. However, I couldn't see anything due to the poor visibility and low cloud cover (about 1500 feet above ground level). Once we did break through the clouds over the city of Zurich, it was all breathtaking. Taking photos was too hard as I was only getting exposures of 1/10th of a second handheld with an ISO of 800 on the 300D, which is quite noisy.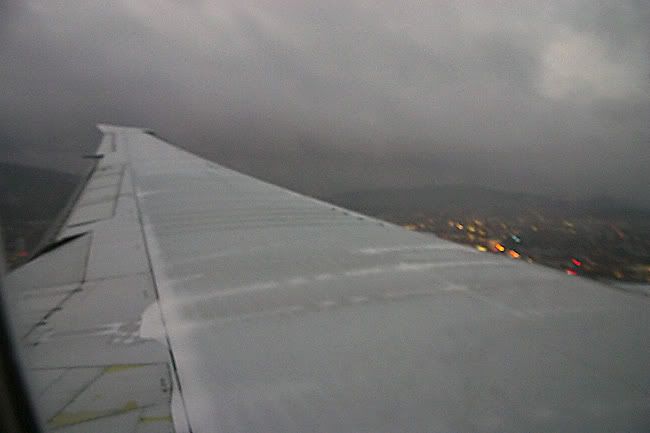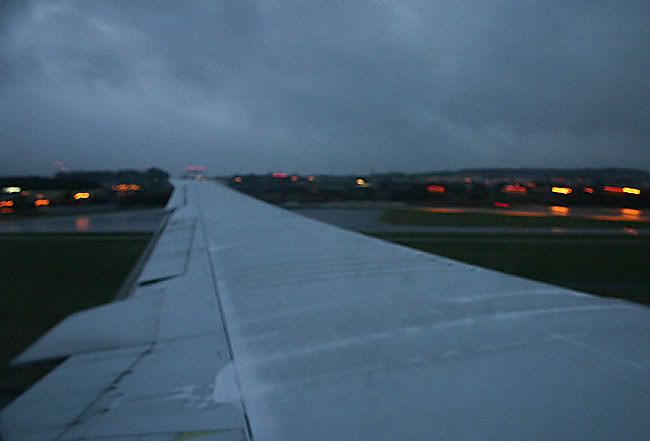 The final approach was just as exciting. The crosswinds were very strong yet the captain managed to firmly but smoothly plant the main gear on runway 34 at 07:46 local time. Despite our 30-minute departure delay from the gate, we were going to arrive at the gate only 5 minutes behind schedule. The purser came on the PA saying that the captain made a beautiful landing considering how tough the weather conditions were. Some people started to applaud but quickly fell silent. If this were an Alitalia flight, the entire cabin would have started standing up. We turned off the runway as the first U.S. arrival of the day. Our arrival gate was relatively close by and, by 07:53, we arrived there. The purser came back on the PA explaining we would experience some delays as we needed to find someone that was qualified to open the doors as this was an equipment change. Less than five minutes later, help came our way. The efficiency at ZRH never ceases to amaze me. De-boarding was relatively quick through door 1L. The Business-First cabin has the configuration 2-1-2 and the wide seats look extremely comfortable. I figured this cabin was filled with upgrades due to the extra seats in this cabin. It must be a very relaxed ride up here.
Even though our gate was at the far end of the terminal, the walk to the train was quite short. However, once we arrived, we find out only one train is working so there were a lot of people waiting for the train. About three minutes later, a train arrives (the trains run three minutes apart, but it was quite a bit longer this time). It was worse than an NYC subway during rush hour. There was hardly space to move around. Luckily, three minutes later, we arrived at the main terminal. It was a short walk over to passport control. There are many booths available no matter what time it is, so this takes very little time. Before, there were only two booths so the lines always got long. Here, it is all done in an efficient manner. The guy didn't even ask me any questions; he just swiped my passport, looked carefully at the computer screen, and that was it.
Baggage claim was only a short ways away. It took less than five minutes for the bags to appear. Considering the distance between the Terminal E and the main terminal, this is very impressive. To add to this, my bag was among the first ten on the belt! Apparently, CO doesn't prioritize those who travel in a premium cabin. Customs was a breeze and I was ready for the holidays.
In summary, CO has the best fleet in the U.S. period. Their planes are in excellent condition inside without any scratches in sight or anything falling off. The B764 has become a personal favorite for the long-haul as well as the short-haul due to its quietness, stableness, and quality of ride. Too bad more airlines haven't adopted it into their fleets. Their service was good and their food, though not exceptional, I would rank overall, the best of the U.S. majors when it comes to long-haul flights (they even serve sandwiches on the shorter runs). The one nagging problem I found with CO was the way the delays were handled. It was a bit disconcerting they didn't mention the true reason for our delay out of FLL. They mentioned scheduling issues but then the reservations agent tells me it is the weather. At least, CO actually holds flights that only depart once a day for late inbound connecting passengers. As I understand, very few flights not originating in BOS, ORD, PHL, and DCA flights arrive into Terminal A; the only reason we did was due to scheduling and I can understand that. However, many passengers on that flight had connections, as most international flights depart around 18:00, so it was a bit unfortunate. Thankfully, the staff in EWR was helpful and able to politely assist me in making my connection. The on-board crew could have been even better (UA, surprisingly enough, I found to be the best in this matter out of the U.S. majors in terms of international service) in being hospitable to feel welcome on board but they were nice, overall. If they were to benchmark the major European companies such as AF, BA, KL, and LX, they would easily have the best in-flight crew of the U.S. airlines. This, along with telling passengers the true reason for delays is what would make them a great airline.
Thanks for reading the report and, as usual, any questions/comments are welcome.
N864DA