Preflight: This trip was basically just for fun, and it was all non-rev with jetBlue. We had
an awesome time for as tired as we were, so sit back relax and enjoy the report.
This started Friday, December 16, 2005. I had to get to Midway so I drove to the South Bend Airport and bought a bus ticket for the Coach USA at 2:30pm. The ticket cost $33, but by the time you pay for tolls, gas, parking etc.. it pays itself off fast. The bus had arrived exactly at 2:30, and probably a minute later we were on our way. It made stops in Michigan City, Portage, Highland, and I think one more, but I forget.
We were running right on time, except once we got into Chicago, traffic was bumper to bumper the entire way to MDW and we got to the airport 40 minutes late, no problem I still had an hour and 20 minutes until I had to depart even thought some people on the bus actually did
miss their flights and had to go out the next morning. The bus driver pulled us up to the terminal and offloaded our bags, I thanked him and wished him a happy holiday and was off to the American check-in area.
This is my first time on AA so I was pretty excited to be trying them out. Check-in area was empty, I walked right up to an e-ticket machine, printed off my Priority verification card and headed towards security. Once I got into the hall it was absolute chaos! People were shoved every which way shoulder to shoulder and then we were split off into security lines. Crazy, but the lines went really fast. Once I got to the gate in the small section where C1, C2, and C3 were all that was there, waiting area full. I believe Continental had a flight to Cleveland running late, they still had another flight to Cleveland after that one, AA had a CR7 to DFW running late from 4:30 was now posted to leave at 6:15 so AA's sole gate was taken, our MD-80 was using gate C2 and there were Continental agents helping the AA agents get the plane out. We were a few minutes late boarding, and once they were ready I was called to check in at the gate and I received my boarding pass Seat 1F.
I think the AA crews were happy to have the CO help, as when boarding the CR7 to DFW before us, the agent clearly must have been tired as he wasn't even reading the flight number or anything he just came on and said Group 1 then he said all groups, then he said the flight number and gave it a final boarding call as people then went up and got inline.
American Airlines
Flt: 2373
Chicago MDW - Dallas/Ft. Worth
Scheduled Departure/ Actual 6:30p / 6:57p
Scheduled Arrival/ Actual 9:03p/ 9:37p
Take off: 7:17p
Seat: 1A
Equipment: MD-80 N466AA
View Large
View Medium


Photo © Andrew Morrell
Once on the plane, a man asked me if I would trade him seats so he could sit by his wife so I went and took 1A, first class tonight was full, and I think coach was almost full. First impression of the Aircraft was really nice, cabin was kind of dark, and I really liked the Eagle that is printed on the wall next to the front galley. Boarding seemed to have went pretty quickly. We pushed back as a CO 737 was waiting to take over our gate, engines were started and the FAs did the safety demo. After that they grabbed us pre departure drinks,
and quickly took their seats as we had to wait at the end of the runway for a few planes.
After a few minutes, we pulled onto the runway I believe it was 13C but don't hold me to that. We made a quick take off roll and were off shortly after, made a right turn and were bound for STL, LIT and then into DFW. After departure the FA came and passed out drinks and warmed nuts, then she started taking dinner orders and we had the choice of ribeye or stuffed pasta. I took the stuffed pasta which came in an alfredo sauce and spinach. We had a piece of cheesecake with strawberry drizzle and after everyone had their tray the FA walked around with wheat rolls or focaccia bread. Before she passed out dinner one FA from coach came and gave her a hand and passed out hot towels, and helped her pass out trays. After dinner was over and trays were collected I worked on the crossword in American Way and before too long our descent had began and we made a quick approach into DFW, landed on 17C.
After a quick taxi to the the gate we had to sit for 20 minutes as there were no ground handlers to take over our plane, finally we pulled up to the taxiway and got off. I met jetBlue and we headed off ready to start the next day!
---------------------------------------------------------------------------
We woke up at 5:15 got ready and were on our way at a little after 6:00. Traffic was pretty light on our way up there, it wasn't bad and we made a quick stop at Starbucks on our way to the airport. Once we parked we took the bus to the terminal and checked in. Security went pretty fast and we were off to the gate which was right next to security. Once we got there Rigo (jetBlue) had to use the restroom so I stayed at the gate and the agent called our names so I went and grabbed the boarding passes and we were ready to go, seat 1A and 1B.
Saturday, December 17, 2005
American Airlines
Flt: 1101
Dallas/Ft. Worth - San Francisco
Scheduled Departure/ Actual 7:53a/ 8:00a
Scheduled Arrival/ Actual 9:39a/ 10:12a
Take off: 8:17a
Seat: 1A
Equipment: MD-80 N463AA
View Large
View Medium


Photo © Michael Carter
We sat at the gate and the FAs did the safety demo while they finished fixing up the lavatory that was down. We got pre departure drinks and while we were taxiing the FA came around with breakfast orders.
We pulled up onto 17R and after a few seconds of rolling we were in the air, through the clouds and on our way to California. Shortly after take off we were given drinks, and then the FA came around with breakfast. This morning we had mini pancakes, sausage, fruit tray, and then he came around the cabin after the trays were out with warmed bagels or biscuits. After breakfast and cruising for a little while we reached the Grand Canyon:
Then we started our long descent into SFO. Weather today wasn't too good, so the cause for the 30 minute delay is traffic spacing and holding patterns as we made our way, very slowly, to the airport. Landing we flew directly over OAK and over the bay into SFO, I believe we landed on 19L, coolest landing being so low over the water. With a firm bounce, and then a jolt we were off the runway at a cold and rainy SFO.
Once off the plane we were debating whether or not to go into the city or not, so after looking for a little bit and thinking, Rigo and I decided to fly to SNA to get away from the cold, so we listed for the flight at 1:30. We even made the crazy idea that we could fly to HNL or OGG and back, as there were plenty of seats available to Hawaii. But odds are we would have been stuck in HNL for a long amout of time before we had a chance, so we didn't take the risk. That's for another time maybe! In the mean time we walked around the airport, took the train around, ate lunch at a really good restaurant, I forgot what it was called but our servers name was Chum Chum, who could forget a name like that?
While we ate we saw heavies taking off and landing with all the rain on the runways and the low ceilings made it a really good day for spotting. So our inbound ERJ from SNA was a few minutes behind schedule so we waited at the gate, went to a bookstore, back to the gate and we were called to get our boarding passes, and ready to get out of dreary SFO.
Saturday, December 17, 2005
American Eagle
Flt: 3169
San Francisco - Santa Ana/ Orange County
Scheduled Departure/ Actual 1:30p/ 2:27p
Scheduled Arrival/ Actual 2:57p/ 3:44p
Take off: 2:38p
Seat: 11B, 11C EXIT
Equipment: ERJ N815AE
View Large
View Medium


Photo © Keith Wahamaki
Not too full of a flight this afternoon, boarding was finshed very quickly, and we were ready to go. Our Flight Attendant, wasn't in the best shape to be flying today. She recounted everybody 3 times, when she came to brief us about sitting in the exit row all she said was, can you open the exit? We said Yes, and she went back to the front.
We made for a quick taxi but slow wait at 10R. Since we were light we weren't on the runway long before we were off. Our ERJ was tossed around like crazy up in the clouds, pretty much the whole flight was rough. Our FA came around and asked us what we wanted to drink and then I dozed off. Our cruise altitude today was 37,000ft, that seemed to me pretty high for a one hour flight! Our descent into SNA went pretty fast, we were over water landing and then we came in land turned final and landed on 19R.
We didn't have too long in SNA, unfortunately. Beautiful airport! Beautiful weather too. We had enough time to leave security, print our passes, which allowed us to select our seats since there were only 5 people on it, and then go back to security. We also had time to do a quick shot of us in front of the airport, so yes we were actually there: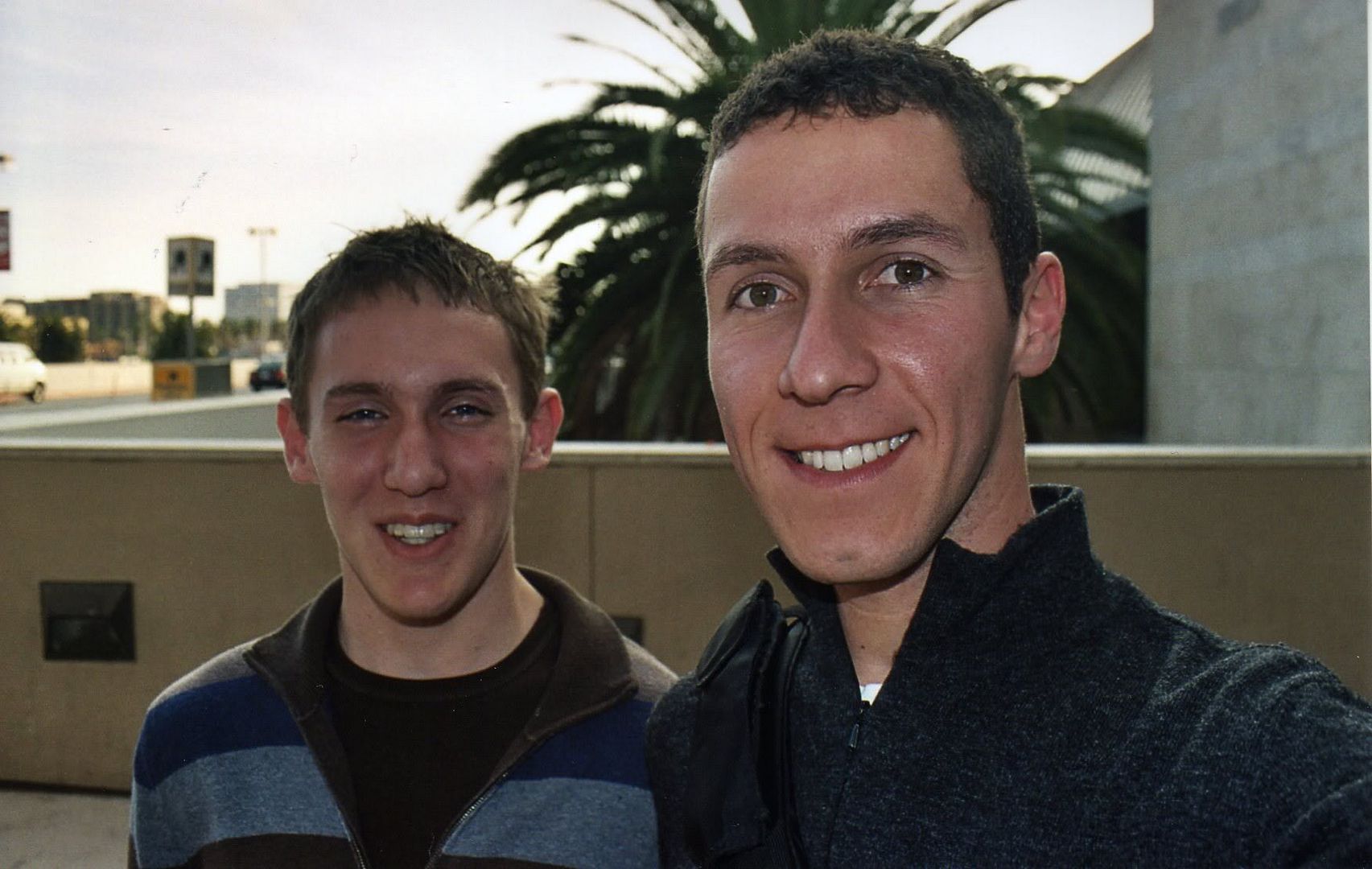 We went into a candy store there but ahh once we saw the price tag of $4.50 for a bar of Ritter Sport we kind of turned around and left since that's just a bit pricey. We walked through the terminal, I bought my sister a shot glass, and then we went to the gate for boarding.
Saturday, December 17, 2005
American Eagle
Flt: 3184
Santa Ana/ Orange County - San Francisco
Scheduled Departure/ Actual 4:30p/ 4:28p
Scheduled Arrival/ Actual 5:50p/ 5:57p
Take off: 4:41p
Seat: 4B, 4C
Equipment: ERJ N851AE
View Large
View Medium


Photo © Charles Juszczak - Airside Photography
All 7 of us were on and ready to go early, so we had to sit at the gate for a few minutes, and then we pushed. Sorry to have to see the nice weather go
. We pulled up to 19R with a WN 73G awaiting alongside 19L and an AS 734 behind us, once a few planes landed we were off, didn't really get to experience a high performance take off today.
We went up to 36,000ft and we had a very cool flight attendant this evening, Dan made friends probably with everyone on the plane. Pretzels and pop were given out, not too long after we leveled off we started going right back down for a bumpy approach and really neat to see city lights pop in and out of the rain clouds. We did a quick circle, and were on the ground... once again with another low approach over the water, very nice. Still raining in SFO.
Once off the plane at SFO we went and took BART into the city, met up with WindowSeat, had dinner at some Italian place, and back on BART to SFO for our departure to JFK.
Saturday, December 17, 2005
American Airlines
Flt: 18
San Francisco - New York JFK
Scheduled Departure/ Actual 10:00p/ 9:58p
Scheduled Arrival/ Actual 6:15a/ 6:04a
Take off: 10:15p
Seat: 3H, 3J
Equipment: 762 N325AA
View Large
View Medium


Photo © Brian Futterman - NYCAviation
Once we got our boarding cards, nothing made us happier then to see these seats awaiting us as we got on the plane. Huge, old fashioned style sleeper seats. By now we were still kind of wet from the city, exhausted.. all we wanted to do was sleep. The seat gave us a very huge welcome as we sat down and were met with pillows with an eagle embroidered, and blankets awaiting use in the seat pocket in front of us. They had orange juice or water sitting on the mantel in front of the screen, and the FA passed out whichever we wanted.
Our 762 pushed on time and we made our way to 19L behind a song 752 east coast bound. Song was next to us on 19R and they went first, shortly after we were rolling. After take off we were immediately into the clouds and a pretty rocky departure, then once up in the air we leveled off at 35,000ft. The FA came around with dinner options, caeser salad wrap, veggie pizza and I believe there were two more options, I took the caeser salad wrap, it came with grapes, and a slice of cheesecake I believe with apple drizzle, something like that. After dinner, the FAs came around with portable DVD players with a book of DVDs. I took one and watched probably 30 minutes of 'Charlie and the Chocolate Factory', the new one is a million times better then the old one.
My eyelids became very heavy and I laid down and fell asleep since Rigo had dozed off right after he finished eating. I woke up during our approach as the FA came around and said that he needed to take the DVD player. I had no idea where we were, our approach into JFK was very smooth but I had no idea what runway we landed on. We arrived at the brand new terminal at JFK, very very nice work!! It looks sharp. Funny though, how AA now has automated boarding announcements in the new terminal.
Here are some pics: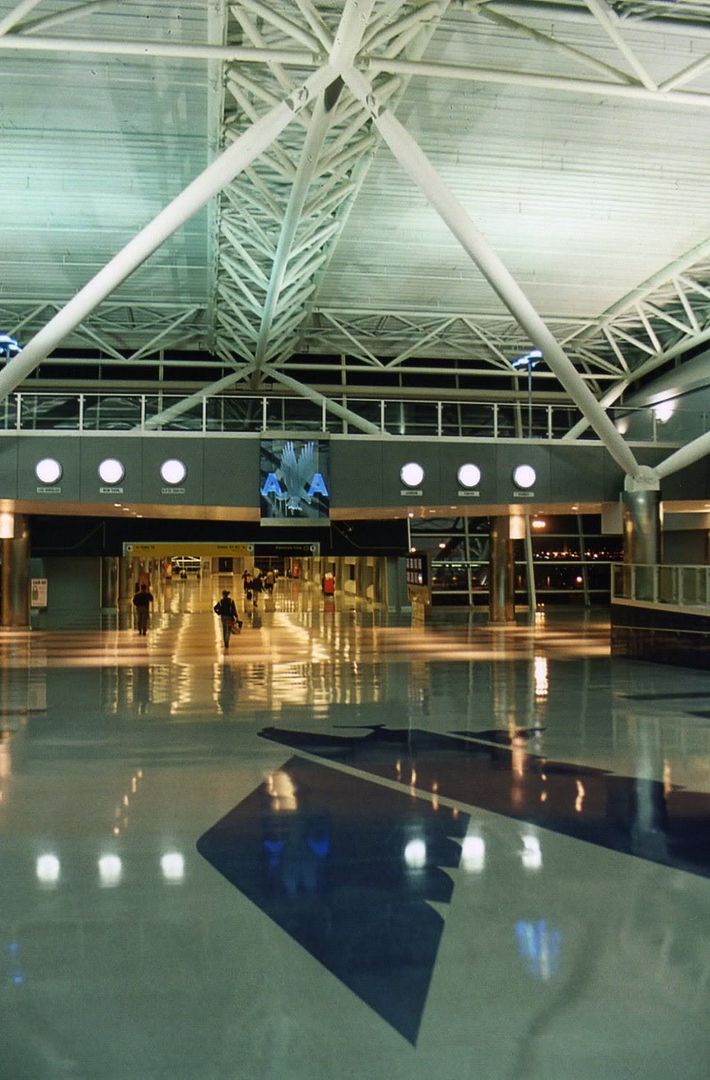 Eagle on teh floor at the entrance to the gate area, with clocks representing timezones around the world.
Departing and Arriving Flight info
Rodrigo in the new terminal.
Here is when we had decided to fly out of LGA to get back to DFW instead of spending the day in NYC becuase we were both drained. So we left the terminal and went down to the curb by baggage claim, and our FAs were sitting on the curb waiting for their rides. We asked them which would be the best way to get to LGA and he said quickest and easiest way would have been to do the cab, so the cab it was. Once at LGA, Rigo transferred us to a LGA-DFW flight and then we walked to security, once through security we heard, final boarding call for American Flight 2377 to Atlanta. So he jumped on a computer, listed us. We ran to the gate and got our seating assignments.
---------------------------------------------------------------------------
Sunday, December 18, 2005
American Airlines
Flt: 2377
New York LGA - Atlanta
Scheduled Departure/ Actual 7:30a/ 7:28a
Scheduled Arrival/ Actual 10:07a/ 10:08a
Take off: 7:48a
Seat: 26A, 26B
Equipment: MD-80 N218AA
View Large
View Medium


Photo © Matthew I. Smith
After we pushed back, we made a slow taxi to RW 31 and I believee we were behind a song plane again! Followed by jetBlue, and I believe a Comair CRJ. We were fairly full this
morning, first class was just about empty. Departure took us north, then a circle right around NYC, absolutly amazing view. After we circled around you could see the Statue of Liberty, EWR Airport, and then we hit clouds. I dozed off once again, then the FAs handed out granola bars with the beverage service and I woke up shortly before we began our descent.
Pretty routine flight, although this NYC based crew didn't seem to happy this morning. After I woke up I asked the FA for water and I thought she was going to freak lol, she gave me that 'well we already did that, and I don't want to do it again' look. Sorry. We were assigned seats on the good side of the plane today as we descended ATL was right out the left hand side of the plane, we flew past a little bit, turned final. Our final this morning was pretty shaky! Wings kept dipping up and down up and down, but it made for a nice landing. Welcome to Atlanta
.
Sunday, December 18, 2005
American Airlines
Flt: 1411
Atlanta - Dallas/Ft. Worth
Scheduled Departure/ Actual 11:30a/ 11:27a
Scheduled Arrival/ Actual 1:02p/ 1:24p
Take off: 11:34a
Seat: 4E, 4F
Equipment: MD-80 N7522A
View Large
View Medium


Photo © Justin Idle
We spent our short time here by basically just seeing a flight to MIA and maybe deciding to do ATL-MIA-DFW, but after we looked and saw it was sold out it was time for lunch. We walked to Chili's in Concourse D, but we didn't have much time so we opted to order it at the to go stand in the T concourse. We both got sandwiches, and went to the gate where they were about ready to begin boarding. Our gate agent was probably the friendliest agent i've ever seen at an airport. He was extremely busy, as AA only had one agent boarding the flight and getting it ready to go, but extremely efficient at what he did. Once everyone was on, he got on the microphone and personally thanked us for choosing AA in Atlanta, and he wished us good luck. Flight Attendants on the other hand....
I realize that they were extremely rushed as ATL was using 8R, and 9L for departures, they got pre departure drinks and everything, I figured that they would have cooled down after departure. Wrong. We made a fast taxi, and were number 2 I believe for take off. Beautiful day in Atlanta! Mostly sunny skies and perfect temperature. Once airborn we circled around downtown Atlanta, and flew right over BHM as we made our way over to Dallas. Shortly after take off, we were given Honey Roasted Peanuts and a drink. Then once she was done serving us, another flight attendant joined her in the galley and they just started talking about people sitting in the exit rows! It was hilarious to see how pissed off at the world they were this morning. That is one of the most unprofessional things that i've experienced FAs do. In a previous TR, F27XX told me to ask them if they'd rather be somewhere else, had I been revenue, I would have.
The remainder of the flight was routine, for a moment we thought we were actually going to get lunch becuase I saw the cart in teh galley with food on it, but she fed the pilots instead. We landed early in DFW, came in from the South.
Welcome back! We were so excited that we were going to beable to go home and sleep, but we were totally wrong. We go and wait in line for a gate. We sit, and then find out the plane at our gate has gone mechanical and we wait 40 minutes before we move. Now we were back, we get off go straight to the bus, get in the car .. made it home and were out cold. I needed my rest as I was to start one crazy day tomorrow. Look for that to come soon. Hope you enjoyed reading this far.
-Travis