Ahh, after 7 months in Korea, my mid-tour leave came up on 21 Dec. The following is the first part of my trip, to ORD. The second part will be flown and completed sometime mid. Jan. Be forewarned, some of the pictures got a little blurred, so I do apologize.
21 Dec. 0430 - I'm up and waiting for my ride to sign out from my Battalion. At 0530, I'm at my posts Activity center getting on a bus for the 2 hour ride up to ICN. 0600 the bus promptly departs and I can finally forget I'm in the Army for a few weeks. As we're leaving, I notice a light snow falling. What was a light snow at the beginning of the trip, turned into a blizzard an hour in. When all was said and done, it only took us an hour longer, and I arrived at the airport at 0900. The first thing that struck me about ICN was the beauty of the building. Being used to the utilitarian designs of US airports, I was intrigued by the flowing and sweeping design of the large terminal. Upon check-in at the United counter, I learned I was actually riding Biz. Class. Along with my confirmed upgraded ticket, I was given an invitation to the Singapore Airlines Silver Kris Lounge.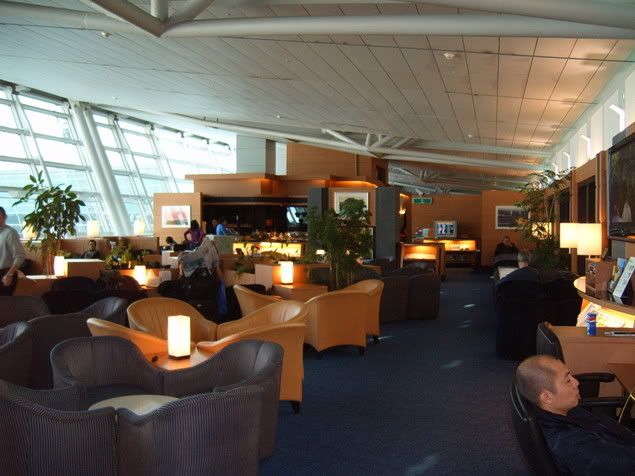 I was impressed at how large the entire space was and at the service. Gourmet breakfast foods were replaced regularly, beverages and alcohol as well were provided free of charge. I especially enjoyed the free internet access on the computers spread throughout the lounge. The computers had a plethora of instant message software, so I was able to talk to friends and family before boarding. The view was especially nice. As I sat, more than a few heavies came and went. An Air France T7, a couple Korean Air 747's
Flight time was 1145, so I was at the gate around 1100. Boarding got delayed a little, so I went looking for other interesting aircraft, and boy was I in for a treat. Perhaps not all that rare, but I don't do a lot of International travel so I thought this sighting was cool. An Aeroflot IL-96 I got to watch taxi in.
I snapped this shot before I got in line to board. If I remember correctly, this was N332UA as UA884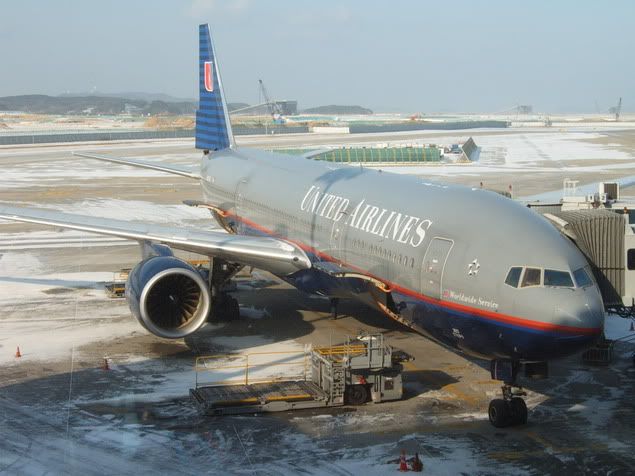 Here's my Biz seat, 12A, definitly a comfy way to fly.
With about 20 minutes to pushback, I ask the flight attended Jennifer if I could possibly visit the flightdeck for a few moments. She checked with the pilots and they didn't have a problem with it, so here are a few snapped photos,
The pilots were very friendly, and we chatted about their military careers and mine. They were interested to learn about my future plans to go to a regional airline academy, so they were able to delve into a little pilot talk with me and discuss my private pilot school progress. I could tell they need to finish preflight checklists, so I left them to their duties and returned to my seat to enjoy a little channel 9. We pushed at 1205, finished deicing at 1220, and were rolling down Rwy 33L. With a quick left turn away from the North Korean border, we crossed over the airport past 12000 feet, and were on our way. I was impressed by the service on United Buisiness, and the "snack" that was served was amazing, for only a 2 hour flight, it was pretty big. At cruise though, we had a 140 knot tailwind, reducing flight time to about an hour and a half or a little more. Here's a shot of the tasty meal at FL370 over the Sea of Japan.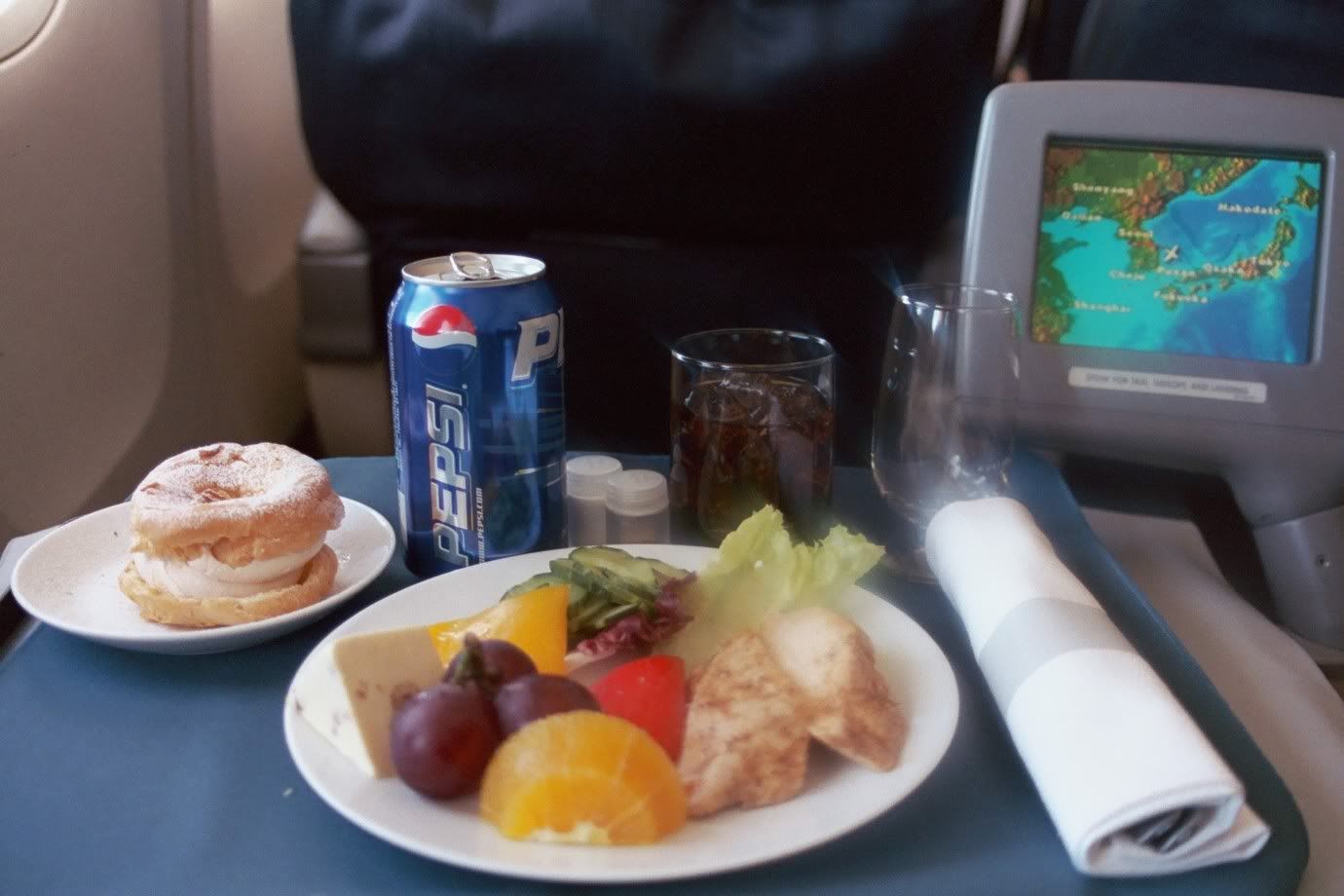 All too quickly, we began our descent into Narita, landing at around 1345-1400 on Rwy 16L. Here's the reverser's deployed slowing on 16L
I thanked the crew once more and deplaned to go to the American ticket counter on the other side of the terminal, a good 15-20 minute walk. I checked in and 1500 for my 1900 flight. Why? Because this was a standby flight. I was basically non-revving on AA with the help of a friend who works the airline. I killed time in Tokyo, buying souvenir's for the family. Around 6 pm, I checked in at the gate to confirm my standby status in First Class, and when 10 minutes later I was called to the gate to get my ticket, I was actually going home! Here's the AA T7 bringing me to Chicago arriving from ORD. Due to nighttime glare, I was never able to get the reg. She will soon become AA154, with your's truly on board.
Walking down the jetway, I was anxious to see the first class seating, old style 2-2-2, or Flagship Pod? As I fought the urge to turn right at the entrance to the aircraft, I quickly saw it was the old stly seating. Oh well. I made my way to my temporary home for the next 12 hours, 4J.
Once I stowed my gear, I gave the Flight Attendants the box of Godiva Chocolates I had bought in the terminal as a small thank you to the crew for the holiday season. Throughout the rest of the flight, every FA made a point to shake my hand and say thanks. Even all 4 pilots came back to say thank you during their rest periods. ("Came Back" is misleading, as the crew rest seats were right next to mine)
The view of the rest of the First Class cabin.
The personal TV with VCR below. I enjoyed The Dukes Of Hazzard on this flight.
Of the 16 available First Class seats, only 7 inlcuding me were taken, so I was all by my lonesome.
We rotated off of 16L around 1910, and once we were facing east, I snapped a blurry picture of our distance to go...
0415 in Chicago, and our gear down time was set for 1530, quite a hike ahead of us.
A couple hours into the flight, the first of three meals was served, a pre dinner snack, salmon, which was quite tasty, later, a beef filet for dinner, and an omelette.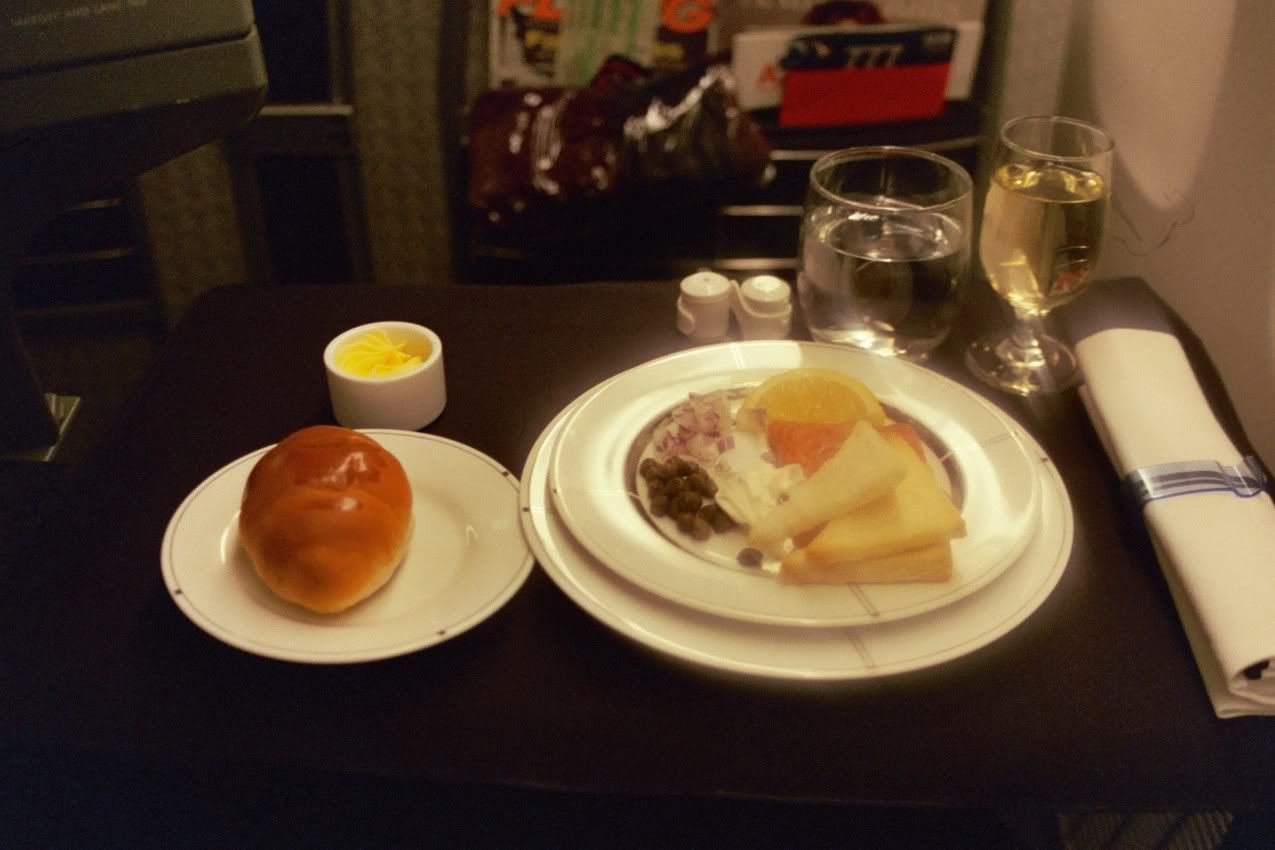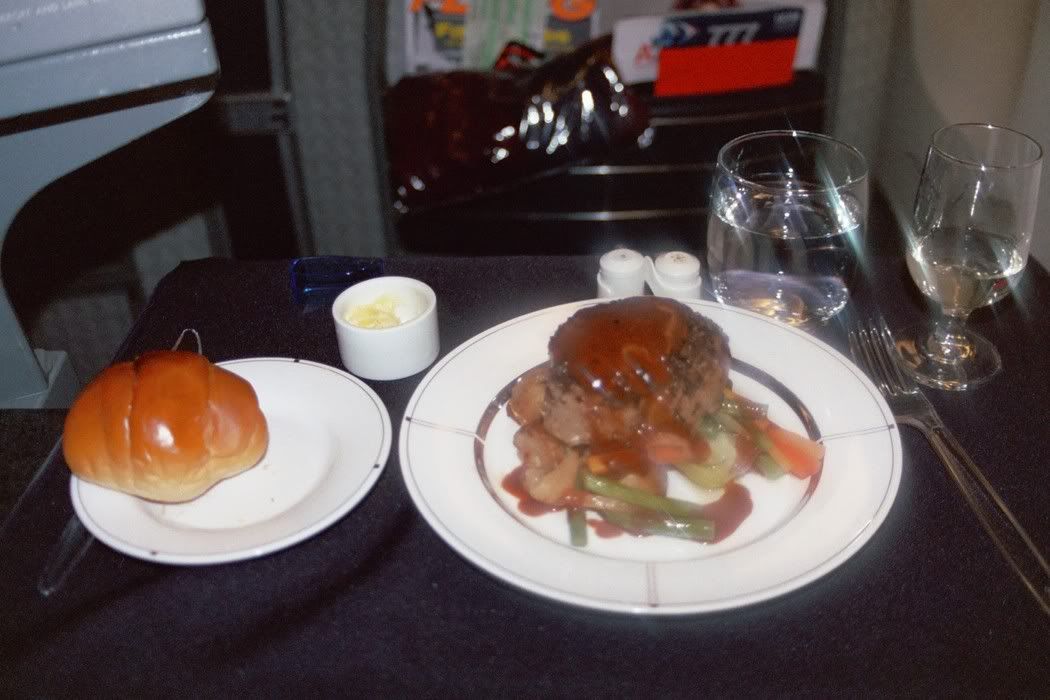 I must say I appreciated the 180 degree lie flight bed, as I was able to get a good 5 or 6 hours of sleep throught the night. Waking up now and than to glance out the window at the North Pacific and the bright stars. Truly a humbling experience to see that, I felt like a small speck in the world in view of this beautiful scene.
Just after breakfast, our progress is plotted.
View outside back towards Iowa and Western Illinois on the Janesville 4 arrival into ORD.
Swinging around the North side of the field, we gently touched down on Rwy 22L at 1545 on 21 December, actually arriving before we left Tokyo. Here's a tired me just before touchdown, sorry for the glare.
I breezed through customs and baggage claim, about 10 minutes each, and was giving my fiance a kiss after 7 months and 7,000 miles of distance at 1630. A long day made for a nice nap on US soil once we got to her house. Until next time, on AA153 and UA883 back to Korea later this month. Thanks for reading my trip report!