Korean Airlines Economy Class - BKK-ICN return trip

BKK-ICN-BKK on KE

Outbound Trip
Date:
10 December 2005
Route:
BKK-ICN
Airline/Flight:
KE 652
Aircraft:
B747-400 (HL-7485)
Scheduled (Actual) Departure:
00:05 (00:15)
Scheduled (Actual) Arrival:
07:00 (07:12)
Load factor in Economy:
100%
Class / Seat:
Economy 51K
Friday December 9th was the start of a three-day weekend here in Thailand, with Monday being Constitution Day. Our original schedule called for a departure at 12:05 am Friday morning (i.e., Thursday evening) but unavailability of seats led to a rescheduling for a Saturday morning departure instead.
With the holiday weekend, everyone was leaving town. That, combined with the grand opening of the new Siam Paragon shopping mega-complex, had traffic at a complete standstill across the metropolitan area by three in the afternoon. Our schedule called for the group to meet at the Korean Air check-in counter at Don Muang airport at 9:00 pm, and erring on the side of caution, Tawn insisted we leave no later than 7:30.
Strangely, after catching a taxi at just a few minutes after 7:30 we arrived at the airport about 8:10. It seems that everyone in Bangkok had expected traffic to be so bad that they all left work early, causing early traffic jams that, by the time we left for the airport, had largely cleared up.
We weren't the only ones to have misjudged the traffic: nearly all of Tawn's colleagues were already queued up in the departure hall by the time we arrived.
Row after row of check-in desks in Bangkok Don Muang Airport's Terminal 2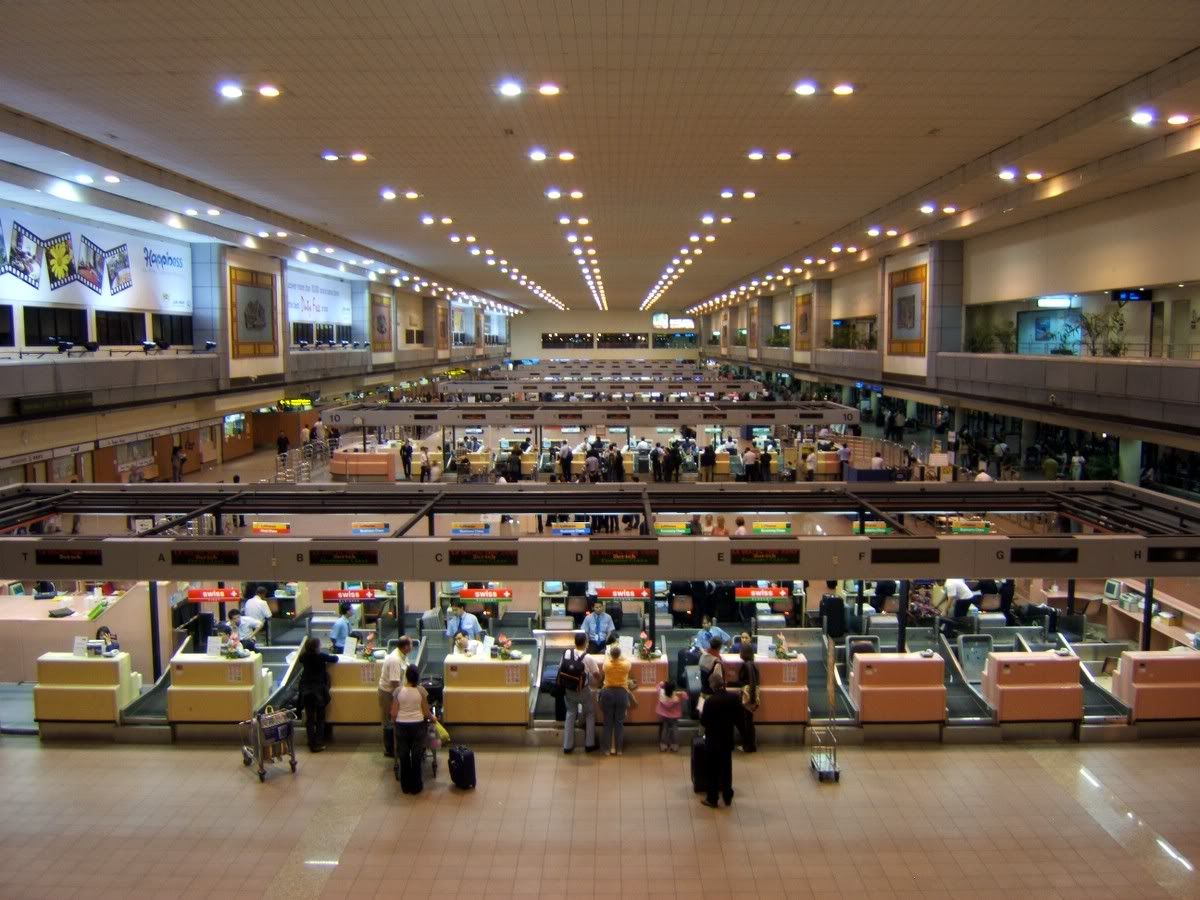 The airport was packed and was bursting at the seams. The bulk of Bangkok's air traffic departs in the evening for long-haul flights to Australia, Europe, and more distant points in Asia. This underscores the need for the new airport, Suvarnabhumi, to open. The Prime Minister is saying July 2006, but there are many skeptics. There was, however, a very nice billboard for the new airport displayed in the lobby of the departure hall.
Advertising for the new airport: If you open it, they will come.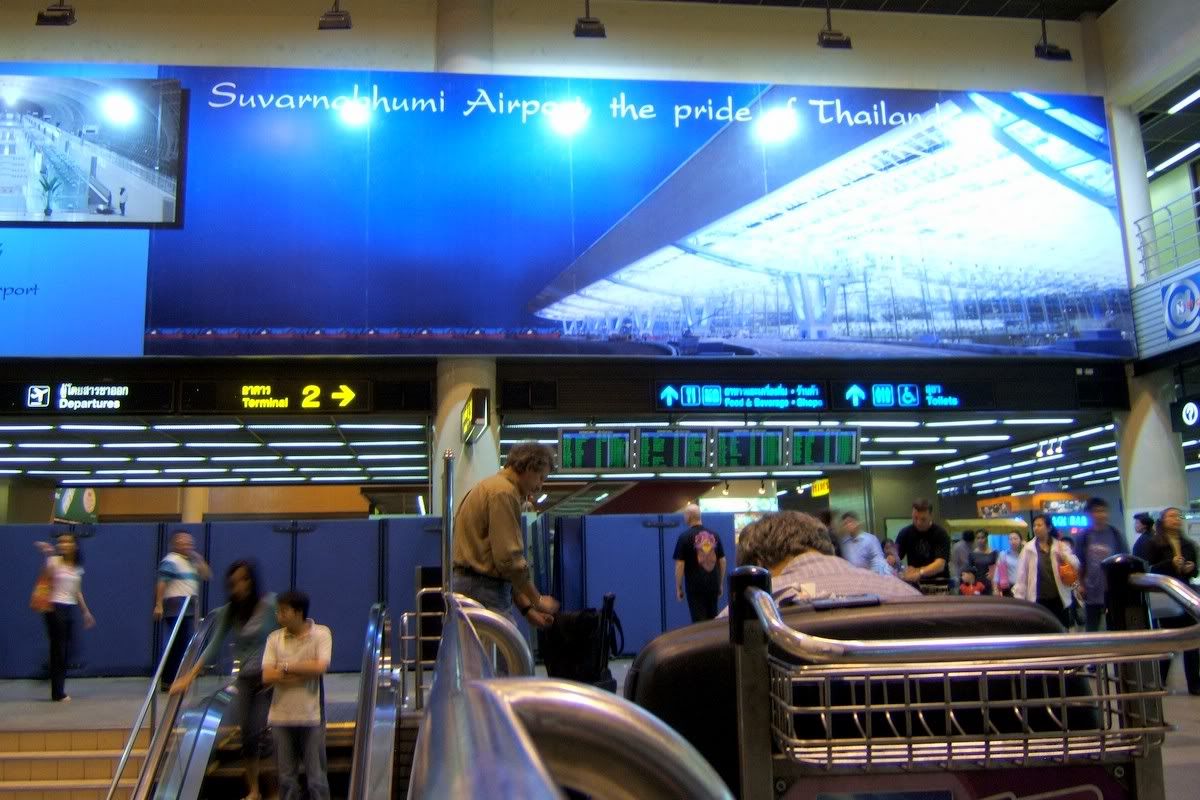 Along with his colleagues Mon and Jo, Tawn and I went to eat dinner at a pub-style restaurant on the third floor. Jo is a British lady who works with Tawn and Mon has been Tawn's friend for years and recently joined Hill & Knowlton. We relaxed over a mediocre dinner while the tour company handled all of our checking in – one aspect of traveling with a tour group that is quite enjoyable. Of course, there's the discomfort of knowing that someone you've just met is running around with your very valuable US passport. A trashy dessert of a Dairy Queen Blizzard provided enough preservatives to tide me over for the red eye flight. See, I haven't really left anything behind in the United States that I can't find here!
Boarding pass in hand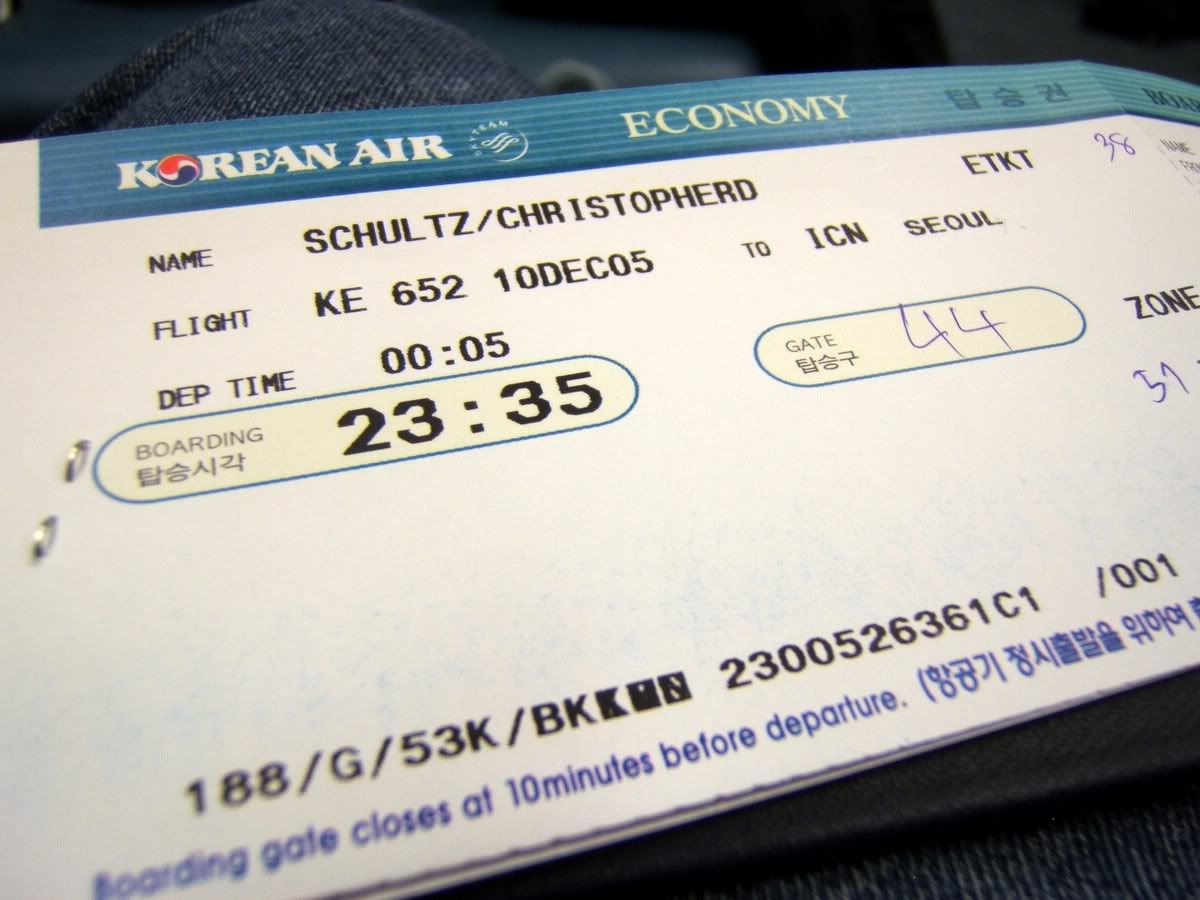 Everyone and their cousin was in line for immigration, so we got an early start to ensure plenty of time for duty free shopping before the flight. With twenty-some odd immigration officers on duty, we managed to get one who was either new or too thorough and our line moved at literally half the speed of all the others. One by one, Tawn's colleagues in the other lines cleared immigration and disappeared behind the opaque glass wall.
KLM B747-400
ANA B767-300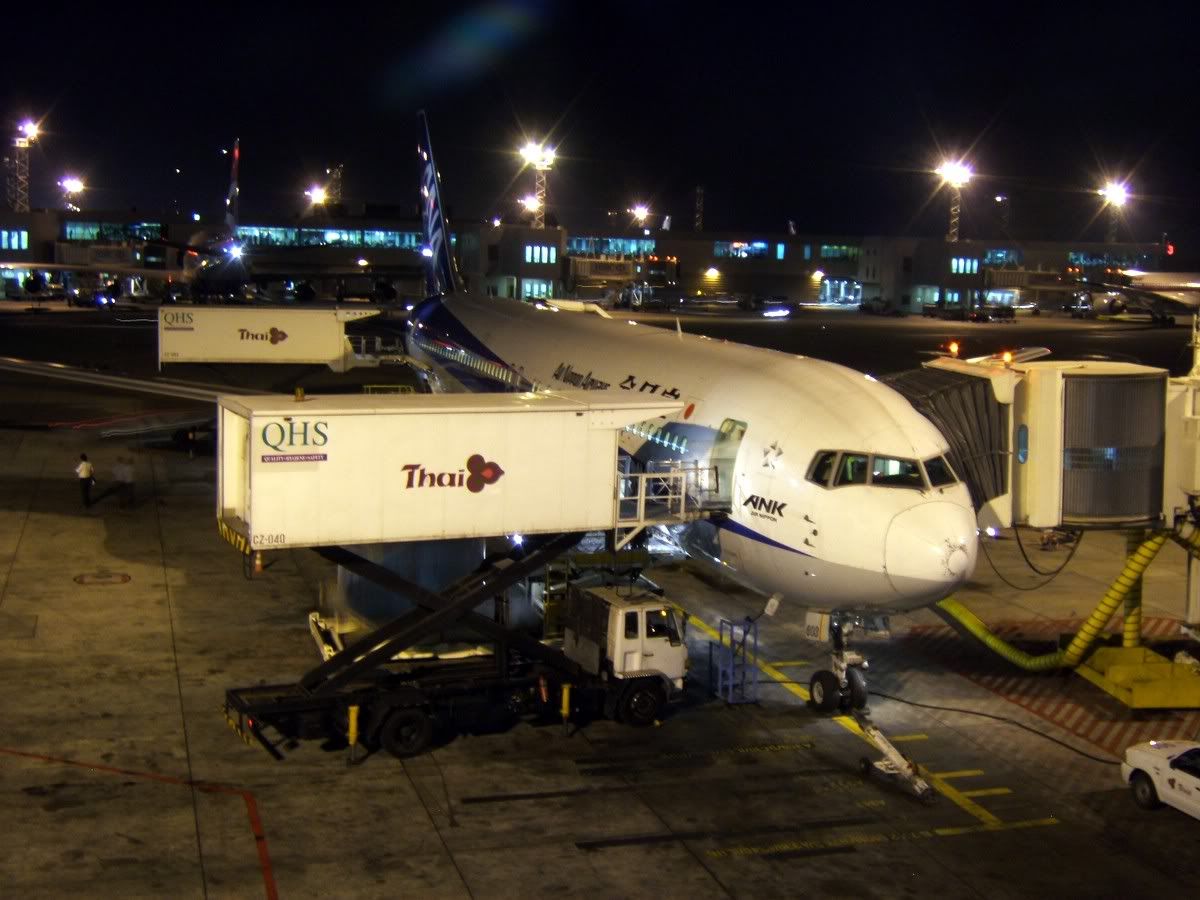 Once through, Tawn headed for the stores and I headed to the Thai Airways lounge, to see if I could convince them to let me in using my United Airlines Red Carpet Club reciprocal privileges. I tried to play dumb when showing my Korean Air boarding pass – they aren't in the same airline alliance so the lounge privileges don't extend to flights on them – but the lady at the front counter of the lounge would have none of it.
So while Tawn evaluated how much of a dent he wanted to make in his credit card, I wandered around, taking a few pictures of airplanes. Sadly, it being nighttime, the results were not very good results. One thing that is really nice about Bangkok is the wide range of airlines and airplanes that fly there.
Tawn and Mon, waiting in the gate area and trying to understand the Korean-language boarding announcements.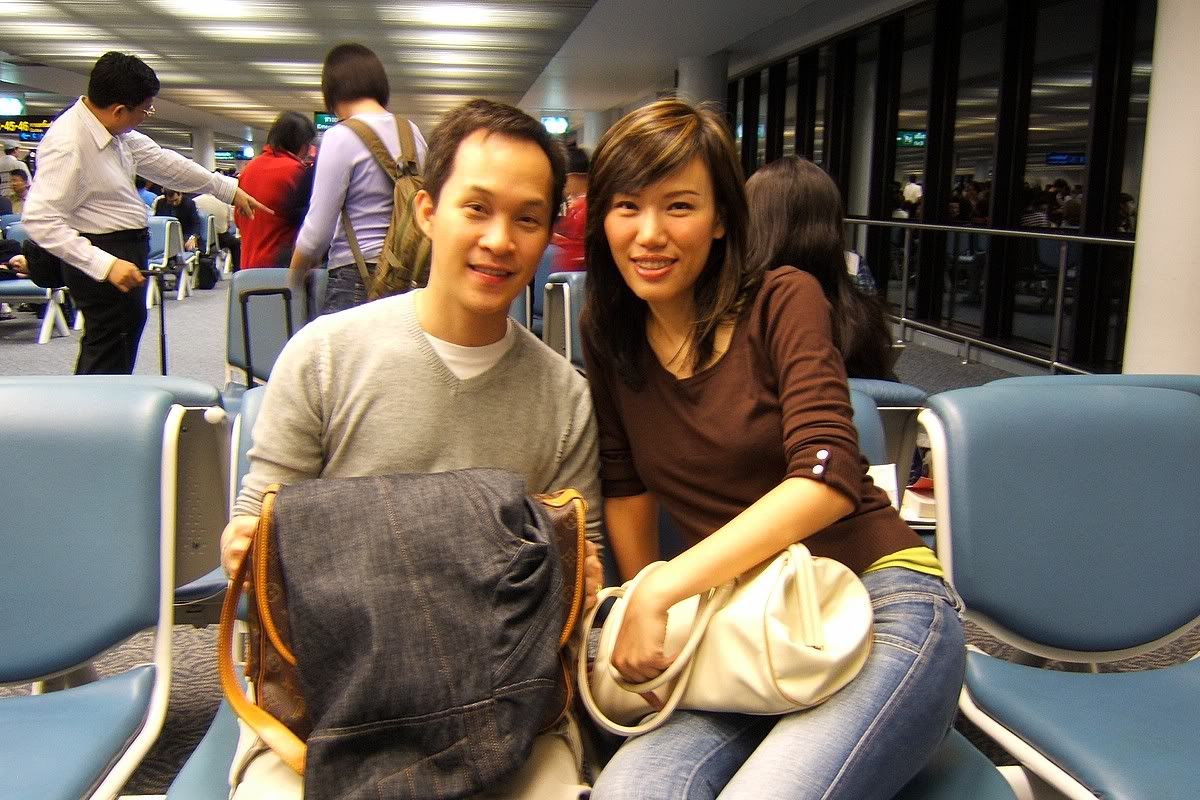 Out at the gate area, I met up with Tawn and Mon again. I think most of Tawn's colleagues were around, but as I had just met most of them back at the check-in line, I didn't recognize everyone yet. Boarding for the flight started a bit late – about 11:45 for a 12:05 departure. Strangely, the boarding announcements were made only in Korean, with nothing said in Thai or English. Eventually, we decided to go ahead and board and since our boarding card indicated "group 1" that didn't seem to be a problem.
Our Korean Air B747-400
A pair of friendly flight attendants greeted us at the aircraft door and we crossed through the galley to the right-hand aisle and walked back, back, back to the rear of the plane.
One thing I noticed very quickly is that the economy cabin had very good legroom. Korean's web site lists 33-35" for economy, and our row was definitely at least 33" if not more. It seemed quite spacious.
Last section of economy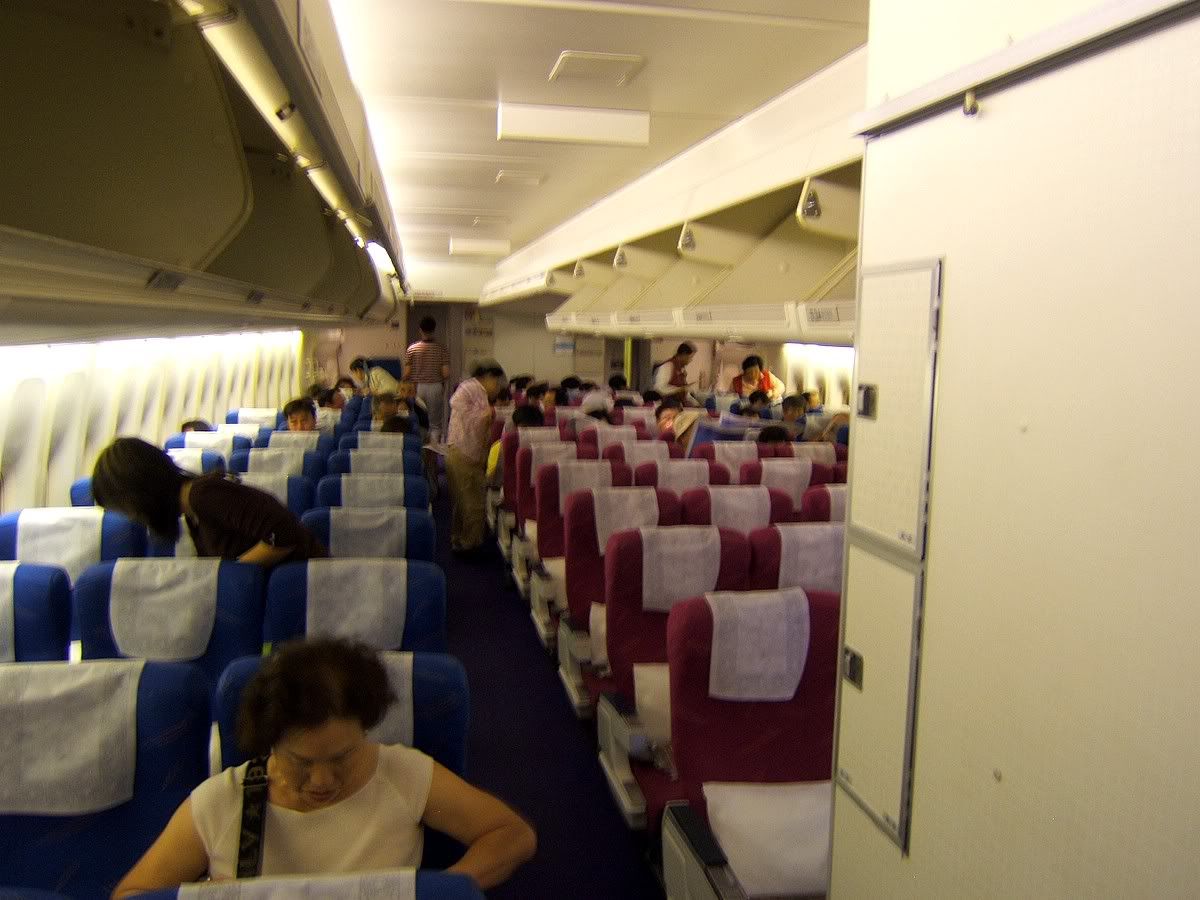 The airline had grouped the entire Hill & Knowlton party in an adjacent block of seats, with Tawn's boss sitting directly behind him. The seats were pretty comfortable but the padding seemed thin above the lumbar area – I could feel a metal bar there.
Jo, May, Om, Bae, and Pum join the rest of the Hill & Knowlton seating group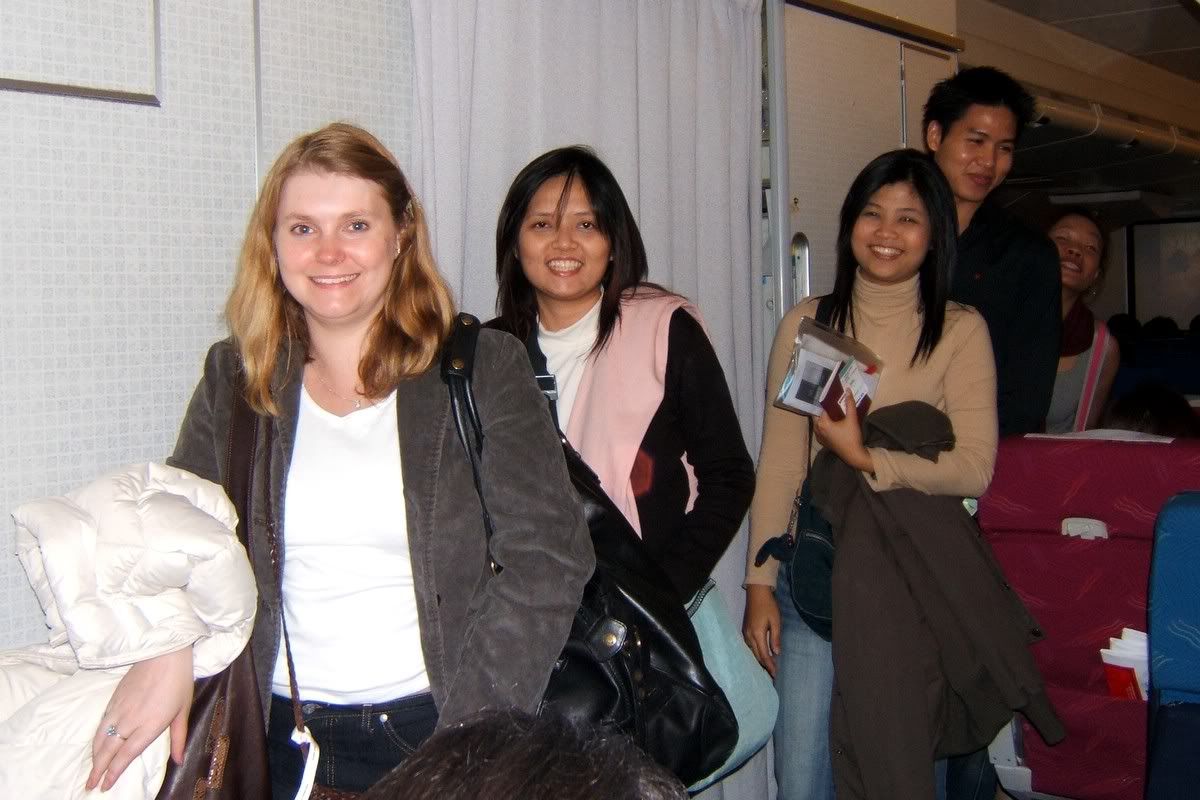 As we started our take off roll, a large amount of water started spilling out of one of the carts and running across the galley floor. The tour leader, who was sitting on the aisle, alerted the flight attendant who, while the plane was rolling town the runway, got up from her jump seat and ran to the galley to make sure everything was okay. After a split-second's evaluation that things were fine, she ran back and sat down just as the nose started to rotate. Such bravery!
Tawn takes a nap but makes sure we get the message: don't let me sleep through duty-free!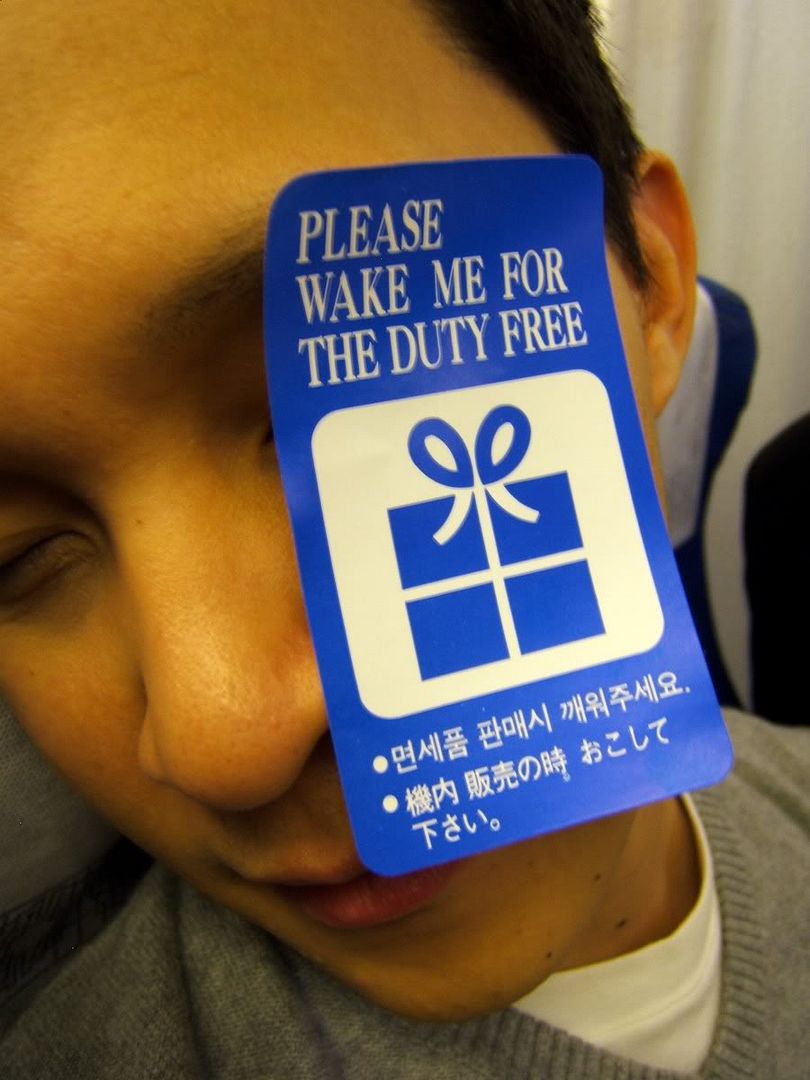 Immediately after takeoff a few passengers made specific beverage requests and the flight attendants brought those: Coke, etc. My first thought was that the flight attendants would be annoyed about the special requests, but they seemed happy to fulfill them. On a US airline, the passengers would have been snapped to:
Beverage service will be starting in a few minutes!
About 45 minutes into the flight a beverage service started. It included trays of water, OJ and a third drink that looked like pineapple juice. Nothing else. Honey-roasted peanuts were served as a snack. I guess that making special requests wasn't such a bad idea then. Tawn and I ordered vodka tonics to drink – it took a moment to clarify what we were ordering, but when the drinks arrived, they were quite strong, poured from a large bottle of vodka, not the airline miniatures you usually find.
After beverage service but before the lights were dimmed
The cabin lights were dimmed. On the overhead and bulkhead screens, some short subjects played along with a movie. Most of the cabin, including myself, drifted to sleep. I dozed on and off for several hours. The people seated in the exit row in front of me thankfully did not recline their seats. I reclined mine just a little bit – it seemed that it reclined a bit further than on most economy class seats I've traveled in, but this may just be my perception.
We were seated next to the galley and the flight attendants did a great job of keeping the noise to a minimum. Likewise, the lavatory area by door three had curtains around it to minimize the distractions caused by excess light and sound. Very thoughtful touches.
Flight attendants busy in the galley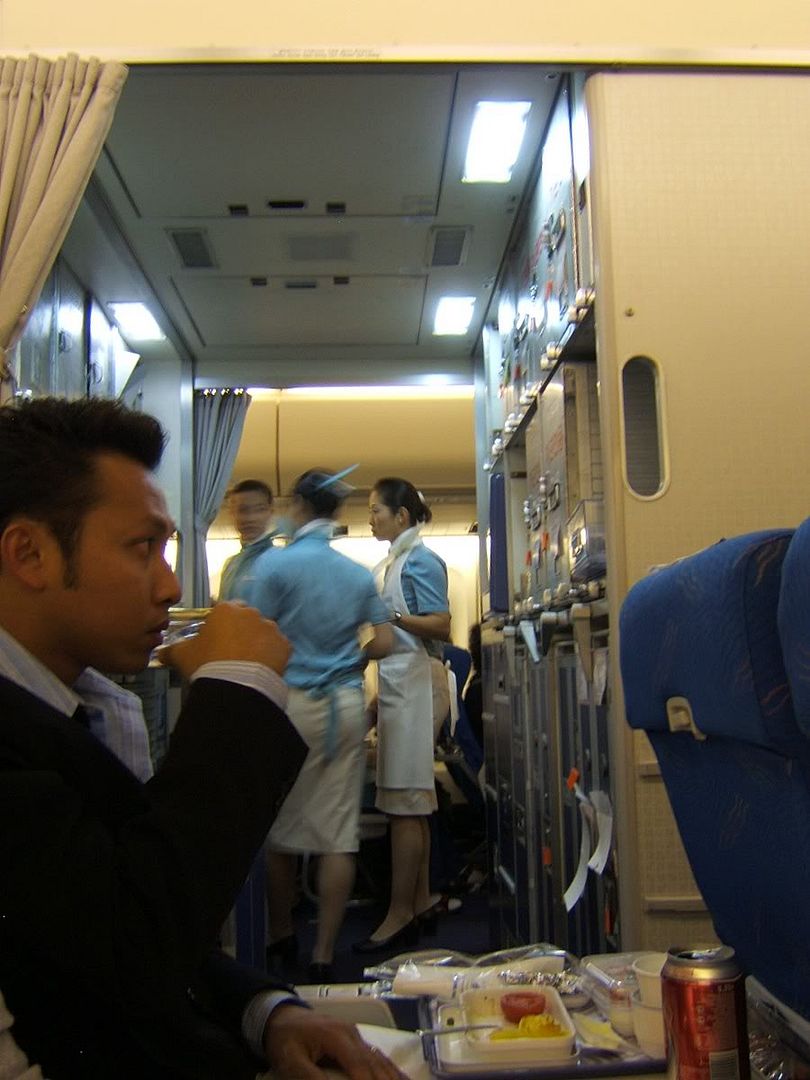 About ninety minutes before landing the cabin lights were raised and I woke up for the breakfast service. Don't know what my choices were because the tour organizer had ordered the fish meal for everyone. In deference to any potential dietary or religious restrictions, fish was seen as the "safe" choice. No, I realize that vegetarians would have been out of luck, but the Buddhists, Muslims and Hindus would be okay. The fish actually was pretty tasty. A generic white fish served in a sweet and sour sauce.
Special fish meal – the piped potatoes are a nice touch!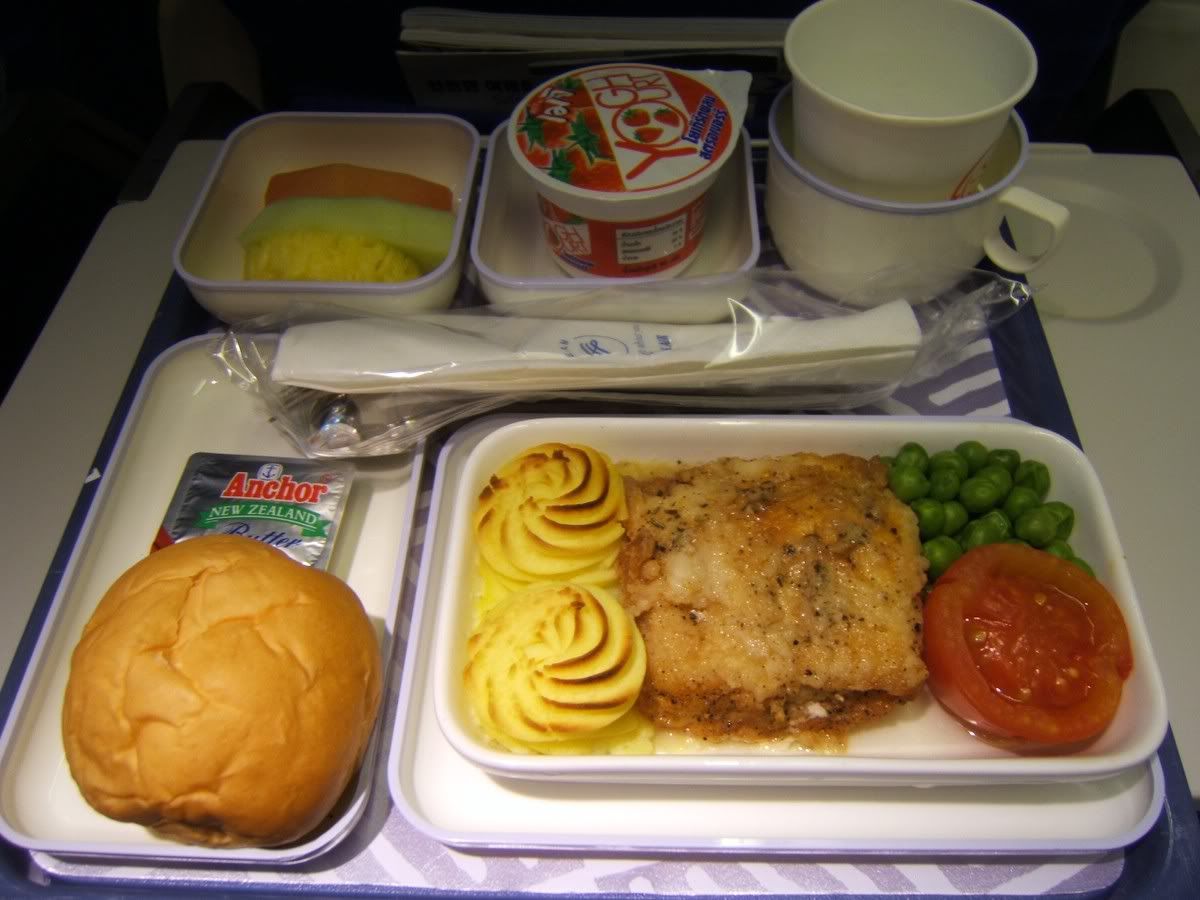 With only a few minutes left before landing, I joined the back of the queue to use the lavatory. The wait was a long one and I was ultimately asked by the flight attendant to take my seat for landing.
Sunrise over Incheon
Pulling into the gate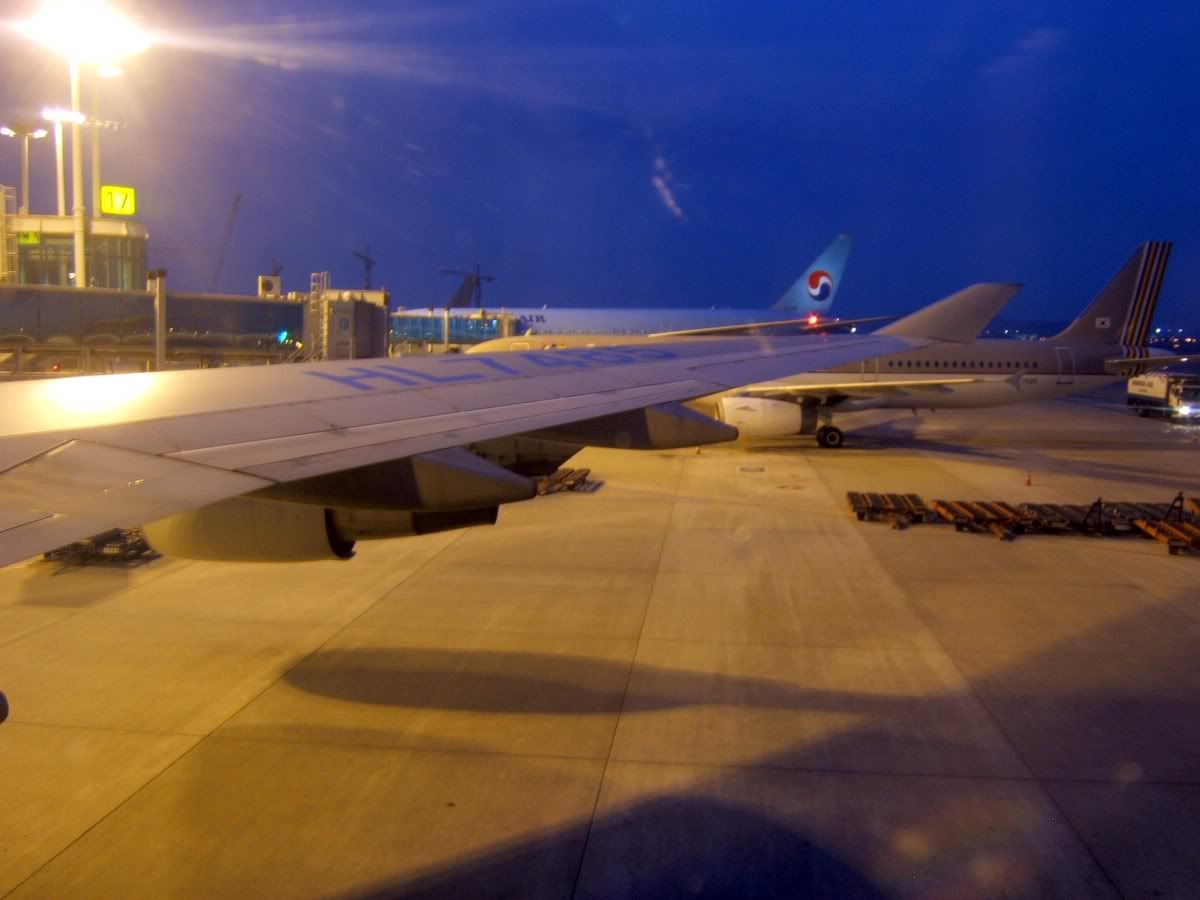 The sky was just beginning to brighten as we descended over the tidal mud flats that surround Incheon. We touched down at Incheon Airport just a few minutes after seven in the morning. Walking through the terminal doors, our group gathered in the hallway, listening to the instructions of our tour guide:
"Through immigration, go down the escalators to the carrousel, reclaim your baggage, repack and freshen up, proceed through customs and onto the waiting bus. Leave your bags next to the bus."

Flight KE652 from Bangkok is at the top of the board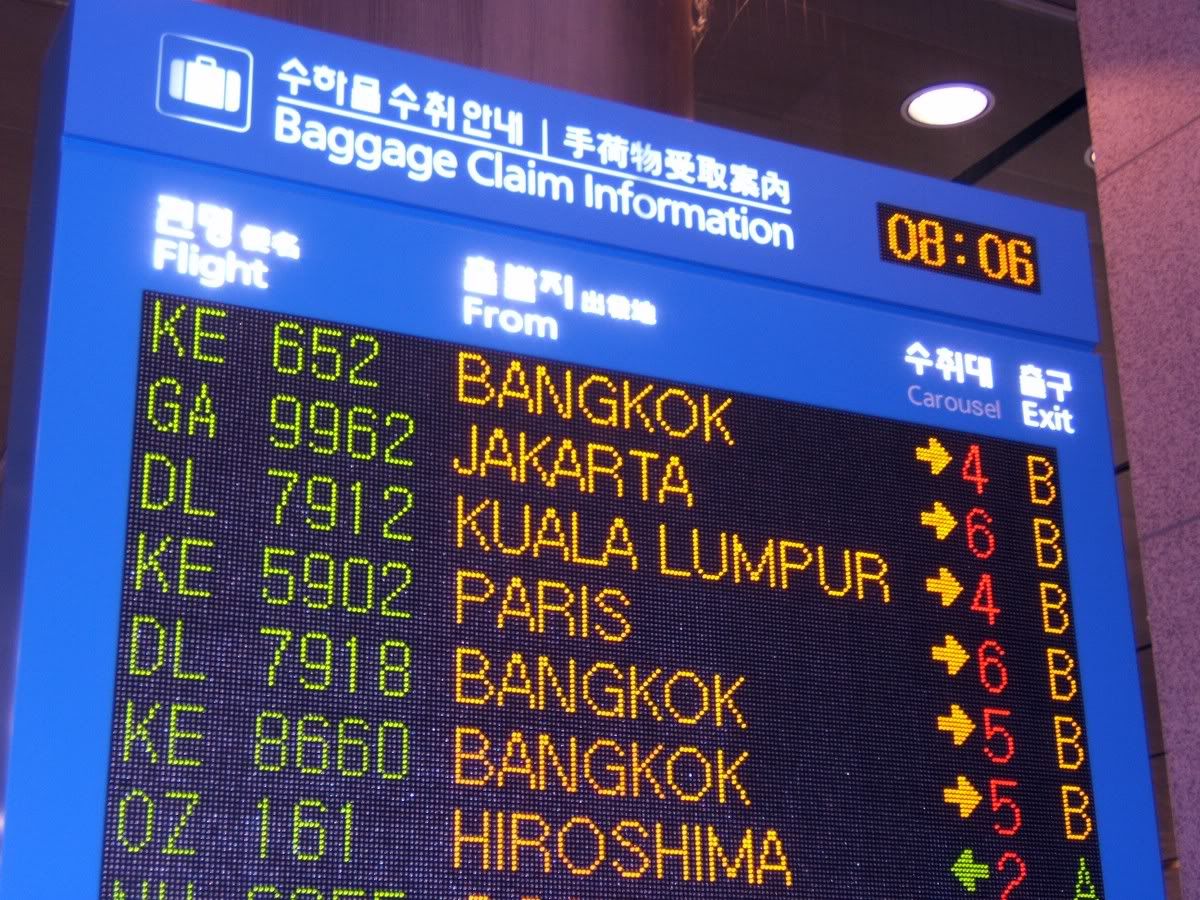 The process of claiming our bags, grabbing jackets and gloves, and heading through customs should have taken, in my estimation, ten minutes – especially since our bags had already arrived on the carousel by the time we cleared immigration.
But it took our group of forty-two people more than an hour. In fact, the scene of the frantic repacking looked more like a refugee scene from a movie. How much effort could it take to remove your winter gear from your bags? The answer, apparently, is a lot.
Let me back up for a moment. The repacking was only half the equation. The other half was the amazing amount of baggage that had been brought for a three day, two night trip. The explanation I heard was that it was mostly empty space to accommodate shopping, but looking at these bags as they were being repacked, I didn't see a lot of empty space! So much for traveling light.
Unpacking and repacking
Jo looks on in amazement – never has she seen so much luggage for so short a trip!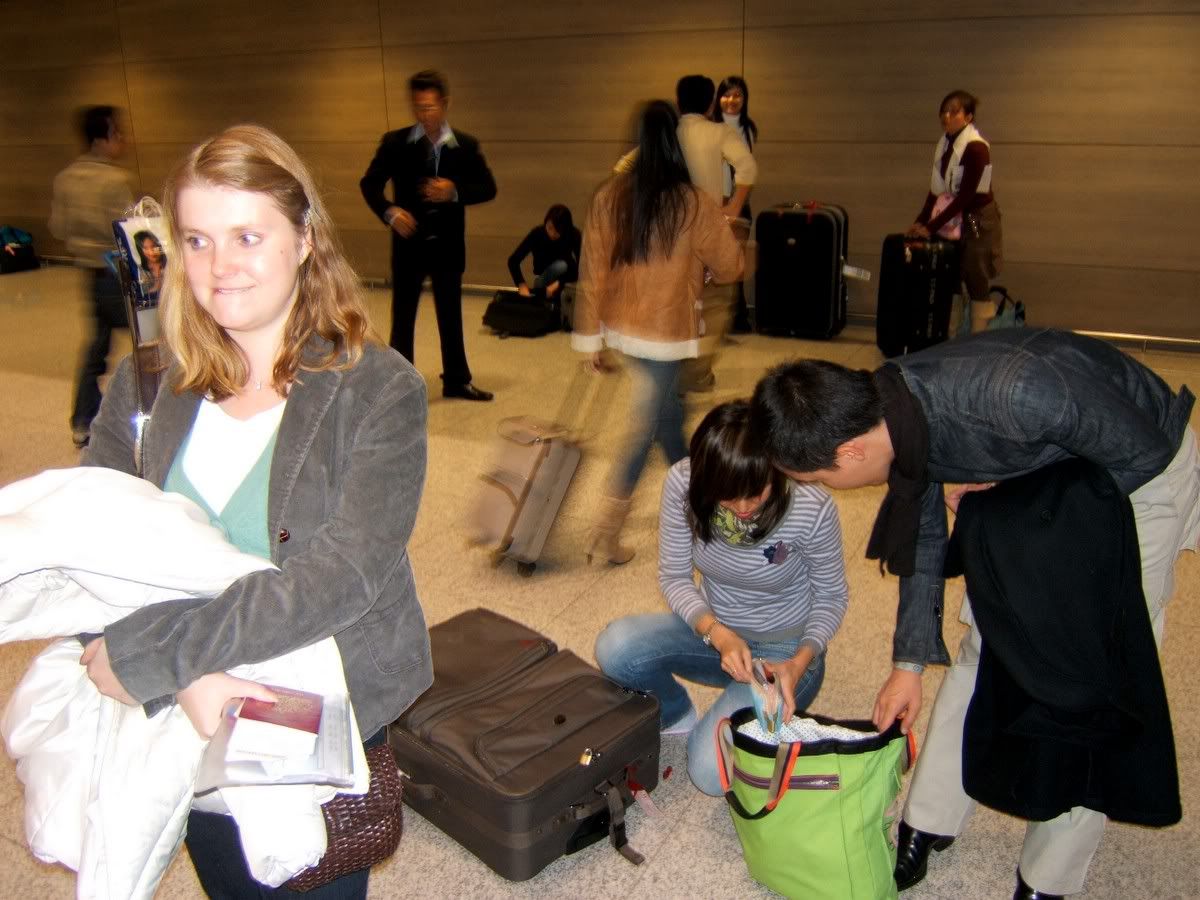 Bucking the cultural pressures to stay with the group, I goaded Tawn into coming with me to get some coffee. So we left the packers behind and proceeded through customs, stopping to enjoy a nice, hot, much-needed latte at the Morninghouse Coffee shop in the arrival lobby.
Ah… espresso!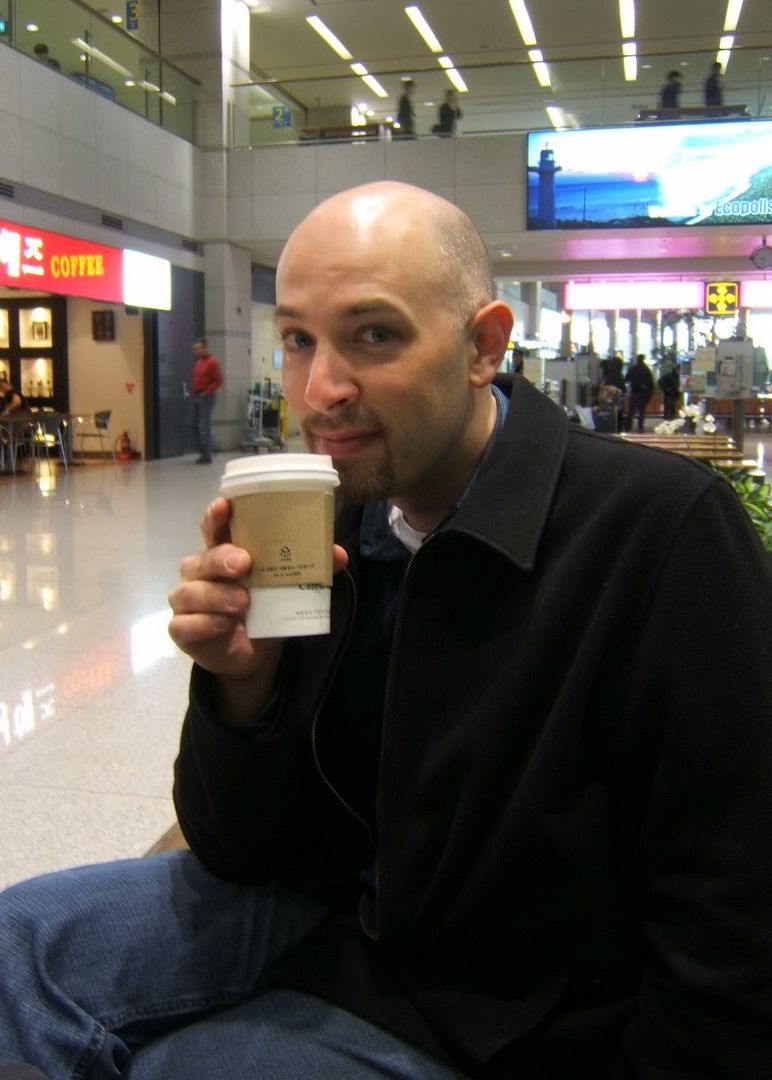 As we boarded the tour bus that was to be our home for the next three days, I had some nice views of several Vietnam Airlines planes (which I think have incredibly beautiful color schemes) as well as a UA B777 parked with some Korean Air planes.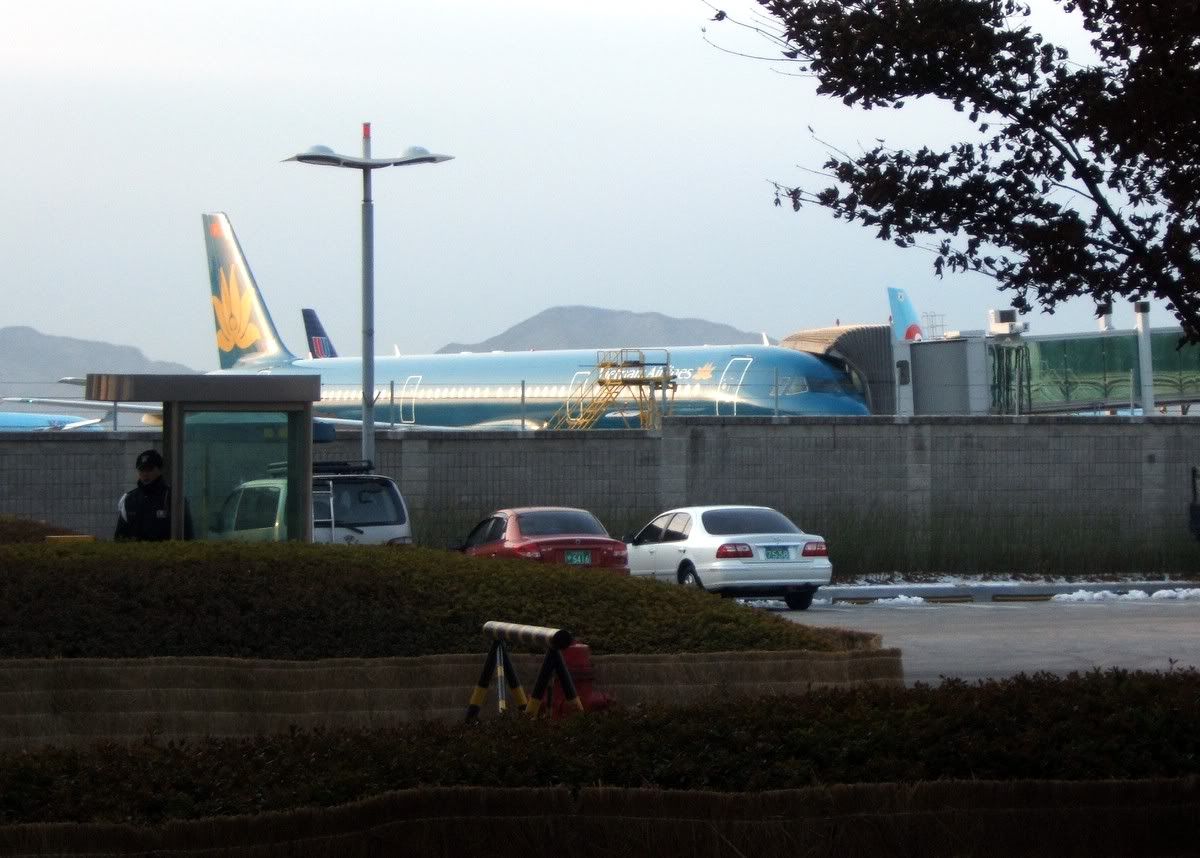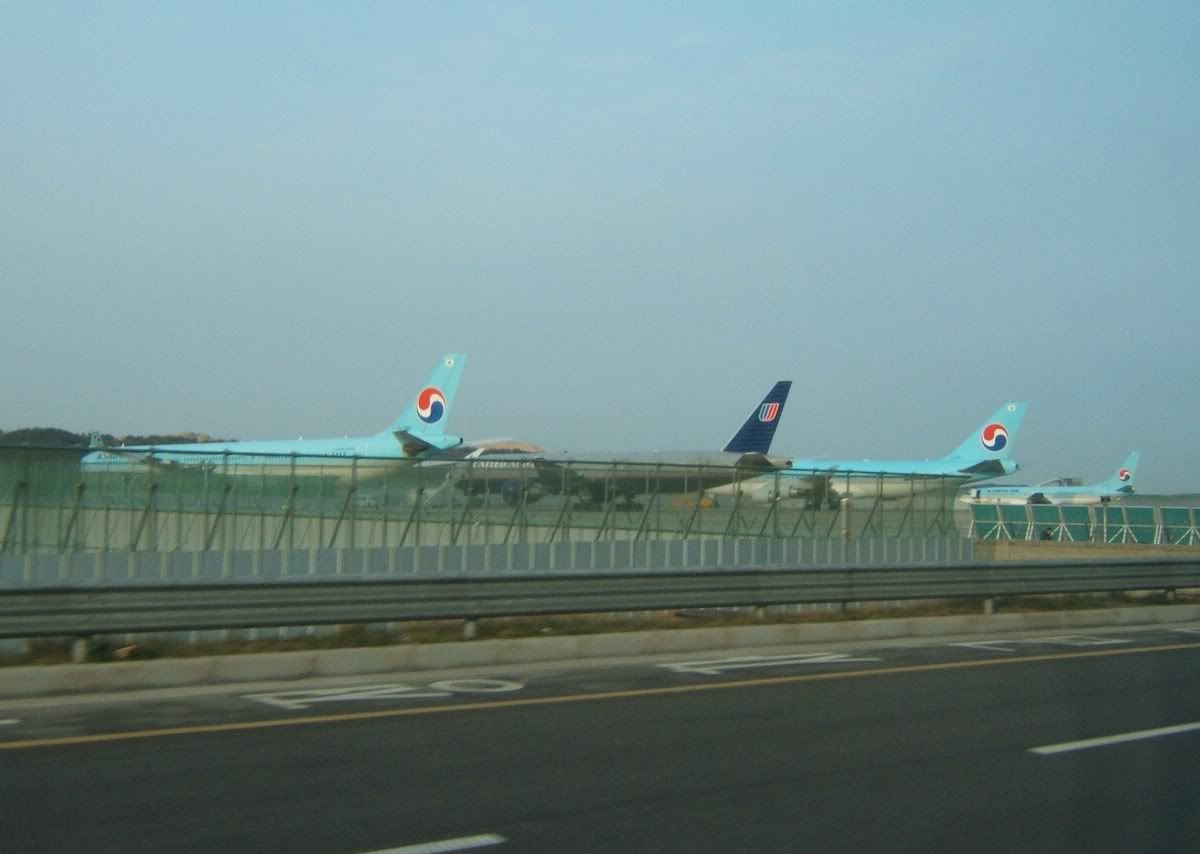 Three Days in Seoul
The three days in and around Seoul were bitterly cold but the food was really, really good. Highlights of the trip include:
A visit to the Dae Jang Guem Theme Park in the mountains outside Seoul. Dae Jang Guem is a very popular television series in Korea that has a following across Asia. It is based on the true historical character Jang-Guem, a woman who became the master chef in the royal palace during the first half of the 1500s. She did this despite living in an incredibly male-dominated society. The show is known in English as "Jewel in the Palace" and, as near as I can tell, is equal parts drama and Korean cooking show.

Riding the ferry to Nami Island, a beautiful sequoia-forested spot that was the setting for the romantic Korean drama, "Winter Love Song" (a.k.a. "Winter Sonata") starring Bae Yong-Jun and Choi Ji-Woo. In addition to its lovely scenery, Nami Island has all sorts of vendors, shops, and attractions that are a melding of state park and Fisherman's wharf minus the street performers.

A sub-freezing (literally) trip to the mountaintop Everland Amusement Park followed by an afternoon at the Jisan ski resort. It was so cold that only one person out of the group wanted to ski. The rest of us sat indoors and drank hot chocolate.

The requisite stop at Starbucks in the Itaewon district. While lattes are comparatively overpriced at home in Thailand, they still cost less than in the US. In Seoul, however, a grande latte (About $3.25 in the US) sells for 5800 won – that's US$5.80.

Cultural tour of Gyeongbokgung Palace and the National Folk Museum, both very interesting to see, as well as a drive past the president's office, known as the Blue House. It is actually white, but has a Korean-style blue-tile roof.

After-lunch shopping in Myeong-dong, a warren of narrow traffic-free streets in the downtown area that serve as a leading fashion center. What amazed me was the number of shops that could have been in any other major city across the globe. Body Shop anyone?

It was really, really, really cold!



Anyone who loves food is bound to love a visit to Korea:


Our first cook-it-yourself Korean meal was dakgalbi. This is basically diced chicken that you cook with sliced sweet potatoes and cabbage on a large, flat gas-heated griddle that is placed on the table. The communal grill/fry/sauté style of cooking was repeated throughout our trip although the ingredients varied a bit. The common theme, aside from good food and the fun of helping prepare it, is that your clothes tend to smell like your food afterwards.

Dinner at a shabu shabu restaurant – noodles, soup, and pork cooked on a gas burner at your table.

Lunch at a mountain restaurant popular for its bulgogi – marinated pork prepared in the same stir-fry-it-yourself way. The room was very smoky, so much so that we were advised beforehand to leave most of outer garments in the bus.

Best of all, while shopping in Myeong-dong, we found a vendor cooking hodeok – a flat, round bread that is cooked over gas flames in a cast iron device reminiscent of a waffle iron. Inside the bread is a cinnamon-sugar mixture. In the freezing temperatures, holding a hodeok in your hands, tearing off warm chunks as you inhale the fragrant/sweet steam, is just a slice of heaven. We went back for seconds.

Pork and squid bulgogi – really tasty and perfect on a cold day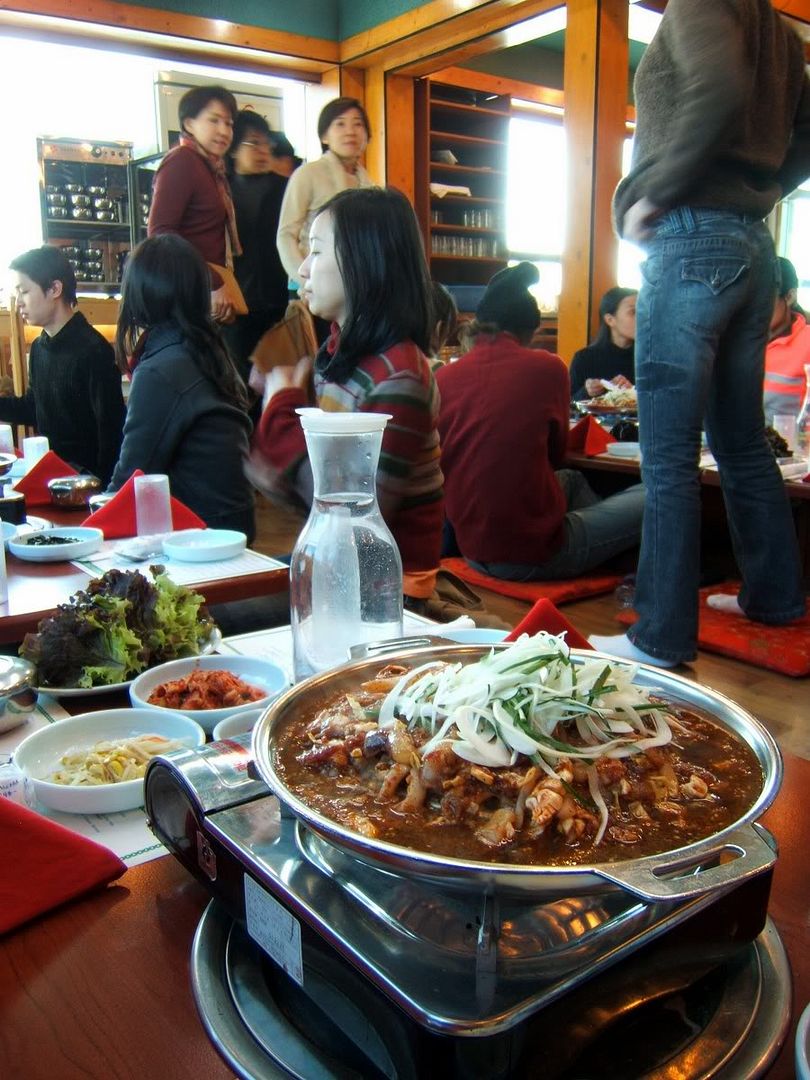 Return trip

Date: 12 December 2005
Route: ICN-BKK
Airline/Flight: KE 653
Aircraft: B777-300 (HL-7533)
Scheduled (Actual) Departure: 20:35 (20:40)
Scheduled (Actual) Arrival: 00:20 +1 (on-time)
Load factor in Economy: 100%
Class / Seat: Economy 54J

On the way out to the airport our bus stopped for last minute duty free shopping at a place that specializes in foodstuffs. Kind of like a grocery store, only more focused on food you can carry in your suitcase. Korean-style instant noodles were the product of choice. Ironically, you can buy these in Thailand for only slightly more than what we paid in Korea. But they make fun gifts for parents. So almost everyone added a case of these noodles to their luggage. Which is especially interesting when you consider how much luggage everyone already had!

We arrived at the airport only about 90 minutes before our flight, another benefit of being on a tour group as one of the guides had already checked us in. The scene of our arrival repacking was repeated as the lot of us filled up a large expanse of empty lobby to repack, rearrange, and store our winter gear in our bags. Organizing overfilled suitcases is a specialty of mine, and I was able to assist Mon and another friend, Bun, in getting secured and ready to go.

Packing and repacking in the check-in lobby at ICN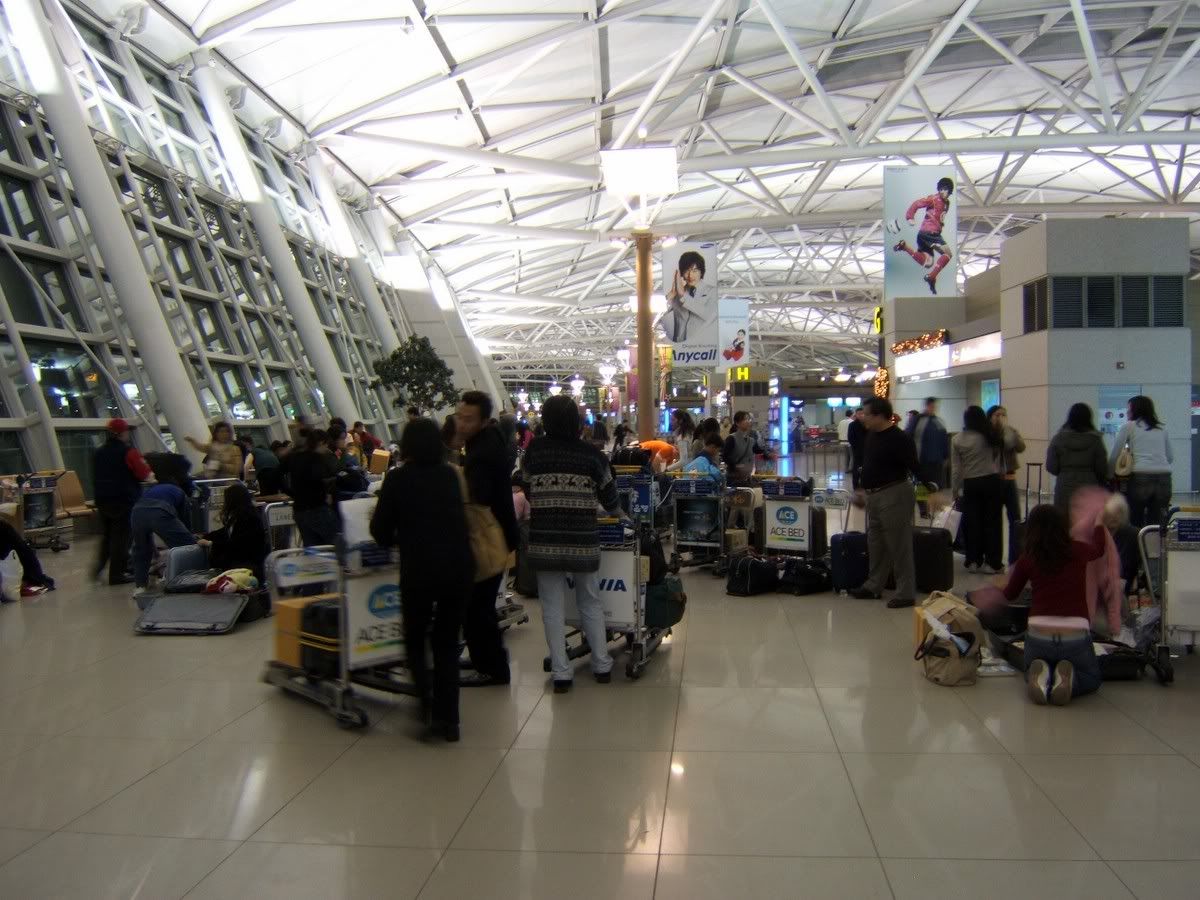 Tawn and his team have time to pose for a final picture before dropping off their bags
Helpful signage in the modern, efficient ICN terminal


Unlike Bangkok, we found Korean outbound immigration to be quick and efficient, leaving us with a few minutes to shop for two bottles of Beaujolais Nouveau at the duty free store, enjoying the significantly lower prices of wine in Korea than in Thailand.

Our return aircraft, a B777-300



There was some confusion when we reached the gate. I went to use the toilet and upon returning didn't see Tawn at the gate. Several of his colleagues were still there, but then I saw one of the other farang already boarding the plane and, I thought, gesturing at me that Tawn had already boarded. So I went ahead and boarded, but Tawn was not yet on the plane. When he arrived several minutes later, he was understandably concerned, thinking that I had become lost somewhere in the airport.

I suppose as an aviation enthusiast, that's really a potential concern! But what a great place to become lost.

Cool, two-level boarding area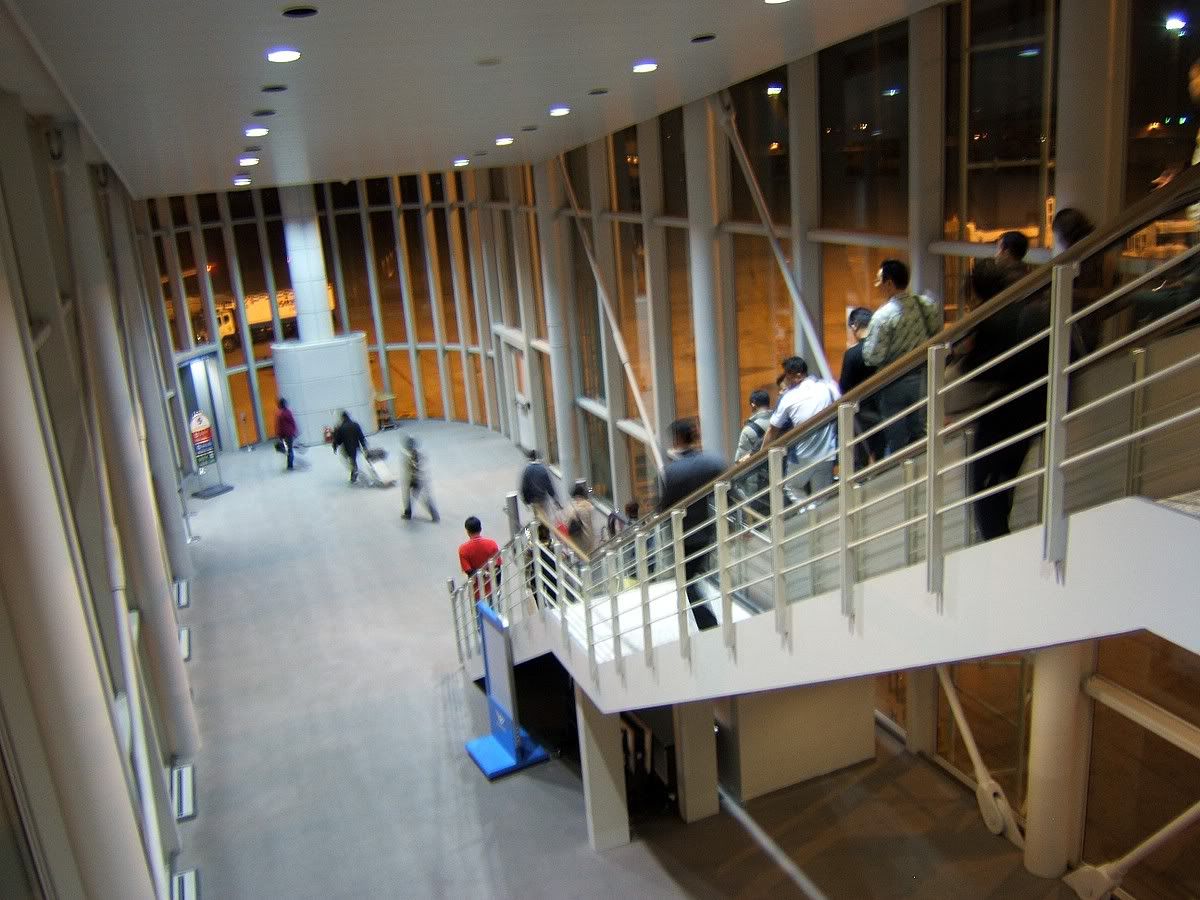 Business class galley – I was very tempted to grab the bottle and take it with me![b]



[b]Getting settled in during boarding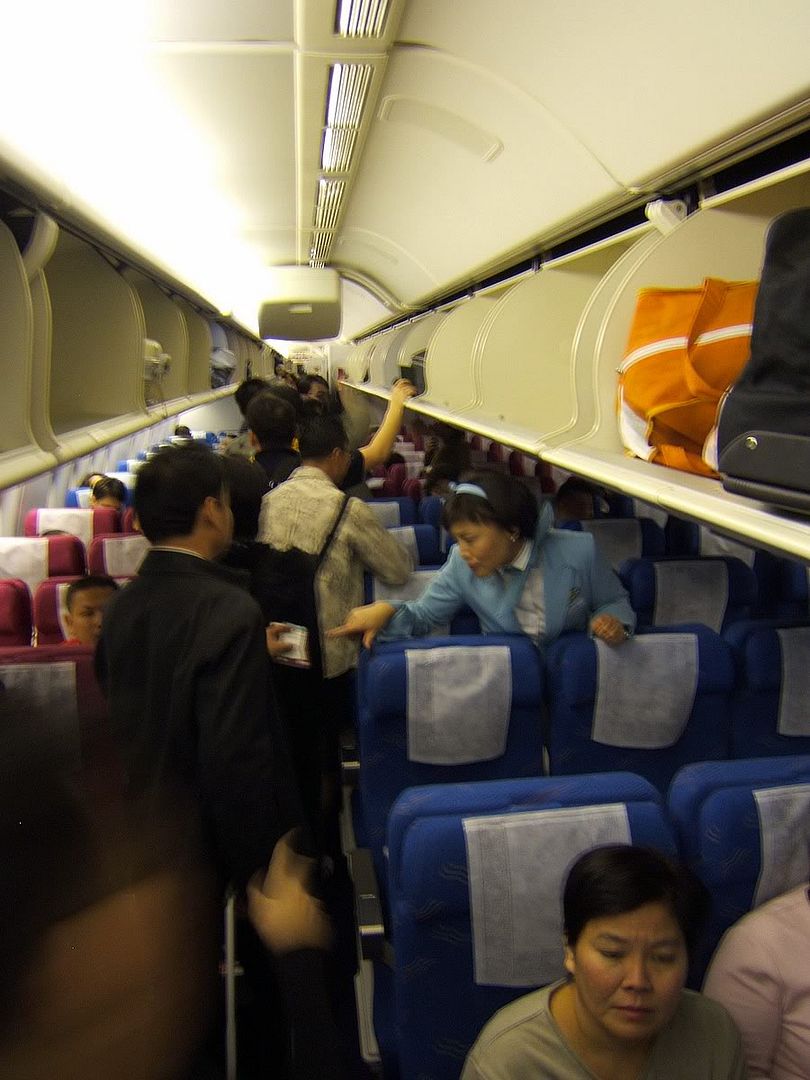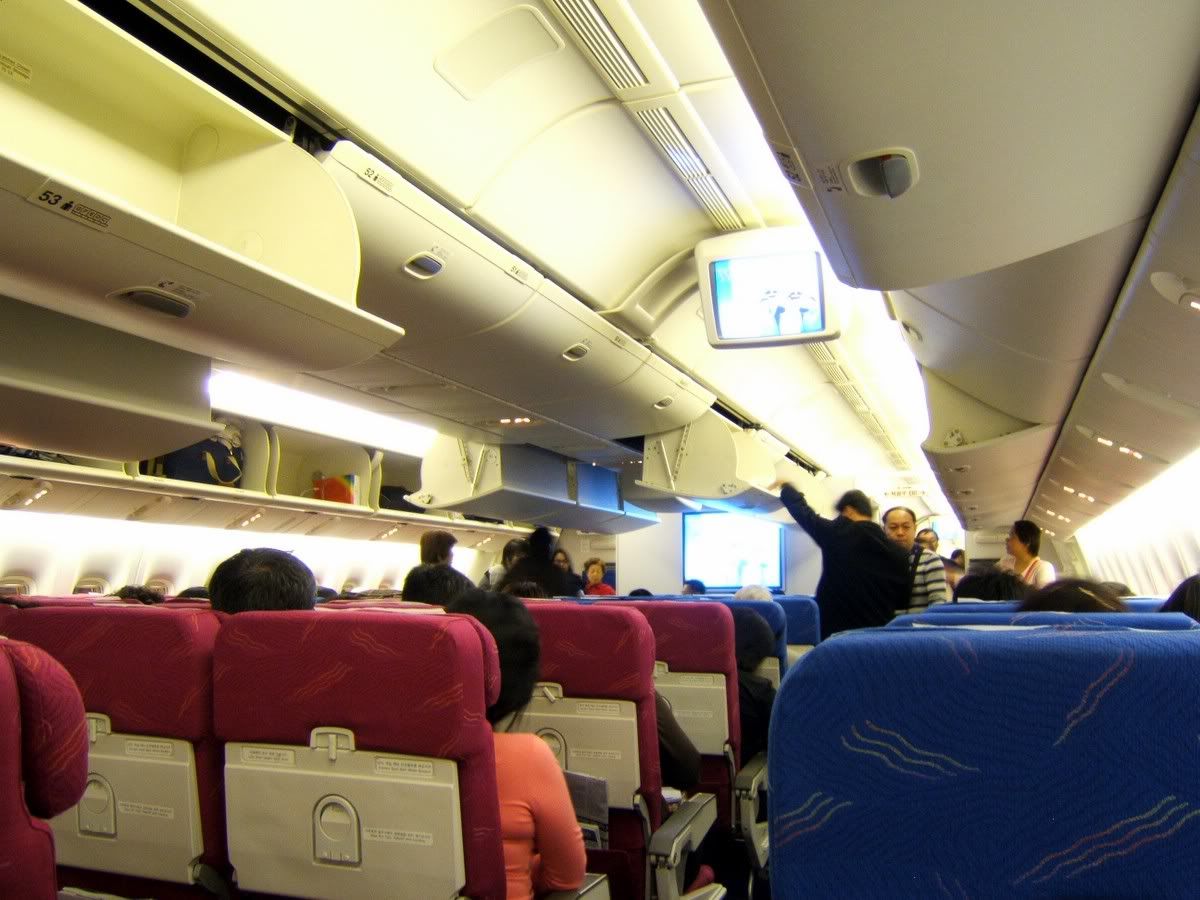 A seat with a view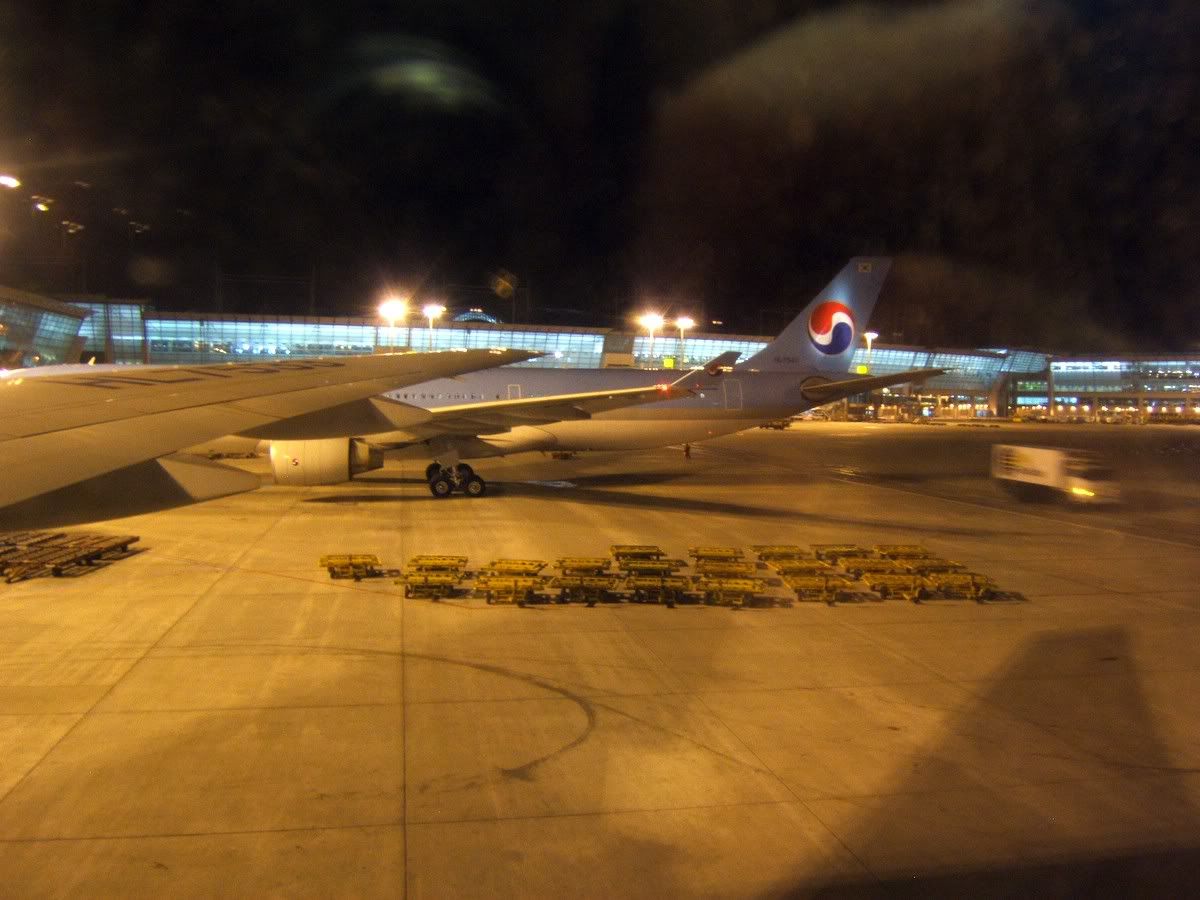 The flight back was pretty uneventful. Tawn and I had been assigned seats in the last row of one of the sections of the cabin, so our seat recline and legroom were somewhat restricted. The Thai twenty-somethings in the row ahead of us were pretty good about not reclining their seats too far.

Beverage service after departure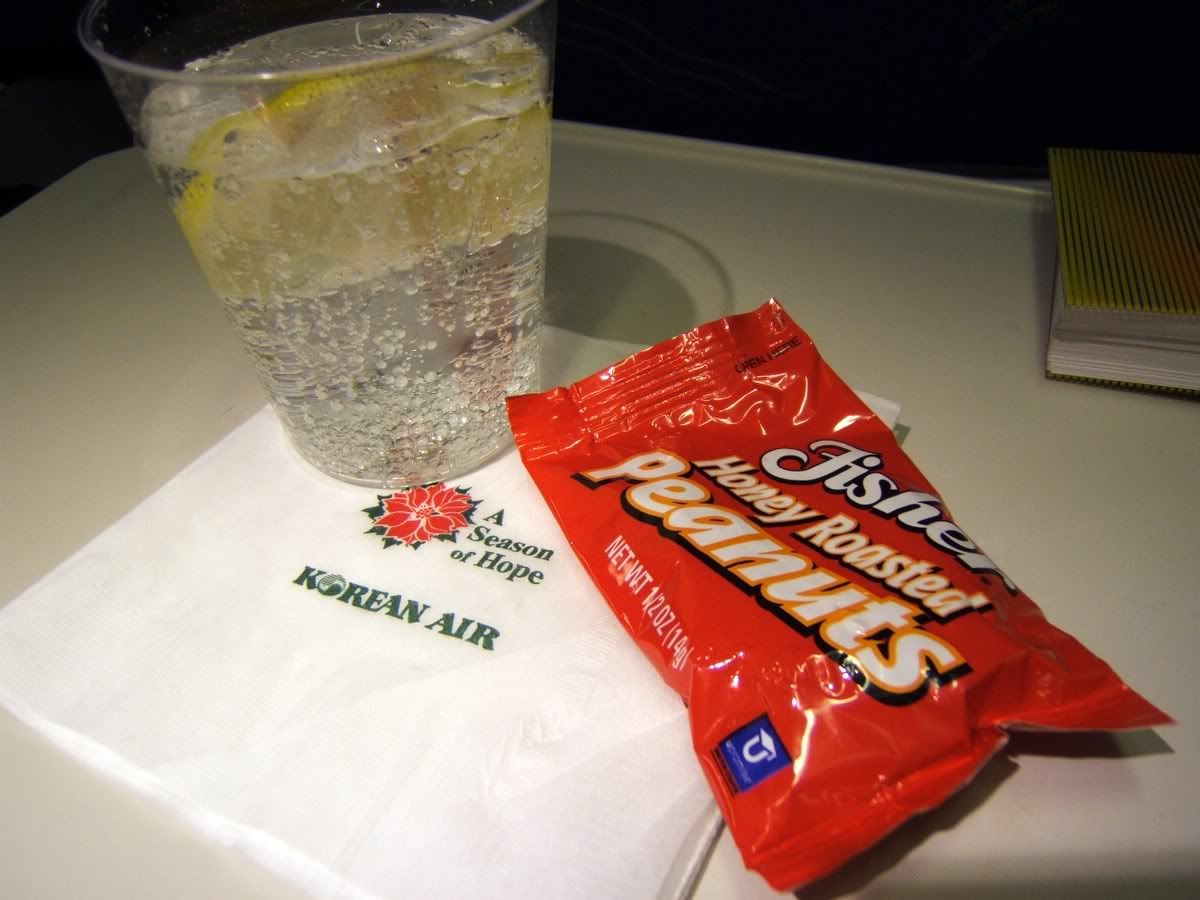 The service was the same as the outbound flight, except that the meal was served about sixty minutes after departure. Once again, everybody had been ordered fish. Since I was one of the only non-Thais in the group, I was able to play the "what, I didn't order fish!" card and convinced the flight attendant to give me a beef meal instead. After about a ten-minute wait (the fish was served separately from the regular meal service) the flight attendant returned with a tray of very grayish, but tasty, beef.

The fish meal I bluffed my way out of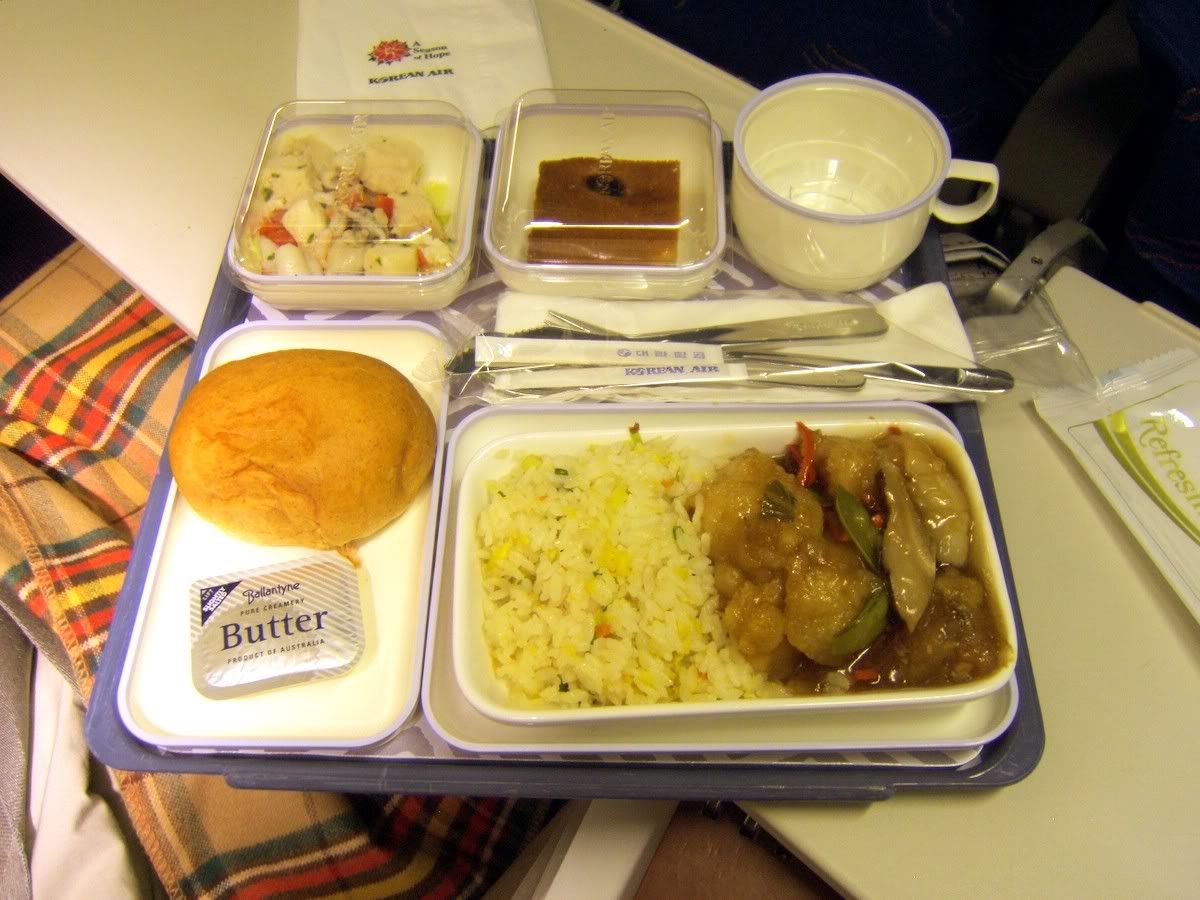 The beef meal I ended up with – not sure that I got the better deal!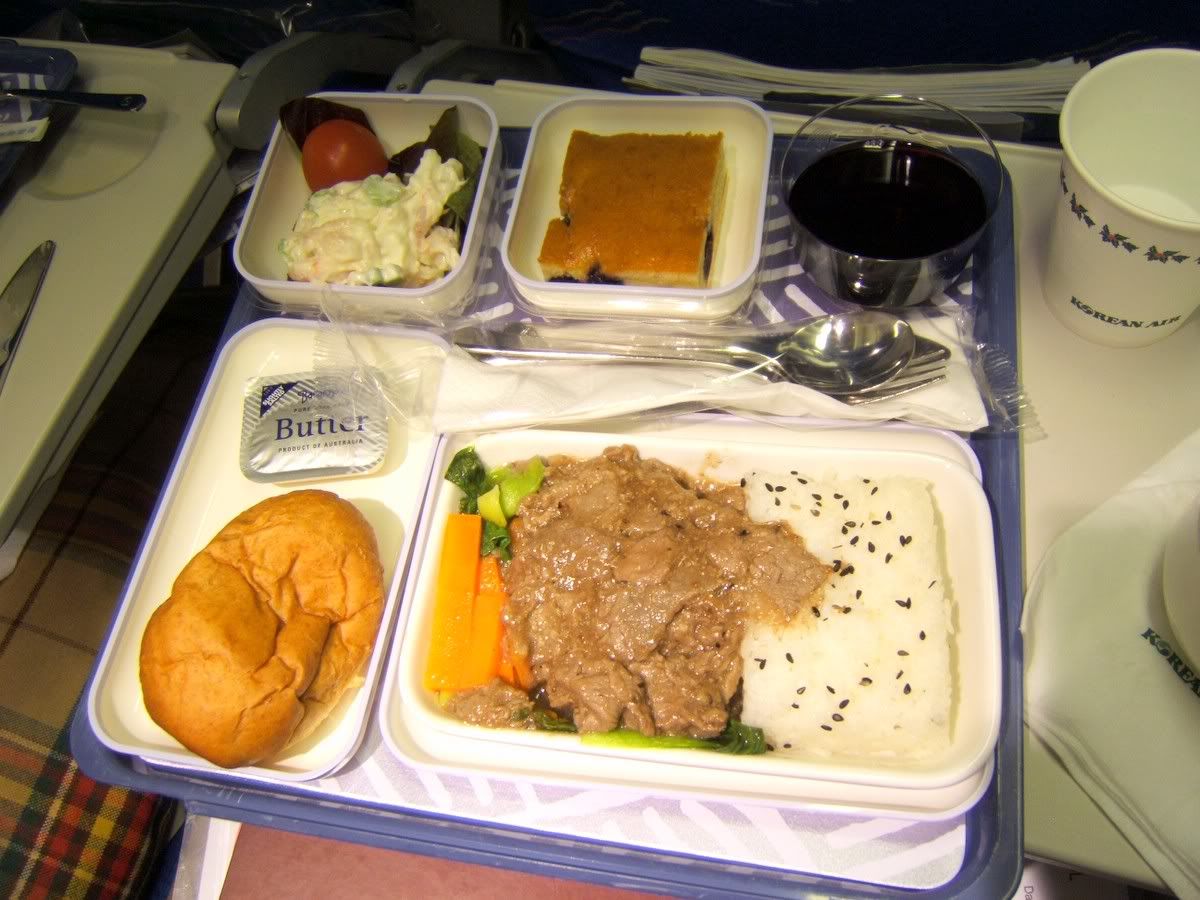 Chuen, Fon, and Mon enjoy their meals – P'Chuen is a fellow A.netter!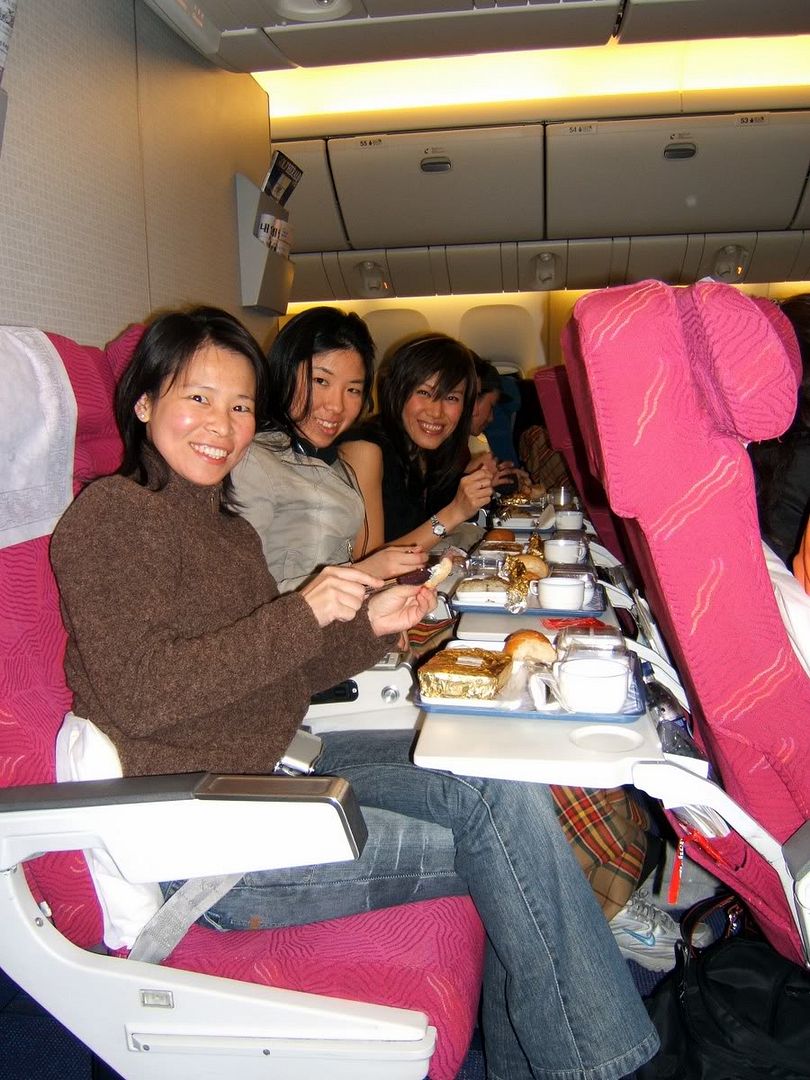 The flight of only about five hours was fine. I slept most of the way, exhausted after the long weekend. We arrived in Bangkok just after midnight, tired. Immigration was a mess: our flight arrived in terminal two, but we were instructed to proceed to terminal one for immigration. Both terminals are connected in the secured area as well as in the baggage claim, so it would matter where I went through immigration. However, when I went up to the immigration desk, the lady looked at my flight number and apologized, telling me that I needed to go to terminal one: if she let me go through, she would have to let everybody go through.

Worth noting: one of the other farang in our group went to another immigration line in terminal two and the officer processed her passport without a second glance. As they advertise: amazing Thailand.

All in all, the trip was a lot of fun. Korea is a beautiful country and I'd enjoy going back to see it at a warmer time of year. The people, while not smiling a lot, are friendly and helpful. And Korean Airlines provides a very comfortable international product. I'll seriously consider flying them again for my trans-pacific flying needs.

Stay tuned for my next trip report, posting soon, covering SQ economy class BKK-SIN-HKG-SFO and return.

And, as always, your comments and feedback are greatly appreciated!