BKK-SIN-HKG-SFO Return Trip
Singapore Airlines Economy Class
For the holidays, Tawn and I made a brief trip back to the United States to see friends and family. Like most of our trips, there was too much crammed into too short a period of time. This is the story of that trip.
Segment 1
Date:
24 December 2005
Route:
BKK-SIN
Airline/Flight:
SQ 61
Aircraft:
B777-212ER (9V-SRQ)
Scheduled (Actual) Departure:
07:45 (07:40)
Scheduled (Actual) Arrival:
11:10 (11:05)
Load factor in Economy:
approximately 95%
Class / Seat:
Economy 52A and C
Only four hours after going to sleep, I was awakened by the rising staccato alarm of my Nokia mobile phone: "Beep… beep beep beep beep… beep beep beep beep…"
It seems that the first, solo beep is enough to re-engage my consciousness, so I mysteriously find myself awake, thinking, "the alarm is about to go…" and then, at that moment, I am interrupted by the first quartet of beeps.
Our holiday trip to the United States was a long time in the planning, and ultimately the best Star Alliance fare we could find was on Singapore Airlines. Something of a circuitous route, backtracking 1400 km south to Singapore before heading back north to Hong Kong and then on to San Francisco, it was the least expensive way to earn additional miles and, let's face it, SQ is a great way to fly.
Our previous night's packing and organization paid off handsomely as we had a relaxing routine on the morning of our departure: First, I put "30 by Ella" into the CD player. Then I started our stovetop Italian espresso brewer. No reason to get up early to fly if you can't do it in style!
Tawn had arranged for two taxis to drive us to Don Muang International Airport because our five checked bags, two trolley bags, and smaller personal bags were too much for a single tiny Toyota Corolla. They were almost too much for two Corollas, in fact, as the compressed natural gas tanks fill the already miniscule trunks of the taxis.
If you've read my previous reports, you might know that I generally travel very light, so let me briefly explain that as much as I hate to check baggage, it was necessary this trip. When I moved from the United States to Bangkok three months ago, there were still many items that I left behind. So this trip was, in part, all about bringing empty suitcases to the US and returning to Bangkok with more belongings.
Zipping along the toll way at 140 kph in a fully loaded taxi with a canister of compressed natural gas behind me felt a bit like riding a bottle rocket just waiting to explode. But our drivers deposited us at Terminal 2 in one piece, and thanks to the speed, quite awake for five in the morning.
Departure hall of Terminal 2, Don Muang Airport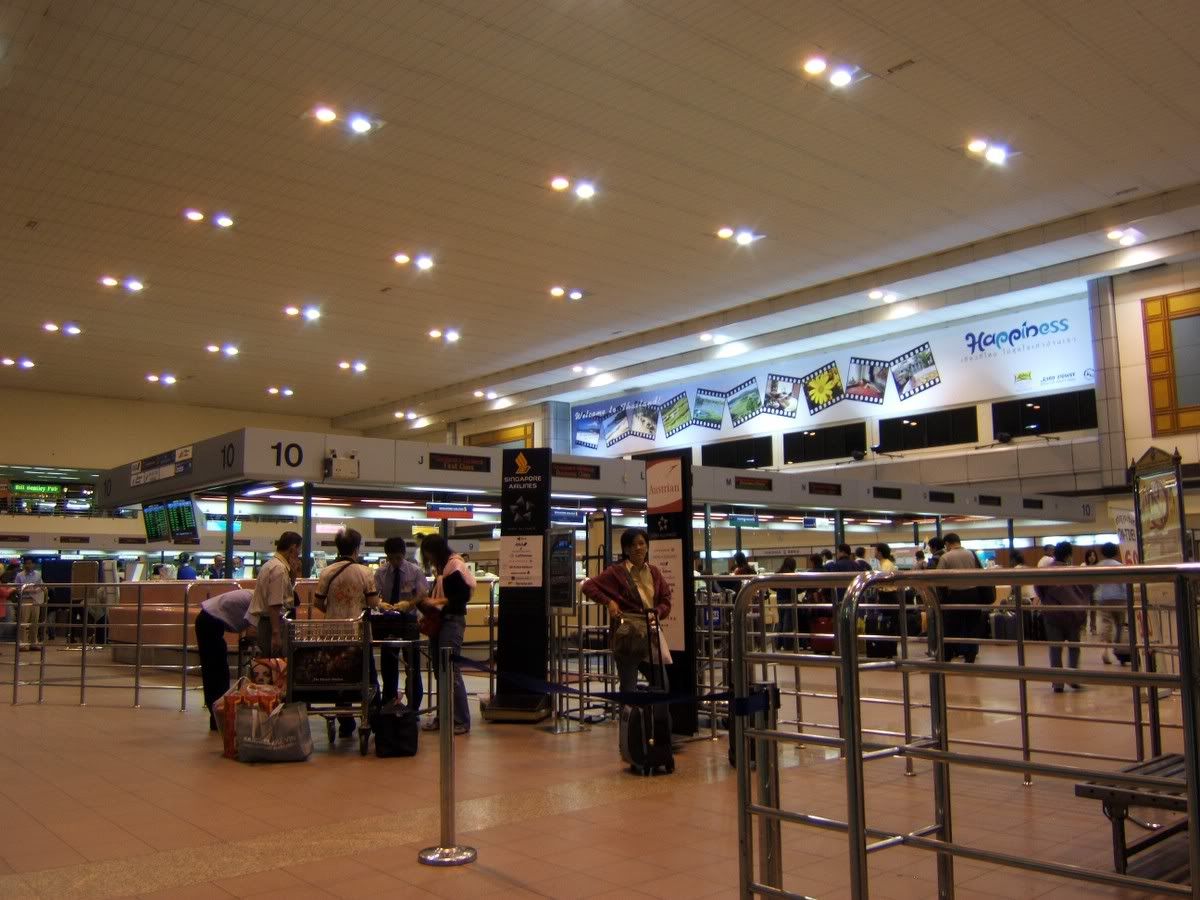 Lines were short at the SQ counter and we only waited a few minutes to check in. The agent, a contracted TG employee, was helpful but not as outgoing as most SQ employees are. At my request, she changed our seats for the SIN-HKG-SFO flight to exit row, although she reported to us in a voice full of regret, that it was an exit row "further back in the cabin" as if this were an unbelievable insult to our dignity.
When I booked our seats online, I had chosen window and aisle seats, leaving an empty middle seat between us. Sometimes this works well and we end up with a row of seats for the two of us. On busy flights, Christmas Eve for example, we end up having to ask the person in the middle seat if he or she would prefer the aisle. They usually say yes.
The agent noticed this situation on the BKK-SIN leg and offered to reassign our seats, either a middle and window or two seats on either side of an aisle. Not wanting to waste a daylight flight and the inherent photo opportunities, I opted for the window and middle seats.
A quick trip to the automated teller machine was necessary as I didn't have the cash for our 500 baht a person departure tax. Once the new airport is open, hopefully the departure tax will be collected directly from the airlines. Thankfully the deep purple hue of a Siam Commercial Bank ATM was easily recognizable at the far end of the departure hall.
Christmas music and a slow, instrumental version of John Lennon's "Imagine" played rather incongruously in the background, considering that 97% of Thais are Buddhist, and a small stand of lighted tress was set up near immigration, the airport authority's concession to traveling Christians.
Immigration proceeded smoothly, allowing us plenty of time to browse duty free, purchase a gift for the son of a friend (a small ceramic elephant holding a snow globe with another elephant inside it) that despite the excessive bubble wrap still ended up breaking along the way, glycerin and glitter gleefully decorating several sweaters.
We visited the Silver Kris lounge, which is fairly small (seating maybe 60 people) but well appointed. A wide range of drinks, fruits, breakfast cereals, and dim sum were set up. We tried a little bit of everything while watching cargo being loaded into the back half of an EVA B747 Combi as the sun began to rise on the other side of the runways.
Silver Kris Lounge, Don Muang Airport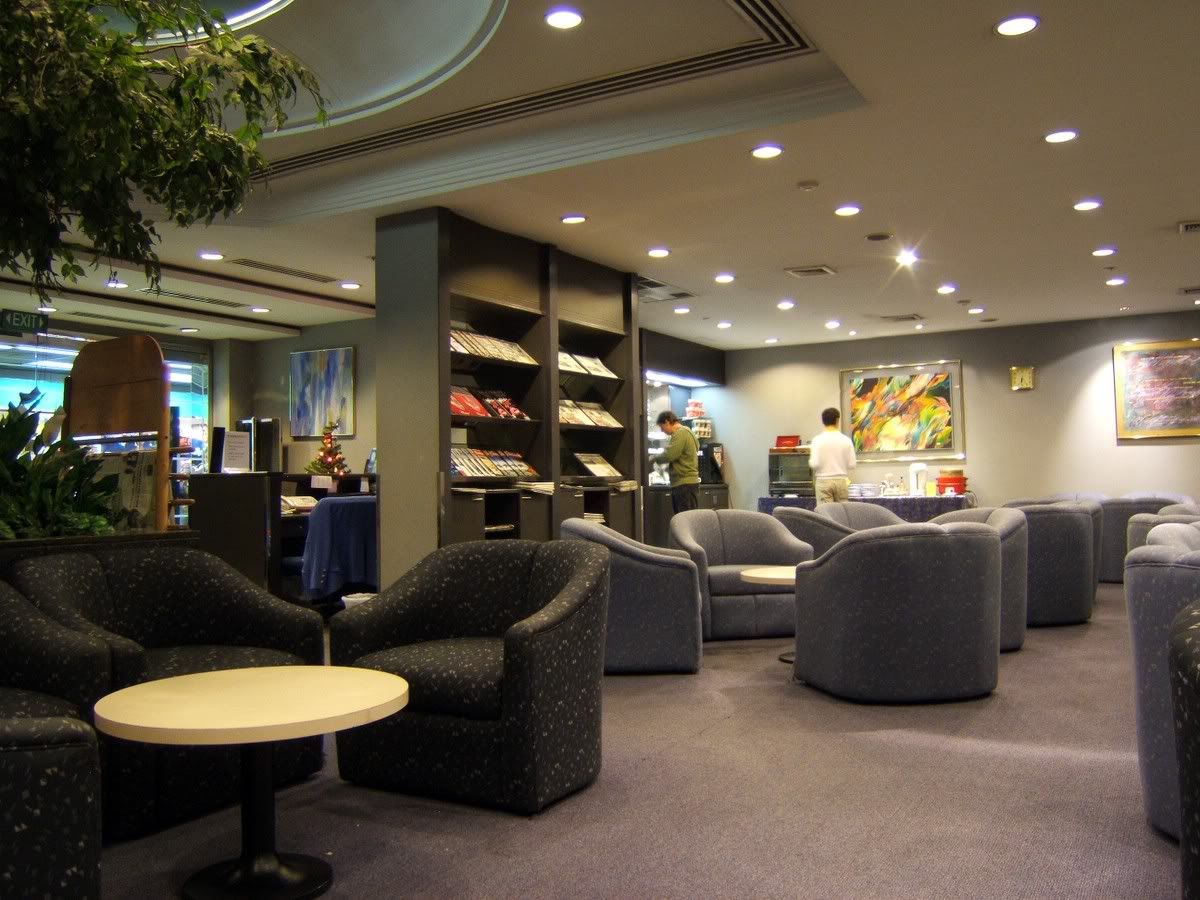 Fresh tropical fruits at the lounge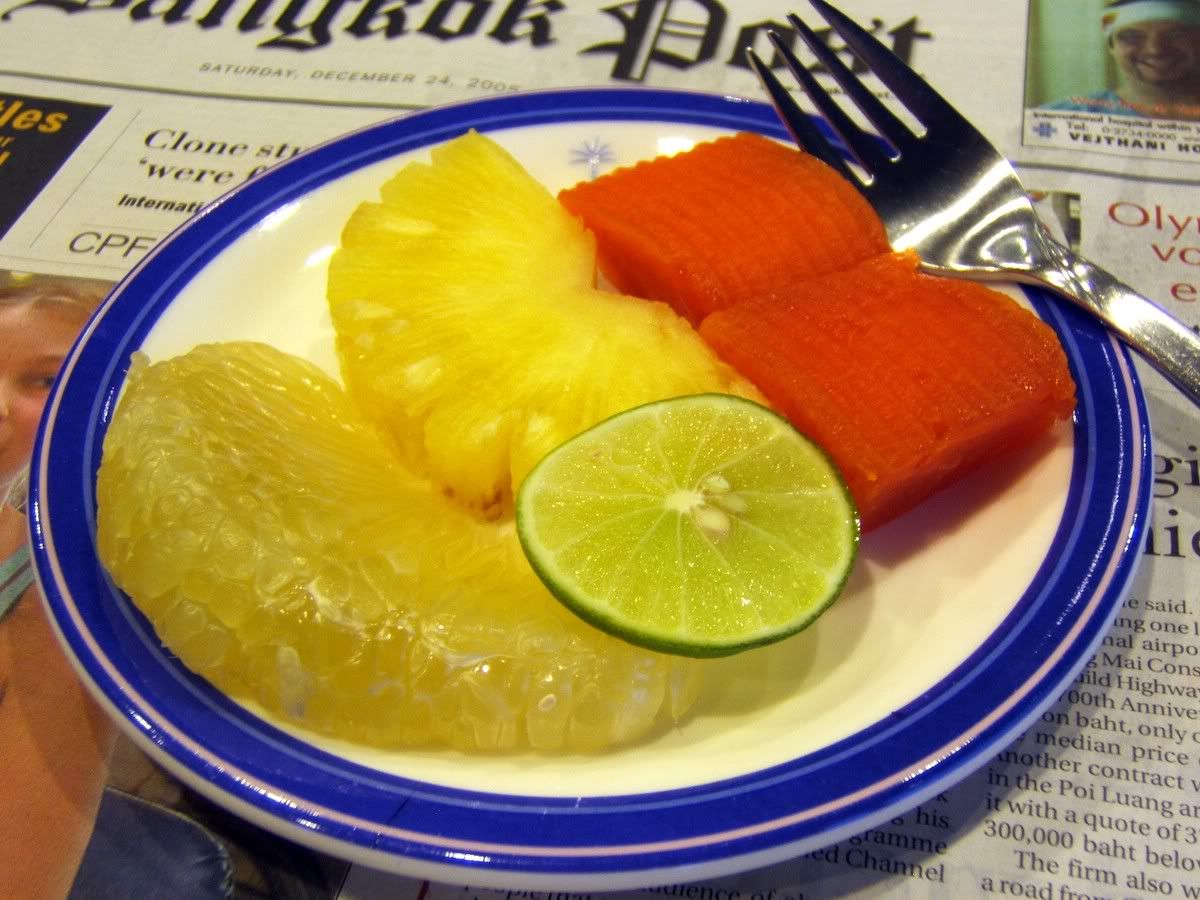 An EVA B747-45EM Combi (B-16407) gets loaded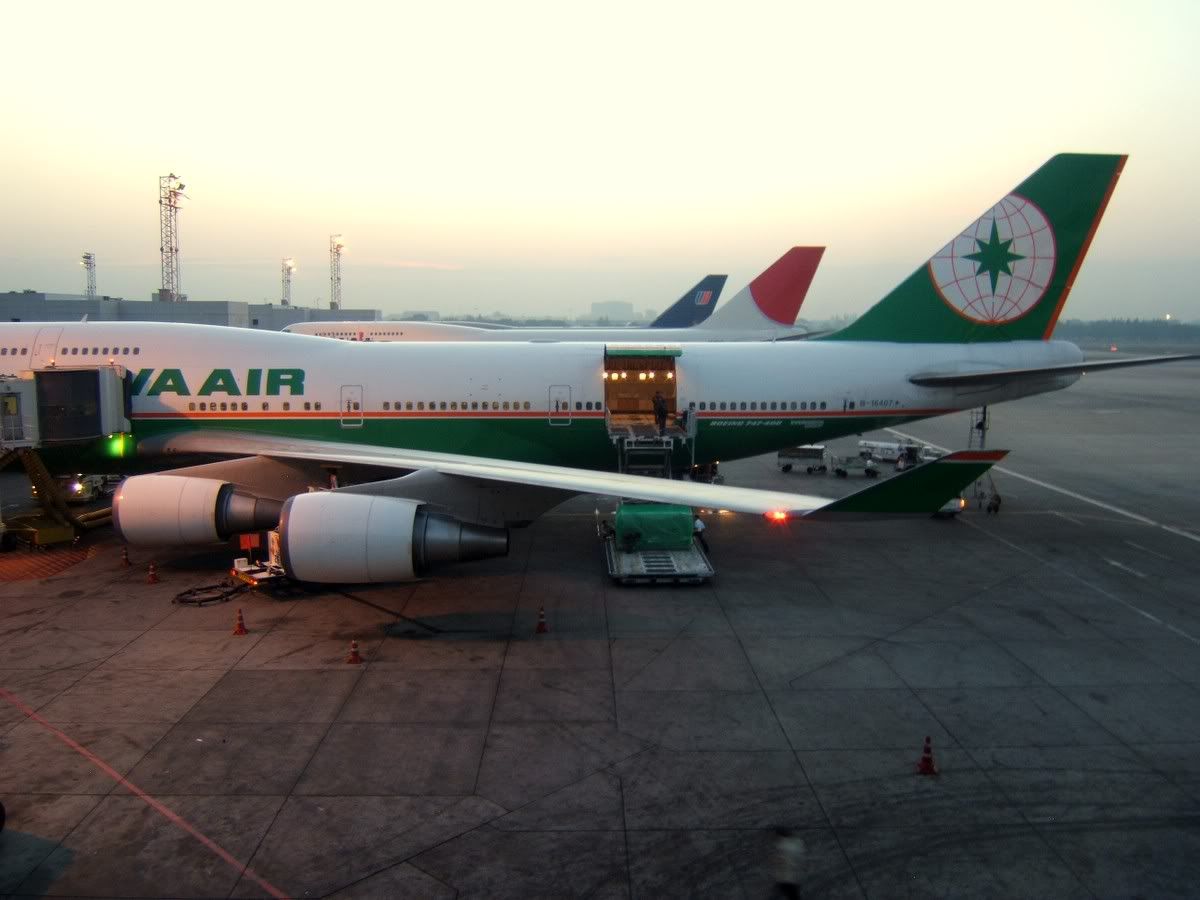 The EVA flight pushes back as UA882 to NRT rotates on 21R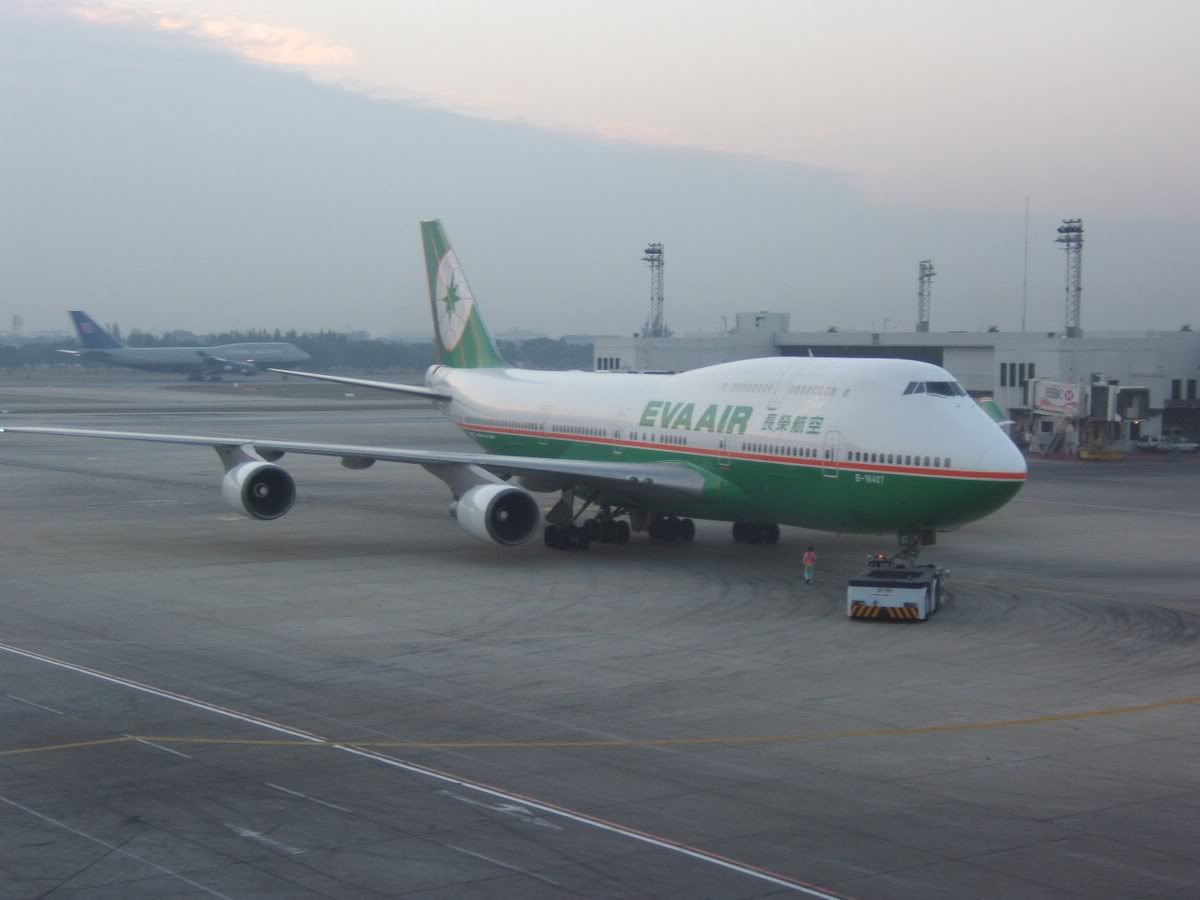 All too soon it was 07:00 so we left the lounge and made our way through security – no lines and no apparent concern when the metal detector beeped as I passed through – and walked down a long corridor to gate 55. Pier 5 was built just a few years ago and as the newest part of the airport it is also the nicest, relatively speaking.
There is a shiny Qantas lounge along with a large Royal Silk Lounge in the windowed corridor to the pier. The pier itself is spacious and has many more windows than the other piers at the airport, affording a good view of the planes. But as there is a sterile walkway between the lounge and the outside windows, taking pictures doesn't work so well.
Boarding had already commenced. We had head the announcements echoing through the terminal as we made our way to the gate. Even though First, Raffles, and Star Gold were already boarding, the security agent who checked our tickets made us wait until Economy boarding began in earnest, not noticing the "UA*G" on my boarding pass. Not a huge issue, as we were first in line once Economy boarding began.
Our SQ B777-212ER (9V-SRQ)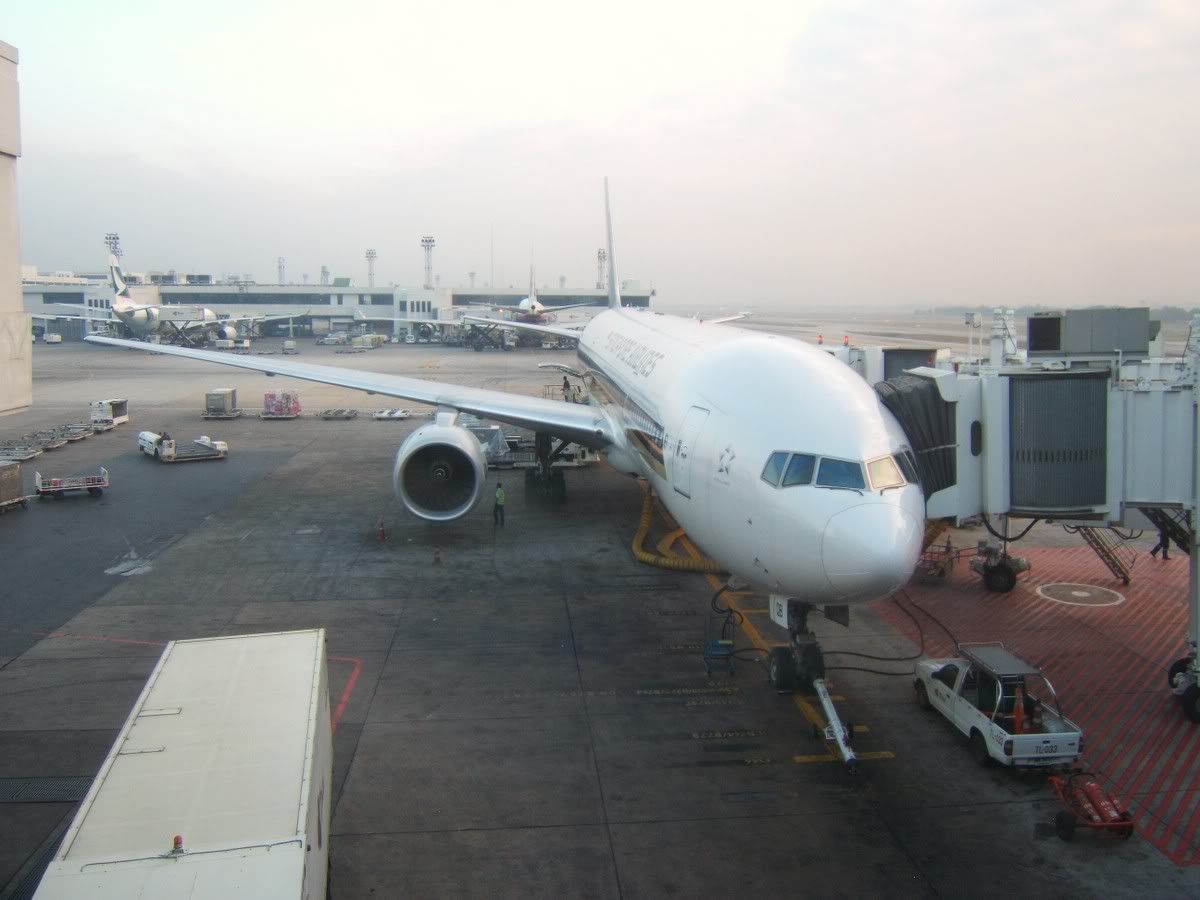 The airplane, a B777-200, had festive holiday garlands hung on the cabin walls every five rows or so, and the crew was in good cheer even though they were not wearing red Santa hats. We passed five crew members in the short distance between door 2L and row 52, where we were seated. Every one of them welcomed us aboard and the last one actually showed us to our seats.
Being ahead of the boarding crowd, I snapped some pictures of the clean cabin. Boarding went smoothly even though nearly every seat was full. Attendants were constantly working in the aisles, welcoming people, assisting to place baggage in the overhead compartments.
Cabin shots of our plane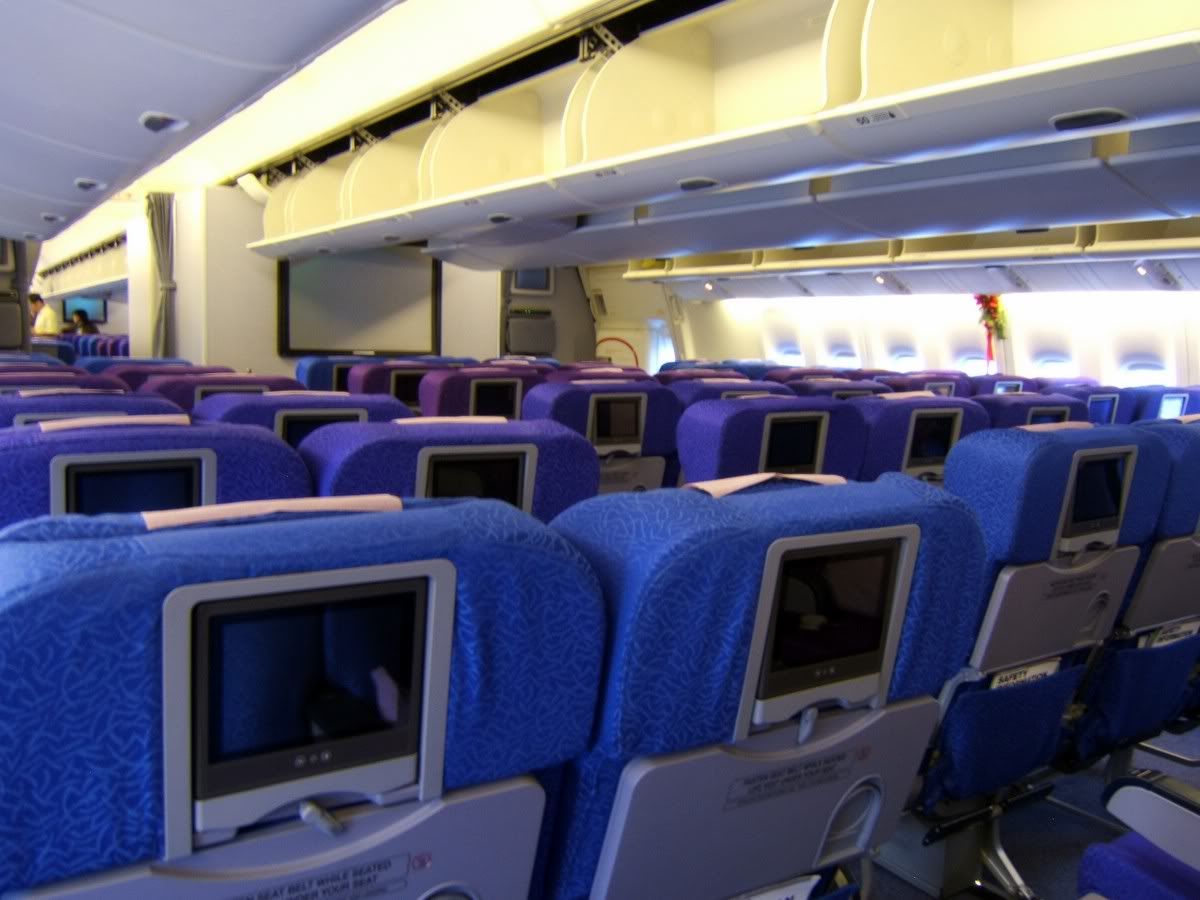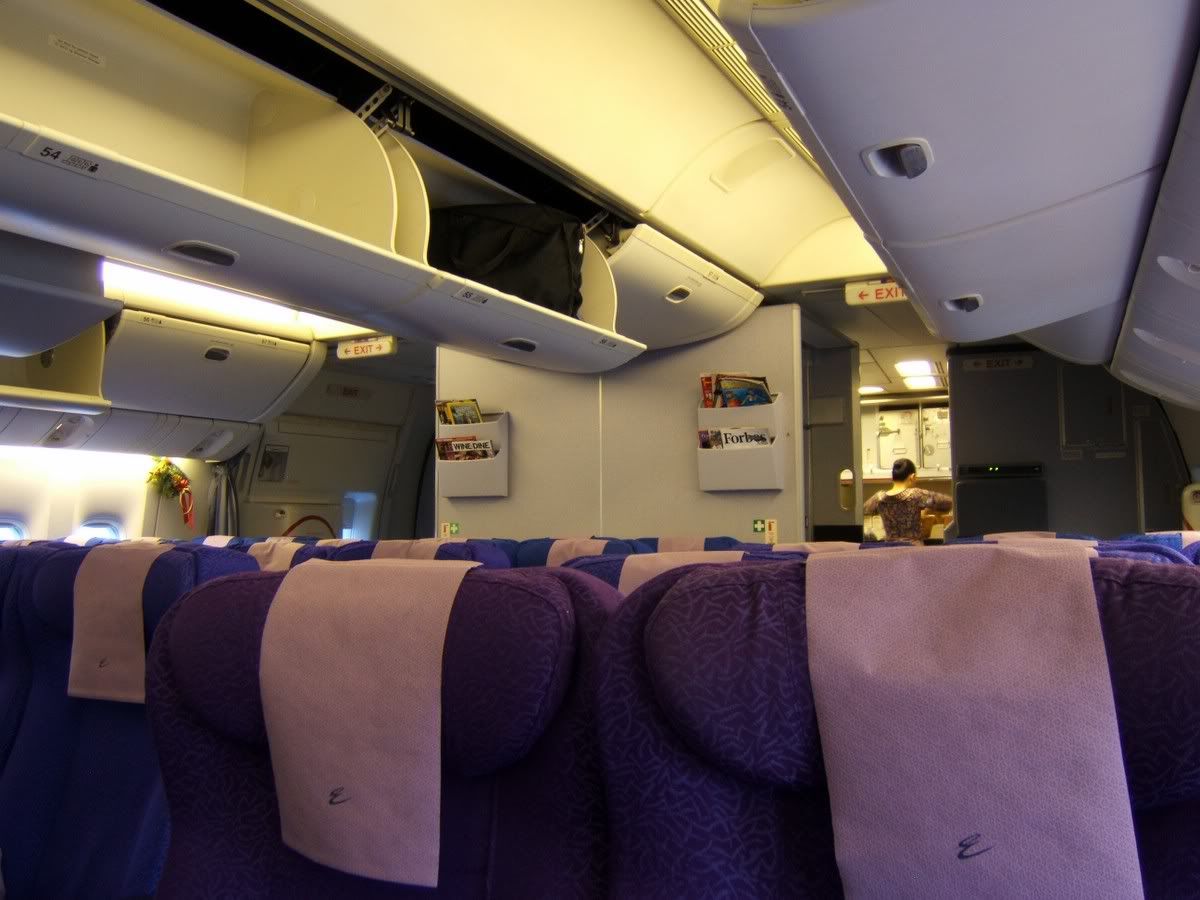 The biggest difference I've observed between SQ flight attendants and their U.S. counterparts is that SQ flight attendants use more words when speaking – words like "please," "thank you," "you're welcome," "my pleasure," "ma'am," and "sir." What a difference a little courtesy makes. Some people say that SQ flight attendants are too "robotic." Maybe that's another word for polite, friendly, and professional?
More than ten minutes before scheduled departure time the passengers were boarded, the cabin secure, and hot towels – honest-to-goodness full-size washcloths, not those cheap wipes that some airlines use – were handed out to passengers. Overhead bins were shut, checked, double-checked and (in what seemed a bit redundant) triple-checked.
We pushed back a full five minutes before scheduled departure time, an early start on our way to Singapore. Taxi-out was quick as we went past a bevy of interesting airliners from around the globe: Royal Brunei, Qantas, Vietnam Airlines, EVA, and Turkmenistan, just to name a few.
TG A340-642 (HS-TNC) – now that's a long plane!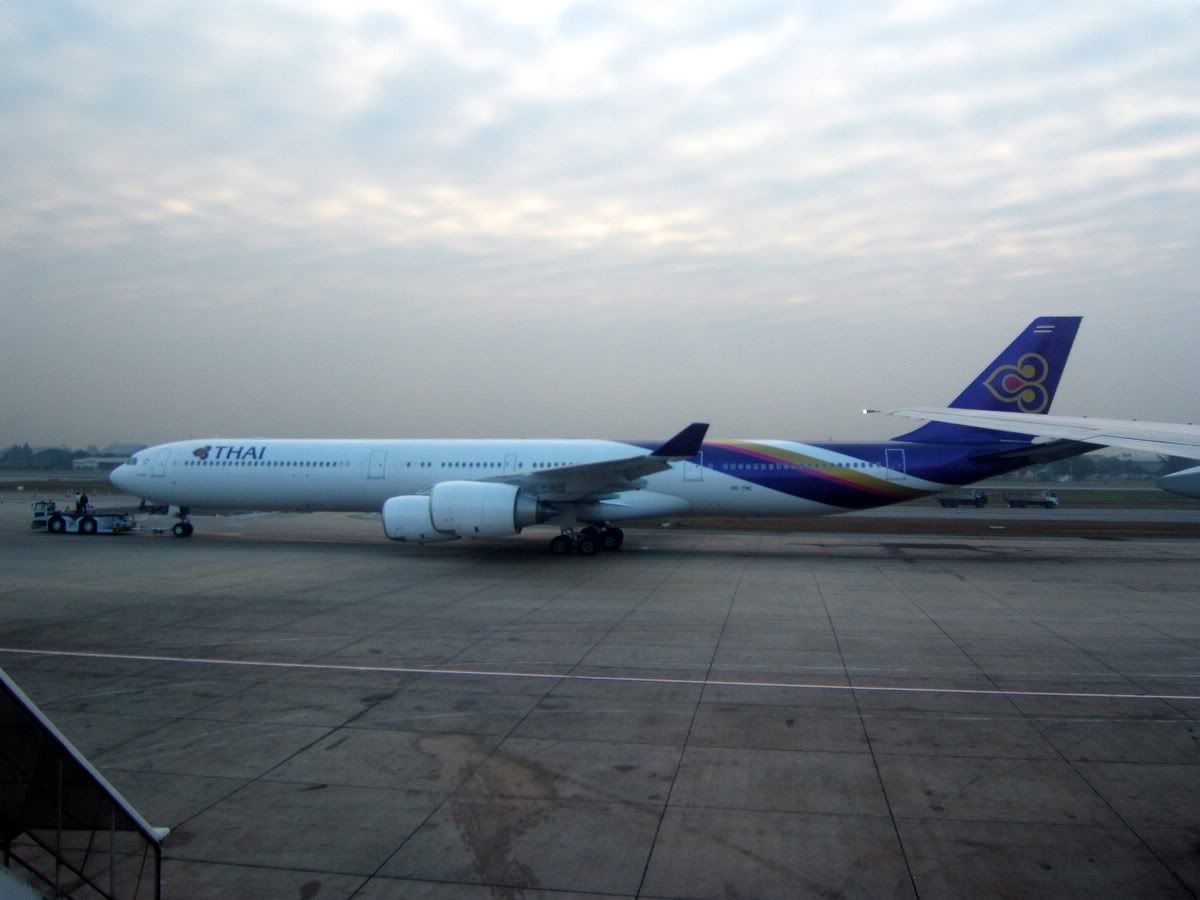 Orient Thai "One-Two-Go" MD-82 (HS-OMA)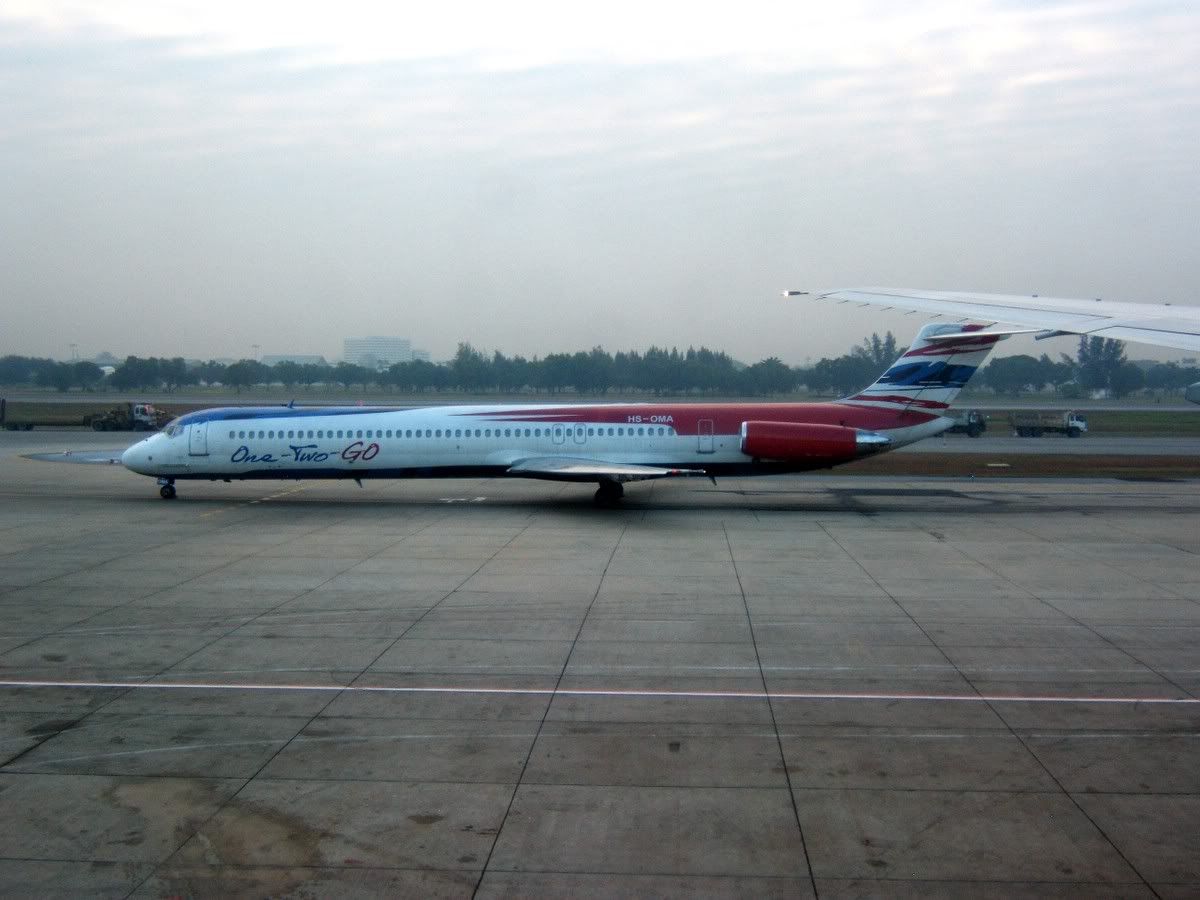 Air Asia 737-301 (HS-AAJ)
Bangkok Air B717-23S (HS-PGP)
TG B747-3D7 (HS-TGO)
Turkmenistan Airlines B757-22K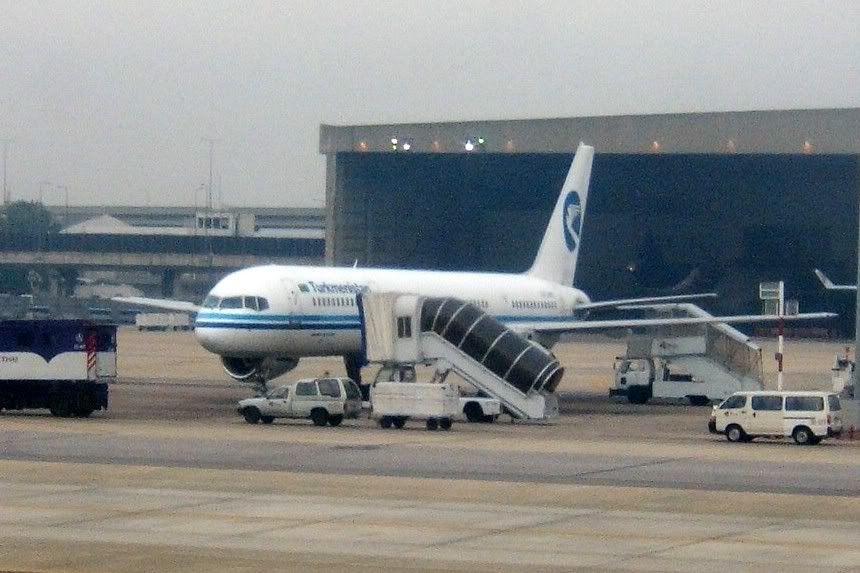 The departure runway was 21R and the captain held the brakes and revved the engines, like they do when clearing snow during winter operations, for about fifteen seconds before releasing the brakes and launching us forward. Twenty-five seconds later we rotated and climbed into the sky. It was a hazy, overcast morning like nearly every other here in Bangkok and as we climbed through 1,000 feet the view was quickly obscured.
TG Airbus holds short as we depart runway 21R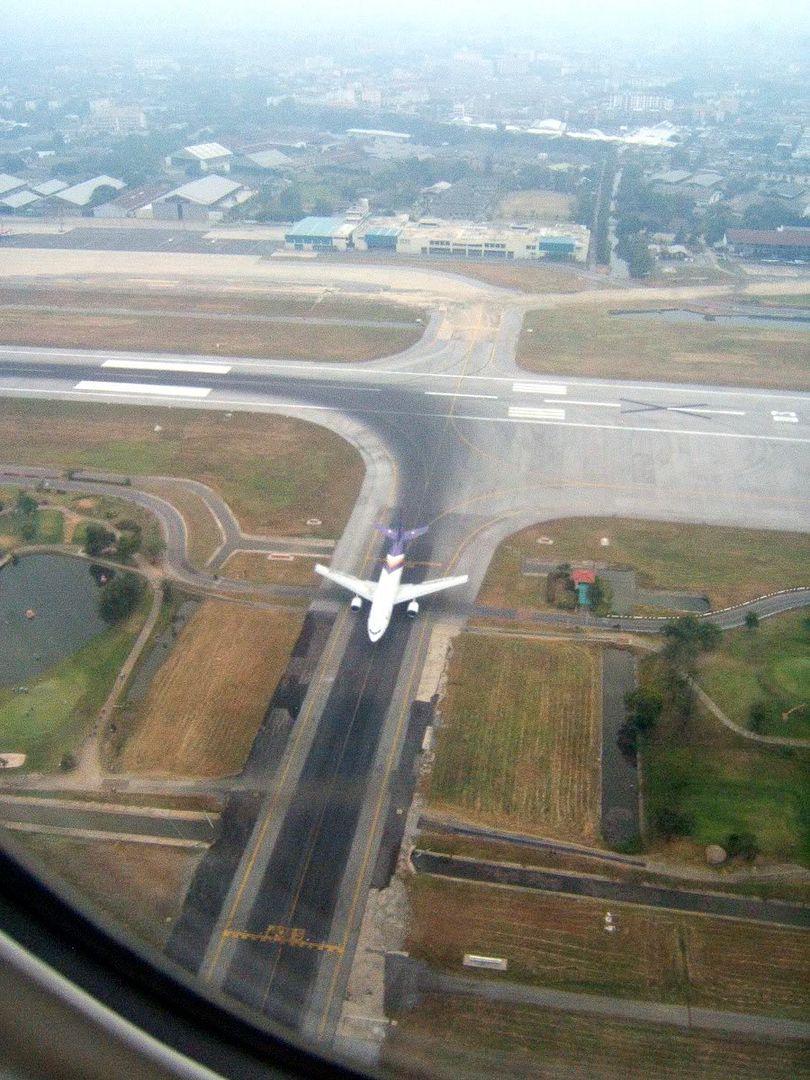 The seatbelt signs were extinguished shortly and the crew began breakfast service. Prior to departure one of the flight attendants had worked through the cabin with the manifest and confirmed all of the special meals, placing a white SQ sticker on those passengers' seats for easy identification. Quite a few passengers, maybe 25 in our section of the cabin, had ordered special meals.
Special meals were served first which resulted in me getting a meal a good twenty minutes before Tawn was served his regular meal. I ordered an Indian Vegetarian meal on this leg and Asian Vegetarian meals for the SIN-HKG-SFO legs. My experience has been that special meals usually are better than the regular meals. This was certainly true for this flight.
My meal included (and I'm sorry I don't know the correct Hindi names for the dishes) a squash curry that was really spicy and delicious, some potato croquettes that were very flavorful and served with apple chutney, and a lentil pancake that had been pan-fried. Very tasty. Also, fruit, plain yoghurt, a roll and marmalade along with orange juice, water and tea to drink.
Indian vegetarian meal – breakfast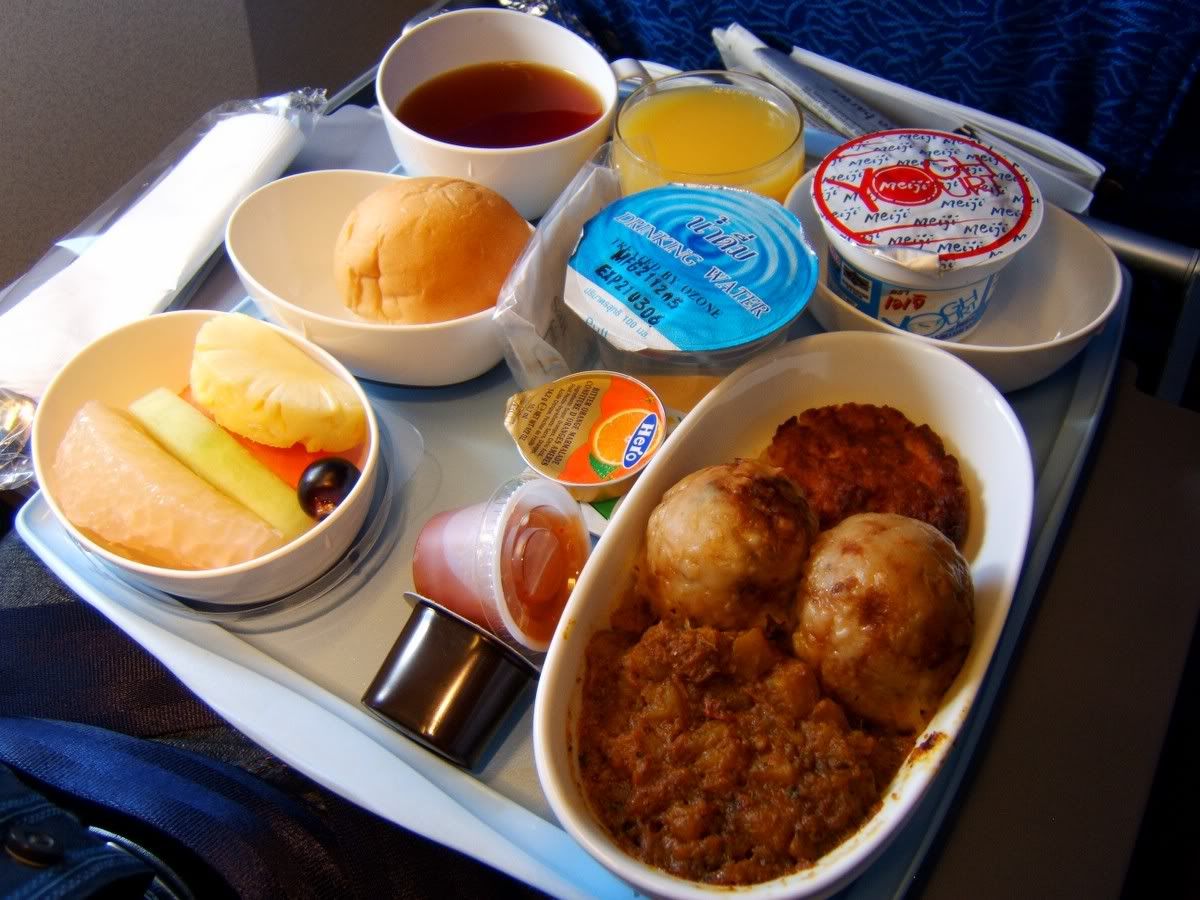 Tawn had not ordered a special meal, part of our strategy to be able to sample a wider variety of SQ's cuisine. He chose the seafood noodle breakfast over the omelette and chicken sausage. His breakfast smelled fishy and not in a good way. I tried a taste – it included small shrimp, calamari, white fish and shitake mushrooms over thin egg noodles. One bite was enough. Maybe a five out of ten in terms of quality, although the quantity was generous. On this flight, the special meal won, hands-down.
Seafood noodles breakfast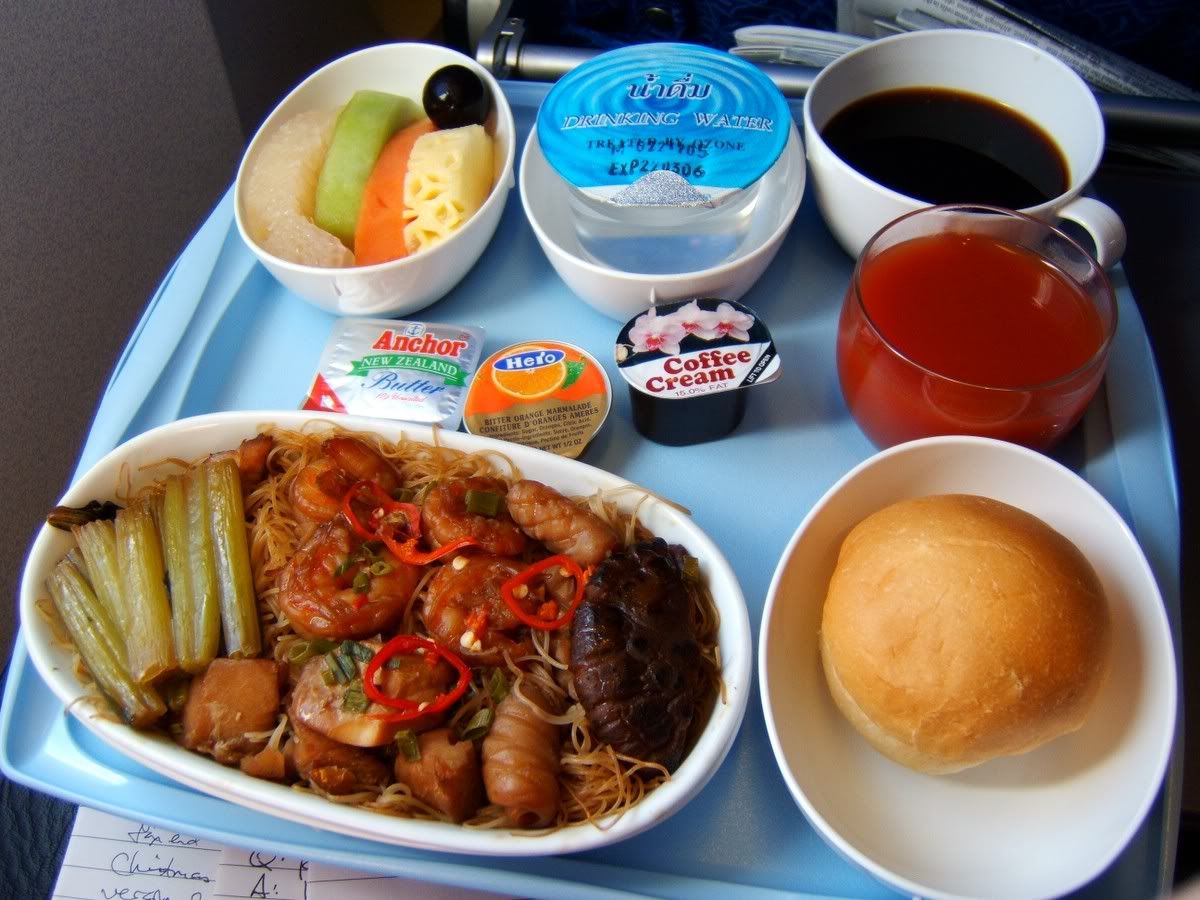 Flight attendants passed through the cabin several times during the 100-minute flight, refilling coffee and tea and offering water. They were very friendly and attentive, especially for so short a flight.
We began our descent shortly after breakfast service concluded, dropping beneath the fluffy clouds as the captain informed us of rain showers forecast for the afternoon, a damp sign for our five-and-a-half hour layover.
Flying in just off the eastern tip of the island, we turned our base leg to the west about thirty kilometers from the field. Approaching from the south, continuing our descent over dozens and dozens of ships anchored in the strait, we had a great view of the financial district and the mouth of the Singapore River before we crossed the shore and came in for a smooth landing on runway 02C. Our taxi into the gate was quick; terminal two was pretty much deserted as we parked at gate F52.
Downtown Singapore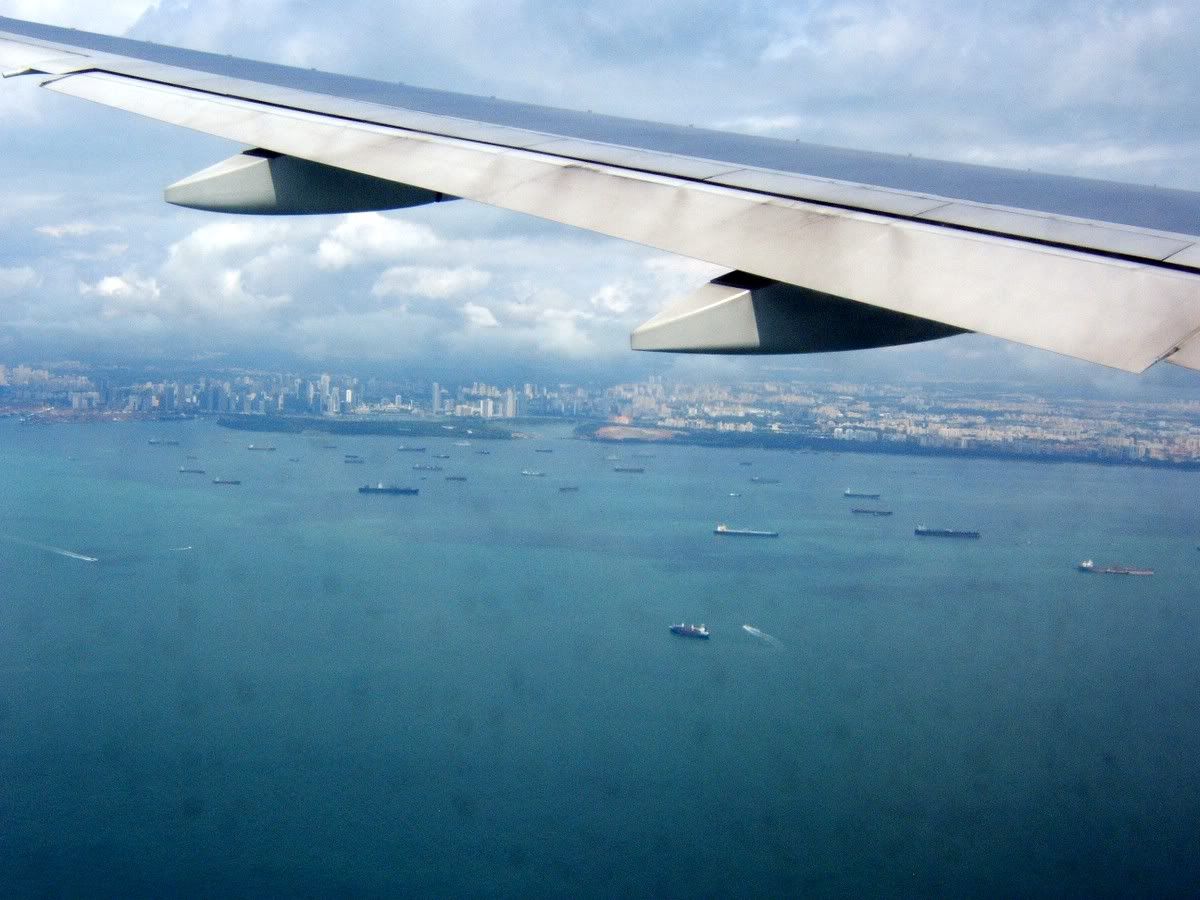 Three seconds before touching down on runway 2C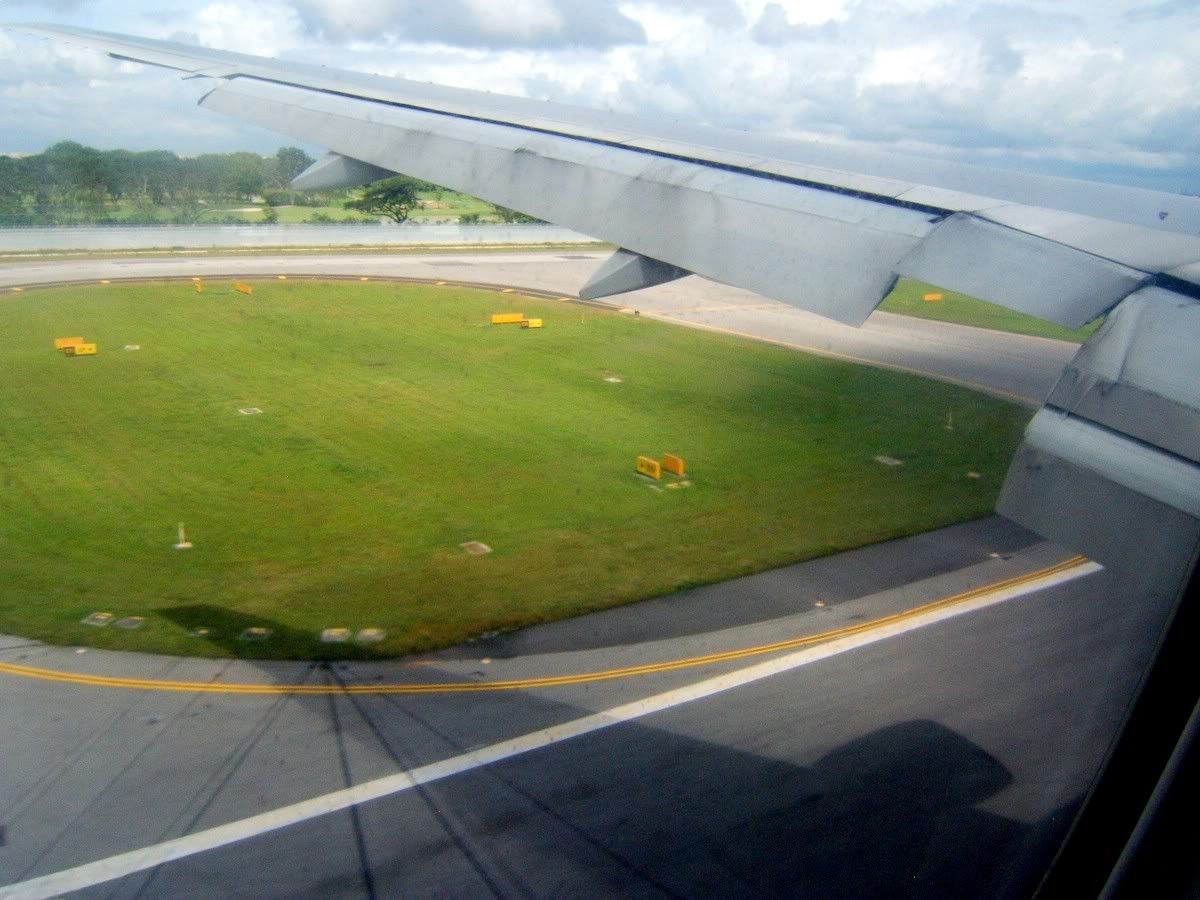 SQ B777-212ER in Star Alliance colors (9V-SRE)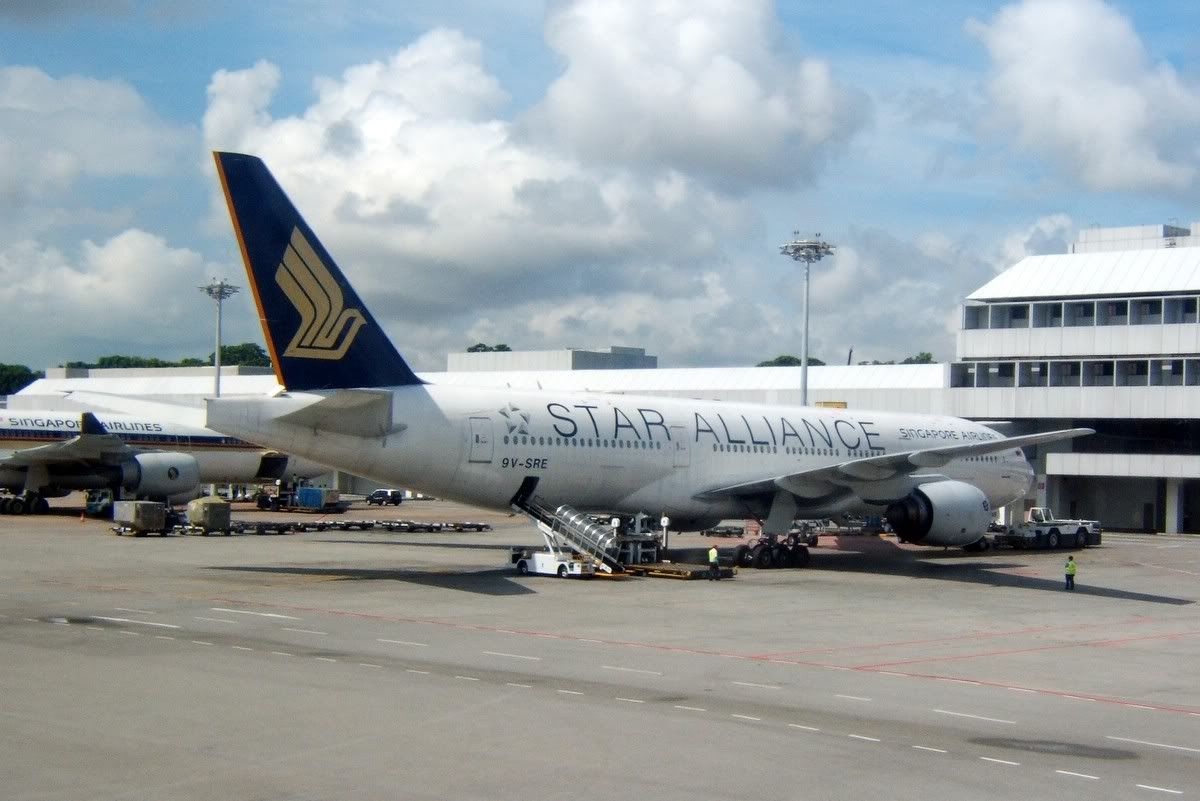 With over five hours between our flights we decided to head into town and meet up with some friends to eat Hainanese Chicken Rice, the national dish of Singapore. Otto and Han met us outside immigration and customs, which was fast, efficient and polite as always. The dish of complimentary hard candies at the immigration desk is an especially nice touch.
At lunch we also met up with another friend, Stephanie, who was in town from Melbourne. Earlier in the week, she had been in Bangkok, so it felt very "jet set" to be seeing the same friends in multiple countries in a single week. As Virgin Atlantic says: go, jet set, go!
Stephanie, Chris, Tawn, Otto and Han
The chicken rice was excellent – we ate at Wee Nam Kee, a pretty well known restaurant – and sat outdoors in the shade of an umbrella enjoying the chicken prepared two ways, sizzling stir-friend venison, as well as several veggie dishes. Afterwards we stopped for coffee at a nearby shopping center. By the time we finished, we were in the midst of a torrential downpour, the captain's weather forecast having materialized as promised. Han had the only umbrella, and gallantly braved the rain to retrieve the car and come fetch us.
The ride to the airport was a slow one, the heavy rain overwhelming Singapore's usually sufficient drainage system and leading to several multi-car accidents on the Pan Island Expressway. You would think that Singaporeans would be used to driving in tropical downpours, as these are hardly a rare occurrence just one degree north of the equator!