Greetings,
PART 1
This is the first trip report in which I have decided to include pictures looking forward to make it a more interesting experience, and needless to say descriptive. I really hope you enjoy it thoroughly, and I apologize in advance if my skills in the photography arena are not up the site's [or many of its users] standards.
During the last months of academic activity of 2005, it was physically impossible to really sit down and think about vacations. Throughout October and November, I had focused all my interest on nothing but learning human physiology well-enough, pass the institutionally required exams, and then, finally, be able to breathe fresh, vacation-air, and enjoy the holidays as they should be: thinking in anything but studies.
Fortunately everything in the University turned out to be as planned. I had imagined that my parents had already planned the whole trip for year's end with several months of anticipation, as they usually do. But I was wrong. The old folks weren't really interested in any foreign destination, which is understandable given that we are already planning a mid-year trip to New York City, and while several touristic possibilities within Colombia were sort of eye-catching, in most cases the prices scared you away, and made you think that it was simply not worth it.
Christmas was to be spent with my mother's side of the family here in Medellin, but it was uncertain where were we going to receive the New Year with the relatives on my dad's side, but, sincerely, I had already digested the idea of no vacation trip at all.
Apparently it is true that when things are not planned, they turn out to be better. My father organized a 15-days trip in Santa Marta, one of the most touristic places in Colombia, to an aunt's cabin that was going to be empty during January. Santa Marta is one of the tourist cities by excellence located up north in the Colombian Caribbean Coast. Vacations in Santa Marta are nothing out of this wolrld, but for the sake of changing of environment, seeing different people and breathing a bit yearly-needed salty air, it was worth it. Yes, and you guys obviously know that simply getting to fly is enough, in many cases. But first, however, we were going to receive the New Year in a family farm in the interior coastal plain, about which I'll illustrate further on.
The trip was planned sort of strange. Feel free to guide yourself with the map I added below:
FIRST, I was to fly from Medellin to Caucasia, a small town in the northeastern part of the same Colombian department to which Medellin belongs. Department in Colombia equals State in the US, or Province in Canada, as you may have guessed. Caucasia has the nearest air-strip with commercial service to the farm we were heading. My parents were also going, though by road, given that security has improved amazingly, and it is now much safer to travel in your car around the country. The segment is 45-minutes by air, and 6 long hours by car through really rough, impressive mountains.
SECOND, after spending New Year's eve in the above mentioned country-house, we were continuing, all by road, to Santa Marta, which is another 6 hours away by car, through marvelous landscapes.


THIRD, I was to return from Santa Marta to Medellin by air, and via Bogota. My parents were returning on car
.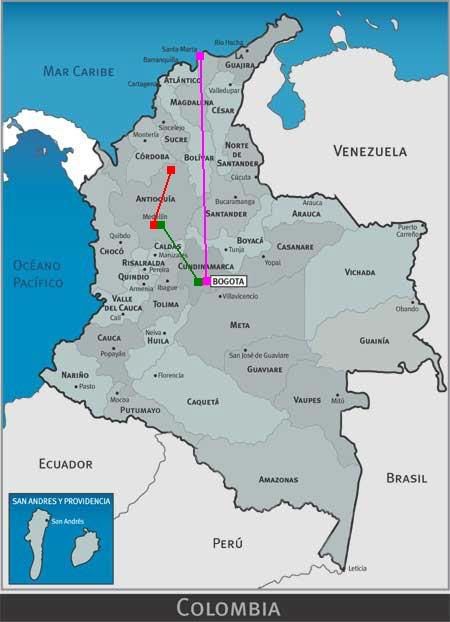 The three segments on which I was booked are colored in the map. Here's a short summary in order to have a clearer idea:
December 29: Medellin [EOH] – Caucasia [CAQ] operated by ADA on a TwinOtter.


January 12: Santa Marta [SMR] – Bogota [BOG] operated by AeroRepublica on an MD-83.


January 12: Bogota [BOG] – Medellin [MDE] operated by AeroRepublica on an MD-83.

In this part I will write only about the first segment, and in the second part about the other two.

My father bought the tickets for all three legs at the same time and on a travel agency in downtown Medellin where one of his best friends works. On the flight to Caucasia I was going to enjoy the company of my grandmother, which expressed being too tired and not in shape for the 6 hour hike to Caucasia by road. Caucasia isn't really that far from Medellin, it's "just" 250 kilometers away by road, and while the 2-lane road is wholely paved and in fine conditions, it is impossible to really reach something higher than 45 km/h on most of the journey given the harsh geographical conditions, full of cliffs, mountains, hard turns and more, making it the 6-hour drive it is. It can be truly stressful for the one who is driving, but hey, those are the Andes after all.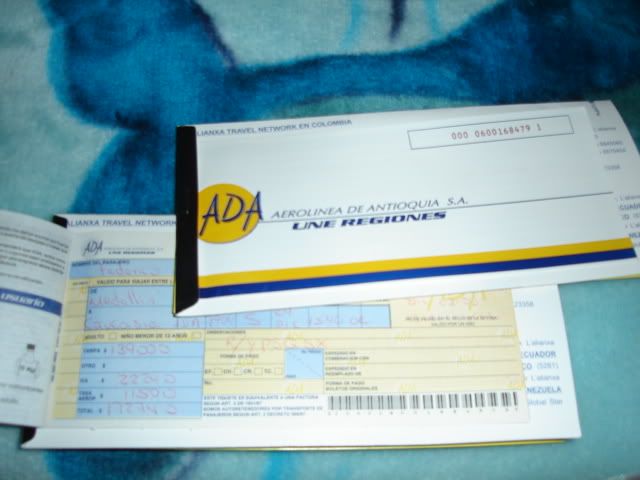 We were flying on Thursday, December 29th on one of the few truly regional airlines of Colombia: ADA [Aerolinea de Antioquia]. Antioquia is the department where Medellin, the capital, and Caucasia, among other 122 municipalities are located, and ADA has done a wonderful job in flying a bunch of Jetstreams and TwinOtters all over it, based in Medellin's regional airport.

On this occasion we [grandma and I] were booked on one of the TwinOtter flights, so I was very excited about it since I had not flown on one of them for quite a few years.

I packed my bags only the day before, keeping in mind that ADA restricts luggage-weight to maximum 10 kilograms when flying the TwinOtters. Believe me, it was quite a job to pick what to pack as you feel that you'll need all your closet down there in the coast. Of course you don't, but oh well, we leisure people will probably never learn to travel. I didn't know what to wear the next day either, as Medellin offers a spring-like climate, but, in contrast, hell-like Caucasia is abnormally hot and humid, but I eventually chose a plain white T-shirt, jeans and sandals.

My parents were traveling the day after, so they were going to drop us in the airport for our mid-afternoon flight.

December 29th of 2005.
Flight: ADA7904
Operated by: Aerolinea de Antioquia ADA
Equipment: DeHaviland Canada DHC-6-300 TwinOtter
Registration: HK-2669X
Seat: Free election
Scheduled Departure Hour: 15:40
Actual Departure Hour: 15:38
Schedule Arrival Hour: 16:35
Actual Arrival Hour: 16:30
Total Flight Time: 45 minutes
Load: 42%




MyAviation.net photo:


Photo © Juan Pablo Gómez




The day of the flight arrived. I woke up rather early considering that our flight was scheduled for an afternoon departure. I would have chosen to sleep a bit more only if I hadn't left a couple of thing to organize the same day of the trip. I watched the weather evolve during the morning and everything seemed to indicate that it was going to be a dry afternoon.

My father was in a relatively nearby Carrefour doing some grocery shopping before heading to the farm, as it is very difficult to find a medium-quality supermarket up in the coast out of the bigger towns. He said that he would pick my grandmother up at 1:30 pm, then me, and after that we would hop directly to Medellin's regional airport which is, exaggerating, 10 minutes away from my house. And so he did.

Traffic was light on this sunny Thursday in Medellin, and in no-time we were walking through the parking lot after arriving to the airport.



Medellin - Enrique Olaya Herrera Regional Airport, seen from the parking lot

We immediately crossed the street and upon entering the terminal an elderly policeman suddenly caught my attention and asked Why are you taking pictures of the airport?, in a tone I didn't like much. I immediately replied that it was only for tourist purposes, and he noticed that I was not pleased at how he treated me the first time. He then spoke once again, on a much, much friendlier way, and told me It is not allowed to take pictures of the airport. You know we went through hard times a couple of years ago and the airport was threatened on several occasions. I hope you understand. I then replied that it was no problem at all and continued my way. So that was the only picture of the airport I got, at least of the terminal itself.

We entered the terminal to find the usual check-in hall in front of us, wide, spacious, with high ceilings, though still keeping a design typical of the 70s. For those who not know, this airport, coded as EOH, used to be Medellin's international airport until 1985, when Jose Maria Córdova International Airport, MDE, the current one, was built.

Colombia's two dominant regional carriers, Aires and Satena have a bunch of counters each dominating the scene in the check-in hall. ADA has four counters located towards the northern end of the check-in hall. It was very early, around 1:45, and I imagined that our Caucasia flight, the third flight of the day to that destination, was not open yet for check-in. We decided to approach the ADA counters anyhow as they were absolutely empty at that time. Despite having 4 counters, there were only two ladies sitting behind them:

- Good afternoon. Is the Caucasia flight open for check-in? I said to one of the ladies.
-Hmm, we could check you in right now or in thirty minutes if you guys wish. she replied with a very friendly face.

My grandmother immediately said yes, so we could then take our times to have lunch.

Of course said the lady. She then turned left and asked her colleague seated two counters away:

- Maria Isabel, you are the one in charge of the Caucasia flight right?.

Maria Isabel said yes, so we moved towards her counter and handed her our tickets. Without looking at us, and with a rather elevated imperative tone she instantly said:

- IDs of the ones traveling.

We gave them to her. I asked how was the load on our flight, and still looking towards the desk she said:

- This flight is half-full, tough strange as all the flights to Caucasia have gone out full today and yesterday.

After a few seconds, she gave us our hand-written boarding passes, and told us to head to gate 1 thirty minutes prior departure. She wished as a happy flight, though she seemed not as friendly as the previous girl. I also took a copy of a free company newspaper promoting ADA destinations and news. ADA is the only airline in Colombia that I have seen uses hand-written boarding passes, but I kind of like it, at least it makes things a bit more exotic.


Our hand-written boarding passes for our flight to Caucasia

Company newspaper

We headed to the food court, and we picked fast food for that day's lunch. There wasn't much to choose from anyways. My parents, grandmother and I each had a sizeable burger and sodas for a quick lunch, and then stayed there chatting for a while.

Minutes before heading to the assigned gate, I went to the bathroom and was positively impressed with the extreme cleanliness and shine. I also noticed during my walk that they've been updating the airport's infrastructure, and they've done a nice job. Opening the renovated terraces is the only task they've got left.

Around 3 o'clock we decided to walk to gate 1. We said goodbye to my parents upon the entering and passed security which is located right in the entrance of the gate. Security, I must say, was amazingly relaxed. I was only asked to pass my small backpack through the X-ray machine, and walked through the metal detector, without any further inspection of any sort. Oh well.

The gate is a large room in which several regional departures are handled simultaneously, including all Aires' and ADA's flights, being the former the biggest carrier in the airport. The waiting room has high ceilings, white-painted walls and a big access to a huge garden full of orchids which gives the space a nice, natural air. It offers seating for 150 people roughly calculated, and around that same time 4 flights were preparing to depart: two 50-seater Dash-8s, one to Pereira and the other to Ibague, another ADA TwinOtter probably to a town within the department and our TwinOtter to Caucasia.

Despite being the room so crowded, we managed to find a couple of seats for ourselves, relatively near the path that guided you out the apron. I wasn't so concerned about getting a good seat in the TwinOtter knowing, thanks to a direct confirmation from Maria Isabel, that our flight was going to be half-full.

At 15:15 Aires' ground staff announced the beginning of the boarding process for the Ibague-bound Dash-8, and, parallel to that, the room's seating capacity was relieved a bit.

Finally at around 15:25 a very nice brunette girl came on the speaker from an ADA boot located within the room and announced the boarding of flight 7904 to Caucasia. My grandmother and I stood up in front of the rest of the people, and then other 6 followed us. We did a short line near the gate which leads to the parking apron, and waited for the brunette lady to escort us. She then came, stood beside the 8-people line, and politely asked us to wait a couple of seconds so we could walk all together throughout the apron, instead of being all spread out. Meanwhile she took our boarding passes, stamped them and did a check-sign on a passenger list she had on her hands. It was kind of funny to be standing there on a perfect line I thought. After having processed all 8 boarding passes, she gave each one of us a small box of juice and a pair of ear-plugs as our onboard treat for this 45-minute flight. Remember that there are no flight attendants onboard TwinOtter flights. The lady then told us that we were going to walk to position 1 where aircraft HK-2669X was waiting. Doing so, we walked nearby several of the aircraft that were being prepared for departure as well.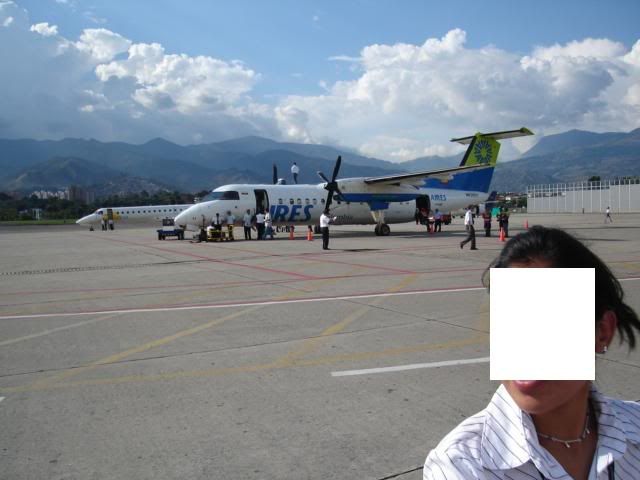 The brunette girl who escorted us to the plane, and in the back, Aires Dash-8 to Pereira and ERJ-145 to Bucaramanga I believe.

The brunette girl noticed I was taking pictures; she giggled and then told me to take them quickly and to watch out, that if anybody saw me I would get in trouble. I simply smiled back.

Once we reached our TwinOtter, HK-2669X, there were several members of ADA's ground staff with all our equipment in the ground. Before entering the small plane, each one of us had to tell them which bags were our own and then they proceeded to put them inside the plane. Then I helped my grandmother hop into the aircraft up the small stairs, and then I went in, and sat in the second row to the right, in the emergency exit. Remeber the TwinOtters have a 2-1 layout. I got into my seat and seeing that you have an extremely limited space, my grandmother opted for the independent seat across the same row, so I had the seat next to me for myself.

I snapped a couple of shots after having seated.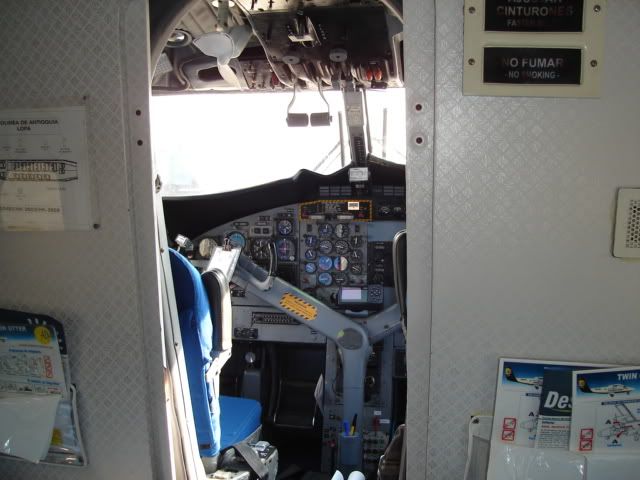 A shot of the cockpit seen from my seat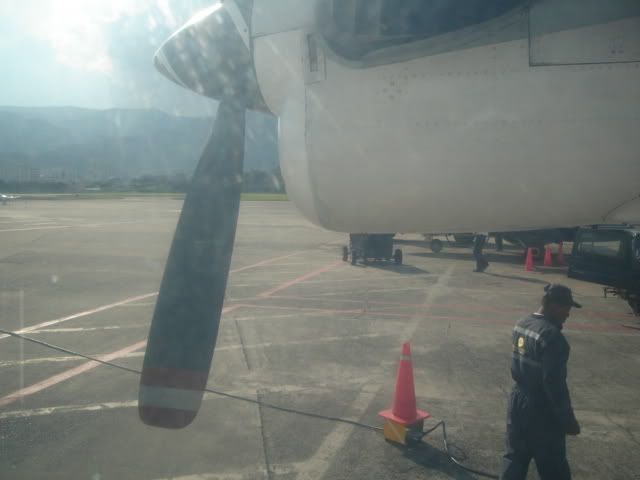 A foto of the engine and the propeller, which is mosto f what I was going to see outside my window for this flight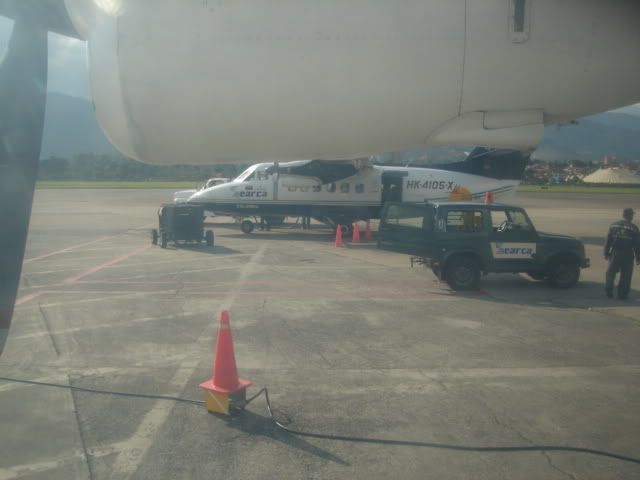 Searca Turbolet-410 operated on behalf of Satena parked in a neighboring position waiting for yet another regional mission
View of the Satena ERJ-145 taxiing to runway 01 for departure

Shot of the seat belt, and proof that all ADA TwinOtters were inherited from ACES

Approximately 10 minutes before our scheduled departure hour, both pilots hopped into the cockpit and went through all the necessary proceedures before taxiing. A few minutes later the engines started and the little plane started vibrating. Exactly on-time we started taxiing. Congrats to the airline on that.



Beginning to taxi to runway 01

While taxiing I saw the ERJ-145 that was previously taxiing then rocketing down the runway and take-off.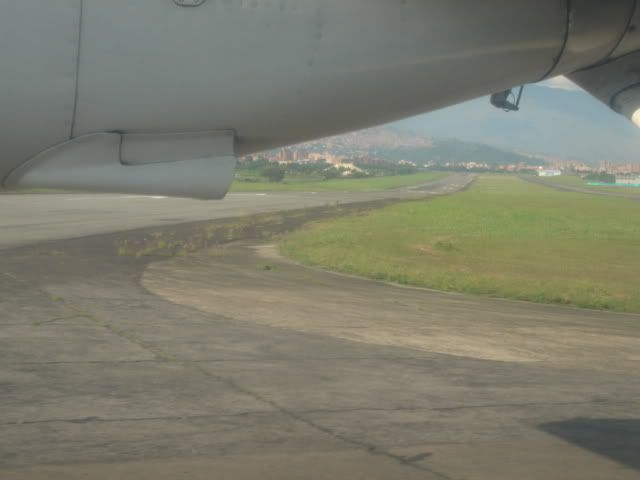 Cleared for take-off runway 01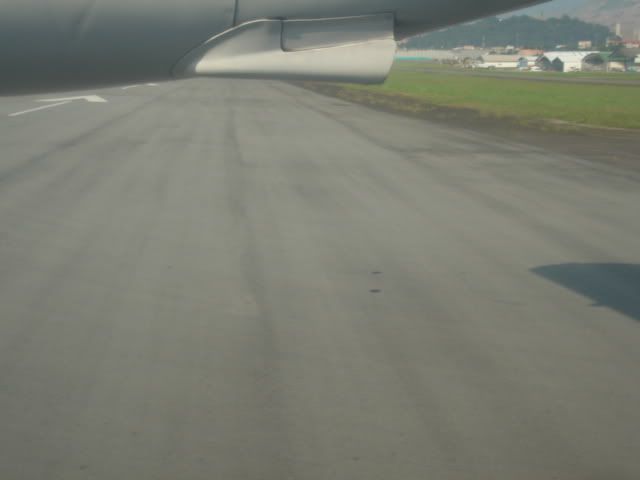 Entering the runway and lining up

After being lined up, the pilot slowly applied full-throttle and boy could that small plane shake and sound!. I had already flown on the TwinOtters a couple of times before, but it still amazes me the power of that little thing. The pilot let the brakes go after reaching full power, and we began to quickly roll down the runway. After an incredibly fast take-off roll we were rotating.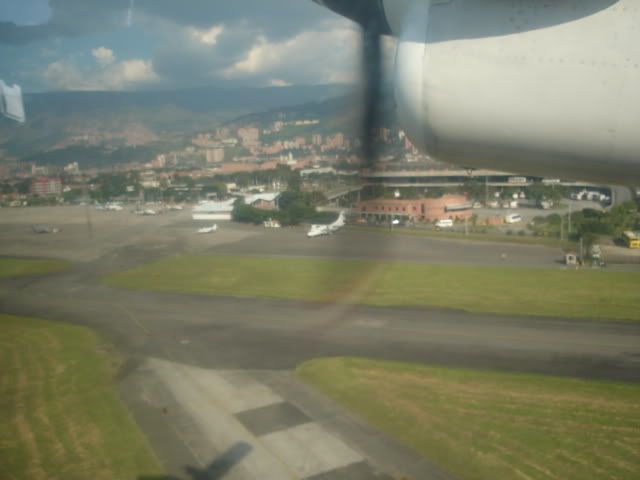 Seconds after rotating. The apron is already visible.
View of the apron. The position where we were parked was now occupied by another ADA TwinOtter.

Climbing and flying over the industrial zone of Medellin

If you noticed in the map, Caucasia is located almost straight to the north of Medellin. Having departed from runway 01, there was no need to turn. We just took-off and flew right to the north.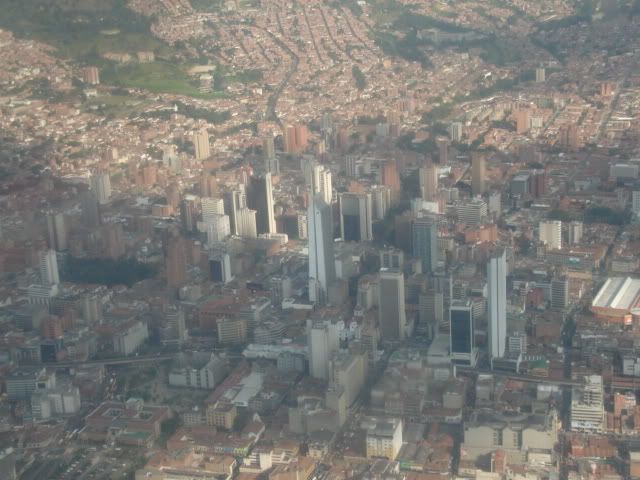 Slowly climbing and building up speed while passing near downtown Medellin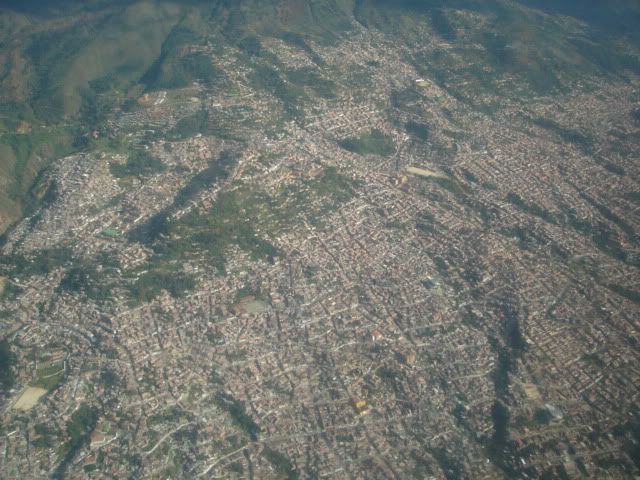 Flying over the northern hills of the city, which represent the lowest-income neighborhoods
Climbing out of the valley where Medellin is located

Almost reaching cruse level, we flew right over Rio Grande dam, north of Medellin, more than 2000 meters above sea level.

After passing some dense clouds and the logical turbulence that comes with them, the pilot adjusted power for cruise, at 12000 feet.

10 minutes after take-off, we flew over the municipality of Santa Rosa, which is normally a 2-hour drive from Medellin and only 71 kilometers away.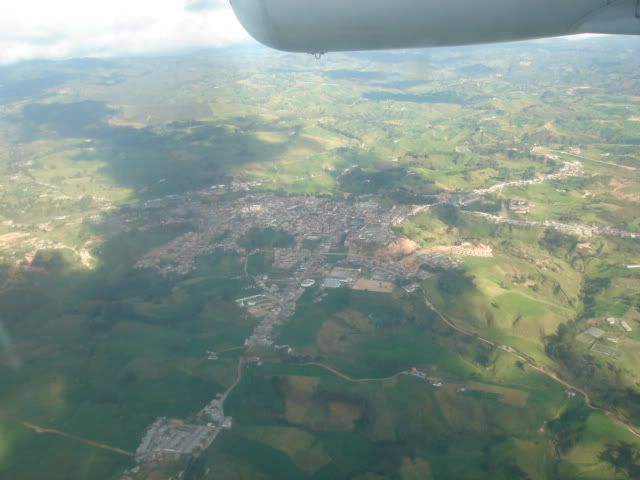 The town of Santa Rosa, Antioquia, located at 2600 meters above sea level
The road that would take my parents to Caucasia the following day
View of the pilot. He kept writing something during most of the flight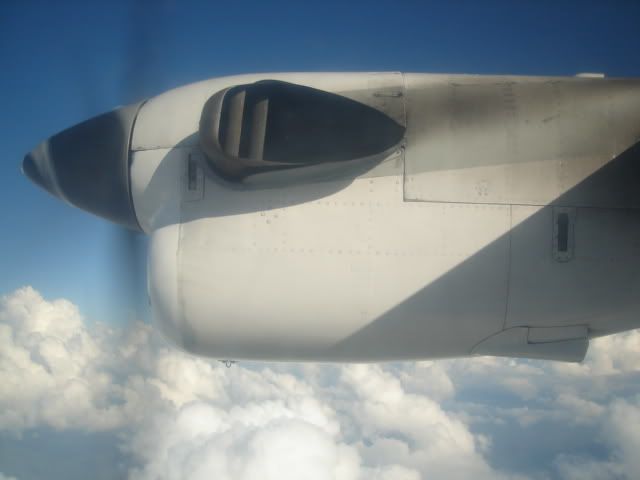 View of the engine during cruise

We kept flying in a north-northeasternly direction for most of the flight, flying over the Andes which are basically the ones that make it so difficult or long to access many municipalities in the department of Antioquia by road.



Flying over mountains, and mountains and more mountains

After flying for more than 30 minutes, the hot coastal plain appeard below us, and the Cauca river, the second largest of the country, and to which Caucasia owes its name, could be seen to the left side of the airplane.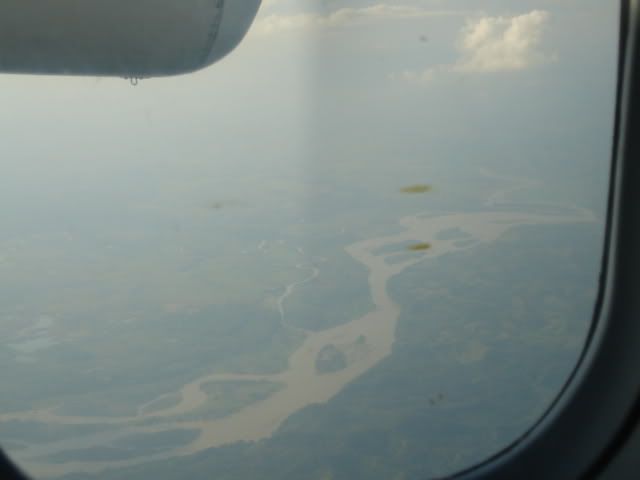 Cauca River

After reaching the plains, we began a slow and long descent towards the small air-strip of Caucasia.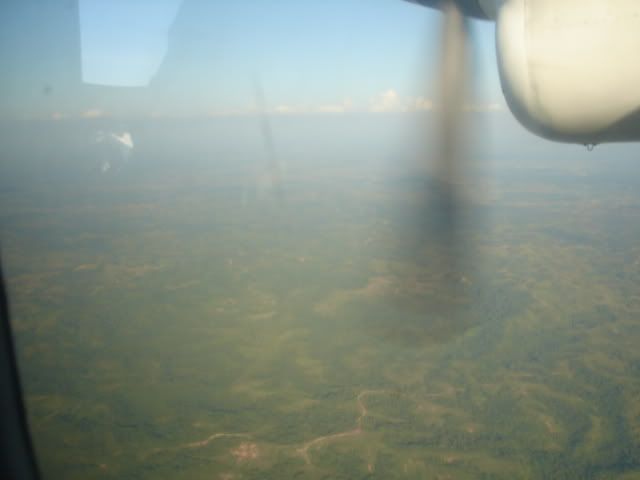 Descending over the northern lowlands
The river basically guided us to Caucasia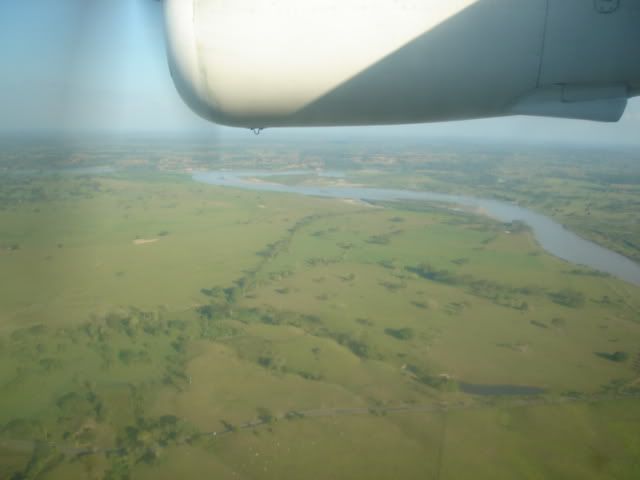 Low over the plains and near the road that comes from Medellin. You could already feel the hot air

The runway in Caucasia [CAQ] has a 36-18 configuration I recall correctly. Given that we were flying so low and consistently towards the north, I initially though we had been clear for a straight-in approach to runway 36, until we suddenly began a sharp turn to the left, and crossed right over the runway.


Banking left over the runway

I was then able to see the town of Caucasia outside my window

We banked once more to the left, and we were now flying south. We flew until we were clear of runway 36, and began banking yet again to the left towards the runway.


View of the pilots while banking
And the last final turn in order to line up with runway 36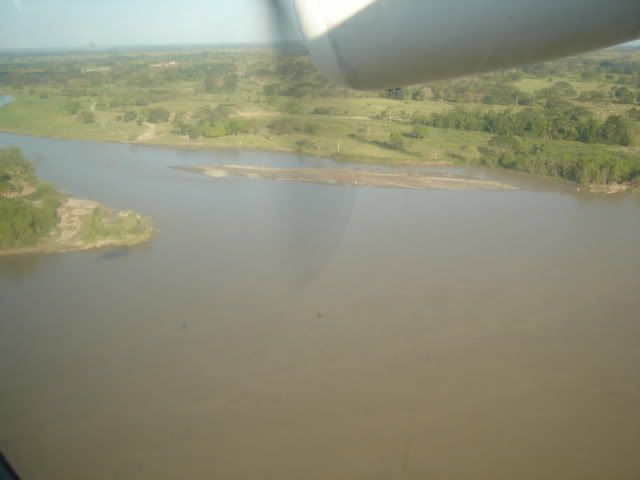 Lined up, and flying very low over the river in finals for runway 36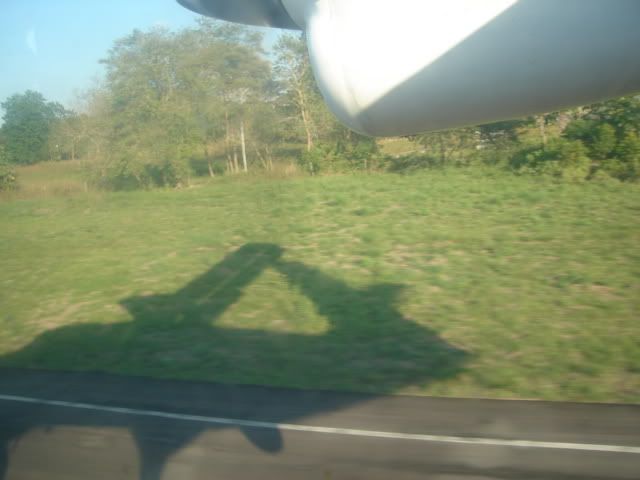 Having barely passed the threshold

A few seconds before touching down

And the pilot performed a admirably smooth touch-down on runway 36, though he did brake a little hard with full reverse thrust and tire brakes.

We had to make a 360° turn in the 25 meter-wide strip and backtrack the runway in order to taxi to what is supposed to be the apron, and is really just a heliport.



Turning to backtrack the runway

While taxiing, the pilot welcomed us to hot Caucasia right on-time, local time was 16:25 and temperature was 37°C [99°F] and 100% humidity. I was meanwhile psychologically preparing for the heat. We stopped in the heliport and the door in the rear was opened seconds after. It was incredibly hot, but not only that, it's the extremely humid air what makes it really incomfortable. But that's the tropic anyway, where else in the northern hemisphere could you get 37°C on a December 29?


View of the airplane after de-boarding. The typical policeman and the slut looking to flirt with the pilot can be seen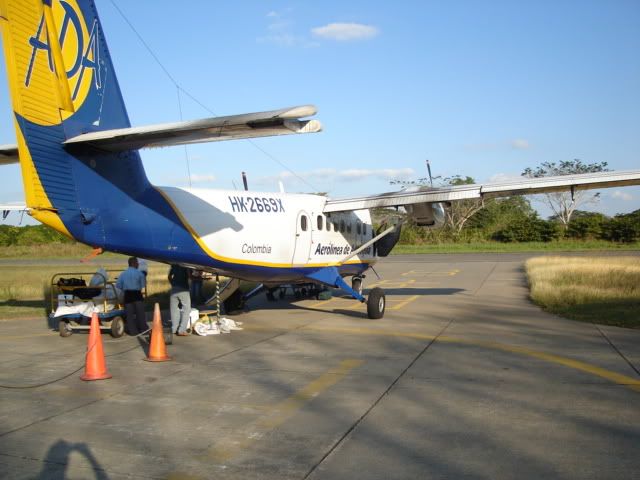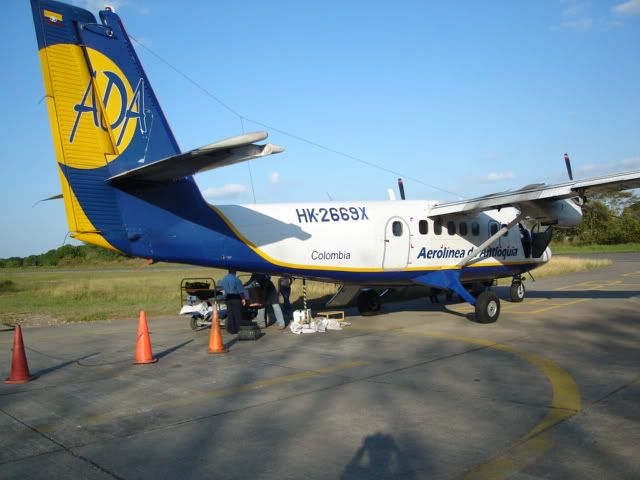 View of the plane waiting for passengers for its return hop to Medellin.

It caught my attention that one of the men in charge of taking the luggage out of the plane was a Down patient. He can be seen in both photos above in a blue shirt.

The "terminal" in Caucasia is just laughable, though has its personality. Take a look at it in the picture below.



View of the airport in Caucasia

It's a small house. There are around 5 chairs to the left of the shot which cannot be seen. There is a small store where you can purchase an ice cream, drinks or sweets. The pilots were already there drinking some Coke. The passengers who where heading to Medellin where already lined up near the entrance and there is a small walkway that leads you to the heliport where the plane parks. The ADA offices are visible and also the desk where one policeman performs the security procedures of inspecting through your luggage. That's it. CAQ receives three daily flights from MDE, though currently it is underserved given that ADA is the only airline flying there. There are normally two carriers in the EOH-CAQ route with a total of 5-6 daily flights.

But it's not Caucasia itself the responsible of dedicated air-service to Medellin. Many wealthy people living in Medellin have farms in, or near Caucasia, and not only that, but it's also the second largest towns in what is Colombia's cattle region by excellence. They also extract gold in the towns surroundings. If those three conditions had not existed, the town would only have bus service to Medellin, for sure.

We went outside and asked for a taxi that would drive us to the farm which is located 30 kilometers away by road. Fortunately there were several cabs available, and they all charged the same to the farm, 40.000 COP [USD18] toll included.



View of the cabs outside the airport

Once we hopped into the cab, I saw that the plane had already started its engines and was beginning to taxi for take-off barely 15 minutes after arriving. Understandable given that Medellin's regional airport only operates during daylight hours, and it was 16:45 already, so they would be arriving to Medellin at around 17:30 after the 50-minute ride, and just before sunset.

Overall I was pleased with ADA's service, and I believe they are doing a fine job as the regional airline they are.

After a 30 minute drive, we finally arrived to the farm where we were going to receive the New Year.



A frontal view of the farm

The New Year was received with a big family reunion in the farm. Then, on January 5 we headed out by car to Santa Marta, which is 6 hours away from Caucasia. There we spent until the 12th, when I was booked to fly back to Medellin on AeroRepublica via Bogota.

Expect the second part of the report soon with much more pictures, landscapes, plane spotting, the full AeroRepublica experience in detail and pictures of the A380 in Medellin in its first visit ever to the Americas.



SOUTHAMERICA