PART 2
This report is the continuation of
Colombian Coast on TwinOtter!/MD-83 (pics) PART I
In order to really understand and enjoy the second part, it is
essential
that you read the first part, where the details of the trip are explained. If you feel too lazy, then I encourage you to read only the first part and skip the second part, but not the other way around. By the time you read this piece of the report, the first part's pictures may not be available because of the limited bandwidth provided by the free sponsor,
Photobucket
. Let's hope it doesn't happen.
______________________________
What a fantastic time we had on the farm. We didn't really do anything too extraordinary, but just being able to relax to the point of losing the sense of time, well-away from pollution and noise of any sort is more than enough.
We did enjoy a lot the hot and sunny days around the pool, horse riding, fishing and many more activities you normally don't do in the city, until January 5, day when we finally decided to continue our way to the cabin in Santa Marta, 6 hours away from Caucasia by car.
The trip to the coast is a fantastic drive through incredible landscapes. The road was in fine conditions, protected all the way by the military and with a decent amount of traffic thanks to one of the most traveled high-seasons in Colombia's history.
In order to get to Santa Marta, driving through the outskirts of Barranquilla is in order. Around noon, we decided to have lunch in northern Barranquilla in one of the city's nicest malls. Social contrasts in Barranquilla never cease to amaze me. Sure, Latin American cities can certainly be recognized because of huge gaps between social levels, but, honestly, the situation in Barranquilla is critical. The most beautiful mansions and luxurious houses in the whole country, without thinking twice, are located in Barranquilla, and believe me, I've been through each city's higher-income neighborhoods on repeated occasions, and not even those of Bogota match the style of living of the richer societies in Barranquilla. But, on the other hand, among the poorest, most pitiful communities in the entire nation are there; and as if it weren't enough, public services for those families are of infra-human quality. At least the lower-income populations of Medellin and Bogota enjoy high-quality services as long as they pay for them.
But Barranquilla, as a whole, is a mess: traffic lights are rarely respected, the streets full of holes or bumpy concrete, dirty buses, litter all over the place, absolute motorcycle invasion, constant heavy traffic jams regardless of the hour, and added to the above, the infernal heat of our Caribbean coast. I dare to describe the city in one simple word: chaos. Still, it is a city worth visiting at least once.
Moving on, we finally arrived to Santa Marta, where we spent the following seven days. As I mentioned in the first part of the report, nothing out of the ordinary is done. A couple of days in the pool, visiting a few malls that they've built in the surroundings and knowing a bit of the newer bar-lounges in the city, which seemed quite interesting. True to say, by the time it was Wednesday, the day before my return trip, I already wanted to go back.
Of course, my hobby primed and logically one day was dedicated to local aviation; knowing that only 6 daily flights arrive in Santa Marta combining Avianca and AeroRepublica, you have to try and take a peek to each airline's schedules and see if you can go to the airport specifically to catch one of those flights.
The day I went "spotting", I decided to go after the arrival of Avianca's second daily flight from BOG at around 2:30 p.m., and hoping to get one of the many new-colored MD-83s in the fleet. Bad luck both with the livery and with the photo. The plane could be seen landing but a bit far away, so the picture ended up being a low-quality piece, and, unlucky-me, got N583AN, one of the few MDs still in the old livery. Oh well. At least I managed to catch it landing.
Avianca MD-83 arriving in SMR as the airline's second nonstop flight from BOG of the day. People walking by the beach can be seen. Apologies for the low quality image.
Continuing on, Wednesday 11, before going to bed, I thoroughly organized my bags in order to have everything well-packed for my return trip. For those of you who cannot recall the two segments left, here's a hand:
January 12: Santa Marta [SMR] – Bogota [BOG] operated by AeroRepublica on an MD-83.


January 12: Bogota [BOG] – Medellin [MDE] operated by AeroRepublica on an MD-83.

I was really expecting the return trip because it was going to be my first experience with AeroRepublica ever. No real reason behind it, but we've traditionally preferred Avianca for domestic traveling. This time AeroRepublica offered a much, much lower fare connecting in BOG, versus Avianca's nonstop Santa Marta-Medellin service which literally rips people off. I didn't mind getting two flights for the price of one either, and, added to that, I was finally booked to try AeroRepublica's service for myself; an airline about which all type of comments are heard, though most of them positive ever since they renovated their fleet and image a couple of years ago. Good or bad, they have done their homework and thanks to that they are now solid and well-positioned on a clear second place in the domestic market with a pretty impressive network of national routes.

My flight to Bogota, scheduled to depart at 9:30 a.m., required an early morning arrival to the airport and an even earlier wake-up time, idea that put me into bed around 10 p.m. the night before. The next day I woke up at 6:30 a.m., proceeded to wake up my mother, and soon found out that my father was already up and reading a book outside, enjoying the pleasant morning fresh air. The weather was lovely during our stay in the city, and the day of my trip was not the exception. There wasn't a sole cloud in the sky to be seen. While I took a bath, my grandmother got up and prepared some coffee for all of us. A few minutes before 8 a.m. my parents and I were ready to into the car and go to the airport. They were going to drop me off kind of early in case any last-minute event took place, and boy did it help to get an extra 20-minutes earlier to the terminal!.

There weren't too many cars in the tiny parking lot, but the little terminal, at 8 o'clock, more than one and a half hours before my scheduled departure hour, was already packed with people, and that, considering that mine was the only flight set to depart during the mid-morning. Sheesh.

I entered the terminal with my bags and immediately saw a rather long queue in front of AeroRepublica's two ticket counters. I then proceeded to a quick security inspection they do through your baggage before approaching the check-in area, and, done that, I headed to wait in the line for check-in. To my surprise, check-in for our flight had not opened yet, and both counters were still visibly empty; that explained why the line was not moving. While waiting, I observed several interesting things worth telling.

In first place I let my bags rest in the floor while more and more people continued to arrive slowly behind me. My parents decided to wait for me seated in one of the tables of the airport restaurant. In front of me, I managed to count around 30 people in the line, all with amazing loads of luggage. I didn't want to imagine how did AeroRepublica, and Avianca for that matter, manage to deal with overweight and baggage excess on flights from leisure destinations as Santa Marta, particularly on all-MD-83 operations like the one these airlines handle.

Anyway, there were all sorts of people standing anxious to see the ladies appear behind those desks as soon as possible: elderly travelers, big families with lots of kids, and foreign travelers among others. There was one beautiful lady standing there, a few steps ahead of my position, with a baby in her arms who was already crying, and made me think he would continue on doing so during the whole flight, as usually happens. Surprisingly, and fortunately, the little thing slept all the way down to Bogota.

I also noticed that there were several good-looking, extremely elegantly dressed girls almost leading the line, and all of them where wearing basically the same clothes. "Some beauty contest participants", I though. And I was right. We were also traveling with Miss Colombia 1981-1982, Nini Soto, who is currently involved with national politics.

While waiting and observing, some people who were leading the line suddenly began to loudly discuss, spectacle that caught all the line's attention, which by then stood at 50 people roughly calculated. It wasn't very clear what they were arguing about at first, but they were speaking in an evidently rude, elevated tone. A few seconds after, a short lady stood out of the line of those who were near the apparent fight, and quickly called one of the policemen who were doing the security inspection at the entrance.

- Excuse me, she began, while literally all of us in line were concentrated hearing what she was going to say. It would be appreciated if you could give us a hand solving a conflict over there, it seems that a man and his family is claming that the ex-queen and her team are not respecting the line.. The policeman rapidly stood-up and went to see what happened. By that time, three AeroRepublica ladies showed up and were apparently ready to open the check-in process at exactly 8:15 a.m., so everybody quit paying attention to the problem and concentrated on their own thing again. I never really found out how did the argument end, but once they began check-in, the ex-Miss Colombia was the first one to get processed, and headed immediately after to the gate in a rather arrogant attitude.

The line, finally, started to move, but at a very slow pace. I began to think that they were not going to be able to check the whole flight in on-time. I barely managed to reach the counters at 8:40 a.m.!, and I looked back only to find one of the longest lines I've ever seen in these cases; it already invaded Avianca's empty space, but fortunately they had no flights departing until 11 a.m. or so.

I approached one of the ladies, with an undeniable coastal look, and with the typical accent of the region she quickly said Good Morning and demanded my tickets. Her face was sort of sweaty by then, though her uniform was still well put. She then asked for my ID and took a while to find me on the system. While doing so, a couple of travelers approached the neighboring counter, and they were carrying a TV screen and several heavy bags. The lady, before receiving their tickets, reminded them that they were only allowed to check-in 40 kilograms of total weight together, and any excess from there on would be assumed by them. What really stunned me is that they stared at each other, kind of surprised, as if they didn't know that. The lady noticed it also, and she then shouted out loud to the line…

- WE REMIND ALL TRAVELERS THAT ONLY 20 KILOS PER PASSENGER ARE ALLOWED TO BE CHECKED-IN !!!

…And after this classical Latin way of communicating, the check-in process continued. The lady who was checking me in gave me my two boarding passes for today which she carefully separated, and tagged my luggage with a big CONEXIÓN – MDE orange sticker. She told me to head to gate 1 half an hour before departure hour, and that the flight was on-time. I really doubted it.

- Have a nice flight, next on line please! she quickly said.

I then moved out of that chaos of a check-in and went out to a patio where most of the restaurant tables are located, and I decided to take a pic of the small airport:



View of the airport. The first floor is where the small check-in area is located, together with the restaurant in the patio. On the second floor the 2 gates are located.

My parents had already had breakfast, and ordered some scrambled eggs with bread for me. I didn't eat much of them, though they were good. Around 9:05 a.m., the arrival of flight AeroRepublica 7490 from Bogota was announced on the speakers. I then quickly went to see it land, and there it was, the plane that was going to take me initially to Bogota on finals for runway 01 in Santa Marta. Lack of quality once again, but I took it and that's what matters.



AeroRepublica MD-83 from BOG, on finals. This plane was going to take me back to inland.

The plane landed and the screaming of the reverse thrust announced to the whole airport that the plane had arrived.

I then decided to go upstairs and enter the gate. It was already 9:10 a.m., barely thirty minutes before our scheduled departure hour, and there were still plenty of passengers and tons of baggage waiting to be checked-in. I was amazed to see that sight. It was obvious that under those conditions the flight wasn't going to depart on-time. I began to worry a bit because the scheduled arrival hour to Bogota was 11:00 a.m., and my onward flight to Medellin departed at 11:50, and shuttle flights do tend to go out on-time, or a few minutes earlier.

Anyhow, I said goodbye to my parents who were going to stay waiting to see the aircraft take-off.

January 12th of 2006
Flight: P57491
Operated by: AeroRepublica
Equipment: McDonnell Douglas MD-83
Registration: HK-4410
Seat: 24A – Emergency exit
Scheduled Departure Hour: 9:35
Actual Departure Hour: 9:52
Schedule Arrival Hour: 11:00
Actual Arrival Hour: 11:14
Total Flight Time: 1 hour and 10 minutes
Load: 100%

I went through several security filters with metal detectors and such, and then I continued on to gate 1, the one used by AeroRepublica's two daily services to Bogota, which sum up the airline's presence in Santa Marta. Gate 2 is used by Avianca and that's it.

I entered the small waiting room and noticed that they've invested some money on the airport. They at least now manage to provide air conditioned once passed security, never before seen in Santa Marta, and the chairs are now metallic, whereas before they were a cheesy red plastic. The room was already crowded with very few empty seats, and half of the flight was probably still downstairs checking-in.



Picture of the already crowded waiting room 1 at Santa Marta

By the time I reached the gate, the aircraft, HK-4410 had already parked and people inbound from Bogota were de-boarding.


HK-4410, the plane that I was about to take me to Bogota

Gate 2, used by Avianca, empty. AV's first flight to Santa Marta arrives around 11 a.m.

Time kept passing and only at 9:20, barely 15 minutes before our supposed departure hour, one AeroRepublica agent showed up at the gate and was ready to announce the beginning of the boarding process.

I was now really expecting to continue living my first AeroRepublica flight, because so far, despite everything being relatively normal, the whole pre-flight experience was giving me the idea that the departure of this flight was too much for them, too much of a hassle, and was just being barely controlled. Maybe I was wrong, but it was the impression I got.

Boarding began, and again, things tried to get out of control. I assume that she forgot to mention that boarding was to be done from rear to front, and, instead, she simply announced the authorization to board; so, as you may imagine, initially everybody ran as fast as they could to the gate. The lady then announced that they were going to allow exclusively those passengers seated between rows 34 and 24, and that everybody else could return to their seats. Upset faces could be seen by then.

I was in that first boarding group, so I headed to the gate and joined the line right behind a girl and a lady who were to be seated on row 16, yet they continued to board. Great. Behind me on line were a sizeable group of foreign backpackers which were communicating in what I believe was Deutsche. The gate agent processed my boarding pass and I walked down the jetway and on to the plane. There began a totally different experience.

The captain and one of the flight attendants were standing upon the entrance of the airplane welcoming everybody onboard with very friendly faces and two big smiles. I then continued down the aisle of the 1-class configured aircraft, until I found my seat, and, to my surprise, it was an emergency exit, which automatically means double the legroom. It was a nice touch considering I didn't even ask for it. Once I settled down, I took a picture of what was visible out of my window:


View outside the window in seat 24A. The small firefighting department and a couple of offices can be seen

People still boarding

9:35 a.m., time for theoretical push-back, and people were still slowly and steadily boarding, as visible above. I did originally imagine that the flight was going to have a healthy load of people, but never this full. Though no wonder, it was the first flight of the day to Bogota, AeroRepublica's first of only two daily flights to BOG and a Thursday morning in the middle of the peak-traveling period in the country.

Meanwhile I took a peek at the onboard magazine Escala.



Escala, AeroRepublica's onboard magazine featuring famous Colombian tennis-player, Fabiola Zuluaga.

A rather old lady sat in 24C by that time, and kindly said hello. She was going to be my seat-mate during this flight.

At 9:52 a.m. we finally began push-back, and were later towed to one of the taxiways that leads to runway 19, the active for take-offs on this sunny morning.



Being pushed-back and towed to the taxiway. That's Gate 1, where we used to be standing

I was little disappointed since we were simply going to take-off towards the south and were going to fly in a straight line down to Bogota. When Bogota-bound flights depart to the north, a very interesting 180° turn over the ocean is required. I simply wasn't lucky this time as I was on previous occasions.


View of Gate 2, normally used by Avianca

View of the tiny General Aviation ramp in SMR

The small tow-truck left us standing in front of the general aviation ramp were engines started and flaps were set for take-off. I was already thinking precisely in the take-off roll, which is pretty exciting there in Santa Marta. SMR has one of the shortest runways used regularly by MD-80 aircraft, with less than 5600(!) feet of length, which is something around 1700 meters. A spit of asphalt, as I've heard before some people refer to it. Procedures like landings or take-offs are quite a sight.

We taxied onto the main runway and continued as we approached the threshold of runway 19, our active this day.


Slowly taxing to the active on the main runway. The sea, the road that goes to the airport and a pair of casual spotters are visible

We quickly reached the end of the runway where a 180° was in order to backtrack



Making a 180° turn at the end of the runway

Before finishing our turn, the pilot began increasing power, he did some minor corrections in order to line up better, and quickly applied full-throttle!. The less runway unused the better.



Roaring down runway 19

Sea level's action on the engines could sure be felt and the power of the aircraft was really keeping us well pressed against our seats. Despite being packed, in admirable quickness the plane built-up speed and rotated rather quickly, barely a few meters before the runway ended.



Seconds after rotating and beginning one hell of a steep climb!

The Sierra Nevada de Santa Marta [Snowy Range of Santa Marta] a mountain formation independent of the Andes holds Colombia's highest peaks, and it was seen on my side of the plane. I was really expecting to see them.


Beach resorts and the Sierra can well be seen during climb
The Sierra's medium-height mountains, which are normally not visible from the ground, could now be seen
After several minutes of continuous climbing and still no snow

Finally. Snow at almost 6000 meters above sea level

It still amazes me to see such an impressively high mountain range and so extremely close to the sea. You guys up north must be sick of snow, but for us it's quite a view in national territory, 100% tropical.



Colombia's highest peak in the Sierra Nevada de Santa Marta

A few minutes later it got rather bumpy, even though we were already reaching cruise level. I didn't notice it before, but the seat-belt sign was never really turned-off since we departed SMR, and we had been flying under moderate turbulence ever since we took-off.



Not much to be seen

The flight attendants insisted on remaining seated with the seat-belt fastened. We were already cruising and with plenty of turbulence. The first officer came on and greeted us onboard; he mentioned that we were flying at 33,000 as our assigned altitude or our way down to Bogota. He apologized for the slight delay in SMR, and he said that they would try to get us into Bogota as fast as possible in order to avoid missed connections.

The lady on my side had her connection to Cali at 11:30 a.m.!, far worse than mine, which at least was at 11:50 a.m.. Fortunately AeroRepublica has many daily flights to both Medellin and Cali in case anything extraordinary happened. The pilot did mention that by 11:15 a.m. he would expect to have us at the gate in BOG. He also mentioned that unfortunately we would have turbulence on most of our journey to Bogota, and that while it represented no risk for our safety, it was indeed a bit annoying. He said that the intense heat in the northern regions of the country during these days combined with cooler air create pretty turbulent conditions.

The turbulence significantly reduced several minutes later, to the point of turning off the seat-belt sign for the first time on the flight. But nonetheless it did remain a bit bumpy for the rest of the flight.

The flight attendants announced that they would provide a beverage service, and soon the four ladies were seen in the aisle with little carts. I must admit that something I really liked was the cleanliness of all four flight attendants, perfectly dressed and their hair extremely well-put. They reminded me a lot of ACES' crews, which were spotless.



We did several turns while cruising down south

Soon the flight attendants reached my seat and kindly offered between a choice of Pepsi, Colombiana [tasty national soda], Coffee or Water. I asked for Colombiana with ice, and the lady on my side chose coffee, which seemed quite good as well.


A glass of Colombiana

What used to be a glass of Colombiana

Beverage service finalized and the cabin remained calm for several other minutes. I chatted for a long while with the lady on my side, and she told me a bit about her life and family down in Cali.



View of the cabin

After a while the engine power was reduced and we were definitely on our way down to Bogota. After that, we performed a very sharp turn to the left [west], before descending to BOG.


Turning to left and now heading directly to the airport

Partly cloudy skies upon entering the Bogota savannah. Flaps were already lowered to some extent

The flight attendants announced that we were ready to perform our final approach into ElDorado International Airport in Bogota and gave all the proper safety instructions before landing.


Heading directly to BOG
Lining up with the runway
On finals runway 13L


…And we touched down smoothly. Similar to what happened in my Medellin-Caucasia flight though, full reverse-thrust was applied and additional braking was used which brought us to a harsh stop in order to abandon the active in front of the AeroRepublica gates and reduce taxi times. There was an AV MD-83 on finals behind us which obliged the pilots to take us out of the runway quickly.

We rapidly taxied out of the active, and headed to Gate B11 of the Domestic Concourse.


Two Avianca Fokker-50s in new and old colors are visible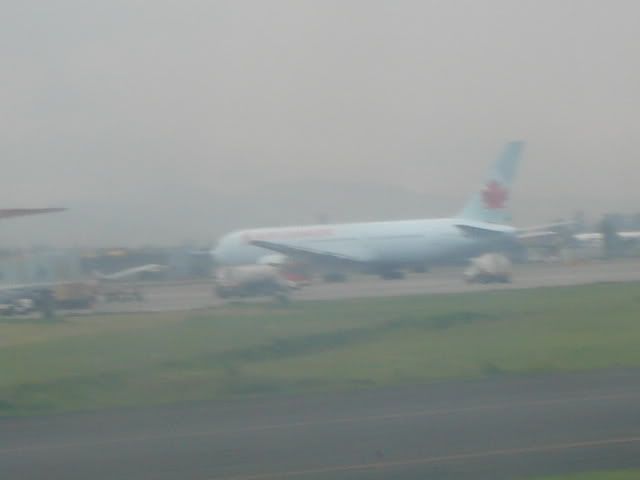 Sorry for the blurry picture, but this is one of those planes you simply have to take and show. Air Canada 767-300ER in new colors bound for Toronto a bit delayed I believe.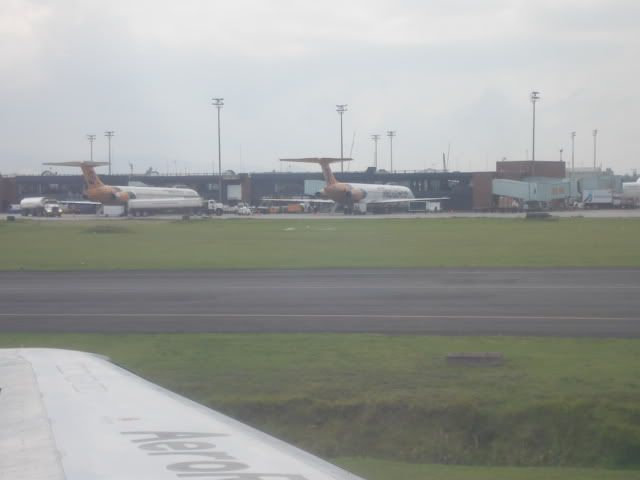 View of the AeroRepublica gates
Taxiing by company aircraft ready to head out for take-off

Approaching the gate

We stopped at gate B11 at 11:14 a.m., 14 minutes behind schedule. I really hope the lady on my side wouldn't lose her connection to Cali. After a couple of seconds, the main door was opened and people began to slowly walk-off the plane. I said goodbye to the lady and she hurried to get off the aircraft.

I then proceeded to de-board the plane, and walked into the domestic terminal in Bogota, where all of AeroRepublica's flights depart.

I then found out something that would disappoint me a little. After finding a seat in the end of the terminal, I settled down and took a look at my boarding pass for my BOG-MDE segment, and to check what gate was the flight going to depart from. Guess what fellow reader, it was clearly pointed out gate number B11!!
. Yes, the exact same gate where we had just parked and the same exact gate where HK-4410, the same plane that brought me to BOG, was being prepared for its next journey, in this case, to MDE.
Oh well. I had no other choice anyway.

First I decided to call my parents in Santa Marta to tell them I had arrived OK and was ready to continue on to Medellin, though strangely, my cell-phone didn't turn-on, and I checked the battery and the SIM several times to be certain they were on the right position, but nothing. Luck was definitely not on my side that day. Seeing that my cell-phone refused to work, and that in no-time they were going to begin boarding my flight, I rushed down to a public telephone and called a cousin in Medellin; I told her to please call my parents in Santa Marta and tell them I was fine.

I then had like 10 minutes to spare before my flight. I walked a bit around the terminal which was quite busy that day. Everything was spotless, and despite the low ceiling which I dislike, the terminal and its environment seemed very pleasant.



View of Concourse B in ElDorado International Airport

While taking shots within the terminal, I heard that they were announcing the last call for the outbound flight to Cali, on which the lady of my previous leg was leaving.

I also noticed how organized AeroRepublica's ground operations were, there were ground agents all over the place and all seemed very helpful. AeroRepublica now handles quite a sizeable operation which impressed me.


AeroRepublica MD-80 in gate B7 being prepared for its departure to Cali
American Airlines A300 arriving from Miami, spotted from the B Concourse.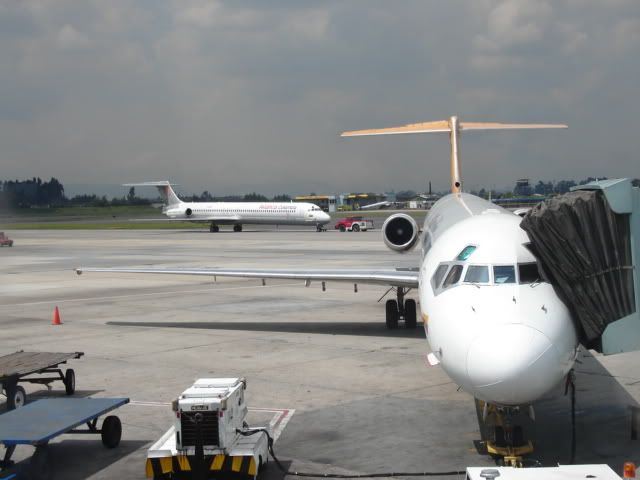 Another AeroRepublica MD-80 in gate B10, upon leaving for Bucaramanga. In the back, Avianca MD-83 being pushed back bound for Caracas.

Exactly at 11:30, and while taking a few shots, I heard the boarding announcement in gate B11, the same where we arrived, for my outbound final leg to Medellin.

January 12th of 2006
Flight: P57516
Operated by: AeroRepublica
Equipment: McDonnell Douglas MD-83
Registration: HK-4410
Seat: 8C
Scheduled Departure Hour: 11:50
Actual Departure Hour: 11:45
Schedule Arrival Hour: 12:45
Actual Arrival Hour: 12:35
Total Flight Time: 30 minutes
Load: 60% roughly calculated

I then headed to the gate, had my boarding pass processed upon entering the jetway, and walked down to the aircraft only to find the exact same 4 flight attendants who served my flight from Santa Marta.

One of them, just like when boarding in SMR, was welcoming everybody onboard. I quickly found my place, but surprisingly, there was an old lady sitting on my assigned seat already! I got closer and noticed that she seemed quite disabled and sick, apart from suffering of extreme overweight; she could barely fit on the seat. However, she was extremely well dressed and had lots of gold jewelry on her hands, neck and ears, and overall seemed like a very wealthy woman. By the time I was standing beside her, she had her eyes closed. Instead of disturbing her, I decided to ask one of the flight attendants who was walking down the aisle:

- Excuse me. This lady is sitting on my seat, what should I do? I said.

The flight attendant exposed an embarrassment face I instantly noticed.

- I am so sorry. She said.

She then looked at the lady and then looked back at me like communicating the whole idea, and continued:

- I hope you are willing to understand the situation, but I am really embarrassed with you

It wasn't such a big deal. In a relaxed tone I answered:

- There's no problem at all. But where can I seat then? I said.

- Here, if you don't mind And she pointed out the opposite window seat on the same row. Fortunately the flight is not going to be full. She finished.

Instead of being upset, it cheered me up because there was no point in trying to take pictures from the aisle seat I was originally assigned, and I really wanted a window seat to see the A380 which I knew was in Medellin waiting for us. I told the flight attendant that there was no problem at all, and I sat down.

I had so many things on my hand that it was already bugging me. I had a couple of batteries, sunglasses, the remaining pieces of my boarding passes, my camera, my dead cell-phone and my backpack. I settled down and while waiting the rest of the crowd to board I tried to tidy up my pockets to leave my hands free. My cell-phone all of a sudden decided to work, and magically turned-on. I had the opportunity to make a few calls to both Santa Marta and Medellin before push-back.

In barely ten minutes everybody seemed to be ready. It was an agile boarding to say the least. I took a couple of shots just seconds before being pushed-back.


Company MD parked in neighboring gate B10 bound for Bucaramanga. In the back, another AeroRepublica MD-80 just arriving from Medellin!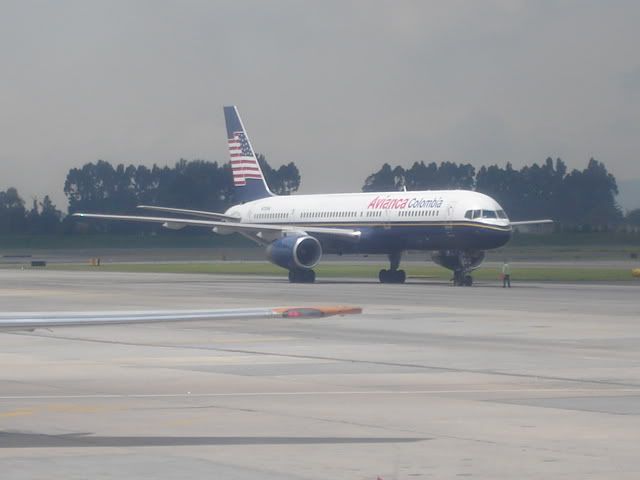 Avianca's seasonally wet-leased 757 departing to Fort Lauderdale

We began push-back 5 minutes ahead of schedule, which I imagine would happen. There were several empty seats all over the plane. We began taxiing to runway 13R.


Satena ERJ-145 bound for Medellin as well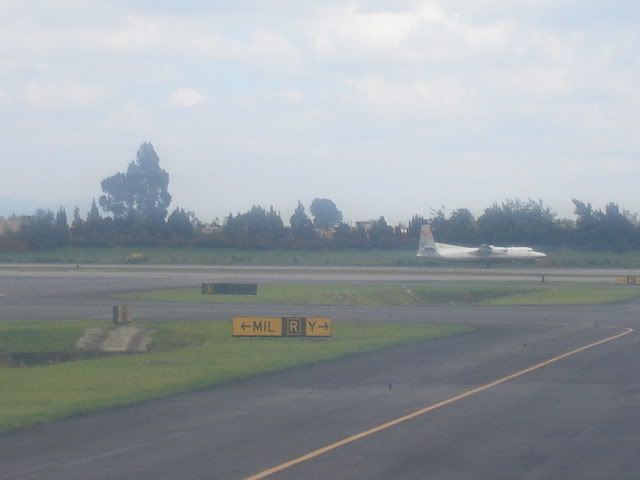 Avianca Fokker-50 landing on runway 13L, arriving from one of the many regional destinations the airline serves

The taxi was done slowly and there wasn't much to picture, I basically looked out of the window and over-heard two beautiful girls chat rather loud in the row behind using the undeniable accent of my hometown. Boy I felt I was there already. We eventually reached the holding point of runway 13R. We waited for the ERJ to take-off, and then a Tampa Cargo 767F to land.


Tampa Cargo 767-200F on finals for runway 13R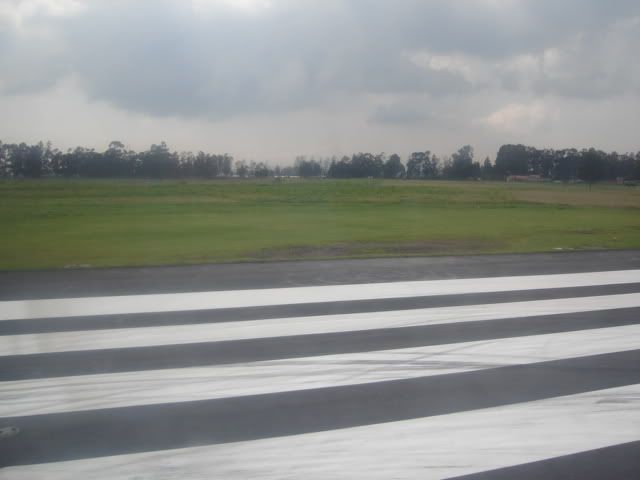 Steping onto the active

After the runway was cleared, we began one hell of a slow take-off roll, very typical of Bogota. After seconds of roaring down the asphalt, we rotated and began a very classical MD-80 climb over the city.



Climbing over southwestern Bogota, the lower-income communities of the city

We began a slow turn to the right after a few seconds of initial climb and began flying south, we then insisted on softly turning in order to search for more westernly heading, very typical of the BOG-MDE routing.



Turning over southern Bogota. The airport and runways can be seen in the picture

Being one of the shortest flights within Colombia, everything had to be done fast. We quickly reached our cruise level, rather low by the way, and then a fast beverage service was offered just like in our SMR-BOG flight.


Almost flying at cruise level, barely 8 minutes after take-off

Beverage service started instantly

When they offered me a drink, I decided not to receive anything this time.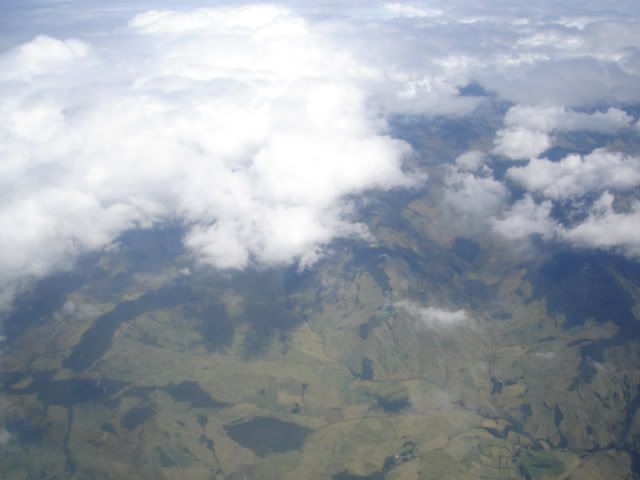 In no-time we began flying over mountains and terrain that I soon found familiar

After 18 minutes of flight, we began our descent to Jose Maria Cordova International Airport.


Beginning our way down to Medellin, where the A380 was being tested under high-terrain conditions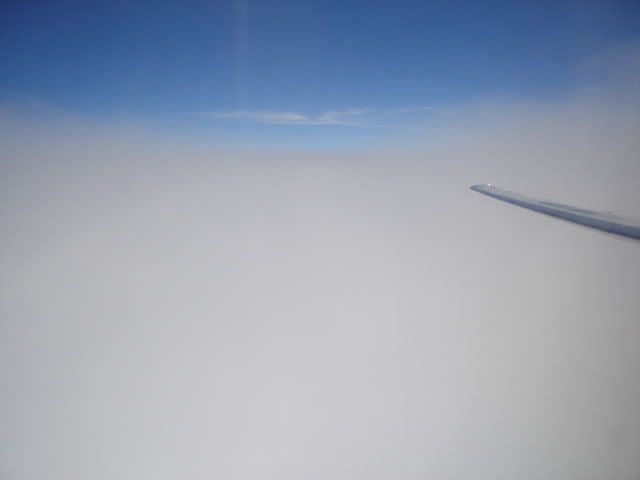 Clouds on descent
Lower and lower over familiar terrain


Gear was lowered all of a sudden, and the flight attendants gave all the necessary instructions for final descent and landing.


Flying low over Llanogrande, where hundreds of wealthy families in Medellin have their country-houses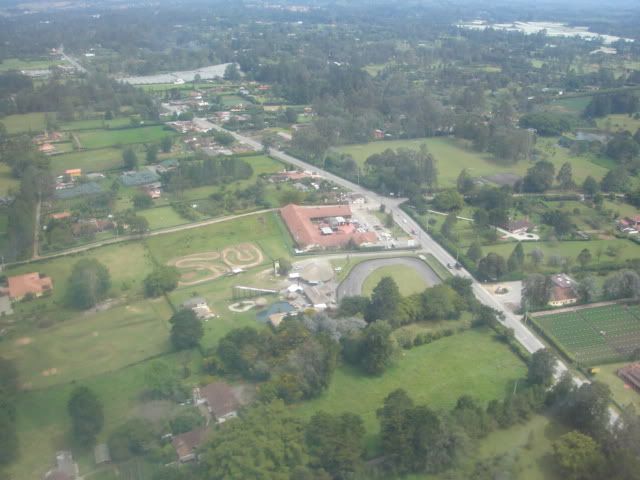 Llanogrande, known as Medellin's second floor. The biggest urbanization projects in the city are taking place in these surroundings
On finals for runway 36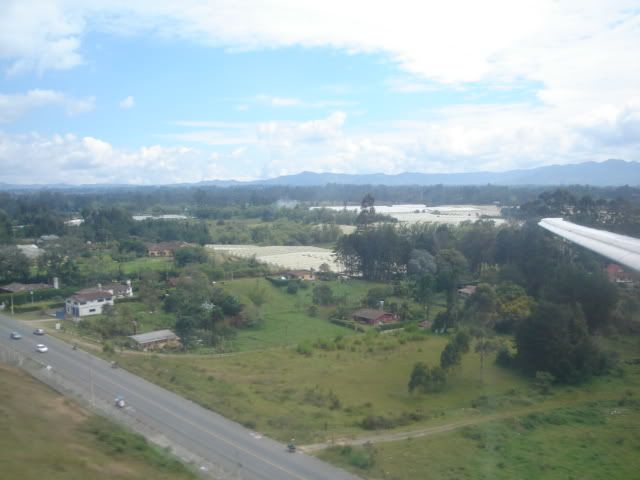 Exactly over the threshold. The road below held literally hundreds of people who were expecting to see the A380 land in a historical event for Colombia and Latin America, just a couple of days before
Seconds before touch-down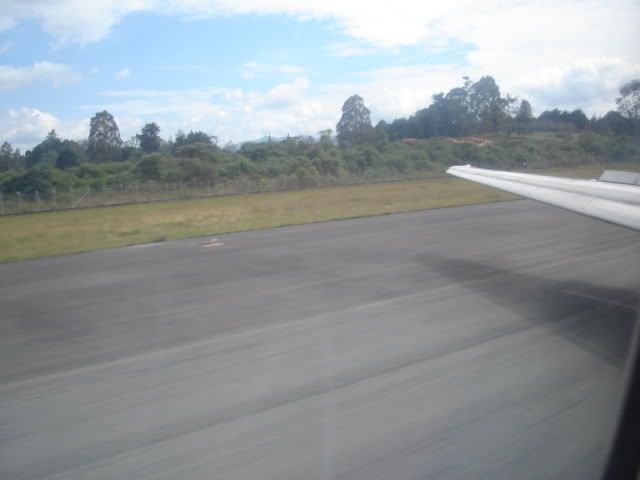 Spoilers up and braking hard with reverse thrust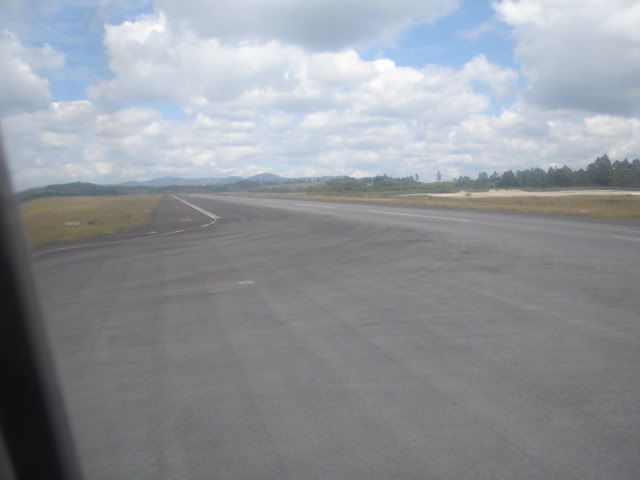 Vacating the active with plenty of runway left unused

The cargo terminal with two Tampa Cargo 767-200F

While taxiing everybody to the left of the airplane couldn't take their faces off the windows. Of course, it was the A380, which was still not visible for us in the right. But don't worry, I was going to remain a few minutes onboard after reaching the gate in order to get a better view of the monster and snap a couple of shots.



Avianca 757-200 parked in gate 12 inbound from New York City

We taxied to gate 7, the one normally used by AeroRepublica, and our flight came to an end 10 minutes ahead of schedule.

Everybody got their hand luggage and started to walk off the plane, while I remained seated a couple of minutes more. When the plane was empty, I moved to a window seat across and saw the beast parked in front of my eyes. It was quite an impressive sight.


A380 viewed from the plane which brought me all the way down from Santa Marta


I then grabbed everything and walked out of the aircraft.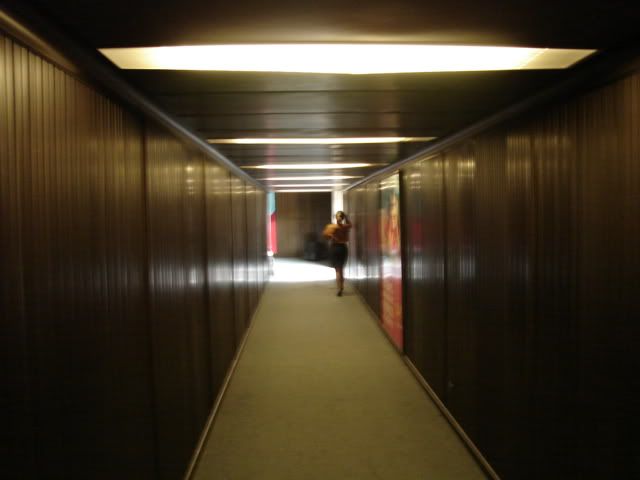 Walking up the jetway in Medellin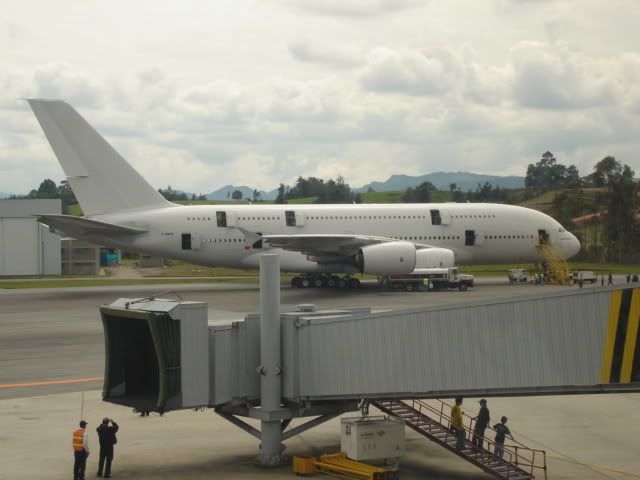 A380 seen from waiting room 7

The MD-83 which brought me all the way down from Santa Marta, via Bogota, parked in gate 7, and waiting to be prepared for a return flight to BOG. The crew was meanwhile admiring miss A380 live on MDE.

I then walked down stairs to the baggage claim area and waited for my bag to normally arrive. I went outside and caught a taxi that would drive me down to the city. I was amazed at the crowd outside the airport that was expecting to catch a glimpse of the European aircraft. Fortunately there were plenty of terraces to accommodate the masses, and I believe that was one great advantage that MDE offered over BOG. Unfortunately ElDorado International Aiport seriously lacks of points to watch planes, despite having lots of traffic worthy of spotting.

As for my AeroRepublica experience, I was pleasantly satisfied overall, and I honestly didn't see any difference between their onboard service and that of Avianca in domestic economy class. I did get the idea that in minor stations where they operate only a couple of daily flights like Santa Marta, they performed under a visible clumsiness. But in Bogota they were absolutely efficient and did their jobs well. Flight attendants were kind enough to have you happy onboard, and, above all, were spotless as I mentioned previously. I would be willing to fly with them again anytime.

This is it guys. I really hope you enjoyed it. If you have any question or doubt, do it and I'll be happy to answer it. Thanks for taking the time to read it and please, don't hesitate in dropping your comment!




SOUTHAMERICA