We flew with Emirates for the first time during our recent trip to Australia, and overall we were very satisfied with Emirates. Here is our trip report on MEL-DXB-IST route with Emirates on the business class, which happened to be on my birthday! Big thanks to Emirates crew for surprising me with their birthday cake
Route: Melbourne Tullamarine Airport- Istanbul Ataturk Airport
Airline: Emirates
Flight number: EK405 and EK121
Aircraft: Boeing 777-300 (EK405) and Airbus 330-200 (EK121)
Distance: 9105 miles (13658 miles in Business)
Duration: 7h 30min (MEL-SIN), 7hr (SIN-DXB), 4hr 50min (DXB-IST)
Date: January 6-7, 2006
First of all here comes our overall evaluation of Emirates and Dubai
stopover:
POSITIVES:
- very comfortable business class seats on B777-300 on MEL-DXB route , larger and plusher vs. A330-200 on DXB-IST route, and yet more leg distance on A330-200.
- excellent food and wine throughout the whole journey
- big on-seat screens on A330-200,
- nice selection of video-on-demand, good in-flight entertainment. In-flight games were functioning before the take off, letting us get in the mood easily...
- outside cameras giving excellent views on take off and landing
- complimentary hotel stay in Dubai at 5* Le Meridien won us big time, giving us a chance to sleep in comfortable beds, enjoy the sumptuous breakfast and splash in the pool..
- complimentary chauffeur drive service from hotel to Tullamarine Airport with BMW 740 and transfers in DBX with Volvo cars
- excellent price/value ratio, especially compared with LH/OH/LX long haul business class services.
NEGATIVES:
- Dubai International Airport is over exaggerated. It was extremely crowded, and security seemed a total mess. The prices are higher vs. that of Changi.
- Passengers need to do quite some follow up on the complimentary hotel and chauffeur services, despite reservations were made in advance, one needs to confirm and double confirm.
ON EK405:
Our trip started on January 6, in MEL. EK405 on route MEL-DBX with a stopover in SIN departed on time.
We spent an hour in the Cathay Pacific lounge prior to boarding. The choice of food was not impressive- two types of cold sandwiches, olives, and a bit of cheese. The overall look of the lounge was very 80's!
Our seats on B777-300 business class were on 7E and 7G, middle part of 2-3-2 configuration. Luckily seat next to us was vacant, giving us extra "breathing" space and privacy during the 14 hour journey.
Boarding the plane at 8.00 pm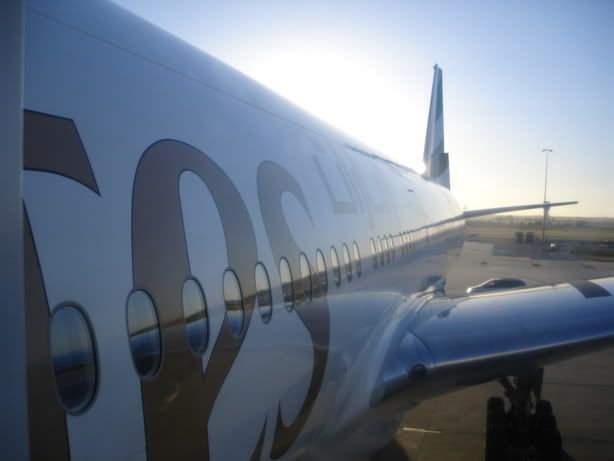 Seats of B777-300 Business class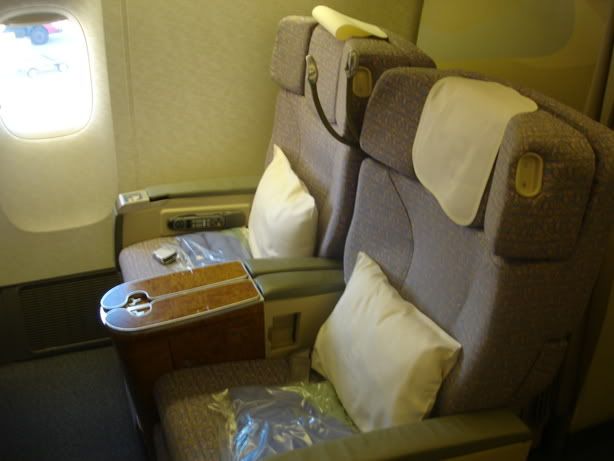 Crew was very kind and friendly.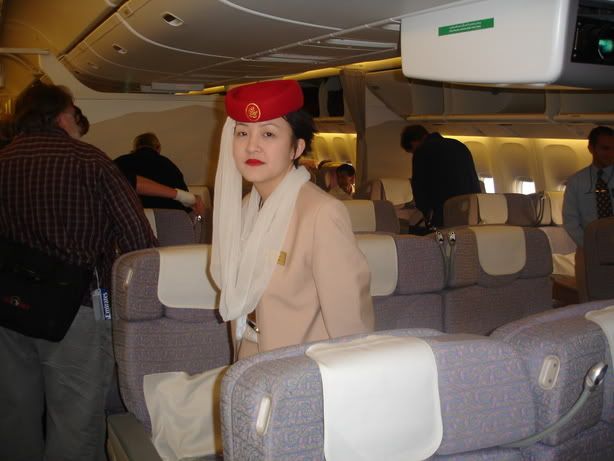 Before take off, a picture of a Qantas plane
The toilet bag was big and rich in detail.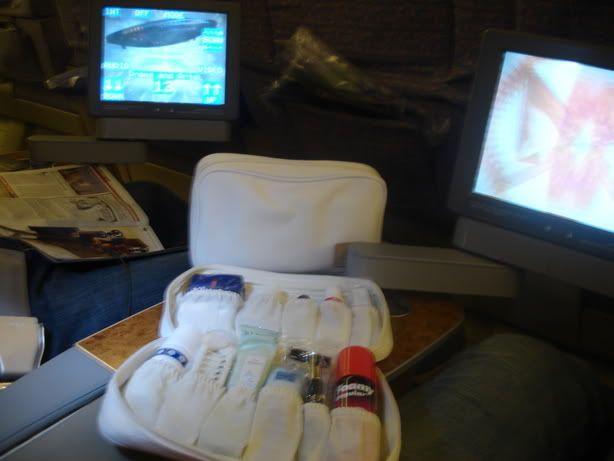 Overall food and drink service was just excellent. First welcome drink of champagne was served prior to take off, and then we had our first glasses of Tom Collins and Moet & Chandon Champagne Brut.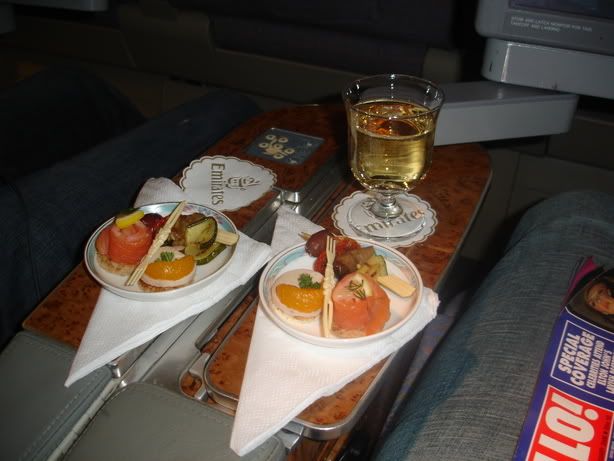 5 course dinner was delicious. We had rock lobster medallions served with asparagus and plum tomato salad, seasonal salad, Australian prime beef tenderloin accompanied with jus, oven roasted shallots and garlic, fresh garden vegetables and roasted new potatoes.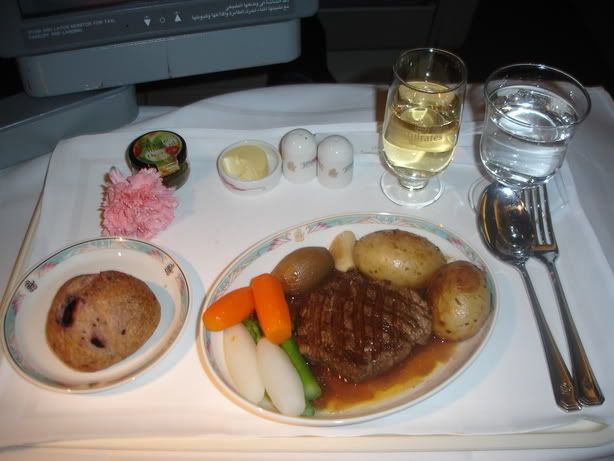 As being the birthday boy, I treated myself a big plate from the dessert tray- pear and spice pudding accompanied with cinnamon ice cream and fresh mint, chocolate raspberry gateau as well as a selection of international cheese served with grapes.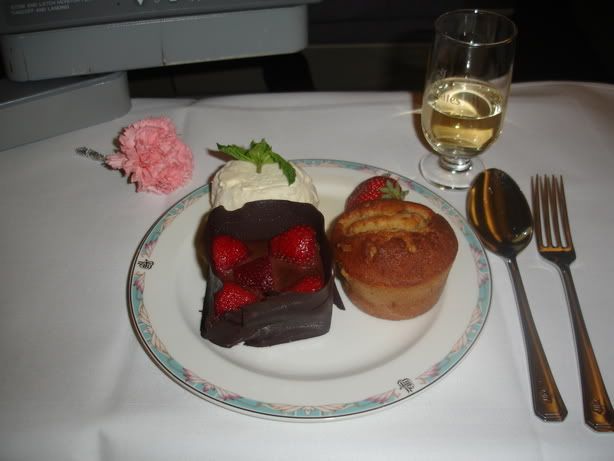 Dinner service was complete with a cup of green tea, and Godiva chocolates.
Entertainment program was rich, on top we enjoyed video on demand for movies like Finding Neverland- which I missed last year.
After dinner, the crew surprised me with my Birthday Cake and two glasses of Moet & Chandon. They offered to sing the birthday song, but as some passengers already dozed off after dinner, I opted for not having the song.
They were cheerful, offering to take a picture of me and my partner, and asking if we wanted anything extra.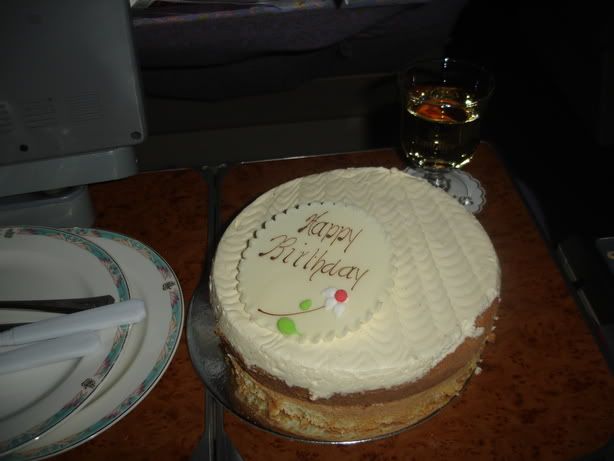 Prior to landing in SIN, we had hot snacks, a selection of chicken and braised leek pie with tomato relish, grilled vegetable strudel and lamb tagine with vegetable cous cous. Petit fours were offered along with coffee and tea.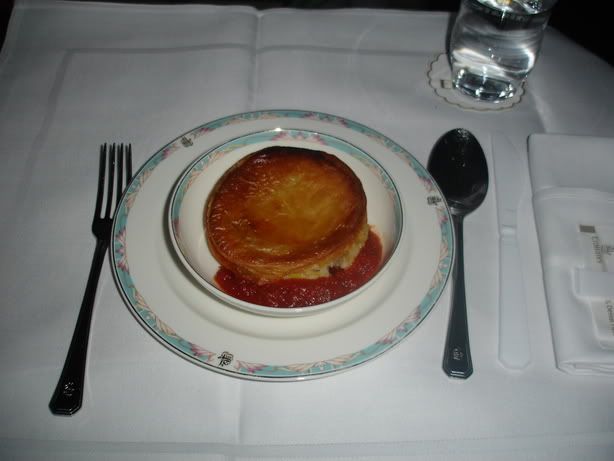 We had a full hour in SIN, which we used to leave the aircraft to stretch a bit. Airport was quiet at the wee hour of the day, few shops still open.
The crew changed in SIN, we said goodbye to our lovely crew at the gate.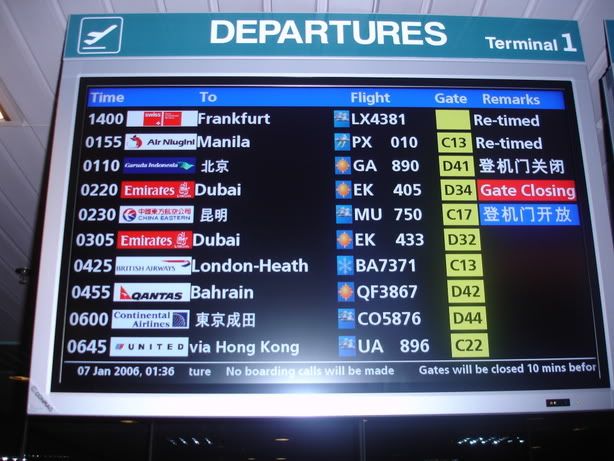 The second part of the trip started with the service of savoury snacks. We had a roast chicken breast sandwich placed on French loaf, garnished with stuffed olive. Petit fours were different this time- a selection of banana chocolate, apricot delight, and mini kiwi tartlette.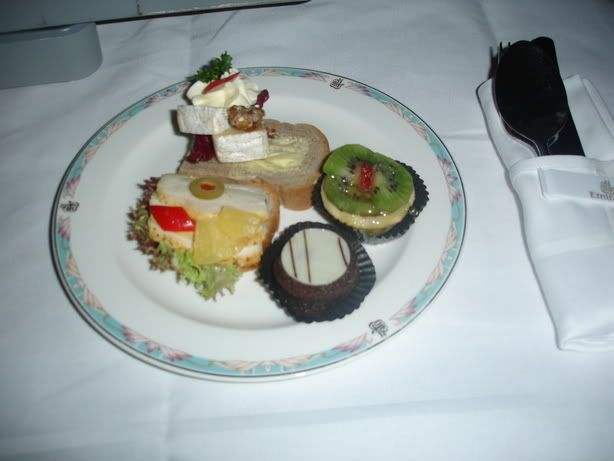 An hour before landing, breakfast was served. At that moment, we were so full yet could not refuse assorted fruit, fruit yoghurt, grilled chicken breast served with scrambled eggs, grilled tomato, mange tout and dauphine potatoes.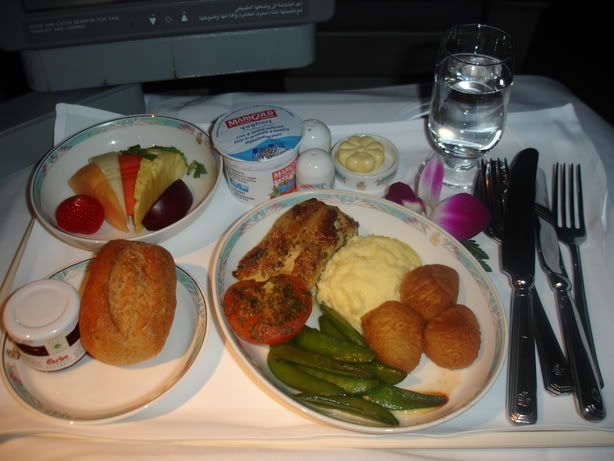 Stretching the legs during the 14 hour trip!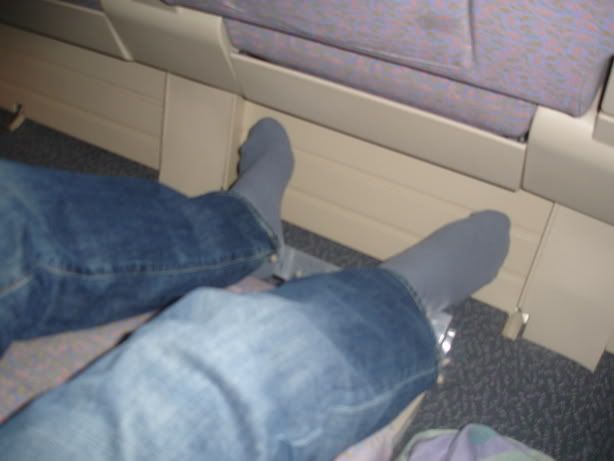 Here is a picture of "Open Skies" the in-flight magazine of Emirates. Overall OK, yet it had way too many commercials.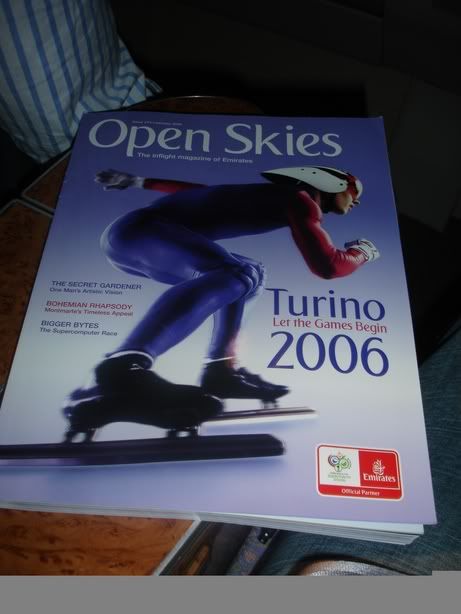 We landed DBX on time at 5.40 am, then directly went to Fast Lane for customs. We had almost 11 hours in DBX which, enough to get some sleep, shower, change, take a quick tour of Dubai. Emirates offered a complimentary stay at Le Meridien Airport. We were transferred to the hotel with complimentary limo service, checked in to our rooms and slept till 10 am.
Since it was our first time in Dubai, we headed to the city for a quick tour by taking a limo from the hotel.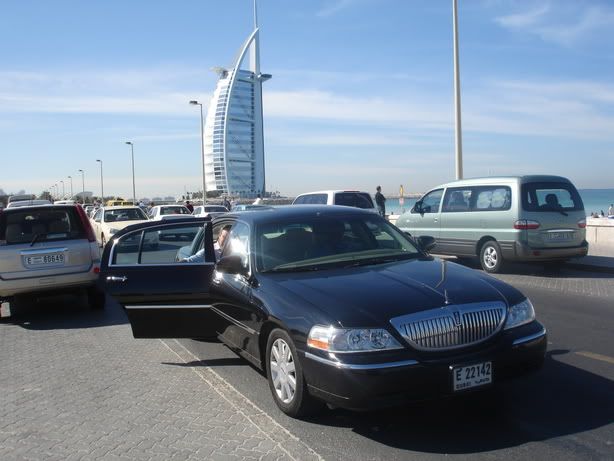 At 12.30 pm, we were back to DBX, passed through the customs via Business Check-in, and placed ourselves at the Business Lounge. More food was on the horizon- similar to BA Business class lounge in London, Emirates lounge offered wide range of hot and cold h'ors deuvres, warm dishes like pasta, tuna fish cakes, grilled chicken, and soup. We had a light lunch at the lounge thinking more food would be served in the plane.
Boarding for EK121 started at 14.30, with 20 minute delay. Yet departure was on time at 14.50 pm. A330-200 offered very nice seats and much more leg space compared to that of B777-200. The seats had 29cm recline, and the rows were seated 1.52m apart from each other.
[img]http://i40.photobucket.com/albums/e240/jeyanh/EK121ijan72006009.jpg
[/img]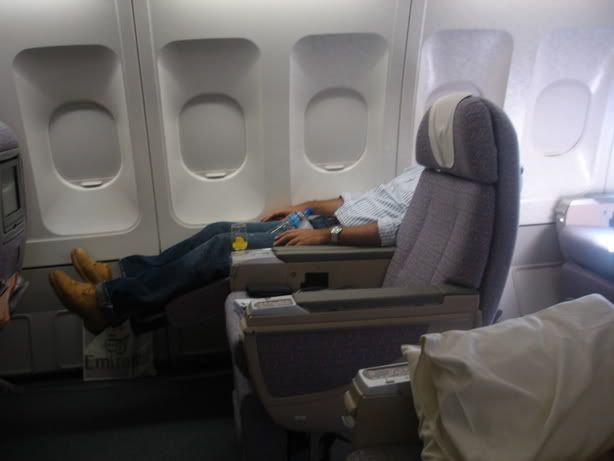 overall view of A330-200 business class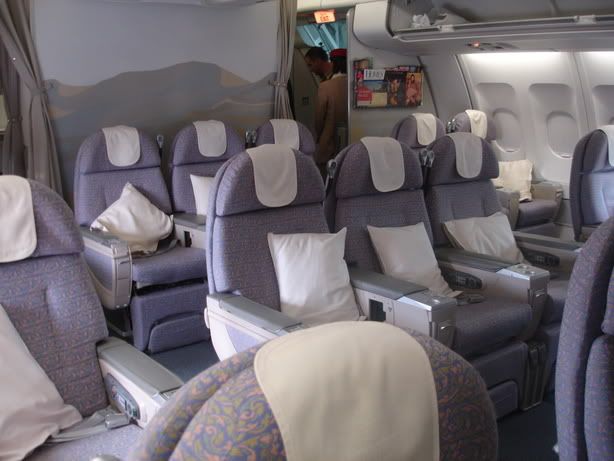 In-seat screens were large, yet since the distance was big between seats, it seemed the screens were far from us!
Take off was amazing, with view of Burj Al-Arab hotel, the Palms, and the newly-made islands off the shore.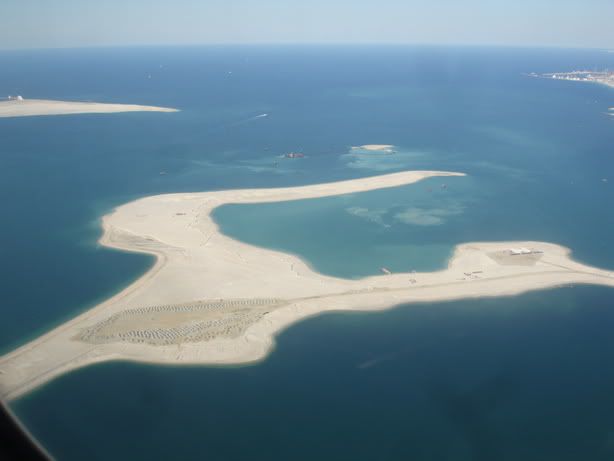 Prior to six course lunch, we enjoyed Tom Collins and Moet & Chandon.
Lunch was rich with lobster and morel terrine served on artichoke filled with Waldorf salad, seasonal salad, fillet of pan fried perch served with lemon marinated prawns, topped with a chive coulis, accompanied with ratatouille and spinach tagliatelle.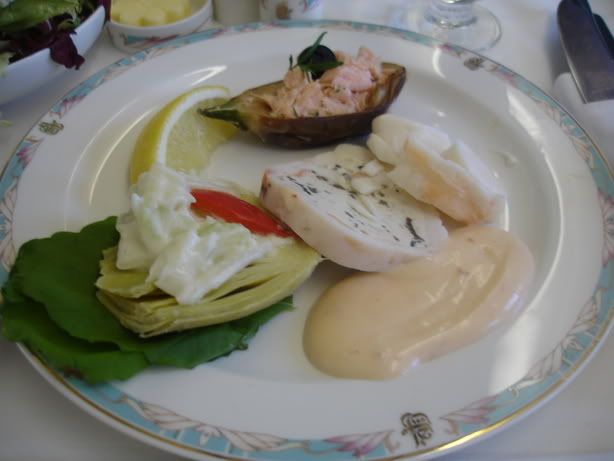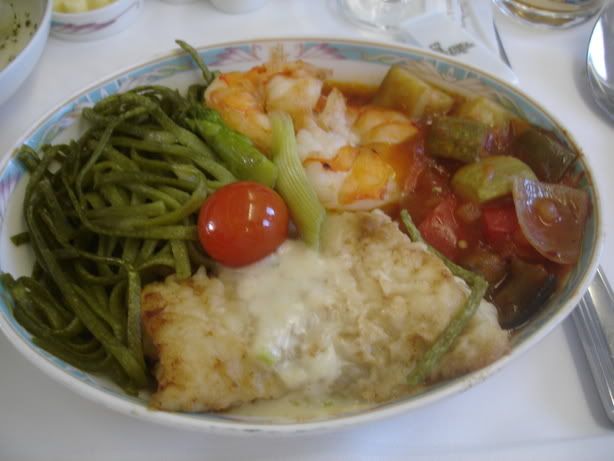 Desert menu had toffee and apple charlotte, and symphony of sweets which had chocolate passion fruit dome and fresh fruit in a tulip basket. Cheeseboard had nice selection of brie and goat cheese, served with grapes.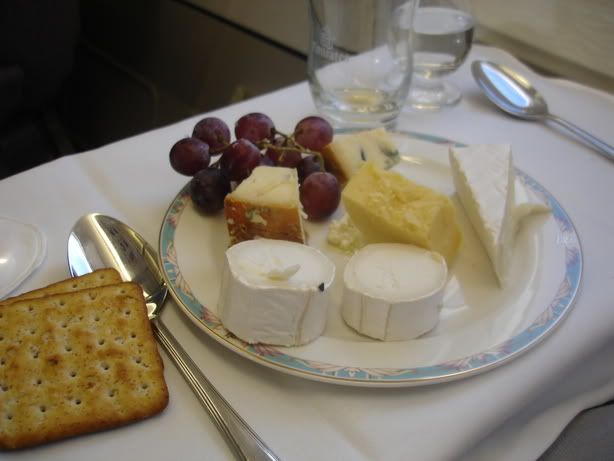 The business class on A330-200 was not full, thus we had extra attentive service from the crew. The breathtaking views of Iran and Anatolia are worth mentioning. Here are few aerial pictures.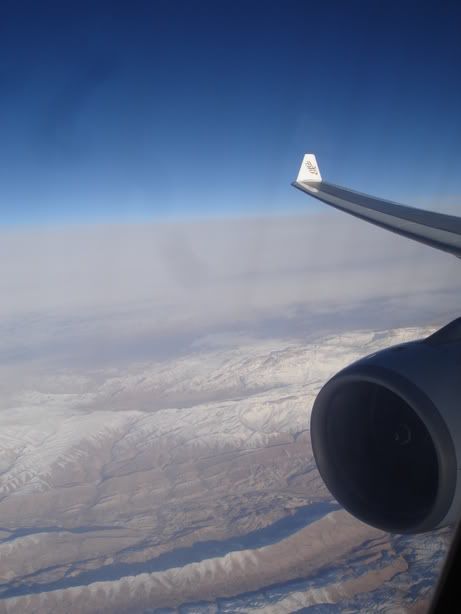 when there is a break from eating food or enjoying the outside views, we played tetris, watched movies (Fever Pitch).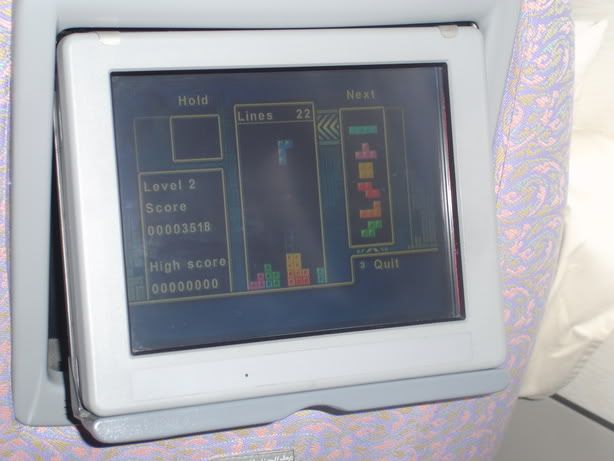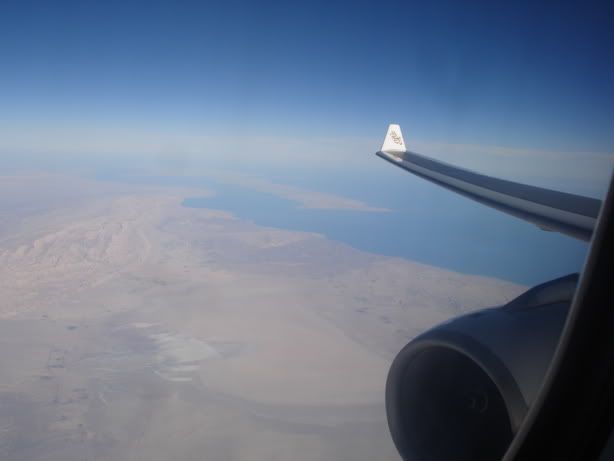 We landed Istanbul few minutes ahead of schedule.
Although the total trip lasted almost 30hours, we left the aircraft happy, relaxed and very full thanks to absolutely great food served on board.
We now search Emirates site for our next destination!