I visited Australia, Malaysia, Singapore and Thailand as a break from my home in Cleveland, Ohio. The following is a report of my return to CLE from Perth, WA, Australia via Singapore, Johor Baru, Kuala Lumpur, Bangkok, Seoul and Atlanta. I did not travel continuously, but completed the return over a four day period to reduce the jetlag. Anyway, who wants to go back to grad school any earlier than they have to?
Certain flights and airport have more photos than others.
The actual paths flown.
Before the report, I've posted a few photos of Southwest Western Australia.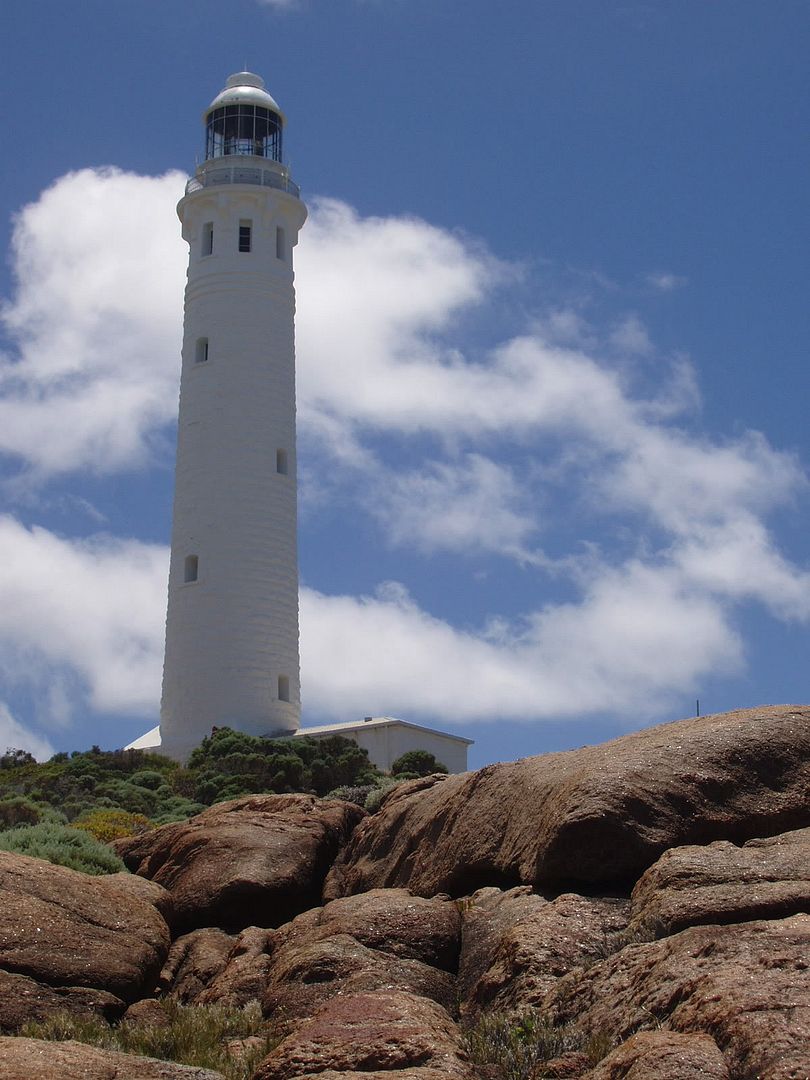 Cape Leeuwin Light House on the most southwestern point in Australia.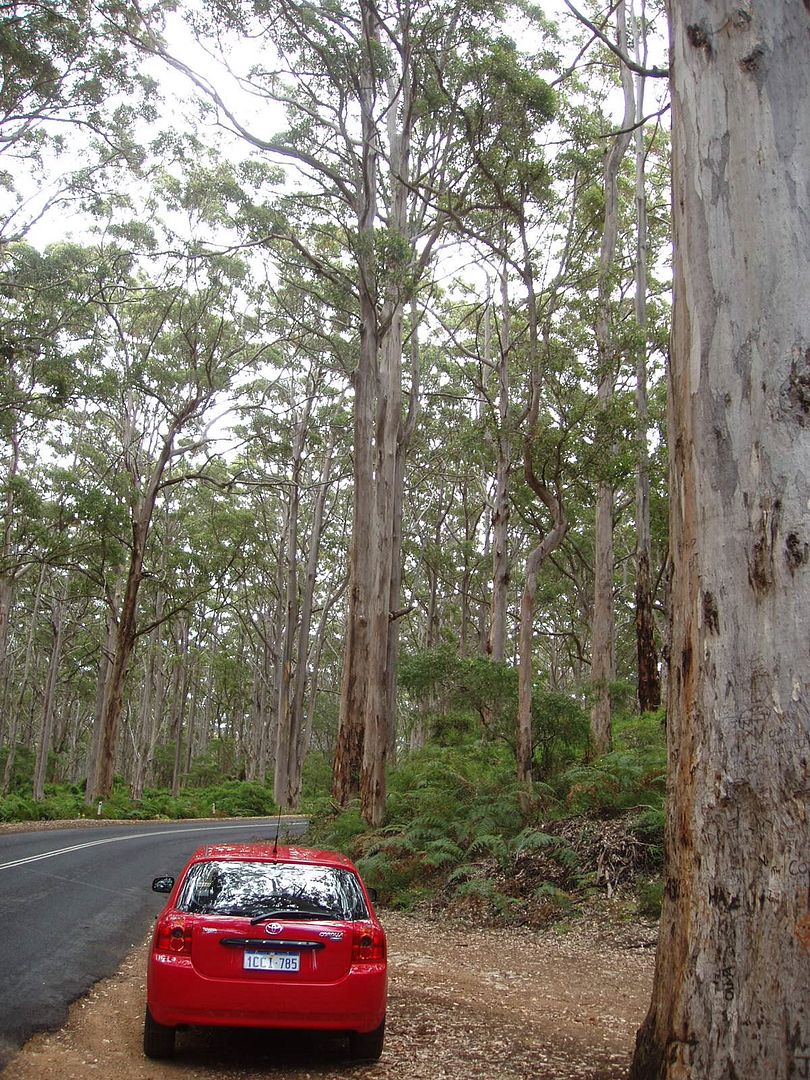 The Karri forest near Margaret River.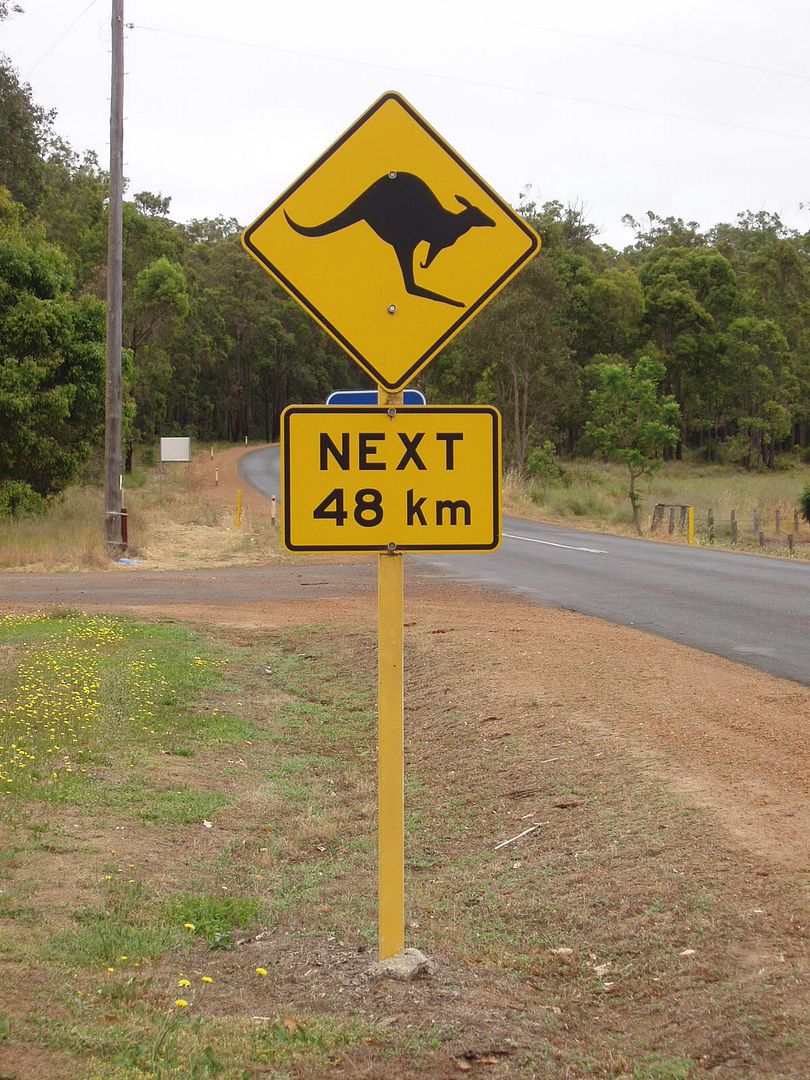 There really are kangaroos in Australia!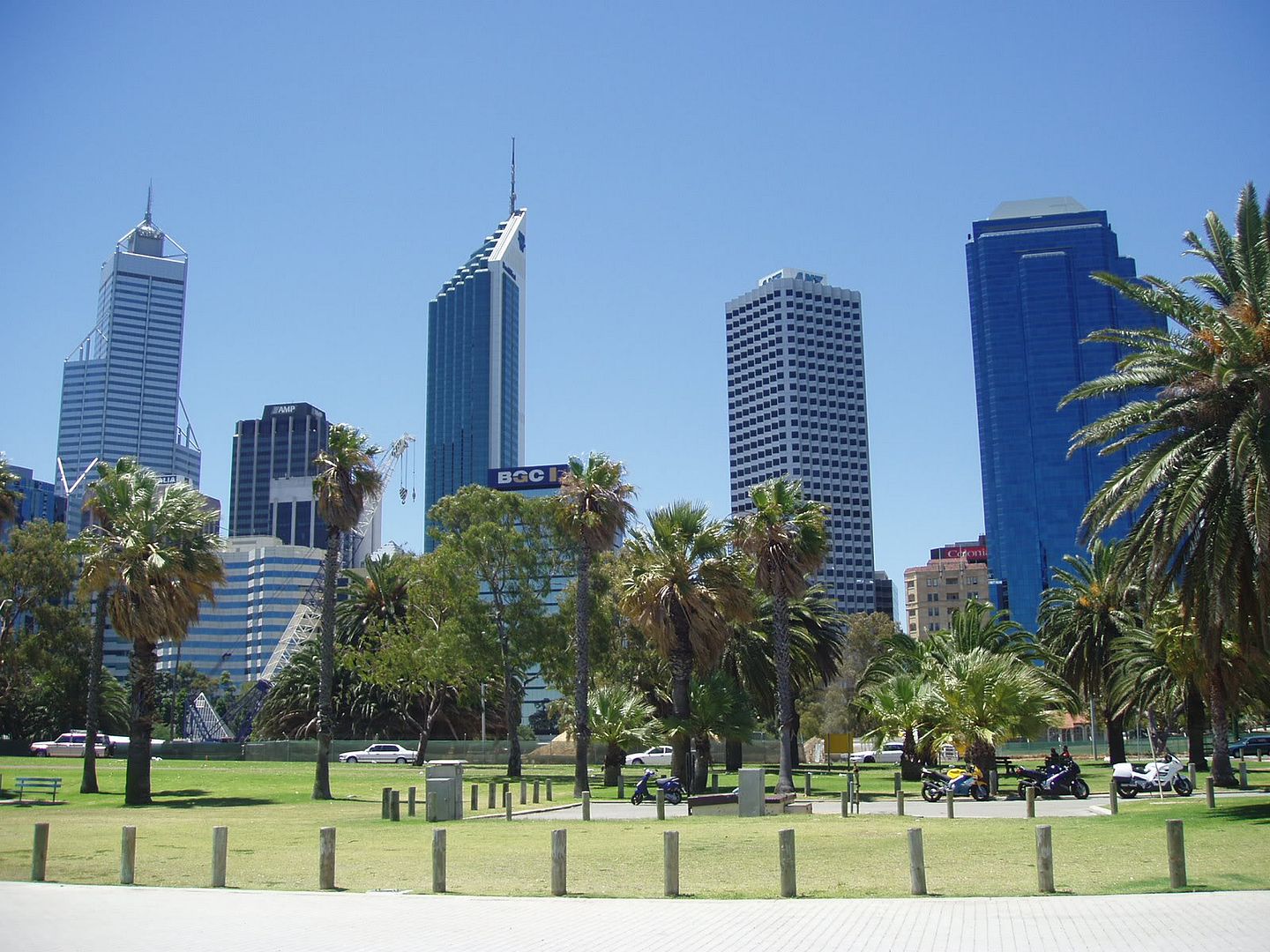 Perth's skyline.
Since I departed on a cloudy day, below are some scenes in landing in Perth from Singapore the previous week.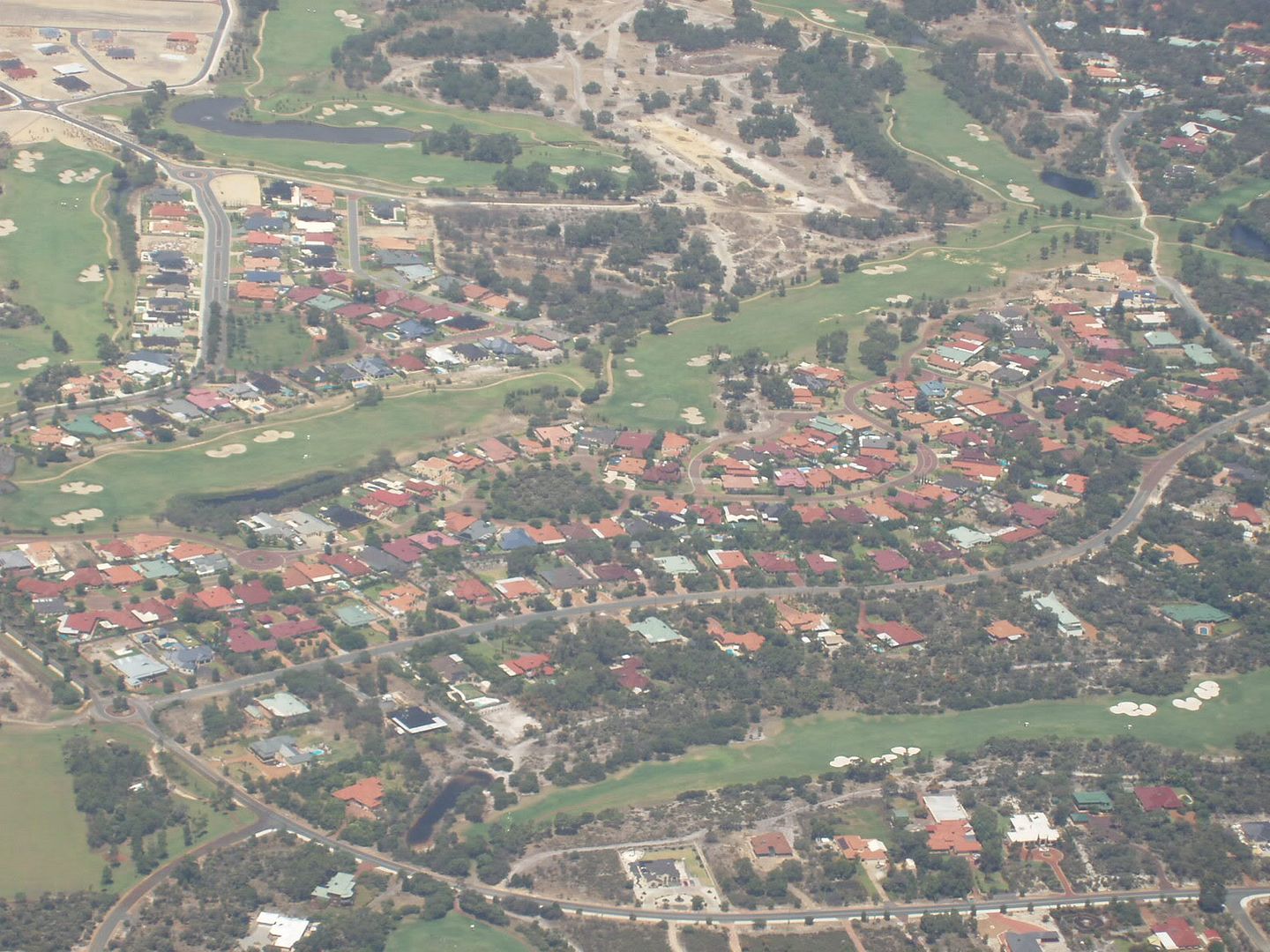 IMG]http://img.photobucket.com/albums/v364/gte439u/QF77/P1070188.jpg[/IMG]
January 12, 2006
Perth – Singapore
Qantas (QF) 77
Airbus A330-300
1140 – 1620
Flight time: 4:40
I left the Northbridge neighborhood of Perth at 0820 since I had nothing else to do there. It took only 25 minutes to get to the airport, and less than 5 minutes to return the car.
I went across the small international terminal to check-in for QF77 to Singapore. The desk was not open however, so I had a while to complete the Australian departure forms and watch the check-in process of the South African flight to JNB.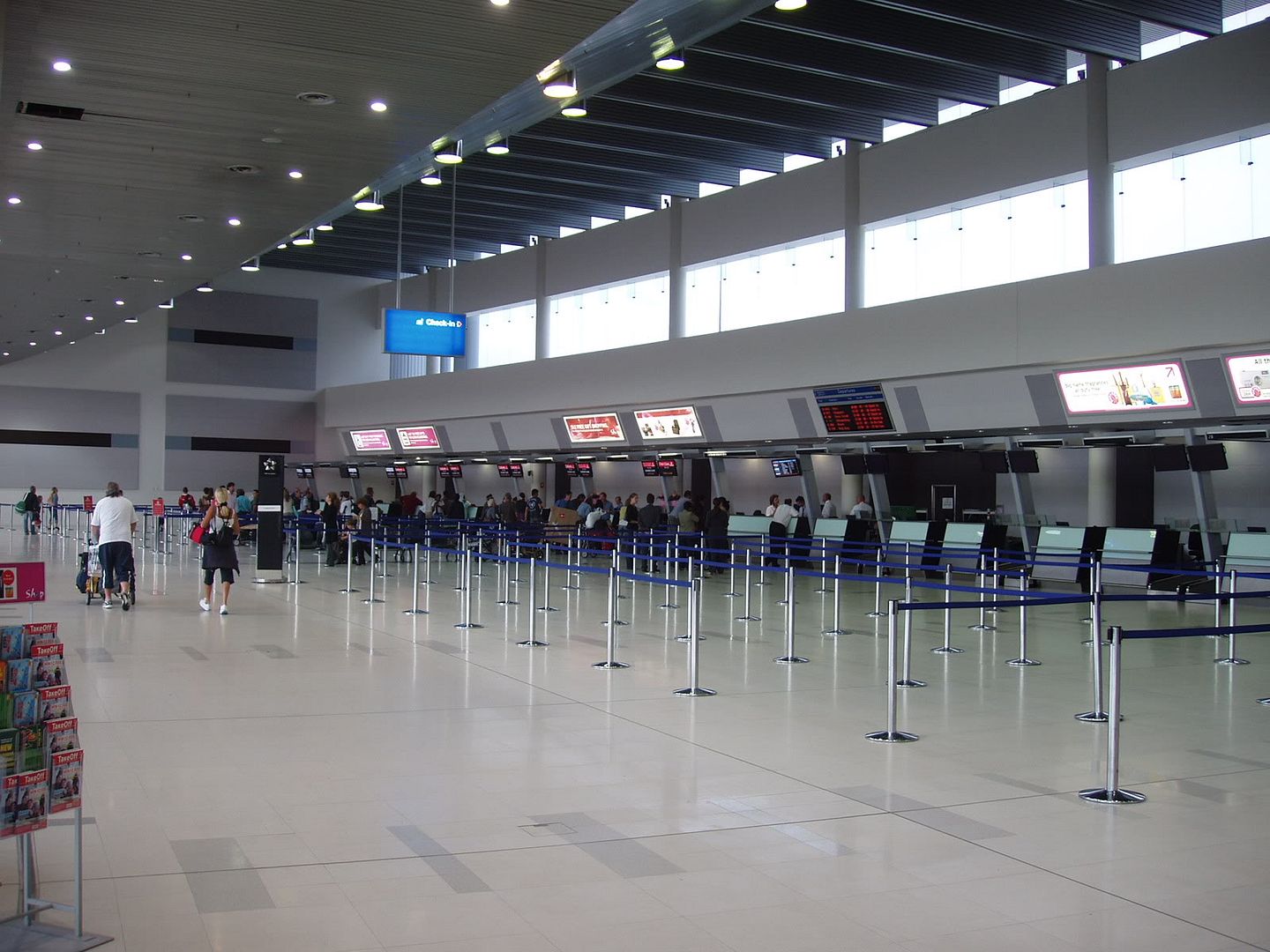 The check-in hall. Most of the people are checking in for an Emirates flight.
I was the first in line to check-in, and the entire process took less than three minutes with my e-ticket. I did have to show an onward ticket from Singapore, so I produced my SA)">DL ticket from Bangkok to show that I would eventually leave Asia.
With more than two hours before departure, I had time to go to the observation deck to photograph a few aircraft.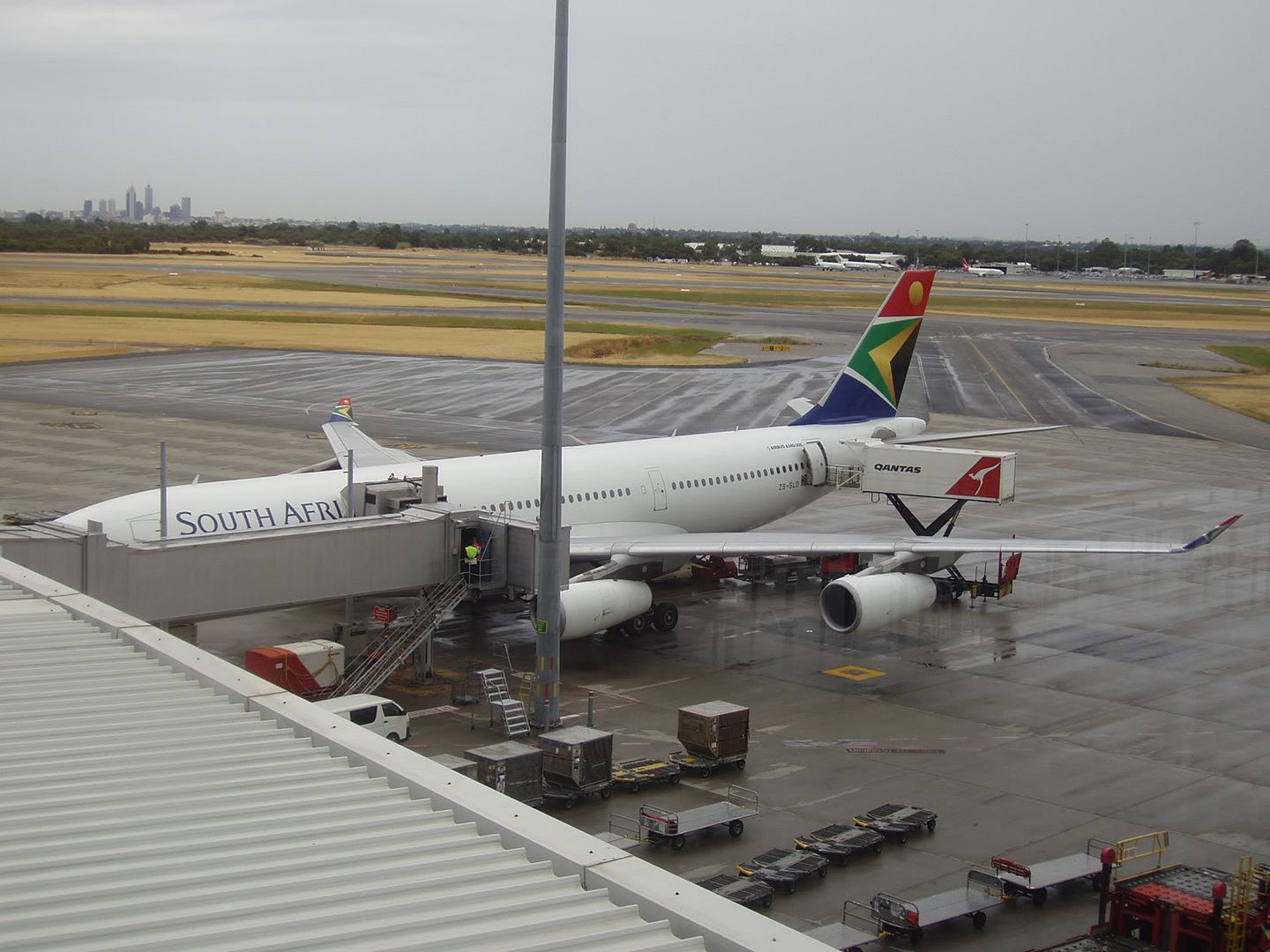 SA A340-200 to JNB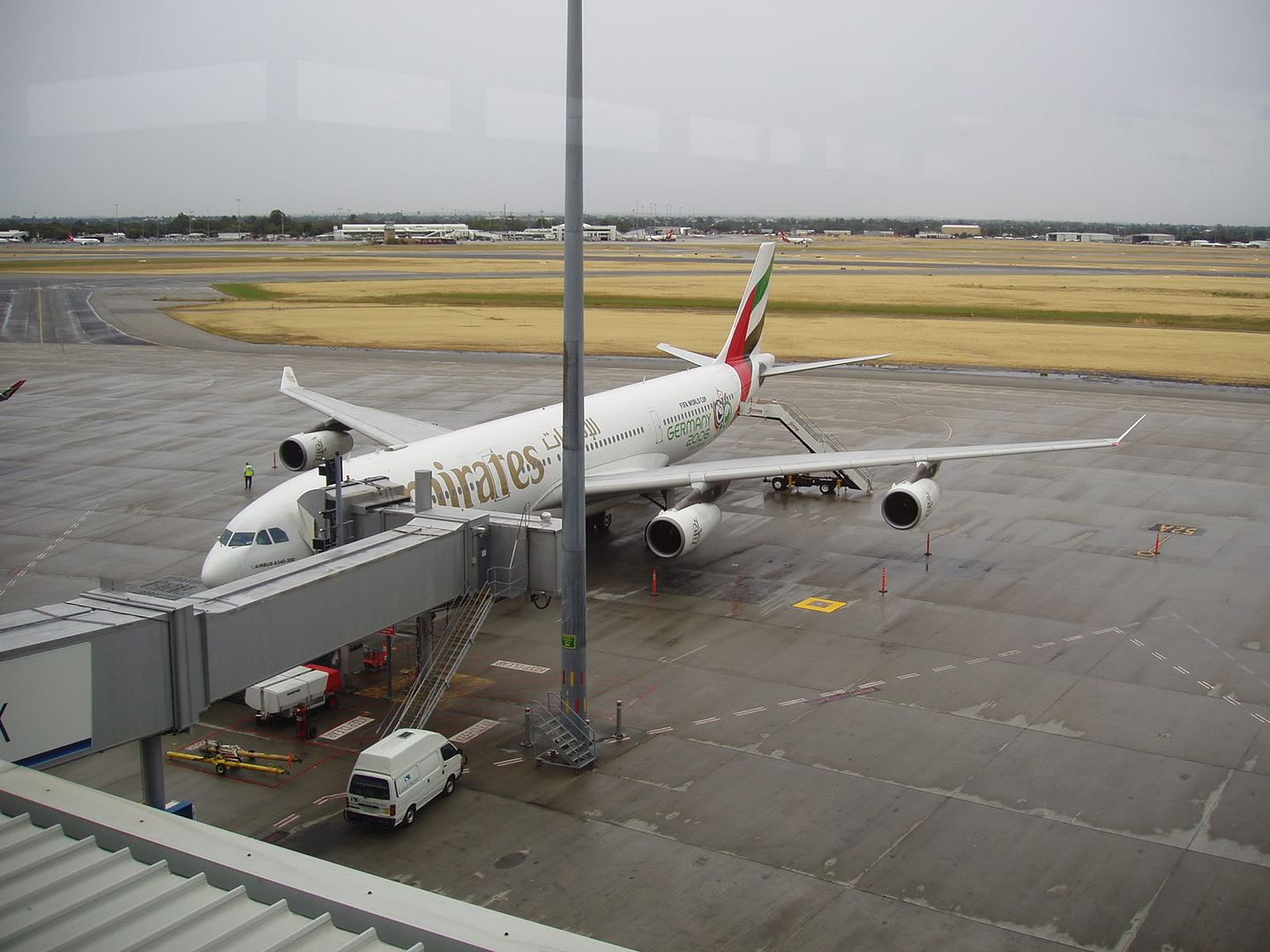 EK A340-300 to DXB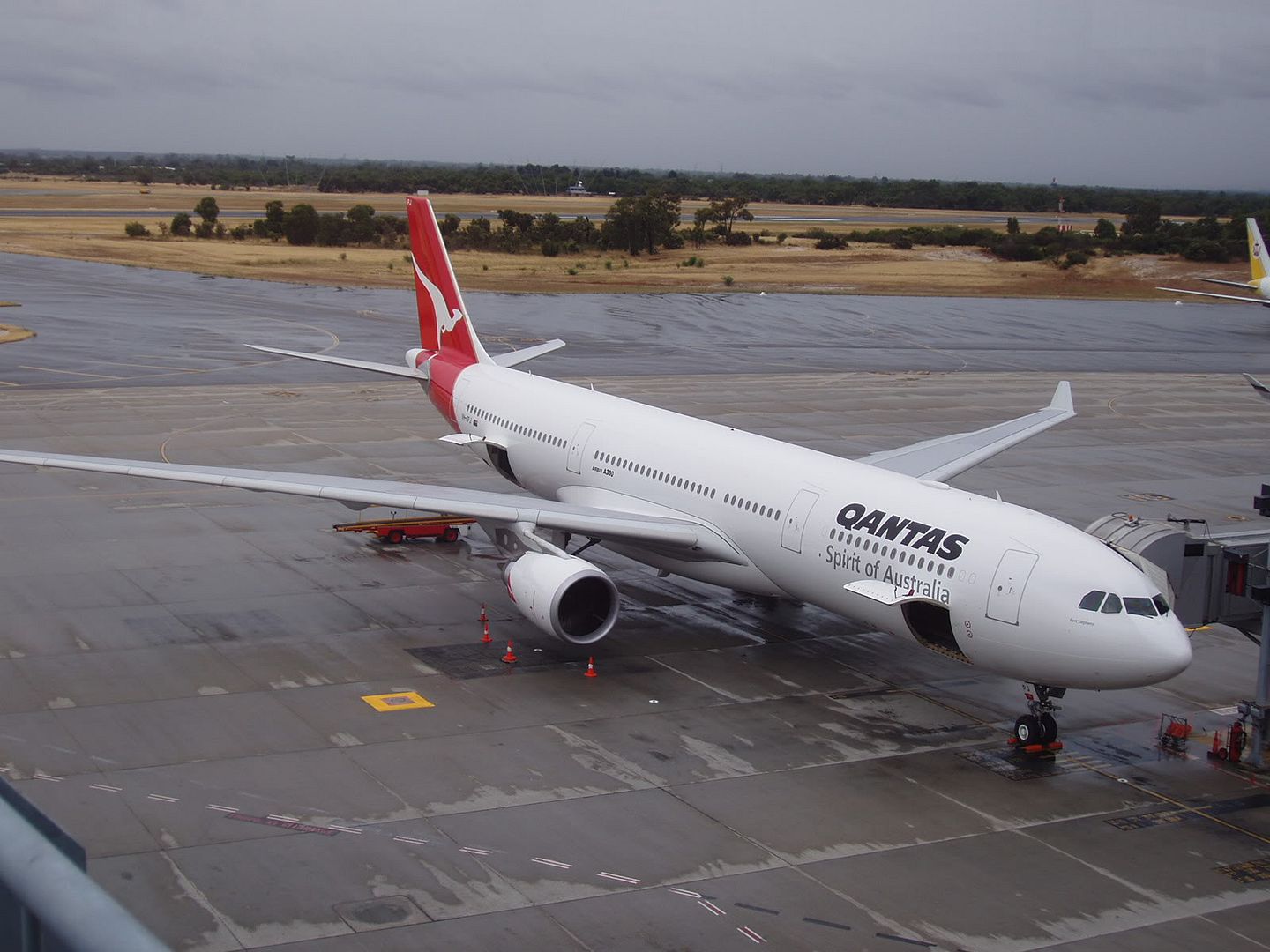 QF A330-300 to SIN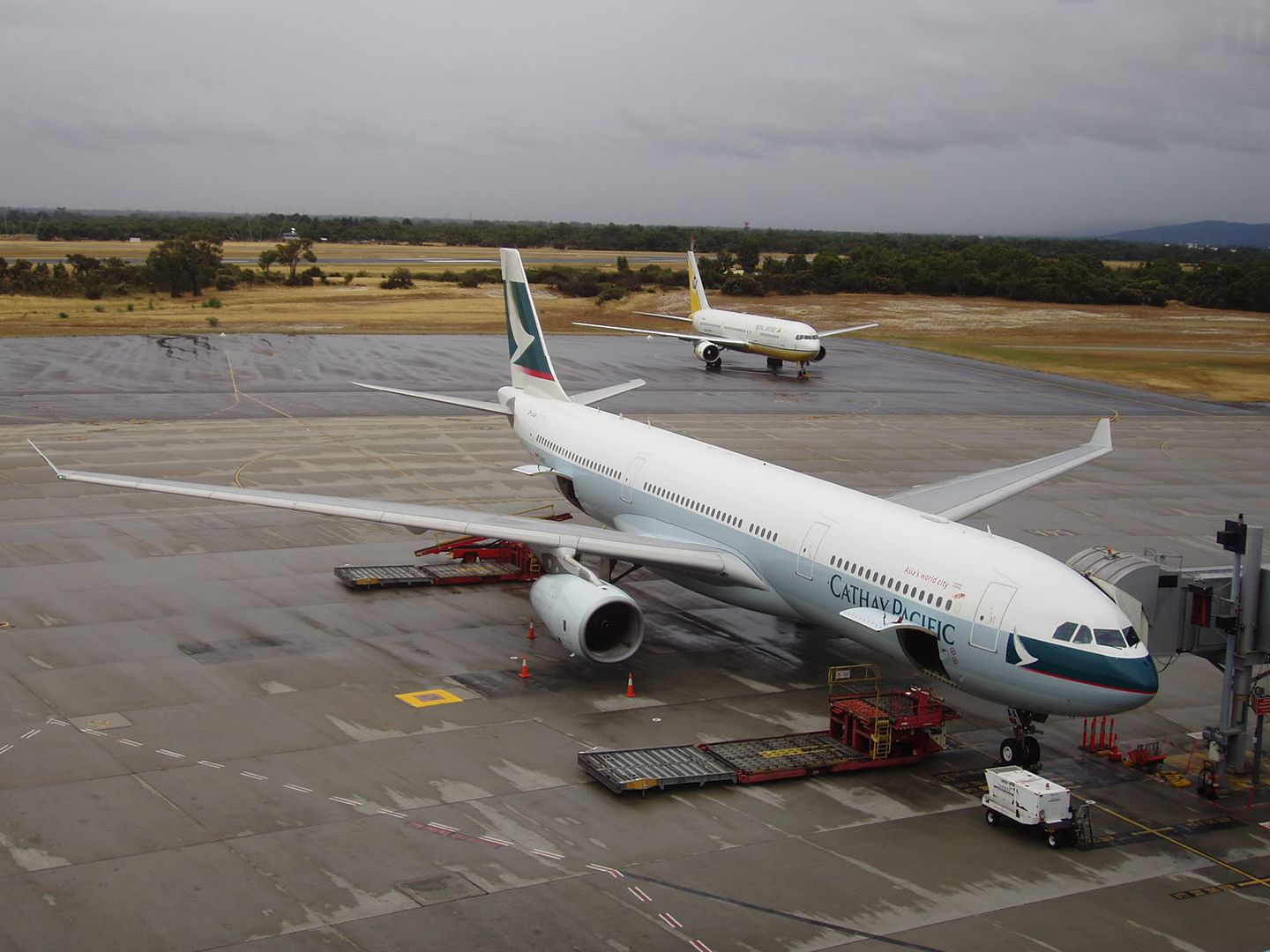 CX A330-300 to HKG and a BI B767-300 to BWN
An NC Bae 146-200 to CCK being towed from the domestic terminal.
After a while on the observation deck, I went downstairs to Dôme for a latte and scone. Afterwards, I passed though immigration and security to wait more in the departure lounge. After another coffee, there was nothing more to do than read my novel and wait for boarding.
A 1105, the agents called for J class on QF 77 to SIN. I boarded around 1115, and took seat 31 A. I was impressed by the friendly QF crew, who were always accommodating but not subservient like the crews on some Asian carriers.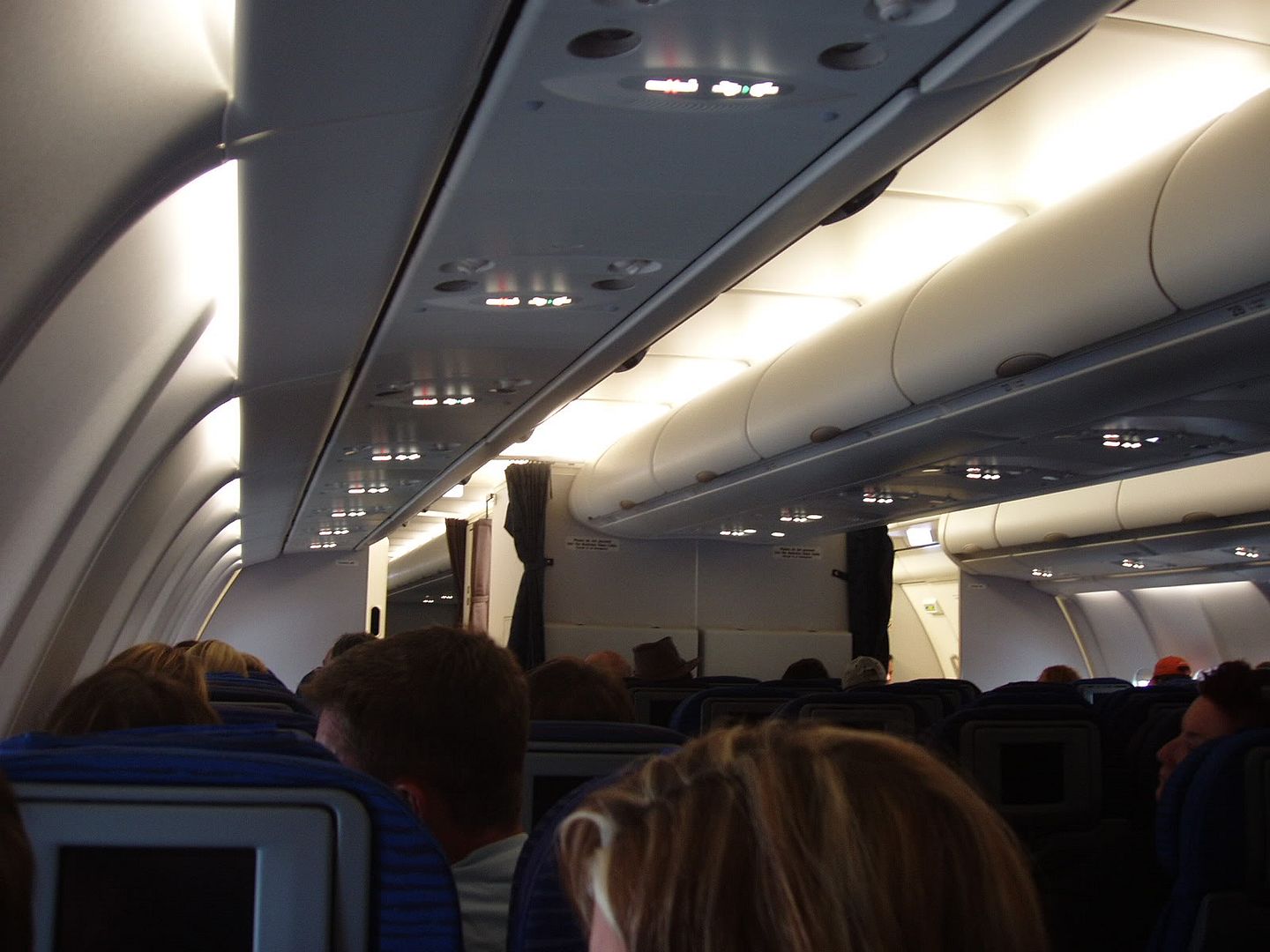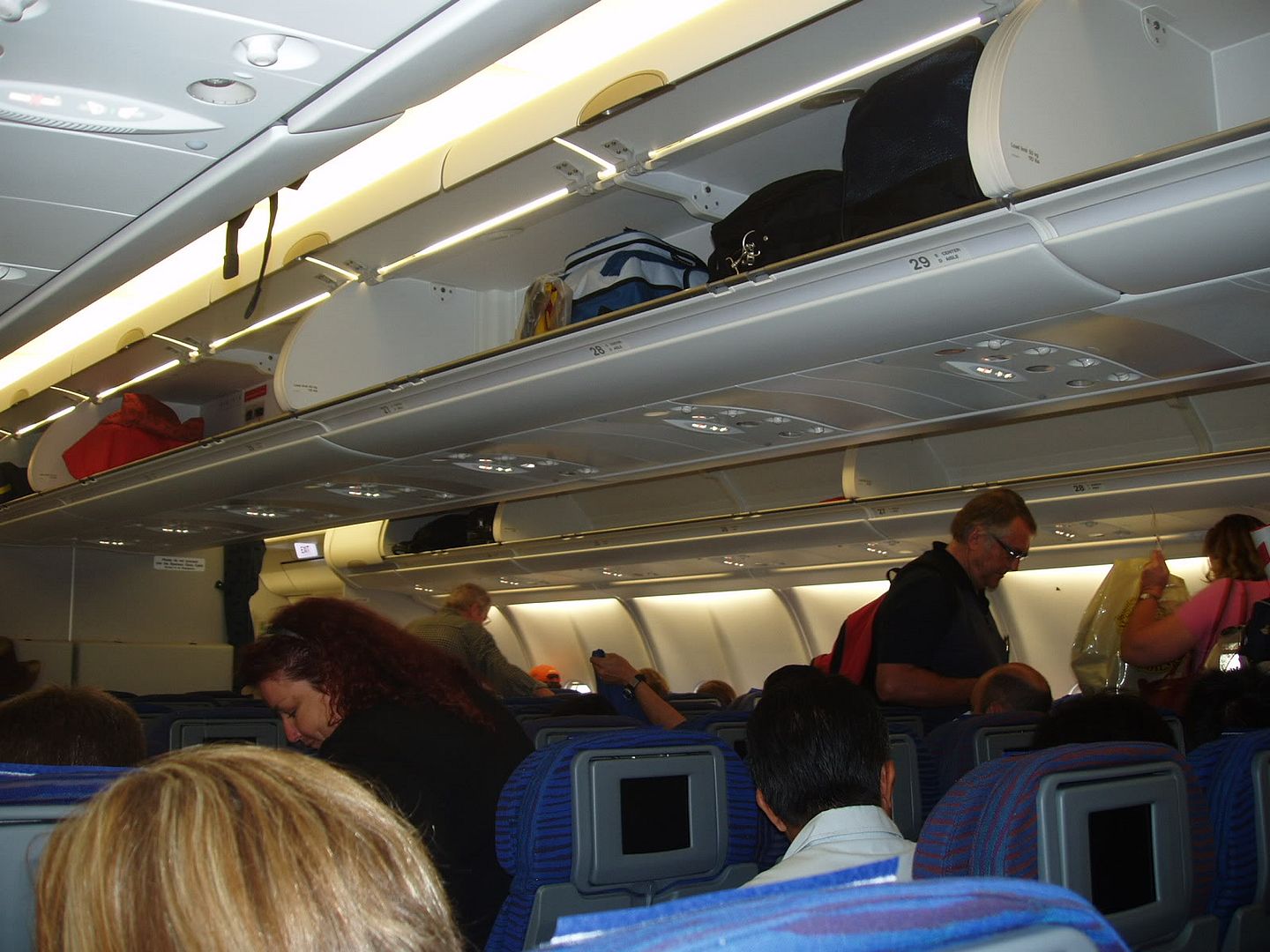 After settling in, the crew distributed the menus and headphones for the flight to SIN. The captain announced that it would take 4:40 minutes to get there.
We pushed back at 1125, and made a quick taxi to the runway. We had to wait for a company A330-200 to take-off before we departed.
After take off, the crew switched on the AVOD system, which has a great selection of international film, including Australian ones that don't make it to the USA.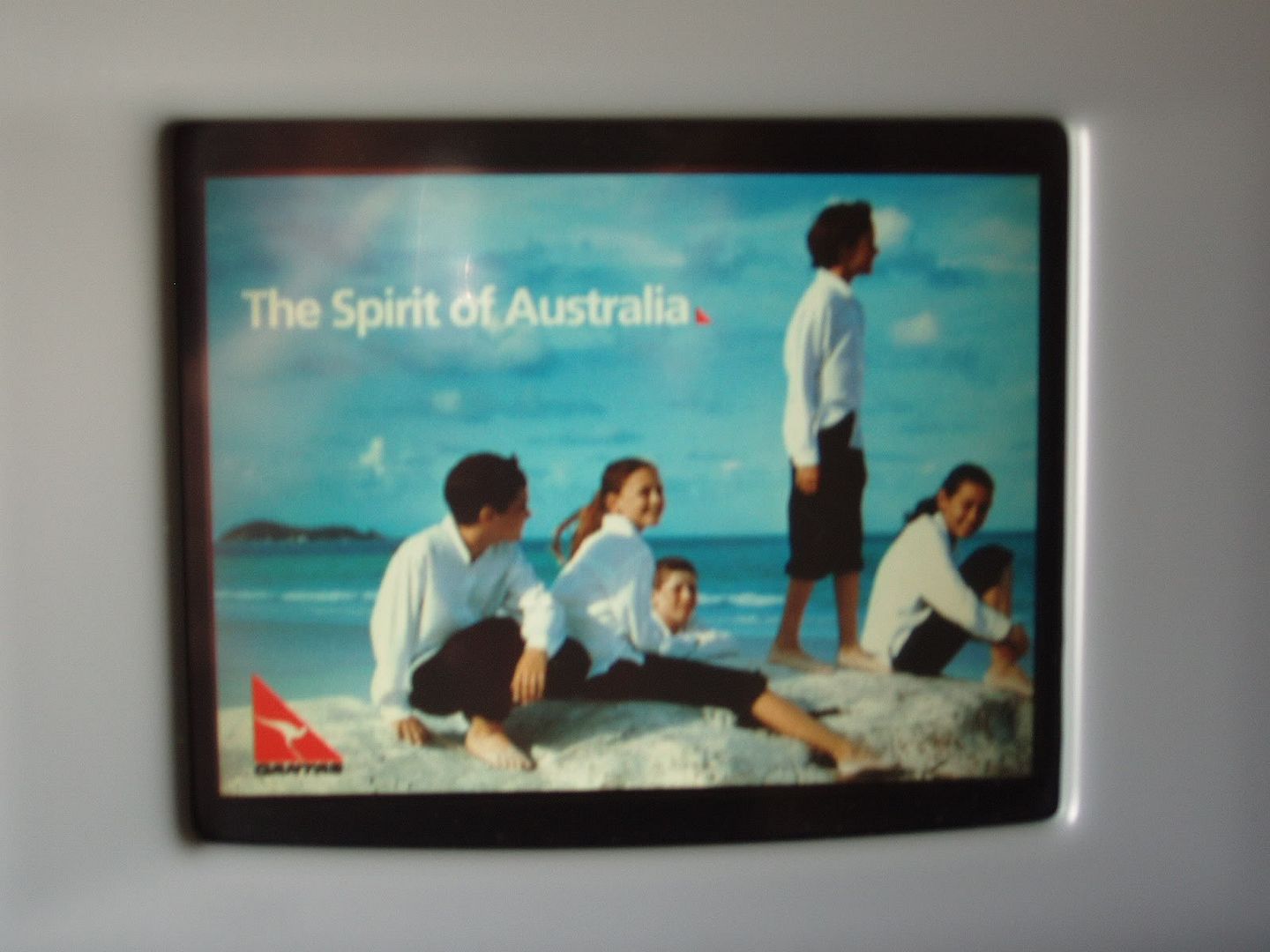 The crew then served drinks and lunch.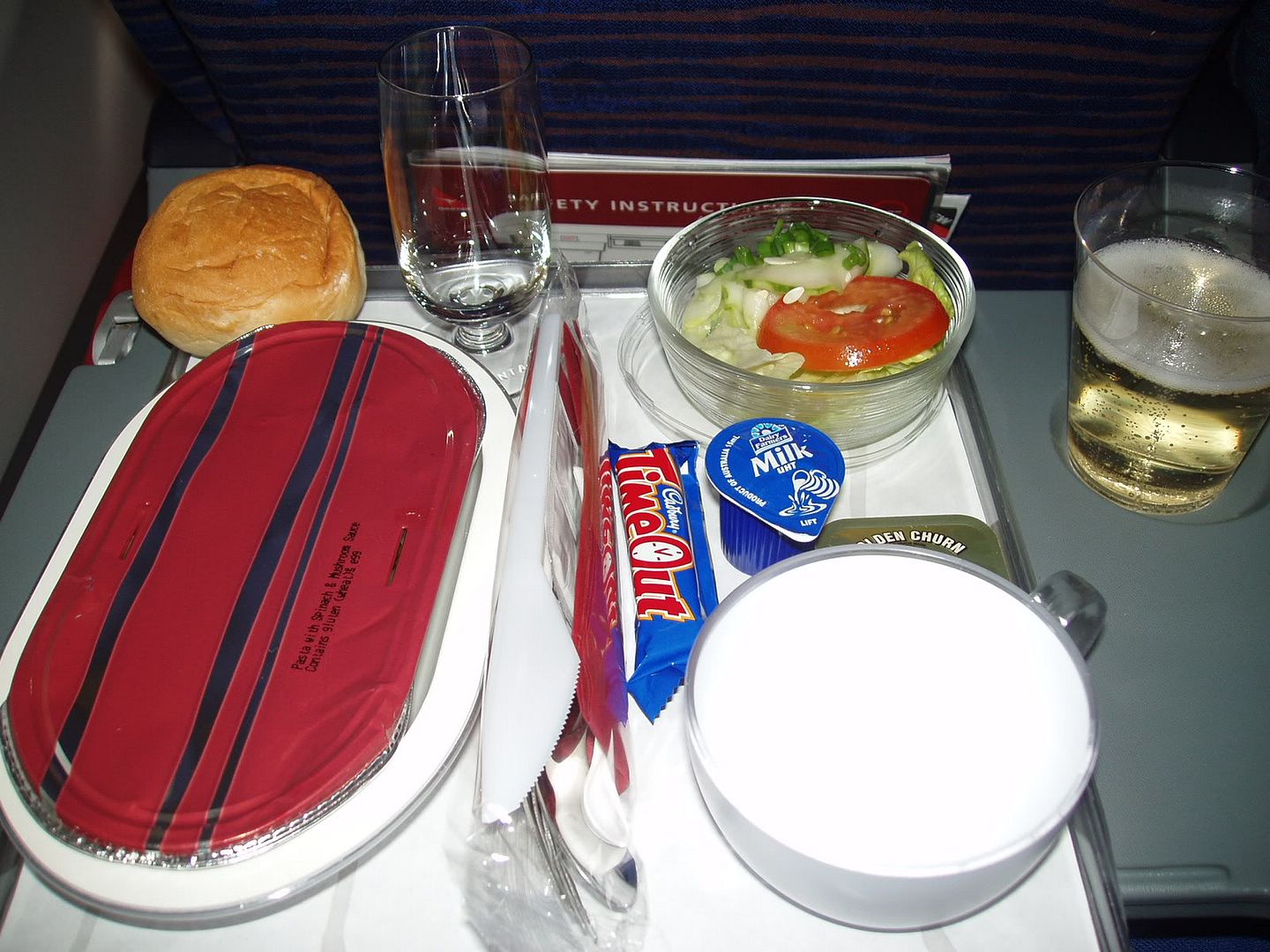 I took the pasta, and washed it down with a few glasses of sparkling wine while watching "The Castle," in which property rights feature prominently; a favorite topic of mine after the
Kelo
opinion by the US Supreme Court.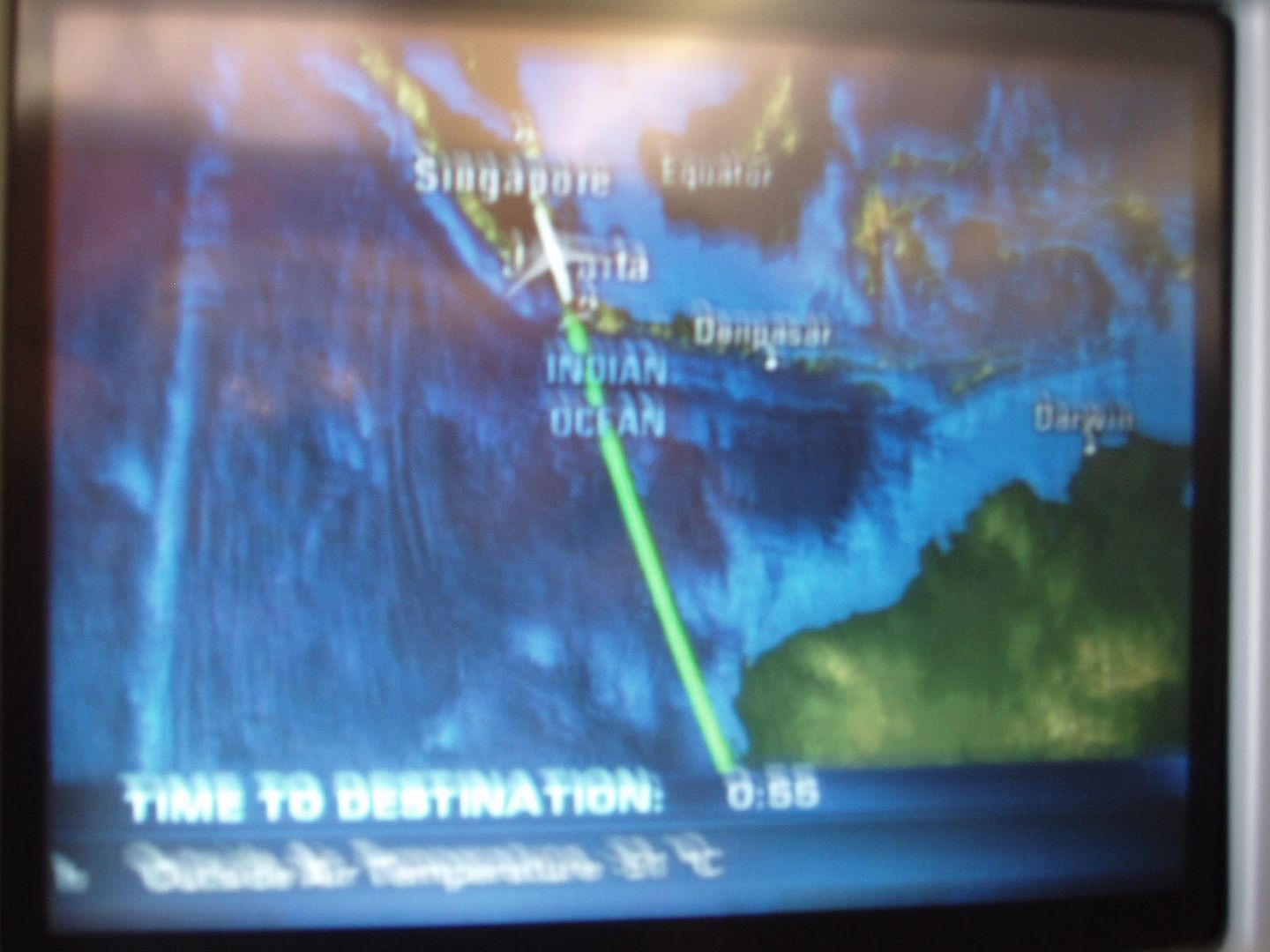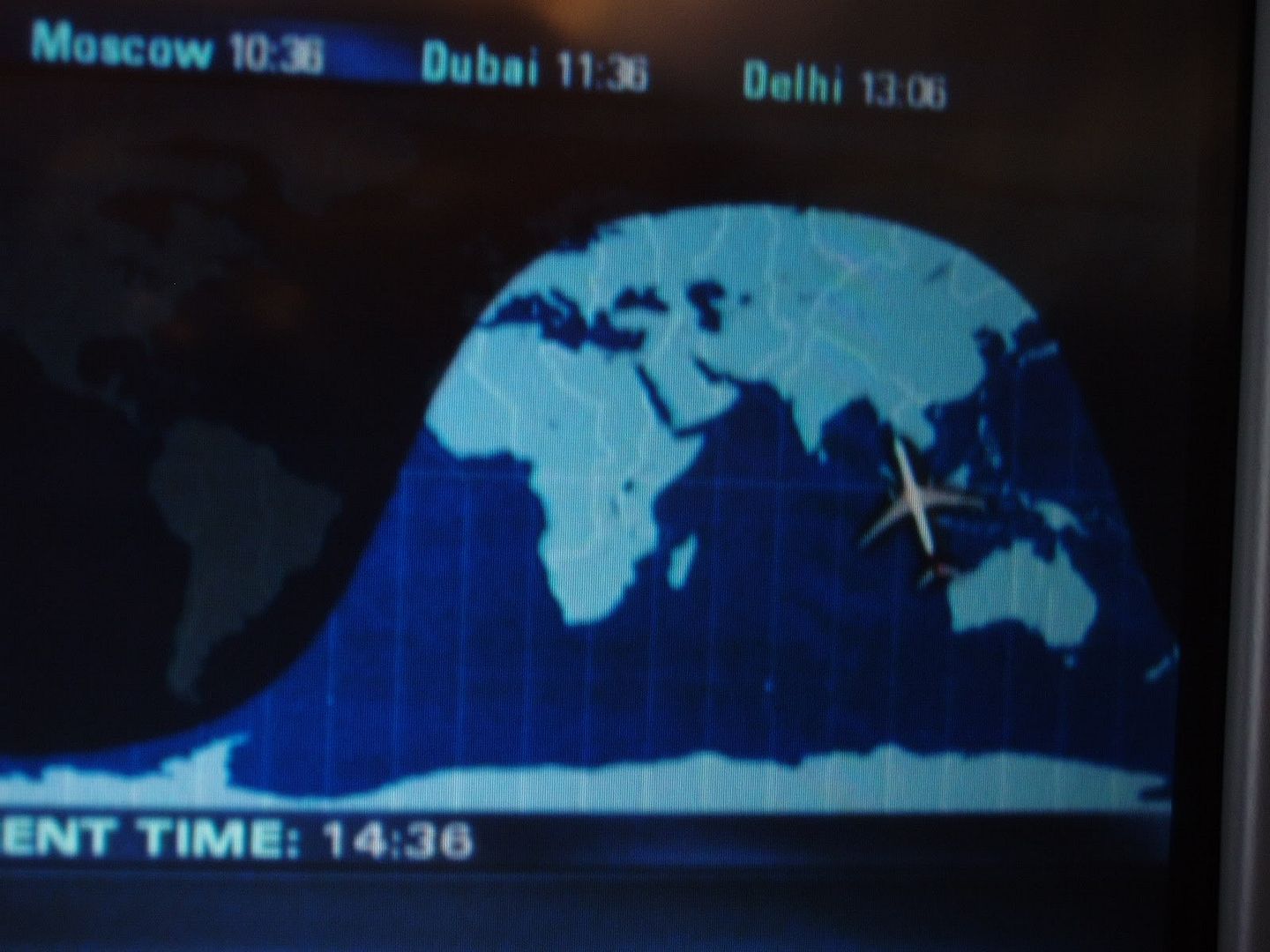 Poor quality photos of the moving map.
After a very pleasant 4:15 minutes, we began to descend into a cloudy and rainy Singapore.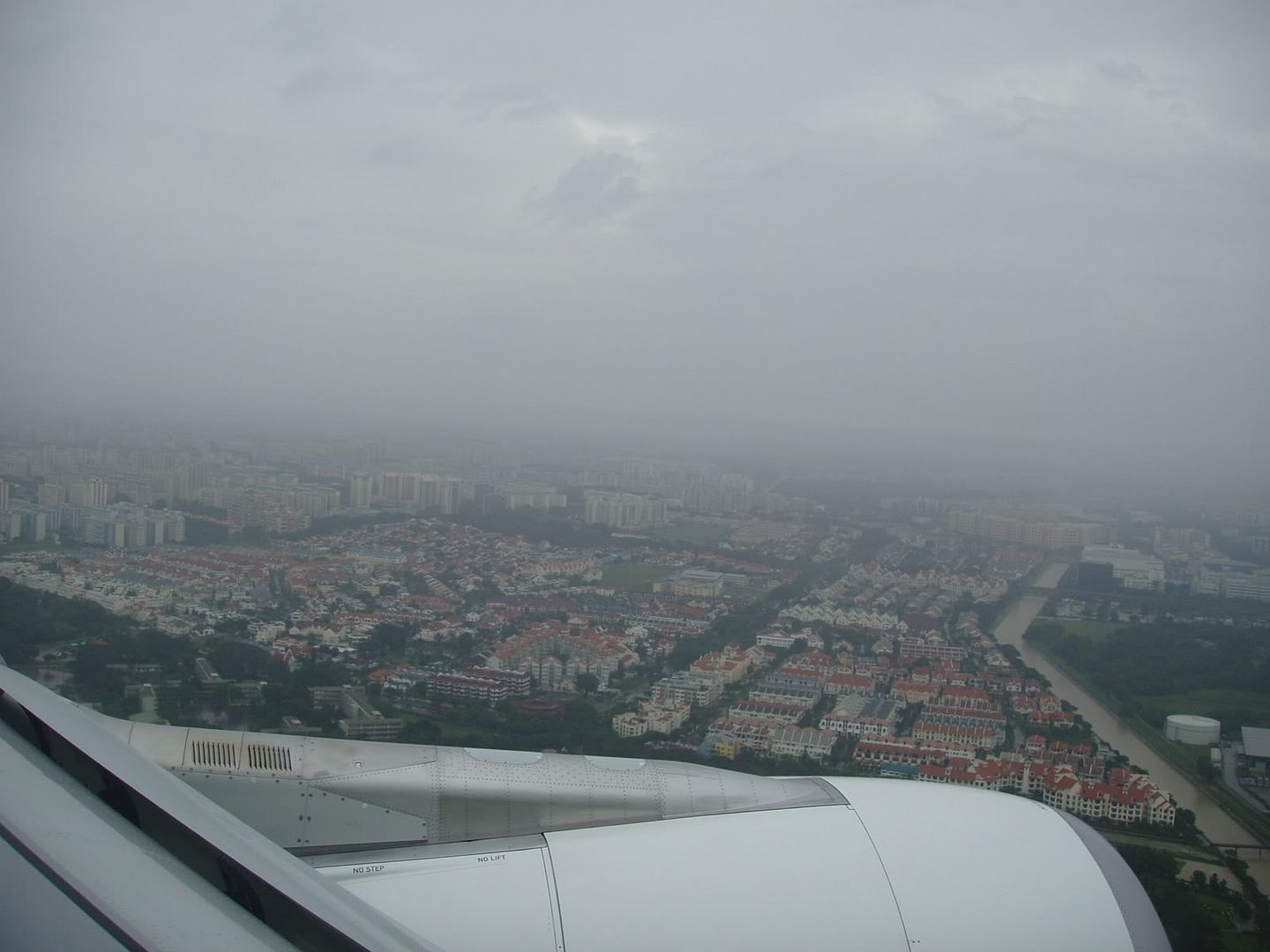 Landing in SIN.
It took only 15-minutes to clear immigration, collect my bag, and clear customs. Then I was off to Little India for a two-night stay.
January 14, 2006
Johor Baru – Kuala Lumpur
Malaysian (MH) 1052
Boeing 737-400
1700 – 1728
Flight time: 00:28
I wanted to visit Kuala Lumpur to see the Petronas Towers and do some shopping before going back to the states. Initially, I was going to take the train from Singapore to KL; however the line to buy a ticket was very long. I detest waiting in lines, so flying was the next best option. After checking various airline websites, I decided that it would be cheaper to take the bus to Johor Baru from SIN, and then fly from JB to KL.
My flight was supposed to depart at 1550, so I arrived at 1430 at JB's airport. The airport was almost 30 kms from the Singaporean border, so I paid S$20 for the taxi. (I later learned that it should have cost no more than RM 20.)
When I checked-in the monitor indicated a new departure time of 1645.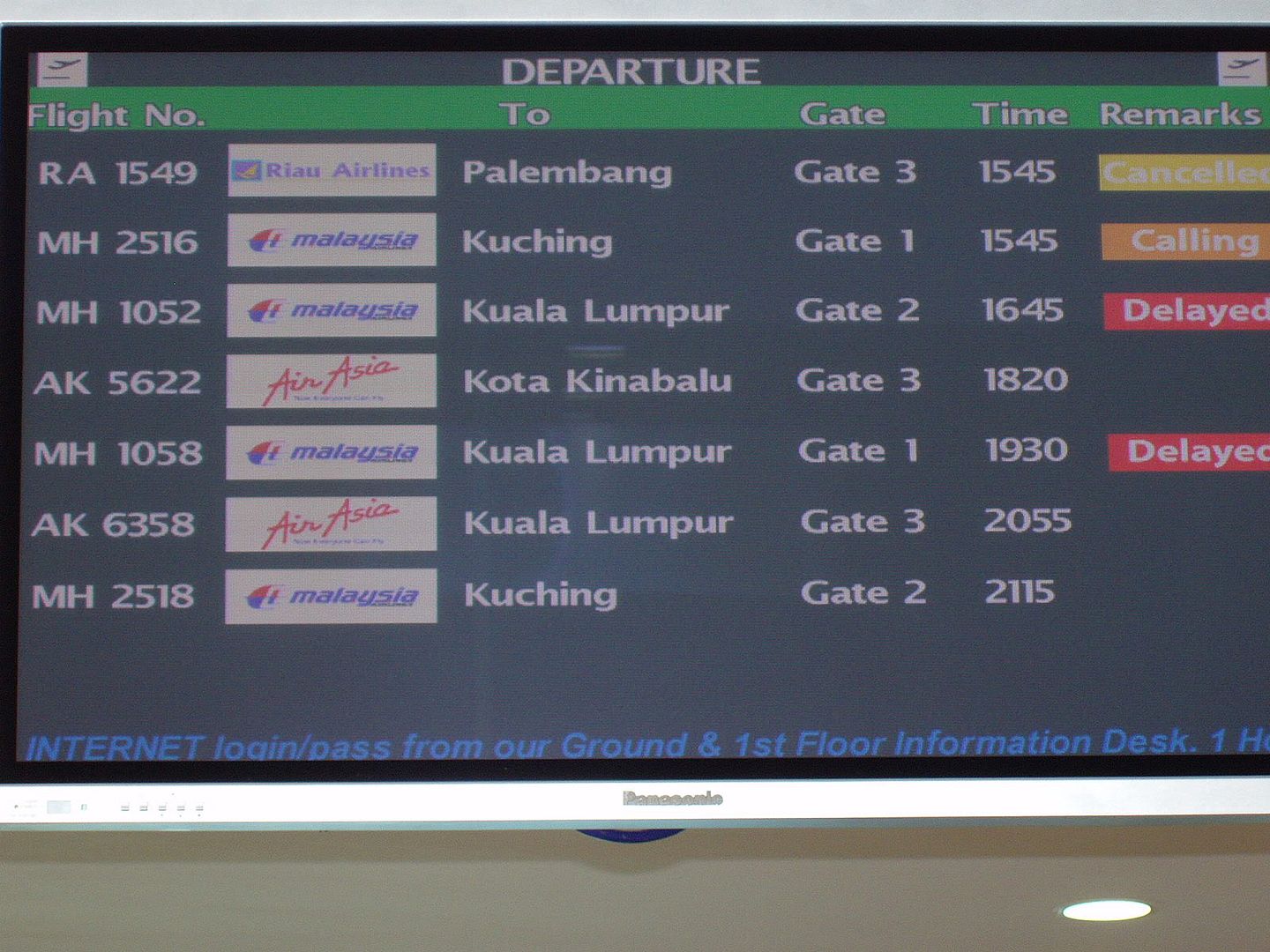 I asked why there was a delay, and the agent just said that the plane would leave KUL later than expected. He assigned me 23F, and I went to each lunch before passing through security.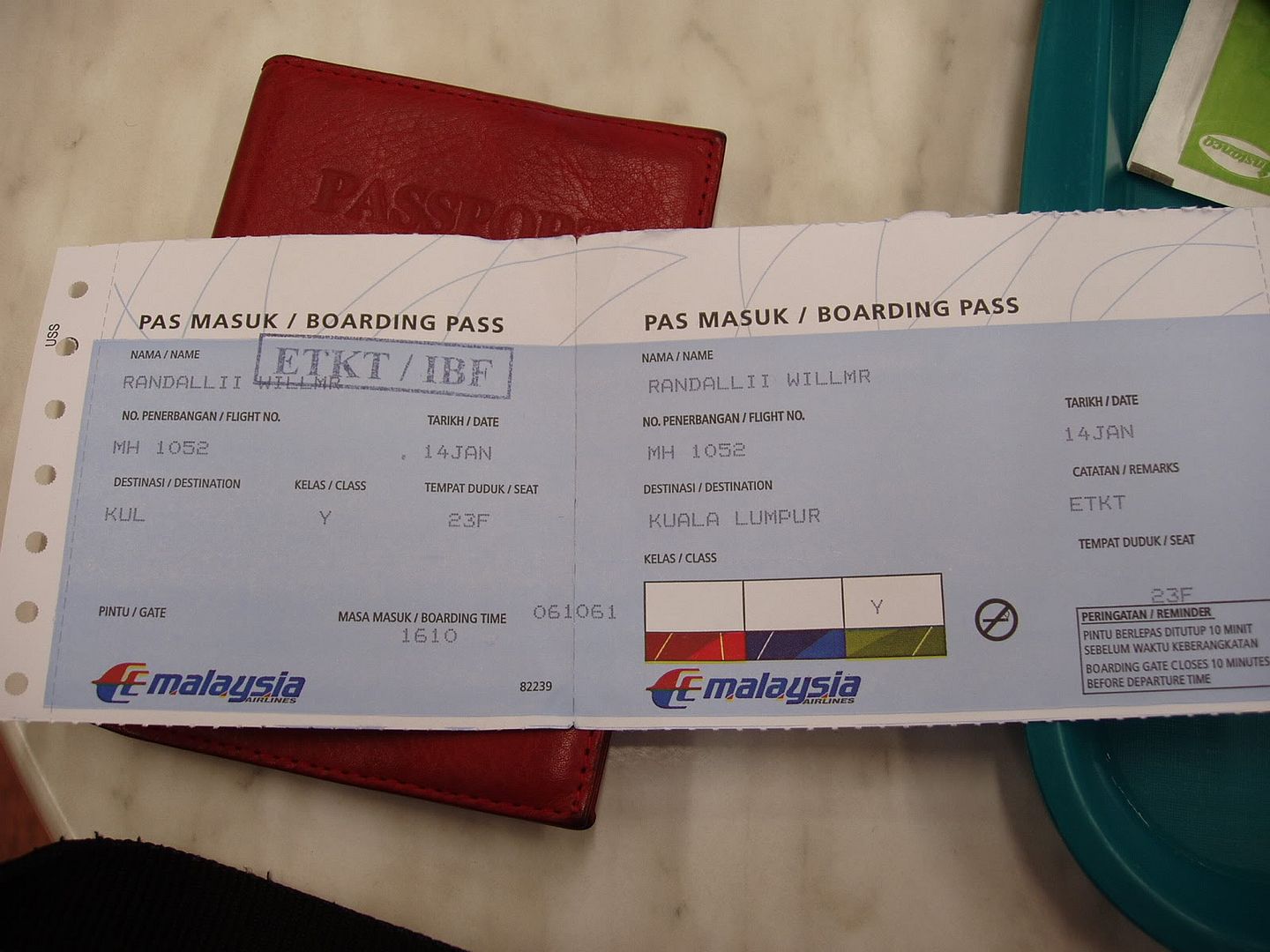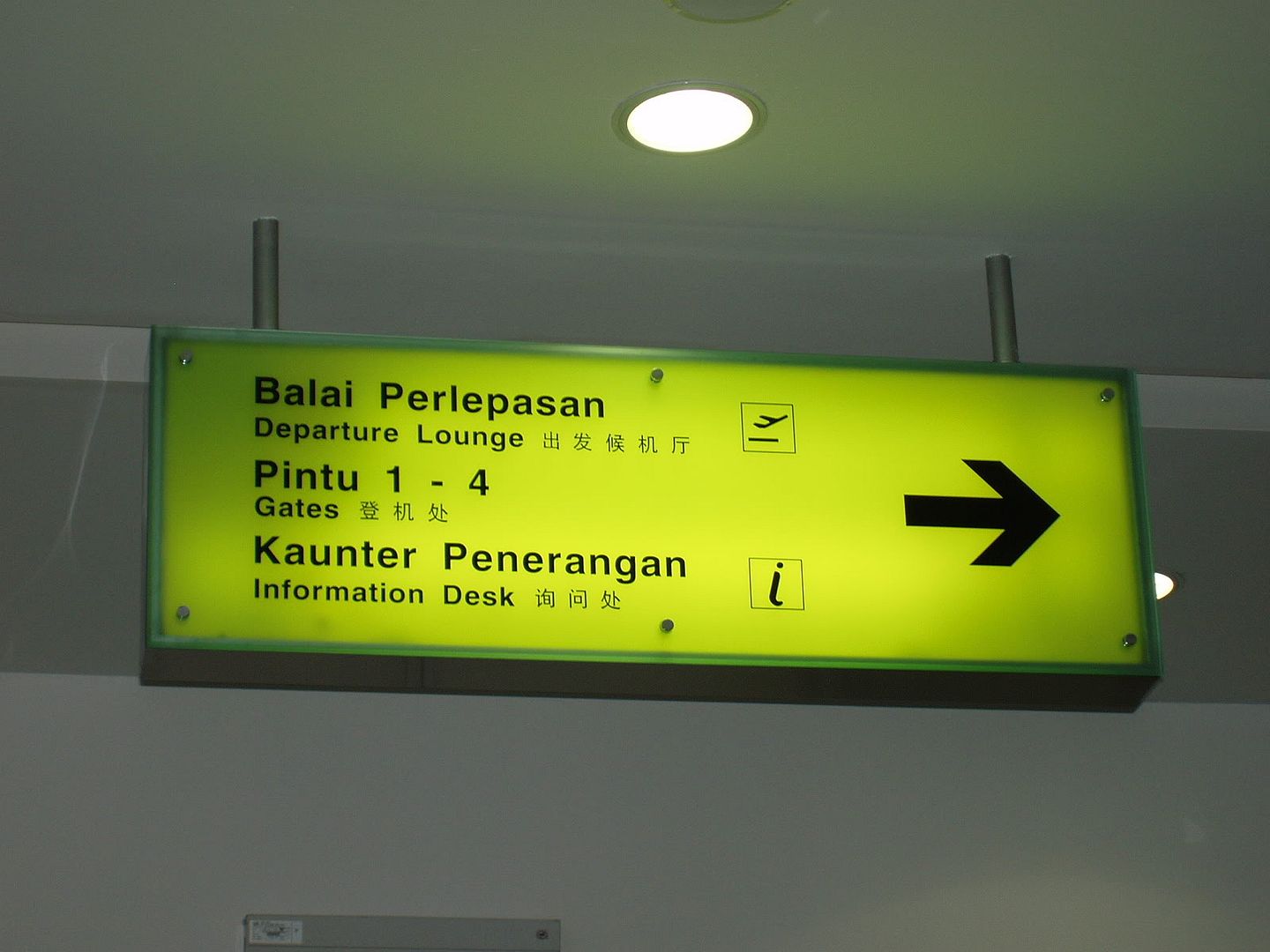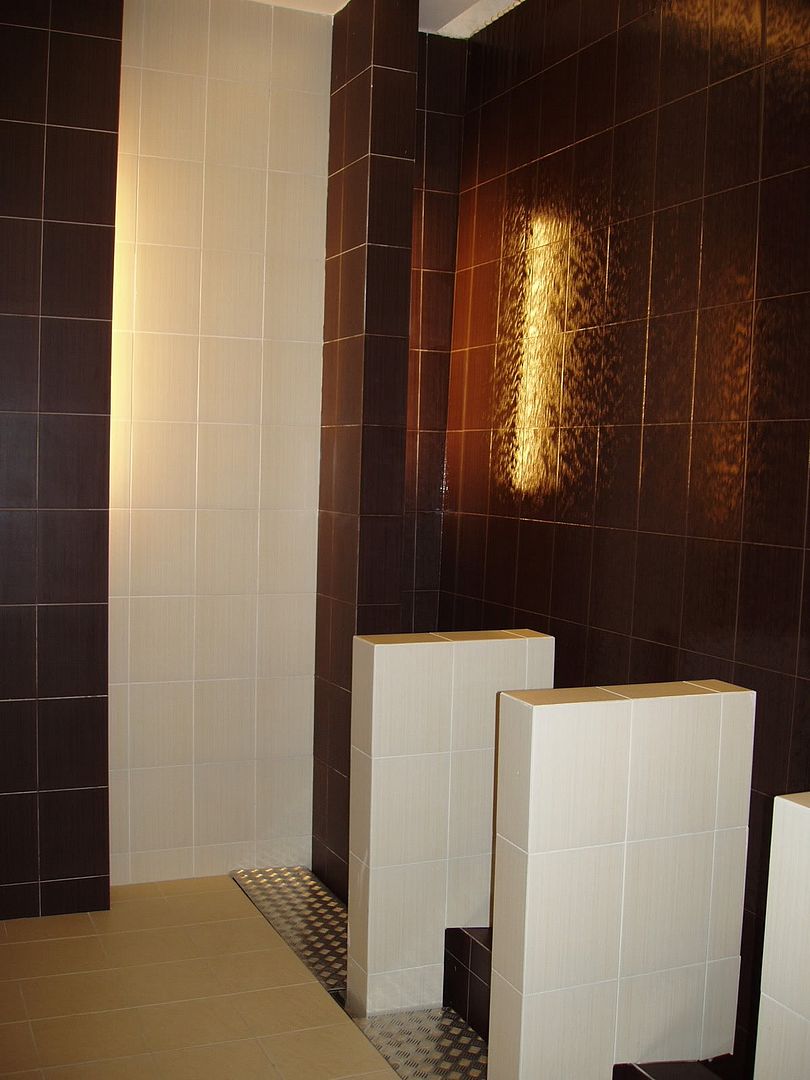 Possibly the nicest airport bathroom anywhere!
I first explored the small terminal, and I only found a magazine show, café and prayer room.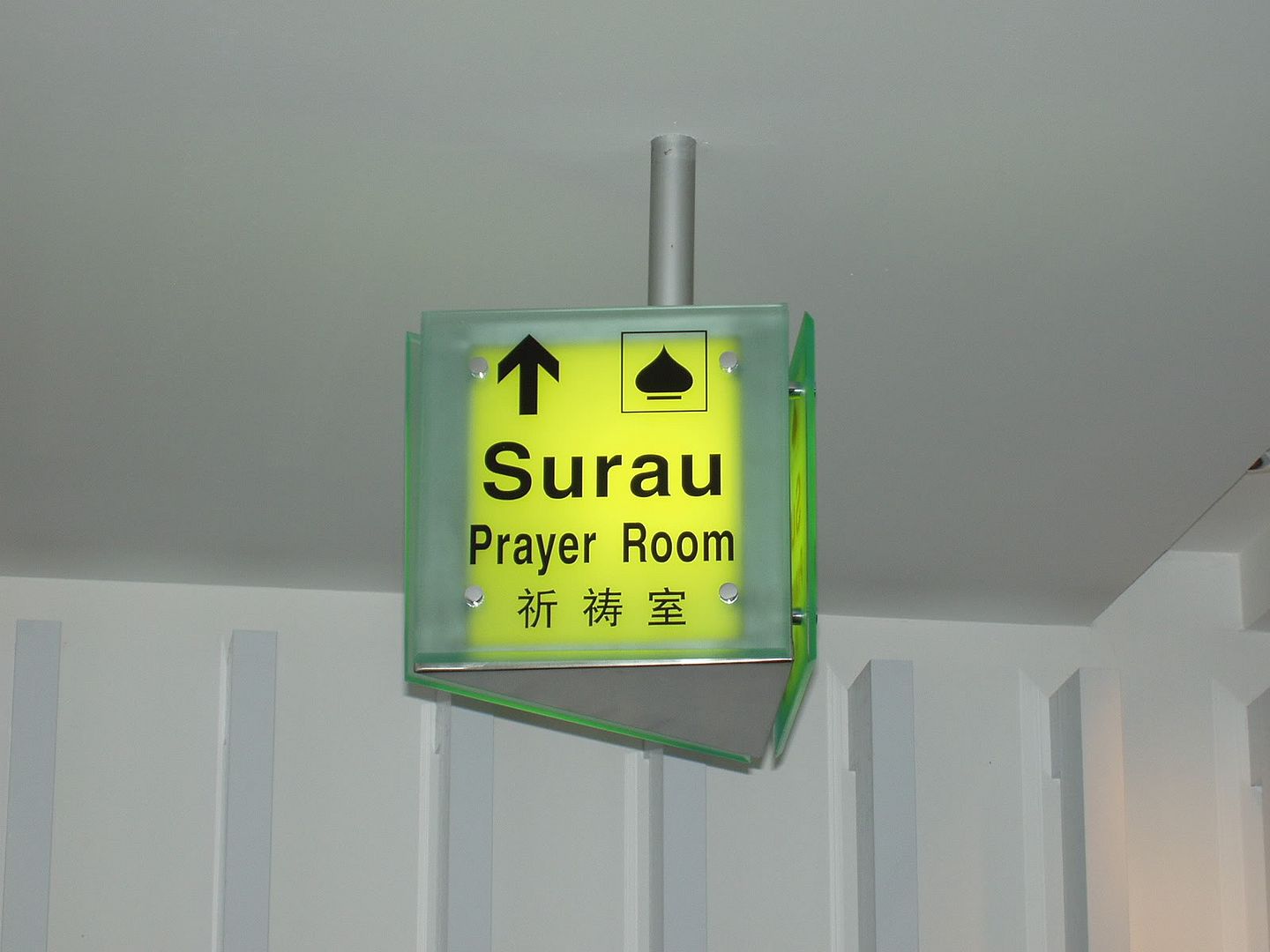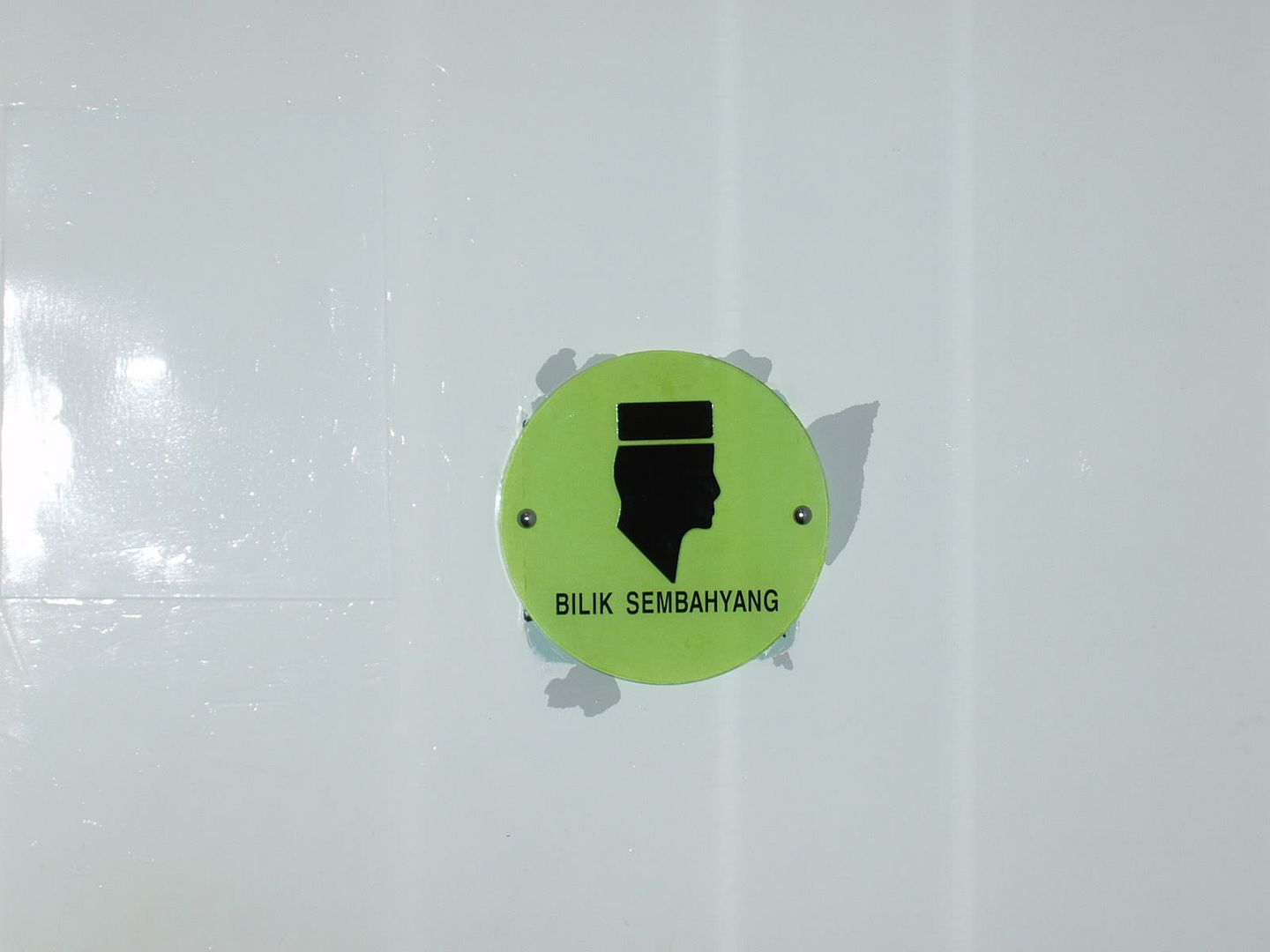 I passed the remaining time reading, but I snapped a photo of the plane when it finally arrived.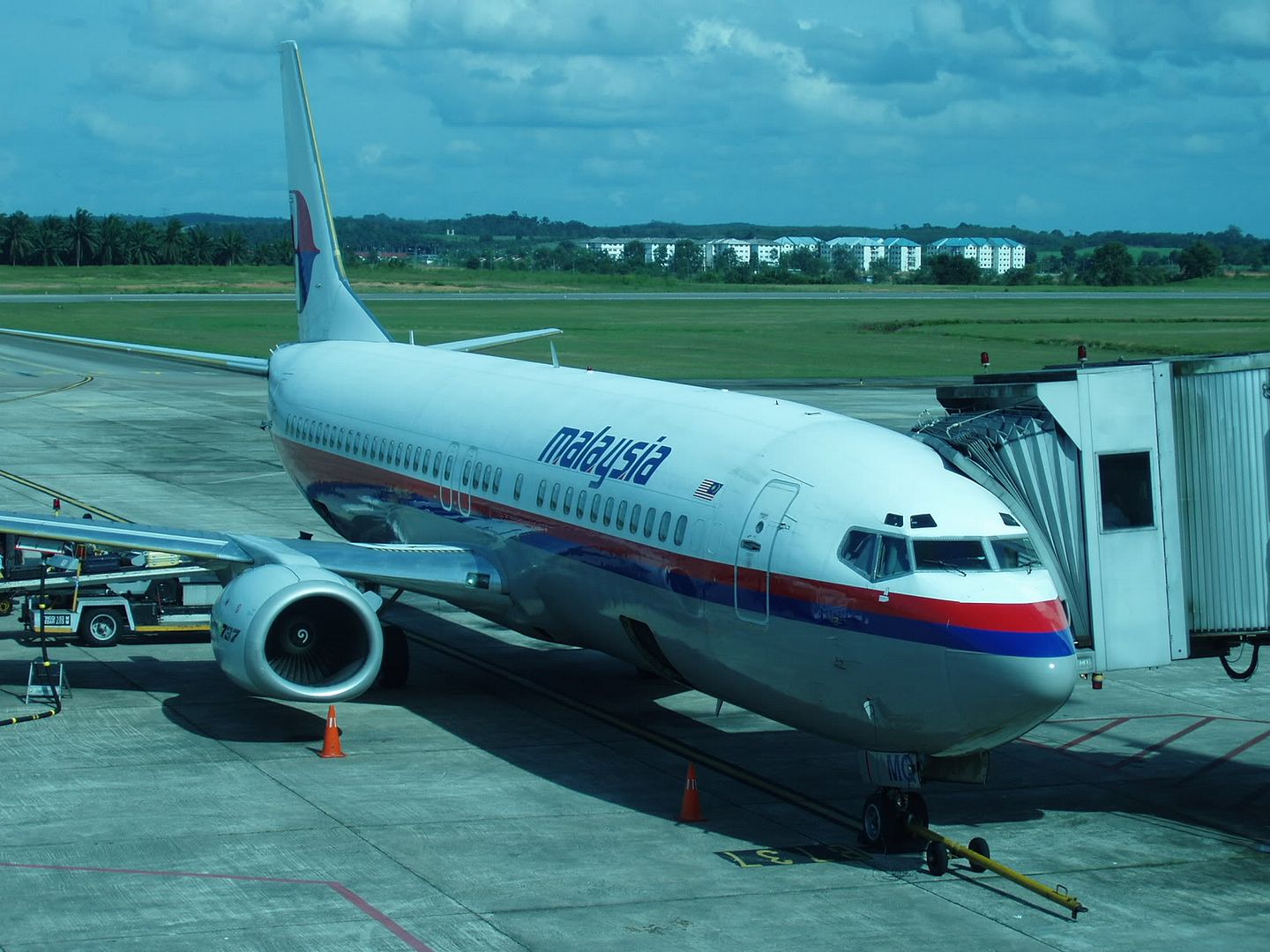 There was no status announcement, but I could tell that we would board soon since the crew gathered around the gate.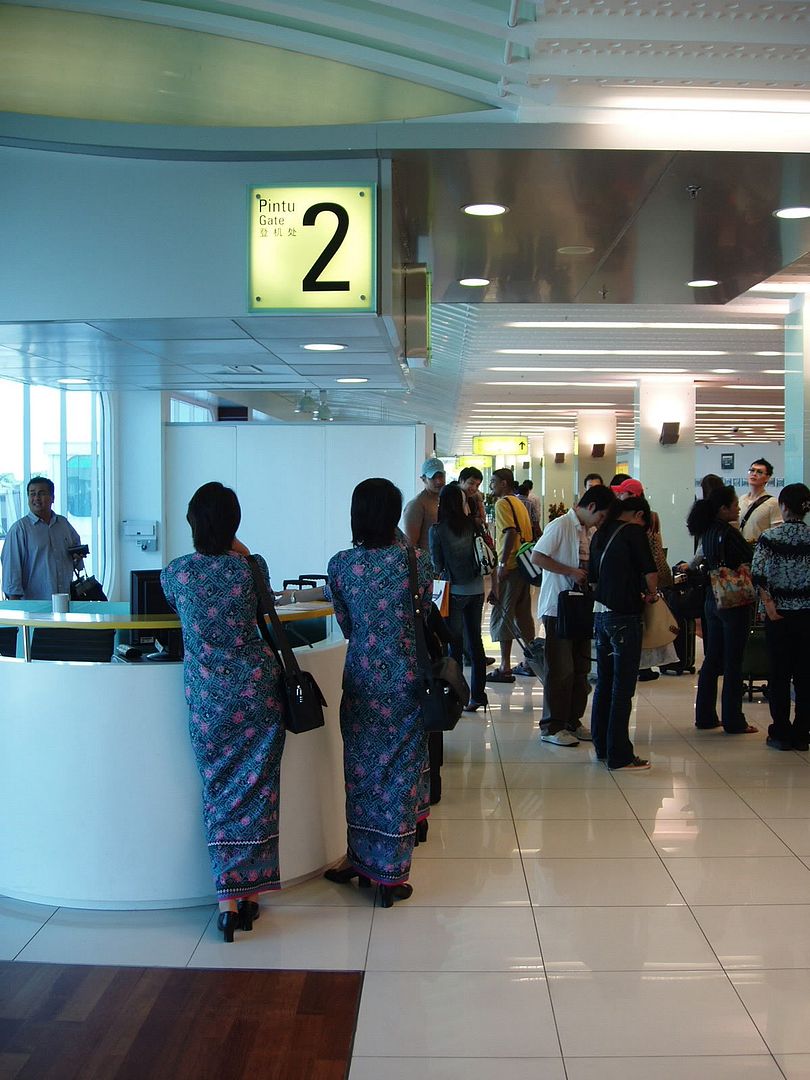 I boarded at 1635, and quickly took my seat.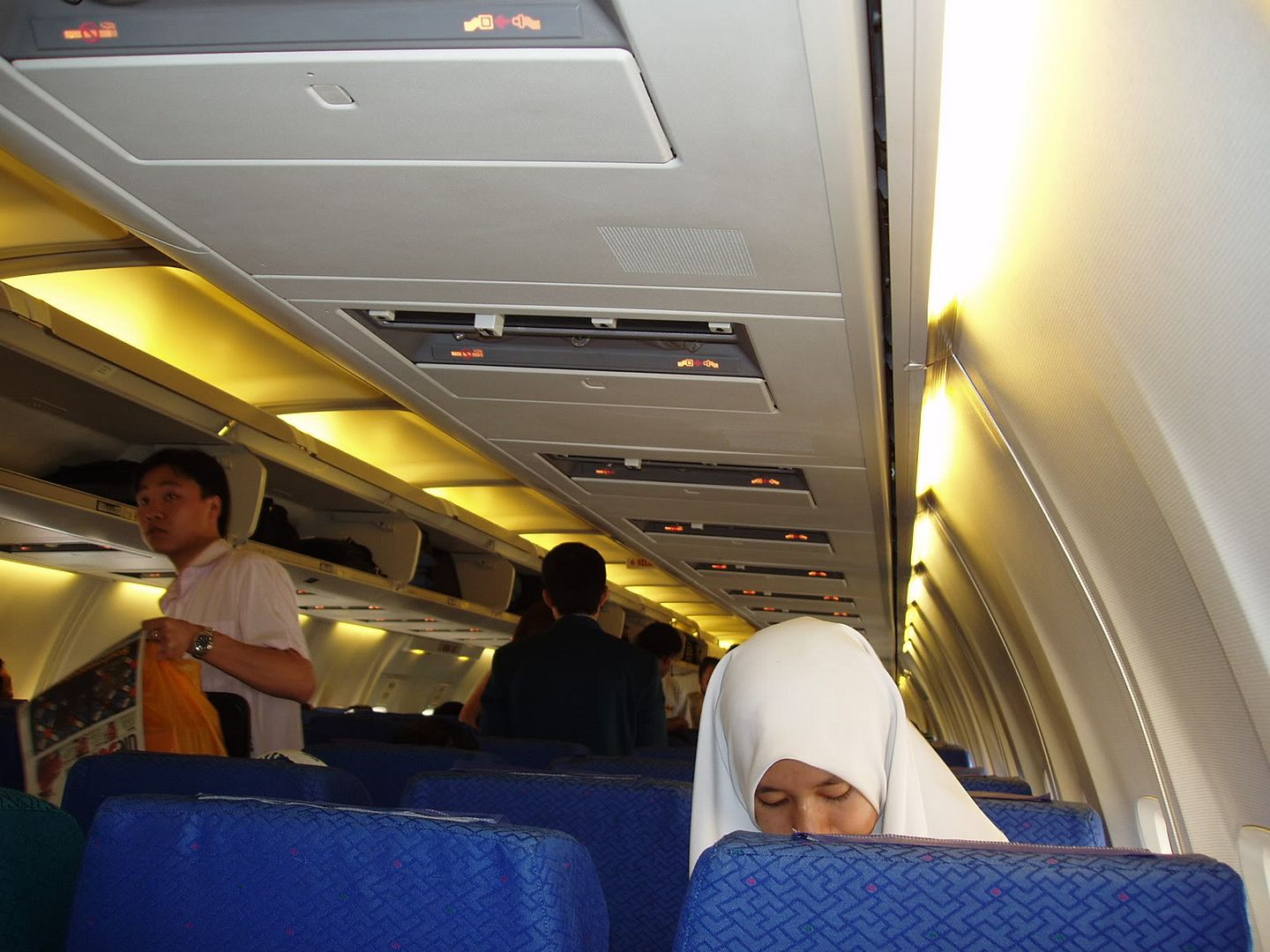 The other passengers settle in.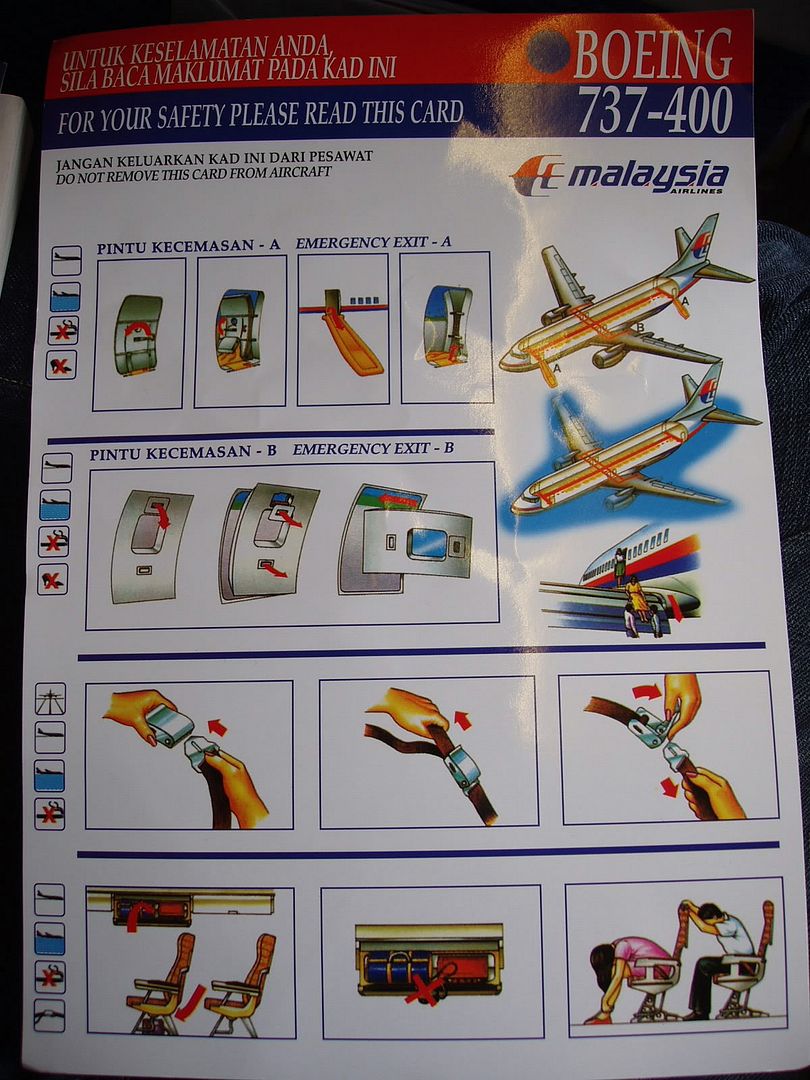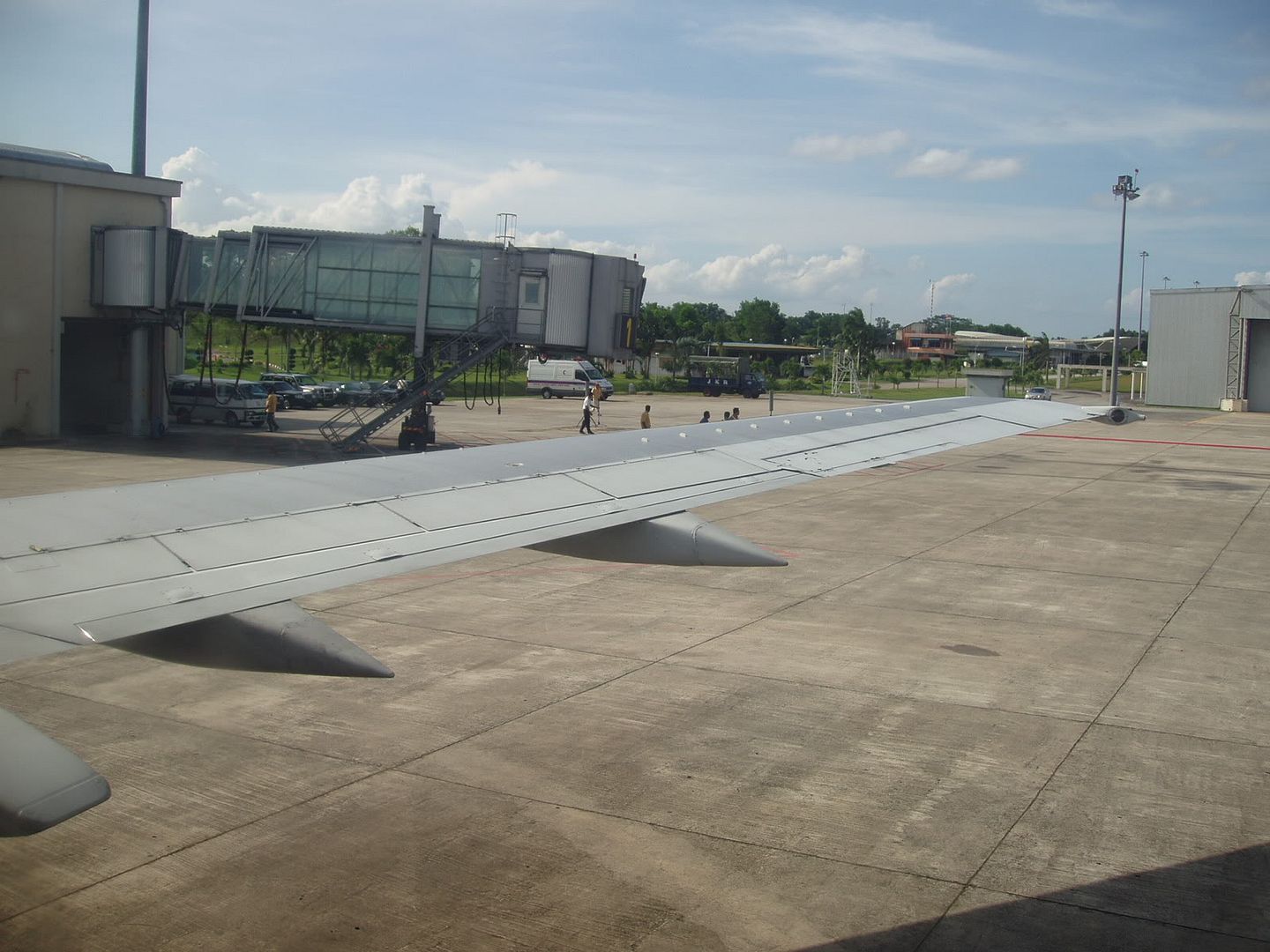 We pushed back at 1650, and had to back taxi on the runway.
After we took off, the crew offered a choice of orange juice or Milo chocolate drink. It took the Milo for the short flight.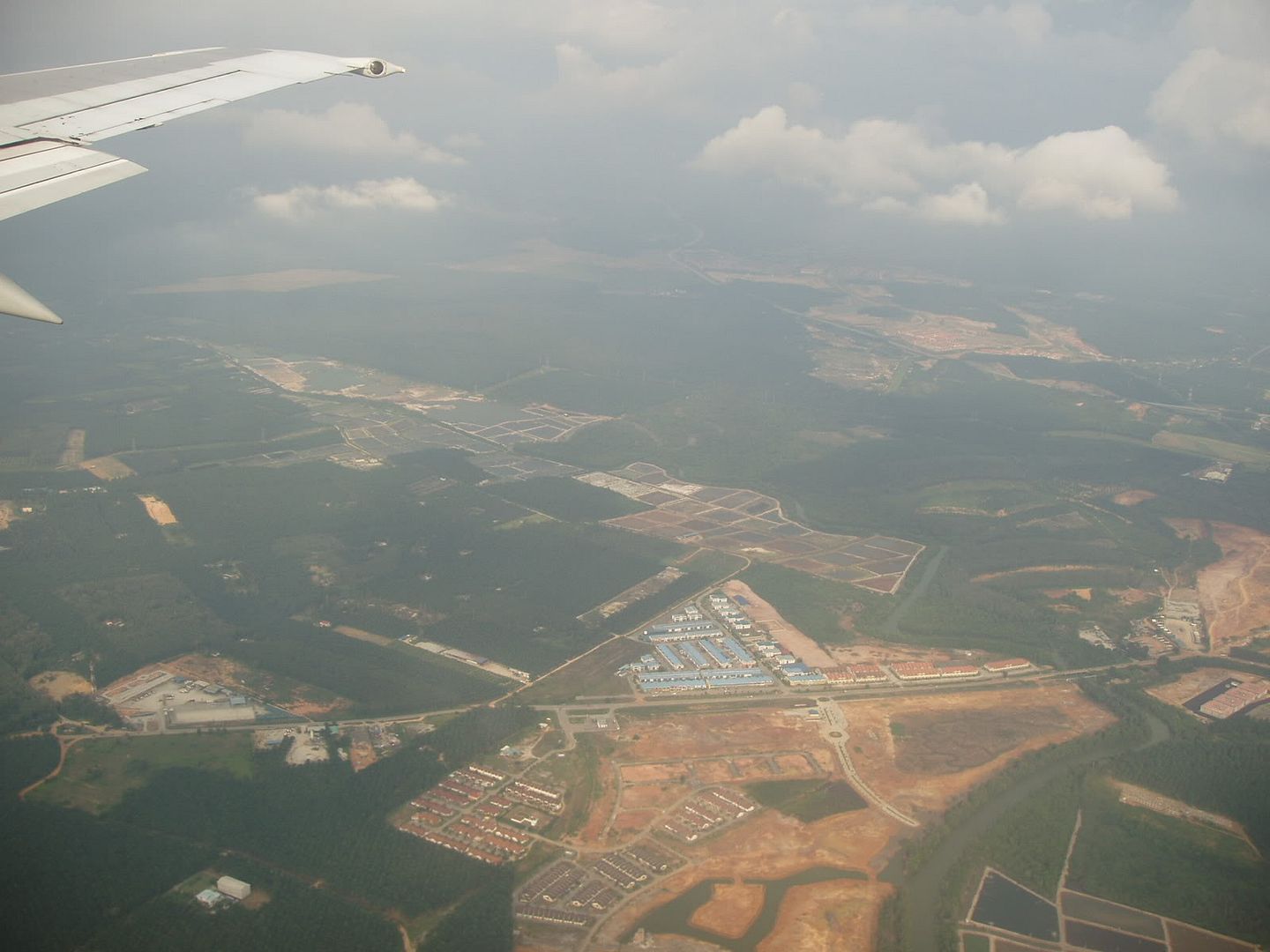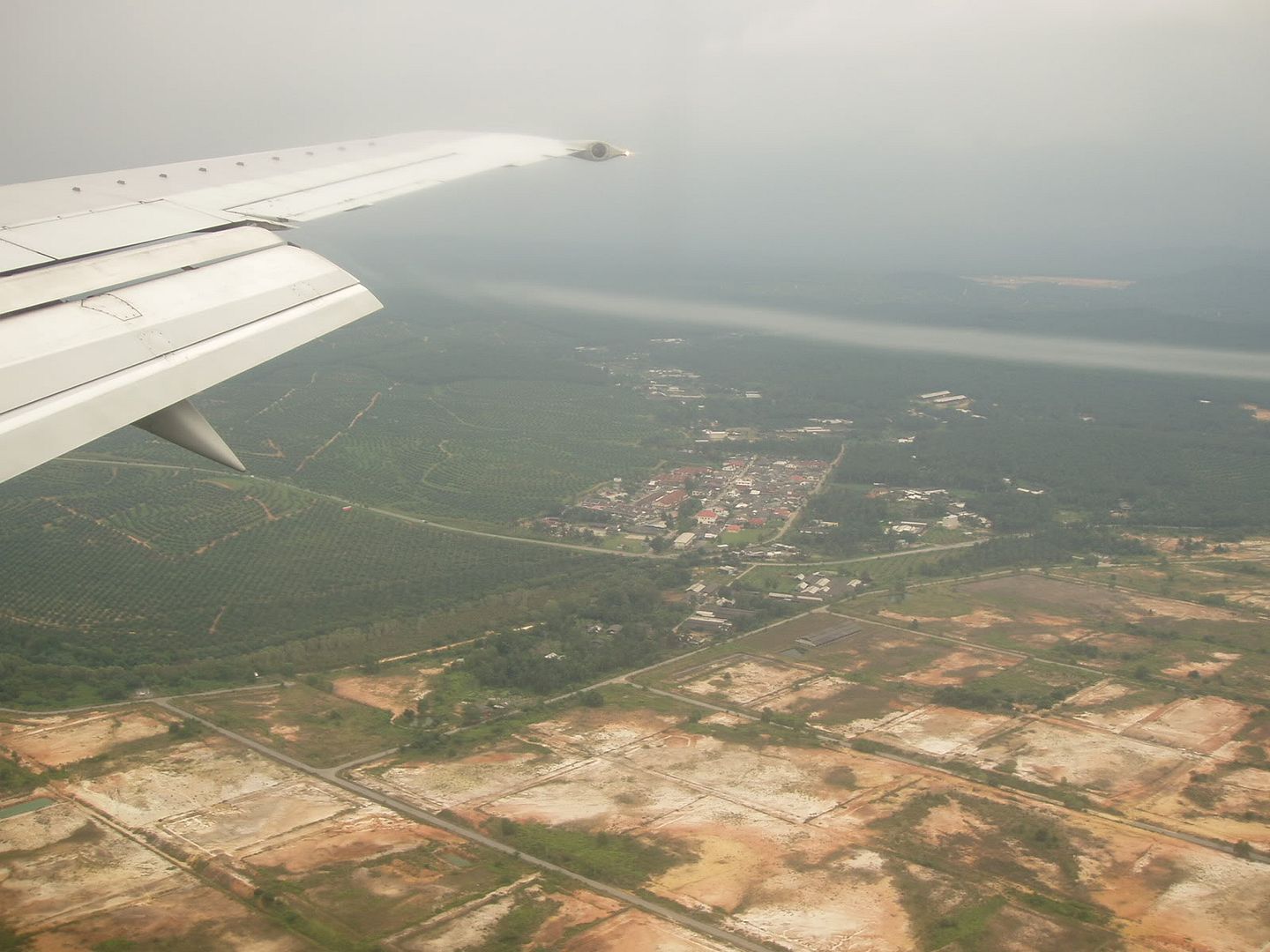 We landed in KUL just 28 minutes after take off.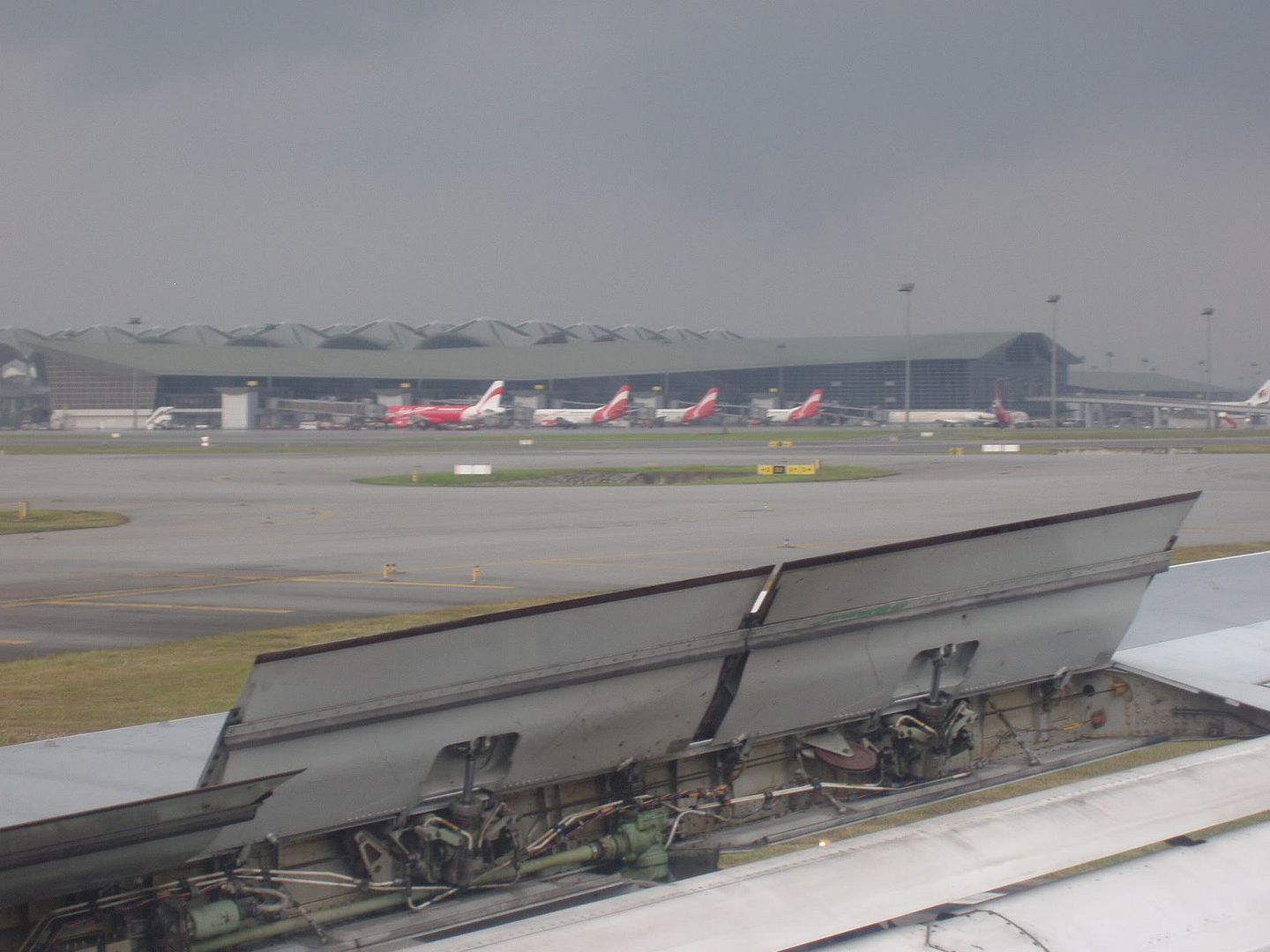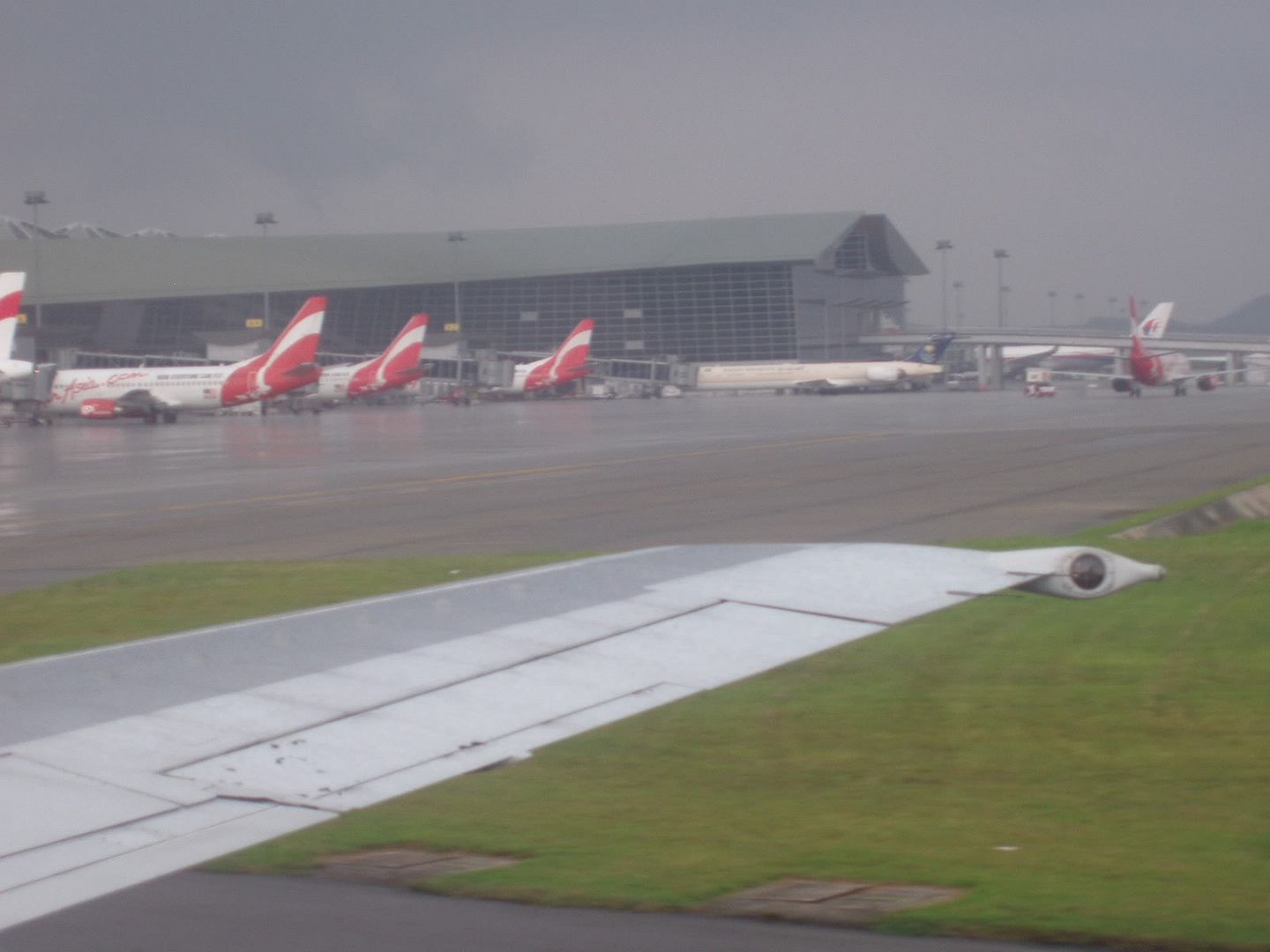 It was raining upon landing, and the airport was far from busy (more on that later).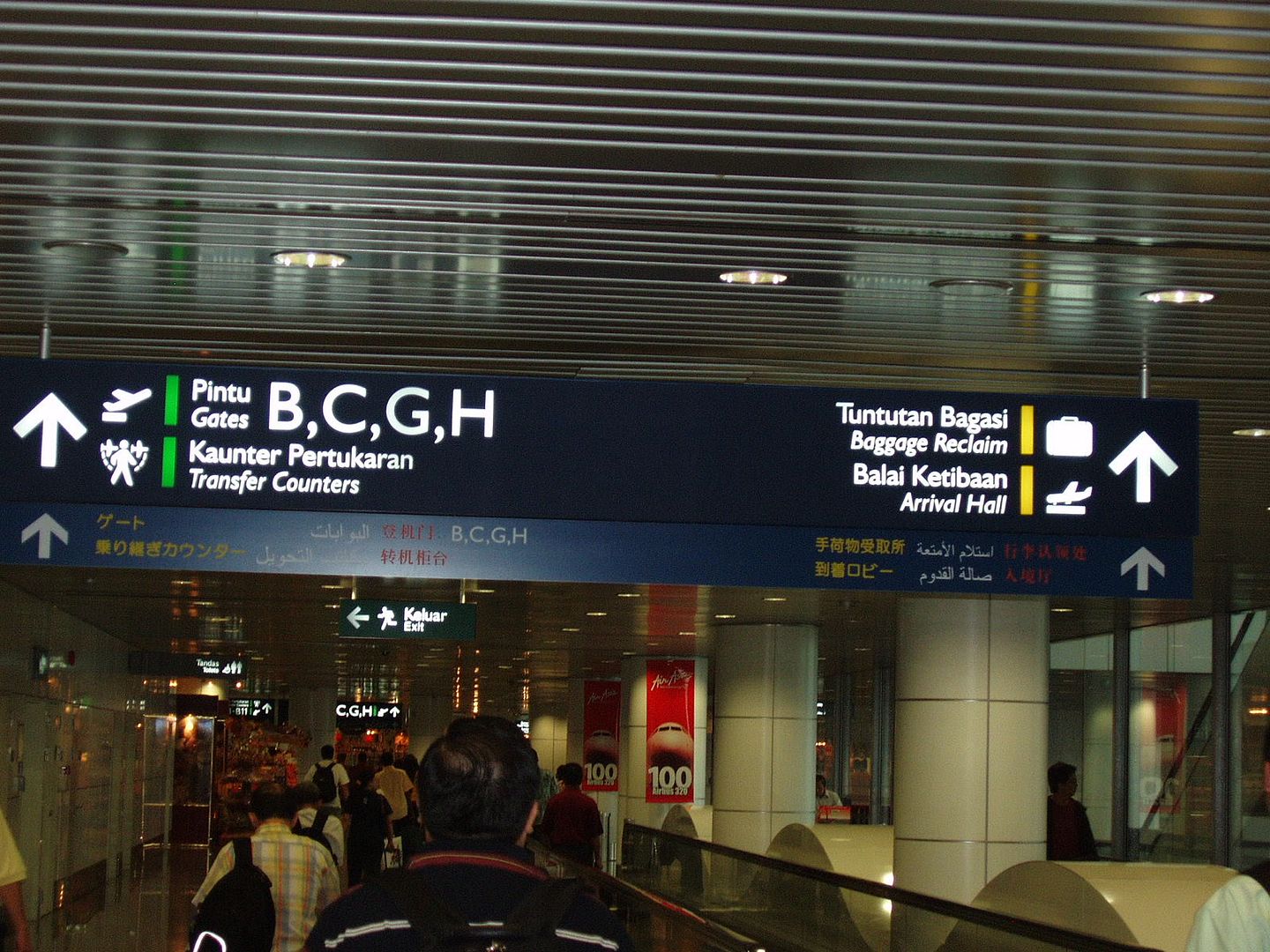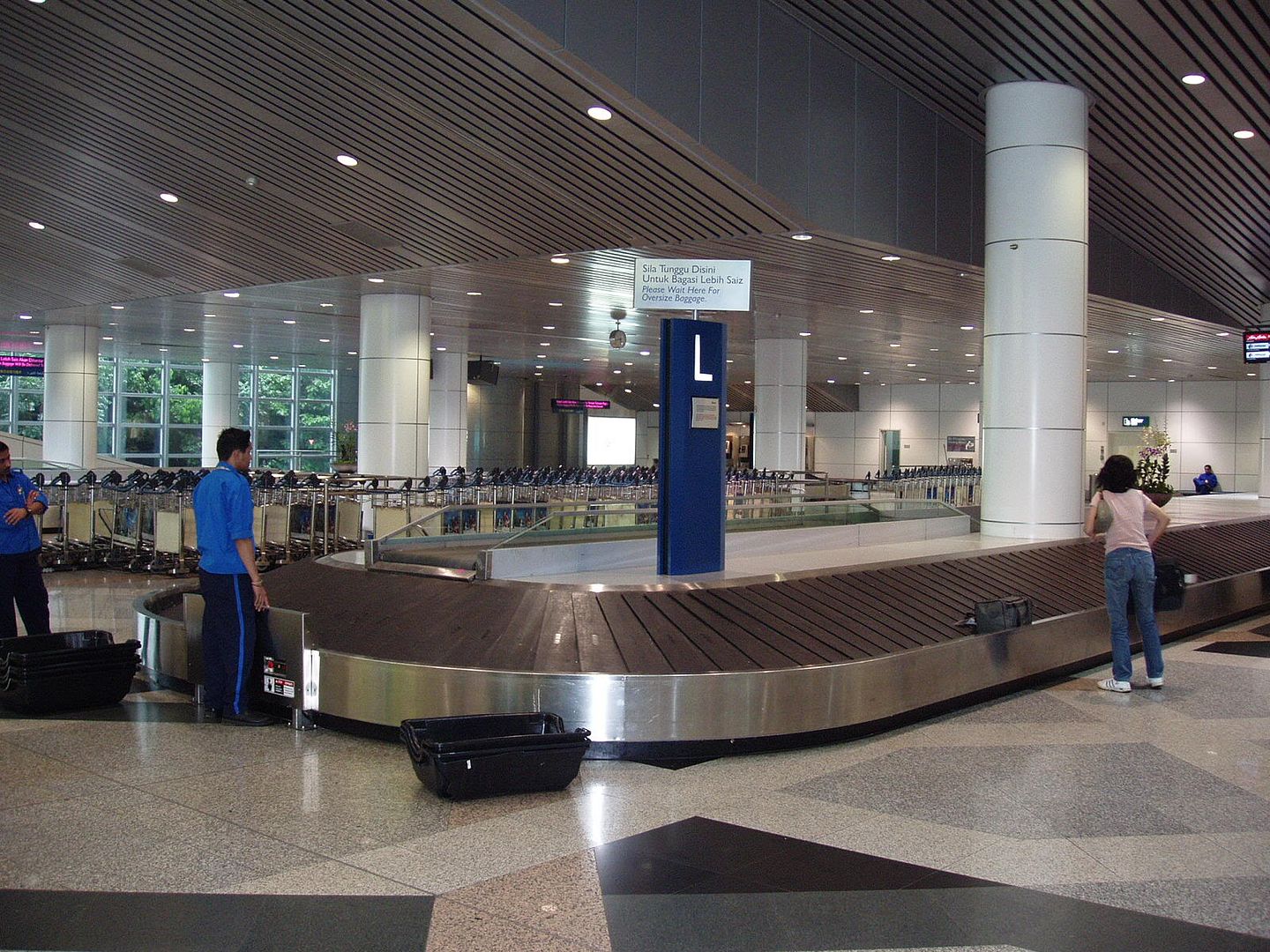 My bag was waiting for me when I arrived at the carrousel.
I decided to pre-pay for the KLIA Espres train to the city. As the airport is 75 kms from the center, the train is the best way into town for US$18 return.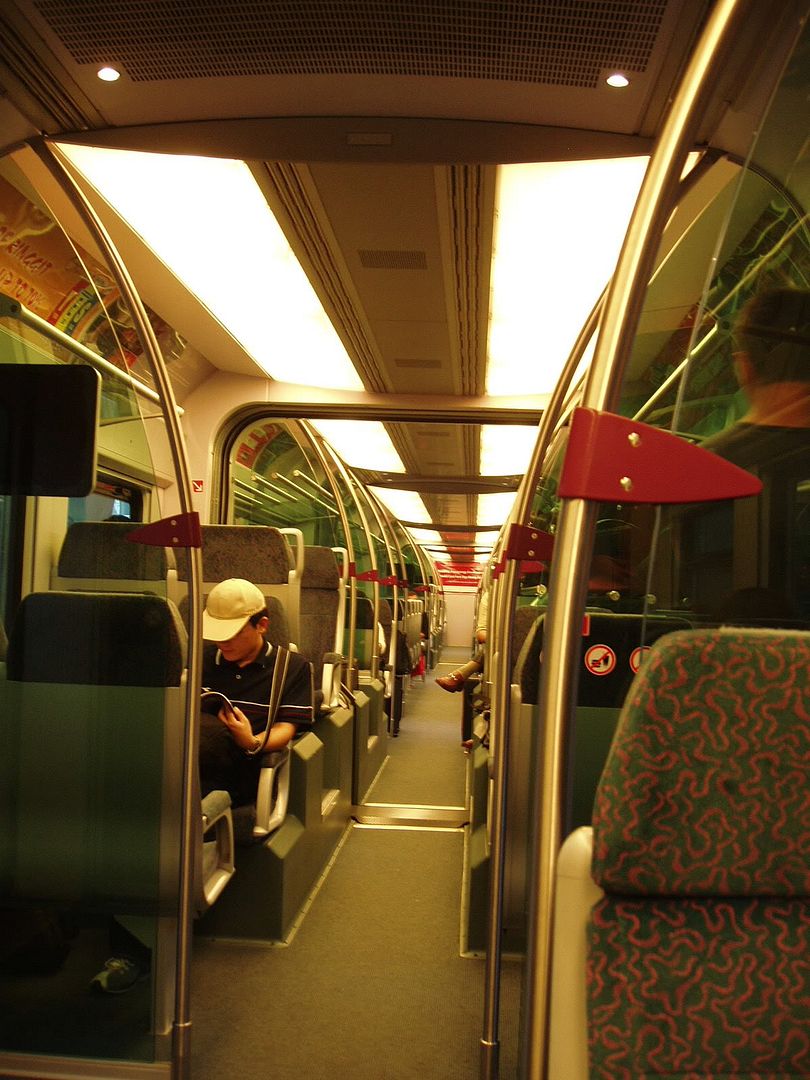 January 15, 2006
Kuala Lumpur - Bangkok
Air Asia of Malaysia (AK) 884
Boeing 737-300
1900 - 2005
Flight time: 2:05
After only one day in KL, my visit there and to Asia had to come to an end. Nevertheless, I did visit the Petronas Towers and do a bit of last minute shopping before returning to the hotel to get ready for 36 hours of air travel back to Cleveland.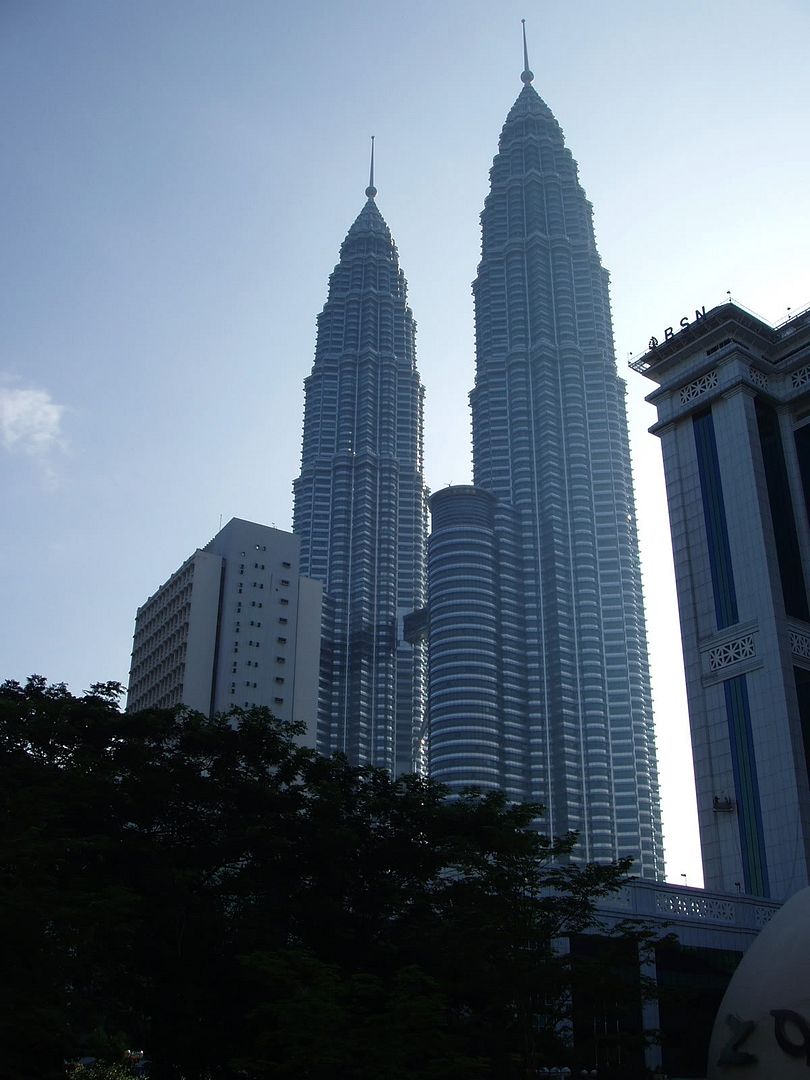 I would have visited the bridge between the towers, but, again, the line was too long.
I had planned to take a taxi to the airport, but I found that it would actually be faster just to take the monorail to KL Sentral.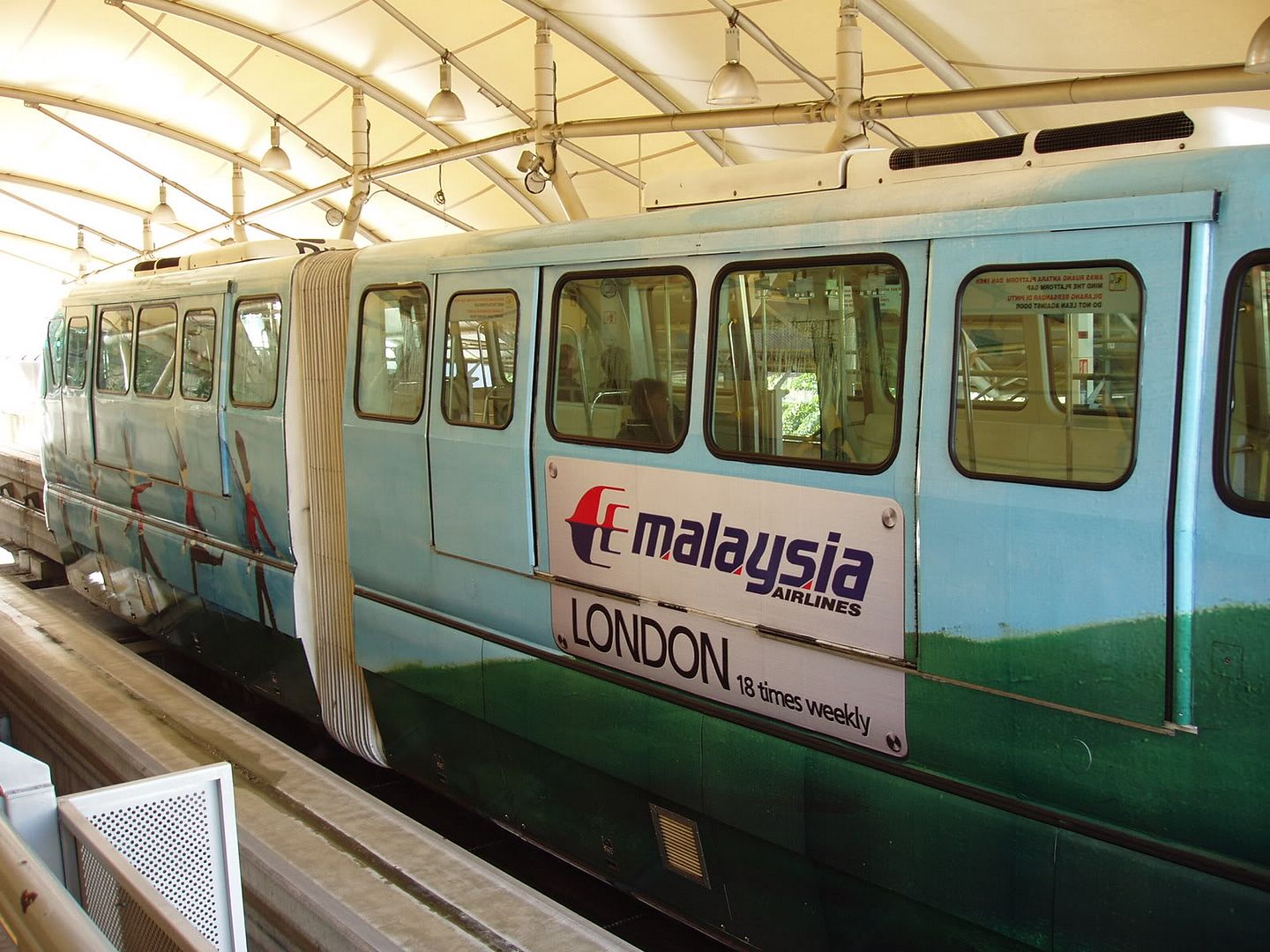 I had pre-purchased a train ticket to the airport, so I just had to wait for the next departure.
There was not a line for check-in at Air Asia when I arrived at 1600 for my 1845 flight. I was disappointed to learn that Air Asia does not assign seats like Jet Star Asia. Nevertheless, I don't want to complain about a ticket that cost US$29.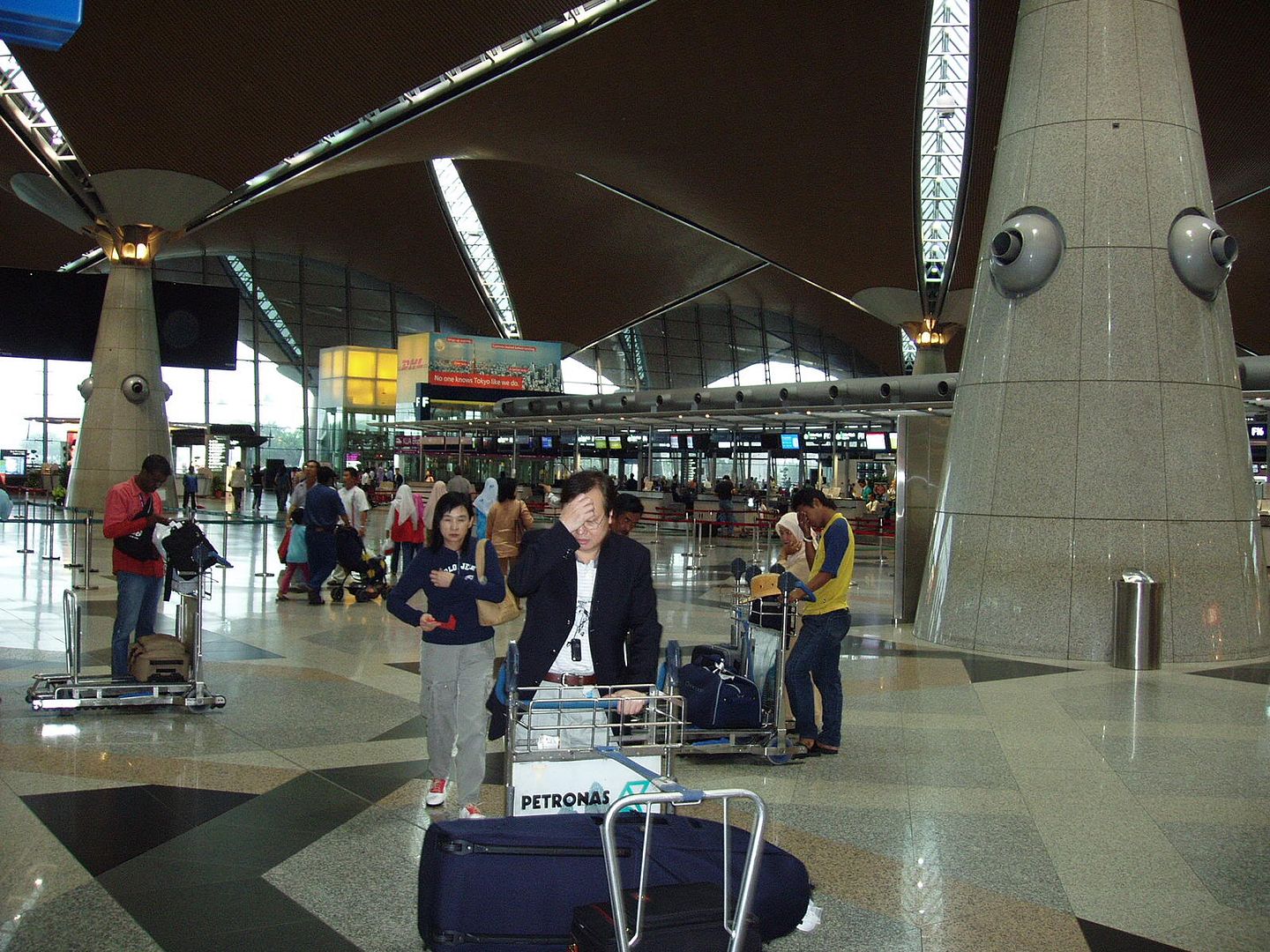 The check in area at KUL.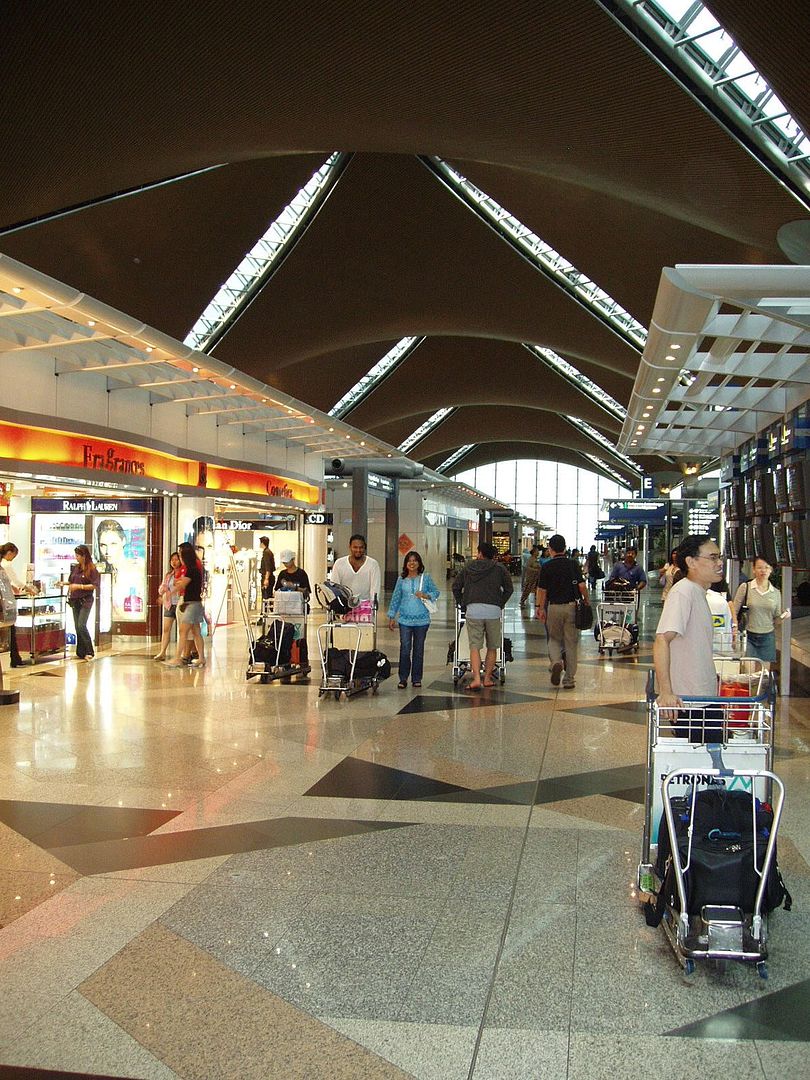 The landside shopping area.
With my boarding pass in hand, I was off to explorer KL's gigantic airport. While the airport is visually appealing, the selection of shopping does not even resemble that of Singapore or, even, Bangkok. Moreover, the airport seems much too large for KL's current needs. Most of the aircraft were from MH or AK with few other carriers. In fact, I only saw KL, SQ, and, oddly, an SV MD-90!
There was no line to clear immigration, so I had a Malaysian exit stamp less than 5 minutes after I checked in.
I decided to take the tram from the main terminal to the midfield terminal for lunch. The ride took less than 2 minutes.
It was then time to find a light meal. The dinning selection is ok in the airport, and alcohol is highly taxed. (Malaysia has a Muslim majority.)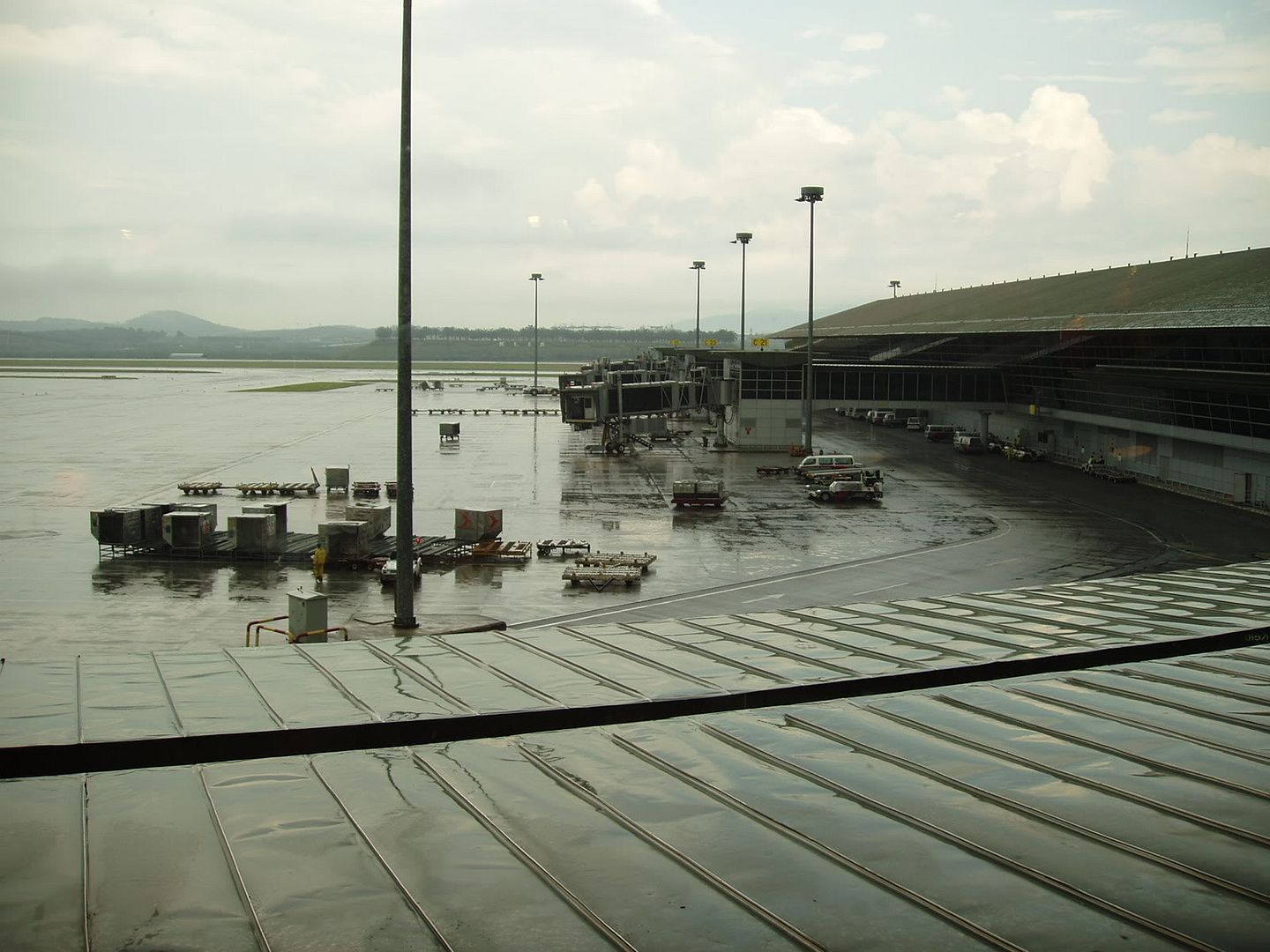 The view from the restaurant.
I chose to eat in an Italian fast food outlet called Sabarro. The lasagna was adequate at best, but not too filling.
After my meal, I decided to walk around the concourse, but I could not get close enough to an outside window to take an acceptable photo.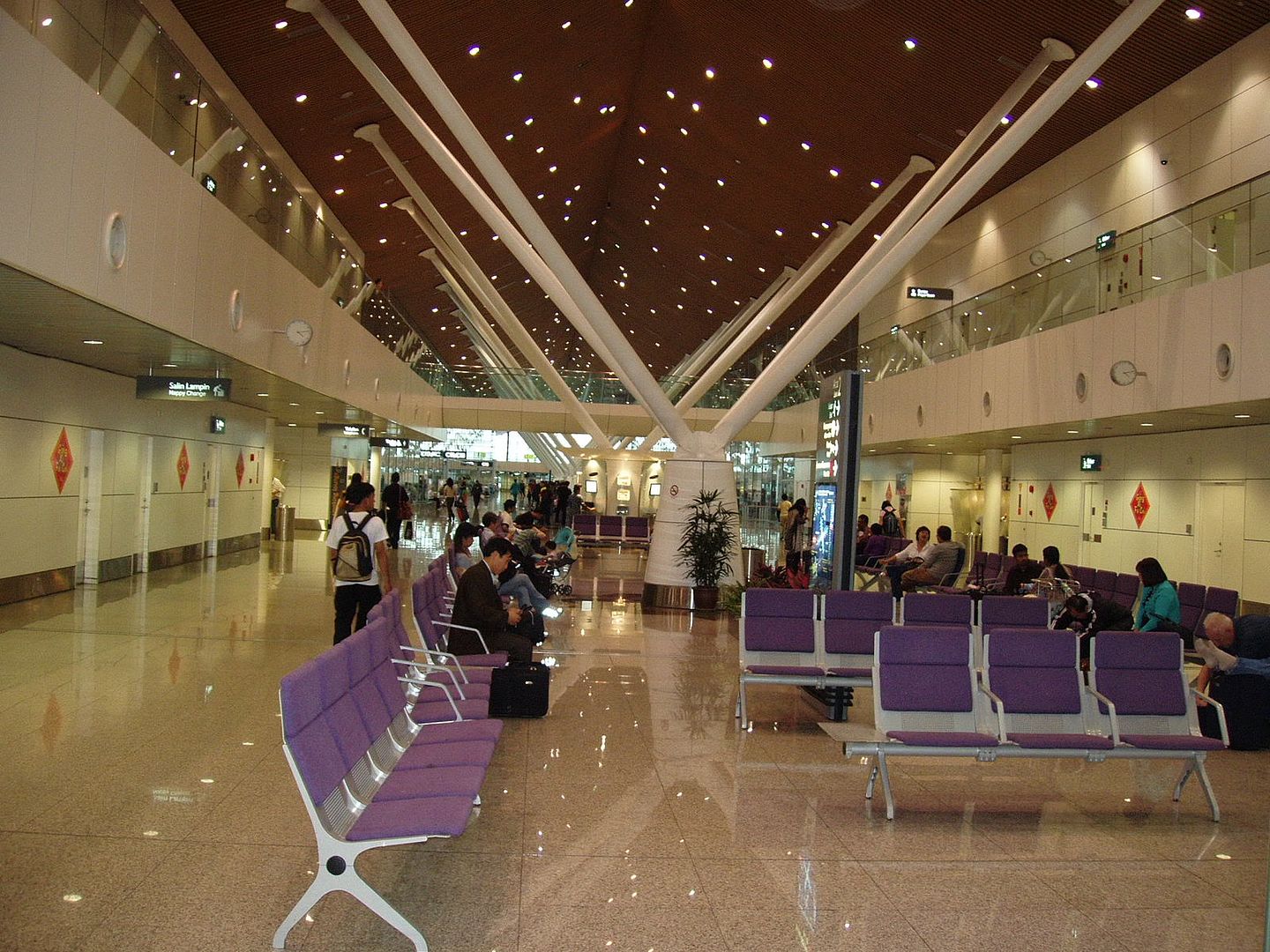 Passenger waiting area with free internet terminals.
I then took the train back to the empty main terminal to walk before finding a place to wait before my flight.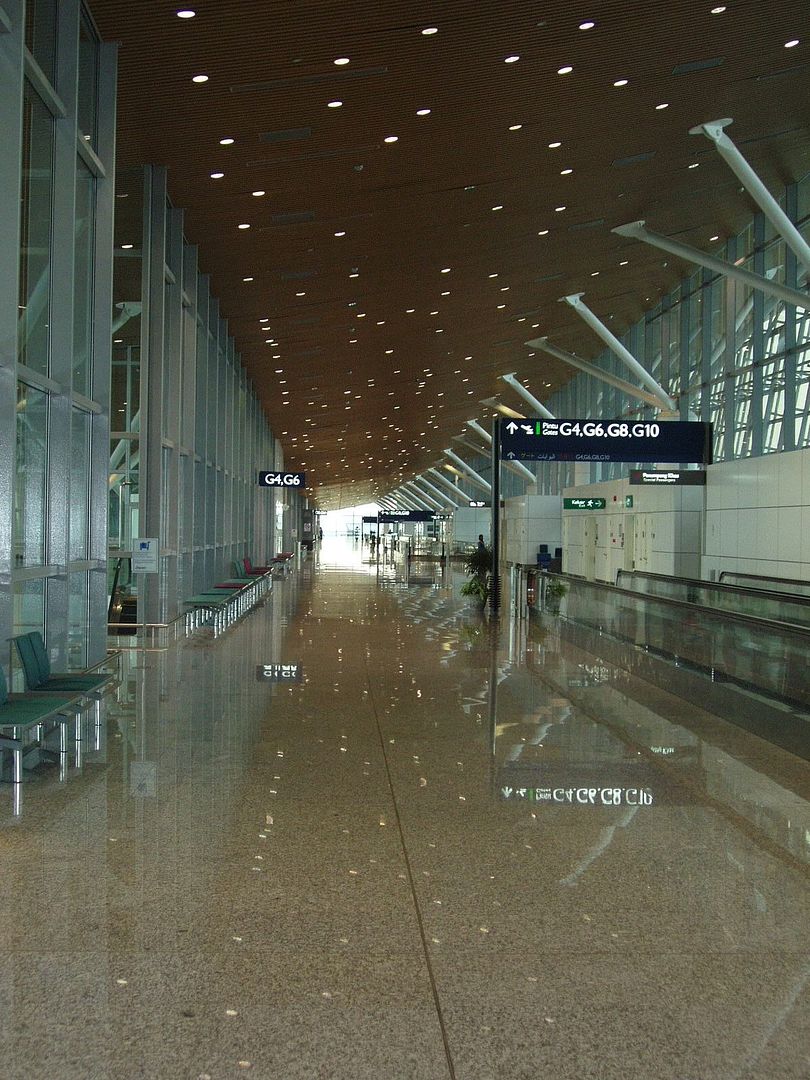 Concourse.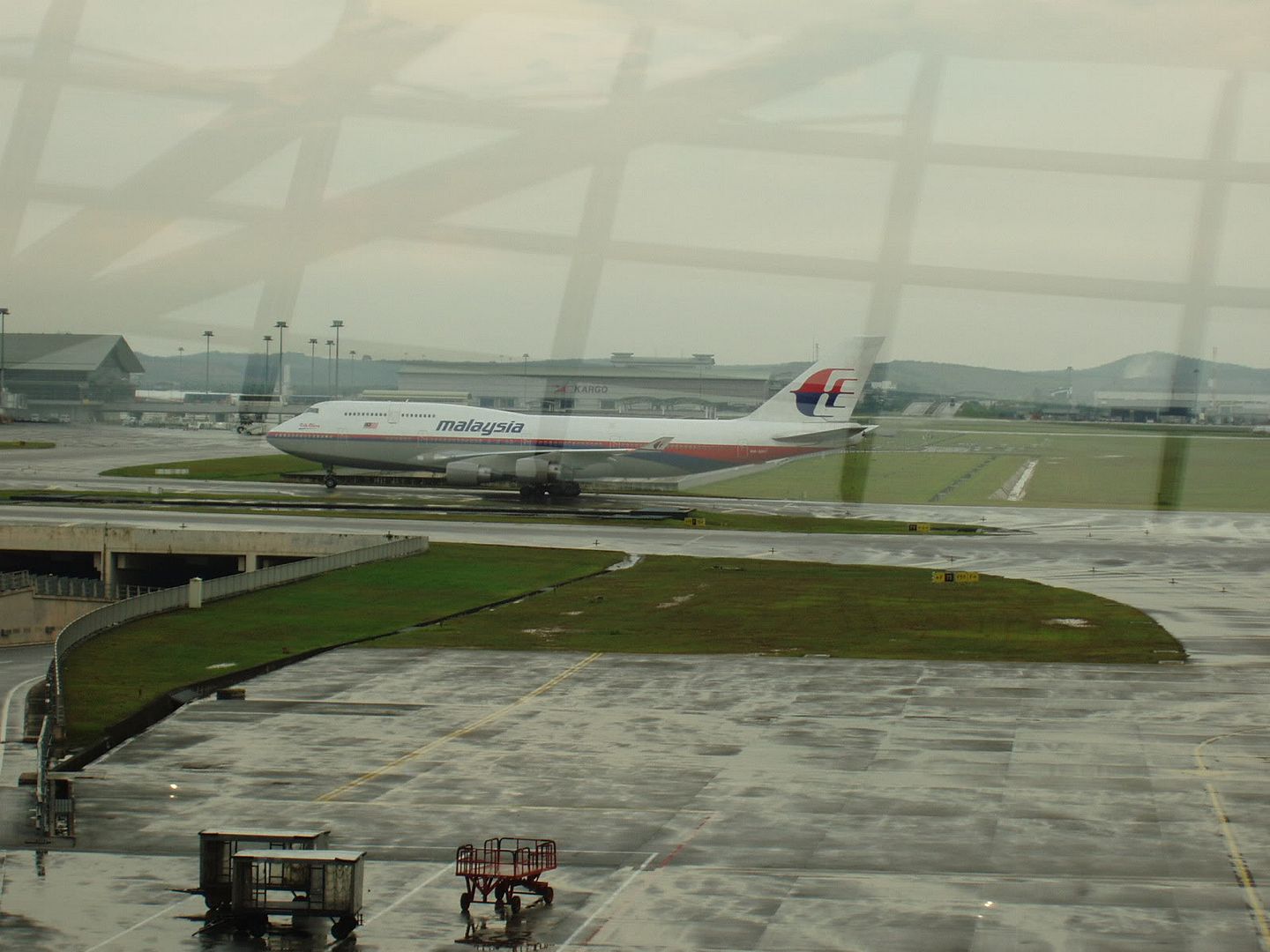 MH B744 arriving from London.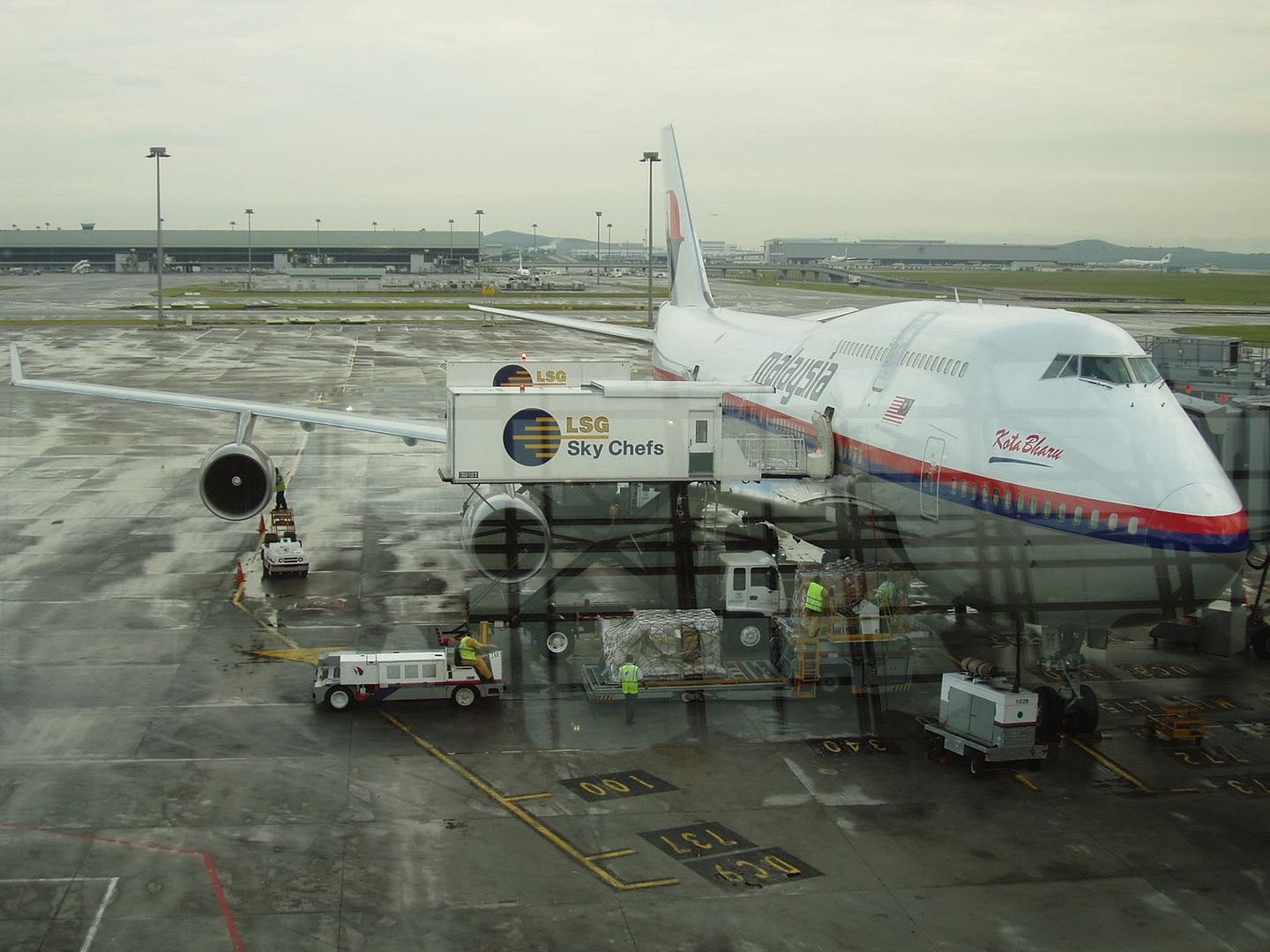 MH B744 arrived from LHR.
At this point, there was nothing more to do than read more of my Grisham novel and wait for my flight to be called.
At KL, you clear security directly in front of your specific gate. At 1810, the security inspection opened, and I led a rush to the metal detector. Since I was first out of security, I secured a seat in front of the boarding door so that I could be first on the plane.
At 1830, the agent called for all passengers to board, and I was the second on the plane.
I chose to sit at 13A so that I would have a large amount of leg room due to the exit.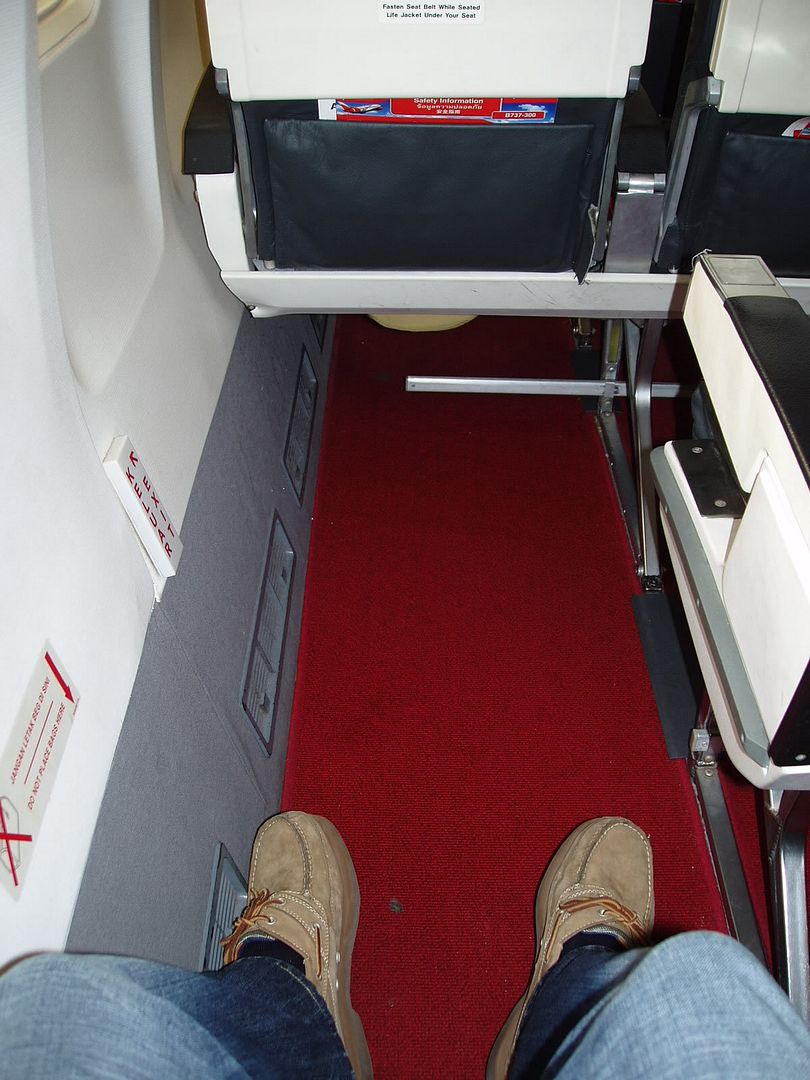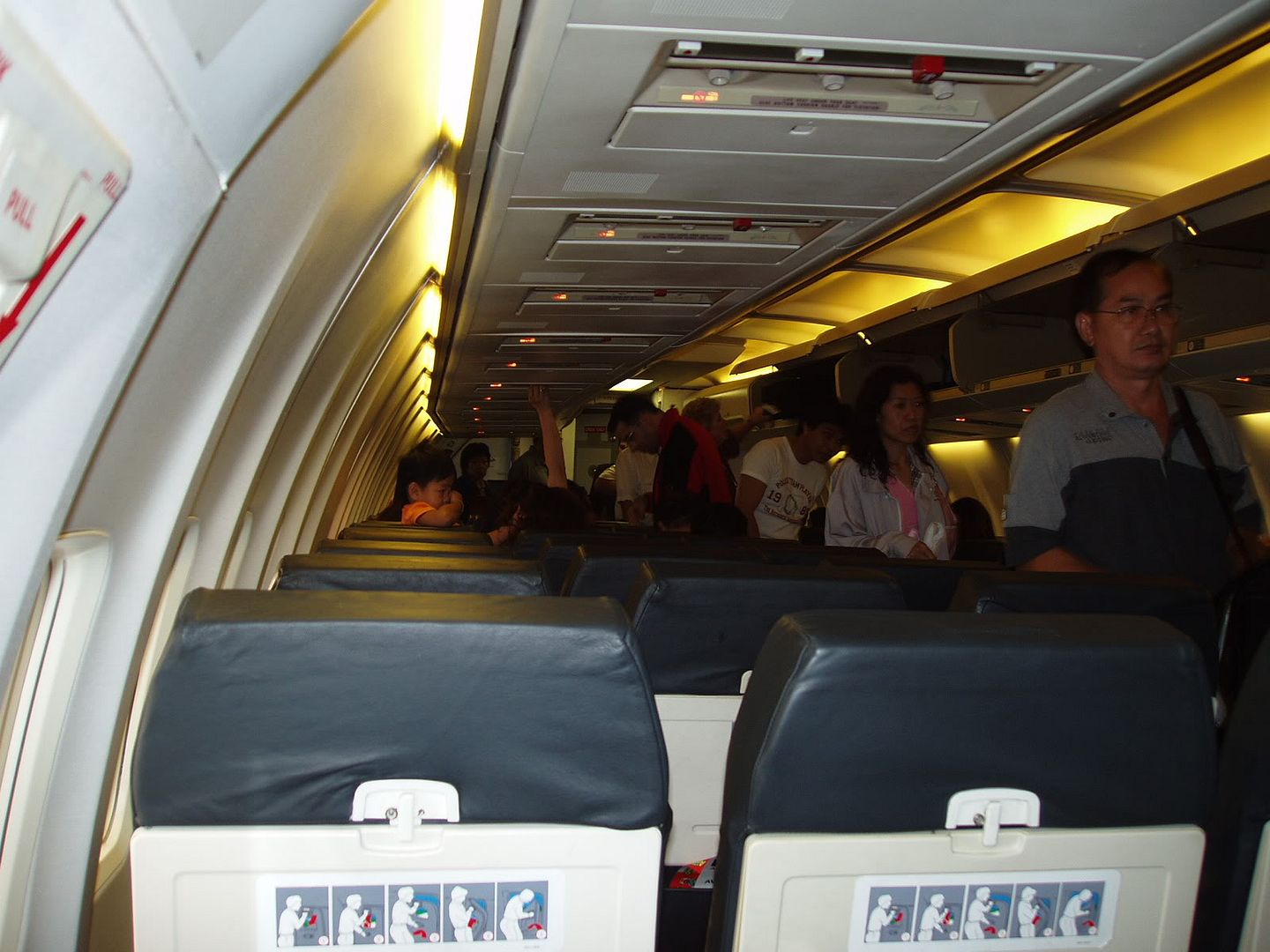 We settle in.
The crew asked us to keep our seat belts unfastened since the ground crew was refueling the B733. During this time, the flight attendant instructed us as to how to open the exit, and admonished us not to steal the life jackets. (Is that a problem in Asia? JetStar told us the same thing.)
We pushed back at 1846.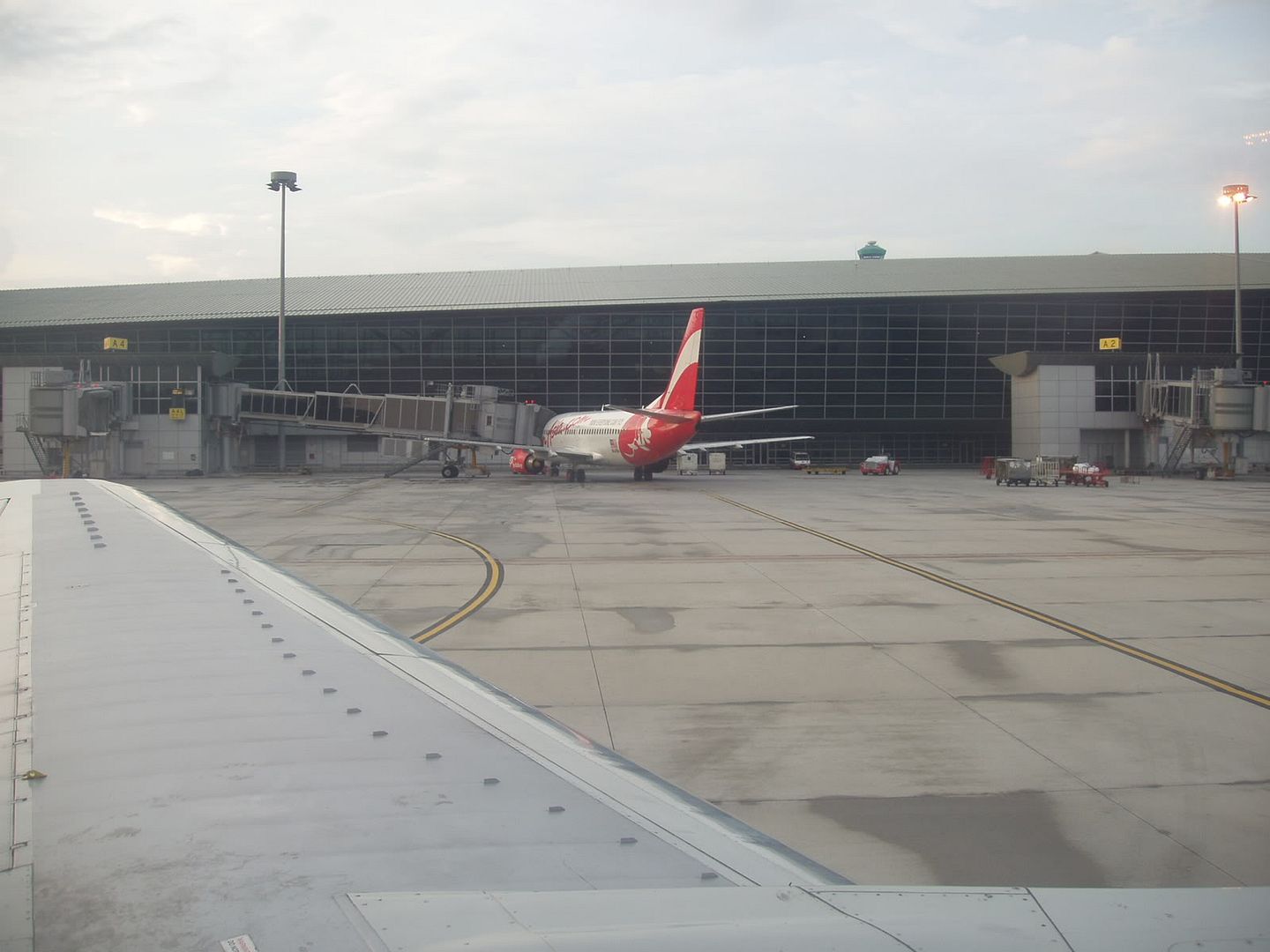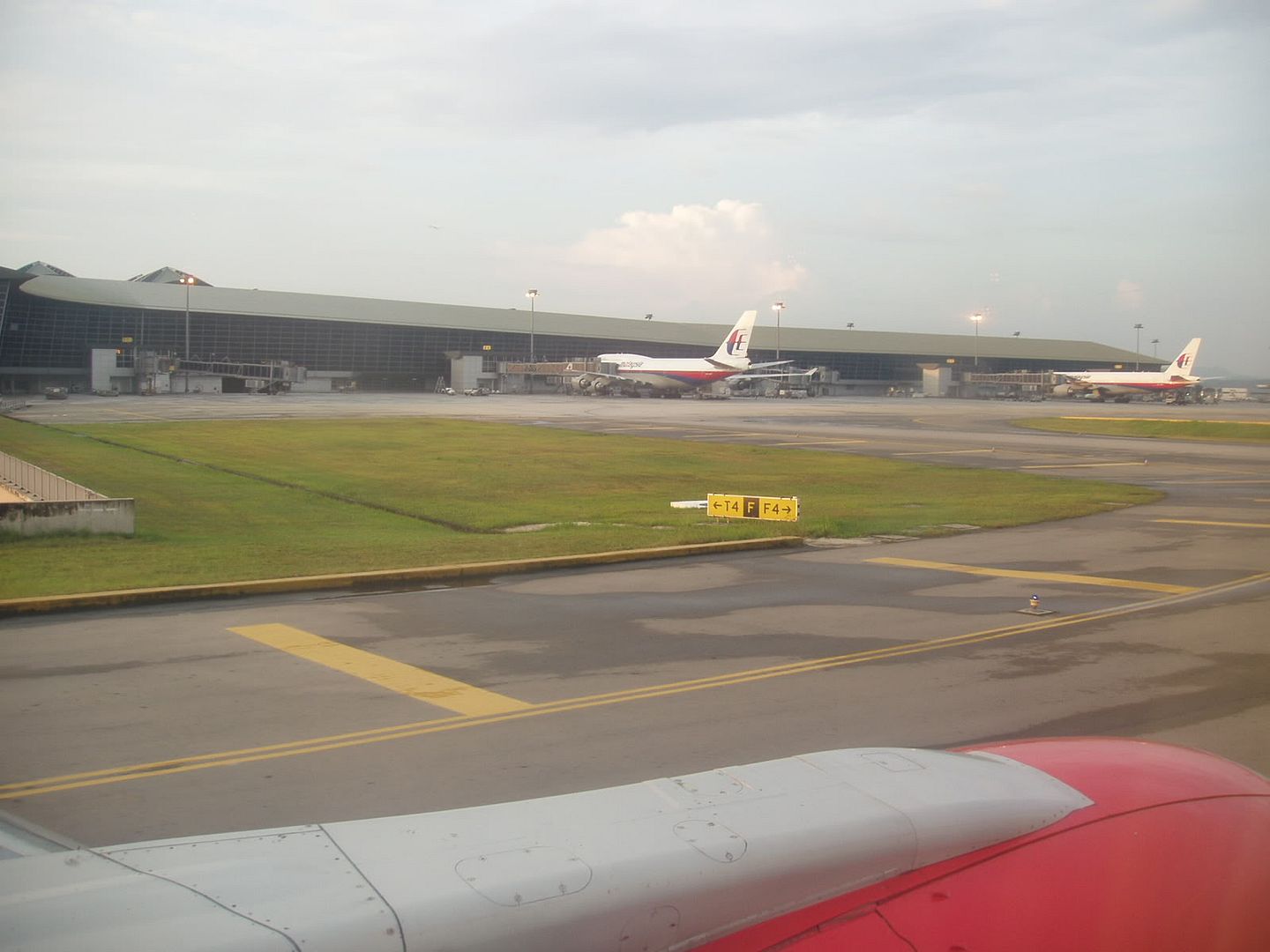 After the safety demonstration, we had a long taxi to the active runway.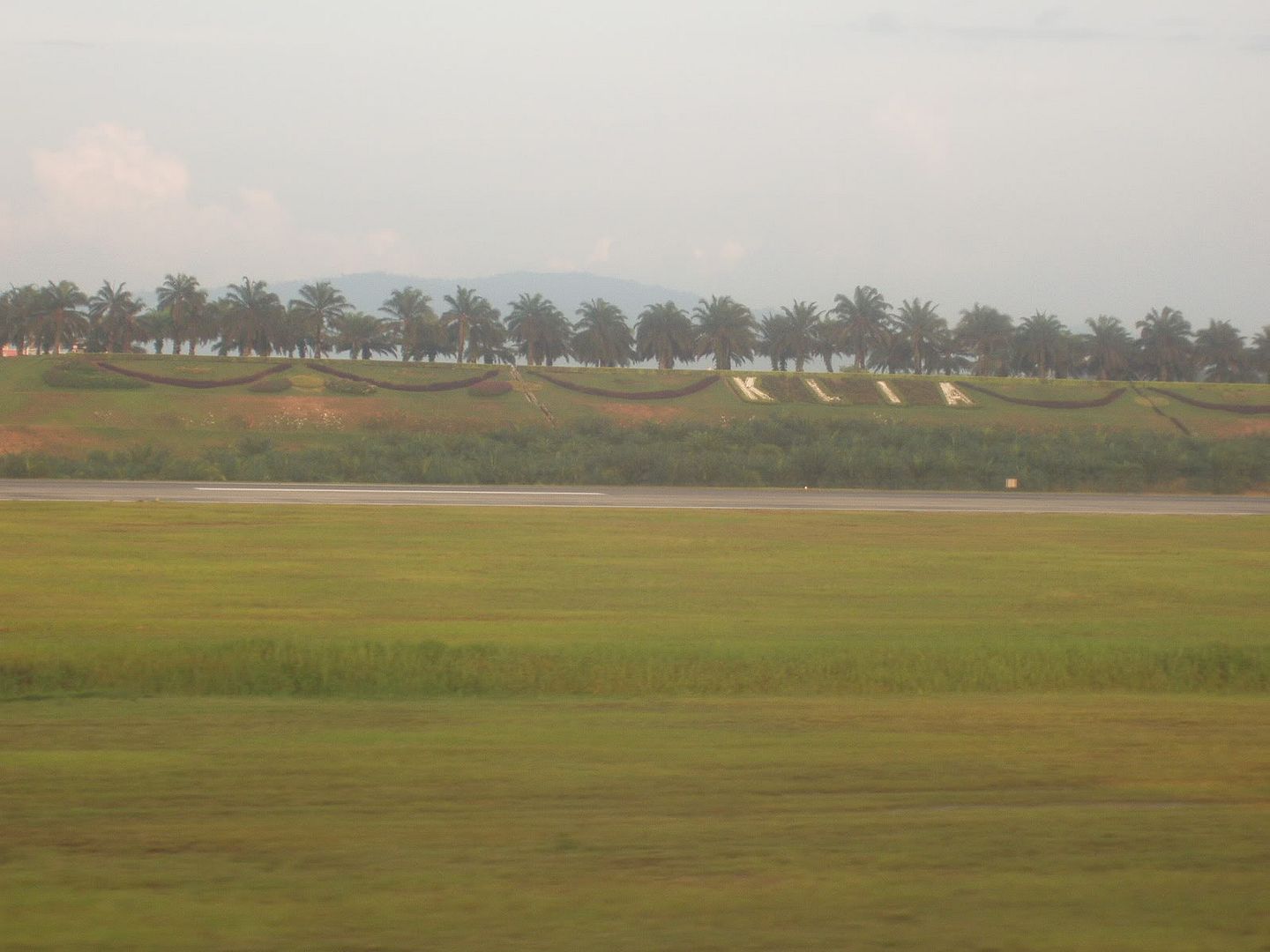 KLIA's monument to itself.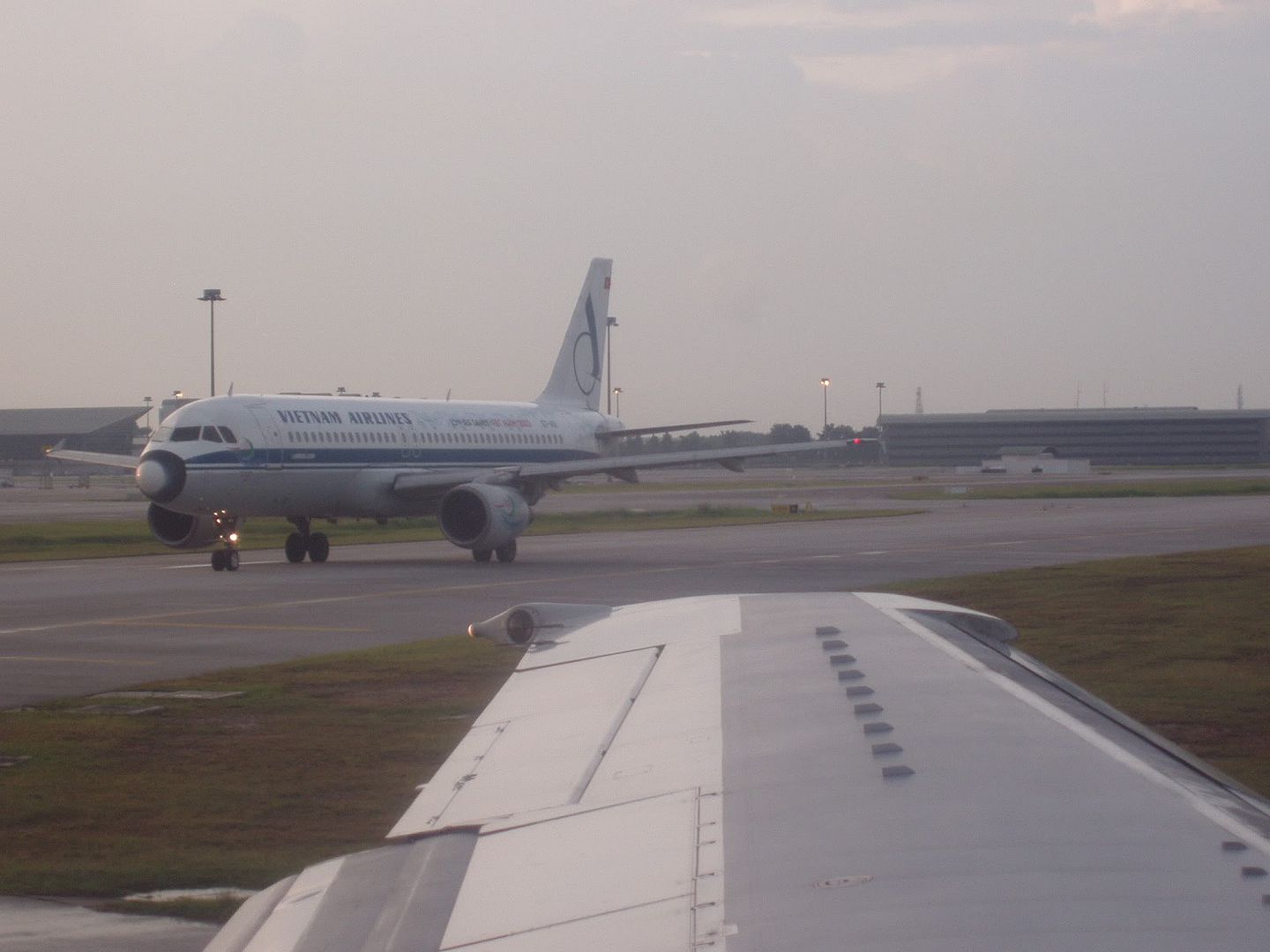 A VN A320 to SGN.
We were number one for take-off, and after a quick roll, we were off!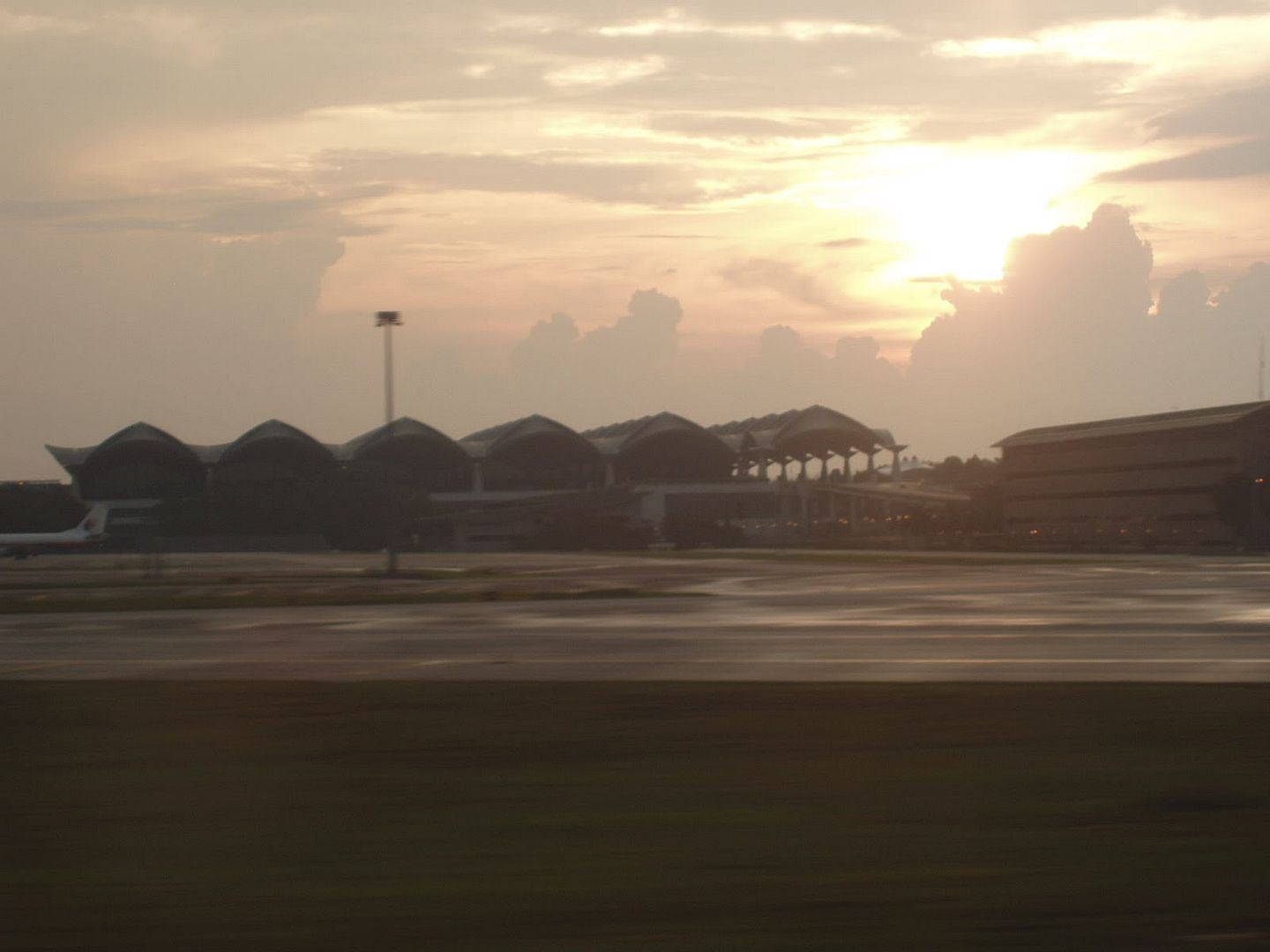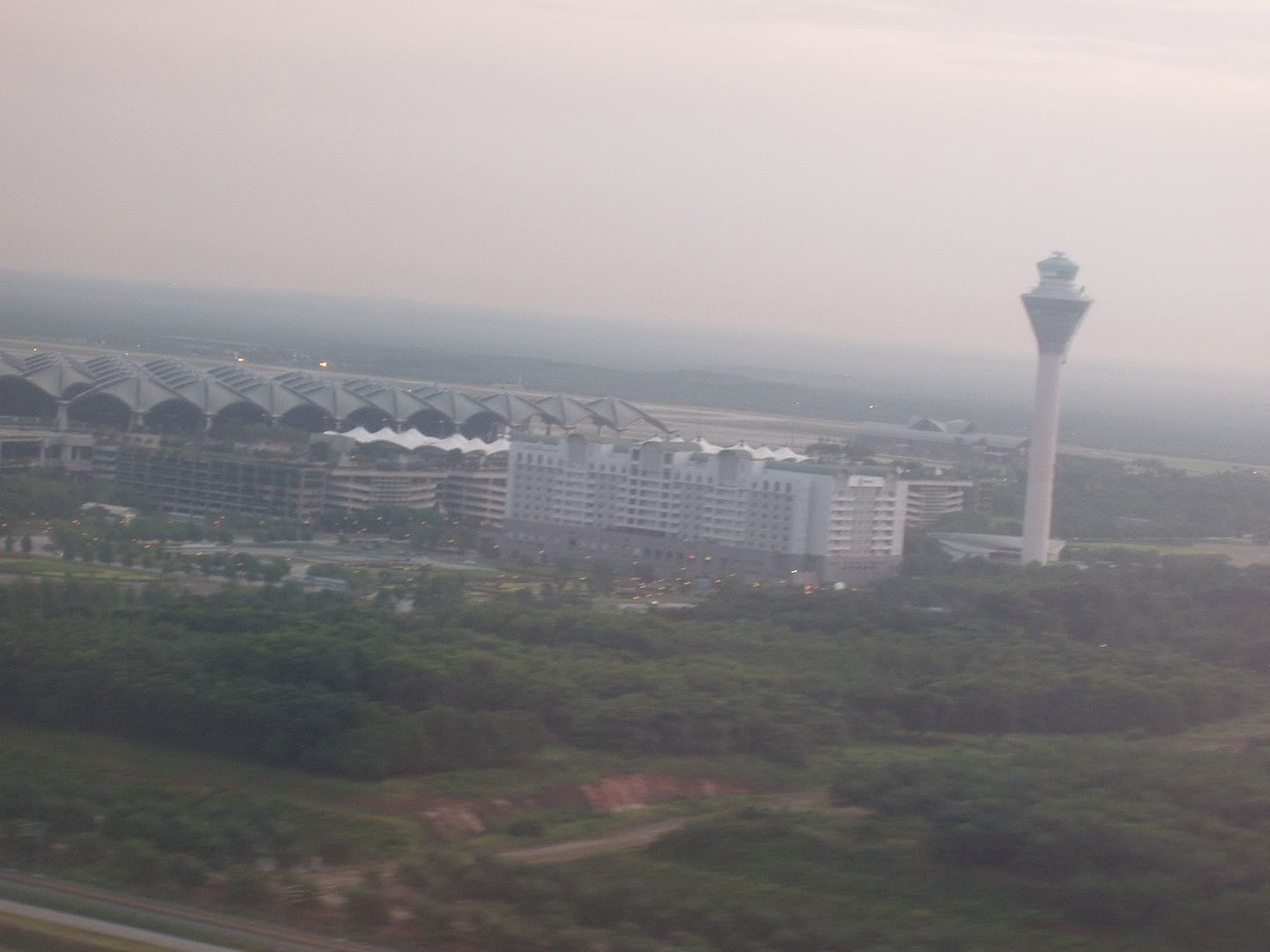 We pass by KLIA.
I took this opportunity to take a photo of myself
before
36 hours of travel.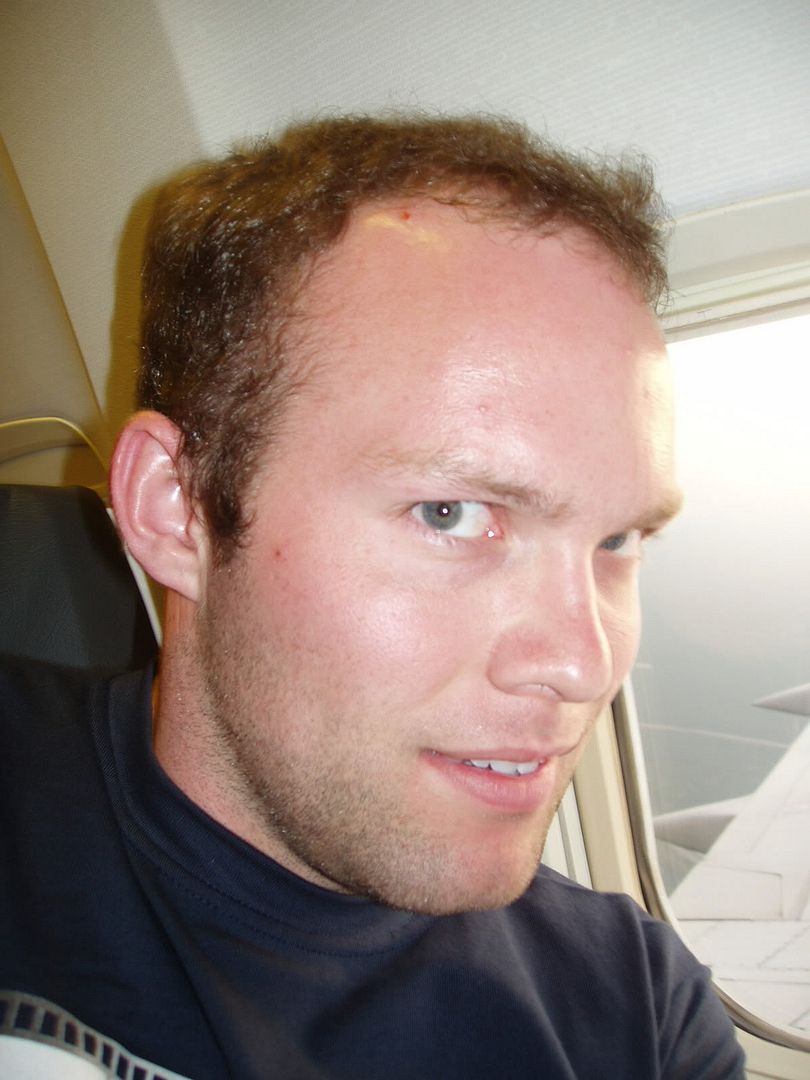 You don't want to see the arrival photo in CLE; believe me!
Soon after take off, we banked left to the north, and climbed to an unknown altitude. The captain only advised us that the flight time would be 2 hours to Bangkok. As the sun had set, there was nothing more to photograph.
Air Asia offers a buy-on-board program, and I bought a cup of Milo with my last Malaysian Ringgits.
I read my novel until I heard the captain throttle back the engines about 25 minutes before landing.
I've always landed in BKK at night, and I am always intrigued by the fluorescent-like quality of the streetlights near the airport. The white light paints the city with the eerie pall of a cheap science fiction paperback.
After back taxiing along the entire terminal, we parked and disgorged into the busiest hours of BKK.
January 16, 2006
Bangkok – Seoul Incheon
Korean Air (KE) 654
Boeing 777-300
0230 - 0850
Flight time: 4:20
(Please not that I found nothing interesting to photograph on this segment except for a lone cabin shot.)
From the Air Asia flight I went to the Terminal 2 Transit Desk, but Korean was not yet open. As usual, I had bought my tickets on Delta, but Korean operated the flights scheduled to depart at 0150. After wasting 90 minutes in the transit area, the Korean Air agent arrived at 0930, so I was able to check in. I also learned that the flight was delayed for 20 minutes to depart at 0210.
Boarding passed to Seoul, Atlanta and Cleveland in hand, I went up stairs to the departure level. BKK is very crowded around midnight with departures to Europe, Australia and the Americas. It was difficult to find a free table in a restaurant, but, being a pushy American, I barged though a French family to a relatively quite table.
After 90 minutes, one serving of pad thai, and one liter of Heineken, I felt compelled to return to the chaotic world outside of the restaurant. I quickly realized that this was a mistake, and began to look for another quite place to sit. Eventually, I found a small bar over looking a finger with a JAL 744, so all was well. I was beginning to dream of the KE's Prestige Class lounge, but quickly reminded myself of the many indignities I can tolerate to save $3,157.
Finally, at 0100, I left the calm bar to go to the gate for KE 654. After security, I easily found Gate 42, and took a seat by the window to watch the ground staff clean the B773 to ICN.
At 0135, the agent called for Prestige Class, and at 0140 he called for SkyTeam Elite (that's me). Either the entire plane was Elite or everyone just ignored the announcement!
I found 34A, stowed my bad, and sat down with my camera to take this very boring photo of everyone boarding.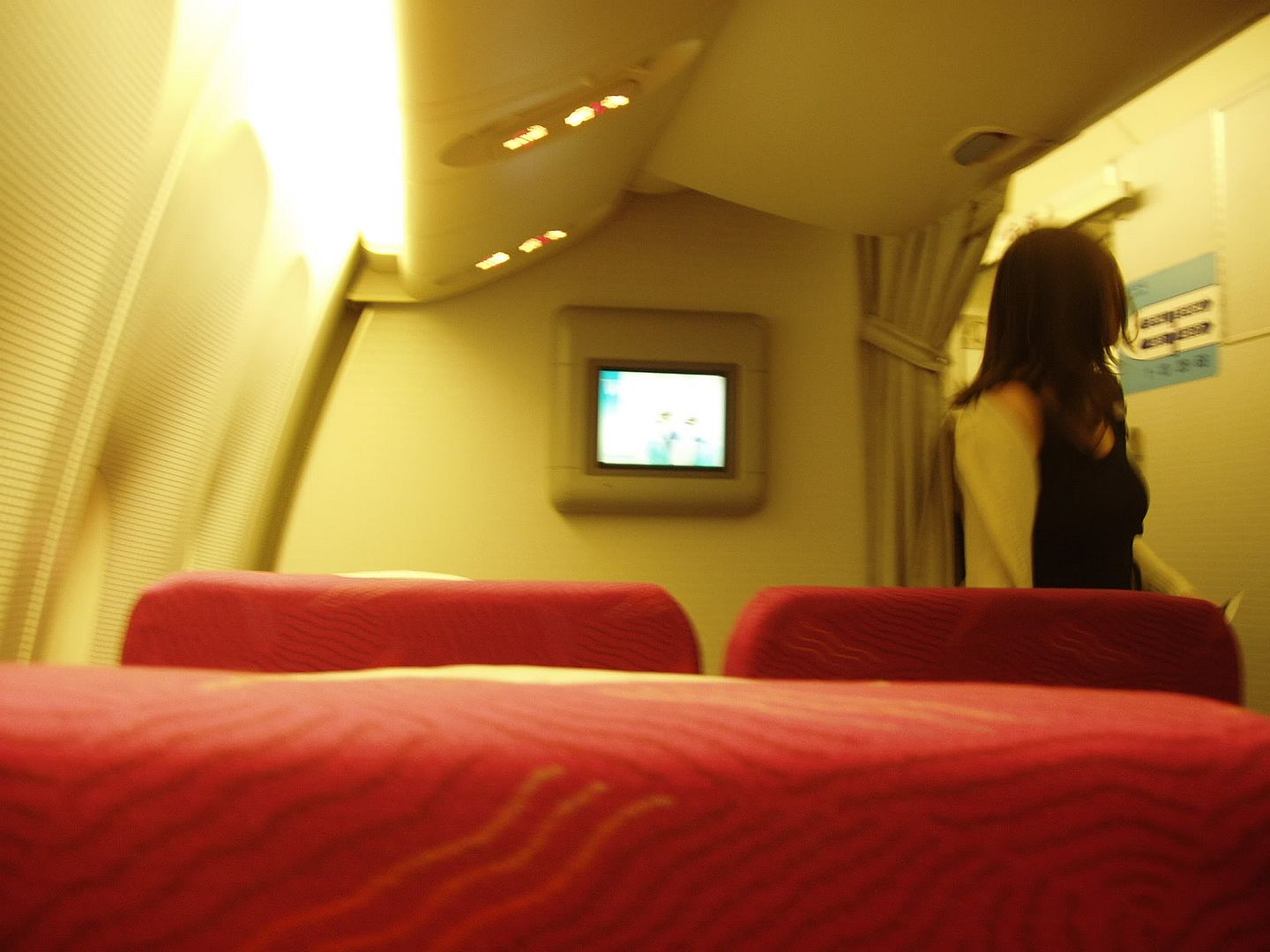 At that point, I fell asleep only to wake again to hear the massive PW's spool up for take-off. I noted that we took off at 0230. Then I put in my ear plugs, put on my eye mask, and wrapped myself in my plaid blanket.
I awoke three hours later to the sound of the breakfast cart, from which I chose the fish soup over the yoghurt. It was a savory and spicy way to start the day while watching the moving map. We had flown from BKK to Danang, Kaohsiung, Taipei, Jeju and then into Seoul Incheon.
Korean's flight attendants are always very attentive, and one was more than happy to bring me a second cup of coffee when she collected my meal tray.
Prior to landing, I brushed my teeth with the free toothbrush and toothpaste kits located in the bathrooms. It seems like a more efficient solution in economy class than passing out an amenity kit that may just be discarded (or kept for an A.net member).
It was very cloudy on landing, and we did not break though the ceiling until 1,500' or so to land at 0850.
January 16, 2006
Seoul Incheon - Atlanta
Korean Air (KE) 35
Boeing 747-400
1020 – 0945 (same day)
Flight time: 13:25
After disembarking from the BKK flight at 0900, I only had 30 minutes before the Atlanta flight would board from Gate 24. Thus, I cleared security, bought a latte, and when to the Yahoo! Internet Terminals to use the remainder of a time card.
I left the internet terminals as soon as I heard my flight called left to wade though the crowds to the gate for Atlanta.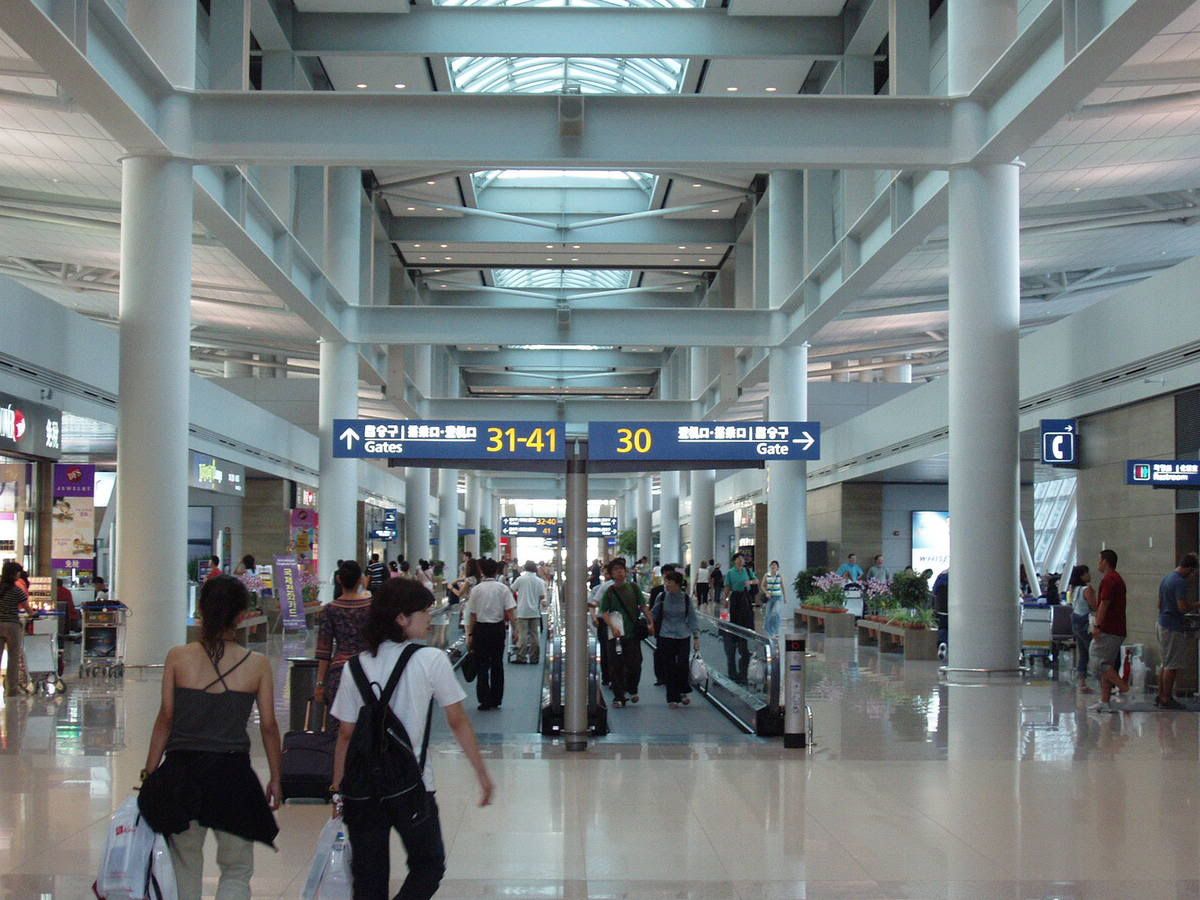 As I've come to except from KE, the boarding was a disorganized, but I as on board at 0945. I easily found 38K, which would be my home for the better part of a day.
At 1005, we pushed back and began the taxi to the active runway.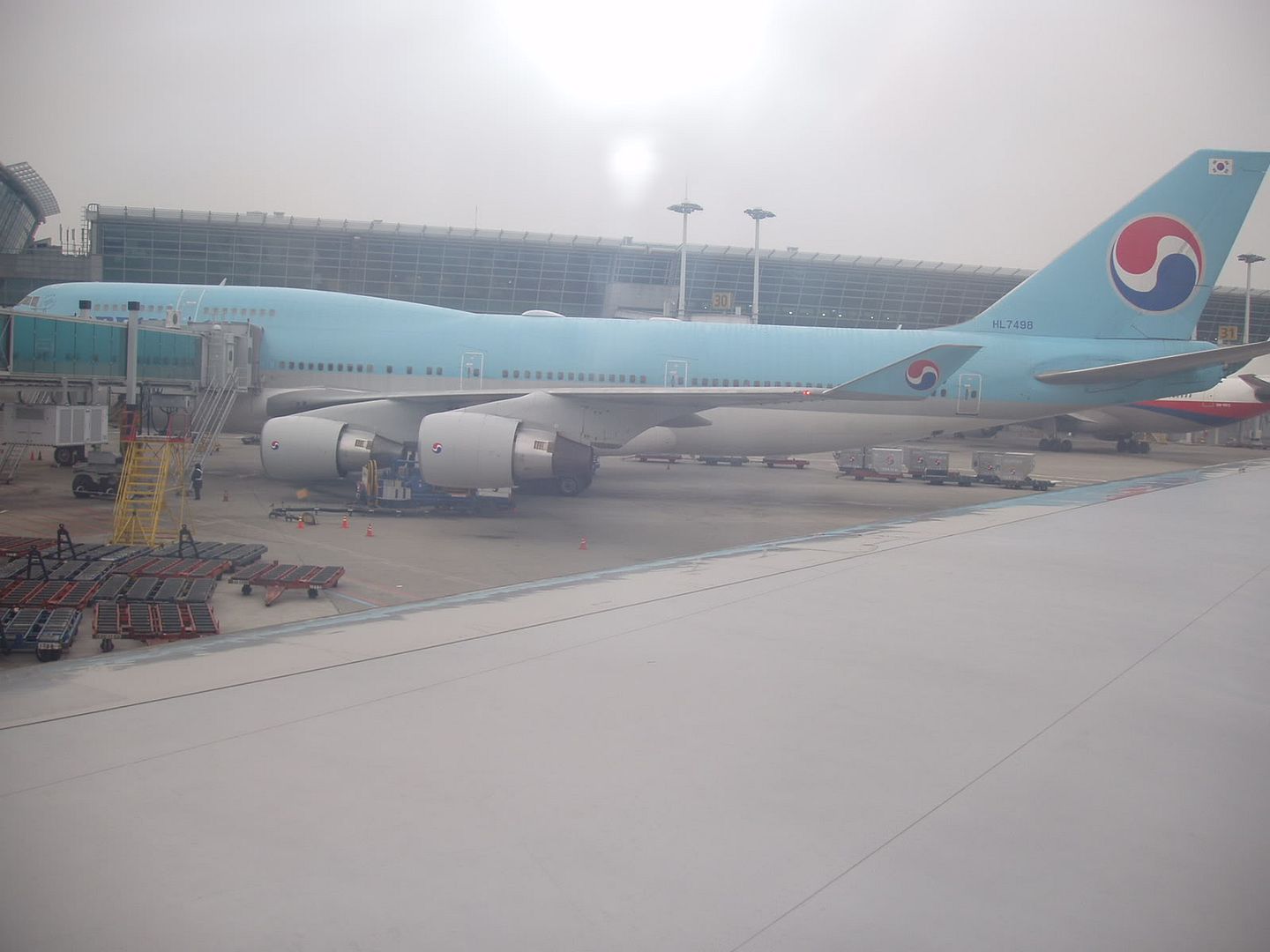 Korean's flight attendants always bow prior to the start of the safety video, and this flight was no different.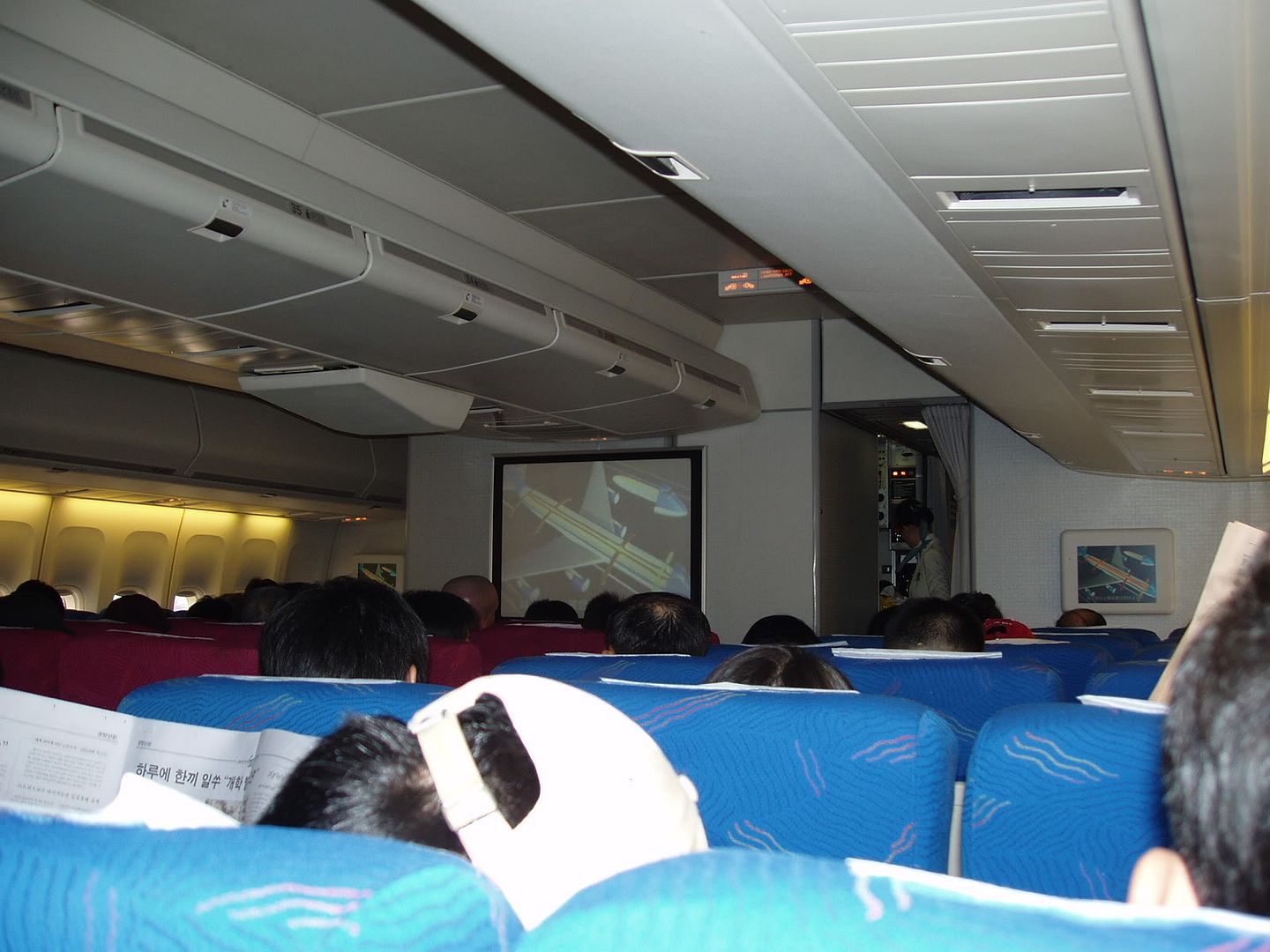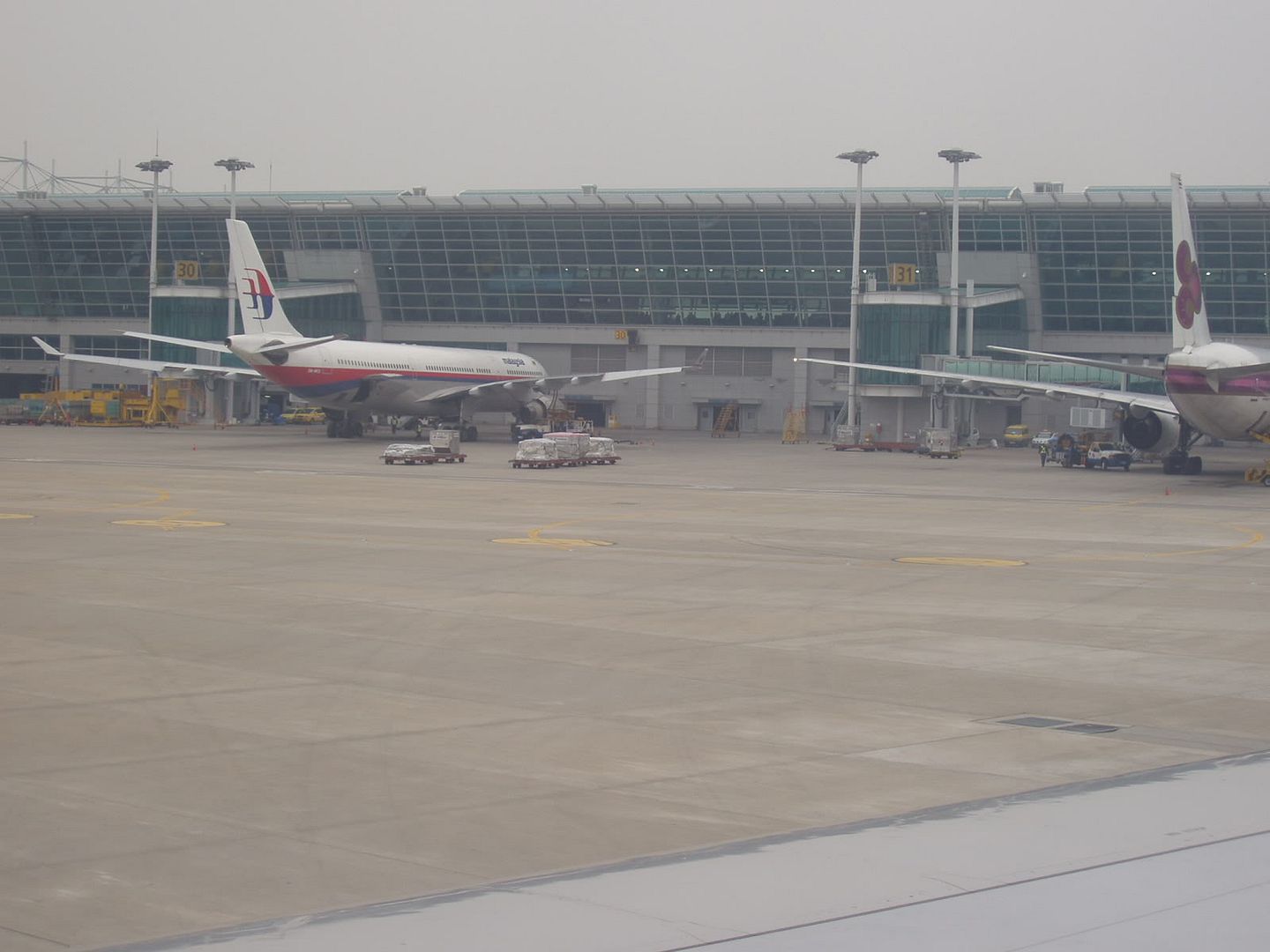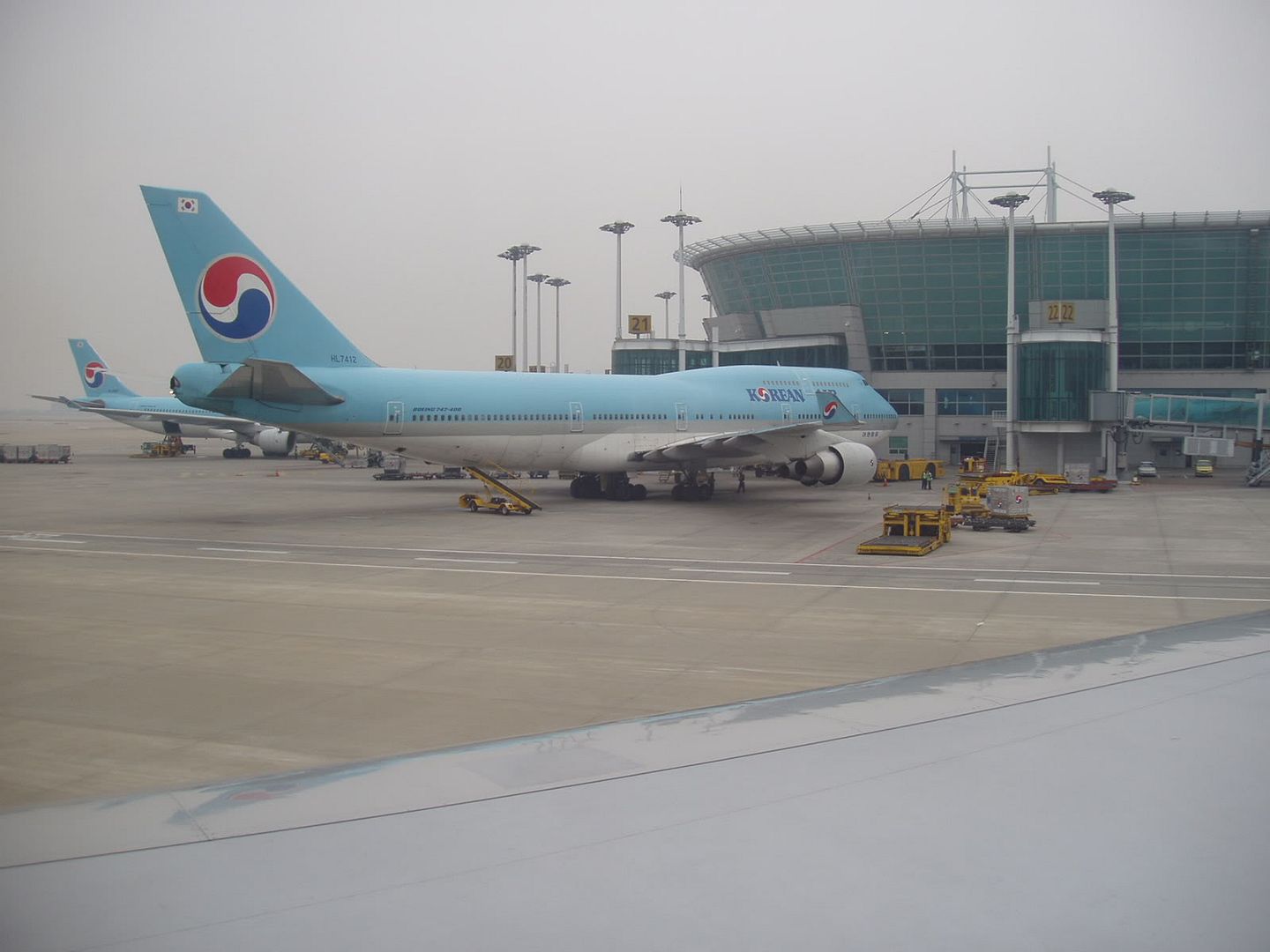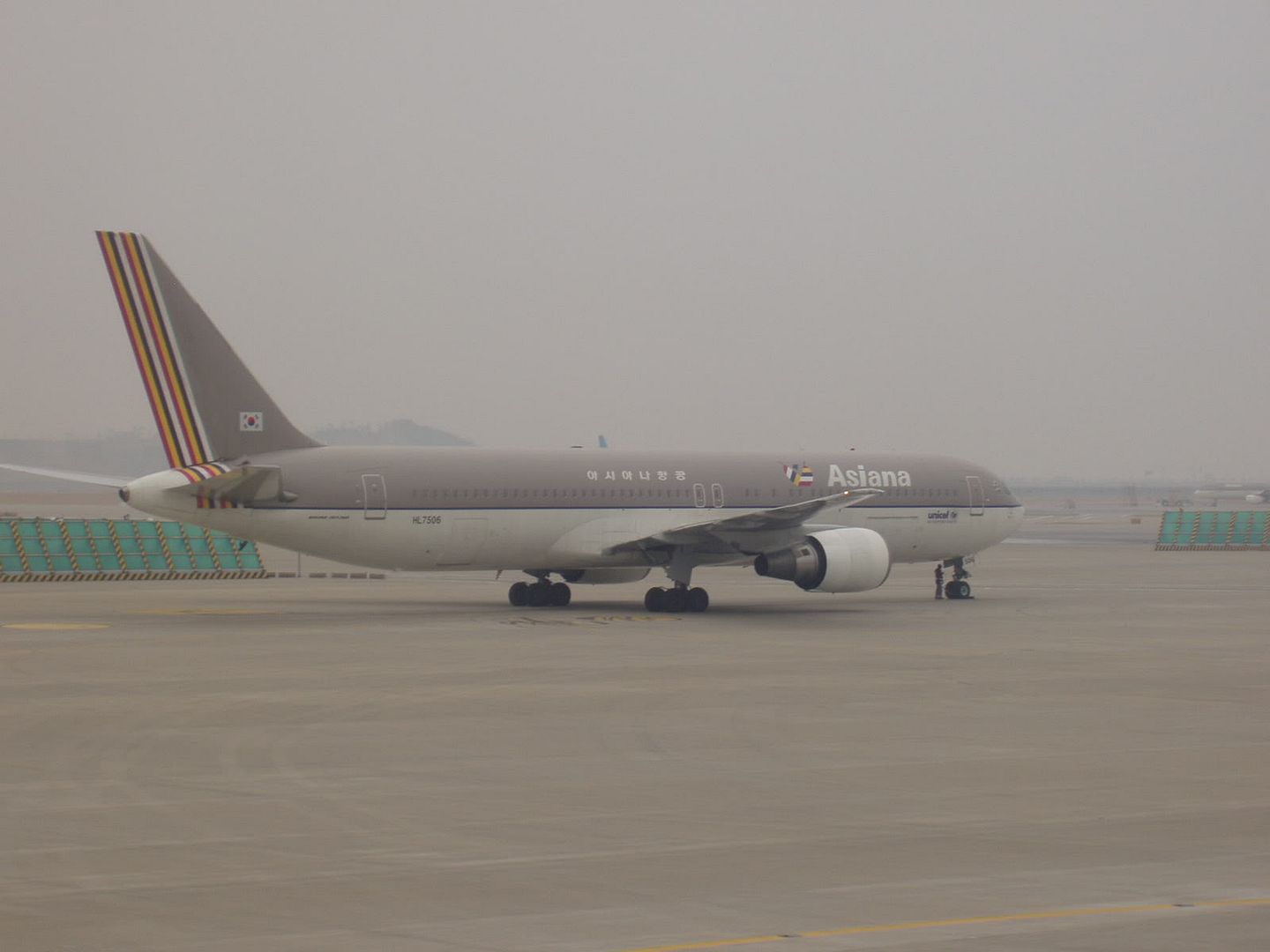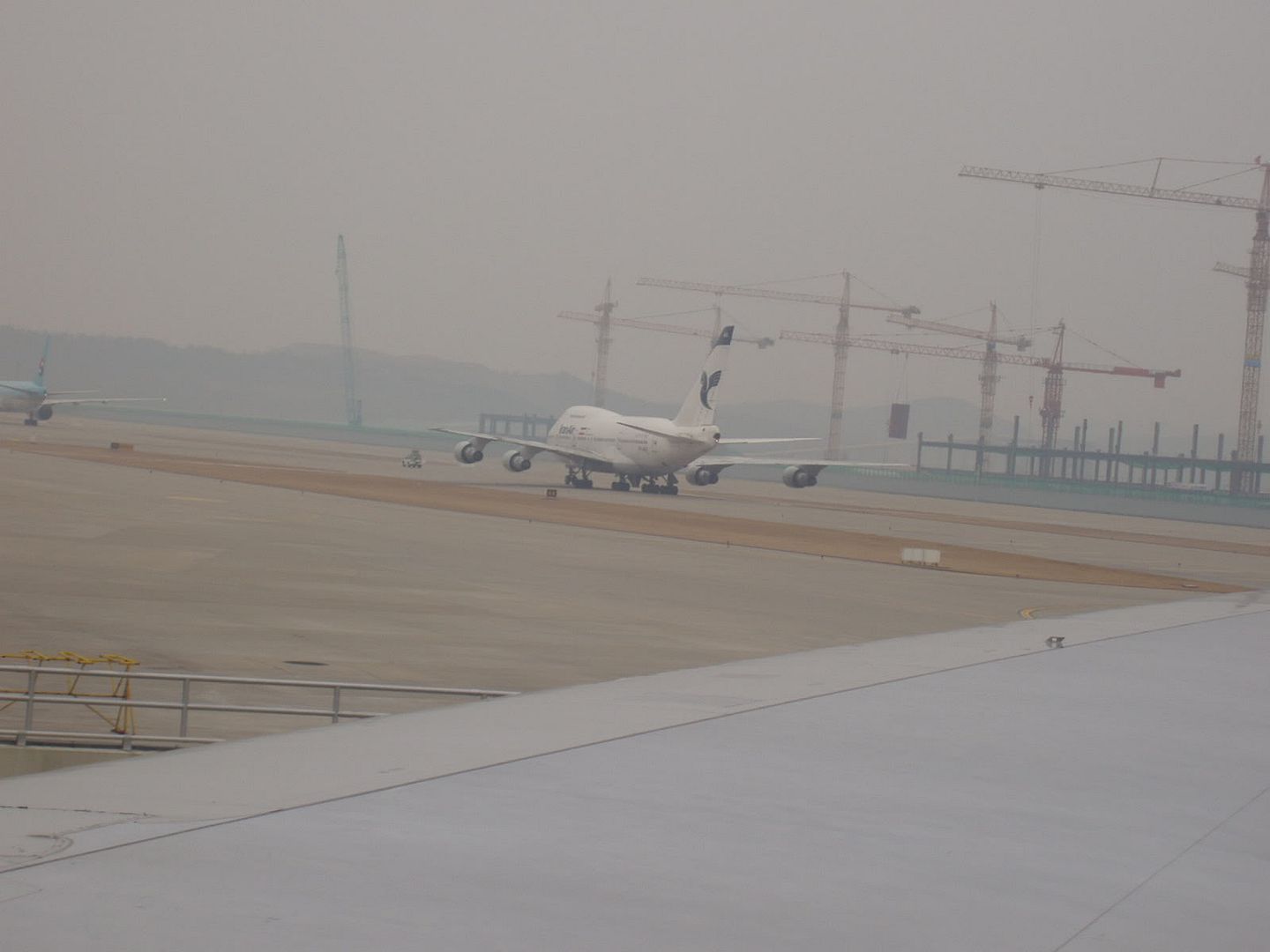 The IR 747SP arrives from PEK and THR. Someday, I hope to ride a 747SP to THR if relations between the Islamic Republic and the US improve.
At 1020, we began our 55 second take off roll to Atlanta.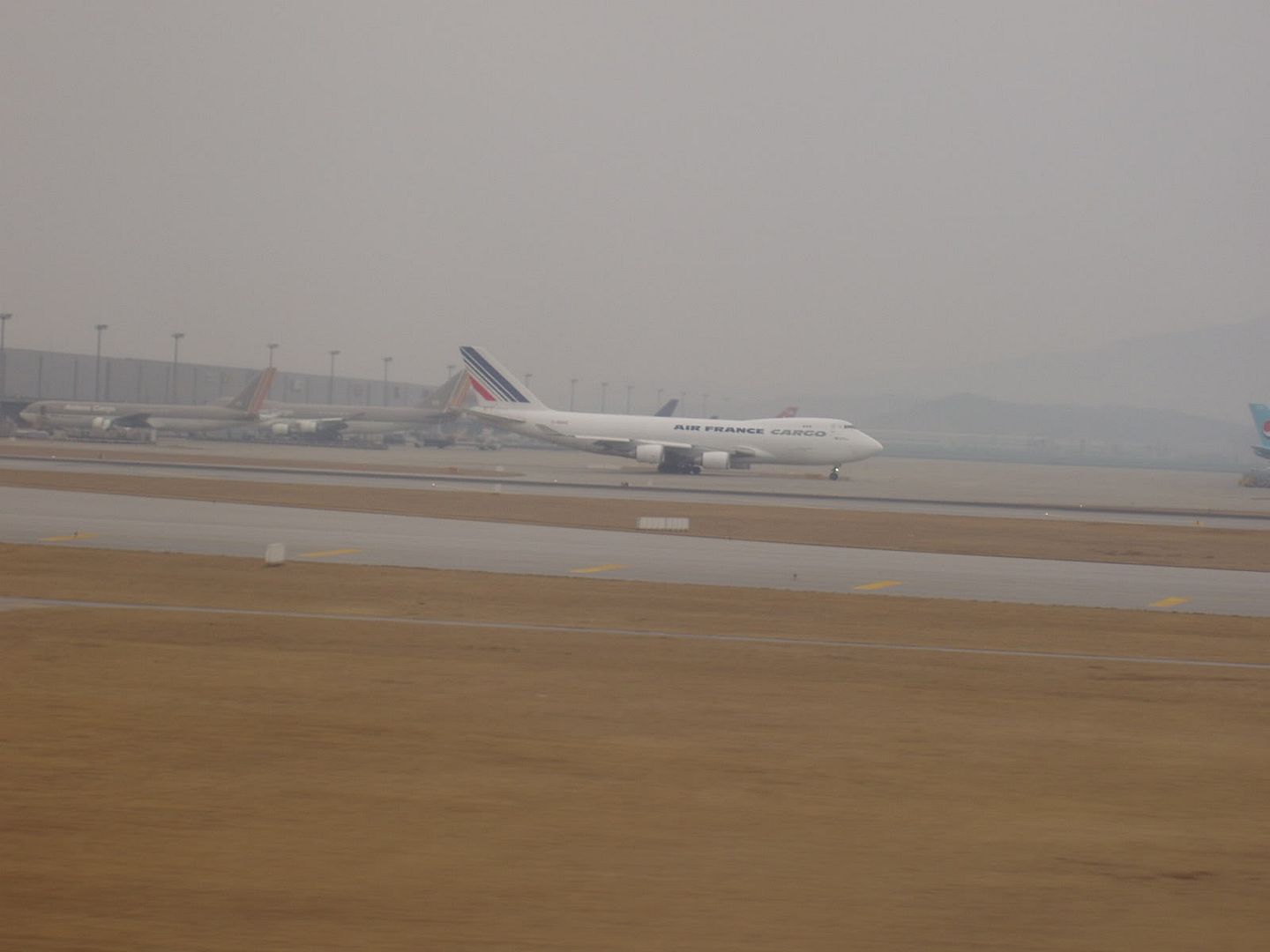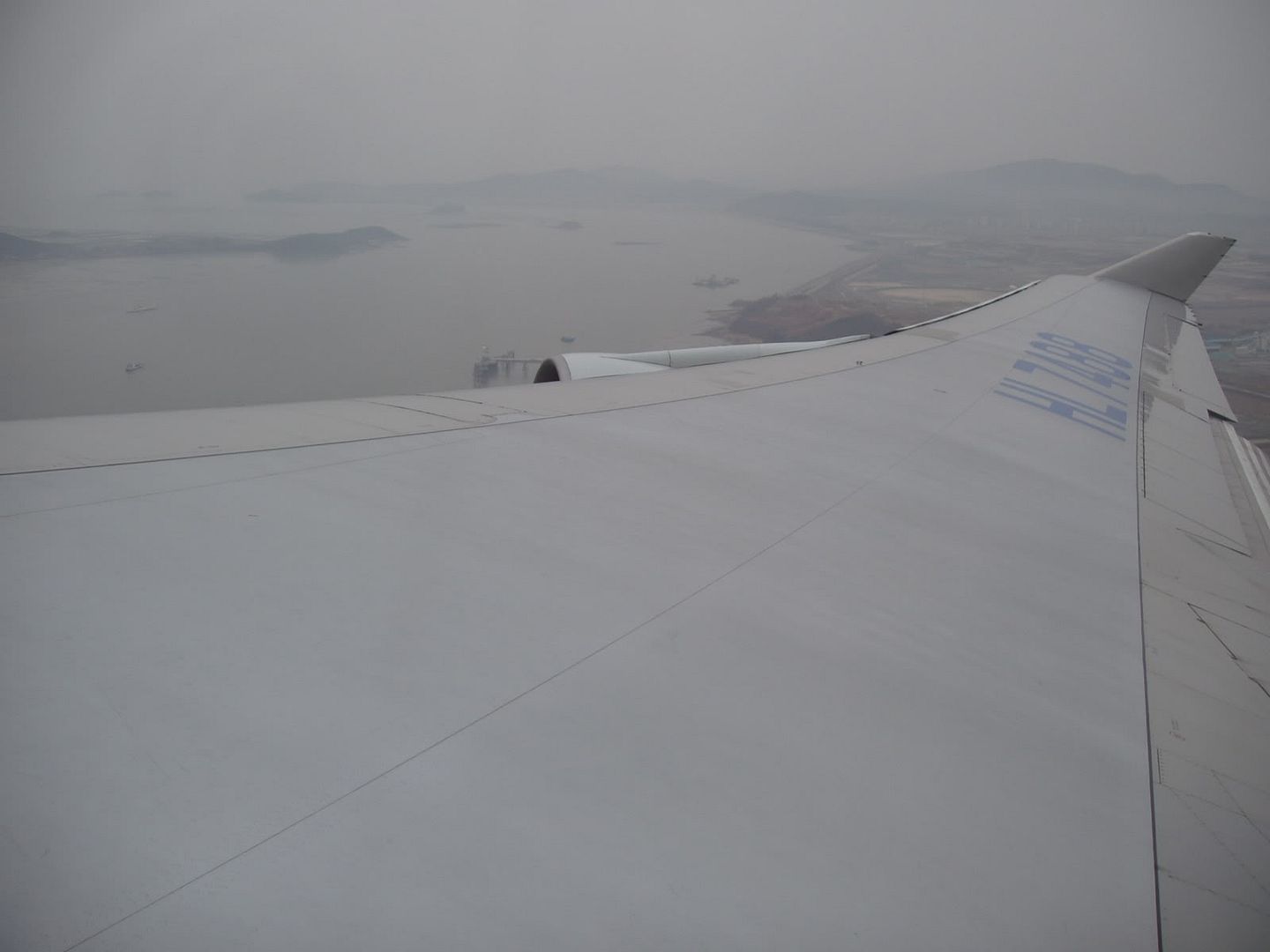 Climbing out from ICN.
After take off, the captain welcomed us on board, told us that the flight time would be 13:25 to ATL, and gave us a brief description of the route. We would fly east over NRT, then cross the Pacific south of the Aleutians, cross North America near Victoria, BC, and then fly basically a break circle to Atlanta.
During the climb, the flight attendants distributed headphones, although I did read for the entire flight and did not open the package!
I chose a class of red wine during the first drink service along with Fischer nuts.
KE does not distribute menus, so the flight attendants just had to tell you what the choices where. I chose the bi bim bap over the Western chicken entrée. I've always enjoyed the Korean food on KE, and I washed it down with another glass of wine.
During the meal service, I lifted my window shade to find this great view of Mt. Fuji.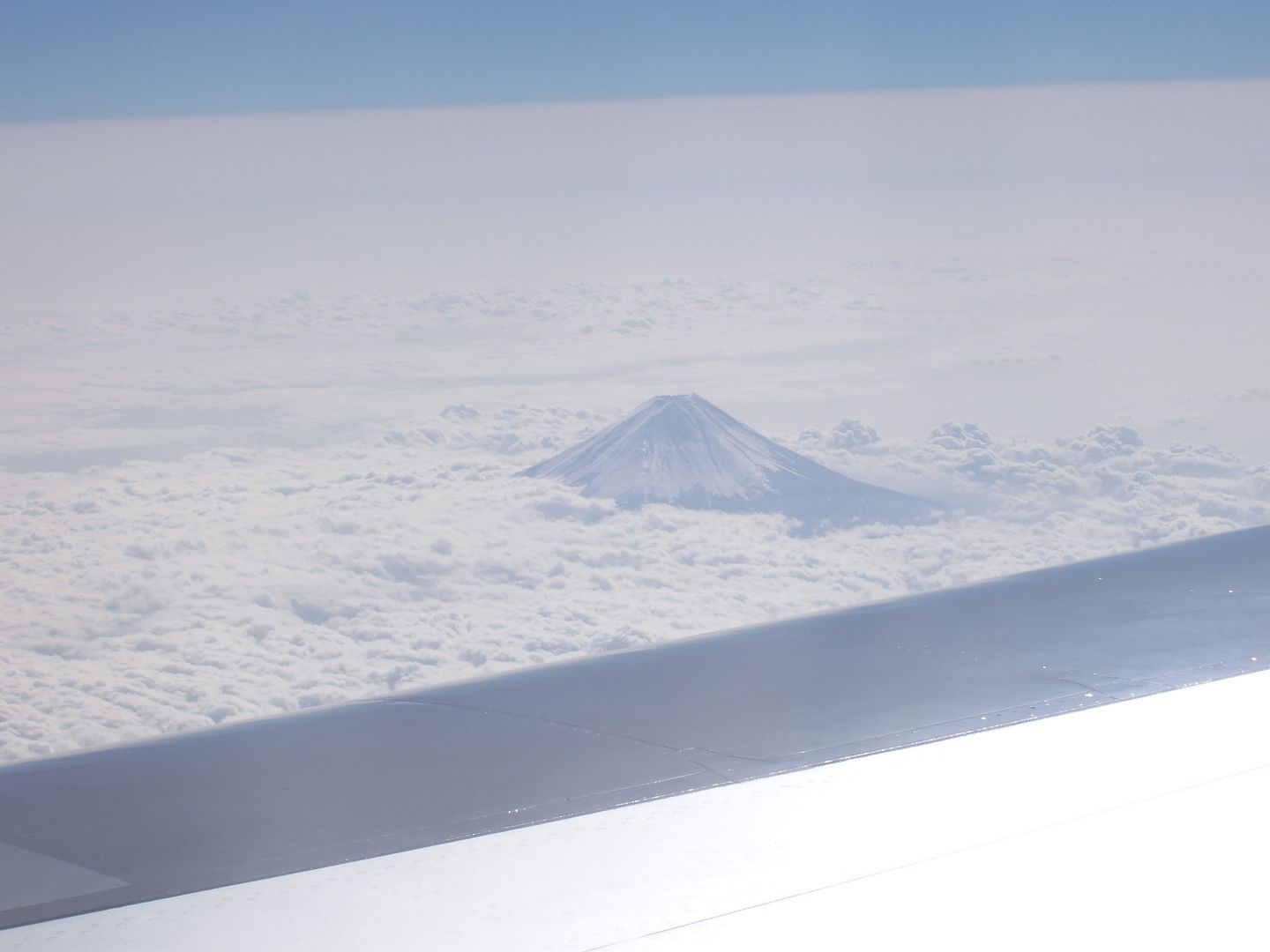 Mt. Fuji.
After the meal trays were promptly collected, I hunted for English-language news magazines to entertain me when I got bored reading about the exploits of lawyers in my novels.
Given that it was still midday for my body, I had little desire to sleep even though the sun set after only four hours in the air.
I visited the galley occasionally to talk to the friendly flight attendants, and drink from the never ending bottles of white wine, Evian, and bananas.
Eight hours after departure, it was time for dinner. This time there was a choice between a spicy fish and another Korean dish. Again I chose the Korean dish with a glass of Chinese (!) white wine. It was a good way to break the monotony of a Trans-Pacific flight, and meant that there were less than six-hours until landings.
Although the moving map showed that we had reached the state of Washington, there were no lights to be seen below.
I finally decided that it was time to sleep, so I again prepared my earplugs, eye mask, and blanket.
I awoke again on the other side of the United Sates over Rome, Georgia as the flight attendants collected the headsets before landing.
I quickly completed my customs declaration so that I could watch the red clay pass by. We were going to land to the west, so we crossed over the city of Atlanta and my former stomping grounds of Georgia Tech and Midtown Atlanta.
We landed slightly late at 0945, and parked at E 26. Since I am a white-bread American with only hand luggage, immigration and customs were fast and easy. Nonetheless, I pity how my country treats all foreign nationals like criminals; I hope that they made it into the US that same day!
January 16, 2006
Atlanta – Cleveland
Delta (DL) 1109
MD-88
1135 - 1255
Flight time: 1:20
(I don't see any reason to photograph Atlanta.)
After clearing customs, it was time for another latte from Starbucks (seriously, I drink water in addition to coffee and wine).
Then, I just read while waiting for boarding from B11 at 1105. First Class was already full, so my Silver status proved useless except for early boarding and a good seat.
The only notable even on this segment was that we were number one for departure in Atlanta! This is an airport where you are usually number five with a 20 minute departure delay. The captain sounded surprised when he announced this, and the flight attendant looked dumfounded.
I slept all the way to Cleveland, but I did take a few photos before landing. The snow provides a contrast to the sun and sand of Western Australia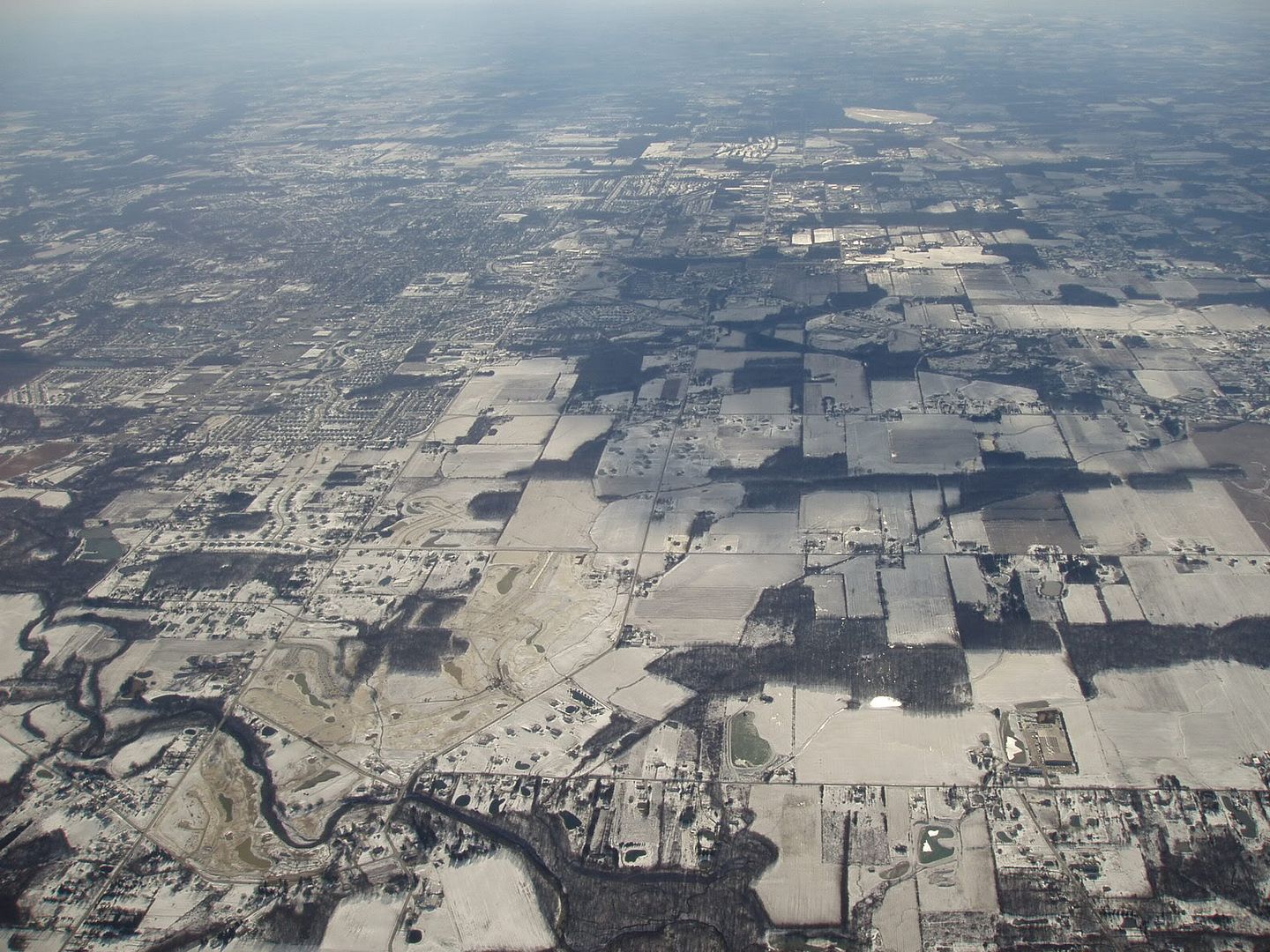 Medina County, Ohio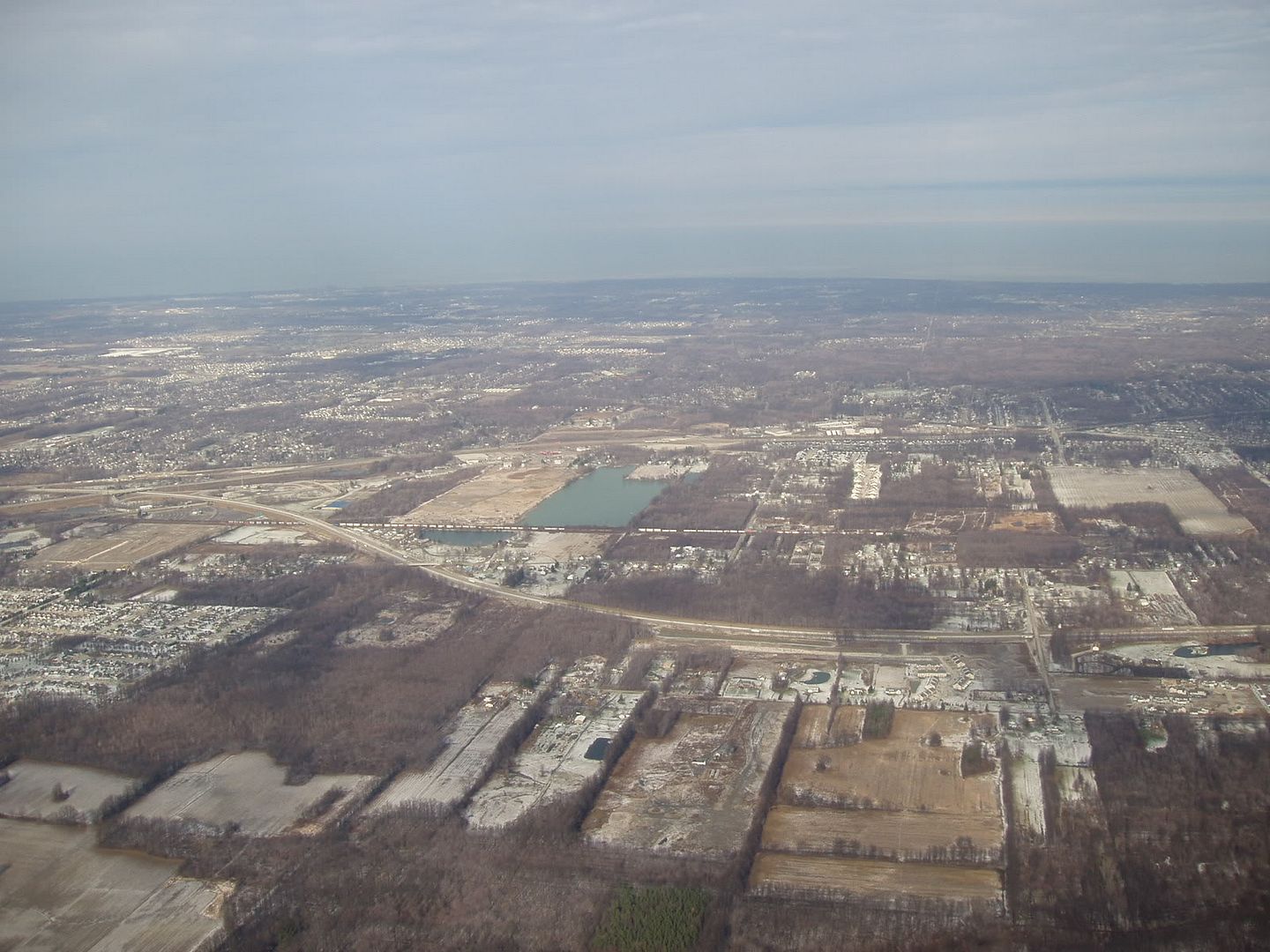 I-480 south of Cleveland and Lake Erie in the distance.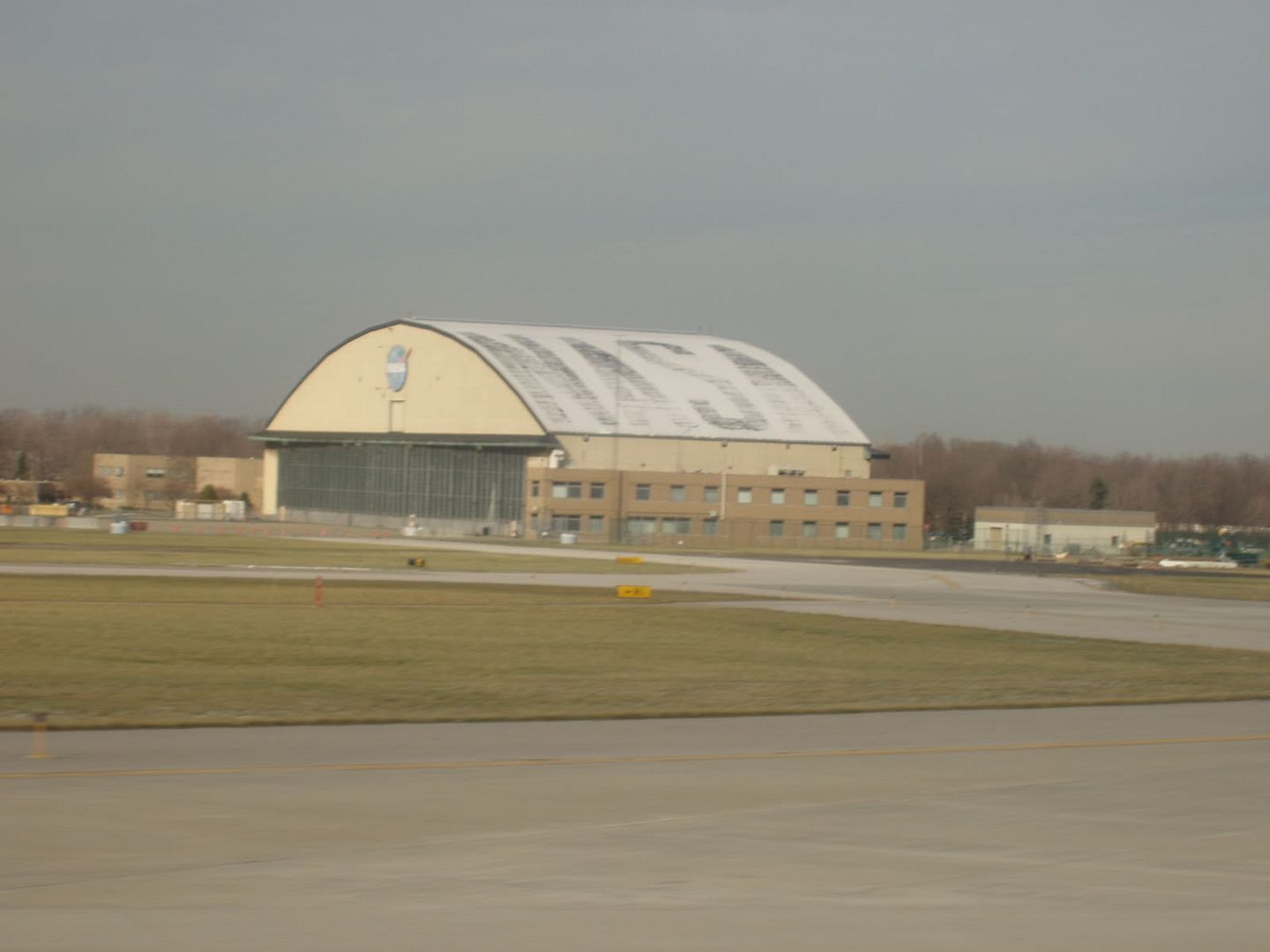 NASA Glenn Research Center
Finally, this was an awesome winter break, and I actually arrived back at school refreshed and invigorated for another semester of learning something or another!
Qantas was great airline with a friendly, professional crew.
Malaysian and Air Asia were adequate, but the flights were too short to form a strong opinion.
Korean Air had its usual great service, and it will only become a better experience once the AVOD is available on all flights.
Delta is Delta… the airline I grew up on. They now thank me for my continued business, which I appreciate.
I think that this will be my last intercontinental trip before August, but I don't know where I will go then.