So now I have time to write this trip report. I planned this trip awhile ago, my girlfriend and i were going to meet my parents there, we flew down one day after they did. The obvious choice would be CO through IAH there and back, but i've already been to IAH, and having never seen EWR's CO terminal, as well as the fact it was about $200 cheaper per person to go through EWR, off we went. I made a long connection as both of those flights on-time rating was less than 50%, however in the end they both were ontime.
CO 1171 Dec 26.2005.
ORD-EWR 11:00am - 2:05pm
Boeing 737-500
i dont remember which seats
We got to the airport at maybe 8:45am or so, there was no line for checkin, so we quickly checked in, got our boarding passes, checked bags, brought them over to the xray. Terminal 2 out of which CO operates at ORD was being rebuilt, so it felt like we were checking in inside of a warehouse, but oh well, it got the job done. Security took maybe 4 minutes, neither one of us got searched, and we found ourselves with about an hour and a half to spend. That was done by sitting at the gate staring at planes. Nothing too interesting. the NW 747F "world on time" plane took off as we were waiting. Anyways time came to board and we got in line once our row was called, ironically i thought the back of the head of the person in front of me looked familiar, and it was, it turned out to be a kid we knew from high school, who was going to new jersey to visit his grandma. small world ay. Anyways we were towards the rear of the 735, right at the back side of the wings, so i got to watch the flaps. The flight was very fast and very uneventful. The captain said once we reached the runway we would have to wait 15 minutes as EWR has all those restrictions, but we ended up taking off about 3 minutes later. There was cloud cover all the way to Newark, so nothing too interesting. I saw a 747 pass above us going south-southwest probably somewhere over Indiana. Continental considered this a lunch flight so we got a turkey sandwich, ruffles and somekind of dessert and obviously a drink. The flight was short and we started descending into EWR about an hour and 15 minutes later, coming out of the clouds west of Manhattan and touchign down abotu 4 minutes later. New York was very dark and gloomy. Everything was either gray or brown, and despite it being 2PM, it seemed like the sun had just set. To my surprise I saw the Peter Max 777, which I have never seen in person, and i managed to get a bunch of pictures of it. We arrived at Concourse A, where all of CO's flights to/from ORD MDW DFW BOS DCA arrive. I didn't mind as we had a 3 - hour long connection, but it would suck if you were running late, as getting from A to C required going out of security, getting on a train, and then back through security. Terminal C was much nicer than A. We attempted to exchange our money but I guess nobody keeps very many Costa Rican Colones around EWR. A quick look at all the shops, with nothing worth buying except for some magazines. Our gate was C135 i think, way at the end, by a food court, where i got somekind of philly chicken burger thing, it was pretty good. It was interesting to see CO's EWR operation, most flights to Europe were scheduled to depart about the same time as our flight to San Jose. Anyways - here are the pictures from CO 1171.
landing in newark ewr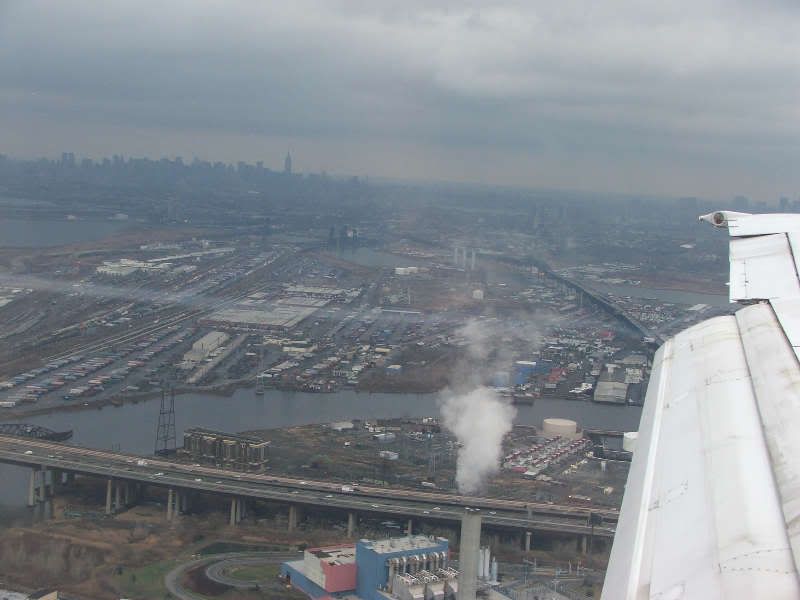 peter max 777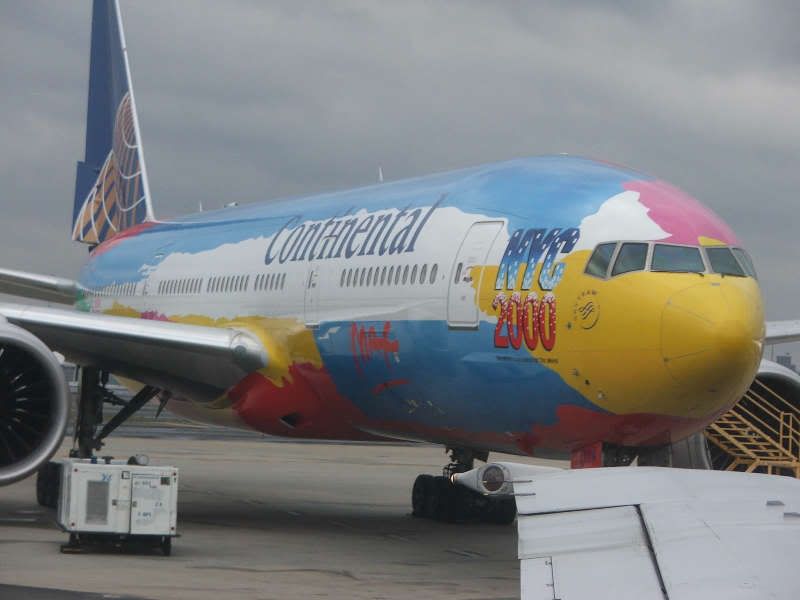 peter max 777 again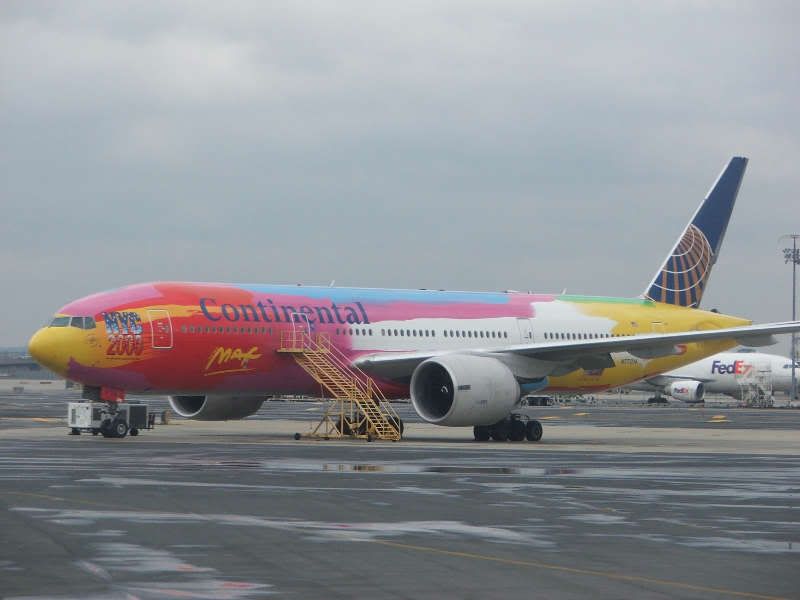 antonov at ewr, as i am russian, i figured i'd take a shot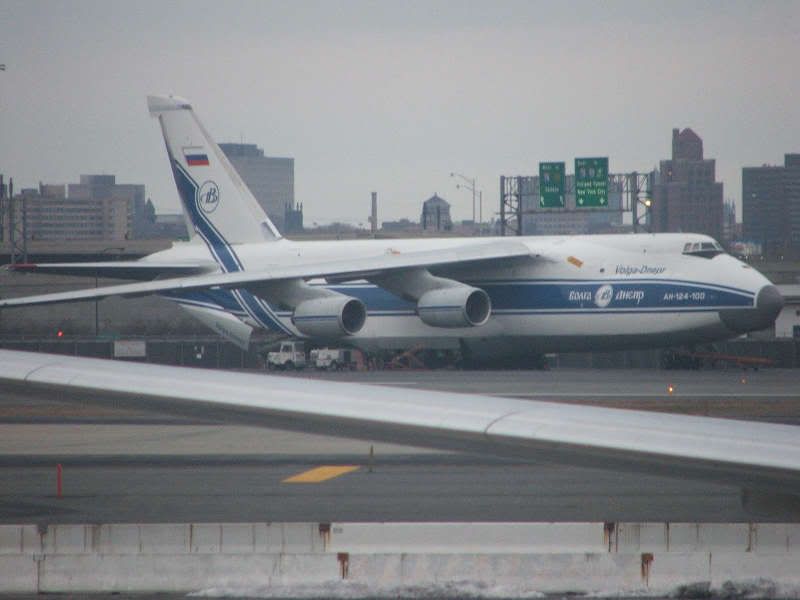 CO 1796 Dec 26.2005.
EWR-SJO 5:05pm - 9:24pm
Boeing 737-800
Again, I am sorry i dont remember which seats we were in, they were towards the back again. We boarded on time and our flight was between two 764s going to somewhere in Europe, one of which was FCO i believe. Everything went well, the plane was packed with americans going to Costa Rica, and everyone looked ready for a vacation. All of the flight attendants looked like they were from somewhere in latin america, and all of them spoke fluent spanish and english, i thought this was nice, as i remembered AA's flight to SCL and from EZE i took, on which only some of the cabin crew spoke spanish.
Anyways the head purser came back to the lady across the aisle from us and asked her if the documents he had were hers, they had been delivered to the gate and were to be given to the person with her assigned seat. Except she was in her assigned seat. She did not take the possport/travel itenerary that the FA had, yet he came back abotu 10 minutes later, once everythign was ready for push back, announcing they did not find the person adn since shes technically the person who was supposed to take them (being in that seat), she has final say over the documents. The two of them decided to leave them at the gate, since the passnger had come earlier from SJU, and it was doubtful that a person would fly SJU-EWR-SJO in one day. So we pushed back, on time, in the evening, with low clouds, at EWR. To this point I was impressed with CO and EWR and the whole operation. It was dark by the time we took off, so I did not see much. I watched two movies, one with martin lawrence and something about basketball, and i dont remember which one the other one was. We saw Brighton Beach, and then went through the clouds, which were thin so they were glowing orange from the light below. There was nothing to be seen as we made our way over the atlantic. The next light i saw besides what i am guessing were freight ships in the ocean was Miami. We crossed the Florida coast line somewhere north of West Palm Beach. There were no clouds, and Miami's shoreline with Key Biscane and the Florida Keys and Homestead were clearly visible and identifiable. Soon after we made our way over Cuba, a bit east of Havana, and i was on the other side of the plane so I did not see it. After that darkness once again. The next thing I saw were the Cayman Islands. We flew right over Grand Cayman, which looked like a huge star in the middle of the empty black sea. After that it was cloud cover all the way until we descended into San Jose. We broke through the clouds in the central valley, west of Alajuela, and made just one turn to line up with the runway, facing east. An uneventful landing, and we parked next to a Copa 737-800 in a rainy and warm San Jose. Once they opened the doors you could feel a rush of warm moist air come through the plane, and it felt nice. SJO airport was unimpressive. The gate area was nothing special, and baggage claim / customs / immigration reminded me of any other airport. The one thing i did notice was that there are signs all over the place that say it is illegal to have sex with children under 18 in costa rica, i guess sex tourism is a problem there. Anyways the inside of the airport was quiet, but once we made our way through the doors, there were abotu 200 people offereing us taxis to the city, luckily we had prearranged someone to pick us up, who quickly weeded us out of the crowd, in which there were several people staring at my pocket looking for a wallet or such. Less than 40 minutes after we got off the plane we were in our hotel - Melia Cariari, and in our guest room. Anyways I wont go into detail about my stay in Costa Rica, we basically went to Arenal and Tambor, utilizing the ferry between Puntarenas and Paquera, but if you want to hear about that send me an email.
Here are photos off of CO 1796
Our 737-800s winglet still at EWR
Climbing out of New York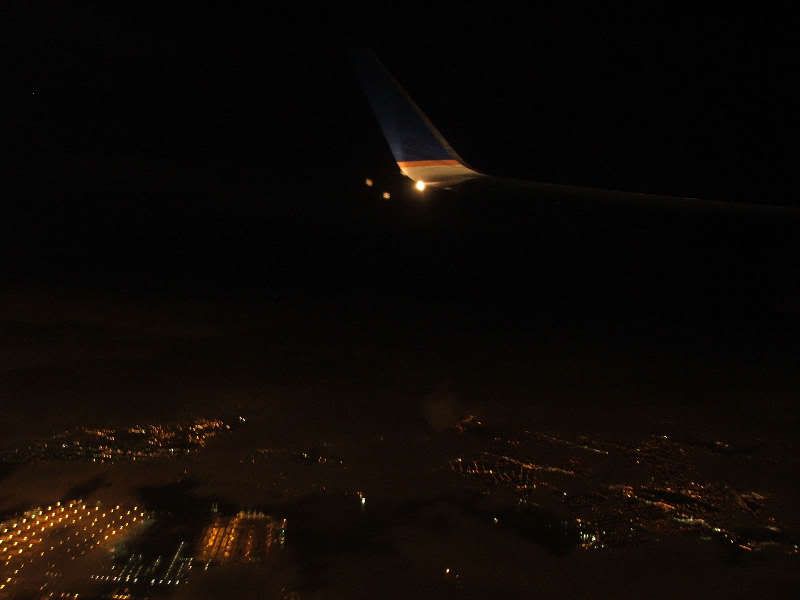 Sorry there werent more pictures of CO1796, it was dark, inside and outside, and all the pictures came out super blurry.
Returning
CO 1485 Jan 7.2006.
SJO-IAH 7:45am - 11:31am
Boeing 757-200
I was just getting over my food poisoning, and had eaten at Denny's the night before, which i wouldnt touch in America, but it was the only thing within walking distance of Hampton Inn at SJO Airport. We slept for a godo 4 or 5 hours, and took the shuttle to the airport. This time we were with my whole family. SJO airport was filled with people departing. There were flights leaving between 7 and 9am to PTY ATL EWR IAH MIA DFW and GUA. After taking the time to fill out the exit costa rica form and paying the $26 departure tax in cash, we checked in. My girlfriend and I had a seperate reservation, so we checked in seperately from my family, although we were on the same flight. Lesson learned this was a mistake. It took her awhile to figure out all of our flights and seats and everything, but eventually we checked our bags and got boarding passes. By this time my parents were waiting to enter security. We got to the front of the line and my dad was standing there and they werent letting him through, apparently the agent they checked in had printed a boarding pass in my name for my dad. tisk tisk. so my dad and i went back, with our two identical boarding passes, and in about 10 minutes it was all sorted out, the way i had booked it, so the 6 of us occupied all of row 20 on the Boeing 757. Our plane was between a CO 737-800 and CM 737-800, going to EWR and PTY. I watched an AA A300 depart to MIA and as we were boarding a Martinair Holland MD-11 took off, also for MIA and AMS. A Delta 757 to ATL pushed back as we were waiting. This flight seemed not as laid back as the one down to costa rica, the FA's didnt seem as fun, and the passengers were all bummed about their vacation being over, although there were also some very quiet ticos (costa rican people) scattered throughout the plane. We pushed back on time, and this CO 757, although older, and without winglets, was pretty nice on the inside, with the flip down TVs as opposed to some other CO 757s with aisle-mounted TVs. Climb-out of SJO was uneventful although very shaky, as there were strong winds and thermals in the valley this morning. We climbed out, did a full 180, followed by a turn to the north, and there were clouds almost immediately although it had been sunny at the airport. The sun was very bright and we made our way over Central America until all was covered by clouds. The clouds ended somewhere around Belize, and I saw some beautiful islands in the water. The again nothing until Cancun, which i recognized by Quintana Roo. After that there was just the gulf of Mexico until we approached the brown-looking costline of eastern Texas. The food was somekind of breakfast sandwhich thing, which i didnt care for much, although the muffins they had were awesome. We landed at abotu 11:10am, and were out of the plane by 11:30am. From the gate we were at, which i dont remember which one it was, it was a very long walk to customs and immigration, which is a huge hall. Bigger than anywhere else i've seen in America, through which we made our way very quickly. No one got questioned about anything, and we were our of there before noon.
Here are my pictures from CO 1485
AA 757 parked at a remote stand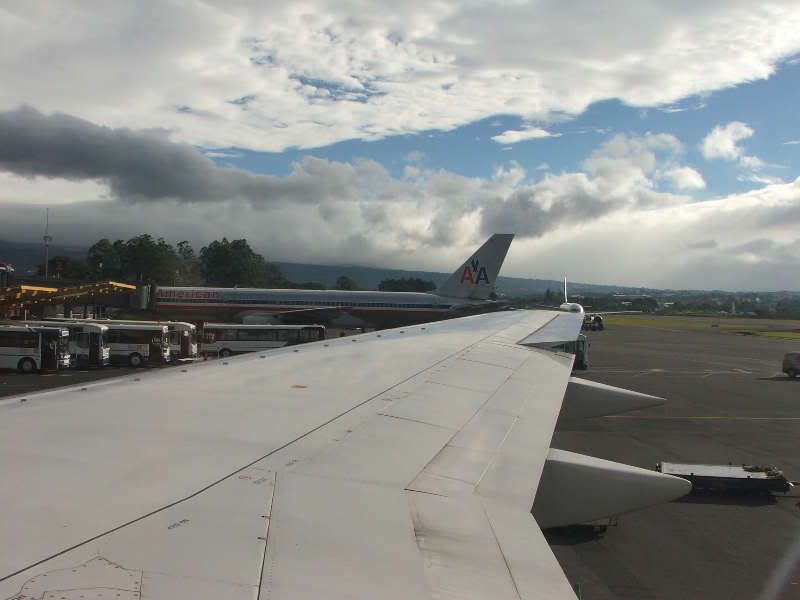 COPA Panama 737-800 with winglets, taking off on its way to PTY
America West A320, which will later depart to Phoenix PHX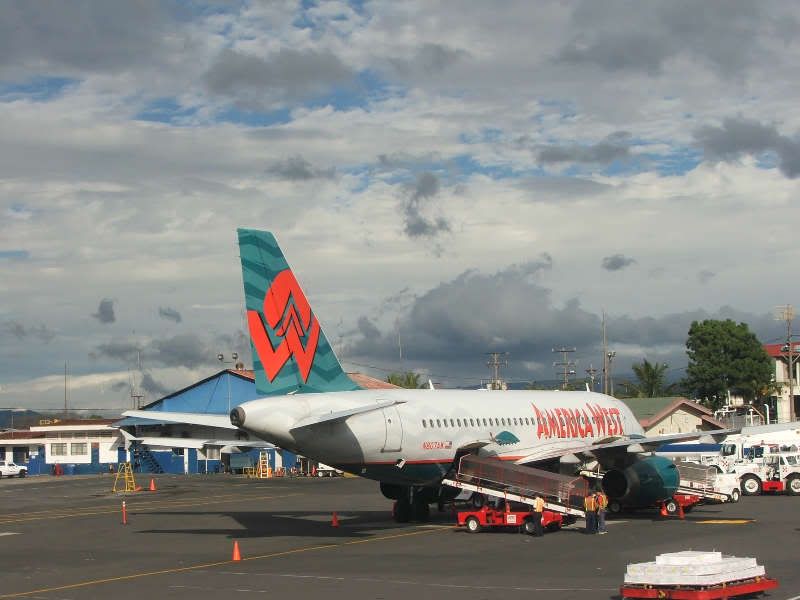 Aeropostal DC-9 which doesnt look like it flies very often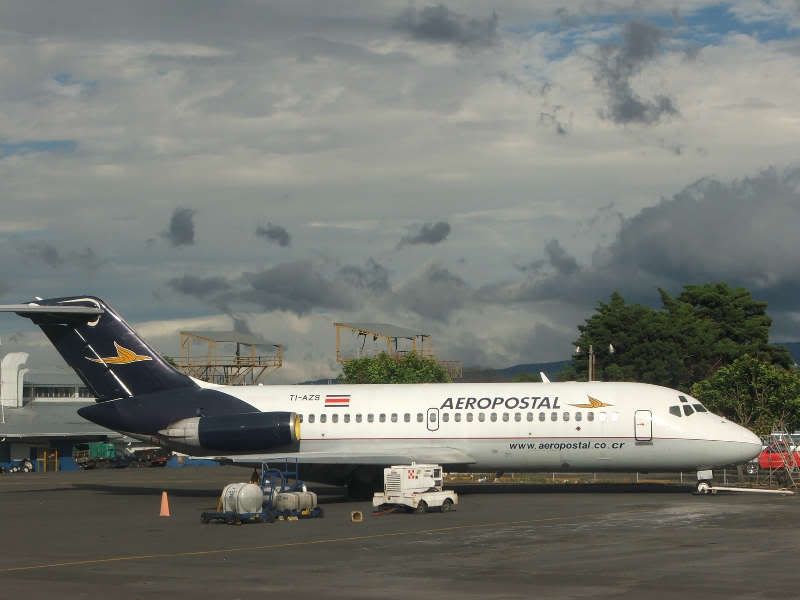 Besides the MD-11 i saw takeoff, this Martinair A320 was parked at SJO, a bit of a surprise to see it here.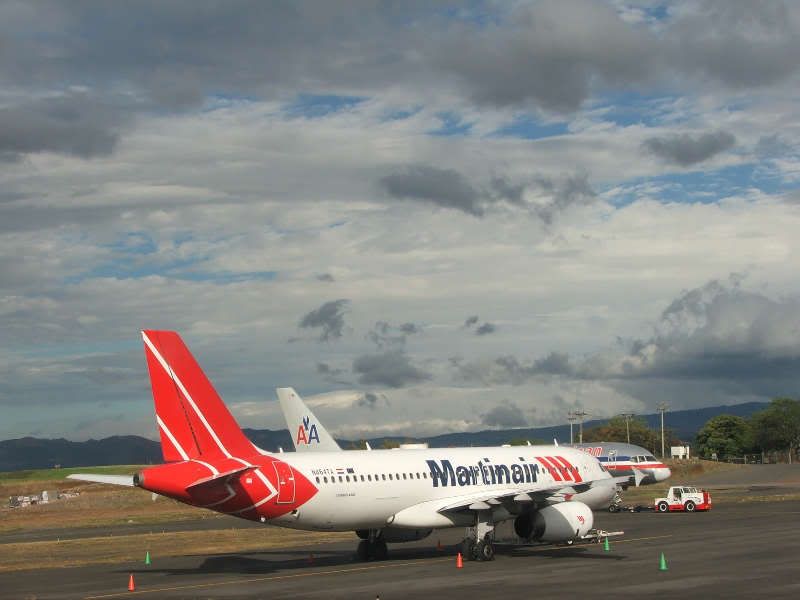 Climb out of SJO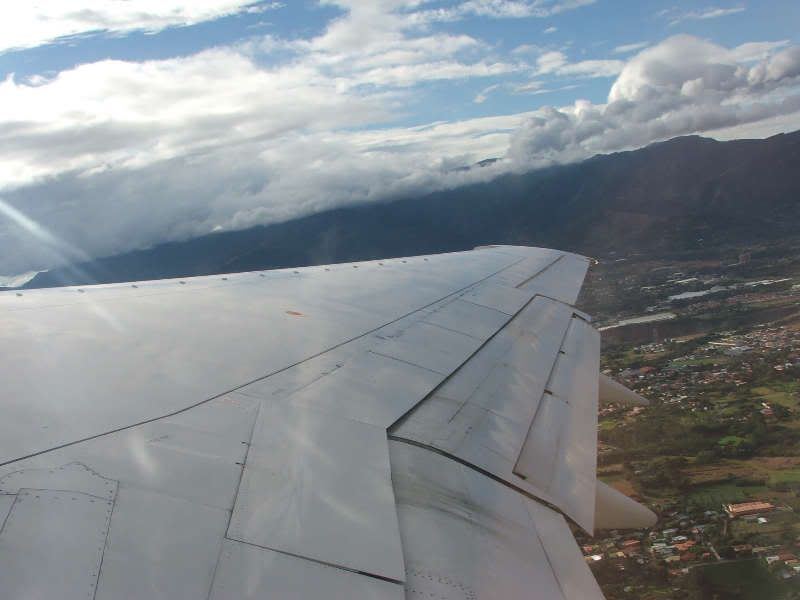 Still climbing, with a view of SJO airport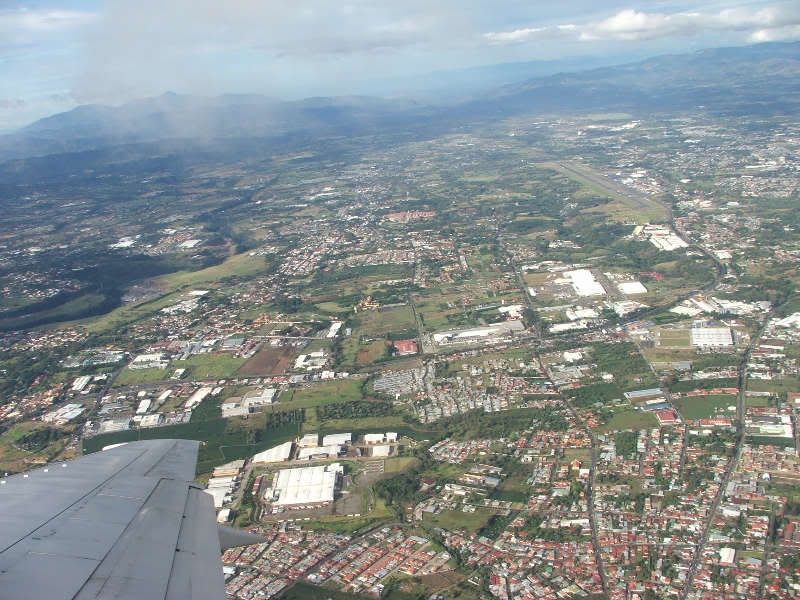 Some islands off the cost of Belize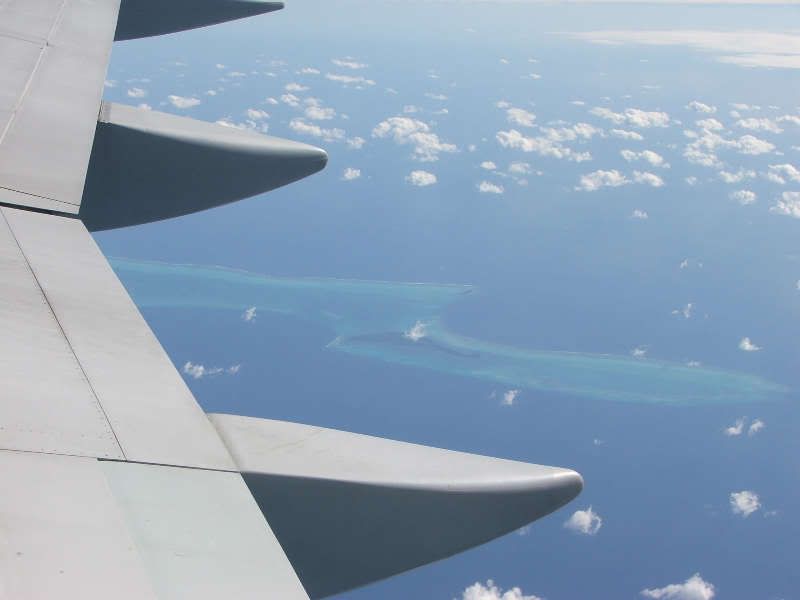 Landing in Houston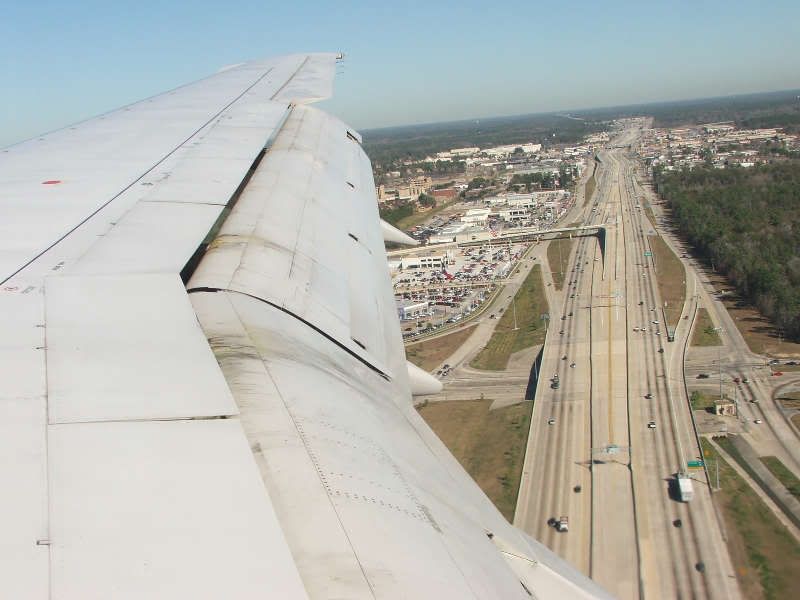 CO 1585 Jan 7.2006.
SJO-IAH 1:30pm - 4:06pm
Boeing 737-500
This flight was rather empty, although it seemed full when i booked it. A lot of passengers connecting from caribbean and central american countries. The 737 departed from a gate far far away from everything else, in an old part of IAH, nothing like the E terminal i had been to in August. We didnt have much time to waste once we got through security after customs, my girlfriend got a smoothie, and the girl working there made too much, actualy twice as much as she needed, so i got a free smoothie. what a deal. we boarded the flight which was maybe 75% full, and my family was scattered about the plane. This was a very uneventful flight, and past CO's lunch-time. So no meal sorry. I ended up drifting off a couple times as i was tired from waking up at 5am, going to sleep at 1:30 or so that night after spending some time at a casino after denny's. But anyways there was cloud cover the whole way although it was sunny in Houston. The sun started to set as we made our descent into Chicago O'Hare, and we flew right over downtown, heading east, made a turn over the lake and landed on runway 27L, the clouds were low, and the gray and brown colors reminded me that the trip was definately over. We got our bags, no one lost anything, and took a limo home, which was cheaper than 2 cabs for my whole family.
Photos from CO 1585.
Waiting to board, the captain enjoyed a diet coke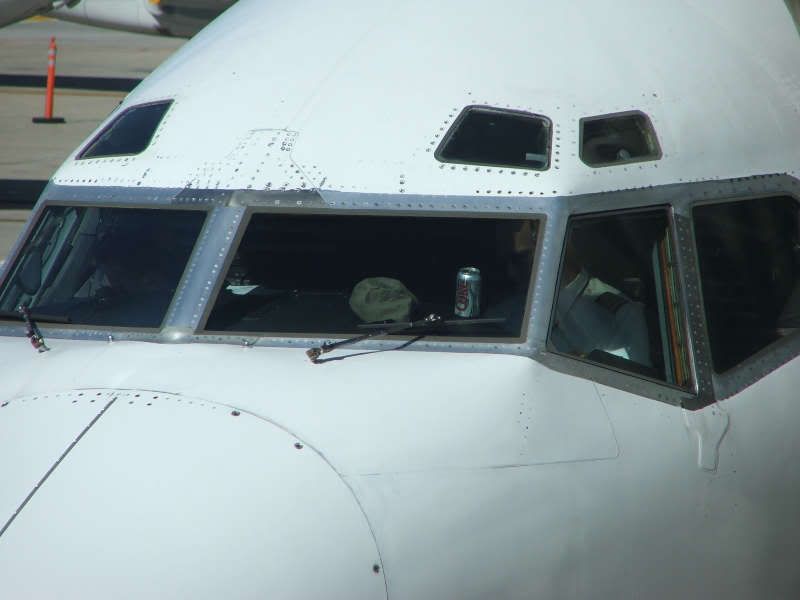 A whole field of ERJ's adjacent to our 737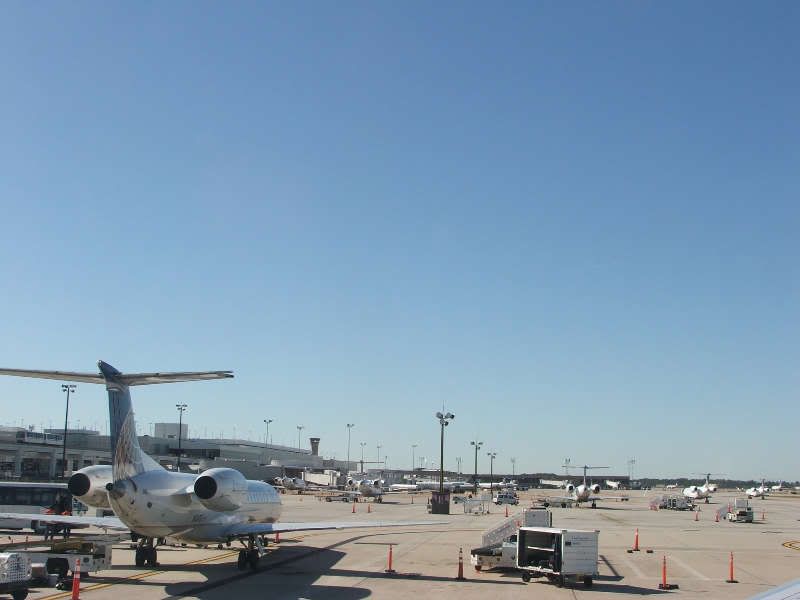 A Lufthansa A340 that had just landed
IAH airport from the air as we head north
About to dive into the clouds with a setting sun, approaching ORD
United explus CR7 at ORD
Anyways thats it for the flights on my trip, i got bored writing this towards the end, so i hope i didnt leave anything out, at least i was motivated enough to finish in hope that my writing efforts will be praised by airliners.net members (yeah right)
And to finish... heres some pictures from Costa Rica
This is me attempting to live while enjoying my food poisoning experiance, it lasted about 2 days. yay.
My girlfriend and i swimming in a waterfall, along with fish that were biting us, after riding on a horse for an hour. it was a good experiance.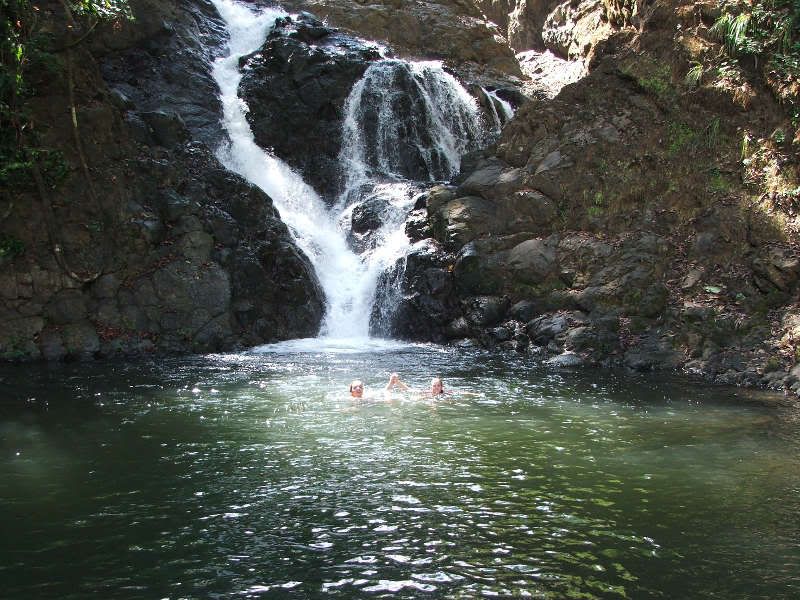 Volcan Arenal letting out a puff of smoke, yes i took this picture
Zip-lining at Arenal
New years seen from a cliff at Tango Mar
Anyways happy 2006, and hope you guys enjoyed it. Questions comments and suggestions are ofcourse welcome, just be nice.
'902