Song 2034 (Operated by Delta)
Orlando – Boston
Boeing 757-232 (N6701)
Seat: 26A
Scheduled Departure Time: 7:25
Actual Departure Time: 7:22
Scheduled Arrival Time: 10:12
Actual Arrival Time: 9:52
Check In:
I arrived at a rather deserted Song check in area around 5:45am. After reaching an e-ticket machine, I scanned the bar code that was printed on my e-ticket. My reservation came up and I was shown a seat map of the aircraft. My original seat, 26A sounded good to me as there was no one seated in 26B. I clicked "continue" and a mostly blank screen came up marked with the term "EXITING." I seem to be unable to get a friendly Delta ticket machine as I had similar problems last October. What did I ever do to them?! After controlling my homicidal urges, I calmly picked up my bag and walked over to another machine. The male agent behind the counter saw me do this and asked if everything was alright. I explained the situation and he said,
"Don't worry, I'll just check you in here. Where are you heading to today?"
"Boston."
"That's a drastic change in climate! Do you have any bags to check in today?"
"Nope, none today, only hand luggage."
At this point I handed him my Flying Blue card,
"I have a quick question for you. I don't think my frequent flyer number registered when I purchased the ticket, could you possibly add it please?"
"Absolutely! I just need to see your I.D."
Once the process was complete, he handed me my boarding pass in a ticket jacket.
"If you ever have problems with the e-ticket machine, don't hesitate to ask any of us behind the counter for help. We will be more than willing to help you out."
"Thank you so much. I certainly will in the future."
"Thanks for flying Song, happy holidays."
I walked away with a smile on my face. This may be the first time that has ever happened in 15 years of flying Delta!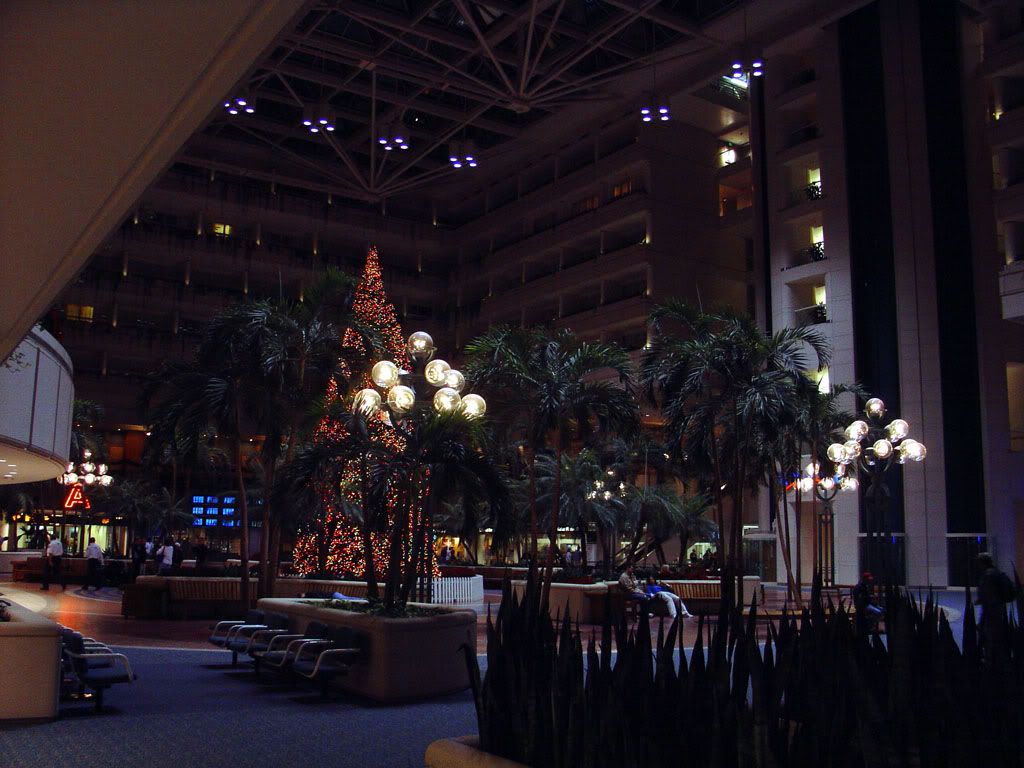 Security was a breeze as it took me a mere three minutes to complete. This is a sharp contrast to my 45 minute ordeal four days ago when I was flying out west. Therefore, I walked into the terminal a very happy man. Feeling jolly, I proceeded to a Starbucks and ordered an overpriced mug of caffeine with a fancy holiday name as there is nothing more refreshing at 6 AM. With the cup in hand I walked over to my gate and sat down with the plan of entertaining myself until boarding.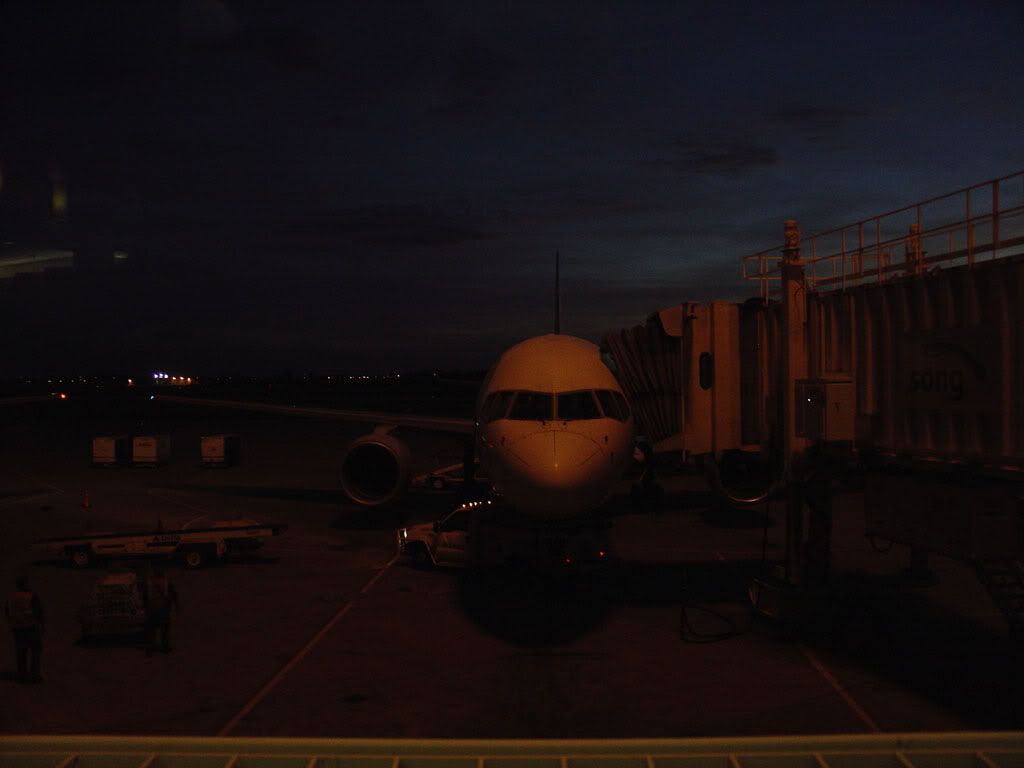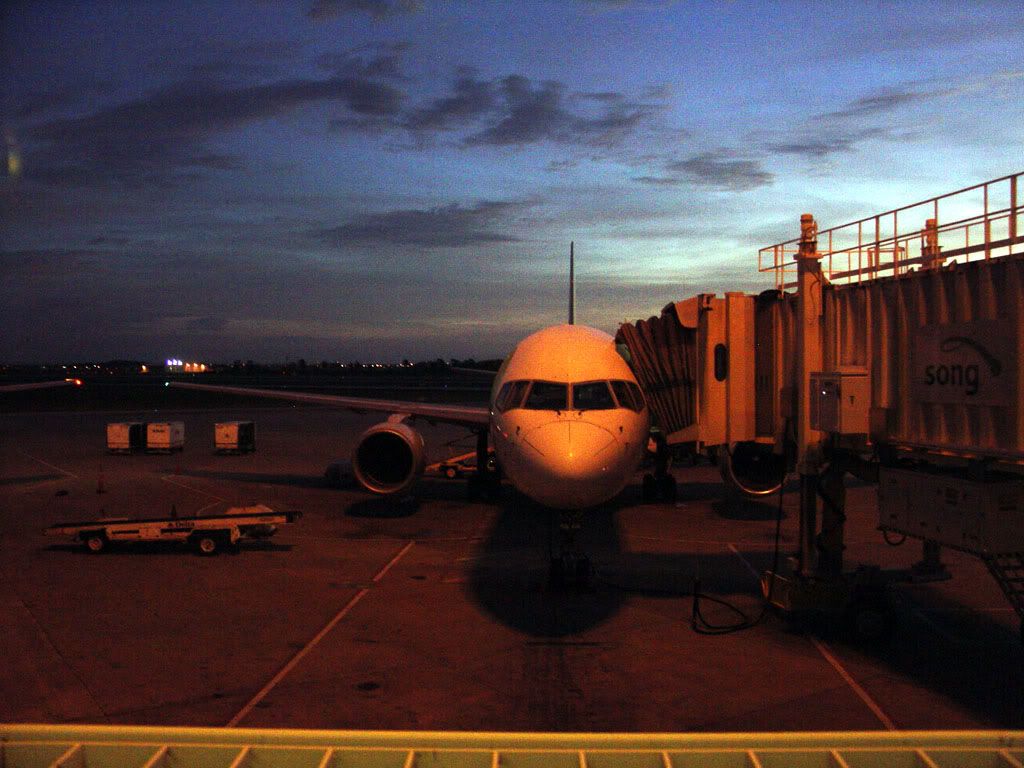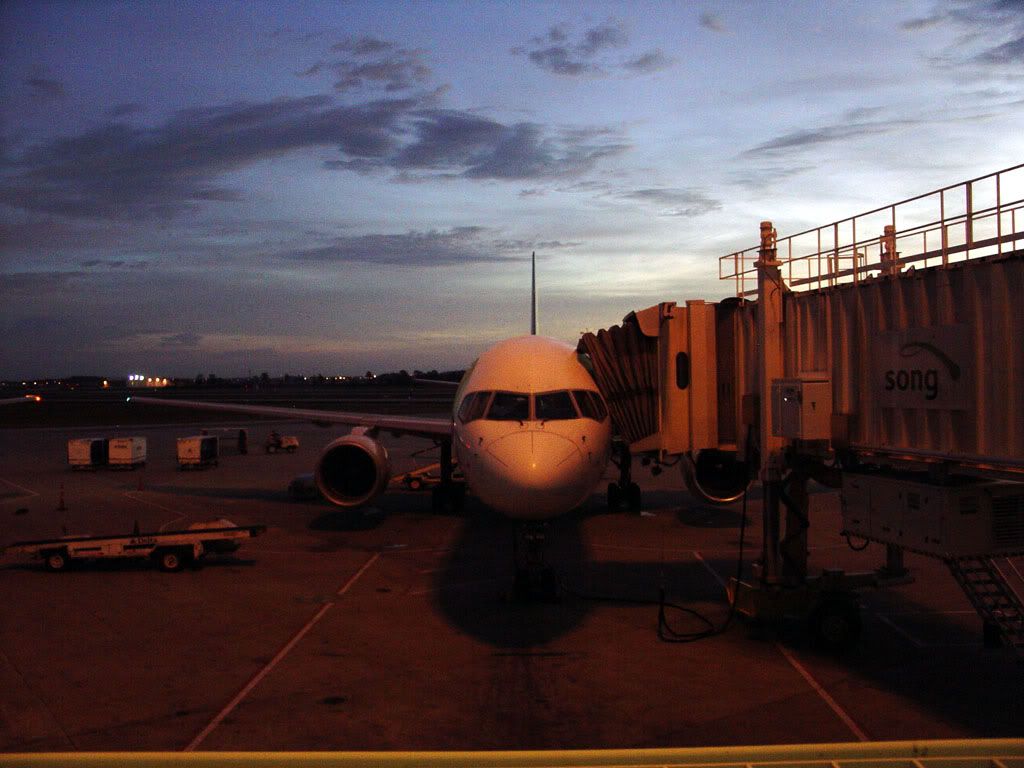 Boarding:
Around 6:45 there was a pre boarding announcement which consisted of an explanation of baggage policies and boarding procedures. Five minutes later, a male flight attendant introduced himself and began the boarding process with rows 35 to 25. I headed towards the Jetway and picked up a pair of headphones which had been placed on the counter in a wooden basket. The gate agents were good enough to remind everyone to please take a pair of headphones as they boarded.
I was greeted at the door with a big smile by a flight attendant offering headphones to anyone who did not pick them up at the gate. We exchanged greetings and I walked down to the end of the 757. The first thing which hit me was the multitude of colors on this plane. Having flown so many Northwests, Continental, and Delta mainline flights recently, I had forgotten that a plane could be outfitted with a color other than blue or white. My seat was slightly stiff, but that tends to be the case with leather seats on planes. The load factor was relatively light today with most of the middle seats remaining empty in the rear of the aircraft.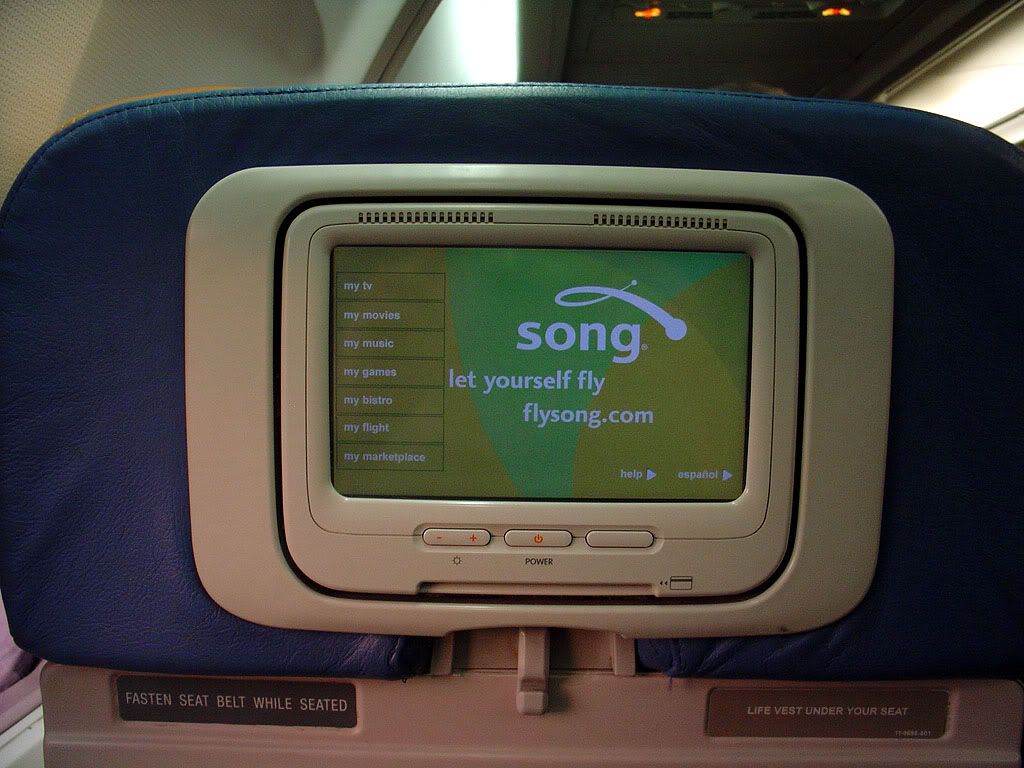 The crew welcomed us on board a short while later and the main cabin door was closed just as the safety announcement was played. Today it was conducted by a "lassie" with a very heavy Irish accent who interspliced a few jokes for good humor. Once that was completed, we began our trek towards the runway with the company 757 heading to JFK in front of us.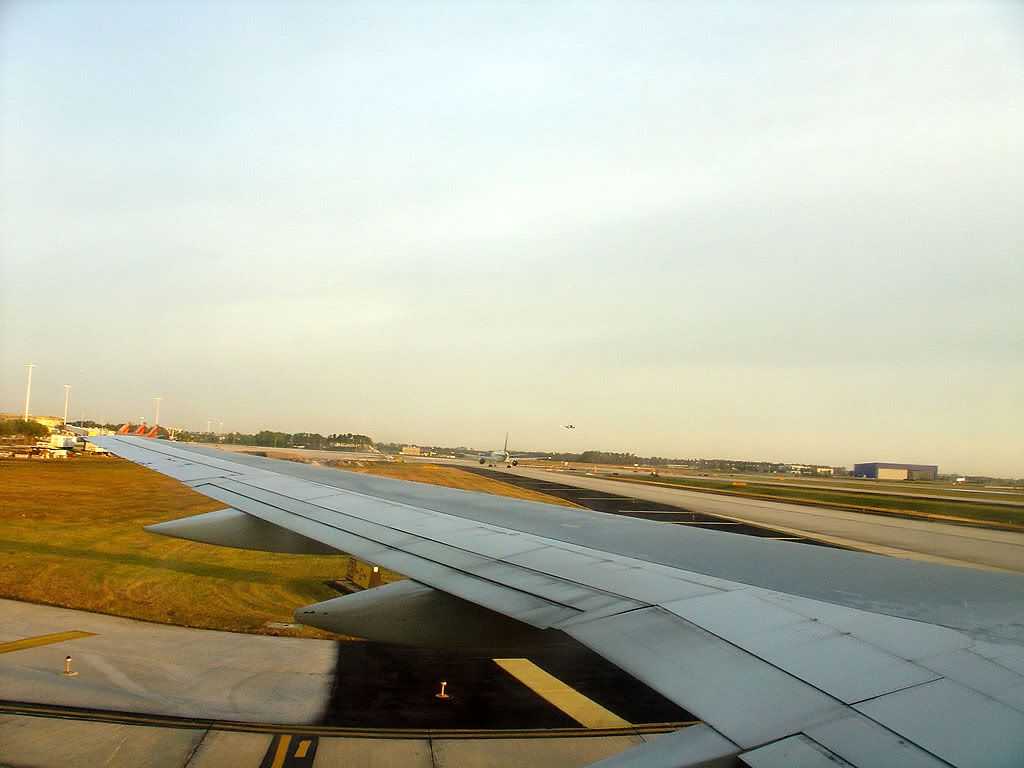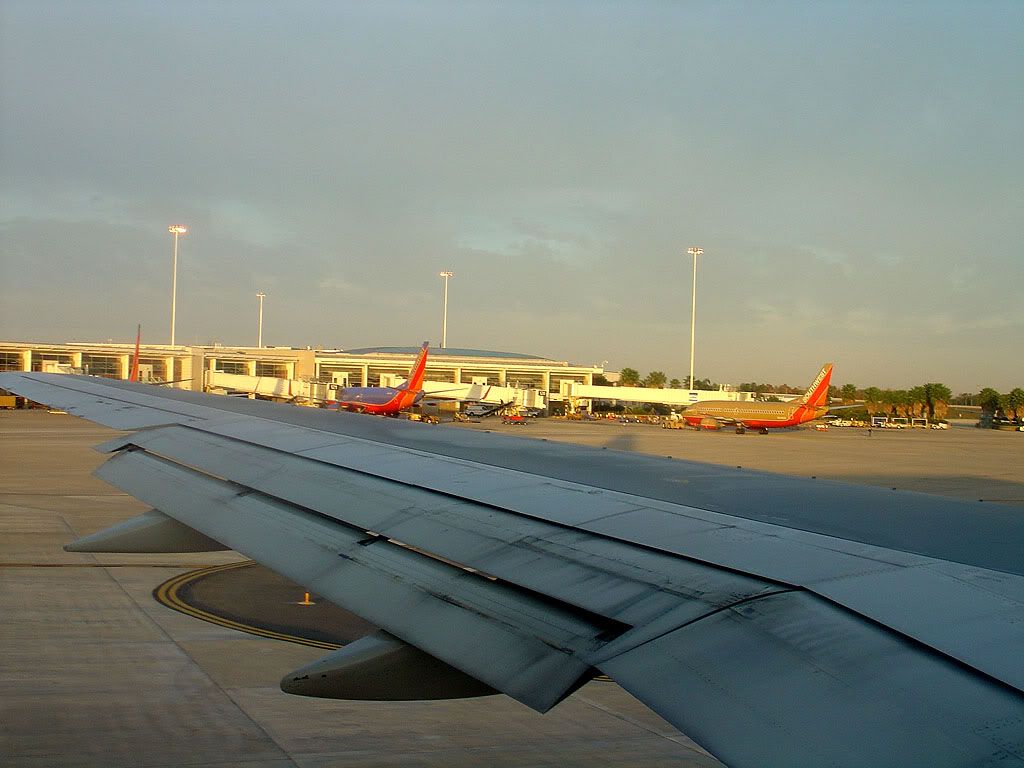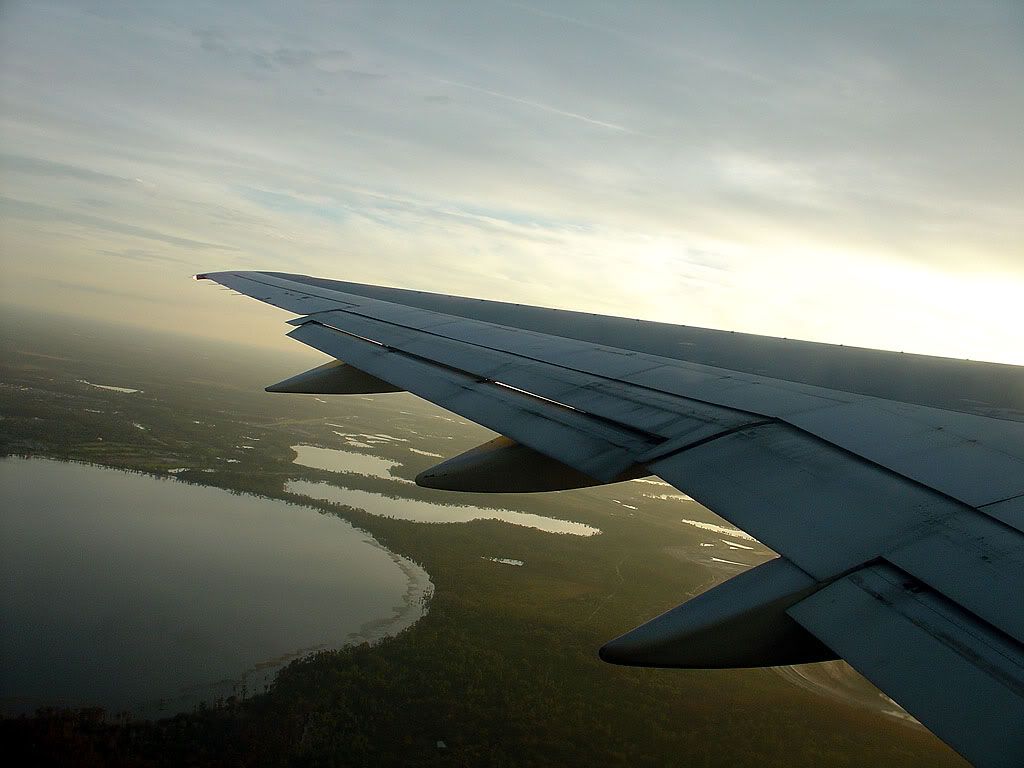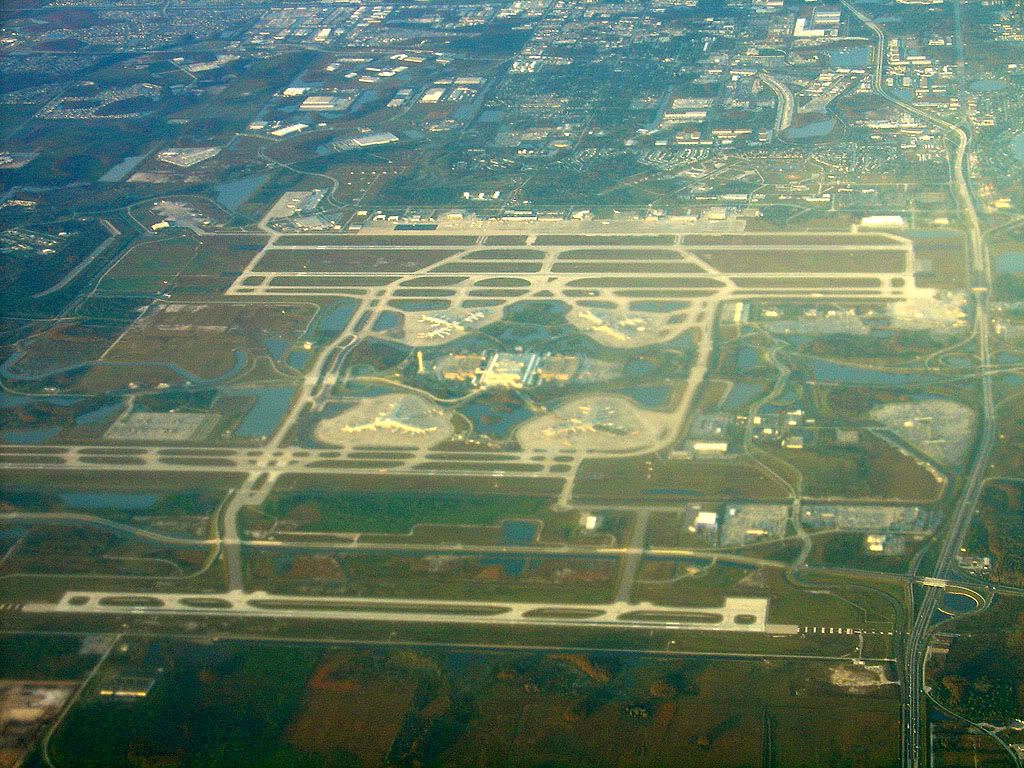 The Flight:
After a standard Pratt & Whitney take off, we soared into a brightly lit sky. Almost immediately, the PTVs were started up and I commenced playing around with it. I first flicked through all the channels and read the breakfast menu offered on today's flight. Once that was done, I settled upon "The Today Show" on NBC as it helped pass the time. Since the middle seat was empty on today's flight, I kept that PTV on the air show.
Annoyingly, the pilot came on just after take off and requested that all cabin crew remain seated as we were going to experience some turbulence. The seatbelt sign remained in the on position for close to an hour. While we did encounter a few mild bumps here and there, it was nothing compared to my Cleveland – Orlando flight a week ago where most of our drinks ended up splattered on the ceiling.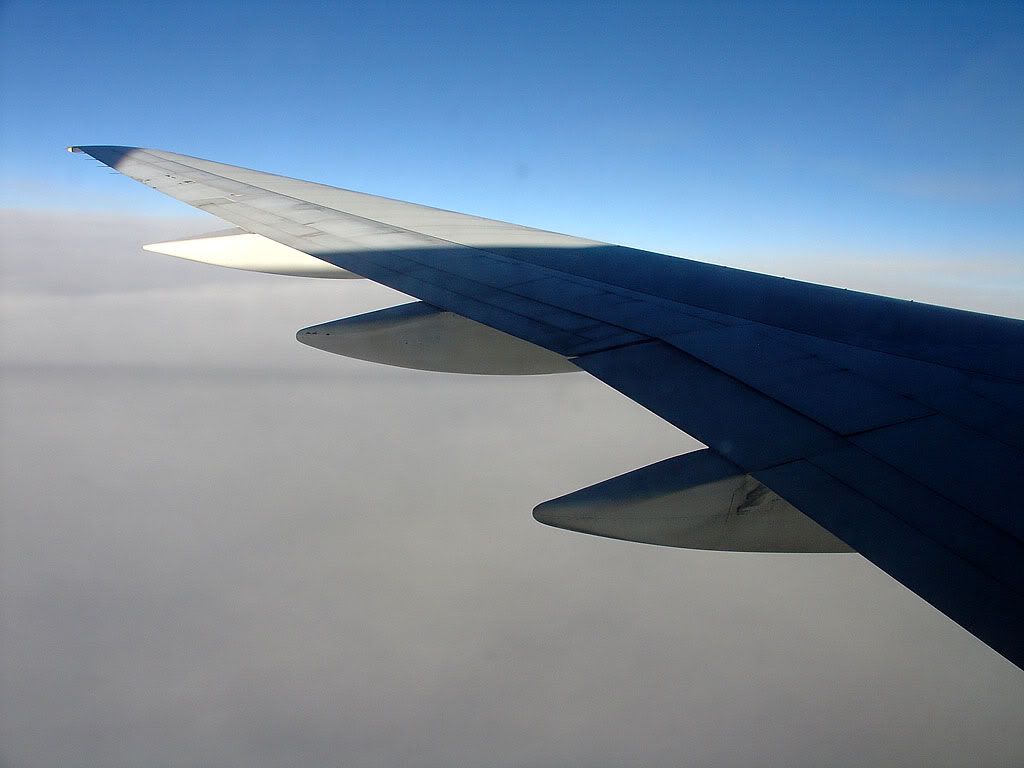 Once the seatbelt sign had been turned off, the crew began their duties, however, all of them descended on the front of the cabin and started service from their. This is where sitting in the rear of the aircraft on Song can be less than enjoyable. Service was a little bit on the slow side and they ran out of the smoked turkey bagel before they reached row 20. The lone male flight attendant was handing out drinks to the cabin while his colleagues waited in the front to bring the food carts down the aisle. Once he reached me, I asked for a Cran-apple and the cup was handed to me with a napkin. While he may have been in a rush, he did everything with a smile and never lost his composure.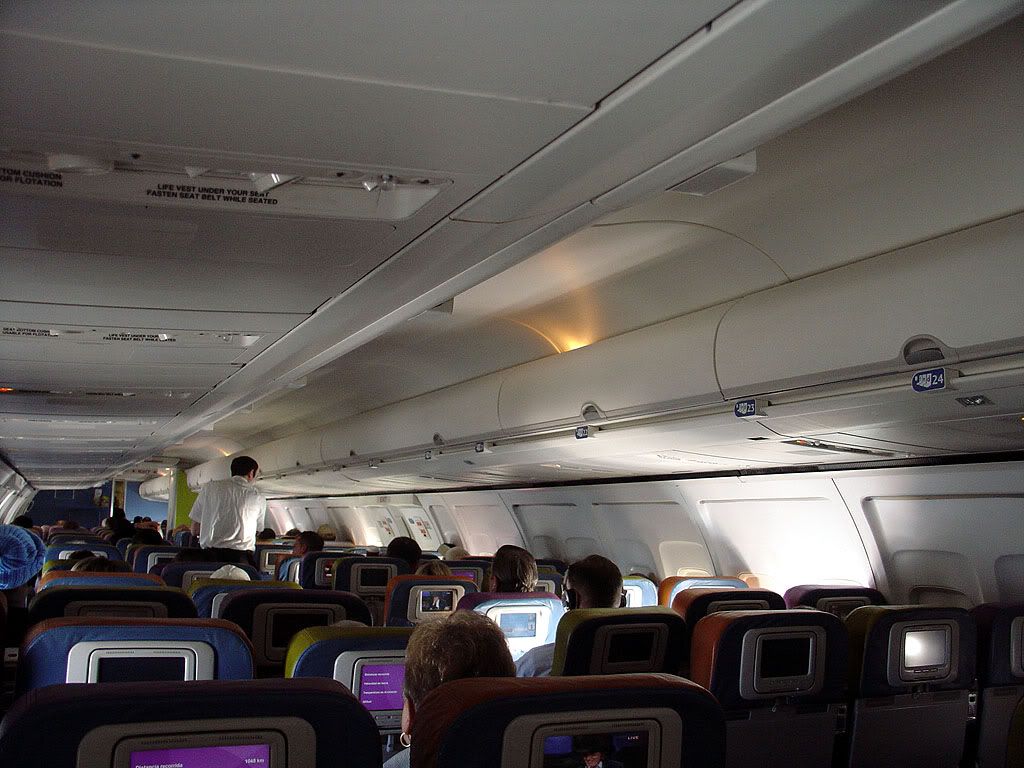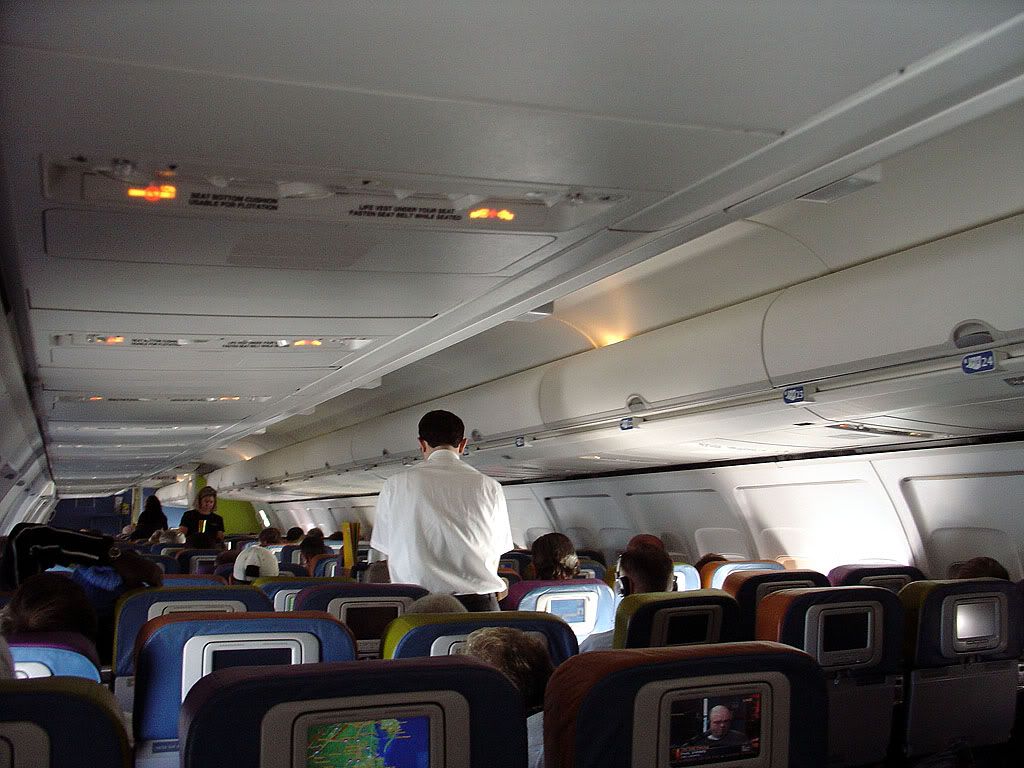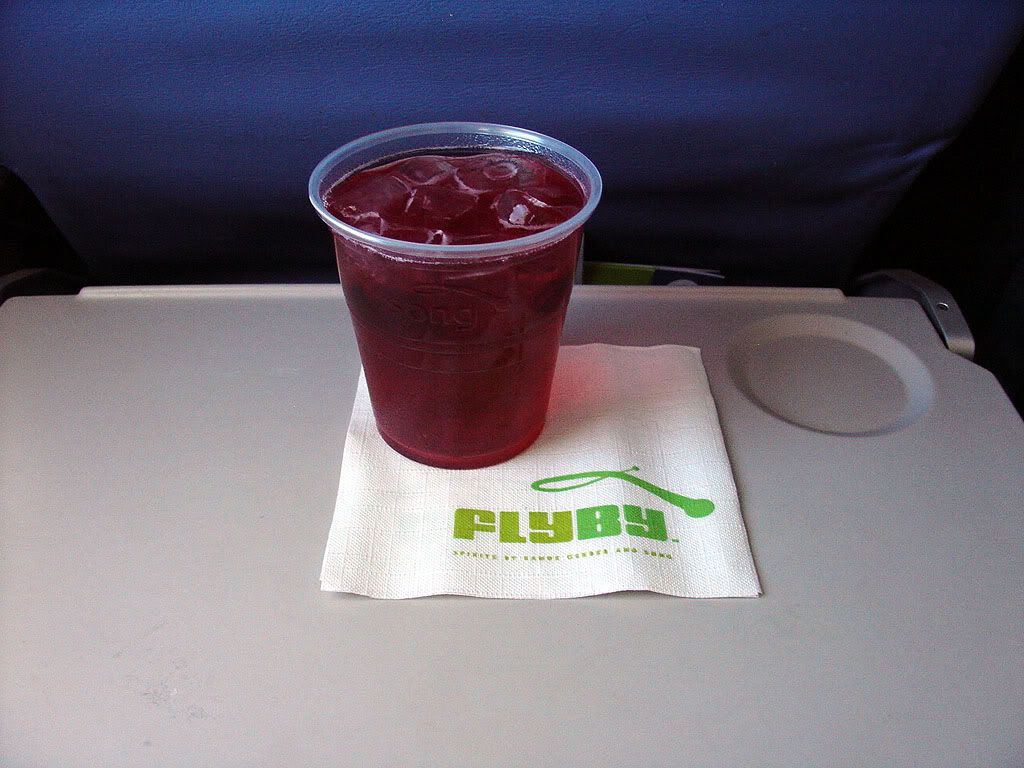 About 15 minutes after the drink was served, the two flight attendants manning the food cart came by informing everyone that the turkey bagel sandwich was no longer an option as they had run out. I opted for the yogurt and granola which cost a mere $3. The food was nice and fresh and was, in my opinion, a good value for money.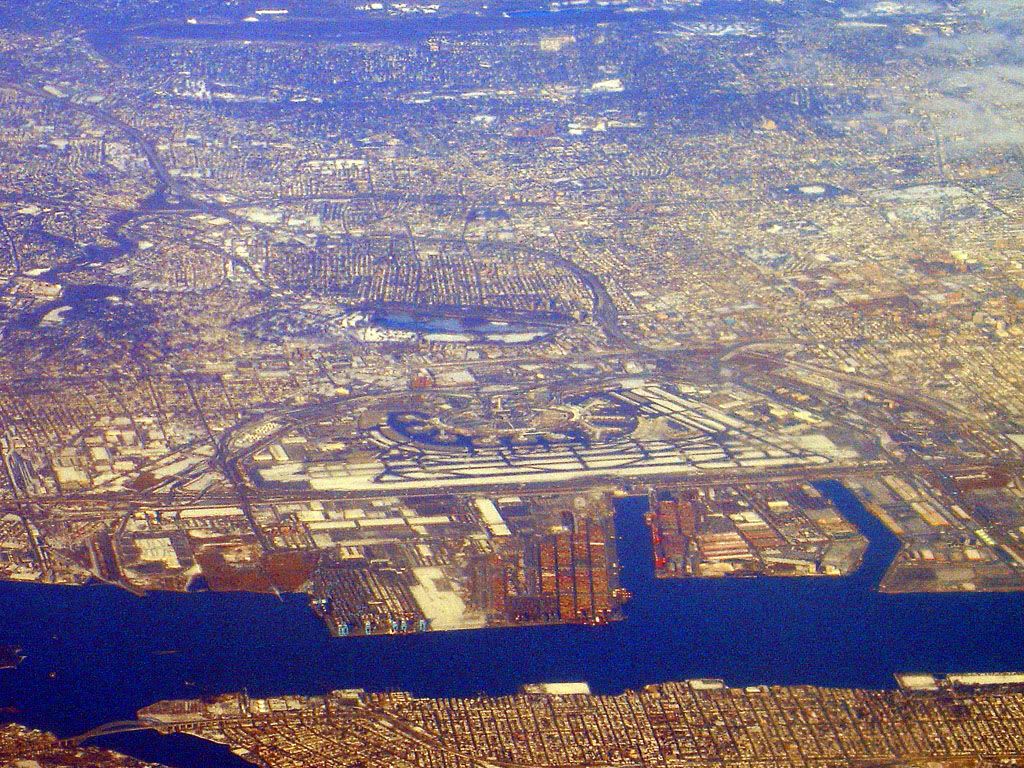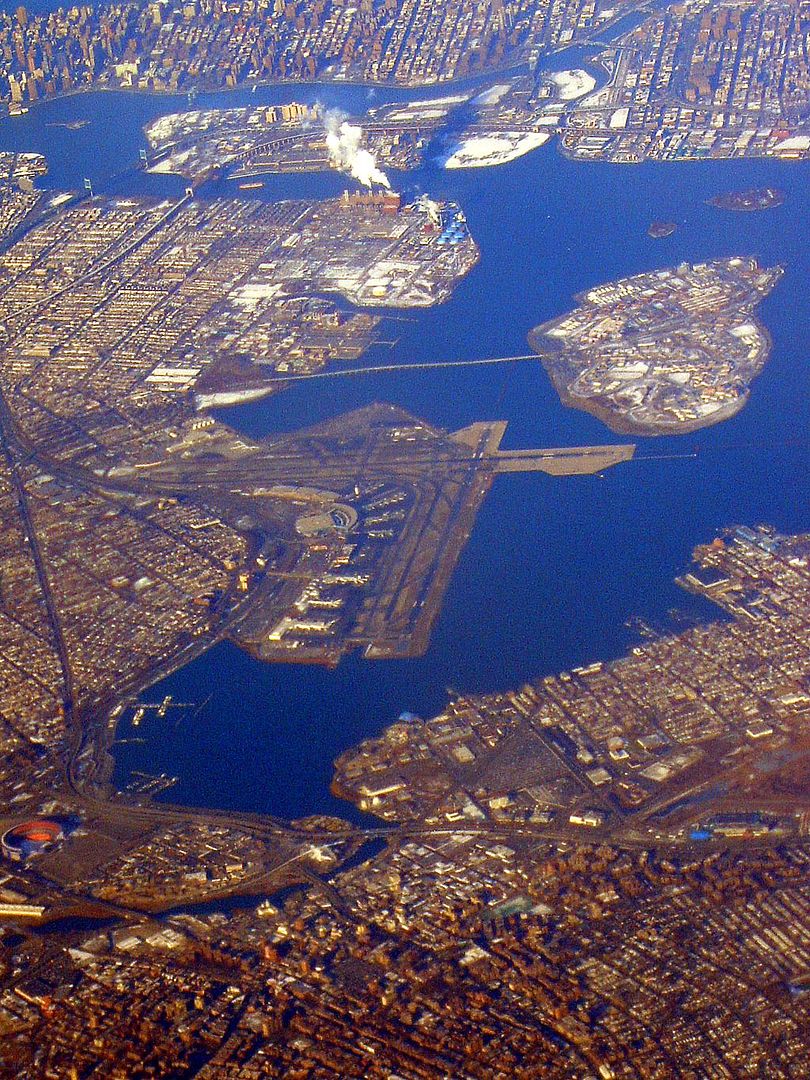 Once I was done with the food I started playing around with the Audio on Demand which I thought was one of the best things about flying Song. Soon we began out descent into the Boston area and I settled one of my favorite Songs of all time for the rest of the flight, (the song was Coldplay's Speed of Sound)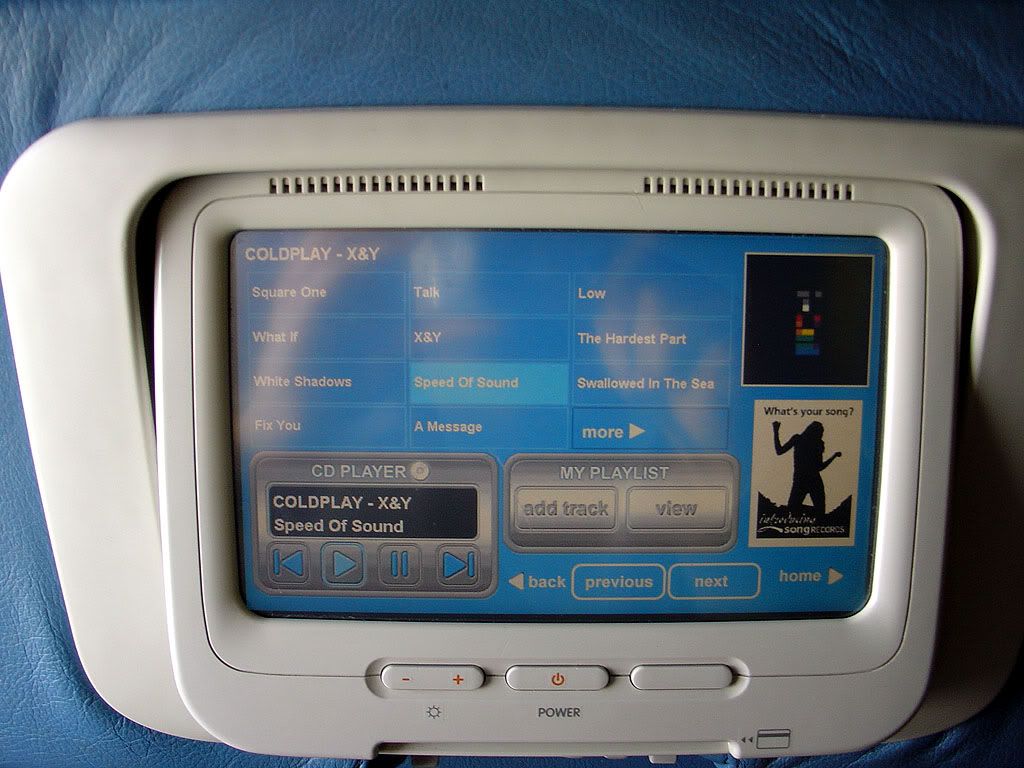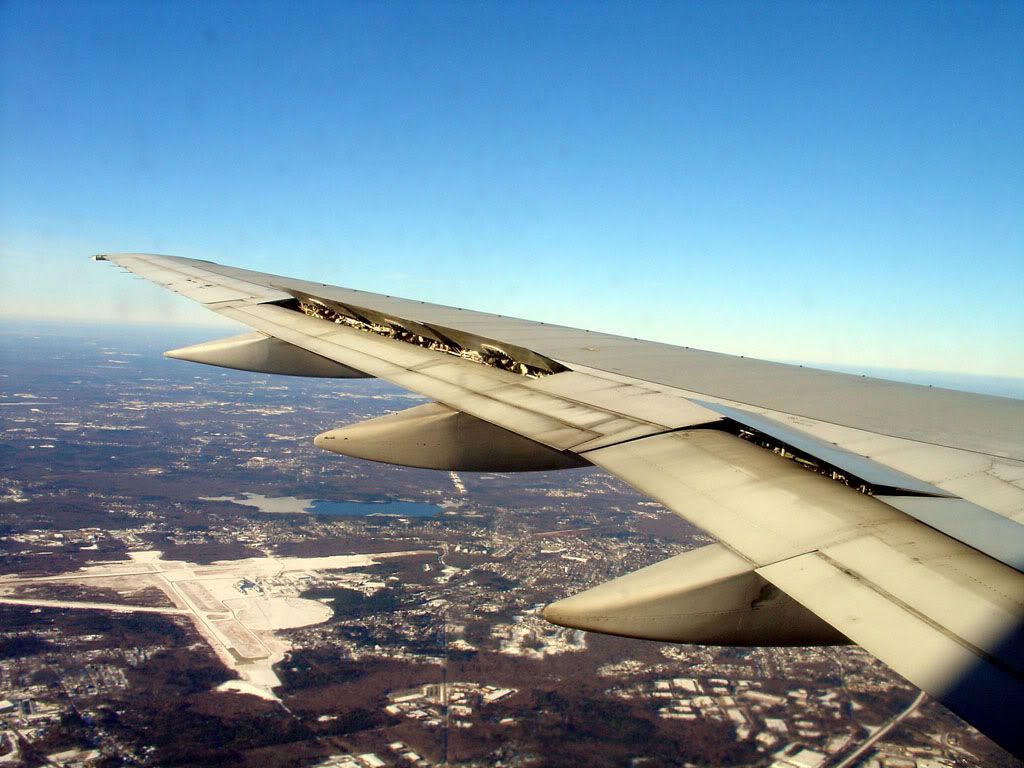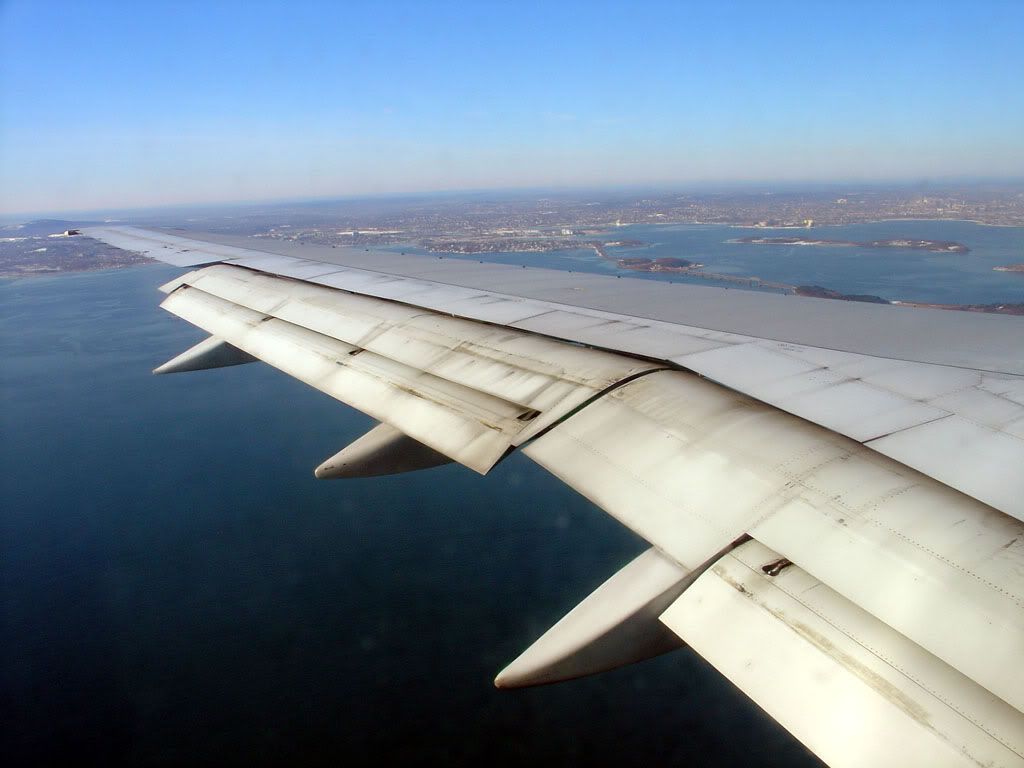 Arrival:
Touchdown happened all too soon and we were on our way to the terminal.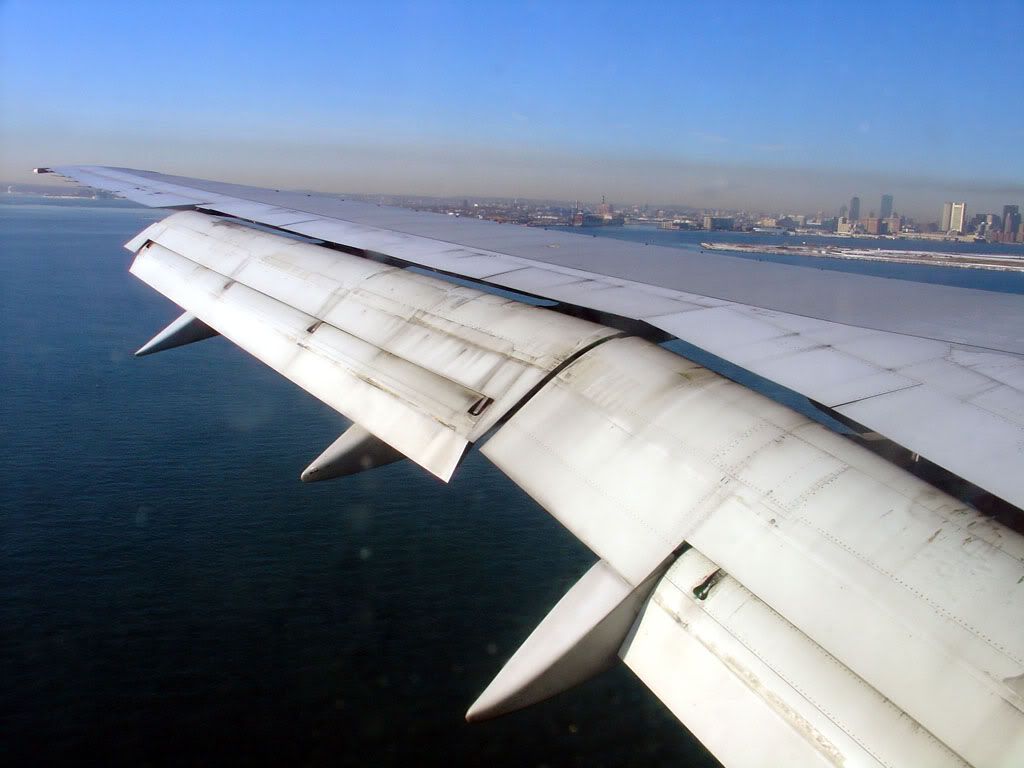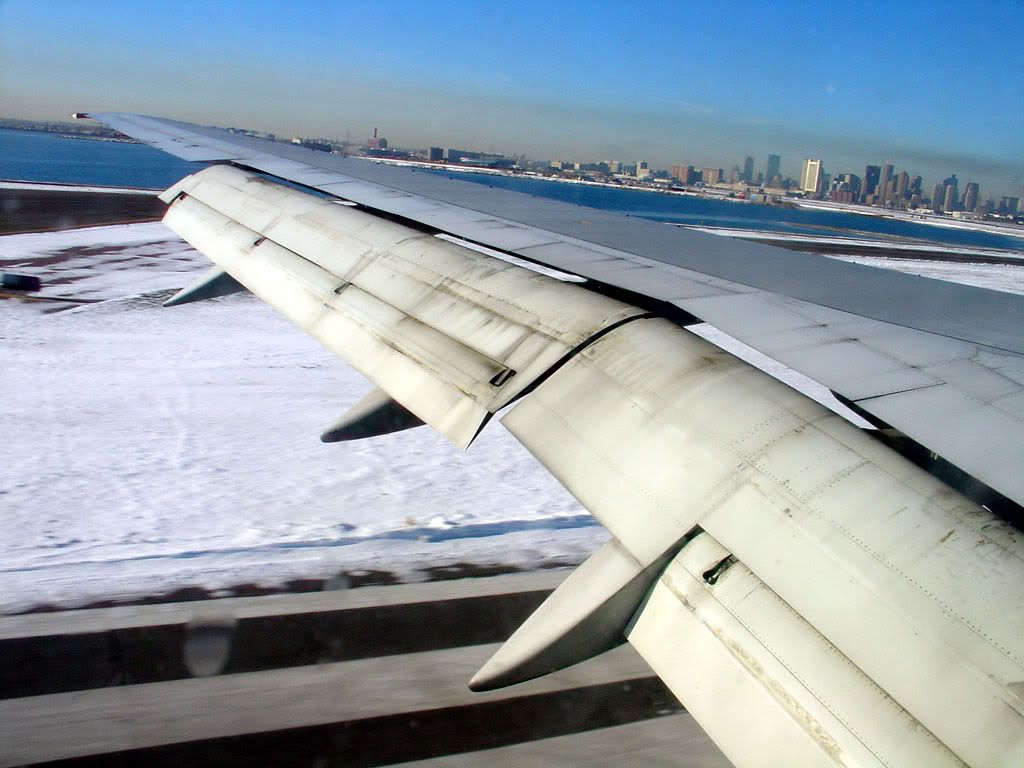 We taxied to the rather newly built Terminal A used by Delta. Once our aircraft docked at the terminal, we disembarked with each cabin crew member bestowing upon us a "thank you for flying with us today." Once out in the terminal, I proceeded towards Terminal C for my connecting flight operated by Continental. Sadly, this is where the pleasant part of my day ended, as I ended up on a hour and a half delayed USAirways flight to Philadelphia, a far cry from my Song flight up.
SONG 2034
Check In: 9 (Agent was friendly and had a huge smile but that e-kiosk)
Boarding: 10 (Done by rows)
Seat: 7 (The colors, stiffness and the lack of headrest prevent a better score)
Food: 10 (Good choice at a good price with excellent quality)
Service: 9 (Enthusiastic crew who were light years ahead their counterparts at DL)
Entertainment: 10 (Could not ask for much more than what I got)
Arrival: 10 (No problems here)

Score: 65/70 = .928
SONG scored a 93%

Verdict: I have never been a Delta fan and normally detest most of the decisions their management has made over the years, but I have to say congratulations this time! Song was one great experience as from start to finish. I enjoyed my flight immensely and sincerely wish they were keeping the product. While I was not expecting much from Song, I received an above and beyond flight which was more than I could imagine. I don't think I have ever walked off a Delta aircraft with a smile in my 15 years of flying them. Once again, congratulations Delta, you certainly had a winner here. I just hope the product does not get diluted too much with its integration into mainline.