Jumbo across the pond/Delay/Cancel/Pix
Introduction:
Awaiting nearly 3 months of only business related flying, I decided in late October last year to do my first leisure run in 2006 to a "sunny" destination.
US flights were not to expensive, especially on chapter 11 airlines. So I booked this one by Expedia and hoped that Delta will survive.
Note:Only Expedia offered these AF operated flights with DL flight numbers in this fare =
STR-CDG-MIA-CDG-STR = 365,90 EURO´s.
Deltas website was more than 100.-- EUROs higher, also on AF´s website.
Saturday, 28.01.2006
STR (Stuttgart-Echterdingen) - CDG (Paris-Charles de Gaulle)
DL 8491 operated as AF 1209 Airbus A320-200 F-GKXI
Scheduled: 07.15 // 08.35
Actual: 07.10 // 08.20
Gate: 310
Seat: 29A
Load Factor: According to the check in agent around 80 %
Flying Blue credit: 500 miles
Delivered new to AF: 19.03.2003
I started by car at 5.15 am, temperature minus 10,5 degrees celsius. Thanks to my wife, who shuttled me to the airport.
Present there at 5.45 am. Inside T 3 and directly to the AF counters.
AF check in queue: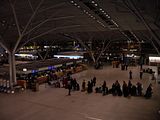 Staffed: 1 bag drop off, 2 eco, 1 biz desk, all female agents. 10 minutes to wait. Services to LYS and CDG nearly the same time.
It was my time at around 6am. I presented passport, confirmation and Flying Blue card. AF will credit only 25 % of the flown miles for its cheap fares, DL credit the full flown miles.The agent was friendly, the only problem was, to fit in my US adress in the AF computer form,
we worked together and so it goes forward. Only cabin bag as long as it is possible. I was pax no.43 on this service.
Security T3 was busy from all the early morning leisure runs, changed to T1, more agents than pax there, so no problem to cross without any time to wait.
Back to T3, Gate 310, the usual AF one. Plane was there from the nightstop, F-GKXI, leisure leg no. 23 on the A320-200 and the second one on this bird
during the last 6 months.
Boarding started at 6.50, welcomed by the captain at the door and one male FA. Take my seat in the very last row. Clean aircraft, in good conditions.
Pushback short after 7.00am. An announcement during pushback: According to the very cold temperature, there is no fresh water on the plane, only the lavatory in the front is in service, strange thing, never mentioned this before.
Interesting was an LTU A330 arriving early this morning with pilgrims from Jeddah.
Another interesting thing was that followed to the cancelled AZ service to MXP most of the pax (INFO from the desk agent) were rebooked to AF (Skyteam!).
A quick ontime departure from runway 07 follows, plane was earlier deiced at its parking stand. Calm flight, the typical service on this route.
Free coffee or tea, a brioche, flight time one hour. All types of travellers on the plane. Flight route: STR-SXB-CDG.
Appoach to runway 08R started 20 minutes ahead to arrival. Only a short taxi and parked in front off the defunct part of T2F.
CDG ground action after deboarding F-GKXI: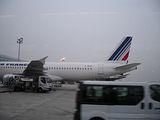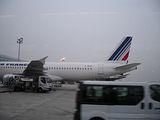 Deboarding by bus and inside T2D at 08.30 am.
Saturday, 28.01.2006
CDG (Paris-Charled de Gaulle) - MIA (International)
DL 8348 operated as AF 090 Boeing 747-400 F-GITE
Scheduled: 10.50 // 14.45
Actual: 15.00 // 18.10
Gate: C89
Seat: 25A
Load factor: near 100 %
Flying Blue credit: 4579 miles
Delivered new to AF: 18.03.1992
I checked my boarding pass after arrival at CDG for the onward flight. I mentioned a time difference between ticket and boarding pass:
Ticket: 10.50am Terminal 2C
Boarding Pass: 01.20 pm Terminal ? What´s that?
OK, checked the screens. No other INFO 10.50 /2C/Gate 89.
I walked to 2C, passed passport control and the next security check, had a funny conversation with the security agent, he mentioned that I was from germany
and told me that he is actually learning the german language and so he want to tell me all I had to do in german, no other pax behind me.
At the gate at 09.00 am. No sign about the different times there. Strange, I thought AF to IAD will depart from 89 at 10.15, MIA at 10.50. I explored T2C, well done in 10 minutes, not much to see there. Lots of AF widebodies outside. IAD finished boarding and than: surprise, surprise: Due to the late arrival of the incoming aircraft, AF 090 to MIA will be delayed and is now scheduled to 01.20.pm, 2 and a half hours late. Now, that´s real enough time to explore T2C again. I searched for a quite place, nothing to find, people all around, 5 to 6 widebodies (St.Maarten/Moscow/Tokyo/Guanghzou/Newark) delayed.
F-GITE, leisure leg No. 4 on the B747-400 and the first on this plane arrived from Brazil at 11.am.
Taxi F-GITE:
Once again back at the gate at 12 am.
Preparations F-GITE: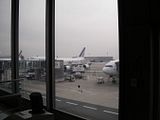 I was pax no. 234 for this leg.
No sign to open boarding. Finally, it started at 01.30 pm, had a nice conversation with a couple from finland on their first ever trip to the US and on AF, during waiting.
I entered the plane early, welcomed by 2 male FAs. Not unfriendly, but a bit stressed. Boarding need ages of time and as the doors closed we had to wait another 30 minutes till engines started. The plane was a bit dirty, not really clean, IMO a heavy used one.
A long way to taxi to runway 9R and we´re no. 9 to lift off and finally at around 3 pm, more than 4 hours late, we had a powerful departure.
Flight route: CDG-Channel-UK-Ireland-far south of iceland and greenland to canadian airspace and down the east coast to miami.
Service:First a round of cold drinks,later a hot meal:
Fennel and carrot salad,curried chicken
Choice of main course
Saute of beef with oregano sauce, grilled vegetables and polenta (delicious!)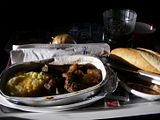 or
Salmon with sorrel sauce and tri-color pasta
Camembert
Chocolate chip muffin
Praline mousse
and than again free drinks/coffee/or tea.
2 hours prior to arrival another cold plate with a breadroll/cheese/butter and free drinks.
IFE was IMO low, 10 channels, 2 movies (dont followed it), free headphones.
Very low legroom.
Some turbulences over the north atlantic, further a calm flight.
Inflight:
Approach started 40 minutes ahead to MIA, I´am always impressed about circiling around with these big birds.
Arrival at MIA on runway, dont know, stopped nearly in front off our gate at around 6 pm, more than 3 hours late.
Airbride deboarding, a long way to walk to immigrations and the well known situation there. Masses of people queuing in front of the desks.
I always ask myself how long these agents need to learn this rude behaviour, thats really not human naturality.
They shouted: Built a new queue or: These desk is now closed, change another queue or: Fill in the form clearly, once again and so on.
I had a male, asian agent, mumbling nearly impossible to understand, dont want to believe that I´am on a leisure trip for only 3 nights. Are you sure that this is a leisure trip?. I had to do fingerprints, started with the first finger, he: wrong, the next: wrong, I´am never been at the police in my life from where I had to know which finger was the right one for the fingerprints?.
OK, finally crossed, the following customs officer was much friendlier, showed me the way to baggage reclaim and customs, no problem there and out in the public at
7.15.pm. No time to wait for the Alamo bus shuttle. Also no time to wait there. Rental car was a great deal:
3 days all inclusive booked by Holiday autos: Fare: 76.-- EUROs, upgraded at the Alamo office: Fare: 10.-- Dollars per day.
My gas guzzler: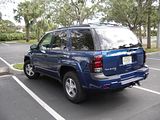 On the way to my hotel in Naples at 07.30 pm.
The Trianon Bonita bay booked by Thomas Cook for 258.-- EUROs 3 days B&B.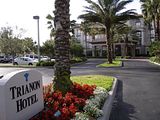 Tuesday, 31.01.2006
MIA ( International ) - CDG (Paris-Charles de Gaulle)
DL 8345 operated as AF 095 B 747-400 F-GISD
Scheduled: 17.40 // 08.05
Actual: 17.45 // 07.25
Seat: 17J
Gate: F16
Load factor: around 90 %
Flying Blue credit: 4579 miles
Delivered new to AF 04.09.1992
Afternoon at the keys: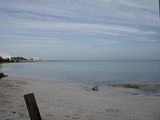 I had a real good time there, visited the Ding Darling resort, the Everglades NP, drove over the 7 miles bridge at the Keys and
was back at the Alamo office (not easy to find!) at Tuesday, 2.pm.. At the airport by shuttle bus at 2.30pm.
Dropped off at the AF area. No time to wait at check in, done by a good looking and friendly young female. I decided to take a aisle seat as the following leg is a nightflight crossing the pond, so not much to see at all.
Lots of people queuing at the security to enter the gate area. Rude, unfriendly, what else. Crossed after 15 minutes to wait.
This part of MIA airport is a outdated, oldfashioned building, dirty on the way to the gate, I had to walk between large water buckets while water is dripping from the ceiling,
the restroom smells bad, the last Everglades swamp smells much better!.
F-GISD arrived at 3.30 pm, leisure leg no. 5 on the B747-400 and the first one on this aircraft.I was pax no. 80 for this leg.
Lots of people there from an earlier LH service to FRA, Ted by United goes to Chicago and Denver, Aeropostal to Caracas, Condor to Cancun,BWIA to Port of Spain,
American Airlines planes all around.
Close up with the Jumbo:
Time goes by quick and around 1 hour prior to departure the agents arrived at the desk. Two rows for boarding, eco for familiys with children first, further by rows, starting at the far end of the plane, the other row for biz/first. Boarding goes quick forward and I was in the last group to enter the aircraft. Welcomed by a young friendly male FA.
I waited before seated for a possible change to a seat with a free seat beneath for more place to sleep, but no chance, the plane filled up quick.
Pushed back ontime at 5.45pm, a short taxi, dont know the runway, no time to wait there and another powerful departure. Airborne at around 5.55 pm. Night falls short after departure.
New headphones for all pax. The first round of free drinks followed. Than the first meal service:
Tabbouleh with smoked salmon
Choice of main course:
Chicken fricassee with vegetable medley and wild rice or
Fillet of pike-perch with bell pepper cream sauce, zucchini and potatoes with rosemary.
Cheese
Yoghurt
Oatmeal raisin cake
I dont eat the hot meal as I was not to hungry at all, had 2 breadrolls instead.
Thereafter cofee/tea, than the first movie and time for me to sleep. I want to follow the second movie (Wallace and Gromit) but no chance, I wake up as the FA´s prepared the cabin for the breakfast service.
A piece of danish pastry, a fruit salad, yoghurt surrounded by water/tea or coffee.
No information from the flightdeck, no map system on the screen, that means I dont know the flight route.
The pilot announced light fog at Paris, but no problem for us and a arrival 40 minutes ahead of schedule. So it was, fog was impressive, at the ground I cannot see anything beneath the plane. Arrival at a finger gate at T2B, other US planes beneath us, you know what follows, we can´t leave the jetbridge as the whole area in front off the passport control to change to T2D or the baggage area was crowded by waiting pax. One older male can´t leave the crowd and throw up beside the queue. I think I will never forget this situation in my whole life, terrible.
Than I had an idea, all the people crowded to change for T2D or bags, a sign showed the way to a stair downwards to T2C/E/F or T1 connections. I know from earlier CDG transits that there is a bus shuttle between the terminals inside the security area, so I followed 2 of our crewmembers down the stairs and there is a shuttle bus station, a transfer desk and huge screens with the connecting flights.I checked the screen and was not positive impressed, my next flight to STR at 10.40 was cancelled.
OK, to the transfer desk beneath, next STR service at 12.45, a service to FRA at 09.40, not bad, by the ICE to STR. I asked the male agent if a change to FRA was possible, he asked his supervisor ok and wrote a form (Flight interruption...), but than: Sir, your ticket is issued by Delta, only Delta can change it to another flight.
OK, I asked for the Delta office, answer:T2E, waited for the bus and changed to wrong T2F, cant find the DL office, asked a female agent at another transfer desk, she was real unfriendly and answered that I do not go to the Delta office, the only possible way is to wait for the next STR flight and this one is pretty full, so I better decide now for this one before I had to wait to the further next service or if I dont want that I had to buy a new ticket on my own behalf, rude.
Nevertheless, I shuttled to T2E, arrived at the DL office insisted my problem and heard that this was impossible, while this is AFs fault (the cancelled flight), AF had to bring me to my final destination. It was now 09.30, the FRA flight was gone (I crossed passport control at T2E without a minute to wait) and decided to shuttle back to T2D,
change to a STR flight and wait till my time comes up. A friendly female there changed my boarding pass without further questions to the 12.45 service, gave me a restaurant voucher for my time to wait and said that there were a lot of delays and cancellations this morning, so I had to wait before I go to gate for the 12.45 service, if there is another change.
So if anyone had a question about ways to go around CDG T2, I´am an real insider therefore.
Wednesday, 01.02.2006
CDG (Paris-Charles de Gaulle) - STR (Stuttgart-Echterdingen)
DL 8492 operated as AF 2008 finally operated by Regional Airlines F100 F-GIOG
Scheduled: 12.45 // 14.05
Actual: 13.30 // 14.35
Gate: D79
Seat. 8A
Load factor: near 100 %
Flying Blue credit: 750 miles
Delivered new to TAT (Tourraine Air Transport): 04.12.1991
In service with CCM (Compagnie Corse Meditteranee): 1.02.1993
Back to TAT: 18.07.1996
In service with AirLiberte: 26.10.1997
In service with Regional Compagnie Aeriennes: 28.02.2003
At the gate at around noon, no announcement for a delay. No boarding at boarding time, lots of pax there for these 100seater plane.
It finally started at around 1 pm by bus. The plane was parked opposite T2D, so only a short drive by bus, entered the plane early, welcomed by a middle-aged
female FA and settled down in my this time again window seat.Leisure leg no. 2 on the F100 and the first on this aircraft, pax no. 32.
F-GIOG: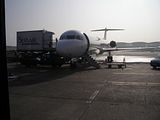 Our neighbour: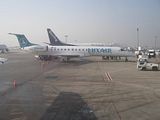 I like this 2-3 seating, much better than 3-3 and the best legroom on this plane on this trip.
AC was not in the best conditions, another heavy used one, slightly dirty.
Pushback started quickly and on the way to runway 08L . Number 3 to departure, only 2 to 3 minutes to wait.
Clear, blue sky, low flight level, that means very good views during the flight.But sorry, no pix alowed during the flight, strange.
Flight route: CDG-SXB-Black Forrest-STR. I never had such an early approach.
Speed goes down before we crossed the rhine river, a low pass over the black forrest hills and a low approach to runway 07.
A smooth touchdown and a long way to taxi back to STR apron where we parked around 30 minutes late and deboarded by bus.
Only minutes later I was on the way to the train station and back home.
Conclusion:
2 of 4 flown legs ontime, 1 delayed, 1 cancelled and the rescheduled leg again delayed. Not the best operational statistics for AF.
Most of all friendly employees expect the rude female at the transfer desk at CDG.
I had several similar situations with lost connections/cancelled flights on LH/BA/KL/AZ and ever had the feeling that they will do the best to fit their passengers needs,
not really this time with AirFrance.
Inflight entertainment was low, meal service ok.
I will try AF again if schedule and fare is ok.
Comments and critics always welcome,
Markus (FLIEGER67)