Hi
thank for choosing this report to read. It's based on a daytrip to DUB for spotting purposes only. My travelmate on this flight was fellow A.net member
MH017
. He mailed me some months ago about some great deals on Aer Lingus flights, with our flights priced for only EUR 5.00 for a single journey. Total price for a return ticket incl. taxes was a very reasonable EUR 68.07. Not bad for travelling to Ireland with direct flights to/from AMS!
When I left home for the airport, I decided to use the public transport this time. Bad choice at the end, as my train was delayed by 20 minutes, caused by a traindriver who overslept himself  
  So I got at the airport only 60 minutes before departure, which may be short. I used the KLM Self Service Checkin machines to get my boarding passes (also for the return flight). I was able to add some FFP number to my reservation, but mine (Finnair Plus) was not in the list. I decided to ask the staff upon boarding, to add my FFP number. When I proceeded to the departure lounge, I noticed that the security checkpoints are all gone now 
 . The new security measures at AMS make it happen that passengers are checked by x-ray machines etc. upon boarding only. Good decision in my opinion, it saves loads of time for the traveller, and due to this I was in less hurry now  
I walked down to the gate, D26 this morning. There I saw the aircraft waiting for us. It came in the night before already, was nightstopping at AMS. So everything should be ready on time. I got my AY-FFP number added to my outbound flight without problems. And some minutes later I met MH017 at the gate. He was late too! Travelling by his own car, some traffic jams, parking and taking public transport from the parking area to the terminal. It was not smooth for hime either this morning 
Boaring of our flight started already early, although the KLM ladies on the gate seemed to be very stressy at that moment. They had some request from passengers, doing boarding and preperations to finalize the flight systemwise...
08 February 2006
Flight:
EI601 AMS-DUB
Aircraft:
EI-DEJ Airbus A320-200
Seat:
28F Economy Class
STD:
08:15
ATD:
08:13
STA:
08:50
ATA:
08:44
View Large
View Medium


Photo © Jakub Gornicki[epwa_spotters]
The aircraft was still very new, nice grey-blue leather seats across the cabin. Much better then the seats I experienced before on EI-CVC/CVD. Are all narrowbody cabins fitted with this interiour? Good choice in my opinion, and the seats offer a very reasonable legroom too. My seat was at the almost very end of the cabin, row 28. I took my window seat, and the other 2 of my row remained empty. MH017 had a seat more upfront, but changed to 28A (also the other 2 seats left empty).
Departure of the flight was on beyond schedule, and the short taxi needed to our runway all helped EI to made this flight on time. We got runway 24 for takeoff, and there was no other traffic in front.
Runway 18C-36C was visible on the right, although the weather wasn't that good, so soon after we dissapeared into the clouds. Some minutes later, when we just flew over the North Sea, I managed to take a picture of the city of IJmuiden, with the famous Northsea channel entrance, and heavy metal industries.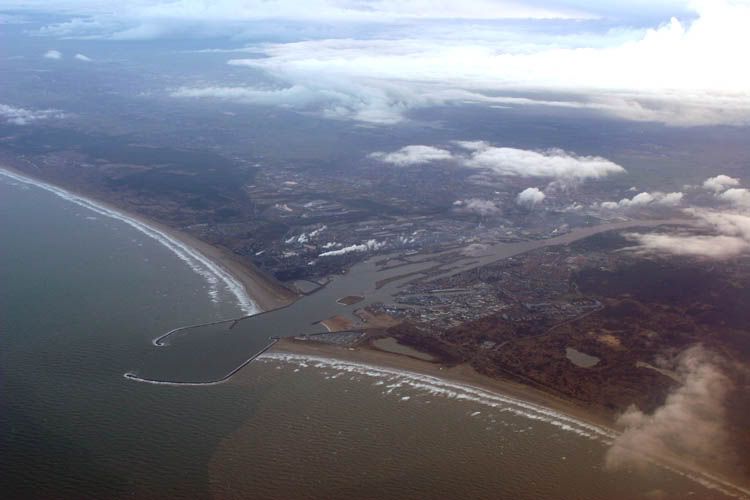 The rest of the flight remained uneventful. I read my free 'Spits' newspaper which I took from the trainstation earlier. The crew offered once food/drinks for reasonable prices. I got a large cappucino for EUR 2.00, and eated my own sandwiches (yeah! I'm still a real Dutchman 
).
According the information from the flightdeck, we cruised at 36000ft, and some clear air turbulence was caused by a strong jetstream over the UK. Soon after all this was finished, we started our decent into DUB. The Isle of Man was visible on the right, and the decent offered some nice views over the Irish Sea and the Irish coastline! What a green country Ireland is, in the middle of the sea. It creates some special feeling for me in some way  
We were heading for runway 28, and landing was at 08:37 local time. It seemed to be very quiet at DUB at that moment, almost no traffic visible at all! We were on blockes a few minutes ahead of schedule.
When we left the aircraft, we saw a beautiful Gulf Air A330 in special colours leaving for Bahrein. GF started services to DUB not too long ago.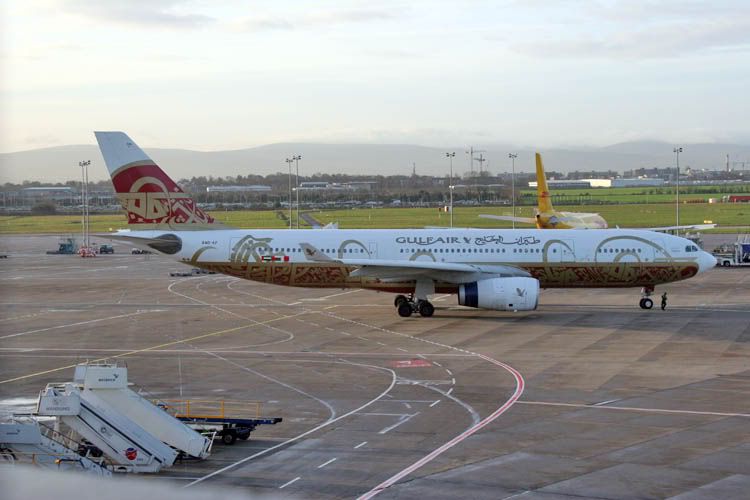 Immigration was without problems of course, and we enjoyed a very good day along DUB rwy 28 in great weather conditions! One very negative point is the new security fence placed around the airport! It's much higher then the old fence, and it causes obstruction in your pictures on many occasions!  
  Another good photo spot in Europe seems to be gone now.
08 February 2006
Flight:
EI618 DUB-AMS
Aircraft:
EI-DEC Airbus A320-200
Seat:
10A Economy Class
STD:
17:30
ATD:
17:41
STA:
20:00
ATA:
19:59
View Large
View Medium


Photo © Javier Guerrero - AirTeamImages
Also security in DUB seemed to have been changed lately, as there was no need anymore to take off my shoes 
DUB was famous for this rules in the past years, wasn't it? Anyway, we passed the checkpoint in a few minutes time, without any troubles. As we did get our boarding pass for this flight at AMS already in the morning, we walked to our gate B27 directly. This area offers some good views on the apron. Normally EI's longhaul A330 flights also depart from this area. Our flight was called on the intercom system, with a gate change to B26 caused by operational reasons. Also flight EI638 to BRU got a gate change, to our original gate. Therefore, the original aircraft for our flight (EI-DEI) was now for BRU, and we got EI-DEC instead.
Boarding was starting at 17:20, too late to depart on schedule. This was caused by the refuelling, which finished too late. When the cabin was ready, we got our push 11 minutes behind scheduled departure time. Takeoff was from runway 28, and the flight (in dark) was very uneventful. Like the other time, I ordered a cappucino again. I really needed some hot drink, after standing a long day outside making pictures in low temperatures!
A very negative point to mention about this EI flight is the fact that the cabin crew did not check the cabin prior to landing at AMS! E.g. my table was down all the time with my rubbish on it. During touchdown, this all felt on the ground! Also some handluggage was still in the aisle between the seats. Shame on you EI!  
Landing was on runway 27, and blockin was just on schedule at 8.00pm. Well done for this, even by the delayed departure from DUB.
Conclusion by me is that EI offered me some great flights for even better prices. Inflight service is very minimal, although the prices for the food/drinks are reasonable. Cabin layout is modern and clean. Loads on both flights were good I think, AMS-DUB around 70%, DUB-AMS a little better with 85%. I'll fly EI again, but the spotting conditions at DUB are not very good anymore. So I doubt about this too!
Any comment, and critics are most welcome! I hope you liked reading it.
Eric
[Edited 2006-02-12 11:53:52]