Now there were a few of you out there who had a problem with my honesty with my last trip report on VS (LHR - BOM). I am going to be just as honest in this report. If there's something I don't like I'll say it, just so happened I didn't like any of the VS flight
haha
Sunday 29th January
Mumbai Chhatrapati Shivaji Intl (BOM / VABB) - London Heathrow (LHR / EGLL)
British Airways BA 126
Aircraft Type: Boeing 777-200 (GCIIY)
Premier Economy (World Traveller Plus)
Seat 22G
ETD 1340 Local
ETA 1830 Local
Not as long as my other reports guys, mainly as I have been really lazy and not written it and have forgotten a lot, and secondly, can't take to many pictures when sitting in an aisle seat!!
After a few days in India and what seemed like an eternity from London, it was time to head back home. I had a domestic flight in the morning on Jet Airways from Rajkot to Mumbai, this was on an ATR72-500, very nice aircraft. Got the airport provided bus to the international terminal.
I had checked the loads the day before, and it was a really full flight so I wasn't to sure whether I'd get on or not.
The flight wasn't until 1340 and I eventually got into the terminal just after 1100 and it was already absolutely crammed pack. BA and VS both had flights going out about 45 mins apart, and their check in desks were right next to each other, so it seemed like chaos. First thing was to get my suitcases x-rayed. So I joined a line and after about 20 mins still in the line was asked whether I was flying BA or VS, I replied BA and was told I was in the VS x ray line, and was directed over to the BA x ray line which didn't have anyone in it, so I wasn't to annoyed.
After getting my bag x rayed I went over and asked a BA agent where staff could check in to which he laughed and replied, "Not sure if you'll get on the flight as it's very busy". I simply replied you don't try you don't get, he then directed me over the F Class desk which had no one in it. Once I reached the agent at the desk, he told me that I'd have to wait for the flight to close to see the number of seats available with no shows etc. I expected this, so stepped to the side, still in view of the agent just in case matters changed.
I did go speak to a Virgin agent to see how busy their flight was, and it was just as busy as the BA flight, so no hope there. After 30 mins or so passed I started thinking about possible hotel's I could stay in for the day till the next BA flight out at 0240.
With about an hour to go till the flight was due to leave I was called forward and told that I had got on the flight, Yipeeeeeeee, Wasn't to sure how they worked it out as the flight hadn't closed, maybe some inbound connections that were late. I was handed a Standby boarding pass, without a seat, and was told that I would get my seat allocation at the boarding gate.
After finishing the formalities, I headed through Security where they searched my laptop bag. Out they pulled my Maxim and FHM, he looked as me suspiciously trying to figure out what sort of magazine it was. I guess what did stand against me was it probably was the most R rated FHM I had read in a while. Anyways, I told him if he wanted it, he could keep them, never seen someone take and hide magazines so quickly in my life LOL.
Minus my FHM and Maxim, I made my way to Gate 7 where our aircraft was waiting for us. At about -30 they started boarding. They boarded by Cabin class though no one seemed to pay any attention to this and everyone headed for the door. I stood aside with a friend of mine who was flying back on the VS flight. Once the line died down I said bye to my friend and told her I'd speak to her when back in England.
I made my way down the hallway to the Jetty and saw a BA agent there, and was given my seat allocation, 22G in World Traveller Plus. I was pretty happy with it, not a window which I usually always have but it was in WTP, and it was an Aisle, so not a bad result when 1hour prior I didn't even think I'd be travelling.
I got on board and was greeted by 2 BA Crew and directed my to the other side of the aircraft and was told to take a right. Headed down through a packed club cabin and into my home for the next 10 hours or so.
All the normal stuff went on between then and push back, which eventually took place at 1355. The canisters were sprayed and we started our taxi to 27 I believe (Can't tell much when you don't have a window
) haha
Took a few mins to get over to the runway and when we did we backtracked down it to make full use of the runway length before starting our roll. We must've been real heavy as we climbed real slowly. Admittedly it would have been caused by the heat of Mumbai as well.
Well anyways, we were on our way and soon enough, the best part of most flights, the beverage service. Now for those who've read my past reports, altogether now "Can I Have A Vodka Lemonade Please" haha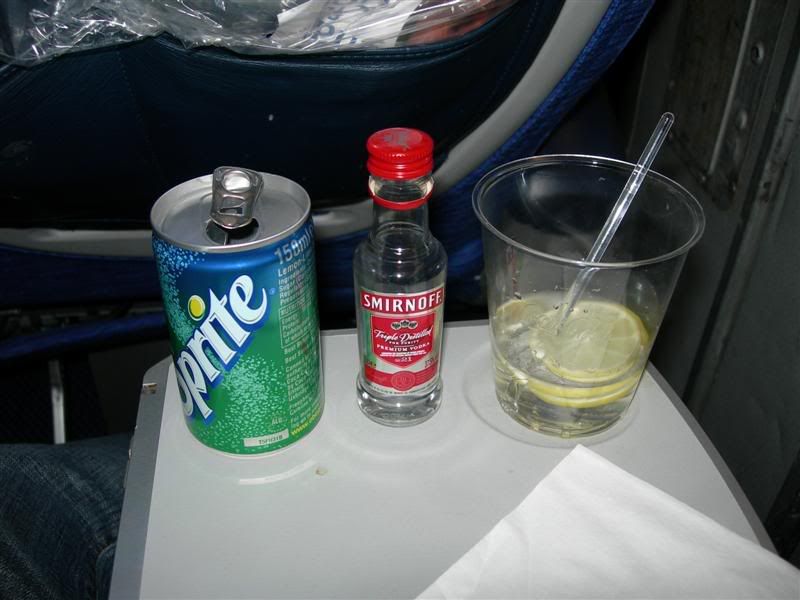 After chugging that down nicely, food was served. Choice being the Vegetarian Dish or Chicken. I chose the chicken, wasn't that bad. Could have been better, but still not bad. I also took a bottle of red wine with the meal which would eventually help me sleep quite nicely haha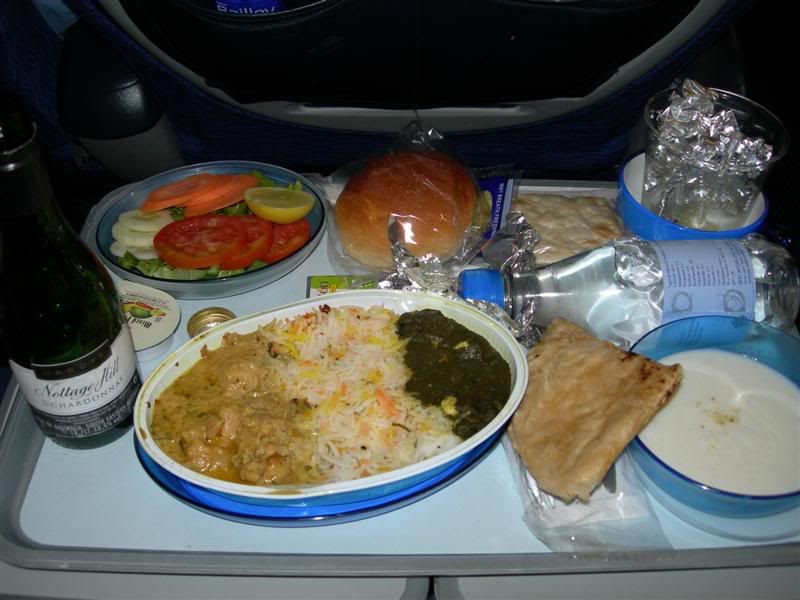 During my drinks and food I was watching Broken Flowers with Bill Murray; I was really really disappointed in the movie. I had heard really good things about it from friends who had seen it before, but it just bored me.
The IFE on board in WTP was pretty good (I think it's the same as WT not 100% sure on that). Remote in the hand rest, average sized PTV and good selection of movies and games etc.
Leg room was also really good. This was my first trip in WTP and was quite happy with it, defiantly makes a difference when you're travelling on a long flight. The leg rest was nice, but it did get uncomfortable after a little while.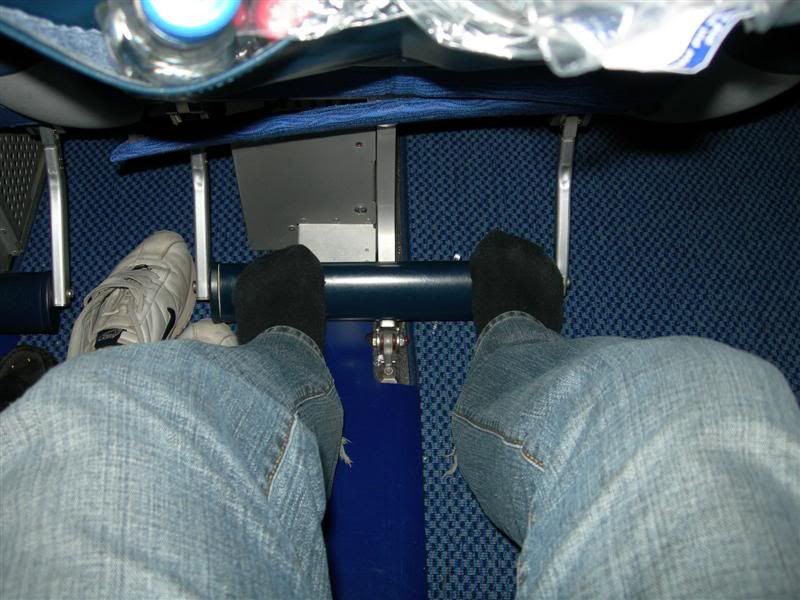 After that shot I think I fell asleep as I don't remember anything for the next 7 hours LOL By the time I came around it there was something like 2 hours to go into LHR. I went down to the back of the aircraft to stretch my legs and as I walked through realised how lucky I was to have got a seat it WTP. WT was 100% full and looked so incredibly cramped!! Although if I was given a seat next to this girl I saw (who was DAM hot) I'm sure I could have put up with it LOL
I took my camera with me (no not to take pictures of the hot girl) but to get a couple of shots out of the rear right hand door.
While I was awake however I did notice the crew came around a lot offering water or orange juice, I counted about 5 times that they came through, and I'm sure there were more times while I was sleeping.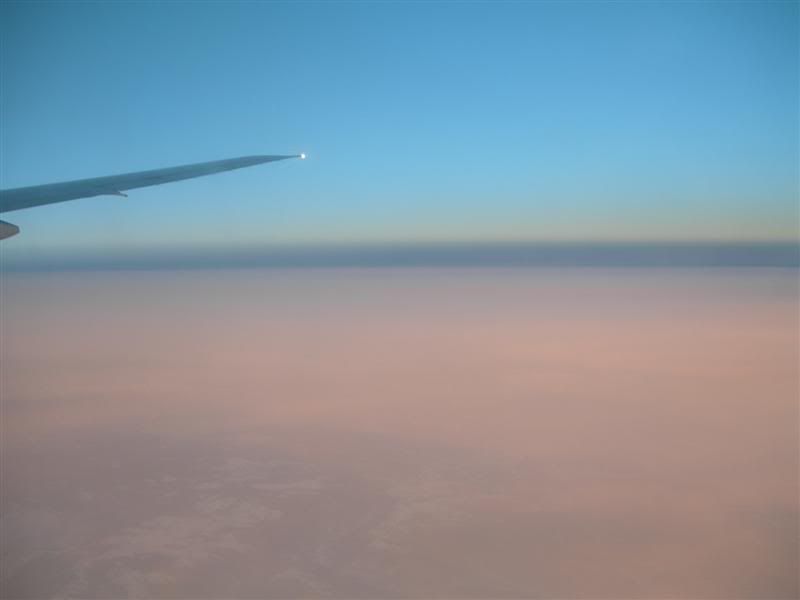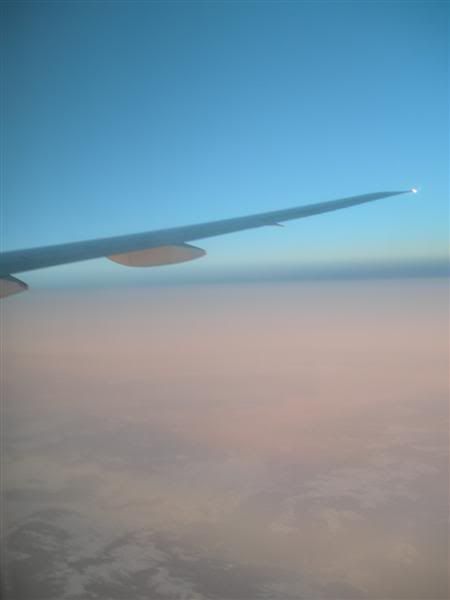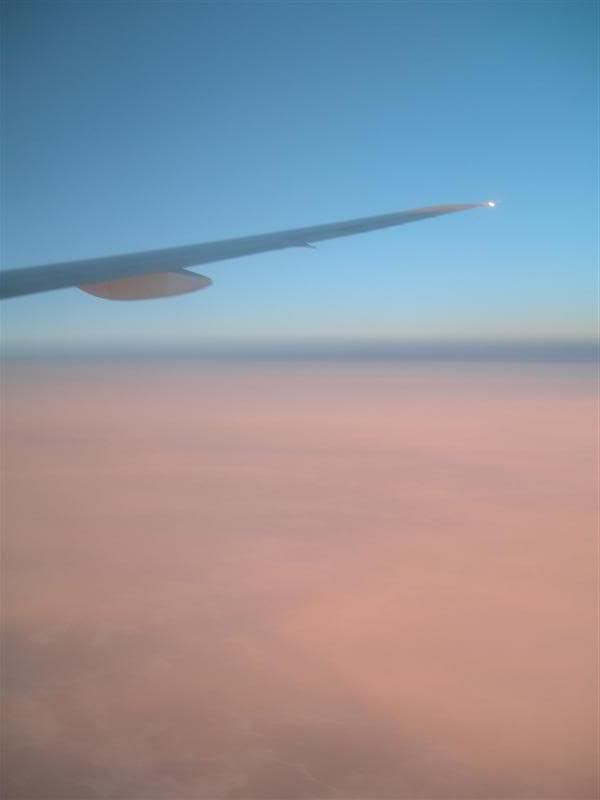 After getting myself another Vodka Lemonade I walked back to my seat, got my iPod out and just chilled for a bit until a light food service came around.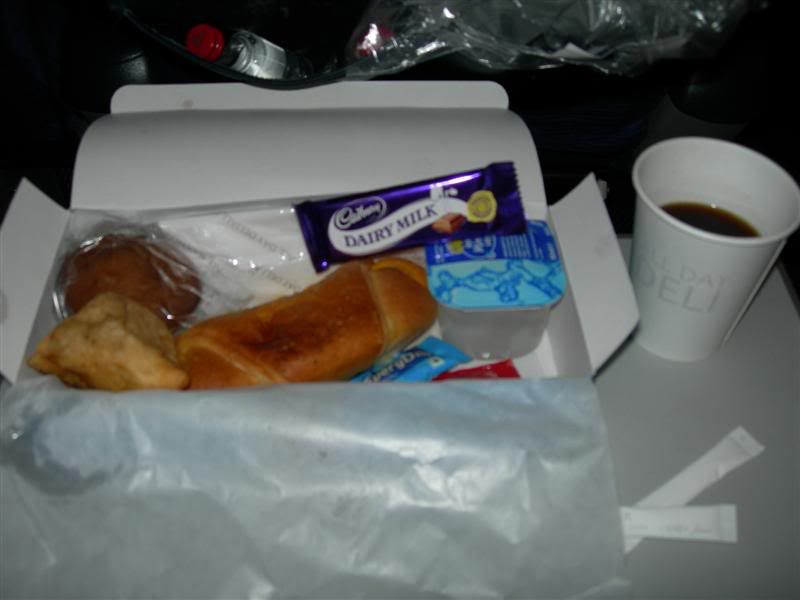 It was pretty good, the roll had chicken and peppers etc in it, was quite nice actually. The coffee wasn't too bad either. I don't usually like drinking Coffee on board flights after some bad experiences with coffee on UA LOL
I turned to the moving map and we were somewhere over France up at FL380.
We started our descent into LHR and the captain came over the PA to let us know that we should get in on time even with out late departure out of BOM. We came in from the East over north London and established ourselves for an ILS onto 9L.
The Purser then came on with the normal welcoming and we started taxiing over to stand 423. Took about 10 mins to get over there as we had to cross 9R which was being used for departures.
Overall it was a pretty nice flight, WTP definitely made a difference in the comfort of the flight. The food was good and the service was good!!
Thanks in advance to those who leave messages, good or bad I appreciate it!
BP777