So I went home from UND for presidents day weekend back to Chicago. Decided to get rid of my miles, although i still hope NW stays around, even with all their problems. Anyways.
NW 1946 Feb 17 2006
depart GRAND FORKS, ND (GFK) 8:07am
arrive MINNEAPOLIS, MN (MSP) 9:10am
McDonnell Douglas DC-9-50 N677MC (mfd 1978)
Anyone tell me where this D95 came from registered MC? My girlfriend and I woke up at 6am for our 8am flight, i took a shower first while she slept an extra 15 minutes, nice of me huh? Coldest day in our record-warm winter, -24 this morning with a wind chill of 50 below zero. Good morning North Dakota. By 7AM it started to get a bit gray outside. We left, after about 5 minutes worth of attempting to start our car, which eventually did, except it sounded about 20 years older than it really is, and got to GFK Airport and its 2-gate terminal at about 7:20am. NW 1946 is the second flight of the morning, first one being a CRJ at 5:00am, and this DC-9-50 was filled completely, with people going to all sorts of places warmer than North Dakota. Check in there was a line, took about 5 minutes. Another line for security, another five minutes. By the time we got inside the gate area, it was packed, there are less seats than inside a DC-9-50, so we stood around until some people ventured off the the bathroom. Boarding was called at about 7:45 and we boarded. I had 22A, she had 19B, i sent the lady in 22B up to 19B, and all was good. While pushing back we got to see a beautiful northern sunrise right behind the terminal, and by the time we were off the ground, it was super bright, and the monotonous white flatness of north dakota did not help. We flew right over Crookston airport, Brainerd, over downtown Minneapolis, and backtracked for a landing on Runway 30R at MSP at about 8:55am. We were at the gate around 9:00am, and we got off. This started our long search for food. Meanwhile we passed by Northwest flights heading to New Orleans, Puerta Vallarta, Honolulu, Fort Lauderdale, Orlando, etc. In other words we seemed to be the only losers heading somewhere that was cold. NW 1946 had no coffee, as the water was frozen over night, and the 40 minute flight time gave no chance to thaw it. Something else was wrong with the aircraft, as it was headed to Milwaukee, but never made it that far. NW 1946 was switched 3 times, and ended up 2 hours late next to our flight to ORD, and a DC-9 model shorter.
Good Morning North Dakota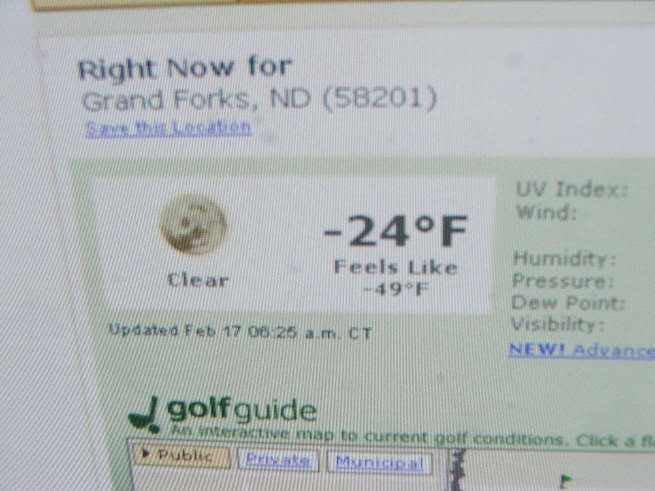 N677MC parked at Gate 2
The sort of cleaned off Runway 35L at Grand Forks
Northwestern Minnesota, this is what the Grand Forks area looks like in the winter. It really is amazing.
St.Paul downtown airport and the Mississippi River, with steam coming from it, the temperature in Minneapolis was 19 degrees warmer, yet still 5 below.
NW 128 Feb 17 2006
depart MINNEAPOLIS, MN (MSP) 11:25am
arrive CHICAGO-O'HARE,IL (ORD) 12:41pm
McDonnell Douglas DC-9-32 N607NW (mfd 1968)
After exporing MSP, we sat at gate G10. Our flight was delayed, we ended up being the last to board (seats 5E and F, the only 2 pair on the 3 side of the 2-3, bulkhead). Pushed back at around 11:55am. This flight was uneventful, we took off on 30L. We quickly turned back to the south, flying over La Cross, Wisconsin, Madison, Wisconsin, and coming over the Northern suburbs around Highland Park, turning on the lake, which had huge waves, and making an approach to 22R. As opposed to the first flight which offered only juice and water, we had the full meal service, juice water AND pepsi. what a deal. Ofcourse i had apple juice, for some reason my sleep deprived stomach did not like the idea of drinking a liquid brick of sugar with bubbles in it. We landed at O'Hare at about 1:00pm, and were outside waiting for my mom by 1:15pm. The DC-9-32 did not show its age, besides being 38 years old. Wow.
N607NW, my first NW plane in new colors, parked at G10 at MSP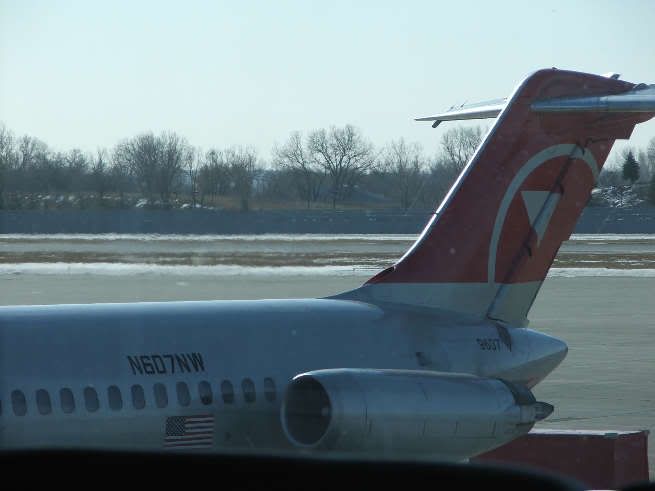 C-130, correct me if im wrong, which skipped ahead of us for takeoff on 30L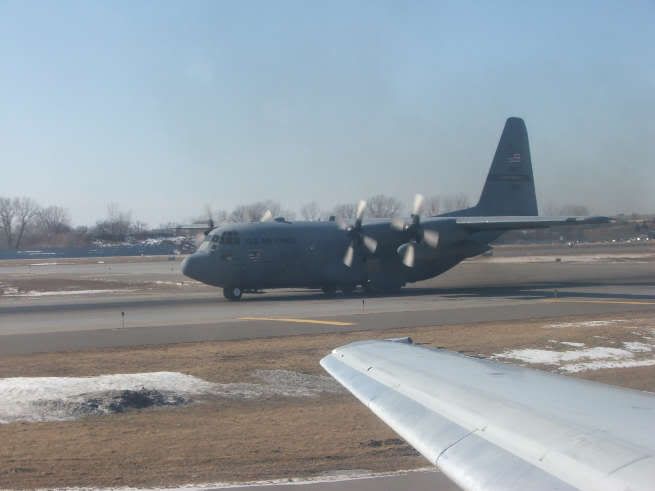 My awesome shot of a NW A320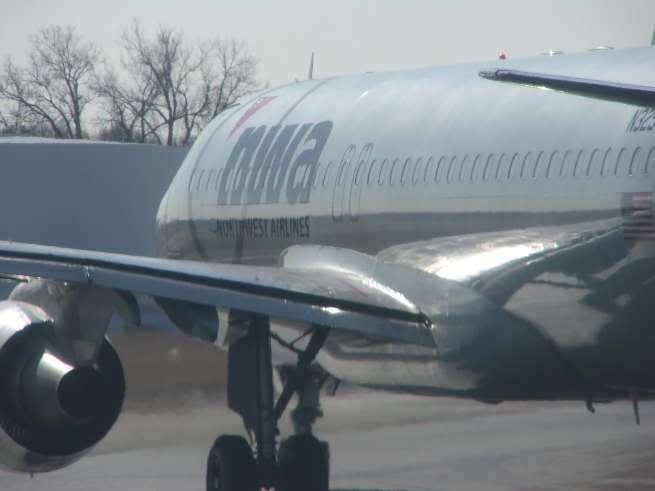 You'd never know they were in bankruptcy. Lots of people flying red-tail on this February Morning.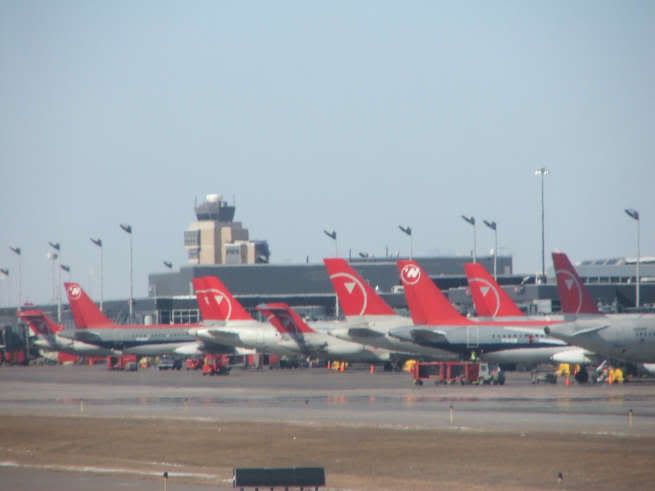 752 smokey startup on this cold morning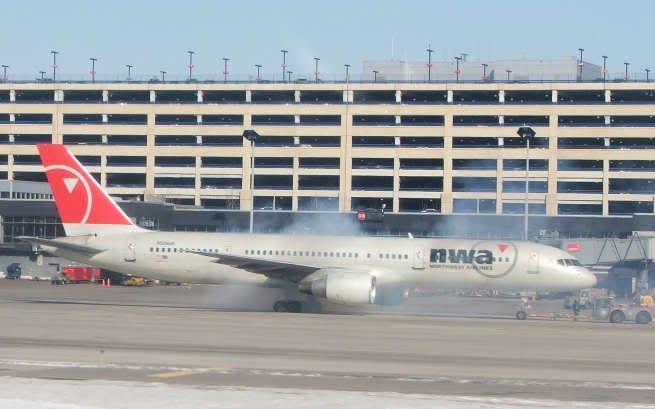 Looking at Minneapolis from the south, looks big.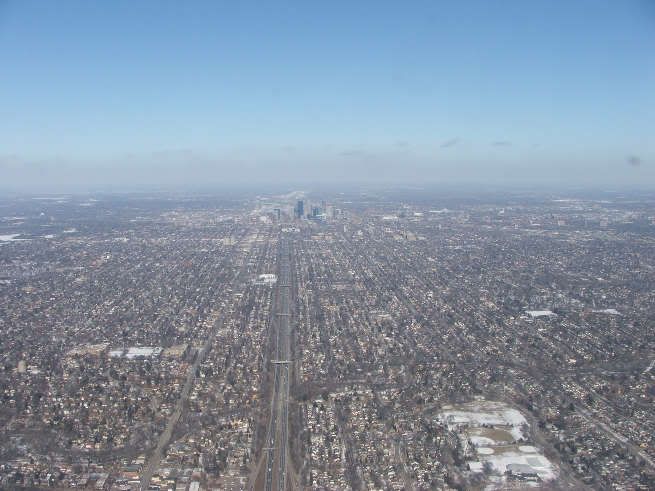 Downtown Minneapolis
land of 10,000 lakes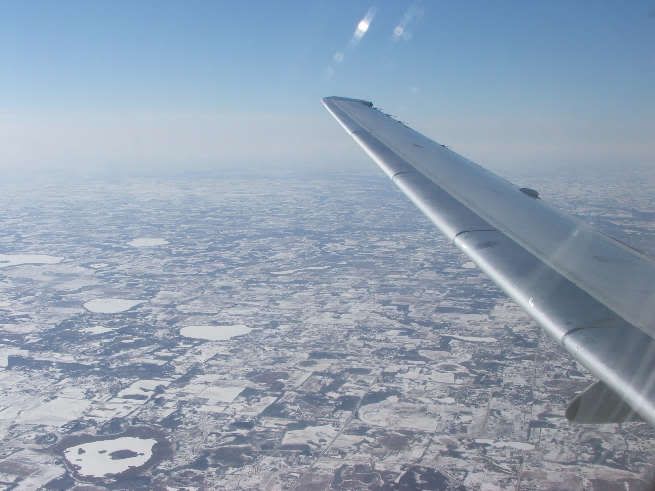 Stormy Lake Michigan on approach to ORD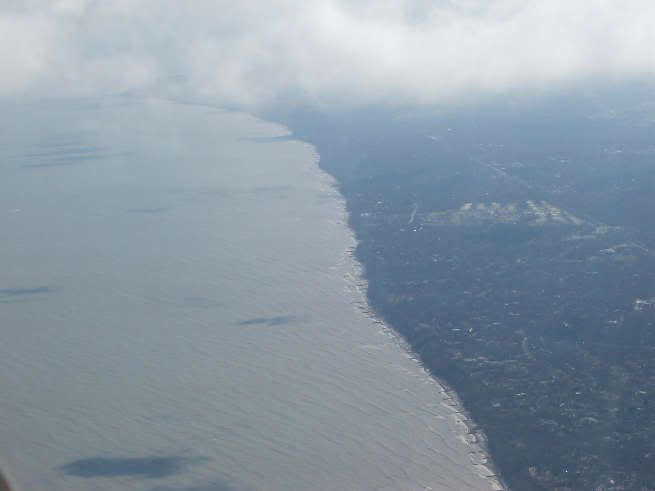 NW 145 Feb 20 2006
depart CHICAGO-O'HARE, IL (ORD) 8:06pm
arrive MINNEAPOLIS,MN (MSP) 9:36pm
McDonnell Douglas DC-9-50 N671MC (mfd 1976)
After spending some awesome time with my family, who treated me to food way better than UND's cafeteria, including my moms awesome home cooking, and seeing some of my friends, and going to the Chicago Auto Show, we were on our way back to North Dakota. This was the last NW flight out of ORD for the evening. The flight was coming as NW 655 from Detroit. Originally scheduled to be a DC-9-30, but i guess not. Anyways i got worried as we had a connection that was barely 30 minutes long, and to the last flight of the day to the middle of nowhere. Plane got in at about 8:00pm. We boarded at 8:15pm after it took them a good 10 minutes to find a wheelchair for someone on the inbound leg from DTW, Pushback at 8:25 or so, we make an intersection takeoff on 14L ? (correct me, although i should know better being from Chicago, O'Hare's runways). Old but nice and professional FA, with a bunch of people worrying about missing their connections, including us. Same full meal water, juice and coke service. Still apple juice. I think my stomach was getting ready to be frozen this time. Very uneventful, we headed south of Rockford, over Dubuque, West of Rochester, and into MSP landing on 30L. Taxied to gate G8. Ofcourse there was no one at the gate to meet us. Waited another 10 minutes as the lady in front of us going to Winnipeg was starting to get pissed off, i dont blame her. Anyways, we got off the plane at about 10:00pm. (Btw we had seats 12A and 12B)
Through the window shot of our new-colored N677MC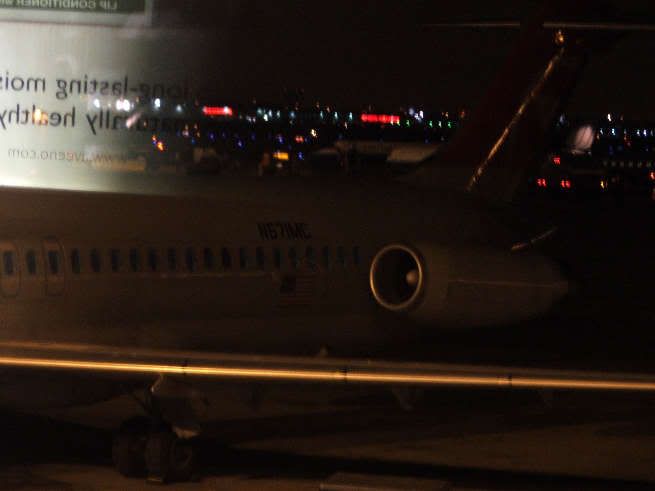 People anxious to get on our flight leaving out of T2, gate E13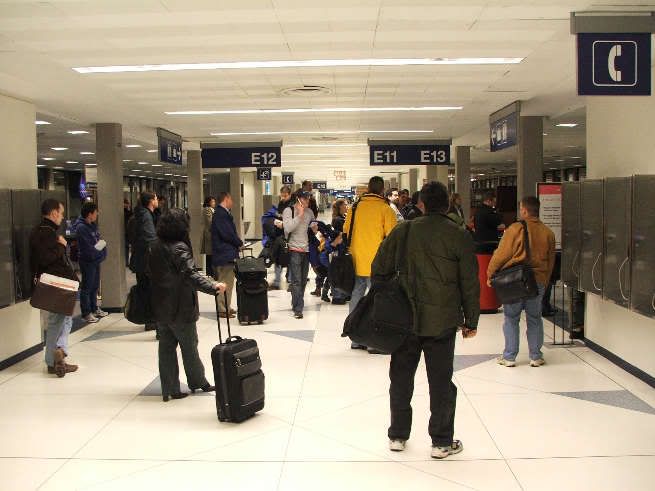 Departure screen shows 8:15, or 9 minutes late, sorry its blurry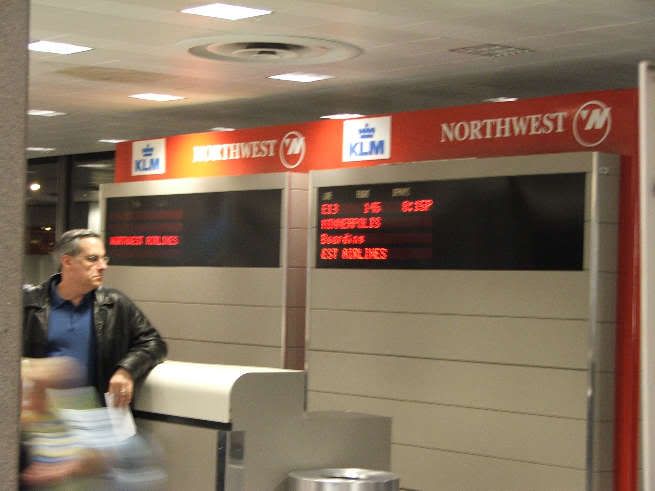 Rolling down the runway
Chicagoland suburbia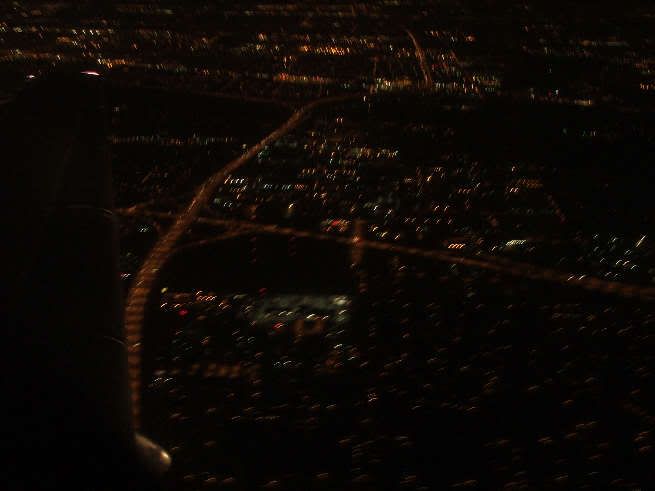 Arrived next to a DC-9-30 heading out at 2225 (10:25pm to LSE (La Crosse))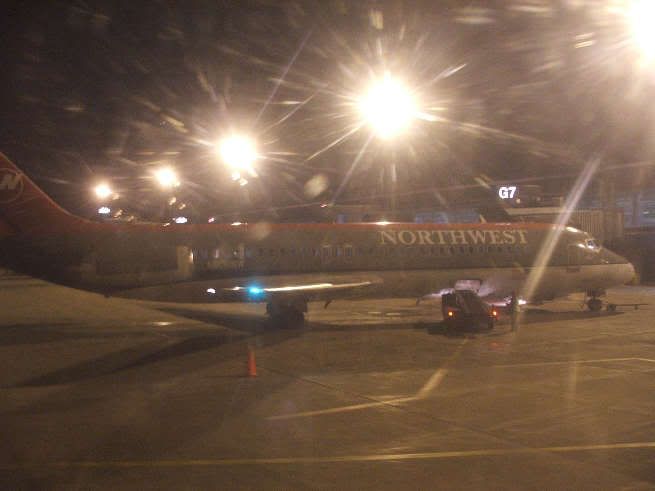 NW 4721 Feb 17 2006
depart MINNEAPOLIS, MN (MSP) 10:14pm
arrive GRAND FORKS, ND (GFK) 11:35pm
Canadair CRJ (Pinnicale) reg unkn
So if anyone here is familiar with MSP airport, it is quite a hike from G8 to our departing gate A1. So we sprint. It took us a good 10 minutes of running, and we got on at about 10:10pm, the gate agent greeting us by saying "youre the ones off of 145 right?" we sure were, and sweating thanks to our winter coats. It was cool when we got on the plane (a sparkling new new pinnacle CRJ, but once we got on they figured hey what the hell lets blast the heat), which did not help our hot situation. The door closed about 2 minutes after we got on, followed by two more people. so much for running. We had exit row 8C and 8D, i was really impressed by pinncale. Big leather seats (for a CRJ), sparkling clean white aircraft, a very nice FA, with better drink selection than NW itself. The audio is pre-recorded, and very clear, also a plus over the CRJ's not so perfect intercom. We taxied out behind another Pinncale CRJ, onto 30R, and took off into the night sky. Our flight took us northwest to Fargo, then straight north to Grand Forks. We overflew the city, turned around and landed on 17R, skidding to a stop on the icy runway. We used most of it to stop, its 7300 feet long. Taxied into position at Gate 1, and were quickly off. I ran to get the car as my girlfriend waited for the luggage, I'd say it was nice of me, but i made a girl carry two bags. But then again theres no way in hell she would have gone more the 3 feet outisde. So it was nice of me. We pulled up to the gate at about 11:20pm, and were home by 11:45pm. Back in the cold clear darkness of Grand Forks.
A new colored Mesaba-Saab taxies past us as we wait for push back
The inside of the sparkling clean Pinnacle CRJ
The shiny sparkling leading edge of the CRJ wing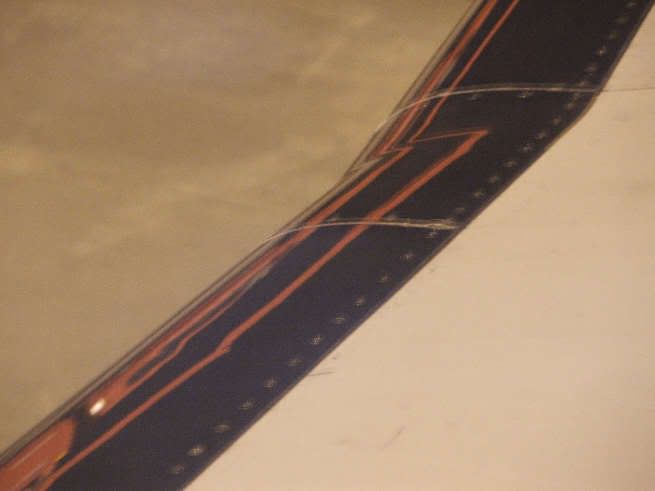 An old-colored Mesaba Saab at the mini-jet, scratch that, prop bridges.
Takeoff from MSP, Over Minneapolis
After landing at GFK, taxiing off of 17R
Snowbanks and darkness upon arrival to Grand Forks
Welcome to Grand Forks! (Too bad no 757s fly here)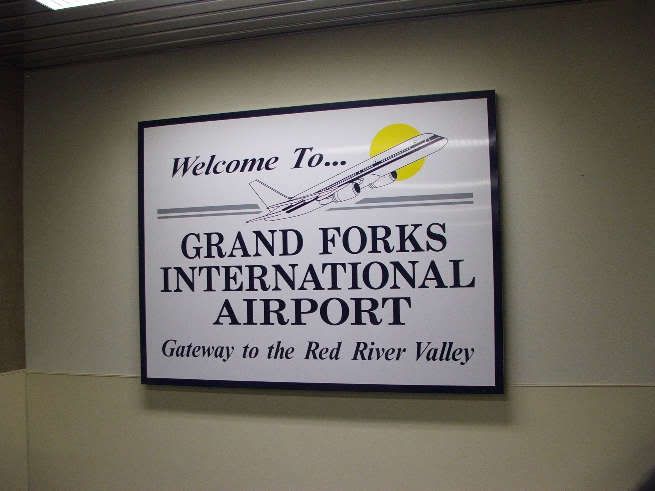 Overall, I got everything i expected from Northwest. Nothing less, nothing more, overall that is. Negative points was charging a dollar for a bag of nuts, i take that as an insult on a 50 minute flight. But thats just me personally. They should just offer the $3 snack boxes or nothing, but i am guessing management found a good reason to do what they are doing, hopefully. 2 of the 4 flights were a bit late. which didnt cause me any harm, but had i been connecting somewhere else, or had bags, that could have created a less-than pleasant experiance. MSP airport seems huge for the city it serves. Wish there was train service to all parts of the airport, not just A and C gates. I was extremely impressed with Pinnacle. Their CRJ outdid any other one i've been on, including SkyWest, Air Wisconsin, etc. It made me re-think everyones negative comments about CRJs (including my own). I never minded them, but this one was exceptionally clean. I would say Pinnacle is the most professional airline I have flown domestically in years. This includes Continental, except Pinncale had no food to offer. Had they had food, I would rate their CRJ as a better experiance than any of CO's short-haul fleet. So here's to Pinnacle. Also, the morale of NW employees seemed to be good. They all seemed tired, yet willign to help all the time, still working for their customers. That is besides the mechanics who you could see throgh the window striking while going down the moving walkway in MSP. Anyways this trip was made great by: The Good A to B service i was given on NW. I like MSP airport. Nothing against NW. They are on the verge of having a really good thing goign for them, lets hope they can achieve that. And the thing that made this trip the best was my girlfriend, and for us on this website, probably nothing better than a DC-9 and a good looking girl. 'at the same time'.
Here's Chicago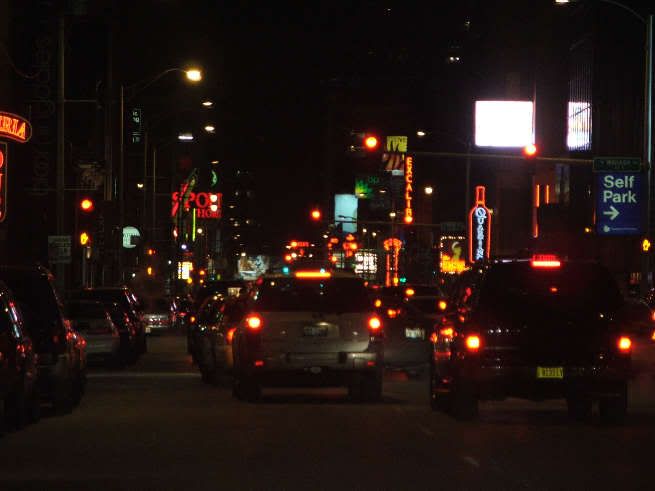 And me driving in Chicago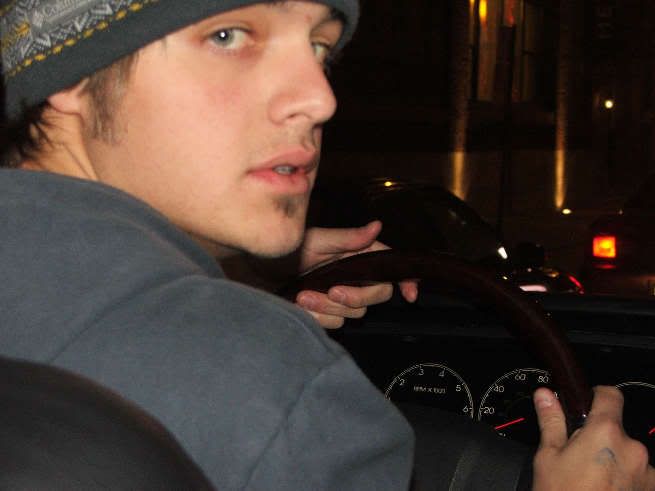 Comments?
Questions?
Any replies welcome
I'd like as much feedback as possible
Hope you enjoyed it
'902
[Edited 2006-02-22 06:22:36]