I used to live and work in Tokyo as an English Teacher and married a Japanese girl while I was there. Japan is a great place to live especially if you love airplanes because the airports there have viewing facilities that are second to none.
On Monday Feb. 13 we were embarked on our first trip back to Japan since coming to Canada a year ago. We checked in for our flight to San Francisco and then precleared US Customs and made our way to the gate for Alaska Airlines flight 690 operated by 737-400 N783AS. We departed a few minutes late on runway 26 left. Service on Alaska was very minimal to say the least, the flight attendants served drinks and pretzels immediately after we reached our cruising altitude and then they retired to the comfort of the galley to spend the rest of the flight chatting with each other.
It was beautiful and clear for our approach into SFO and we flew the downwind approach to runway 28 right, so we had a great view of the airport.
As we approached the gate on the A concourse we taxied past the Northwest A330, N853NW, that had arrived from Narita earlier in the morning and would take us there at 12:05pm.
We had a 2 hour lay over at SFO and I watched in amazement the simultaneous approaches and even take offs to SFO's two sets of parallel runways.
The Northwest gate agents started boarding flight 27 to Tokyo and Bangkok at 11:10 am, nearly an hour before it's scheduled departure time! I thought they were going to try and get the flight out early. But after boarding was complete we sat on the aircraft for over 30 minutes and the flight still pushed back a couple of minutes late. My wife and I sat in seats 40H and J.
We taxied out to runway 28 left and had to hold short as a Cathay Pacific 747-400 landed. After he touched down we taxied onto the runway and took off.
The flight was great except for about 3 hours of moderate turbulence which I thought was quite fun but there were a few passengers that weren't liking it at all. Although Northwest is now charging for alcohol on flights to and from Japan, the nice flight attendant gave me 3 beers with no charge. Much to my delight ice cream sandwiches were served about half way through the flight.
The A330 is a wonderful aircraft, very passenger friendly. The IFE system on Northwest is one of the best I've seen, but then most of my flying has been done on Air Canada whose IFE system is archaic to say the least! I played the trivia game and watched a couple of movies including Walk The Line.
We made landfall over Japan at an oil depot on the coast of Ibaraki prefecture near the town of Kashima. It was a beautiful day with the sun basking the land in a golden hue.
After a ten minutes over flying the Japanese country side, doted with golf courses, horse racing tracks and even a small general aviation field, we were on short final to Narita's runway 16 right. Just before touch down I saw Sakura Noyama Koen where I had spent many a day with my camera, air band scanner and binoculars watching the aircraft and taking photos like this one.
View Large
View Medium


Photo © Mark Heywood
As we taxied to the gate at terminal 1 I caught my first glimpse of a Thai A340-600, probably flight 676 from Bangkok, going to terminal 2. We were on the blocks at 16:15 local time, about 20 minutes early.
My wife and I were among the last passengers off the aircraft and as we passed the cockpit door I asked the captain if I could take a photo. He said sure and even offered to take a photo of my wife and I sitting in the first officer's seat.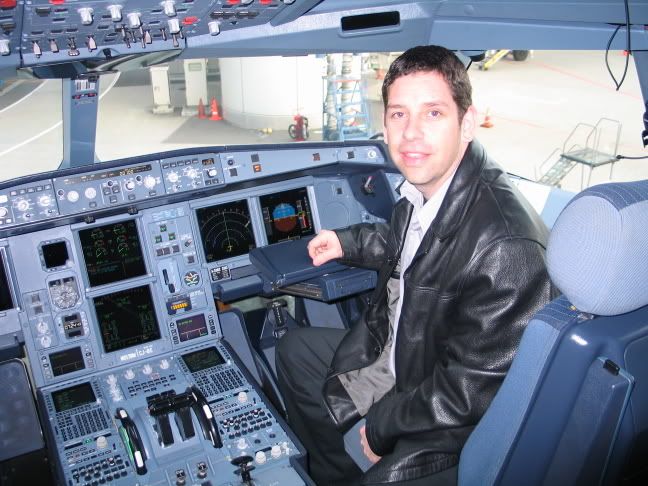 Surprisingly the flight was operated by two captains and one first officer. I thought a first officer would be carried as the relief pilot instead of a captain unless one of the crew was getting a check ride on that flight.
As we walked to customs I snapped a few photos of Northwest aircraft parked at the gates. There was no line up at customs and we were through to arrivals hall in no time. After changing our money we went down to the basement to catch the Keisei Limited Express train to Nippori.
After a week of visiting friends and family and enjoying Japan it was time to go home. This time we flew from Tokyo to Portland on Northwest flight 6 operated by N856NW.
We taxied to the holding point of runway 34 left and waited as a JAL 777-300ER JA734J landed, before we taxied onto the runway. Shortly after reaching our initial cruising altitude just off the coast of Japan we encountered numerous aircraft inbound to Japan. The ones close enough for me to see were a Singapore 747-400, probably operating flight 11 from LAX, and a JAL 747-400F which would have been either JA401J or JA402J.
I was quite impressed with PDX airport, it looked very modern and clean. While we waited for our connecting flight to YVR I watched the comings and going on runway 10 left which included a flight of four F15s departing.
From Portland home to Vancouver we flew on a Horizon Dash 8 N357PH fittingly named The Great City of Portland
[Edited 2006-02-23 05:30:37]