Well, it finally took me more than two months to finally post this report. After three weeks of vacation back home, it was time for me to head back to Sapporo and to school. Well, I hope you all enjoy my report!

JL069, LAX-KIX
6 January 2006
Economy Class
Boeing 747-436, JA8072
View Large
View Medium


Photo © Harri Koskinen
I arrived at TBIT at around 9AM w/ my dad and was greeted by the usual crowd of passengers clogging the check-in desks. After maneuvering through a Japanese high school band, I had my bags checked and proceeded on to the check-in desks.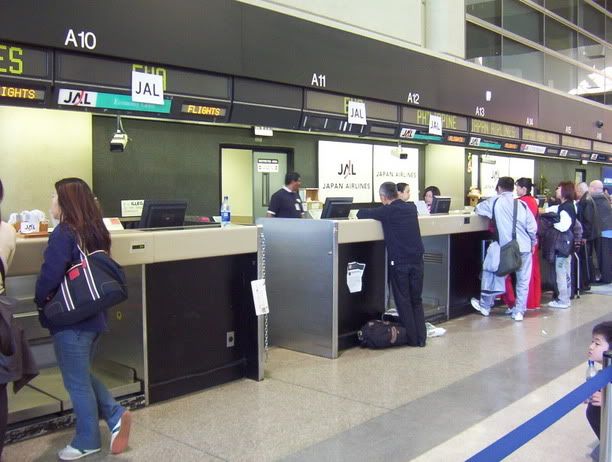 The check-in agent noted my destination and asked if I would like to arrive at Chitose one hour early by taking JL061 via NRT but declined. I guess it was a good decision since he asked if I was interested in being seated in the exit row, which I definitely did accept the offer.
Afterwards I went up with my dad to the upper mezzanine to get some breakfast from McDonalds (for the first time in my history of flying out of TBIT, I did not bother to eat at the Hamada Express
). Once it was time for me to go through security, I gave my farewell to my dad whom I wouldn't be able to see for possibly six more months. JL069 was assigned to gate 119 which meant that we would be bussed to one of the remote gates which would finally settle my curiosity of what it's like to board through there.
Waiting to be transported to the stand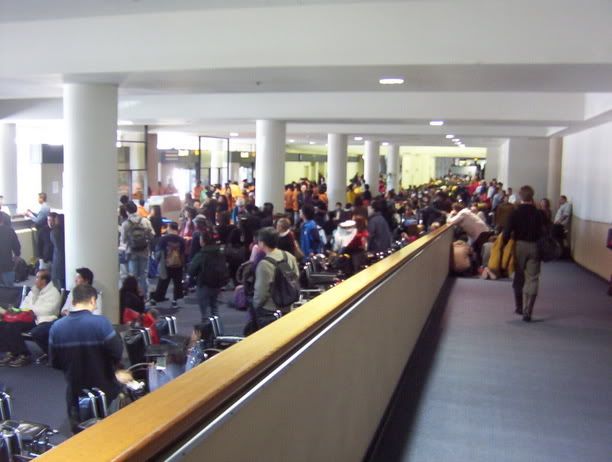 Got a nice view of a NZ 744 before I boarded the bus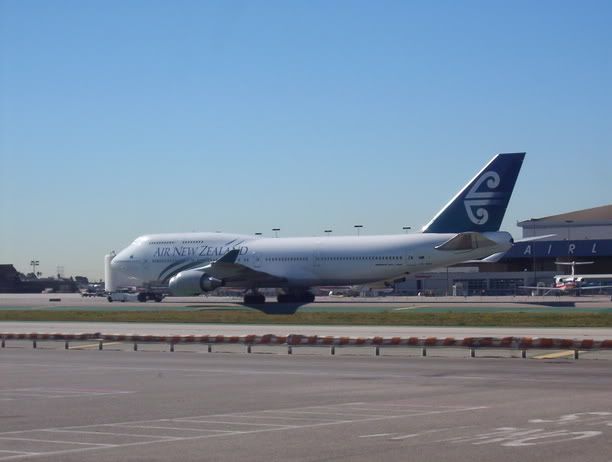 The bus that would take us to the stand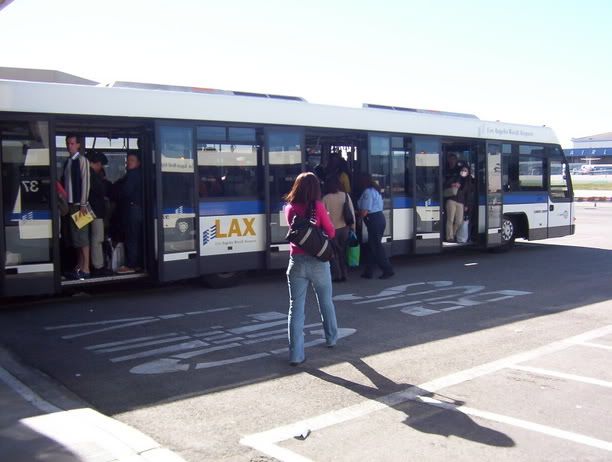 JA8072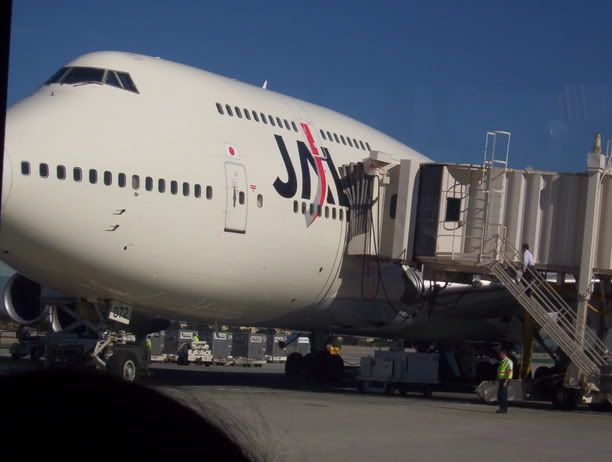 MU A346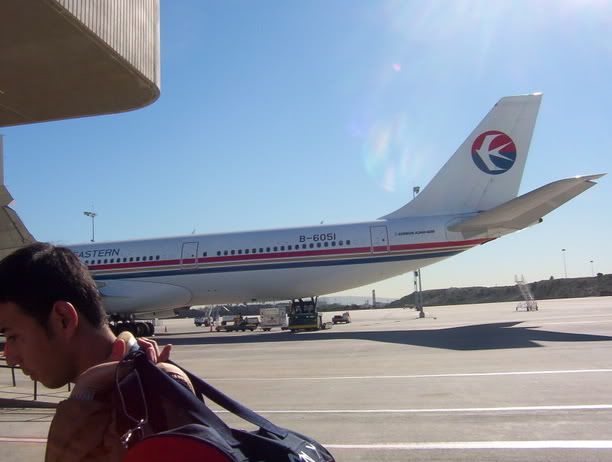 Entering the remote gate (found out later by A.net member Laxintl that the one I used was the four older gates)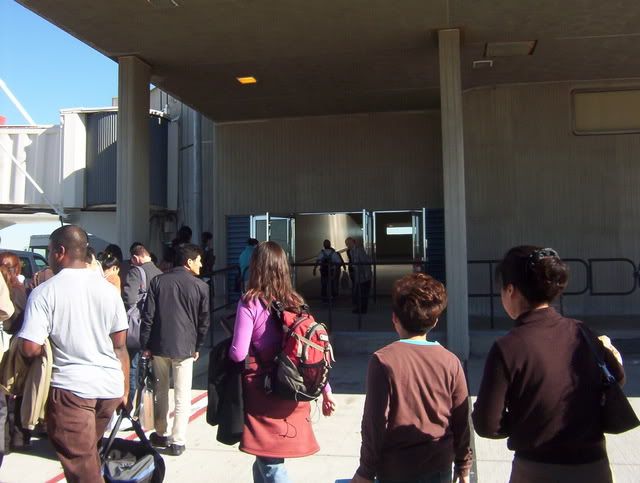 Another view of JA8072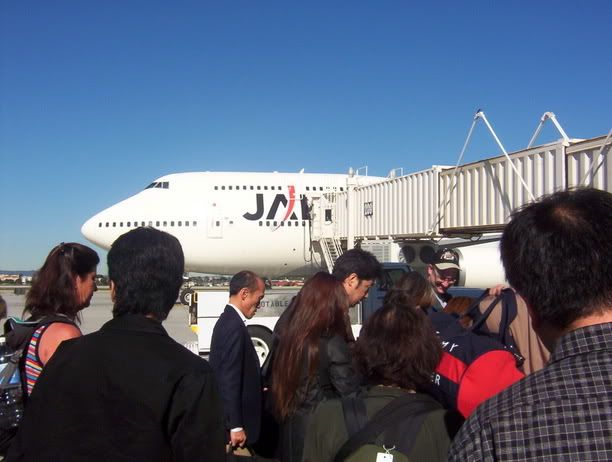 Boarding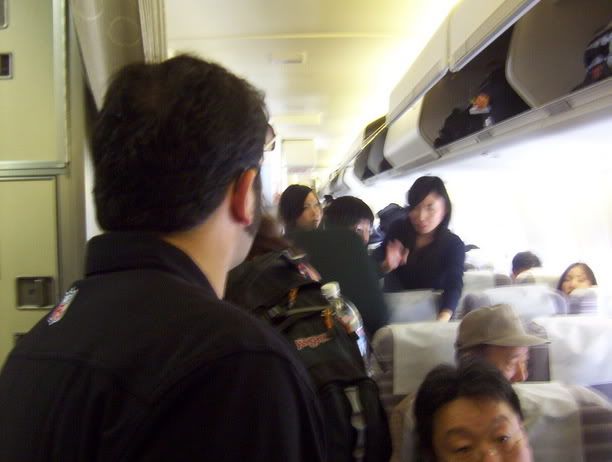 At my seat, I was greeted by a couple Japanese ladies whom were going to be my seatmates for the flight. After settling in my seat, I asked if one of my seatmates would pass me the menu and the JEN (JAL Entertainment Network) guide. Before my JAL flight back to America three weeks before, I never seen a menu in economy class for an international flight in ages!
A view of the cabin from my seat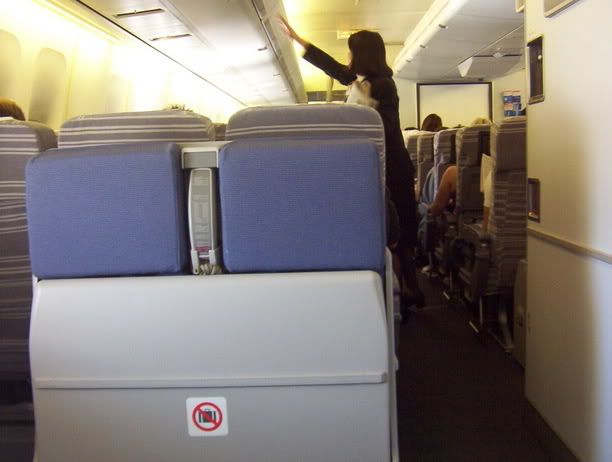 Never had this much legroom in a trans-Pacific flight!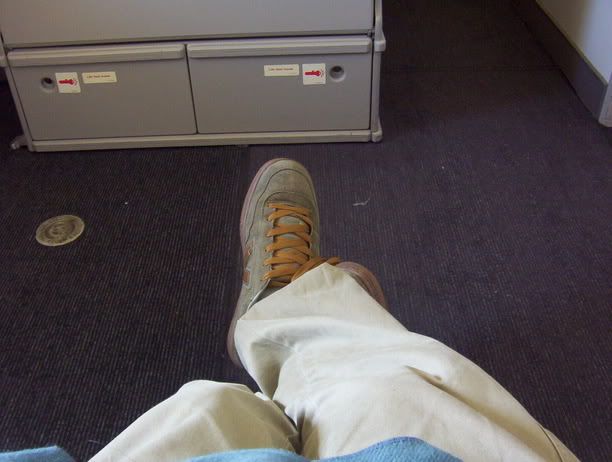 Pushback and taxi took a bit since we were going to takeoff in the south runways but it felt pretty fast as I've been pretty excited to return to Sapporo but a bit sad since I wouldn't be able to return to California for six more months. Takeoff was definitely an experience for me since I never was a flight that departed from LAX w/ an onboard camera.
Gotta love those aforementioned onboard cameras...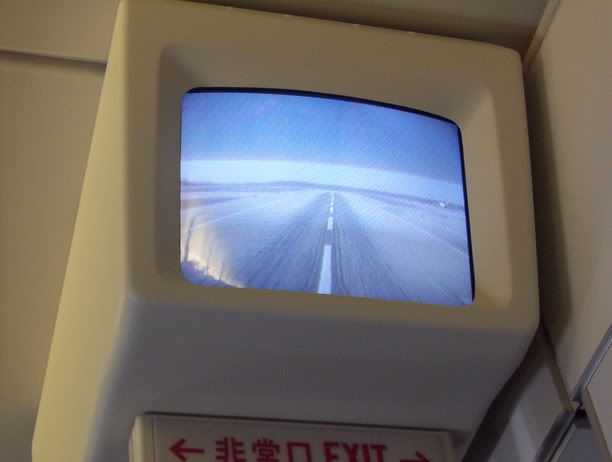 Once the IFE was activated, I immediately switched my PTV to "Mr. & Mrs. Smith". Thirty minutes after takeoff, the snack and beverage started. I seriously love those snack mixes that JAL gives out.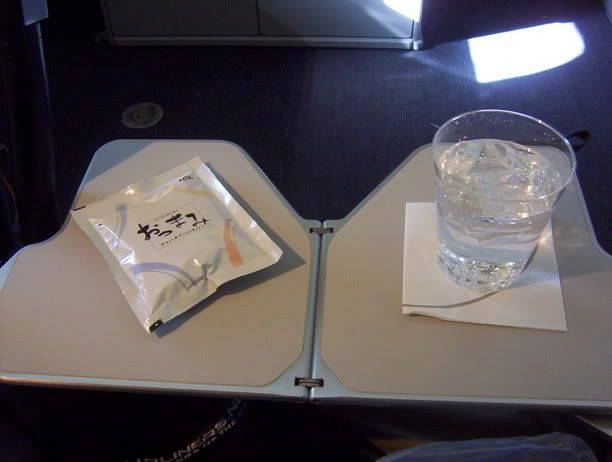 Already juggling between my snack and watching the movie, I struck a conversation w/ my two seatmates. I later found out both were teachers from Kyoto coming home after a vacation in Vegas and were pretty friendly esp. as I tried to practice my Japanese with them. Time seemed to fly and the meal service was about to begin. We had a choice of either Beef Stew or Sauteed Shrimp w/ Ginger & Chili Sauce. I vouched for the former though the Sauteed Shrimp was pretty tempting...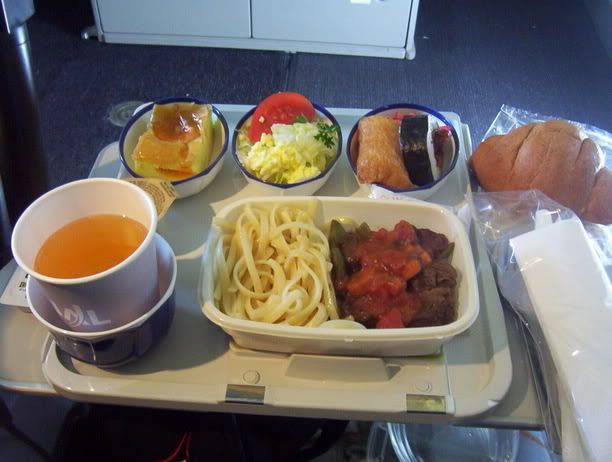 After finishing the meal and "Mr. & Mrs. Smith" I then went for "Gladiator"...man, after watching that ending, I needed to get some comedy in me, and it was through "Madagascar."
Random JAL commercial: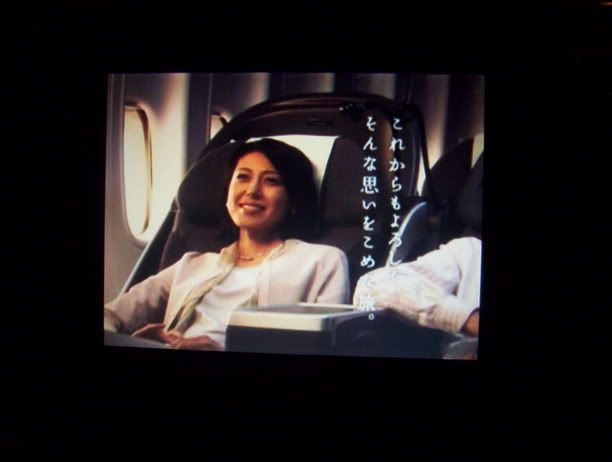 Great to have some green tea in-flight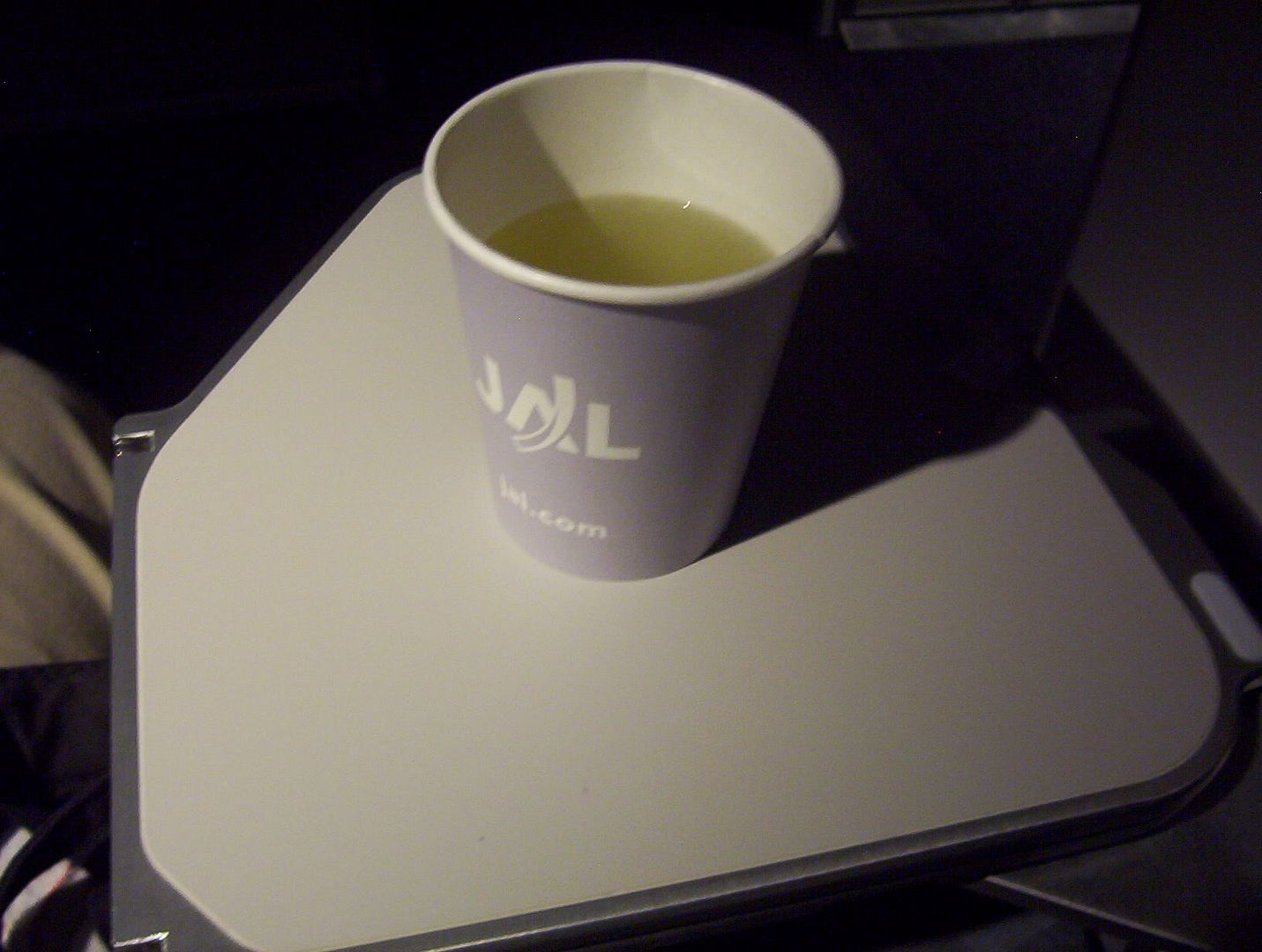 Moving towards the sunset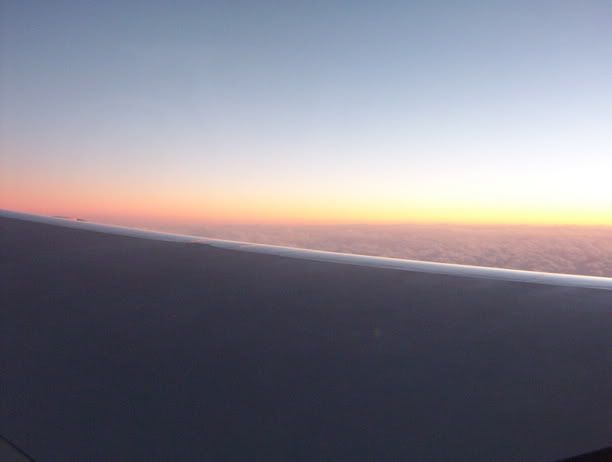 Dinner: spinach & cheese ravioli, Japanese soba, garlic sausage, roll, potato sala, and fruit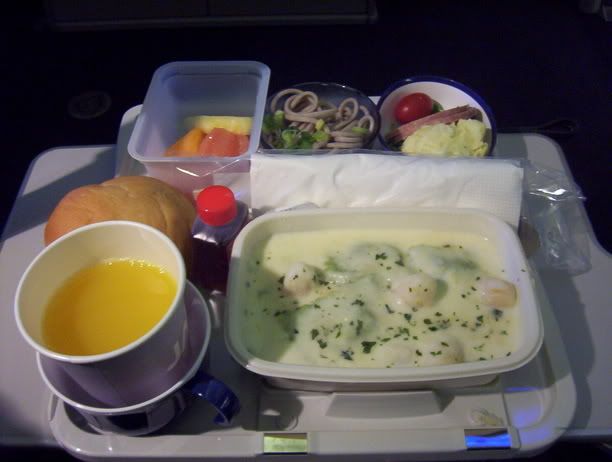 From the time our dinner trays were picked up until we were in final approach to KIX, I chatted w/ yet another teacher who was seated behind me and chatted about our travelling experiences. That's one thing I like about flying, you really do get to meet interesting and diverse people no matter where you go.
Landing in KIX at night was pretty interesting; all that we could see through the camera was a cluster of lights surrounded by darkness. Upon landing, I got my first ever glimpse of an A345 thanks to EK.
Getting through customs and immigration was a breeze though it was a bit of a hassle for me to get my two large pieces of my checked luggage from the claim to the cart. I guess I shouldn't go on a shopping spree in Barnes and Noble the night before I leave for a flight. :

JL2511 KIX-CTS
7 January 2006
Class J
Boeing 767-346
View Large
View Medium


Photo © EDDL Photography
I only had around an hour in KIX so I had to find a way to check in, have my money changed, go through security, and board my flight. Unfortunately by the time I'd arrive in CTS, the money changers there would already be closed and I'd barely get through to home with 1000 yen (I'd have enough for the bus trip but pretty much zilch for food for the night and the following morning.) The domestic counters had a queue but I was able kill some time by chatting with an Air Force couple who were heading back down to Okinawa. Once it was my turn to check-in, I decided to take the opportunity to upgrade to Class J for 1000 Yen. Once I got rid of my checked luggage, I rused to the 4th floor to get my money changed. Unfortunately this was the best time for me to have a currency exchange due to the schedule I had for the following days. Once I went through that long line and having my dollars exchanged to yen, I ran back down to the security checkpoint for domestic flights.
Managed to take a picture through all this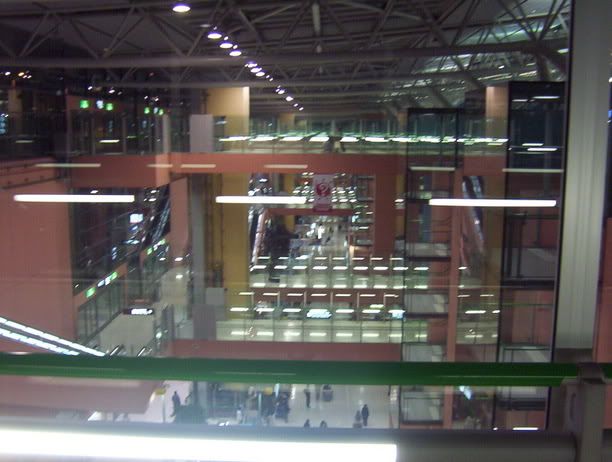 After rushing through security, I made it to the gate w/ the 767 still there...only to have a security agent run up to me and hand me the cell phone I forgot at the checkpoint. I was seriously ill-prepared for this.
I arrived at my seat exhausted from my rush and sweating in which thankfully an F/A came up and offered me a cup of water. Takeoff went on smoothly and once we were at crusing altitude, I decided to take advantage of the Class J seat.
Snack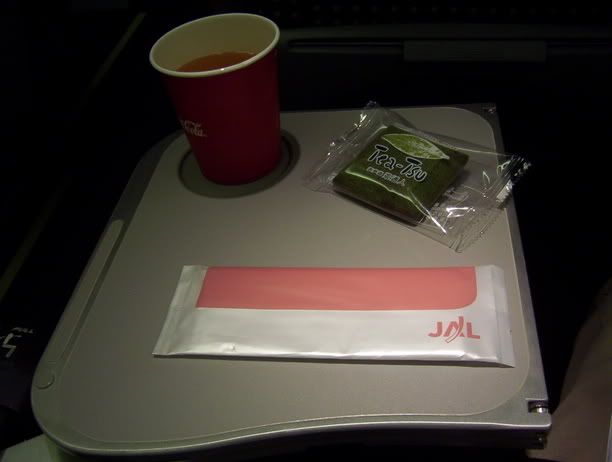 Enjoying the comfort of the Class J seat's recline, I fell asleep for the majority of the flight. Once I woke up, the IFE was switched to the onboard camera and just around fifteen minutes to landing in CTS. Seeing the snow all over the airport again was a welcoming sight and definitely a confirmation that I was back in Hokkaido. After deplaning , I went through the process of working with my heavy pieces of luggage (I had even more fun later on navigating from the bus stop to my apartment...the night after Sapporo got a heavy amount of freshly dumped snow).
The bus that would take me back to my home in Sapporo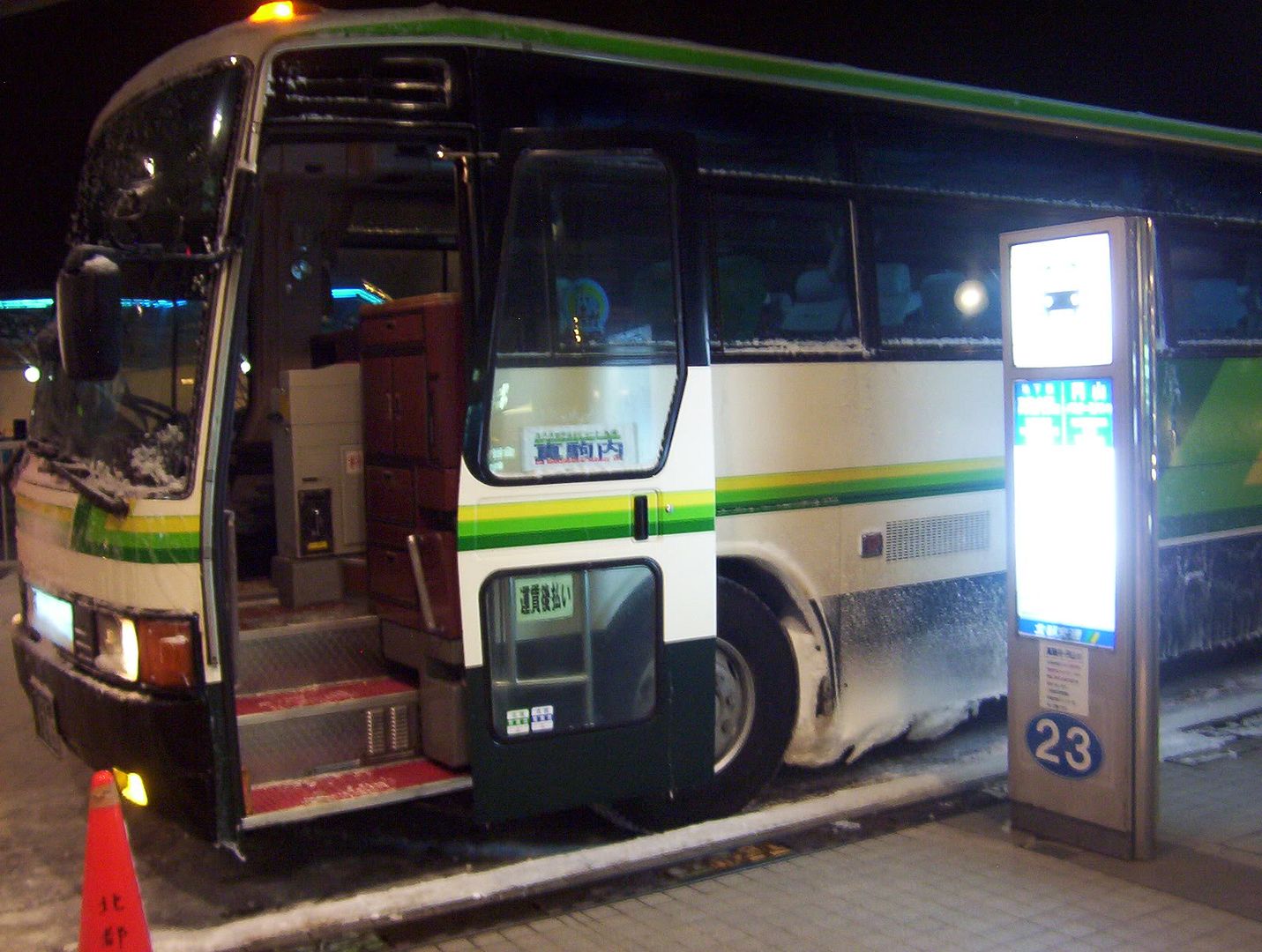 I had an excellent experience with JAL and wouldn't hesitate to fly them again (disregarding the little problem I had on my flight back to America, but hey, can't go against nature..). Loved the IFE (though it was a bit distracting and tempting for me since I was hoping to read through Joseph Conrad's "Heart of Darkness" during my flight), catering, and the service. Well, thank you all for reading my report!
[Edited 2006-02-24 13:36:32]