STR-AGP-MAD-STR pix/aborted takeoff
Introduction:
Main reason for this trip was to visit the Alhambra during the low season months and to search for some pre-spring sunny days.
Booked late November last year.
Sunday, 19.02.2006
STR (Stuttgart-Echterdingen) - AGP (Malaga-Pablo Ruiz Picasso )
DE 7556 operated by Condor A320-200 D-AICE
Scheduled:06.10 // 08.55
Actual: 06.05 // 08.45
Gate:144 Seat: 29D
Load Factor: around 80%
Fare: 78,-- EURO
Delivered new to DE : 23.10.1998
Two weeks ahead to this trip, my mother told me during a familiy reunion that she will go for a week to Mallorca later this month.
I asked her for the details and she answered: Condor, Sunday, 19.02.2006 Departure 06.10 am. I laughed and told her that we go together to the airport
same day, same time.
On the way at 3.45 am, a not to cold but icy morning. Usually I need no more longer than 30 to 40 minutes to the airport this early morning time but today during to the bad road conditions,
1 hour 30 minutes, at the airport late at 05.10 am, my mother really nervous. I dropped her off directly at T3, parked the car at P2 and rushed to the terminal building.
Present there at 05.20 am, 4 desks staffed, 2 to 3 other pax there, no time to wait for check-in. The female agent was not to friendly this time.
Passport, booking confirmation and Miles and More card on the desk. 750 miles booked on my account. No window seats available.
I opted for a aisle seat, second last row, dropped off my bag, passed security without any time to wait, wished my mother at the gate (117) for the DE service to PMI a nice trip and was at my gate at 05.35, only some minutes ahead to the scheduled boarding time.
The 2 DE planes parked beneath, who will be faster?.
D-AICE, leisure leg no. 24 on the A 320-200 and the second one on this plane, parked for the night stop at the finger gate.
Boarding started at 05.40, 30 minutes ahead to departure. I boarded late and hoped to find a free window seat.Friendly welcomed by the male pilot and a female FA at the front door. Free newspapers and magazines on offer. The usual load of retired couples and some spanish people on board. Clean plane in good conditions, fabric seats.
Some empty seats around and the last row completely empty. Boarding completed and no question, changed to the last row. But, no good end this time, a female FA told me that the last row is used as a crew row and will be not free for pax. OK, I changed to the third last row with an empty middle seat, the best thing do to this time. Pushback ontime, the plane was earlier deiced, a long taxi for a runway 25 departure, no time to wait and earlier as the 753 to PMI with a powerful takeoff we´re on the way to AGP.
Flight route: STR-Black Forest-GVA-Lourdes-west of MAD-AGP good to follow on the drop down monitors over every third row.
Have you ever done a flight with dogs in the cabin? Not the best opinion to do this. 2 small dogs barking during the whole trip, terrible.
Service was a hot breakfast(Omelette), I declined, a bread roll, butter and yoghurt. 2 times free non alcoholic drinks.
Detailed informations from the flightdeck during the whole flight, the pilots in a good mood. A calm flight, I read my newspaper had a nice conversation with a middle aged spanish lady in the window seat and time goes by quick. The captain prepared us for some turbulences during the approach about strong northern winds that pushed us to the south. We circled over the sea and landed in northern direction, runway 32 from the sea. So it was, heavy clouds, heavy shakers (liked it),
the amazing on board camera allowed us to follow the final approach from the pilots view, real good.
Heavy brakes, reversers and only a short way to taxi to the finger position at AGP T2.
I asked the pilot at the door for a cockpit pic, he said no problem, I entered, the female FO was there, she do not want to be on my pic, so a pic from the left hand side.
Flight deck D-AICE: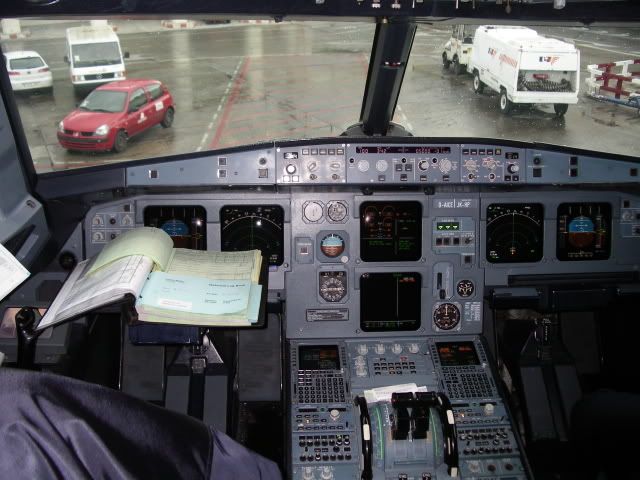 Short after deboarding: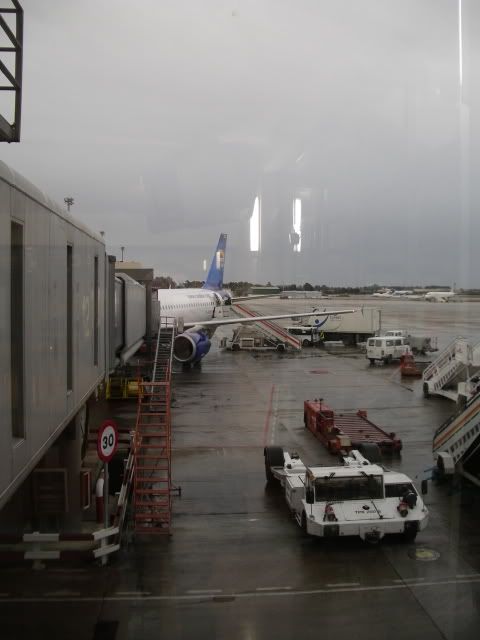 8 degrees celcius, light rain, not the wheather conditions as expected around Malaga, so I cancelled the Alhambra visit while Granada is located much higher than sea level.
Only 5 minutes to wait for my bag, no other clients at the rental car desk. Centauro booked by Dertour 2 days all inclusive a Ford Ka = 68.-- EUR
On the way to my hotel, the Novotel Malaga at around 9.30 am, booked by LHs hotel partner Octopus travel = 60.-- EUR B&B.
I visited Ronda, Marbella, Puerto Banus, the city of Malaga with its famours arena, not bad at all and the wheather was better from sunday noon till monday.
A historic building in Malaga: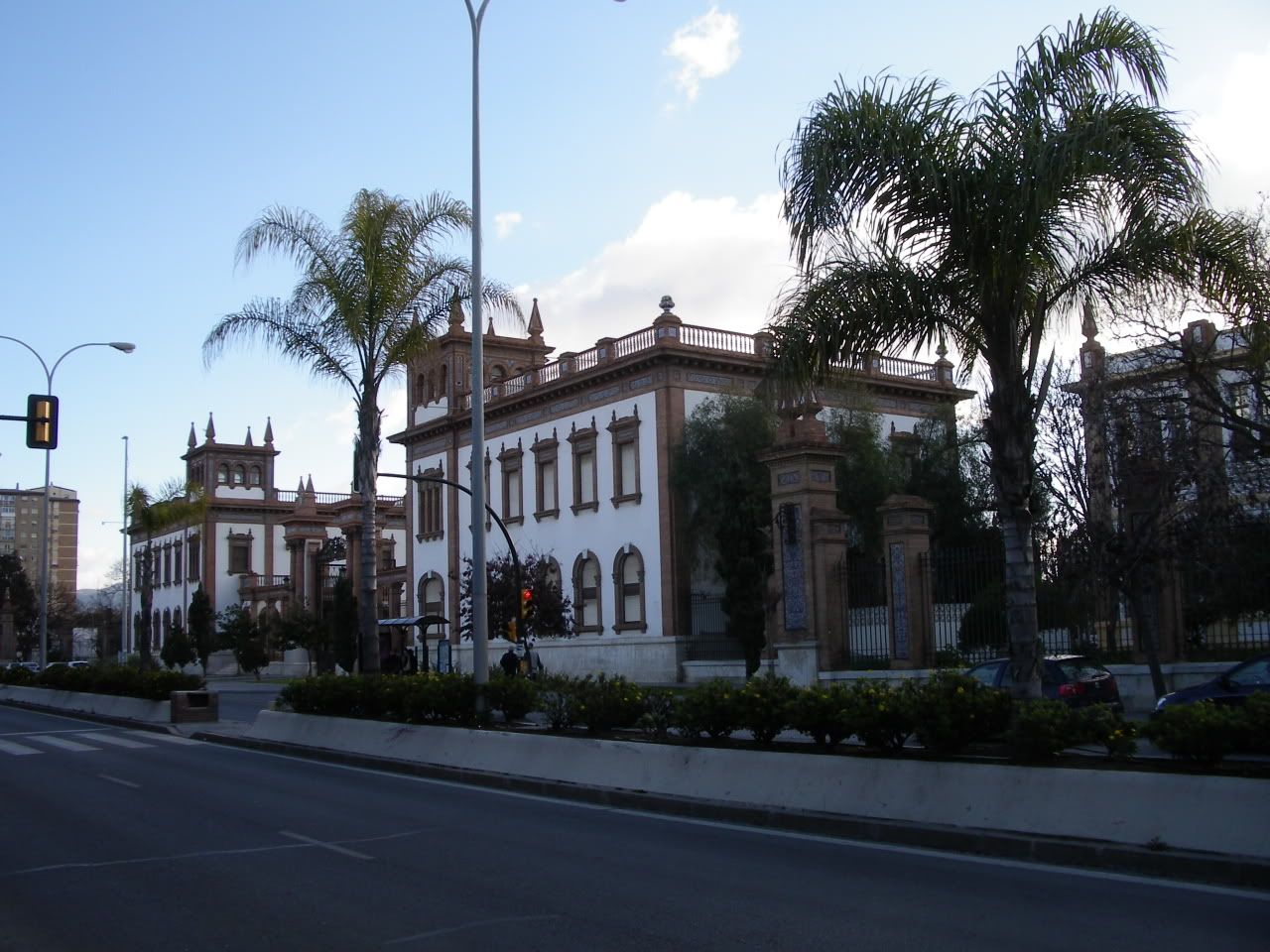 Arena: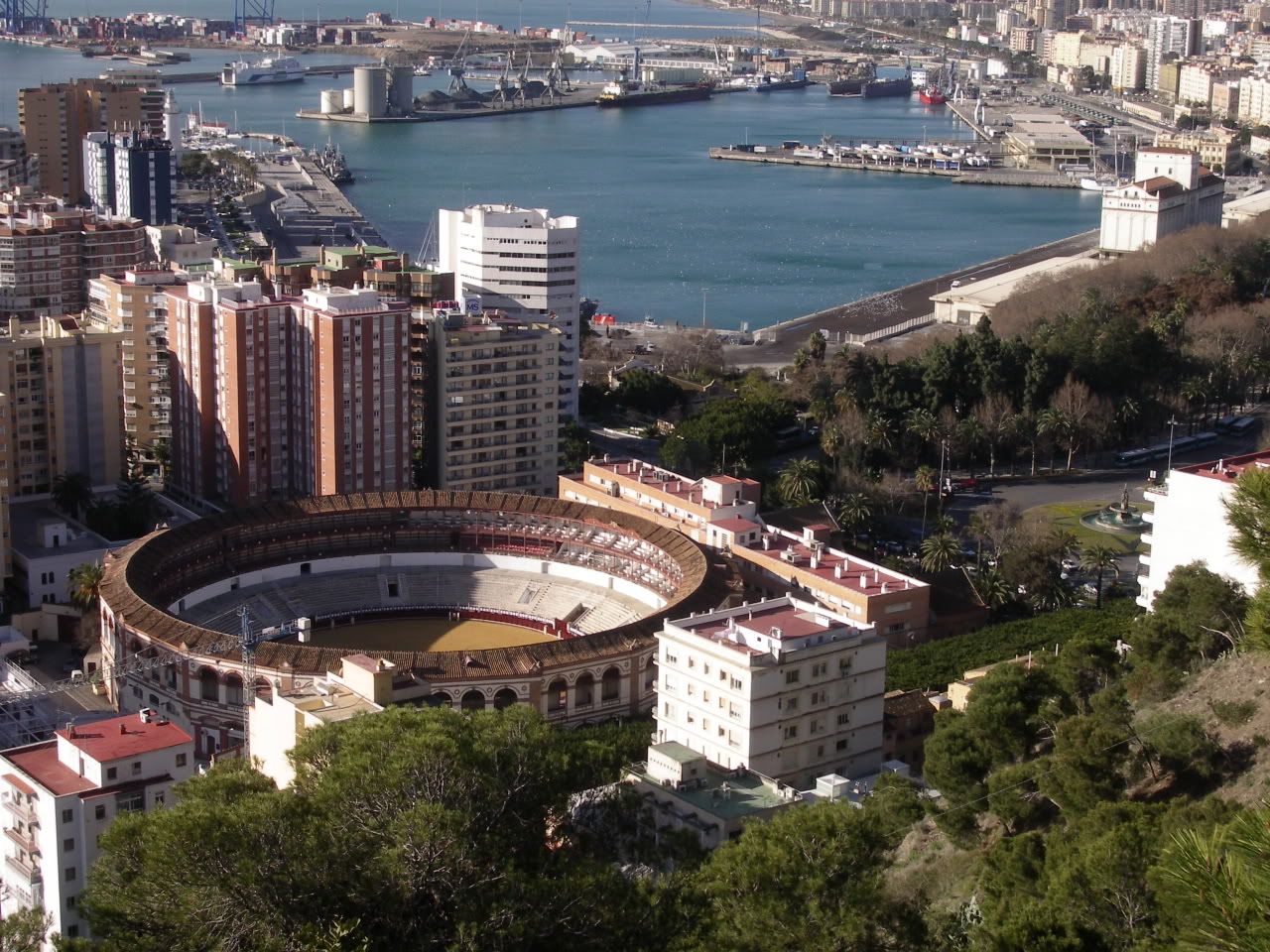 And again: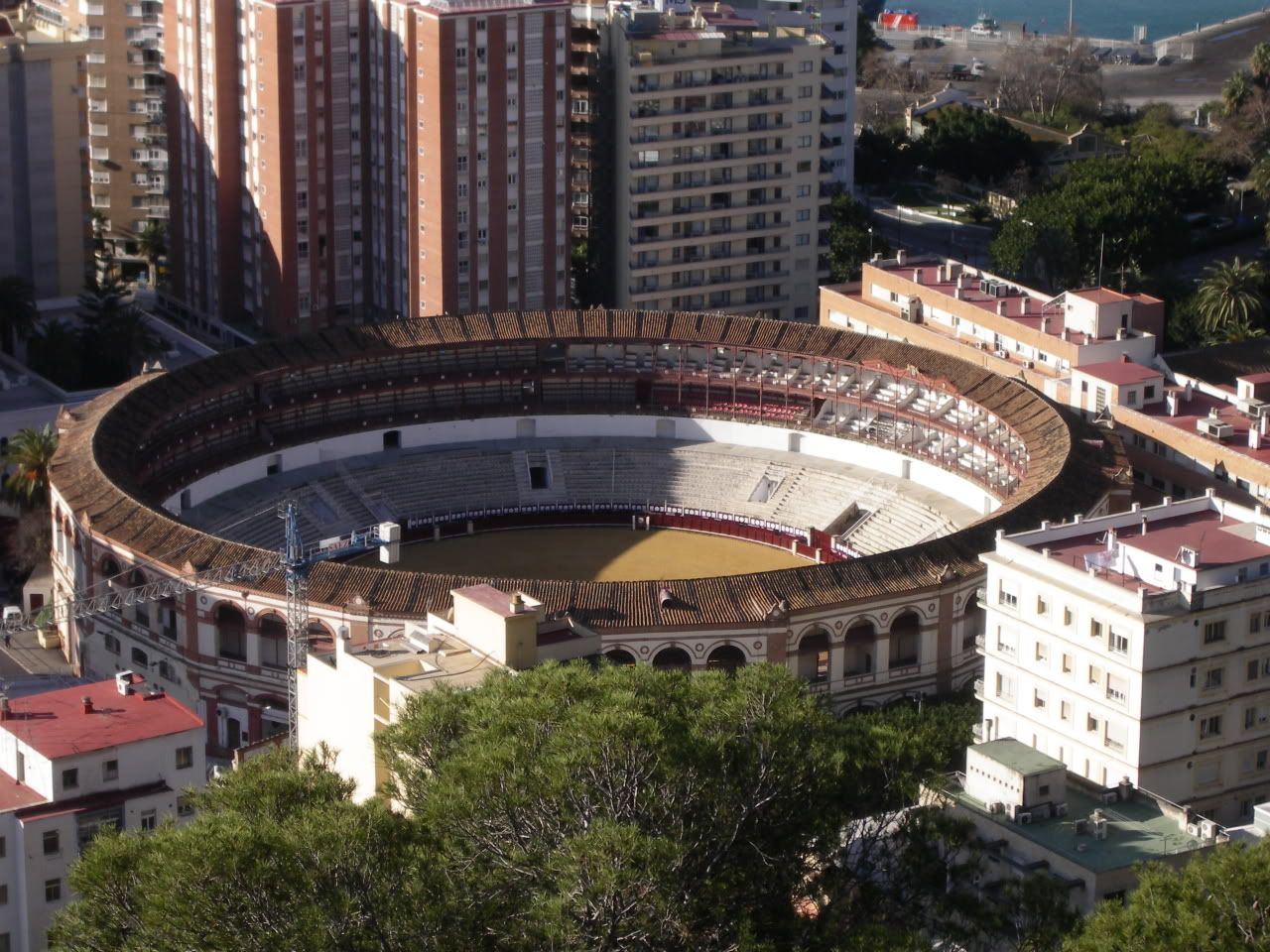 Monday, 20.02.2006
AGP (Malaga-Pablo Ruiz Picasso ) - MAD (Madrid-Barajas)
JK 6289 operated by Spanair MD 83 EC-FXA
Scheduled: 15.30 // 16.30
Actual: 16.30 // 17.30
Gate: B18 Seat: 12A
Load factor: near 100 %
Fare: 39,72 EUROs
An aircraft with an interesting history:
Delivered 18.12.1990: LaTur Charter / Mexico
In service from 02.01.1992: TAESA / Mexico
In service from 03.08.1992: Compass Airlines / Australia
In service from 25.05.1993: Transwede / Sweden
Since 12.03.1994: Spanair
Left the hotel at around noon, spotted the arriving planes from a business area near the airport for about an hour and parked the rental car at the airport at around 1.30 pm.
AGP today is a big building place with lots of detours, dirt all around.
In the large and spacious but nevertheless oldfashioned airport building short thereafter. Spanair check-in was in the B area of the terminal.
AGP main building: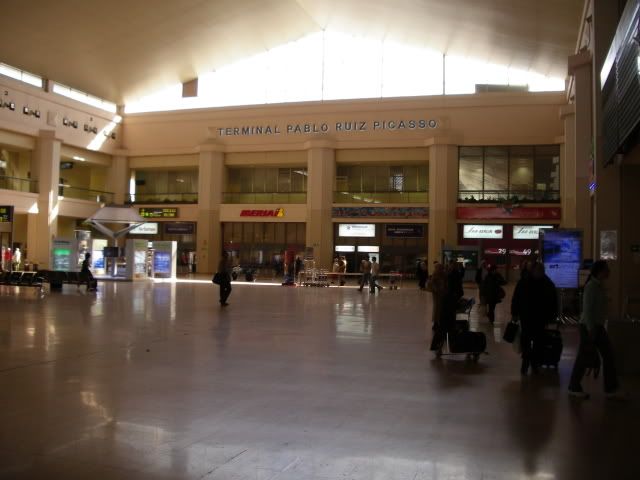 3 desks open, no time to wait there. A friendly young female checked me in. I will see if JKK credits Miles and More this time, the last one was in a no miles booking class.
View from the A area: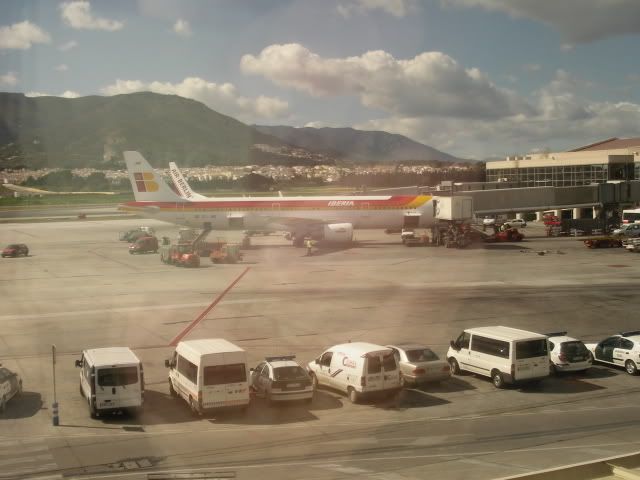 Time enough to explore the building, a good place to view the action ouside from the A area, but dirty windows so I decided to go airside at around 2 pm. No time and no problems at security.
Airside AGP:
And again:
Found a good place at the far outer part of the airside terminal and followed the action outside. Lots of UK planes there. 5 BMI Baby birds, 2 x Thomsonfly, Jet 2, FlyGlobespan. Iberia, Spanair, Portugalia and so on.
EC-FXA arrived at 3.15 pm, too late for a ontime departure. Leisure leg No. 8 on the MD83 and the first on this plane.
EC-FXA just arrived:
Taxi EC-FXA: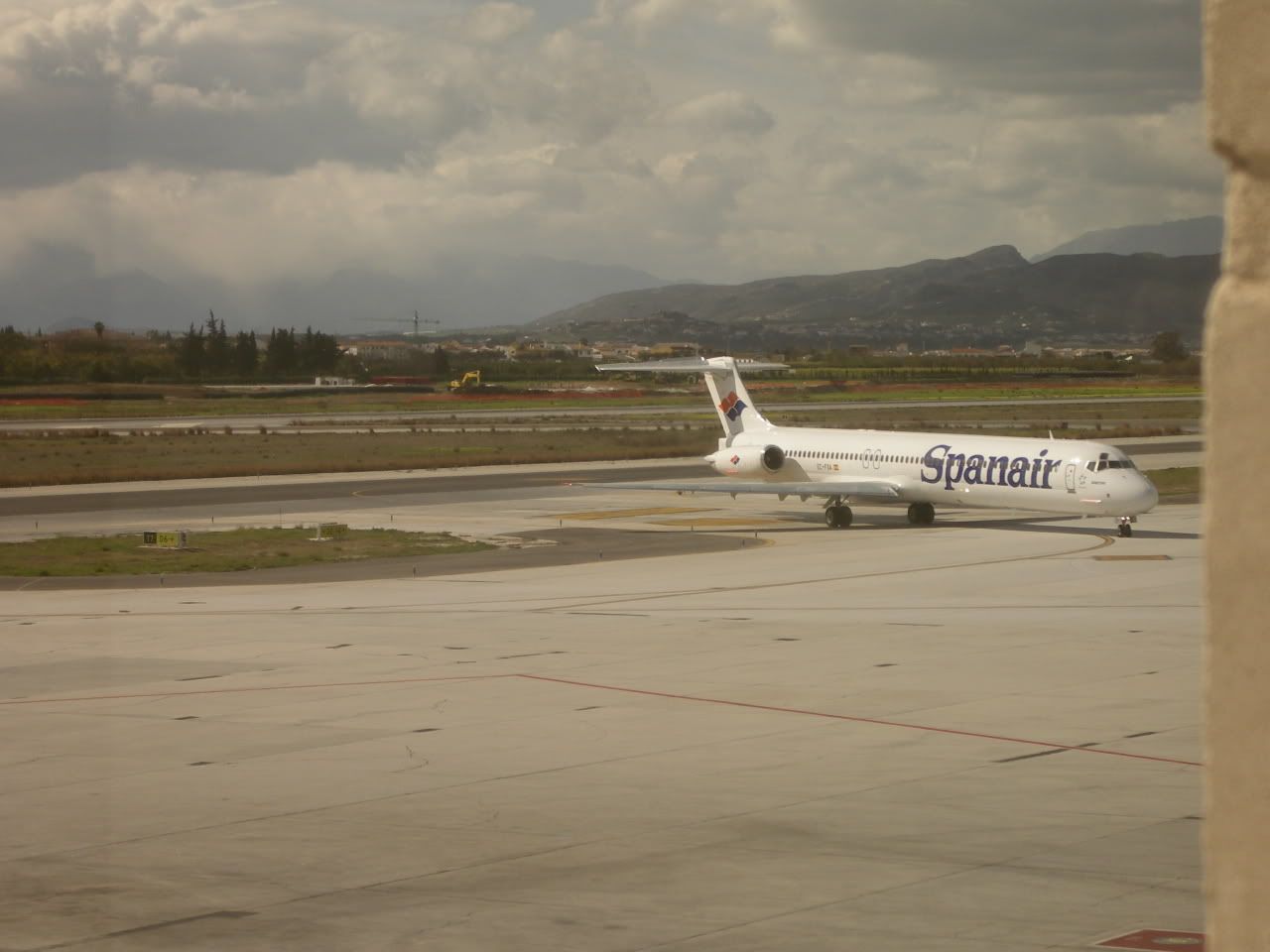 At the gate:
No delay or information on the screen. Boarding started at around 4 pm through finger gate No.B 18, announced was B20.
Welcomed by 2 female FAs, friendly on a not to high level. Lots of biz pax on this service and a large tour group of retired spanish couples ( like a kindergarten!).
The plane shows its age, a well used one. Old fashioned spacious fabric seats, good legroom. The male pax in the B seat was upgraded to biz during pushback, so enough space for me on this leg.
Departure from runway 32 at around 4.30 pm, one hour late.
No explanation or apologize for the delay from the flightdeck, absolutely no information around also no flight route this time.
No service on this leg, the FAs rushed through the cabin with their trolley but I had not the impression that they really want to sell anything.
Calm flight. Approach started early, during approach the FAs came around and handed out vouchers. Why that, you asked?
Spanair has an ontime guarantee on domestic flights, that means a delay for more than 15 minutes caused by JK = a 25 % discount on the next flight on all domestic routes booked during the next 60 days. For biz travellers a free flight on the same route. Not bad, so I hold a voucher now for a domestix JK service.
Arrival on runway, sorry dont know, a long way to taxi, deboarding by a finger gate in T 3 I think and in the public area at around 5.30, 1 hour late.
After deboarding at MAD: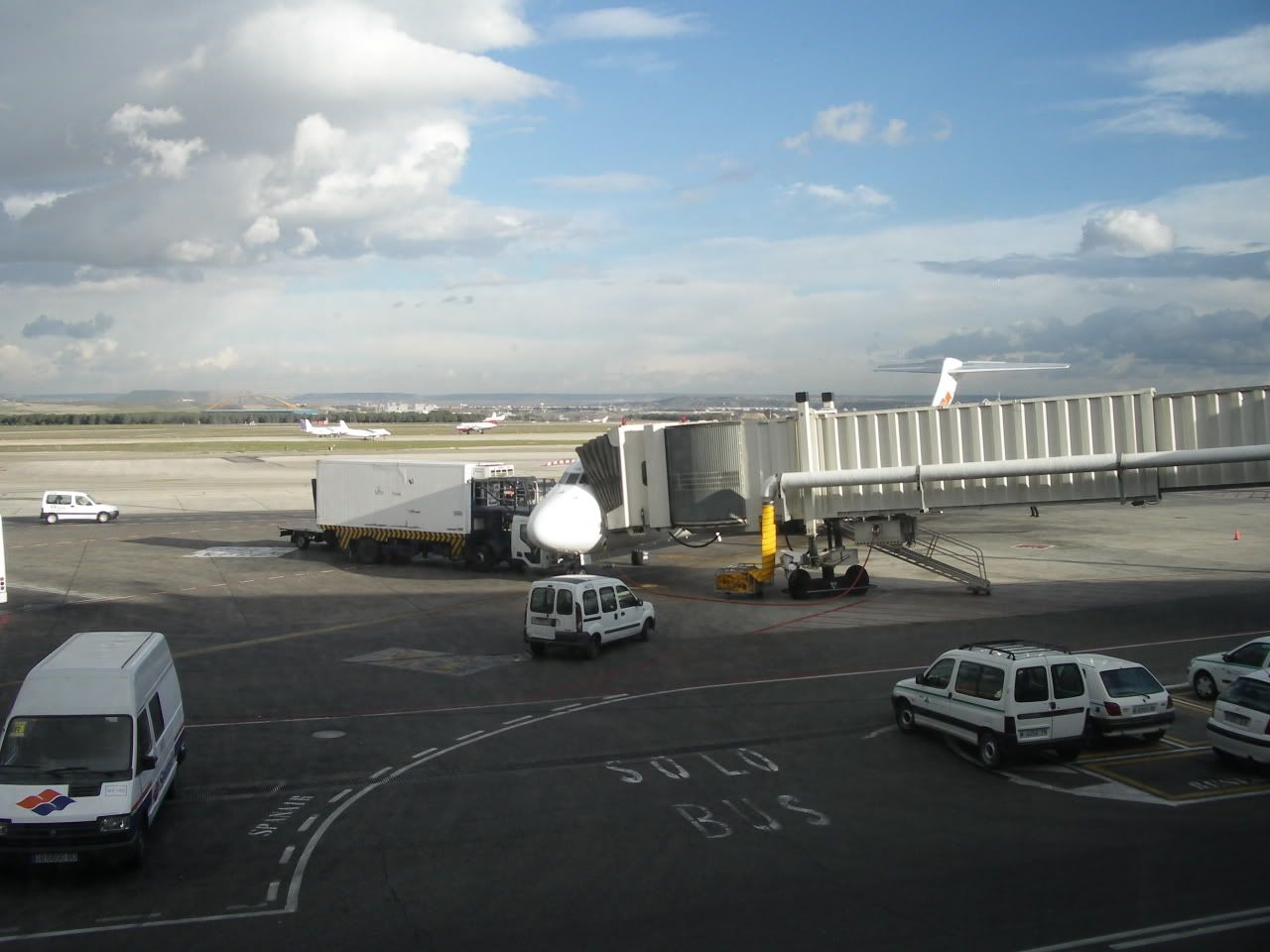 Monday, 20.02.2006
MAD (Madrid- Barajas) - STR (Stuttgart-Echterdingen)
4U 2513 operated by Germanwings A 319-100 D-AKNK
Scheduled: 19.35 // 21.55
Actual: 19.40 // 21.50
Gate: C41 Seat: A last row
Load factor: around 90 %
Fare: 33,81 EURO
Delivered to US Airways: 10.09.1999
In service with Germanwings since: 04.10.2005
A long way to go from T 3 JK arrivals to the far end of T1 where Germanwings check- in was located. Present there at around 5.45 pm, not the best situation when your short in time. 2 desks open, 2 queues there with around 20 pax per queue. Around 10 minutes to wait. Check in again by a friendly young female agent.
A long way back to security in the C area, only seconds to wait there, crossed without problems and on the way to the announced gate at 6 pm.
Note the classic freighters in the back: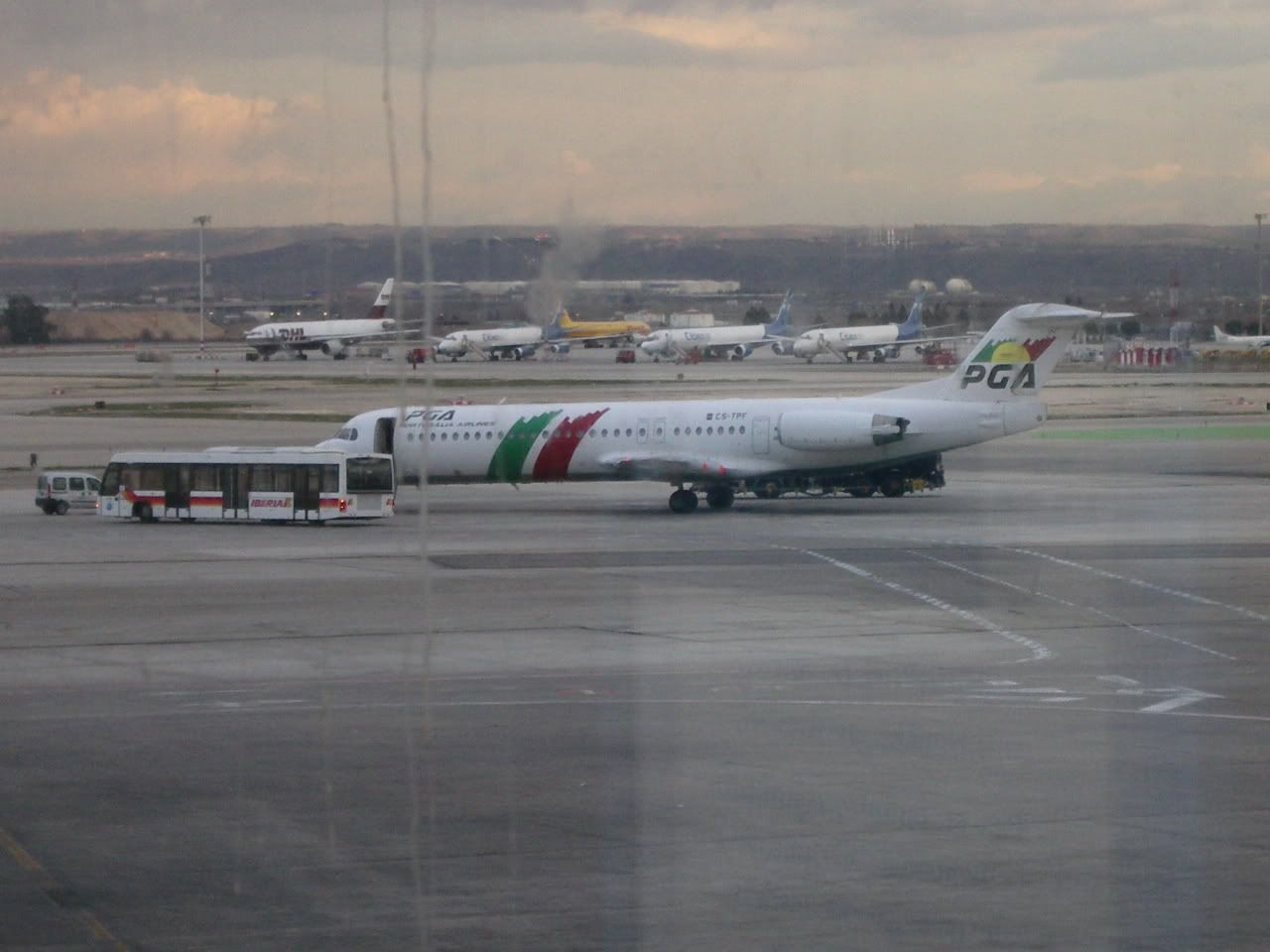 No real good places for spotting there, dirty, dark windows. At the announced gate at around 7 pm.
D-AKNK, leisure leg no. 17 on the A319-100 and the first on this plane arrived at 7.10.pm. Again a finger gate.
Arrival D-AKNK: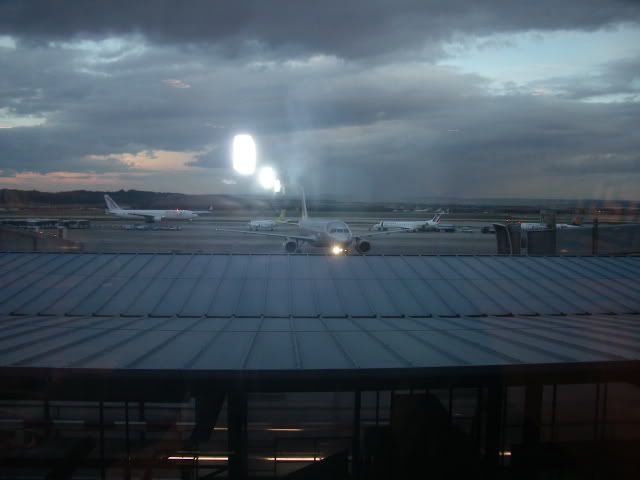 Boarding started at 7.40 pm, strictly by rows and goes quick forward. I expected not the best load as there are not to much pax to check-in when I was finished there.
Welcomed by a real friendly male FA. Free Spiegel and Focus magazines on offer. I settled down on the A seat in the last row and was lucky as the 2 other seats remained free. Some biz pax on the plane, but most of the pax leisure travellers. Bright grey fabric seats on this ex US Airways bird, IMO the leased LH planes are more spacious. A short way to taxi.
My first aborted take off follows.
We entered the runway, engines spooled up, started the run and than heavy brakes and a sharp stop.
Now I know why bags must be stored secured.
1 minute without anything. Than again engines spooled up and a powerful,steep departure follows. About 10 minutes in flight the captain came on the intercom and explained the situation. There was no other plane to depart from our runway, the controller cleared us for takeoff but he mentioned that we´re to fast and came to close to another departing plane on the runway beneath so he changed his mind and forced us to stop immediatelly. We´re only some meters down on the runway and so he cleared us again as the other plane was departed and we´re taking off fast, no special difficult situation. IMO a good thing that he explained the situation so quickly.
Flight route: MAD-LYS-GVA-ZRH airport good to view-STR.
A calm flight, time goes by fast as I read the free magazines. The FAs sold a lot on these flights, hungry afternoon pax!.
Approach to STR runway started 25 minutes ahead to arrivals, good wheather, no shakers.
A soft touchdown, we´re parked on the apron, the only one out of 6 legs without an airbirdge and deboarded by bus. Said goodbye to the very friendly young female on the rear door and was in the airport ontime at 10 pm. 5 minutes to wait for my bag and on the way back home.
Conclusion/Rating:
1. Germanwings: Good fare, ontime service, the friendliest FAs on these trip, free magazines. What do you want more?
2. Condor: Fare ok, ontime serivce, free meal service, very friendly cockpit crew, not to friendly FAs.
3. Spanair: Fare ok, no explanation or simple sorry for the delay except from the voucher, not to friendly FAs.
Over all a interesting quick trip to southern spain included one new airport (AGP) for me.
Comments and critics always welcome,
Markus (FLIEGER67)