This trip is a part of a tour my brother and I took to Paris and London.
You can find my trip report about our journey from and to TLV in here:
TLV-CDG-TLV Winter Trip With LY (w/27 Pics)
(by
4xRuv
Feb 28 2006 in Trip Reports)
We've spent some wonderful 3 days in Paris. What a great city.
The day of the flight I went to see the Louvre for the first time in my life (though it wasn't the first time I was in Paris). Afterwards I met my brother, and we went to eat lunch in a great local restaurant I knew from my last business trip here.
Early afternoon, we returned to our hotel, picked up our luggage, and took a cab to "Gare du Nord". I really think that the Cab driver was cheating us, saying we have to pay for his way from the taxi station to our hotel, but since I had no choice, I just paid him. Tourists are suckers….
CDG-LHR
Date:
11/2/2006
Airline:
British Airways
Flight:
BA323
Aircraft:
A319-131
Registration:
G-EUPP
Departure (Pushback):
18:10(18:11) local time
Arrival (Touchdown):
18:30(18:19) local time
Class:
M
Seats:
21A and 21B.
Gate:
B29
From "Gare du Nord" it's about 30 minutes to CDG terminal 2's station. When we arrived, we took a bus to terminal 2B, which was quite empty as it was Saturday afternoon. Strange thing about CDG 2B, maybe because the way it is built: The passport control is done before you can check-in, which means you have to stand in line for it with your luggage. I hate to think what would happen on a busy day and a long line.
The check-in counters were quite empty, and the check-in agent was a really nice guy and since there was no line behind us, we chat for a while. We asked for an emergency row, but he said that they were already taken and the only seats he could assign us together were on the last row.
Check-in counters of BA in CDG
Since there was nothing to do there, we decided to go to the gate area, so I could take some pictures. We had to find our way in between some check-in counters to find the way to the security search and from there to the gate area. Boy, who designed this terminal? He should not be allowed to design anything but Lego terminals….
Try to find the way to the gate…
This was the first flight in this trip which actually left on daylight, which means I got the chance to take some photos:
The earlier flight to LHR was just closing when we arrived: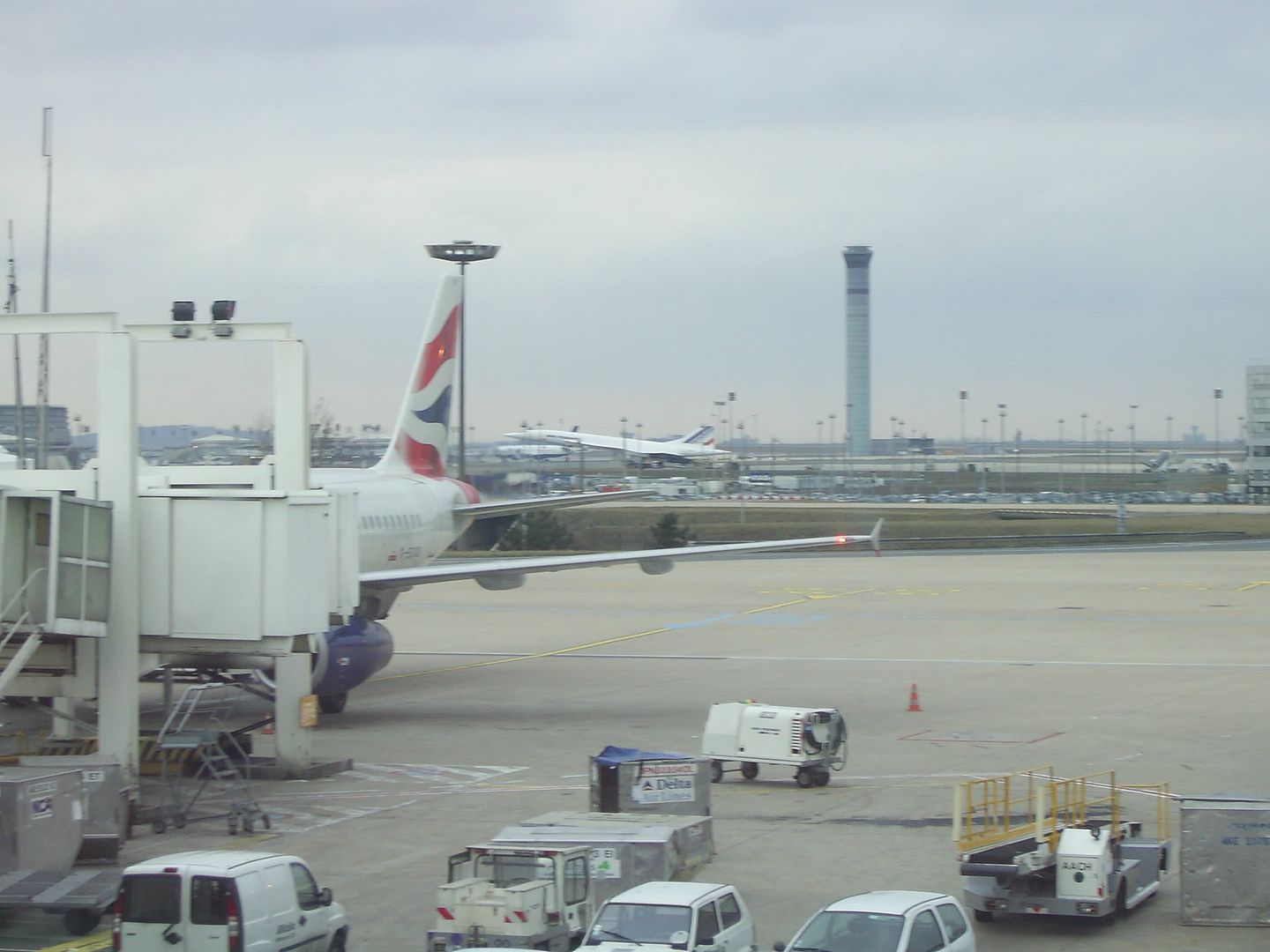 You can also see AF Concorde way back
And pushed back:
See you in LHR
A by passer:
AF Regional Fokker 100
Our gate was still empty, awaiting the plane from LHR:
Empty gates at Empty Terminals
Around 45 minutes before our departure it has finally arrived:
G-EUPP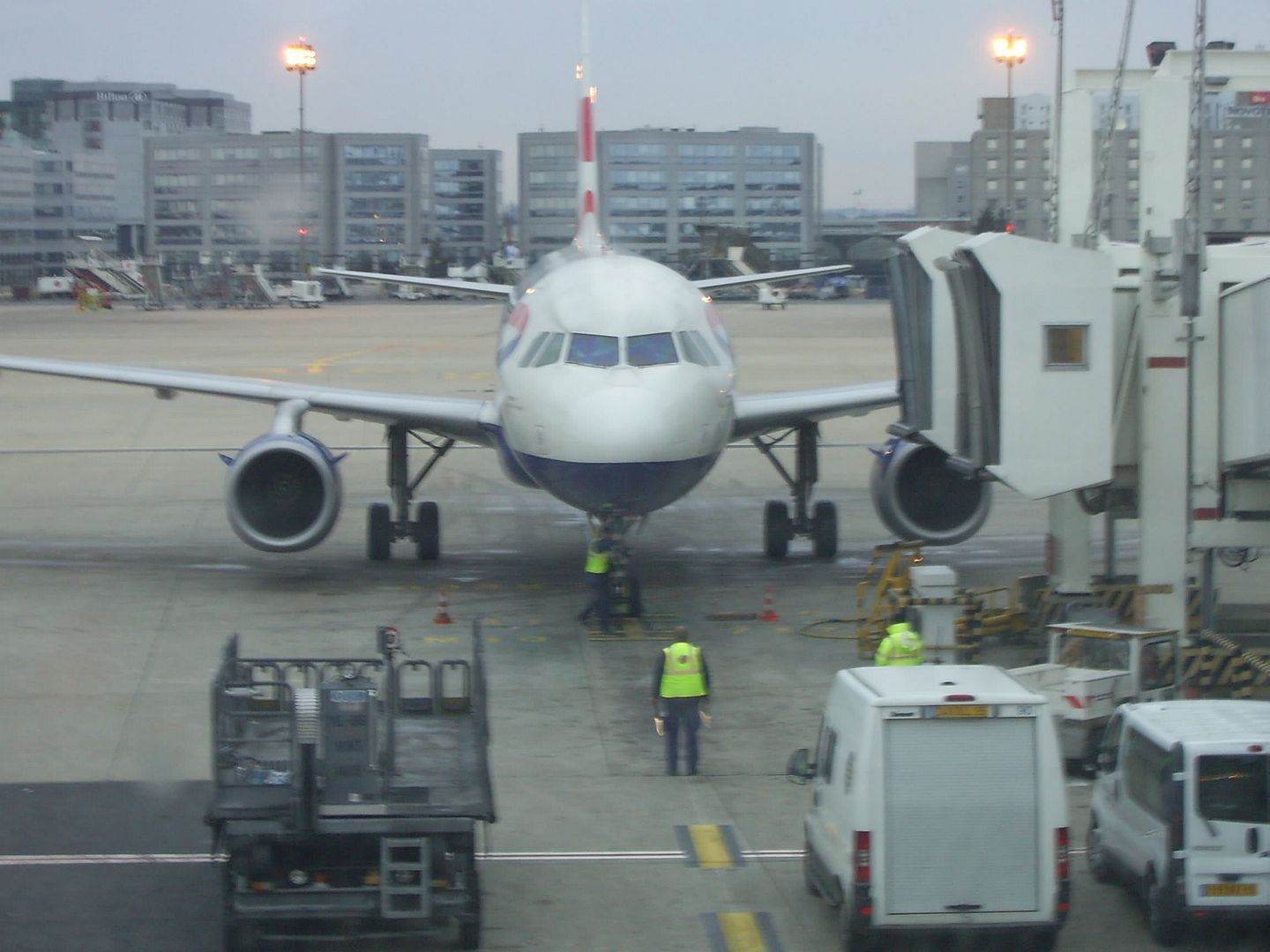 On your mark…
The captain/co-pilot (couldn't see from where I was standing) was doing his walk around the plane, chatting with the ground staff:
You can see him resting on the right engine. What a dream job
Soon after the cleaning staff have finished their job(we could actually know when that was as their vehicle was right in front of us), it was time for boarding:
Our boarding passes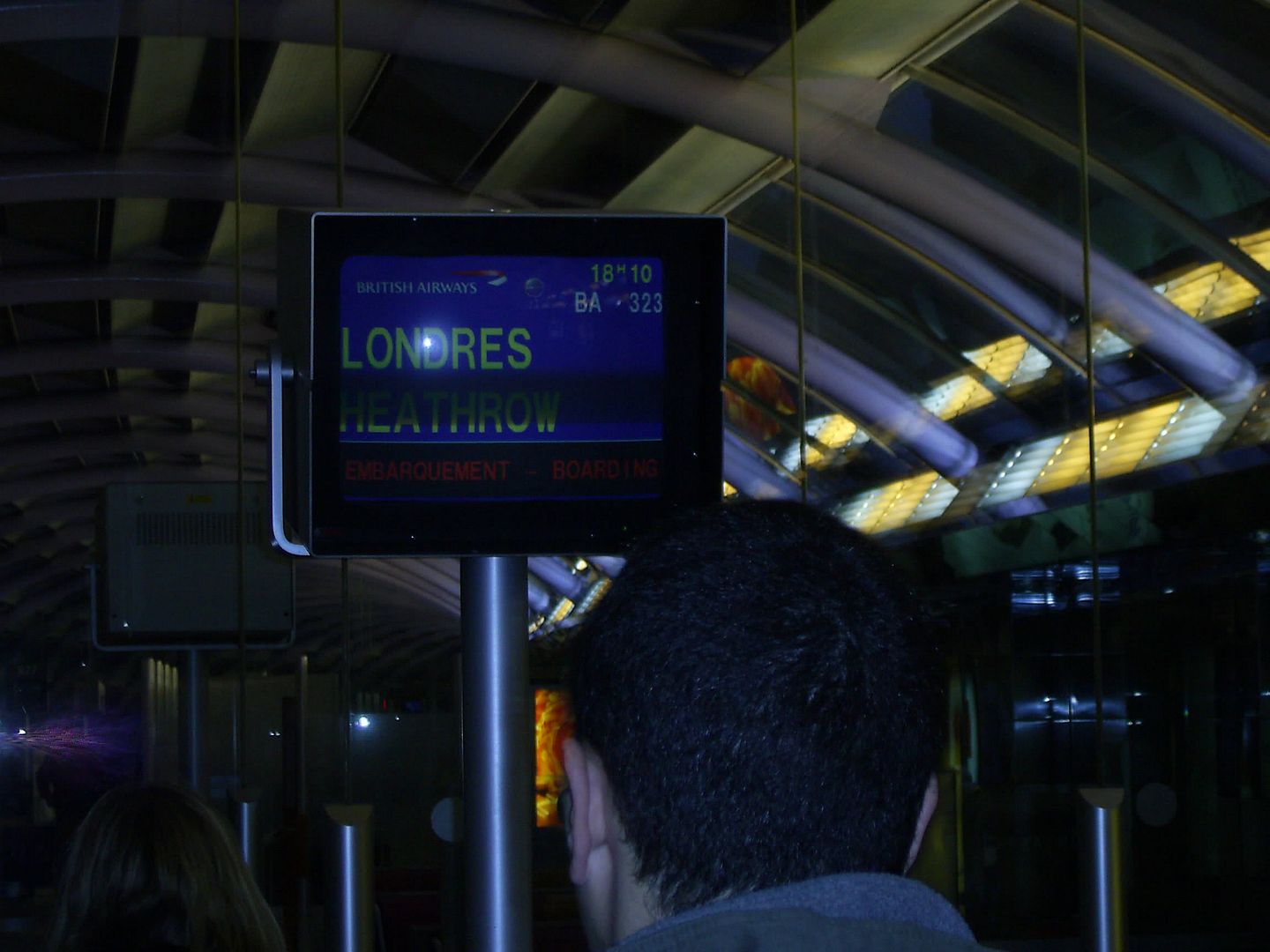 Boarding
On our way on the jet way, I managed to take this photo of a Malev 737 who's just arrived:
Sorry for the poor quality: The sun was going down
We've taxied to runway 09R, and then the flight attendant took the "don't use any electronic device" too seriously and decided that I can't use my camera till we're airborne. Urgh! So at that point I just put the camera in my bag, and enjoyed the flight. So no more photos from this leg, which was quite short and uneventful. Soon after wheels up drinks were served, together with a small bag of chips, which you can see in the photo I took on our return leg. Soon, we've started the "traditional" circling of LHR, which wasn't too bad (In one of my previous flight to LHR we were actually circling LHR longer than the actual flight took).
We landed on 27L, and had to hold on the taxiway because our gate wasn't free yet. We waited around 5 minutes, and taxied to our gate on terminal 4.
The passport control was a bit strange; the immigration officer "interviewed" us for several minutes as if it was a job interview…
Pretty soon we collected our luggage and headed to London city.
Got to say: London is my favorite city in the world.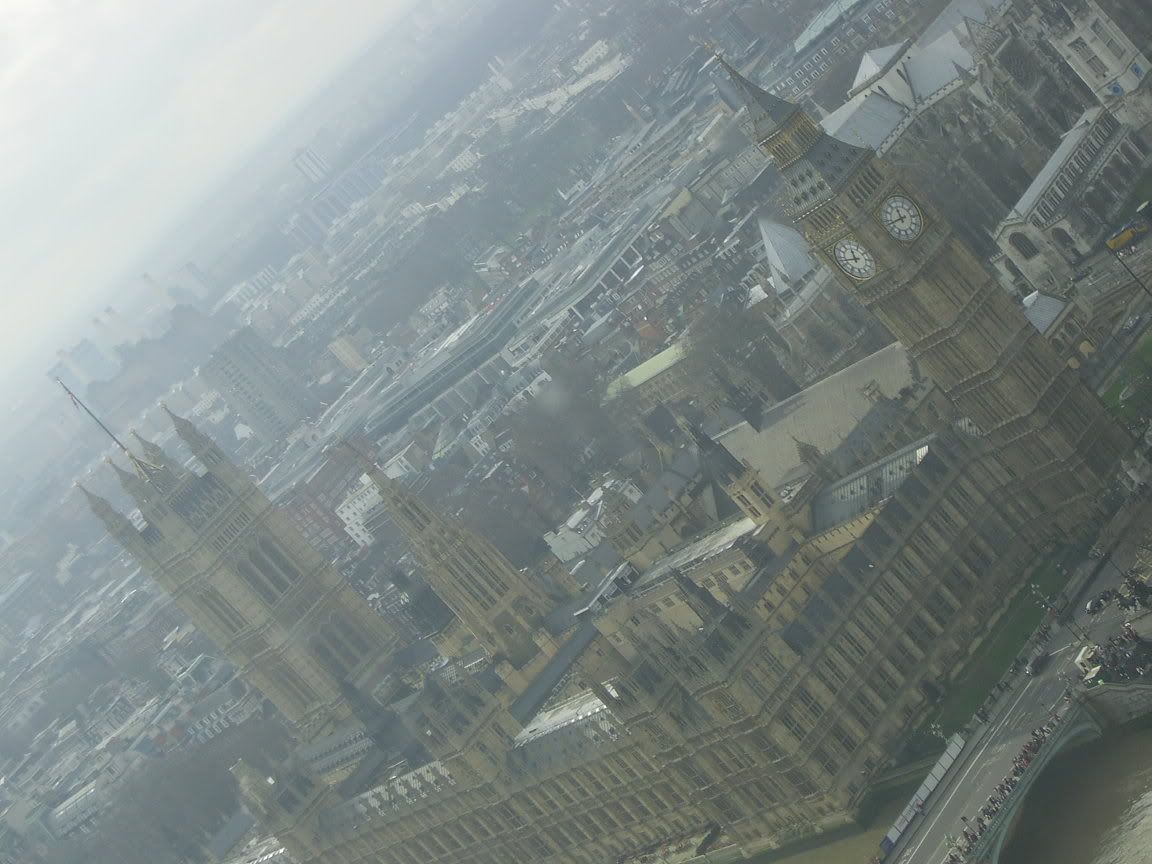 Parliament
Tower Bridge on sunset
LHR-CDG
Date:
15/2/2006
Airline:
British Airways
Flight:
BA322
Aircraft:
A320-232
Registration:
G-EUUB
Departure (Pushback):
17:10(17:05) local time
Arrival (Touchdown):
19:25(19:10) local time
Class:
M
Seats:
21E and 21F.
Gate:
08 (Terminal 4)
London was great, and it was time to go home. After spending the morning at the famous oxford street, we headed back to our hotel, took our luggage and went to the very close tube station for a direct train to the airport.
Terminal 4's tube station is closed till September, so there's a complimentary bus service from Hatton cross station, which is about 5 minutes ride.
The bus
This evening we were to check in from zone B, which was quite empty:
Treminal 4 Zone B
There was no line and we asked the agent to send our luggage all the way to TLV. He did it, but said that he couldn't give us boarding passes for our second leg, which was understandable considering LY and BA are not related in any way.
Afterwards we went for the security checks where we've found a long line. Some people were selected from the line for a "new" security check. Displays at this area explained that this is only a test procedure, and that passengers who decline this procedure will be given a full body search. Luckily, we weren't chosen. I think it's not very nice "threatening" people with a full body search to participate in these tests.
Soon, we got through security, and went to sit down for a coffee. I think I've found heaven: There were so many BA's passing by. At one point I left my brother with our stuff, and went to take some pictures. Here are some selected:
BA 777 towed to a gate
One 777 wheels had to be replaced: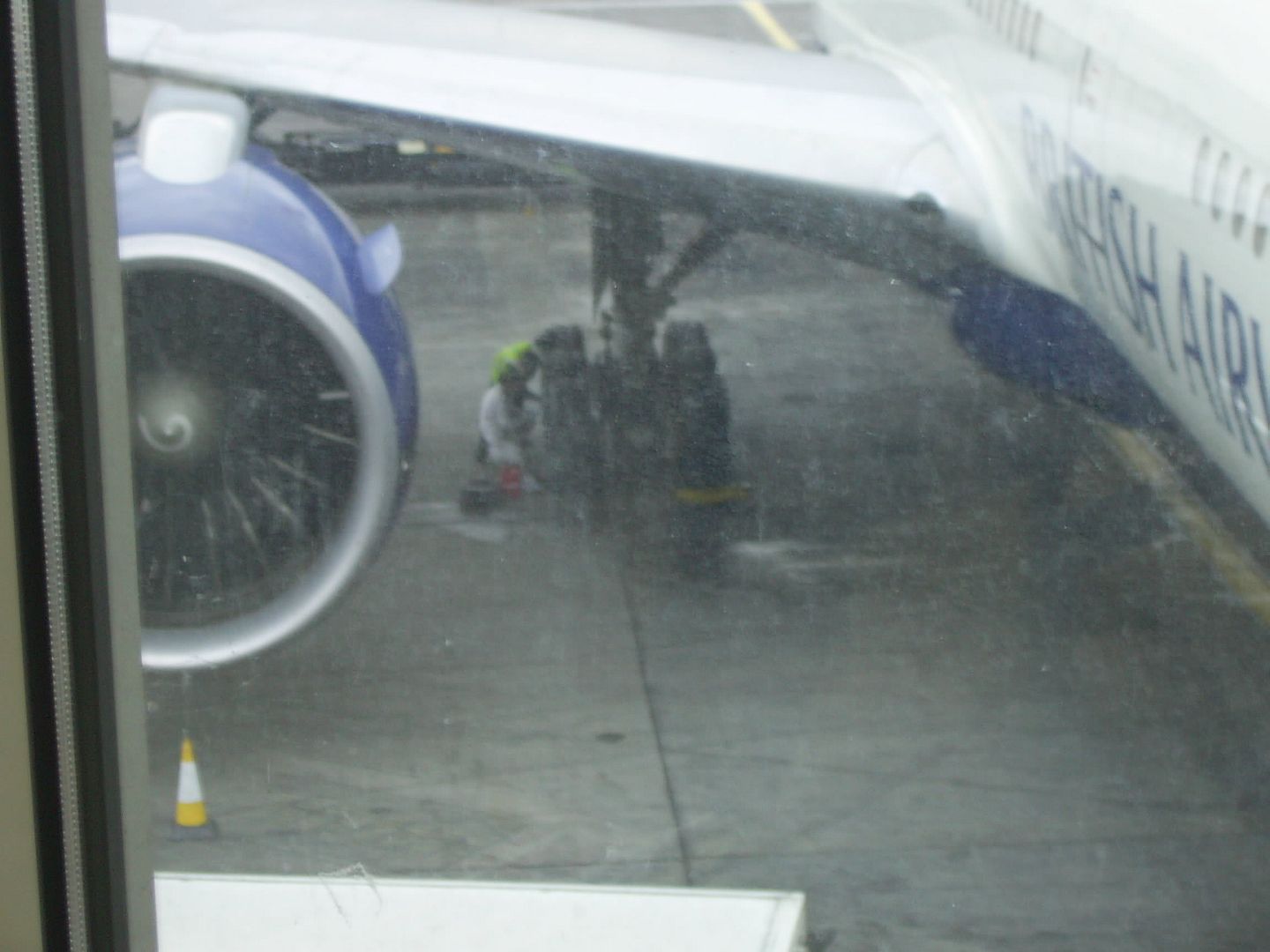 BA technicians. Sorry for the poor quality
All is done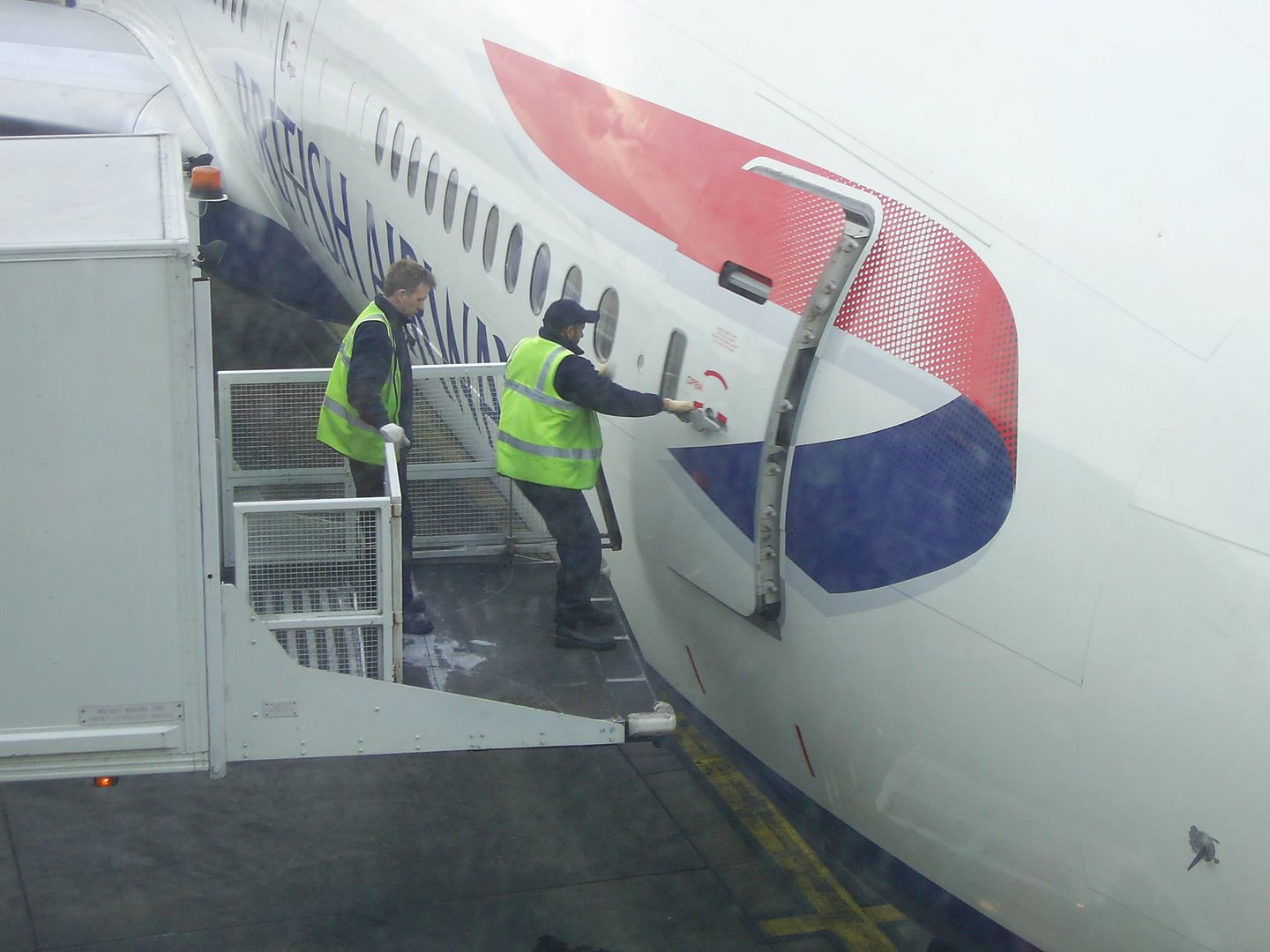 Another BA 777 catering loading
BA 744 getting ready to depart with LH A32X landing behind
Loads of BAs
When boarding has started, we headed to gate 8 where there was no line and soon we were on the aircraft. This time I didn't take any chances, and took a photo of the cabin before any flight attendant would make up some new rules like "hold your breath while we are taking off".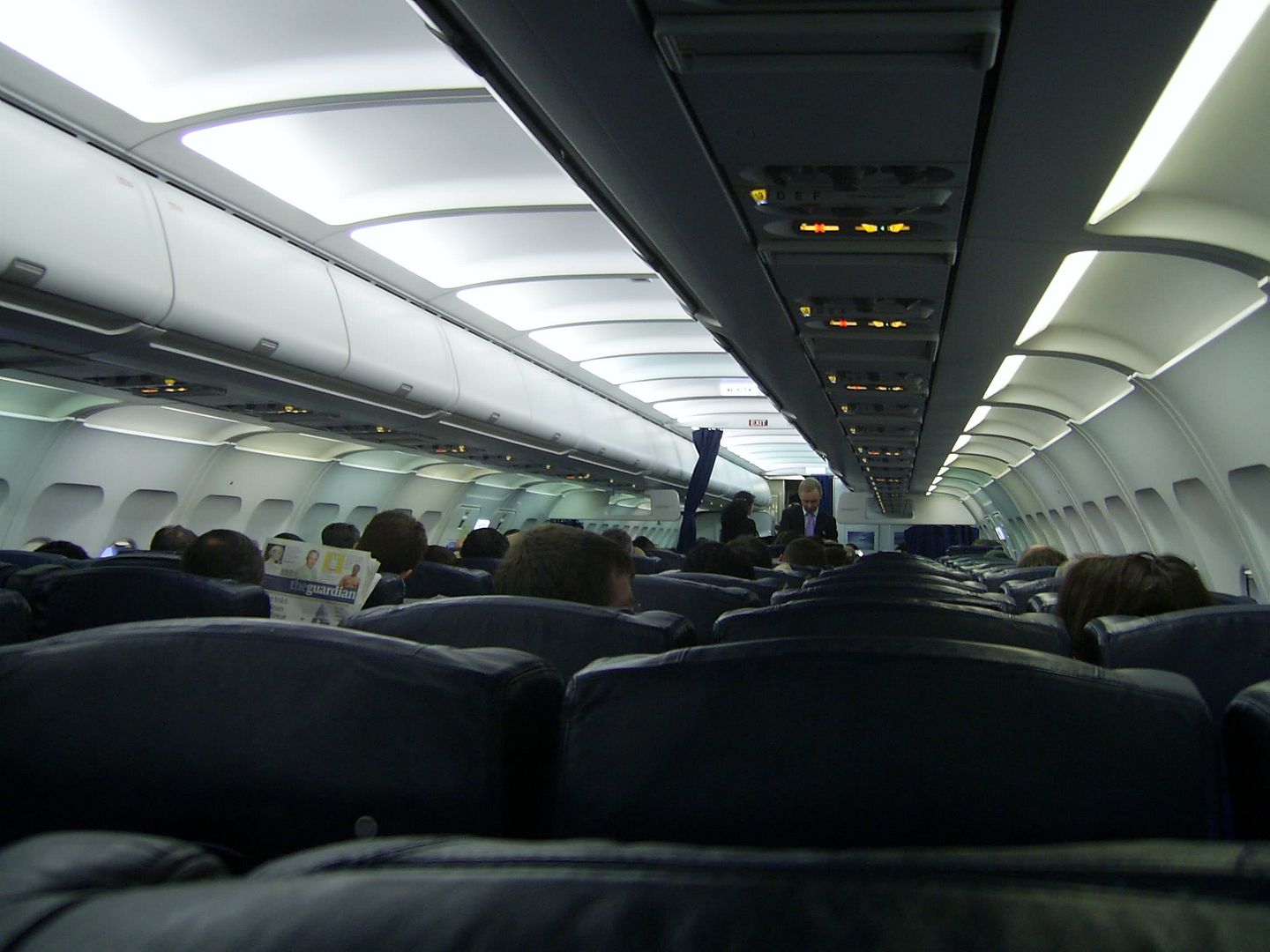 Our cabin
Boarding was over early, and there were several empty rows in the back, so I let my brother have our original triple seats, and settled down in seats 22 A-C. Love it when the flight isn't full.
Here's a photo my brother took when we were still parking:
How many 777s does BA have????
We pushed back 5 minutes before our original departure time, which has never happened to me before, but I heard there is a new rule or something…
We taxied to runway 27R. LHR tower was doing an interesting thing; Instead of one long taxi line, they created 2 short parallel lines. One on the other direction of runway 23 (there's no runway 5 for some reason), which we were on, and another one on the taxiway. I was so happy that I moved to the other side; I got to catch all those great photos, especially the first one. I couldn't believe how small it is: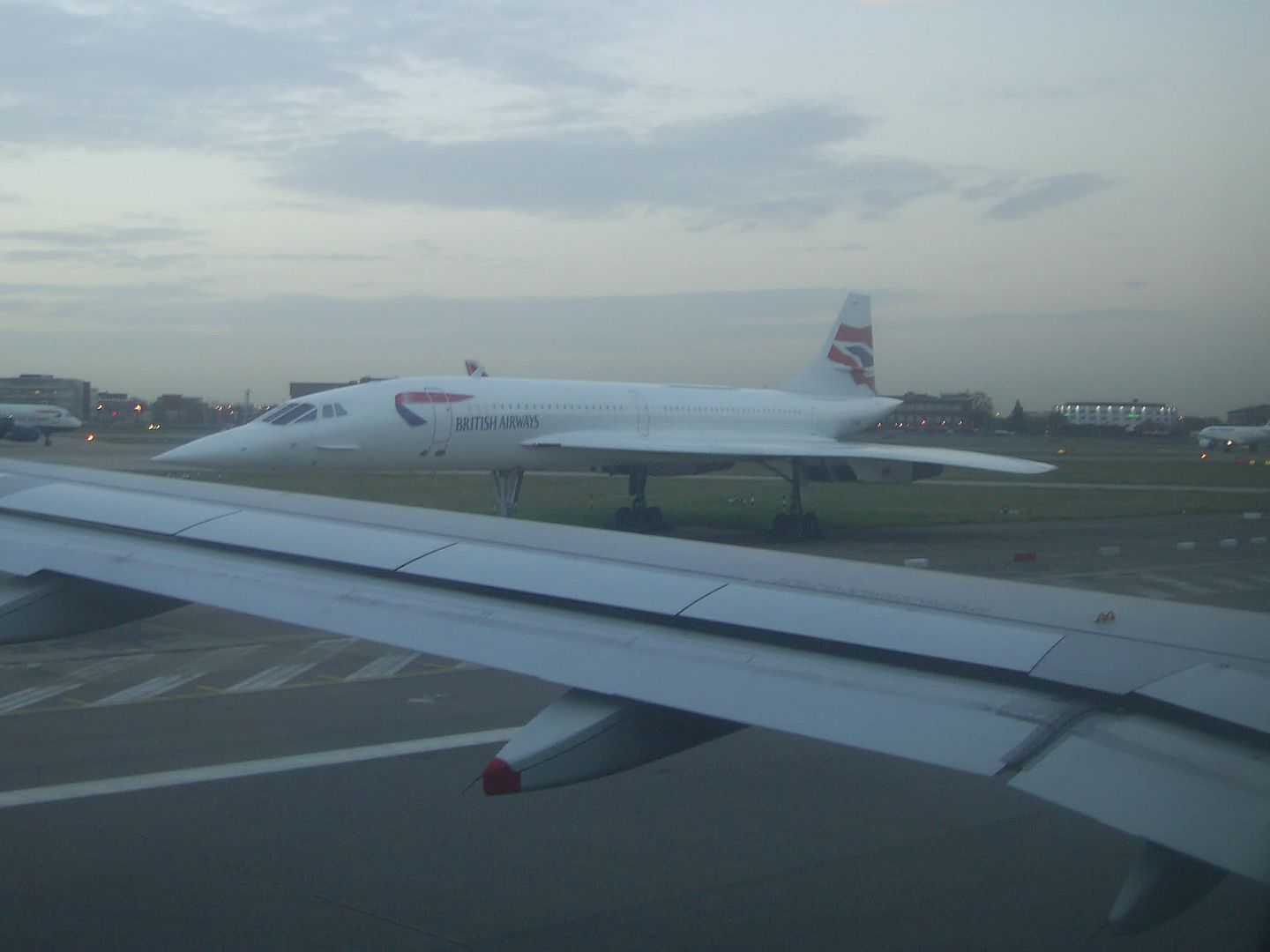 That's it? That's the all mighty Concorde?
Hope to see this guy some day in TLV
I don't know how long the queue was, but it took us about 20 minutes from pushback, to rotation. Shortly after we rotated we've done a series of turns until we got to our cruising altitude. At this point Service has begun, serving drinks (including alcoholic) and a small bag of chips. I took a cup of tea as my throat was aching, and some still water.
I used my book so I could photograph the chips. I was reading "Ana Karenina"
After about 25 minutes we've already started our decent, which was very bumpy as the weather in Paris was stormy. We've jumped up and down as if it was a rollercoaster; so much fun. We've landed on runway 27R (27 seems to be a repeating number throughout this trip), and taxied to our gate, passing by the French Concorde.
When we've disembarked, I asked the captain if I could take a picture of the cockpit, which he gladly approved (Thank you).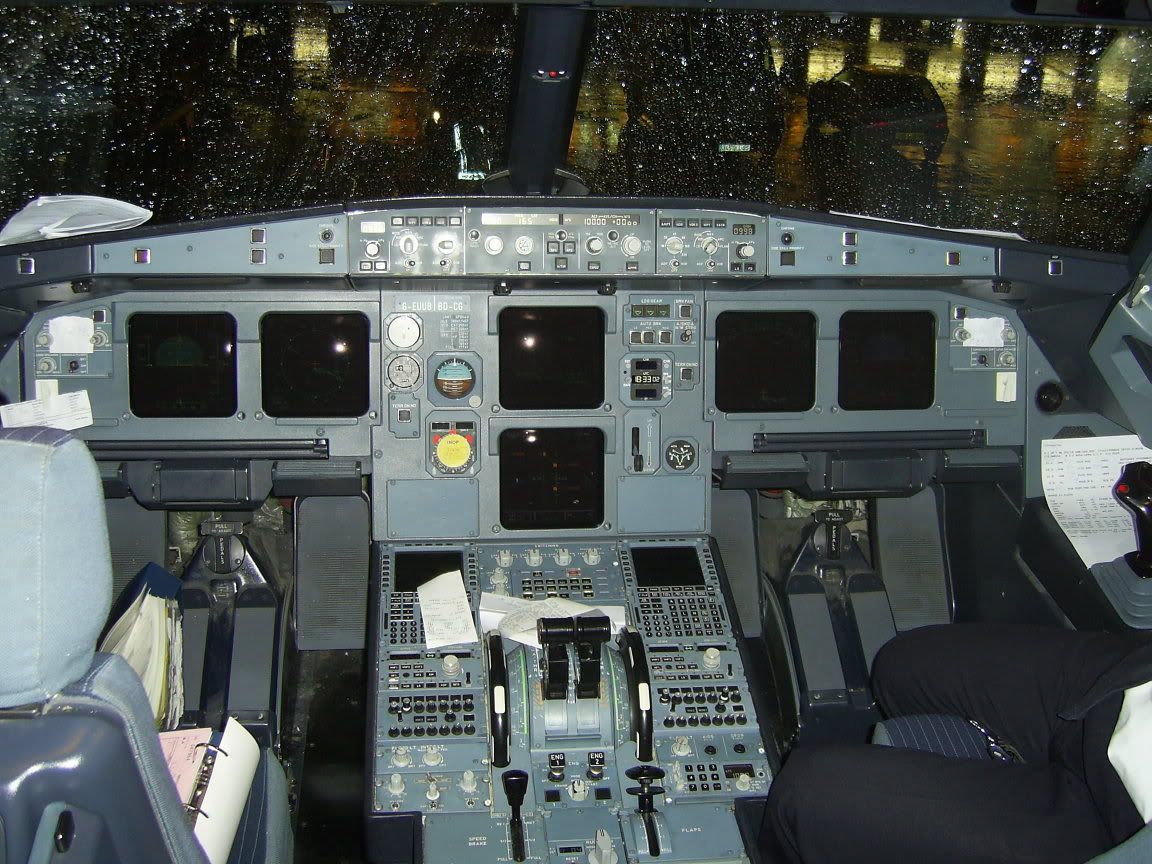 You can see on the window how rainy Paris was
We've left the jet way, and the transfer area was right in front of us:
Going DOWN
The rest of our journey to TLV can be found in this trip report:
TLV-CDG-TLV Winter Trip With LY (w/27 Pics)
(by
4xRuv
Feb 28 2006 in Trip Reports)
All in all, the flights were very short but nice, and I must say I really enjoyed the view, especially at LHR. Hope you liked this report, and I'd love to hear any comment or question.
[Edited 2006-02-28 14:32:45]