STR-TXL-STR on LH and HLX new logojet/PIX
Introduction:
Main reason for this trip was a visit to Berlins biggest city spa, the Centrovital, with my wife.
LH announced in November last year that all domestic routes to Berlin will be bookable as oneways without any restrictions from 59.-- EUROS.
A first answer to the heavy competition on the intra-german Berlin routes, especially from DBA/HLX/4U.
This trip was booked late November last year.
HLX informed us about a rescheduled flight-time, 40 minutes later, by e-mail around mid January, no problem.
Friday, 24.02.2006
STR (Stuttgart-Echterdingen) - TXL (Berlin-Tegel)
LH 293 operated by CityLine Avro RJ 85 D-AVRO
Scheduled:11.05 // 12.15
Actual: 11.20 // 12.20
Gate:162 Seat: 8A
Load Factor: Good 80 %
Fare: 68,09 EUR
Delivered new to LH Cityline:17.10.1994
This trip started by car to STR airport at around 08.30 am, a cold, but dry day.
At the airport at 09.30 am, 1,5 hours prior to departure, enough time to go.
Parked the car at P2, rushed through the cold morning air to T1 where all LH services checking in.
Only 6 or 7 other clients there in front the LH desks. 4 to 5 desks open. No time to wait.
A older female agent checked us in. Confirmation, passports and Miles and More Card on the desk ( credit, great 125 miles!).
LH check-in T-1: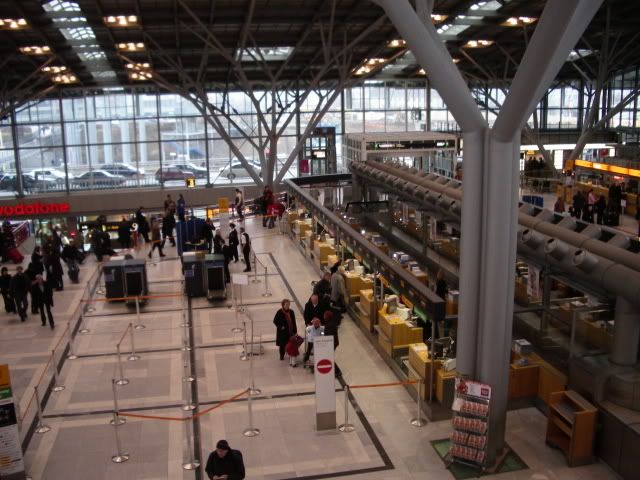 I asked about the scheduled plane, a RJ85 as expected, and the load factor, good 80 %.
I decided for a window and a middle seat and hoped that the aisle will be empty.
Bags off, a quick photo-shot from the upper level and we crossed security without problems at T3, that was faster this time than T1 with lots of people there.
Settled down at the windows of T3 to view the action outside. Activity all around, planes arrived and departed without a break. The usual STR traffic,
LH,DI,HapagFly, BA,AF,AZ and so on.
Departure queue, note the US government B737W on the right hand side of the pic:
Departure queue again: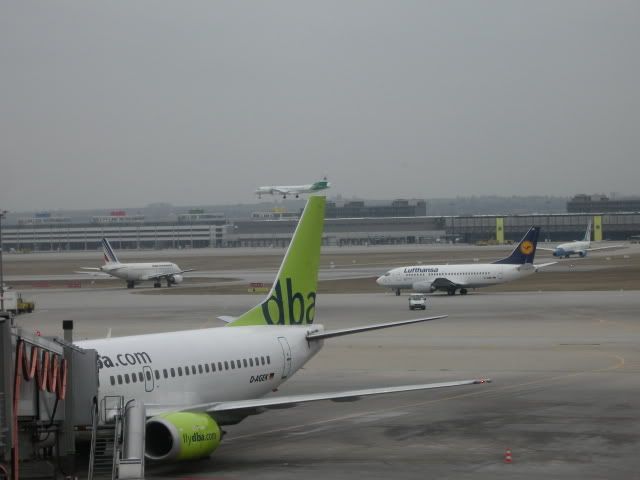 Down the stairs to the bus gate 162 at around 10.30, boarding was announced for 10.40 and started perfect on time.
Not to much space in this waiting area of T1, but only filled with the pax for the smaller planes like the CRJ or the ATR, it was ok.
The male agent wished us a good trip and onto the bus to the aircraft. No newspapers or free coffee to see, another downgrade on LHs domestic policy?.
Only a short way, the plane was parked near T1,beneath the first finger gate, earlier used as a bus park space, now cleaned up and signed and especially used for the RJs or BAE planes. My first time on the RJ85 and the perfect registration for this premiere = D-AVRO.
Welcomed by a not to friendly middle aged female at the front door of the plane. I read some reports about the 3/3 seating on these birds and I agree with it,
this is a real camped seating. But my first impression was a not positive chemical,sweet smell, terrible. Dont know if this was from the fuel tanks located nearby but it was not nice. Another male FA on the plane, not to friendly at all. Plane looks good, grey leather seats, clean, well maintained.
Inside D-AVRO: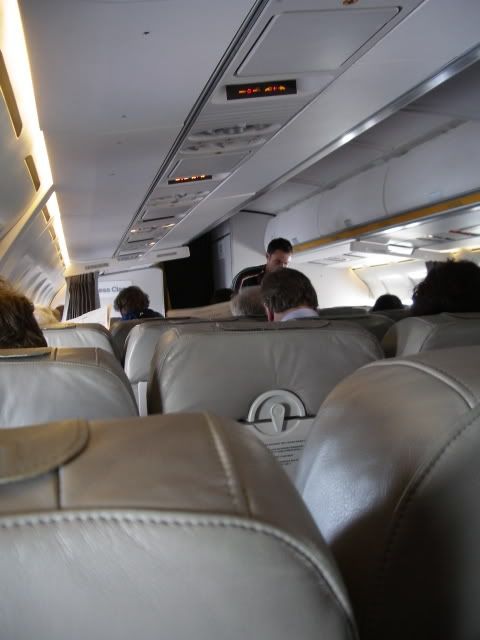 Mostly weekend travellers on the plane, not to much biz people to see.
The very friendly pilot welcomed us by phone and told us his story about what to expect on this service. Ontime flight, flightime 1 hour, route: STR-ERF-LEJ-TXL,
cruising altitude 7.000 meters and announced a quick pushback.
Some minutes later he was again on the phone and told us that he never mentioned this heavy traffic this morning at STR, we are no. 5 to start up the engines and no. 7 to take off.
Mega hub times at STR!.
Around 10 minutes later we´re pushed back and taxied to a runway 07 departure in eastern direction, around 15 minutes late.
A quick departure follows. The sky cleared up during our way to the northeast and from around Erfurt I had good views to the icy eastern german landscape.
Leipzig airport: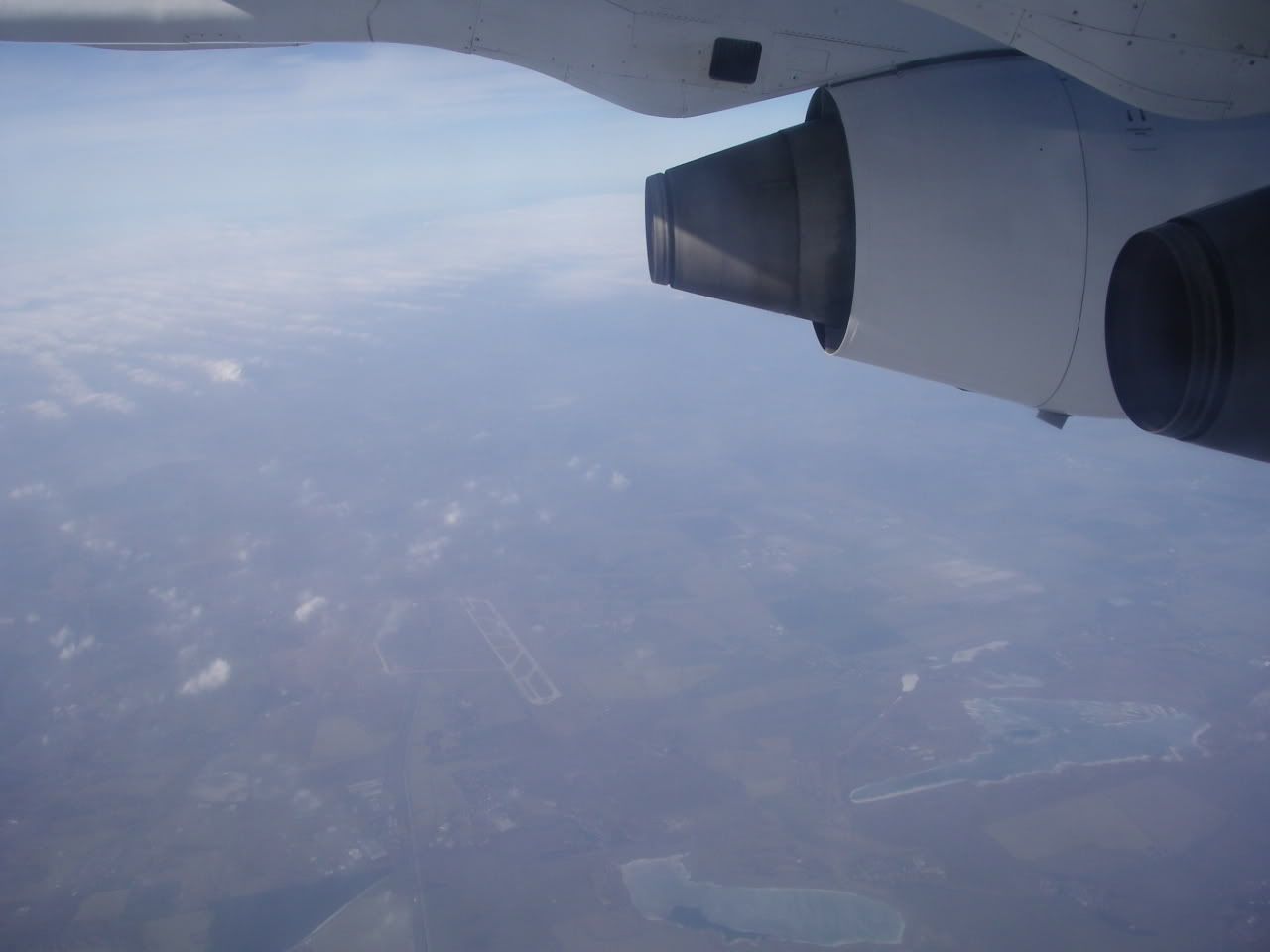 Frozen lakes around LEJ:
The captain was 2 or 3 times on the phone during the flight, explained the locations around and the wheather situaion at Berlin and told us that he will do a deal with the controllers for a shorter connection to TXL and a possible ontime arrival. A calm flight, no turbulences.
Service, one time free drinks, nothing to eat, no papers or magazines.
Approach from the east over the lakes around Spandau, landed at runway 08L .Neither impossible to mention the touchdown, such a soft arrival, nearly ontime. A clear, cold day in Berlin.
We taxied around the terminal building. TXL is a building with a taxiway all around, that means several possible ways for the pilots to taxi to their stand.
Parked at the gate TXL: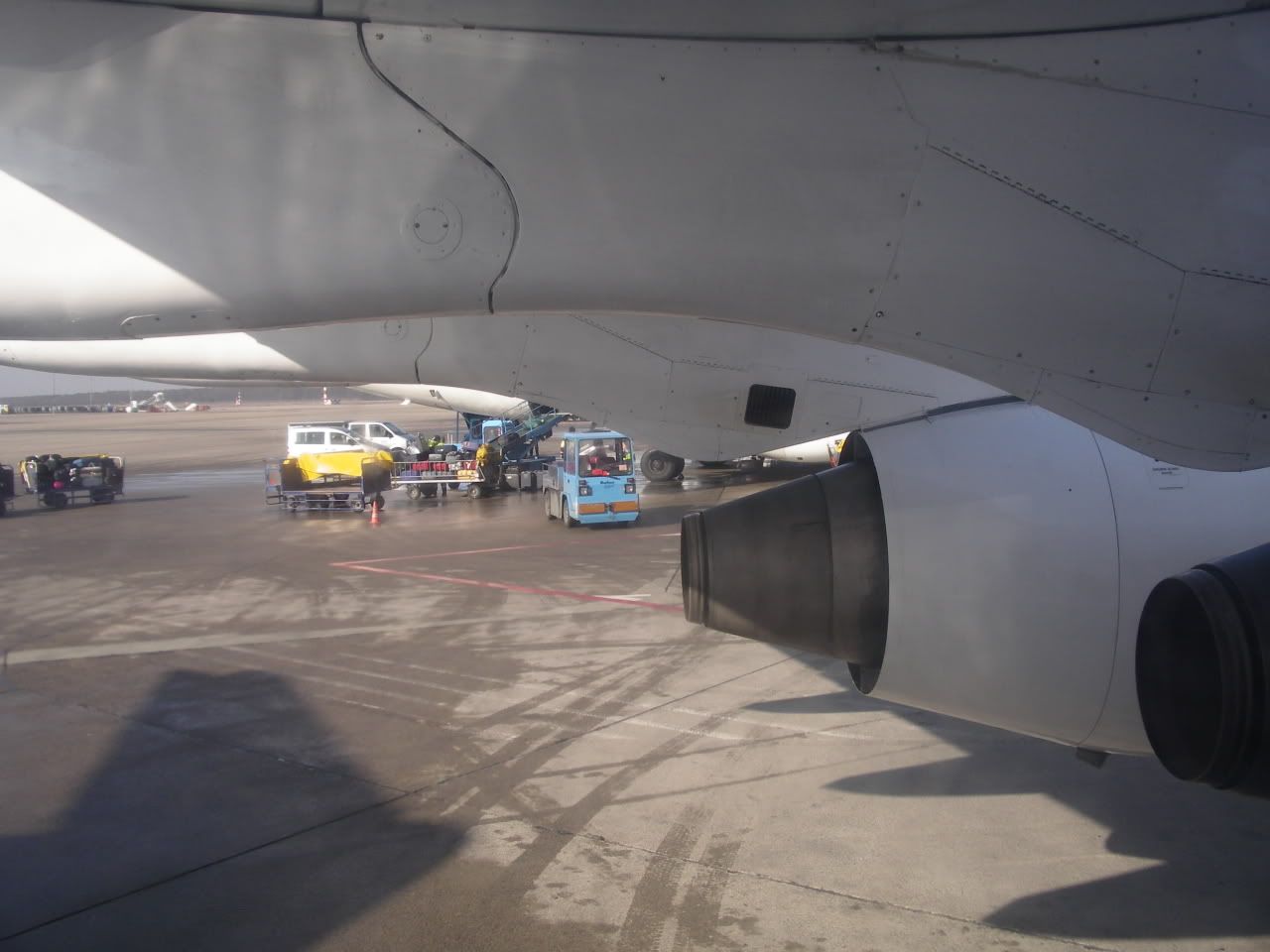 TXL again:
Deboarding by a finger gate after some minutes to wait in the plane. An IB service from MAD just arrived minutes ahead and both bags on one belt, some confusion all around especially by the non-frequent travellers.
D-AVRO-again:
Ground action after deboarding D-AVRO: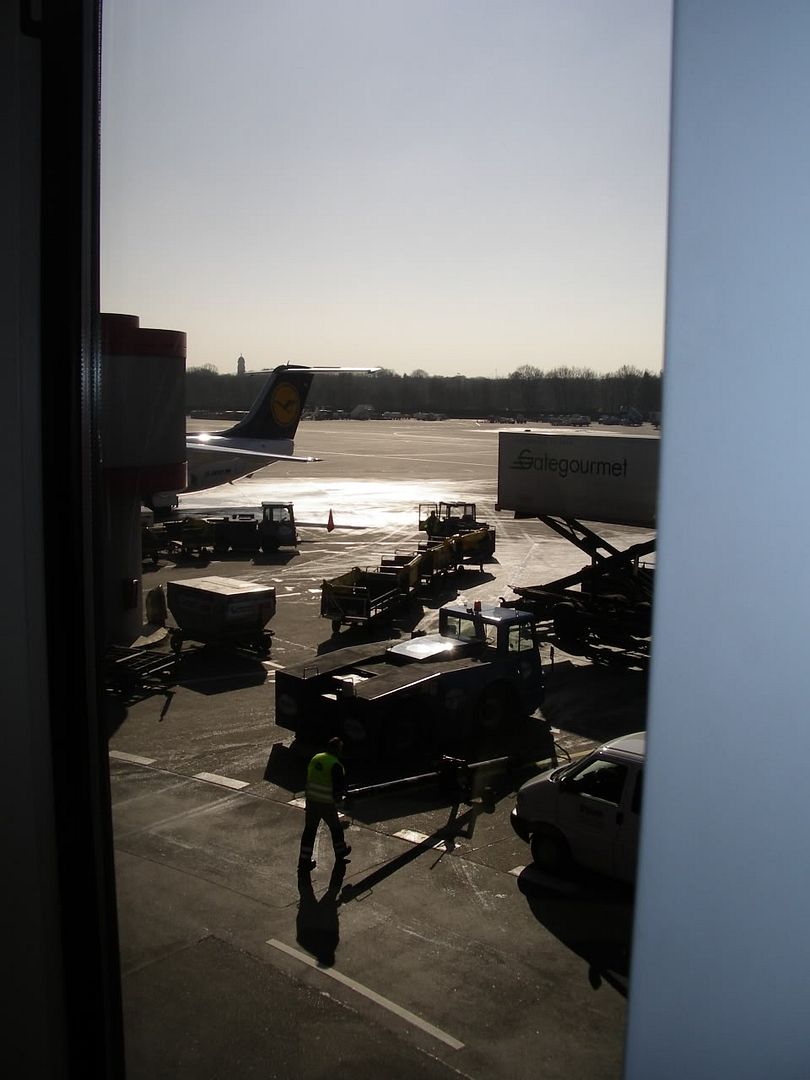 Bags arrived and on the way by taxi to our hotel at around 12.30 am.
Centrovital is located in Spandau, around 30 minutes by subway or S-Bahn to the city center. The largest spa hotel around Berlin with a big indoor pool, several saunas and so on.
Lobby Centrovital: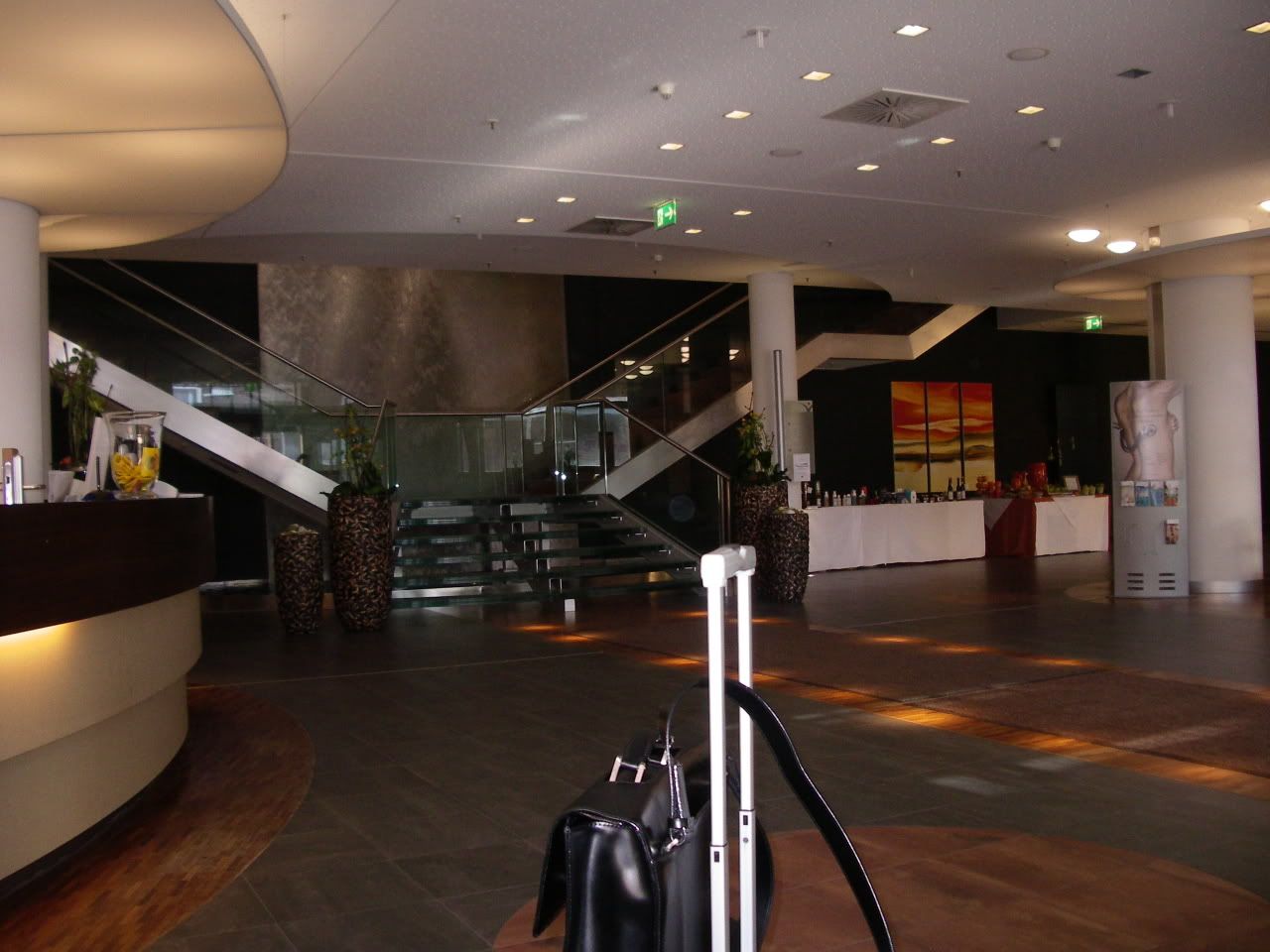 Booked by Octopus travel = 80.-- EUROS B&B, double room per night. A real recommendable hotel.
Sunday, 26.02.2006
TXL (Berlin-Tegel) - STR (Stuttgart-Echterdingen)
X3 5125 operated by HLX B737-500 D-AHLD
Scheduled:16.40 // 17.55
Actual: 16.50 // 17.45
Gate : 19D Seat: open
Loadfactor: Again good 80 %
Fare: 50,95 EUR
Delivered new to Hapag-Lloyd: 15.12.1990
Leased out to Malev,Hungary: 22.12.1998
Leased out to HLX: 05.01.2004
After 2 enjoyable days in the Centrovital we´re on the way back to TXL again by taxi at around 2.15 pm,more than 2 hours ahead to the scheduled departure.
At the airport at around 2.30 pm. The cab driver stopped on the ground floor in front off an escalator, directly to the small building beside the main terminal where HLX check in is handled together with some smaller regional planes.
HLX check-in area:
Some minutes to wait till check in started there, finally at 2.45 with 3 counters. A very friendly middle aged female checked us in. Passports on the desk, bags off, quickly through security beneath and in the waiting lounge at around 3 pm.
Interesting action outside. Blue One to Helsinki, a Eirish registered B 737-800 with winglets operated the MIAT Mongolian service to Ulan Bator via Moscow.
MIAT to Ulan-Bator:
One of the new AirBerlin airbus planes, a SK dash 8-400 and so on.
Apron action: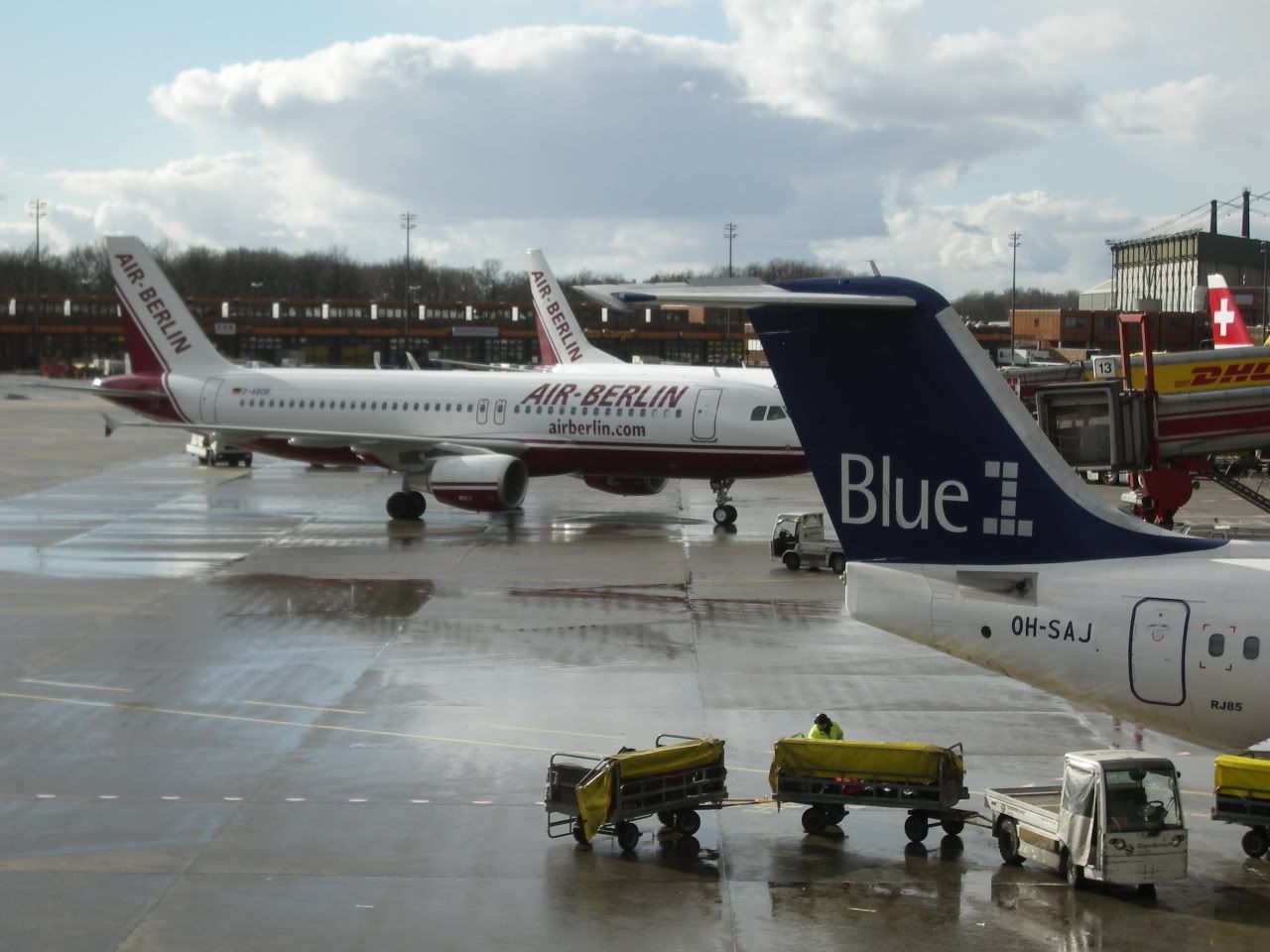 MIAT again: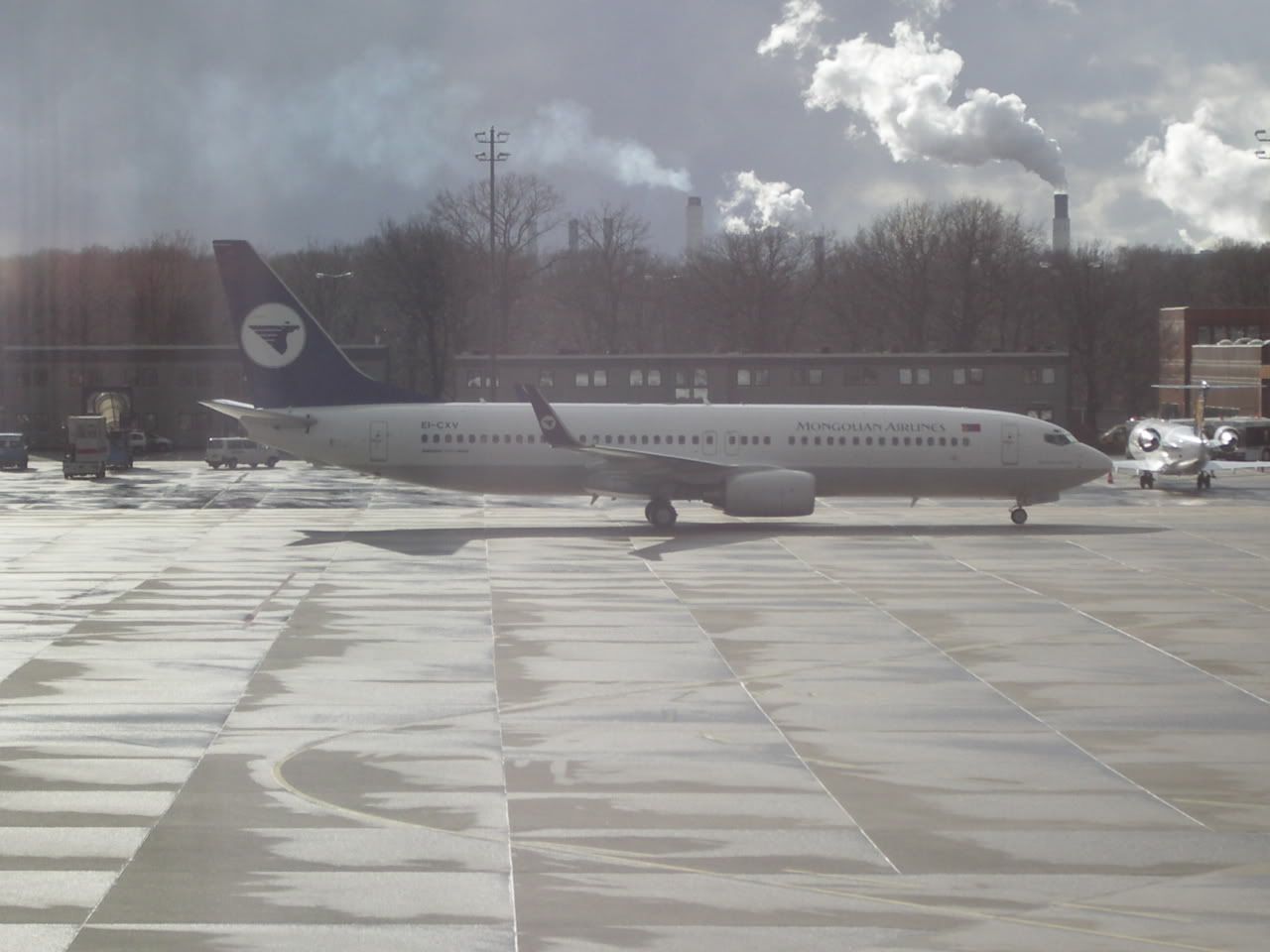 Time goes by quick and at around 4.15 pm I saw not the expected yellow bird on finals, instead an magenta pink one. It was the new HLX T-Mobile logojet, only three days ouf of the paintshop,what a surprise.
Taxi D-AHLD: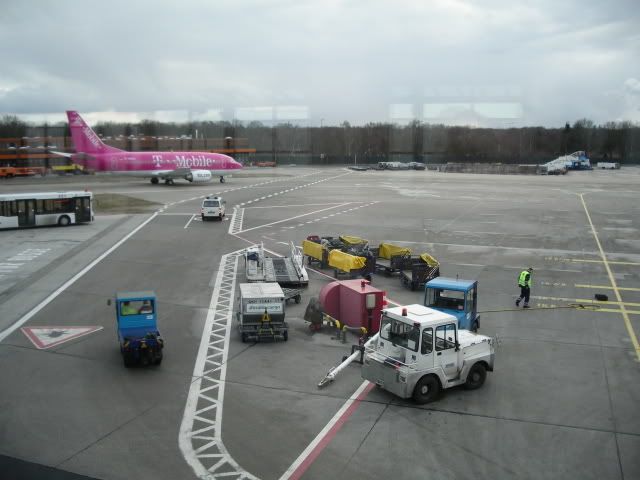 Taxi again:
D-AHLD just arrived: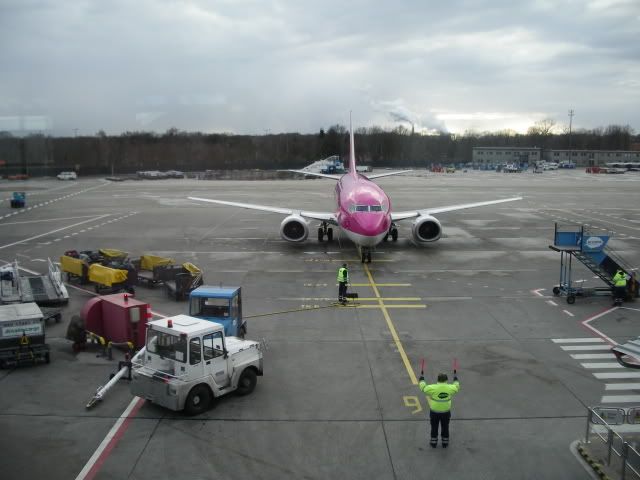 The handlers in action and seconds thereafter D-AHLD arrived at its parking stand.
Leisure leg no. 13 on the B737-500 and the second on this bird.
The pax queueing at the gate, boarding started than without an announcement at 4.35 pm, bad wheather, a snow shower and goes quick forward. Welcomed by a real friendly young female FA at the front door. Usually I enter by the rear door at free seating services, but this time we had to walk from the terminal to the plane, only 10 meters in the snowy wheather, so this time the front door. We find a free row over the wing, the aisle seat remained empty and only seconds thereafter boarding was completed and doors closed. The female FA introduced herself and her colleagues by name, welcomes us again on board and explained the security and service procedures. The captain came on the intercom and announced a quick taxi and departure. So it was, no time to wait at runway 08R and a powerful departure in eastern direction. The plane was fitted with the spacious, old leather seats, looks like clean and in good conditions. If I dont know its age, IMO I dont mentioned it.
All the 3 young female FA´s were real friendly, do some jokes with their pax, a relaxed atmosphere.
Load factor good 80 %, more than expected on this afternoon service. Again mostly weekend vacationeers on the plane.
Inflight wing-shot D-AHLD: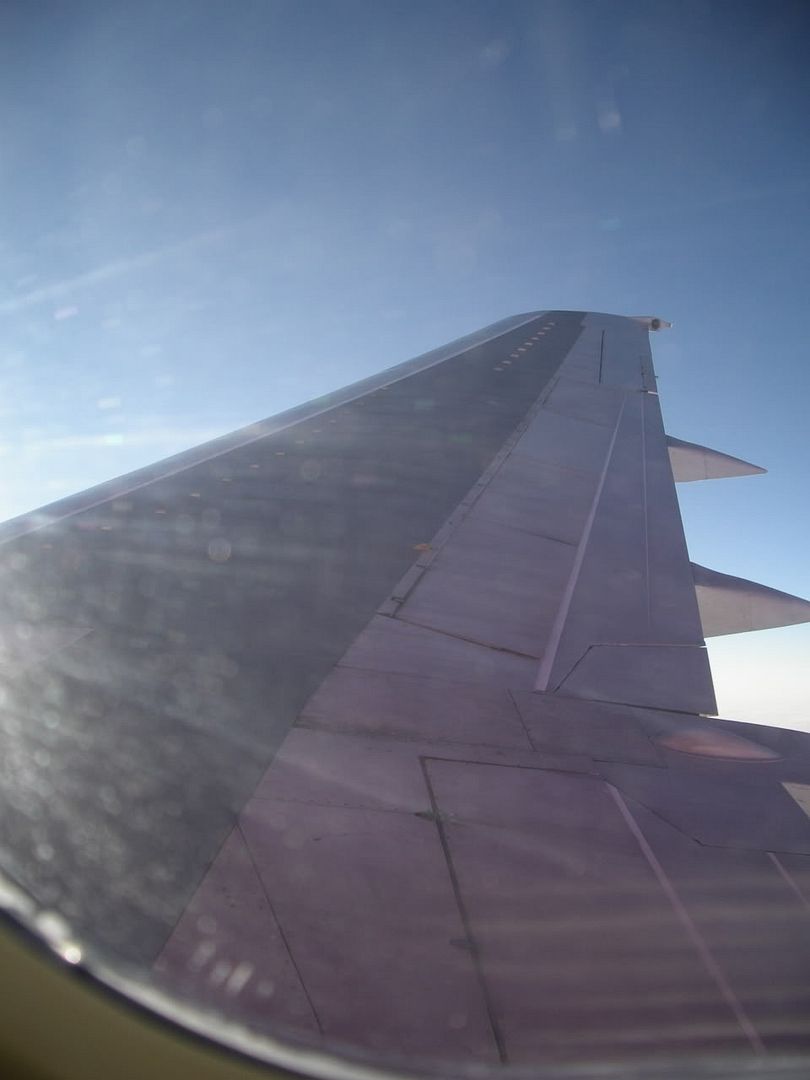 Inside D-AHLD: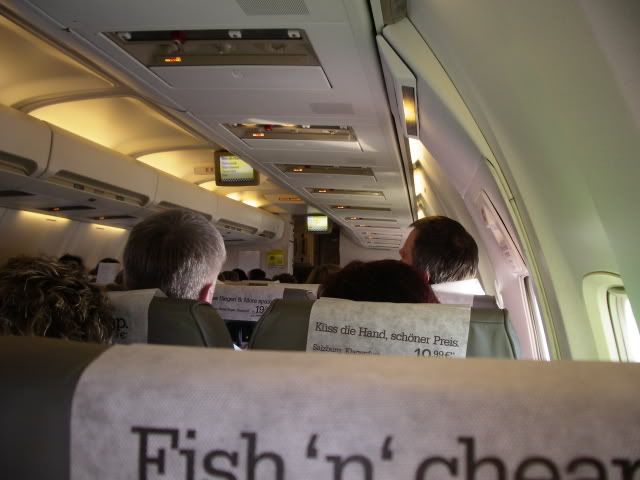 Flight route good to follow on the screens: TXL-LEJ-ERF-STR. Flight time only 50 minutes, flight level 9000 meters. Detailed informations from the first officer during the flight. Cloudy sky, - 3 degrees at STR. We entered the clouds around 25 minutes ahead to arrivals, a long time without anything to see outside , breaking through the clouds only 5 minutes ahead to arrivals in eastern direction over the "Weidacher Höhe" to runway 07 . No turbulences on approach, in spite off the heavy clouds.
A hard and heavy touchdown, brakes and thrust reversers follows. We vacated quick, taxied to the apron and parked beneath a BA (Germany)">DI B737-300.
The FA welcomed us in relaxed way with some "swabian" jokes at STR. Said goodbye to the friendly FAs, deboarding by bus, some minutes to wait for the bags in T3
and on the way back home.
Conclusion/personal rating:
1.) HLX: Good fare, ontime flight, real, friendly FA´s, relaxed atmosphere, good informations from the flight-deck and on the screens.
2.) LH: Positive, the very friendly flight-deck crew and the detailed informations.
Negative, the not to friendly FA´s, especially the male one, showed us always the feeling that he dont need us low fare travellers on his plane.
Forget the free coke, thats not the significant difference, higher fare.
HLX wins the race this time!
Comments and critics always welcome,
Markus (FLIEGER67)