Had to go to Paris for a meeting, and that's all I have to say about that. Got booked on UA/LH, C outbound, Y back. On to the trip.
Took Caltrain to BART to airport. Checked in, made sure I had connecting boarding pass, and went straight through security – since I was flying C for a change, no need to fill either my belly or my carry-on with food as usual. After security, before going into the Red Carpet Club, I wandered into duty-free to price fragrances – since I was going to Paris, I might be tempted to bring something back, but wanted to make sure I wasn't buying the same stuff I could get here cheaper. I mention this only because of the following: there was a security guard in the area and he must have cut a pretty intense silent-but-deadly fart, which left an overall unfavorable impression of the fragrance-sampling experience and also made it somewhat difficult to evaluate them. Enough of that!
Went into the RCC and I saw little bottles of Mumm's everywhere – I've never seen so many people drinking them. Sure enough, they were all out at the bar. I took care of the latest round of emails, had some utterly forgettable drink (the bourbon was all undrinkable so it must have been wine), and headed out towards the gate.
Date: 15 Feb 2006
Flight: UA900, SFO-FRA
Aircraft: N171UA , B747-400
Class/Seat: C/17A (last row of upper deck)
Depart: G95/28L
Arrive: 25R/B25
This was my first time on the upper deck, which of course all aviation geeks want to do just for the sake of doing, even if there's no real reason. It did seem like it would be a generally nicer experience, though. I don't like the way the main-deck C cabins look on 747's, too many galleys and lavs around too few seats, seems too much like being back-stage rather than in the prime seats.
The amenity kit has small pack of tissues, why don't they all do that? That's one of the most useful things I've seen in one. Also the usual eyeshades, oversocks, earplugs, toothbrush, a much better quality toothpaste than usual (8.9g tube of Rembrandt), and Crabtree & Evelyn "Nomad" face & body lotion. Nice bag – smaller and softer than I've seen. The eyeshades were weak, definitely economy-quality, and in fact I used my LAN ones instead.
Oh yeah, Fbgdavidson has a picture of the amenity kit, same one, cheers mate, I'm sure you can afford a little more bandwitdth hit.
The seat is about the same size and recline as both LAN and American 763 business class seats, with manual controls similar to the American one. Seemed completely comfortable to me – beats the hell out of Y, but I don't have a lot of other C experience to compare. There were 2 FA's for the 26 seats on the upper deck.
I went up to the open door of the flight deck and watched them for a while, and took a picture (after getting permission, of course). Menus were passed out by FA#1 while I was there, so when FA#2 came around to take orders, I hadn't yet seen it, and she seemed a bit annoyed.
We pushed more or less on time and taxied past an inbound Brasilia and out to 28L.
LH455 SFO-FRA, scheduled to leave 2 mins before us at 2:15pm, was #2 taxiing out as we were rolling on departure at 2:32pm.
We took the usual departure straight out to the ocean, then up the coast to the Golden Gate, and a right turn to fly up the bay, avoiding the most populated areas.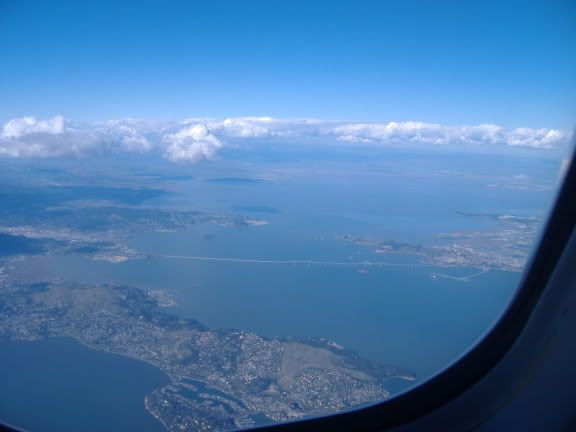 During this time the purser came on the PA and started listing all the movies, only she messed up almost all the names, stumbled over them all. I guess one could complain that it was unprofessional or get all condescending about how hard it should not be to read the names of movies, but I just get amused by these things.
We took a very southern course after departure – outbound via Linden and Mina, which I've never seen on a trans-Atlantic out of SFO. The captain announced we'd cross into Canada near Traverse City, and overfly Shannon – I have never seen such a southerly route. Later checking on the usual websites found that all UA, LH, BA, KL, and AF trans-Atlantics from SFO were doing the same thing, taking advantage of the very strong winds that were been reported in threads on Civil Aviation that week. Only VS missed the boat, flying via Sacramento and Reno, still pretty far south for them. No Channel 9 on this flight (huge downer!), but skymap of course. Our initial cruise was at FL330, and we stayed there until off the Irish coast.
With the warm nuts, which were not really warm, but still very yummy, I had Champagne Duval-Leroy NV Brut. FA#1 came around offering nut refills from a silver bowl on a tray. Nothing beats having your nuts refilled. Oh, except for having someone else again provide a picture to go with your tr, thanks again for that!
Luke-warm towels were distributed, seemed like a Motel-6 washcloth. Maybe UA has their crews nick them to save costs.
Dinner came soon thereafter. The first course was
Boursin stuffed artichoke hearts, smoked salmon and shrimp
Balsamic Dijon vinaigrette
Fresh seasonal greens
Asian sesame ginger or Parmesan and pepper dressing
These dishes were served at once (but on separate plates). It was not truth in advertising, it should have said artichoke heart (there was only one). "Shrimp" is of ambiguous number, so no problem that there was one of those too (and further no problem since it wasn't very good).
The flight attendant had asked me which dressing I wanted, and I asked for the Parmesan and pepper. It was hard to taste either the Parmesan or pepper in the dressing, they were overpowered by the unexpected overpowering flavor of ginger, and something kinda nutty, ah yes, sesame, which all seemed a bit odd, or maybe not at all. With this course I had Laboure-Roi Chablis (the other white option was some *yawn* "rich and buttery" California Chardonnay, isn't that like so fifteen years ago?).
The main choices were beef, chicken, and a vegetarian pasta, and everyone I heard around ordered the chicken, except myself, who ordered the
Filet mignon with chipotle red pepper and Dijon mustard demi-glace
Red skin buttermilk mashed potatoes, creamed spinach and crispy shallots
based on the fact that the chipotle demi-glace sounded nice and I figured with a plastic knife the meat couldn't really be too badly overcooked because if so it would be impossible to cut. The beef was actually pretty good, and the potatoes were OK, I'm not a big potato guy (excepting Freedom Fries, particularly when they are made in France where the quality is always superb). The spinach was very good, but I wouldn't have called it creamed spinach, it was big leafs and stems in a light sauce, and the shallots on top of it were not the slightest bit crispy, more like braised, very soft and wet, but that's OK. With this course I had, uh, some red wine, can't remember which.
And sorry guys, no pics of the meals, I'd just feel like way too much of a geek to photo the meals most of the time, although I may surprise you with the intra-European legs.
I went to use the lav after the main course, and dessert had been served to my row while I was there, and on their way back to the galley with the cart the FA's made no sign of realizing that I'd been missed and moved with such haste that they couldn't be surreptitiously flagged down, and I hate making a scene (nothing's worse than a grown man whining about not getting his pudding). I got up and went back and asked for some cheese (there was also ice cream) and they seemed again a bit annoyed to be bothered. So sorry, next time I'll be a good boy and ask the teacher before I go potty.
After cheese – and port – I immediately drifted into sleep, even though it was only about 5pm in our departure time zone (where I live). I'm always sleep-deprived preparing for one of these trips, and all the alcohol didn't hurt either. The most magical thing happened then… I woke up, and there was a full glass of water on the console between the seats. This kept happening, I'd drain the water, and the next thing I knew, it was full again, without anyone having poured it. Besides being wonderful to have cold water (in a real glass) constantly, it was a nice indication that I was actually sleeping, sometimes it's hard to tell whether you're in and out or just awake the whole time. It was also less disruptive to pick up a glass and drink than to hunt for a bottle, unscrew the lid, etc., made it easier to get right back to sleep. Feel free to disagree (as others have), but I thought the magic water glass was one of the real high points of the flight.
One time I woke up I decloaked my video screen, which was set to Skymap, and saw that we entered the Atlantic near St. John's after flying south of Stephenville, I've really never seen such a southerly route in my 32 Atlantic crossings from SFO/OAK, and in fact it was my first ever time on a NAT track. We were still flying FL330, our initial cruise altitude, 6:30 into flight. At this point I decided to take a little walk.
I went up towards the front of the upper deck and saw the snack cart parked next to the exit door on the right side (where a jumpseat for cabin crew is). This is a lot nicer than having to go into the galley, definitely a good idea. Available were crackers, cheese, snack mix, bananas, apples, grapes, and blueberries. I wasn't really hungry so I turned and went downstairs to see how the main cabin looked. Didn't go far, decided to restrict myself to the cabin in which I was ticketed, but saw the downstairs C-class snack cart was also in front of an exit door, 2R. I tried a few blueberries, which were really sour. Went back upstairs, then down again and up again for a little leg stretch, then settled back into my seat to further experience semi-consciousness and the magic water glass.
At some point west of Ireland I woke up pretty much for good. Our route took us over Cork and south of London, and at some point we were offered breakfast. According to the menu, we would all get fruit, yogurt, and breakfast bread, and in addition
For the heartier appetite, you may select the following entree:
Swiss and Colby cheese omelette with pomodoro sauce
O'Brien potatoes, sautéed turkey sausage and Canadian bacon
I didn't really want the big breakfast but at the end of these long red-eyes I like something hot, salty, and greasy. Would have been great if they had a hot breakfast sandwich as an option, but since they didn't I had to do the egg thing. First they gave us fruit and a croissant (no yogurt). The fruit was really bad quality, mostly underripe. The hot dish came a few minutes later. The omelet was actually good – best I've ever had on a plane. The sausage was, let's just call it edible, which was more than I could say for the potatoes or the Canadian bacon, but whatever, I didn't want that much food anyway. The really annoying thing, though, was that I asked for coffee and didn't get it, and again I had a huge amount of trouble getting the attention of either of the flight attendants – they were busy serving everyone else and never looked in my direction, maybe 13:1 isn't a good enough ratio, or maybe I just had an enormous boil on my face or something. Eventually I was able to get some coffee when FA#1 was taking away my dishes, but that was kinda late.
We continued on towards FRA, held for just a few minutes at OSMAX (I think one racetrack), then continued southeast and then a left turn to about 070 on a right downwind for 25R. At some point we were just above a low overcast and could see our shadow in a round rainbow on top of the clouds, and I even tried taking a few pictures.
We landed on 25R, taxied to the fire station, and stopped, and the captain came on the PA and said our gate was not available because the
Airbus
(he said it with an excellent level of disdain) that was there had a mechanical problem and hadn't yet departed, but that it should only be a few minutes. About 15 minutes later he came on again, explained that Lufthansa controls all the gates so it's hard to get switched to another one, and that he was sorry he had no more info. After 30 minutes we finally taxied in to B25, and I got to take a few photos of the A330 that had been delayed, "Big Ernie," ship KJ (D-AIKJ), and its foosball nose.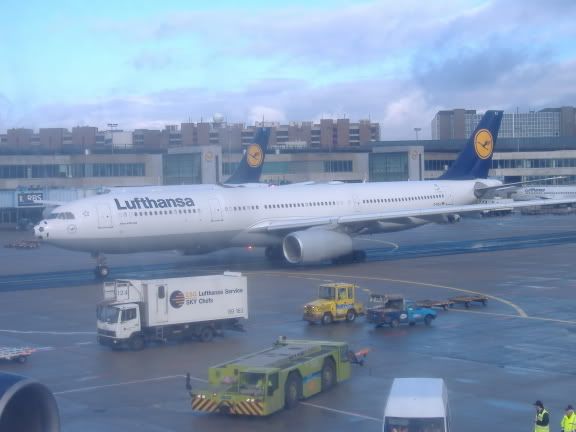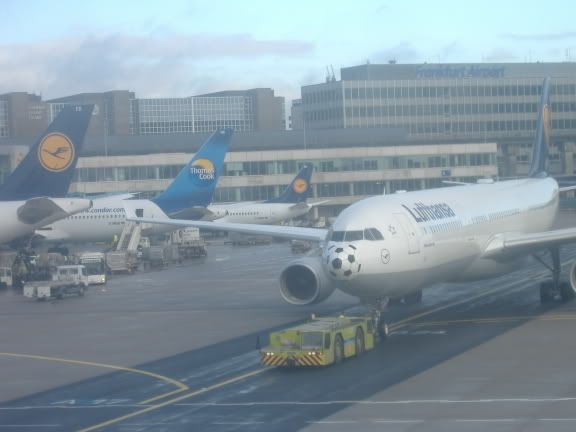 I already had my connecting boarding pass, and it said gate B12 on it, but the connecting flight board outside our jetway didn't list a gate for my flight, and instead had an icon that said to go see the desk. I went to one of the agents who were telling people which gates their connections were at, and asked her what desk I should be going to. She said, "where are you going?" I said, "Paris DeGaulle." She looked down at her printout and told me the gate for the
next
CDG flight, real helpful. I looked at the departure board right in the middle of B, and it had no gate assigned. So I went to the LH connection desk, but when I explained to the gatekeeper why I wanted to approach the desk, she looked at my boarding pass and said, "your flight already has a gate, B12." Whatever. I gave up and went to the Senators Lounge in B, which also had no gate posted for the flight. Took a shower, had some food and beer, and kept watching the screen, which eventually did get a gate assigned – B12. OK, I believe.
Off I went, through security, fortunately no line at all, straight to the gate, where they're boarding and I was literally the last one. Down the stairs, and there's the bus, with a wall of people in each doorway. I stepped in as best I could, no one really moving to make any room, and it stank. Soon they shut the doors, and I was pushed against them, and someone made it stink even worse – theme for this trip I guess. We sat there with the doors shut for a while, then finally we began a glacial crawl out towards the remote stands near the cargo ramp. Great views of lots of aircraft, including not only N171UA I'd just been on, but D-AIGP and D-ABTD which I'd flown on other trips. Eventually we approached a CRJ-700 at remote stand F222 and our RJ85 at F224. They boarded from both doors, but apparently hadn't told people which they should use based on seats, so there was a collision in the middle. I actually went in the wrong door myself, but being last on the bus was first out and figured that was better than going across to the other door and waiting in line. Did stop to grab a quick picture while boarding, though:
Date: 16 Feb 2006
Flight: LH4218, FRA-CDG
Aircraft: D-AVRR , BAe 146 RJ85
Class/Seat: Y/7A
Depart: gate B12, remote stand F224, runway 18
Arrive: 25L/B25
Sat in the window next to a young German couple who spent nearly all the flight reading a newspaper together. The lead flight attendant was an American woman. Economy started in row 6 today and from what I could tell was 100% full. There were about 4 people in business. We pushed on time, taxied to runway 18, and zoomed off into the clouds. It's always fun to look at the flaps on these guys.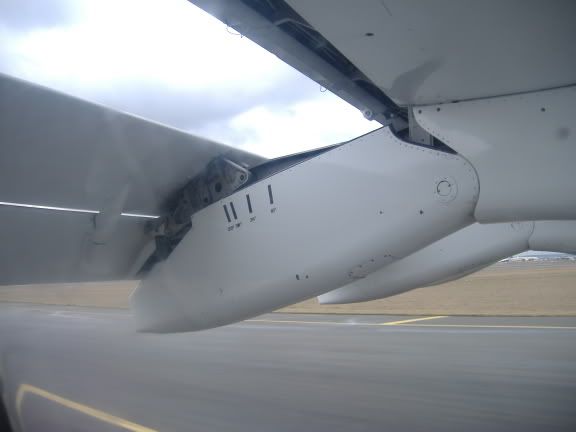 After we leveled off I got to re-explore my fascination with the CityLine cheese sandwich. Today's variation was individually wrapped in sealed plastic, on small slices of brown bread, with butter and a single slice of lettuce. Every CL flight I've been on has had some kind of cheese sandwich, served without any kind of side dish. It's simple, can't be that expensive, and is actually really nice when you're hungry. Inspired by my German neighbor, I had both coffee and beer to drink. I love the little 250ml bottles of beer CL/LH have, just right for the short flight and the little cheese sandwich. And on this flight, I actually had the cojones to take a quick picture of it all.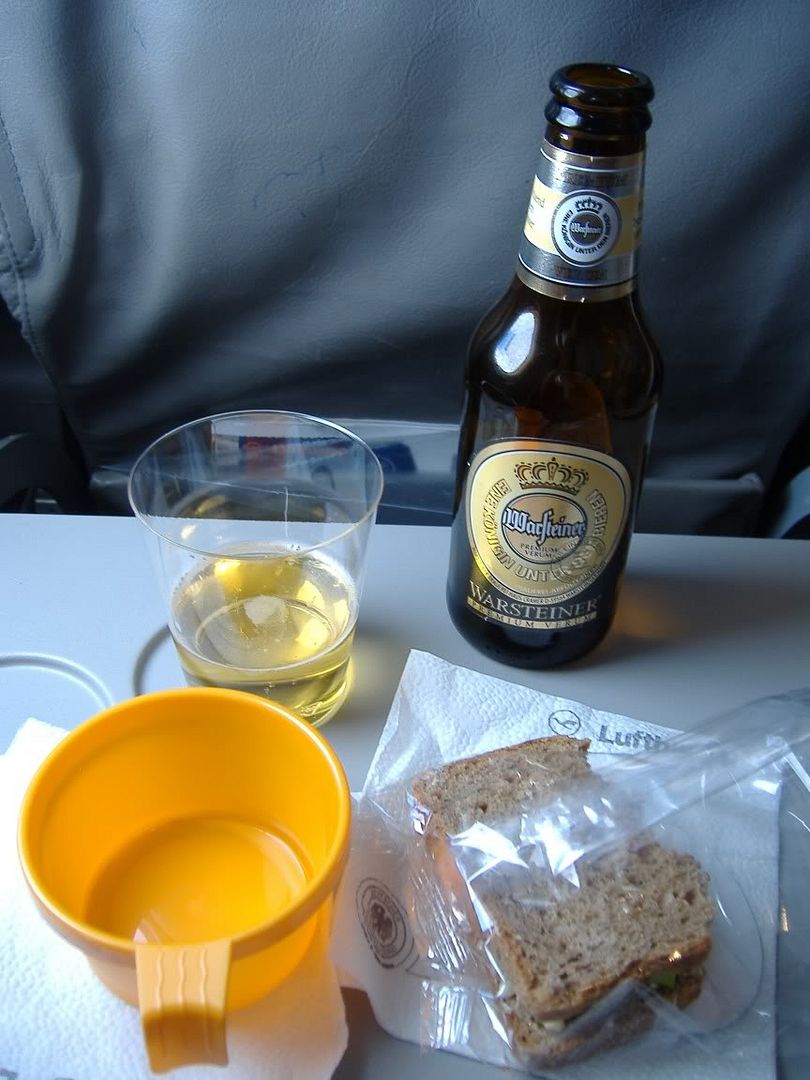 Landed at CDG on 27R, taxied to gate 66 at Terminal 1, and was welcomed to French soil by a dead-end at the end of the jetway and a most excellent sign. Did someone say the signs at CDG are confusing? This picture is actually of the identical one at 64, caught it on my way out 2 days later.
Went downstairs and outside to wait for the Hilton shuttle, and shot the Royal Air Maroc 757 that was out on the ramp.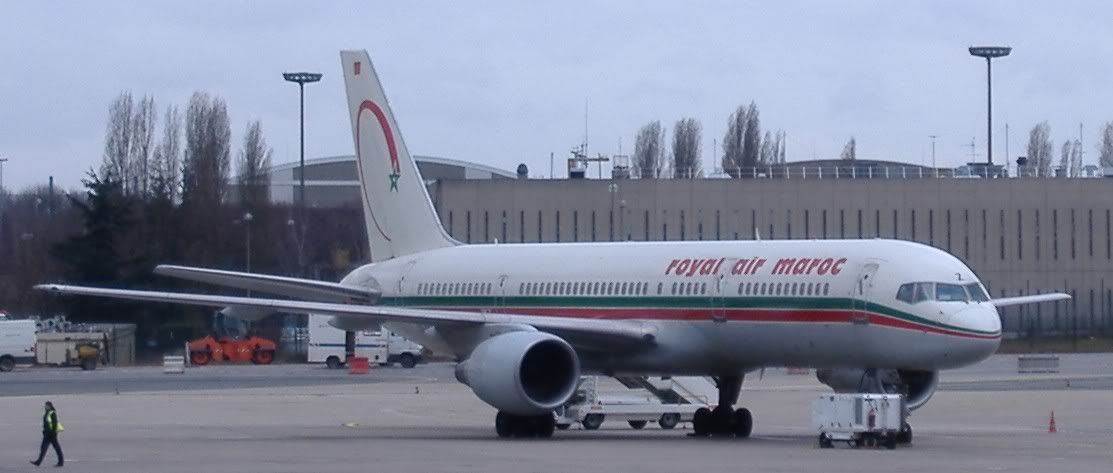 I don't know why the CDG Hilton didn't come up when people were recently discussing good hotels for spotting, but my room, on the Southwest corner, was great – could easily see Terminal 1 and the west end of Terminal 2, and had a great view of taxiways N and F connecting them (heavily used by aircraft especially transiting between Terminal 2 and the northern runways 27L/R), taxiway E where aircraft headed south on F turn left to get to the north side of Termianl 2, the Concorde static display, and the Terminal 3 ramp. The only problem was the windows were pretty dirty, but that didn't stop me from grabbing my camera when I saw something I'd never seen before – a jetway being transported along the taxiway on a truck.
You can see the tip of Concorde's nose there as well. I couldn't get good photos from the ground either, because of all the light poles.

This photo was actually from 18 Feb, and in the background you can see the SQ Star Alliance livery B744 (they just have one, right?), which had been in FRA when I landed there on 16 Feb.
I did see lots of aircraft over the course of a little over 44 hours, though – ANA 744 Pokejet, Vietnam Airlines, several Saudia aircraft including a 747SP, and of course lots of AF, most of them surprisingly clean. I actually really liked seeing the Air France 773's, don't see many 773 in the US or my most common foreign airports (LHR, FRA, MUC).
So at the end of that 44 hours, having chopped the meeting table up into shields and killed the dragon, it was time to go home. I checked out of the Hilton around 8:55am for my 10:40 departure. This Hilton has two shuttles, one for each terminal, and when I went outside the Terminal 2 one was ready to go. They told me T1 would be here any minute. It did pull up right after the Terminal 2 one left, and I got on, and one other guy came outside. He said, "terminal deux?" and the driver said "non" and pointed to the Terminal 1 sign on the window. They had a quick discussion in French and the guy got on, and off we went – but instead of the short, straight trip to T1, we took a convoluted set of turns to get us instead to T2, where the other guy got dropped off. Gee, thanks. More twists and turns got us eventually to T1.
Date: 18 Feb 2006
Flight: LH4213 (sold as UA9069), FRA-CDG
Aircraft: D-AIRP, A321
Class/Seat: Y/11A
Depart: 64/27L
Arrive: 25R/A21
I had 11A/B/C to myself. This was the bulkhead row, but instead of the tray tables in the armrests, seats A/B have a fold-down tray attached to the bulkhead. Two LH employees in uniform were sitting in 11D/F. I didn't notice this during boarding, but it turned out there was a pretty good load in economy behind me.
We taxied to 27L at Y11 sandwiched between an Air France 777-200 and Air Canada A340 in Star Alliance colors. Meanwhile a British Airways Embraer jet was sneaking in at K7.
After takeoff, we got a good view of Roissy village and the cluster of off-airport hotels there.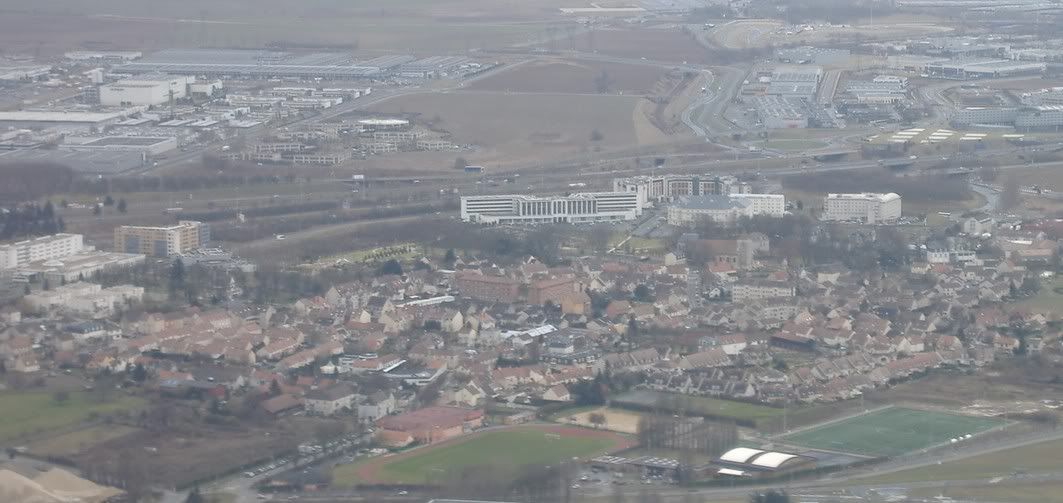 Today's sandwich variant was two tiny sandwiches, again in a sealed plastic wrapper, on brownish bread but with no crust, as if they were English. One was yellow cheese with butter, sliced celery, and the saddest little piece of lettuce ever, and the other was some kind of thinly-sliced processed turkey (chicken? pork?) with green herbs in it, but neither the meat nor the herbs had enough flavor to be identified. And with them, what else to drink on Lufthansa but another one of those cute little 250ml beers? I think CL beats LH this time.
We landed on 25R and after passing behind a Yemenia A310 (F-OHPR), we taxied promptly to our available gate, A21. This aircraft would now be used for LH180 to TXL. I headed off to the Senator's lounge for more German food and beer, then off to the train to B/C, but on my way stopped for a couple of pictures of Hapag Lloyd 737 D-AHFW, the second of which has D-AIRP in the background pushed and ready to taxi as LH180 to TXL.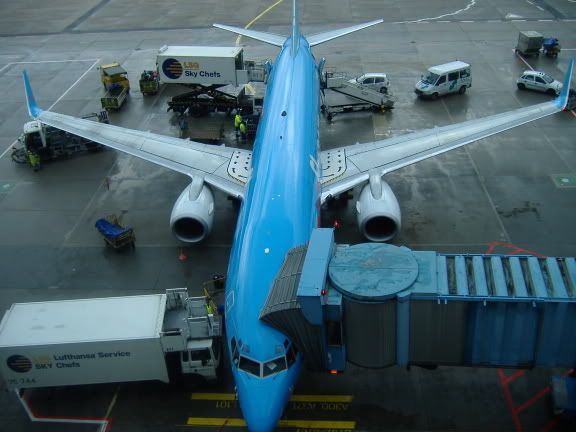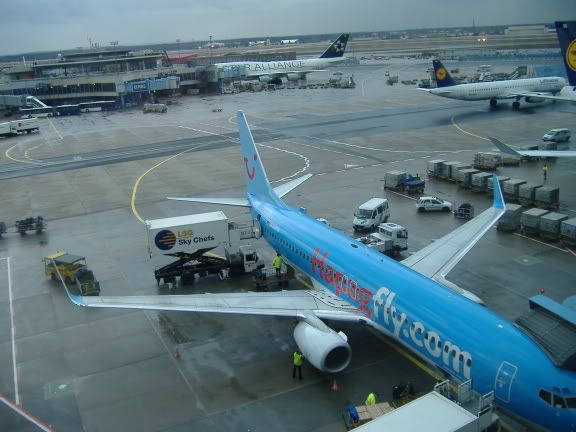 Off to terminal C, it was 1:00, which meant I had to go straight to C8 for my 2:00 departure. I hate the fact that most of us who connected in on LH have to wait in a long line before boarding, something about entering passport info, plus asking us the usual "maximum security" questions. Apparently this flight was 100% full and some people were being re-routed on connections to arrive much later, and they didn't ask for any volunteers, they just picked some unlucky souls, and they weren't too happy. Eventually I got the secret handshake or whatever and was allowed to approach the jetway. Saw through the window that this was ship 8171, the same aircraft I'd flown in on. I'd considered the possibility that I might have the same crew on the way back, but didn't really think about the aircraft.
Date: 18 Feb 2006
Flight: UA901, FRA-SFO
Aircraft: N171UA, B747-400
Class/Seat: Y+/37K
Depart: C8/25R
Arrive: 19L/G102
I was especially hoping for a different crew because Channel 9 had been off on the way out. When I saw the same aircraft, it occurred to me that it could actually be inop on the aircraft. There was a different captain, but again no Channel 9, but the same aircraft might just be a coincidence – anyone know if it's broken on 8171? I'd had it turned on throughout all of my previous trans-Atlantic UA flights, including the position reports outside of radar coverage.
I got to my row right after a couple of German guys who had seats H and J. Sat down and looked out the window to see two other maximum-security inmates, El Al and Air India.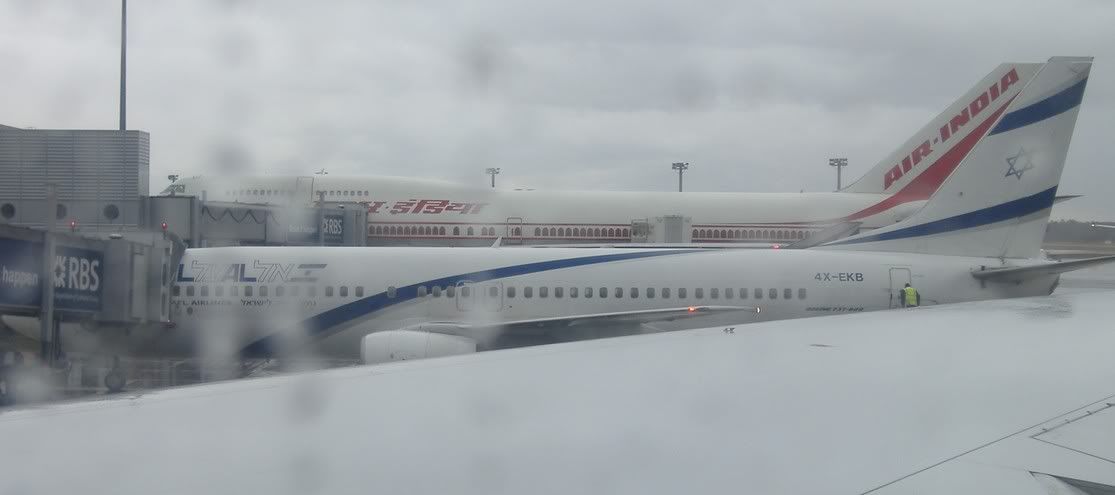 As often on my return flights from Europe, I fell asleep either before or shortly after we pushed back, woke up right before we taxied onto 25R, and then fell asleep again somewhere between 10,000ft and cruise. I woke up to see lunch trays to my left and the cart in the aisle at our row. The flight attendant noticed and asked if I wanted lunch, but I was stuffed with pork burgers, potato salad, and beer from the lounge, and declined. Had some water, and fell right back to sleep. Woke up as we approached the NE corner of Iceland (probably Thorshofn), then fell back asleep and slept pretty soundly until we were in the vicinity of Rankin Inlet on the NW corner of Hudson Bay. Ate the chocolate in the mid-flight snack, took a walk around the cabin, then fell back asleep until we were over eastern Oregon, enroute between Spokane and Red Bluff. I was awake for the final meal, a cheese, turkey, and cream cheese sandwich on a white roll, but can't be like LH and just have the sandwich, gotta have chips (red-pepper-flavored potato chips) and a candy bar (Mars). With that I had two cups of coffee to recover from all the sleep.
The Captain announced that we'd be landing to the south, instead of the west, today, but that this didn't really save us any time. Our approach took us east of Sausalito and Angel Island, over downtown Oakland, then a right turn to final, during which there was an awesome view of the Bay Bridge, San Francisco, and the Golden Gate. I saw an aircraft higher than us and apparently perpendicular, thought he was overflying the airport, but eventually we started converging, and it became clear it was a Skywest Brasilia for the parallel. He was way higher than us and way in front, but we eventually touched down at exactly the same time – we were on 19L, he on 19R.
As we were landing, I noticed the fire equipment was all over the airport with lights on. After we landed and turned off the runway, I saw a Northwest A330 landing on one of the 28's. That seemed pretty weird, since everyone else was landing on the 19's. As we continued taxiing, I saw two fire trucks heading from the east end of the 28's following the A330, then saw a USAir A321 take off on 10R. Sure enough, as we turned left around Terminal F, I saw the NW A330 off in the distance either at the end of 28R or on the taxiways just beyond, surrounded by fire trucks. I later found out this was
NWA27 returning to SFO
but never got any more info than that. I tried taking some pics, it was pretty far away, but in the spirit of interest over quality:
We were at the gate a good 25 minutes early, which is nice. Once again, UA/LH got me there and back on time, in one piece, and having slept a lot and being fed adequately, and it's hard to ask for a lot more, although there were more than the usual number of minor annoyances on this trip (including the doubly absent Channel 9).