MyTravel Airways to Fuerteventura - A321 and B767 (W/Pics)
The following is my trip report and photos from my recent trip to the beautiful island of Fuerteventura travelling with
Airtours Holidays
and
MyTravel Airways
:
---------------------------------
Airline
- MyTravel Airways UK (MYT/VZ)
Depart
- Manchester - Ringway International Airport - MAN/EGCC – Saturday 25th February 2006 15:10 ATD 15:05
Arrive
- Fuerteventura Puerto Del Rosario - FUE/GCFV - Saturday 25th February 2006 19:45 ATA 19:10
Flight
- MYT 173
Callsign
- KESTREL ONE SEVEN THREE
Aircraft
- G-SMTJ Airbus A321-211 | Serial No: 1972 | Delivered: 2003 | Engines: 2 x CFM CFM56-5B3/P
Seats
- Row 29 Seats E,F
View Large
View Medium


Photo © Stewart Andrew
Having parked our car at an 'Airport Car Park' for the week, we where dropped off by the courtesy bus outside MyTravel Airways Ground Level Departures at Manchester's T1. Check-In was very quick as it is a dedicated area for MyTravel passengers with plenty of desks in use. MyTravel self handle at Manchester and thus, staff on the ground all wear the very smart MyTravel Uniform. We where checked in by a friendly CSA who asked if we would like a window or an aisle and whereabouts we would like to sit onboard. I asked for a window seat behind the wing and so we where allocated Seats 29E,F. We where handed our Boarding Passes and advised everything was on time and boarding would be commencing at 14:25 ready for our 15:10 departure.
We proceeded up stairs and through to departures where a security guard was shouting at some people who where trying to go through security to say goodbye to people travelling on the afternoon Emirates service to Dubai.
Once through security we had some lunch and walked around the Terminal looking through some shops and walked up past the Airtours Play Room to the far end of the Pier before walking back again to Pier A where my aircraft was being catered after its previous flight: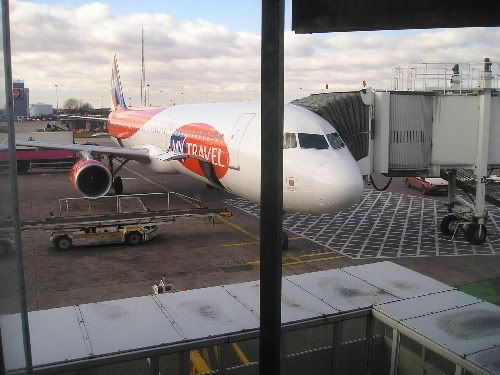 This was at 14:00 so the gate still wasn't displayed on the information screens but as the Bucharest flight had departed and G-SJMC had positioned out, I stuck around G-SMTJ as it was obviously going to be operating our flight.
Soon after, MyTravel's Ground Crew arrived and sure enough, at around 14:20, the gate number flashed up on the screens and passengers starting arriving.
Pre-Board announcements where made for welcoming passengers to flight MYT 173 to Fuerteventura and asking passengers with young children and PRMs to come forward to the gate. Not many children on this flight, just a couple of infants. Staff then invited the first set of row numbers to board which I believe was 36-30? (just missed out  
)! Not long after, rows 20-30 where invited forwards to board, I had my Passport checked along with my Boarding Pass and off along the Air Bridge I went.
A short walk along the bridge and I was greeted by a very smartly dressed and friendly Cabin Supervisor called Jo.
(not actual crew member - just for example  
)
She welcomed us onboard and directed us to our seat in the rear cabin. On the bulkhead on the left hand side was frosted glass with the MyTravel logo and on the right hand bulkhead - a mural of the sky/clouds (same at the rear bulkheads). As we passed through the cabin, Crew Members Nikki and Gaynor welcomed us. There where 5 members of Cabin Crew on today's flight (all female) - all of which where very attractive!  
I found my seat in the rear cabin where we had a seat mate already sat down, she let us in to our seats - she was a very friendly lady called Adele who was Solicitor off for a week in the sun! We where chatting to her throughout the flight and saw her several times in Fuerteventura and on the return flight.
…Anyway, I took my seat which I found to be very comfortable with good legroom which Adele also commented on. I was able to stretch out fully and I'm 6ft!
On each seat, there where questionnaires asking for your opinion on the flight and service etc… which the crew would collect prior to arrival. I thought this was a nice idea as it shows MyTravel are listening to customers opinions and acting upon them. In the Seat Pocket was also a Safety Card, Air Sickness Bag and the MyTravel Recline Magazine -
MyTravel Magazine
.
The Cabin Crew made announcements welcoming customers onboard and asked us to ensure hand luggage was stowed and our seat belts where fastened. About 10 minutes later at 14:55, the Captain greeted us and advised us of our flight information. We would be using 06L for departure and climbing out for 2 miles before making a left turn down towards Cardiff and Bristol and out towards the Iberian Peninsular, over Spain and Portugal, towards the Canaries. He advised the weather would be good on route with very little turbulence. Route time would be just short of 4 hours with a cruising altitude of 36000ft. Cabin Crew then reiterated some of this info and advised of the Cabin Comforts and introduced our Crew as well as explaining the questionnaires.
The Cabin Crew where advised "Doors to Automatic" and then took their demo positions for a manual Safety Demonstration.
After the demonstration was completed, the Cabin Crew passed through the Cabin to make their final checks and at 15:05, we began to Pushback and Start.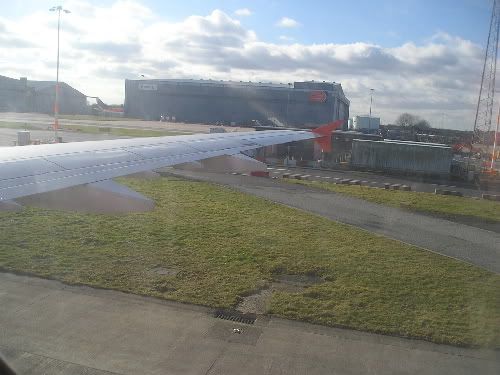 The CFMs very quietly started, so quite, you wouldn't know they had even started, the cabin power flickered of for a second as the aircraft switched to ENG GEN.
The engines where spooled up and we began a slow taxi out passed the viewing park to 06L: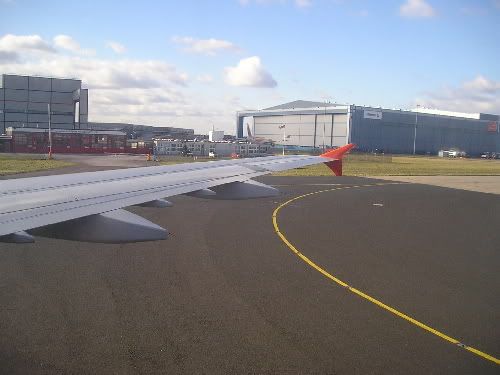 Flaps 2 where set and the Flight Controls where checked and double checked. We continued our taxi out past a busy AVP and Concorde:
The Captain announced "Cabin Crew Seats for Departure"
The PACKS where switched off for departure as we waited at 06L:
After a short wait, the engines whined up again and we proceeded onto 06L for our rolling take-off.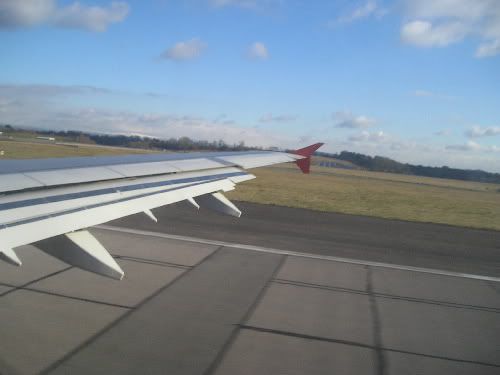 The Engines where stabilised at around 30% for about 5 seconds, before being spooled up into the FLEX Gate for a reasonably powerful (yet quiet) take-off:
After just 25 Seconds we began to rotate:
We started a steep yet smooth climb out of Manchester: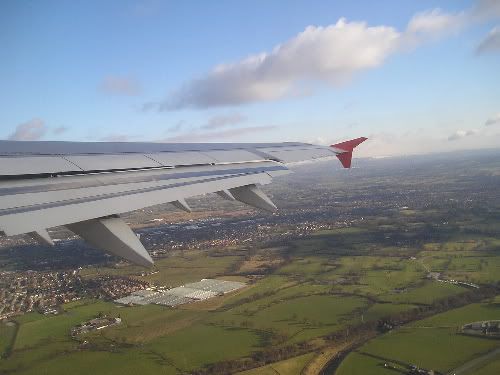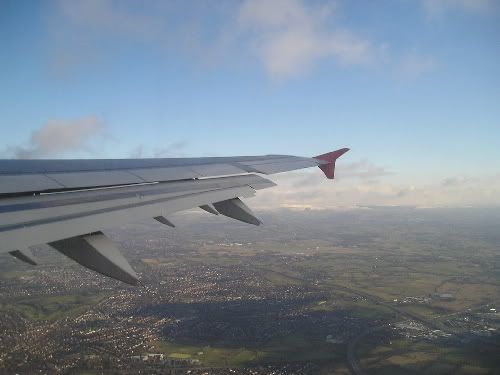 The engines came back into the CLB Gate with a sharp reduction in engine noise followed by the flaps being retracted. Soon afterwards, Jo announced "Cabin Crew Released" and they soon got to work. Jo announced the order of service which would be: the sale of Headsets, a Tariff Bar Service, Complimentary Meal which would be Spaghetti Bolognese, Second Tariff Bar Service and then prior to arrival - Duty Free. The feature film would be Wallace & Grommet: Curse of the Ware Rabbit. (I was pleased as I missed my chance to see it at the cinema's!).
We continued our climb out turning left over Manchester:
We approached the clouds which surprisingly, didn't cause many bumps:
Crew Member Gaynor passed by with the Headsets. She was a very friendly Crew Member and was asking passengers about their holidays, where they going and what they where doing etc… treating the customers as individuals rather then just one of the crowd - I was very impressed by this. Another thing I was impressed by was the fact that the Crew didn't make constant announcements trying to sell you things (e.g. if you buy this you can have xxx for £10...) - hope that makes sense  
.
We continued our climb over the Bristol Channel: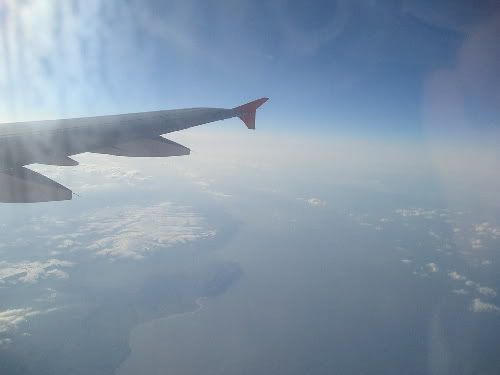 We reached our cruise as we left the coast of England and indeed, the cold weather behind us:
Soon afterwards, the bar service reached our row and we purchased an Orange Juice, 2 Bottles of Wine for the Meal and a box of Fruit Pastels  
at a total of £8.80 which is reasonable.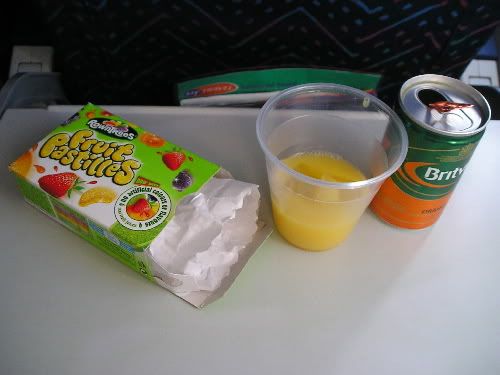 The Captain kept us well informed and made an announcement on our progress and advised weather at Fuerteventura was around 20°c, few clouds and very little wind. He also advised that we had to keep changing altitude to avoid weather which was noticeable as every now and then you could make out a slight increase in engine noise: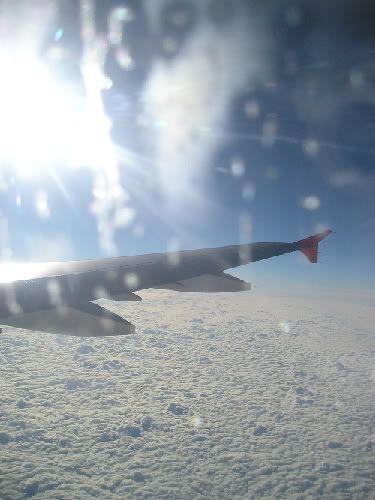 About 1 hour 30 minutes into the flight, the Complimentary Meal Service began. MyTravel Airways have introduced an innovative new concept for catering in the form of a 'Trayless Meal' - Firstly, a member of the Crew brings you a box with the cold items in it. Wrapped around the box is your own placemat. Behind, another crew member brings you your hot meal and a cup. In the box with you knife, fork, spoon and condiments, there is also a litter bag which hooks onto you seat back so that when your meal is finished, you can roll everything up into your placemat and put it into the litter bag so that you do not need to wait for the Crew before you can put your tray up. The meal portions are also larger.
It is a very good idea which meant I did not have to be sat stuck in my seat until the crew came around which is the case with most airlines. The meal was also very tasty and filling:
The Cabin Crew soon collected our litter bags which left me the opportunity to sit back, relax and take in the view:
The Crew soon began a second bar service from which I purchased a bottle of water.
At this stage, Wallace & Grommet had finished. Coldplay - 'Speed of Sound' was shown followed by 'Scrubs' and 'Extras'.
By this point we where approaching our Top of Descent and the Cabin Crew had commenced the Duty Free sales from which I purchased a pack of cards. After this, they collected any questionnaires which had been completed - including mine.
The sun was beginning to set as we reached our TOD. The engines spooled back as we left our cruise over the Atlantic and the Crew passed through the cabin once moor to collect any rubbish.
Passing over Lanzarote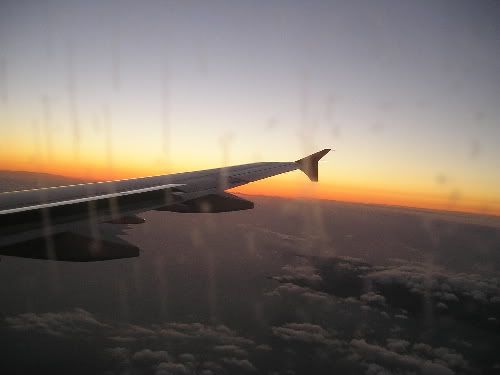 The Speed Brake was deployed to aide our descent and the Captain spoke to us again to advise updated weather with the temperature reported as 19°c. He also explained there would be an increase in engine noise after touchdown due to the Reverse Thrust Braking System - which understandably must baffle/scare some passengers? He then advised the Crew "10 minutes to landing".
We descended towards the north of the Island passing by the resort of Correlejo (where I would be staying) and the deserted Island of Lobos: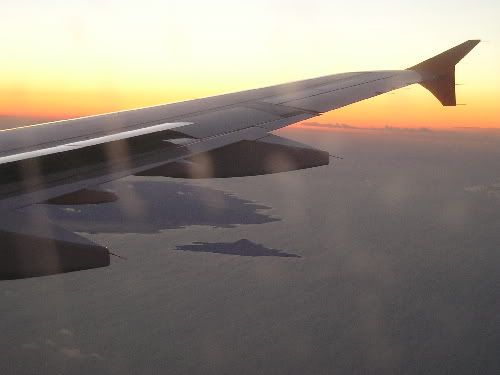 We continued our descent for our approach in Puerto Del Rosario and RWY 01: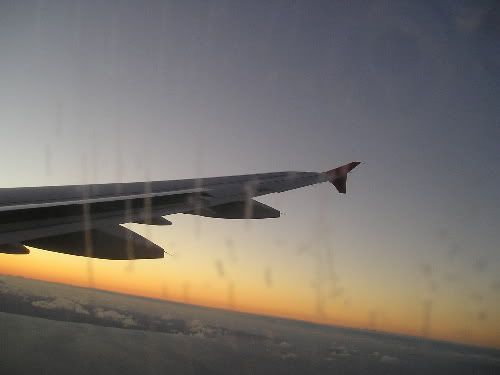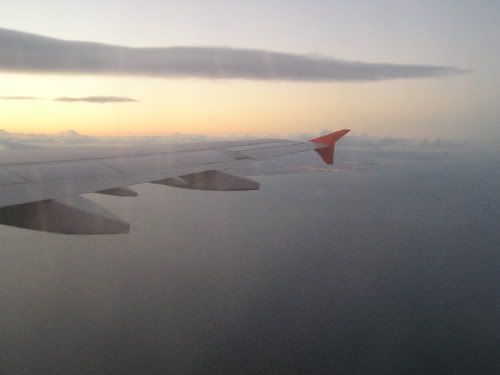 We made a right turn to line up with FUE Runway 01 and Cabin Crew where advised "Seats for Landing". At this point, Flap 1 was set:
This was quickly followed by Flap 2:
We continued our Approach as Flap 3 and Full where set followed by the Landing Gear being taken down: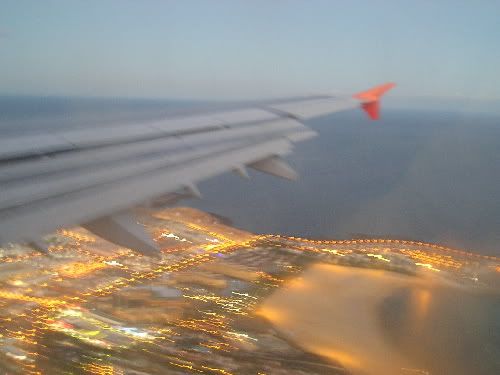 The engines spooled up and down as we entered the final stages of our approach:
As we entered over the airfield and approached 20ft the engines Retarded back to Idle: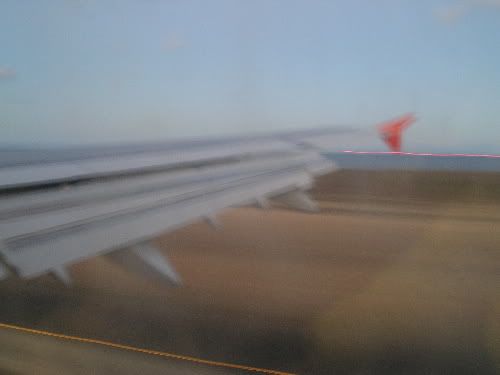 This was followed by an absolutely impeccably smooth touchdown and with this, the Speed Brake Deployed along with the Reverse Thrust and we where pulled forwards out of our seats as we slowed to exit at the very bottom of 01. We touched down some 35 Minutes early at 19:10: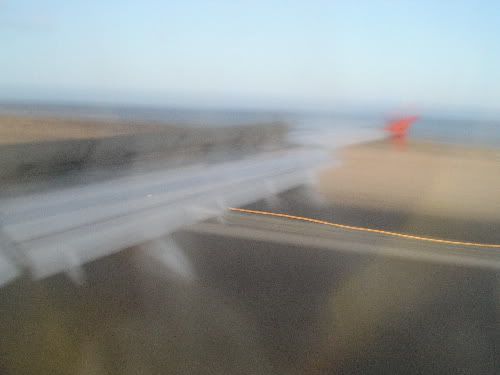 We exited and the Crew welcomed us to Fuerteventura and advised us to remain seated until the Seat Belt Sign had been switched off and to exercise caution when opening the overhead luggage lockers. They wished everybody a fantastic holiday and even advised the procedure for returning home to those customers on a Flight Only basis. The Captain spoke to us again to wish us a pleasant holiday and safe onward journey and advised it would just be a minute or two until we reached the stand.
We parked on a stand with an Air Bridge and as we came to a halt, the engine Fuel Switches where Cut-off and the CFMs moaned down as the Seat Belt Sign was Switched off.
I waited for the crowd of disembarking passengers to leave before I got up. As I walked up the aisle, Gaynor said "I hope you have a fantastic holiday and see you soon!" which was superb! We left via door 1L where Jo wished us a good holiday as well.
I left the aircraft being thoroughly delighted with the service we had received from MyTravel Airways!
With that we collected our baggage and met our MyTravel/Airtours Representative and starting the beginning of a brilliant holiday!
In conclusion, I couldn't have been more please with MyTravel. The on-time performance was superb, the Crew offered a very personalised approach to their service, meals where excellent, seat comfort felt better then other carriers and the Captain was extremely informative.
Thank you for reading PART ONE of my Trip Report! I hope you have enjoyed my account of MyTravel Airways and indeed; my pictures. Please feel free to leave your thoughts, questions and comments in a reply. Once again -THANKS!
PART TWO - Returning on B767-300 G-SJMC will be posting here within the week!
Regards
ThomasCook
[Edited 2006-03-06 01:04:35]