Returning from my home in Bangkok to the United States for four weeks, I decided to book United and see what's changed in their international service since exiting bankruptcy. I was pleasantly surprised that friends of mine were working both flights, ensuring that the skies were indeed friendly.
Saturday, 4 March 2006

Leg 1:
BKK-NRT
Flight:
UA 882
Depart:
6:40 (On-Time)
Arrive:
14:15 (14:05 Actual)
Equipment:
B747-400
Seat / Cabin:
25B / Business
Unlike my last trip from Bangkok on UA, this time I made every effort to actually arrive at the airport before boarding began. Bags were packed before I went to dinner the night before my departure. Following a leg massage – my last one for a month and one of the best parts of living in Bangkok – I headed home and got to bed at an early hour.
Every effort was barely enough as, through a combination of reasons that seemed completely rational at the time, I left home almost 45 minutes later than I intended. Thankfully at five in the morning, Bangkok's famed traffic nightmare is in its brief period of respite.
At five-twenty we pulled up in front of Terminal 2 at Bangkok's well-aged Don Muang International Airport (which, to ThaiBoyInMexico's point in his post
Home On The Other Side Of The World: MEX-CDG-BKK
(by
ThaiboynMexico
Feb 15 2006 in Trip Reports), should more accurately be "don meung"). Saying a quick goodbye to my partner, who will have to endure the foot massages without me, I headed to the check-in area, thankful for not being the absolute last person to check in this time.
After answering some security questions, ("Who packed your back?" "Did anyone ask you to carry anything on the flight?" etc.) I had just a moment's wait until it was my turn to step up to the Star Gold check-in counter.
Distracted by a returning customer who couldn't find his boarding pass for his connecting flight to Dallas, when the friendly agent checked me in, she checked in only two of my three bags. I noticed this before walking away – thankfully – and she quickly apologized and corrected the oversight.
Star Gold Check-in at Bangkok
My "confirmed system wide upgrade" – a poorly-named perk of being a United Mileage Plus 1K – had not yet cleared, resulting in two departure management cards with my Economy Class boarding passes. The whole "confirmed upgrades" that can't be confirmed is one of my beefs with United: manage my expectations better. Just call them "system wide upgrades" instead of "confirmed system wide upgrades" and I won't feel like I should be receiving a confirmation in advance of my travel. But if you call them confirmed system wide upgrades, I'm going to expect that you can confirm them in advance. Call me crazy, but that just makes sense to me.
My seat for the BKK-NRT leg was an exit row aisle, 46C. Lots of legroom, but next to the galley.
During a quick trip by the Red Carpet Club – and I
do
mean quick – for an orange juice and croissant, I noticed that the selection of snacky foods in the lounge has improved since the last time I was through here. Still not SQ quality, but there were several sandwiches, pastries, and other things to munch on in addition to a good selection of fresh fruit.
These early morning pre-sunrise departures don't allow for any good spotting opportunities, so I headed to the gate after taking just a few pictures of an Air Asia 737 and a 767 from AeroSvit, a Ukranian airline.
Air Asia advertising for Solartron
AeroSvit Ukranian Airlines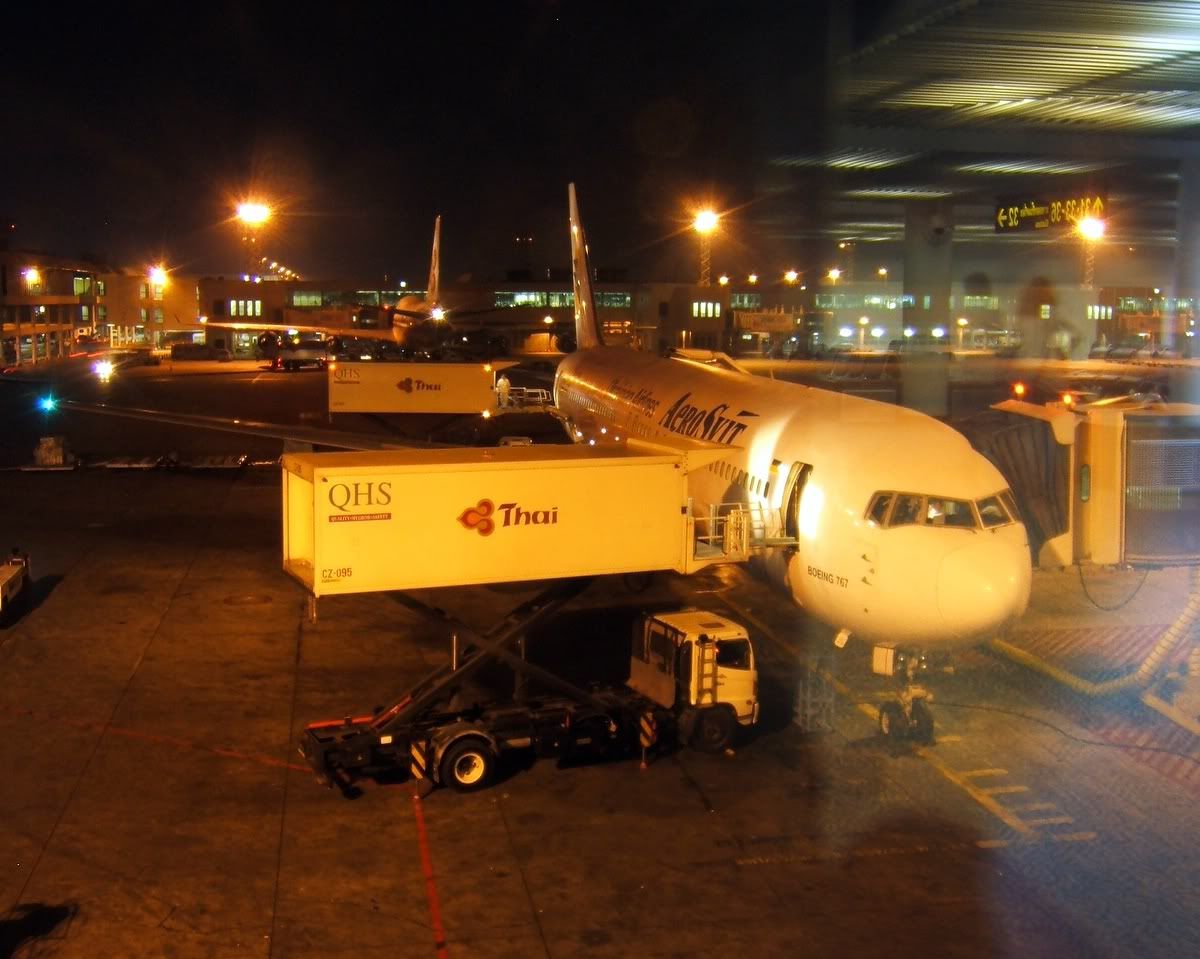 Boarding commenced before I got through security and was already in zone 3 (out of 4) by the time I arrived at the gate. The agent tearing tickets at the entrance to the holding room directed me to the podium, where I received my Business Class boarding pass – seat 23B, still next to a galley but in a more spacious seat!
The queue for boarding snaked down the ramp and into the jet bridge. It took a good ten minutes to get to my seat. Once there I discovered another man sitting in the seat. We compared boarding passes only to discover that we had been assigned the same seat. A flight attendant came over, took our boarding pass stubs, and went to talk to a gate agent by the front door. It turned out there was a new boarding pass for the gentleman that would move him back two rows.
Since he was already settled, I offered to swap seats with him, which he thanked me for. I think I ended up with the better end of the deal: seat 25B is near the back of the Business Class cabin and is quieter than the one next to the galley.
Pre-departure service was the same as always: a friendly flight attendant whose name looked familiar greeted me, took my jacket, handed me a menu, and offered me a drink.
Sipping on a glass of champagne, I was mulling over the flight attendant's name and realized that my partner, a former UA employee, had mentioned his name frequently as had two other UA friends. That's it – I knew I recognized his name!
When he came back around the cabin to take breakfast orders, I found out that he had been going through the same mental exercise when he asked me whether I had a friend who used to fly for United. We quickly figured out that each of us were indeed who the other thought we were, leading to a few minutes of chit-chat: "Oh, so
you're
Mike!", "How is Tawn doing?" "Have you seen Matt recently?" "Are you living in Bangkok now?" and so on.
Settling that, he continued with taking orders. I told him if they were running low on one entrée, I'd be happy to take whatever wasn't popular that morning. He assured me that wouldn't be a problem, so I selected the Spanish omelet.
The flight pushed back just a minute or two early, the entire ground crew in their battleship grey UA trucks, driving out on the tarmac alongside our jumbo jet. We pushed back past a gorgeous THAI MD-11 in the new color scheme, just just-risen sunlight bathing her fuselage in an orange glow that complemented the purple stripes nicely.
Taxiing out to the end of runway 21, we passed several interesting planes – an Airbus from Mahan Air, which I had seen taking off the week before when I was flying out to Viet Nam, as well as a Drukair A320 – and came to a stop by the TG maintenance area. We sat there for a few minutes as a few planes arrived on runway 21R, which is usually used for departures only.
Waiting by the TG maintenance area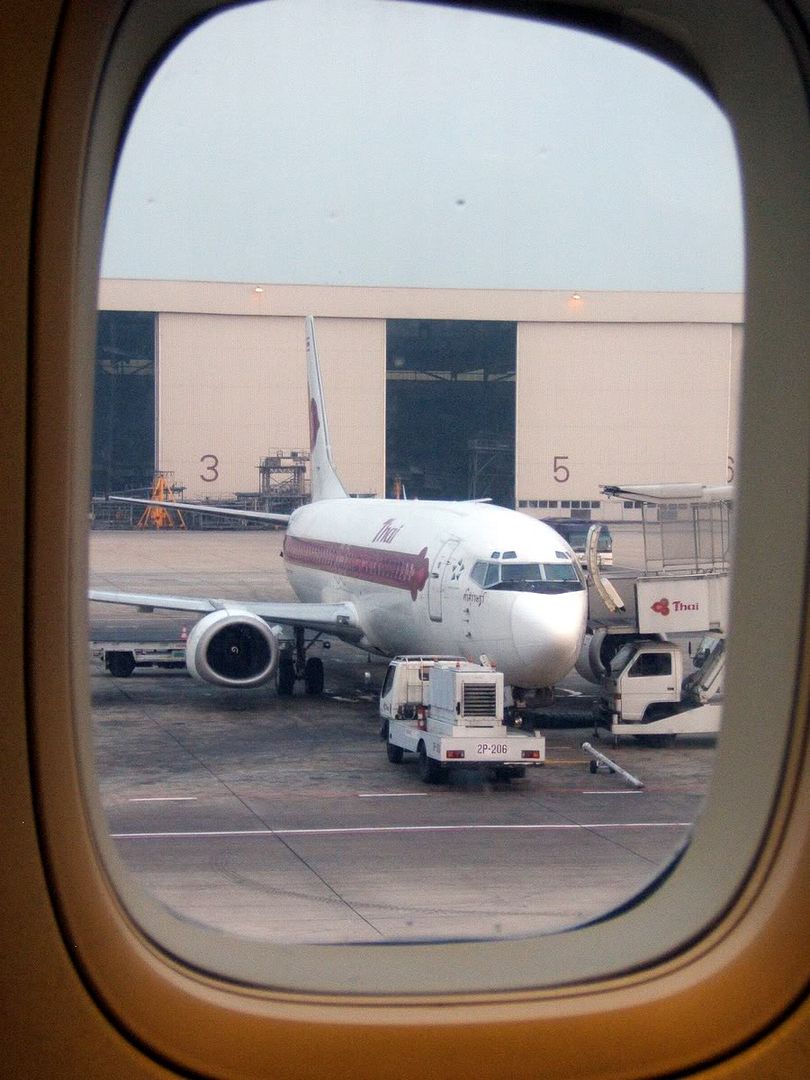 The guard shack just short of 21R
Pulling onto 21R shortly after the last arrival, we had a quick roll down the runway and as we lifted off, the windows were shrouded by heavy condensation as the humid tropical air condensed as it cut across the leading edge of the wing. We quickly turned to the southeast and climbed into the hazy overcast that is typical of Bangkok mornings. Breaking through the haze and into the bright early morning sky, we turned further left and headed in a generally northeast direction on our way to Japan.
Beverage service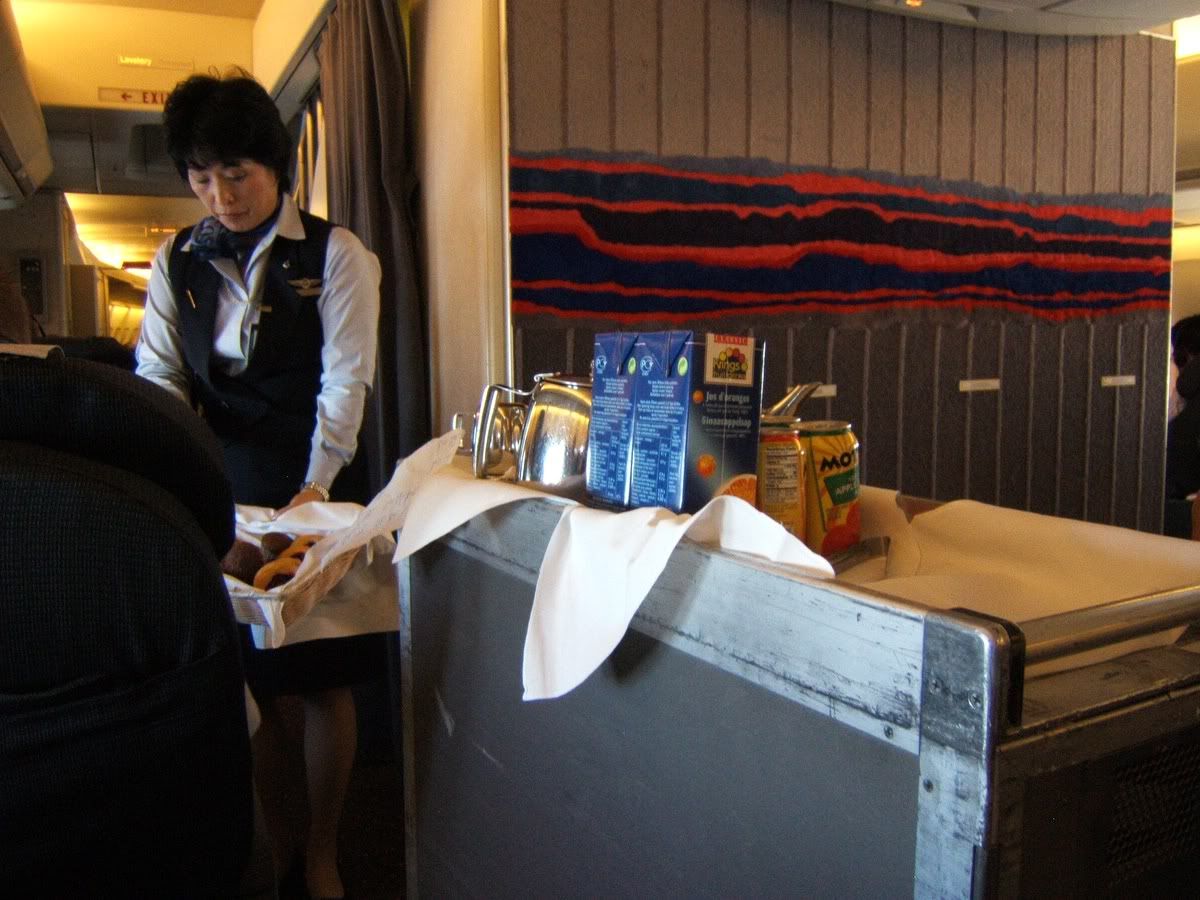 Breakfast service began shortly after takeoff: a fruit plate breakfast breads, and coffee followed by a Spanish omelet with asparagus that was surprisingly good.
Breakfast service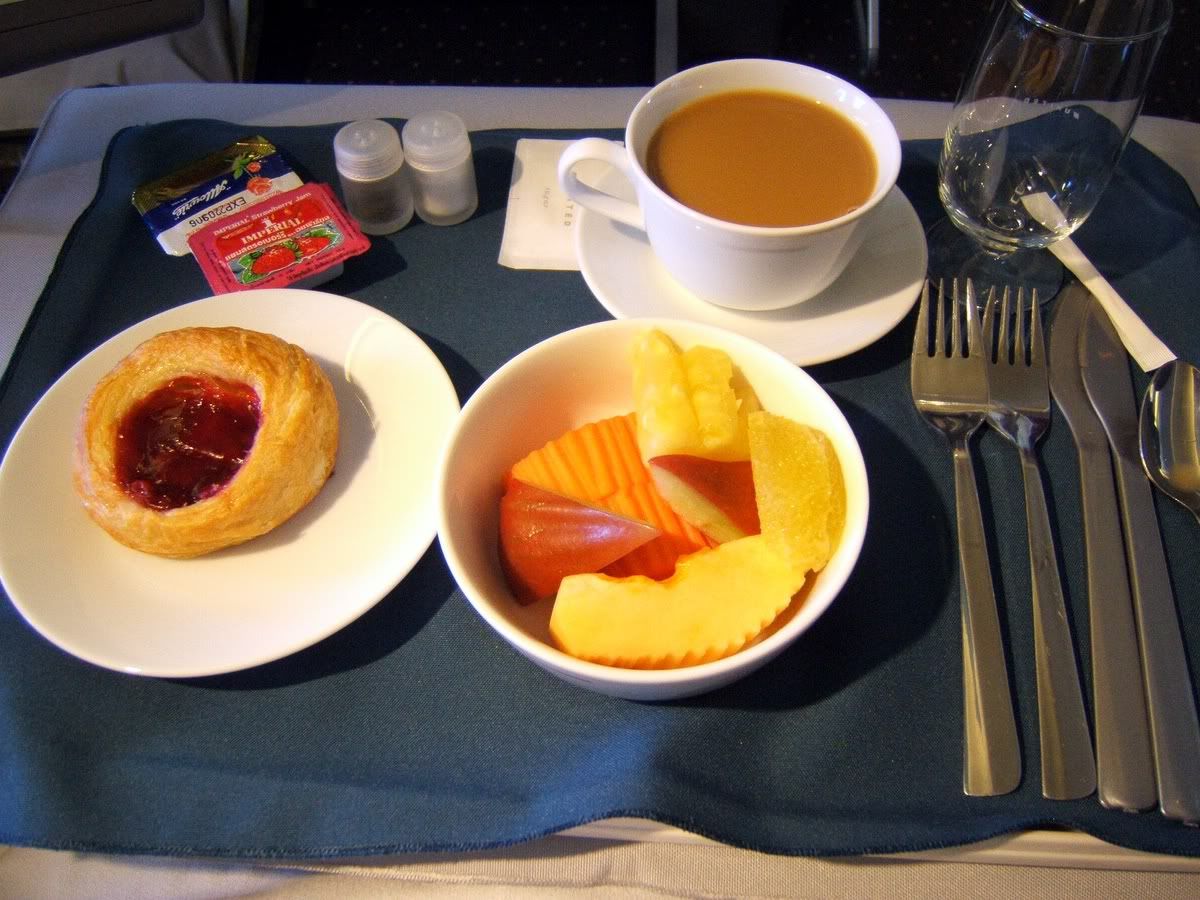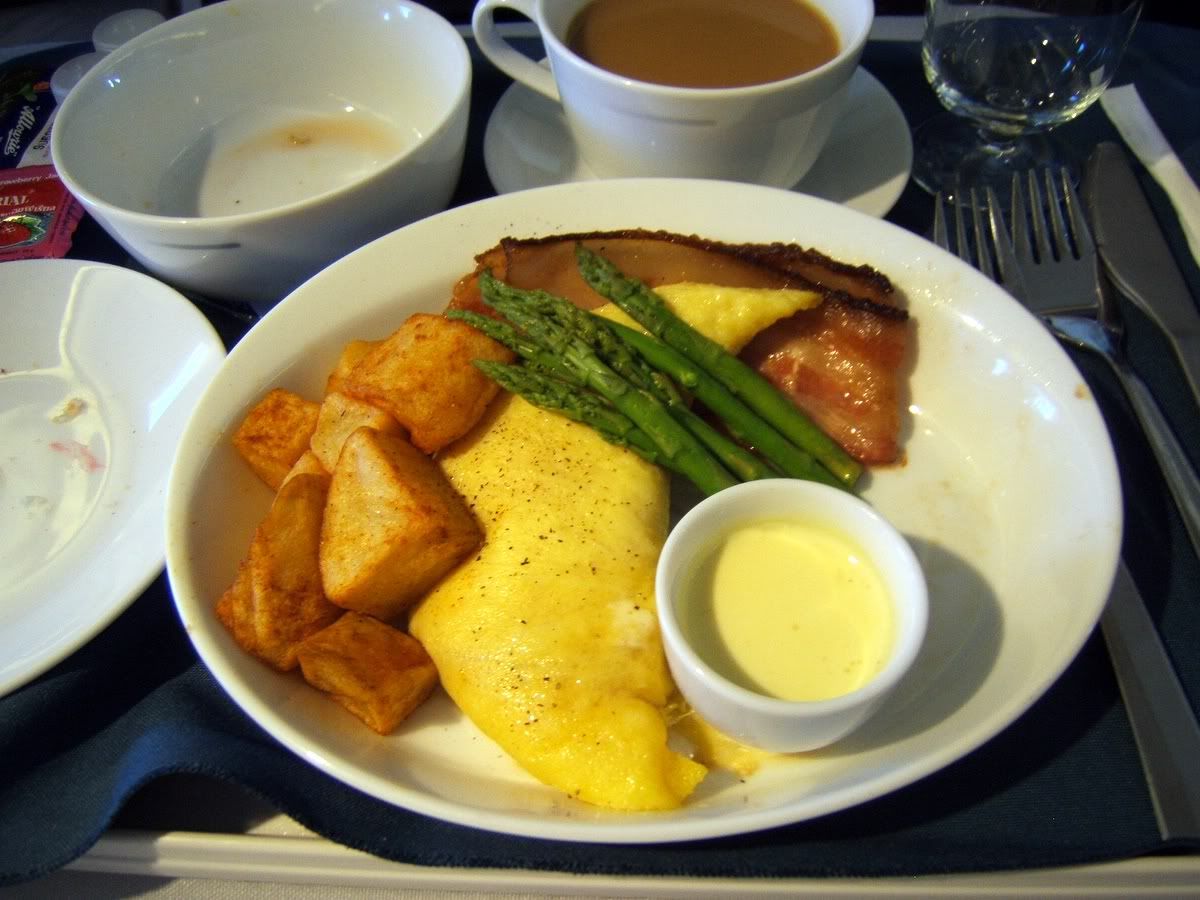 After breakfast, people started lowering their window shades, reclining their seats, and settling in for the next few hours. While UA's inflight entertainment is not on-demand, the selection of movies in Business and First was quite good including "Walk the Line", "Wallace and Grommit and the Wererabbit", and "Prime". It being the day before the Academy Awards, I decided to watch "Walk the Line" so as to be better informed about Reese Witherspoon's qualifications to win the award, which she ended up doing. I was very impressed with her portrayal of June Carter and her performance redeemed her "Legally Blonde" reputation, in my eyes.
Passengers settling in for a long flight to Tokyo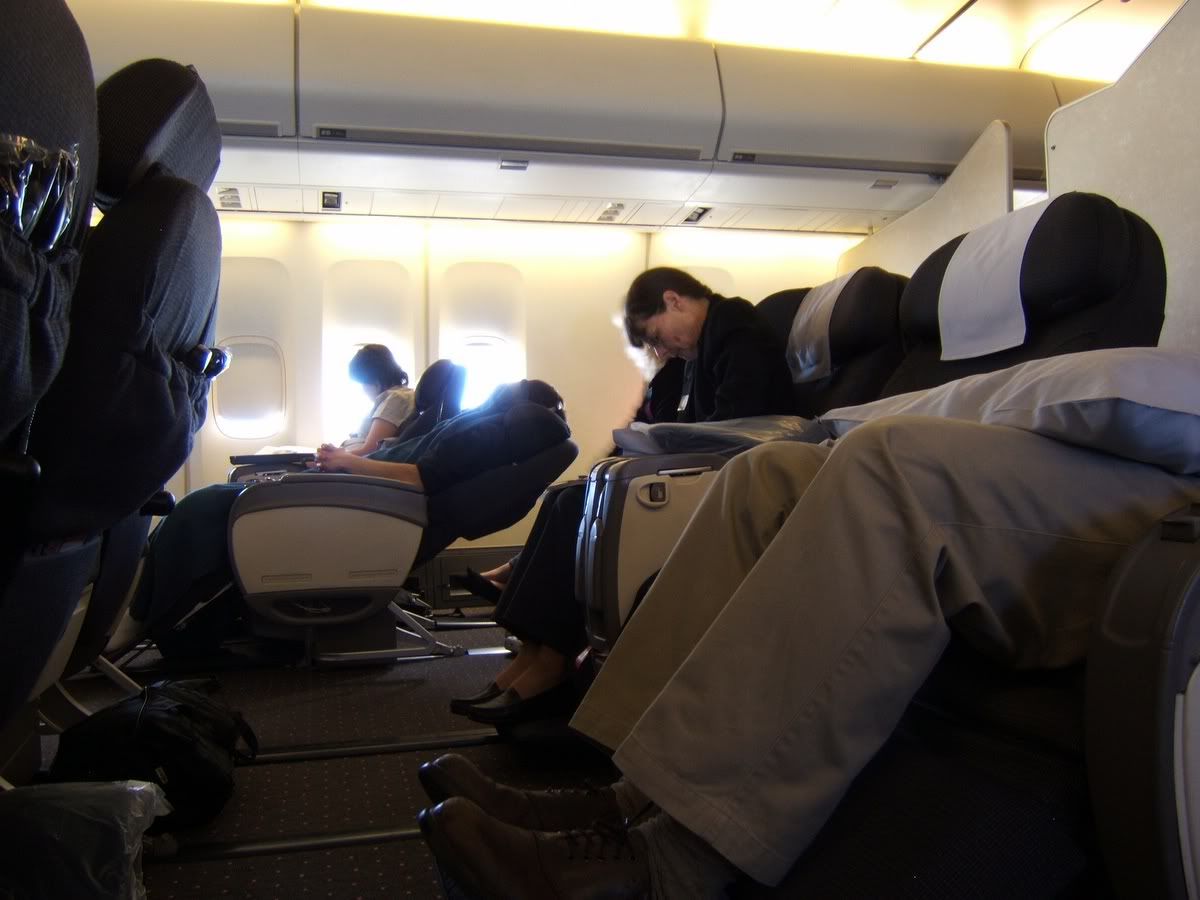 Mike stopped by my seat and we talked awhile, moving to the galley to avoid disturbing sleeping passengers. With all of our common friends, it was finally nice to meet him. There was recently a wedding of one of the former UA regional flight attendants based in BKK (the base was closed shortly after 9/11), which was a reunion for many of those former employees. Lots of people to catch up on!
Getting a head start on the pre-arrival snack, I sampled one of the desserts (chocolate pear tart) while still in mid-flight. With that I had a cup of "espresso" – a special double-strong coffee made by placing a bag of grounds into the coffee pot, in addition to the grounds that are in the regular grounds basket. Strong stuff, indeed. No need to sleep on
this
flight.
We began to encounter some choppy air and the snack service was going to begin in a few minutes, so I returned to my seat and let Mike get back to his job. Fortunately, "Walk the Line" was repeating and I was able to pick up at precisely the point where I had left off.
One interesting thing I noticed is that of 47 seats downstairs in business, the manifest seemed to indicate that 11 of those people were traveling on mileage. Seems like a very high percentage, considering that traveling on mileage means no direct revenue. Of course, maybe many of those seats were not released very early before the flight. Or perhaps I misunderstood the coding on the manifest.
About ninety minutes before landing the flight attendants started a beverage service followed by pre-arrival snack. The snack, a pomelo and shrimp salad, was surprisingly tasty: it was prepared in a Northeastern Thai (Issan) style and had a slight spicy kick to it. Not enough to cause a singed tongue, but more than usual for an airline meal.
Pre-arrival snack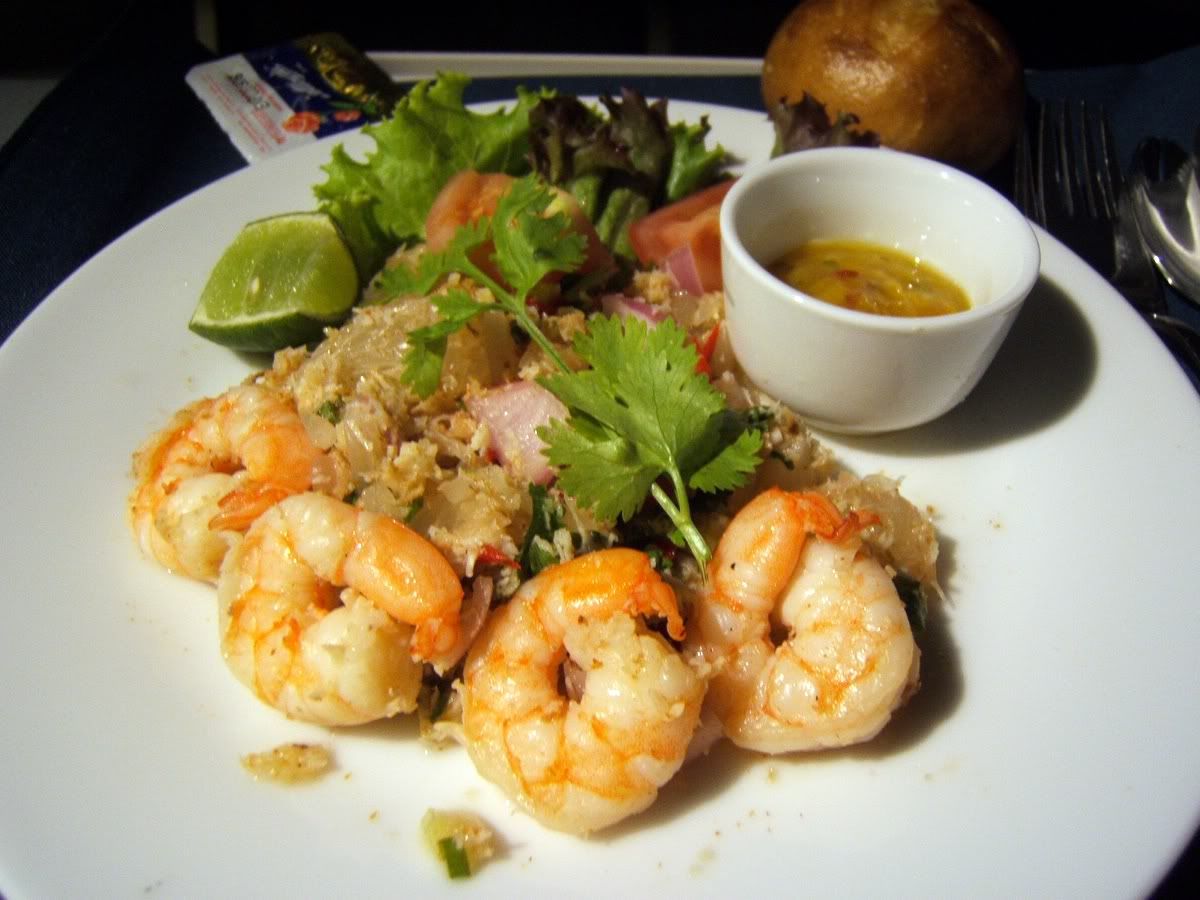 It was a bright sunny afternoon as we descended into Narita. After just a few widely banked turns we lined up for a southeasterly final approach: the touchdown on runway 16R was smooth.
On short final for NRT runway 16R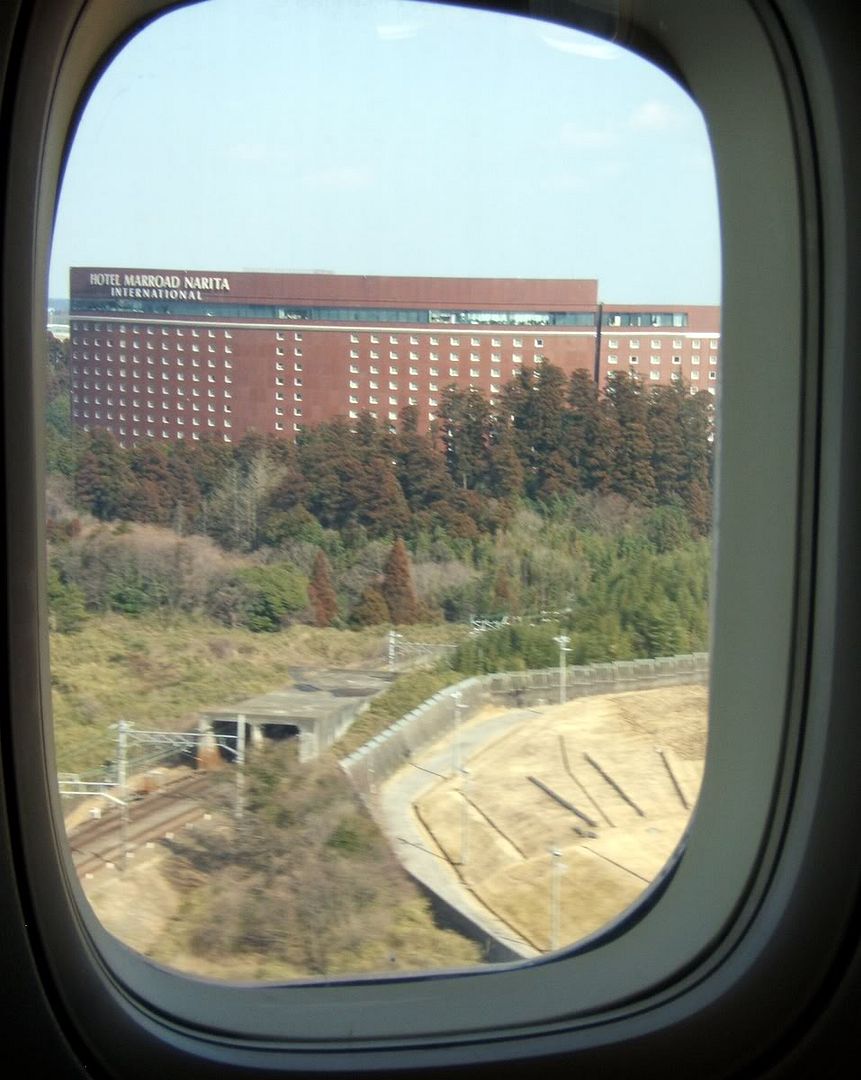 We taxied for a few minutes, stopping for two planes that were taxiing out to the runway, and then pulled into gate 41 alongside a Northwest B747.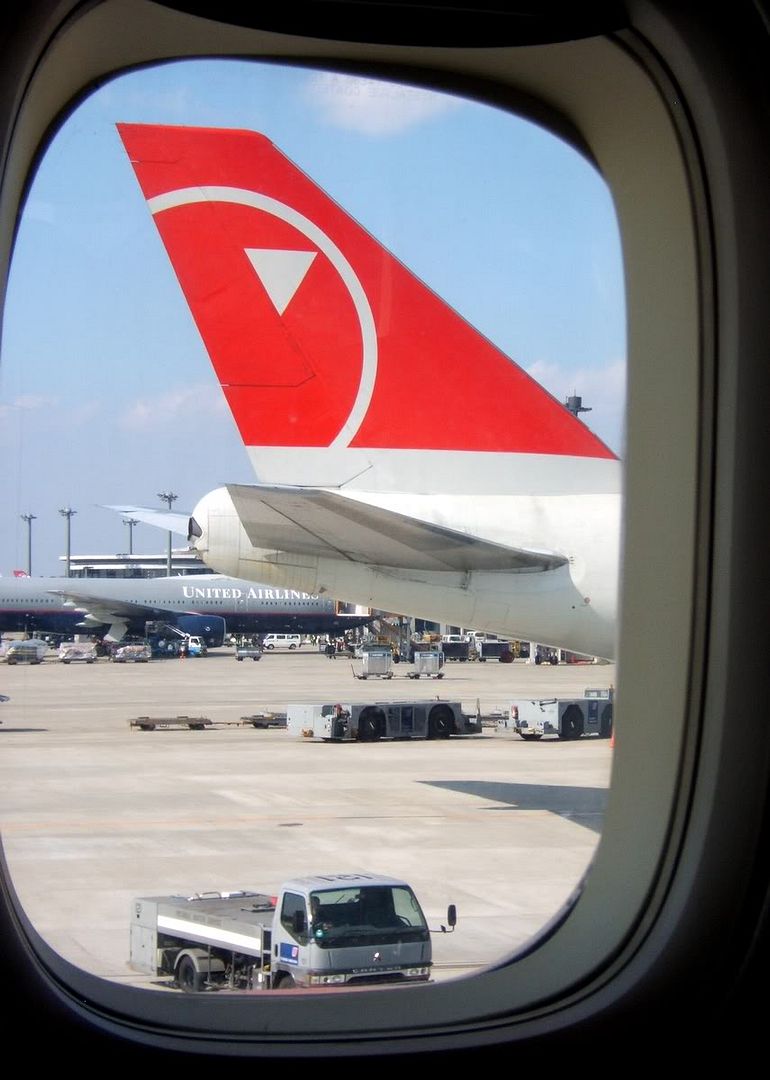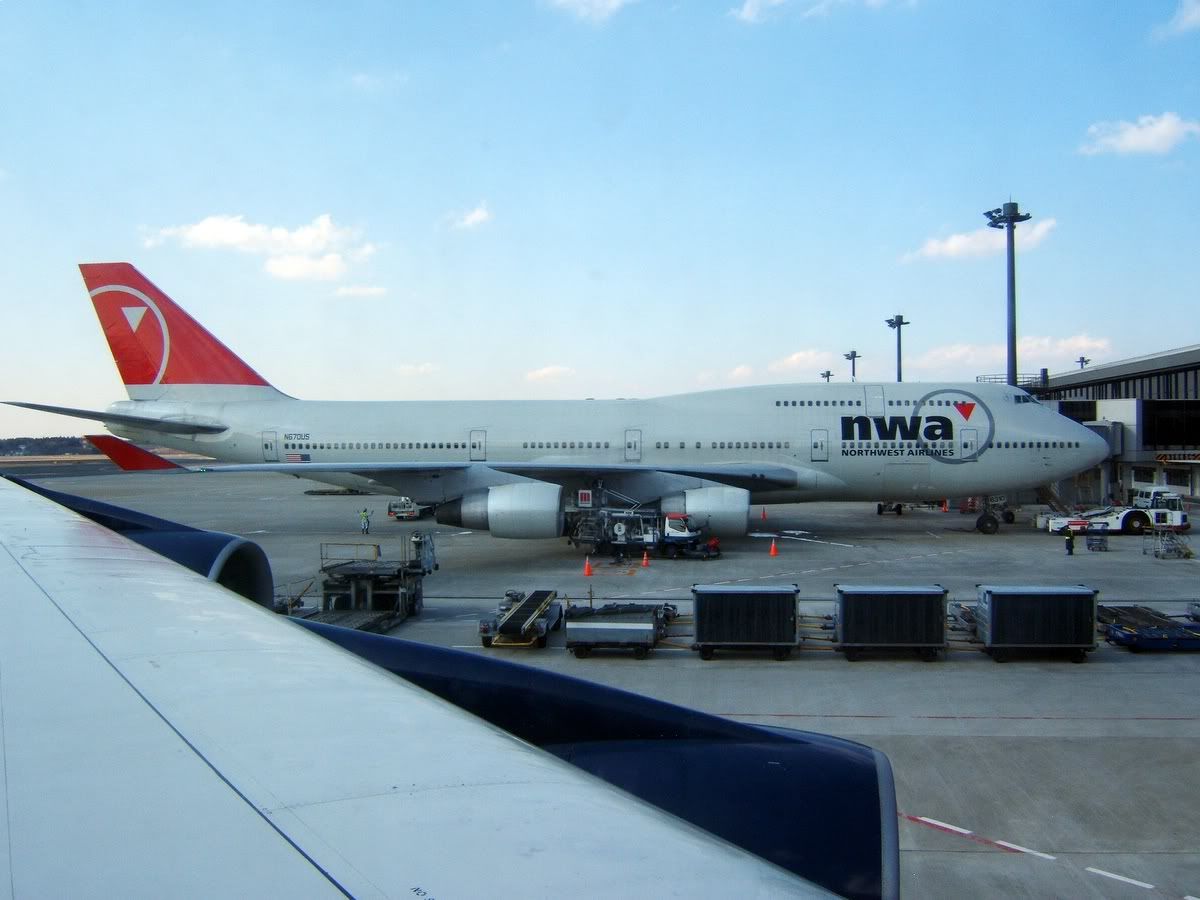 Everyone jumped from their seats and grabbed their cabin bags. Shortly afterwards, the doors were opened and the passengers were on their way.
Saying farewell to Mike, I proceeded through a security recheck and then downstairs to the Red Carpet Club.
Our plane from BKK already being serviced – great views from the second floor of the terminal
Leg 2:
NRT-SFO
Flight:
UA852
Depart:
17:00 (On Time)
Arrive:
8:53 (8:25 Actual)
Equipment:
B747-400
Seat / Cabin:
43C / Economy Plus
The Red Carpet Club was packed and I stopped by the shower suites for a refreshing hot shower and shave.
The selection of food and beverages was pretty limited at this lounge: crackers, cheese, nuts. Nothing substantial. I realize that UA has a lot of passengers connecting through here and to feed them all would cost quite a bit, but as the only international hub and the crown jewel in the lounge network, I would expect to see something a little nicer.
Views of the Red Carpet Club
The coolest thing at the club is the automatic beer dispenser. Take a chilled glass from the narrow refrigerator, set it on the designated spot on the machine, and watch as the machine reclines the glass to precisely the best angle to achieve an ideal head. Moments later, voila! You have a perfectly poured glass of beer.
Unfortunately I'm not a beer drinker; I could sit there pouring beers all day.
Getting bored with the Red Carpet Club, I headed out to take some pictures. With the bright sunlight, the south-facing terminal did not make an ideal picture taking location.
NW Airbus nestles alongside the terminal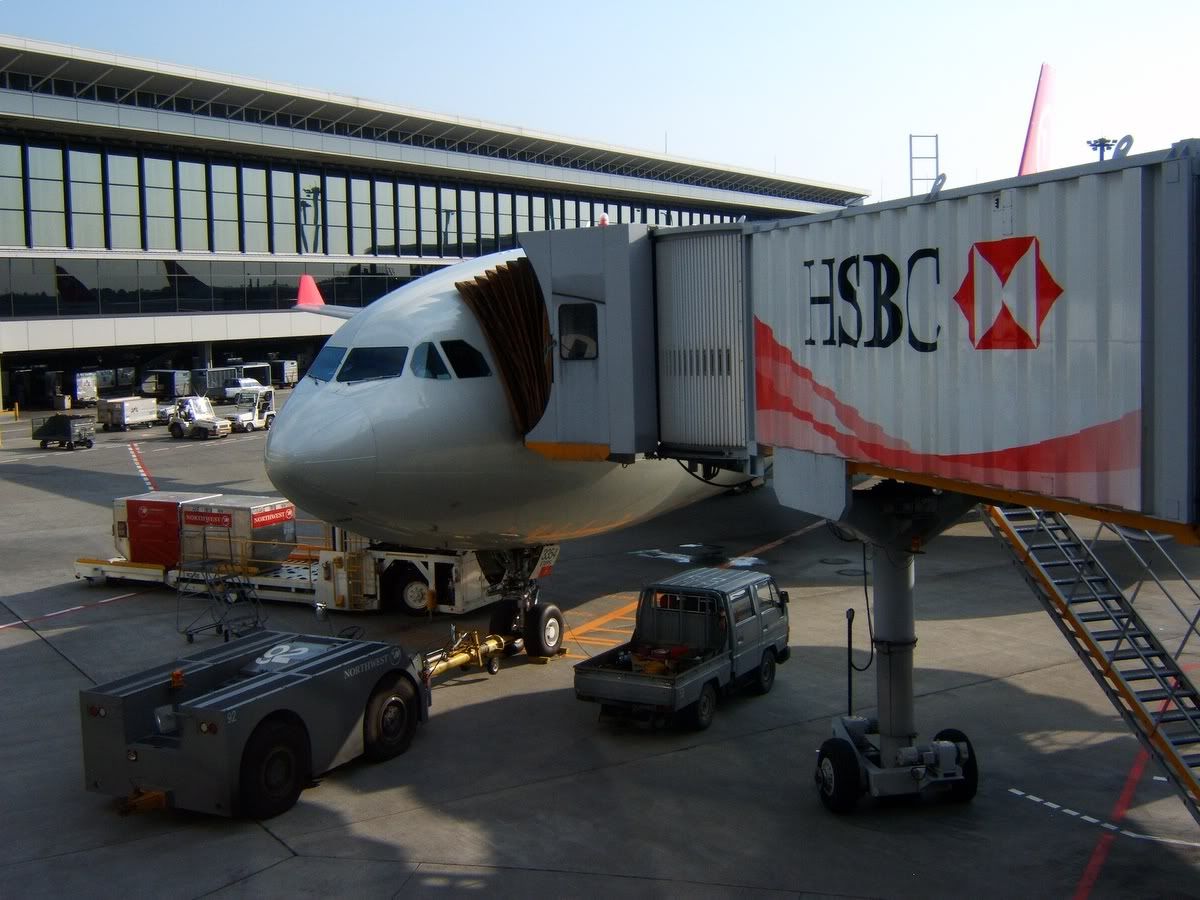 CX Airbus bound for HKG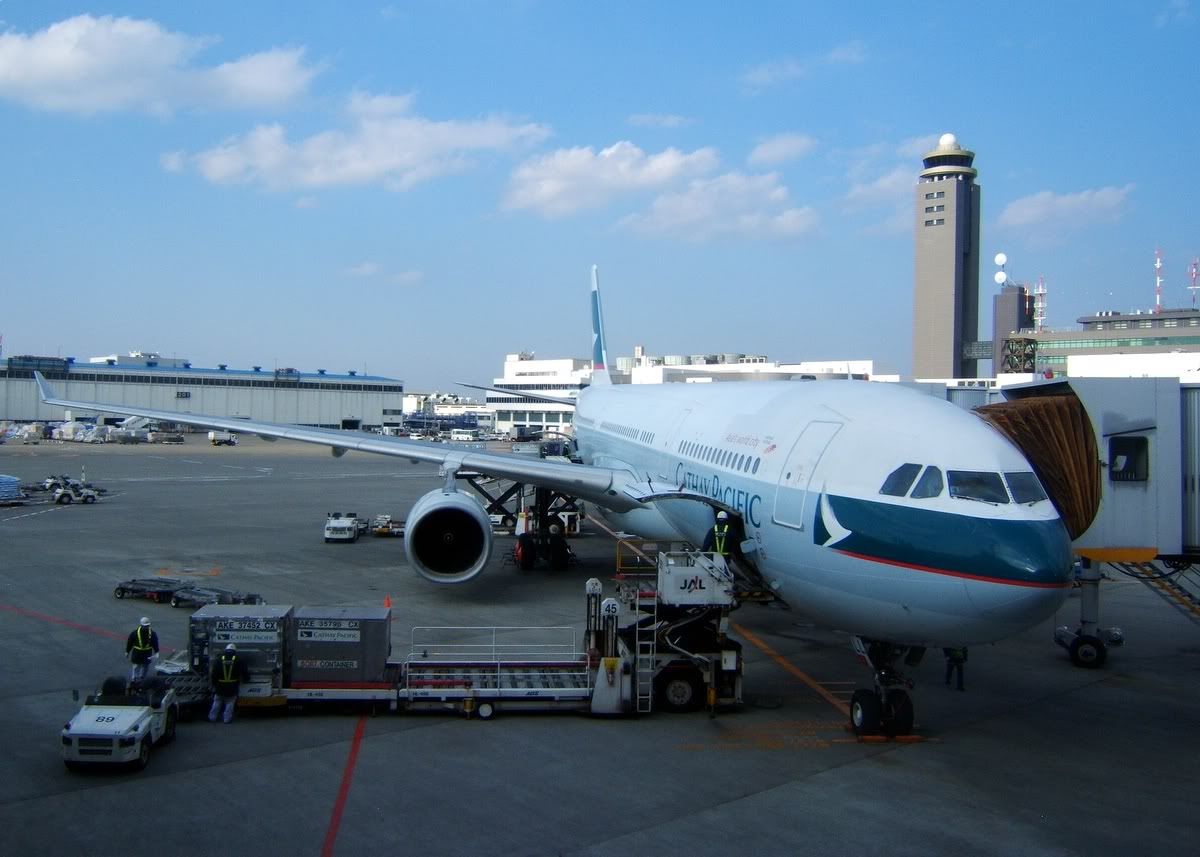 AA B777 waits for its trip back to the United States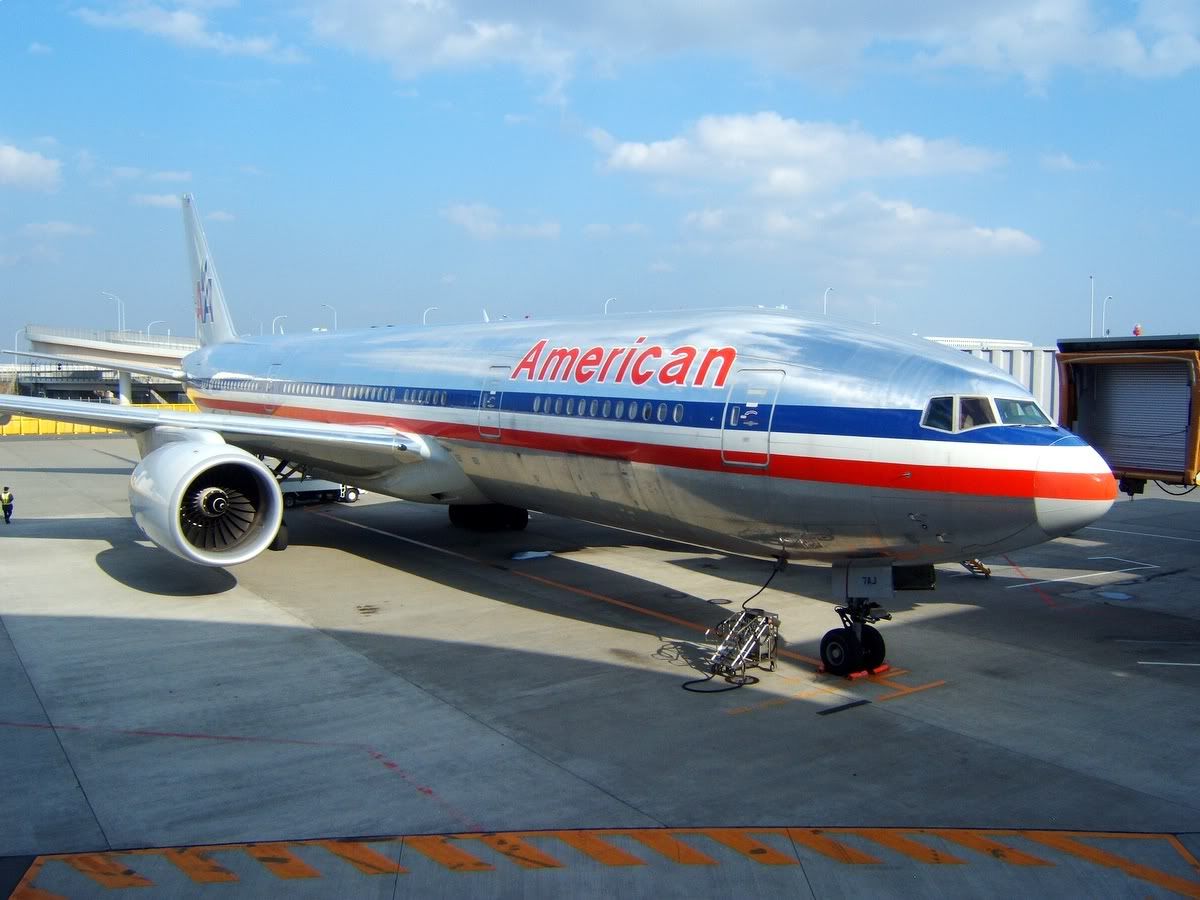 KE B777 bound for ICN – note the hump on the top of the plane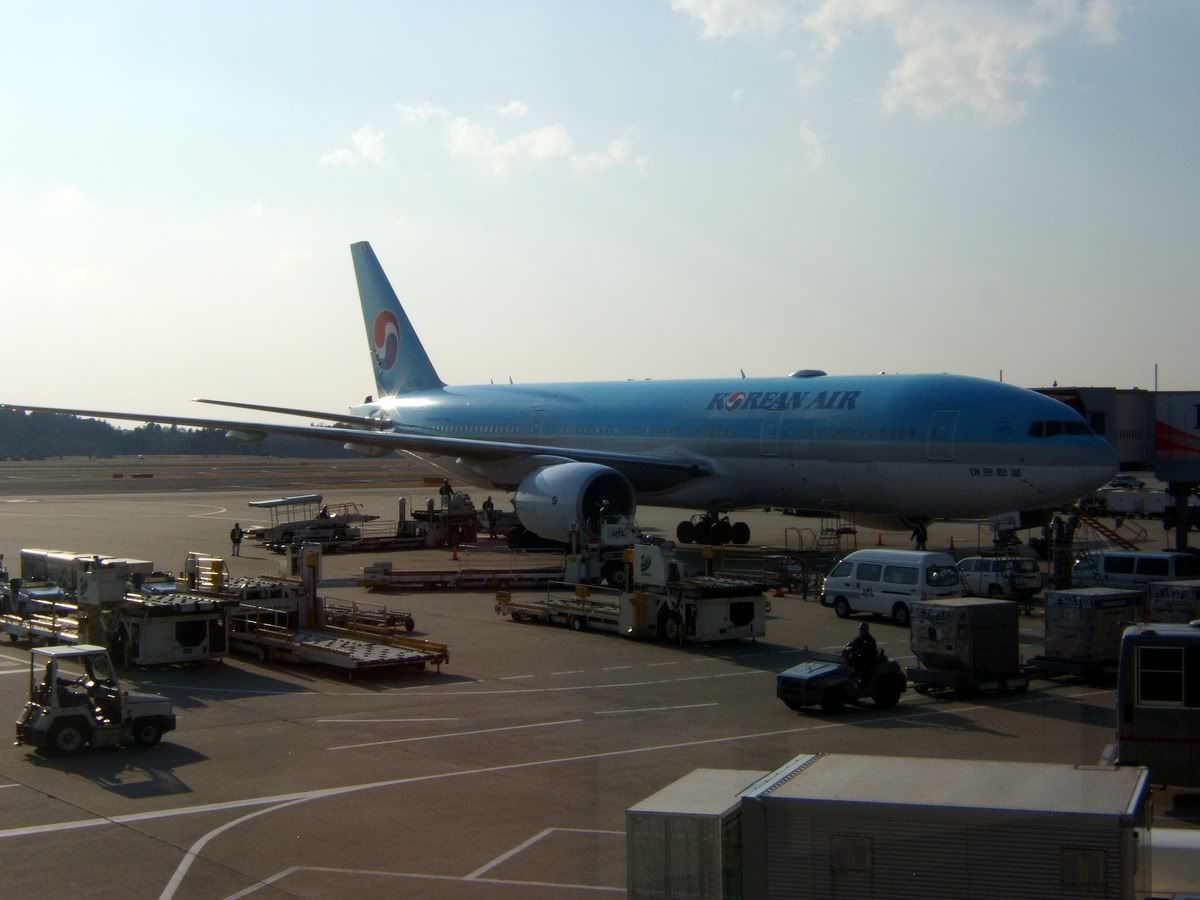 NW B757 at NRT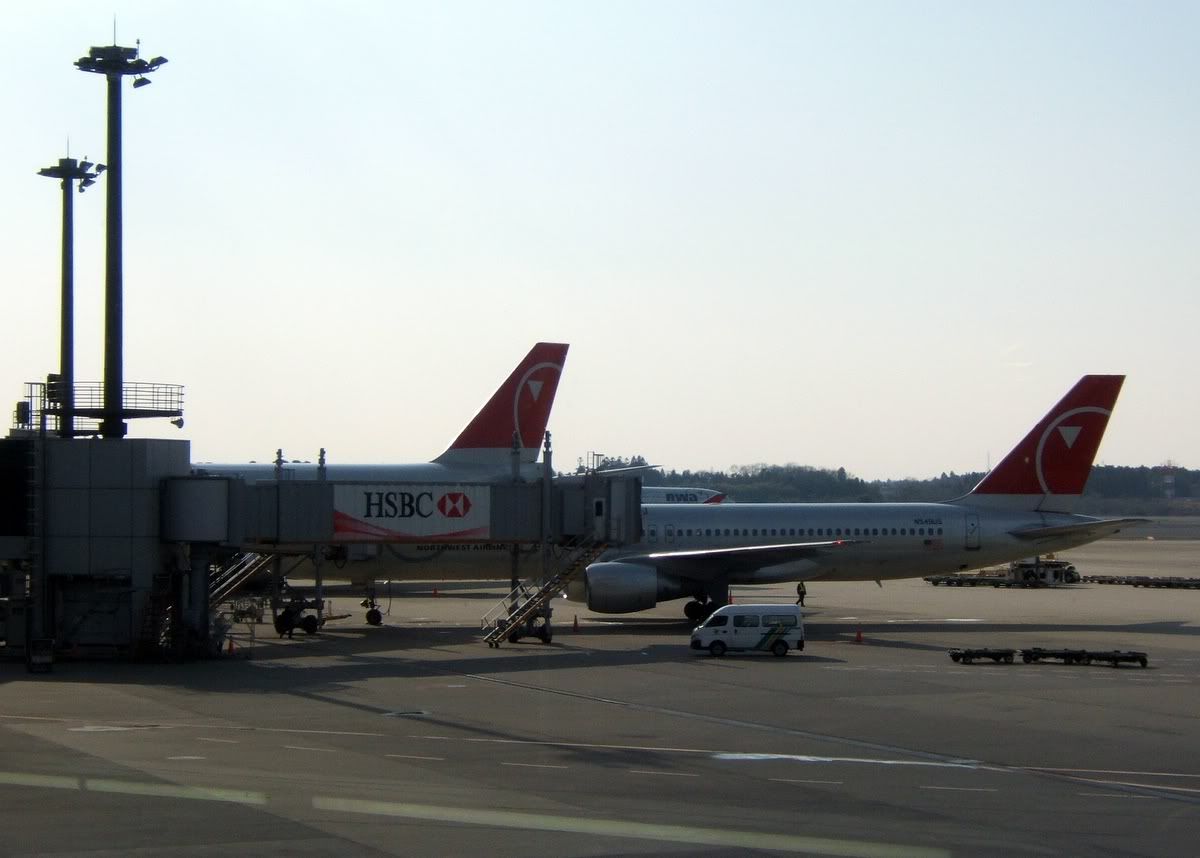 Duty Free Shopping
Construction of the additional section of Terminal 1 is nearing completion, which will see all of the Star Alliance airlines under the same roof at Narita, an important move because of the number of connections that are made here.
New pier for Terminal 1 – opening this Summer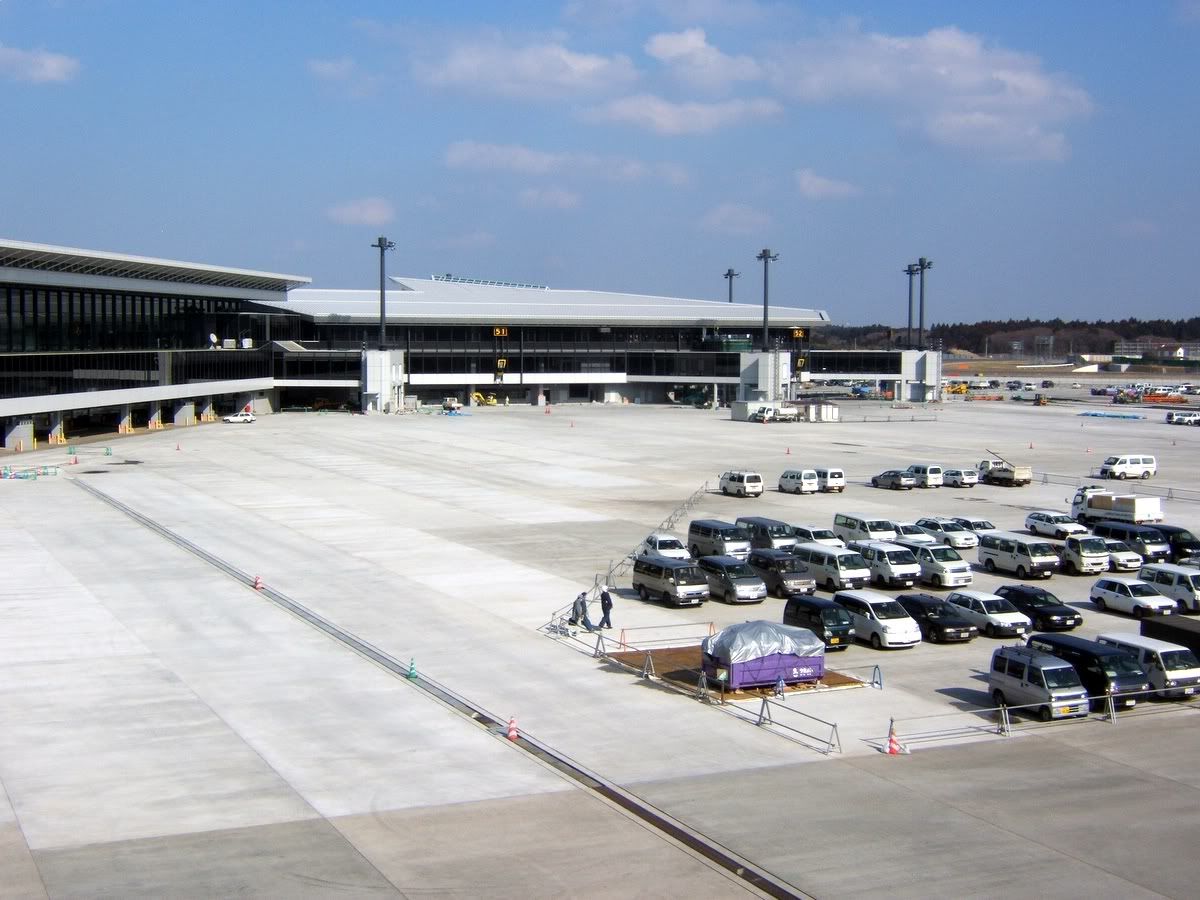 Heading to gate 33, I checked in at the counter to discover that the flight was full and I would be remaining in Economy Plus. My seat was assigned as 36E, a bulkhead middle seat. Asking about an aisle seat, the agent was able to switch me to 43C, the second to the last row of Economy Pus.
Normally, I'd be a bit bummed about not getting an upgrade, but in this case I had received an email from another friend who flies for UA, letting me know he had swapped flights and would be working in Economy on this leg.
The B747 for our flight on the right, with another pulling in alongside. An Air New Zealand jumbo jet arrives in the background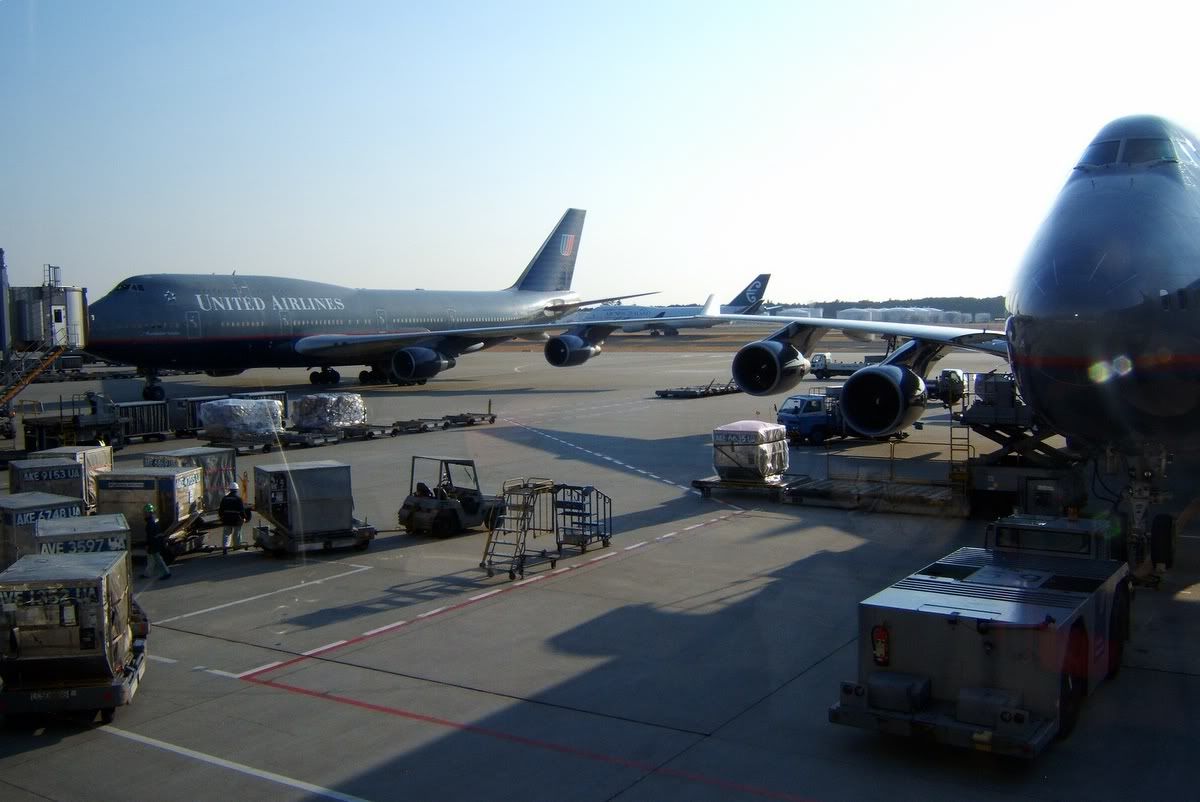 The boarding area chaos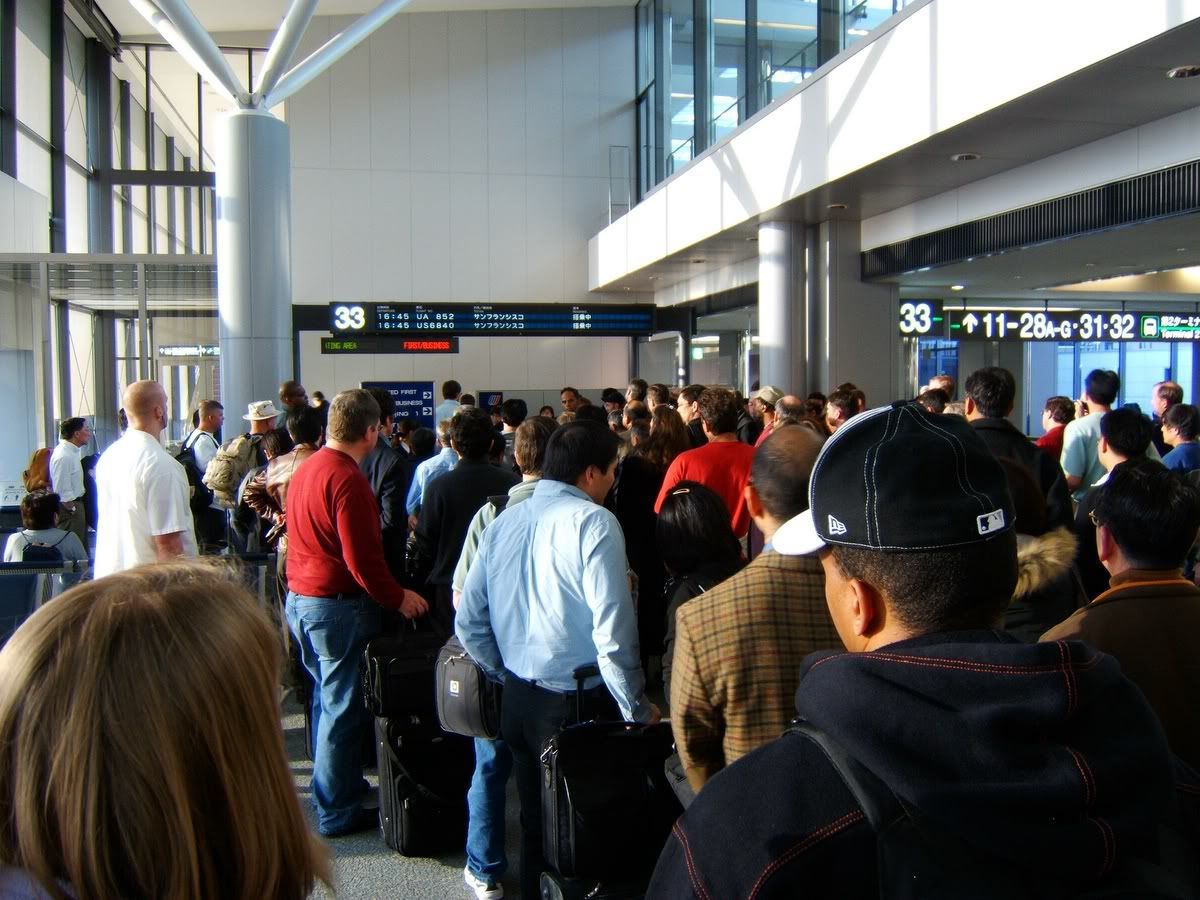 As boarding began the gate area was a madhouse. Boarding at Narita is usually orderly, with agents making sure there aren't a lot of people crowding the boarding pass readers before their group is announced. Not today, though.
It seems that Seating Area 1 – all of the Premier members who aren't in First or Business, was at least 100 people. But we were all processed quickly and I was on my way down the jet bridge in just a few minutes.
A UA B777 parked adjacent to our gate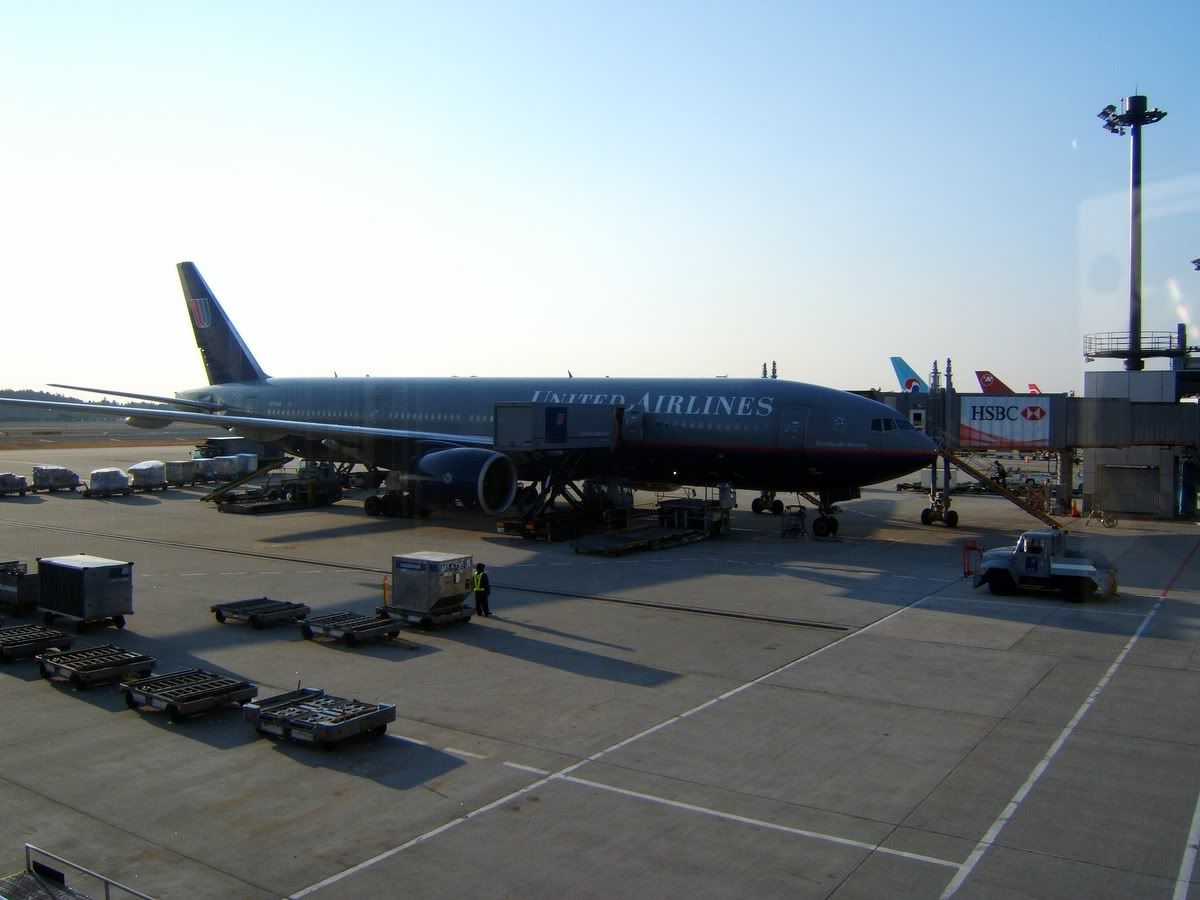 Boarding the aircraft, I spotted David down by door 4R, greeting passengers and helping them store their things in the overhead bins.
Settling into my seat, I started the nesting process familiar to all long-haul flyers: trying to ensure you have all your creature comforts (I-Pod, books, magazines, water bottle, and for trip reporters a camera and notebook) close at hand while not overcrowding the already tight economy class personal space.
Economy class passengers settling in for an 8-hour flight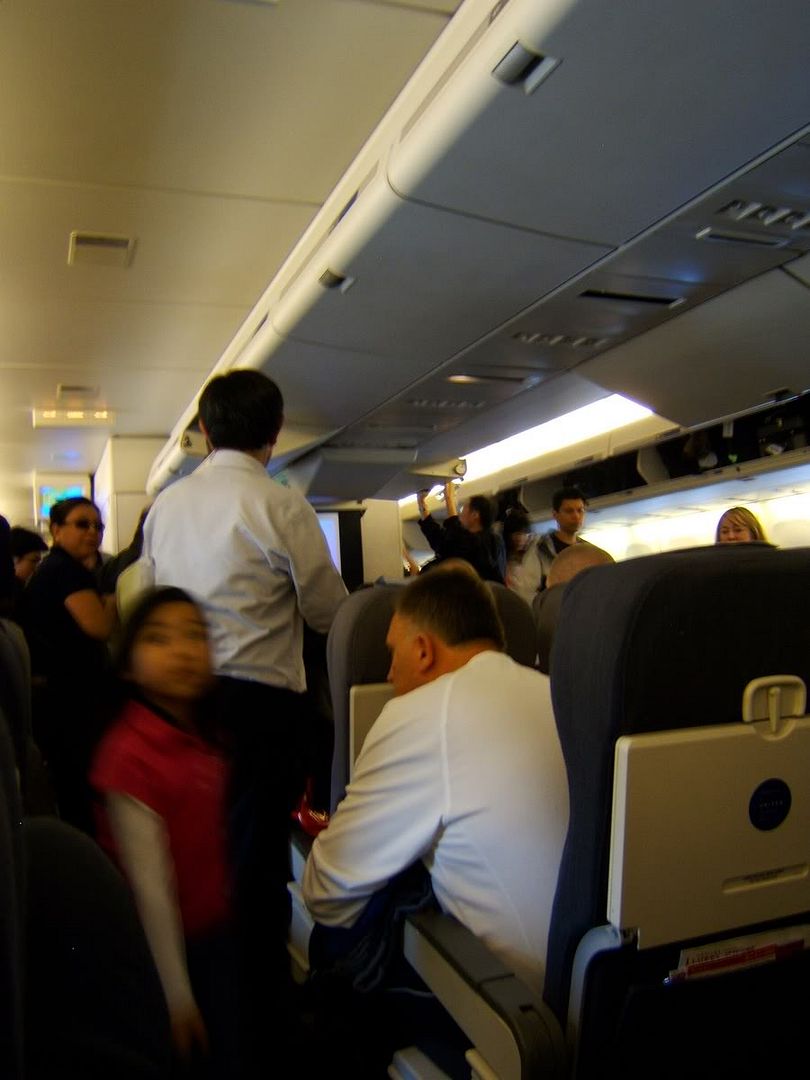 I walked through the mid-cabin galley (between doors 4L and 4R) and went over to say hi to David. He passed me a bottle of water (no need to wait for water) and we chatted for a moment about my finally meeting Mike. He also gave me his new copy of US Weekly just in case I needed some reading material. Fortunately, I already had purchased a few magazines at the airport (expensive!) so didn't have to settle for gossip about the celebrities.
During pushback and the safety briefings, I was impressed with the Chief Purser, whose announcements were made in a very clear, deep voice – words nicely articulated and pleasantly delivered.
Surprisingly for a late afternoon departure, we experienced no delay in our taxi out, and after holding short for a departing KE B777, we pulled into position on runway 16R and began our roll.
A Korean Airlines B777 departs ahead of us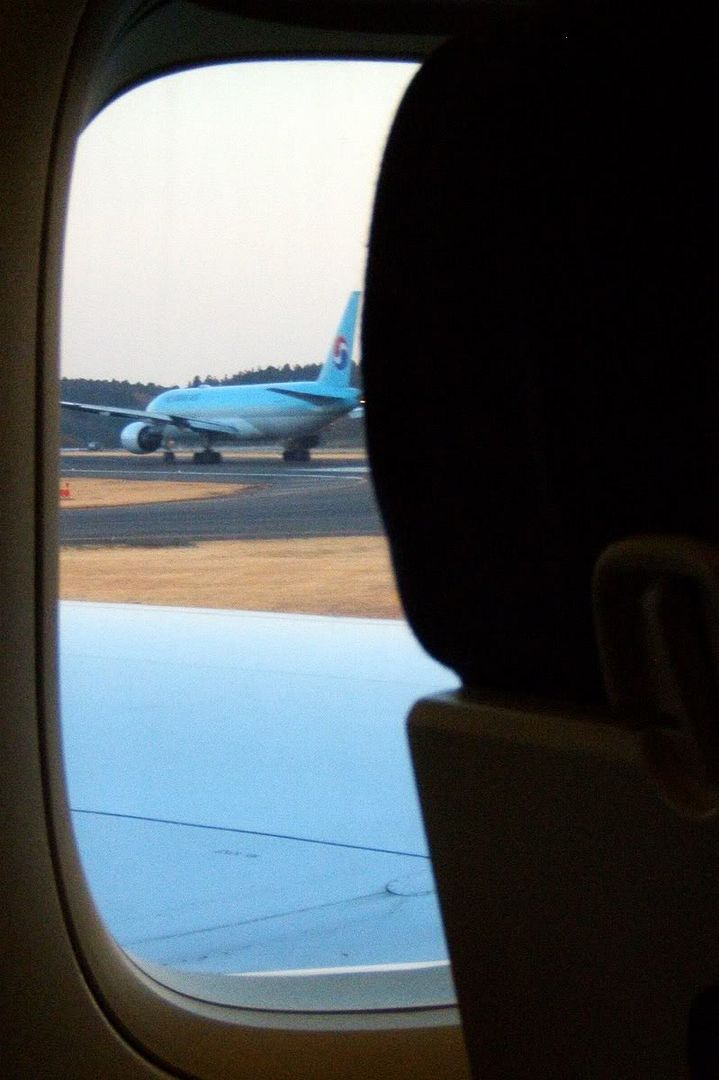 After we were airborne, I slipped into a pair of slippers from a previous flight in Business class and made myself comfortable. The row to my right, the center section, was the last row in the cabin so I was able to take the extra magazines from my seat back and stash them behind that row of seats. This gave me an extra inch or so of leg room.
Just before departure, I had overhead the Economy Purser stick her head into the galley and tell the flight attendants that the captain was expecting turbulence beginning about 90 minutes into the flight, so they should try to expedite the meal service. Despite this, I felt the service was very comfortably paced.
Inflight service began with hot towels and drinks. I had sparkling water and noticed that a cup of warm roasted nuts appeared on my tray table out of nowhere.
Dinner was unexpectedly good, an improvement over the last transpacific Economy class flights I took from LAX-NRT last Fall. The appetizer was a selection of edamame, sliced smoked chicken breast, pineapple, and apple. It was tasty, although my seatmate didn't realize that you don't eat the pods from edamame, resulting in his gracefully spitting out a half-chewed pod into his napkin once he discovered that he'd never really be able to chew it completely.
In addition to a standard-issue salad that had a nice ginger-sesame dressing, I had chicken stir-fried with vegetables (peppers and carrots) served over white rice noodles. It was very good and the portion was generous. For dessert, we had a chocolate cake that was a little dry (not unusual given the cabin humidity) with tasty fudge frosting. The biggest addition to the meal service: toothpicks are back. UA had removed them as a cost-cutting measure a while back, and I always thought it was a bit stingy. Nice to see they've returned.
Dinner service – chicken over rice noodles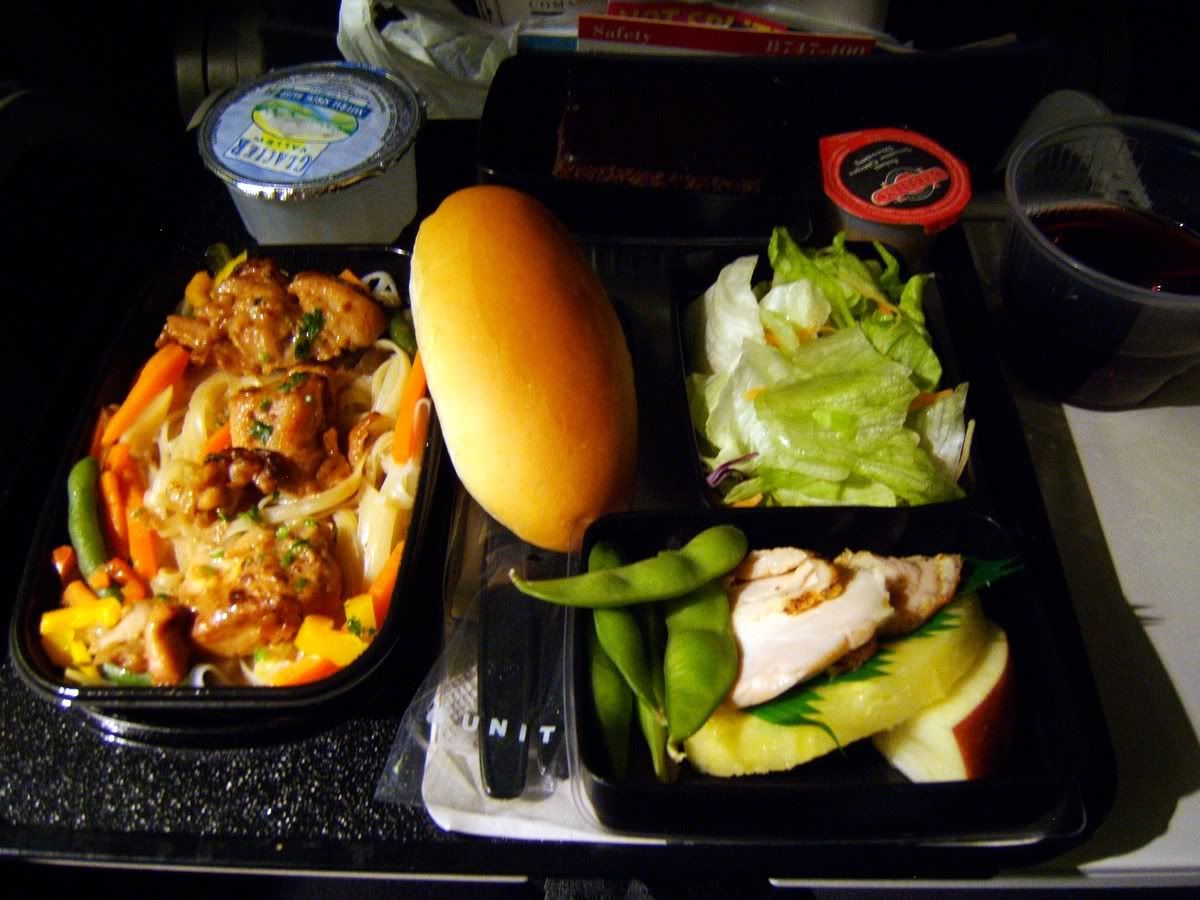 With dinner I enjoyed a cup of red French wine that maybe wasn't the standard issue Economy wine. I can't say for sure since it arrived separately from the regular beverage service and I didn't get an individual-sized bottle with it, but it certainly tasted very nice.
After dinner I napped for an hour or so and watched bits of "Good Night, And Good Luck" on the main screen. For some reason, the tape had not been rewound previously and so the film was started nearly all the way at the end. I pointed this out to one of the flight attendants and the purser rewound and restarted the film.
The lack of personal television monitors on their B747s has been noted several times as a shortcoming of UA's service and I'm eager to hear what they'll be doing to fix this problem now that they're out of bankruptcy.
Later in the flight I chatted with David for a while, talking about life in Bangkok, friends we know, and how life post-bankruptcy is finding things. The sense I get is that most UA employees are glad to have that part of their career behind them and are optimistic that things will continue to improve.
We had strong tail winds, reportedly in the 190 mph range, and our flight was planned to only take eight hours. About two hours before landing, the flight attendants raised the cabin lights, passed out hot towels, and prepared for breakfast service.
Fortunately, I received a very nice fruit plate with croissant a bit before everyone had woken up, so was able to skip the standard-issue omelet that had been sitting in an aircraft galley for a long while. Another cup of coffee or two, and I was ready to arrive in SFO.
Breakfast fruit plate from Business Class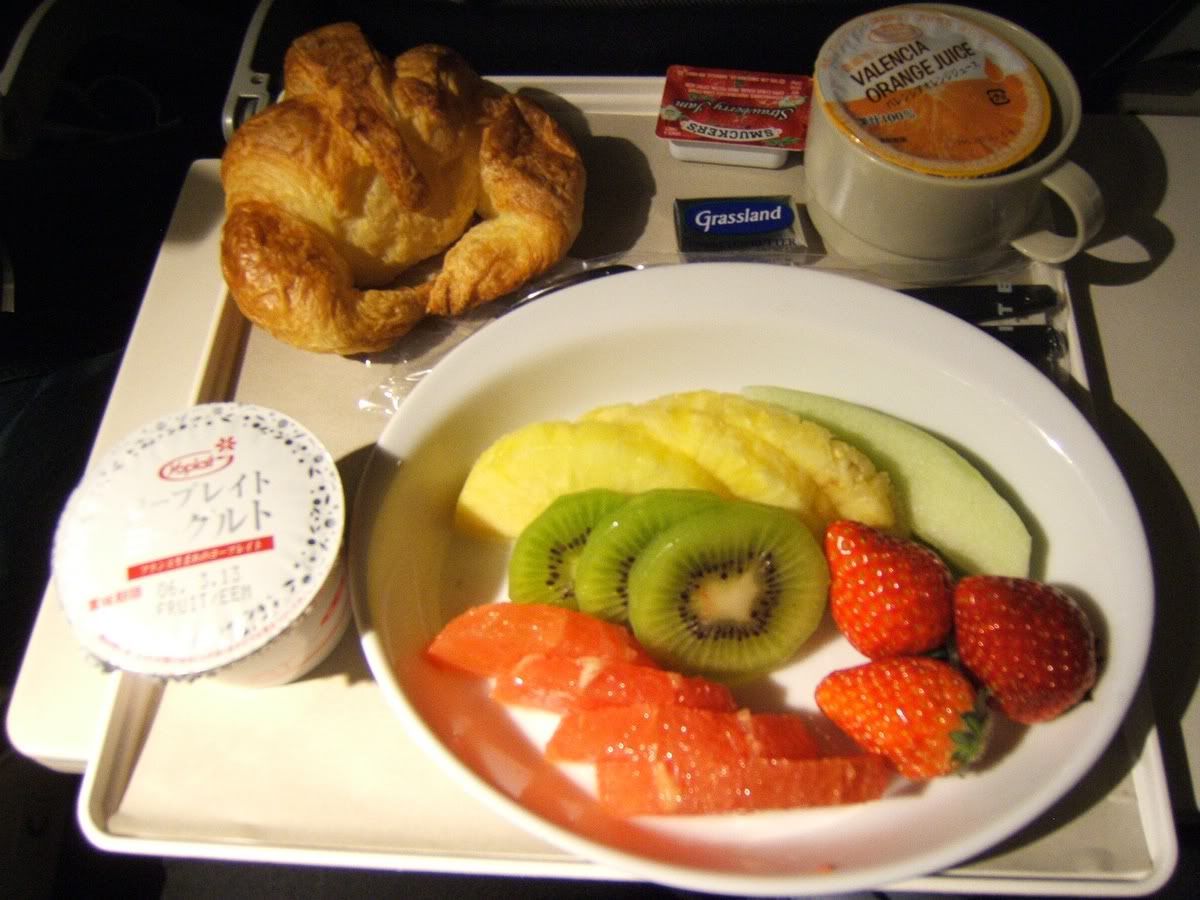 Picking up trays after breakfast service
Our approach into the City by the Bay took us on the coast near Point Reyes, over the Golden Gate, directly over the airport, and then we made a left turn near Palo Alto for a visual approach to runway 28R. Not sitting in a window seat, I had to get creative with my picture-taking. The man in the window seat kept leaning in front of it to look out, blocking my view. But I did get a few good shots in.
Views of the Golden Gate Bridge and Downtown San Francisco and Treasure Island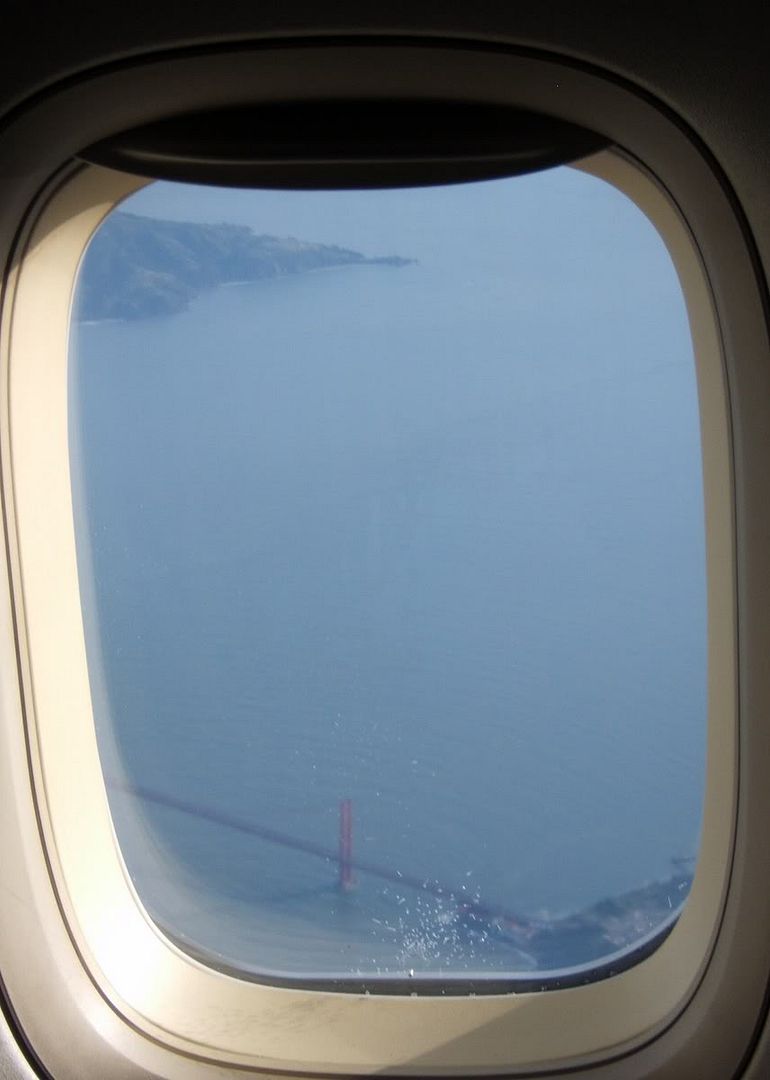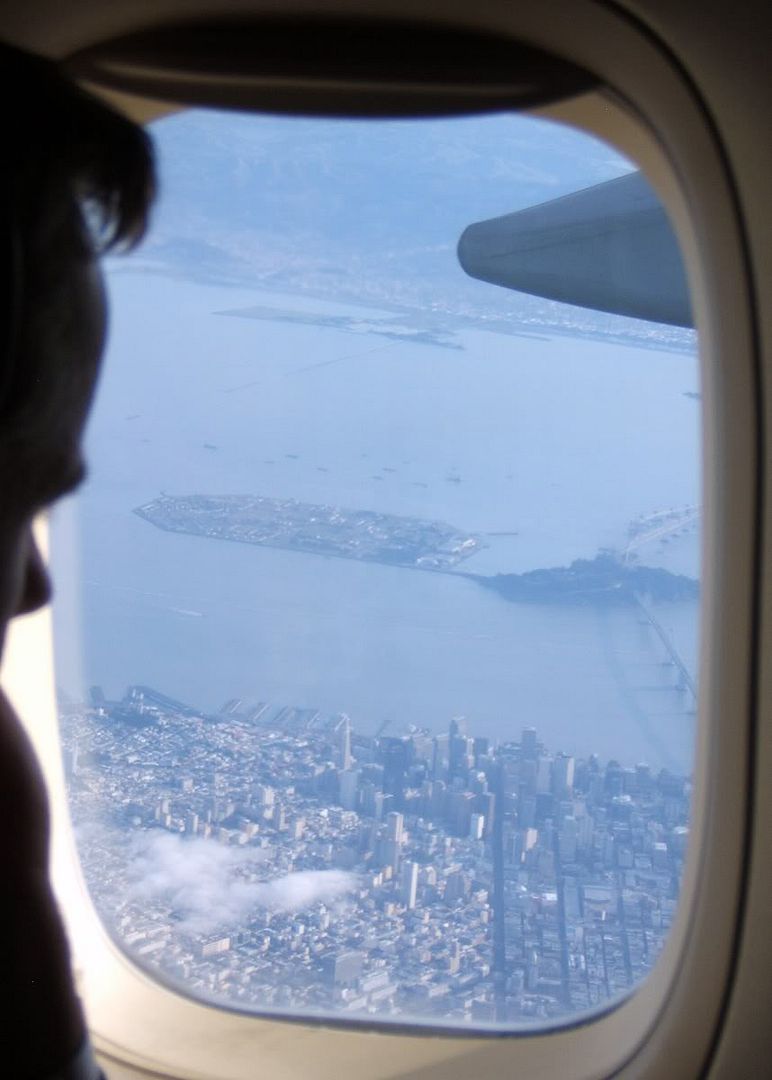 At about a 12-mile final, flying low over Foster City just outside the San Mateo Bridge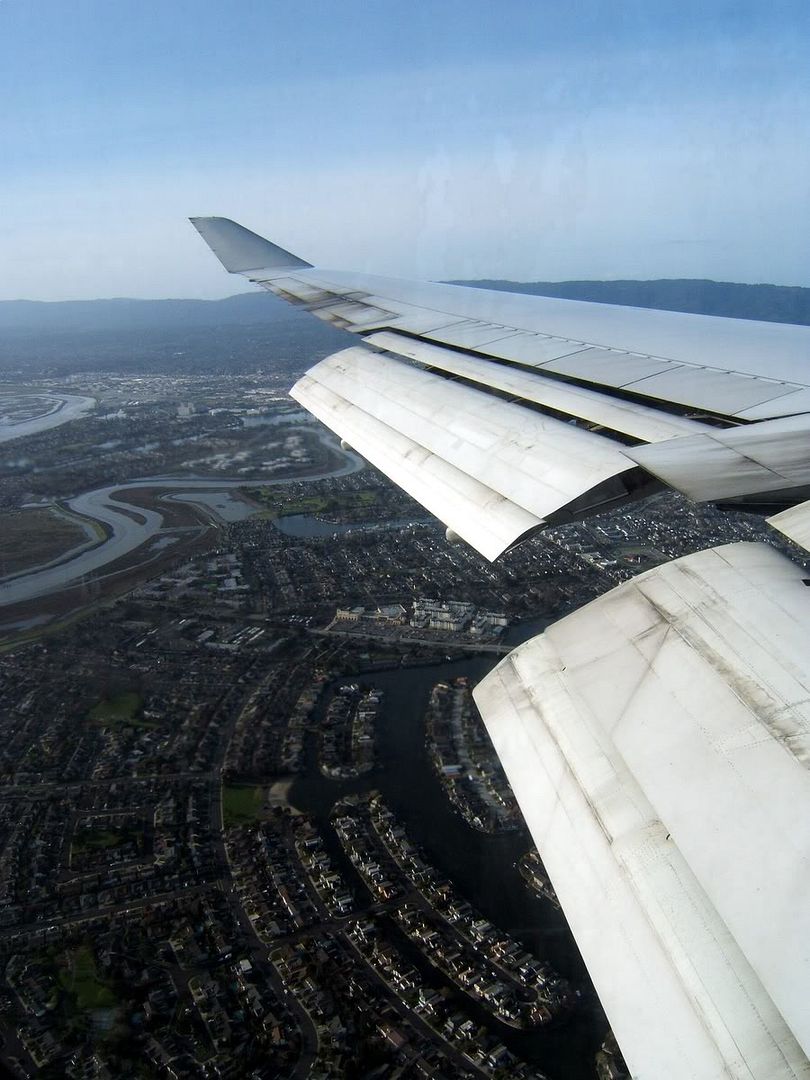 As we cross the threshold on runway 28R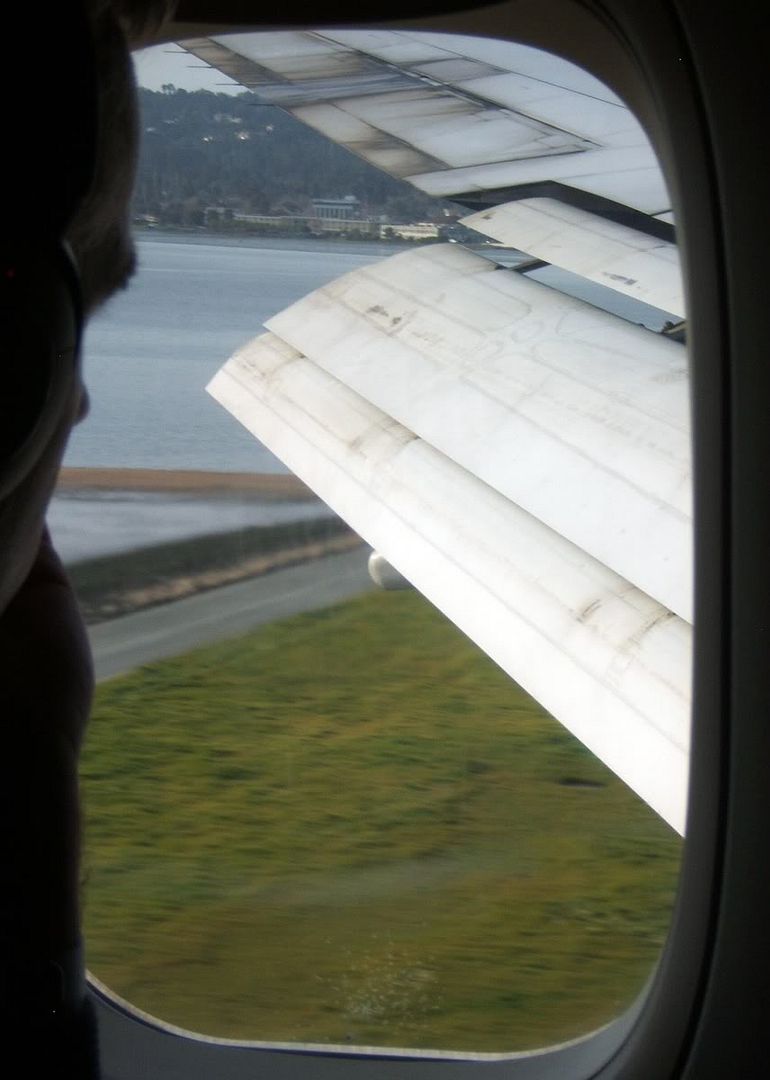 Another B747 parked next to our arrival gate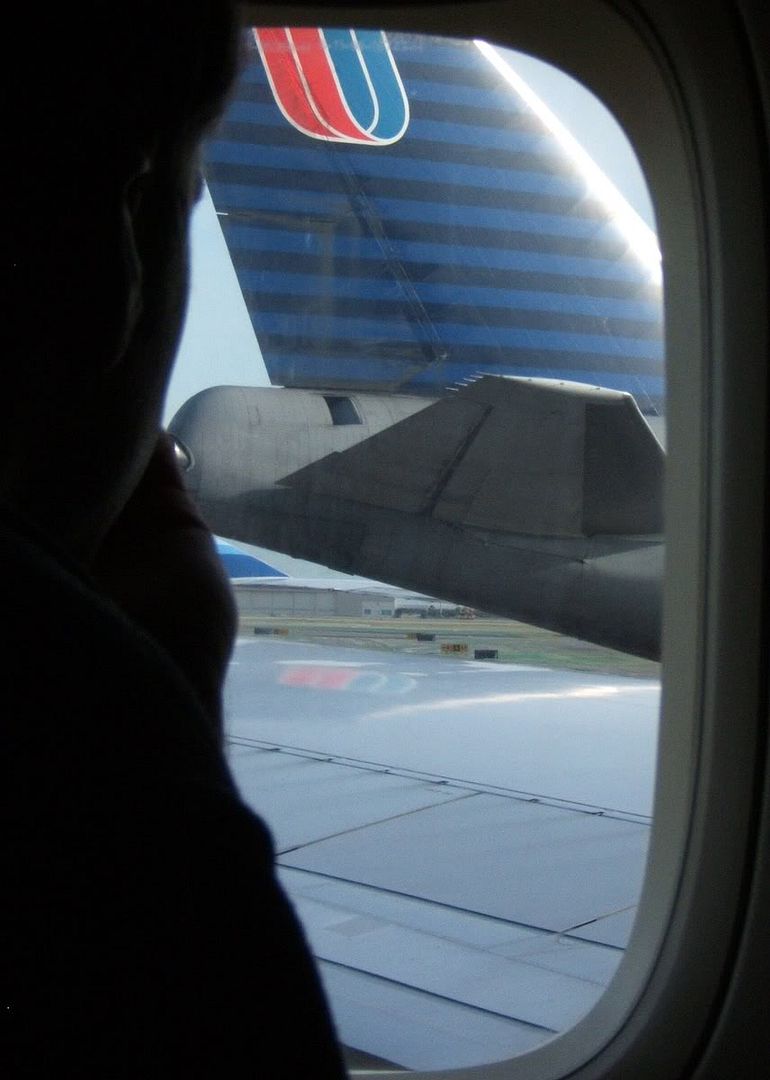 We pulled into our gate more than 20 minutes ahead of schedule. I gathered my things, said goodbye to David, and headed out the door. Stepping into the jet way, the cool wintry air and moisture of the rainy morning sent a chill to my bones. I've definitely acclimated to life in Bangkok and the warm temperatures.
Crowds gather around the baggage claim carousel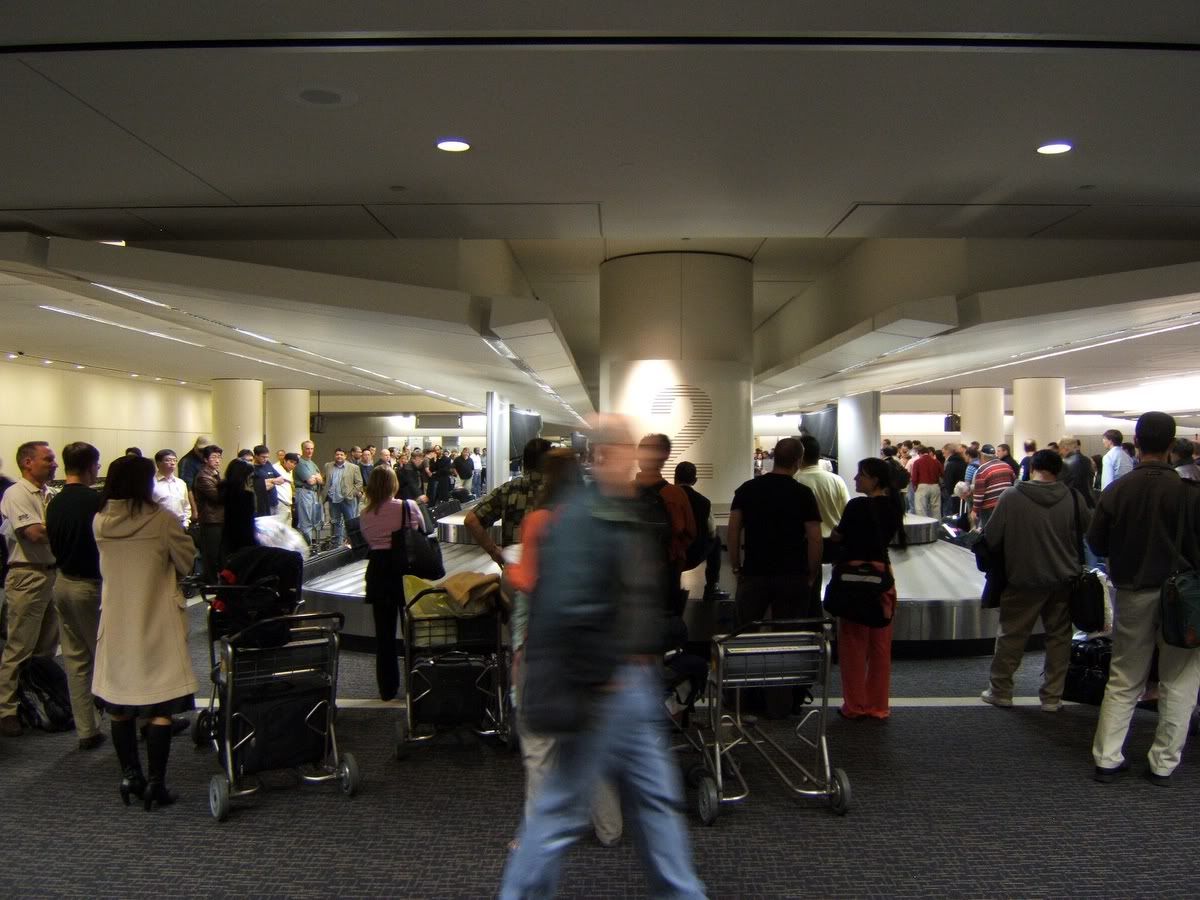 Because of our early arrival, we beat some of the other flights from Asia and had short lines through immigration. Unlike my past several trips through SFO's international terminal, baggage arrived quickly and – finally! – having Star Alliance Priority tags on my bags actually helped. They were out within the first dozen or so bags and all three arrived at the same time. What are the chances of that?
All in all, it looks like service at United is improving a bit as they have exited bankruptcy. The staff was positive and friendly, the food was good, and the entertainment system (for what it is) was enjoyable.