This trip came to light about three days before our travel date; right after I had rolled into Montreal. I met up with my brother for lunch and he had the bright idea of flying the E-Jet (the ERJ-170) to Toronto (or any other city we could fly the 170 from Montreal to). Neither of us had flown the type and it seemed a good idea as well as a feasible one. He got us standby tickets. We booked ahead to Tuesday the 7th. When we checked out the flights on the Internet, we saw AC wasn't operating the ERJ-175 on the YUL-YYZ-YUL run. Instead, they had an 18:30 departure from YYZ to YUL with the ERJ-190! Even better! We decided on the 15:00 YUL-YYZ flight, which is AC417 and is operated by the Airbus A330-300. It is nice to have such a big plane for a flight that short. We would spend just over 2 hours in YYZ before heading back to YUL on the E-Jet.
Date: March 7, 2006
Leaving: Montreal – YUL
Arriving: Toronto – YYZ
Airline: Air Canada
Flight Number: 417
Scheduled Departure: 15:00
Actual Departure: 14:55 takeoff at 15:06
Scheduled Arrival: 16:20
Actual Arrival: 16:16 landing at 16:01
Departure Gate: 50
Arrival Gate: 145
Departure Runway: 28
Arrival Runway: 23
Cruising Altitude: FL340
Seat: 45A
Aircraft: Airbus A330-343X
Registration: C-GFAF
View Large
View Medium


Photo © William Vogt
I arrived at the airport at exactly 14:00, where I met up with my brother at the check in. He had already printed out the boarding passes for both flights. We had assigned seats on the first one in Economy, and with the ERJ-190, we still were on standby. A quick scan of the monitors revealed we would be leaving out of gate 50. There was no line for security and it was a breeze. All I had with me was my camera. Unlike in the U.S., there was no need for me to take off my shoes. Right in front of security was gate 50 with an AC A333 in the new colors parked outside.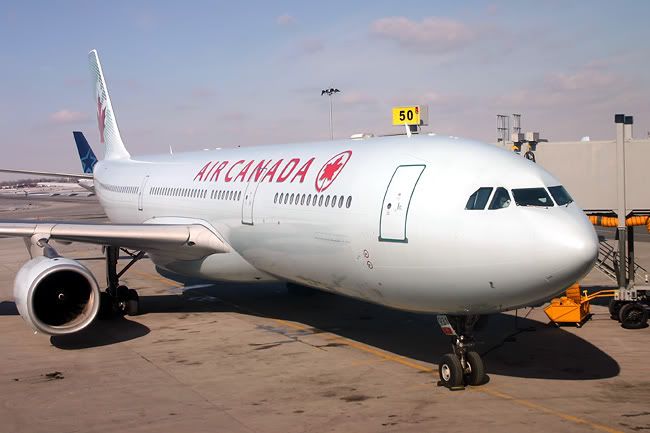 I walked up and noticed it was ship 931, the first A333 to be delivered to AC as well as the first one to be repainted into the fully new scheme. This would turn out to be C-GFAF. As we still had time before boarding, we headed on over to see some of the other gates.
We boarded on time and entered the spacious cabin of the A330. Business class stretches a few rows beyond the 2L/R doors and seemed very roomy. We would be seated in the second-last row of the plane. The A333 has no PTVs in coach but it does seem ready for them, so maybe they will be there in the future as I can see slots for the remotes and PTV cutouts. The main LCD screens are of generous size. Seat pitch, ranging from 32 inches to 34 inches, is very good though the seats are quite narrow. I found the seats are comfortable, and the winged headrests stretch out amply, so seat-wise it is not bad for 10 hours flight. Our flight, of course, would be much shorter.
Pushback was at 14:55 and we began the short taxi to runway 28. I was hoping for a powerful and short takeoff. Runway 28 is quite a bit shorter than the 24's. I figured the flight load was probably around 70% and fuel was not much (it seemed the aircraft would turn back to YUL but in fact it continued to YVR). Takeoff was at 16:07 it and took 30 seconds to be airborne. Takeoff was powerful but the initial climb seemed not steep enough. The scenery after takeoff was beautiful.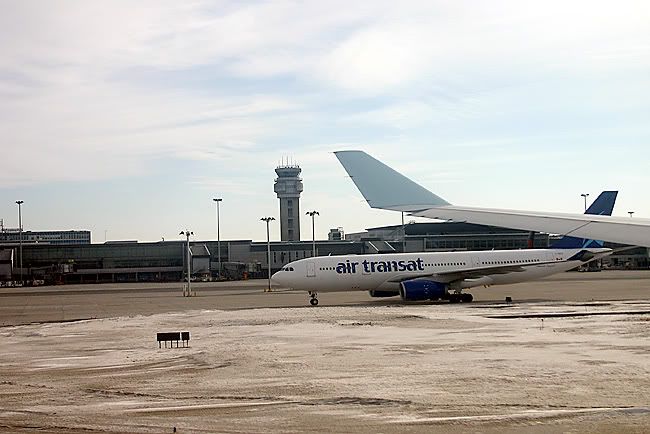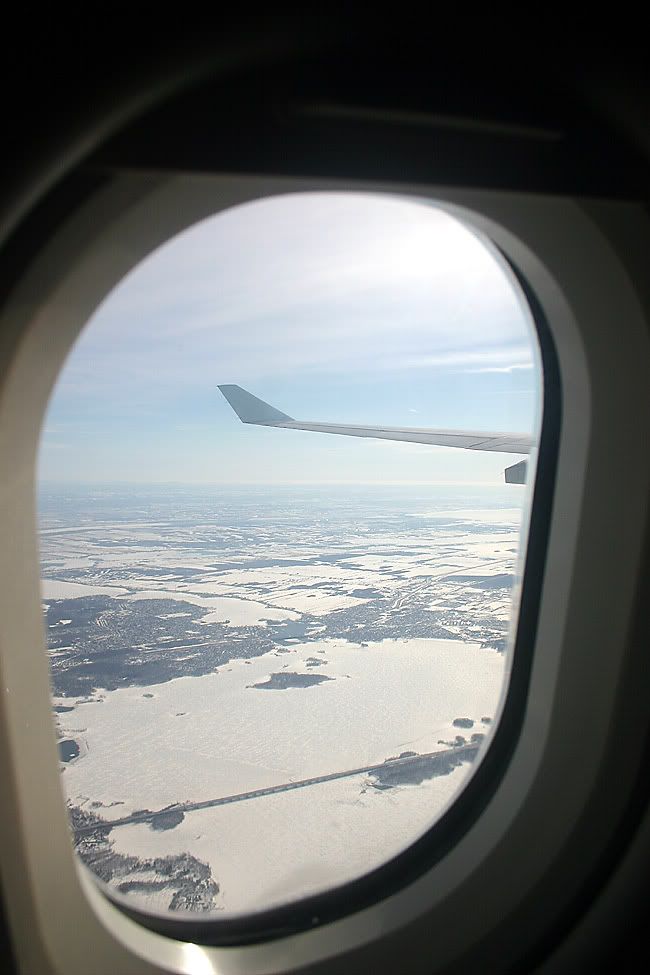 We climbed rapidly to FL340. The actual climb took less than 15 minutes, so this is where the A330 showed off its performance capabilities with a relatively light load. As we reached cruise altitude, the thrust was reduced significantly. I could see our contrail from back where we were. I snapped a few cabin photos and then returned to my seat.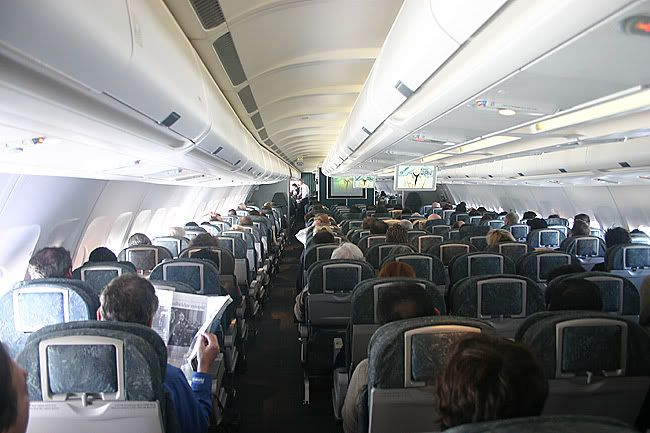 There was a snack service on this flight. The cabin crew was very senior and polite. The in-flight entertainment was some show on the main LCD screens and about 10 channels of audio. Headsets are available for free.
I rested for a little while and shortly afterwards we were already descending. There was a bit of turbulence during the descent despite the crystal clear weather from Montreal to Toronto. The entire scenery was breathtaking and I was convinced I was on the better side of the plane for viewing. I found the A333 with the Trent engines to be a quiet aircraft for most stages of the flight, better to my ears than the P&W A332s I have flown on. I noticed a city in the distance. Shortly after, I could see the CN Tower and the rest of the skyline. I snapped an overview photo of Toronto Downsview airport with the skyline in the background. I will upload it to a.net.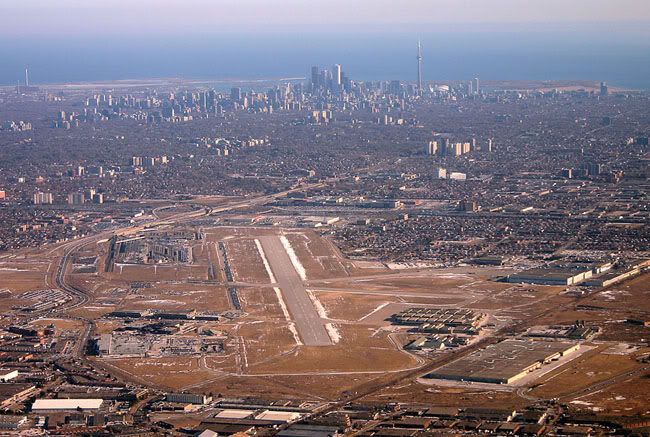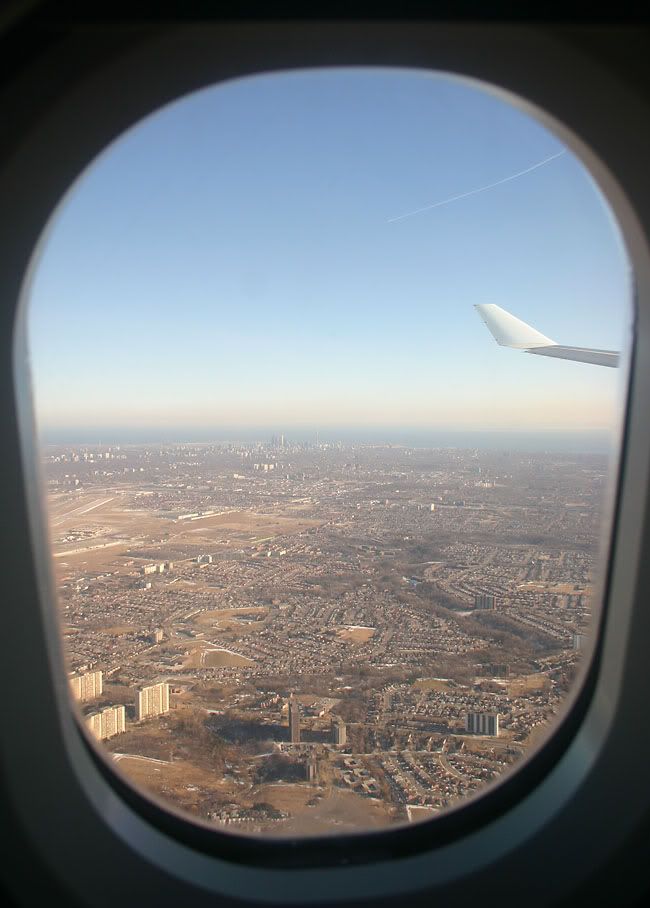 The approach was smooth enough and we made a firm touchdown on runway 23 at 16:01, 54 minutes after takeoff. I may have flown from FLL to ATL on DL 764 (1hr 40 mins) but this takes the cake for the shortest flight I have done on the biggest plane. It was an uneventful flight with uneventful service. I was hoping we'd get better service on the return flight. During the taxi, I spotted a Star Alliance 767 and the "Symphony of Voices" A320, C-FFWN, all with perfect lighting.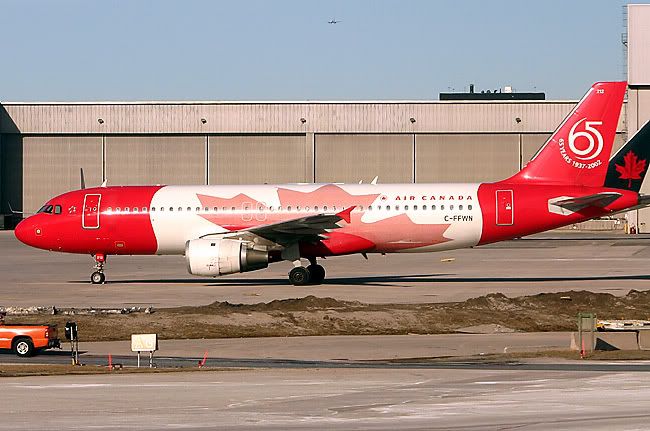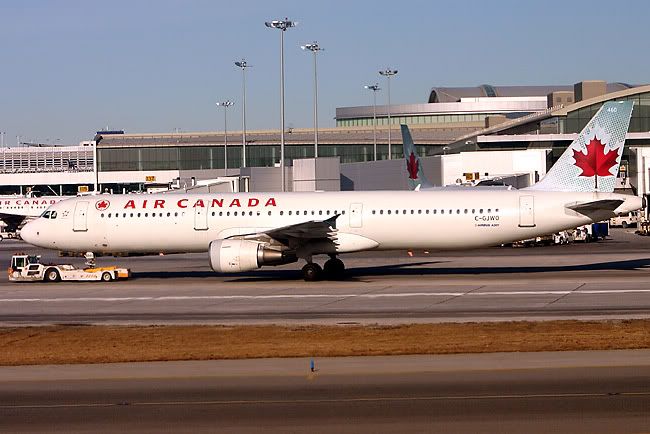 Other notable aircraft included a PIA 777LR, the first one in service, and an Olympic A340. This is a good airport for spotting and the weather was excellent. We picked a good day to travel. The taxi took quite some time and we had to wait for our gate to open up, so despite our early touchdown, we weren't at the gate until 16:20.
Toronto airport:
At 16:30, we were off the aircraft and into the nice Terminal 1. A glance at the displays showed the A330 was continuing on to YVR. Some notable aircraft in view included a CRJ-705 in the Star Alliance colors, which I mistook for a CRJ-900 due to the two exit doors on each side, and an AF 343. I continued watching aircraft through the window though I wasn't taking many photos. There were many arrivals. I noticed most of the AC fleet has the new tails and they and Westjet are the main players here.
I noticed an ERJ-190 arriving at our gate, which was 126, so I went to see if it was AC438 to YUL. It was.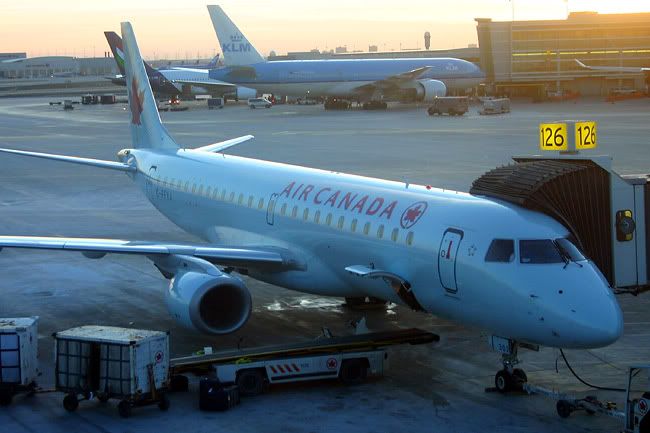 With that sorted out, we started to walk towards the food court. My brother asked one of the cart drivers if she could take us to the other side of the terminal to the food court. The walking distance wasn't that much but we wanted to be back at the gate early enough to increase our chances of getting on the ERJ flight as we were still on standby. About two minutes later, we were at the food court. The driver then offered to come pick us up. We said 18:00, so she said she'd be waiting for us there at precisely 18:00! That was some good service right there.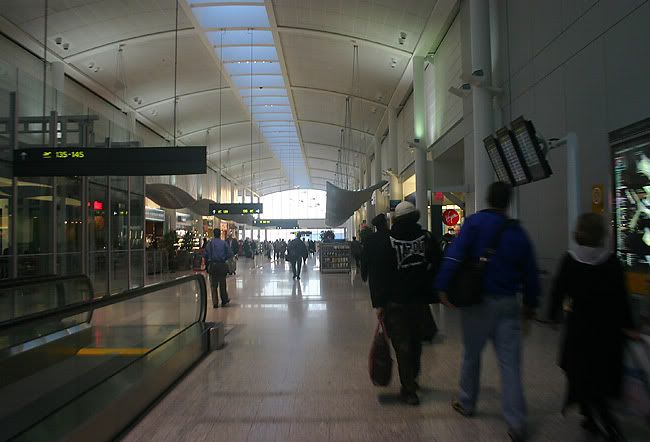 After we ate, it was only 18:50, so I did a little bit of spotting until I saw our driver. We rode our way back to gate 126. There gate agent was already there, so the first thing we did was ask for an upgrade. There were only two people on the standby list: my brother and a less-senior employee. This meant that if there were two seats left, we would get them; if there was only one seat left, he would get on the flight as he was traveling alone. The gate agent told us the flight was oversold so she couldn't upgrade us. She was going to try to get us seats on the plane. At this point, I was getting a bit nervous that we would not fly on the E-Jet and wind up on a boring A320. I walked over to the windows and started to take some photos. I photographed the Star Alliance 767 and another 767 pushing back as the previous flight to YUL. I whipped out my telephoto lens to photograph that one. It fit in the frame perfectly. Outside, I could see the sun was starting to set. I set my 300D to Av mode and ended up with a 1/100th shutter speed at just over 70mm. This is the result.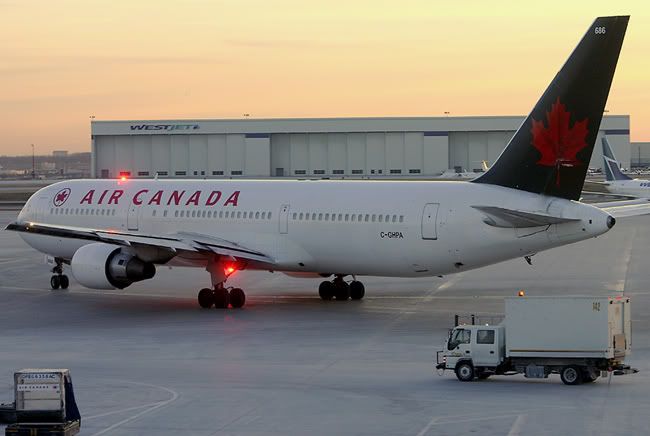 My mouth opened as I reviewed my photo on the screen. I somehow managed to capture not one of the lights but TWO in 1/100th of a second! These lights don't always go off at the same time. To top it off, it was sharp. That was my lucky catch of the day, and one of the many things that made this day so worthwhile. If I didn't get to fly the E190, at least I had some nice photos to take home with me. I tried to capture the lights on the Star Alliance bird but trying doesn't always get you the results you want. Those come when you are not trying at all.
The gate agent made an announcement that our flight was going to be delayed as the plane was sitting there for a while (we already knew that) and they needed to warm it up! Meanwhile, more passengers were showing up. Most of them were trying to catch this flight, an earlier flight to YUL that they were originally booked on.. However, the gate agents kept stressing that this was a "small plane" and there wouldn't be enough room. They were all turned down. Meanwhile, we were wondering if we would make it on board over this other standby passenger. I could only sit and wait.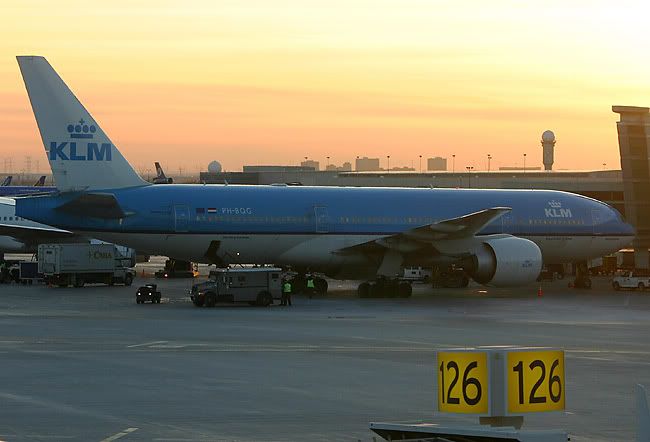 I went back to the windows and captured the KLM 777 leaving for AMS. In the background, I could see a BA 777 that was arriving from LHR. It was almost 18:30. Our departure time had been pushed back to around 19:00. My brother asked again to see if we could get on the flight. We waited to see what the situation was. Two minutes later, the agent printed two boarding passes and called out our names. We were in seats 32D and F. We were both ecstatic. Just about all the passengers had already boarded by the time we got on board the 2-month old ship 302.
Date: March 7, 2006
Leaving: Toronto – YYZ
Arriving: Montreal – YUL
Airline: Air Canada
Flight Number: 438
Scheduled Departure: 18:30
Actual Departure: 19:11 takeoff at 19:26
Scheduled Arrival: 19:40
Actual Arrival: 20:35 landing at 20:18
Departure Gate: 126
Arrival Gate: 2
Departure Runway: 6L
Arrival Runway: 24R
Seat: 32F
Aircraft: Embraer ERJ-190
Registration: C-FFYJ
View Large
View Medium


Photo © Bryan Peterson
My first impression of the ERJ-190 was that it looked advanced and the cabin was clean. There was ample headroom and the seats seemed to be wide. Headroom is always a major issue on RJ's. My other brother always takes aisle seats on the CRJ as there is no legroom on the window seats. In fact, the CRJ also has the 2-2 configuration but the ERJ's cabin is wider, so it feels much more spacious. Each seat has its own personal TV with AVOD. The cabin was feeling like a sauna. They really heated it too much. They were already cooling it down to normal cabin temps by the time we got on.
I took seat 32F in the last row and my brother and I started chatting with one of the flight attendants. Working this flight were 3 female flight attendants, each of them quite young and good-looking. The girl we were chatting with was 25. It was going to be a good flight. There was a slight delay due to problems with a cargo door hinge. It was fixed very promptly and we were on our way. The delay was handled professionally by the flight deck crew and we were well-informed of everything.
The conversation made the delay go by faster and, at 19:11, the ERJ pushed back. The taxi to the runway was uneventful and, at 19:26, we lined up with runway 6L. Somehow, the winds must have shifted and we were taking off in a north-easterly direction (we landed on runway 23 a few hours earlier). A minute later, the 190 powered up and began its 28-second takeoff roll. On the climbout, I could see the entire downtown Toronto lit up, so again I was on the favorable side.
About 5 minutes after takeoff, the IFE was switched on. The IFE is an absolute marvel and is the best I've seen on any aircraft, NW A333, Song 757, and LX A343 included. The LCD screen is in the 16:9 aspect ratio and is about 10 inches. It is touch-screen, so there is no messing around with the annoying remotes and trying to get them back in their slots when you are done using them. It is extremely intuitive and easy-to-use. It is rich in features, including news broadcasts, audio channels, music videos, about 10 different types of movies (including comedy and Hollywood), and more. I didn't have nearly enough time to go through it all. I don't know if there is a flight tracker but I'm sure there is that. There were about 8 music videos and maybe 20 movies to choose from. All of them are on-demand. You can even choose to resume a movie or start over from the beginning if you stop a movie to go to another feature. During the movie, you can pause, rewind, and fast-forward any part. You even touch the screen to change the volume. It is unbelievably amazing. I give it a 15/10.
I noticed a USB port near each screen. Does anyone know what they're there for? I watched part of Walking the Line but I could have easily rested. The seats are wide enough and have ample legroom. The only thing they lack is the winged headrests. The seats recline enough and they are very comfortable. Seatguru shows the seat pitch at 34 inches, which is as much as you will get in a Y cabin. It is sure roomy enough for me. Now this is a plane I could spend 6 or more hours in, never mind the fact it is a Regional Jet. It is one of those flights you wish were much longer. During the cruise, we continued talking with the flight attendants. It was an uneventful and smooth flight. I have to say the E190 is a nice ride, especially for its size.
The initial descent had some mild turbulence and the E190 shook around a bit, so this is pretty much the only indication that the plane we were on was not that big. I find it to be smoother than the CRJ-200 and even the 737. However, the rest of the descent was very smooth and the clear weather made for some nice sightseeing. We flew over Laval just north of Montreal, where I could see downtown as well as Mount Royal, and then made a 180-degree turn to line up with runway 24R. It was nice to see the whole city from above. We touched down on 24R at 20:18, making the total flight time 52 minutes. I just wished it would be longer.
Arrival at the gate was at 20:35. I sat down and waited for the rest of the plane to leave. I wanted to snap a cabin photo, so one of the flight attendants made the lights a bit brighter and I got the photo I wanted.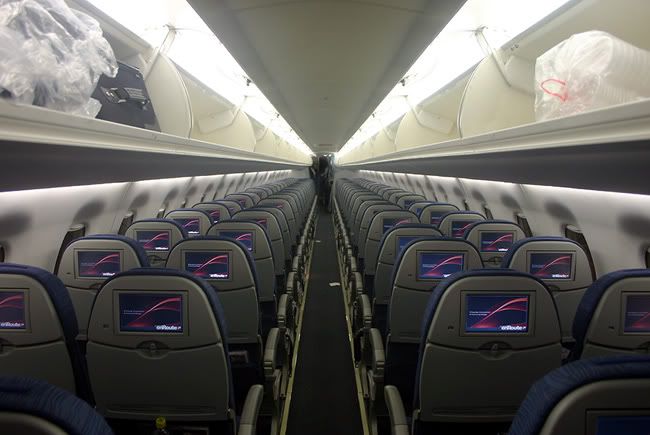 After that, we said our goodbyes and deplaned and walked towards the parking garage. The ERJ-190 was to return to YYZ. The service on this flight went above and beyond excellent with a crew that cares about its passengers. I noticed the other passengers also getting good treatment. After this flight, I am all for youth in the flight crew. From my experience, they always give the best experience and they are trained as well as the more senior crew. The aircraft despite the technical glitch in the beginning, is absolutely great to fly on and the IFE is stunning. Finally, there is an RJ that I find to be a better ride than most narrow-bodies I have flown on. I can only hope more airlines adopt the E-Jet into their fleets.
All in all, it was a memorable day of spotting and flying a new aircraft type. A big thanks to my bro. I am even considering a one-way FLL-MCO trip on the E170 as the fares for that flight are very cheap. I doubt the service will be as good, but it would be another worthy addition to my flight log.
Thanks for reading this report! Any questions and comments are always welcome.
N864DA