3/02/2006
CX 252
747-400
LHR -HKG
ETD:- 12:45pm ETA:- 07:35am
Duration:-11:50 Hours
First Class
Seat 2A
Once again I had to endure the ever chaotic Terminal 3 at London's Heathrow airport.
Check in for CX was fast courteous and efficient.
However after being checked in. I was shocked to find that the queue for security strict back down to the check-in desks themselves! This queue was for 'Fast Track'............... the non 'Fast Track' queue was even longer.
Here is a pic; The fast track queue is the one on the right.
I waited one hour just to get to security.
Finding out that the only extra security precaution was the removal of computers from hand baggage..to be screened separately.
There were also a few unmanned screening stations. Which makes you wonder why the people at security didn't open a few more to ease the congestion. But Heathrow being Heathrow, I guess it was more than their jobs worth.
Did a bit of shopping ..then straight into the sanctuary of the CX lounge.
Windowless, hot and not that comfortable.
Had some 'dim sum' and coffee. Then surfed the web for a while.
The food bar area of the First Class section:-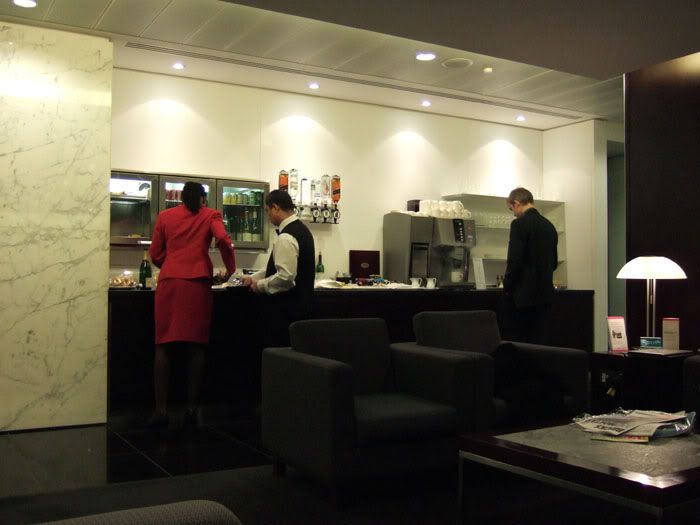 The lounge area of the First Class section:-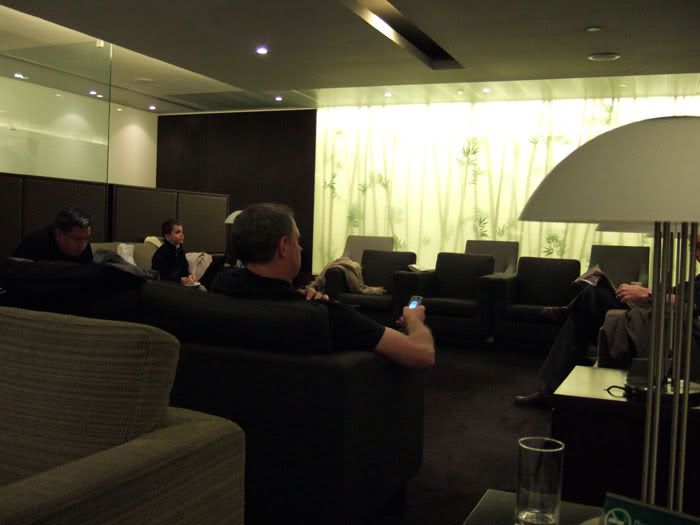 Headed off early to the gate. The walk to the gate area was quite long.
The plane:-
Boarding had started already .The gate area was chaotic with no separate line for the premium classes. The cause of this disorganised boarding procedure was mainly due to the cramped lay-out of this gate.
I finally boarded with a FA showing me to my seat, 2A . She took my jacket and offered me some Krug champagne. Which was gratefully accepted ; a help to wind-down after the dreaded Terminal 3 experience.
She also came around with a round tray filled with Chinese New Year sweets!
Pic of the Cabin from my seat:-
Pic of the cabin from my seat with the 'bar area':-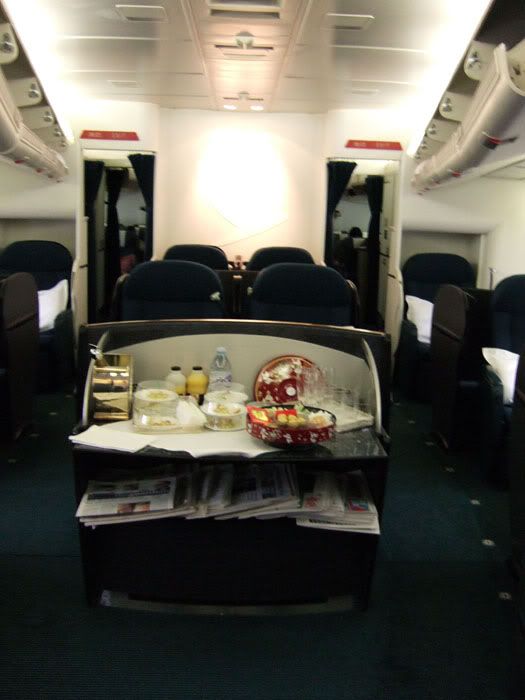 A pre-take-off 'Amuse-Bouche' was offered.
Lobster in a curried sauce with an OJ:-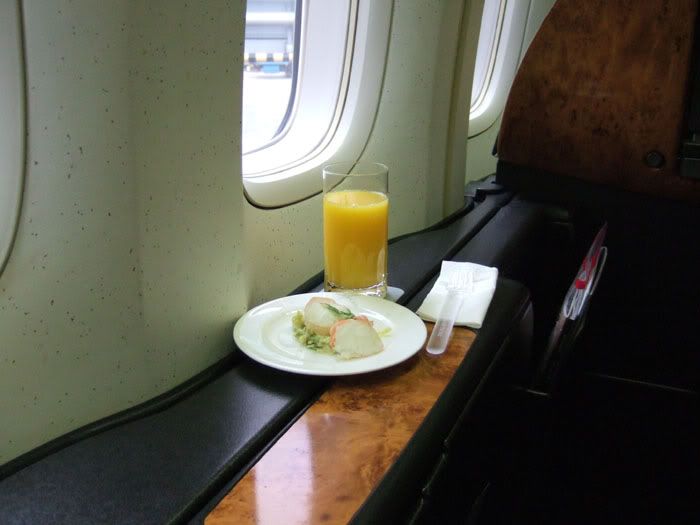 Of the 12 seats in FC; 10 were occupied.
An FA came around and handed out 'Shanghai Tang' sleeper-suits
....menus and 'Elemis'amenity kits
In this kit there is a coupon for a free massage at any of the Elemis spas!
Another FA took orders for pre-lunch drinks.
The Australian Captain gave his usual talk and the crew introduced themselves.
Take-off was few minutes late.
The IFE started soon after take-off:-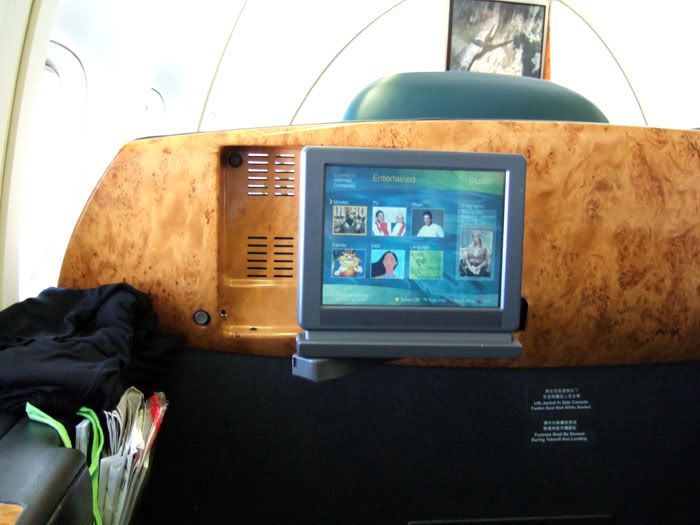 Lunch began as we routed over Copenhagen/Malmo towards St Petersburg.
CX catering out of LHR is usually known to be not great.
It is also a pity that CX still use plastic cutlery on this sector.
The three FAs that serve First Class have all signed a little card, placed along with the crookery; personally wishing me a good flight. Very nice touch indeed!
This is what I chose for lunch:-
Caviar and Balik Salmon " Tsar Nicolaj":-
One of the FAs serving the passenger across from me;-
Sweet Corn Chowder:-
A view over Malmo:-
Mixed Salad with Roasted Beetroot, Peppers and Tomato with Raspberry Dressing:-
Braised Lamb Horopito With Wilted Spinach and Puglia Pasta:-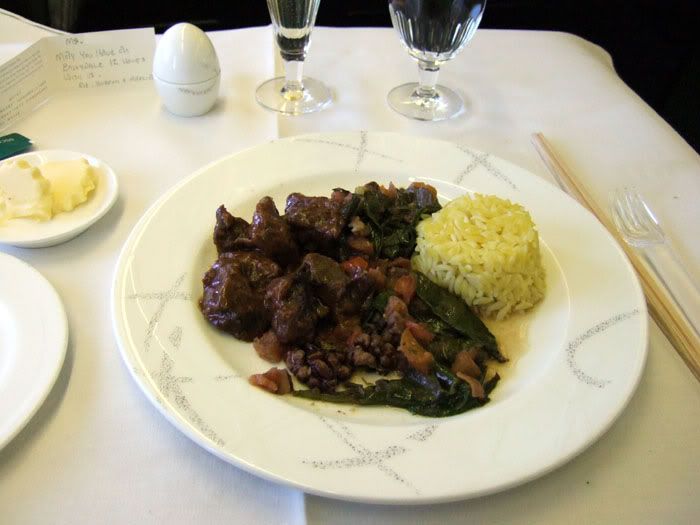 Coffee:-
I didn't go for dessert or the cheese selection as I wanted to bed down as soon as possible.
Th FA handed me a duvet. I flattened the seat....and blinds down.
Managed a few hours of sleep.
Woke up and watched a few films on the IFE AVOD system.
Breakfast was served about 2 hours out of Hong Kong.
The Fruit plate:-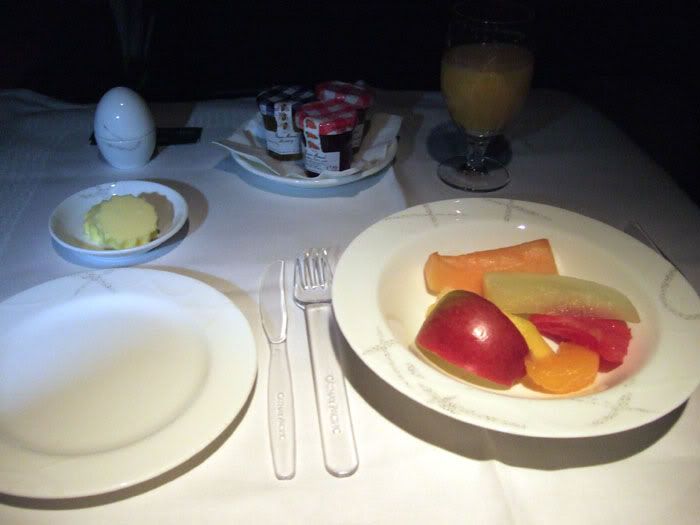 Fried eggs with toast:-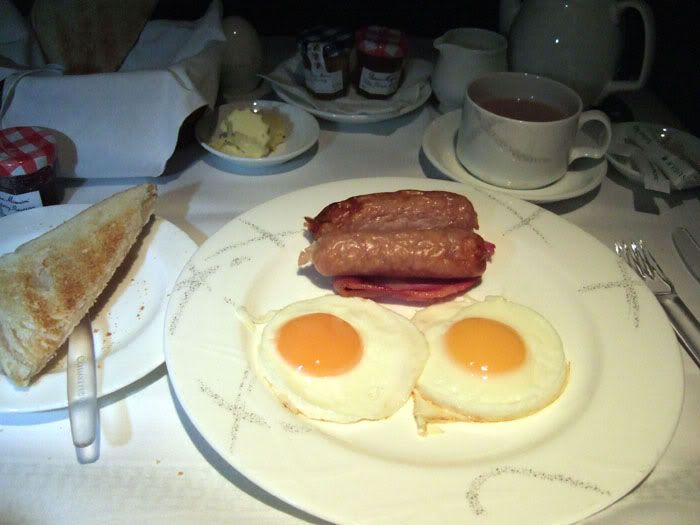 Landing in Hong Kong was uneventful and on time.
There was a few hours before my onward flight to DPS/ Bali.
Therefore, I headed straight to the CX 'Wing' lounge.....I shall try the CX 'Pier' lounge on the way back!
In my opinion, Cathay has the absolute best 'home-base' lounges.
The First Class 'Wing' lounge area:-
The First Class 'Wing' lounge restaurant area:-
The First Class Library:-
In the First Class 'Wing' lounge there are private relax rooms called 'Cabanas', with separate bath, shower and relax areas.
The bath:-
A view thru to the relax area with loungers facing onto an a stream of running water:-
4/02/2006
CX785
777-200
HKG-DPS
ETD:- 10:05 ETA:- 14:45
Duration:- 4:40 hours
Business Class :-16A
I headed down to the nearby gate for the flight to DPS.
My plane being loaded up:-
On the flights to DPS, being primarily a holiday destination, there are no First Class sections on the planes; just regional Business Class.
The Front cabin, regional business Class of this 777:-
This plane was very lightly loaded. Only about 8 of us in Business Class!
A mystery plane at HKG, taken while we were heading to the runway:-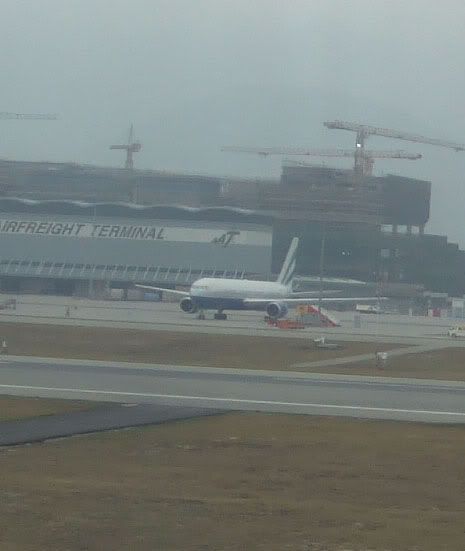 The view from my seat ,16A:-
The seating felt very cramped and the IFE hardware was showing its age.
Lunch was served. Starting with drinks and nibbles:-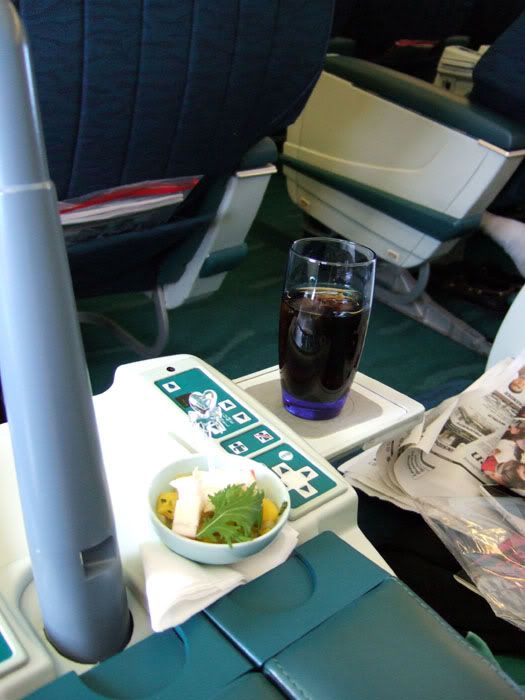 Marinated Prawn with Asparagus:-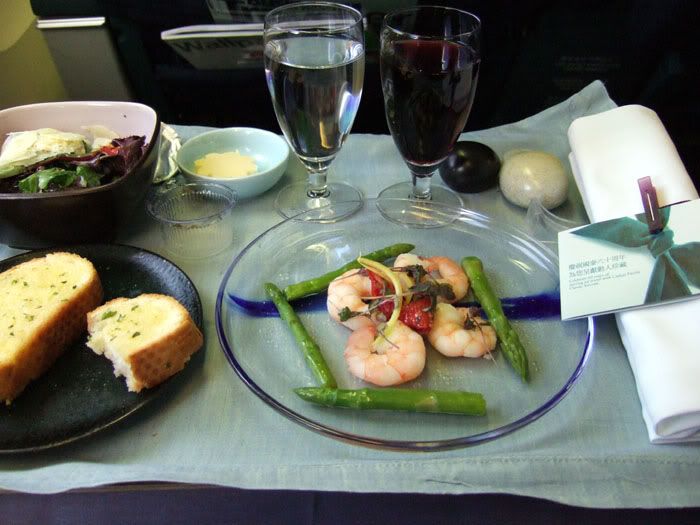 Pan-fried Beef Fillet with onion, steamed rice and assorted vegetables:-
Cheese and fruit:-
Arrival into Bali was uneventful.
Then took a 2 hour car journey and finally arrived into my hotel, situated near the beach area of Maggnis.
This hotel is wonderful; offering brilliant service, with two pools and a private beach.
The lower pool:-
The upper pool:-
After a few days in Maggnis. It was time to transfer to another hotel in the center of the island; in Ubud. The cultural capital of Bali.
Part two DPS-HKG-LHR, coming soon.
This return trip was far better in terms of service and food.