Date:
24 February 2006
Route:
BKK-SGN
Airline / Flight:
TG680
Departure:
8:50 Scheduled / 8:55 Actual
Arrival:
10:20 Scheduled / 10:12 Actual
Aircraft:
Airbus A300-600
Seat / Cabin:
35 E / Economy
Living in Bangkok for just over four months now, I've had an opportunity to use it as a hub from which to visit other parts of Asia: Singapore last October and Seoul in December. In February, I had a visitor from the United States who wanted to go to Ho Chi Minh City (HCMC hereafter), so yet another opportunity for intra-Asia travel presented itself.
While our travel agent gave us the option of flying either THAI Airways International or Vietnam Airlines, we opted for TG – even for a short flight, there's no need to turn down miles for my UA Mileage Plus account. Of course, I'd like to try Vietnam Airlines one of these days, too.
Our departure from Bangkok wasn't until the reasonable hour of 8:50 and since in my mind I didn't equate HCMC as "really" an international flight, we didn't make an effort to arrive at the airport terribly early. The result: a bit of a rush and not much time to enjoy the 1960s-esque features of Don Muang International Airport.
Our taxi driver was in such a rush that he nearly overshot Terminal 1, our desired terminal, before I pointed out to him that TG operated from there, not Terminal 2. So we were discharged several hundreds of meters down the sidewalk from where we really wanted to be. Not the end of the world, of course, and thankfully not a sign of how the rest of the upcoming trip would unfold.
There were three of us traveling: my partner Tawn and our visitor Ryan in addition to myself. Ryan isn't a frequent flier and perhaps didn't appreciate the enthusiasts' perspective with which Tawn and I experience travel by air. But he was stuck with us for the four-day weekend so I did my very best to turn him into an enthusiast, too.
The queues at the TG Economy check-in counters were quite long and I passed them by, heading to the Royal Silk / Star Gold check-in aisle instead. Ryan pointed out that we had missed the counters, and I responded with (an either haughty or elusive), "oh, we're not going to go
there
."
Chris and Tawn at the TG check-in counter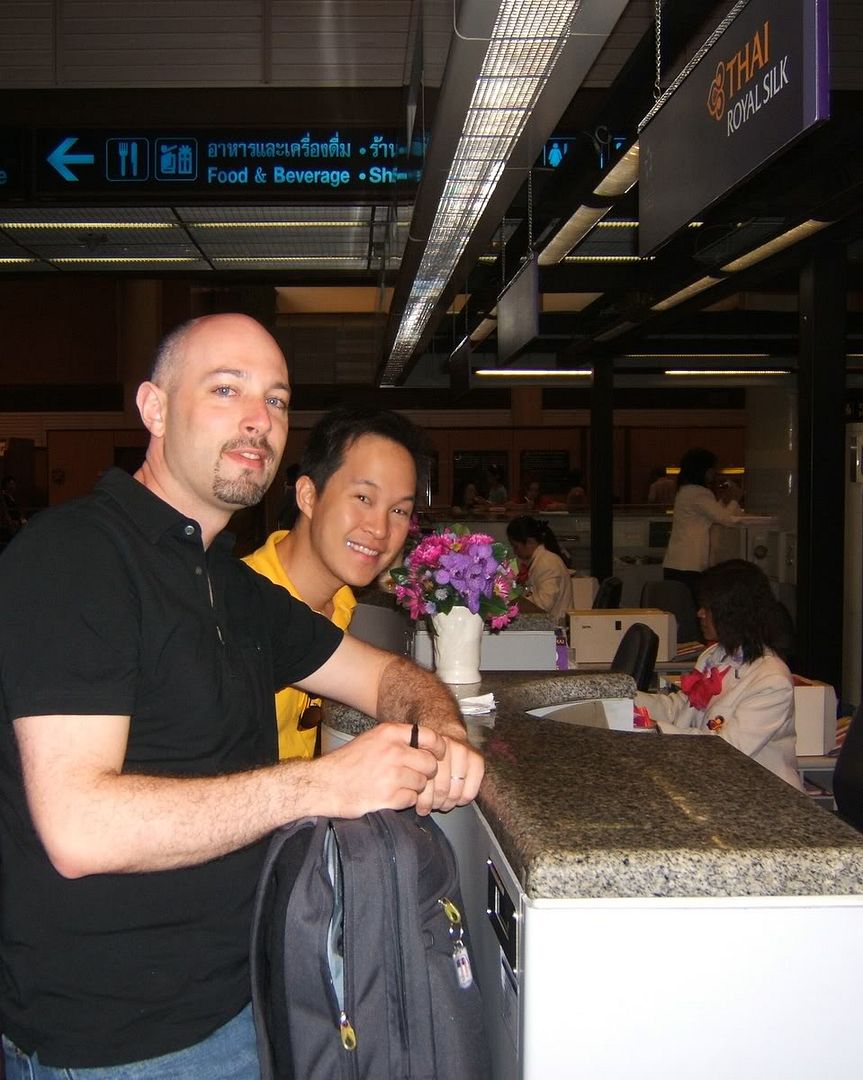 The line for the Royal Silk check-in counter was short and we were very quickly assisted by a pleasant agent. She checked our passports, printed boarding passes, and checked our two bags. When I inquired about a window seat, she said that the only sets of three seats she had together were in the middle section. While I would have liked a window view, it seemed unseemly to break up our trio right from the start of the trip.
TG's FastTrack immigration line, unfortunately not available just because you're Star Gold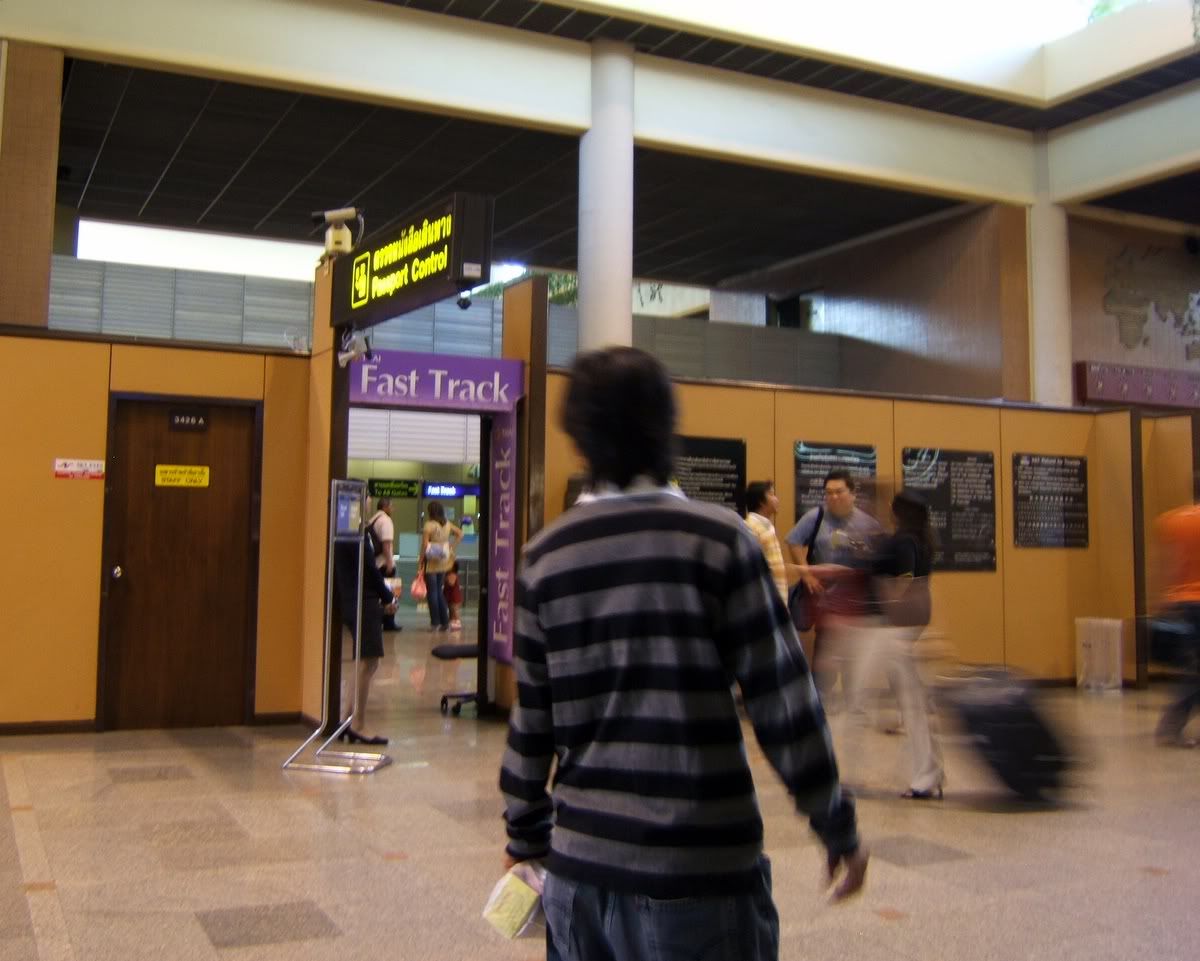 Passing through immigration, we only had about fifteen minutes before boarding. As a Star Gold, I could bring one guest with me into the TG lounge. As we were three, I suggested we'd just skip the lounge outright. Tawn said he wanted to browse the duty free selection and that Ryan and I should go ahead and use the lounge. After checking to make sure he
really
meant it (and it wasn't just some sort of self-sacrifice that I'd hear about later) we went ahead and walked down to the main Royal Silk Lounge.
The lounge, which is located down near pier 1, was a bit of a walk. Once we arrived, we only had a few minutes to relax, so grabbed some sandwiches and other finger food and beverages and enjoyed a quick snack. I also wrapped some pastries in napkins to sneak out to Tawn.
This lounge isn't very nice. While they've put new slipcovers over the chairs, it looks pretty tattered. The First Class lounges have been recently redone and are beautiful, and I think there's another Royal Silk lounge down near pier 5 that may be newer. Nonetheless, lounge access is a nice thing to have.
We headed out to the gate around boarding time, found the security lines to be thankfully short, and met up with Tawn, who was proof reading a press release for work. Thankfully, within a few hours of arriving in HCMC, Tawn had finished up all his work and was able to relax for the rest of the weekend.
The boarding had not commenced yet, so Ryan and I walked around taking pictures of some other planes. The pier was mostly TG aircraft, so there wasn't anything too interesting to see, although I watched a Mahan Air Airbus taking off. The pictures I took of it were horrible and I wasn't able to catch the airline's name until my trip to San Francisco the following week, when I saw the plane still at the gate.
Other TG planes parked along our pier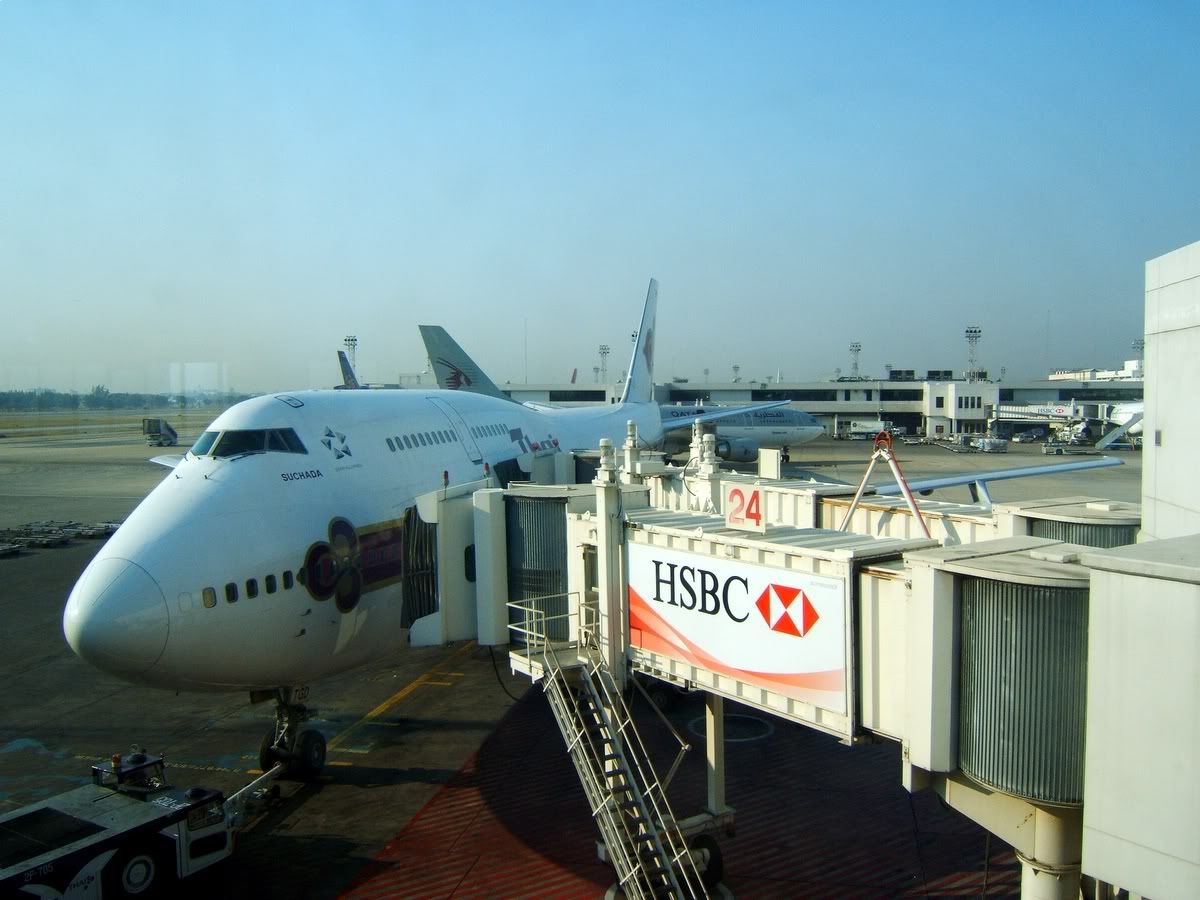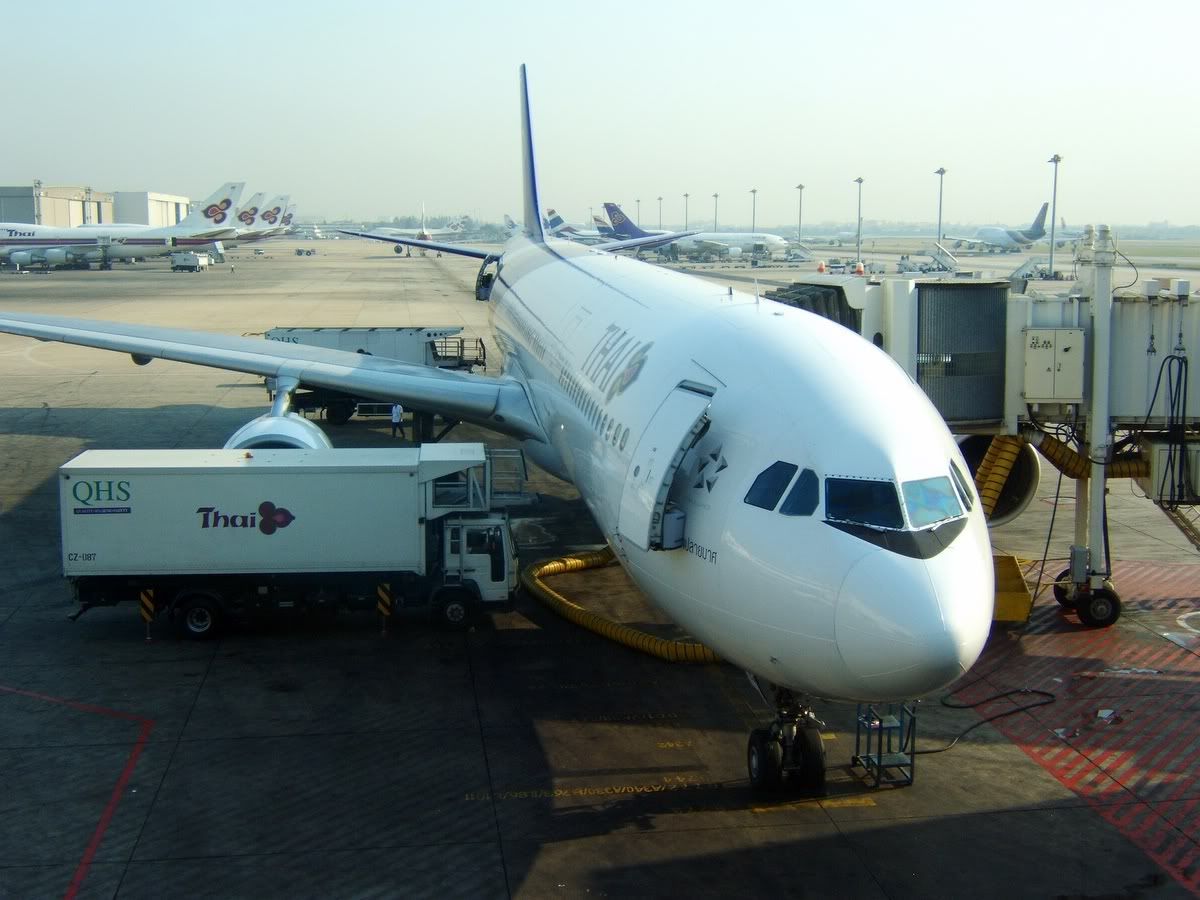 Once boarding started, Ryan was once again surprised as we completely walked past the Economy Class line, which was quite long, and instead entered the gate through the Royal Silk side of the podium.
Our aircraft – a TG Airbus A300-600 in the old color scheme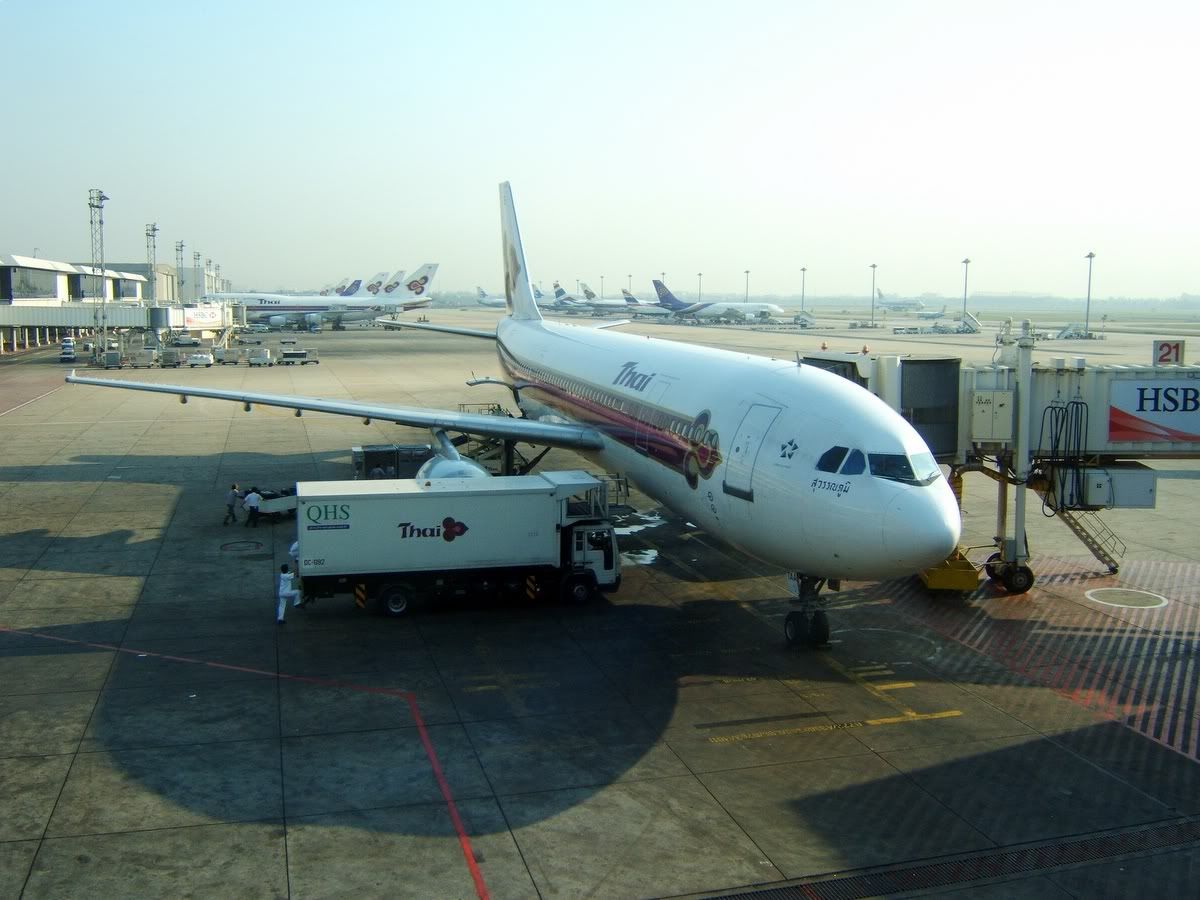 The front part of the Economy cabin, between doors 2 and 3, was quite crowded. The rear part, between doors 3 and 4, ended up not being very crowded at all. As boarding continued, the helpful TG flight attendants worked the aisles, assisting customers with their carry-on bags and helping people find their seat assignments. For some reason, I found the seat numbers to be less than prominent on this aircraft.
We settled into our seats in the center section, not concerned about having a middle seat since the flight was not so long. The interior of the plane is colorful, with interesting designs on the cabin walls and bright seat fabric. Unlike the new A340s which have a mixed pattern of seat colors in each cabin, the older TG aircraft go for one solid color in each section of the cabin. In this case, deep purple in our section and a dark fuchsia in the rear section.
A flight attendant "wais" to greet a passenger
The cabin sidewalls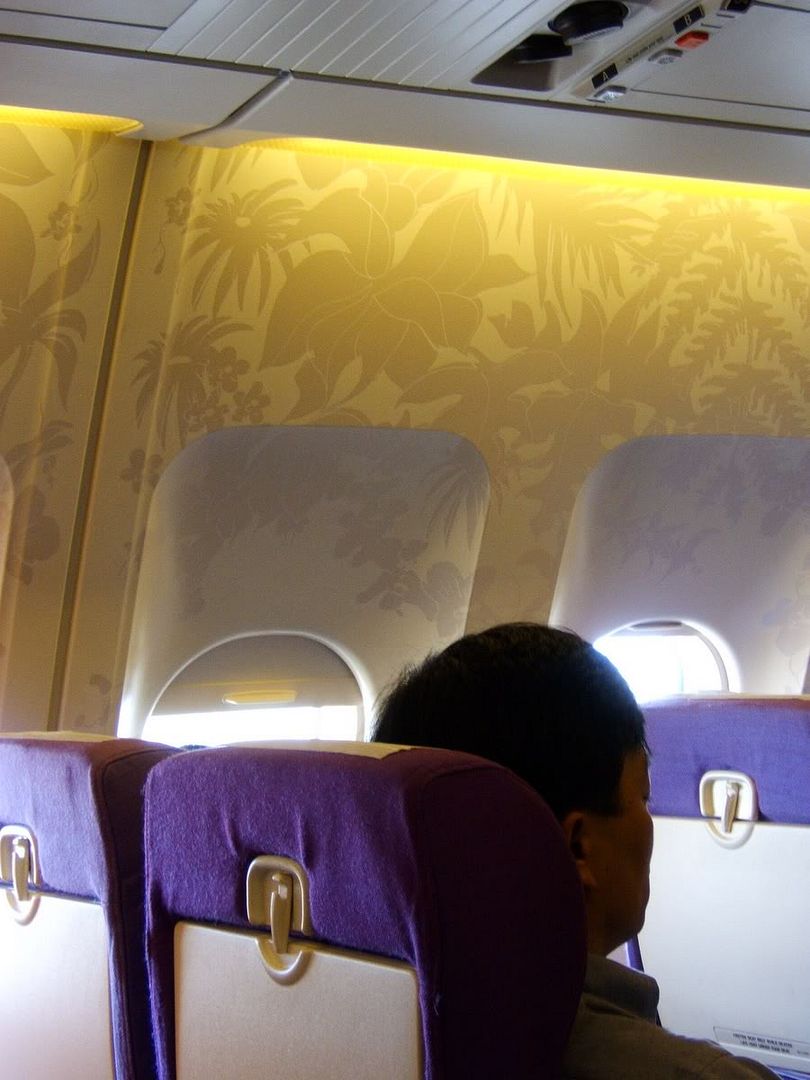 The safety video was started a few minutes before our scheduled departure and doors were closed on time, but we didn't actually push back until 8:55, five minutes late. I really like the voice of the man who dubs the safety video. He's a pretty well-known Thai TV personality, the ex-boyfriend of one of Tawn's friends. His voice is deep and his English has a neat Thai-British accent. My goal in learning Thai is to model my Thai accent on his. Ambitious? Yes, but we all need goals in life.
It was kind of hard to see out the windows, being in a middle seat, so I just concentrated on enjoying the pleasant conversation with Tawn and Ryan, and reading
Sawasdee
, the inflight magazine.
Safety video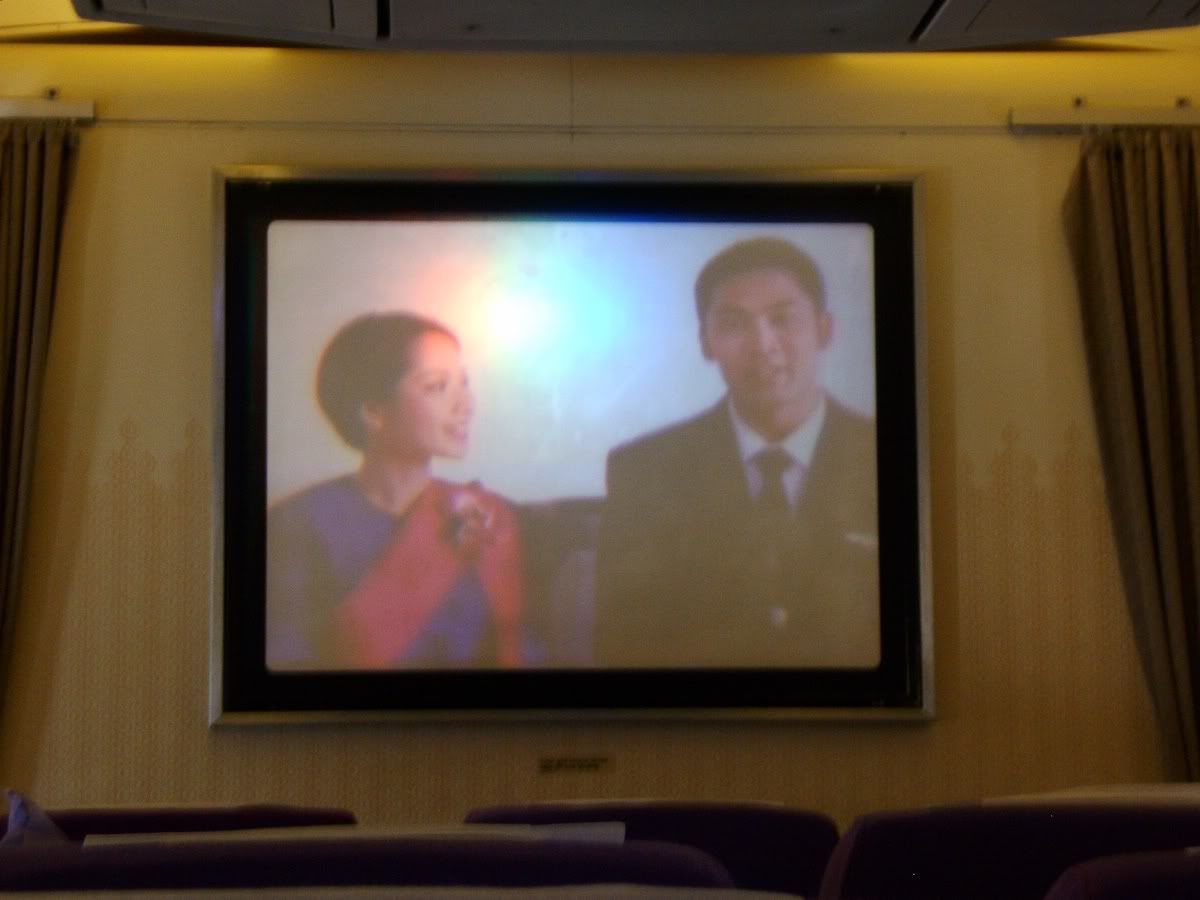 Our taxi out was quite quick, the early morning bank of departures having already taken off. A few minutes later, we roared down runway 21 R and climbed into the hazy morning sky.
For a flight scheduled at only 70 minutes, I was impressed to see a full meal service. Flight attendants started working the aisles about 20 minutes after take-off, offering beverages to passengers. Then came a quick towel service, followed by breakfast. There was only one entrée selection, a pasta in tomato sauce with shrimp. It was tasty and quite large, and was sort of a blend between Thai and Italian style. There was also a fruit plate.
A second beverage service followed. Flight attendants were carrying tea, coffee, and bottles of red and white wine. Other beverages were available on request.
Meal service begins
Shrimp pasta with tomato sauce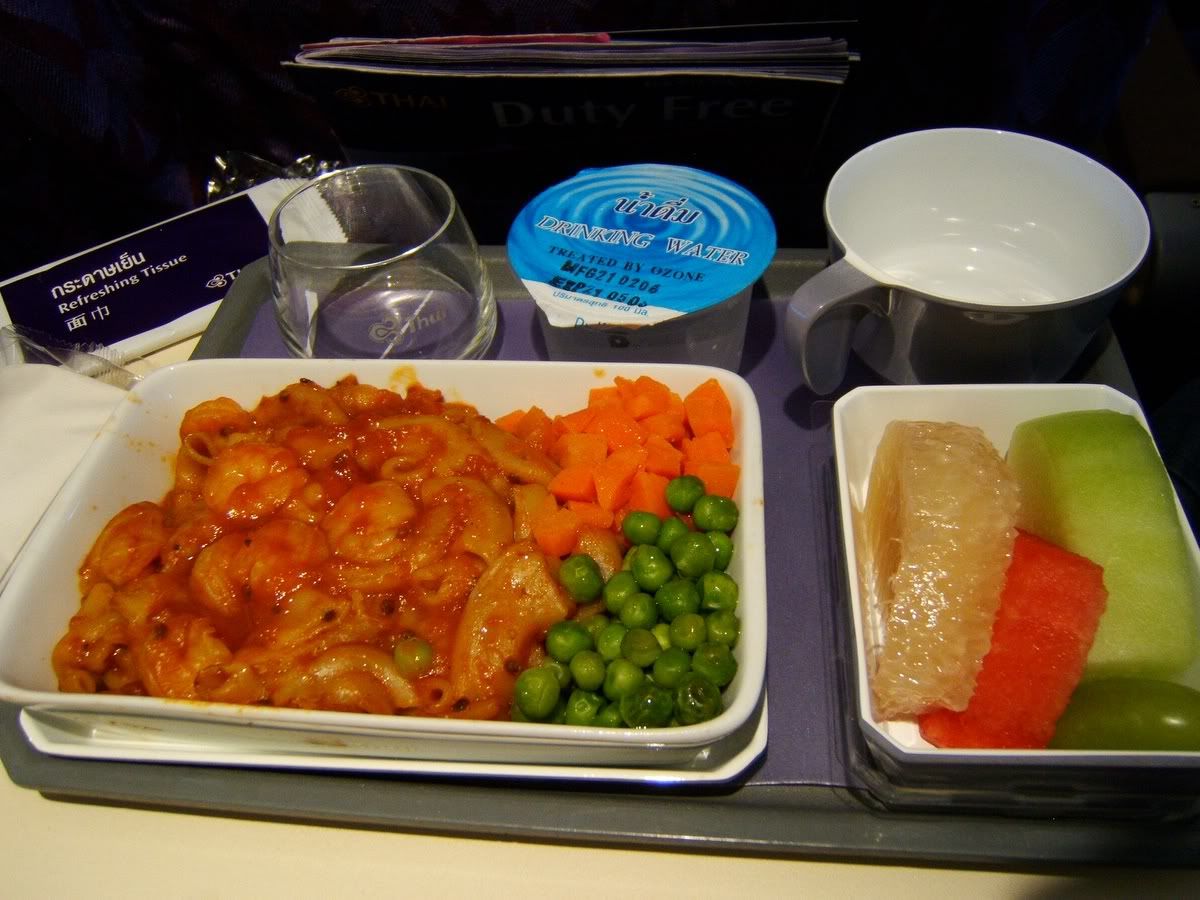 Kevin, you're eyeing that TG wineglass, aren't you? You'll be interested to know that one of our trays actually had the new TG wineglass on it, which has a less-rounded shape to it. I'll keep my eye out for one.
Despite the short duration of our flight, the meal service did not feel rushed at all. After breakfast, I got up and walked around a bit, taking pictures of the cabin.
The front part of the cabin – Tawn is standing at our row
The back part of the cabin – not very crowded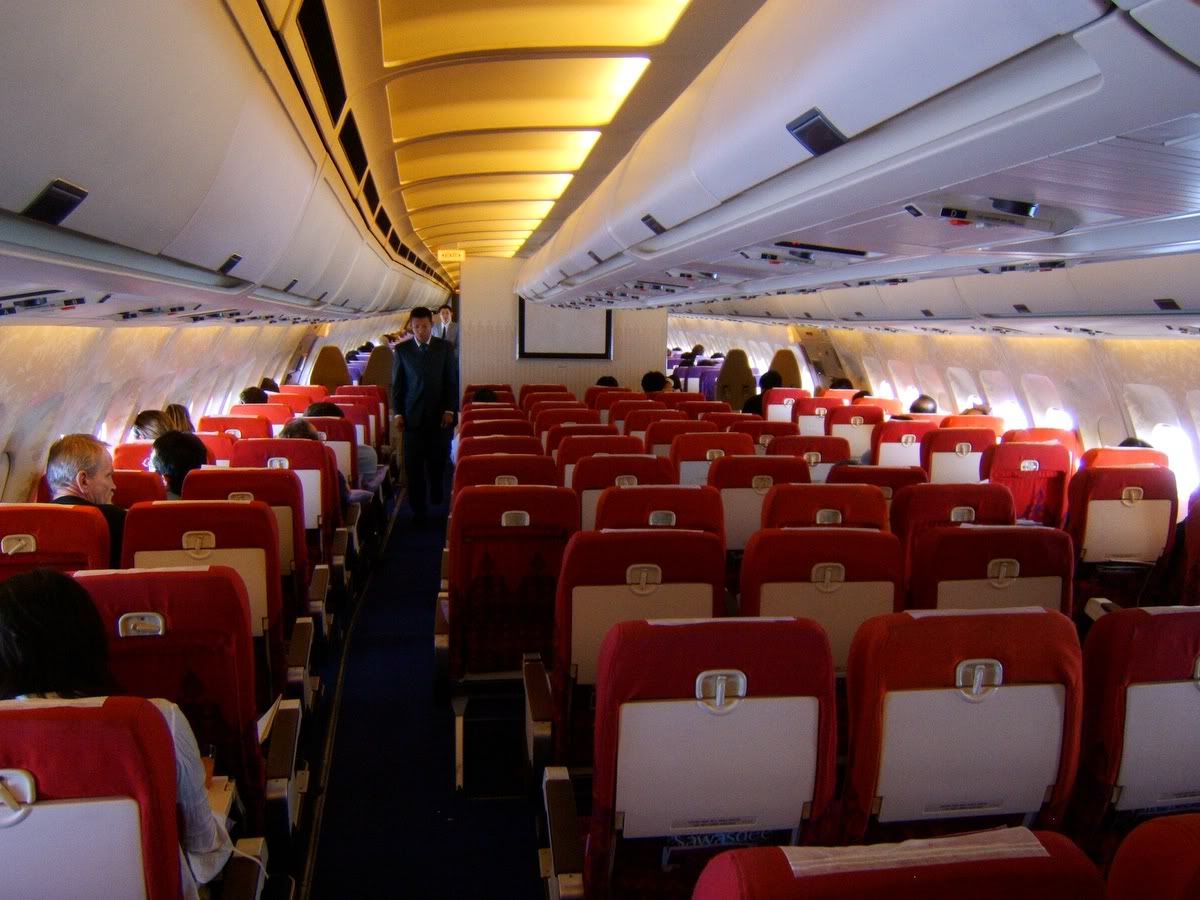 Our approach into HCMC was pretty smooth. I wasn't able to see much until just before touchdown but it looked a lot like Los Angeles to me: lots and lots and lots of low-rise building the run up juts to the edge of the airport. We landed on 25 R and took a few minutes to taxi into the gate of the rather staid looking terminal. Along the way in, we passed a long series of mortar-proof shelters in which various helicopters and planes were parked. The reinforced concrete shells were covered with lichen.
Passengers in a rush to deplane in SGN
A view from the jet bridge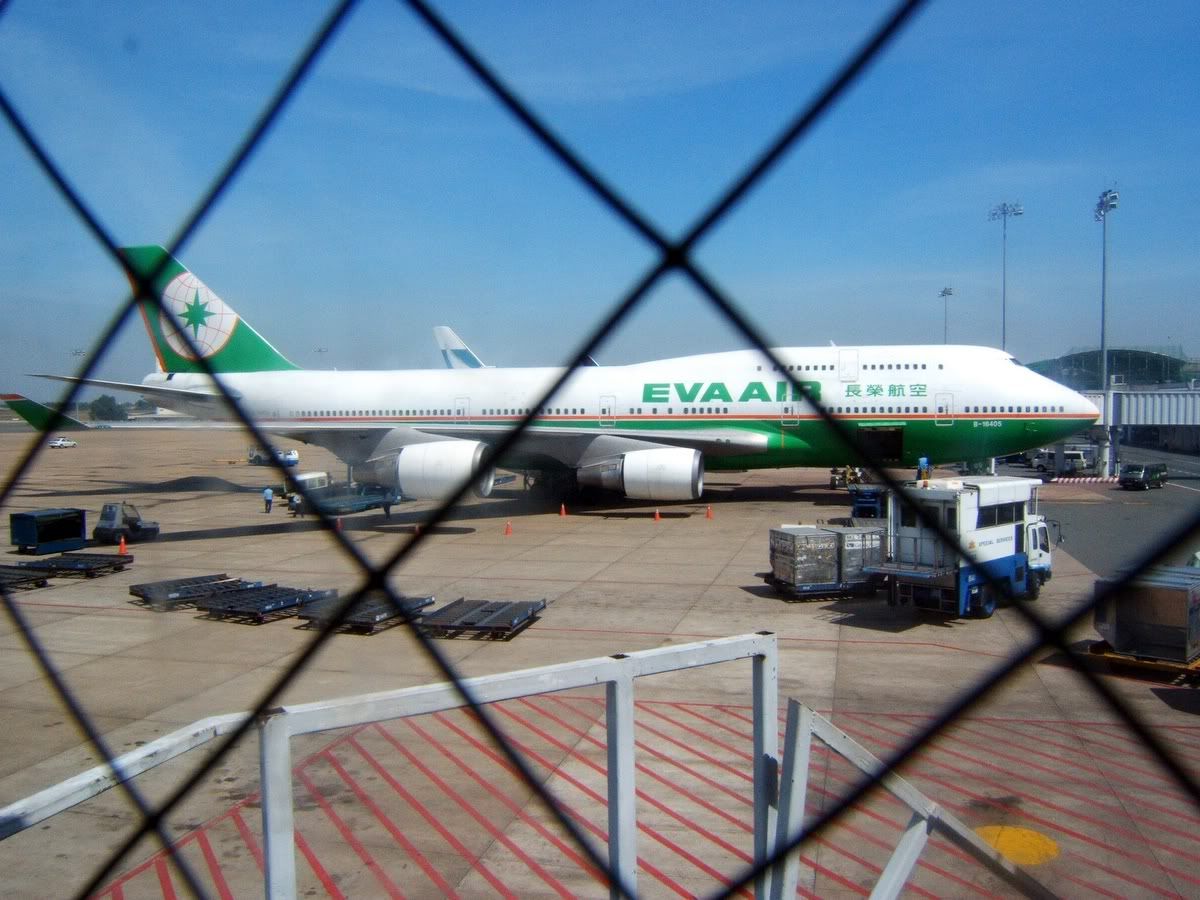 Our TG plane on the ground in SGN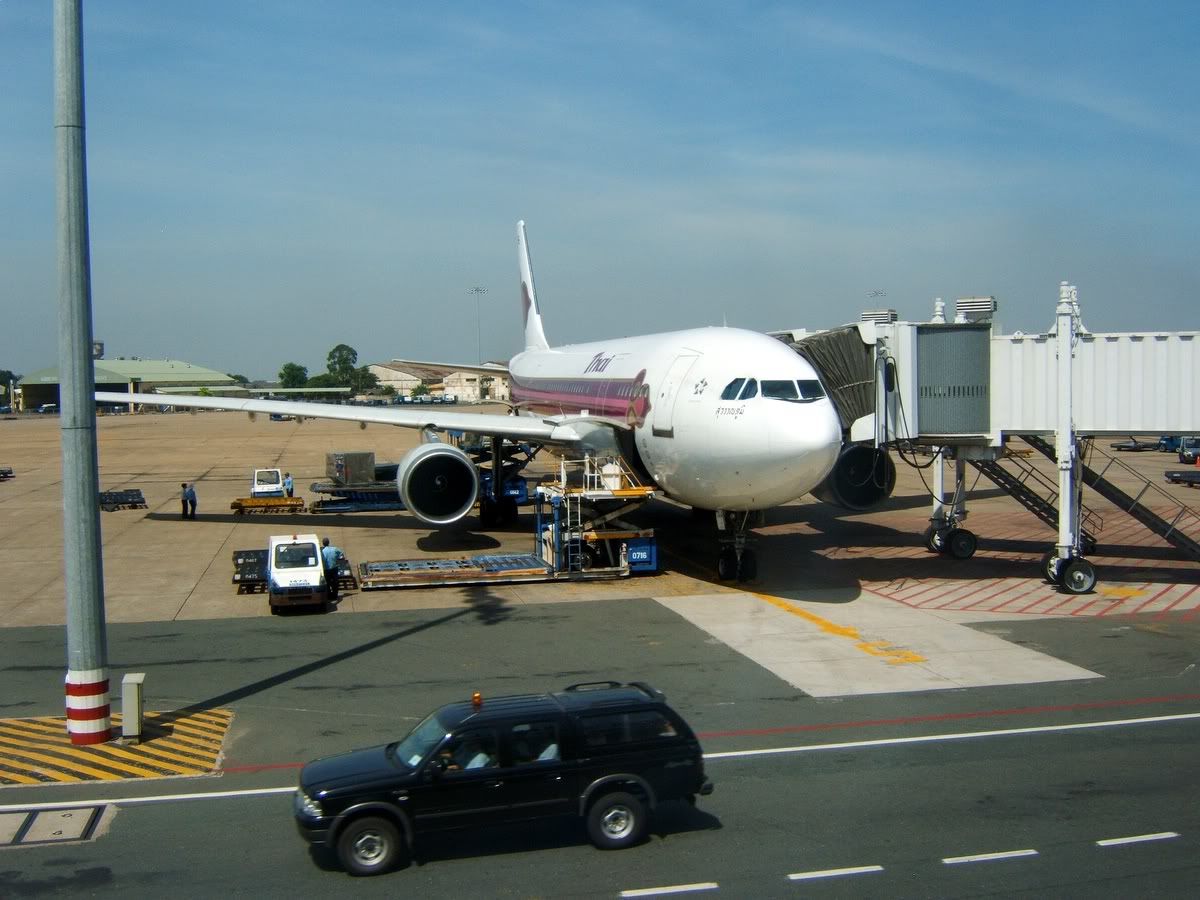 This being my first visit to a communist country, other than a few trips across the border from Hong Kong into Shenzen back in 1999, I wasn't sure what to expect. The terminal is definitely old and the interior is quite stark. Lines for immigration were about 10 people deep but moved quickly. We were fortunate to arrive when we did because two additional planes came in after us, resulting in a very crowded immigration area.
Processing of my passport and visa was handled by a very stern looking woman who said nothing and dutifully stamped my passport, allowing me to enter Viet Nam.
By the time we reached the baggage claim downstairs, our luggage had already arrived and had been pulled off the belt. Since the terminal is quite small, it doesn't seem to take long to get the bags in.
Baggage claim area
We grabbed our bags and headed through the door, shocked to come face to face with a huge crowd – literally hundreds of people – all patiently waiting for arriving passengers. Under the shade of the canopy there were a neat row of chairs in a horseshoe shape, occupied by the elderly and young children. And behind them, four or five rows deep of other people, waiting for some loved one to arrive.
Waiting to greet arrivals
There were also many tour guides holding signs announcing who they were looking for, and it took us a minute to spot the one reading "Mr. Tawn + Party".
The driver spoke little English but gestured for us to follow him to the parking lot, a very large open space that stretched a great distance. We had a good view of the new terminal, which based on the signs that we saw, should launch the airport firmly into the 21st century.
The terminals, old and new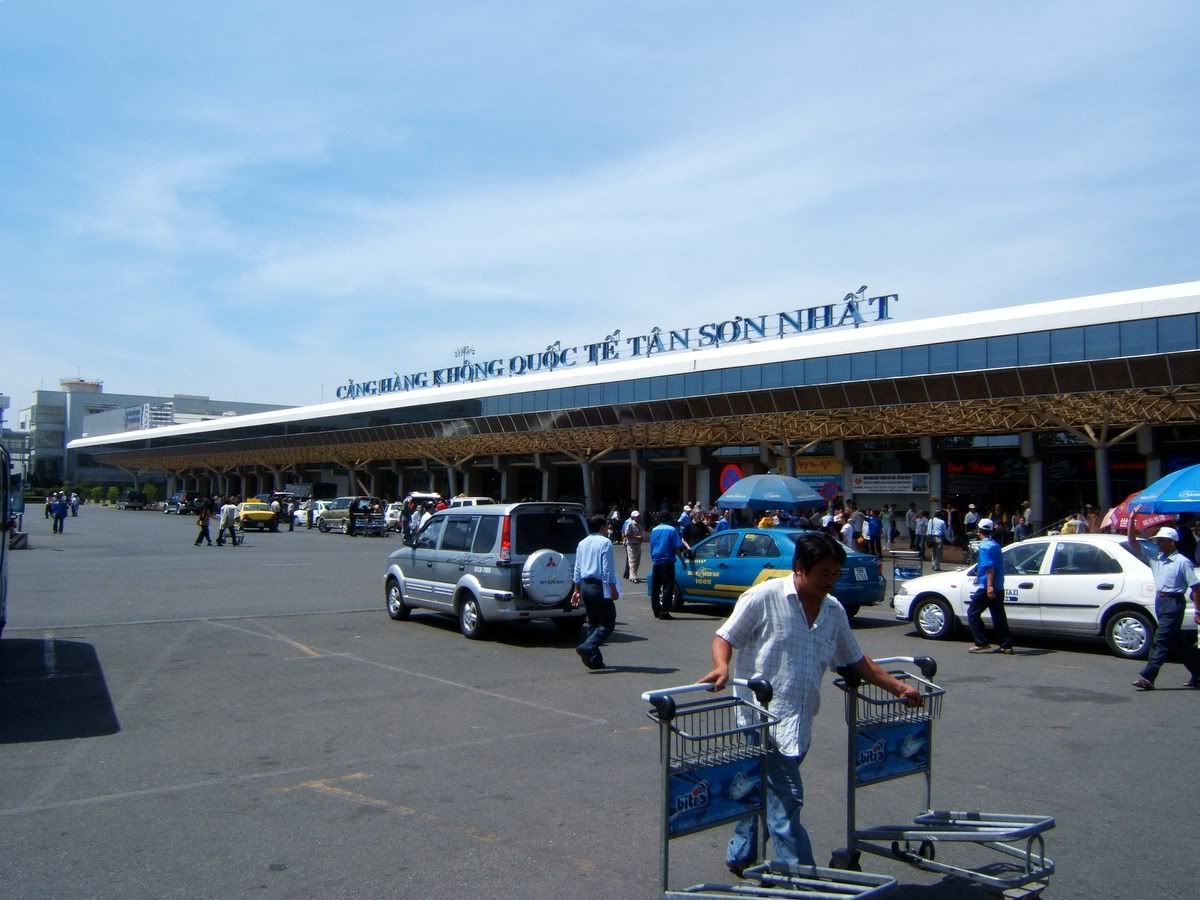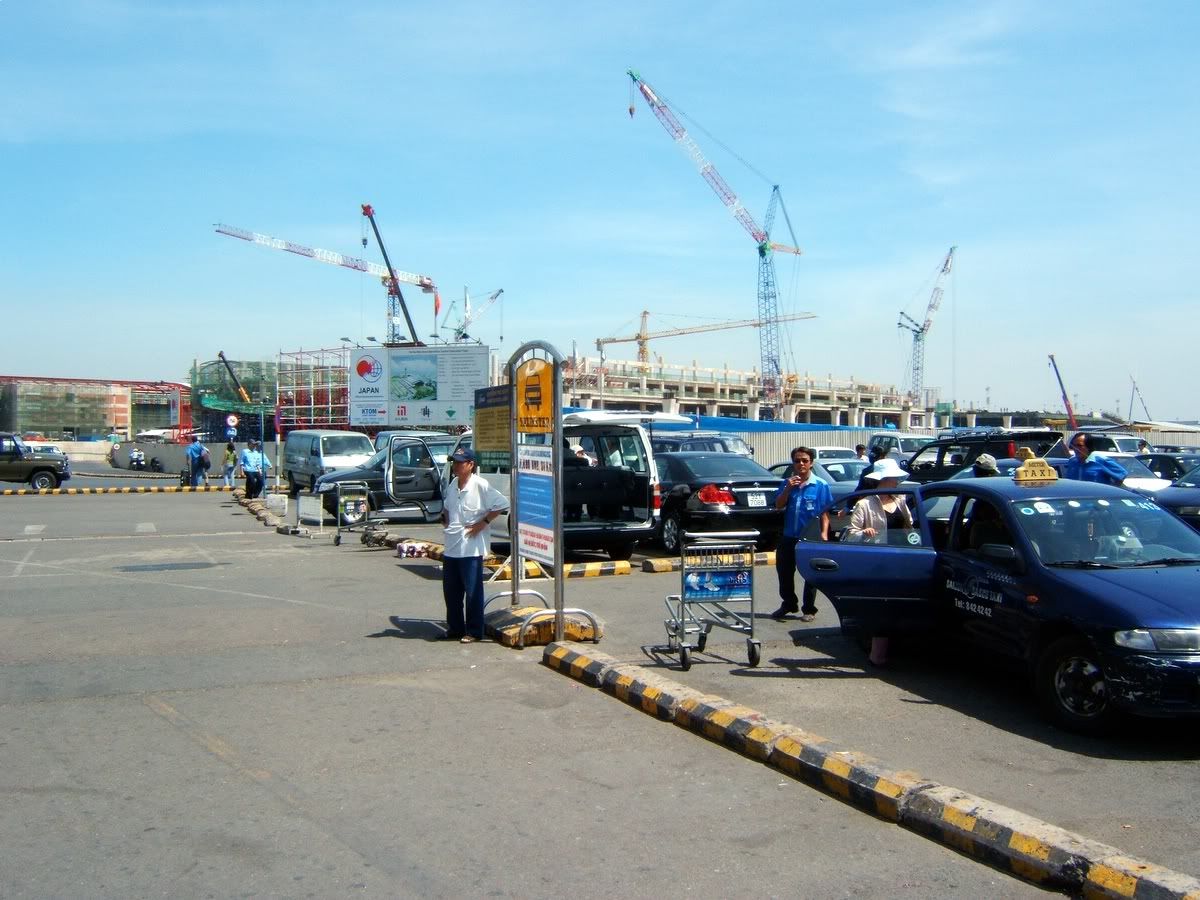 Our four days in HCMC were fantastic. If you haven't been, it is an energetic city full of enterprising people. The central area, where most of the sights are, is very walkable – so long as you don't get run over by a motorbike.
Ryan and his family left when he was just seven, so for him it was certainly a homecoming. The sights and sounds were familiar, but the tastes and smells really triggered his memories. Much of our trip was about the food:
bun
– rice noodles,
banh xeo
– rice flour crepes with shrimp and bean sprouts,
pho
– the ubiquitous beef noodle soup, as well as traditional sandwiches of pâté and veggies on crusty French rolls – all washed down with extra-strong Vietnamese coffee with condensed milk, or fresh-pressed sugar cane juice.
Ryan at the Italianesque fine arts museum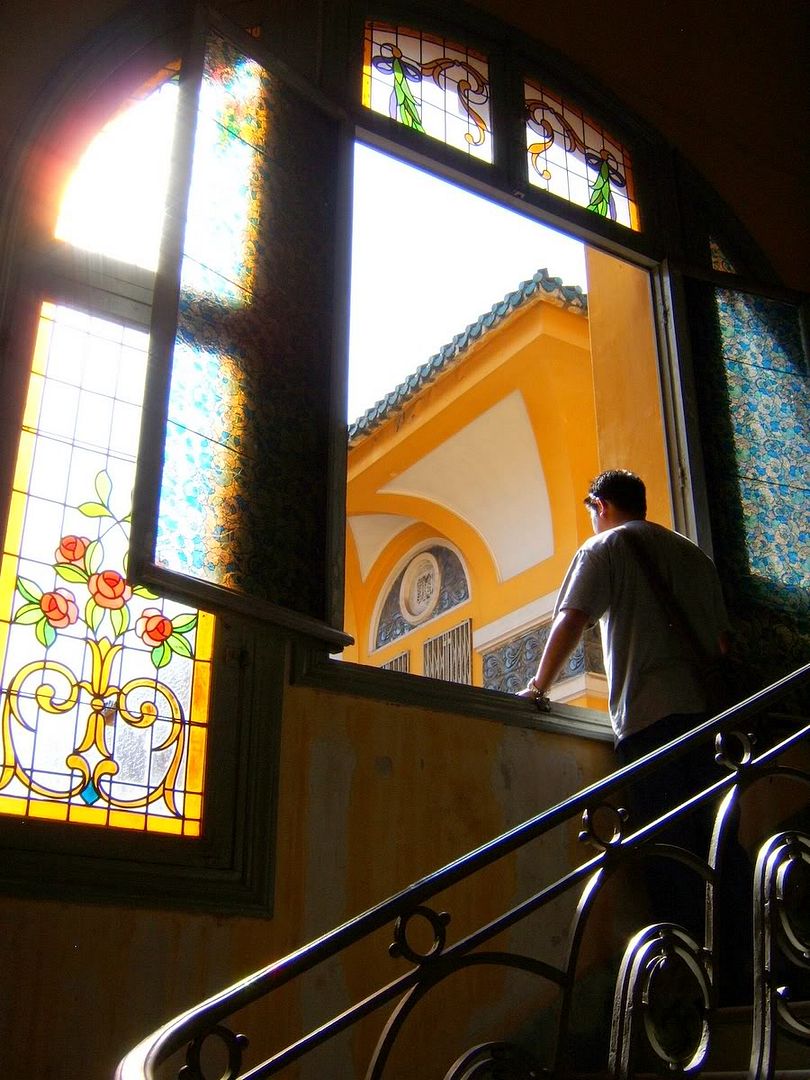 Entire families on their motorbikes in front of an elementary school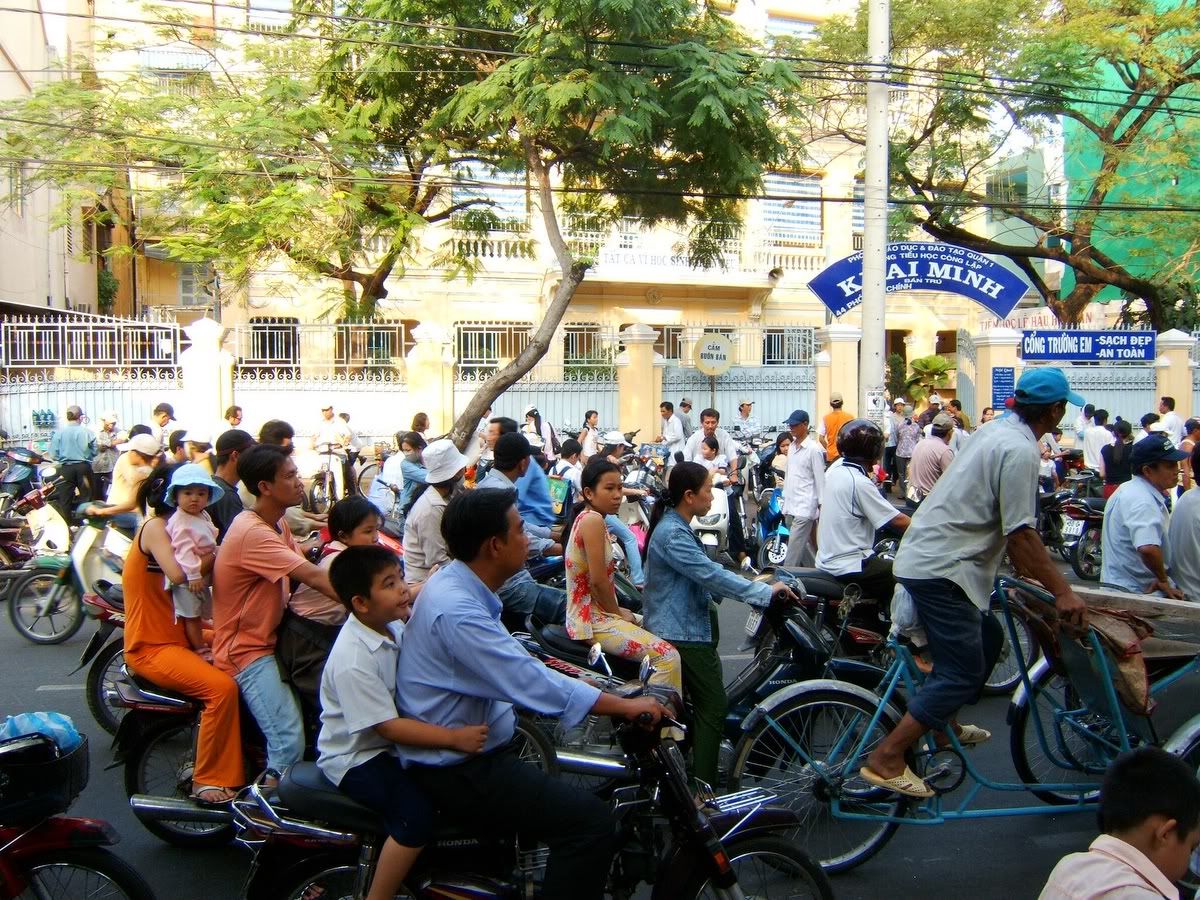 Young lovers along the Saigon River at sunset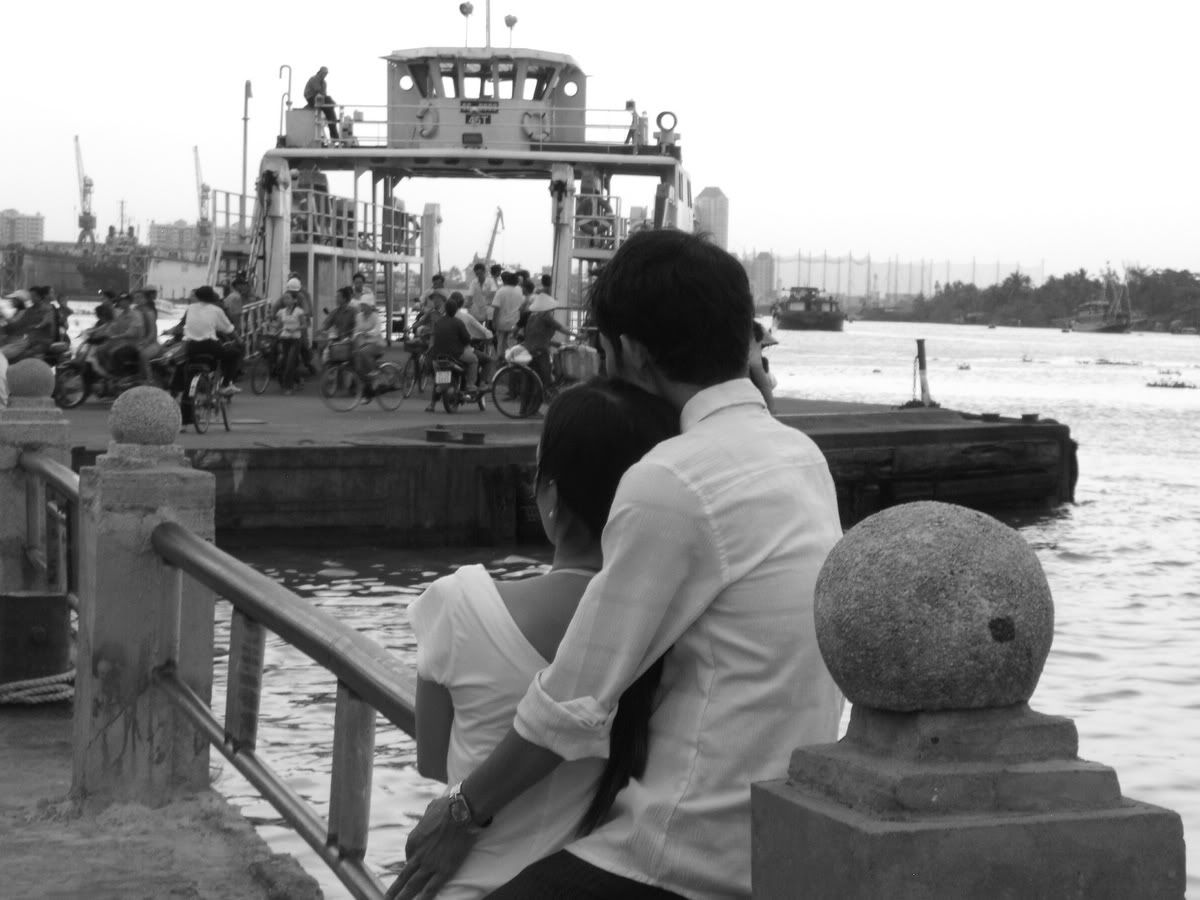 Hands-on grilling at a local restaurant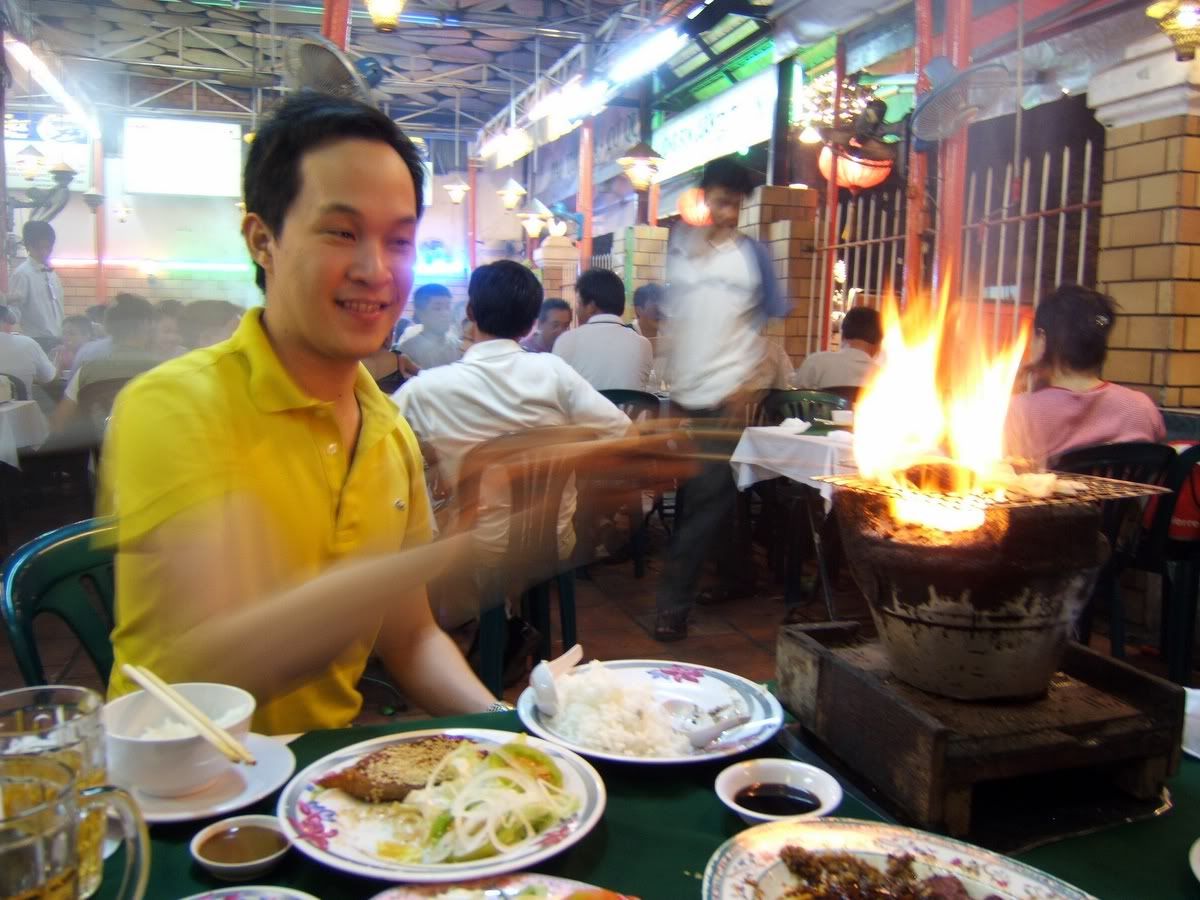 Sandwiches from the back of a vendor's bicycle
The trip was also notable for our many encounters with the children of HCMC and their families. Whether at museums, temples, or public squares, there were so many outgoing youngsters who wanted to see what we were doing, wanted to take pictures with us, and wanted to talk with us. Of course, there were also the young people who were pushing postcards, shoe shines, and guide books, but most of our experiences were with people who were selling nothing and were genuinely curious about the people coming to visit their country.
A young boy and his father posing in front of the Hotel de Ville
Date:
27 February 2006
Route:
SGN-BKK
Airline / Flight:
TG687
Departure:
21:00 Scheduled / 21:00 Actual
Arrival:
22:25 Scheduled / 22:20 Actual
Aircraft:
Airbus A300-600
Seat / Cabin:
47 A / Economy
Our departure was on Monday evening. After a full day of walking around the city, we returned to the Au Lac Hotel to pick up our bags. The driver of the van was to pick us up at 18:30 and that time came and went. At 19:00 I called the emergency contact number we had for the local travel agent and he said he'd check on the driver and call us back. We heard back five minutes later and he promised the driver was just around the corner. Finally, at 19:10 just moments before I was going to ask the hotel to call us a taxi, the driver pulled up.
It was the same driver we had on the way in from the airport, so I was a little surprised he was so late as we had tipped him generously on the way in. I never did find out from our travel agent in Bangkok what the cause of the delay was – miscommunication, traffic, who knows?
Fortunately, the drive to the airport only took about 25 minutes so we were there in enough time. When we were dropped off at the curb, there was still a mass of people waiting for arrivals and the signage directing us to the check-in area was a bit confusing. Finally we worked our way through the crowd and found the TG check in counter. Vietnam Airlines staff handles TG at SGN and we found no wait at the Royal Silk counter.
TG check-in counter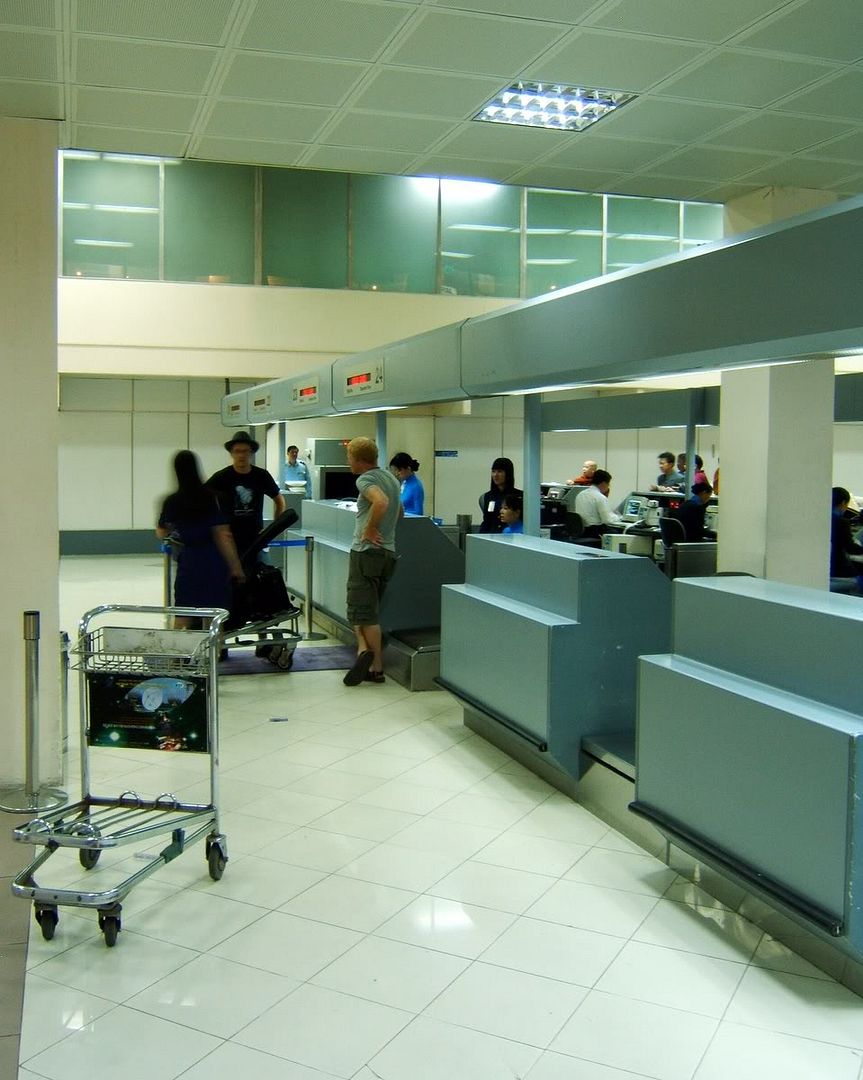 The flight was a much lighter load, so the agent was able to switch us to a window and two aisle seats across from each other. She gave me two passes to the shared lounge and when I asked if she could manage a third, she apologized and said that since it wasn't a TG lounge she couldn't do that.
The inside of the terminal is very sparse. UA's check in area had a bit more color – they had put quite a bit of branding materials up to make sure there once a day flight to SFO by way of HKG was easy to find. Outside of that, things looked very dreary.
UA's check-in area as viewed from the sterile lounge on the second floor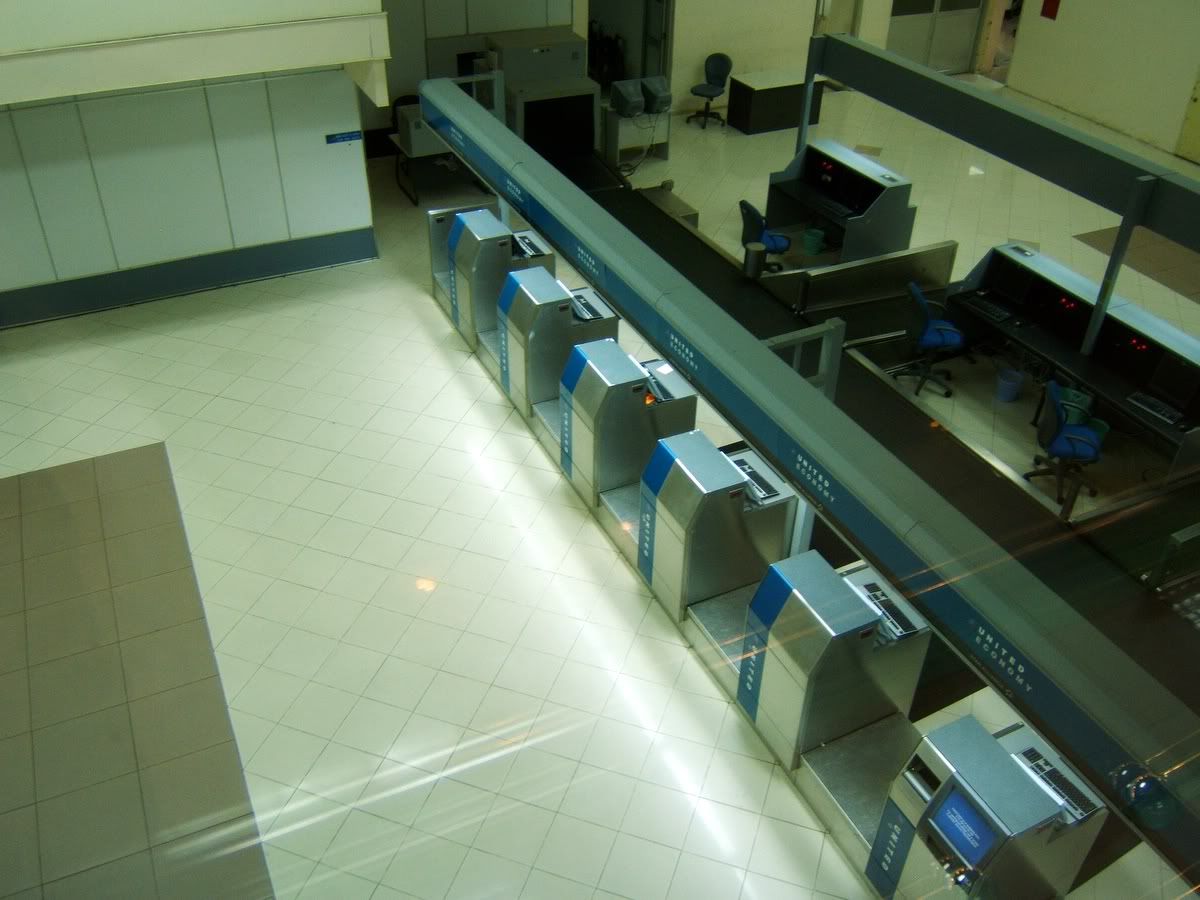 We proceeded through a customs area where our bags were placed through an x-ray machine. I noticed that the agent who was operating the machine was just staring off into space, not even looking at the screen. So much for security!
Customs screening area and the otherwise drab terminal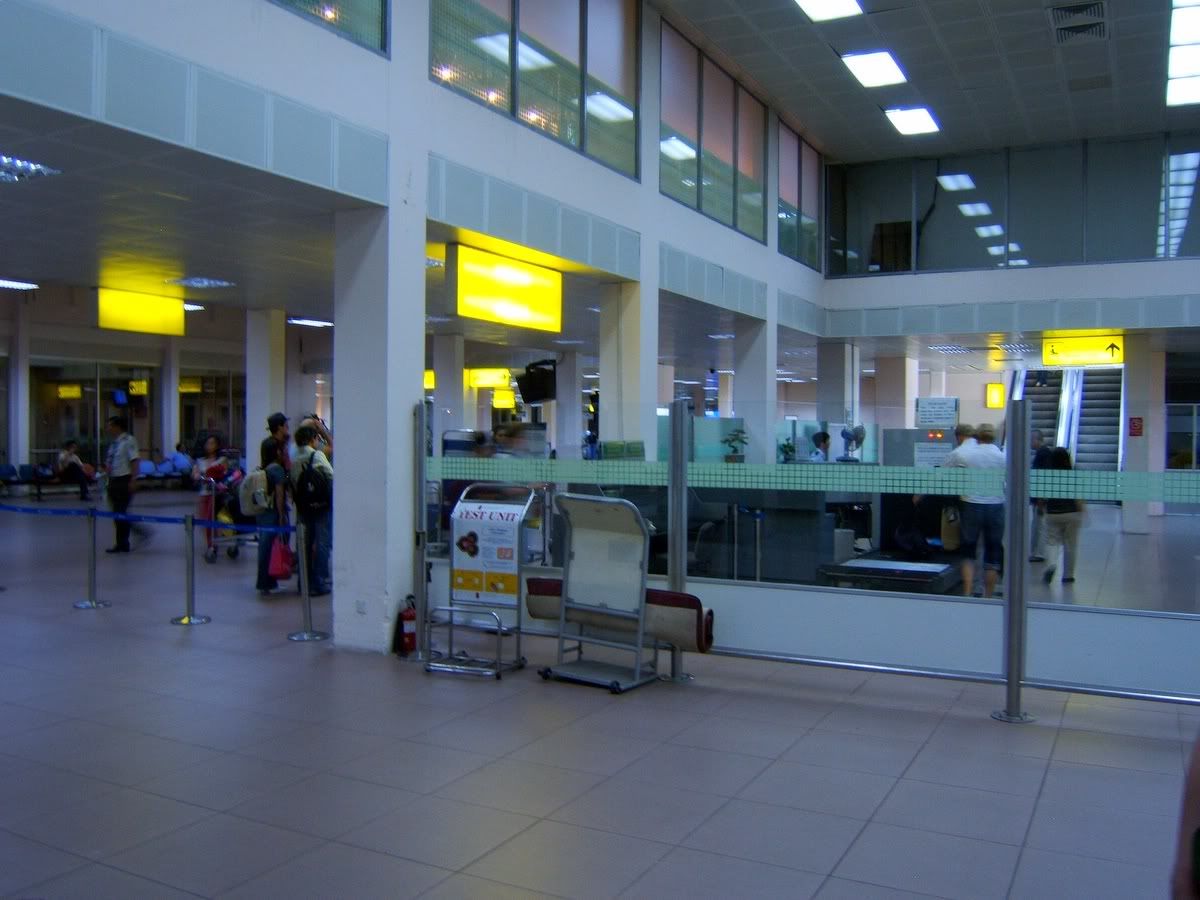 From there we went upstairs, paid a departure tax of US$12 (or you could pay in the local currency, the Dong) and proceeded through immigration. Lines were very short and we were caught a bit off guard because the officers asked for the yellow copy of our entry form. This copy didn't actually say you needed to retain it, nor was it stapled into your passport. Luckily we all still had our copies, but it took a moment to search for them.
Once through, we walked past some small duty free shops and, hungry, stopped by a very skanky cafeteria. The selection of food was awful – all American style food and none of it looked appealing. Tawn was very hungry, so I gave him one of the lounge passes so he could get some food.
Ryan did some shopping for gifts, ultimately not finding anything he wanted to buy. And I just sat in the common area, watching the world go by.
Views of the terminal area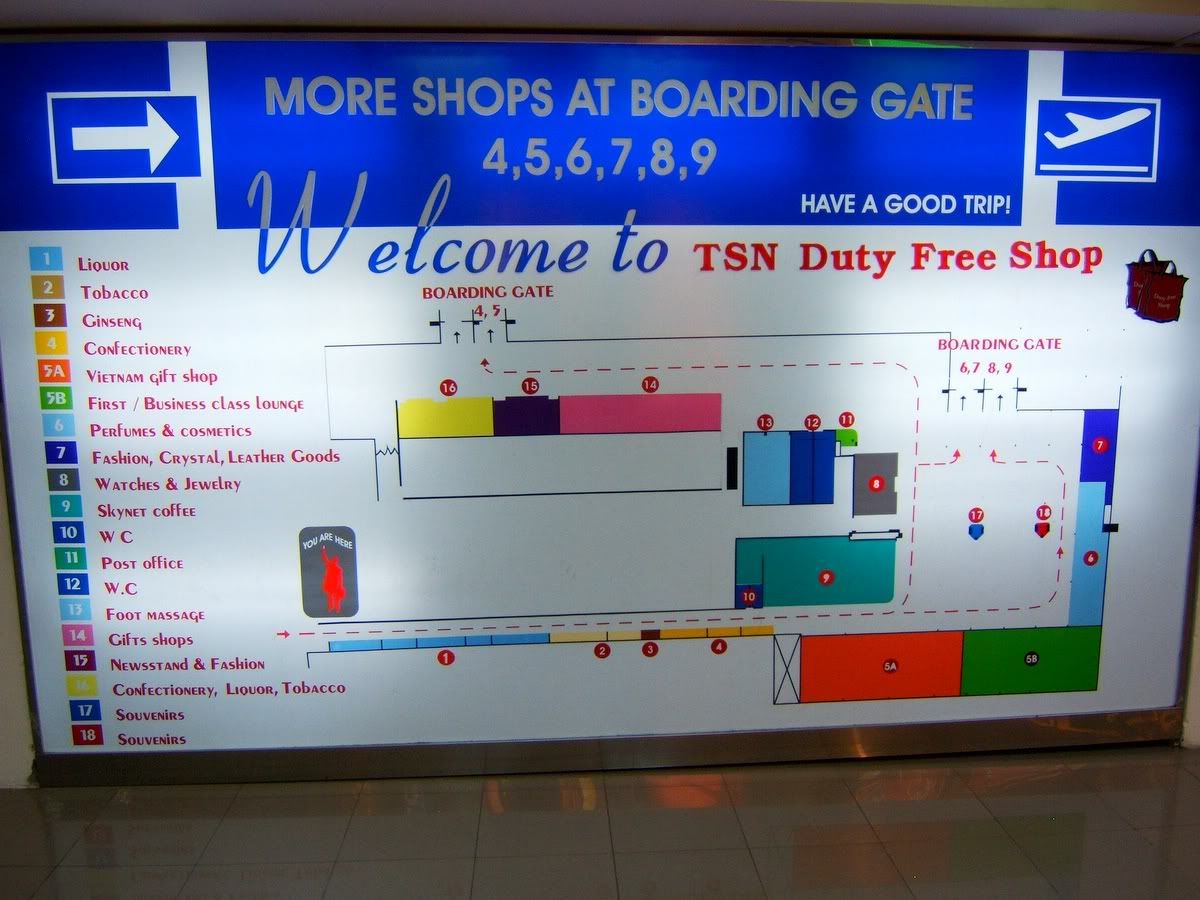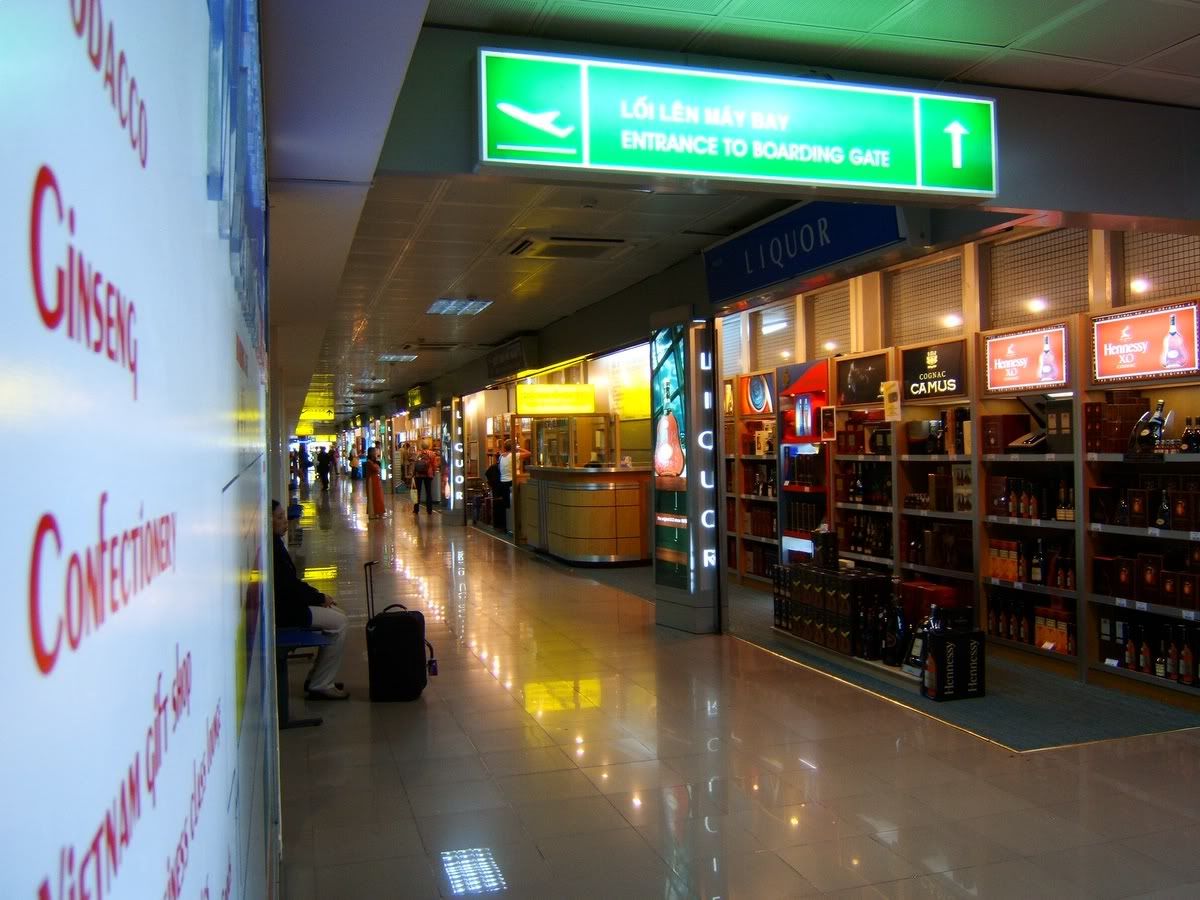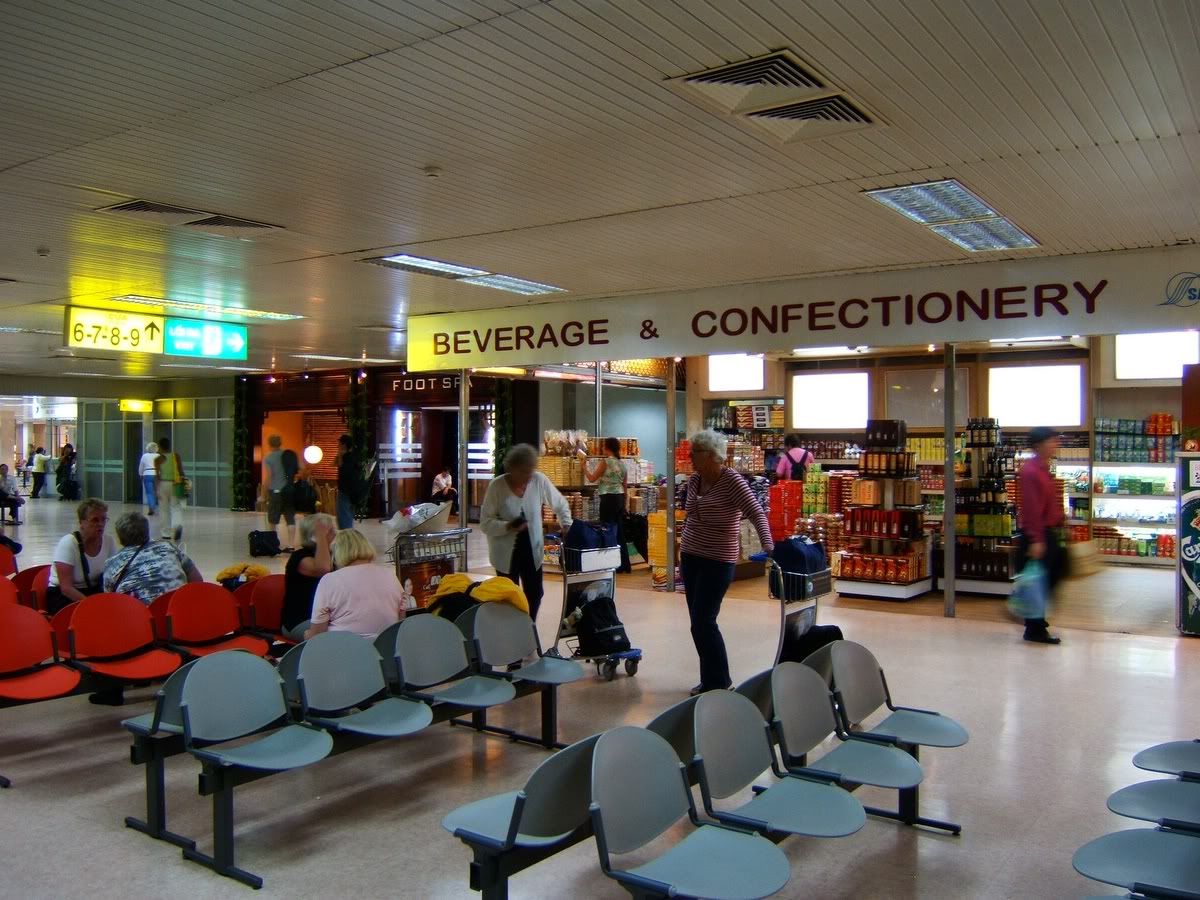 The common-use lounge. Only Vietnam Airlines has their own lounge.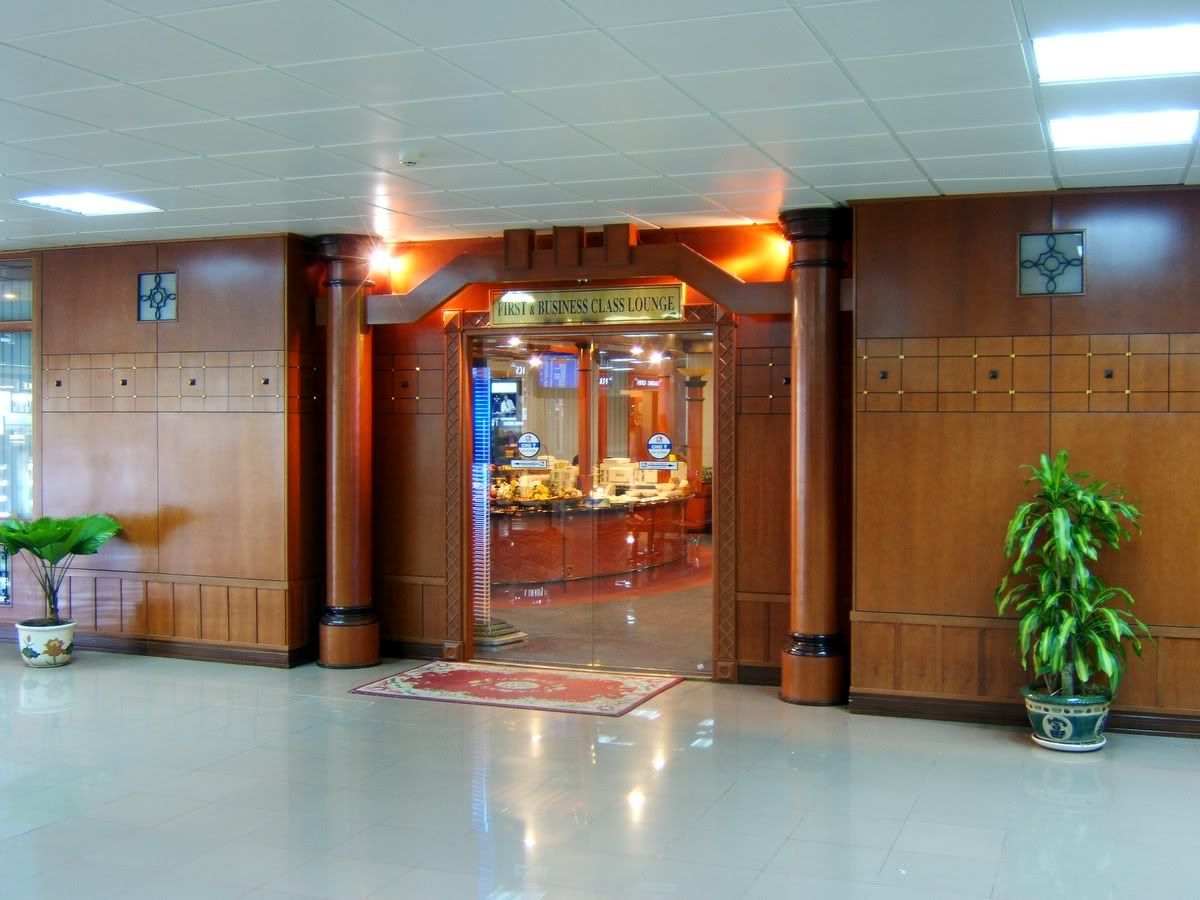 Finally, boarding was announced, which was the point at which everyone decided to queue for security. The line was quite long, but it didn't really matter. This second security screening was a bit more thorough than the first, and about ten minutes later we were on board.
Boarding on TG 687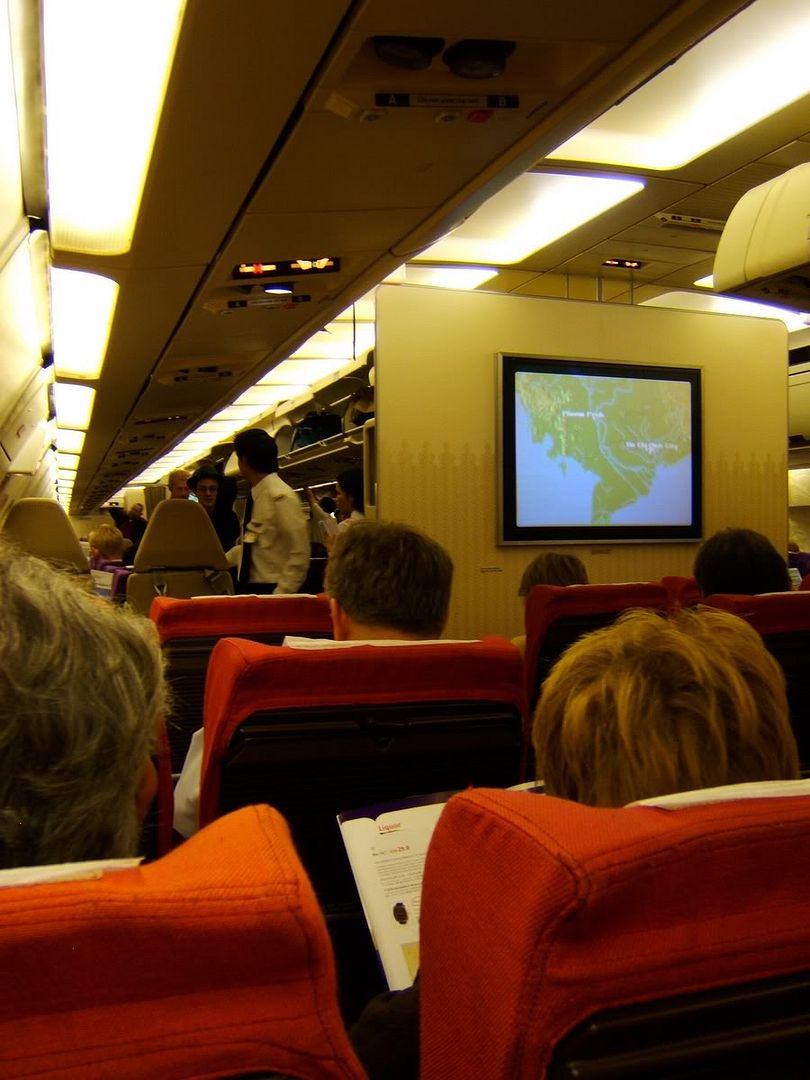 We pushed back on time and taxied out to runway 25R, climbing into a clear night sky with millions of lights below us defining the shape of HCMC. Slowly, the lights thinned out and the blackness of the countryside merged with the blackness of the sky. We turned northwest and headed toward Thailand.
The flight back was much the same as the flight out: attentive service and a full meal service. This time dinner was baked fish with an asparagus salad and nice banana bread for dessert. Yummy. A nice glass of French wine accompanied the meal and the flight attendants passed through the cabin almost continuously offering coffee, water, tea, more wine, coffee, more tea, more water… They didn't seem to want to sit down.
Friendly Thai service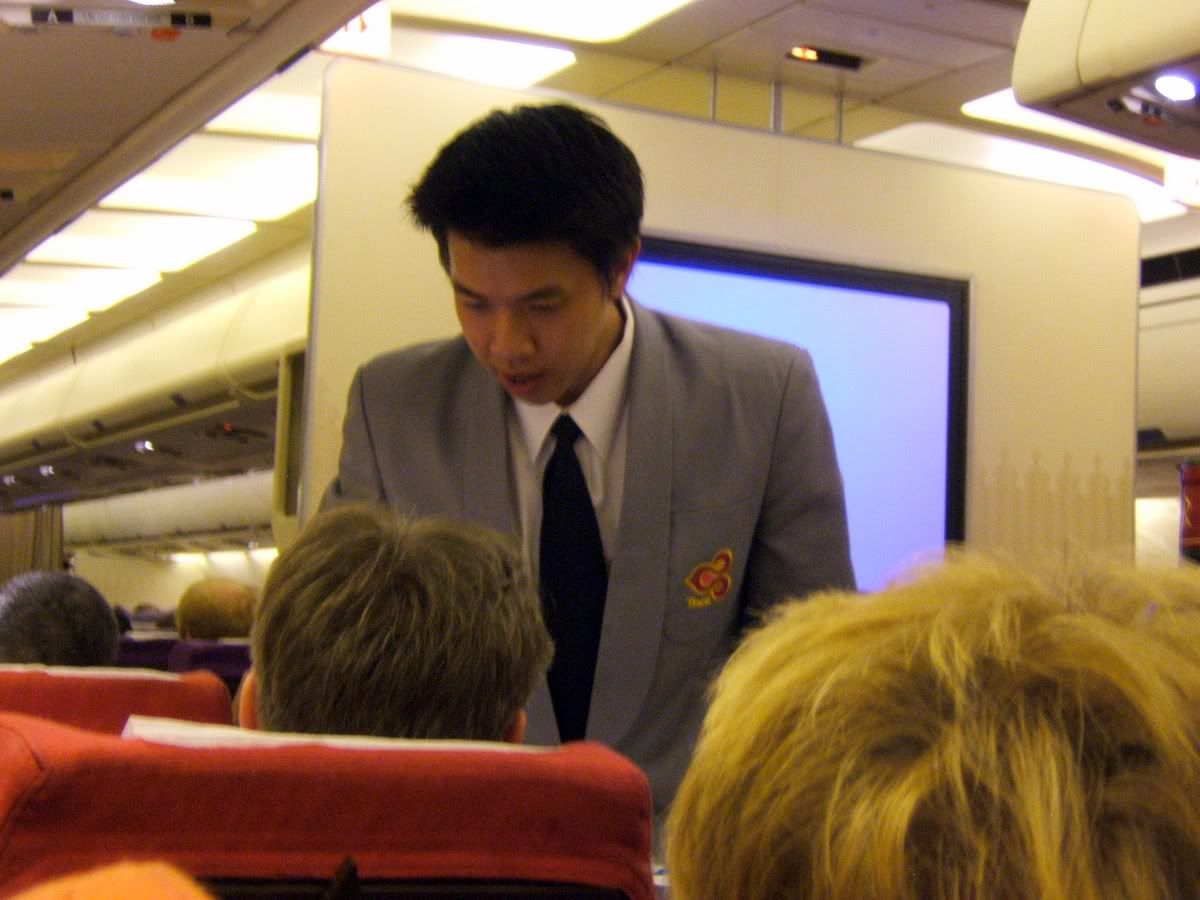 Our dinner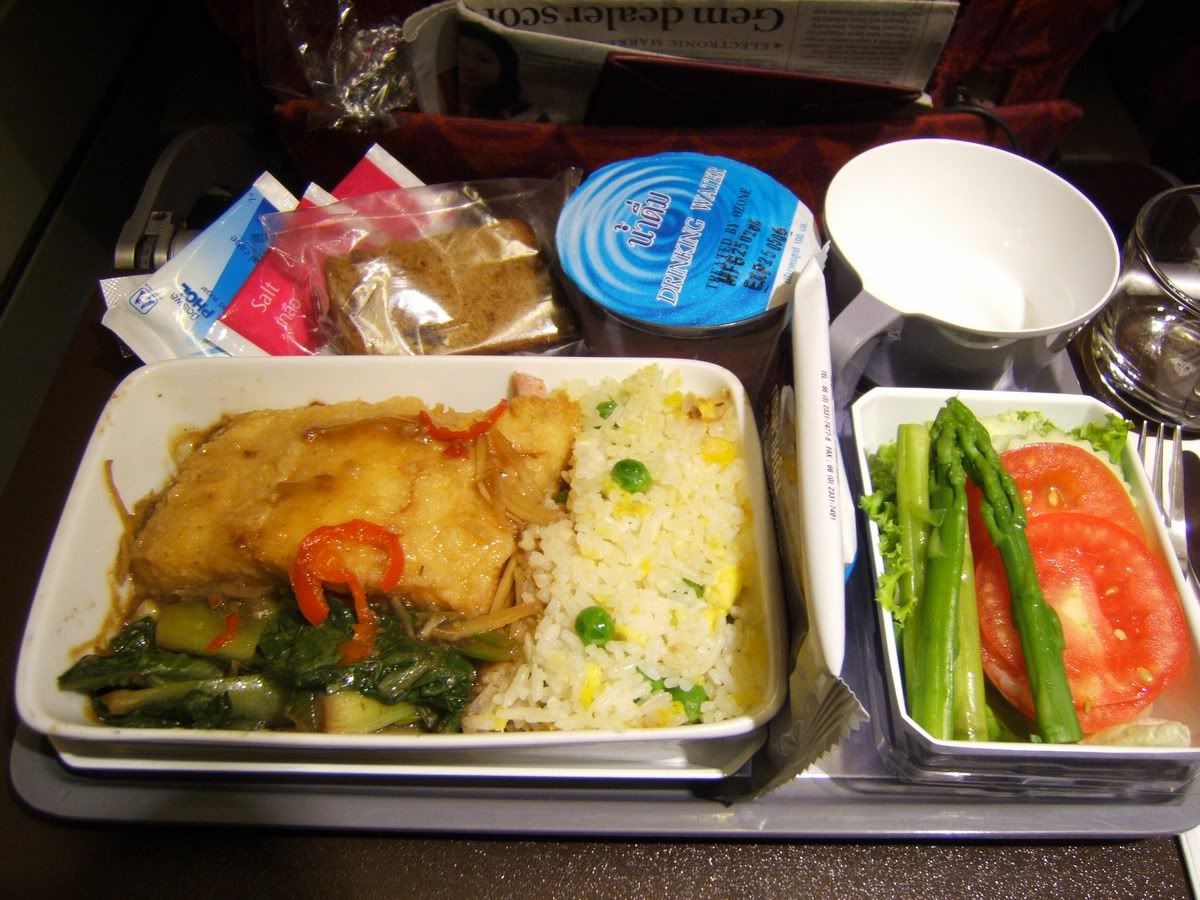 Our approach to Bangkok took us quite far to the north before we turned around and lined up with the runways. Usually, arriving traffic lands on 21L. But this evening we came in on 21R, making a very short landing and getting in to the gate just a few minutes before our scheduled arrival time.
A TG B777-200 at the gate next to us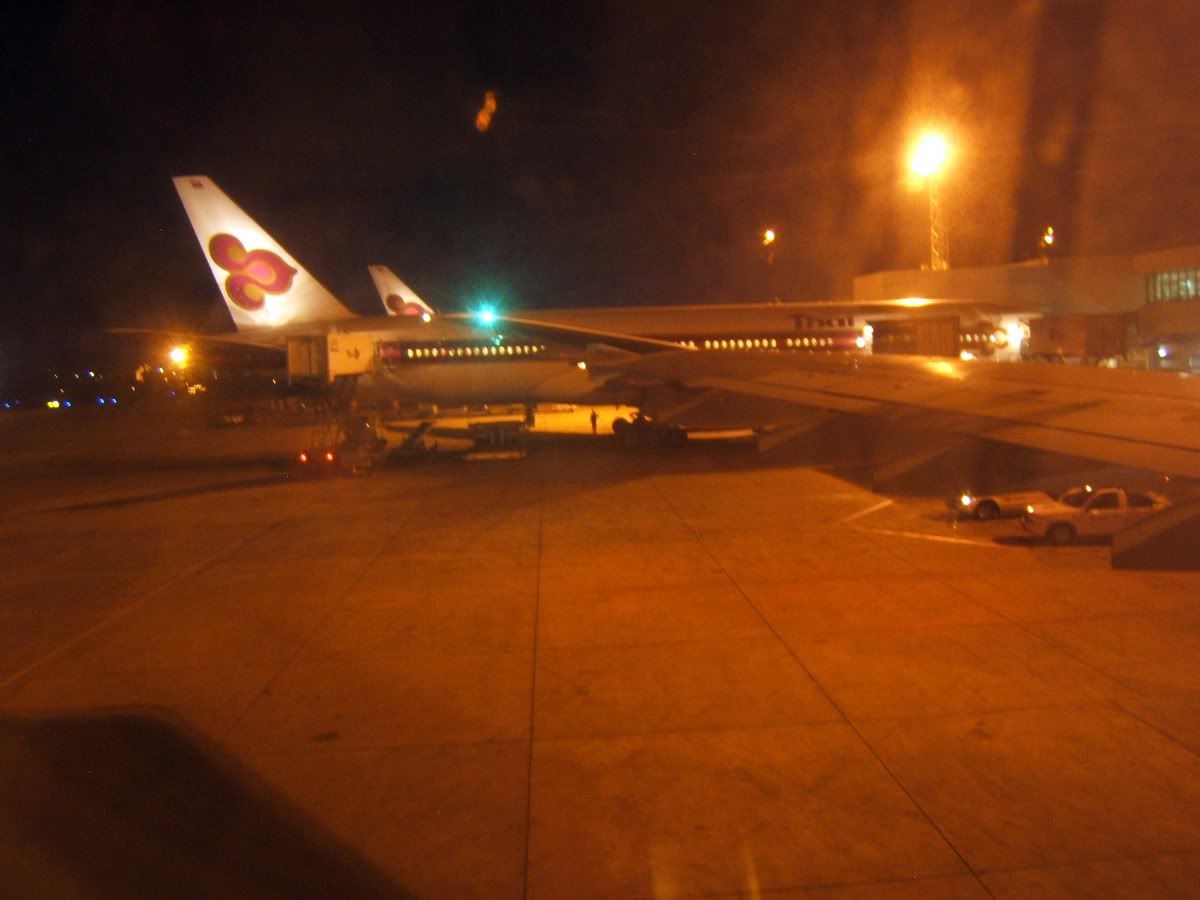 The lines for immigration were quite long, with many flights arriving this time of night. Ryan and I made it downstairs to the baggage claim before Tawn, unusual as the Thai passport holders' lines usually move quite fast. We discovered that our flight wasn't listed on the monitors so it was unclear which carrousel our bags would arrive on.
Finally, I went to the baggage service counter at the far end of the baggage claim and they checked their list: belt 5, sir.
Sure enough, our baggage was already there waiting patiently for us. A quick stop by the duty free shop to pick up a few bottles of wine and we were on our way through customs and out the door to the taxi queue. Another trip successfully completed.
Hope you enjoyed the trip – comments and feedback appreciated and welcome
Other trip reports recently posted by me: