IBERIA 1st March, 2006. GIG/MAD Business Plus. Travelling on a OneWorld RTW ticket, I boarded the flight in Rio De Janeiro and was very pleasantly surprised at the space and cleanliness of the cabin
This was an A340 600 model plane and quite new. The seat was very comfortable with an almost fully flat recline. I am 6'2" and although I was unable to lay fully stretched out, managed to sleep for a few hours on what was a 9 hour flight. The IFE system on this aircraft must be the most advanced I have ever seen
It is very easy to use and completely "on-demand". This was a late afternoon flight and a comprehensive cabin service was offered which included pre takeoff Cava, in flight cocktails
and choices of three main courses and two desserts.
The starter: toast and virgin olive oil, cauliflower with mascarpone cheese soup, marinated shrimps with passion fruit, mesclun leaves fresh salad, and mango, virgin olive oil and sherry vinegar
Main: filet mignon steak with fine herbs crust and vegetable grille
Alternatives offered included "namorado" fish with bacon and thyme, puree of banana and small caramelized onions; or baked vegetable lasagne.
Dessert: assortment of cheeses with guava jam, chocolate and raspberry cake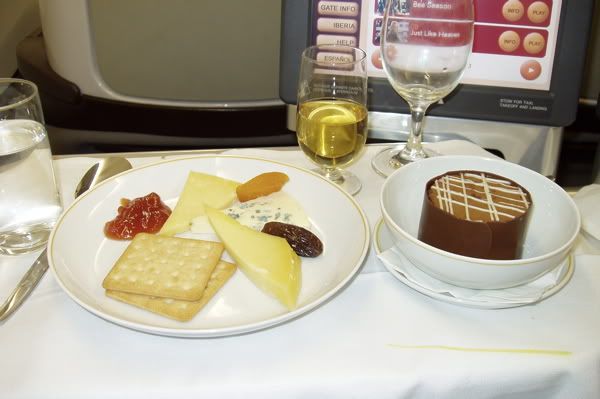 Alternatives offered included papaya with cassis and raisin ice cream.
A very nice amenity kit was also handed out
The highlight of the journey was watching a spectacular sunset across the relentless lush greenery of the Brazilian landscape 38,000 feet below
The route to Madrid is quite direct and flies almost due north from Rio, not leaving the Brazilian coastline until after couple of hours, so there was plenty of time before dusk to observe the geographical wonders of the northern Brazil river systems.
The Flight Attendants were very friendly and professional. A couple of hours prior to landing in Madrid, a full breakfast was served. Breakfast: cheese omelette with bacon and spinach sauté, fresh orange juice with seasonal fresh fruit and yoghurt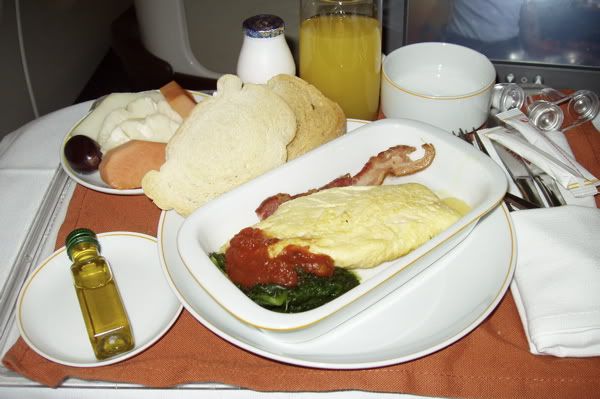 toasts, pastry, Colombian coffee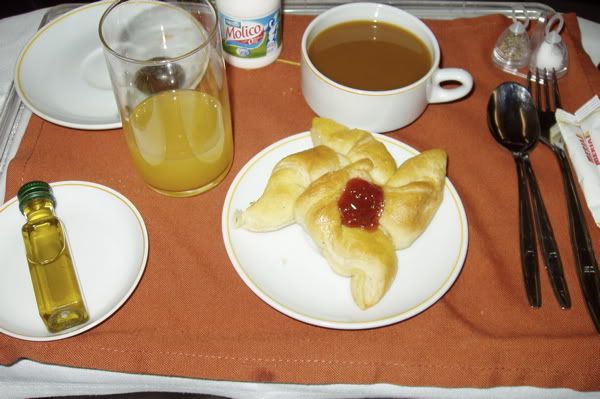 Overall, the service on this flight approximated what is often delivered as 1st class on other airlines, and as such represents excellent value. My only gripe is that the cabin was a bit overheated for my liking.
On arrival in Madrid, I was further surprised with the new Terminal 4 which must be the largest and most automated air terminal in the world. The speed of baggage delivery needs to be improved though. One hour is far too long to wait.
I am now very impressed with Iberia, especially since after travelling with them last year I swore I would never do so again. They have improved their service well beyond what I expected. Highly recommended and very worthy of being a OneWorld alliance partner. Score 5/5.