Just for fun: Weekend transatlantic return trip MUC-PHL-DCA-PHL-MUC (Part I)
Intro
In October last year I started thinking about a short fun trip for a maximum of three days (Saturday to Monday). However, I didn't want to book just another LCC trip but something more interesting. At least I wanted to catch a missing aircraft type. I checked certain options within Europe (e.g. Portugal, Italy) and found them quite expensive. Then I checked flights to the Middle East but the same here - either not interesting or just expensive. Finally I found special fares to the US East Coast and when I discovered US Airways flights out of MUC (= B762ER = priority) among them, it was just a matter of hours. After talking to my friend
The777Man
I decided to book a round trip to Washington Reagan National Airport via Philadelphia. Going out on Saturday, going back on Sunday, arriving back at Munich on Monday. Four flights, two new aircraft types, 339 Euro including tax= looked quite perfect to me.
Parking service
As usual when flying from MUC I parked my car at "Irl Park&Fly" in Eitting. One driver wrote down my arrival time on Monday along with flight number and then he asked:
"You'll come back on Monday in nine days, right?"
I said
"No, this Monday."
He looked confused and asked again:
"What? But that's the day after tomorrow already!"
I replied:
"Yes, indeed!"
When we walked to the shuttle bus he asked:
"So you are going to Philadelphia for only two days?"
And I said:
"Actually I'm going even further, to Washington, which includes changing planes at Philadelphia."
He wanted to know whether it's for business and my answer was
"No, I'm going to visit a friend."
I guess that was enough, he didn't ask any more questions...
Saturday, 26. November 2005
München (MUC) - Philadelphia (PHL)
US Airways US 015
12.30-16.00 (12.59-16.10)
Flying time: 09:03 (hrs)

Boeing 767-201ER
N648US (c/n 190), first delivered 02/1988 (to Piedmont Als)
Economy, seat 30A
Check-in
Though I arrived shortly after ten in the morning, US Airways' check-in counters at the east end of Terminal 2 were already highly frequented. After waiting in row for 15 minutes it was my turn and I was interviewed by a mid-aged lady. She asked the usual questions for travelling on American carriers, but it was done fast. I didn't have to show the filled form for my US address (as officially required since October) and she didn't ask about the purpose of my very short visit.
A female Lufthansa agent welcomed me at the counter and I requested a window seat (rear section) for the long-haul flight. Interestingly, I had been able to choose my seats for the domestic legs on the Internet, but no seat maps had been available for the B762s. The lady told me that there wouldn't be any window or aisle seats left, just middle seats. Before I could express my disappointment she assured to put me on a waiting list and told me to show up at gate H45 at 11.45.
Before passing through security I walked around a bit and took a picture of the terminal hall.
Security checks 1, 2 & 3
After the usual security check en route to the gate area I took some newspapers from one of the various stands in the hall (one of the last remaining positive LH service features) and headed down to the west end of the terminal. I had to pass another security checkpoint when I entered the section with all gates for US flights. No surprise about that - but then, after a short walk, I was faced with yet another security checkpoint directly at the gate. And this one was even supervised by several Bundespolizei (federal police) officers - I had never seen three security checks in a row in order to catch one flight, not even in the US.
I passed the metal detector and one screener immediately started ranting - not about me but about two pilots (either UA or US) who were passing the checkpoint on the other end without stopping.
"Have you seen that?"
, he asked a colleague,
"they went through without being checked!"
He was furious and said he would
"call now"
but after a few moments his colleague told him it would be ok -
"we aren't allowed to check them"
. That all seems a bit ridiculous. We have seen many reports of foreign pilots being treated like terrorists in the US, but American crews can pass security at MUC without being checked at all...?
Finally I arrived at the glass front of T2 and it was time to catch the plane's registration.
N648US
was parked at H44, painted in the "old", classic US Airways color scheme.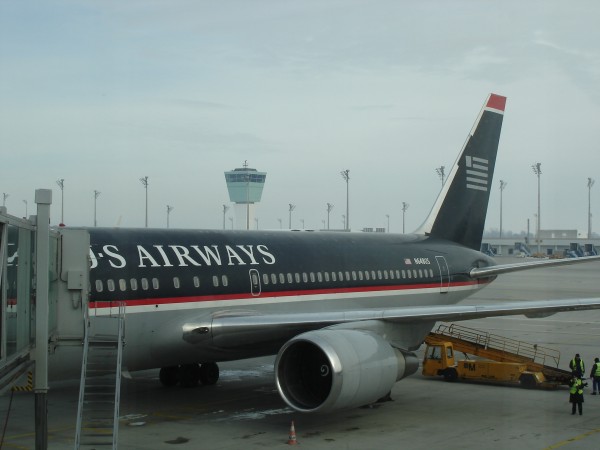 I took a seat, waited until 11.45 and went to a counter at H45. However, I was told to wait some more minutes and that they would call me. Meanwhile boarding was started at H44 and all other pax waiting for a seat assignment were called - except for me. After about 70% of all passengers had already boarded I went to the counter and asked - then they just had a look at a list and I got a new boarding pass with seat 30A, in the very last row. Finally...
Boarding
Since there were many transfer pax arriving from European or domestic destinations, security interviews also took place directly at the gate. After some more minutes waiting in row I could finally enter the plane. Envoy Class seats looked old-fashioned and worn but the premium cabin was well-filled, nevertheless. An older female F/A standing behind the last Envoy row didn't greet at all and appeared to be bored or irritated. Not a good start I thought...
The economy section didn't look any better, with old-fashioned gray seats and worn overhead bins. Surprisingly Economy Class was also packed, the load somewhere around 95%. One guy standing in the aisle tried to put his over-sized trolley into a bin and when he realized it wouldn't fit he forcibly pushed the bin and something cracked. After almost braking the whole bin he was able to close it but many people watched it anxiously because it seemed it would fall down any second�why are those extremely over-sized trolleys still allowed in the cabins?
I went down to row 30 and a young lady sitting at B immediately granted me access to the window seat. Of course I was disappointed not to find a light load and more space on that flight. However, only a few minutes later a male F/A asked the lady whether she wanted to switch to another seat some rows in front where two seats had remained empty. Boarding had been completed meanwhile and I had two seats for myself.
Here's a picture of 30A: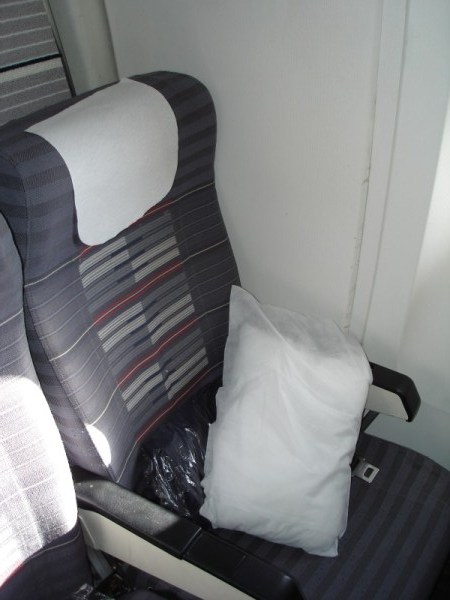 Though the seats aren't the latest models and look worn, they aren't uncomfortable. Actually, they turned out to be even more comfortable than AF's seats on the B77W. Seat pitch is not bad either: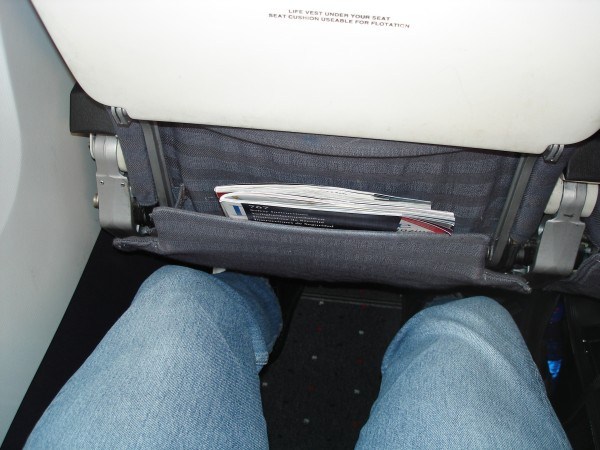 Of course US' B762 aren't equipped with PTVs, but there are stylish phones...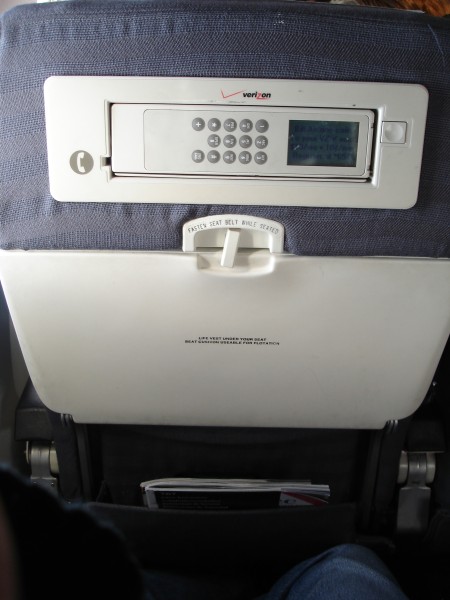 Surprise
When the male F/A passed my row again he looked at the empty seat next to me and I said
"More space for me now!"
He laughed (and saw my binoculars in that moment) and asked:
"Where are you going to?"
After I said
"Washington National"
he asked:
"For how long?"
Then I replied:
"Just for a day, I'm going back tomorrow."
He looked surprised and answered:
"Just for one day? Business trip?" "No"
, I told him,
"It's a fun trip and I'll meet a friend."
After hearing that he disappeared in the galley and I wasn't sure whether that was good or bad - remembering incidents in the past when I had repeatedly appeared suspicious to certain pax and crews on American aircraft.
However, after a few minutes he passed my row again, smiled, handed a small package to me, added:
"That's because of your very short trip!"
and disappeared again quickly. When I turned the package around it shaped up as an amenity kit from Envoy Class. Nice surprise!
Parked next to us: N659UA being prepared for flight UA 907 to Chicago.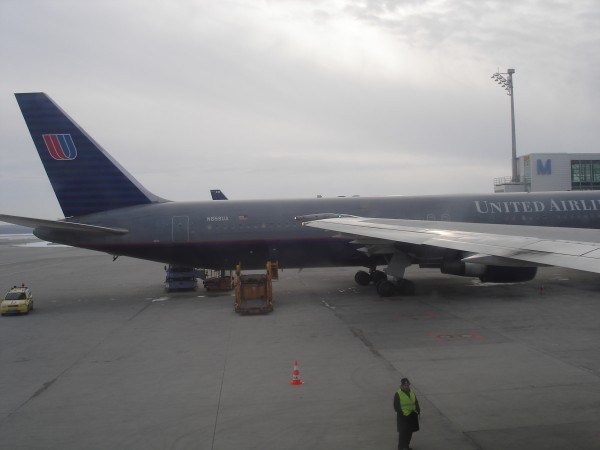 We were pushed back at 12.34 but didn't move for another 20 minutes after that. Finally we taxied down to runway 8R and while turning in at 13.01 the B762's two CF6-80s already started to accelerate.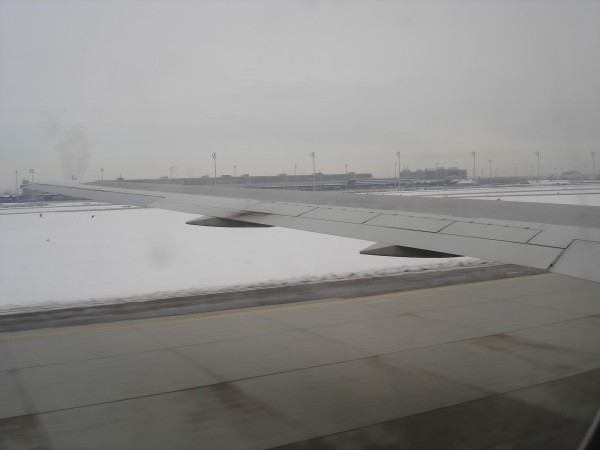 Climb-out with view at MUC's Star Alliance playground: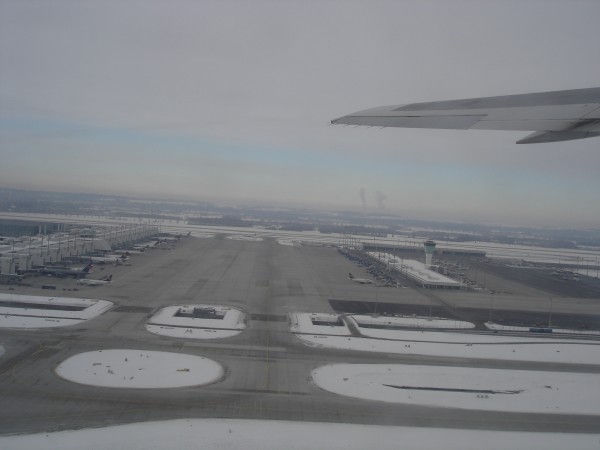 While flying a long right turn one could see the Alps: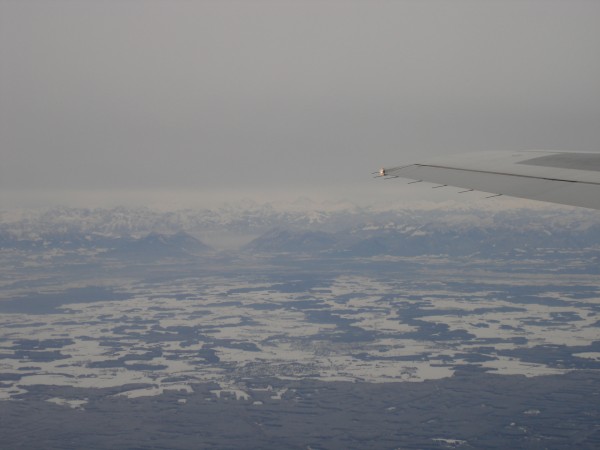 Some minutes later we were totally surrounded by fog, with the sun shining through:
Crossing Germany while heading for the coast: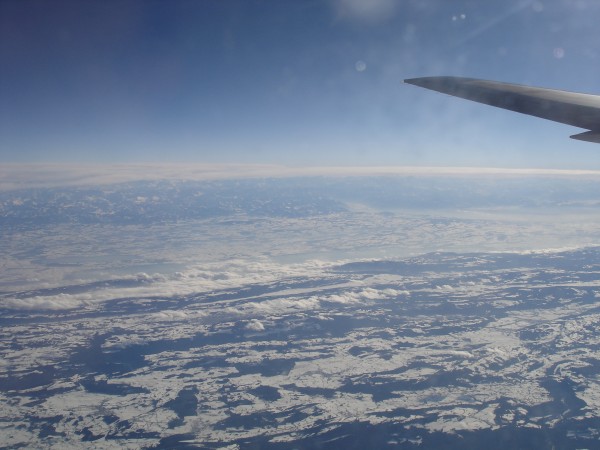 After we had reached our cruising altitude the F/A came back to my row and we had a short chat. I said thanks for the Envoy Class kit, told him about my hobby and also told him that I sometimes write articles for an aviation magazine. Since I always carry some of them with me on flights (as a kind of "exonerating evidence" for security checks) I showed them to him and he was very interested in all that. At that occasion he introduced himself to me and told me his first name (I'll call him
"X"
for this report). He also showed me his binoculars and let me compare them to mine. Then he promised to come back later for having a close look at the articles. A few minutes later headsets were offered - for five dollar or five Euro - but I got mine for free.
IFE
In-flight entertainment was a disappointment but I hadn't expected much anyway. There was only one large main-screen on the wall at the section's front end and another small screen in the middle. Views were limited from the back rows. An airshow was nonexistent, just movies and TV features. I didn't watch anything and killed the time differently.
Food 1: Lunch
Meal time was coming closer and just as
X
and a female F/A left the galley with a filled trolley, he introduced me to that other F/A and told her about my trip and my articles.
"He gets a special treatment today"
,
X
said.
The choice was between chicken and cheese ravioli and I went for the former. Here's the main course served alongside a meal box: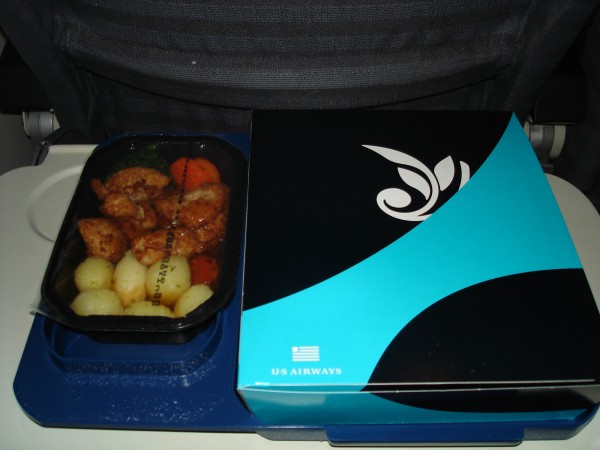 Main course: chicken breast, potatoes, spinach and carrot slices. Box: croissant roll, crackers and butter, fresh grapefruit, caramel mousse, Toblerone stick.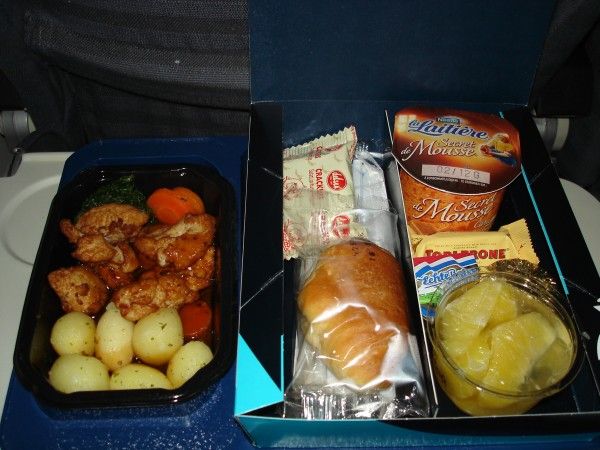 The meal tasted quite good in general, however portions could have been a bit larger. The mousse had turned a bit watery already, probably it had been located next to hot main course plates on the trolley.
X
asked me what I'd like to drink and I ordered Ginger Ale. Btw - all kinds of alcoholic drinks were sold for five dollar or five Euro. Then he asked me:
"That's it? Nothing else?"
I knew what his intention was and ordered a white wine additionally - and got it for free again.
Some crew members had a rest after meal service and they disappeared in the last middle row (which was blocked), covering it with a curtain.
X
said he would have a rest for a while but would be back later for talking.
After cruising some hours many little ice crystal appeared on the window: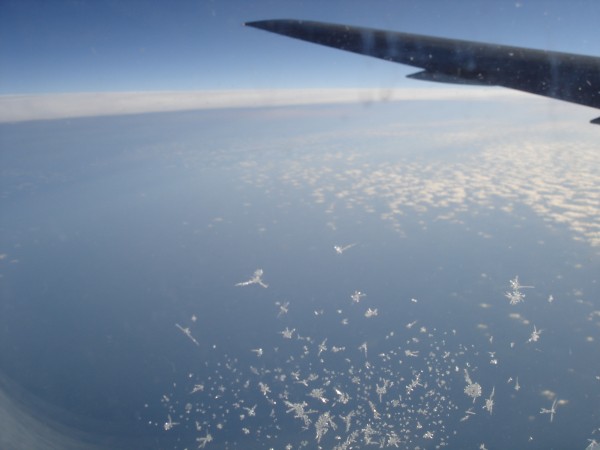 I walked around a bit and took the opportunity to make a cabin shot: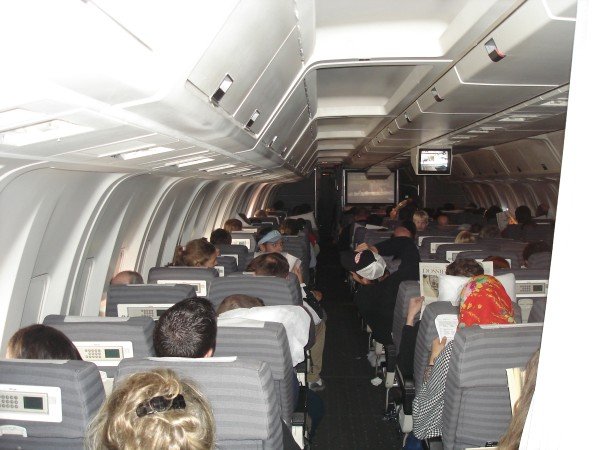 It wasn't surprising to find the interior quite worn in general but it was really interesting to spot several printed writings replaced by handwriting, e.g. the "vacant/occupied"-signs on the lavatory doors: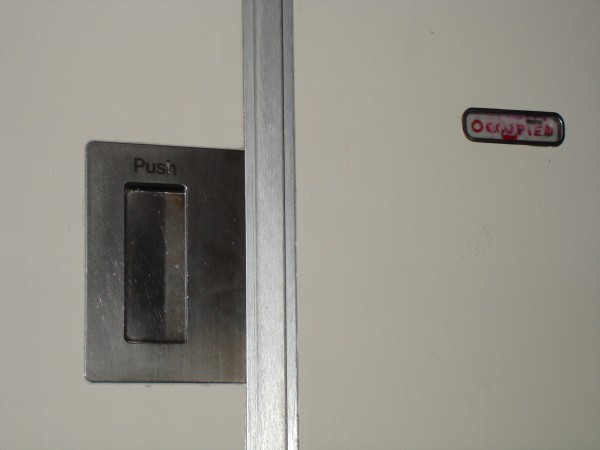 As soon as the crew rest was over,
X
came over and sat down next to me for at least 30 minutes or longer. He read the articles and then we talked about the aviation biz, aircraft types, US' new colors and the incident with N656US at AMS some days ago. He told me he would have to fly to AMS the next day (Sunday) - and interestingly I found out on Sunday evening at PHL's gate area that N656US was going to AMS.
While reading the magazines,
X
introduced me to more F/As on the flight, told them about my trip and showed them my articles. Two of them were scheduled to work on the PHL-MUC flight the next day, so I would meet them again - and
X
told them to take care of me. Though all the crew members were 45+ years old they were really cool and friendly, not the same bored and demotivated attitude as I have experienced several times on certain transatlantic carriers.
Food 2: Snack
Pretzel bags were available during the flight and for obvious reasons I always got more than usual. One hour prior to landing a tasty snack was served which consisted of a ham and cheese sandwich, pretzel nuggets (sour cream and chive flavour) and a Mars candy: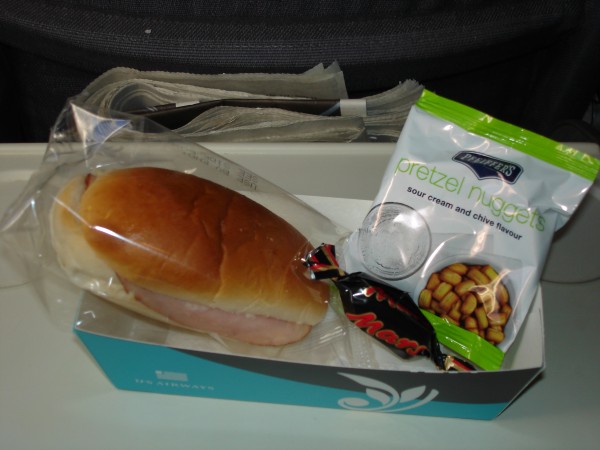 The remaining flight was uneventful and the approach to PHL was started. Here's a view of Philadelphia International Airport: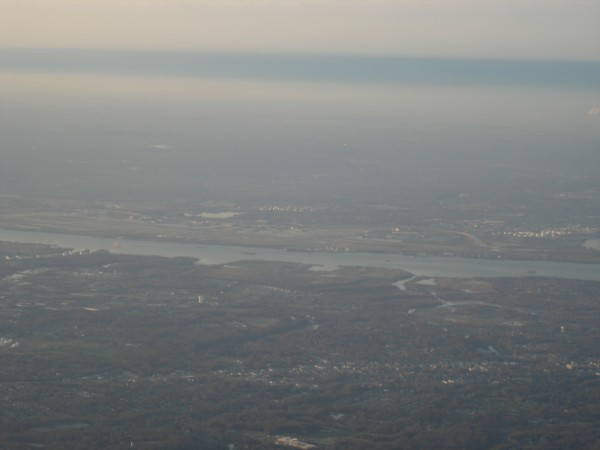 Before the final left turn for landing I could take a picture of downtown Philadelphia: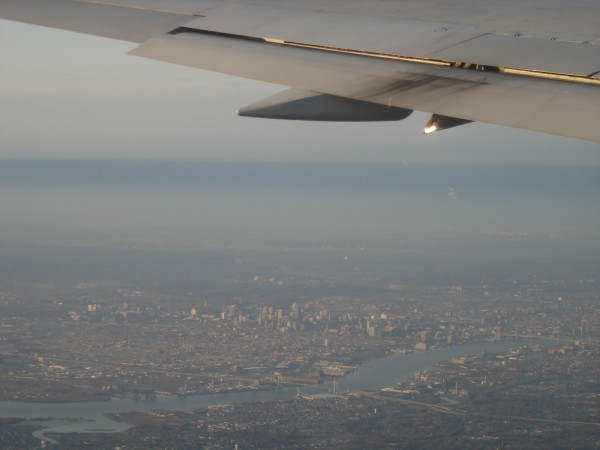 Various oil tanks being visible on short finals...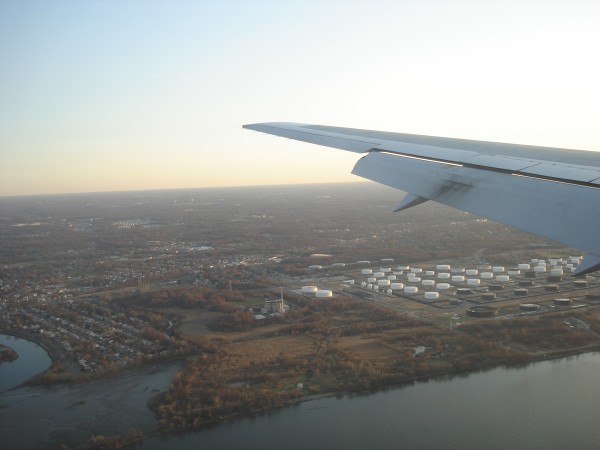 ...as well as a large refinery...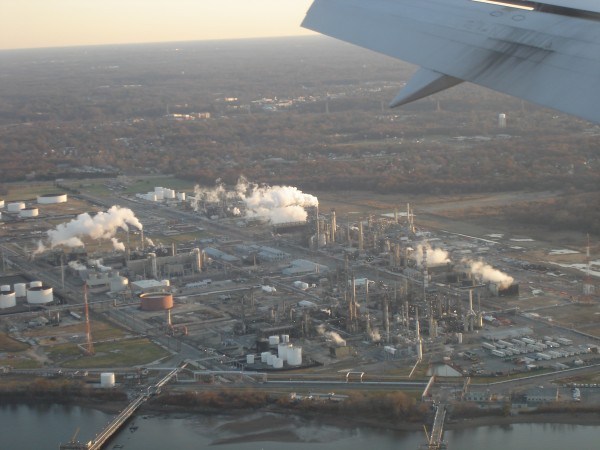 ...and a cargo ship, most likely a RO/RO vessel:
Touchdown followed at 16.04 local time and we arrived at the gate at 16.12. We passed several freighters but an ATI DC-8 was the only one I could get the registration of. Parked next to us was a US A330 (either N673UW or N674UW) and I noticed the Star Alliance sticker apparently being partly taped over...?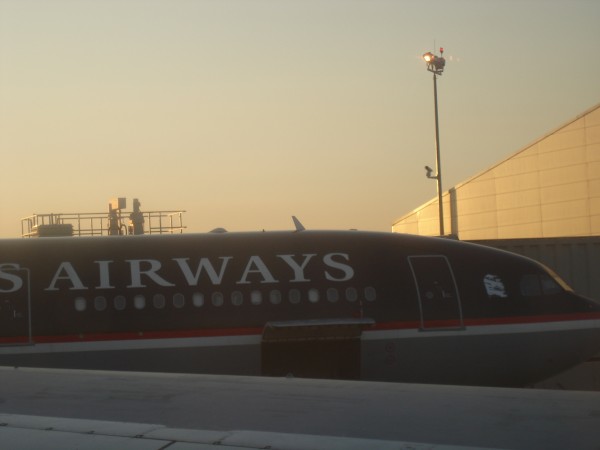 Difficult fingerprinting at PHL...
De-boarding took a while but there was no need to rush. US015 is the last of US' transatlantic flights arriving in the afternoon so the arrival hall with immigration counters wasn't really crowded any longer. I chose one counter and only four people in front looked quite promising. Then it was my turn and I wondered how the officer would react to the fact that my right thumb doesn't have a fingertip and is shorter than normal (when I travelled to NYC in spring the officer simply fingerprinted my left thumb twice - very quick decision).
The lady, about 50 years old, looked quite confused and didn't know what to do. She asked her colleague at another counter but he didn't know either.
"You should call a supervisor"
, he said. Exactly that's what she did and I had to wait. Meanwhile, some 15 minutes had already passed because of this. We had a nice chat until the supervisor arrived and I noticed the officer didn't feel comfortable at all with keeping me here longer than usual because of that single fingerprint.
Finally the supervisor arrived (a lady about 35 years old) and they asked whether I had been fingerprinted before. I said
"yes"
and told them about NYC. Now they tried to fingerprint my left thumb twice, too, but they failed. Though the computer accepted the same thumb twice, it seemed they couldn't add the required additional piece of information to the scan. After another ten minutes the supervisor asked me to come with her to an office so that people in line behind me wouldn't have to wait too long.
I was asked to sit down in a corner and she took all my documents with her. Some more minutes passed until a quite weightily officer said:
"Hey, come on over, buddy!"
In the supervisor's bureau three officers tried to feed the unusual data into their computer but failed again and again. More time passed. Though I was really concerned about my connection I decided to better not speak up. After a while I had an idea and simply asked them whether we could just try to screen the right thumb - because prints are actually there. At least it would be worth a try. The trio looked at me a bit puzzled and the supervisor said:
"Oh, you think so?"
I put the finger on the machine - and surprise, it worked! Some moments later I could leave the "special corner" and head to the domestic terminal - happy welcome to the United States, year 2005...
Security check...
Since I had only some 25 minutes left I started walking faster but it didn't help, the first security check was just ahead. And an endless queue of people seemed to be stuck. It moved really slowly and it cost me another 10 minutes. After taking shoes, belt and whatever off and on again I finally arrived in the domestic hall. Not even 15 minutes were left until the scheduled departure time and I asked a US staff on the way whether it would still be possible to get the flight. She said
"sure"
and I ran down the concourse. And indeed, when I arrived at the gate some minutes later the last pax were just going on board.
Saturday, 26. November 2005
Philadelphia (PHL) - Washington National (DCA)
US Airways US 253
17.35-18.39 (17.43-18.20)
Flying time: 00:26 (hrs)

Boeing 737-301
N588US (c/n 1559), first delivered 06/1988 (to Piedmont Als)
Economy, seat 20F
View Large
View Medium


Photo © Frank Schaefer
Short hop
Picture options weren't good in the darkness, so I just had a look at the registration and entered the jet-way.
N588US
belongs to the "younger" ones in the B733 fleet, but nevertheless the cabin's condition was really showing its age. Everything looked worn, no matter if carpets, seats, ceiling or luggage bins. While walking down to row 20 I was amazed how packed the flight was, not a single seat remained empty. Impressing load for a Saturday late afternoon service.
Seat pitch was awful, and the old style seats weren't a pleasure either. We left the gate at 17.43 and took off nine minutes later. The climb was steep, but didn't last very long as our cruise altitude was just some 11,000 feet. Endless lights were visible below as we overflew the gigantic metropolitan areas between Phildadelphia and Washington. 20 minutes after take off we started the approach, and after a sharp left turn and an even sharper right turn around the Pentagon we touched down at DCA. Total flying time 26 minutes.
Not much traffic around so I quickly left the gate area, directly went to the exit and took the shuttle to the Radisson Airport Hotel.
Part two including a short DCA and IAD spotting report will follow soon. Any feedback and questions welcome!
Regards,
PH
[Edited 2006-03-13 23:10:25]