First of all, appologies for no pics of the flight. The rechargable batteries died and I was only able to buy batteries once I was in Bogota.
Well it was Spring Break at FSU once again, and being the fourth and last one for me, I wanted to go some place special. Initially my idea was to travel to Seattle on Amtrak, inspired by a train report I read in the Non-Av forum. However, this seemed quite costly. I also didn't want to spend a week in Miami considering I had been there in December for three weeks and ended up being really, really bored.
I checked AA's JetNet to check flight availability for the week of March 6th through the 10th and the flights looked great, including Business. I decided to list myself on AA 913 on the outbound leg and on AA 916 on the inbound leg.
March 6th, 2006
AA 913
MIA - BOG
Boeing 767-300
Seat 5J Business
Dep 10:18
Arr 13:47
To the Airport
The day started at 5:15AM when I woke up after only 2.5 hrs of sleep. I had driven the night before from Tallahassee. 450 miles in 5.5 hrs, which I think was great time! After a shower and a very light breakfast consisting of coffee and toast, my mom took me to the Hillsborough Tri-Rail station to catch the 6:23AM train to Miami Int'l airport. This wasn't my first time on a train in the US (having been on the Amtrak in the NE before), but it was the first time on a train in South Florida. Must say I would've prefered a drive down to MIA, however my request was denied. Nonetheless, I must say I really enjoyed the train. For some reason I felt I was back in Europe, riding the Heathrow Express or the Train from Lausanne to GVA.
Check-In
I arrived at Miami Airport's Tri-Rail station at 7:35AM and jumped on the Airport Shuttle bus which took about 3 minutes to take me to the stop in front of Concourse E. Got off and headed straight to Concourse C/D, where most of AA's LatAm/Caribbean check-in desks are located. It was 7:50AM by now, so I figured there wouldn't be more than 10-20 people in line for check-in. How wrong was I! The check-in desks in C/D were empty! Wow, that's a MIA first. I quickly approached the AA representative and handed my documents as well as my PNR number on a Post-It. I asked if there was still space available in Business and she told me it was half empty, although there would be a few upgrades. She then handed me a boarding card and told me to give it to the gate agent for a seat assignment. I thanked her and went on my way to kill some time around the terminal. I actually walked to both ends of it. They really are improving MIA and once it's finished it will look beautiful, even if it will still be a very crowded airport.
At the Gate
Following a Venti Latte and a few calls to force small talk with my friends, I proceded to the security check point of Concourse D. Security was a breeze and I was soon inside the newly renovated Concourse D. I must say it looks beautiful! Even better than Concourse A.
MyAviation.net photo:


Photo © Manuel Ernesto Silva
As soon as I reached gate D40 I approached the agent and handed him my boarding pass, which was soon returned with a handwritten 5J seat assignment. Score! I really needed this, since I had been deprived of sleep for the past few days. As I waited for boarding time to come around, I walked around all the gates, admiring the beauty of the terminal.
Flight
Boarding was done very quickly starting by Business Class, followed by Emerald and Saphire members of
One
World, and lastly by Economy. Meanwhile in the Business cabin champagne or OJ was served (I did ask for both to make a mimosa!). As soon as everyone was seated the plane pushed back and we taxied quickly for a Rwy 8R departure. The plane quickly leveled out at around 3000-5000 feet and stayed at that low altitude for a while, me fearing a return to the airport for MX. But soon the Captain increased power and we were off to our cruising altitude of FL350.
F/A's came around taking drink orders and I requested my usual Bloody Mary mix, sans the Vodka. Not a big fan of Vodka, meself. One big dissapointment was that no warm nuts were offered with the drinks.
Although somewhat skeptical, I was anxious to see if the F/A's would deliver the personal DVD players as advertised by SeatGuru. Alas, my luck was not such. I imagine these devices are only available on Transatlantic flights. However this 767
Soon after the F/A's came around asking passengers if they wanted the Salmon or the Croque Monsieur for lunch. I love Salmon, and opted for it. Later I would regret that. Soon, the F/A's came around with fresh fruits and a basket of bagels and biscuits for starters. Following came the Salmon. This was dissapointing! I didn't consider the fact that it wouldn't be a filet of the fish, rather a few slices of smoked salmon, brunch style! My seatmate in 5H had the croque monsieur, and it did look quite tasty and was much, much bigger!
Coffee and Tea was offered a while later, but no dessert. Before landing in Bogota, DIAN custom forms were offered both in Spanish and English.
Landing and Immigration
As usual, we landed on Rwy 13R on a very cloudy and grey Bogota. Bogota's typical weather is actually very, very close to that of London. Always grey, always raining. Just crap!
We approached gate C6 in the International Concourse and disembarked quickly. I believe a few int'l AV flights were also arriving at the time and DAS (or now DAI, Colombian Intelligence) Immigration area was packed! There was also a sign stating that if you are Colombian-born you are entitled to dual nationality, but you must enter the country as a Colombian. Otherwise you are considered a traitor and face jail time. Well, I do have a Colombian passport (Somewhere! Maybe even expired already!), but I wasn't born there, so there shouldn't be a problem. However, I don't have an ID card or let alone a Military ID card (every male over 18 must have one) so to avoid any troubles, I only spoke English to the lovely immigration officer. She could barely say yes, so she didn't bother asking me any questions as to my visit.
I proceded to baggage claim and quickly collected my bag and went through the custom's x-ray machine. Following I left the terminal and looked for my grandma who was supposed to be waiting for me in the parking lot. Funny enough, I forgot how in Colombia people
NEVER
stop for crossing ped's, so I nearly got run over three times!
The following is a photo report of Bogota, for your viewing pleasure: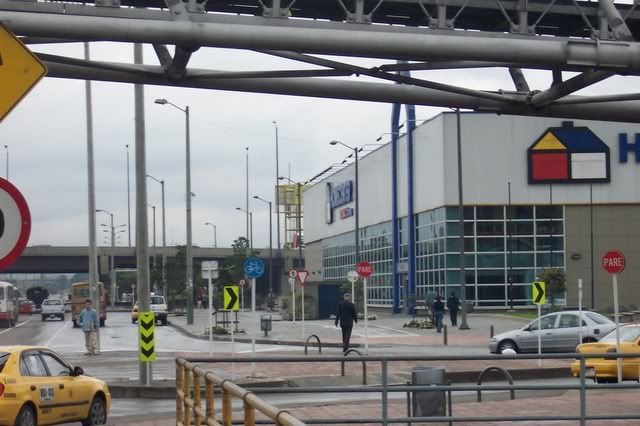 Street scene in Bogota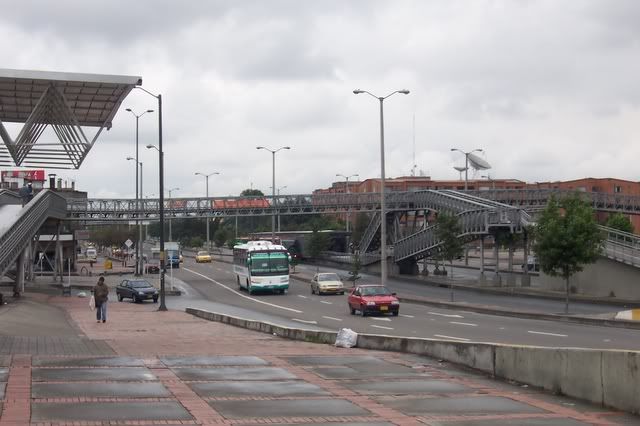 Transmilenio Mass Transport System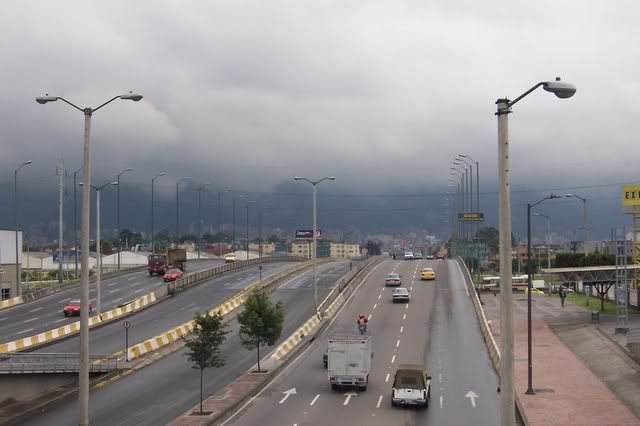 80th Street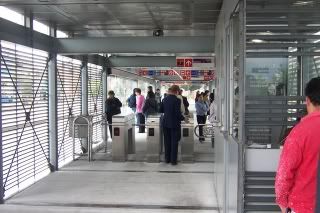 Transmilenio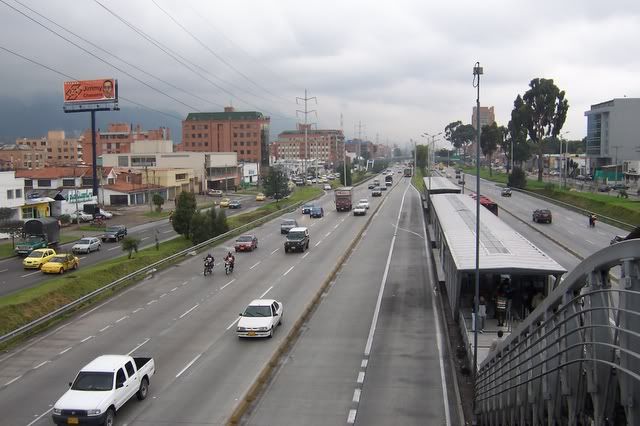 Transmilenio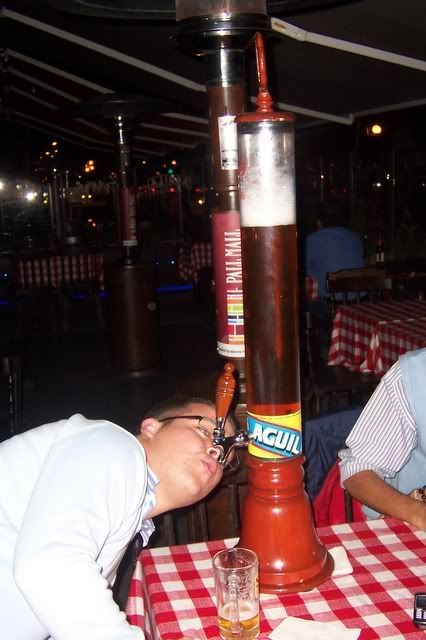 Jirafa=32Ltrs of beer!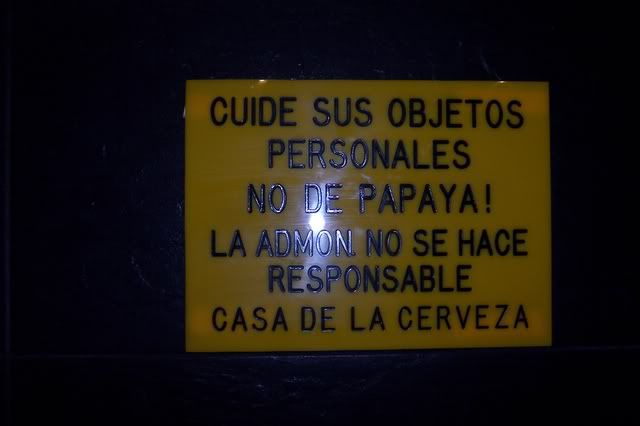 Funny sign. "No de Papaya" literally means "Do not give Papaya", but roughly translates to "Be careful!"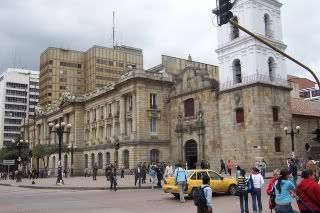 San Francisco Church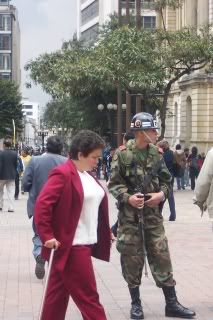 Presidential Guard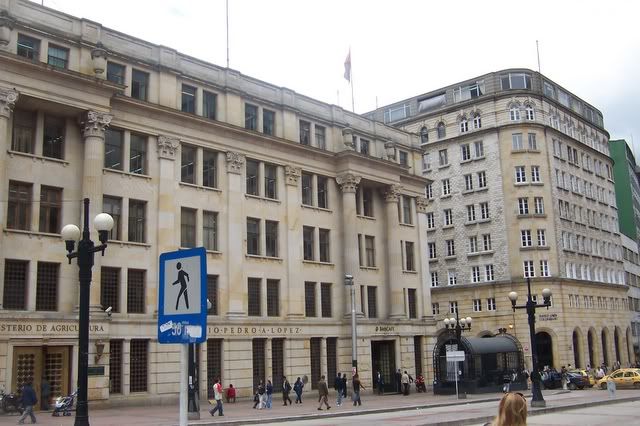 Ministry of Agriculture



Near the Gold Museum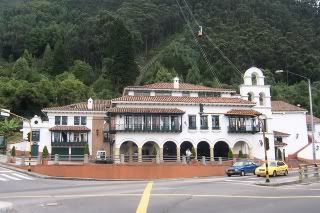 On the way to Monserrate, a church located on top of a mountain sitting at 3,125 meters or roughly 9,200 feet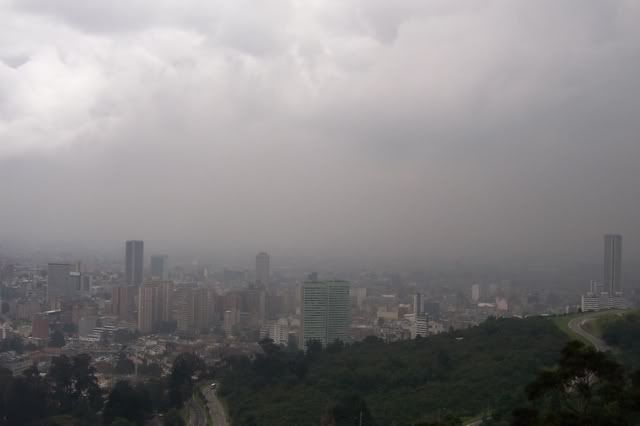 A very smoggy Bogota. Looking North. Looking South was a bit more clear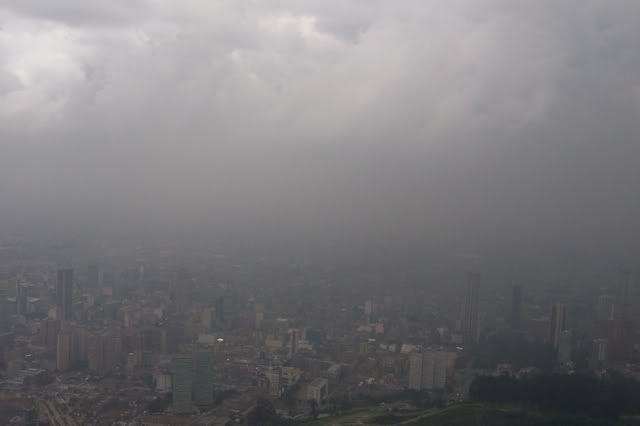 Bogota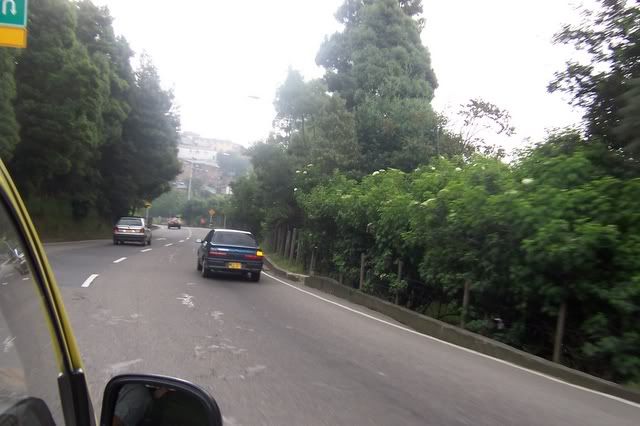 Onboard a taxi driven by a very, very crazy driver! Nice guy, though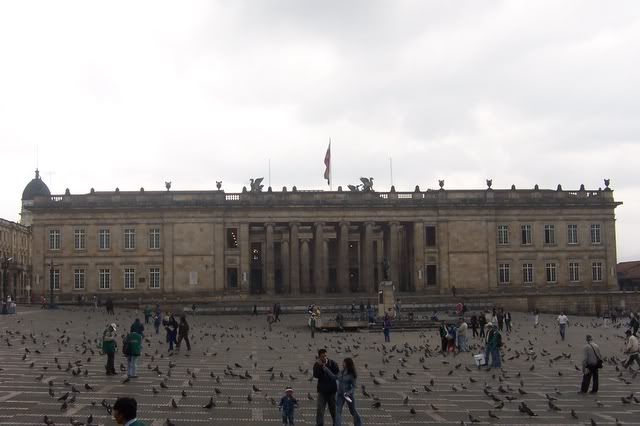 Capitol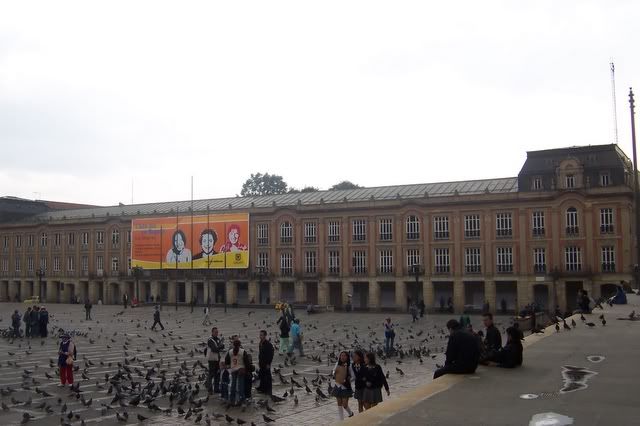 City Hall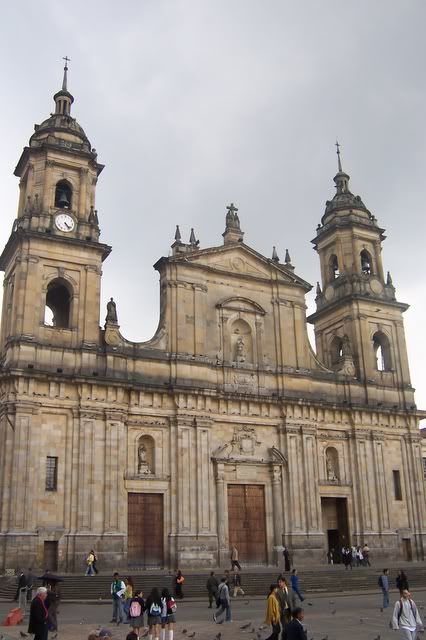 Cathedral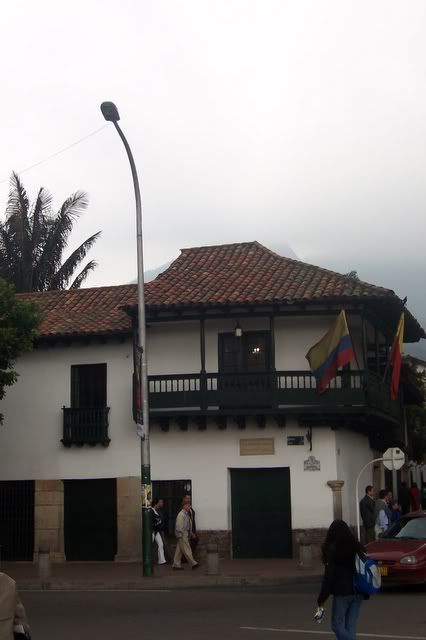 It was here were the Llorente flower vase was broken and is symbolic with the fight for independence in Colombia from Spain in the 19th cent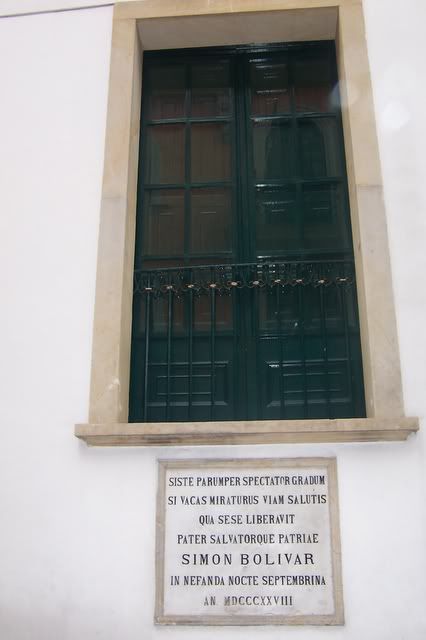 This is the window through which Bolivar escaped his captors. It is located in what now is the Foreign Affairs Ministry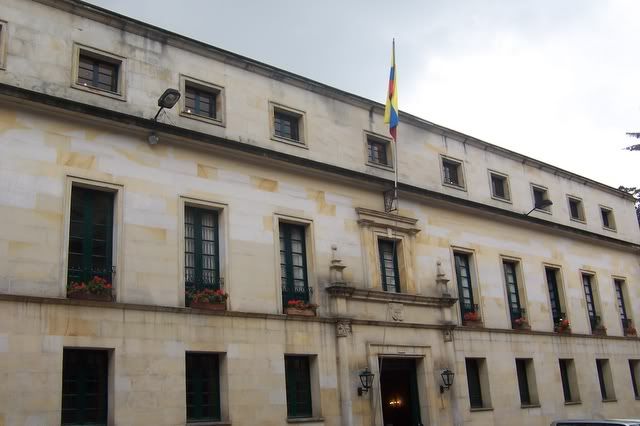 Foreign Affairs Ministry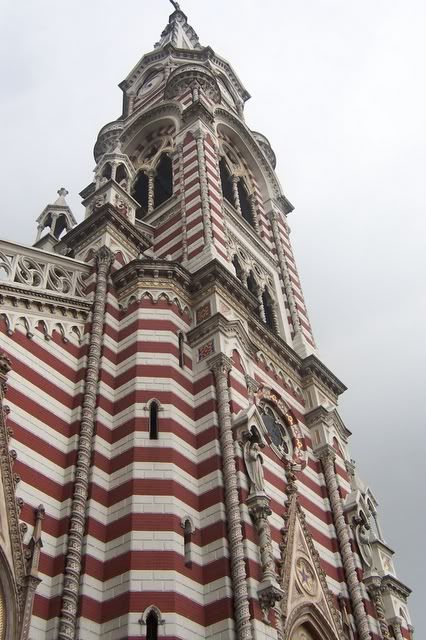 A controversial cathedral due to it's unorthodox decorations on the outside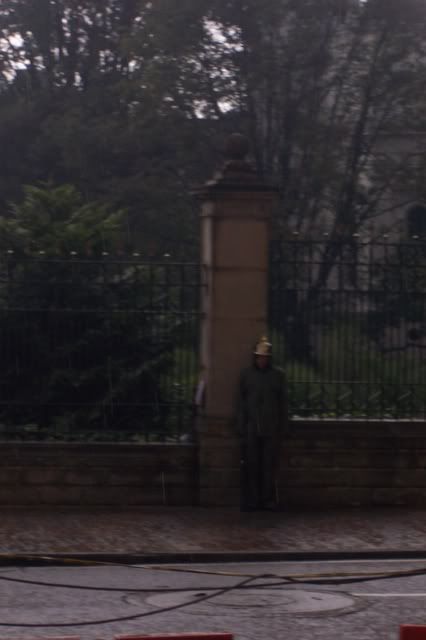 The Presidential Guard who refused many times my attempts to get a picture of the Presidential Palace

March 10th, 2006
AA 916
BOG-MIA
Boeing 767-300
Seat 5H Business
Dep 14:57
Arr 18:35

A quick synopsis on the return flight. It was pretty much the same experience as going to Colombia. Only difference is that, as usual, ground staff and agents of AA in Colombia seem to hate when someone from the US comes on a non-rev ticket. Maybe they don't get the same benefits? I don't know, but I was treated with disregard and if it weren't for my noticing it, my ticket would've remained on the floor after the gate agent failed to pick it up, and I would probably still be in Colombia.

Immigration in Miami was the usual. Some flights from Europe arriving in the late afternoon make Immigration really, really crowded. I made the stupid mistake of queueing up in a visitor line because it was slow. Due to the US VISIT program it took forever to get past immigration, although once it was my turn, a simple swipe of the Green Card and a smile received me back in my home State. Picked up my bags which were already out, whisked past customs, and was drove back to Boca to my parent's home.

The next day, I did the joyful 6hr drive back to Tallahassee. At least this time I was not alone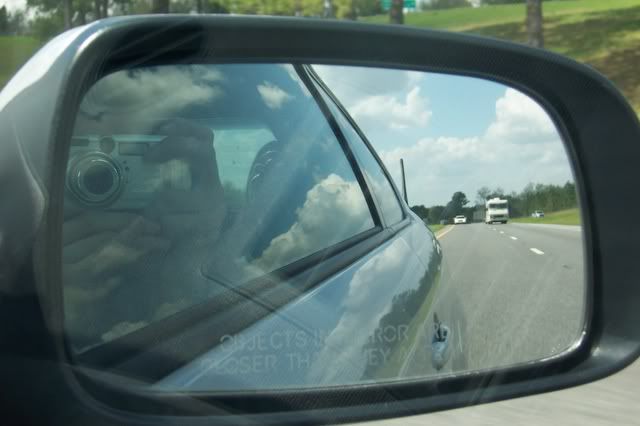 Thanks and comments welcome!

Stefano